As well as having your own room in a 4 bedroom house, there are also 3 separate outside entertaining areas if you want private space to relax with friends.
Leon's a great host, the house is comfy and has everything you need. Nice home brew beer too.
sean
2016-11-02T00:00:00Z
If you need a simple, no frills room for the night v close to the the Warburton area with minimum hassle and value second to none this is it. Cant fault it, although might not be quite up to the wife's expectations for a romantic weekend away. Suited my needs for night before Giro Della Donna bike ride perfectly
Matthew
2016-11-27T00:00:00Z
Leon is currently renovating, so the accommodation is very basic. That said Leon is a very warm, welcoming host and fosters a nice community atmosphere with his other guests. Everything was clean and comfortable and the neighborhood was quiet. The location is fairly remote, I couldn't get a Vodafone signal from the property but there is good wifi. It's a short drive to Healesville and the wineries in the area, so it's a good budget option if you're looking to explore the Yarra Valley by car.
Kristen
2017-02-11T00:00:00Z
Leon is friendly, welcoming, helpful and a wealth of local knowledge. He cares about his guests. Great for a yarn or just to have a bit of space and a rest stop.
Kym
2017-02-20T00:00:00Z
Perfect place if you need somewhere cheap and simple but comfortable. Leon is kind and friendly and I will be back next time I need somewhere to lay my head in the Yarra.
Ineke
2017-03-07T00:00:00Z
Great as usual. Clean and basic, great budget accommodation in the Yarra Valley. Leon is a friendly host
Ineke
2017-03-22T00:00:00Z
A very welcoming host, clean,quiet,comfortable room
Teressa
2016-06-13T00:00:00Z
Realy a good host and nice person. Very helpfull to guide me to discover the Yarra Valley.
Roberto
2016-05-16T00:00:00Z
Room Type
Private room
---
Property Type
House
---
Accommodates
1
---
Bedrooms
Launching Place, VIC, Australia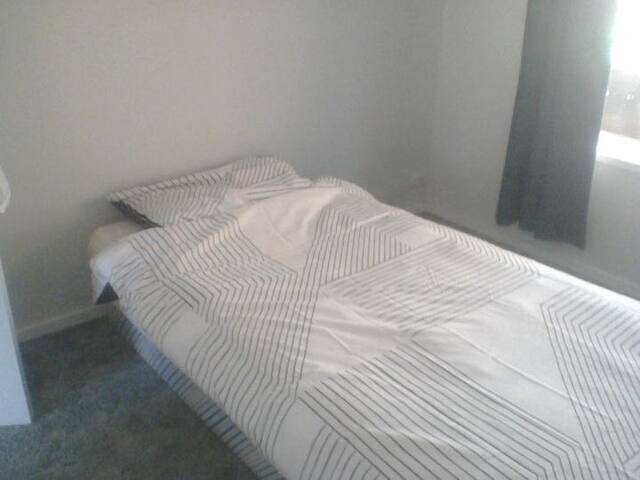 Peaceful and private, with STUNNING views from large decks looking through tree tops and beyond. This spacious two story property backs onto the Lilydale to Warburton Rail Trail, with access just one minute's ride from your doorstep. Relax outside on the daybed, hammock or retro couches. Plenty of room outside too, with a big tree filled yard. Watch the abundant birdlife, look out over the mountains, or enjoy a BBQ, all from the comfort of our home, nestled in the heart of the Yarra Valley.
We have a two story house with private double decks. All rooms have great views, even from the bathtub! The lower level has the master bedroom with queen sized bed, full length mirrors and private deck, including daybed. The smaller bedroom has two single bunk beds and a desk. This room is perfect for children but also suitable for a couple or two adults. There is also a lovely original Franklin caravan on the property, just outside the front door. It has been fitted out with a double bed with colourful recycled timber runners, as well as it's original cosy dining space, romantic lantern lightning, electricity and a heater. As well as the main bedroom, we can offer you either the smaller bedroom or the caravan, depending on your needs. If all three spaces are required please note that there is an extra charge if more than 4 guests are staying. The bathroom is roomy and bright, with toilet, separate shower and bathtub. There is a laundry with sink, washing machine and clothes dryer for your use. Upstairs has the open plan lounge room, kitchen (with big stainless steel gas stove and large oven) and study area with desk. The sizeable backyard merges from grass into a great tree filled place for children to explore. There is also an outdoor fire pit. Front yard has a driveway as well as double uncovered carport.
"Launch Fresh" (a one minute drive away) is family run and sells an abundance of fresh fruit and vegetables, authentic pasta, a great range of meats including BBQ meats, delicious local olives and cheeses, dips, eggs, bread etc. The Home Hotel, a Public Bar and Restaurant in Launching Place, is a 5 - 10 minute ride along the trail. Open for lunch and dinner Tuesday to Sunday. The bottleshop stocks local wines. Mt. Donna Buang, a 30 minute drive, has a popular freshwater spring halfway up the mountain, to fill up your bottles, as well as amazing views from the lookout and bush walks. In winter you can be lucky to find snow up the top for tobogganning. Healesville, a 20 minute drive, has the wildlife Sanctuary, as well as the Yarra Valley Chocolaterie and Ice Creamery, numerous wineries (Tarrawarra winery has a great gallery too), cafes and gift stores. Yarra Glen (30 minute drive) has hot air ballooning.
We had an amazing week at Brad & Nathalie's home. It's the perfect home away from home. The house is very cosy and feels very homely. Especially the two (!) big decks with amazing views of nearby ranges are spectacular. It's just the perfect place if you want to relax and have a good time with friends or family. Brad and Nathalie were very kind and helpful and always available to answer questions. Thank you!
Wessel
2017-03-13T00:00:00Z
This was such a great place for a weekend get away from the city! We had the whole house to ourselves, it was so quiet and peaceful, and because it's split over 2 levels we had more than enough room. The atmosphere felt instantly safe and comfortable, the decor and amenities felt like a genuine home, not a cramped/stale hotel, but still really clean and a space we could spread out and enjoy for the weekend. I think we lost a few hours just sitting on the balcony and soaking in the view of the valley! We emailed Brad that we're into the outdoors, so he gave us a few tips on things to do which was fantastic - he sent us list of great hikes/streams/rivers/lookouts. Really easy tips on things to do, and a few super secret spots which we would never have found that were amazing. We also went to a different cafe each day in Warburton, great food, but more importantly, great coffee!! Overall just a fantastic experience, we'd definitely stay here again.
Mark
2017-02-27T00:00:00Z
Room Type
Entire home/apt
---
Property Type
House
---
Accommodates
6
---
Bedrooms
Launching Place, VIC, Australia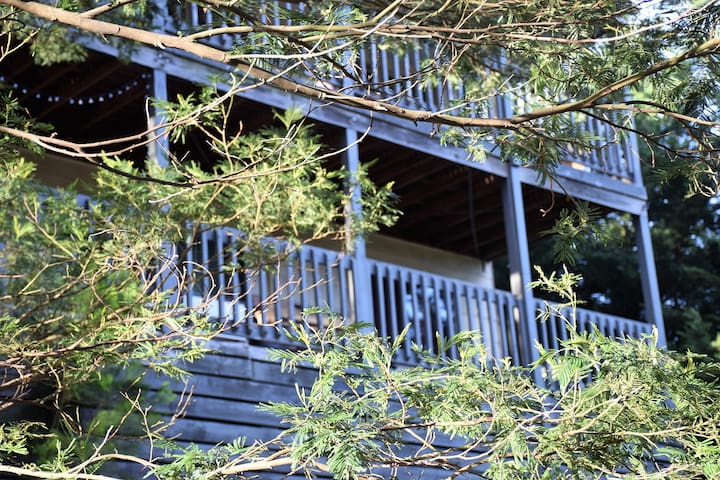 Terrific outdoor entertaining area with BBQ and undercover space. Close to public transport and primary school if required Car park space on the block
Leon's place was ideal for me. His place is warm, clean and plenty of room and has all the essentials anyone could need. While it's not the Savoy (his words), it was perfect for me. He's a great host who cares for creating a friendly and welcoming environment and freedom for his guests. If I'm back in the area, I'll definitely be calling by again.
Jeff
2016-07-14T00:00:00Z
Cheers Leon
Brett
2016-05-26T00:00:00Z
leon was a great host. very friendly inviting and i would gladly stay again
Dom
2016-09-20T00:00:00Z
Plentiful beer supply.
Brett
2016-05-28T00:00:00Z
Leon was welcoming and friendly. The room and house were well presented with a very comfy bed in a fantastic location. Great value for money. Would love to stay again. Cheers Leon
Brett
2016-05-20T00:00:00Z
Leon was a great who was fast to reply to messages and gave information on finding his place. He was very flexible with my arrival time (which was after 7pm and not confirmed). He was friendly, gave info on the local cafes and shared his travel stories with me. He was more as a friend than as a host.
Solomon
2016-10-07T00:00:00Z
Thanks again Leon. Another great week.
Brett
2016-05-21T00:00:00Z
Room Type
Private room
---
Property Type
House
---
Accommodates
1
---
Bedrooms
Launching Place, VIC, Australia
Take time to relax, unwind and create new memories in this stylish, self-contained retreat for two. The tranquil and secluded studio is ideal for relaxing in the natural surroundings of the Australian bush or as a base for exploring the bounty of the Yarra Valley with its famous wineries and breweries.
The freestanding Lonsdale Park Studio offers the comfort of a large sun filled spacious apartment (72m2) with a fully functional kitchen, separate bathroom, private parking space and a courtyard with views down to the Yarra. There is also an exclusive deck facing the orchard - perfect for candle light dinners. The Queen sized bed can be hidden in the wall, which maximises the living space. In Winter you can relax and watch the twilight linger on the hills whilst enjoying the warmth of the fire place.
Room Type
Entire home/apt
---
Property Type
Apartment
---
Accommodates
2
---
Bedrooms
Launching Place, VIC, Australia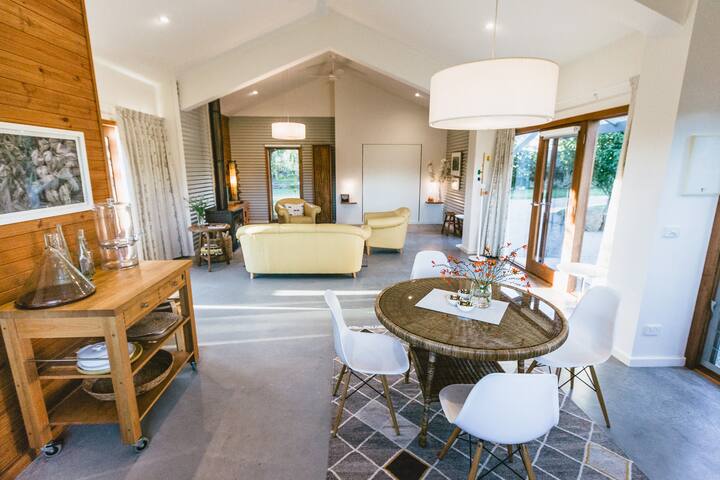 This enchanted sanctuary is nestled in the beautiful green quiet hills of the Yarra Valley 1hr east of Melbourne. It is 100% off grid Solar, recycled buildings, Bells tents, Hot tub, Sauna, amazing service and more. Find us : Natural Healing Space
This enchanted sanctuary is nestled in the beautiful green quiet hills of the Yarra Valley 1hr east of Melbourne. It is 100% off grid Solar, recycled buildings, Bells tents, set within a beautiful Permaculture garden. There is an Earth Womb Sauna, hot tub and cold plunge. The delicious onsite catering can be tailored to a range of vegan/vegetarian diets, and much of the food is grown in the Natural Healing Space's organic Permaculture garden. Rejuvenate, relax and enjoy the beauty of being with your self. Offering a nurturing space to support you in creating you own dream retreat. Enjoy some quiet time alone or enjoy some guided Meditation/Prayer/Yoga/Singing/Fasting/Being/Connection/Birthing/Dancing/Silence/Worship/All good things. Accommodation Our beautiful eco-friendly off-grid solar and recycled center offers some unique sleeping choices: -An authentic Gypsy Caravan with double bed, yoga deck. (with solar powered electric blanket) -A large Lush Bell Tent with double bed, (with solar powered electric blanket) grassy yoga field and stunning views. -A Loft with double bed in our fully recycled wooden shipping pallet room. ----- *An amazing Earth Womb Sauna with optional Cold plunge * Large outside hot tub (3 person) & shower, heated from the fire *Optional blissful professional full body oil massage ~$100-$300 per session. Luscious 'Delicious and Nutritious' Vegan/Vegetarian/GF food tailored to meet your needs, mostly grown in our Permaculture Garden. Group bookings available. For more information: Call (PHONE NUMBER HIDDEN) or Email: (EMAIL HIDDEN) -------- Optional: Weekend/week-day retreat programs can look like this: Your invited to 'nurture your nature' at this amazing enchanted wonderland. Sharing a weekend of nourishing, rejuvenating connection and celebration of being, with a touch of silence. Enjoy the Earth womb Sauna with organic clay body scrub, Eucalyptus essential oil steam, and a fresh cold plunge! Try the wood heated hot tub with mineral Epsom salts while gazing at the stars Offering optional heart singing, yoga space, prayer, meditation, dance, art, and much more. Allowing and supporting you in creating your dream retreat and finding your own flow. ~On Friday evening, arrive to a hot Chai tea, short nature walk, nourishing dinner & a welcome introduction talk about the space and the weekend ahead. ~On Saturday, enjoy a day of silence, taking the opportunity to sleep in or wake early for some morning prayer, meditation & yoga. Enjoy your choice of a hot cinnamon pear porridge, smoothy, or egg breaky. Then a nature walk or quiet time to paint, create a stone sculpture, dig in the garden, read a book or meditate. Lunch will be a delicious and nutritious surprise of yummyness. Then enjoy some resting time, followed by an earthly connection hot sauna where we will slowly break our silence into an expressive outburst of whatever sounds wish to flow in the safe sauna space. Then we will enjoy some fresh pure coconut water while sitting around the fire with some warm food. We will then conclude the day with some group heart worship singing, led & shared by us all. Then enjoy a hot tub under the stars. ~On Sunday, we will simply follow the flow of our hearts, with all teas, food, sauna, hot tub and space open for you to allow your own relaxing flow. Price includes accommodation, all bedding, towels, food, drinks and the space to reconnect with yourself and relax From Friday 5pm until Sunday 3pm. Limited to 1-8 people. Professional full body oil massage is an optional extra @$80-$150per session. Bookings essential: ----- Here are some reviews: What Nathan has created here is truly sublime and unique. Do not delay. Book in immediately, and thank yourself on arrival, for the duration of your stay, and for weeks thereafter. No fuss, genuine Luxury. -Hugo Farrant ---- What can I say, wow!!!! I decided last minute to spend a couple of nights at the Natural Healing Space with the hope to reconnect, ground myself and start to shift forward. And I got that plus much more. Being completely taken care of by Nathan was so refreshing, he oozes love and brings about a complete sense of calmness that helps to facilitate all that you need from your time with him. The divine wholesome food, the incredible chai I am now craving, the mud brick detoxing sauna, plunge pool, bath under the stars and forest walks was all so amazing. I cannot wait to go back again! Thank you Nathan! Laura Colbert -2015 ---- After staying here with a friend in April it has taken until now to write a review because I thought maybe if I visited again the words to give justice to Natural Healing Space might come. After my third visit last weekend I still lack the expression to encapsulate how it makes me feel when I am there. It's a dream space for me, like something I dreampt up as child, it is magic, lush and loving. Nathan is so humble, so warm and so welcoming. He attends so lovingly and so gently to his guests. His nature reverberates through the living space and throughout the property. Each guest space has its own unique feel, its hard to choose a favourite. The clay sauna is something extra special, the hot tub under the stars and roaring open fire create a heaven on earth. The food, chocy chais, smoothies, coconut water, lemon grass tea, raw desserts and everything that Nathan touches is pure delightfulness, I am truly in awe of him and the vision he has brought to life. I feel so blessed to have been invited to be a guest here and can not recommend it enough. Natural Healing Space is my ideal get away, there are so many divine details that need to be experienced and felt . You are guaranteed a sublime and enchanted experience. Thank You so much for this creation Kellie Curtis -2015 --------- I don't even have words to describe the beauty, love and care that surrounds this lush space. Thank you Nathan for an incredible weekend of indulgence, relaxation and nourishment. I felt nurtured from the moment we arrived with the most heartfelt consideration that has been put into every detail. The uplifting and warming teas, the delicious and healthy soul food, the enchanting lighting, the exquisite accommodation... I could go on and on. And of course the obvious perfection of the earthen sauna and hot tub under the stars. Blissful, divine yumminess on every level. I can't wait to return. Echo Jiménez-Sarta - 2015
Enjoy the privacy of nature surroundings with rolling hills and so much more.
What was just a quick weekday getaway turned into an experience to be long remembered. Nathan's space is created with so much love, patience and effort and I could feel the serenity as soon as I arrives. As for the man himself, he is an amazing host and he made my trip that much greater. Not a single detail forgotten, I arrived to a small fire already started and was immediately served Nathan's signature chai (Wow). He'd arranged a beautiful massage for me and so began my night of perfect relaxation (do not leave without getting one from Nathan's lovely masseuse). I would've stayed a lot longer if I'd had the time; Nathan is a treasure and an open-hearted, lover of life. Oh, and did I mention the handmade clay sauna and my outdoor morning bath, steaming hot as the birds sang in the crisp morning air, and all the fresh, colorful meals? Enough said, just book in. :)
Hannah
2015-09-10T00:00:00Z
What can I say, we did not know what to expect when we booked to stay at Natural Healing Space. At the moment we arrived, we were mesmerised by the energy of the place. The positive vibes flowed all around us and the attention to detail throughout the property, emulated the love that went into building every element of the space. From the incredible outdoor fire place, man-made sauna and awesome decking outside the bell-tent, we enjoyed every bit of it. We even enjoyed using the natural composting toilet, which to our delight, was incredibly clean and non-smelly. The pictures of the place just don't do it justice. The best time of day is dusk, where an array of solar powered fairy lights create a magical glow which will blow you away. It is evident throughout the property, that Nathan's many years living in nature has taught him all the tricks to live off the land. Nathan was kind enough to accommodate us at the very last minute and we are incredibly grateful for his hospitality. Nathan opened our eyes and showed us a new way to live life. We are so happy to have visited natural healing space. It rejuvenated us in many ways that we didn't expect, and changed our perspective on how we see the world. I couldn't recommend the property more to those city-folk seeking to refocus their energy and priorities. It is probably nothing like you've ever experienced, in the best way imaginable.
Alina
2015-11-16T00:00:00Z
The host canceled this reservation the day before arrival. This is an automated posting.
Kylie
2017-03-16T00:00:00Z
Room Type
Entire home/apt
---
Property Type
Bed & Breakfast
---
Accommodates
8
---
Bedrooms
Launching Place, VIC, Australia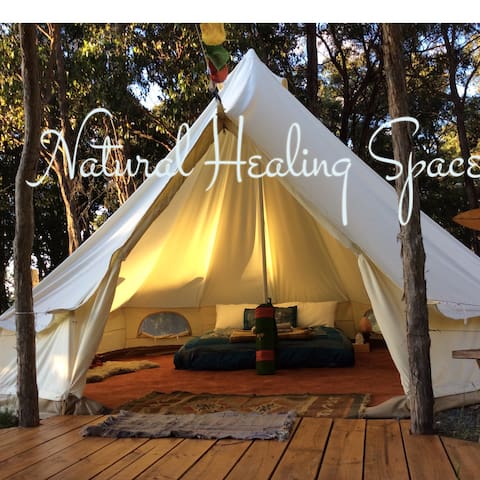 Suitable for travellers, also house as 3 separate entertaining areas undercover for private social gatherings. located 90 minutes from CBD in Yarra Valley
Leon was great help! We booked last minute, but the room wasn't available even after I booked. Leon found us a place right away, at his friend's house not too far away. His friend's house was great! We had everything we needed and they were very welcoming. Would definitely recommend!
Maria
2016-10-29T00:00:00Z
It was easy-going, he answered very quickly and was a perfect host.
Antonia
2017-03-19T00:00:00Z
The host canceled this reservation 2 days before arrival. This is an automated posting.
Nicole
2016-09-15T00:00:00Z
Leon's place is nice for staying. We loved tabletennis, the pool billard table and the talks with Leon very much! Thank for letting us stay with you, Leon!
Valerie
2017-02-26T00:00:00Z
Brilliant place for a short stay, thanks for having us :)
Shona
2017-02-01T00:00:00Z
It was really nice to stay at Leon's place, he and the people around were very friendly and helpful. The house was great, and we really enjoyed our stay there.
Daniel
2016-07-24T00:00:00Z
Room Type
Private room
---
Property Type
House
---
Accommodates
2
---
Bedrooms
Launching Place, VIC, Australia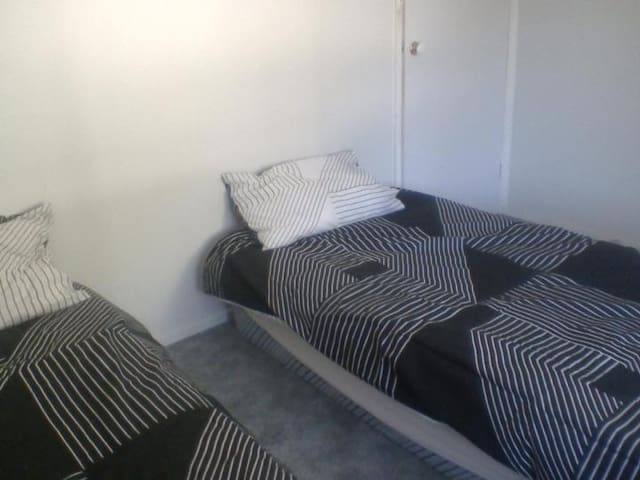 Nelsey's in Healesville is a small private cabin in the heart of the Yarra Valley. It is within walking distance of the township, is newly built and provides comfortable and welcoming accommodation for you.
The space is a small self contained cottage, studio style. It features a queen size bed, reverse split system, TV/DVD with selection of DVDs. It is located close to the Healesville township on a large two acre property, surrounded by native bush and grassland.
Beautiful mountain country with so many features. Walks, wineries, galleries, Maroondah Dam, Healesville Sanctuary, Greyhound Racing, Racecourse, RACV Country Club, Four Pillars Distillery, Innocent Bystander, Domain Chandon, music at Rochford, art (URL HIDDEN) much more, please ask.
Our stay at Nelsey's was fantastic. It was just what we expected, comfortable, cozy, clean and everything we needed. The communication with the host was great, she sent us all the information we needed, including tips for the area, we took her advise and the day turned out wonderful. The area is beautiful , so a day visiting winerys etc made a relaxing weekend. Nelsey's is a walk from the town, but nothing that worried us, so we walked in and out and we enjoyed the walk. The property is very well kept and has a lovely private outlook. We would definitely recommend anyone wanting a weekend in Healsville to stay here. You wont be disappointed. The chocolate left for us was a nice little touch .. Thanks again
michelle
2016-08-01T00:00:00Z
A lovely couples retreat situated in beautiful gardens. Some nice personal touches and your own fire pit were definite highlights. Comfy bed and nice bathroom, clean and well decorated throughout. A perfect place for a quiet relaxed stay. Janelle was very helpful with recommendations for places to eat etc and was easily contactable.
Matt
2017-01-10T00:00:00Z
Great cosy warm place very conveniently located to Healesville. The welcoming bottle of wine was gratefully appreciated. I had a great stay.
Ciaran and Sarah
2016-09-15T00:00:00Z
Everything really good! Perfect size for two people and really well thought out accommodation... would recommend
Matthew
2016-09-24T00:00:00Z
We had a Lovely night! We came For a wedding and everything was perfect for our needs.
Kylie
2016-02-20T00:00:00Z
Cute and cozy little place, nice and close to Healesville town centre.
Adam
2016-07-01T00:00:00Z
Janelle was very accommodating allowing us to bring our 2 year old along with us. Even providing some toys for her to play with. Janelle was very welcoming and more than happy to help us with anything we needed. A good little place to stay for our overnight trip to Healesville!
Megan
2016-06-16T00:00:00Z
Wonderful! Janelle had the heater and porch light on ready for our arrival. The cabin was comfortable and had everything we needed.
Jillian
2016-06-06T00:00:00Z
Room Type
Entire home/flat
---
Property Type
Cabin
---
Accommodates
2
---
Bedrooms
Healesville, VIC, Australia
Welcome to "The Cottage" at Forest Lodge. Situated 2.5km from Healesville township, you are so close to everything fabulous this town has to offer for weekend getaways but a little bit removed to enjoy the countryside. This cottage has charm.
1 NIGHT STAY ARE AVAILABLE BY REQUEST ON ALL WEEK NIGHTS Sunday-Thursday. ALSO on any pockets on calendar were only 1 night is left available. 1 NIGHT WEEKEND STAY ARE AVAILABLE- We charge $300 per night for a 1 night stay on Friday or Saturday for up to 4 people. An extra $20 per person after 4 people. Max 6. Infants not included. You will need to request the night for approval. ALL BEDDING LINEN and towels are supplied for your ease of stay.
Paige is a fantastic host, along with her lovely family. She made sure we had everything we needed for the stay, great communication from booking through to leaving. She genuinely wanted to make sure we had a great stay. The whole family was so very welcoming and friendly. The cottage is lovely, very homely. Everything was as described and expected. The views from the deck are awesome. The gardens are really lovely, parrots in the trees really close by. The kids loved playing in the sand pit. The Cottage is in a beautiful location, with some lovely walks and scenery literally on the doorstep. It is also close enough to town to have everything you need (Coles, launderette, cafes, tourist information etc.) I recommend Paige's place without hesitation.
Erica
2017-01-09T00:00:00Z
First we where surprised, we though the Forest Cottage would be in the Forest! So we where a little bit disappointed, but than we opened the Forest Cottage! It has more space than you see on the pictures! A good hot shower, good beds, toys for the kids and clean! We enjoyed our stay, close by the Healesville S, the winery's and the dam! The last one was so nice for a afternoon walk! Thanks Paige for letting us stay in your cottage and the nice communication.
Martine
2016-07-06T00:00:00Z
Lovely cottage perfect for couples weekend away. We stayed here for a wedding and was only a short drive to Healesville and walkable to a winery and maroondah reseviour. Quiet, pieceful and spacious place to stay for a weekend away.
Rachael
2016-12-17T00:00:00Z
Plenty of space in this funky converted cottage for a few friends or a small family. We had a lovely visit and enjoyed our stay at Forest Lodge.
Sarah
2017-03-10T00:00:00Z
Great cozy getaway !! The outdoor lounge area was perfect for a relaxing glass of wine to wind down after a long day. Dining area was exceptionally beautiful :) wifi connection was not ideal but it certainly served as an important reminder for us to look away from our devices and enjoy Mother Nature's great creations. Hosts were as friendly as can be and very quick &efficient in responding. Highly recommend this place :)
WeenMin
2016-12-14T00:00:00Z
Great family friendly house with gardens. Clean and comfortable. The kitchen had all the equipment we needed too. Great communication from Paige. Quick drive to town.
Christine
2017-02-19T00:00:00Z
Cute cottage on the hillside. Well and truly worth walking down to the dam wall nearby. Hosts very friendly and helpful. ☺
Naomi
2017-03-07T00:00:00Z
While in the end I was unable to stay at Paige's place, my friends who did told me that they thoroughly enjoyed their time at the Cottage at Forest Lodge. The Cottage was comfortable and the grounds and view are lovely. Paige and Dan were fantastic hosts and very helpful throughout their stay. A particular bonus was the 'taxi' service they provided to and from Rochford for A Day on the Green for a reasonable additional fee, which made getting to and from the show incredibly easy.
Kyle
2017-02-04T00:00:00Z
Room Type
Entire home/apt
---
Property Type
House
---
Accommodates
6
---
Bedrooms
Healesville, VIC, Australia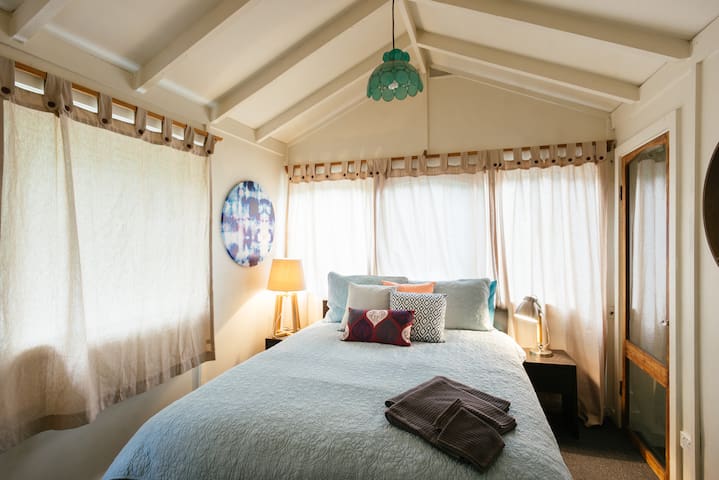 Our modern 2 bedroom house is just the place you want to go for a night or stay for the week. Within walking distance to all of Healesville's bars and restaurants and a great base to explore Healesville and the Yarra Valley and the wineries and tourist attractions. We can help you find it all.
We have a beautiful modern private open plan fully furnished home with FREE WIFI, all gas appliances, ducted heating, split system air conditioning, double glazed windows and timber floorboards throughout and a private deck/courtyard to enjoy. Our space is perfect for families and couples. Full kitchen with oven, gas cooktop, microwave and Dishwasher. Queen size beds in both bedrooms, one bathroom with ensuite effect to main bedroom with shower and a separate bath. We also have a single fold away bed perfect for extra children or another adult wishing to stay which can be set up in the bedroom or lounge room. European Laundry with washing machine also for your use. T.V, FREE WIFI, Netflix, Apple TV, DVD player, Linen, towels, coffee machine with coffee pods, milk, tea, sugar and local jams and spreads all provided for your stay. Children welcome, just bring a port a cot if you need one. There is a high chair for your convenience. Pets also welcome, however not on the furniture or in the bedrooms. We also ask you clean up after them in the garden. Additional costs will apply if any damage or mess left behind. Please note - we have a minimum of 2 nights on weekends and Public Holidays.
A great place within 5 minutes walking distance to all the great bars, cafes and restaurants in the town of Healesville. We are in the heart of the Yarra Valley and close to all the wineries and tourist attractions.
Really tidy house for a holiday! The house was extremely clean down to the glass windows. The owners had awesome communication and gave us the perfect space for a holiday
Eric
2016-12-25T00:00:00Z
Fabulous stay - really close to the Main Street in Healseville. Clean, freshly renovated and comfortable- everything we needed for a short break!
Kim
2016-12-27T00:00:00Z
Wonderful property and fantastic hosts! Extremely flexible with regards to an earlier check in time and super prompt to reply. The house is so modern and spacious, wonderful fixtures and in a fantastic location. Would highly recommend it and hope to return in the near future!
Anthony
2017-01-29T00:00:00Z
A lovely, clean and well equipped house. Nice extras - cappuccino maker and milk frothier with coffee pods, milk and treats. Short walk to town and communication and details provided by host were very helpful. Really enjoyed our short stay in Healesville.
Lori
2017-03-19T00:00:00Z
Lovely place, great location - had a wonderful stay.
Paddy
2017-03-30T00:00:00Z
Shannon and Sarah. Sorry for the delay in this review but the AirBnB website just wouldn't respond when I tried the other day. Many many thanks for the use of your great little home. Mum and I thoroughly enjoyed staying at Haig Avenue and will do so again next time we travel to Healesville. Mum loved the lollies you left!
Elizabeth
2017-01-04T00:00:00Z
Best Airbnb stay i have had. Perfect for a small family or couples getaway. Beautiful place! Shannon and Sarah were very friendly hosts and was always there to lend a helping hand. Location could not have been better. Was extremely close to everything.
Jenny
2017-02-13T00:00:00Z
Cozy cottage in the heart of Yarra Valley wine country. Highly recommended, loved our stay.
Dave
2017-01-13T00:00:00Z
Room Type
Entire home/apt
---
Property Type
Townhouse
---
Accommodates
5
---
Bedrooms
Healesville, VIC, Australia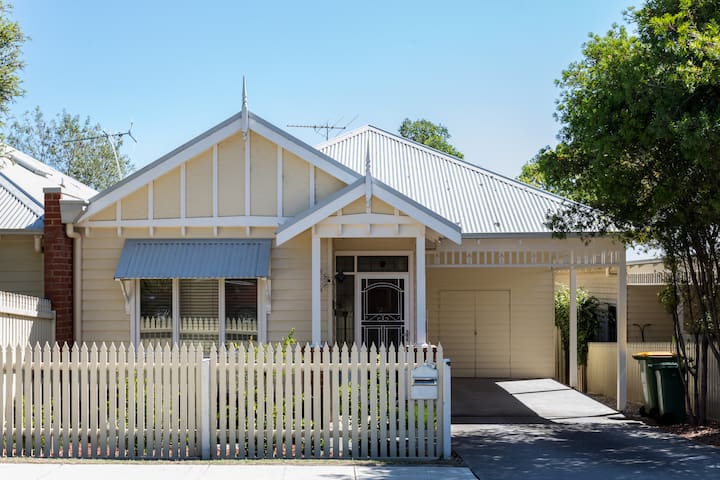 Karinya Park is a majestic blue stone residence that is privately situated on 5 acres. The unique property is 5 min drive to Healesville restaurants and boutique shops, Badger Creek Weir and Healesville Sanctuary. We are also close to the best Yarra Valley wineries including Rochford, Domaine chandon, Tarrawarra and Inocent bystander. Our place is good for couples, solo adventurers, and business travellers. We are a self catering
Karina Park is a unique property built with a French provincial influence. The accommodation area is part of the upper level of the house. The unusual shaped rooms have angled walls and quirky roof lines with roof windows overlooking the small lake with water lilies. The bedroom is luxurious with a king size deluxe mattress as used in the best hotels. Both the living space and bedroom have climate controlled air conditioning and heating. The bathroom also has a climate controlled heater. You will love the lounge suite which is so comfortable you won't want to leave. Scandinavian style furnishings are throughout. This is an adults only accomodation. The owners Phil & Nina reside in the lower level.
Karina Park is situated in an extremely quiet area with little traffic. The surrounding properties consist of vinyards, equestrian and cattle farms. If you take a walk around the area you would expect to see native animals including kangaroos and possibly our local pair of wedge tailed eagles!
Our stay at Karinya Park was brief however, we thoroughly enjoyed the stylish presentation as well as the secluded, peaceful setting. Our hosts Phil and Nina were very accommodating and it's the 'little extras' added to the already impressive rooms that makes Karinya Park well worth a stay. We wished we had more than one night there!
Joel
2016-08-29T00:00:00Z
A great private loft with all you need in a quiet location to explore the Yarra Valley and surrounds. Out of town enough to escape, but a quick trip into Healesville and many wineries and attractions. We loved the extra touch of the bathroom toiletries and slippers, a little bit of a luxury feel that you don't normally get from a self contained air bnb. Views and sounds of nature also great and just what you'd want from a semi-country setting, only wish the weather had been better so we could have sat out and enjoyed from the balcony. Would certainly recommend to others looking for a cosy and relaxing setting, will return if we stay in the YV again. Thanks!
Tom
2016-08-22T00:00:00Z
The host canceled this reservation 30 days before arrival. This is an automated posting.
Scott
2017-02-23T00:00:00Z
Very beautiful property. Nice space, clean and great views. Hosts very nice and accommodating. Would recommend to friends.
Jared
2016-09-25T00:00:00Z
Absolutely loved our stay at this immaculate property. Clean and close to Healesville - it made the perfect base for our Yarra Valley winery exploration weekend. Phil was a fantastic host with a quick text to let us know about some traffic conditions on the morning we left. Highly recommend this property and will definitely be back!
Ben
2016-10-22T00:00:00Z
A+
Blake
2016-11-11T00:00:00Z
Great stay! We wanted a quite getaway and that's what we got.
Aaron
2016-11-04T00:00:00Z
Our stay at Karinya Park was excellent. The place was exactly as described. The room is on a beautiful country property with a lovely view. The place itself is cosy and warm, well decorated, with a well equipped kitchen. It is also centrally located. I would highly recommend staying here!
Claire
2016-09-17T00:00:00Z
Room Type
Private room
---
Property Type
Apartment
---
Accommodates
2
---
Bedrooms
Healesville , VIC, Australia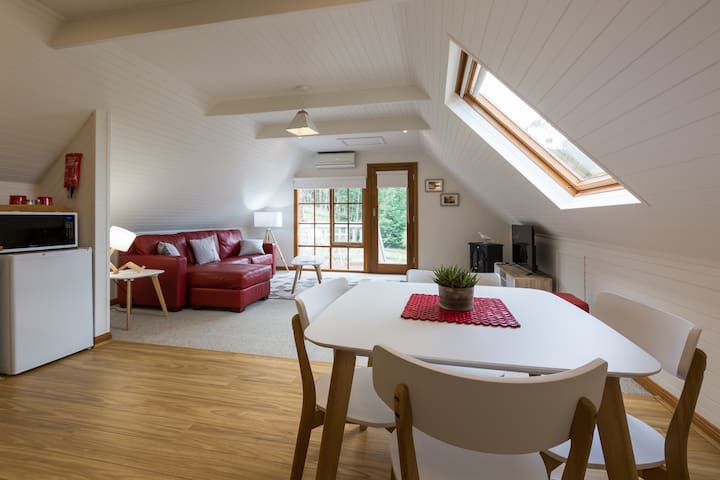 Situated opposite Queens Park and the Outdoor swimming pool, Yarra Valley cottage is within easy walking distance to the Main street of Healesville. Innocent Bystander and Beechworth Bakery are a stones throw away. Healesville Sanctuary and Maroondah Dam are a 5 minute drive away. A private garden is situated at the back of the cottage. Early check in's and late check out's via arrangement. Coffee and tea available. Breakfast not provided as we highly recommend sampling local produce.
Please note single beds zip together to form a King size bed.
We stayed at Anne's cottage for a long weekend. The house was well equipped and clean, and the location is fantastic (3 minute walk to Innocent Bystander). We would stay there again.
Andrew
2016-11-13T00:00:00Z
Lovely quaint house with all needed amenities. The heater did a remarkable job on a cold night.
Chris
2017-01-21T00:00:00Z
Anne's cottage was a home away from home. Equipped with all the necessities of a holiday home. Near town centre, attractions, yet on a quiet street comfortable enough for a good night's rest after a sweltering summer's day.
Suki
2017-01-07T00:00:00Z
A lovely cottage with a lovely secluded garden. Very spacious for 4 of us. Easy walk into town where there are shops, restaurants and a couple of cellar doors for wine tasting.
John
2017-01-01T00:00:00Z
Anne was very welcoming upon our arrival, leaving us with some bread and milk which was great. Anne was lovely to chat to and very helpful with our enquiries about the area. Anne's cottage is very close to the main street and a lovely park not far across the road. Highly recommended to enjoy the delights of Healesville and surrounds. We really enjoyed our stay and would definitely stay again.
Amir and Shushana
2016-11-06T00:00:00Z
The house was perfect for my visit, the generous offer to use the garage was also greatly appreciated. The house was perfectly comfortable and nicely appointed amenities, made the stay very relaxing.The yard space was also tranquil and private.
Scott
2016-11-19T00:00:00Z
Lovely cosy cottage with tranquil garden and backyard and an easy stroll to the main street, shops and restaurants. We greatly appreciated the fresh bread, butter and milk but more than that, and so akin to our European experiences, the well equipped kitchen was stocked with essentials like salt, pepper, oil, spices, tea, coffee, sugar, and much more. It warmed our hearts.
Carol Ann
2016-12-28T00:00:00Z
A gorgeous little cottage in a good location and great value for money.
Cassie
2017-03-12T00:00:00Z
Room Type
Entire home/apt
---
Property Type
House
---
Accommodates
4
---
Bedrooms
Healesville, VIC, Australia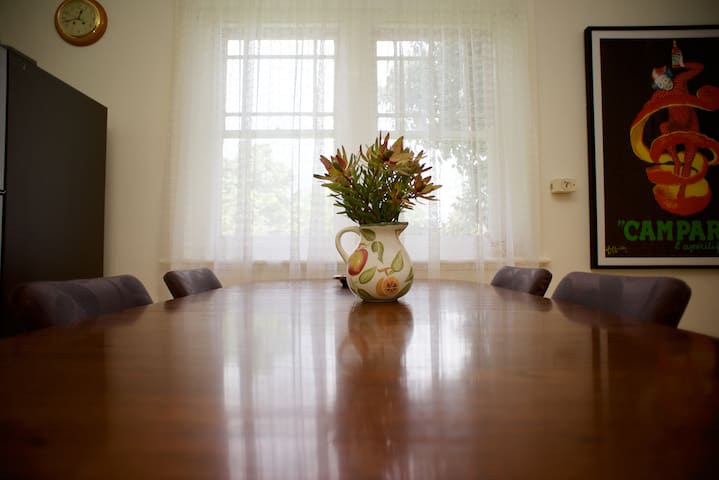 Welcome to Healesville House. Our beautifully restored 100 year old luxury accommodation is located at the East end of Healesville. It's walking distance to the main street and a short drive to fabulous Yarra Valley Wineries and Healesville Sanctuary. Boasting 2 bedrooms, each with queen bed, WIR and ensuite, fully equipped kitchen, dining / family room and outdoor alfresco. Tea & Coffee making facilities, gas log fire and guest amenities are just a few of the luxury provisions available to you.
2 x Queen size beds - freshly laundered linen and electric blankets provided Each room has a private ensuite - shower inside a deep bath, all towels supplied Fully equipped kitchen Coffee Machine - Vittoria capsules Private courtyard Large front verandah - enclosed front yard Ducted air-conditioning & heating + Heat & Glo gas log fire Flat screen TV, DVD player and stereo with iPod dock Front loading washing machine & clothes dryer Iron and ironing board Hairdryer Carport Sorry no pets. Minimum 2 night stay on Weekends
5 minute walk to local restaurants 5 minute drive to Healesville Sanctuary 50 fabulous wineries within 15 minutes drive, 40 with cellar door tastings Walking tracks & beautiful scenery only a stones throw away
Lovely house, beautifully set out, and a quick walk into town.
Kirsty
2017-03-12T00:00:00Z
Lovely, clean and spacious house. Very close to restaurants. Would recommend it to anyone. Caroline was the perfect host.
Ian
2017-02-21T00:00:00Z
Healesville house is definitely a place to stay in. Very close to shops and restaurants. Caroline is very accomodating and it's definite home away from home. Such a lovely and cosy place and we will definitely be back and will recommend it to friends Thank you Caroline
Maria
2017-02-23T00:00:00Z
A great place to stay with easy access to local shops and restaurants. The house was presented beautifully and had everything we needed. Perfect !!
Christopher
2017-03-19T00:00:00Z
Room Type
Entire home/apt
---
Property Type
House
---
Accommodates
4
---
Bedrooms
Healesville, VIC, Australia
OLIVEBANK is comfortable, light and spacious and situated just a 5 min drive from Healesville Main Street. The township has a wonderful choice of cafes , restaurants and shops. Being in the heart of the Yarra Valley there are many attractions including wineries and only 10 minis away the Healesville Sanctuary.
OLIVEBANK is a fully self contained , country style home, located on a quiet street in picturesque Healesville. The one bedroom apartment has its own separate entrance and a delightful sunny verandah to sit on and enjoy the garden. Inside there is a fully equipped kitchen and provisions are supplied for a cooked breakfast. The large bedroom has a queen size bed looking out through the bay window.There is a spacious living area and seperate bathroom. Come and relax with a late checkout of 11am or you can explore the many attractions of the Yarra Valley.
Very peaceful and quiet neighbourhood
Such a lovely place. Immaculately presented with personal touch of choccies and breakfast provisions which we didn't expect!! Lovely surroundings. Highly recommend
Ysanne
2016-11-26T00:00:00Z
An incredible stay- thank you Karina! The cottage was immaculate, the amenities were perfect, and the area was stunning. We were provided all we needed for a delicious breakfast and could not have enjoyed our stay more! Would absolutely stay here again- a countryside paradise! Thank you!
Georgina
2016-10-21T00:00:00Z
A lovely little house with all you could ask for. The place was extremely spotless and didn't have any kind of smell, in fact it was completely odour neutral. The bed was super comfy and the blinds blocked out a lot of the morning light. The shower had great water pressure too. Karina provided an array of food for breakfast which included bread, muffins, Eggs, bacon orange juice etc which was lovely. I would highly recommend staying here, it was extremely comfortable and couldn't really fault anything.
Matthew
2017-03-11T00:00:00Z
Beautiful stay enjoyed every moment of it. Cosy, neat and self contained. Close to the town too. Hosts were really easy to get along with!
Mateusz
2016-09-30T00:00:00Z
Absolutely perfect stay for two nights and we'd have been happy to spend a week. The apartment feels private, quiet and clean to a very high standard. The bedroom is large, quiet and has plenty of storage, and the living room / kitchenette is spacious and comfortable. The breakfast provided was superb, and WiFi has recently been installed (we asked for the code on arrival). Thoroughly recommended.
Nathan
2017-03-18T00:00:00Z
What a beautiful place ! We spent 2 days at the Olivebank and really enjoyed our stay. The place is brand new, nicely furnished and really close to Healesville. Karina provide heaps of fresh bacon, eggs, cereals, orange jus, muffins... And we were lucky enough to be her first guests so we were welcome with chocolates and wine :) Thank you for having us and all the best with our B&B !
Benedicte and Remi
2016-09-28T00:00:00Z
Very clean and beautiful place surrounded by an amazing garden. Place was surprising stocked with a lot of breakfast essentials like bacon, eggs and cereal and was close enough for a short trip into town for shops. I would highly recommend this place to stay in if you are looking to explore the area.
Linda
2017-01-11T00:00:00Z
We thoroughly recommend Olivebank - it was such a lovely space and Karina supplied such generous and delicious provisions! It is well maintained and surrounded by beautiful gardens. Would definitely return - we were disappointed that we were only there for one night!
Alex
2017-01-12T00:00:00Z
Room Type
Entire home/apt
---
Property Type
Bed & Breakfast
---
Accommodates
2
---
Bedrooms
Healesville, VIC, Australia
Set on 70 acres of rolling meadows, Lonsdale Park offers a luxury accommodation experience in the heart of the picturesque Yarra Valley. With expansive views over the bordering Yarra River, guests are invited to relax and indulge in exquisite natural beauty. The meticulously decorated and architecturally designed bedrooms, living area and kitchen present open and light-filled spaces. Floor-to-ceiling windows in every room allow immersion in the magnificent surrounding 2-acre garden.
Luxury self-contained accommodation in the heart of the Yarra Valley
The house is really beautiful and a great place to stay in for a stopover in Yarra. Martina is a very friendly and helpful host, she had been quick to respond to our every need. Will definitely stay here again!
Wei ching
2015-08-05T00:00:00Z
Gorgeous gorgeous place to stay ! We had a lovely time. Normally we'd visit wineries and nearby sights etc. but the house and gardens were so nice that we just couldn't leave and ended up spending almost the whole time at the property. Martina was very helpful. If you want peaceful beautiful surrounds and a stylish abode, this is perfect.
Emma
2015-08-16T00:00:00Z
We loved our stay. The photos do not do this place justice, the house and garden are stunning. Martina was very welcoming and even made a special trip to turn on the generator when the power went off in the whole Yarra.
Karlin
2016-10-12T00:00:00Z
Martina was very welcoming and accommodating about everything. Right from being flexible on our check-in time to providing us fans since it was a bit warm when we arrived, to actually carrying some of our luggage back to melbourne for us since we had shopped so much and could not fit it in our car - she was super helpful all the way! She even left us extra towels at no extra cost so we could change midway through our stay if we wanted. Thank you for everything Martina!
Shameeli
2015-12-27T00:00:00Z
Martina met us when we checked in. Took every effort to walk through the house with us. Beautiful house! The pictures don't do it justice.
Samuel
2015-10-11T00:00:00Z
Martina is a welcoming and hospitable host with a beautiful secluded place in the yarra valley. We had a great weekend and very pleasant stay. Thanks for everything.
Christian
2014-09-14T00:00:00Z
Wow, what an amazing and unique property. We had a girls weekend in Melbourne and finished off with two nights off at this very special property. It was the highlight of our trip and we all wished we had more time there. So restful and relaxing! Martina greeted us and made us feel exceptionally welcome. We loved the property and gardens. The location was great too - very central to winery's and only 15 minutes drive to the very quaint town of Healesville. Highly Recommend!
Terese
2016-11-09T00:00:00Z
Room Type
Entire home/apt
---
Property Type
House
---
Accommodates
8
---
Bedrooms
Launching Place, VIC, Australia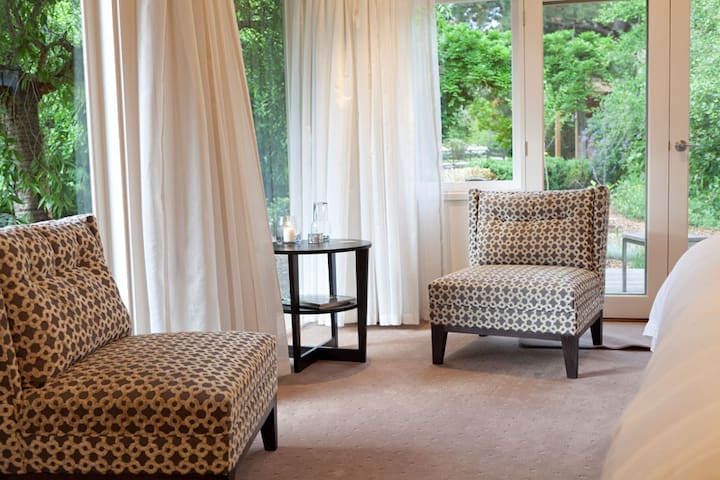 A charming mud-brick cabin situated at the foot of Mt.Riddell. This private self contained cabin has open planned kitchen and dining with a cosy wood fire, with views over the Yarra Valley to the City. We love sharing our space with others.
Situated on a private 47 acre property that backs onto the Yarra Ranges National Park - The cabin features a fully equipped open plan kitchen, dining and lounge, bathroom with views of the forest, and front patio with BBQ facilities and fire pit. The cabin is on the edge of the forest 35 metres from the main house. There are bush walks, stunning views, and a fantastic variety of wildlife on your doorstep.
A beautiful cabin, where we spent most of our time lounging in the hammock and listening to the birds. Great walks around the property, just far enough away from the town where you feel so secluded yet if you forgot anything you can quickly get to the shops and back. Vicki and Michael provided everything, included provisions for breakfasts and homemade Anzac biscuits on arrival which was a very sweet touch. Easy to contact, great with advice - two very kind hosts.
Ryan
2017-01-28T00:00:00Z
Very enjoyable weekend, nice and relaxing. Vicky and Michael were fantastic hosts. Everything was well thought of and we were made to feel very welcome.
Hannah
2016-09-26T00:00:00Z
Loved our weekend at Vicki's Mt Riddell cabin. The place is homely, welcoming and perfectly situated close to walking trails and national park. The property and view is divine and we can't wait to come back again! We had our four month daughter with us and were all warm and cozy thanks to the fire. Breakfast was provided and the cabin had everything we needed, including kangaroos grazing outside the windows in the mornings!
Meg
2016-07-11T00:00:00Z
We had a fabulously relaxing weekend! The cabin is clean and comfortable. The kitchen has everything you need if you want to buy some ingredients and whip something up. We saw some great sunsets from the top of the hill. It is a short drive a way from the main part of town which we loved. Such a peaceful place to stay. Will be back! :)
Rachel
2017-01-14T00:00:00Z
Vicki's place exceeded our expectations. We loved feeling amongst the trees and adored the rustic cabin that had every comfort including the luxuries like bath robes. Wonderful hospitality made us feel welcome and we still had a lot of privacy from the main house. The attention to detail was noticed - the beautiful flowers here and there were a treat and we loved the fresh produce. We highly recommend Vicki's Airbnb if you are looking for a rejuvenating and quiet stay amongst the gum trees and beautiful wildlife. It's a great location for bush walks, not far from Healesville township and Healesville Sanctuary.
Helen
2017-03-03T00:00:00Z
We had a lovely time at this beautiful, cosy cabin. We loved exploring the rest of the property, watching the sunset, and saying hello to Ben the Clydesdale. We thought it was very affordable, clean and comfortable and enjoyed all the little touches. Hope to be back again soon. Thanks, Kristen & Jacob
Kristen
2017-03-12T00:00:00Z
Wild wallabies, bathing rosellas, hopping kangaroos and a sky full of native birds at your doorstep. Such a calming and beautiful country break.
David
2017-03-26T00:00:00Z
After a long drive, we were pretty tired and stressed by the time we arrived. However that all dissipated quite quickly once we stepped into the cabin. A beautiful fire cooking in the wood fired stove, a plate of fresh anzacs and a clean, cozy interior greeted us. Over our stay there we saw native birds, kangaroos and wallabies, and just generally had a fantastic time. Would definitely recommend to anyone looking for a lush little bush getaway.
Patches
2016-10-06T00:00:00Z
Room Type
Entire home/apt
---
Property Type
Cabin
---
Accommodates
2
---
Bedrooms
Healesville, VIC, Australia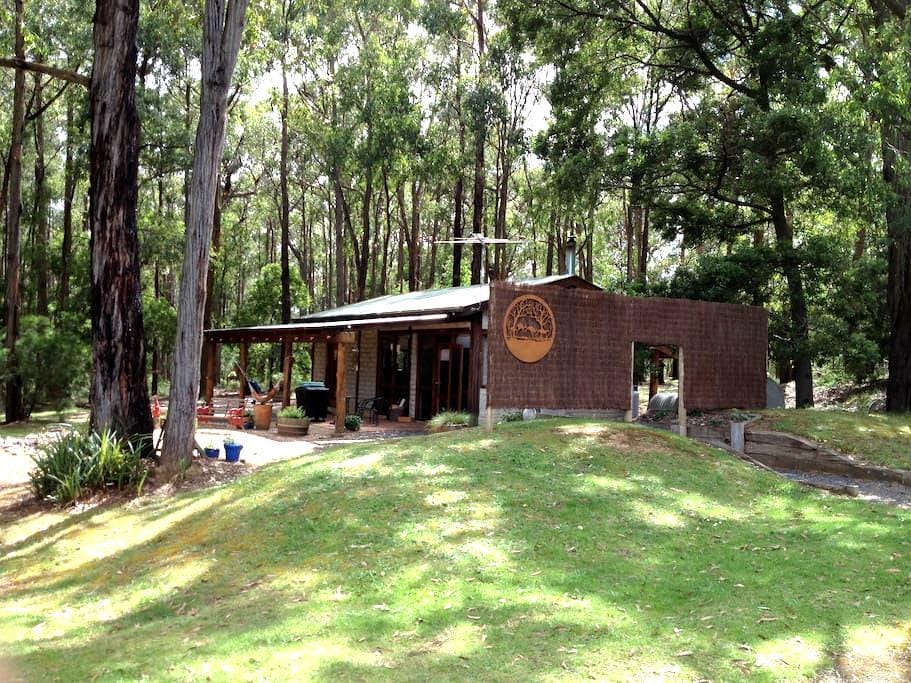 Our cottage is nestled among the trees and only a 10 minute walk to Innocent Bystander and the fabulous Healesville shopping strip. A little home all to yourself with a front porch and stunning mountain views from the bedroom. One large living area with kitchenette, crockery provided, a dining table and a fold out couch. Queen sized bed in the bedroom and an ensuite with shower and spa bath. Spend your days visiting the best wineries in the Yarra Valley and come home to relax and unwind.
Please note that the kitchenette does not include an oven or stove top. There is a sink and a microwave.
Gorgeous view from the bedroom! Its close to the Healesville shopping strip, which means brunch is only 5 minutes away.
Gabrielle
2017-03-17T00:00:00Z
Anneke's place is lovely and secluded yet central to many restaurants, winerys and the sanctuary. Suited to really only two adult guests as the apartment consists of the bedroom, ensuite and a central living room with a kitchenette which also houses the dining table and a fold out couch. Beautiful little flat none the less with a great view.
Monique
2017-02-15T00:00:00Z
Lovely small place close to the action!
Dan
2017-03-25T00:00:00Z
Anneke's place was great value, very clean and with a nice view. Would happily come again and recommend to others.
Bonnie
2017-02-19T00:00:00Z
Lovely, clean and quiet. Perfect for what I needed.
Peter
2017-03-10T00:00:00Z
Excellent place!! cozy, warm, comfortable and secluded as per advert. Anneke was always willing to help which was great. Perfect location for any Healesville visitors
B
2017-02-17T00:00:00Z
Beautiful place, scenic views, nice and quiet and extremley clean, would recommend to all
Viran
2017-04-01T00:00:00Z
Anneke's place is really comfortable, has a lovely view, a huge spa and a really friendly, helpful host. The walk into town takes around 15 mins to the centre but is straight forward along the main road.
Karen
2017-03-04T00:00:00Z
Room Type
Entire home/apt
---
Property Type
Apartment
---
Accommodates
2
---
Bedrooms
Healesville, VIC, Australia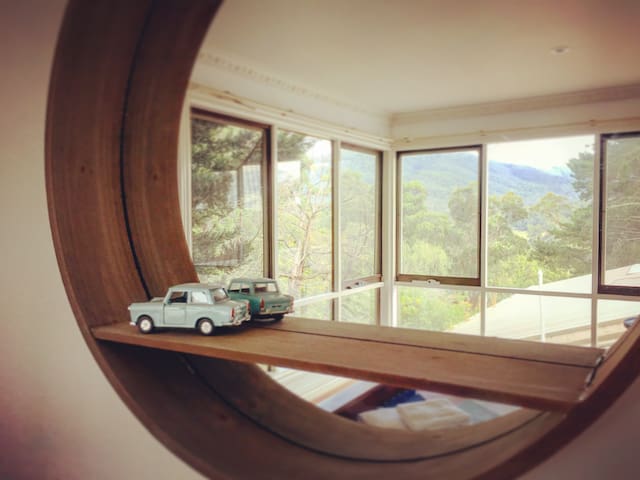 Mid century designed townhouse within a 8 minute walk to Healesville Main St. Designed with comfort in mind, enjoy Egyptian cotton sheets, SMEG Italian kitchen appliances and deluxe Aesop bathroom toiletries. Enjoy home grown herbs from the herb wall and relax wth a glass of wine on the deck in the garden. Located only 1 minute walk from Australia's award winning Four Pillars Gin Distillery. Enjoy on complimentary bottle of Yarra Valley wine, Illy coffee and farm fresh eggs on every stay.
Great location, perfect condition, such a cute and cosy place. Giustino was perfectly accomodating and helpful. Thanks!!
Esther
2017-01-07T00:00:00Z
Perfect for our mini getaway. Very clean, modern, comfortable beds and good quality sheets and amenities. Location is great and host provided breakfast items for the duration of our stay. Will definitely recommend to friends and family, thank you for a lovely stay.
Linda
2017-02-25T00:00:00Z
Giustino was a wonderful host and strayed our stay with goodies in the kitchen, maps, information and was very responsive. We loved the location and the decor in the place. Wonderful find!
Susan
2017-03-22T00:00:00Z
We loved every minute here at Giustino's place. Was beautifully styled and a great location , would definitely stay here again.
Stacey
2017-03-18T00:00:00Z
Thank you, Giustino, for providing such a nice place for our stay in Healesville. The unit looks like newly built, has everything from cocking to washing facility, ducted heating and aircon, wifi etc. The beds are comfortable. Backyard is small, but well planted. We enjoyed siting outside and watching stars at night. We didn't expect you even provide cake, bread, eggs, milk, and other drinks, icy poles. Thank you so much for all these you have done! We would like to come back in the future! Best Regards! From Honglei's family.
Honglei
2017-01-06T00:00:00Z
Great place, quite spacious and very close to the Four Pillars Gin Distillery which is well worth a visit. Host was welcoming and complimentary drinks and some food was provided. Outside seating area was great especially since it was sunny
William
2017-02-07T00:00:00Z
Great little getaway place with a fantastic host. A little gem
Nelson
2017-01-22T00:00:00Z
Thank you so much, Giustino, for the most wonderful stay at your beautiful and charming home. You are a very thoughtful and lovely host. See you next time. Many thanks, Di & Tim :) xo
Dianne & Tim
2016-12-18T00:00:00Z
Room Type
Entire home/apt
---
Property Type
Townhouse
---
Accommodates
5
---
Bedrooms
Healesville, VIC, Australia
Room is fully furnished. All bedding, linen and towels provided. Free WIFI, water, gas, electricity and TV. Shared kitchen, laundry and bathroom. Parking available. Close to town- only a few minutes walk to shops, busse
Ms Berryl is quite nice and an enjoyable host!
Ammar
2016-11-08T00:00:00Z
Great space lovely host
Suzanne
2016-05-06T00:00:00Z
Beryl's house was great, the room and bathroom were private and Beryl was lovely to talk to. She took me in at very short notice which was incredibly helpful, and very reasonably priced. The house is very close to the nearby shops (have a coffee at Mocha & Lime). Would definitely recommend and stay again.
David
2016-04-06T00:00:00Z
Beryl is very friendly and accomodating, pleasant to be around, would stay again. Would not recommend the chicken shop near Coles.
Debbie
2016-11-22T00:00:00Z
Mrs B is the best! Her house is close to everything, she owns birds and she is super friendly. We had a great visit and we would highly recomend staying with her!
michael
2016-10-27T00:00:00Z
Beryl is a very warm and accommodating person. Her place is super neat, close to everything and her birds are amazing. Highly recommend staying here.
Peter
2017-02-20T00:00:00Z
Friendly, quiet and accommodating. Beryl was an delight for the time I interacted with her. I was running late for an event, she took everything in her stride and my stay was made super easy. I had wonderful views from my window, my bed was super comfy and I forgot to shut my curtains so was awoken to the dawn chorus - Auzzie birds singing awake - and the sun cresting the mountain. It was really beautiful. Would definitely book again.
Amanda
2016-12-10T00:00:00Z
Beryl made me feel welcome and was very helpful and friendly. The room and house were very clean and there was a lovely garden area to sit in. I felt very comfortable there. Beryl's home is very conveniently located for visiting Healesville and I really enjoyed my visit.
Rhiannon
2016-03-23T00:00:00Z
Room Type
Private room
---
Property Type
House
---
Accommodates
1
---
Bedrooms
Healesville, VIC, Australia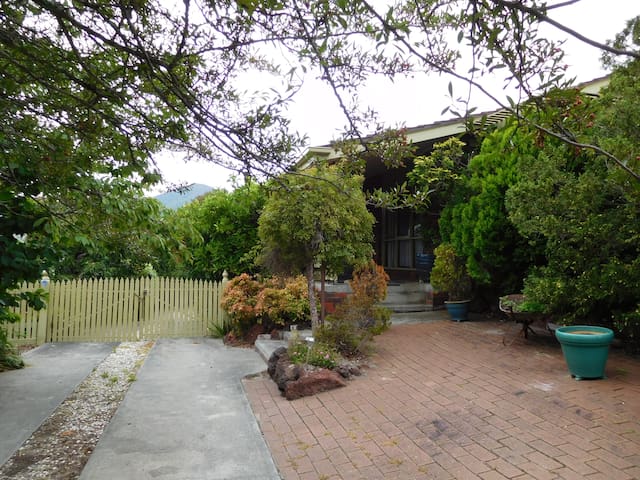 Enter dates to see full pricing. Additional fees apply. Taxes may be added.