Close to all the best beaches, we are only 25 minutes from downtown Halifax, have plenty of parking, your own private entrance/deck with an outdoor hot tub. The rental unit has all you need to make it a comfortable stay including a small fridge, microwave, hot plate, coffee maker and other kitchen items. We have wifi, TV/DVD, books and games including a ping pong table! The rental unit is great solo, as a couple, for business travellers who want to relax and furry friends (nice pets only!).
The rental unit is part of our home in beautiful Lawrencetown about 25 minutes from downtown Halifax. The rental unit has its own private entrance and deck with a hot tub and hammock. Inside, there is 1 bedroom, dining room, small kitchenette with everything you need including a microwave, toaster oven, hot plate, mini fridge, coffee maker and anything else you might need to enjoy your stay. There are board games, books, TV/DVD player, Wi-Fi and a ping pong table.
Lawrencetown has some of the best beaches in NS! Also, very close access to the Atlantic View Trail and the Salt Marsh Trail both are part of the Trans Canada Trail system. Check out our website for more details on what's around and what there is to do! (URL HIDDEN)
Patrick was an amazing host! He was extremely kind and welcoming. Anytime we bumped into him, he checked in on us to see if we needed anything and made sure we were enjoying our stay. The apartment itself was amazing - clean, cozy and had everything we needed! Bonus was the hot tub. The apartment was in an amazing location - close to all the beaches. Patrick even lent us his hikes for an amazing trail - a definitive highlight of the trip. Stay here if you're in lawrenctown or Halifax!
Matthew
2016-08-21T00:00:00Z
Patrick's place is a nice, clean, cozy and quiet spot for a perfect get-a-way. There is everything you need, and then some. The hot tub was an awesome bonus. This is a great place to relax, watch a movie, colour and enjoy the outdoors. I would definitely stay here again.
Amara
2016-10-09T00:00:00Z
Their property is charming, the space is comfortable and well put together. Close to Halifax, surrounded by nature - it's pretty perfect.
Mallory
2016-10-12T00:00:00Z
We felt fortunate to find Patrick's home on Air B&B. The apartment was extremely clean and comfortable. Our host was very accommodating. Staying in this spacious quiet apartment close to the ocean allowed as a place to have a productive working vacation while also have easy access to the beach (short drive) and lovely multi use trail trail that we could use straight from the door for cycling and running. The outdoor hot tub was also a treat after a day at the beach.
Theresa
2016-08-11T00:00:00Z
Felt very lucky to have found this wonderful place to stay. The accommodation were very clean and well thought out. There were many things that made the stay more pleasant books,movies,hot tub, hammock private deck and plenty of parking. There is something for everyone at this place. Our Host Patrick was friendly and available to answer questions. I would definitely go back to his place.
Julie
2016-08-31T00:00:00Z
This place is a nice place to stay near Halifax without having to be by the city and all the tolls. It's in a quiet town with a nearby beach. It's connected to a larger house - the owners house. So we had ready access to our host. It was very clean and had enough space, it accommodated us well on our stay. Patrick was very prompt when I asked questions or had needs. There are two friendly dogs in the owners house. We were very comfortable here and felt very welcome. It was a nice stay away from the city!!
Jenn
2016-09-27T00:00:00Z
This is a great little spot. The unit is very spacious and has everything you need. The hot tub and hammock were a nce addition. The 5 very unique chickens wondering around added to the appeal. The place is spotless and the hosts were very accommodating! We would highly recommend if you are staying in this area.
Sandra
2016-08-14T00:00:00Z
Room Type
Entire home/apt
---
Property Type
Apartment
---
Accommodates
2
---
Bedrooms
Lawrencetown, NS, Canada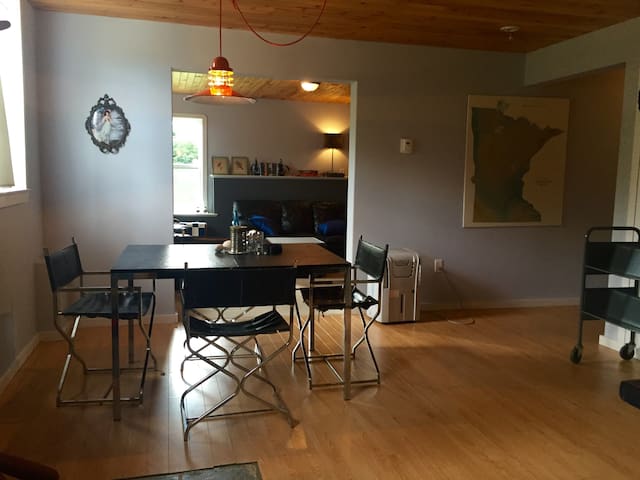 My place is close to 10 minutes to city amenities, 2 minutes to surf at the world famous Lawrencetown beach. Nature trails within 200 yards.. You'll love my place because it's in a rural setting surrounded by nature but still just ten minutes to city life and breathtaking scenic drives along the Atlantic Ocean..
Sean and his beautiful family were sincere about ensuring the quality of our stay. Its in a nice neighborhood. Excellent place to stay for a short trip.
Mehran
2016-08-21T00:00:00Z
Room Type
Private room
---
Property Type
Apartment
---
Accommodates
2
---
Bedrooms
Lawrencetown, NS, Canada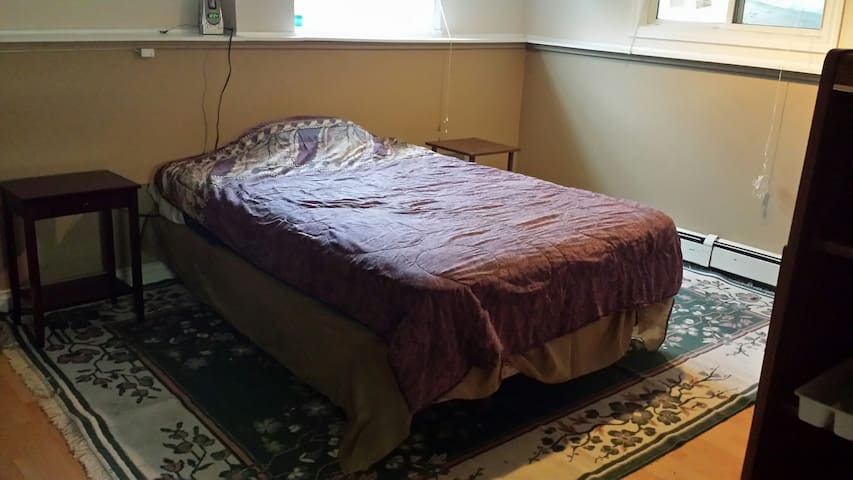 This apartment has its own private entrance and deck. Comfortably sleeps 2 but can readily accommodate more guests with a futon. It has a kitchenette with a mini-fridge, microwave, toaster-oven, dishes and sink -- and a full private bath.
This small apartment is equipped with a kitchenette, small fridge and electric fry pan, toaster oven, microwave, etc., and a three piece bath (shower). It has its own entrance and deck with views of Lawrencetown Beach. It's a 30-second walk to the Beach and a 60-second walk to the Trans Canada Trail.
Our neighbourhood is an incredibly relaxing place to be. There are only four other houses and you'll be sandwiched between the beach, the bluffs and the Trans Canada Trail. There is incredible hiking and nature in the area. The beach, lakes, marshland with diverse ecosystems and forests are all a short walk away. There is a great, affordable place to dine and another cafe a short drive away in Seaforth / Grand Desert. The closest shopping centre with grocery and a liquor store is only fifteen minutes away in either direction on the 207 highway.
Good little studio, right on the beach with a few steps from a great surf beach. The studio includes everything you need for a comfortable stay. Ben and Kaylee are nice host and their place is definetly a perfect spot for a nice vacation!
Julien
2016-10-29T00:00:00Z
Fantastic stay! Studio was clean, comfortable and inviting. Host was great, friendly. Close to beach and trail. Wonderful experience, we'd love to stay again!
Jennifer
2016-07-22T00:00:00Z
This is a great spot if you want to experience the surf at Lawrencetown Beach! The studio is very new and clean. Ben and Kaylee were very responsive and ready to make our arrival as easy as possible.
Patricia
2016-09-04T00:00:00Z
Amazing place to stay! 2 minute walk to the beach :) awesome hosts and lovely room. Can't wait to stay again.
Lindsay
2016-08-09T00:00:00Z
We have stayed 5 days in Ben's studio and loved it! Very clean, got its own entrance, small kitchenette and is not even a minute walk from the beach. Ben & Kaylie are friendly and they have been helpful, adding to our perfect vacations. I recommend highly! Surf & hike right next door.
Valérie
2016-08-26T00:00:00Z
Ben's place is just as described - a great room for a couple to stay very close to the ocean and enjoy some amazing time together.
Tom
2016-08-20T00:00:00Z
Ben's place was great. Easy to find and very clean.
Eli
2016-10-30T00:00:00Z
Just lovely.
Marla
2016-08-04T00:00:00Z
Room Type
Private room
---
Property Type
Apartment
---
Accommodates
3
---
Bedrooms
East Lawrencetown, NS, Canada
A furnished room in a large 2 bedroom apartment. In the family-filled heart of downtown Dartmouth, walking distance to both transit bus terminal and ferry terminal (6 minute walk in the opposite directions). Close to the beautiful Dartmouth Commons, the lovely coffee shop Two if by Sea, amazing gourmet sandwich shop the Canteen, and beer bar Battery Park. This apartment is also home to a Dal grad student and very, very friendly male tabby.
My apartment is on the main floor of a 2.5 story converted home with lots of character. Your cozy room has a double bed, very large closet (with hanging organizer), desk and chair, and a bookshelf. Towels and face cloths are provided, and there is shampoo and body wash for use in the shower.
Downtown Dartmouth is undergoing a bit of a rejuvenation. My neighbourhood is filled with young professionals, with great local cafes, restaurants, and pubs just a short walk away. The nearby Dartmouth Commons provides an excellent place to relax and take in the cityscape of downtown Halifax.
Thank you Elizabeth for being such a lovely host! Not only a great place to stay, but great company too!
Stephanie
2016-12-10T00:00:00Z
Great place in a very convenient location close to many nice shops. Elizabeth was a lovely host and the place was just great. Highly recommend to any and all
Matt
2016-12-24T00:00:00Z
Excellent place , very clean and tidy, own space but host there if we needed, nice friendly cat too! Excellent facility's , kitchen bathroom and sitting room all immaculate and welcoming, only stayed two days but would stay again :)
Charlie
2017-02-22T00:00:00Z
Host was lovely and helpful. Very friendly. Kitchen , well equipped. Location was very near the ferry and it was very convenient. The place is great for economy for the price. Perfect for travelers who need a place to rest. Had a great time --would recommend.
Jake
2017-02-19T00:00:00Z
Very clean, big place, extremely close to shops, and the ferry. Elizabeth is very helpful and friendly. Would definitely stay again if I'm in the area.
Robert
2016-12-04T00:00:00Z
Liz was an excellent host with great communication. Her place is very easy to find and a quick 8 minute walk to the ferry and close drive to the airport. The room was clean and cozy with lots of space and a very comfortable bed. Kitchen was clean and she went out of her way to make sure I had coffee and even to-go cups. Her cat is friendly and inviting. I would stay here again any day! Thanks again, Kristen
Kristen
2017-02-26T00:00:00Z
This was my first Air BnB experience, and it was excellent. I moved to Halifax and needed a place to stay for my first month. Elizabeth is a fantastic host! She's very upbeat, organized, had great recommendations for things to see/do/eat in Dartmouth, and she's both friendly and respectful of privacy. She is very easy to live with, which made my stay, and the transition of moving to the east coast, really great. The location is fantastic. It's a short walk to buses and the ferry, as well as some great pubs and restaurants. I really enjoyed Dartmouth and the small town feel it has. Everything was clean, the linens were fresh, and she has all the cooking supplies a person could need. We definitely bonded over cooking :) Word to the wise, Liz is a particularly good baker. All in all, this was a great first Air BnB experience and I wouldn't hesitate to recommend a stay with Elizabeth!
Kristina
2017-03-31T00:00:00Z
I was in Hali for a short film project. Great place to stay, clean and cozy. Nice neighbourhood with a pretty park nearby(which offered me a nice cinematic look at sunrise for the drone shots). Elizabeth was a great host (&cute) thanks for everything.
Jing
2016-12-07T00:00:00Z
Room Type
Private room
---
Property Type
Apartment
---
Accommodates
2
---
Bedrooms
Dartmouth, NS, Canada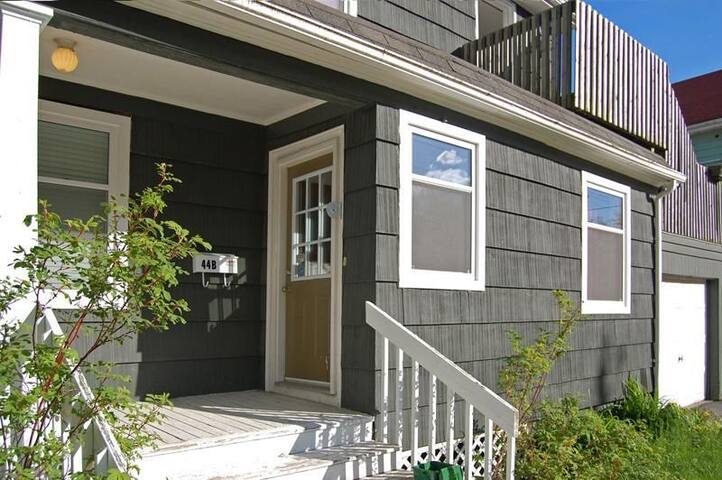 Located in Halifax on the Dartmouth side of the Harbour. Just 5 minutes from the waterfront and ferry to downtown Halifax, this apartment offers the advantages of an urban location, but with green space that allows for a full appreciation of summer on the East Coast - your own backyard space, grilling on the barbecue, a chance to relax in the sun or shade with your favorite magazine. The unit is the first-floor of a unique modern home (constructed 2008) in a historic neighborhood of cute 1900-era wooden houses, parks, and tree-lined streets. It is offset 100ft from the main street, and surrounded by well-kept yards and gardens - truly an urban oasis. Our family (Carl, Jean, and Mary Louise live on the second and third floor. The unit is fully furnished and equipped. It would most comfortably accommodate two guests. Internet, TV, and parking are included. There is also a barbecue and outdoor eating area, and a claw-foot cast iron tub perfect for deep relaxation. Several great restaurants in the neighborhood include Nectar (excellent cocktail menu), the Wooden Monkey (organic / vegetarian options), and Celtic Corner (sometimes featuring live celtic music). We also recommend the croissants at the award-winning Two If By the Sea Cafe, just a four minute walk from our place. For those looking to workout, day-passes are available at the the nearby Dartmouth Sportsplex, and we are also in the process of setting up a small gym on-site. The main public bus terminal in Dartmouth is just a 10-minute walk across the Dartmouth Commons (park overlooking Halifax Harbor), providing easy access to most destinations in the Halifax metro area for those who prefer to avoid the hassle of driving and parking in an unfamiliar city (given the geography, Halifax's roads are anything but grid-like!). Also a 10 minute walk to the Dartmouth Ferry which frequently crosses the Harbour and docks in the heart of Halifax's downtown.
The unit was the perfect size for two people. It's location was ideal for visiting Halifax as it was very close to the ferry. However was very quiet and easy to get to sleep
Nick
2016-06-09T00:00:00Z
Jean met us early which was nice and we got settled in. Place was clean and spacious. Bed was comfy. They also had some little snacks available which was awesome. The backyard was scenic and relaxing. Walking distance to the ferry to halifax. Only thing that was a bummer was the smoke alarm went off while we were sleeping and we jumped out of bed. It woke us up for the day. Other than that, it was a great place. I'd definitely stay again.
Serena
2016-08-24T00:00:00Z
We had a lovely stay in Carl & Jean's immaculate apartment in Halifax. Great hosts and we highly recommend this apartment.
Gail
2014-04-18T00:00:00Z
Hosts were wonderful. We kept in contact and had a great experience. Everything we needed, clean, and attractive. The flowers at the entrance were beautiful. Bed was comfortable and the kitchen well equipped. This was one of the better ones we have stayed in.
Jon & Ava
2016-08-20T00:00:00Z
Carl and Jean were very accommodating and welcoming. We arrived a little later than anticipated but were able to let them know far enough ahead of time not to make an issue of it. The room is secluded, quiet, and very spacious! We were only a 5 minute walk from the ferry to Halifax, which made it a very convenient location!
Jarrad
2016-10-20T00:00:00Z
Carl and Jeans place was exceptional. It was everything that was listed. Warm and cozy and the cast iron bathtub is 5 stars. It was within walking distance of the library and the ferry terminal and a few great coffee shops. We also took in a craft brewery also within walking distance. We asked Carl about a good fish and chip place and he directed us to a place called Fish Wrap that was at the fisherman s Wharf. It was great. Lots to do and see. Really enjoyed Dartmouth. Thank you Jean and Carl!
Jan
2016-11-07T00:00:00Z
Jean accommodated my late arrival with no issue. Place was exactly as described. Would definitely stay here again and am recommending this place to friends and family. Thanks Jean and Carl
Tina
2016-09-27T00:00:00Z
Great location, great apartment and good hosts. Would highly recommend!
Shane
2015-09-24T00:00:00Z
Room Type
Entire home/apt
---
Property Type
Apartment
---
Accommodates
2
---
Bedrooms
Dartmouth, NS, Canada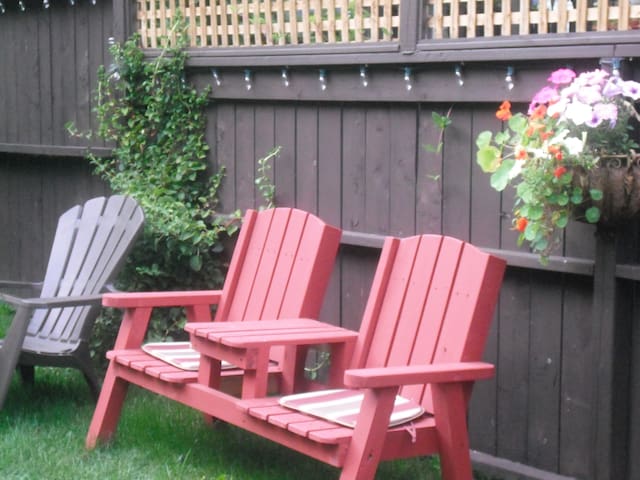 We're a couple of Maritimers with a fully furnished & equipped, beachside apartment for rent - located 100m from the sands of legendary Lawrencetown Beach. Our backyard also borders the Trans Canada Trail --with limitless walking and hiking options through coastal marshlands in both directions.
This ground floor apartment is spacious and inviting, easily accommodating 6+ people. It has a living room with a 50" 4K Smart TV , 2 futons and a play area for kids. There are 2 bedrooms, each with private bathrooms. We are renovating the bathroom with the shower in the spring and will be uploading photos -- to include a walk-in shower, subway tile and lots of rough cut wood. This apartment has a fully-equipped kitchen and dining area with a dishwasher and brand new reverse osmosis filter under the sink. There is access to laundry and some indoor storage through the garage. It's a 1 minute walk in either direction to both the sands of Lawrencetown Beach and to the Trans Canada Trail. There is an air conditioner unit which you are welcome to use, but we encourage guests to crack the windows and feel the seabreeze.
Our neighbourhood is an incredibly relaxing place to be. There are only four other houses and you'll be sandwiched between the beach, the bluffs and the Trans Canada Trail. There is and endless amount of hiking and nature in the area. The beach, lakes, marshland with diverse ecosystems and forests are all a short walk away. There is a great, affordable place to dine and another cafe a short drive away in Seaforth / Grand Desert. The closest shopping centre with grocery and a liquor store is only fifteen minutes away in either direction on the 207 highway.
Great value in this place by the beach with friendly hosts. We stayed here for a week and it was very nice to have our own fully equipped kitchen and to have two bathrooms for such a great price. It's just a short walk through a path to a beautiful beach where our kids loved throwing rocks and walking along the shore at low tide. Inside the apartment, there is plenty of seating for guests, and we had access to their laundry room through the garage which was appreciated. We weren't aware that we couldn't drink the water until we arrived, but there was a water cooler with more than enough water for our stay. My only suggestion for the hosts is that they improve the shower area in the unit as it was a bit grimy, and didn't feel very clean, but Ben and his girlfriend are doing renos to the space so it will likely only get better. Overall, a very spacious apartment for the price and a great value when considering the full kitchen and close proximity to Lawrencetown Beach!
Kelly
2016-07-07T00:00:00Z
What a wonderful beach cottage in beautiful Lawrencetown. The hosts are terrific and the home is well stocked. Easy to recommend this AirBnB!
Taylor
2016-10-14T00:00:00Z
The property is spacious, airy and clean, having been recently renovated. The beds are comfortable and I had no trouble getting a good nights sleep. The kitchen is well equipped and the appliances were clean and worked well. Renters should be aware that by being so close to the beach, the well water is not drinkable. Fresh bottled water was in ready supply. The location was awesome. I normally live in Ontario suburbia so it is truly a treat to wake up and only hear, birdsong, insects and the constant roar of the ocean. There is a road close by, but traffic is generally light, especially at night. Ben was away but kept in touch through email. Kaylee was on site and was always accessible, friendly and helpful. We had a great time!
Simon
2016-09-08T00:00:00Z
We had a great time - so close to the beach watching the kite surfers was so relaxing - the area is beautiful. We loved the house location, being able to hear the ocean when sitting outside is amazing.
Mel
2016-09-20T00:00:00Z
Ben and Kaylee were very welcoming and were available to answer any questions, even by text when they weren't on the property. Nothing was too much of a chore and we felt very comfortable in their home - which felt like our home for the week. Our family holiday consisted of four adults and four energetic young kids and the garden is far enough from the main road that the kids were able to play ball and fly kites and frisbees safely.
Fionnuala
2016-08-22T00:00:00Z
Location was great, the space was clean and taken care of. Ben ad Kaylee were great.
Murray
2016-10-10T00:00:00Z
Ben and Kaylee were very friendly and welcoming. They have started renovating the suite and it is looking great. It was a great space for our family. The location is great--a fantastic beach to enjoy and still reasonably close to Halifax.
Colette
2016-07-21T00:00:00Z
Nous avons apprécié notre séjour. L'appartement est propre et bien équipé. La plage et l'environnement sont aussi très bien. merci!
Catherine
2016-07-14T00:00:00Z
Room Type
Entire home/apt
---
Property Type
Apartment
---
Accommodates
6
---
Bedrooms
East Lawrencetown, NS, Canada
Only a few steps to Halifax harbor, this newly renovated 2 bedroom flat is located just minutes from all amenities including public transportation and liquor/grocery stores. Wifi, HD TV, W/D, fenced in private back yard so pets are welcome.
spacious flat with eat in kitchen, 2 bedrooms.......1 king, 1 queen. Walk in shower. Fenced in back yard. Washer and dryer are downstairs
Located in one of the most sought after neighborhoods in the city with great views of the Halifax harbor.
Apartment very well suited for a Family or 2 couples. Kitchen very well equipped and the Dartmouth location had good accessibility to the area. Short walk to the ferry that takes you to Halifax downtown. We had bikes and loved the location ! Shelly was very quick and helpful hostess. Thank you for making this a pleasant stay !
Linn
2016-08-21T00:00:00Z
We have stayed in a lot of AirBnB places in our travels and Shelley's apartment is definitely one of the nicest. It is tastefully decorated, comfortable, and has all the amenities you need. We like to cook and often find many places lacking in dishes, pans, and other items and we were happy to find Shelley's kitchen well stocked. The location is perfect! It is just a 10 minute walk down to the ferry terminal that will take you across to downtown Halifax (tickets are only $2.25). It's also just a 10 minute walk to the nearest supermarket and restaurants. We found the Syrian restaurant really good! The apartment has one off-street parking space in the driveway which was nice, although a little tight. There is also on-street parking nearby. There is an indoor swimming pool at the Dartmouth Sportplex which was just a short walk away that looked really nice, but we didn't have the time to go swimming. And just next to the Sportplex is Leighton Park which was great to walk through and has great views of Halifax. The next time we come to Halifax, we will definitely stay here again.
Jason
2016-04-23T00:00:00Z
The group loved the spacious home to themselves.
Lynnea & Ken
2016-10-08T00:00:00Z
Our flight got in after 2am but Shelley left a lock box at the flat with the keys in them so we could still get into the flat at that hour which was great. The flat was clean and inviting when we got there, very spacious and comfortable. Although we never saw Shelley when we were there, she was always available by phone or email and checked in with us to make sure our stay was going well. Great location, walking distance to ferry that goes into Halifax, grocery, drug store, restaurants, and an ocean view. We had a good stay here.
Sarah
2016-05-11T00:00:00Z
Great experience staying at Shelley's place in Dartmouth for our first Airbnb! Comfortable, clean and stylish and very handy to both the ferry and bus terminals for getting around Dartmouth and Halifax, about 8 and 5 minutes walk away. Shelley & David were great hosts, available and friendly for any questions we had but everything went smoothly anyway! Thanks both, would very happily stay here again if visiting the area!
Nuala
2016-09-27T00:00:00Z
Perfect vacation in a beautiful flat. I chose this spot for it's central location to both the ferry and bridge which connect Dartmouth to Halifax. Our hostess was welcoming and everything you need is included. The wifi connection was speedy and the cable tv channels were plentiful. We cooked breakfast daily and enjoyed our morning coffee on the back patio. There is a commercial washer and dryer downstairs and Shelley has thoughtfully provided quarters, soap and dryer sheets . I was able to pack my suitcase with fresh clean clothes. Thank You !
michelle
2016-10-19T00:00:00Z
Shelly and David are one of the most gracious hosts I have met through AirBnb. Thay have a beautifully renovated house that is close to everything. My parents and I impressed to see how well equipped the house and the kitchen were. The bedrooms are tastefully designed and decorated and the bathroom is simply beautiful- fast internet and dedicated washer-dryer are a bonus. The hosts are very responsive and ensured all our needs were met. I recommend this place to anyone who wants to live in a quiet and safe neighbourhood in Dartmouth/Halifax and enjoy the beautiful city. Since the ferry terminal is a quick 5 minutes downhill walk, getting to Halifax downtown is a breeze (with breathtaking views of the Halifax skyline). Overall, we were very pleased we chose to stay at David and Shelly's place and will probably be back next time we head to the maritimes.
Shivam
2016-05-22T00:00:00Z
We had a great stay at this Airbnb! The pictures and descriptions were accurate and the host is only a few minutes away! They were great to communicate and more than accommodating when I had to change my reservation! I accidently locked myself out during the beginning of my 3 week stay and they were happy to let me back in! The location is perfect and the apartment is equipped with everything you'd need and more when in the city! We will definitely be back!
Nicole
2016-12-03T00:00:00Z
Room Type
Entire home/apt
---
Property Type
Apartment
---
Accommodates
4
---
Bedrooms
Dartmouth, NS, Canada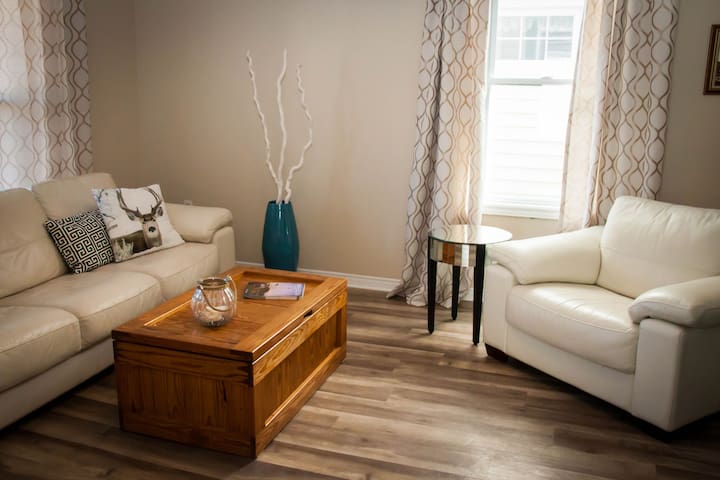 My place is close to restaurants and dining, family-friendly activities, and public transport. You'll love my place because of the comfy bed, the kitchen, and the cosiness. My place is good for families (with kids) and big groups.
There is plenty of parking (even for RV size vehicles) and large yard. The house has only two units on a quiet street.
This newly renovated apartment is in a quiet family friendly neighbour hood. With large yard and plenty of parking. Only 20 min from downtown Halifax, 10 min to Dartmouth Crossing or Mic Mac Mall. Walking distance to Dartmouth's infamous Shubie Park that has beautiful walking/biking trails and a lovely beach area that is ideal for families.
Cyndi's home was very beautiful, it is the type of space where you feel at home instantly! Cyndi greeted us upon arrival and made us feel extremely welcome! I would most definitely recommend her place to anyone planning a trip to the Halifax area!
Gary
2017-01-10T00:00:00Z
We really enjoyed our stay at Cyndi's home. She was very friendly and nice to deal with. I would definetly recommend this place to others.
Jane
2017-02-20T00:00:00Z
Cyndi's place was great, nicely renovated and equipped with everything you need. I would highly recommend it.
Janine
2016-11-25T00:00:00Z
Cyndi was a great host. She met my son upon arrival. Her rental was very clean and the beds were comfy. Already booked my second stay! :)
Sandy
2016-11-06T00:00:00Z
This is our second stay at Cyndi's, we loved it the first time and loved it again! We will be back a third time. Cyndi's place is clean, the beds are comfortable with nice linens, it's nicely decorated and feels like home! A great kitchen to cook in and comfy couch to curl up on for a movie after a busy day taking in all Dartmouth/Halifax has to offer!
Sue
2017-03-21T00:00:00Z
Cyndi's place was great and so was she ! First time ever using Airbnb and would deffently use it again !
Brittney
2016-12-18T00:00:00Z
This was our second time staying here at Cyndi's place. And, once again, it did not disappoint! Checking in and checking out is super easy and Cyndi always answers messages in a timely manner. Best towels of all the Airbnb places I've stayed!! :-) Superb location for shopping! Quiet neighborhood. Extremely clean.
cynthia
2017-02-26T00:00:00Z
Very nice house. Every thing is new, clean, in good quality. It is perfect for family.
haiyan
2017-01-20T00:00:00Z
Room Type
Entire home/apt
---
Property Type
Apartment
---
Accommodates
8
---
Bedrooms
Dartmouth, NS, Canada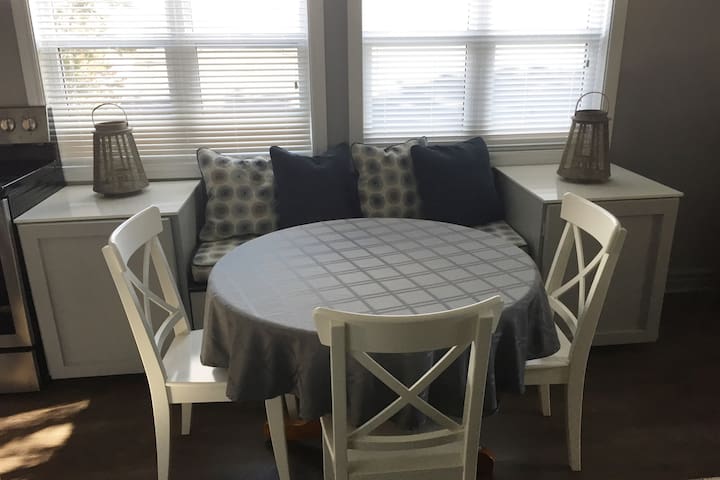 On Lake Loon within the city, the apartment is garden level, bright, and open concept. It's on the lower level of my home and is self-contained. Only 15 minutes to downtown Halifax, and under 10 minutes to Burnside, Dartmouth Crossing shopping, and a seaside beach. You can enjoythe dock, swimming, kayaking, and watching the sunsets! Abundant flower and vegetable gardens outside your door. Good for couples, solo adventurers, business travellers, families, and pets.
The apartment is spacious with an open concept. It's on Lake Loon in Dartmouth, just off Main St (Hwy 107). There is plenty of light with loads of windows in the gathering areas. Floors are polished concrete. The deck and entrance to the suite are located on a different side of the house from where my entrance and deck are, so even though we're in the same house, there's lots of privacy. The apartment is large, with a dining area, a TV area with 40" LED, a cocktail station, a sunroom area, a kitchen, a bathroom, a bedroom, and another area that can be used as an additional sleeping space with a futon sofa bed. The bedroom has quality bedding with a down duvet. In the closet you'll find an airbed with pump if you need extra sleeping. The kitchen is well-appointed and has everything you'll need. Coffee, tea, S&P, etc will all be there. Basic appliances too. There's also a fully outfitted cocktail station for you to enjoy. The bathroom will have towels, shampoo, hair dryer, soap.
The street is a quiet cut-de-sac that runs along the lake. It's located just off Main St (Hwy 107), which has a grocery store, The Vines Pasta Grill restaurant, a gas station with Tim Horton's, and the locally famous Gateway Meats. All of this is within a short walk.
Donna made us feel super welcome, all the while giving us privacy! The house was super clean, the neighbourhood was beautiful!
vania
2016-10-25T00:00:00Z
Fantastic place! After a long day of travel - it was a welcome oasis as Donna had the lights on, music playing and a very nice welcome basket when we arrived. The accommodations were spotlessly clean. All the essentials were provided and in new condition (dishes, pots/pans, towels) as well as many nonessential items that make for a pleasant stay. While the pictures posted are nice, they don't do the place justice. Decor is warm and welcoming, lots of light, can open the windows and get fresh air - it feels comfortable immediately. The rooms are spacious. The location is perfect for a relaxing stay and we spent much time on the dock relaxing. The neighborhood is nice. There is a grocery store and restaurants within walking distance. It is also only a short distance from downtown Halifax and an easy drive. There is a ferry close by that you can take to the Halifax Harbor if you don't want to drive. Donna went out of her accommodate our requests. She was always accessible by text. A great host. We would definitely stay there again.
Carol
2016-07-16T00:00:00Z
Donna was a great host. I would go back anytime!
Chelsea
2016-10-17T00:00:00Z
The accommodations exceeded our expectations. The owner has gone out of her way to anticipate a renters needs. A welcome basket awaited us, including snacks, drinks and a bottle of wine, which was a nice surprise. In addition there were a variety of options available to use in the lake. An overall amazing experience
Michelle
2016-08-05T00:00:00Z
Donna was an excellent host! She gave us detailed directions so we didn't have any trouble finding it after dark. The unit was clean, spacious and comfortable. We stayed in for dinner on our last night and the kitchen was well equipped for us to cook a delicious seafood feast! We didn't get a chance to enjoy the lake but I would definitely stay there again. Thanks Donna!
Fiona
2016-07-27T00:00:00Z
This was a great rental experience for us. Very clean, quiet. It was a great location for us as we wanted to be just outside the city and we had a car rental. I would recommend to friends!
Peggy
2016-07-19T00:00:00Z
This home is a perfect retreat from the busy city just 10 minutes from Dartmouth's waterfront and ferries to Halifax. Everything was as described or better than in the listing, and the owner went out of her way to accommodate us. We will not hesitate to return on our next trip to Halifax. Thank you Donna!
Glenn
2016-07-31T00:00:00Z
Great place, right on a lake, very serene and peaceful. Host did a great job of anticipating guest wants.
Jacquelyn
2016-09-06T00:00:00Z
Room Type
Entire home/apt
---
Property Type
Apartment
---
Accommodates
4
---
Bedrooms
Dartmouth, NS, Canada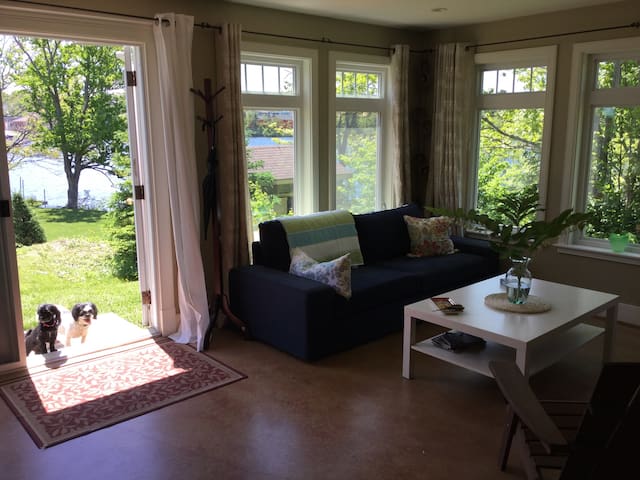 This fully-equipped apartment is a private and self-contained unit in our home. Located in a quiet neighborhood with restaurants, fast food, grocery stores, drug store, liquor store, parks, public transit, bridge to Halifax, ferry terminal, sports facility. You can easily walk to everything you need or quickly pickup highways that will connect you to other areas of the province. Our place is good for couples, solo adventurers, business travelers, and families (with kids).
Fully self-contained apartment with private entrance. A full-sized washer and dryer is located in the unit for the use of guests staying 3 nights or more. The kitchen is equipped with a fridge, stove, microwave, toaster oven, electric kettle, coffee maker, toaster, rice cooker, pots, pans, dishes and cutlery. The bedroom has a full-size bed and the living room has a comfy futon (spring mattress). The bathroom has a spacious stand-up shower, sink and toilet. The living room has a 32" HD TV with Chromecast making it easy to watch anything that is available from your laptop, tablet or phone (if you don't have one of these devices, we can probably help you out). Netflix is also available. High-speed, wireless Internet is included in your rental.
You will love our place becsuse of the convenient location and quiet neighborhood - it is great for taking a walk. All amenities are within walking distance - restaurants, fast food outlets, pizza places, grocery stores, drug store, liquor store, banks, parks, public transit, sports facility, etc.
We enjoyed our time in Dawn's apartment, it was the perfect place to rest up after cycling across Canada. The location was convenient for us being near downtown Dartmouth and Halifax. Dawn (and Gail) made sure we had everything we needed and was very easy to get a hold of when we had questions. The photos accurately represent the apartment. it was spotless and had everything we needed (as a result of Dawn having travelled and stayed at AirBnB's herself.
Michelle
2016-09-13T00:00:00Z
Dawn was very welcoming, communicated very well and provided more than we expected during our stay. I would highly recommend Dawn's home.
Luann
2017-02-19T00:00:00Z
Dawn was a fantastic host and checked in with me regularly to make sure everything was ok. The apartment was nice and very clean - it had all the amenities required and it was very warm and cosy on colder nights. Very close to the McDonald Bridge and downtown Dartmouth. There is parking available outside the property if you have transport and even though it seems like a busy road, it is ok. Thank you Dawn for making our first airbnb stay a pleasant one :)
Rebecca
2016-10-01T00:00:00Z
The photos of the Airbnb looked very nice but they do not do the place justice at all! Great little living room (with a very comfortable futon), the bedroom was nicely lit, had a great mattres and a closet. The kitchen was very large and had everything I'd have in my own home. There was attention to small details and everything was arranged with the guest's comfort in mind. The host's offer of milk for my first morning's tea or coffee (there for me if I wanted it) was appreciated. Dawn truly went out of her way to offer special accommodations for my friend who has mobility issues. That's called being above the call of duty!
Dayle
2017-03-03T00:00:00Z
Wonderful host, their home is very clean and has everything you would be looking for and more. Its in a great location and the host was very helpful and friendly. I strongly recommend this air bnb. I know I will be staying there again.
Antoine
2016-09-15T00:00:00Z
Dawn's place was great, she and her partner were very welcoming to me.
Songnian
2017-02-26T00:00:00Z
Dawn is very nice, the house is a little small, but very warm and many grocery stores and restaurants around. Highly recommend!
Liangjie
2017-03-26T00:00:00Z
A great place to stay! Dawn's place is clean, very comfortable and was perfect for us. Dawn is friendly, helpful and accommodating and we will definitely be back. :)
Shelby
2017-04-02T00:00:00Z
Room Type
Entire home/apt
---
Property Type
Apartment
---
Accommodates
3
---
Bedrooms
Dartmouth, NS, Canada
Neat apartment in our house with separate entrance. It is located near the most popular surf spots and beaches (Lawrencetown, Conrad, Rainbow, Cow bay), walking distance to NSCC Akerley and only 20 mins from the airport. You'll love our place because of the ambiance, the neighborhood and the energy!
The place is newly renovated, we bought new bedding, towels, freshly painted!
We are not far from downtown Dartmouth where they are amazing restaurants, cafes, bars and parks! We share with you our suggested list of places to go once you book with us.
Had a wonderful time, the location was great and the appartement is wonderful. Annie was easy to communicate with and made my arrival very easy. I recommend this appartement to everyone. Cheers
Antoine
2017-01-27T00:00:00Z
I loved everything about Annies'place...
Denise
2016-11-02T00:00:00Z
Our experience in Dartmouth was awesome. The apartment in so cute & lovely! Very private, as if you have the whole house to yourself.. Thank you for a wonderful stay!
Hailey
2016-09-24T00:00:00Z
Annie greeted us just after we arrived. She was so cheerful and friendly it made our first airbnb experience that much more exciting. She let us know where everything was, left us a welcome note with places she recommended. And let us know she was reachable if we needed anything. This was an amazing place to stay. I have already recommended it to people I know and we will definitely stay again the next time we ar looking for a place to stay.
Crystal
2016-10-07T00:00:00Z
Annie was a great host! Her place all the amenities needed.
Meagan
2017-01-20T00:00:00Z
Annie's place was private, comfortable, clean and very economical.
Kelly
2017-02-26T00:00:00Z
It was great! Everything you need is right here...including access to laundry, toiletries, etc. Great spot, cozy and private. Felt like a home away from home! :-)
April
2017-02-23T00:00:00Z
Great spot, Annie and her Husband were very helpful. The apt. Was very clean and I would recommend it to anyone going to the area.
Mark
2017-02-10T00:00:00Z
Room Type
Entire home/apt
---
Property Type
Apartment
---
Accommodates
1
---
Bedrooms
Dartmouth, NS, Canada
Enjoy your stay in our modern suite with views of beautiful Lake Banook from every window. Our convenient location is walking distance to the lake, the grocery store and downtown Dartmouth. Our suite is equipped with a brand new full kitchen, bathroom and private laundry and all the essentials. While you are at our place you will have your own entrance and have access to our large backyard. We are experienced Airbnb hosts and you can find reviews of us on our other listing.
This space is in the ground floor of our family home and it has a brand new kitchen, bathroom and furniture. The living room has a new 55 inch TV with cable and netflix available to you. You will find a comfy king-sized bed in the bedroom and the day bed in the living room pulls out into a king bed with comfortable mattresses and cozy bedding. Let us know if you have children with you and we can make a pack'n play, toys and booster chair available,
Our home is situated in Beautiful Dartmouth near Lake Banook. This is a really great spot, within walking distance to downtown Dartmouth, and a 25 minute walk to the waterfront where you can hop on a ferry for $2.50 to go to Halifax.
This beautiful home is everything a traveller or person on vacation could dream of. The location is great in a nice neighbourhood. 5 star and would highly recommend.
Julia
2017-04-02T00:00:00Z
Room Type
Entire home/apt
---
Property Type
Apartment
---
Accommodates
4
---
Bedrooms
Dartmouth, NS, Canada
This private condominium is located in a high-end building near Lake Banook, with outdoor swimming, walking trails, a grocery store, Mic Mac Mall, and major bus lines within walking distance. Also a quick drive to additional shopping at Dartmouth Crossing Prepare gourmet meals in the fully-equipped kitchen. Enjoy your morning coffee on the outdoor deck. The building is quiet - great for light sleepers. Off-street parking. The suite is great for couples, business travelers, and families.
We're in one of the most sought-after, well-maintained condominiums in Dartmouth. The suite can comfortably accommodate large groups and will feel like a real home. This will beat a hotel any day!
This building is in one of the most desirable neighborhoods in metro Halifax. Lake Banook is one of the most important and actively used lakes in Canada for competitive canoeing, kayaking, and rowing. It is encircled by excellent trails for walking, jogging and biking, and has a public swimming area at Birch Cove park. The largest shopping mall in Atlantic Canada, Mic Mac Mall, is located a short walk from the condominium, as is a major grocery store (the Atlantic Superstore, Braemar). Access to a major highway intersection is 2 minutes by car, facilitating quick access to the highways leading to the Airport, to Dartmouth Crossing (other major shopping area, mostly box stores, plus a large cinema), to Burnside, the Eastern Shore, and to Halifax via either bridges (for the McDonald bridge, you would just use the residential roads). The neighborhood is very safe and you should feel comfortable walking at night. It is a residential area; if you are looking for a spot with lots of street-level restaurants within walking distance, I would recommend something in downtown Halifax instead.
Great location for anyone who is driving and wants easy access to Dartmouth and not too far from Halifax. The unit is clean and with the use of two washrooms, and fully equipped kitchen provides for a very satisfying experience in-house.
Steve
2016-10-03T00:00:00Z
Michael was great! He was waiting in lobby when we arrived. Condo is exactly as described. Very spacious with comfortable beds. Nice touch....Michael left us a bowl of delicious fresh apples. Unit was very clean and great location. Lots of free parking on street. We drove a short distance to the ferry (free parking on weekends) for a fabulous day in Halifax. Michael recommended restaurants in the area and was quick to respond to texts and emails. Would highly recommend this unit.
Sheree
2016-10-10T00:00:00Z
Outstanding two bedroom, two bath condo with an excellent location. Michael met us and showed us what he had available and how everything worked. Our stay of two nights at Michael's was the perfect spot to be at a home-like setting and enjoy our visit to the Dartmouth/Halifax area. Teresa and George Manton, Sarasota, FL
George
2016-10-13T00:00:00Z
Micheal has been an amazing host. communication was quick, place was super clean and really spacious! I would highly recommend to book this place. I know I will book this place again when I travel to Halifax next time. 11/10!
James
2016-10-26T00:00:00Z
A perfect location being so close to everything, like shopping, restaurants, coffee shops and Halifax also, but in a nice quiet neighbourhood! Everything was spotless, and the decor was beautiful with all of the amenities of home. Check in was easy, and check out even easier! I highly recommend this haven in the city and we will definitely will be back to stay again. Thanks so much!
Kelly
2016-12-22T00:00:00Z
I stayed here with my eight year old daughter. It's a great apartment. It's very large, 2 bedrooms, 2 bathrooms, a large living room, dining area and fully equipped kitchen. There is also lots of storage. It was spotlessly clean and very comfortable. It also gets lots of light. The street and neighbourhood where the apartment is located are very pleasant. It was a very convenient location for us as we wanted to be based in Dartmouth. However the location is good for all the Halifax area. if you have a car its easy to get to and from highway, and the apartment is itself about a five minute drive to downtown Dartmouth. It's also less than a five minute walk to the bus terminal at the micmac mall. The 54 bus brings you to the alderney landing ferry in 10 minutes. It's a pleasant enough walk to downtown Dartmouth (around thirty minutes) along the lake. It's also a short walk to a large supermarket ( Atlantic superstore).
Stephen
2016-10-02T00:00:00Z
This is a spacious condo which has everything one would need. The beds are comfie and the futon accommodates 1 comfortably. Location is ideal and easy to find. Micheal and his dad are lovely people. This is definitely a great place to stay. Would use this condo again.
Krista
2016-12-29T00:00:00Z
A large comfortable apartment. The pictures do a good job of representing the apartment. I would certainly recommend it to others and return if we need a place in Dartmouth.
Ian
2016-12-27T00:00:00Z
Room Type
Entire home/apt
---
Property Type
Apartment
---
Accommodates
6
---
Bedrooms
Dartmouth, NS, Canada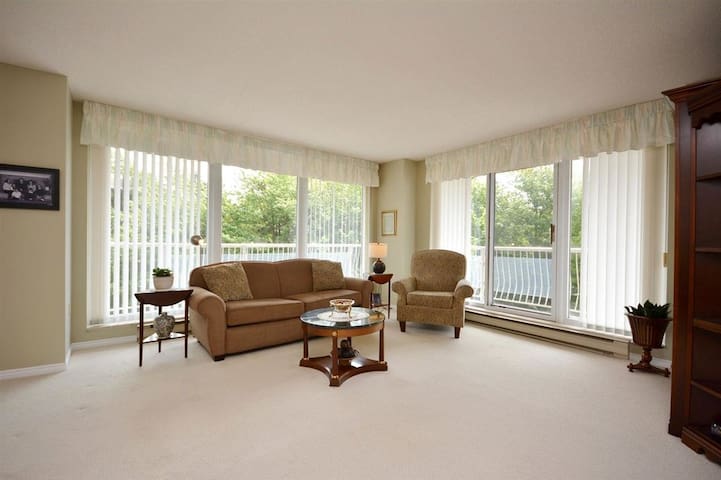 Enjoy this completely separate basement apartment within our home, backing onto Lake Banook. Full open kitchen, living, and dining room, 1BR with queen bed, and a pull-out couch, full bath and laundry. Perfect for fans/coaches/athletes at regattas.
Lake Banook is a very popular source of recreation and beauty in Dartmouth. This home backs onto Birch Cove Park. Simply walk through the backyard to find the walking and cycling trail that circles the lake, and beach access 100m away.
Crichton Park is one of the most sought-after neighbourhoods in Dartmouth. It is within walking distance to major attractions and amenities including MicMac Mall (500m), various rowing and paddling clubs (600m), Sullivan's Pond (700m), Atlantic Superstore (1.8km), and Dartmouth Ferry Terminal (2km). We have lived in Dartmouth for over 25 years, and recently moved to this neighbourhood because of its location.
Phenomenal experience. Tracy was a perfect host. (Olympic moment was bumping into her just after Canada won silver medal in rowing!) Little touches like leaving handwritten welcome note made us feel especially welcome.
iain
2016-08-14T00:00:00Z
We had a wonderful time at Tracy's place. The garden Suite is very cozy and clean. We felt at home right away. The lake is nearby and very beautiful. The mall is very close and the neighbourhood is very nice and quite.
Sebastian
2016-09-16T00:00:00Z
We stayed at Tracy's place for over a week. It is very spacious, everything is in a very good shape, the kitchen has everything we needed and the location is fantastic - with a backyard access to the park which is fronting lake Banook!! Contacting Tracy was very uncomplicated and she always responded immediately. We highly recommend staying with Tracy and already forwarded her contact to our friends in Dartmouth who need a place to stay for their visiting family.
Anna
2016-10-18T00:00:00Z
Garden Suite in the City Excellent accommodation, great location. The immaculate garden suite is bright,spacious and well equipped for any length of stay. Mic Mac Mall is just around the corner and Lake Banook is easily accessed. Tracey is very helpfully and respectful of your privacy. A true home away from home. Highly recommended.
April
2016-07-07T00:00:00Z
We booked Tracy's place so that we could catch our morning flight back home the next day, so it was only a short stay for us. But nonetheless it was an extremely pleasant stay! We didn't arrive Dartmouth until late at night, but even still Tracy came out to greet us and made sure that we had everything that we needed and feeling comfortable. She assured us that we can use the washer (even though it was late). On the next morning we also got to chat a bit and she made sure that we had a good stay. The space itself was very nice, newly renovated and very spacious. It also backs onto a lake/park but we were not there for long enough to enjoy it. I wished that we had found Tracy's place earlier, cuz we would've loved to stay there for a few extra days while we toured Halifax! This is a great space owned by a great hostess. If you see it open, book it! You won't be disappointed :) Tips for travellers staying in Dartmouth: the bridges going to Halifax all require a $1 toll. Make sure that you have a few Loonies on hand!
Evelyn
2015-09-24T00:00:00Z
accurate listing ,quiet street,lovely trees
Debbie
2016-08-08T00:00:00Z
Great little place! The lake behind the house is beautiful. Very clean with everything you need.
Lori
2016-07-01T00:00:00Z
We were only at Tracy's for one night, but the suite is definitely somewhere I would find comfortable for a much longer stay. It is well equipped for self-catering , well located (on a quiet street close to a major mall, and bordering on a lake), very clean ,spacious and comfortable, and has a washer/dryer included! The shower was excellent, the bed was very comfortable ( a softer mattress), and the kitchen amenities were more than sufficient. We did not meet Tracy, as we were not around much, but communication with her was excellent from the get-go,and check in was easy and straight forward. I would definitely recommend staying here if you are planning a trip to the Halifax/Dartmouth area, and do not need/want to stay right downtown.
Peta
2016-09-18T00:00:00Z
Room Type
Entire home/apt
---
Property Type
Apartment
---
Accommodates
4
---
Bedrooms
Dartmouth, NS, Canada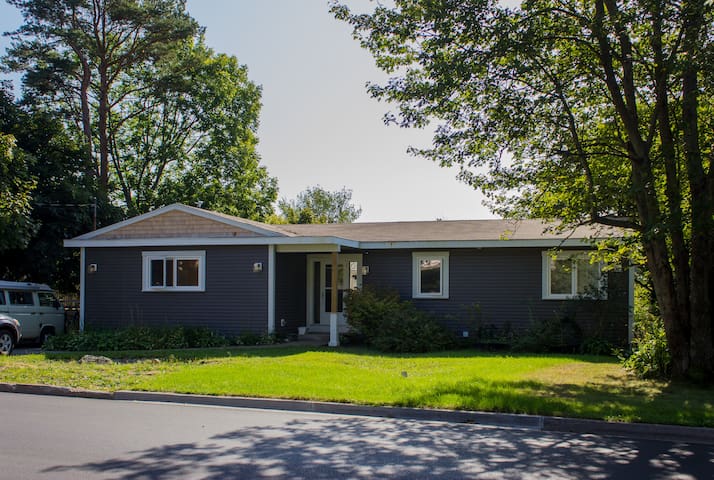 Modern open concept ground level flat in a safe, quiet Dartmouth neighbourhood. You will enjoy views of Halifax harbour and be within walking distance to Dartmouth Sports Centre, Alderney Landing, Dartmouth ferry terminal, Kings Wharf, walking trails, etc. Features one bedroom plus a den with a pull out sofa bed, beautiful laminate and ceramic flooring, sleek stainless steel appliances, laundry facilities and much more!
The unit is bright, clean, warm with all necessary amenities. The bedroom and a den are nicely suite a family with 2 kids. Around 5 minutes walk to Bridge Terminal, one of the main bus terminal in Dartmouth, can connect to almost every where in Halifax. The owner is very nice and supporting. It is a great experience for us to stay here.
Dat
2017-02-14T00:00:00Z
Room Type
Entire home/apt
---
Property Type
Apartment
---
Accommodates
4
---
Bedrooms
Dartmouth, NS, Canada
This beautiful "Park Avenue Flat" is a private 2 bedroom apartment located on the top floor of a 100 year old home located in residential downtown Dartmouth. The kitchen is beautifully appointed with french doors leading to a sunny deck. A comfortable sitting area with TV is part of the kitchen/living room space. A newly renovated full bathroom, small den, and laundry room complete this comfortable living space.
Bedroom one contains a queen size bed, and bedroom two, a bunk bed (double and twin over). The small den off the master bedroom has a pull out sofa. The place has a furnished living room, a fully appointed kitchen, a full bathroom with a tub/shower, Television and access to wifi. The house is across the street from the beautiful Dartmouth common, and is a 5 minute walk to the Ferry for a trip across the harbour to downtown Halifax. The flat is also a 10 minute walk to Sullivan's Pond and Lake Banook. There is a private laundry room on site. There is driveway parking.
The home is situated across the street from the beautiful Dartmouth Common. A 5 minute walk down the street puts you in downtown Dartmouth with its many amenities including coffee shops, restaurants, pubs, local shops, a farmers market and the ferry to downtown Halifax. It is also a 5 minute walk to the ferry to Halifax's downtown, a 10 minute walk to Sullivan's Pond and Lake Banook. Coffee shops, restaurants, pubs, micro brewery, and gift shops all within walking distance. You will enjoy this vibrant neighbourhood. Downtown Dartmouth has lovely parks, a Saturday market, fine restaurants, local artisan shops, a golf course, a theatre, and of course the best coffee/pastry shop in the area! There are nearby Spas and beautiful bike and running routes aplenty. It also contains the famous Lake Banook, the training site for many Canadian Olympians. Downtown Halifax has more of the same including museums, junior hockey (go Mooseheads!), a Casino, Neptune Theatre, shopping, the World Trade Centre, Harbor activities, etc.
Room Type
Entire home/apt
---
Property Type
Apartment
---
Accommodates
5
---
Bedrooms
Dartmouth, NS, Canada
Country living in the city with all of the cities amenities right at your hand. This rental unit has 80 feet of water frontage on Lake Loon. It is conveniently located 15 minutes from downtown Halifax and 10 minutes from 2 major shopping areas. This unit has 2 bedrooms with a queen bed in each, 2 full bathrooms, a full kitchen, living room, dining room and a home theater room with 65" TV. Restaurants are only a few minutes away and hiking trails are also a short distance away.
This apartment is the lower level in our home so we would be readily available to meet your needs.
Room Type
Entire home/apt
---
Property Type
Apartment
---
Accommodates
4
---
Bedrooms
Dartmouth, NS, Canada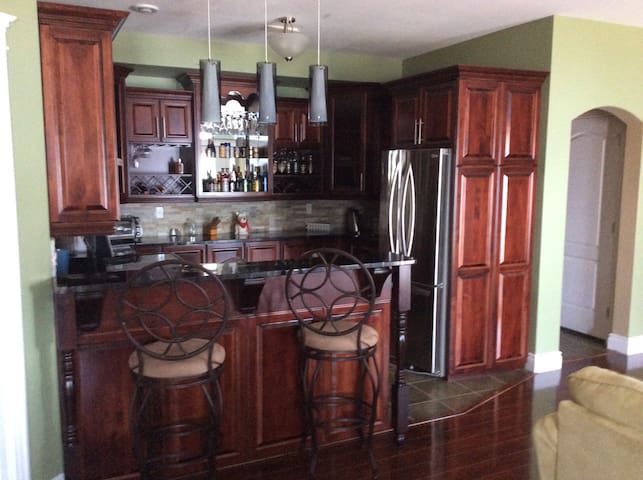 Bright, clean and cute apartment located in the South End of Halifax. Very close to downtown where all the fun is had in the summertime! The neighbourhood is quiet and is located near Point Pleasant Park.
The apartment is lcoated in the basement of a detatched three storey building in a quiet neighbourhood in Halifax's South End. Although in the basement, there is a separate entrance with plenty of light.
Located close to SMU and Dalhousie University in Halifax's South-End. 20 minute walk from downtown and 15 minute walk from Point Pleasant Park. It is also an eight minute walk from the nearest grocery store.
Room Type
Entire home/apt
---
Property Type
Apartment
---
Accommodates
2
---
Bedrooms
Halifax, NS, Canada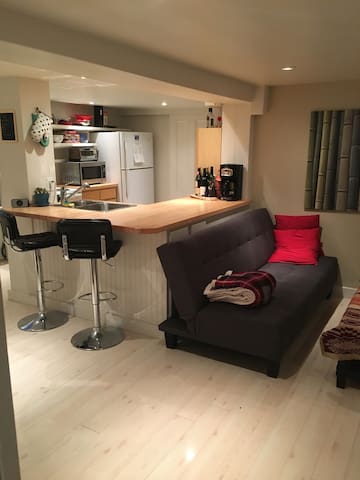 1

–

18

of

300+ Apartment Rentals
Enter dates to see full pricing. Additional fees apply. Taxes may be added.