Isolated from the village, quiet in the courtyard of the Moulin Brûlé, the center of a park of 2 hectares, the former caretaker's house, dating from the early nineteenth century, took over the colors to welcome lovers of the Vexin . Very good rides.
In a park surrounded by the Montcient, a small house of 50 sqm, renovated 5 years ago, for the independence of our children start a new life by receiving you. A chamber with a bed of 160x200 and a loft with a bunk bed 140x200 (low) + 90x200 (high) can accommodate four adults and one child or two adults and three children. We provide a cot with a real mattress for children and high chair. A small lounge with a wood burning stove, a docking station for music, will be the place of card games, board games, a movie night ... (Cards, dice, games, DVDs are available). Children will find some Playmobil, Kapla, paper and pencils. A blackboard and chalk can be used to support beautiful designs ... You can cook up dishes in the kitchen and share a good time around the bar table (kettle, coffee machine Tassimo, Toaster, Wok, Stove, Microwave, utensils and crockery). If you lack a utensil or an ingredient, do not hesitate to knock on the door of Mary. Small problem, but a true homecoming ... some acrobatics will be required to obtain a "bar", thankfully WiFi is here!
"Little House of the Tribe" will be the starting tours, hiking, cycling and why not trail for the more energetic! Vexin offers amazing landscapes and a rich architectural heritage, just 1 hour from Paris. Change of scenery ... Oinville, can be a home base for visiting Versailles, Paris, Giverny, Auvers sur Oise, Rouen, a myriad of small villages and why not the beaches of Normandy.
Thierry and Marie's gorgeous little house was perfect for our stay. Tucked away from the main roads and other tropes of modern life, the house and grounds provided the perfect setting for a quiet, idyllic retreat. Marie greeted us and made sure that everything was on hand to make out stay perfect. Marie provided excellent local information in both English and French, a well supplied larder and even some fresh orange juice in the fridge. We made use of the outdoor BBQ and briquettes and watched the sun go down whilst sitting in the large garden listening to the trickle of the stream. The sleeping arrangements were great and Marie was even able to accommodate our last-minute extra guest. Whilst perfect for a small family and for longer stays in the Vexin area, the house is versatile and perfect for any sort of stay. I only wish we could have stayed longer.
David
2016-06-28T00:00:00Z
Initially we planned on staying at La Petite Maison only on our way to our holiday destination. We enjoyed it so much that we decided to also stay there on our way back home. It was a perfect place to stay at with two young children. Our eldest could play with the toys that were provided. And have fun with her dad outside in the big garden. For our youngest, almost 3 months at the time, we had al the comfort we could wish for. We would definitely recommend this place to others.
Ynama
2015-06-28T00:00:00Z
Perfect secluded location! Beautiful spot
Phyllisia
2017-03-03T00:00:00Z
Marie was a lovely, friendly and helpful host. She had the apartment all clean with fresh sheets and towels and had a warm fire going for us. (winter time). She welcomed us in and answered our questions. We recommend Maries place.
Chantal
2016-12-13T00:00:00Z
Marie was a wonderful hostess, welcomed us late at night with the fire burning and house all cosy with lovely big towels and kitchen having extras that you might need during your stay. Breakfast is not included, however there was coffee and orange juice. We loved this little house it is part of the old mill. The cottage is very clean and comfy, arty and modern but in an old building, we liked the feel of the place and the details in the cottage. Comfy bed, peaceful setting nice and clean!
Lisa
2016-06-05T00:00:00Z
My friend and I really enjoyed our stayed at Marie and Thierry s home. Was just for one night but everything was so perfect, comfortable quiet and relaxing, that we wished we where staying longer. Marie went to get some bread and croissant and prepared a lovely breakfast for us. Make the experience even better... Personally I m looking to go back soon!!
LISE
2016-10-16T00:00:00Z
We had a wonderful break at Petite Maison. The house was exactly as described and was clean and homey. A simple fun little house that was perfect for us. Fully working kitchen with everything we needed was provided and being able to wash clothes was really helpful. There was lovely fresh orange juice and tea & coffee (Tassimo machine) and all the oils and basics we might have needed in the larder. The bedrooms are separated by a curtain - an enormous king-sized double in one room and a bunk bed with a double as the lower bunk in the other. Lots of bottled water was available and an ice cube tray in the freezer. Little things like that really made the trip easier for us - washing liquid, q-tips, towels etc. My husband has been in ill health and was recovering after an operation and so we wanted a quiet break where the kids were happy to hang around the house but we were close enough to Paris to enjoy time there too without too much effort on my husband's part. One day we drove into Paris (my husband has a disabled paring badge and so we could park in Paris). Another day I took the kids in to Paris without him and we parked at Cergy le Haut and got a train into town - also easy and amused my son with the novelty of travelling on a double decker train. The wifi was great, a good connection - the teenage daughter was happy and we were able to stream Netflix in an evening (although there was a good collection of DVDs). There were games and toys for the kids and we played a lot of cards in the evening. We used to BBQ one night which was lovely - and so easy (although I forgot to clean it out afterwards - sorry) Our 9 yearly loved the space out back - the lovely garden to run around, filled up water pistols in the stream and had amazing games going on. Frisbee and sunshine :) Marie was a lovely host - we cannot speak French much beyond ordering food in a restaurant and she was very helpful with her English speaking skills. Jazz the god was friendly and the home made jam was delicious. We arrived an hour early (we'd intended to go to the local restaurant to kill tome - but it was closed when we turned up) All in all we would happily come back - and would recommend this lovely house to anyone wanting a quiet break in France - near enough to Paris and in the beautiful countryside. Simple and comfortable.
Louisa
2016-07-28T00:00:00Z
Host very friendly, clean and quiet. That´s what i Like :)
Christian
2016-12-09T00:00:00Z
Room Type
Entire home/apt
---
Property Type
House
---
Accommodates
5
---
Bedrooms
Oinville-sur-Montcient, Île-de-France, France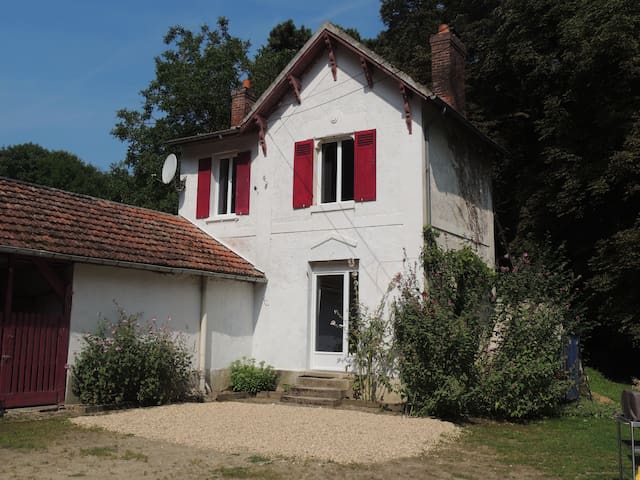 Room for rent in a warm house locate 10 min walk from the train station: - 36 minutes from the Gare St Lazare Paris - 20 min of the Mantis pretty Station We are close to the EADS website (about 15min walk) The rental includes: - bathroom
Room Type
Private room
---
Property Type
House
---
Accommodates
1
---
Bedrooms
Les Mureaux, Île-de-France, France

Mi propiedad está convenientemente cerca de centro de la ciudad, restaurante, discoteca. Última transporte disponible todo parís título (1-5). 35 minutos de St Lazare / 44 min Roissy CDG (V) . Disfrutar de mi casa por su cordialidad, 2 habitaciones acogedoras y luminosas, cada una con una cómoda cama (140 * 190) . Mi alojamiento es ideal para parejas, personas que viajan solas, familias (con niños) y grupos grandes.
Room Type
Private room
---
Property Type
House
---
Accommodates
2
---
Bedrooms
Les Mureaux, Île-de-France, France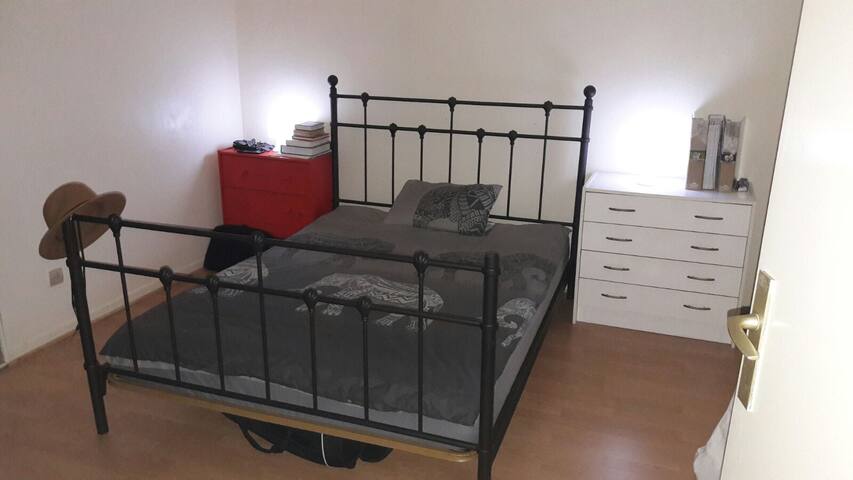 Wij bieden 2 slaapkamers gelegen in een rustige paviljoen. U vindt er een badkamer voor jezelf en je zult ook toegang tot de keuken, die ze deelde met de rest van de familie te hebben.
Wij zijn gelegen op 30 minuten van Versailles met de auto en 35 minuten van Paris Saint-Lazare trein (het station ligt op ongeveer 7 minuten lopen). In de hoek vindt u een bos voor lange wandelingen, een recreatieve basis om te zonnebaden en vele culturele bezienswaardigheden typisch voor de Vexin te vinden. We hebben 2 slaapkamers, een badkamer en een keuken die is om het te delen. In de omgeving vindt u alles wat u nodig hebt om de dagelijkse gang van zaken van alle soorten, postkantoor, banken en natuurlijk een bioscoop en een zwembad weten te vinden. Met de auto, we zijn portieken van A.13 en A86. Er is gratis parkeerplaats. Voor degenen die op de luchthaven, de mogelijkheid van het verplaatsen van mij naar mijn beschikbaarheid op je afkomt.
Wij zijn gevestigd in de buurt van een recreatiecentrum, een bos, dicht bij winkels en openbaar vervoer (bus, trein).
I didn't actually stay at Myriam's place. Even though it popped up on my search results as Giverny, it was actually 24 miles away from where I wanted to be. So I found another solution for that night. Myriam was most pleasant to work with though!
Kim
2015-07-28T00:00:00Z
A comfortable bed, a hot shower and a warm and welcoming family. I wish I could have stayed longer. I couldn't ask for more!
Eric
2015-05-15T00:00:00Z
Myriam's place was very clean and quiet. Myriam was very hospitable, kind, and quickly responded to our questions and directions. We highly recommend.
Travis
2015-08-24T00:00:00Z
So far from paRIS, she do not understand English, can not talk with, I do not know what happened, I need to put my passport
Windy
2015-06-29T00:00:00Z
Myriam and her husband were very welcoming. The room clean and good sized. Unfortunately the listing was not as accurate as it could have been. It is described as a private accommodation, it is, in fact, a bedroom with shared bath and other facilities in the house. Therein lies the problem with my stay, she has a teenage son whose room was next to mine, who was prone to yelling very loud for no apparent reason any time he was home, who got phone calls at 1 and 2 am and who conversed loudly waking me all four nights I was there. He also played music very loudly one night. I was given the impression it was close to Paris, it is over 1.5 hours by train if all connections are made on time. I left a day early because of these things.
Michael
2016-06-21T00:00:00Z
She was so nice to go out to the street to show me the way to her place. The place was tidy and clean, and she was so nice to invite me for breakfast with the family ..
Faisal
2015-08-25T00:00:00Z
The house was about 1 hour from paris, but easy acces by one train. If you stay more than one day it will be good to buy one week zones 1-5 pass (25 e). The host did not speak very well English, but her daughter spoke and that helped us a lot. They very kind but we did not see them very much. We stayed five days but we did not get the key. Hosts were home when we needed the key, so that was not so big problem. The room was spacious, but the bed was a bit uncomfy. They had also place for our bicycles and we could use their kitchen and do some laundry.
Simo-Pekka
2015-09-22T00:00:00Z
Wonderful people and great place to stay. Room was very clean as well as any facility we used. Despite the fact english is not Myriam 's language, she made every single effort to help and communicate everything she could, really appreciated. Definitely worth every day spent there.
Alvaro
2015-07-03T00:00:00Z
Room Type
Private room
---
Property Type
Other
---
Accommodates
1
---
Bedrooms
Les Mureaux, Île-de-France, France
The suite is on the ground floor with direct garden access. A corridor serving: a kitchen (washing machine, sink, refrigerator, stove, oven) a fully equipped bathroom with a spa bath (private) a luxurious room (private) a terrace (private)
A house of 110 m2 with the ground floor luxury independent suite, plus 3 residential floors, a 250m2 garden, 2 terraces outside with communicating with the suite, and a dependency.
The house is located 100 from the city center of Les Mureaux, with all shops and amenities within 100 m walk. McDonald's is 400 meters from the house. The house is 400m from the Seine river banks and the natural park of vexin, ideal for a stroll and a breath of fresh air 30 minutes from paris.
Appart bien fini plafond bas attention pour les personnes de grande taille parking a cote du studio.
Damien
2017-03-17T00:00:00Z
Room Type
Entire home/apt
---
Property Type
House
---
Accommodates
2
---
Bedrooms
Les Mureaux, Île-de-France, France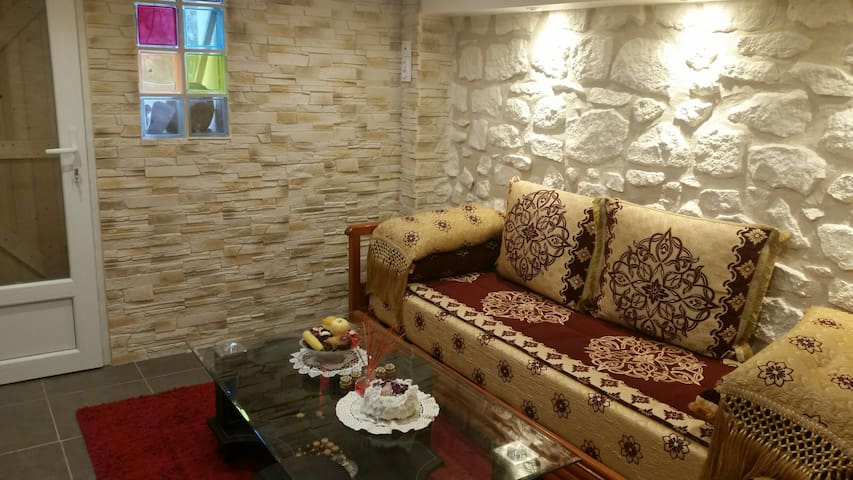 Room Type
Entire home/apt
---
Property Type
Apartment
---
Accommodates
7
---
Bedrooms
Les Mureaux, Île-de-France, France
F4 equipar a todos los lavavajillas wifi ect.
proyecto de vivienda popular
Room Type
Entire home/apt
---
Property Type
Apartment
---
Accommodates
6
---
Bedrooms
Les Mureaux, Île-de-France, France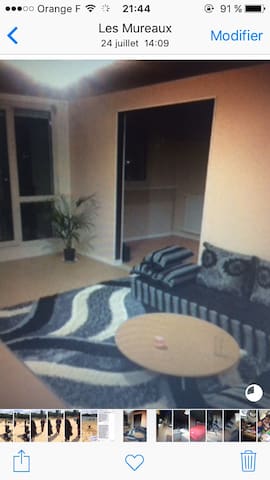 Venez vous reposer dans une péniche de charme ; Arrivez en tout début d'après-midi et profitez d'une vraie journée à bord. Flânez dans le jardin, profitez du barbecue, de la terrasse, faites un tour en kayak ! Le petit déjeuner est offert. Cuisine équipée et lave-linge sont à votre disposition. 2 vélos de ville vous sont prêtés pour pouvoir faire vos courses en ville ou vous balader en forêt de St Germain, à l'étang de la Galiotte, ou sur les chemins de halage de la Seine.
Péniche de 1902 rénovée et confortable. Lumineuse et agréable à vivre, disposant de tout le confort : salle de bain avec baignoire, lave-linge, cuisine équipée comprenant plaques de cuisson, four, four à micro-ondes, cuisinière à bois, réfrigérateur, télévision, accès internet, planche et fer à repasser, 2 vélos de ville. Contrairement à une idée reçue, une péniche n'est pas humide ! Elle est même très facile à chauffer et il y fait bon.
Le quartier est une île privée résidentielle. Poissy étant la porte de la Normandie, et l'A 13 à proximité, il est simple de se rendre aux jardins de Claude Monet à Giverny, au château de Versailles ou sur la côte normande. Poissy, entre Paris et la Normandie, une halte touristique et reposante. Au port de Villennes, à deux pas, location et club d'aviron.
Super weekend !
Benjamin
2017-03-05T00:00:00Z
Contents de vous avoir rencontré..c'était une chouette escapade bucolique à bord de votre douillet nid flottant, ça fait du bien! Merci!
Nelly
2016-11-14T00:00:00Z
Cette péniche est très confortable, on y trouve tout ce dont on a besoin, et l'environnement est idéal pour ceux qui veulent fuir la ville. Petite mention aussi pour l'accueil chaleureux de Véronique et son petit déjeuner !
Daniel
2016-12-11T00:00:00Z
Je recommande vivement cet arche de Noé pour un petit weekend détente et nature. Le confort de la péniche est surprenant et très cosy ! Tout est réuni pour se relaxer et profiter.
Amandine
2017-02-11T00:00:00Z
Nous avons passé un très bon moment dans la péniche de Véronique. Tout est prévu pour que vous vous y sentiez bien, y compris l'accueil très chaleureux de l'hôte. Merci pour cette belle expérience !
Jeanna-eve
2017-01-01T00:00:00Z
accueil parfait ! Véronique nous a tout de suite mis à l'aise. Elle est chaleureuse et spontanée. que du bonheur ! le temps n'était pas au rendez vous car il pleuvait et de ce fait nous n'avons pu profiter du pont. mais cela reste toutefois très agréable de se sentir si proche de l'eau et de voir les animaux. la péniche est très lumineuse et on a l'impression d'être dehors. la chaleur dans la péniche est très agréable. Ce qui n'est pas dit dans le descriptif, c'est que toute la péniche vous est dédiée ! tout le linge est fourni. c'est vraiment dépaysant. et je ne veux pas dévoiler la nouvelle idée de Véronique pour ses futurs voyageurs, mais elle est excellente !!
Laurence
2016-12-13T00:00:00Z
Je cherchais un petit nid douillet pour roucouler avec mon amoureux, c'était super ! L'endroit est joli et calme, les pieds dans l'eau dans un écrin de verdure...ravissant ! La péniche est bien équipée, tout y est, pratique et chaleureux. Véronique et Jacques nous ont très gentiment accueillis, nous avaient prévu de quoi faire un petit déjeuner gargantuesque, et mis leurs vélos à disposition pour aller faire un tour au marché le matin :) A l'automne, c'est très agréable : nous avons pris un petit déjeuner au soleil sur le ponton de la péniche ! Nous avons été enchantés et recommandons vivement pour une petite parenthèse romantique !
cecile
2016-11-06T00:00:00Z
Le séjour s'est très bien passé, la péniche est très agréable et nous a permis de passer un week end de rêve !!! Le petit déjeuner était très bon et le kayak super !!
Victor
2017-04-08T00:00:00Z
Room Type
Private room
---
Property Type
Boat
---
Accommodates
2
---
Bedrooms
Poissy, Île-de-France, France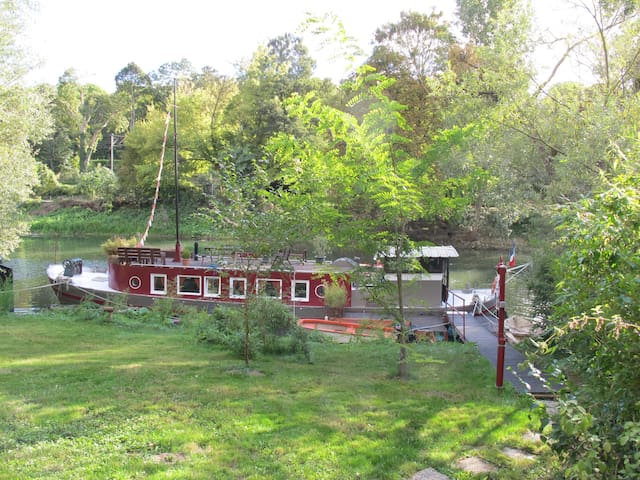 Bienvenu dans notre havre de paix sur les bords de la seine à environ 40 kilomètre de Paris. Dépaysement garanti dans un environnement verdoyant et bucolique.
Nous mettons à votre disposition la partie complètement aménagée de notre péniche Elle est située sur le bras mort (donc non passant) de Mézy sur seine, dans le département des Yvelines Elle est aménagée de la manière suivante : - 1 cuisine aménagée avec four, lave-vaisselle et micro-onde, machine à café Nespresso - 1 mezzanine aménagée en coin télé - 1 salon avec cheminé double insert (un côté salon et un côté chambre parentale) + écran et vidéoprojecteur - 1 salle à manger avec une grande table convertible en billard américain ainsi que piano, guitares et flipper - 1 coursive avec Bd thèque de plus de 1 000 BD - 1 chambre parentale (lit double - 160 cm) - 1 chambre (canapé convertible en lit - 140 cm) - 1 chambre (lit bébé + table à langer + 1 lit parapluie, possibilité d'y mettre à la place un matelas gonflable de marque Intex de 150 cm et 50 cm de hauteur, très confortable) - 1 SDB refaite à neuf en 2016 avec baignoire + douche (90 cm x 90 cm) + lavabos double vasques + WC - 1 terrasse extérieure abritée de 25 m2
Carrefour contact à 5 minutes à pied... Très bon restaurant italien (Les jardins de Venise) à 10 minutes à pied Très bon restaurant marocain (l'Escale du Maroc) à 20 minutes à pied
Nous avons passé un suberbe week-end en amoureux. L'endroit est paisible, sans vis à vis, juste très agréable. La péniche est très bien équipée, il y a tout ce qu'il faut pour s'occuper : flipper, billard, piano, BD... Nicolas a su être disponible pour répondre à mes questions avant le départ, son ami nous a parfaitement bien accueilli. Un très bon souvenir !
charlotte
2017-02-12T00:00:00Z
Nous avons passé un super séjour sur la péniche avec des amis pour un anniversaire surprise ! L'endroit est très calme et reposant. La péniche offre de très beaux espaces (grande hauteur sous plafond, mezzanine, salon avec cheminée, cuisine ouverte etc.). Elle est très bien équipée et tout est fait pour qu'on s'y sente bien, dans une ambiance chaleureuse et conviviale. Je remercie Nicolas le propriétaire pour sa gentillesse, son accueil et sa disponibilité pour nous faire visiter la péniche. Nous recommandons sa péniche sans hésitation !
Jihad
2017-01-29T00:00:00Z
Sublime péniche ! située dans un lieu bucolique, reposant, verdoyant et très agréable. Nicolas étant absent, ce sont ses parents qui ont assuré notre accueil. Ce sont des personnes charmantes et très accueillantes. Nicolas a été très prévenant par téléphone. Irréprochable ! Je recommande vivement
thierry
2016-07-26T00:00:00Z
Pour une raison professionnel j'ai passé 1 semaine sur la Péniche. Super bien équipé, propre et bien aménagé ! J'ai adoré l'ambiance et l'expérience de dormir sur une Péniche ! Je recommande fortement. Accueil et communication rien à redire ! Merci pour ce séjour.
Tony
2016-10-28T00:00:00Z
Un lieu insolite et un accueil extrêmement chaleureux
cathy
2017-02-19T00:00:00Z
Nicolas a été très prévenant et très sympathique durant nos échanges avant le séjour. Nous n'avons pas eu le plaisir de le rencontrer mais un ami à lui était présent à notre arrivée et nous a gentiment montré les lieux. Il a été très arrangeant pour notre départ, merci :) La péniche est top ! Quel bonheur... La cheminée dans le salon (Nicolas avait prévu du bois), le billard, le coin télé en mezzanine, le bbq sur le terrasse etc... Merci pour tout !
Justine
2016-10-30T00:00:00Z
la péniche est vraiment grande, avec de la place pour se détendre que ce soit devant la télé, a l'apéro ou pour manger. les chambres sont grandes et spacieuse et la salle de bain est tip top. la terrasse sur le pont de la péniche est très agréable. l'endroit est calme et reposant.
Thomas
2017-03-05T00:00:00Z
Très belle Péniche bien aménagée sur un bel emplacement. Flore et faune très vivante Très bon séjour
Jean
2017-04-11T00:00:00Z
Room Type
Entire home/apt
---
Property Type
Boat
---
Accommodates
6
---
Bedrooms
Mézy-sur-Seine, Île-de-France, France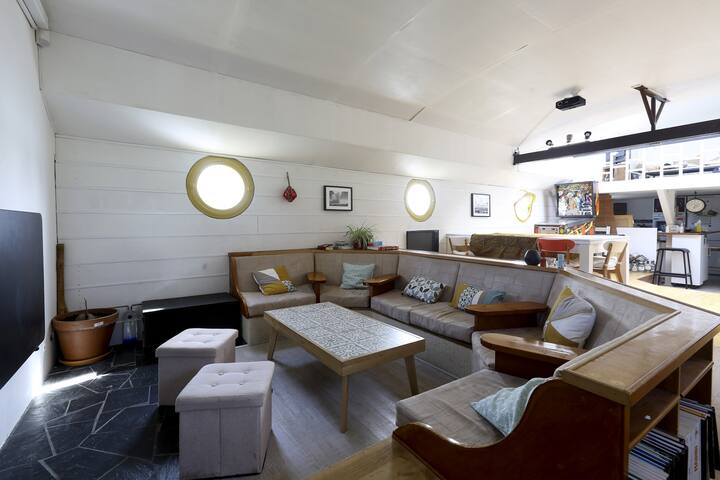 Appartement non fumeur refait à neuf dans une jolie petite ville des Yvelines en bord de Seine (2 gares et 2 accès autoroutiers pour Paris). 70m2 pour deux personnes, salle de bain, cuisine toute équipée, WIFI, ascenseur et parking souterrain privé.
Notre appartement a une décoration moderne et épurée. Il y a tous les équipements dont vous aurez besoin pour vous sentir comme à la maison. Le logement est composé d'une chambre parentale avec dressing. Nous mettons à votre disposition un accès WIFI gratuit. L'appartement, situé au 3ème étage, est accessible par ascenseur. Vous pouvez également stationner dans notre parking souterrain PRIVÉ.
Quartier peu bruyant. Rue commerçante au pied de l'appartement avec de nombreux restaurants, des pharmacies, des commerces alimentaires, fleuriste, boulangeries, banques, joli parc qui longe la Seine......
They were so patient and sweet with us not arriving quite when we thought we would and their place was immaculate. Would definitely book again.
Laura
2016-10-27T00:00:00Z
Most pleasant accommodation, all modern amenities and wonderful host.
Riz
2016-03-25T00:00:00Z
Nice appartement! Quiet neigbourhood. Friendly welcoming. Perfect stop for our roadtrip.
Julie
2016-05-09T00:00:00Z
Fantastic host! our arrival time was difficult to predict because we were cycling, despite this, she was very hospitable and ensured we were welcomed at the flat. The flat itself was much bigger than I thought. in a great location very close to the river, shops and cafes. very clean and tidy. I felt at home and I enjoyed it thoroughly! Thanks Pauline
Dave
2016-06-20T00:00:00Z
Very nice apartment, all you need underground parking, WiFi, comfortable setting and all the little things you need. Only thing that I didn't like was all of personal belongings (clothes, lots of personal pictures etc) but was a brilliant apartment :)
Joel
2016-05-23T00:00:00Z
It was nice to be in Pauline's Appartement. All was how she described. It's very close to Seine river and we did a nice walking around.
Silvia
2016-07-23T00:00:00Z
Pauline could not have done more to make us welcome. So delighted with all aspects.
June
2016-04-29T00:00:00Z
Excellent séjour. Des hôtes très sympathiques et accueillants.
Aristote
2017-01-01T00:00:00Z
Room Type
Entire home/apt
---
Property Type
Apartment
---
Accommodates
2
---
Bedrooms
Meulan-en-Yvelines, Île-de-France, France
NOUVELLE LITERIE En centre ville, à proximité des supermarchés, boulangerie, tabac, banques, restaurants... Gare accessible à pieds Appartement avec une chambre, lumineux, belle vue sans vis-à-vis Cuisine ouverte sur salon avec couchage canapé 1 place Une chambre avec 2 vrais lits d'une personne SDB avec baignoire Parking public gratuit TV, Wi-fi
Calme et lumineux
En bord de Seine & centre ville Proche de la rue principale commerçante : boulangerie pâtisserie, primeur, fromager, cavistes, supérettes...
The apartment is spacious and has everything you need to have a good stay. Ines is a very friendly and relaxed host. We had a problem with the parking - on the first night we parked near the house in the parking area beside the river. We did not have a good feeling about the parking since there were some guys hanging around there. In the night some vandals damaged the back of our car. On the second night we parked a little further away in a quieter area and did not have further problems. We would recommend to be careful where you park if you come by car.
Colman
2016-11-09T00:00:00Z
The host canceled this reservation 2 days before arrival. This is an automated posting.
Maticia
2017-02-01T00:00:00Z
Inès was great with communication and quick to respond. Although I did not book with Inès, she was very helpful.
Fred
2015-07-12T00:00:00Z
My sister loved the city and the apartment. It was a pleasant stay, a good family environment, where everyone felt safe and had a great time. Thank youuuu!!!
Andreia
2015-08-24T00:00:00Z
We spent two days in this cosy and nead apartment. We enjoyed the peacefulness and calmness here though its just 100 meter around the corner of Meulans main place with the city hall, bank and a superb french bakery. We loved to go there in the morning as the french people do and loved the delicious classy patisserie. We also enjoyed to take a walk along the Seine which is just 150 meter down the street and discovered an excellent Breton restaurant. The car was safe on a big parking place 50 meter from the house. And the view out of the window in a big garden gave us a real french feeling, kind of romantic. The trainstation to Paris could have been a bit closer, but 7 min walk is still manageable. Ines was very helpful and available. So all together we can really recommend the place.
Jens
2016-12-23T00:00:00Z
Everything worked fine. Ines was easy to work with, reacted quickly to some changes in our arrival. Apartment is nicely renovated as described, and in a calm envrionment. The house is a bit old, like most of Meulan.
Peter
2016-02-28T00:00:00Z
The host canceled this reservation 10 days before arrival. This is an automated posting.
melodie
2015-09-10T00:00:00Z
The host was nice, came to the house to give us the keys and some tips around the neighborhood. It is a nice little town one hour from Paris. The house is centrally located so you can go on foot almost anywhere. To go to Paris, it is convenient if you have a car but avoid the rush hours to go to and from Paris. The apartment has been renovated. It has everything you can ask for on your stay. Merci, Inès!
REGLA
2016-06-29T00:00:00Z
Room Type
Entire home/apt
---
Property Type
Apartment
---
Accommodates
3
---
Bedrooms
Meulan-en-Yvelines, Île-de-France, France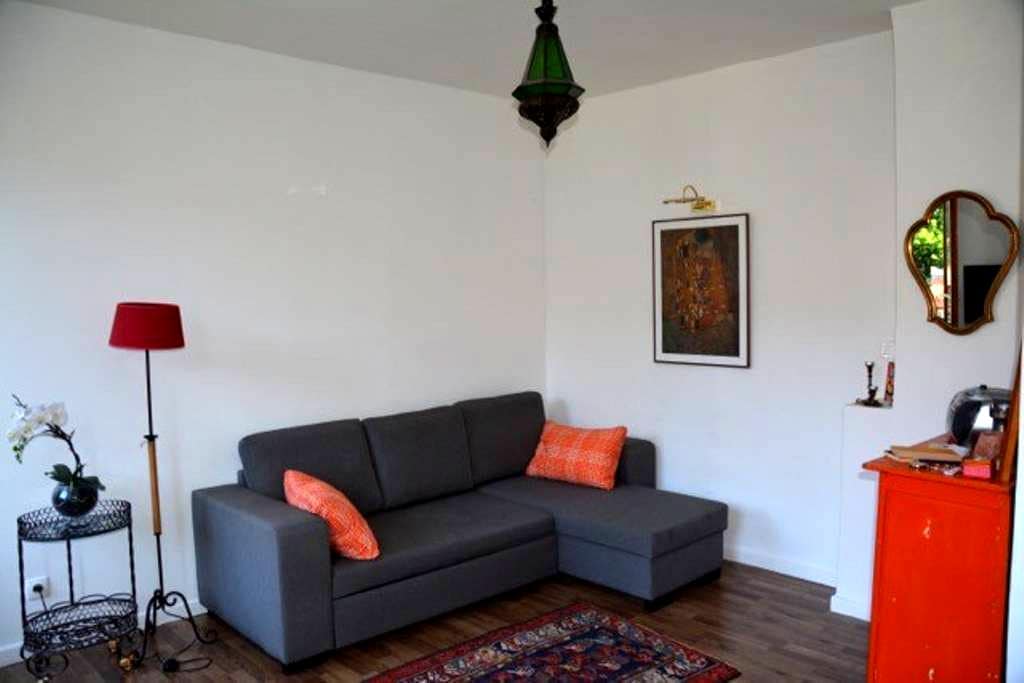 Small 2 charming rooms in a stone house dating back to 1857, or you can enjoy the peace and nature just 30 minutes from Paris by the A13 and A14 motorway, 5 minutes from the commercial areas, 20 minutes of fun, 45 minutes honfleur ...
Small rural village with few amenities not two housing whose bakery
Paisible et calme conforme aux attentes, très bonne qualités d 'acceuille
ilias
2016-10-07T00:00:00Z
Merci à Sylvain !
Olivier
2017-04-07T00:00:00Z
Appartement très fonctionnel. Il y a tout ce qu'on a besoin pour un petit séjour au calme. Je recommande à tous.
ANTHONY
2017-01-26T00:00:00Z
Très bon accueil, hôte sympathique et très disponible ... l'appartement est propre et il y a tout ce qu'il faut pour passer un moment de détente agréable
christelle
2017-01-29T00:00:00Z
Tout était conforme. Très bon séjour
Adeline
2017-02-20T00:00:00Z
Petit logement pratique et parfaitement situé pour aller visiter le zoo de Thoiry
Clément
2017-04-02T00:00:00Z
Endroit calme a quelques minutes de l'A13 pour toutes les personnes désirant allé sur Paris rapidement c'est idéal
Romuald
2017-03-16T00:00:00Z
Tres bon séjours, tout était parfait. Un grand merci à Sylvain pour son accueil !
laura
2016-12-25T00:00:00Z
Room Type
Entire home/apt
---
Property Type
Apartment
---
Accommodates
4
---
Bedrooms
Nézel, Île-de-France, France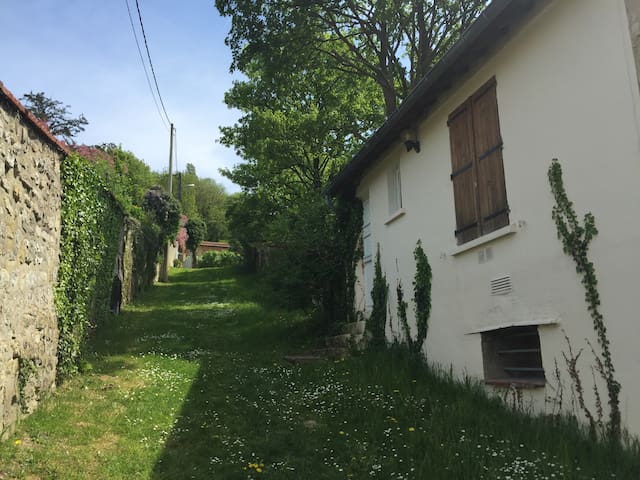 petite chambre d'appoint en mezzanine indépendante, avec lit simple et table de chevet. Cette chambre est petite mais agréable et lumineuse. Vous serez reçu dans une famille avec 2 enfants de 4 et 6 ans, il y a un jardin agréable ainsi qu'une très grande salle de séjour. Possibilité de dormir sur le canapé-lit dans le salon.
La maison est grande et ouverte avec une pièce à vivre de près de 40m2 et un joli jardin sauvageon car mes enfants et moi aimons les pâquerettes. C'est une maison vivante car nos enfants sont jeunes (4 et 6 ans) mais calme dès 21h car les enfants sont couchés et mon mari et moi geekons sur nos pc. Possibilité de prendre les repas en famille avec nous.
Quartier calme et résidentiel
Room Type
Private room
---
Property Type
House
---
Accommodates
3
---
Bedrooms
Jouy-le-Moutier, Île-de-France, France
Mon logement est assez confortable pour ne pas se gêner. Je suis ouvert à la discussion si vous le désirez. My home is big enough, everyone can have a cool place. I'm open to discussion.
Maison individuelle dans une rue calme. Chambre spacieuse avec toilettes proches.
RAS
edwine
2016-12-09T00:00:00Z
Franck and his children are nice people, you can find anything you want there. Very good for people like to stay far from noisy city. But the village has all we need with the cheap price. Very close to the supermarket. He went to picked me up everyday due to I was lost way always. Thank you very much Franck and wish you, your children all the best.
DIEU LINH
2016-09-20T00:00:00Z
Super sympa amicale
Mélodie
2016-09-11T00:00:00Z
moments de discussions nocturne ! Et petit verre d'accueil. réactivité et adaptabilité ! Franck vous met comme à la maison !
Nicolas
2016-10-14T00:00:00Z
très gentil et très acuillant je recommande,merci Franck.
Alireza
2016-10-11T00:00:00Z
Accueil agréable et sympathique .
Rémy
2016-10-09T00:00:00Z
O top
Romuald
2017-02-09T00:00:00Z
Je me suis senti comme chez (URL HIDDEN) ce n'ai mieux. Franck est un hôte courtoi ,sympa et cool. Il est disponible et j'y retournerai pour profiter de son magnifique jardin.
Claudine
2017-03-12T00:00:00Z
Room Type
Private room
---
Property Type
House
---
Accommodates
1
---
Bedrooms
Flins-sur-Seine, Île-de-France, France
Spend one or more nights on board The Pyrgos.L'ancien housing Petty will offer a change of scenery, comfort and relaxing experience life on the water. You can enjoy the garden, the rear deck, barbecue and even a canoe. The first breakfast is offered. 30 minutes from Paris is a bucolic stay and atypical that we offer.
You will be welcomed on a barge Freycinet Pyrgos, old work boat transformed into housing in 2016. You will be installed in the housing Petty: independent space, renovated in 2017, comfortable and fully equipped with fridge, toaster, kettle, coffee maker, microwave oven, television with DVD player and DVD, Internet, heating. Contrary to received the boat is not wet!
We are on a private residential island. Poissy being on the road of Normandy, and the A13 nearby, it is easy to go to Claude Monet's gardens at Giverny, the Palace of Versailles or the Normandy coast. Poissy, between Paris and Normandy, tourist and relaxing stop. At the port of Villennes sur Seine, close, jetski rentals.
Parfait !! A la recherche d'un petit nid pour passer un WE romantique et ressourçant, nous avons fait le choix de la péniche de Javotte et Franck. Nous comptions sur le lieu pour nous mettre dans les conditions pour passer un excellent WE, le moins que l'on puisse dire c'est que nous n'avons pas été déçus !! Tout est fait pour vous accueillir dans des conditions fabuleuses : La cabine à la déco et au charme fou. Hyper fonctionnelle, confortable et très bien équipée. Aucune concessions à faire de ce côté-là ! La petite barque-salon sur le pont arrière du bateau pour un petit dèj ou un apéro aussi insolite qu'inoubliable. Le site et les environs absolument magnifiques que vous visiterez depuis la rivière sur le petit canoë gentiment mis à disposition ou à pieds par le sentier au bord de rivière pour les moins amarinés. La proximité avec Paris, pour ceux qui souhaitent y faire une petite virée, le centre ville est accessible d'un coup de RER en 20 minutes à peine. Attentionnés, généreux, discrets et toujours soucieux de votre bien-être, Javotte et Franck vous offre de partager un peu de leur quotidien qui prête au rêve d'aventure et de voyage : la vie sur une maison flottante ! A tout ceux qui rêve de changer d'air et de s'évader du quotidien pour un cadre propice à la douceur de vivre et au plaisir des yeux, nous recommandons cette belle expérience !! Béatrice et Olivier de Nantes P.S. Peut-être aurez vous la chance, lors de votre passage, d'utiliser le très original « Vélo-Smoothie » … en cours de fabrication lors de notre passage.
Béatrice
2017-04-09T00:00:00Z
Room Type
Entire home/apt
---
Property Type
Boat
---
Accommodates
2
---
Bedrooms
Poissy, Île-de-France, France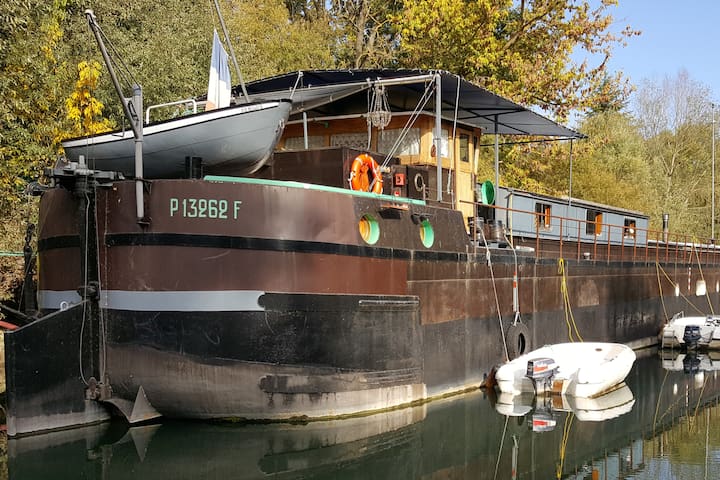 Erkekler çift wifi ile odasında bir gecelik odası, TV kira. € 6 fazlası için yemek (aile tarzı) akşam paylaşmak yeteneği. İş seyahat ve yalnız olmak istemez insanlar için idealdir. çok güzel bir köpek varlığını Not (Altın)
Casa disposición atípica de habitaciones. casa antigua que hace que sea moderna, manteniendo el encanto del viejo
Ce séjour à été super, Les hôtes sont très sympa, accueillants et arrangeants. Quartier très calme, belle chambre avec la télé et un lit très confortable. Je vous les recommandes à tous ;)
Antoine
2017-03-24T00:00:00Z
Room Type
Private room
---
Property Type
House
---
Accommodates
2
---
Bedrooms
Carrières-sous-Poissy, Île-de-France, France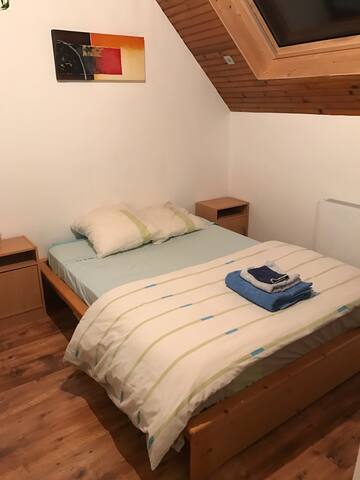 Quittez la ville, fuyez le bruit, prenez le temps de découvrir le Vexin. Venez vous installer un week-end au calme dans ce studio lumineux. Depuis ses fenêtres, deux bras d'une jolie Seine bucolique. Du vert, des balades... Allez, on respire...
Tomettes anciennes, cheminée, parquet craquant, lit confortable. C'est tout simplement joli, sans chichis. Blanc, gris, acier et chair. Au sein d'une maison chaleureuse, dans un environnement qui appelle la sérénité, ici vous vous sentirez bien.
Au coeur d'un village typique du Vexin français, notre maisonnée - ancienne maison de vigneron - est accueillante et chaleureuse. Nous vous réserverons notre meilleur accueil. Pas de traffic, pas de bruit, le chant des oiseaux et des crapauds-flutes. Le murmure du ruisseau qui traverse le jardin... et la maison.
Just....perfect! The appartament is very comfortable, located in a great place! Victoria And her family are the best host, really!
Valentina
2015-10-21T00:00:00Z
The host canceled this reservation 8 days before arrival. This is an automated posting.
Claire
2017-02-04T00:00:00Z
J'ai été très bien reçu par Victoria qui est une hôte chaleureuse et disponible à souhait. Le quartier est vraiment calme et le logement fonctionnel. Très bien pour mon déplacement professionnel.
Maxime
2016-10-28T00:00:00Z
Je suis très satisfaite de mon séjour , Victoria est très accueillente, elle a vraiment le sens de l'hospitalité, cela se voit à des petits détails comme les oeufs des poules, le pain, le beurre etc... mis à disposition dans la cuisine. L'appartement correspond tout à fait au descriptif, c'est spacieux, clair, propre, la maison est au calme et les équipements de cuisine et salle de bains neufs sont de bon goût.
Françoise
2015-12-16T00:00:00Z
Victoria a été très disponible pour moi par téléphone. N'ayant pas eu l'occasion de la rencontrer je vous parlerais de Ray ! Il m'a très chaleureusement accueillie ; entre son grand sourire, l'aide pour mes valises, et les supers œufs qui m'attendaient, je n'ai pu que me sentir comme chez moi ! La maison est très belle et le studio très fonctionnel. J'espère vous revoir un jour ! Merci encore
Violette et Émilie
2017-02-02T00:00:00Z
Jolie studio à l'étage d'une maison rustique dans le petit village de Mézy sur Seine. Parking publique proche de la maison.
Rosario
2016-12-15T00:00:00Z
Le logement est très propre, grand et bien équipé. L'accueil par Victoria (et l'ensemble de la famille) a été très chaleureux. Et le repas qu'ils m'ont proposé de partager avec eux a été très agréable. Je recommande vivement!
Quentin
2017-02-10T00:00:00Z
Logement très agréable. Très bon accueil de toute la famille. Ils m'ont invité à partager un repas avec eux, qui a été un très agréable moment d'échange. Je recommande ce logement
Stéphane
2017-01-20T00:00:00Z
Room Type
Entire home/apt
---
Property Type
Apartment
---
Accommodates
2
---
Bedrooms
Mézy-sur-Seine, Île-de-France, France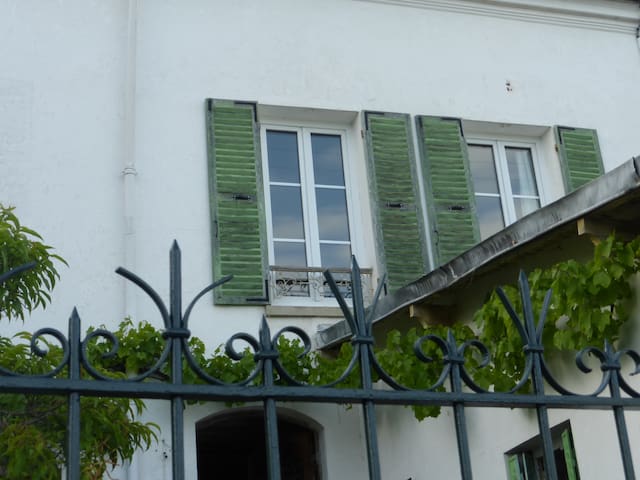 Les Mureaux - Airbnb
:
Average

4.56

out of

5

stars from

312

guest reviews
Enter dates to see full pricing. Additional fees apply. Taxes may be added.