- Adjacent apartments available - PARTIES OF UP TO 12 - FREE Sky Sports & Sky Movies TV - FREE WiFi - Secure Parking (nominal fees apply) - Flexible Bed Options - Super King, Singles, Sofa Bed
- Walking distance to all amenities, 5 mins walk to a Waitrose Supermarket - 50m from Trumpington Park & Ride, just 10 minutes to the City Centre - Buses every 10 minutes - COMMENDED APARTMENT - South facing sunny Balcony A luxury south facing penthouse apartment with sunny balcony. 42 inch flat screen TV featuring Sky Sports & Sky Movies and all other channels. Adjacent to Trumpington Park & Ride and just a five minute walk to Waitrose Supermarket and a ten minute walk to pubs and restaurants. Ten minutes from the City Centre. This luxury, commended apartment offers flexible bed options which means Bedroom 2 can be setup with either a Super King Size Bed or Two Single Beds. Parking is available (nominal fees apply).
Located near the historic city of Cambridge, with all its many attractions, including Kings College Chapel and punting on the River Cam. Two miles from the delightful village of Grantchester, made famous by poets Lord Byron & Rupert Brooke and now home to best selling novelist Geoffrey Archer. One junction from the fascinating Duxford Imperial War Museum, home to historic WW2 planes, as well as Concorde. Also close to pretty walks (Wandlebury Woods), Golf (100 year old Gog Magog Golf Club) as well as gyms, restaurants, cinemas and theatres. Newmarket race course and stud is a 20 minute drive and access to London by train is just 50 minutes.
We went to Cambridge with my family for my graduation and we had a great time. A big part of it was a comfortable, clean and nice apartment. Even though it is outside the center area, it is reachable with £6 using a cab or by bus from park and drive. In addition it is next to waitrosse. When we arrived Daniel(Not Mick) received us and he helped is with the bags and explained the details. I definitely recommend this place.
Carlos Francisco
2014-04-28T00:00:00Z
Mick did a superb job preparing for our stay. Terrific, clean and well kept airbnb!
Rollis
2015-10-16T00:00:00Z
Lovely 2nd floor apartment with a modern spec
debbie
2017-04-02T00:00:00Z
This was the perfect place for my family - well-equipped, extremely clean and comfortable with incredibly easy access to Cambridge by bus. We arrived late and in the dark but excellent instructions from Daniel meant that we had no problems accessing the apartment and were delighted with what we found. We will definitely return if we can!
Fiona
2014-11-02T00:00:00Z
Had a great time in Cambridge and this flat was perfect. Loads of space for us to relax and get ready before heading to our friend's wedding!
Katherine
2016-04-01T00:00:00Z
What a terrific place to stay - spotlessly clean and convenient to a supermarket and walking distance to a great little pub. The apartment is set up with everything you need and is a comfortable size for 6 adults - if 2 share the lounge on pull out sofas. Contact with the hosts was easy and efficient. Access to the property is straight forward. Thank you
Kelly
2014-09-21T00:00:00Z
Fantasic residence.modern ,quiet, and nearby the waitrose for 5-min-walk! Daniel really friendly!
Doris
2015-06-19T00:00:00Z
A great find! We'll be back!!!
Tanya
2015-10-04T00:00:00Z
Room Type
Entire home/apt
---
Property Type
Apartment
---
Accommodates
6
---
Bedrooms
Trumpington, Cambridge, United Kingdom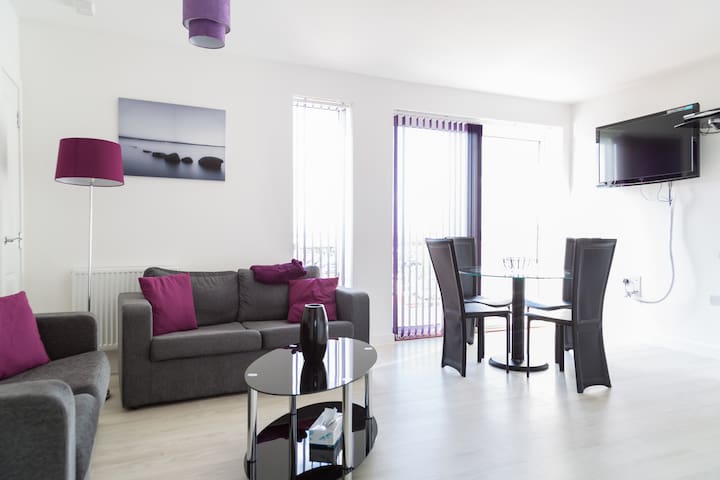 Lovely, sunny, newly decorated flat just north of the river in Central Cambridge. The flat, which occupies the second floor of a Victorian house (external staircase) has a sitting room with double bedroom area, a separate kitchen and a shower room.
This charming second-floor flat has been totally refurbished internally to provide a compact living space (31 m2) that is perfect for a couple. There is a sitting room with a screened bedroom area, a fully fitted kitchen and a shower room. There is even a sunny patio overlooking trees and gardens. The flat has underfloor heating and is double-glazed for peace and quiet. Conveniently situated just fifteen minutes' walk from Cambridge's historic centre via a delightful route which includes a footbridge across the river Cam and Jesus Green.
A ten-minute walk to the beautiful, historic city centre via the Victoria footbridge across the river to Jesus Green with its gorgeous, open-air summer swimming pool (the longest in the UK at 90 metres, but - be warned - unheated!). Midsummer Common is nearby and also adjoins the river. There are lots of pubs (including The Fort St. George and The Boathouse, both on the river, The Old Spring and The Carpenter's Arms) and restaurants (Twenty-Two and the Michelin-starred Midsummer House) within a few minutes' walk, as well as a good selection of local shops and take-aways including the new beer/wine space called Thirsty with different street van food outside every evening!
Excellent communication in the period up to my stay from Angela, giving me all the information I needed on the flat and the local area. The flat is light and airy, furnished and decorated to very high standard and has everything you could possibly need including a fully equipped kitchen with washing machine, fridge, hotplate, microwave and dishwasher. Doesn't have a TV, but not important for me. The flat is ideally located in my favourite part of Cambridge, just short walk to the river and Jesus Green with the centre a further 10 minutes walk. Really nice touch from Angela providing coffee, milk and croissants. Five stars from me and would love to stay again!
Simon
2016-05-28T00:00:00Z
We had a very nice time in Angela's flat. It's a very cosy flat with a creative design. We didn't have to look for breakfast the first morning; everything was there. Parking the car is a bit of a problem everywhere in Cambridge, also around the flat, but that's apparently the policy in Cambridge: ride a bike! Thank you Angela for a pleasant holiday.
Ilse
2016-09-15T00:00:00Z
Had a fantastic stay at Angela's flat. Very cosy and lovely interior inside. Easy access to and from Cambridge, about 10 mins walk into town. Thank you Angela!
Harry
2016-06-04T00:00:00Z
Fabulous flat! The location was very convenient for St John's with the bonus of easy parking. Very easy to find and very clean and comfortable. Had everything that we needed and we enjoyed the croissants for breakfast.
Sandra
2015-06-25T00:00:00Z
The flat is one of the best flats that I have seen so far in Cambridge. Next to the bus station, it is a really nice area and very close to the town center (5 min).
Patrick
2014-11-25T00:00:00Z
Absolutely gorgeous top floor flat in an interesting part of Cambridge, just a short walk from the centre through the beautiful green. It's a really clever use of space and we were in awe of some of the design ideas. Thankyou for making us feel so (URL HIDDEN) always nice to have pastries and good old Yorkshire tea for breakfast. I would thoroughly recommend to anyone looking to stay in Cambridge.
Esther
2014-11-11T00:00:00Z
It is a great place to spend a few days in the city of Cambridge. The apartment was clean, very comfortable and nice views. It is very quiet in spite of being near the street. It is near the city center and a bus stop opposite. In a very nice neighborhood. When we arrived Angela had prepared a great welcome all guests. When we arrived it was night, tired and all the shops closed. In the pantry there was food and warm apartement. I've meaningless at home. It is the best hotel I've ever been.
Maria
2015-01-18T00:00:00Z
Lovely (independent) flat and very well furnished, on the other side of the river but still very close to the town centre. A bike is available to move around, which is really awesome. Angela is very careful and ready to help in any case. I recommend heavily this flat/location.
kevin
2015-03-21T00:00:00Z
Room Type
Entire home/apt
---
Property Type
Apartment
---
Accommodates
2
---
Bedrooms
Cambridge, United Kingdom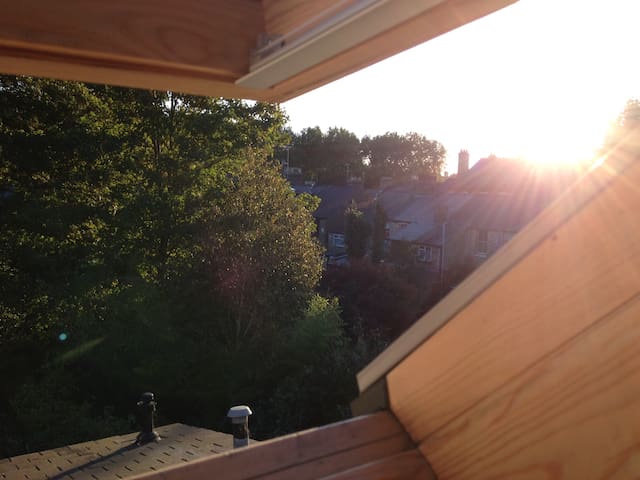 A large ensuite double room in a new apartment (May 2016) a short walk from Cambridge station. Under-floor heating for year-round warmth. Black-out curtains for restful sleep. Pret A Manger and other breakfast options are 2 minutes away. The apartment is within walking distance of city centre, colleges and river. Mandarin is spoken here. Lihong is a former top-rated massage therapist in 5-star hotels in Beijing and London. Competitive rates are offered to guests. Please ask for details.
We offer you a large, uncluttered ensuite bedroom with a hand-made wooden bed, under-floor heating, black-out curtains, plentiful built-in cupboard space. We provide you with the essentials for your stay: bed linen, towels and hand towels, shampoo, conditioner, and shower gel.
We provide you with access to an Android device which is regularly updated with information about what is going on in Cambridge itself and the surrounding area. We welcome feedback from guests about restaurants and pubs you have visited so that we can add recommendations on to the device for use by other guests.
Charles and Lihong are a lovely couple and wonderful hosts! They were prompt with their response on making reservations and very welcoming on my arrival. The property is brand new and located in an extremely easy walking distance from both the railway station and city centre. The room is immaculate with a fantastic terrace, just like the pics. Charles offered many suggestions on places to visit and eat. The room is also equipped with an Android device to browse local information and whats on in Cambridge! Despite of having to check out early, Charles laid out the breakfast table for me with various scrummy options! I enjoyed interacting and talking with both and hope to see them again sometime soon. I would highly recommend staying here on your visit to Cambridge! Thanks again Charles and Lihong!
Miti
2016-07-08T00:00:00Z
Very comfortable bedroom and ensuite
Mick
2016-12-03T00:00:00Z
Charles' place was perfect for my business trip. It was super close to the station (2 min) and to the universities which was great for me. Very modern large room with private ensuite. Nice interaction with the hosts but also very separate. Would definitely recommend.
Laura
2016-12-14T00:00:00Z
I found this place just perfect for my needs. The room was large, with a very comfy bed with good bed linen The ensuite was spotless and comparable to a quality hotel. Appreciated having a key to lock the bedroom door. No need to worry about food as it was very close to amenities. Will be back next time l need somewhere to stay in Cambridge.
Jane
2017-02-09T00:00:00Z
Charles was a charming host, the room is lovely and very convenient for the station and central Cambridge. Highly recommended.
nicola
2016-08-18T00:00:00Z
Great setup, clean modern comfortable large room with modern ensuite bathroom. Charles is friendly and welcoming. Location is superb especially if you're coming in or out by train. Recommended.
Steve
2016-11-22T00:00:00Z
Lovely room, in a great location right by the station, with friendly, helpful and communicative hosts. Would recommend!
Tom
2017-01-14T00:00:00Z
The night in charles 's house is the best night in this trip. We're really happy to have a good time with Lihong and charles. They're so sweet and friendly.
文君
2016-09-08T00:00:00Z
Room Type
Private room
---
Property Type
Apartment
---
Accommodates
2
---
Bedrooms
Cambridge, England, United Kingdom
A great base for visiting Cambridge and the surrounding area, if you also want peace and quiet at the end of the day. On the edge of Stapleford village, 5 miles from Cambridge centre, overlooking open countryside. Adjoined to our house but completely private, with your own garden area & parking alongside. Train station to Cambridge/London, PO & shop, pubs and an Indian a short walk away. Great Shelford High Street (with a variety of shops), farm shop and lovely walks close by.
The annexe has it's own front door and french doors at the back. The kitchen is compact but fully equipped, including gas hob, oven, microwave, dishwasher, fridge, nespresso coffee machine and extendable oak table with four chairs. (There is also a freezer in the barn for longer stays). The living area has two comfortable leather armchairs with footrests available, a coffee table, sideboard and 32" TV with amazon fire TV stick (giving access to amazon prime videos). French doors open out onto the garden. The double bedroom has a king sized bed with hypoallergenic bedding and all cotton linen. From the bed, there are unspoilt views over open countryside. There is a small well-equipped laundry room with Bosch machine, clothes airer, iron and small ironing board plus dehumidifier. The shower room has a spacious walk-in shower area. All bedlinen and towels are provided, and changed for you if you stay more than a week. French doors lead out onto a sitting area under a pergola plus a small lawned garden for the sole use of guests. A car (or two) can be parked on the drive alongside. There is good wifi connection.
Stapleford is 5 miles south of Cambridge city centre. The annexe is in a quiet location on the edge of village, overlooking open countryside, but in easy reach of Cambridge and near to lots of local amenities. Two pubs are a short walk away. Ten minute walk to Shelford railway station (trains to Cambridge or London), Post Office/shop and Indian restaurant; twenty minute walk to Great Shelford, which has a bank, bakery, lovely deli and coffee shop, chemist, butcher, two small supermarkets and Chinese restaurant. Gog Magog farm produce shop and coffee shop/cafe a short drive or pleasant thirty minute walk away. Wandlebury Country Park and the Gog Magog Downs are nearby (with the Farm Shop between) for great walks. The Downs provide you with a view of Cambridge from a hill, which is quite rare in this area. Walking distance to Camyoga and Stapleford Granary (ten minutes to either location), for those looking for accommodation for courses. Also close to Addenbrookes hospital (ten minutes bus or twenty minute cycle) There is much to see and do in Cambridge - if you want a little taste, search for "58 reasons living in Cambridge ruins you for life". There are plenty of leaflets in the annexe to help you decide what to do. The two National Trust properties, Wimpole Hall and Anglesey Abbey, are both a twenty minute drive away, and worth a visit if you have time. Wicken Fen (also National Trust) is only half an hour away if you like walking/bird-watching.
Excellent accommodation of a very high standard , beautiful location, facilities better than could have been imagined. Hosts very friendly and exceptionally helpful. Would recommend this to anybody.
Michael
2016-07-01T00:00:00Z
The description was really accurate. The location was a perfect distance away from Cambridge for us, far enough away that it is quiet and out of town but close enough to get in with ease. The welcome was excellent, with the breakfast items for the first day really appreciated. There was plenty of information on anything we could have wanted to know. It was a lovely weekend and we'd love to stay again if we came to Cambridge again.
Samuel L.
2016-09-05T00:00:00Z
We stayed at Jenny's property for 2 nights and wish we had stayed longer! It is beautifully clean, warm and very homely. It is very well equipt which was essential for us travelling with a baby. There were lovely little extras including croissants and milk. The views from the property are excellent and the neighbourhood very quiet and safe. It is literally a few minutes drive from the park and ride into Cambridge. Jenny and family are so friendly and welcoming, they were on hand for anything but gave us total privacy during our stay. I can't recommend this property highly enough and will hopefully return in summer to explore more of the city. Thank you Jenny!
Eva
2014-12-08T00:00:00Z
Jenny is lovely, I coudn't ask for more from her... the house is fantastic, and she was allways keen on helping us, and if this wasn't enough she made a folder full of info from the area: pubs, parks, places to visit, like a little bible of the place XD Wish you all the best Jenny Thank you very much for your hospitality :)
David
2016-08-27T00:00:00Z
A nice place. You will need a car
Marianne
2016-12-28T00:00:00Z
This is a regular stay for us owing to work locally. It is like a home from home and Jenny is the best host ever. Looking forward to our regular visits.
Scott & Lizzie
2016-12-08T00:00:00Z
Have stayed here many times and it is just like coming home. Comfortable, clean and so welcoming.
Scott & Lizzie
2016-12-15T00:00:00Z
We received a warm welcome from Jenny and were delighted with the accommodation which was extremely well equipped and comfortable. It is in a lovely location, handy by to a little village with takeaways, bakery, etc. We shall definitely use again.
Denise
2015-07-13T00:00:00Z
Room Type
Entire home/apt
---
Property Type
Apartment
---
Accommodates
2
---
Bedrooms
Stapleford, United Kingdom
Modern, light flatlet - next to main house with own entrance. Quiet leafy suburb. 3 mins' walk + 10 mins' bus-ride to city centre. Close to Addenbrookes. Free, on-street, parking. 5 mins walk to international take-aways and good Italian deli. Bicycles available for hire - ask when you enquire about booking.
Private and comfortable for two. Recently repainted. Modern equipment.
Quiet, leafy suburb.
Thank You to having us 100% satisfaction !!
Dawid
2016-03-20T00:00:00Z
All very pleasant, milk etc on arrival is much appreciated. Perfect spot for a week visit.
Andy
2015-04-29T00:00:00Z
Sian and Andrew's place was is in a lovely part of Cambridge, and the flatlet with a separate entrance from the garden is bright, peaceful, and very comfortable. They were really very helpful. I really appreciate their being so accommodating with planning the timing for arrival and checking out. The bread, jam, and butter in the kitchen was a great delight, and very thoughtful. I would highly recommend their flatlet, which was a joy to stay in.
Sare
2016-06-15T00:00:00Z
This was my first airbnb and it was great. Friendly host who welcomed me in, showed me what was what and then left me to it. Very clean, comfortable bed and had everything there you could need. Would recommend this place to a friend, so I'd recommend it to you too.
Mark
2016-09-21T00:00:00Z
We were contacted before our trip and made to feel very welcome by Sian and Andrew. This was our second stay in their flatlet and we knew how to get there and what to expect. As before, tea, coffee, bread, milk and butter etc were left for breakfast the next day, by our hosts.
Ruth
2016-05-29T00:00:00Z
We loved this little apartment. Self contained and private, some nice touches that made us feel welcome like the tea and coffee and breakfast rolls. The apartment is clean and comfortable so it's relaxing to spend time there. Cambridge is a short bus ride away and a lively place to wander in. Sian and Andrew were available in the adjoining house in case we needed to ask anything. Highly recommended.
Mark
2016-09-04T00:00:00Z
Very good person!
mengyu
2016-12-23T00:00:00Z
Lovely apartment in leafy Cambridge suburbs looking out onto the garden. Everything provided that you could possibly need. Walking distance to the city or bus close by and great supermarket just a few minutes walk. Would happily stay here again.
Merran
2015-07-26T00:00:00Z
Room Type
Entire home/apt
---
Property Type
Apartment
---
Accommodates
2
---
Bedrooms
Cambridge, United Kingdom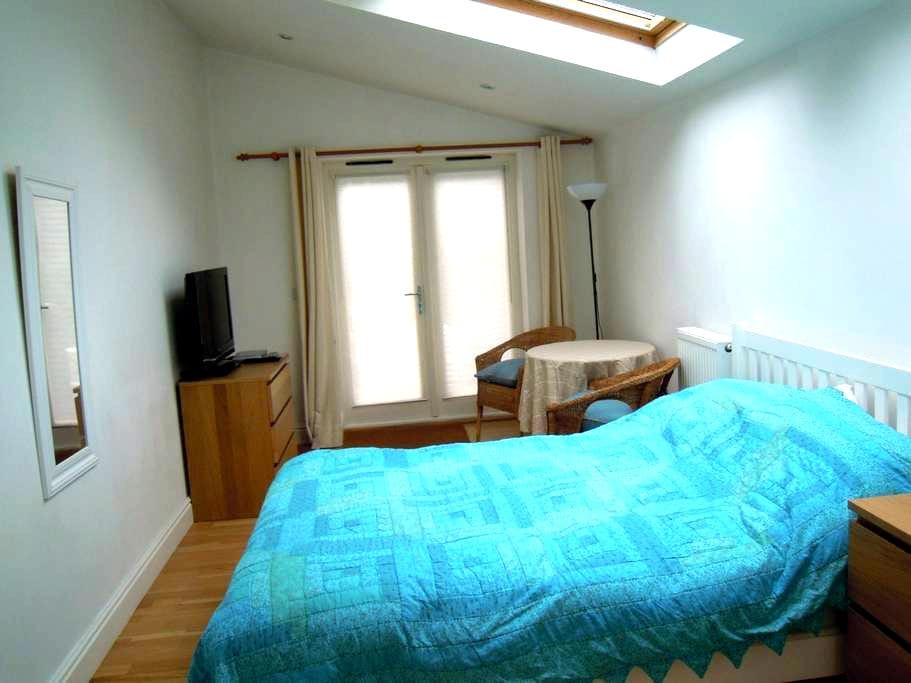 - A private double bedroom in a cosy and modern apartment - Shared bathroom (with the hosts) - Free parking space - Unlimited fast fibre-optic wifi - Secure lock to the building, apartment and bedroom - 24 hour check-in - Laptop-friendly workspace - 4 miles from Cambridge City Centre: Citi 7 direct bus to Cambridge city and Cambridge train station - the bus stop (Maris Green) is only 5min walk from the property - 0.6 mile from Shelford train station - 0.5 mile from local amenities
This listing is for a private double bedroom with shared bathroom (with the hosts). Guests only share the bathroom and the entrance with the hosts therefore you can expect complete privacy during your stay. Facilities provided: - A microwave - An electric kettle with tea, coffee, sugar and mineral water - Towels - Shower gel, shampoo - Hair-dryer - Iron and ironing board (upon request) Laptop-friendly workspace. No access to the kitchen or other parts of the property. Breakfast is not provided.
- 0.5 mile (10 minutes walk / 3 minutes drive ) from local amenities at Great Shelford town center
I've stayed here before, great hosts, clean and easy to book
(EMAIL HIDDEN)
2017-03-31T00:00:00Z
Mimi and Fath are excellent hosts! We loved their guestroom, especially any-time check in was a great option and really helpful, everything was nice, clean and just as described. Thank you loads
Ksenija
2017-03-26T00:00:00Z
Mimi's place was perfect for me. Great location for getting to Addenbrookes. Really good communication for checking in. The room was as described and very comfortable. I'm looking forward to coming back next week.
Tom
2017-04-07T00:00:00Z
Very void hosts. Room as described, everything was easy.
Neeraj
2017-02-02T00:00:00Z
Good accommodation. Great communication and arriving whenever you want with a special entrance procedure. Unfortunate you're not allowed to use the kitchen. You're not in contact with the living area of the landlord, which makes it more feel like a hotel, but for business or a citytrip to Cambridge it is perfect.
Marc
2017-03-06T00:00:00Z
Clean new building. Good parking space. The added table and chairs made the room comfortable and good for my working needs.
(EMAIL HIDDEN)
2017-03-10T00:00:00Z
Good size room with easy access to the bathroom, all very clean and tidy. Check in was very easy as was check out. The place is as described and I would stay again.
Stephen
2017-02-17T00:00:00Z
Very nice room, with everything you need. Tea coffee etc.
Elizabeth
2017-03-03T00:00:00Z
Room Type
Private room
---
Property Type
Apartment
---
Accommodates
2
---
Bedrooms
Great Shelford, England, United Kingdom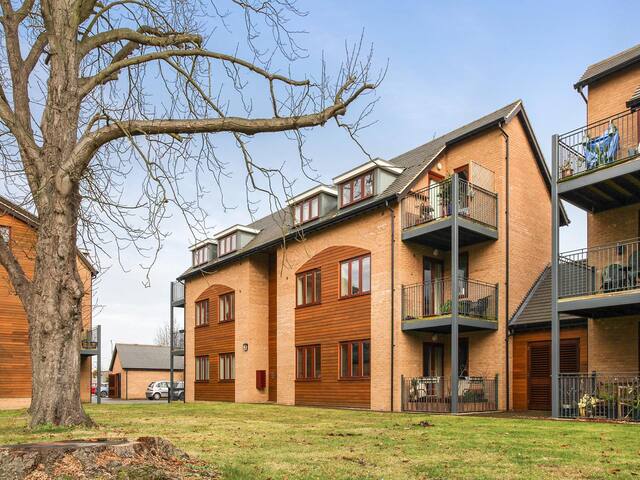 Private room, with modern ensuite in a charming house right in the heart of Cambridge. Equipped with all the amenities needed for your stay! Five minutes walk from most Colleges, on a street with plenty of restaurants, and just 1 km from the railway station, this room could not be better situated for your stay. Hosted by two friendly PhD students with both excellent local knowledge and plenty of hosting experience!
Location, location, location! Our house couldn't be more ideally situated between the station and the city centre. The room is quite flexible and can be configured as a single or double. There is plenty of storage space, and a very nice modern ensuite with an excellent shower. Rachel is a very frequent traveller in her capacity as a professional violinist, so is well experienced with the little niceties that travellers appreciate, and so we try to provide any of the "little things" you might have forgotten or need, from irons to toiletries. It's only us (Rachel and Paul) in the rest of the house, and the room and en-suite is very self-contained, so you won't be sharing it with anyone else!
We're situated on the main high street running from the railway station into the city centre, with plenty of restaurants, take-always and grocery stores within a few minutes walk. It's just a five minute walk from the historic city centre, with many colleges right on our doorstep. The famous Parker's Piece is just across the street, and we are within walking distance of open spaces, beautiful gardens and picturesque country walks. There's a multi-storey carpark round the corner on the East Road side of Parker's Piece, right next to the local swimming pool and gym. We have both lived in Cambridge for several years and have great local knowledge on the best (and least touristy!) places to visit, as well as an inside knowledge about the University and Colleges!
This was my second visit in as many weeks and I'm pleased to say that this trip was as enjoyable as the first. Highly recommended.
Paul
2017-03-16T00:00:00Z
Great location (handy for bus and railway stations as well as town centre), friendly host: what more could one wish?
Clare
2017-02-17T00:00:00Z
The best room ever. It had verything we needed. We do recommend it very much.
Toni
2017-02-15T00:00:00Z
I really enjoyed my stay with Rachel. The location is fantastic, particularly if you arrive by train, and it was convenient for attending a conference in central Cambridge. The room is cute and comfortable, and Rachel includes a lot of thoughtful amenities. I would definitely stay here again.
Jennifer
2017-03-30T00:00:00Z
Thank you Paul and Rachel for a great stay! The room was even better than described, excellent amenities. One couldn't hope for a better location, everything is within walking distance. The best part about this place, is however, the hosts. Paul and Rachel are extremely friendly and wonderful people. One couldn't wish for better hosts. Would love to stay at their place again. Highly recommended!
A. Nimer
2017-01-14T00:00:00Z
I loved my stay here - it was a real 'home from home'. The room was spacious, clean and extremely well-equipped. It's in a great part of town, with easy access to shops, restaurants, nightlife and Cambridge's colleges. And Paul and Rachel proved to be extremely kind and thoughtful hosts. Highly recommended.
Paul
2017-03-09T00:00:00Z
Great! Rachel and Tim couldn't be there but had excellent contingency plans and super helpful notes. They were also very responsive when we asked a couple of questions later that night. It is unbelievably central and very comfortable.
Lucy
2015-12-21T00:00:00Z
Rachel's place is always a great place to stay if I'm in Cambridge
Graham
2017-03-07T00:00:00Z
Room Type
Private room
---
Property Type
Apartment
---
Accommodates
2
---
Bedrooms
Cambridge, Cambs, United Kingdom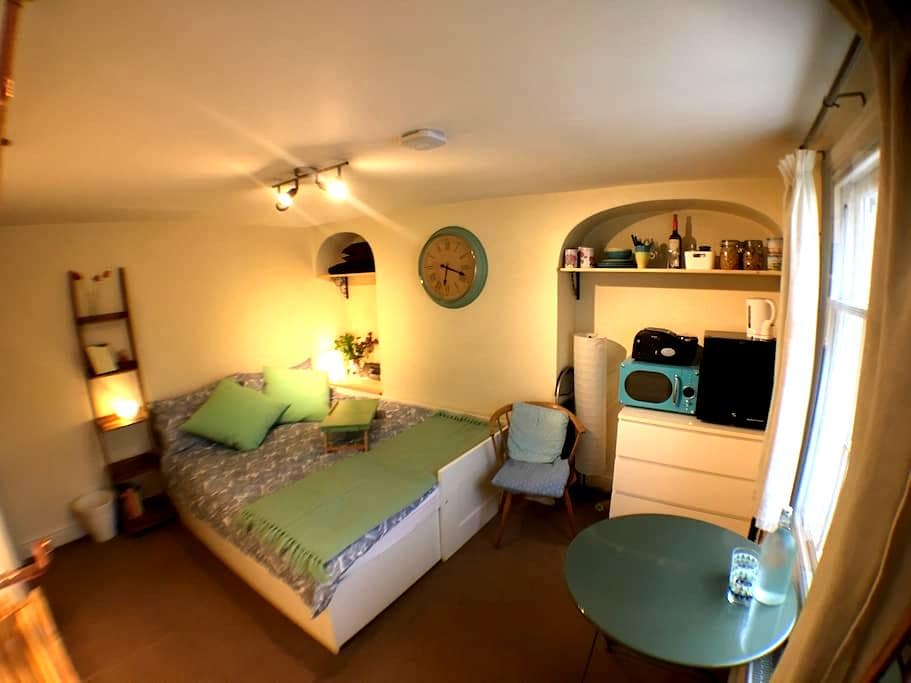 Comfortable and cosy room available in a good city location. Ideal for exploring the city which is a short 15/20 min walk. The room, whilst not large has a comfy single bed, chest of draws, cable TV and internet. The apartment is homely and I hope that guests are able to feel at home whilst here. I am more than happy for guests to use the kitchen facilities and to chill in the living room with or without me. There is a work/study space available to use within the living room if required.
With a 10 minute walk to Cambridge City centre, 10 minute walk to the rail station, bus access to the number 1, 3, 7, 8 and 13 and less than 10 minutes in the car to Addenbrookes. Botanical gardens just round the corner.
Great location for shops, pubs, bus routes, botanical gardens, train station and access to the city. A quiet neighbourhood.
Due to illness I was unable to make my stay in the end but Shirlene was really quick in responding an helpful.
Samuel
2016-04-11T00:00:00Z
Shirlene was a perfect host. The room is little, but access and bathroom are well organised. Good location with easy access to supermarket, pubs and center. Near to the station. Because of some noise in the night (totally unusual, as far I can guess) I received a remboursement from the host (perfect, has been told?).
Andrea
2017-02-15T00:00:00Z
Idealy located close to the city center, in a quiet building, Shirlene 's warm hospitality made me feel like at home.
Audrey
2017-02-12T00:00:00Z
Great host, response to enquiry quickly. Location is central.
Quan
2017-02-03T00:00:00Z
Shirlene has been a lovely host - she was at home when I arrived and was very available throughout my stay. Her flat is close to the centre, so that was very convenient for me.
Sophie
2016-04-06T00:00:00Z
Shirlene was very welcoming and friendly, whilst still respectful of my privacy. The flat is very conveniently located for the University and the city centre. The room is small (as described), and the building and neighbourhood aren't going to win any beauty contests, but I really don't think one can complain given the very reasonable price. Overall, a highly positive experience.
Finlay
2016-07-29T00:00:00Z
Shirlene was absolutely wonderful, and the apartment was incredibly comfortable and homey. I would definitely recommend.
Amanda
2016-09-28T00:00:00Z
Shirlene was really nice and responded quickly on questions. Lovely location nearby city centre and short walk from train station
Ronald
2016-10-01T00:00:00Z
Room Type
Private room
---
Property Type
Apartment
---
Accommodates
1
---
Bedrooms
Cambridge, United Kingdom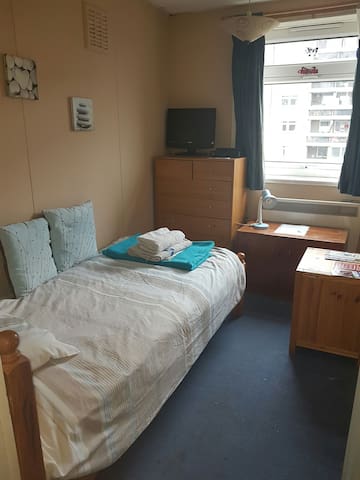 Fully refurbished modern raised ground floor flat in central Cambridge. Large sunny living/dining/kit opens to prvate balcony garden heating, sound proof double glazed windows throughout home security system bedroom + seperate single room with Ottoman beds for extra storage fans in all rooms Very central location 5 mins walk to town centre, 6 mins walk to main bus station 7 mins taxi to rail station. Delightful!
Light airy apartment that I use as my painting studio when I do not have guests staying. When you are staying the apartment is exclusively for your own use. It has three bedrooms. The master bedroom has a Smart TV, as does the living room. The apartment is warm and has unlimited fast broadband cable television & WiFi.It is self catering , breakfast essentials are in the fridge and the Tassimo coffee maker is loaded and ready for use.! There is a washing machine, seperate dryer, dishwasher and microwave plus an electrical cooker. I provide all bathroom and toilet essentials disposable slippers, also a new travel cot and mattress high chair, plus an extra cot for a toddle,r if required. Please let me know beforehand. NB.there are now security doors onto King Street which require a special electronic fob to gain access through. One of these is on your set of keys . The best way to access the flat is from Manor Street NOT King Street, simply walk up the 6 wide shallow steps on the ramp at the side of the block of Manor Place flats, turn left at the top and left again up the 4 steps onto the first level. Walk to the right of the stair case and through the black, closed, " fire door" then, no. 35 is on your left .
The apartment is situated right in the centre of Cambridge, 5 minutes from the central shopping area's of 'The Grand Arcade', 'Lions Yard' and the main market place. There are many local restaurants, pubs and coffee shops on your doorstep. All that Cambridge has to offer: Colleges, Churches, Punting, Theatre, Cinema, gyms etc. are all within easy walking distance.
Very nice flat, located less than a 5 minutes walk from the city center. Calm and well equipped. Harriet is a very nice host, she left us with all the informations needed to fully enjoy our stay in Cambridge .
Laurène
2016-02-26T00:00:00Z
Arriving at the 'Calm Oasis' was a pleasant experience, Harriet has all the necessary information and tools at hand to ensure our stay was as smooth as possible. There were supplies provided allowing us to relax immediately and enjoy tea or coffee, the touches of comfort meant we did not have to seek out any supplies for our stay. It was a wonderful 2 nights, exactly as it 'said on the tin' and the location is prime for anyone coming to sight see in Cambridge.
R
2016-04-29T00:00:00Z
This accommodation was fantastic - great location in the centre of Cambridge, spacious living area and access to parking. Harriet was helpful and couldn't do enough to help us have a great stay. The kitchen was well equipped and even had lots of useful basic ingredients if you wanted to cook. Our party included a toddler and Harriet provided lots of useful things such as a highchair and potty, as well as providing doorstops and corner guards to prevent accidents. This effort was amazing from a host. Overall I would definitely recommend and would return next time we visit Cambridge.
Clare
2015-12-07T00:00:00Z
This apartment is perfect - superb central location near all the colleges and restaurants etc. It is very well equipped with everything you may require. Henrietta is a very generous host indeed.
Artur
2016-10-09T00:00:00Z
Harriet is a wonderful host. She prepared a lot of things for our young daughter, even some food in the fridge. We would love to come back next time!
Dingyu & Sharon
2016-03-06T00:00:00Z
This was our first experience of staying in an Airbnb and certainly Harriet set the bar high. Everything was catered for from the great choice of breakfast options including fruit,jam,breads,cereal and fresh juice to the provision of extension leads and adaptor plugs for all the electronic paraphernalia we all travel with these days! The appartment was spotlessly clean with an excellent bathroom -it was a bit too chilly during our stay to sit on the balcony but this outside space was an added bonus. Location wise it couldn't have been better - just off King Street where less than a five minute walk takes you to the centre of the town and the shops and colleges . We ate in the Cambridge Brewhouse a 2 min stroll from the flat and would highly recommend it. Harriet is an excellent host and the appartment is perfect for a Cambridge visit.
Kay
2016-05-16T00:00:00Z
Harriet's spic and span flat is located within walking distance of central Cambridge - perfect for the traveller wanting to meander in the heart of this world renowned university town. The flat is light and airy, with extremely comfortable beds, with a very well equipped kitchen, and a lovely bath. She has paid attention to every detail, and we recommend her and her flat highly...we would book the flat again without hesitation.
Nicholas
2015-11-22T00:00:00Z
Harriet was a great host. The apartment is in an ideal location with a short walk to the shops, restaurants and university buildings. It was lovely and warm and really clean. Loved it!
Ben
2016-04-14T00:00:00Z
Room Type
Entire home/apt
---
Property Type
Apartment
---
Accommodates
4
---
Bedrooms
Cambridge, United Kingdom
My place is close to the city centre, parks, art and culture, great views. No more than 3 minutes walk to shops, cinemas, theatres and bus station. There are restaurants, pubs and coffee shops on our street.. You'll love my place because of the amazing location..
Lindsay's place is very well located and I totally liked it. Everything about the place was perfect for me. She is very helpful and I will definitely come back again when I am around next. Thanks so much, Lindsay!
Nibedita
2017-01-20T00:00:00Z
A great place to stay. Location couldn't be better. Lindsay is very friendly.
Patrick
2017-03-22T00:00:00Z
You just couldn't get a better location. Just off one of the coolest streets in Cambs, about three minutes walk from town (if that) - and yet quiet enough to get a great night's sleep. Total bargain!
Christian
2017-03-12T00:00:00Z
This is a clean cozy and comfortable room very close to the city center. There are plenty of places to eat just five minutes away. Lindsay was a great host. She even let me keep my bags so I could pick them up later and not have to lug them around before catching the bus back home.
Ganesh
2017-01-24T00:00:00Z
My stay at Lindsay's has been fantastic, even if it was just for a night. The location is very convenient, close to all the colleges and shops and restaurants, and the room and house are exactly as described. Lindsay is a great host, I would definitely stay at her place again!
Maria
2017-03-11T00:00:00Z
Friendly host, lovely warm house, great location for commuting to surrounding areas (5 mins walk to bus station) and exploring the city!
Jenny
2017-01-26T00:00:00Z
Another great stay at Lindsay's. Lindsay is a great host -- quick communication, welcoming and has good local recommendations. Overall, it's great value for a cozy room in the heart of cambridge.
Matthew
2017-01-27T00:00:00Z
A great easy-going host; I wholeheartedly recommend.
Bartosz
2017-01-29T00:00:00Z
Room Type
Private room
---
Property Type
Apartment
---
Accommodates
1
---
Bedrooms
Cambridge, England, United Kingdom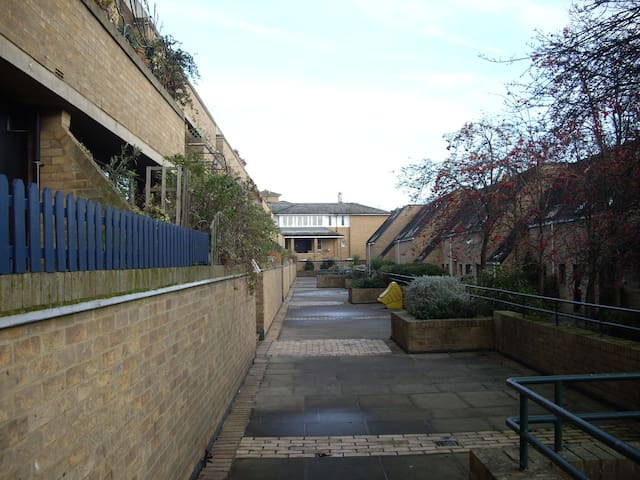 We are in the heart of Great Shelford, just 4 miles from the centre of Cambridge with excellent transport links. The village has a deli/coffee shop, Chinese and Indian restaurants and nice pubs. Shelford train station is less than 10 minutes walk away. Journey time to Cambridge is 5 minutes. The first floor flat is self-contained, comprising a living area, kitchen, kingsize bed, bathroom, garden seating area and parking. Our flat is good for couples, solo adventurers, and business travellers.
The flat is on the first floor. It is light and airy with a good sized kitchen area with washing machine, sink, fridge with freezer compartment, extendable dining table, microwave, oven with halogen hob, toaster and kettle. Condiments, tea and coffee are provided. Bread, butter, jam, milk and cereal will be provided for your first night's stay - even dairy free and gluten free alternatives, if requested in advance. These are also available in the village shops for longer stays! There is a flat screen TV and DVD player. We have a kingsize bed with 100% cotton hypoallergenic bedding. The build-in wardrobe has full-length hanging and internal and external shelving. There is an extendable desk with lamp and wifi. The bathroom has a bath for that relaxing soak and a shower over. Downstairs in the conservatory access area there is a sofa for additional seating which looks out over the garden. In the garden itself there is a bench which catches the afternoon sun - ideal for that early evening gin and tonic!
Great Shelford is a thriving village. It has a delicatessen/coffee shop, two banks, a newsagent, a library, dry cleaners, two small grocers, several pubs, a beautician, hairdressers, a doctor and a dentist. Camyoga has a centre in the village which is 10 minutes walk. Stapleford, the adjoining village, boasts an ACE cultural foundation arts centre, Stapleford Granary, which has concerts and runs a range of creative courses. Addenbrookes teaching hospital is less than two miles away. Several major Science Parks are nearby including: The Babraham Institute, The Sanger Institute and The MRC.
The apartment is just beautiful but it also feels like home because Alison has thought of absolutely everything. I stayed for two weeks in February while I was doing a teacher training at Camyoga in Shelford. It's the perfect place to stay if you're training there - just a 2 minute drive or a 10 minute walk and loads of room to roll out your yoga mat. Whatever the reason for your stay, there's a fully equipped kitchen area (oven, hob, microwave and even a washing machine), enormous, comfortable bed, a desk to work at, lovely big bathroom with fab power shower and bath and a couple of armchairs to sink into in front of the TV. I can't recommend this stunning place highly enough. It's even better than the photos! Thank you Alison!
Maria
2017-02-11T00:00:00Z
Quiet location for a visit to Great Shelford
Priscilla
2017-03-06T00:00:00Z
I stayed with Alison and Alastair for 3 months while working at Addenbrooke's hospital (which is really close: 15 min by bike by a nice cycle path) and it was everything I had hoped for and more. Alison and her husband are the most charming, friendly and helpful people you can imagine. They really made me feel at home in this gorgeous house. You have all the privacy you want with a separate entrance and private bathroom and kitchen (fully equiped). The apartment is very cosy, spacious, clean and comfortable and the bed is the best I have ever slept in :). To summarize: perfect appartment and the most friendly hosts you can wish for!
Tim
2016-12-03T00:00:00Z
The host canceled this reservation 94 days before arrival. This is an automated posting.
Joe
2016-09-21T00:00:00Z
Clean, comfortable space in a great location very near station. Recommend for people wanting to explore Cambridge.
Josh
2017-01-28T00:00:00Z
Lovey flat. Host helpful and communicative. Highly recommended.
Paul
2017-02-26T00:00:00Z
This flat is beautifully furnished, spotlessly clean and very well equipped. The kitchen has everything you would need for self catering. The bed is super comfy and the bathroom is very spacious and luxurious. Alison and her husband are lovely hosts and communication was very straightforward. Highly recommended.
Verity
2017-01-06T00:00:00Z
This is such a lovely place. Spacious, very clean and comfortable with some nice touches like bread, butter, milk and large fluffy towels. Will definitely be looking to come back in the future.
Scott & Lizzie
2017-02-14T00:00:00Z
Room Type
Entire home/apt
---
Property Type
Apartment
---
Accommodates
2
---
Bedrooms
Great Shelford, England, United Kingdom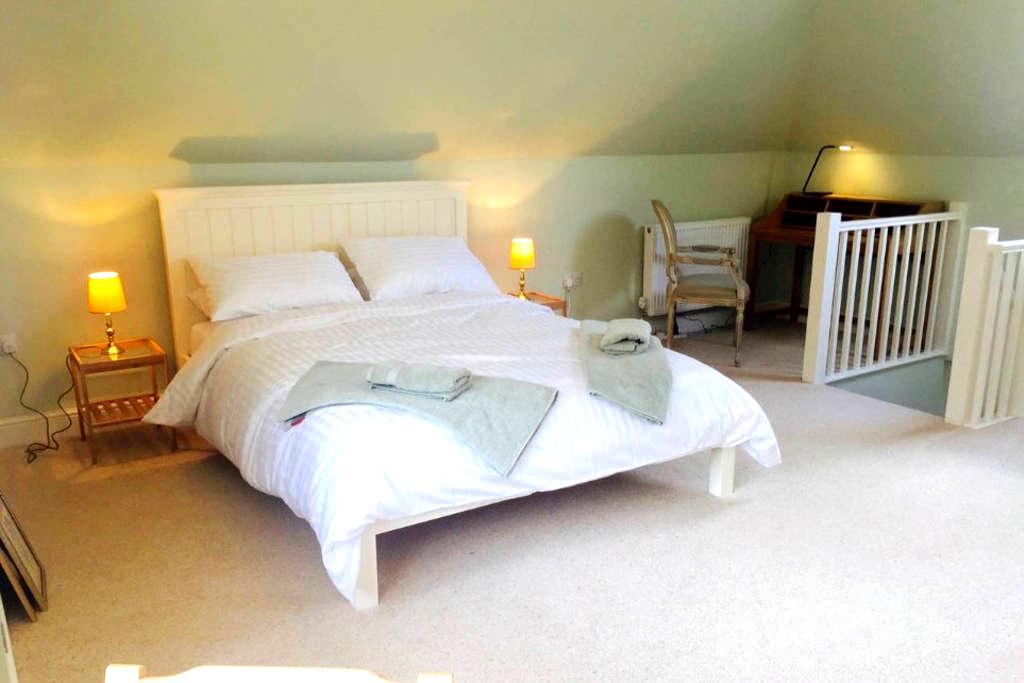 Ground floor flat in a Victorian terrace walking distance from the station and town centre. Bedroom with king size bed. Sitting room with double sofa bed. Kitchen & bathroom. Within sight of vibrant Mill Road packed with cafés and delicatessens.
The flat is a well-renovated, characterful Victorian property with varnished wooden floors and a shuttered bay window to the front. We have combined traditional furnishings with modern design to create a light and comfortable space. The flat is perfect for a weekend break or a longer term working visit. We pride ourselves in trying to provide anything you might need for a comfortable stay and are particularly keen that you should be able to cook properly, so have equipped the kitchen for that. We would welcome your feedback on anything we might add to improve the experience of our guests. We accept instant bookings up to 3 months ahead. Message us now if you would like to stay for more than 1 week up to 6 months ahead, or more than 1 month any time in the next year.
Our property is in a beautiful conservation area largely comprising dwellings and business premises that were built at the end of the 19th Century to house workers for the newly expanding railway. It has a strong community feeling despite being in the centre of the city. Gwydir Street leads directly off Mill Road, a main thoroughfare to the historic centre of Cambridge, which is a vibrant street full of locally owned shops, delicatessens, cafes and restaurants that reflect the diversity of our community. Whether you are looking for great cocktails, north African food, gluten-free fish and chips, second hand books, traditional pubs, vinyl records, green outdoor spaces with children's play equipment - all are within 15 minutes walking distance. All this, combined with easy access to historic central Cambridge and the river Cam, makes Gwydir Street a great location for a visit.
Excellent flat in Cambridge! The owners are super nice and very responsive to any questions! Thank you Jules and Jane!
Rhonda
2016-09-02T00:00:00Z
The flat was lovely. Jules and Jane have set everything up extraordinarily well. We will stay here again!
Judith
2016-10-01T00:00:00Z
Jules and Jane's flat is fabulous. The location offers many restaurants, coffee shops, and is very close to the center of town. The flat itself is clean, comfortable, and spacious. Jules and Jane have thought of everything to make your stay comfortable. I would definitely stay here again.
Danielle
2016-11-29T00:00:00Z
From the moment we booked up jane was in contact with us and answering all of my questions and giving us recommendations. Jules and Jane were very accommodating and nothing was a problem for them. On arrival Jules met us and gave us a little tour making us feel welcomed. They also left us a lovely fruit bowl on arrival with fresh flowers and a loaf of bread with butter and jam that we had for breakfast each morning, as well as fresh milk for tea and coffee left in the fridge. The flat is cosy and warm and the bed was very comfortable! The flat is a nice walk away from the city centre. There are a few nice pubs nearby as well as a really nice Indian restaurant at the end of the road, and many places in the city centre. We would recommend staying here. Thank you jules and jane for having us!
Natalie
2016-01-03T00:00:00Z
My niece and I had a lovely 2 nights in Cambridge. We had a very comfortable stay at Jules' and Jane's property. It is clean, filled with light and lovely quirky details. We also appreciated the fresh crusty bread and fruit left for us.
Jane
2016-05-18T00:00:00Z
Beautiful flat in fantastic location, very close to town. Jules and Jane were very accommodating, and we would highly recommend.
Catherine
2016-06-17T00:00:00Z
The flat was perfect for our short trip to Cambridge. It was clean, had all amenities and was in a great location. It felt very big for a one bedroom flat, and the extra sofa bed was very comfortable too. Would definitely stay here again if heading back to Cambridge.
Jonathan
2016-06-20T00:00:00Z
Jules and Jane made us feel welcome from the moment we (URL HIDDEN) was great and they have obviously put a great deal of thought into providing for their guests,everything we could possibly need, and more besides, was there in the (URL HIDDEN) were very grateful for the supplies for breakfast having arrived in the evening after a lengthy journey from Cornwall. The location is perfect, a very interesting area of Cambridge , close to town and the railway station. I would highly recommend a stay here.
Joan
2015-12-07T00:00:00Z
Room Type
Entire home/apt
---
Property Type
Apartment
---
Accommodates
4
---
Bedrooms
Cambridge, United Kingdom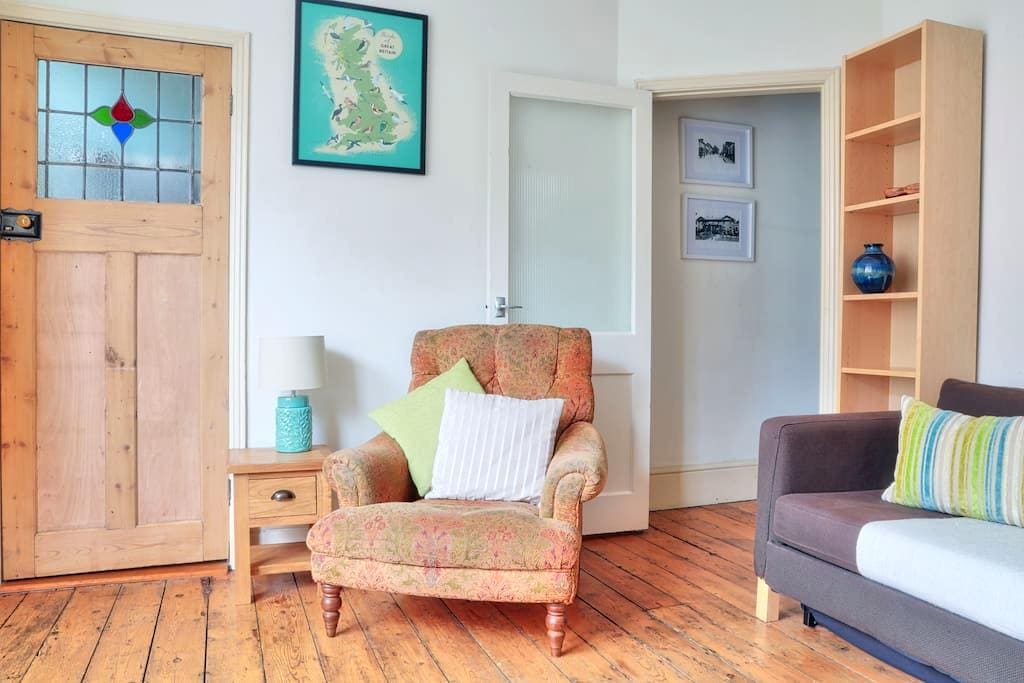 Short-stay only. Double bedroom with a separate private bathroom in a modern apartment overlooking a park, near to Addenbrooke's hospital bus station (15 mins to the centre). Free car parking is available upon request.
Our apartment is in a lovely wooded suburban area of Cambridge, overlooking a large park with a running track, public exercise machines and free tennis courts. We have a sunny rear garden where guests can sit and relax if they wish. There are small convenience stores and a fish and chip shop close by. Cambridge's newest pub has just opened around the corner, offering both meals and beers from a local microbrewery.
Cambridge and the surrounding area have so much to offer both the business and leisure visitor. We can help you to put together a programme of visits to make the most of your time here.
I was in Cambridge for a symposium at the Addenbrooke Biomedical campus. Staying at Jenny and Mike's place was really nice. Ideally located to reach the campus on foot but also at a short distance from the train station and the centre (by bus). The house is clean, nice and cosy, with a bathroom all to yourself. For breakfast I've been given more than I could have hoped for and above all Jenny and Mike are really lovely and helpful! Bottom line, definitely recommended!
Chiara
2016-11-09T00:00:00Z
Travelling from Australia we stayed 3 nights with hosts, Jenny and Mike, who were friendly and helpful. Their apartment is modern, spacious, clean with great facilities including good internet. They offered a range of choices for breakfast which were tasty and hearty. The apartment location is quiet, pleasant with a large park near by. Near by buses offer easy connections to a wide and regular network including the city centre. By staying here you much more than is advertised. Highly recommended.
Peter
2014-09-28T00:00:00Z
Both Mike and Jenny were very helpful and friendly without being intrusive. Their beautiful, clean and tidy apartment was located just 2 mins drive to Addenbrooke hospital 10 mins to city centre. Having your own bathroom was definitely a plus! Conveniently located with bus stops just within a hand's throw. Breakfast spread and the homemade orange marmalade complimented with coffee chats just made our first encounter with cambridge a very pleasant experience worthwhile to remember. Thank you and we both would like to wish you only the very best.
Christy
2015-01-22T00:00:00Z
Very pleasant stay in Jenny and Mike's home. Shame it was such a short visit. Room and bathroom both great. Breakfast very kindly left out for me despite leaving for work at a very early hour. Would happily stay again. Communication also very prompt.
Lindsey
2016-01-06T00:00:00Z
Friendly, warm welcome, excellent hosts. Lovely modern apartment - the private room was comfortable and the bathroom sparklingly clean and modern. The hot breakfast was very well cooked and tasty, made with quality ingredients. Close to the Cambridge city centre and yet ideal for those, like me, working near Hinxton.
Paul
2017-01-18T00:00:00Z
Jenny & Mike were perfect hosts. I arrived in the UK early in the morning after a long haul flight and Jenny & Mike were kind enough to let me check in early. They provided a fabulous breakfast each day, were welcoming, generous and excellent company. I would highly recommend them to other guests.
Helen
2016-03-25T00:00:00Z
Very friendly and accommodating hosts. A lovely apartment with a very comfortable bed. I would not hesitate in recommending them and I hope to return very soon.
Ian
2016-11-29T00:00:00Z
Exceptional airbnb exeperience. We came to Cambridge to visit Jeremy's ill mum. His parents live near Jenny and Mike. We were lucky they hosted us because their place may not have been the best fit for them with our newborn baby. The experience exceeded our expectations in the following ways: The room was a lot nicer than the photos. They made us breakfast, which we were not expecting at all. They loaned us a baby cot. They held our baby at times, allowing us to get stuff done. We left something important behind& they quickly alerted us and even tried to bring it back to us. The room and bathroom were spotless and private, it was quiet, despite being a shared space. Ultimately, what really stands out for us though, was their warmth, openness and generosity of spirit. We hope to stay there again, if they would accept us.
Jeremy & Laura
2015-09-26T00:00:00Z
Room Type
Private room
---
Property Type
Apartment
---
Accommodates
2
---
Bedrooms
Cambridge, United Kingdom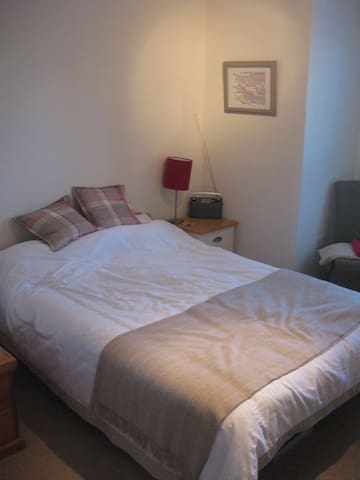 City living in the heart of Cambridge! Beautifully furnished apartment in a quiet residential street, next to historic parks. Only a 3-5 minute walk to all attractions - Kings Chapel, Trinity College, central shopping. Enjoy Cambridge like a local!
Refurbished in 2015, the bright and sunny Duke Apartment sleeps 2 in its cosy bedroom. A double sofa bed in the adjoining sitting room sleeps further 1 adult or 2 children. Tastefully furnished throughout, the Duke Apartment benefits from a fully fitted kitchen and a brand-new bathroom with bath and shower equipped with snug towelling robes and slippers, and organic soaps.
Victoria Street is a residential street in the heart of the City. The beautiful Victorian houses in this very quiet part of the city, include the historic Unitarian Chapel opposite and Duke House B&B, which at one time, during the 1960's, was the home to HRH Prince Richard, the Duke of Gloucester. The studio apartment is on the ground floor next door to the B&B with it's own private entrance. Three excellent pubs are in within a short walk offering local ales and pub food. Regent Street and its many restaurants is nearby. For self catering, Waitrose supermarket is 2 minutes away with larger M&S food stores and Sainsburys also close at hand. The Colleges are within easy walking distance and The Grand Arcade shopping centre is also a few minutes walk away.
Great place & value for money
Nick
2017-03-16T00:00:00Z
Beautiful place and perfect location. Highly recommend.
Steph
2017-01-02T00:00:00Z
Duke House is a terrific place to stay in Cambridge. Not only is the apartment well organized and appointed, but it is located in a wonderfully accessible site of Cambridge. Liz is a gracious host and will go out of her way to make your visit a success.
Patricia
2017-03-05T00:00:00Z
We had a lovely stay at the Duke Apartment. Liz was very accommodating and friendly, always making sure that we are comfortable. The flat itself was beautiful! The pictures didn't do it justice. In terms of location, it was perfect. We were just a few minutes walk from Cambridge's attractions. I will be definitely staying again, thank you for your hospitality and warmth Liz!
Sabrina
2016-04-15T00:00:00Z
Great location. I lived in Cambridge some years ago and I was pleasantly surprised by the location of Liz's flat and B&B. It's very quiet and closed to everything you need to go and see in Cambridge. The flat was spotless clean and very cozy. I loved the natural flowers touch and the two brownies Liz left for us, although my daughter was hoping for more.
Elizabeth
2016-08-06T00:00:00Z
This apartment is in one of the best locations. It is near the center of Cambridge and also one half block away from one of Cambridge's most lovely parks called Christ's Pieces. The hosts are splendid at their job. They actually seem as if they enjoy welcoming strangers. This apt. is attached to a B&B and is wonderfully ensconced in a tangle of little gardens and houses. It is clean and pretty. My only complaint is that the bed was narrow. I wish it had been a queen-size, but it was what we call in America a full or double bed. It might have even been a bit narrower. The size of the bedroom determined the size of the bed. The internet service was also dicey in the apartment, but we just went into the B&B portion and that was fine. So it really wasn't a problem. But the kitchen, bathroom and living room were very comfortable. There was even a washer/dryer, which was nice since we were there for several days and we needed to do a wash. The last night, because I had made a mistake in booking, we vacated the apartment and stayed in the B&B. That had a king-size bed, more than we need, but was wonderfully comfortable. We would stay here again. We loved Cambridge and we loved this little complex of houses, as well as the hosts. You can't beat that.
Karen
2016-05-09T00:00:00Z
We will definitely stay here again. GREAT location, easy walk to the sites of Cambridge and very comfortable, with a super kitchen and bathroom. Liz made our stay memorable.
John
2016-12-27T00:00:00Z
This is a great place to stay in Cambridge. This was my first time to this town. I stayed ten days. Liz was a great hostess, very helpful and nice. The place is beautiful, very comfortable and nicely decorated. We could walk to restaurants and shops in city center. The place looks better than the pictures. I would reccommend this place anytime. I am sure me and my family will be coming back to Cambridge, and this will be our place to stay.
Mi
2017-01-13T00:00:00Z
Room Type
Entire home/apt
---
Property Type
Apartment
---
Accommodates
2
---
Bedrooms
Cambridge, United Kingdom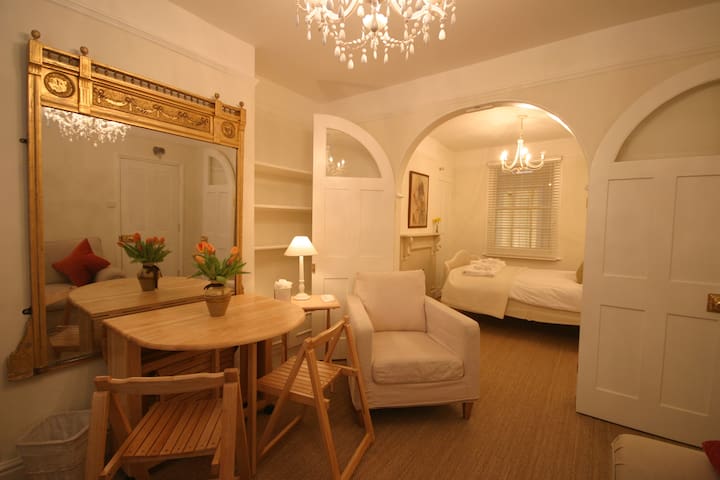 This beautiful, modern apartment suitable for two guests. Stay in luxurious accommodation on the South Side of Cambridge. Our lovely flat is located to the south of the historical City of Cambridge in Trumpington, 3 miles from the hub of Cambridge City centre.
A beautiful, modern apartment suitable for two guests. Set in a fantastic modern development, close to the centre of Cambridge.
Great Kneighton is close is in a beautiful, new development, very safe and close to both the city centre and the train station - Travel to London Kings Cross takes just 45 minutes.
This flat was a great place to stay for my work trip to Cambridge. The area felt very safe, and the apartment was very clean and comfortable. Guy provided excellent directions to get to the flat.
Josephine
2016-11-11T00:00:00Z
Our stay at Guy's place was awesome, the place lived up to the expectations (pictures), was in a quiet area and very easy to get into town. The building is new, there is a great parking space in case you need to park a car. Easy to get to Waitrose to stock up for the stay. Guy was the perfect host, communication was great and gave us all the required info timely (like check in and check out instructions).
Gema
2017-03-22T00:00:00Z
Guy was great with fast response to questions. Flat excellent especially with parking space. Waitrose handy too. All as described, good Internet a bonus. Will stay again when next in Cambridge.
Alan
2016-11-08T00:00:00Z
Great, clean, modern apartment. Would recommend.
Alex
2017-03-26T00:00:00Z
We spent nice time in this lovely apartment I do recommend
Katie
2016-12-23T00:00:00Z
Super apartment with easy access to the M11 and nearby Park & Ride. Having Waitrose a short walk away is also a real bonus. The apartment was clean and had all the essentials needed for my stay. The host provided clear instructions for checking in/out ensuring this went smoothly. Will definitely use again.
Mike
2017-03-30T00:00:00Z
We are regulars to Cambridge and this was one of the best flats we have stayed in. Clean, bright, spacious and so well located. Great car parking. Really enjoyed it!
Scott & Lizzie
2017-03-16T00:00:00Z
Great apartment in a convenient location for visiting the city of Cambridge... we parked at the apartment and took a taxi into town, which was under £10 each way. Fantastic.
James
2017-04-02T00:00:00Z
Room Type
Entire home/apt
---
Property Type
Apartment
---
Accommodates
2
---
Bedrooms
Cambridge, England, United Kingdom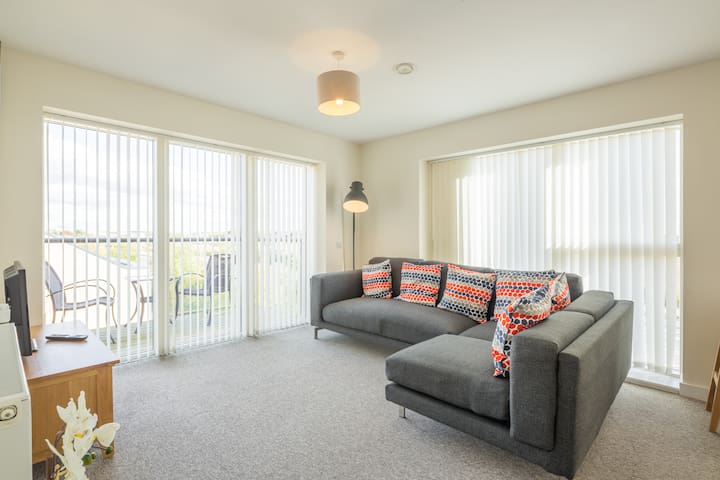 Wonderful studio flat within 15 minutes walking distance to the Cambridge city centre and 10 minutes from the train station. Flat is self contained with the kitchen, shower room. A lovely home for you whether on business or pleasure.
Well equipped studio flat near Cambridge city center to accommodate max 2 people . Kitchen with hob/oven, fridge-freezer, microwave, kettle, toaster. Modern bathroom with the shower. Facilities: - Free Broadband WiFi - Fresh bedding and towels provided - Wardrobe, bedside table - TV - Microwave - Oven - Washer-dryer - Fridge - Shower room - Iron and ironing board - Fully equipped kitchen
The flat is very central located on Mill Street which is a quiet street off Mill Rd. You can find many different restaurants, shops just a few minutes away from the flat. City center is around 15 minutes walk away, train station 10 minutes away.
Perfect property as usual. I love these flats, so central while still being quiet and secluded. Always clean and well equipped. Thanks again for the pleasant stay
David
2016-11-19T00:00:00Z
The flat was very clean and cosy; it looks exactly as depicted, would definitely stay there again.
Francia
2016-09-09T00:00:00Z
A cosy and clean the studio close to a diverse area and great for anyone who loves charity and antiques shops. Also really convenient for Cambridge city centre. I can't fault the studio in any way and communication with Inga was excellent too
Gill
2016-12-02T00:00:00Z
Very lovely place to stay! Nice for a short weekend break away, close to town centre! Very clean and tidy. Would come back again, only thing i would say is to eat out as the oven and hob wasn't very quick
Millie
2017-01-19T00:00:00Z
Great location (very near to the train station and all sort of pubs and restaurants) and very well appointed cosy flat. Inga was very helpful and we found everything we needed in the studio, even chocolates and hair staighteners! We'd definitely visit again!
Altea
2015-12-19T00:00:00Z
The flat is about a 20 minute walk into the centre of town - really easy location to find and get to. It has everything you need including tea, coffee and towels and the flat is lovely, warm and very comfortable. Very clean property and felt very secure here. Parking is slightly difficult - but that goes for the entirety of Cambridge city centre.
Georgina
2017-03-12T00:00:00Z
The flat was perfectly equipped for our one night stay in Cambridge. It looked just like on the pictures, and was in a great location.
Rachel
2017-02-26T00:00:00Z
Wonderful place for two nights in town for a conference. Close to train station and shops, clean place with everything needed!
Jai
2016-12-17T00:00:00Z
Room Type
Entire home/apt
---
Property Type
Apartment
---
Accommodates
3
---
Bedrooms
Cambridge, United Kingdom
This room is nestled amongst four rooms above a small shop called Cambridge Farmers' Outlet, halfway between the train station and the city centre. We are ideally located for the travelling visitor. We provide an informal setting and an authentic feel of Cambridge. We host guests of all nationalities, mainly connected to the university as PhD Students, 'Post Docs' or visiting researchers etc. Our guests are, on the whole quiet and very polite, as well as highly interesting, so we love hosting.
We are a warm and friendly couple happy to share our home with you. We live in a beautifully refurbished Grade 2 listed building, in the heart of Cambridge.
Cambridge is steeped in culture and history and we are located in the heart of it. Just five minutes' walk from the train station and ten minutes' walk from the city centre. There are 56 restaurants in the area serving a variety local and exotic cuisine.
A good location, warm room and friendly helpful hosts.
Rachel
2017-03-20T00:00:00Z
In theory, renting out the spare rooms over your shop and offering the fruit that you can't sell anymore for breakfast sounds like a great idea. In practice, guests need to arrive during opening hours of the shop to pick the keys and once the shop is closed there is no one to ask about amenities and how to turn on not so intuitive shower. There is an indisputably large amount of fruit available for breakfast, but going through that to pick out the ones that aren't overripe or moldy was a rather frustrating and time-consuming business. :(
Alice
2016-08-27T00:00:00Z
I had a great stay in room 4. Everything is exactly as described. The host is friendly and helpful. The window is double glazed so the room is quiet even though it's facing one of Cambridge main intersection. One minor issue is my room can't be locked from the outside but I didn't have anything valuable left in the room so it's fine with me.
Minh-Duy
2016-07-25T00:00:00Z
Very friendly hosts, excellent facilities and a lovely cosy room! Thanks for letting me stay!
Tom
2016-12-07T00:00:00Z
Awesome place as a alternative to any Hotel to stay for short durations
Kumar
2017-01-26T00:00:00Z
The value for the room is the best you can get in Cambridge. The hosts were really helpful and explained everything perfectly. The only problem is if you're tall (as I am), because the roof is preety low and I kept hitting my head with the lamps, but this is the only problem I found, and if you're smaller than 6'8", you're gonna be okay. The best thing is probably the location and the snacks and food that the hosts leave you in the kitchen for your enjoyment.
Pato
2017-02-01T00:00:00Z
Great
Allen
2017-04-08T00:00:00Z
I was in Cambridge for a conference at the university and stayed with Kelley and Jona for 3 nights. The stay was great. I could walk to the conference venue, Kelley and Jona are super nice and the kitchen was constantly filled with food from the Farmer's Outlet. The room was also very cosy. Highly recommendable! I'll be back with Kelley and Jona next time I'm in Cambridge.
Stephanie
2016-06-16T00:00:00Z
Room Type
Private room
---
Property Type
Apartment
---
Accommodates
1
---
Bedrooms
Cambridge, United Kingdom
My place is close to The beautiful Cambridge city centre, 2 minutes to Grafton Shopping Centre. You'll love my place because of the location and us the hosts of course :). My place is good for couples, solo adventurers, and business travellers.
They say home is where your heart is...this Home means a lot for us as it's our first home together, so we want that all our guests to be able to feel the love that we've put in this special place of ours!
The location is just brilliant! :) We are 2 minutes away from Grafton Shopping Centre, so if you feel like having some shopping therapy or relax seeing a movie in the Vue Cinema, or drink the best coffee cortado in our favourite coffee shop, it's all easy to get to.. many charity shops (URL HIDDEN) of my passion I have to admit..you always find something interesting in there :) best thai pub in cambridge on our street, a brilliant curry house just few minutes away..and the town just 10 minutes away as well! A big retail park next to us as well! A big tesco few minutes away..you name it..we' e got it all :)
I felt welcomed and looked after. Saby even came to meet me a few blocks away where i texted her from so I did n't have to find it on my own. I was very grateful for that. I felt the home was open to me and I was very comfortable with Saby and Paul. I highly recommend it to anyone staying in Cambridge.
Nita
2016-09-17T00:00:00Z
Had a night stop in Cambridge which was ideal for my short stay. Lovely people, comfy bed with a good nights rest. Comes highly recommended.
Craig
2017-03-31T00:00:00Z
Highly recommended for those who appreciate good manners from the host and cleanliness. Savi is super friendly and always willing to help you :)
Pilar
2017-01-24T00:00:00Z
Sabina and his family are great host. Everything was super easy and smooth. Sabina herself is also a hospitality expert so things are handled very professionally. I recommend if you want to spend a night in Cambridge, this is very good value of money.
Benjamin
2017-01-11T00:00:00Z
Very friendly hosts, place is as described and a great location for central Cambridge access.
Graham
2017-03-05T00:00:00Z
Sabina and Paul were the most incredibly welcoming hosts. From coming down to the car to meet me and helping me with my bags, offering me a welcome glass of wine and inviting me to use their home as if it was my own. Sabrina and I spent a wonderful evening chatting together and on the eve of a very difficult day ahead, this wonderful couple gave me their time and made me feel relaxed and welcome. I cannot recommend staying with these gorgeous people enough. The bedroom was warm and cozy and comfortable, with lovely little welcoming touches that will surprise you. Not only did I have a wonderful stay, but I have made two new beautiful friends.
Amanda
2016-09-20T00:00:00Z
A very cozy and nice place to live in. Sabina and Paul are very nice
William
2016-10-15T00:00:00Z
I couldn't have imagined staying at a cozier place with lovelier people. Paul and Sabina are amazingly friendly and helpful and whether you're here for business or pleasure, you'll feel at home.
Corina
2016-10-16T00:00:00Z
Room Type
Private room
---
Property Type
Apartment
---
Accommodates
1
---
Bedrooms
Cambridge, England, United Kingdom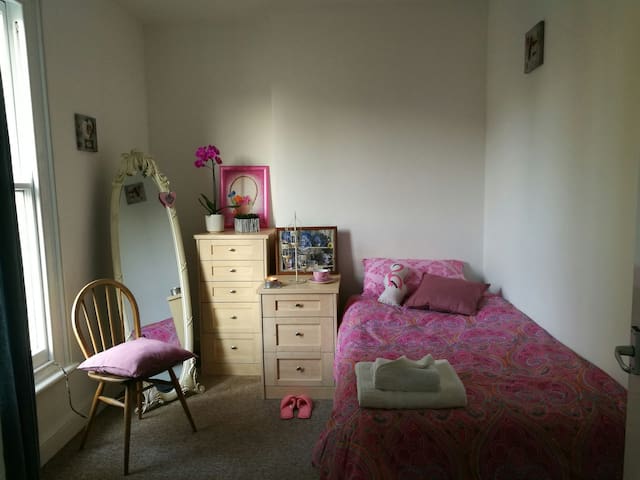 Little Shelford - Airbnb
:
Average

4.89

out of

5

stars from

1374

guest reviews
1

–

18

of

293 Apartment Rentals
Enter dates to see full pricing. Additional fees apply. Taxes may be added.