Our cottage is a cosy converted blacksmith's workshop in the ancient Cornish town of Marazion - home to St Michael's Mount & in Poldark country! One of the oldest properties in Marazion, the cottage is just off the main street and the SW coast path.
The Old Forge is a cosy converted granite blacksmith's forge in the beautiful Cornish seaside town of Marazion, with exposed stone walls, real wood flooring and a cast iron log burner (perfect for snuggling up in front of!) as well as a range of beautiful original features including the old blacksmith's shop front, deep window seats in the thick granite walls and even a lintel made from a reclaimed ship! It has a new, fully equipped and beautiful country kitchen with wooden worktops, an electric range cooker, a dishwasher, a washer/dryer and Smeg fridge-freezer, and a bathroom with a cast iron roll top bath with electric shower over. There is a farmhouse dining table and 4 chairs in the living room. The property has two bedrooms - a double and twin. The double room features an old exposed chimney breast and velux windows - perfect for stargazing on a warm summer evening. The twin room has a beautiful exposed granite wall and original wooden beam. Marazion is on the South West coast path with beautiful beaches (including a dog-friendly year-round beach) great for walking and bathing, and famous for windsurfing and kitesurfing. A 5 minute walk through the old main street of Marazion, the town centre features several fantastic pubs and restaurants, including the exceptional Ben's Cornish Kitchen (winner of the Cornwall Life Food & Drink Award 2014), the Godolphin Arms and a number of cosy pubs including The King's Arms (highly recommended for a Sunday roast), The Cutty Sark and The Fire Engine Inn. We are very happy to welcome guests with a well-behaved dog (or two!) however please bear in mind that the property does not have a garden (although there are several patches of grass and a playing field within a 30 second walk of the front door). We can also recommend some fabulous walks - all tried and tested by our labrador, Moo. We run an eco-conscious cottage so, as far as possible, everything provided in the cottage (where applicable) will be local, organic, environmentally-friendly and/or Fair Trade. We really love sharing our little cottage with other people and are very grateful for having such lovely guests who take good care of it during their stay. If anything does get damaged or broken during your stay please do let us know ASAP - we really don't mind (these things happen!) however we often have guests checking in the same day you check out and knowing in advance means that we can make sure items are fixed or replaced before our next guests arrive. Please note: There is no allocated parking provided however you will be able to park very close to the house on one of the adjoining, unrestricted roads. We are very close to the sea here so in the spring and summer it's not uncommon for the seagulls to start their morning chorus quite early! We've tried asking them to wake up a bit later however this doesn't appear to have worked as yet . . .
-
Lovely genuine friendly, helpful hosts. Alex and Abbie gave us plenty of tips on sightseeing and where to eat. They have done a fantastic job on renovating the cosy old blacksmith forge.
nicole
2015-06-25T00:00:00Z
An absolutely delightful place to stay! Ideally located to head to som many fantastic places. We went in winter, so classic windy days down the beach followed by a fire and bottle of wine! The cottage is very well equipped and our hosts were so helpful. Highly recommend it!
Paul
2016-03-11T00:00:00Z
This property is gorgeous!!! Being pretty fussy, I admit that until I arrive at a property, despite how amazing the photographs may be, I am always a little anxious. As soon as we walked through the door it was clear that we'd picked the right place for our late summer break. Whilst the period property holds many of its original harm, it has been updated to an excellent standard. We intended to cook for ourselves throughout the week and everything was there that we needed. The property was very clean and vacuum etc, were provided - to sweep up our sandy footprint which was great. We had never visited Marazion either and found this to be a great location. Good pubs, restaurants and not too busy that you felt swamped. Several small shops/galleries showing local works also which was nice. Alex and Abbie were great hosts who were on hand to answer and address any queries as promptly as possible. A beautiful cream tea treat was there as soon as we walked in too which was great. In visiting Cornwall next, our first check will be as to whether this property is available! Well recommended!
Keeley
2016-09-10T00:00:00Z
We've just spent a magical week here on our first holiday as a family with our 19 week old daughter Iris and our little Westie, George. The cottage is delightful, tastefully decorated and in a great location. The cream tea, fresh flowers and treats for George were a lovely touch! We were lucky to have some fantastic weather whilst here in Marazion so have enjoyed exploring the local area and spending time at the beach. Mexico Towans, Gwenver & Trevaunance Cove were fantastic dog friendly beaches. We also ate at Ben's Cornish Kitchen one evening - a must if you can get a table! Feeling sad that our holiday here has to end!! Thank you - we would love to come back again soon! Lucie & Gary Mullaney xx
Gary
2016-07-24T00:00:00Z
The keys were easy to access and our hosts were always happy to answer any queries before we arrived giving us information on local restaurants, shopping etc. Where to park as there I no parking at the cottage. We were greeted with a welcome pack and a cream tea that was a lovely touch.
Anita
2016-08-14T00:00:00Z
Abbie and Alex are excellent hosts. Very friendly and welcoming. They made us feel right at home! Their house is in a great location. It is very clean and tidy, has great decor and is very comfortable. The room is a good size with a very comfortable bed. Their dog, Moo, is very friendly and lovable. Thanks for welcoming us into your home!
Margo
2015-09-10T00:00:00Z
Clean, cosy, modern and exceeded our expectations. The cottage contains everything you need for a break in beautiful Marazion. Already trying to work out when we can next stay at the Old Forge.
Stephen
2016-05-06T00:00:00Z
Traveling and staying at different places is something I do very often. I must say that Alex and Abbie are by far the best host I have aver had. They made me feel like I'm at home and they didn't make any problems in regards to my smelly and wet sailing gear. Their dog Moo is also the cutest dog I've ever met! All around you will definitely not go wrong if you choose to stay at Alex and Abbie's lovely, cosy and warm place! Not 5 but 10 star experience!!
Ana
2015-08-08T00:00:00Z
Room Type
Entire home/apt
---
Property Type
House
---
Accommodates
4
---
Bedrooms
Marazion, United Kingdom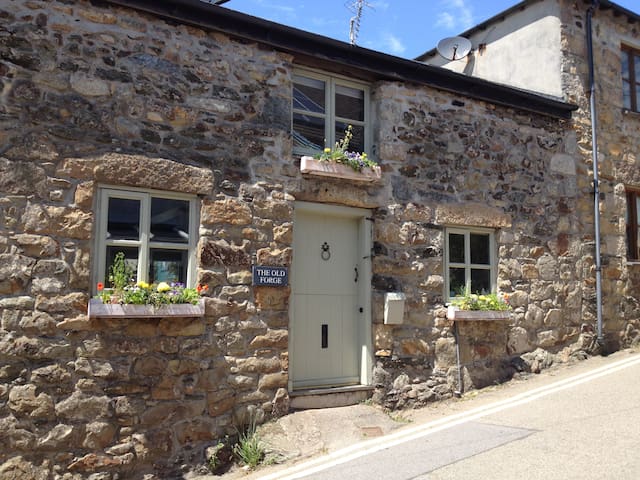 Wonderfully comfortable light & airy room in quiet house with garden. Awake to enchanting sea view of St Michael's Mount through French windows opening out onto spacious balcony. Continental breakfast is provided.
I am offering a place of sanctuary and retreat within my home where you can relax and unwind after a stressful time or to escape the hustle and bustle of daily life. The room is beautifully decorated in calming colours, with a comfortable double bed from which there is an uninterrupted view of St Michael's Mount and the surrounding bay. Plenty of storage space, a TV/DVD, hairdryer and tea & coffee making facilities are all available within your private room, from which you can step out onto the balcony, where you can breakfast or enjoy a glass of wine while watching the sun set. The house is in walking distance of the beautiful ancient market town of Marazion, where you can find a post office, pubs, cafes, restaurants and art galleries. At low tide you can walk to St Michaels Mount using the causeway or take the ferry at high water, stroll across the wide expanse of beach or even take a dip in the sea. I am perfectly situated for exploring the historic town of Penzance, the fishing port of Newlyn, seaside resort of St Ives, with Tate Gallery and the Barbara Hepworth museum, and the quaint village of Mousehole, here you can enjoy freshly cooked fish and chips sitting on the quay. Other local attractions include the spectacular open air theatre of The Minnack and Lands End, There are also many beautiful gardens and beaches to explore in the area.
Very quiet and peaceful all you will hear is the sea.....oh and the sea gulls!
We were made to feel incredibly welcome. The location and view is amazing and the accommodation is clean, warm and very comfortable. We would recommend this to anyone looking to stay in Marazion, in close proximity to attractions like St Michael's Mount and the beautiful coastline.
Weliton Freitas
2016-12-26T00:00:00Z
Marita is a fantastic friendly host and she made our stay comfortable and relaxing. The sea view of St Michaels Mount is out of this world and it was a privilege to stay here and experience it by day with dramatic skies and sunshine and by night magically moonlit. The provision of a safe parking space is a real advantage of this property. The village centre is a short walk away and there are excellent pubs and restaurants. Highly recommended as a base for exploring Cornwall.
gabrielle
2017-02-15T00:00:00Z
With a fantastic view of St Michael's Mount, the location couldn't be better. Marita was a wonderful, bubbly host, and made our stay in Cornwall all the more memorable! Breakfast is prepared and ready in the morning, which was a pleasure to wake up to. Anyone wanting to have a personalised stay in Marazion, we would highly recommend staying here. Thanks Marita!
Melanie
2016-11-20T00:00:00Z
Marita place is Great. My boyfriend and I stayed 2 nights at her place and we loved it.The house is very clean,the bedroom very comfortable and the view from our room Stunning. We felt at home. Marita is a lovely lady and an excellent hostess. We highly recommend Marit's place.
Marci
2016-11-12T00:00:00Z
Marita was a delightful hostess she made every effort to enable us to feel at home. The view from the bedroom was spectacular and the bed very comfortable. We had a very happy two night stay finding the area lovely. We eat out at the Hotel next door which also had the view of St Michael Mount and great food. We visited the MinackTheatre which was a terrific experience. we thoroughly recommend staying here.
Amanda
2016-05-08T00:00:00Z
We felt very welcome! Although it was raining, we had a lovely stay at Marita's house. The room provided everything you need, spacious enough to put your own things and very very cosy. Also the view of St Michael's Mount from the room (actually even from the bed!) was stunning and just as described and seen on the pictures. We will definitely return if we go to the Penzance area with hopefully better weather ;-) Grazie mille Armando & Sophie
Armando
2016-08-21T00:00:00Z
Marita was a wonderful host. The arrival went smoothly and her recommendations for things to do in the area were excellent. The views from the house were as good as the photos suggest and the room was very comfortable. Would stay here again if we returned.
Jaco
2016-04-17T00:00:00Z
Marita has a beautiful home with one of the best views you will find in Cornwall overlooking St Michaels Mount and the surrounding bay. The room is beautifully decorated and very clean, with a patio door that opens up onto a balcony. There is also a spacious private bathroom. Marita is a wonderful host who made us feel very welcome from the second we walked through the door. We will definitely be back in the future and would highly recommend.
Simon
2017-04-08T00:00:00Z
Room Type
Private room
---
Property Type
House
---
Accommodates
2
---
Bedrooms
Marazion, United Kingdom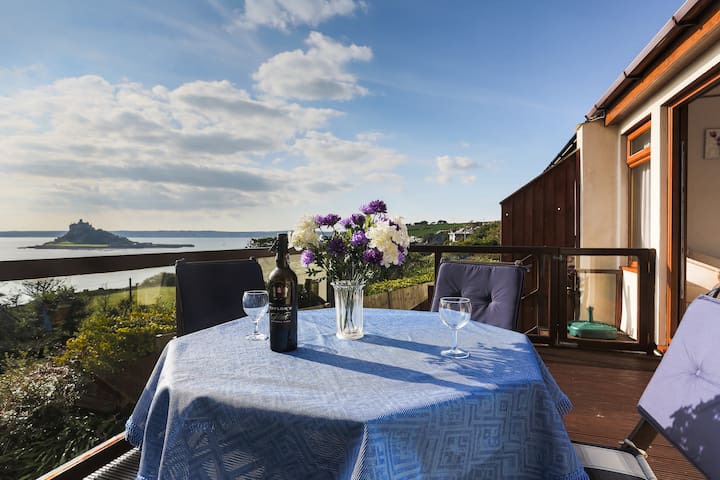 Cherry Tree cottage is a very comfortable well equipped traditional double bedroom cottage which has been sympathetically and lovingly restored by the owners who are both artists. It is situated in the quiet village of Ludgvan overlooking Mounts Bay
This cottage has been carefully designed and lovingly restored; every effort has been made to remain true to the traditional design and features whilst creating a cozy and magical environment. There is a woodburner and electric heating. In colder months ,we set the fire and provide a basket of logs . Further bags of logs are available nearby.
The Golden Mile which skirts Mounts Bay is renown for its early flowers and vegetables. Crossed with lovely footpaths ,it offers spectacular elevated views South across the bay and out to Michael's Mount provides a magical focal point.
Great place can't fault it clean, hosts very nice always made sure things were ok. Would stay again any time would just wish for wi if just cause I was working away from home, but go for it if you like romance it's a perfect place, thanks to our hosts for this great place
Kevin
2015-11-28T00:00:00Z
Have just come back from 3 fantastic days at cherry tree cottage, it was everything we thought it would be. Yvonne was a great host and everything went smoothly. It's location is excellent to be able to visit St. martins mount , mouse hole, lands end and St. Ives. The cottage has everything you need and very comfortable, I wouldn't hesitate to book again.
Dan
2016-11-15T00:00:00Z
My wife and I really enjoyed our stay at Yvonne and Dave's cottage. It is in a perfect setting, being close to a number of interesting locations and venues but situated in a peaceful rural setting. The cottage is just as described on the website and is quaint, cosy and a little quirky. We were comfortable and relaxed during our stay. The information and guides provided helped us fill out days with plenty to do. Yvonne communicated with us pre-visit which made our arrival easy and it was good to get a visit from Dave mid-visit as well. The facilities and amenities provided in the cottage were good and we we enjoyed both cooking for ourselves, as well as meals out locally.
Keith
2016-06-04T00:00:00Z
Yvonne was very quick to respond and so kind to accommodate us - welcoming us to check in 2 hours early with milk, tea and fresh flowers already waiting! Cherry tree itself is a beautiful characterful property yet in no way lacking mod cons. We ate in for 2 nights and had everything we needed to cook with. We had a wonderful 4 nights there, comfy bed and luxurious bathtub! The garden is a sun trap and log fire a fab bonus. Cherry tree is in a great location close to Penzance, shops, beaches and various attractions; yet, it's tucked neatly out of the way so you can really relax and enjoy holidaying. We had a really lovely time and would definitely come back in the future!
Madeleine
2016-04-09T00:00:00Z
Cherry Tree is the most delightful cottage! Cosy, warm, clean and comfortable and fully equipped. Yvonne had thought of everything, even down to having milk, tea and coffee there for our arrival. And Yvonne had been in touch days before we came, sending us a very detailed email of information about the cottage and the area which was extremely useful. Thank you Yvonne for letting us stay in your lovely cottage, it was very hard to leave it! We hope to come back again.
Vicky
2016-09-10T00:00:00Z
A wonderful little cottage , tastefully decorated and great space A great location for exploring the lizard peninsula .. Wonderful comfortable bed Great size bath A perfect place to stay Thank you
Radhika
2015-11-22T00:00:00Z
Yvonne and David provided us with all the information that we needed for our stay. It was a lovely touch to find coffee, tea and milk in the cottage on our arrival, which was spotlessly clean. A lovely cosy cottage with everything we needed for our 5 night stay. Perfectly placed for Lizard Point, St Ives and Lands End with many lovely walks close by. Parking is on the road and could be a little tricky when the village was busy, all in all a lovely stat and one we would recommend.
Rachel
2016-05-29T00:00:00Z
The cottage was fantastic- very cosy, tonnes of character and everything you could wish from the place. Having the wood burning stove was efficient and added to the whole experience. Located near an easy walk across fields and woodland to get to St Michael's mount and lots of great pubs in the area. Yvonne made the whole process of staying in her lovely cottage very easy. All the right info to get into the place easily. Thoroughly recommend!
Jeremy
2016-11-04T00:00:00Z
Room Type
Entire home/apt
---
Property Type
House
---
Accommodates
2
---
Bedrooms
Ludgvan, England, United Kingdom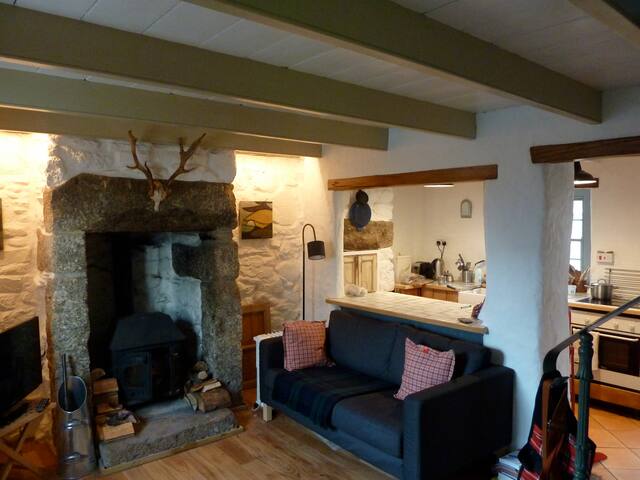 A three bedroom semi-detached house sleeping up to 6 people with amazing sea views of St. Michael's Mount and across Mount's Bay to Penzance and Mousehole. Located in the ancient market town of Marazion.
The amazing views and the closeness of the beach make our house perfect for a special holiday. It sleeps up to 6 people (a maximum of 4 adults is recommended) in three bedrooms. The master bedroom has a double bed, the second a pair of bunk-beds and the third has a small double bed (120 cm x 190 cm). Fibre broadband with wifi. Parking permit for the nearby car park. HD Smart TV with Netflix and Amazon subscriptions. Blu-ray and DVD playing Playstation 3, with a few games. Washing machine, drying racks, iron and ironing board. A parking permit for the car park across the road from the house is included. If you're travelling by public transport, the nearest railway station is in Penzance, just over 3 miles away. There's a regular bus service between Penzance and Marazion. Bed linen and bath and hand towels are included. Please bring your own beach towels.
We had a wonderful 3 days in Marazion, and exploring the Cornwall from our base there! Tim's house was perfect for us! So bright and sunny, large enough to accommodate 4 of us nicely, and clean and comfy. We appreciated all the little extras - the condiments, milk and cookies, the Netflix (we watched a great movie one evening!) and the info about the area! We were sad to leave! Thank-you!
Nancy
2016-05-25T00:00:00Z
A great location for my visit to see my sister and her children. The castle slipway is on the other side of the road from the house and we really enjoyed looking round it. We found Lands End and fun parks no more than 30min away. Fantastic!
Don
2014-10-21T00:00:00Z
Tim was a perfect host and the house was ideal. Exactly as advertised. Right on the beach with parking. They even invited us in with a gift as it was our honeymoon. Chocolates and flowers. Really really good. Facilities good couldn't recommend it enough.
Paul
2014-07-06T00:00:00Z
What a lovely stay in Marazion, we found fresh flowers and chocolate biscuits left for us on arrival which was much appreciated! The house was perfect, modern and clean and right next to the beach. We had a great trip to St Michaels Mount, and a lovely lunch at Ben's Cornish Kitchen (just down the road). We would definitely recommend staying here it is a perfect base and a great Cornish experience!
Thomas
2015-04-07T00:00:00Z
Perfect stay in a perfect place. Even fresh flowers had been there. Very clean, everything you need is there. Thank you very much - we'll be back! Eine tolle Unterkunft mit tollem Blick auf den St. Michels Mount. Tolle Wohnung, sehr sauber. Wir kommen gerne wieder!
Ruediger
2016-05-22T00:00:00Z
Last minute get away turned out to be a perfect break. I can keep this review short because everything was great. Met on arrival, house was in fantastic location as described. Clean, tidy, modern great for kids. Little extras were appreciated like fresh coffee machine. Nothing more to say other than we would recommend 100% and will most certainly return.
kirk
2014-04-06T00:00:00Z
Great house, fantastic location and good value. Tim responded promptly to my queries and explained everything clearly. Thanks Tim
John
2016-09-26T00:00:00Z
We had a brilliant time at Tim's apartment in Marazion. We all felt the photos really did not do it justice. The apartment is finished to a very high standard indeed. Being set out over three floors meant that although it isn't vast, it never felt small or cramped. Marazion is a fascinating town and the house is perfectly situated for the beautiful beach. We used public transport to get around and it did not let us down. Highly recommended.
john
2015-08-27T00:00:00Z
Room Type
Entire home/apt
---
Property Type
House
---
Accommodates
6
---
Bedrooms
Marazion, United Kingdom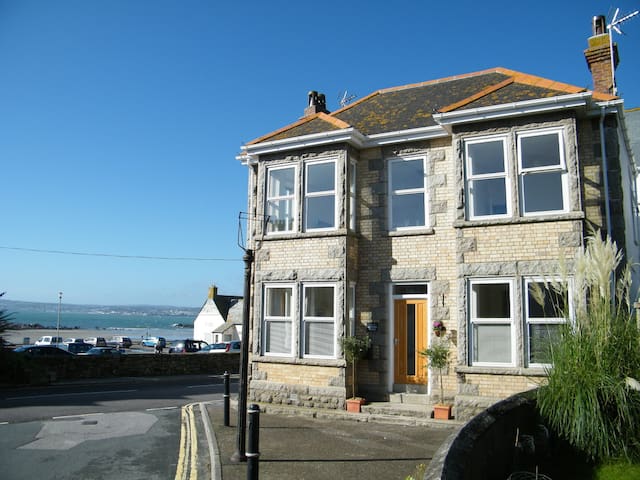 Great if you are travelling alone. Centrally located in the town. Ideal for walkers, or if you are on a work placement, or simply need some time out. Its a comfy house, with access to kitchen to make meals etc.
Its a quiet comfortable house, and a large light room.
Stay with Anita and her nice cat was a great pleasure. I felt very comfortable and welcome in her sweet home.
Daniela
2016-06-24T00:00:00Z
I had a wonderful experience staying with Anita (and Florrie the adorable cat). The house was warm and beautifully decorated with lots of art and creative works. The room was spacious and bright, with plenty of tea and coffee, and the house itself was very close to the station and shops. I travelled to PZ for an interview so I wasn't able to do much exploring, but Anita had lots of information in the room and I knew she would be more than happy to give suggestions if asked, and was great when I needed to arrange a taxi last minute! I would recommend Anita's room to anyone who was travelling solo and needed a comfortable and welcoming base. Thank you for a great experience and I hope to see you again one day as I will be moving to PZ in the near future!
Rhea
2016-01-23T00:00:00Z
Anita was such a lovely host! She greeted me at the train station to drive me to her house so I wouldn't have to walk back with all my luggage. Her house is cozy and comfortable, and I immediately felt right at home. Anita is very knowledgable about Cornwall, and happy to give advice if you need it. The location is wonderful, less than a ten minute walk to the bus and train station. It's also very near to other towns (I loved hiking along all the public footpaths in Mousehole!). I had a wonderful time, and hope to go back soon! I already miss Florrie so much!
T. Sydney
2015-12-12T00:00:00Z
A great relaxed and cosy place to stay and explore the area.
Mary
2017-03-30T00:00:00Z
The room was just large and comfortable. Anita was a great host. Very relaxed and i would recommend this place for single female traveller. Plus lovely cat!
Martha
2017-01-29T00:00:00Z
Anita's house is very central in Penzance, near to all the shops, pubs, restaurant and cinema yet quiet and homely on a residential street. I had a lovely 2 night stay. Great base for exploring the area. Anita is very friendly and welcoming.
Caroline
2017-03-17T00:00:00Z
My time in Penzance was amazing. Anita is very accommodating and she made me feel very welcomed. The house is so nicely decorated and in a nice location not to far from everything you need.True lady of the house is definitely Anita's cat that made friends with me the first minute I entered the house . Highly recommended to anyone that is visiting Cornwall.
Polona
2015-06-26T00:00:00Z
Anita´s house is one of those places where you instantly feel welcome. It´s a very warm and beautiful place, decorated with lots of artsy stuff, very interesting! The room is spacious and much bigger than I thought it would be, very bright and clean, cozy bed... Really loved to have Florie (the cat) around. Anita is a great host, she knows a lot about the area and has great recommendations. If I´ll make it back to Cornwall I would stay again for sure!
Anni
2016-03-16T00:00:00Z
Room Type
Private room
---
Property Type
House
---
Accommodates
1
---
Bedrooms
Penzance, Cornwall, United Kingdom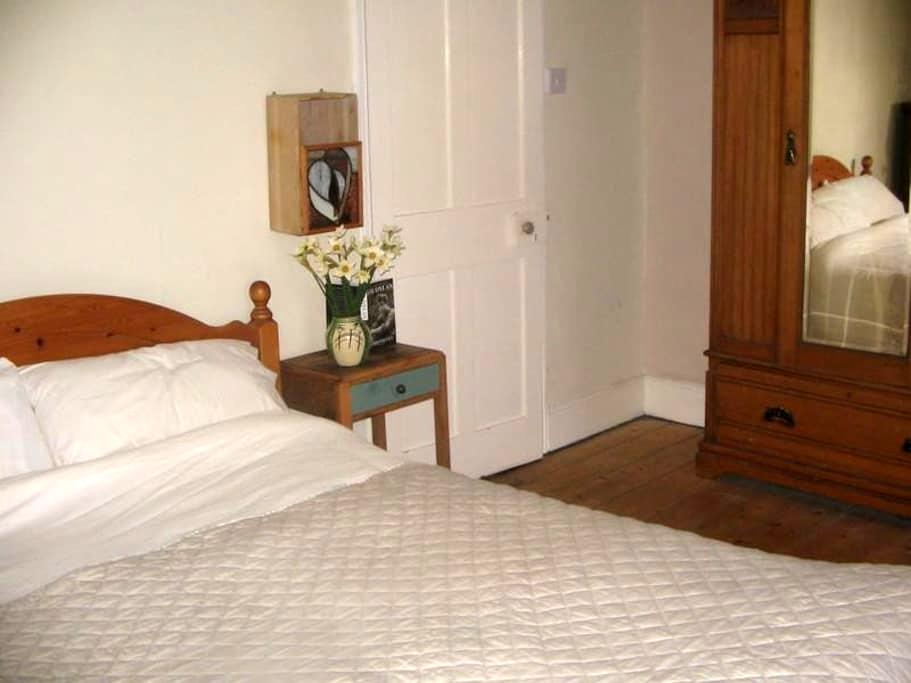 My house is close to public transport, the town centre, the beach . You'll love the room because of the location and the comfy bed. It is good for solo adventurers and business travellers.
Lucy and her family were the sweetest people I got to stay with in Penzance. Everything was perfect, I'm glad I got to stay with them rather than a messy hostel or even a hotel. Staying with them was like staying at family's home. Her family was helpful in helping me get in touch with the city, and especially what I came for, the Minack Theatre. If I were to return to Penzance I would happily stay there again!
Arvind
2016-11-03T00:00:00Z
Perfect - would recommend to all my friends! Thanks very much Lucy!
Mark
2016-11-18T00:00:00Z
I had a very nice stay in Penzance. The house is in front of the sea, close to the center and beautiful walks on the beach. I really recommend them !
Clémence
2017-03-07T00:00:00Z
The host canceled this reservation 36 days before arrival. This is an automated posting.
Esther
2017-03-01T00:00:00Z
The host canceled this reservation 7 days before arrival. This is an automated posting.
Karen
2017-01-04T00:00:00Z
A lovely pretty warm home, perfect for the single traveller
nicola
2017-01-08T00:00:00Z
Lucy's place is such a lovely and easy place to stay at. Full of warm and beautiful light. The room looks just like what is shown in the pictures and clean and spacious for one person. Lucy and her husband made my stay really comfortable and looking after me like I am part of the family which I really appreciate as I was traveling alone and it's the warmth that they provide that made my stay three folds better. Lucy's place is just right in front of the sea with a clear view of St Michael's Mount and just a few minutes walk to Penzance Station. I would recommend this place to any solo traveller looking for a private, quiet and safe place to stay.
Sharon
2016-11-08T00:00:00Z
It's a small but cozy room a short walk from the town centre. Everything was spotlessly clean and the bed was so soft! There aren't many power points in the room so it might be inconvenient if you're bringing a ton of electronics, but I just brought my phone and kindle so everything was dandy. Lucy and Jeremy were incredibly kind and thoughtful hosts. I wholeheartedly recommend them to anyone planning a short stay in Penzance!
Lana
2017-03-21T00:00:00Z
Room Type
Private room
---
Property Type
House
---
Accommodates
1
---
Bedrooms
Penzance, England, United Kingdom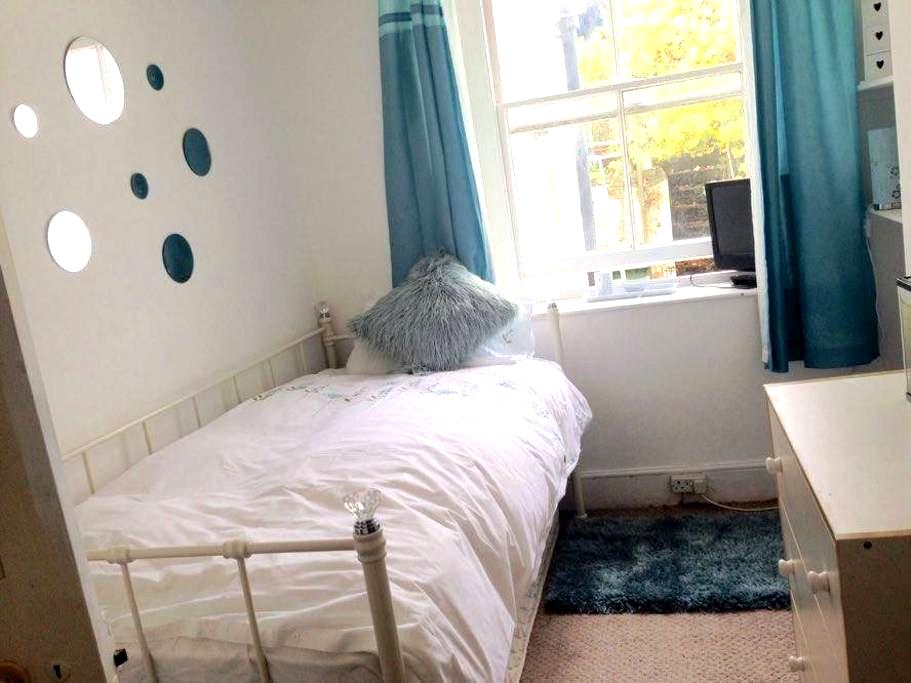 A 200 year old terraced cottage with a stunning view of famous St Michael's Mount and the surrounding sea. Historic character & interesting modern features offer cosy comfort for a solo retreat, romantic break or two friends seeking quiet relaxation.
This is a small, perfectly-formed cottage with loads of historic character, including an unusual wedge-shaped ground plan (wider at the front, narrowing to the rear). Thoughtful modern refurbishment has added to its distinctiveness and made it a comfortable and delightful place to stay, full of functional beauty. The single room downstairs has a cosy lounge area with a beautiful modern efficient wood burner in the original granite fireplace (wood provided). An ingenious fold-out dining table attached to a built-in dresser divides the lounge from the compact kitchen area, which leads out into a tiny back yard, handy for hanging up waterproofs and swimming gear, drying clothes. The yard opens onto a back alleyway, providing a useful alternative entrance (e.g. for putting out the rubbish or avoiding bringing wet gear through the cottage). Upstairs is the bedroom/study, with the wonderful sea view (which can be enjoyed sitting up in bed), and the sea-themed bathroom, with bath and shower over - step into the boat (bath) to get wet!. As well as a double bed in the bedroom, there is a single sofa bed in the downstairs lounge area, with ample bedding for both. The ergonomically set up study area in front of the main bedroom window offers a lovely space for working ...or just sitting and admiring the view. The bedroom feels like the bridge of a ship - a fantastic vantage point for admiring St Michael's Mount, observing the changing weather, tides and sailing boats in the bay, glimpsing the Scillonian (Isles of Scilly ferry) entering and leaving Penzance harbour and enjoying longer views across the sea to the Lizard Peninsular. Light and airy, the cottage catches the morning sun at its front (take a chair out into the tiny triangular front yard for an alfresco coffee break) and the afternoon/evening sun at the back, where there is a disused (but well-maintained) walled cemetery dating back to the mid-18th century. The front of the cottage overlooks gardens and allotments, providing a green haven for birds and making the narrow road seem more like a country lane. A little gem, offering a mix of town, country and coast, and old and new.
In a leafy residential area on the eastern side of Penzance, the cottage benefits from being 5 minutes walk from town centre shops, restaurants, pubs (with a good local at the end of the road) and other amenities, including a laundrette very near by. Equally, in only a few minutes you can get up to the remains of an Iron Age hill fort (Lescudjack Castle), a green space from where you can view the town and harbour, or go down onto the beach, to swim or walk across the sand to St Michael's Mount. There is lots of information in the cottage (leaflets, guidebooks, maps) about the area and places to visit.
We really enjoy our stay at Jeanette's house. Jeanette is very nice and gave us detailed instructions on the house when we first arrived. The bedroom view is fantastic and the house is so lovely!! We went to the restaurants and bakery shop that Jeanette recommended to us and all the food were so delicious!! The location of the house is amazing too. It is very close to the train station and bus station. Super convenient if you are traveling by public transportation. Thank you so much for hosting us. I would definitely recommend this house to my friend.
Yunhan
2016-07-06T00:00:00Z
Everything was as described especially the beautiful view of St Michael's Mount and beyond. A small but cosy cottage that was ideal for our two night stay. An ideal location for our visit to the Minack Theatre and Godolphin Estate. Just one minute walk from a very nice 'local', The Lamp & Whistle, which had a great selection of beers and spirits. A proper pub with no TV!! Plenty of other pubs/restaurants within a few minutes walk. Also close to the shops (in case you have forgotten anything) A bit of a squeeze when parking outside, that's Cornwall for you!, but we knew that beforehand and we parked a bit further up the road - We would be happy to return when next staying in the area.
Magdalena
2016-04-11T00:00:00Z
Great little house, splendid view upstairs, good location. Jeanette was most welcoming. Excellent reading material on Penzance and Cornwall! Only problem: not enough time in Penzance.
Hugh
2016-06-20T00:00:00Z
Lovely cosy old ottage, close to shops yet tucked away in quiet residential area. Perfect for relaxing stay. Jeanette was a wonderful host. She made us feel very welcome. We had the wood burner on several nights and the atmosphere was amazing. Highly recommended.
Wing Fu
2016-09-07T00:00:00Z
The cottage was absolutely delightful. Ideally situated for both the bus and train station and close to two great pubs. The log burner was a blessing when we got home and the bed very comfortable. Thank you Jeanette was a wonderful stay in your gorgeous home.
Hazel
2016-03-22T00:00:00Z
Jeanette's flat was lovely, cozy, clean, and very conveniently located in central Penzance. We enjoyed our stay there immensely. While we didn't meet Jeanette in person, but she arranged for our being able to pick up keys and let ourselves in, and we were able to spend our little holiday perfectly peacefully. Thank you, Jeanette!
Russ
2016-05-18T00:00:00Z
Jeanette was welcoming and informative. Her little home was beautifully set out, there was a packet of ginger biscuits waiting for us on the little kitchen table and within a short space of time we were sitting in front of a cosy wood burner having followed the clear instructions at hand by an ample supply of wood and kindling , listening to a jazz record on the turn table, sipping a hot cup of tea and dunking our biscuits. Bliss. Jeanette's cottage is beautifully and practically laid out with all you would need as well as creatively decorated with lovely ornaments and pieces of art. The view from the bed room window of St Michaels mount was a real treat. The road way was narrow but possible to park if wishing to attempt but we found easier parking near by. Jeanette was at hand if we had any queries but equally let us be to enjoy her space in the quiet peaceful street. It was lovely meeting her just before we left. We very much enjoyed our stay.
Karry
2016-05-03T00:00:00Z
Very good experience. Simple and very nice house. Excellent instructions. 5 star
George
2015-10-27T00:00:00Z
Room Type
Entire home/apt
---
Property Type
House
---
Accommodates
2
---
Bedrooms
Penzance, Cornwall, United Kingdom

Light and spacious room for women only in our friendly family home in Penzance. We are husband and wife with two young children (aged 2 & 5). Our home is a short walk from the bus/train station, town centre, promenade and beaches.
We have a spare room in our house suitable for single female travellers. The room has a king-size bed, wardrobe, chest of drawers and tea/coffee making facilities. Towels and a robe are provided. A light breakfast of toast and cereal is included. There is a shared bathroom and shower room. Wifi is available. The property is fitted with smoke detectors & carbon monoxide alarm. We are non-smokers and do not have any pets. In the surrounding area we have St Michael's Mount, Lands End, Minack Theatre and the beautiful towns of St Ives and Mousehole to name but a few. For those that like walking, we are ideally situated to access the South West Coast Path. The ferry to the Isles of Scilly also departs from Penzance harbour or you can fly to the islands from nearby Lands End airport.
Kate gave me a very warm welcome by picking me up in the street when I was lost. Then her lovely, tidy home with all facilities I wanted for a great rest let me feel safe and sound as a solo female traveler to a new place. Kate, you really made my stay in Penzance wonderful. Thx
Yanzhu
2017-03-27T00:00:00Z
Such a lovely home, great location and awesome host! The house is new, tidy and comfortable. The room is actually more spacious than it feels in the photo. The property sits on top of a small hill - just one step outside of the front gate, I could see the sea! Kate is an excellent host, friendly, helpful and patient. She made things so easy for me in the house. I'm glad I found her place for my stay in Penzance. It's one of the reasons why I fell in love with this city.
Sin
2016-09-01T00:00:00Z
This was my first experience with Airbnb! I really enjoyed the time with this lovely family. All of them were very kind and patient (especially with my language skills). The room was cozy and well furnished with a feeling for lovely details. The bed was big and neither too soft nor too hard. Also the bathroom and the shower were always clean. I spent one week there and Kate gave me some space in the bath. The breakfast was good. There were milk and cereals, tea, juice, toast and marmalade. It's a very short distance to the city centre, the train station and the bus station where you can start your journeys to Land's End, St. Ives, St. Just... I would recommend this nice place to all of my friends and would come back once again!
Antje
2016-08-16T00:00:00Z
I can really recommend staying with Kate and her nice family. I felt very welcome and had a wonderful 4 nights stay.
Kristina
2016-07-20T00:00:00Z
Lovely warm welcome from a really kind and generous family. Beautiful views of Penzance harbour. Very easy walk to town shops and station.
Alexandra
2016-07-14T00:00:00Z
Kate and her family all made me feel very welcome ... The room is huge, much bigger and better than it looks on the photograph! And the whole house is light, freshly decorated, very clean and spacious with great shower and bathroom, nice help yourself breakfast. Convenient location in quiet residential street and short walk to Penzance town centre. I would definitely go there again. Thank you so much!
Suzanne
2016-06-07T00:00:00Z
Only stayed for one night but had a great experience. The room was comfy and had everything I needed, and the house was in a great location. Kate and her family were lovely, and were incredibly accommodating and generous when my travel plans changed unexpectedly at the last minute.
Grace
2016-08-21T00:00:00Z
Staying at Kate's place was absolutely lovely. You can see the see from the front garden and the train and bus station is very easily located, only about a 5 minute walk away. Overall nothing to fault and the house was lovely and bright and clean and modern.
Savannah
2017-04-04T00:00:00Z
Room Type
Private room
---
Property Type
House
---
Accommodates
1
---
Bedrooms
Penzance, Cornwall, United Kingdom
Charming Victorian terraced house near sea front, a short walk to Penzance's vibrant amenities. Spacious clean and comfortable single room, exclusive use of bathroom on same floor. Towels provided. Facilities in room to make tea and real coffee.
Our spare room is situated on first floor, exclusive use of bathroom. The room is quiet and gets morning sun with a comfortable single bed. I can accommodate an extra guest on a small put-up bed for additional £10.00 per night to included breakfast. Please message me before booking if this option is required.
Our Victorian house is in a quiet area yet a short walk to all Penzance's vibrant amenities, restaurants, shops, cinema, art galleries, tennis courts . Situated equidistant (150m) between the historic promenade,Penlee House art gallery and Morrab Gardens. Visit St. Ives, Mousehouse, the Isles of Scilly and explore Cornwall's mining heritage.
Judy and Glenn's place is highly reccommendable: their bright room is so lovingly furnished and decorated you might want to stay in much longer than planned! I also highly appreciated their generousity offering help whenever I went on the most scenic hikes recommended by them. It goes without saying that I also absolutely loved Judy's healthy breakfast. Again, there was so much taste in every detail. Last but not least I enjoyed inspiring conversations with Judy and Glenn, so I hope to be able to book again some time!
Inken
2016-07-19T00:00:00Z
Lovely room, fantastic host, spotless bathroom, extra comfy bed, and great quiet location near the sea and the town centre. Penzance is a lovely place worth exploring!
paola
2016-07-12T00:00:00Z
Judy is a wonderful host and made me feel welcome and home from the very first second I entered the house. The room was spotless, spacious, bright and beautifully furnished. So is the rest of the house. You'll also get a delicious breakfast with home made bread. Judy is very helpful if you need any tips and recommendations about the area. I can absolutely recommend Judy's place!
Isabell
2016-03-19T00:00:00Z
This was my first experience of using Airbnb and I have to say staying with Judy was a perfect choice; she couldn't have made me feel more welcome. The room was spacious, comfy and clean and the central yet quiet location was ideal. I enjoyed my stay here.
Sue
2015-10-24T00:00:00Z
Thats lovely place to stay. I felt as at home, I had all great ammenities to enjoy a relaxing day after long week working very hard. The house is amazing and with a great location near to the sea front and just a few minutes to the centre. All house is very clean, nice, lightly room with extremedly comfortable bed , stunning bathroom where you can enjoy a bubble bath. Ive enjoyed a wonderful breakfast with home-made jelly and having a lovely chat with Judy. Judy is very charmy and I had a warming welcome. Ive definetly recommend that place.
Erika
2016-08-23T00:00:00Z
Three weeks travel in Uk and Penzance was the last station. It is a nice town near the ocean and the view is so beautiful. However, my schedule is really tight and I have only two full days to visit four attractions using public transportation. I was lucky to choose Judy's rental room. Without Judy's help, I can not complete the schedule. She helped me choosing the right buses to take and reasonably arrange every day schedule. Moreover, Judy's house is quite clean and organized and she makes healthy and delicious breakfast. If you decide to travel alone in Penzance, Judy is the best choice.
Qinyao
2016-04-07T00:00:00Z
Judy was a very welcoming and kind host and I appreciate very much that I could book with her at very short notice. The room and the bathroom were bright, clean and spotless and I enjoyed my stay. Judy prepared a lovely breakfast and was ready to give advice. The house is nicely located in a quiet street close to a park, the centre as well as to the promenade. I can definitely recommend to stay with Judy and wouldn't hesitate to come back.
Petra
2016-05-07T00:00:00Z
Judy was a great host and very welcoming. Room was comfortable and breakfast was tasty. Have no hesitation in recommending.
Caroline
2016-10-25T00:00:00Z
Room Type
Private room
---
Property Type
House
---
Accommodates
1
---
Bedrooms
Penzance, Cornwall, United Kingdom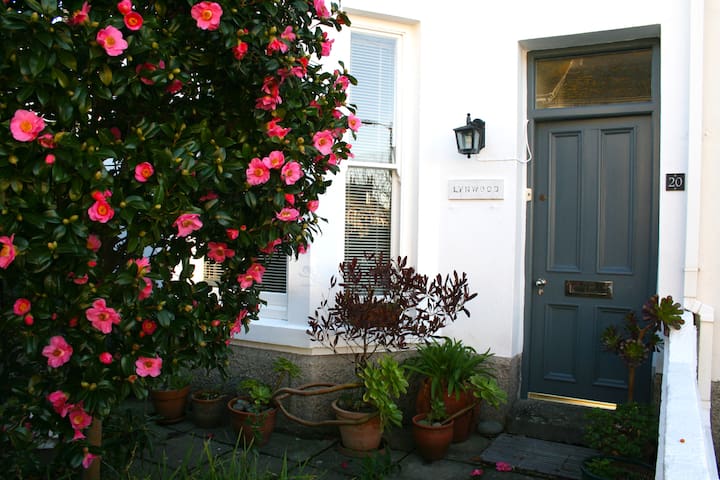 My place is great because of its central location. I live in the heart of Penzance, a 5 minute walk from the local cafes, bars,restaurants and shops. I am also 10 minutes away from station, parks and promenade. Although I do not have private parking, there is parking in my street or nearby. My place is good for couples, solo adventurers, and business travelers.
My house has a bright, cosy and friendly atmosphere and is very accessible as the guest room, kitchen, bathroom and courtyard are on the ground floor. The guest room has a comfy double bed, with TV, Wifi, a kettle, mugs, fresh coffee, tea and biscuits. In the spring and summer my courtyard is nice to relax in away from the hustle and bustle of the town and if you are a cyclist you can leave your bikes there too.
Beautiful, clean and very comfortable room with great kitchen and bathroom facilities. Very close to the sea front with lots of quirky shops, bars and restaurants nearby. Rebecca was a helpful host who gave us a lovely welcome. The accommodation is fantastic value for money.
Paddy
2017-04-09T00:00:00Z
Rebecca was an excellent host. Her appartment was clean and we were made to feel welcome from the moment we opened the door. Rebecca was happy to give us tips about the local area and where the best places were to get a drink and eat. I would recommend staying here if you want to stay at a place with a relaxed feel close to the centre of Penzance!
Tom
2017-04-07T00:00:00Z
Room Type
Private room
---
Property Type
House
---
Accommodates
2
---
Bedrooms
Penzance, England, United Kingdom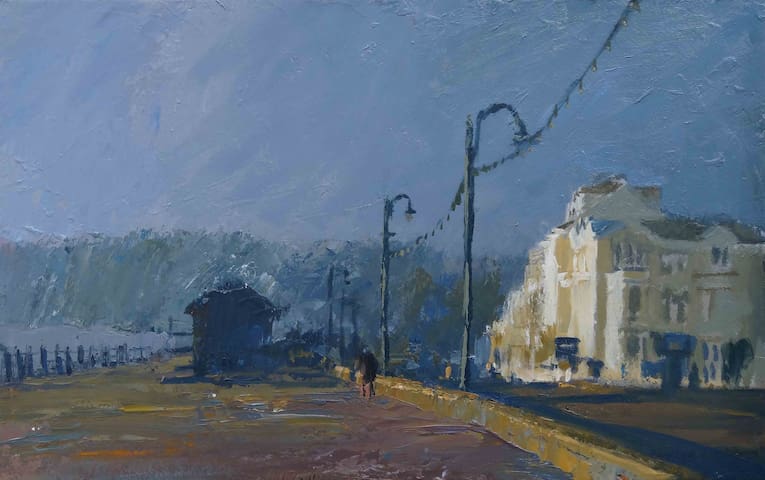 We have a large, bright and airy twin bedroom in our peaceful, spacious house set in a large garden and overlooking fields and countryside. We are in the perfect location for exploring beautiful West Cornwall at any time of the year. We are ideally situated if you are walking the South west Coast path, and I am very happy to pick you up from Marazion if you can't face the 20 min walk (the house is 1 mile from Marazion centre, a lovely walk along a quiet road).
The room has its own modern shower room/WC etc. Tea/coffee are provided and my homemade brownies. Wi-fi is available. The bedroom is at one end of our house so very private and quiet. I do not provide breakfast as there is a separate kitchenette that guests may use to prepare food, equipped with fridge,cooker, microwave and basic saucepans etc. There is a table here too for you to eat. We do ask that hot cooked food is not eaten in the bedroom ,just in the kitchenette or in the garden if you like!
We are 5 minutes drive or 20 minutes walk along a pretty country road to the middle of Marazion where there are excellent local pubs, restaurants, tea-shops, post office, chemist, pasty shop and galleries. These include the newly refurbished Godolphin Arms with it's magnificent position on the beach overlooking St Michael's Mount - the perfect place to enjoy a drink or meal as you watch the sun go down! Other places to eat/drink include the King's Arms, Ben's Cornish Kitchen,The Cutty Sark , the newly refurbished Fire Engine pub and a great Fish & Chip shop- all these provide great food with breakfast available in the Godolphin hotel. Penzance is 10 mins drive and has lots of pubs, coffee shops and a good variety of independent shops and galleries as well as Boots, WH Smith etc. There is also a free ATM in Marazion inside the Cobble corner shop and a pasty shop! St Ives is a short drive or a very pretty 10 minute train ride(highly recommend ),here you will find galleries,independant shops,cafes and beaches,just watch out for the seagulls pinching your pasty!
A lovely room close to st michael's mount and near to shops etc in Marazion. Diana was a really helpful host.
Meena
2016-07-22T00:00:00Z
Lovely room so close to Marazion and we loved the home made cake!
Janice
2016-03-19T00:00:00Z
friendly host, and lovely house, i will visit again if i have time
Sonia
2017-03-30T00:00:00Z
Diana was lovely and had a lovely house too. Beautiful area with lots of places to explore, I highly recommend.
Wayne
2016-09-11T00:00:00Z
We were made to feel extremely welcome from the moment we stepped inside Diana's home. Diana has a beautiful home and our room was lovely, exactly like the pictures and suited our needs perfectly. Diana took time out of her day to chat to us and give us recommendations of places to see/visit. The location was perfect, just a short walk into the centre of Marazion. We also highly recommend dining at Bens Cornish Kitchen as the food was divine!
Keely
2015-08-23T00:00:00Z
Diana made us feel completely comfortable being in her home. She was very warming and welcoming. The b&b is exactly as described, clean comfortable and fresh. The views from the room were wonderful and the whole place had a lovely feel of calm and relaxation about it. We would highly recommend Diana and her lovely b&b and would defiantly stay again. Gaynor Thomas 28th August 2015
Gaynor
2015-08-29T00:00:00Z
Warm welcome, accommodation as in photo, advice re evening meal and local area.
David
2016-06-30T00:00:00Z
The room and bathroom are private and clean. Diana and her husband are lovely people, and are very helpful! We would love to stay there again!
Chelsea
2015-09-21T00:00:00Z
Room Type
Private room
---
Property Type
House
---
Accommodates
2
---
Bedrooms
Marazion, Cornwall, United Kingdom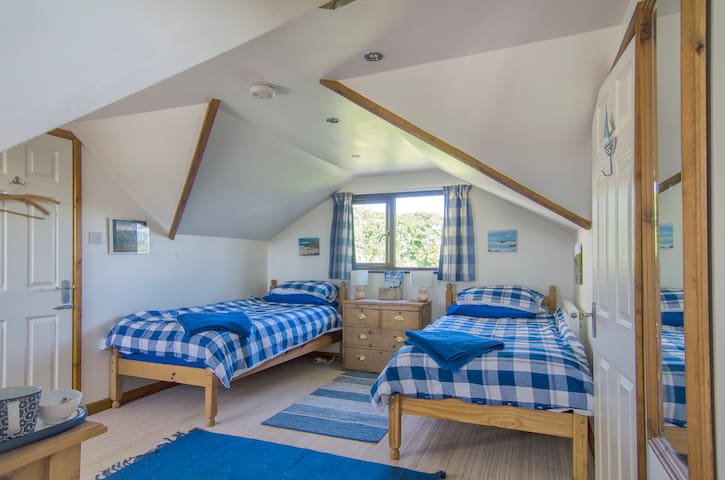 Private double room next to shower room in my pretty cottage: lovely garden, near the south Cornish coast, 2 miles from Penzance, 4 miles from St. Ives. Excellent camra pub and general store 5 minutes away. Breakfast and tea/coffee. Friendly host.
The freshly decorated room is quiet and gets morning sun. The double bed has storage and there is a five-drawer chest for guests' use. The bathroom next door has an extra-large shower. Breakfast is served in the kitchen, which looks out on the rose-filled garden. Guests may use the garden.
Penwith is the last of the old Cornwall. Walkers love the coast path and the many cross-country walks, including the famous St. Michael's Way, which goes through Ludgvan. The Scilly Isles can be reached by sea from Penzance or by air from Lands End Airport. Boat trips operate from Penzance along the beautiful coast. Every type and price range of restaurant can be found close by, from fresh local seafood to oriental, american and european fare. Several nightclubs operate in Penzance and St. Ives. Art galleries abound and the area is home to many excellent artists. The local music scene is vibrant with many different styles (and volumes) of music to be found.
We had a lovely few days with Graham and his dog Jago. The house is nice, with lots of books and art everywhere. The room is as described, with everything we needed, and the bathroom close by. Graham provided a healthy breakfast every morning, and even made us freshly juiced orange juice! One evening we went to see him play in his band at a local pub - a very nice evening. Graham is a good host, happy to chat or leave us to our own devices. We would definitely like to go back!
Sue
2016-09-12T00:00:00Z
Graham was a neighbour of ours from Bristol, so it was more of a re-union, but very pleasurable . Graham is a very accommodating and welcoming host , the room was very comfortable and the cottage very homely . Well located for all local beauty spots and walking expeditions
Derek
2016-10-17T00:00:00Z
We had an excellent week in West Cornwall, and Hope Cottage proved to be a great choice in a very good location. Everything is as described. The room is a good size with a very comfortable bed, and the bathroom is right next door, very clean and has an excellent shower. The healthy breakfast of quality cereals, wholemeal toast and marmalade, fresh fruit and even freshly squeezed orange juice was perfect for us. The coffee was great too. Graham is a friendly, kind and interesting host with excellent local knowledge, and Jago the dog is friendly and very gentle.
Hugh
2015-09-11T00:00:00Z
Absolutely wonderful experience staying with Graham. It truly was a home from home and he was the perfect host. We loved sharing his beautiful home with him, looking out at his wonderful garden (watching the rain over breakfast!), chatting away about this and that, and, as an extra pleasure - enjoying the attention from his lovely friendly dog. He couldn't have made us more comfortable, and the bedroom was spotless, with bags of information about the local area. The map of local area (on the wall) was also very useful! The bathroom was wonderful, with a huge walk in shower, and lovely soft comfy towels. We only wished we could have stayed longer and are already planning our return in the near future! Thank you again Graham for a fabulous stay, and for the great afternoon in Gulval watching your amazing musical talents! :) Chrissy & Paul x
Christine
2015-07-26T00:00:00Z
Graham is a perfect host, and Hope cottage is a lovely home to be welcomed too, as a host Graham is excellent, his breakfast OJ freshly squeezed is second to none and we miss it already, Hope cottage is a peaceful home and lends it self to a restful stay, his home is full of character and surely harmony stories to reveal as does Graham too he is knowledgeable and engaging as and when needed. we enjoyed our stay very much and would recommend his home to others easily, a highlight of our stay it must be said was meeting "Jago" Grahams lovely dog and companion you do need to love dogs as Jago will spend his time with you whilst at the cottage and spread the doggy love if you let him, he was a joy and no hassle at all. The cottage is very close to Penzance and as such is in an ideal location for exploring further in to the Peninsula, in summary Graham is an all round good guy with a calming manner his home is beautiful and peaceful and we would recommend a stay with him any time.
Shaun
2016-05-24T00:00:00Z
Graham is very friendly and accommodating, gave many great sightseeing recommendations. Nice room, clean and inviting. Graham waited on us for breakfast like a proper restaurant! Very good host!
Vincent
2015-12-18T00:00:00Z
We had a wonderful stay at Hope Cottage. Graham was the perfect host, the room was comfortable and as described, the breakfast delicious, the dog Jago was an added bonus for us. A great location, walking distance to a good pub that served good food, and centrally located for us to drive to a variety of walks and places.
Margaret
2016-06-18T00:00:00Z
Graham's cottage is a delightful escape and Graham couldn't be a more helpful and welcoming host. We had some problems getting there - communication difficulties (not Graham's fault) and finding Hope Cottage (Graham has promised to make the sign clearer) - but once we'd arrived, it was perfect. Lovely room with fresh flowers, comfortable bed, great breakfast. Would definitely recommend and hope to return ourselves one day.
Wendy
2016-04-04T00:00:00Z
Room Type
Private room
---
Property Type
House
---
Accommodates
2
---
Bedrooms
Penzance, Cornwall, United Kingdom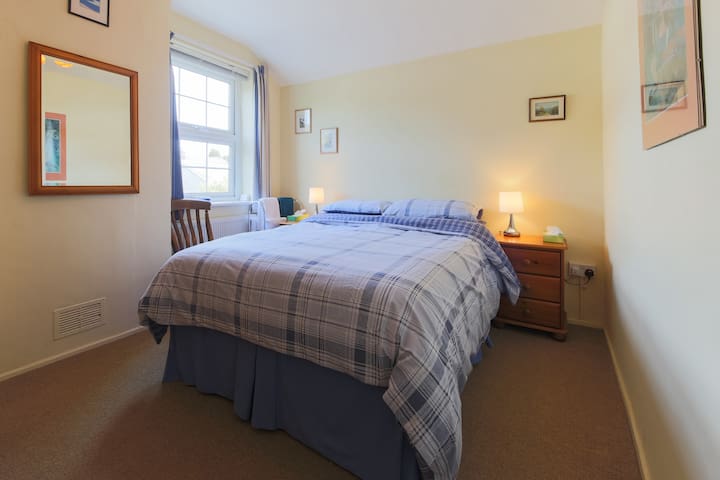 A light, spacious room with a comfy double bed and private bathroom over looking St Michael's Mount in the historic village, Marazion. A few minutes walk from a secluded cove, beautiful sandy beaches and SW coastal path. Breakfast tray included.
Chy An Gwel offers a lovely airy room with a modern retro feel. Tea and coffee making facilities are provided along with bottled spring water and locally made biscuits. There is a private bathroom with power shower and organic toiletries. A simple breakfast tray of croissant and fruit is included should you require.
Only a few minutes walk from Chy An Gwel, you will find some great pubs and restaurants. I can highly recommend Delicious for yummy breakfasts and lunches or Jordan,s open all year! Ben's Cornish Kitchen (winner of the Cornwall Life Food & Drink Award 2014) and The King's Arms for Sunday lunch! There are countless eateries in the local area, art galleries,beautiful gardens and plenty of local attractions to visit. A short stroll will take you into the village of Marazion and St Michael's Mount. When the tide is out you can walk across the ancient causeway to the island or catch one of the little ferry boats. Penzance is a short drive from Marazion , a traditional seaside town with a lively harbour, pavement cafes with panoramic views across Mount's Bay.
Really nice place and really warm welcome from Angella! Much deserved for the price and very nice breakfast was provided.
Ziyan
2016-09-04T00:00:00Z
Angela was helpful and easy to deal with and the room set up was just what we needed. Thanks Angela!
Jane
2016-11-26T00:00:00Z
The accommodation was as described. The room is very comfortable having the sole use of a bathroom. Angela is a great host offering complimentary tea and cakes. There are a number of places to eat within a short walking distance.
Kevin
2016-05-11T00:00:00Z
We were made to feel welcome, lovely clean bedroom and bathroom. Great view of St Michaels Mount from our bedroom window. We both slept extremely well. Breakfast was good as well, lovely and freshly prepared, an added bonus for our stay. Our host was very informative of the area and further afield. The location was close to everything we needed.
Judy
2016-08-12T00:00:00Z
Thank you Angela for hosting our first, and definitely not the last, bank holiday weekend trip to Marazion, Cornwall. You were extremely accommodating and flexible with the check in time, provided a delicious continental breakfast, which provided us with a lovely start to each day in Cornwall, chatted to us at the end of the day about our excursions and gave us ideas for the next day. Thank you again Angela, we highly recommend your place for single people or couples who want to explore the very tip of Cornwall.
Tamara
2016-05-31T00:00:00Z
Lovely warm and friendly welcome from Angela. Newly built room, spotless, nice view over to the sea and St Michael's Mount. Convenient for easy walk into charming village of Marazion, stunning coastal walks almost from the door, good restaurants and eateries, lots of galleries, shops and pubs. Angela is a most helpful host with a lot of knowledge of the area, gave us lots of good suggestions.
valerie
2015-08-29T00:00:00Z
If you are considering staying in West Cornwall I would fully recommend Angela as a Host. She was so welcoming and able to suggest places to visit and eat. A loved the location it was prefect for our needs - Set in the outskirts of Marazion easy walk to St Michael's Mount. The room was very constable and the breakfast was great. Would stay again.
Alison
2016-09-16T00:00:00Z
The room was absolutely perfect (with a great view!), the bed was comfortable, we had everything we needed. Top notch standards by Angela with complimentary tea and biscuits! Breakfast (in bed!) was absolutely gorgeous with different fresh products every day, delicious! The bathroom was very clean, the water pressure was great, all good again! Parking was easy and safe. Angela had plenty of leaflets with information and recommendations on what to do around the area. I would definitely recommend staying with Angela!
Clo
2016-05-03T00:00:00Z
Room Type
Private room
---
Property Type
House
---
Accommodates
2
---
Bedrooms
Marazion, United Kingdom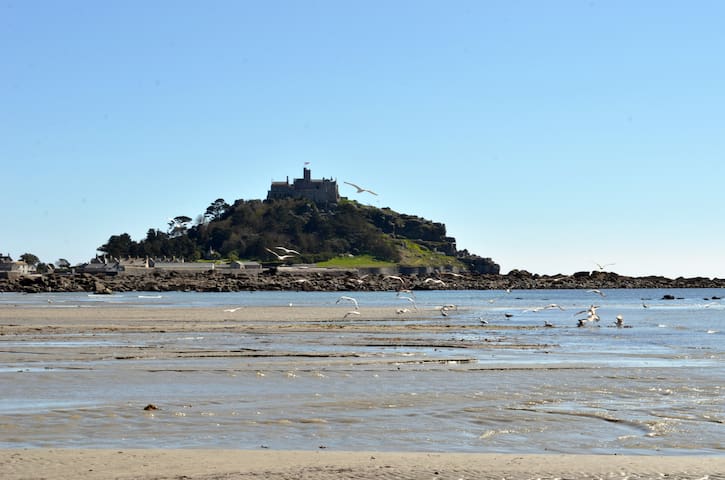 A quiet bright double bedroom right by the sea in a clean modern family home. Exceptional location with the sea one side and tropical park on the other. 5 minute walk to the town centre and 10-15 minute walk to the train station, ideal for Scillies.
A small double/single bedroom in a 3 bedroom small light and modern town house with a small sunny garden. Your bedroom is upstairs while the bathroom, kitchen, dining room are all downstairs.
I'm literally 1 minute away from the promenade. You can access all the beautiful Cornish beaches from mine, the supermarket is 5 minutes away. The town centre is close by with its quirky shops and bars/pubs. There's a take away at the end of my street- a very good Indian and a Fish'n'Chips. There are two supermarkets 10 minutes away along the promenade as well as two stunning parks.
I was only there for a short overnight stay, as I mess catching the morning Scillonian ferry, but I was made to feel very welcome. Laima was lovely,welcoming and we had a lovely chat. The room is everything you need : clean, comfortable and quiet. You feel straight at home. Location is also perfect to take the ferry, or visit the town! Including the amazing restored Jubilee Pool! Lots of place to eat around too, as well as the subtropical gardens at the back of the street and the sea side at the end of the road too. Perfect.
Katia
2016-06-12T00:00:00Z
Dear Laima, staying with you in your lovely little house by the sea was so convenient and comfortable. I had everything I needed and it was wonderful that I found parking so close to your home too. With thanks Tricia
Tricia
2015-07-10T00:00:00Z
Clean and pleasant room. Friendly hosts, perfect for a quick stay before our ferry to the Isles of Scilly.
Kerrigan
2016-07-19T00:00:00Z
Lovely house, nice room, good location & a very welcoming host. Five stars.
Guy
2016-09-14T00:00:00Z
Laima and her son were so welcoming and lovely to chat to. I stayed for 1 night with my young son, the bed was very comfortable and the house is in a great location. We would definitely stay again. Thank you for having us stay in your lovely home x
Victoria
2016-10-03T00:00:00Z
Laima was super friendly and caring; even helping me find a parking spot nearby when there were no spots available in her street. The room was cosy, clean and with all the basics, and the internet worked very well too. She was very clear and courteous when it came to sharing the amenities. We had a lovely stay, and appreciated her arty eye in terms of decor. The location was perfect for us, close to the sea and within easy walking distance to the most interesting bits of Penzance.
Barbara
2016-04-04T00:00:00Z
We stayed at Laima's house for five nights the other month. Laima was the perfect host - friendly, open-minded and caring. She even gave us a clue of places we shouldn't miss and restaurants we need to visit. The house was clean and cosy, so was the room we stayed in. We felt at home very fast and fully enjoyed our visit. The neighbourhood is quiet and you can reach the center of Penzance by foot. If you are looking for a lovely room in Penzance, you should definitely stay with Laima ;)
Ricarda
2016-04-21T00:00:00Z
We had a wonderful time at Laima's place. The apartment was easy to find and great located just a few minutes away from the coast. Laima was very welcoming and gave us great tips on how to spend our day in Penzance. We would definitely stay at her place again.
Julien
2015-07-23T00:00:00Z
Room Type
Private room
---
Property Type
House
---
Accommodates
2
---
Bedrooms
Penzance, United Kingdom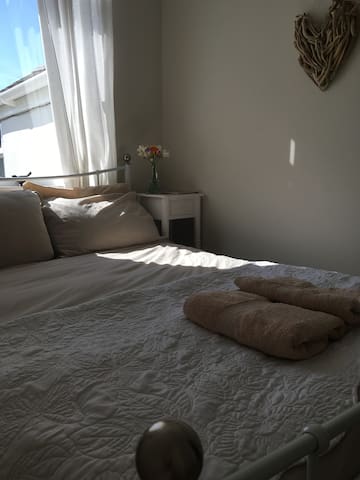 A welcoming 'home away from home'. Equally betwixt Penlee gallery & Morrab Sub Tropical gardens. A five minute walk to the centre of town, the promenade & the newly restored Jubilee Pool. A walk or short drive to fabulous restaurants & stunning beaches. Neighbouring Newlyn has lots to offer; art galleries & the Film House, book a double memory foam seat! Mousehole is a quintessential Cornish village & harbour. Close by the IOS Ferry. Penzance and the surrounds has something for everyone.
THE HOUSE - A traditional Town House, built in the 19th century, but with a contemporary interior. Located in a quiet, peaceful cul-de-sac, with no passing traffic, usually the only sounds you hear are the church bells. The house has a pretty courtyard, where breakfast can be served and a suntrap at the front for you to relax and enjoy a glass of wine, or cup of coffee. We are a five minute amble to the centre of the town and five minutes to the promenade and newly restored Jubilee Pool. Great pubs and restaurants are a short walk, serving local ales and ciders, fine wines and great food. We are ideally located for guests catching the ferry to the Isles of Scilly. BEDROOM ONE - Lovely airy bedroom. Loads of pillows and luxury linen. King size bed. BEDROOM TWO - Lovely room. Loads of pillows and luxury linen. Double bed. COMMON AREA - There is a large hall outside the bedrooms, where I can accommodate a comfortable z-bed if necessary. BATHROOM - Luxury bath tub and powerful shower. 'Cowshed' toiletries, sourced because of their 'no nasties' range of products. Towels and robes are provided. Wi-Fi - There is Wi-Fi throughout the house KITCHEN - You are welcome to pop a bottle of wine in the fridge. BREAKFAST - Tea, coffee, fruit juice, cereal, fresh fruit, yoghurt, toast and preserves If you don't fancy going out for the night, I am happy to cook for you. I have a catering company so can guarantee a delicious meal with local ingredients. Menus are in the room folder. PARKING - We are located in a peaceful cul-de-sac, with no passing traffic, Parking is available in Morrab Road which runs parallel with Morrab Place, a couple of minutes walk away. I email detailed directions TRANSPORT - A reliable taxi service operates from Penzance train station. LUGGAGE STORAGE - The Longboat Hotel, turn immediately right out of the station, you will see the hotel straight in front of you. OR West Coach Taxis, cross over from the station and follow the road to the Town Centre, West Coast Taxis is on the left. CHECK IN - From 4.00pm ..... CHECK OUT - 10.00am EARLY ARRIVALS AND LATE CHECK OUTS- are sometimes available, depending on my schedule and other departing/arriving guests. I will do my best to accommodate you. OTHER NOTES - We are inclusive hosts and welcome guests regardless of nationality or gender. We welcome dogs for a small extra charge of £20.00 paid on arrival I enjoy welcoming guests to my home and will be at the house during your stay to suggest ideas to get the most out of your break. If there is anything I haven't covered please ask. I'm happy to help with your questions or special requests.
The house is located in Morrab Place, one of the most exclusive addresses in Penzance in an area known as the golden triangle, compromising of terraces of Victorian and Georgian properties, equally located between Morrab Sub Tropical Gardens and Penlee Gardens with its renowned Art Gallery. Mounts Bay is a short wander downhill to the promenade. Penzance is the only place in Cornwall with a 'prom', from here you get great views of St Michael's Mount, it also houses the recently refurbished famous 1920's Lido. A lovely flat walk to the fishing port of Newlyn, with its many art galleries and shops selling freshly landed fish, crab and lobster (which can be packed on ice to take home) - and two interior design shops. A twenty minute walk from Newlyn, along the coast path leads to the picturesque village of Mousehole. Art lovers will appreciate the many galleries and for those feeling energetic we are stone's throw from the stunning Cornish Coastal Path.
Kay's house is beautiful and the welcome was very warm despite our very late arrival! The bed was beautifully soft and the sheets glorious! There was a cot abs a camp bed for our children all lifted out. The bathroom was spotless and there were lovely cowshed toiletries. Finally breakfast was delicious - we only had time for a quick brekkie but she had cereal, granola, juice, yoghurt and honey and lovely toast. all in all a great great place and kay makes you feel very welcome.
Charlotte
2016-06-23T00:00:00Z
Kay was a lovely welcoming host who communicated with us very clearly before and during our stay. Her place is an easy 10 minute walk from the train station (up a slight hill) and very close to everything in Penzance. There is easy parking a couple of streets away as well. Kay's place is lovely - light and airy, great bed (very comfortable!) and she has an adorable dog who we thought was adorable. The breakfast she provides is excellent (you certainly won't be hungry!) and Kay herself is a friendly, chatty host who has good advice for the surrounding area. The street is very quiet, so you will get a good nights sleep as well. We have no hesitation in recommending her as a host, and will stay again if we are in Penzance.
Jill
2016-05-17T00:00:00Z
What more could we need! Kay is a brilliant host. I knew when I booked a stay in her lovely townhouse next to Penlee Gallery that our walking trip from St Ives would end on a high but I didn't realise how special it would turn out to be. The welcome warm with every need catered for; a pot tea with introductions, a beautiful light room coupled with super comfy bed and her local knowledge meant we had some of the best seafood around. It was joy to stay, I'm only sorry we had to leave for home. Many thanks Ria and Kay! We will be back!
Molly-Clare
2016-04-03T00:00:00Z
It was very lovely to stay at Kay's! She is very nice to talk to and helpful especially in giving advice on what to do while in Penzance. The bedroom and the bathroom were spectacular. My fav thing probably when she prepared breakfast for us. It was like a 5 star hotel breakfast
Griselda
2016-01-07T00:00:00Z
Stay in Kay's house is a very unpleasant experience. Kay informed us 2 hours before we arrived that we need to wait 2 more hours to check with no reasons. And Kay knows the time when we will arrive a week ago which I think she has enough time to plan her schedule to let us check in early. Kay doesn't mentioned she has a dog in her house on her house description. The dog is not friendly at the beginning. My friend is very afraid of dog! Kay didn't do anything to protect my friend to her dog and she said "oh you need to get used to my dog!" There is no sorry in Kay's dictionary. She didn't show any sorry for the delayed check in. I friendly asked Kay whether we can have a free British breakfast for the delayed check in (We hung out in the small town with luggage in a very windy afternoon for 2 hours). Kay suddenly became very angry and said she doesn't want to be our host and force us leave her house. She said we are rude to her. She didn't give us a chance to speak. We got really shocked! At that time(evening), we don't think it's easy to find another place to stay. So we gave in and stayed in the house. The other day, the weather outside is horrible strong wind and rain. Me and my friend want to stay in the room and wait until the weather becomes better and then go out. But at 11 am, Kay force us to go out of her house, no matter how bad the weather outside was. Because she got lunch with her friends which she didn't inform us in advance. We asked if we could just stay in the room because the weather is really bad outside. She refused and became very mad, yelling to us go out of my house, it's my house, you need to accept the house rule. She said I'm not responsible for the weather and we need to get out of her house and go to one place which she suggest us to visit. But it's our own right decide when to visit someplace, not her. She force us to go out and we can do nothing. We even need to ask her when we could come back to the house because she has lunch with her friends and we don't know when will it finish. Kay is a really cold blood, selfish and unfriendly woman. We don't know how she got some good review. It feels discriminated because she said I don't have any review (the truth is I have one review which I just started to use airbnb so don't have many reviews) so she can be very rude and implied to me and my friend.
Yige
2015-12-22T00:00:00Z
Our host Kay, was most welcoming and sought to make our stay as comfortable as possible. Our rooms and bathroom were wonderful and gave our family and I the privacy we wanted. Breakfast was a highlight and Kay was a great host. We certainly enjoyed our conversations over team and coffee before heading off for the day.
Darin
2016-06-01T00:00:00Z
We had a very lovely stay at Kay's house, in a nice room with a very comfy bed. She gave us great advice on what to see and where to go in Penzance and we really enjoyed our time there!
Heather
2016-05-28T00:00:00Z
We had such a lovely stay at Kay's! She was very welcoming and her home was just beautiful, and the bed was possibly one of the most comfiest beds I have ever slept on! The most lovely evenings, would definitely recommend and would 100% stay again!
Olivia
2016-09-10T00:00:00Z
Room Type
Private room
---
Property Type
House
---
Accommodates
5
---
Bedrooms
Penzance, United Kingdom
The Cornish House in Penzance is nestled between Marazion and Newlyn and is the ideal location for discovering Cornwall. Our house is new and modern with a welcoming, light & airy atmosphere. With just a 5 minute walk into town you will find shops, restaurants, cafes, pubs, galleries, tropical gardens, cinema, parks, Jubilee pool, harbour and the longest promenade in Cornwall! Public transport is only ten minutes away.
The Cornish House is a new build with lots of quirky shaped rooms to enhance the space. You will have access to the whole house over three floors. The house has two staircases, with the first being more narrow. Unsuitable for people with mobility issues due to the amount of stairs.
We have a close and friendly community here in Penzance where the neighbours are very welcoming and happy to answer any questions you may have about the local area. Within a few minutes walking distance there is a nearby recreational park where there is plenty of grass to kick a football, a small child's play area and a skate park with ramps and bowl etc. Within a short walking distance you have a choice of varied shops to keep you busy and a great choice of cafes, restaurants and pubs to treat yourself to a cream tea when your feet need a rest! Make the most of being by the sea and try the fresh locally caught fish from Newlyn available from our friendly restaurants in town. Penzance also has the Savoy Cinema that offers a step back in time! Upstairs in their quaint café / restaurant you can choose a cinema deal offer to include food and a cinema ticket of your choice. Local Chinese, Indian and Pizza take away's can also be found nearby if required. The walk to and from town is close by but also quite hilly.
Rosa's house was really clean and comfortable. Everything was new and working. Rona came out to greet us and recommended places to us for our meals which were really delicious and a must go !
Jenetta
2017-03-19T00:00:00Z
Had such wonderful weekend at here. Rona gave us a warm welcome with tips and info about the area which came in very handy! Such a brilliant location to walk into town. Also a great base to explore the area for a reasonable price. The house was warm, cosy, tidy and very well equipped. Would recommend to all! Can't wait to come back in the summer when Cornwall gets a bit warmer.
Ross
2017-02-12T00:00:00Z
The Cornish House is a special place. We had an amazing time. Our host was supremely helpful and gracious.
Seyi
2017-03-05T00:00:00Z
Really great experience in the house, the equipments are completel and the location is very convenient for tourists.
Jiahui
2017-02-28T00:00:00Z
The house is very comfortable and beautiful, Its perfect to enjoy Penzance.
Makiko
2017-03-25T00:00:00Z
Rona's house is lovely, it's clean and comfortable! Rona is a very nice host as well, so just feel free to ask her if you have any question. You can fully enjoy yourself in here!
Dingyuan
2017-03-27T00:00:00Z
A very new apartment. Well organised and beautifully set up. Rona has organised matching crockery and cutlery, sheets and towels. The apartment is very central to Penzance and has views overlooking the ocean. The stairs could prove tricky for the elderly. But if we ever came back to Penzance we would stay here. This has been the best airbnb house we have stayed at. Just the best!!
John
2017-01-26T00:00:00Z
Best Airbnb house I've stayed in, would recommend it to anybody
andrew
2017-03-10T00:00:00Z
Room Type
Entire home/apt
---
Property Type
House
---
Accommodates
4
---
Bedrooms
Penzance, England, United Kingdom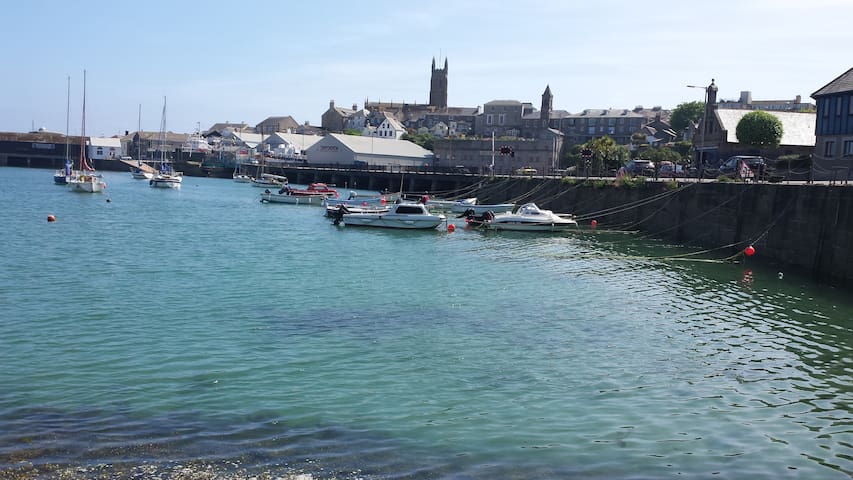 Our 1 bed Garden Studio is nestled in the heart of historic Chapel Street, formally an artists studio, it can offer you a memorable and relaxing stay in Penzance. Perfectly placed for many of the towns famous attractions and eateries, Chapel Street is one of our most picturesque areas boasting restaurants, pubs, antique shops and galleries. Just a few minutes walk away is the promenade, the only one in Cornwall, with its Art Deco lido, working harbour, pebbly beach, parks and gardens.
The Studio is situated in the heart of the town but is secluded and quiet.
As well as lots of independent shops and boutiques, Penzance and nearby Newlyn also have art galleries, museum, small theatre, tennis club and cinemas. Bike hire, boat trips, ghost walks, guided tours and day trips to the Isles of Scilly are also easily available.
Room Type
Entire home/apt
---
Property Type
House
---
Accommodates
2
---
Bedrooms
Penzance , Cornwall, United Kingdom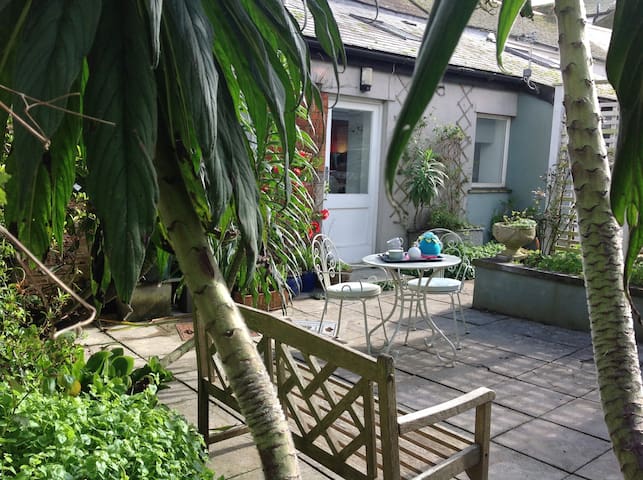 A small bedroom with a single bed. Priced accordingly, only sleeps 1. Use of kitchen and 2 bathrooms included. One bathroom on same floor as the (URL HIDDEN) check in 'tween 9 am and half 10 am in the morning if you need . This is a lived in home not an anonymous holiday let , you can play the nice piano if you want
Its handy being right in the centre of town with easy access to the shops station etc and sunny facing west
A fair price. Suit students on a budget. I couldn't go out on the town during my stay but imagine it would be an interesting experience with Sunny.
Richard
2015-10-15T00:00:00Z
Sunny is a really nice man. He played some beautiful music to me and willing to share his story. His house is amazing, everything seems like got its own story. The house and room is like a cozy home to me, making my staying in Penzance more than happy. This small bedroom has perfect sunshine and suitable for those who travel alone like me. Many thanks, Sunny. From Freya
Haozheng
2016-08-13T00:00:00Z
I was in the middle of writing a screenplay called 《Four days with Sunshine》when it suddenly occured to me that I should finish this review first LOL. Compared to what I've been creating, this review will appear to be more formal. Yes of course I had a wonderful stay at Sunshine's house. The location, transportation, communication......everything is great and is exactly the same as the description. So I think there is no need for me to talk about these more. Actually I've always believed that however spectacular the natural scenery is, it will never be as unforgettable as the lovely people I meet. What makes this stay special to me is that Sunshine and I are more like real friends instead of host and guest. Maybe it's because I'm also a music hobbyist, we spent most of the nights together playing music and chatting about various topics, which I enjoyed a lot. Chatting with Sunshine sometimes feels like listening to a lecture LOL, it's just that the lecture is not given by a professor from college but an old man with much life experience and interesting stories. I like the way he talks, articulate, humorous and slow (foreigner-friendly). There was one night he took me to a local bar and encouraged me to play my Chinese folk songs in front of the audience. This was an incredible experience to me and since then, I've decided that I would carry on with my music not matter what happens. I wish I could write my own songs like Sunshine does in the future. And, for the record, the night when Billy came is indeed the night of the year - Fantastic! You two played such touching songs and I was glad to contribute my bit. - Sorry, I end up making this review look like a personal diary but really, thank you Sunshine for your inspiration. Like I said, I hope to come back oneday with more good music. Please do recognise me by then. Love and big hug from Zhen.
ZHEN
2016-10-17T00:00:00Z
I really like Summy, he's good and honest man full of great stories and songs and with big heart. Thanks Sunny :-)
Lenka
2015-06-19T00:00:00Z
Unfortunately I had to cancel last minute as my plans changed but Sunshine was good to deal with in organizing my stay, seemed very welcoming and accomodating so I would certainly consider staying next time I am in Penzance
Emma
2016-07-09T00:00:00Z
Lovely stay in Penzance. And Sunshine really made my trip! As he says in the self introduction, he was a builder and musician, and he loves reading, loves philosophy, physics and music. That's why he's always got loads of interesting stories to tell. He made me a cup of tea, showed me around from the city centre to the coast, guided me to a "strange" but lovely bar and also played guitar and piano for me. That was impressive. As for the accommodation itself, I would say it was basic, retro and "quirky." I'm the kind of person who like curios stuff so I was really into it. But I can tell that people who don't like it would really dislike it. Some reviews said the room was not that hygienic. Well, I was thinking of that too but then changed my mind as I could smell the soap scent of the beddings. They just look old. And I spent one afternoon just sitting on the bed by the window writing in the sun. Nice music, nice talk, nice host for the nice price, I would recommend it to people who're seeking for convenient and interesting stay in Penzance.
Kena
2016-08-16T00:00:00Z
Sunny is a nice guy, really enjoy his music. It is lovely. The bedroom is small and simple which only has one bed. But it is okay for one night rest. The location is near to the bus and train station, almost 15 mins walks.
Rong
2015-04-17T00:00:00Z
Sunny was extremely welcoming, giving me keys and offering me a cup of tea as soon as I arrived in Penzance. His house was friendly and interesting and the room itself was exactly as advertised. He never failed to make me feel at home, inviting me out to see him and his friends play at an open mic night and even inviting me to his son's birthday. I would definitely recommend Sunny's house, it's in the middle of Penzance and an easy walk from anywhere in the town. I'll definitely be staying again next time I'm in Cornwall.
Anthony
2015-05-22T00:00:00Z
Room Type
Private room
---
Property Type
House
---
Accommodates
1
---
Bedrooms
Penzance, United Kingdom
1

–

18

of

267 Home Rentals
Enter dates to see full pricing. Additional fees apply. Taxes may be added.