This cozy home is located in a gated community called El Cocal right next to the beach in Punta Yegua, Yabucoa, where the Atlantic Ocean meets the Caribbean Sea. It has three bedroom with two twin beds in each, full kitchen, full bathroom, and a large balcony with a hammock.
Perfect location in walking distance to private beach! Gated community, quite neighborhood. Couldn't ask for a better home
Maria
2017-01-28T00:00:00Z
Room Type
Entire home/apt
---
Property Type
House
---
Accommodates
6
---
Bedrooms
Yabucoa, PR, Puerto Rico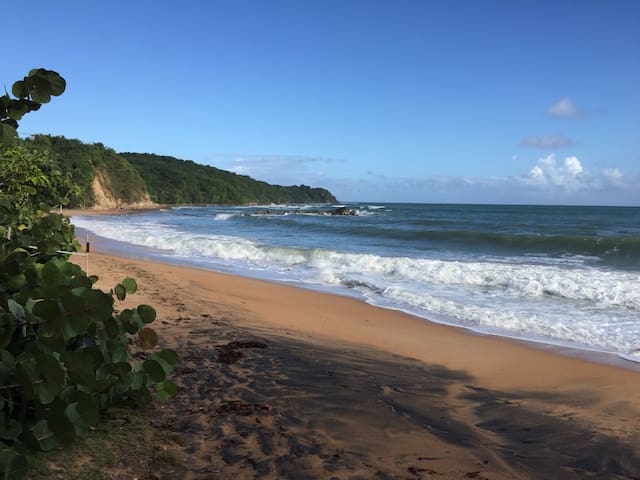 Charming and cozy beach bungalow in Patillas, PR. If your are looking to disconnect from the heavy and loud metro area this is the perfect place to be, relaxing and private beach access. Perfect for couples and romantic getaways.
Room Type
Entire home/apt
---
Property Type
House
---
Accommodates
2
---
Bedrooms
Patillas, PR, Puerto Rico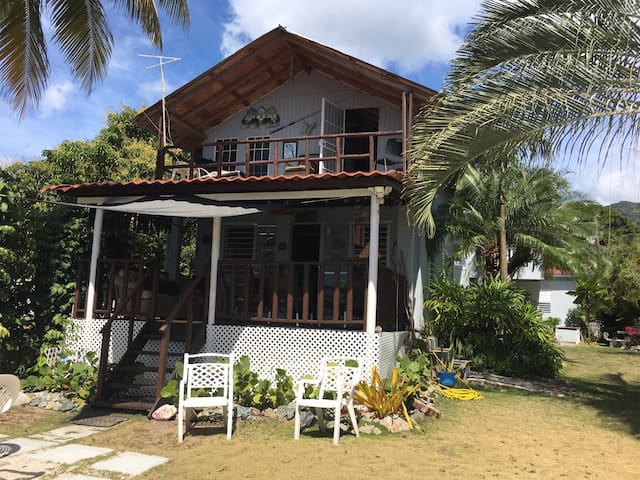 A true Caribbean Sea getaway paradise; located right on Playa Esmeralda (Emerald Beach), a quiet beach on the Caribbean coast near the town of Patillas, Puerto Rico. This home offers a beautiful private pool that is completely fenced-in
Located right on the beach. Beautiful ocean breezes, relaxing and away from it all. Authentic Puerto Rican restaurant just two doors down with outdoor seating next to ocean. Private enclosed pool over looking ocean. Outdoor seating, complete with all you need to prepare food, linens, towels
Our home/s are located in a quiet rural fishing village along the coast of the Caribbean ocean. Frequented by locals on the weekend and by tourist looking to get away from it all.
Wow, the ocean views! The pictures just don't do justice. Ocean Breezes is the perfect name, and the house was the perfect place for our family. The kids really loved having the pool and the hammocks, and they spent a lot of time walking the beach in both directions collecting rocks, coral, and sea-glass. My wife and I couldn't get enough of just sitting outside watching the waves roll in. Aida and Greg are very accommodating hosts in communicating with us prior to our trip to confirm our arrival plans, and in providing tips and directions to all the nearest restaurants and stores. They were very quick to respond to any questions we had. They made us feel comfortable even before we arrived. Once we arrived we were greeted by Hector who very pleasantly walked us through the house and showed us where everything was. The house was very clean and comfortable, and equipped with everything you would need to feel at home. Plenty of blankets, towels, bedding, and kitchen supplies. They also provided many outside accessories such as hammocks, lounge chairs, beach chairs, beach and pool toys, and more! An added bonus is the authentic Puerto Rican restaurant that is just a very short walk along the beach to get to. How cool is that? The food is great, and make sure you try the mojitos! The home is in a residential area that truly gives you the experience of Puerto Rican culture. The locals were very friendly and we felt very safe and comfortable. We can't wait to go back, and we would definitely stay at Ocean Breezes again(URL HIDDEN)
Jeff
2016-04-06T00:00:00Z
If you're looking for an uncovential relaxing beach stay this is perfect. Not a manicured beach, not surrounded by tourist facilities, and all the better for it! There's something magical about having your own view of and access to the sea, and listening to the waves. The hosts were a pleasure to interact with and gave us a warm welcome, but after that left us to relax. The house was spacious, very well laid out and perfect for eating as a family and watching the sea. The area is quiet and non touristy which was wonderful for us. Still there's a restaurant 30 seconds walk away, more options a short drive away and a fantastic supermarket in the town. We really had a perfect stay here and wouldn't hesitate to go back(URL HIDDEN)
Laura
2016-12-30T00:00:00Z
Room Type
Entire home/apt
---
Property Type
House
---
Accommodates
7
---
Bedrooms
Guayama, Guayama, Puerto Rico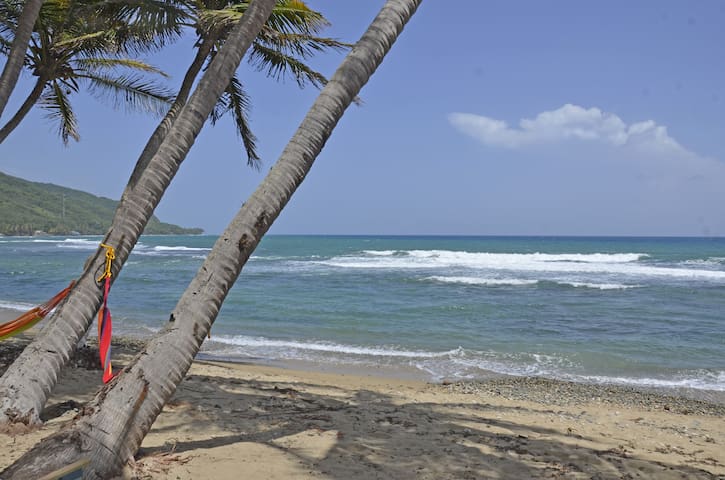 A completely furnished home, great for vacations in a cozy and relaxing atmosphere. Beachfront, a perfect place for paddleboard, jet ski, kayak and close to surfing beaches and local restaurants. Spacious house with all the commodities that will make this experience an unforgettable one. Escape to Villa Ensueño...Dream Villa
4 comfortable bedrooms, two bathrooms, parking area, big kitchen, BBQ, hammock, beach chairs, and a comfy living room. Beaches, restaurants, and nearby the town of Patillas. At check in, check out, and whenever the guest needs help. It is peaceful and accesible Close to the main road which leads to various other interesting places that are nearby. Completely furnished including kitchen utensils and bedding. Also includes air conditioning, fans and hot water.
It is peaceful and accesible
This was my first experience with an airbnb and ill say this im willing to do it again. Awesome location friendly and helping. Marisas house was awesome clean and beautiful. The place was exactly where i wanted to be across from the beach and near a large variety of places. She left us food in the fridge and she left bug replent for our skin. Overall great experience
Miguel
2016-04-29T00:00:00Z
Jose was very welcoming! He supplied all basic essentials to get started. I had a family of 9 and everyone slept comfortably! The beach was amazing! The house was very clean! Would like to stay there again when i come back !
Pj
2017-03-13T00:00:00Z
Marisa and Jose Miguel were wonderful hosts. We were all very comfortable in the house. They thought about everything, all the amenities you can possibly imagine. We loved having the kayaks, it was such a plus. The location was great, it had a beautiful beach across the park and a couple of restaurants in walking distance. I am grateful for Marisa and Jose Miguel's availability and promptness in responding to our needs. We were very pleased with the experience.
Marta
2016-01-13T00:00:00Z
Marisa's house is clean and fully equipped to enjoy your vacation
Antonia
2016-11-22T00:00:00Z
Marisa and Jose's place was more than amazing, the house came with everything a family could need to enjoy vacation. I came with family of ages ranging from 2yrs to 85yrs old and the property had something to please everybody. There was more than enough space even for our party of 8 which was amazing, so we kind of looked at it as a steal. Plus it's literally right across the street from the beach. I would recommend this property to anyone and I would bring my family back anytime!
Jovan
2016-10-30T00:00:00Z
Perfect place and peaceful to enjoy with family and friends I highly recommend.
Jose
2017-03-08T00:00:00Z
Very nice place!
MIndaugas
2017-01-22T00:00:00Z
Marisa and her husband were excellent hosts. My family absolutely loved their home and enjoyed our 6 night stay. They made sure we had everything we needed even when it meant they would go out of their way. Greatly appreciated their hospitality and would stay again and recommend this rental to anyone.
Veronica
2015-07-23T00:00:00Z
Room Type
Entire home/apt
---
Property Type
House
---
Accommodates
10
---
Bedrooms
Patillas, PR, Puerto Rico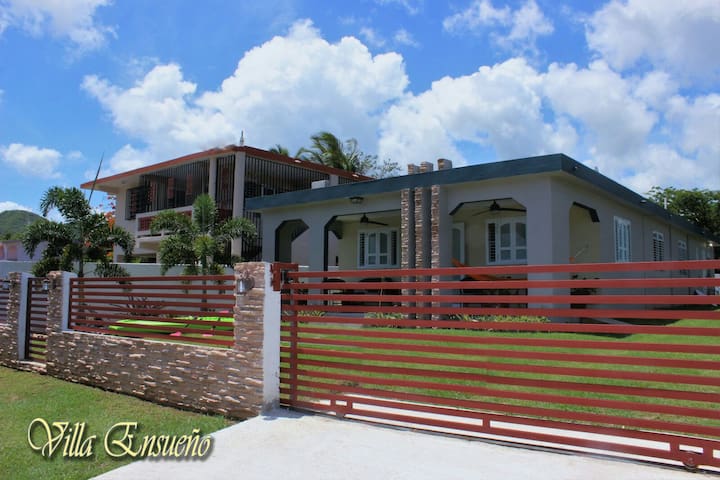 Casa Tropical is a large, comfortable and affordable vacation rental home with three bedrooms and two bathrooms on the main floor and an extra full bathroom downstairs by pool. Fully equipped with including washer and dryer. Space 1800 square feet.
Completely furnished with leather seating area in the living room and 2 TVs with cable and internet. It has a beautiful private pool that is completely fenced-in.
Old small rural town, once a fishing village, now a relaxing, get away from it all retreat. Popular with locals on weekends and Holidays. Has a authentic local flare.
The host canceled this reservation 49 days before arrival. This is an automated posting.
Becky
2016-02-21T00:00:00Z
Room Type
Entire home/apt
---
Property Type
House
---
Accommodates
11
---
Bedrooms
Patillas, Patillas, Puerto Rico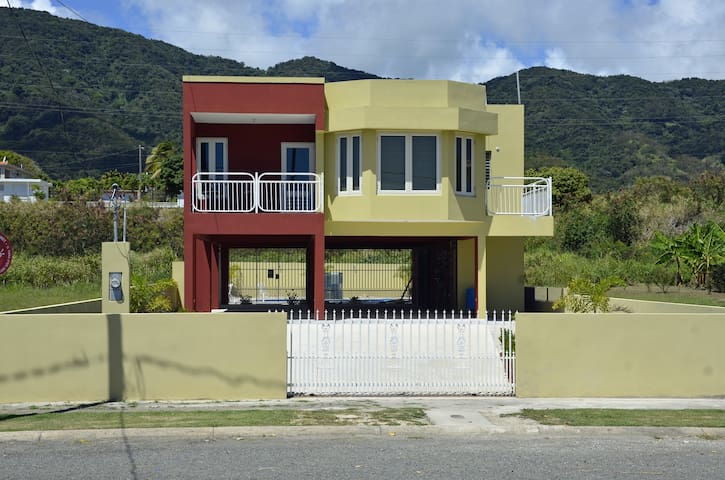 Brand New Listing! This beautiful 5 bedroom home sleeping from 8 to 18 offers an amazing location at the Patillas Beach Park! Most of the rooms offer a beautiful ocean view! This is a beautiful and very safe area.
Brand New Listing! This beautiful 5 bedroom home sleeping 18 offers an amazing location at the Patillas Beach Park! Most of the rooms offer a beautiful ocean view! This is a beautiful and very safe area located just 25 minutes south of Palmas del Mar! Besides the great price and lots of sleeping, and awesome location, the home has an outstanding private and very large walled yard with spacious swimming pool, hot tub, and spacious outdoor covered kitchen! It offers fabulous area for kids, parties and get togethers. Along with its location at Patillas Beach Park 10 steps away, you will never want to leave! There are 3 queens total (2 queens upstairs), 8 twins (two rooms with bunks and each with a trundle offering two twins) and 2 full size rollaways! There is a full kitchen upstairs, another downstairs, and a covered kitchen near the pool and hot tub! There are two dining area's and three living area's (One upstairs and two downstairs).
Near beach neighborhood. Very quiet place.
We stayed at this house a couple weeks ago with 7 adults and 7 kids. Having that many people, and not a huge budget, we were limited in our options. First, let me say that Jose (the property manager) and Kevin (the property owner) were super nice, very accommodating, and got us any items that we needed. It seemed to us that maybe they haven't rented out the house much because it was lacking in a lot of areas. If they just spent some time and money fixing the place up, it could be a five star house. However, it just didn't meet the expectations of the pictures or the description, which was pretty frustrating. So, below is my list of pros and cons for the house. Pros: · Jose and Kevin were super nice and got us anything we needed that we felt should have already been there. · The pool is nice and has a very private backyard (although the pool was smaller than it looked in the pictures… maybe 20' x 10' and the swing in the pictures is in pieces in the corner of the yard) · There's a half bath out by the pool. This wasn't in the house description, but was very useful with 7 kids! · Location across from park is nice. · The park has kiosks that are bars and turn into a pretty fun party on the weekends. · Price and # of rooms · Locals are very VERY nice and food is pretty cheap Cons: · The description doesn't state this, but these are three separate apartments. You can't get from one to the other without going outside. · None of the apartments have direct access to the back... you have to walk out the front and around the house. · There are no ovens in any of the apartments. · There are practically no kitchen supplies... you can fry some eggs, but that's about it. With 14 people, we were planning on cooking quite a bit, but we ended up having to go out for almost every meal because there were no kitchen supplies. · The outdoor kitchen is unusable. There's not really a countertop because the tile is only half in. The grill isn't even in this area. And the grill didn't have any propane in any of the tanks so we had to fill a tank… but the grill itself is still in pretty bad shape. · The pebble area around the pool is all coming up and makes it very painful to walk on with bare feet. You need to wear shoes anytime you're in the backyard because of this. · The interior of the house has holes in the drywall (within toddler height) and severe deterioration of the drywall. There are lights that are completely missing with exposed wires hanging out of the ceiling. It looks like there used to be ceiling fans in the main areas, but now it's just exposed wires. · The...
Beth
2017-03-22T00:00:00Z
Everything about the place was great! The house was very clean and orderly. The backyard, patio, and pool were very clean and very nice. We thoroughly enjoyed our time there and will definitely refer anyone to come visit.
Christopher
2016-03-25T00:00:00Z
The location of the house was great, across from a little beach park and a beautiful cove. The backyard was great for hanging out by the pool, although it is not a hot tub, there are some light jets but the temperature is no warmer than the pool. the grill should probably be replaced, works but slowly, doesn't get as hot as it should. When we originally arrived there was no towels, or paper products (toilet paper/paper towels) but someone dropped us off towels the following afternoon. We were out of power two of the says we were there, but it appeared the whole block was, and the wifi only worked for about 24 hours, José said the internet company was having problems so it wasn't just our house, again. overall my friends and I had a great time.
Erika
2016-12-15T00:00:00Z
The host canceled this reservation 133 days before arrival. This is an automated posting.
Rebecca
2017-01-13T00:00:00Z
I highly recommend this home for a family or group vacation. It's 1hr 1/2 from San Juan airport but we'll worth the commute. I stayed with a group of 19 total including kids and an infant and we were well accommodated. House has 3 kitchens 5 bedrooms 3 living areaspace and the backyard is amazing exactly like the pics.
Dolores
2016-05-11T00:00:00Z
Great for a secluded family vacation, wifi was good, enough beds for large group. Secluded beach through nice lil walk through some trees. May need toiletries and kitchen supplies
Brenda
2017-01-08T00:00:00Z
This house is set up more like a triplex unit than a house. There are two one bedroom, one bathroom downstairs that have separate entrances and one 3 br 1 bath unit upstairs. Bring your own coffee maker, plates, cups, and silverware as there was not enough in all of the units combined for the amount of sleeping places. There is no oven in either kitchen, so don't plan on any meals requiring one. The backyard is amazing, but has no direct access from any of the units. The public beach across the street from the house was very nice and clean. The water was very calm, and we enjoyed taking out the double kayak and exploring the area from the water. There was a dirt road at the end of the street that led to some amazing, shaded beach front spots that were way less crowded than the public beach. The beds were not the most comfortable, but were sleepable for a few nights. We wish we had known that it is not a connected house, but 3 separate units as we were having a family vacation and wanted to be in the same space together. The neighborhood was noisy at night, with loud music from cars, and one night coming from a group of 20 horses and riders with speakers hanging off their saddles at 2am. This is not a fault of the house, but just be prepared for loud music on the weekends. I would recommend bringing all of your hand soap, dish soap, and toiletries. The house was needed some maintenance in a few areas. All of the faucets leaked, one of the bedrooms had the plaster falling off one wall, the furnature was very used though functional, the surface in the back yard was very Rough in the places where it was degrading, and the kitchens both had seen better days. We did love all of the outside activities in the area, and we loved being able to walk across the street to the beach. We loved swimming in the pool which was very nice. Just know that it is not a luxury unit, and is more geared to be functional for sleeping lots of people.
Peden
2017-03-13T00:00:00Z
La vivienda era amplia, pero tuvimos varios problemas: 1. Dos cuartos inundados y no se pudieron utilizar. 2. No había Internet ni cable tv. 3. Llegamos un día más tarde y nos fuimos un día antes y no se nos dio ningún rembolso, a pesar de decirle al dueno.
Victoria
2015-11-13T00:00:00Z
Room Type
Entire home/apt
---
Property Type
House
---
Accommodates
16
---
Bedrooms
Patillas, Patillas, Puerto Rico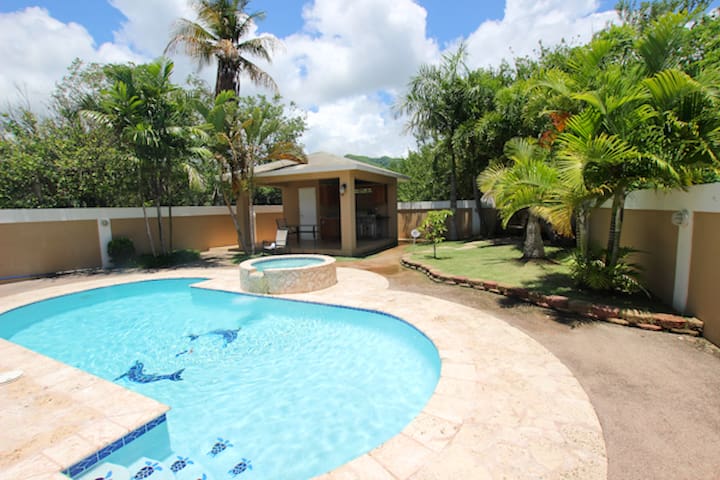 A very peaceful beach front place. You will enjoy and share an incredible and beautiful Caribbean sunrise and sunset. Stay includes play kayak to go to the reef near the house, outside BBQ facility and basic laundry.
This house was built with cross-ventilated rooms. This means you have no need for air conditioner units, neither in the more warm days. The house front is side by side front beach under roof terrace and an exterior area perfect for a good sunbathe.
The best Pubs, Sea Food and Puerto Rican coisine restaurant, and Natural Reserve area are within a half mile ( 1 km ) from the house.
The listing is not where the directions say it is but it is easy to find with Jose's help. The house has gated parking, good location, and if right on the beach. Restaurants and a bar are within walking distance and it is very near the major roadway in the area. I enjoyed my time there and would recommend it to others.
brian
2016-04-05T00:00:00Z
Jose was very helpful and responsive, we booked this place with a notice less than 24 hours. He gave us very good directions to find the house. This place is on the first floor of his house, he himself lives on the 2nd floor so you can just knock on his door if you have any questions. Everything was as described and depicted in the photos. We didn't find many other places to stay around Patillas so it's a good place to stay if you're hanging around in the South-West Puerto Rico. We stayed there on our way from Ponce to Fajardo.
Mari
2017-03-25T00:00:00Z
Jose was very helpful with finding the place and provided us with coffee and delicious fruit for breakfast. The view was wonderful!
lauren
2016-01-13T00:00:00Z
Room Type
Entire home/apt
---
Property Type
House
---
Accommodates
8
---
Bedrooms
Patillas, Puerto Rico, Puerto Rico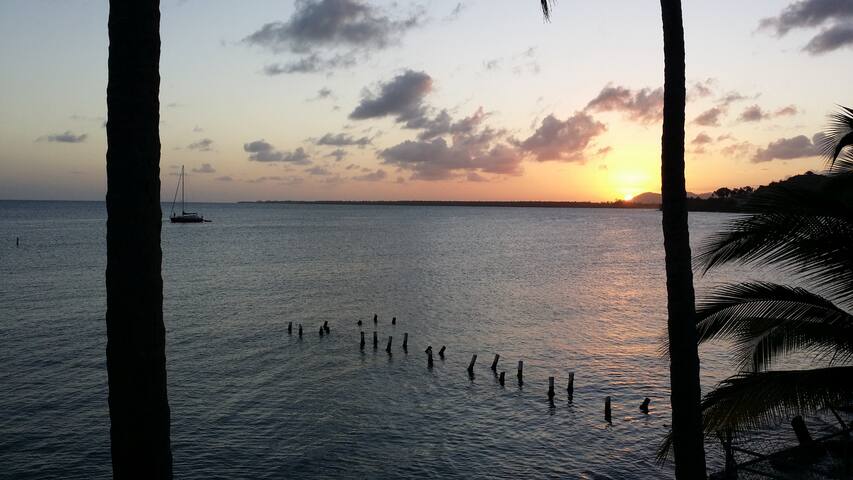 Patillas Villa Pesquera Beach house is perfect for larger groups and family gatherings in Puerto Rico. Located in Patillas, Puerto Rico's next to "El Balneario de Patillas", The house is a large, comfortable, two bedroom, and 2.5 bathrooms. Master with A/C only. The second bedroom only w fan.
Maria was a great host! Her home was beautiful and very spacious. Don't let her not being in Puerto Rico turn you off. Her communication is amazing and makes you feel like she's there. Robert her nephew is right next door which made me feel safe in an unfamiliar place! There was fresh linens and towels. Full kitchen and a grill our back. The view is stunning! You definitely get more than your money's worth!
Breanna
2017-03-24T00:00:00Z
My family love the place. A lot of space in the living room for different kind of activities...and people. The only thing was not enough kitchen supplies but we figured it out. Maria was lovely and kind with us and definitely we will rent in the future. Own beach and public beach and great restaurant walking distance. The public beach has a great place for kids to go and have a great time too.
Joselyn
2017-01-08T00:00:00Z
Private beach
Ilianette
2017-01-15T00:00:00Z
Beautiful place to stay, in a very spacious and comfortable home in front of the ocean! Great host by the name of Roberto and Maria and will go the extra mile to make sure you're comfortable and OK .I have no complaints great location a must rent!!
Jorge
2016-12-31T00:00:00Z
We felt as locals, Maria is a gracious hostess and the neighbors are very friendly. The property is walking distance from a restaurant and in the middle of a beach community that resembles more a large family. The house is comfortable, always hot water was available. Peaceful. We had a great time and did some tourism, sightseeing, got some great photographs. We would definitely stay with Maria again! ;)
Susan
2016-07-16T00:00:00Z
The host canceled this reservation the day before arrival. This is an automated posting.
Swati
2016-12-24T00:00:00Z
Great place. The house it's huge super comfortable, the private beach, the breeze... we loved it!!! Next time, we will stay longer!!! Thanks to the owner, Maria for everything!!!
Ely
2017-02-05T00:00:00Z
Room Type
Entire home/apt
---
Property Type
House
---
Accommodates
8
---
Bedrooms
Patillas, Patillas, Puerto Rico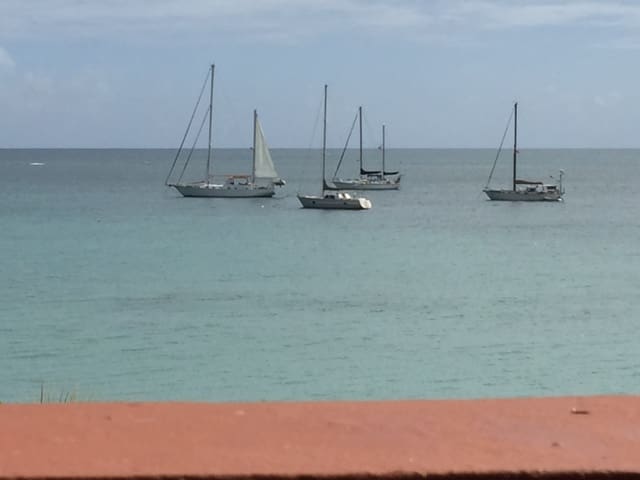 My place is close to the beach and family-friendly activities. You'll love my place because of the views. My place is good for couples, families (with kids), and big groups.
Room Type
Entire home/apt
---
Property Type
House
---
Accommodates
10
---
Bedrooms
Palmas del Mar, Humacao, Puerto Rico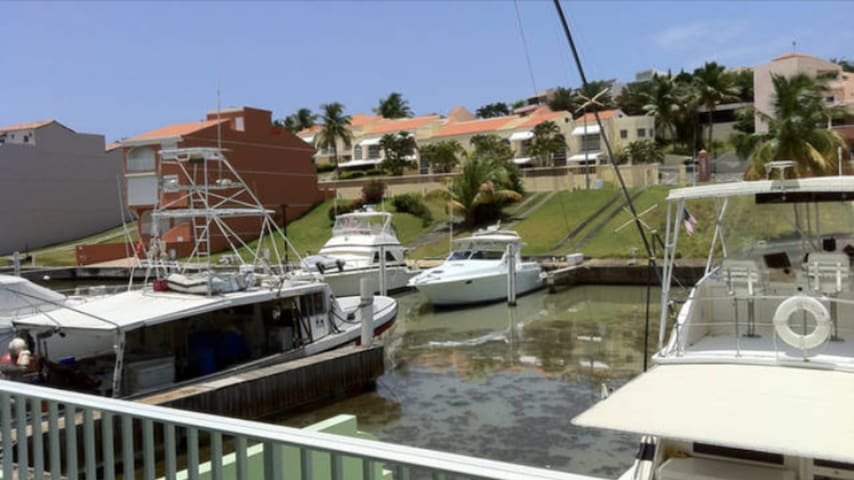 Modern, recently renovated 4 bedroom, 3.5 bathroom house with sweeping views of the ocean, marina and mountains. It's all about the views in every room! Located on a private cul de sac. Ocean breeze throughout. Full-power generator. Walking distance to 4 restaurants, hiking trails, and a short golf cart ride to the beaches. The house has a boutique-hotel vibe and sets your mind right into relaxation mode. Equipped with beach chairs and boards:) That's the Palmas life!
Three level townhouse with a King, Queen, two twins and a bunk bed. Perfect for 2 families of 4. Private pool. Recently renovated rooms- all very simple and sleek.
Palmas del Mar is a resort community with a school, bank, deli, plenty of restaurants, golf, tennis, equestrian center and of course beach. We raised our kids here for 10 years.
Room Type
Entire home/apt
---
Property Type
House
---
Accommodates
8
---
Bedrooms
Humacao, Humacao, Puerto Rico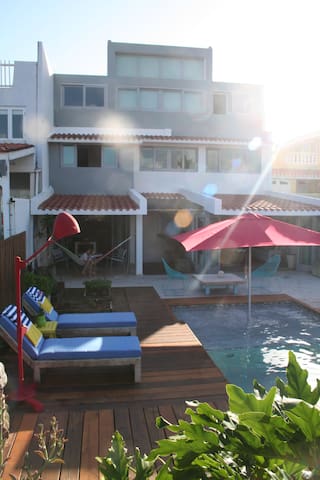 Private house located in Palmas Del Mar Puerto Rico. This is a 4 bedroom and 2 bath unit offering over 2400 sq feet of living space.
Wow, this place is a perfect location for a family or group. Large, nicely furnished and equipped with everything you will need. Lots of nice extras, even fresh flowers on the dining table when we arrived. Comfortable furniture in excellent shape and lots of hot water. We had eight people from 10 to 70 and everyone was comfortable. Close to restaurants, shopping, and a golf cart ride to a nice clean beach where we spent an entire day. Robert is a great host, he met us when we when we arrived, told us how to get around and suggested several spots to visit. We saw him several times around the area and he stopped to check on us. Each time we contacted Robert from booking to checkout, Robert responded quickly. Robert, thank you for making our stay wonderful. We really enjoyed your home and you were so helpful. We had a great time and your home offered a large open family area for us to spend time together as we started and ended each day.
Chris
2017-02-20T00:00:00Z
Good Night: Our stay in their facilities was spectacular and enjoyed. Everything was good clean and attention were very good. We want return to return next year. We suggest that there is a place for plastic recycling. Thank you for all! Eliazib Rivera
Ministerio
2016-07-28T00:00:00Z
The pictures don't describe the beauty of the house to its fullest. There was enough space for the nine of us. Robert was very helpful with our questions and concerns and was very timely with his responses. We couldn't have asked for a better host. Completely appreciative
Eleitta
2016-04-02T00:00:00Z
It was clean and very comfortable. Beautiful home!
Harold
2016-01-08T00:00:00Z
My experience with the host was incredible. Robert was extremely helpful and checking up by text message to make sure everything was going just fine. One of the Air conditioner stopped working and Robert took care of it right away. The listing went beyond what we expected, beautiful place, and beautiful neighborhood .and very secured. Amazing place to stay at. Me and my friends were a party of 7-8 and we definitely enjoyed our 5 day stay at this place and our rides to San Juan, Fajardo, el yunque, and Ponce., we are all in out early 20's and this was the place to (email hidden) going back soon and we are definitely staying here again! Thank You Robert!
Christian
2014-06-04T00:00:00Z
Room Type
Entire home/apt
---
Property Type
House
---
Accommodates
10
---
Bedrooms
Humacao, Humacao, Puerto Rico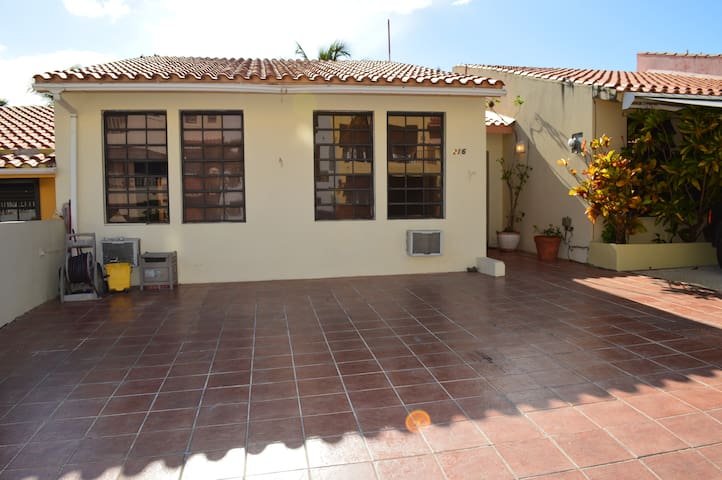 Treat yourself to the vacation of a lifetime! Create lasting memories in this luxury five bedroom oceanfront villa with pool and spa. The spacious indoor retreat with media room extends freely to the terrace and patio, with sun loungers and alfresco dining. Truly, this villa has anticipated your every need, and then some!
Commanding an elevated location with a sparkling ocean panorama, this 5 bedroom oceanfront villa combines modern design with ergonomic living that creates a soothing retreat from the stress of city living. This abode is brilliantly landscaped with a lush tropical vegetation surround and a brilliant selection of amenities and outdoor locations. Enjoy positions perched in a sun drenched location or shaded nook per your preference. The crystalline waters of the large pool and spa as well as that of the alfresco dining area with pergola capture spectacular, unobstructed ocean vistas. The terrace and patio are fully furnished with plush sun loungers and chairs for basking in the warm sunshine, so grab a book or friend and luxuriate in your private outdoor oasis. Inside, large and light-filled living areas provide a common gathering place to laugh, talk and relax. The living room extends freely onto the expansive terrace. For movie night with a bang, the spacious media room with projector screen becomes your very own private theater, so bring your popcorn and get ready for a true theatrical experience! A dining room with ample seating accommodates the whole family for diners or game nights. Of course, meal prep is a breeze in the stylishly efficient modern kitchen fully equipped with premium stainless steel appliances. As the day comes to a close, it is hearting to know a pampering retreat awaits you in your sumptuous bedroom suite. The master is especially luxurious with gorgeous dedicated spa-like ensuite that accommodates with jetted tub, separate shower and duel sinks. The master awaits your pleasure with TV and direct patio access for those nights when you wish to enjoy your nightcap to the soothing sounds of the rolling surf. Indeed, checking out of vacation mode will be near impossible with this stunning oceanfront villa! This property is professionally managed by Surfside Palmas Resorts. Our office is open seven days a week and available at all times for late check-ins, repair issues and assistance with transportation, car/golf cart rentals, excursions, in home chefs, and catering. If you are looking for the inside info on the best attractions and leisure activities, the best restaurants, nightlife and shopping venues, the best of everything – you have come to the right place. Our staff is well prepared to provide you with personalized recommendations and service to ensure a holiday that matches your needs and dreams. The Resort Community of Palmas Del Mar resides on the east coast of the Caribbean Island of Puerto Rico. The Resort has two golf courses, the largest tennis center in the Caribbean, a Wyndham Hotel and Casino, 20 restaurants, equestrian center, marina and yacht club and a 5-acre beach club complex all set on 2750 acres with 3 miles of coastline with strict access control and 24 hour security.
Room Type
Entire home/apt
---
Property Type
House
---
Accommodates
12
---
Bedrooms
Humacao, Humacao, Puerto Rico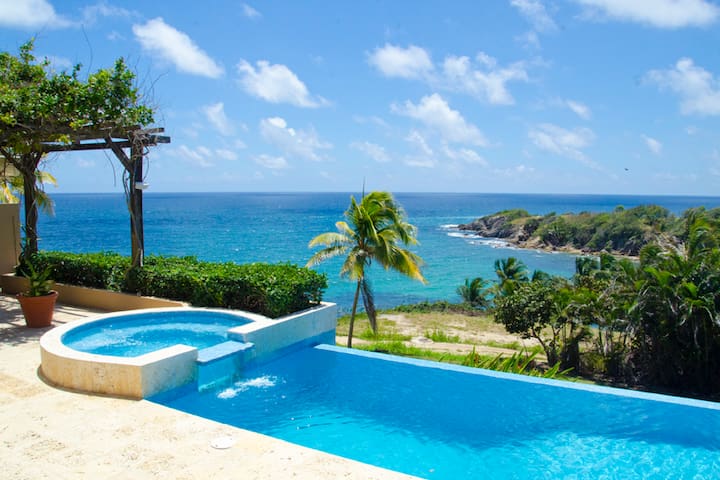 Spectacular Ocean View Villa at Palmas del Mar Resort with 5 bedrooms and private pool. Capacity 12 guests.
Your top choice for a spectacular ocean view villa located within the most exclusive area of Palmas del Mar resort. The villa is approx. 5,000 sq feet distributed throughout 6 floors. It is set atop of a hill where you can appreciate the most amazing views of the Caribbean Sea and the mountains. The villa is your perfect choice not just for small families who are looking for comfort at a great price but also for large parties who wish to book their villa near my other ocean view villas. It has 5 bedrooms and 4.5 baths, private elevator for easy access to all levels, private pool, several living rooms, 6 balconies, 2 large terraces, and a back yard. The Master bedroom is located on the highest level of the villa where you can appreciate the best view to the ocean. It has a walk-in closet, living room with amazing views from each of the two balconies- El Yunque Rain Forest from one side and the ocean from the other. The master bathroom is delightful! Decorated with marble & coral tiles, a jacuzzi and an open shower for a relaxing bath after a fun filled day. The large glass windows from the bathrooms overlook the mountains and the resort. On the fifth floor, you will find a small sitting area and a balcony, two large bedrooms and a terrace overlooking the ocean. The main living area of the villa is on the forth floor--intelligently designed to appreciate the beautiful view of the ocean and the mountains. Here you will find a large living room with a comfortable natuzzi leather sectional sofa, a dining room which sits eight, and a fully equipped kitchen with granite counter tops and and stainless steel appliances. This floor also has an ample balcony and a sitting room area to enjoy the ocean view; the patio/pool terrace; half bathroom, private pool, and a large backyard is located towards the west side of this floor. There are 2 bedrooms located on the third and second level of the villa. Both rooms are quite ample and each has its own private bathroom and balcony overlooking the ocean. Again, wisely designed to offer more privacy and comfort to everybody in the family. Bedroom Distribution: Floor 6: Master bedroom with queen bed, living room, 2 balconies, private bathroom with jacuzzi, and spectacular view to the ocean Floor 5: 2 bedrooms - One has a king bed and the other has 2 queen beds. Terrace with ocean view, balcony, washer/dryer room located in this level, and jack n jill bathroom. Floor 3: Queen bed with private bathroom and balcony Floor 2: king bed with private bathroom and balcony. Total of 2 king beds and 4 queen beds. Crib is also available and please inquire if you need additional sleeping space *Available only upon request.
Palmas del Mar is simply PR's best kept secret! Set in 2,750 acres of land with spectacular views of El Yunque Rain Forest, the Caribbean Sea, & beautiful landscapes. You can enjoy evening walks watching the sunset, as well as cruising the southeast coast of Palmas in kayaks. Municipalities in this region are: Maunabo - known for its 19th Century Punta Tuna Lighthouse (still in operation); Yabucoa known as sugar town. Among Yabucoas attractions is the old Hacienda Santa Lucia. Humacao is the largest city of the region and host of major hospitals, university campuses, shopping centers, and Palmas del Mar community. Las Piedras, known for its crafts artist and indigenous rock carvings. Juncos, Ciudad del Valenciano or the City of the Valencians (from Valencia, Spain) offers great Puerto Rican cuisine. Naguabo has the best seafood of the region. Ceiba counts with the Ceiba Forest a popular attraction for hiking and fishing of marlins.
There's no words to describe this place. Me and my long time friends just added another memory to our friendship. This is the perfect place to have a vacation.
Raymond
2017-02-21T00:00:00Z
Room Type
Entire home/apt
---
Property Type
House
---
Accommodates
12
---
Bedrooms
Humacao, Humacao, Puerto Rico
Hello everyone, welcome to our place!! Our second home for family and friends is a town house with parking space at front, living & family room, kitchen in 1st floor out in the back is a nice patio (shown in the picture) where there's BBQ and hammock between palm trees. Upstairs are two nice bed rooms and a Master Room with walking closet and Hot-Tub. At walking distance there's the nicest swimming pool ever and with a short drive in our golf cart you can make it to the beach and other places
Welcome everyone !!! Our second home for family and friends is a town house with parking space at front, living & family room, kitchen in 1st floor out in the back is a nice patio (shown in the picture) where there's BBQ and hammock between palm trees. Upstairs are two nice bed rooms and a Master Room with walking closet and Hot-Tub. At walking distance there's the nicest swimming pool ever and with a short drive in our golf cart you can make it to the beach and other places.... Palmas Del Mar is a huge gated community located in the east side of the island where visitors can enjoy playing tennis and golf and horse riding and there are several restaurants, beaches, hotel & casino, villas, marina, plaza, etc.
Room Type
Entire home/apt
---
Property Type
House
---
Accommodates
8
---
Bedrooms
Humacao, Humacao, Puerto Rico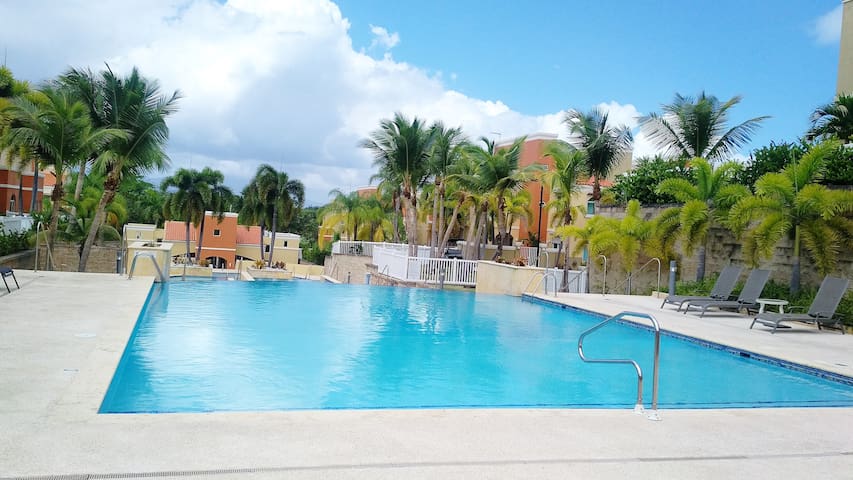 Penthouse in Palmas Del Mar Exclusive resort in PR. the Enchanted Island. 2750 shore line miles. Exercise, or jog on 1620 terrace while breathing ocean air. Rooftop pool, spectacular ocean view. 18 restaurants. All cuisines much more!!!!
Spacious cathedral ceiling Private Penthouse .Three bedrooms with 2 queen beds and another room with 3 twin beds. two full-baths (master bath has double vanities, and bidet). French doors throughout Private pool on the roof with breathtaking ocean view also 1620 sq ft, terrace including a hammock for relaxing and watching stars at night. Steps away from the beach.Resort has many amenities. 2 world class golf courses. Best Tennis Center in the Caribbean. Accommodation for up to seven guests comfortably. Private chef upon request.
You will have the most unforgettable experience visiting the Enchanted Island of the Caribbean. This resort is known as one of the best in the Caribbean. 2750 miles of shoreline. Golf, tennis, horsebackl riding.18 Restaurants to please any palet. Another feature close by is the Bioluminicent Lagoon, which is a spectacular phenomenon and one you cannot miss! 2. Beautifull Islands Vieques & Culebra, you can visit. Many other amenities.
Carmen is a very attentive, endearing host. Her home is lovely and well equipped. She had a family member greet us after a long over night flight and he was warm and welcoming and even brought along local bread and orange juice- very nice touch. The penthouse itself is gorgeous- with spectular ocean views and very nice furniture. You'll have everything you need for a comfortable stay. The place is spacious and was very clean. The apartment is located in a plaza center with a grocery store, small clothing store and restaurants, so you're steps away from the basics. We hung out in the pool area- we mostly had it to ourselves and it also has a gorgeous view of the ocean. The complex is safe and the grounds pristine. You can rent a golf cart and get a nice sense of all of the amenities. Overall, a very delightful experience.
diana
2015-07-21T00:00:00Z
I do not know where to start. Carmen and Kuco went above and beyond. Her place is a paradise on earth. Everything we wanted was in the penthouse. We barely bought anything. Carmen's home felt exactly like home. The place is exactly as described. The pool is for anyone who's at the building, however, we had all to ourselves. We went to Purto Rico for our honeymoon, we stayed at Carmen's place first, then the Hilton, and now I am at the Marriott, Carmen's penthouse was and still is by far the best place we stayed at. Thank you, Carmen, for making our experience one of a kind. I can't thank you enough. The plaza area was a plus, all the building staff were at their best, and they bend up and down to get you what you want. I will stop writing now, but, Carmen, I could write pages in here, and still I would not feel that I gave you or your place enough credit, thank you so very much.
Omar
2016-01-01T00:00:00Z
The place is just as d scribed. The view is incredible! Small con is very store and several restaurants right downstairs
Lisa
2017-01-05T00:00:00Z
Carmen and her cousin, Cuko, were extremely hospitable. Felt as though I was staying with family, but family who have a beautiful penthouse with amazing views. I can't decide which view I liked more, the one from the penthouse or the pool. Although my stay was short I enjoyed some of the restaurants and loved having groceries an elevator ride away. The hammock was put to good use bathing in the sun and the cool breeze coming off the ocean was welcomed. The area was safe and easy to access. My family loved and I loved it. This is my 5th time to Puerto Rico, but this was the most memorable in part to my stay at carmen's. Thank you Carmen and Cuko.
Christopher
2015-12-10T00:00:00Z
First time using Airbnb and as a result we were a bit nervous about what to expect. In our case the expectations were far exceeded. First, the accomodations. They were accurately described in the listing and the place was clean, well stocked and everything in working order (or promptly fixed). The picures of the views don't do it justice... they are fantastic. The roof top pool is shared by the building but for the most part our family had it all to ourselves (just watch the stairs they get pretty slippery as I painfully found out). Downstairs there are several restaurants and a market that has all the basic necessities. The staff at the restaurants were fantastic and went out of their way to be accommodating (especially at C-Bar). It is a short walk to the beach, children's park and other amenities. For our family with kids 3, 6 and 8 it was a great location. What made the accomodations so nice was the care and thoughfulness of the host. Carmen was tremendously responsive and although on the mainland made sure everything was taken care of. We met "Cucko" who got us parked and up to the penthouse. He and his wife were super freindly and made it easy for us to get in (and after 15 hours of travel with 3 small kids that meant a lot). The place was even decorated with christmas decorations and a small christmas tree. Carmen was so thoughtful she had hidden gifts (personalized for each kid) under the table the tree was on. They had some milk, eggs, juice and coffee so we had basic necessities for the next morning. My family (wife, 3 kids and mother-in-law) were so happy and had a great time. Carmen and her crew were great as were all the people we ran into in Puerto Rico. Everywhere there was a friendly spirit, smiling face and someone offering assitance. Would definitely go back again.
Dale
2015-12-27T00:00:00Z
We truly loved our stay at Carmen's place! The view was spectacular and the place was very well kept--definitely met all our expectations! It was so relaxing with the constant ocean breeze and sound of waves in the background. So beautiful!! It also was very easy to get around. There was parking in the private garage below us, so we had easy access to the penthouse via an elevator with all our luggage, etc. The condo was well stocked and had everything we needed to enjoy ourselves (beach towels, full kitchen, filtered water, comfortable seating on the patio). I definitely would recommend this place if you are looking to go to Puerto Rico!
Holly
2016-04-04T00:00:00Z
All about the view! Carmen's Penthouse is simply amazing. The view from the balcony, or should I say "private patio", is spectacular. On one side you have the ocean, the mountains on the other, and the rain forests beyond the rolling hills. Once you go through the gate on the 4th floor, you are "home". The patio wraps around the unit providing plenty of outdoor space to enjoy the sun and the views in complete privacy. We spent our evenings gazing at the night sky, tons of shooting stars. The place is immaculate, very clean and organized. The towels were really plush, better than the ones founds at many upscale hotels. The kitchen is well equipped, even though we only cooked once or twice. The master bedroom as well as the second bedroom each have a queen bed; the 3rd bedroom has 3 twin beds (all air conditioned!!). This unit is located on the top of the Palmanova Plaza Bldg. which has a few restaurants on the plaza level. We ate at Blue Hawaii twice and it was very good (try the Ma Po Tofu). There is also a market that sells basic provisions (wine!); it has a deli section that makes really good sandwiches. We rented a golf cart, very convenient to explore the area. Glad the resort police did not have a breathalizer! Our experience at Palmas del Mar was simply amazing. So hard to leave the place! Carmen gave us great information on the resort. She left a book in the unit with great information on the area. You really need 10+ days to fully experience what Palmas del Mar has to offer. I must not forget Cuco and his wife Carmen; they met us upon our arrival to give us the key to the unit and were most helpful. Really nice couple! Carmen's Penthouse is definitely the place. My husband and I are all about views. I can't imagine staying at Palmas and not having a view. We will be back...hopefully soon.
Emily
2015-12-08T00:00:00Z
The most enjoyable and unforgettable visit I've ever had in Puerto Rico. The day we arrived, my family and I were warmly greeted by Carmen and her cousin Cuko. In meeting them felt as if I've known them for years. The Penthouse was immaculately clean and ready to occupy. I felt right at home. The place overlooks a beautiful plaza called Palmas Nova, with a marvelous view of the beach, rainforest, and Isla Vieques. The Penthouse has everything you need, if it lacked anything, a convenient market is located right downstairs in the Plaza, you really don't have to go anywhere else. Being a bit handicap myself, the access to the Penthouse is great; Elevator, Walkways, indoor garage, etc. My wife enjoyed the complete privacy of sunbathing on the rap around terrace of the penthouse. The swimming pool is so refreshing after a long exciting day. The cross ventilation throughout the home kept us cool during the day and evenings. We rented a golf cart for $35 a day, worth every penny, making things so easy in getting around Palmas Del Mar. There is absolutely nothing negative to say about our experience. We are looking forward to visiting Palmas Del Mar again, and the place to stay is at Carmen's beautiful Penthouse. I cannot thank Carmen enough for everything. THE BEST!!!
Dennis y Pilar
2015-11-29T00:00:00Z
Room Type
Entire home/apt
---
Property Type
House
---
Accommodates
7
---
Bedrooms
Humacao, Humacao, Puerto Rico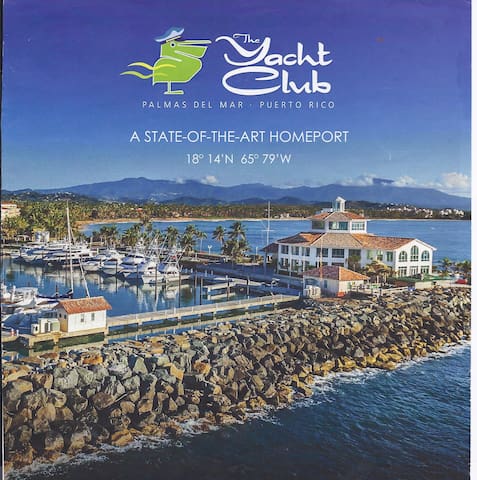 My place is close to the beach, restaurants and dining, great views, family-friendly activities, and nightlife. You'll love my place because of the location, ambiance, people, and outdoors spaces, .
Room Type
Private room
---
Property Type
House
---
Accommodates
2
---
Bedrooms
Humacao, Puerto Rico
Best Location At Palmas Del Mar Club Villa Beach Front Two (2) story villa / two (2) bedrooms / two (2) bath / master king bed and balcony. Fully equipped kitchen / fully air conditioned / bbq / indoor and outdoor terrace / music system ipod ready /
We loved the nice access to the beach and the quiet area. Carmen was always very fast to answer any questions that we had - thanks
Marianne
2016-12-31T00:00:00Z
Fantastic view of ocean. Great beach steps away. Very centrally located near the main center of Palmas. If you are considering staying in Palmas, book immediately, this lovely place will be enjoyed by someone else for sure as it will rent quickly. Great kitchen, internet, TV and a very quiet sitting area to listen to the waves crashing on the beach. Enjoy
Ed
2016-12-08T00:00:00Z
Great location! House is so comfy, Loved listening to the ocean. We could walk to the beach bar and close to the Plaza shops. Great Italian Restaurant close also.
Kathleen
2017-02-27T00:00:00Z
Best location in Palmas ! Villa was very .comfortable and accessible. The view from the terrace to the beach incredible. Would recommend to anyone ! The host made it very easy to check in and out, we enjoyed our days to the maximum. We'll be back !
Victoria
2016-03-29T00:00:00Z
Room Type
Entire home/apt
---
Property Type
House
---
Accommodates
6
---
Bedrooms
Palmas del Mar, Humacao, Puerto Rico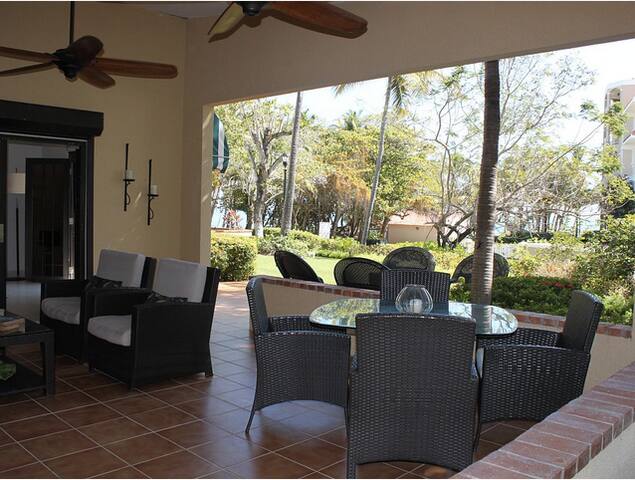 This is a 4 bedroom 2 bath unit located in Palmas Del Mar Puerto Rico. This unit has 3 levels and offers over 2400sq feet of living space. The driveway can accommodate 2 vehicles and additional parking on the block. You are also provided with a 4 passenger golf cart with the rental unit. Minimum 3 night stay
The host canceled this reservation 15 days before arrival. This is an automated posting.
Janning
2016-12-18T00:00:00Z
The host canceled this reservation 53 days before arrival. This is an automated posting.
Susana
2017-02-19T00:00:00Z
The property is great for big families. The golf cart was great for getting around. We had a very good time in Palmas Del Mar
Stewart
2017-01-02T00:00:00Z
Great villa! It has all you need. Robert was available all the time to answer out questions.
Patricia
2015-05-25T00:00:00Z
Room Type
Entire home/apt
---
Property Type
House
---
Accommodates
10
---
Bedrooms
Humacao, Humacao, Puerto Rico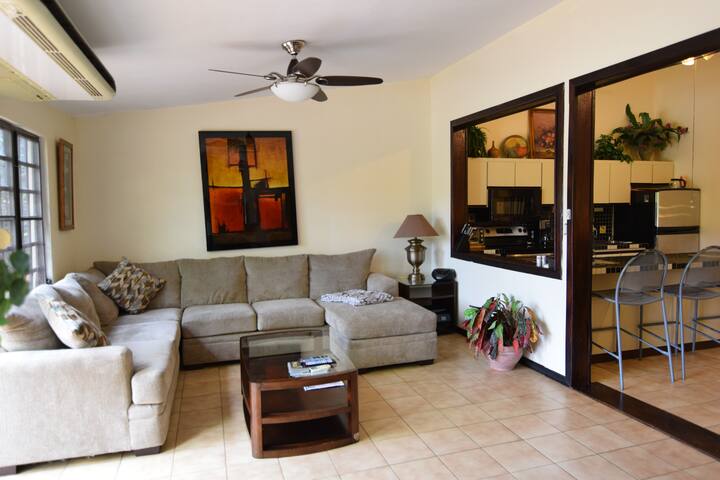 Maunabo - Airbnb
:
Average

4.23

out of

5

stars from

62

guest reviews
1

–

18

of

40 Home Rentals
Enter dates to see full pricing. Additional fees apply. Taxes may be added.