A quiet, cozy bedroom & bathroom on the ground floor of a beautiful, modern new home in a verdant, friendly Southeast Portland neighborhood. Enthusiastic greeting by very friendly dog & cat comes standard!
PLEASE READ THE ENTIRE LISTING BEFORE REQUESTING ACCOMMODATION. As a courtesy to our guests, our check-in time is 3:00 pm; however, as we both work weekdays, we cannot have the rooms ready until 5:00 or so. What this means is that our guests are welcome to make themselves at home in their living room or just drop their bags off and head out exploring, but they won't be able to rest their weary heads or hit the showers until we've had a chance to get home and tidy up. (PLEASE NOTE: This listing highlights the primary guest bedroom available, but for parties of 3 or 4 people, we do have a secondary bedroom that also features a queen-sized bed. All guests share the same bathroom, but the second bed shown on the listing is NOT in a common space, it is in its own private bedroom.) There is almost an entire floor available in our brand-new home smack-dab in the heart of fun, accessible Southeast Portland! This means that our guest(s) get not only their own quiet bedroom, but also a private full bathroom AND their own nicely-appointed living room (please note: the first-floor living room is NOT private, as it does not have a ceiling and is the way between the front door of the house and the stairs to the second floor). We are steps away from a frequent-service bus line, a terrific sandwich shop that's open for breakfast, lunch AND dinner, a pizza joint, a Starbucks, and, best of all, a Trader Joe's! The house is about two miles south of the trendy Hawthorne district, one mile south of nationally-recognized Division Street, and about four miles east of downtown Portland. The house itself is a beautiful, soaring Doug Fir- and hemlock-constructed dream home decorated with one-of-kind glass art pieces and potted succulents. Our guests have access to our fabulous kitchen in addition to their own first-floor amenities. We have a very friendly housecat you will likely meet during your stay, but the guest bedroom and guest bathroom doors are kept closed for the comfort of allergen-sensitive guests. We also have two friendly dogs who will greet you eagerly upon your arrival, but who otherwise spend their time hanging out with us and don't wander much to the guest floor. Lastly, to our guests during the colder months: the guest floor tends to be the coolest in the house, and we provide space heaters and afghans for your comfort, but we figure we should let you know ahead of time that if you run cold, ours may not be the ideal place for your stay.
Our neighborhood is so great! We are really close to several cool Portland hubs, but we're on a relatively quiet residential street so we truly have the best of all worlds.
Friendly hosts, tastefully decorated house, awesome layout, convinient location... all made our short stay pleasant. Felt a bit odd to open kitchen cabinets to find cooking pans and untesil even the hosts were totally cool. Both pets were friendly. Kids loved to play with them, no sure if they shared the same interest :-)
Laurie
2016-08-12T00:00:00Z
Our host was not there to greet us, but they communicated really well to let us into their home. Their home is extremely welcoming and conveniently located. Sadly, I fell sick and we didn't get to explore much of Portland, but thankful their place was rather homey enough to be comfortable and sleep off my cold. I only hope I can go back to their home and explore more of Portland next time.
Vanessa
2014-12-30T00:00:00Z
This was my first time using airbnb and it was great! Brad and Becca are real cool people! Only chatted for a bit because my friends and I needed to try every restaurant possible. Their home is really nice: clean, quiet, and relaxing. I'd definitely stay with them again! Thanks for making my first airbnb stay a great experience.
Katherine
2014-01-20T00:00:00Z
Brad and Becca are great hosts. Their place is spotlessly clean and provides comfortable accommodation. I had extra luggage to store while there and they had no problem accommodating me.
Camille
2014-11-21T00:00:00Z
Amazing guests and the treehouse is indeed inspiring. There is nothing like wooden floor! :)
Emanuel
2015-03-13T00:00:00Z
Brad and Becca's home was beautiful and very comfortable. They provided plenty of extra things for their guests including a white noise machine, which was welcome as I use one at home. Their map of Portland and places to eat is both beautiful and useful. Unfortunately, I did not get a chance to meet Brad and Becca (my partner and I were in town for a short overnight stay) but everything I needed was available and they were quick to respond to any messages I sent. Their friendly cat was there to welcome us and make us feel at home. I would gladly stay at Brad and Becca's home again, and would highly recommend it to others.
Tracie
2016-04-01T00:00:00Z
Our stay at Brad and Becca's place was excellent! The place is just as pictured -very charming and cozy. They provide everything for a comfortable stay. We only met Brad and he had great suggestions on places to go and explore. Highly recommend their place if you're travelling to the Portland area.
Eulisa
2016-11-16T00:00:00Z
The Treehouse was such a phenomenal and unique experience! By far the best time I've ever had in an AirBnB rental. You both were so accomodating and friendly.
Jaylina
2015-12-17T00:00:00Z
Room Type
Private room
---
Property Type
House
---
Accommodates
4
---
Bedrooms
Portland, OR, United States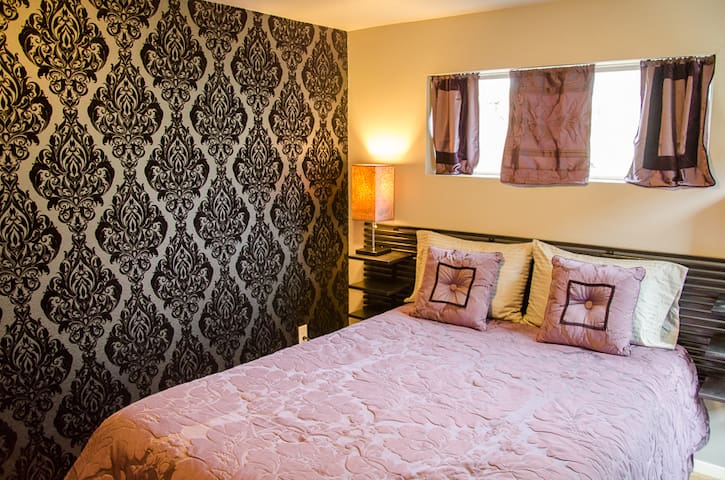 Relaxed + modern one bedroom basement apt. Bright + spacious with a handmade Portland touch. Comfortable for two, it's a great home-base for the traveller wanting to explore PDX! Located in charming Woodlawn neighborhood. Near the park, bars and bus lines.
Handmade by us! We're a craftsman and an interior designer who are not afraid to get our hands dirty. Stay in this remodeled basement where every detail was thought, planned and carefully constructed. We value high-end, conscious design. Our motto is maintain, reclaim and sustain. All of the exposed wood was salvaged from this 100 year old home! We love our house and hope that you do too. It's a great, peaceful place to crash at the end of the day. A plush queen sized bed, a huge doorless walk-in bathroom (ie. divided by a wall), glass walk-in shower and a tiny but efficient kitchen were top priorities when we made this place. The kitchen has dishwasher/fridge/oven stocked with all the pots/pans and plates to make a nice meal at home. Its always a shifting art-installation, so don't be surprised if the art in the listing photos change. We like to collect art and objects during our travels.
We're one block from 2 major bus lines (the 8 goes to downtown) and our neighborhood market, P's & Q's. 3 blocks from Woodlawn park + 5 blocks to our neighborhood hub: breweries, dance hall, coffee shop and restaurants. Woodlawn is a great area and closely located to Alberta Arts District, Mississippi and Kenton.
We stayed over two nights on either side of a trip to Hawaii, due to overnight layovers at PDX. Anna & Jeremy were very communicative from the get-go, via Airbnb messages and then text. Very welcoming and accommodating for our late arrival/early departure. Really nice space, a separate basement apartment, and with great character. I wish we'd been in the area longer and had the ability to enjoy it more! But very near the airport (10-12 min cab ride) and much nicer than spending the night at the airport. Quiet neighborhood with some restaurants/cafes with walking distance.
mei
2015-01-12T00:00:00Z
We really had a great time staying at Anna & Jermy's apartment for two nights. Their apa rtment was well designed, and the interior was just awesome. Privacy was well kept. We really have to thank Anna & Jeremy for being so friendly and flexible too. On the first day, We wanted to check in early because we had a lot of luggage with us, but they were kind enough to let us in early for our check in, which helped us a lot. They also had a nice and quick response, which was very helpful to deside our schedule.
Yuta & Maiko
2014-09-17T00:00:00Z
Anna & Jeremy's space is surreal. Unbelievably and impeccably decorated. We were tickled. They were great with communication--made our stay smooth and seamless. I would highly recommend their space to anyone. Conveniently located to a lot of great restaurants and bars, but situated in a quiet neighborhood in NE. Great spot, great stay. Thanks both!
Jessica
2015-09-09T00:00:00Z
Portland is an awesome city and Anna and Jeremy's place is the perfect base from which to explore it. Their design taste is absolutely impeccable which makes staying with them a pleasure. Anna did literally everything she could have done to make our stay a memorable one and gave us some awesome hiking, food (Alberta Street right around the corner rocks) and shopping recommendations. If we come back to Portland, or rather when we come back to Portland we'll stay with Anna and Jeremy again.
Jenna and Joseph
2015-09-24T00:00:00Z
The place and host were wonderful - superb communication, flexible, warm, and welcoming. They went above and beyond by reciving an Amazon box we had shipped there, provide extra blankets for us, and even called to let us know we forgot our toothbrush! The space is beautiful with great natural light and a shower that will make you want to renovate. Wonderful interior accents that will inspire. Woodlawn is a great neighborhood a short walk to Woodlawn cafe for coffee and breakfast can be had as early as 630 AM - there is a great park nearby. Markets nearby and a short walk to Alberta district. Thanks for a short but real sweet stay to these two - Hats off - wonderful experience.
Whitman
2016-07-11T00:00:00Z
We loved this space! The neighborhood is wonderful and we spent a few hours exploring the area by foot. Anna made a great dinner recommendation and made us feel very welcome. She had a lot of resources available for us about Portland and the neighborhood. The space is lovely and inspired us to want to make some changes to our house! We plan on returning to Portland to spend more time and this will be our first choice of places to stay!
Sara Jean
2015-10-12T00:00:00Z
Great location that is easy to get to and from all parts of Portland. Very convenient to the Columbia river gorge. The unit itself is so nice! We loved it. And the bed is very comfortable!
Greg
2015-09-07T00:00:00Z
The place is as cute and perfect as the pictures - super clean, modern and very comfortable. We loved the neighborhood, especially the market nearby. Anna and Jeremy were kind and welcoming and let us do our thing. We would stay here again, 100%.
Stephen
2016-06-12T00:00:00Z
Room Type
Entire home/apt
---
Property Type
Apartment
---
Accommodates
2
---
Bedrooms
Portland, OR, United States
Newly constructed in 2016, this modern and private detached garden studio sits in the heart of a quiet residential neighborhood and is a short walk to top restaurants, food carts, and shops in hip SE Portland. The space is compact -- about 240sf-- but cozy, bright and a great place to unwind after a day of exploring Portland!
Our light-filled, cozy studio includes a comfy queen bed, vaulted ceilings, skylights, air conditioning, full bathroom, kitchenette, and small sitting area. It's fully detached from the main house, so offers complete privacy. Floor-to-ceiling glass windows provide views of the west hills and french doors lead to a private outdoor sitting area. It's small --about 240sf-- but the space is well utilized with many amenities such as wireless bluetooth speaker, Portland maps and guides, and comfy pillows and blankets to make it feel like home. The studio has a full bathroom with shower (no tub). The kitchenette includes a small fridge, sink, instant hot water, coffee maker, coffee press, microwave and everything you need for reheating leftovers from the fantastic restaurants and food carts nearby. Complementary tea and coffee are provided along with a long list of restaurant recommendations. There's a growler available for filling, which you can do at The Imperial Bottle Shop on Division Street and at many local breweries and grocery stores nearby.
We love living in the heart of the Richmond neighborhood! Nestled on a quiet, residential street, we're within walking distance to hip and eclectic restaurant and retail districts of SE Portland. A 4-block walk brings you to a bus stop that can get you most anywhere else in town. A short walk from the studio brings you to food, shopping and entertainment (to name a few of our favorites): Restaurants: PokPok, Ava Gene's, Bollywood Theater BEST Food Carts in Portland: Tid-bit and Cartopia Cart Pods Bars: Whiskey Soda Lounge, Imperial bottle shop, Hopworks Brewery Bakeries/Coffee Shops: Little T, St Honore, Grand Central Ice cream: Salt & Straw, 50 Licks, Ben & Jerry's Grocery stores: New Season's, People's Co-op, Safeway Boutiques and vintage shops on Belmont, Hawthorne and Division streets. Powell's Bookstore on Hawthorne. Independent movie theaters: Clinton St. Theater, Cinemagic, McMenamins Bagdad theater and pub City parks: Sewallcrest, Mt. Tabor, Laurelhurst
This place is perfect! Melissa is really sweet and helpful. Communication couldn't have been better. It is clear that they really put time and thought into creating this space. It's extremely relaxing and beautiful. The location couldn't be any better, you're close to buses, great food, and cute shops, but it still feels quiet and private. We spent our mornings sipping coffee and listening to music on the bluetooth speaker. An amazing find on Airbnb: Book it now! Thank you for having us!
Maggie
2016-08-07T00:00:00Z
The hosts greeted us when we arrived and said they were available for any questions or suggestions. On one day when they left the area, we were informed and told to text them with anything we needed. The reviews are all excellent because it's a beautifully designed place to stay in a great, convenient neighborhood. Melissa and Brian made our first trip to Portland a great experience. Thanks for sharing your space.
Carol
2016-09-15T00:00:00Z
What a fantastic stay. Melissa really accommodated us for our "staycation." Highly recommended!
David
2016-07-15T00:00:00Z
Beautiful little spot in a delightful residential area. The description and pictures were spot on. The hosts were truly delightful and very accommodating. I literally felt like I was a resident of Portland during my stay. Absolutely perfect.
Greg
2017-02-22T00:00:00Z
Great place tucked behind their home. Our hosts were friendly and helpful! Small studio with bed, seating area, and kitchen counter space. Cozy and great for the long weekend!
Virginia
2017-01-23T00:00:00Z
We loved our stay at Melissa and Brian's studio. The photos were accurate but it's so much better in person. The view outside the back windows overlooks so much greenery (even in winter) with the hills of Portland beyond that. Bed was super comfy and everything was spotless. Plenty of linens and toiletries provided, as well as coffee, a nice tea selection (sorry we wiped out your earl grey!) and other treats. The studio is also a very short walk from Division where you'll find some of the best restaurants like Pok Pok, Salt & Straw, and Ave Gene's (some of the best pasta I've ever had). The is also a large area of food trucks to check out. Check-in is very easy and Melissa and Brian were always a text away if needed. The is hands-down the very best Airbnb we've had the pleasure at staying in!
Michael
2016-12-08T00:00:00Z
Listing was completely accurate! It was exactly what we expected. Very comfortable, cozy and private. Neighborhood was great. Very walkable to restaurants and shops. Our hosts, Melissa and Brian were very warm and friendly and provided us with lots of information of local eateries. Kitchenette was well appointed and had all that we needed. Including coffee and half and half! Studio was perfect for us, visiting our daughter, giving us a warm and homey place to rest our heads! Would definitely stay there again!
Lori
2016-06-22T00:00:00Z
If this AirBnb is available to book, request to book it now before its too late and someone else reserves it. -We had our eye on this Airbnb and every time we checked, it was not available until a week before our visit and we saw it available. Without any hesitation we requested and within a couple minutes Melissa responded. She is easy to commnicate with and when we met her for check in, she was sooo down to earth. If i can sum up our experience with one word... it would be awesomelysuperfivestarairbnb!  -thank you Melissa for everything!!!
Calvin & Joylin
2016-11-14T00:00:00Z
Room Type
Entire home/apt
---
Property Type
Guesthouse
---
Accommodates
2
---
Bedrooms
Portland, OR, United States
"This is Officially the Coolest Treehouse in the World" -Condé Nast Traveler Entire lower level guest suite with sitting room, bedroom, private bath, mini-decks, and endless views. A web search for "This is Officially the Coolest Treehouse in the World" leads to a short video of the residence.
Located in SW hills, one mile from OHSU near Council Crest. Three miles from downtown Portland. Entire lower level guest suite including bedroom with queen bed, private bath, sitting room designed for lounging with comfy long sofa and bench table for placing ones feet or coffee upon, mini-decks, and shared laundry room.
House resides within 175 acre Marquam Nature Park with miles of trails for hiking or running. Three miles from downtown Portland.
Loved staying at Lance's! Adorable kitty, amazing views, and a friendly host. Everything was perfect and as described.
Kiran
2016-08-26T00:00:00Z
I can't begin to speak highly enough of lance, and his home. Lance is such a great host and a funny guy, very kind and welcoming. He made us feel at home right away and told us some great stories. His cat bukowski is amazing too. The space is gorgeous and has a breath taking view. We would love to come back. We stayed for one night and it was amazing.
Alexander
2016-10-19T00:00:00Z
The Tree House exceeded expectations: Lance, our host, extended his wit, implacable taste and a telescope for us to view the Blood Moon eclipse.
Sean
2015-09-28T00:00:00Z
Lanced welcomed us in and the check-in was very easy whether he would have been there or not. Spectacular views and very, very clean!! Loved the tips on where to hike to watch the sunset. Enjoyed finding out about the history of his home. Fun time!!
Roberta
2015-06-29T00:00:00Z
The house was just as beautiful as listed. Lance was very welcoming and more than happy to suggest places to eat or things to do. The view the first night was breath taking- the city lights brightened the sky. The sunrise in the morning was perfect to wake up to. Overall this was one of the coolest places we could have stayed for my first trip to Portland.
Rachel
2015-04-27T00:00:00Z
Lance was a great host. The house had stunning views even with the gloomy weather during our stay. Lance gave us great restaurant recommendations and made us coffee in the morning. If you're in the Portland area and are looking for a cool place to stay this tree house is for you. It has everything you need and it overlooks the city which is only a few miles away.
Nelli
2015-11-17T00:00:00Z
My daughter and I had a great time staying at Lance's treehouse. Wish we could spend more time there. We will definitely come back to stay in the treehouse when we return to Portland next time.
Tina
2016-09-08T00:00:00Z
We really enjoyed our stay at Lance's treehouse. It is an architectural gem, with an interesting history behind it, and yes the view is Spectacular! Lance is a great host and so is his cat, Bukowski ;-) It was a real treat to experience Portland with Lance. We thoroughly enjoyed our time with him. We were definitely dragging out feet when we had to leave as the place is so magical.
Lynette
2016-12-04T00:00:00Z
Room Type
Private room
---
Property Type
House
---
Accommodates
2
---
Bedrooms
Portland, OR, United States
Cute little Tiny House! It used to be our boys' fort when they were young, now it is a comfortable little retreat for adventurers exploring Portland!
Cute little back yard "granny flat" cottage located near Mt Tabor park in very desirable neighborhood! The cottage is "Portland Style" construction with excellent insulation (R30), new windows, etc.. Great host, free internet, parking, furnished living space that is quite private.. I absolutely love to cook (growing up my parents owned a restaurant), and a made to order hot breakfast is included! Menu items range from homemade granola, homemade biscuits, Lisa's secret-recipe-fried potatoes, and much more! The cottage contains an upstairs bedroom & sitting area. Note: There are steep stairs, so please take that into account if you have joint pain, etc... The QUEEN size mattress is new and comfortable. Downstairs there is a small kitchen with stove, microwave and under the counter fridge. Also downstairs is a full bath with ceramic tile shower. Coffee maker and freshly ground coffee provided in the cottage. Guests are welcome to use washer/dryer in main house. Guests have use of the back yard with fruit trees and some berries when in season. Also the cottage is within walking distance of Division street shops, Pizzicato pizza, the 52nd & Foster street Food Carts and much more. The # 4 bus is just a block and a half away, which can take passengers west directly downtown. The "(URL HIDDEN) app or website is easy to use & can help you get you anywhere from the airport, to downtown, to Powells Books, The Chinese Garden, and so on.
South Tabor Neighborhood is a quiet eclectic little neighborhood with many avid gardners, friendly neighbors, and gobs of dog lovers. We have community get-togethers, work parties, and holiday celebrations! If you are used to neighborhoods where no one knows each other or even speaks to each other this is definitely NOT the neighborhood for you :-D
We liked the cottage though it is quite small with a stairway to the upper level bedroom + living room. The bed was a bit narrow for two. Perhaps not ideal for tall, large people or those who don't like stairs. Lisa was very kind, helpful, and cooked great breakfasts!
lauren
2014-01-29T00:00:00Z
We loved our stay at the South Tabor cottage. Lisa and her family were lovely hosts and made us feel welcome right from the start. The cottage was clean and tidy and we loved having the fridge and kitchen area! And, Lisa's breakfast menu was amazing! The eggs benedict were fabulous and it was so relaxing to wake up and enjoy her cooking. Fantastic! The cottage is so cozy and we loved the windows upstairs. They let in so much light and we enjoyed reading and relaxing with a coffee in this beautiful neighbourhood. The cottage is near many places to eat and enjoy good coffee. We went for daily walks with our dog to the off leash park at Tabor mountain so this was a perfect location for us. We loved being away from downtown and more in the neighbourhoods of Portland where it was quieter and better for our dog. Great stay!
Melanie
2015-03-18T00:00:00Z
We loved this spot for our staycation
Jacque
2016-10-01T00:00:00Z
Lisa is a good host. She was prompt in responding to my questions, and was very flexible with my uncertain and late check-in. The place was very clean and comfortable, and was perfect for me. It is a nice, cozy spot in a very nice part of Portland, close to good cafes and restaurants. The cottage is in a good neighborhood, and was quiet. I highly recommend Lisa's cottage! Mark
Mark
2015-04-19T00:00:00Z
We all have a wonderful time stay with Lisa in South Tabor Cottage,The on demand breakfast is so Yummy. The location is good, safe,private and quiet, also you can take a bus to go anywhere in this town. We so happy to stay here and strongly recommend!
Sorachak
2016-04-08T00:00:00Z
Great service, great location and fun place to stay.
Adam
2016-08-21T00:00:00Z
We only had a short trip, and during that time, we were out early and back to the cottage late, but the place was exactly as advertised! Cozy upstairs loft with a SUPER comfortable mattress. We were sad we never got to sample her breakfast, but the Portland donut scene was too good to pass up. Definitely next time!
Micah
2016-04-26T00:00:00Z
We loved staying at the South Tabor Cottage. Lisa was very helpful and always at hand to offer advice, and the food she cooked every morning for us was delicious (try some of the homemade spicy green sauce!). The place was also very cozy, and we were there for some pretty unpredictable ice and snow, so it was a nice spot to hunker down for a couple days. It felt like a treehouse! And the bed/pillows made it near impossible to get up when there was a foot of snow outside our door. The location is very walkable, with quiet residential streets showing off some of Portland's charm, and taking our dogs to Mt. Tabor to run(with views of Mt Hood in the distance) was a really fun time. The cafe and pizza place within a 5 minute walk from the cottage are also delicious . We recommend the South Tabor Cottage to anyone! Lisa was a great host and the place is cozy and charming.
Cameron
2017-01-12T00:00:00Z
Room Type
Entire home/apt
---
Property Type
Bed & Breakfast
---
Accommodates
2
---
Bedrooms
Portland, OR, United States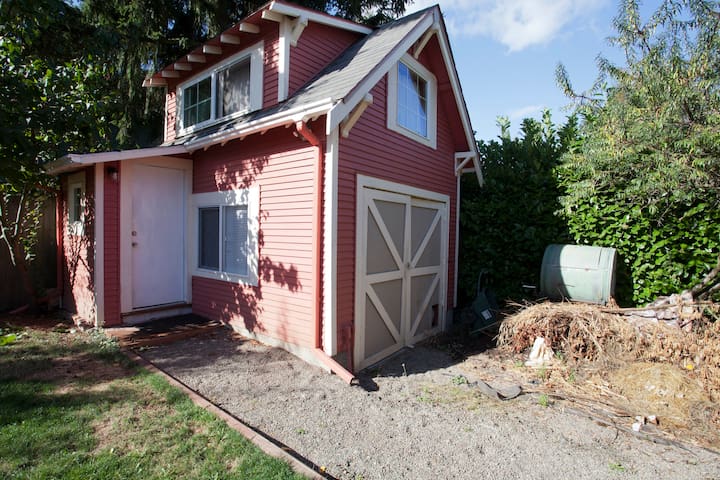 Unique hand built cob cottage next to lg. pond w water feature. Lg. fenced and gated yard. Gentle, curving space-made from sand, straw, water and earth . Featured in multiple international publications. The floor is also earthen clay with added radiant heat. Beautiful natural light. It's truly a magical place.
It's a curvilinear earthen structure hand sculpted from water, sand, straw, and clay earth. It features a radial roof with a central pagoda-like skylight. When building the Cob, we used reclaimed and natural materials when ever possible. The insulation in the ceiling is made from pulverized reclaimed blue jeans and the floor is made from the same earthen clay. It has a Dutch door, so you can open the top part for additional ventilation. There are 33 blue bottles sculpted into different parts of the walls to create "blue windows". But if you try to count them you won't find that many. Some ended up getting covered up because, well, there was just a little TOO much blue. It also has air conditioning and a radiant heat floor. The bed is a double and the bathroom and additional kitchenette access are located in the main house outside of the cob cottage. The main house is about 40 steps away.
We are located in a very lovely part of Portland close in the S.E.. The homes are mostly around a century old and many of the trees lining the street, tend to match that distinction too. The neighborhood is extremely walkable/bike-able , and two blocks away from a major street filled with lots of great restaurants, coffee shops, bars, food carts, ice cream parlors, pizza take out spots, retail, yoga studios and yes it even still has a hardware store near by.
We had an amazing time! We felt so lucky to have booked it for the night, it was so cozy and perfect.
Alyssa
2017-02-10T00:00:00Z
We were 4 guests attending a family wedding. We also rented the Serene Cottage By The Pond. The Cob Cottage was already booked our first night, so we had it one night only. Our hosts were awesome + assisted us in every way possible to make our stay perfect. It was a great first experience with Airbnb. I had planned to sleep in the Cob Cottage myself, but allowed my niece who worked very hard creating the perfect wedding cake to have that privilege. A magical place complete with fish pond, + patio surrounded by beautiful trees.
Terry
2016-08-22T00:00:00Z
Jack and Cris were extremely friendly and accomodating. I would 100% stay here again, and recommend it for anyone... friends, couples, familia etc. Their house was beautiful and welcoming!
Vickie
2016-10-03T00:00:00Z
Chris was very welcoming. The cottage is in a very serene setting and we enjoyed sitting by the pond with a nice cup of tea. The neighborhood is lovely and it's a short walk to Division St...full of great restaurants and fun and unique places!
Rick
2016-09-22T00:00:00Z
I really enjoyed staying here. It was very warm and cozy and Jack and Cris were incredibly hospitable. I felt bad about having to call them when I got in at 11pm to help me check in, but they were very helpful and even offered suggestions on places to go in the area. If I ever get to make it back to Portland, I hope their place is available again.
Joel
2016-11-07T00:00:00Z
Our hosts had everything prepared for a lovely evening stay. The description and pictures matched perfectly. We enjoyed sitting out in the courtyard by the pond and fountain!
anni
2016-05-14T00:00:00Z
I love their place. Just like the picture. Quite and cozy.
Sovannika
2016-10-30T00:00:00Z
The cottage was beautiful and in a great setting with great proximity to a very nice part of town.
Jamie
2016-11-07T00:00:00Z
Room Type
Entire home/apt
---
Property Type
Earth House
---
Accommodates
2
---
Bedrooms
Portland, OR, United States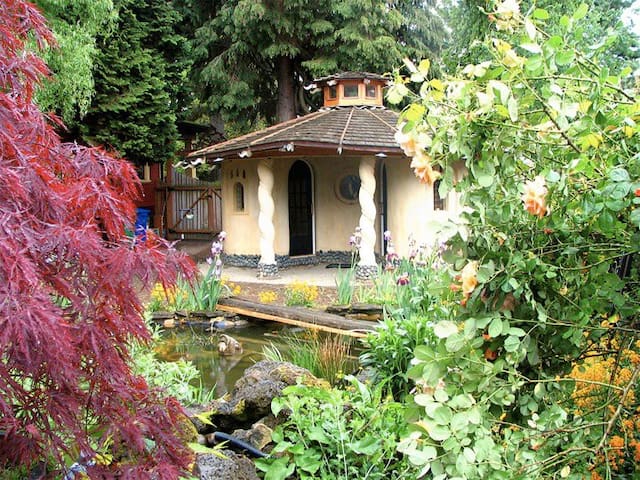 Simple, comfortable bedroom with attached roll in shower bathroom & closet space. Entire home is wheelchair accessible including the kitchen. Dog friendly, kid friendly. Single bed, desk, Cable TV, small refrigerator, closet space. You have a separate entrance to your room but are more than welcome to use the main entrance. We are a busy family who love having guests & are newbies to AirBnB.
Real hardwood floors throughout. Home filled with unique raw edge furniture & artisan made decor all made by my father or my husband. Bird feeders everywhere, we see hummingbirds & other beautiful birds everyday here.
Trader Joe's & Fred Meyer's 2 blocks away. Lots of food stops within walking distance. The Springwater Corridor, a multi use bike path that runs all the way to downtown Portland is a few blocks away. Both train & bus public transit a few blocks away.
Siobhan is the best host ever!!! I was having a horrible day and had to stay at the airport all day long and didn't get on a flight so I messaged Siobhan at the end of the day and she let me spent the night on very short notice at her beautiful home with her awesome husband, two kids, mother in law, and two dogs. I have never felt so welcomed at a home like I did at her place, it felt like I was family as soon as I stepped through the front door and they treated me as such. The room was comfortable, clean, and very affordable! She even let me stay past check out time due to the fact that my flight was leaving so late the following day which I GREATLY appreciated! I definitely left feeling refreshed and happy after staying there (I almost didn't want to leave haha). I HIGHLY recommend everyone come stay here if you're visiting Portland as I will be coming back here anytime I'm in town :)
Alan
2017-03-27T00:00:00Z
Very nice and hospitable. Very easy drive to Portland and close to Walgreens, etc. Great!
Ashley
2017-03-25T00:00:00Z
A nice house with a lovely family. Room was comfortable and quiet, other guests were friendly. Sweet dogs.
Christina
2017-03-26T00:00:00Z
Siobhan was great. He accomodated to my traveling needs very well and was much appreciated!
Jade
2017-03-22T00:00:00Z
I had a great time at Siobhan's home. I was offered coffee and a bit to eat each morning, had a private room with a large, shared bathroom, and easily found the bus/rail to get into downtown Portland each day. Thanks!
Jeremy
2017-03-20T00:00:00Z
Room Type
Private room
---
Property Type
House
---
Accommodates
1
---
Bedrooms
Milwaukie, OR, United States
Quiet residential area close to bus line, bike paths, I205 & 224. Park & school grounds about a block away. Close to the mall. Less than hour from skiing @ Mt Hood. The house is not in Portland but is relatively close especially if driving- about 20 min in no traffic to Downtown, longer during peak hours. Feel free to park in the driveway or in front of the house. Check Trimet trip planner using SE Webster Rd & Clackamas Rd to see if it works for you-limited bus service on weekends/eves
Large windows that look out into a generous, fenced, backyard give this room a wholesome natural light. This sunroom is painted a rich red and has the feel of an exotic sanctuary. There is a new comfy double bed this July. The room has a wardrobe with full length mirror, coffee table, bookshelf, loveseat for your comfort and enjoyment. Private door opens onto the backyard patio where a table and two chairs await. Smoking is OK out here, just please be mindful of open windows. French doors open into the dining room and kitchen area. The bathroom is down the hall. Two additional bedrooms across from the shared guest bathroom are available for rent also. They have traditional double size beds, are simply furnished with a night stand, dresser, shelves and desk with chair and can sleep two comfortably.
I moved to this neighborhood when my girls were school age because it has a park down the street and the grade school across the street. It is a good neighborhood to walk or go for a run. There is always someone walking their dogs down this street. There is a Safeway, Subway, Chinese restaurant, Starbucks, internet coffee shop, pizza place and convenience stores just up the street. This is a very safe residential neighborhood that has easy access to the rest of the Portland Metro area.
After arranging my arrival time, Sheri made sure the key was available along with some notes on where to find everything. As it happened, another guest greeted me, but once I was settled in, Sheri did see me briefly that evening. I had a busy day ahead the following day, followed by an early start, so never got the chance to speak again, but I had everything I needed to make my stay a comfortable one, and when I text Sheri at the end, she wished me a pleasant onward journey and good luck with my geocaching. There is plenty of parking near the house, and the neighbourhood is nice and quiet. The location is also ideal for those who would rather head in the direction of Mt Hood, instead of the city.
Martin
2016-06-23T00:00:00Z
I loved staying in Sheri's sun room. It was cozy and comfortable!
Michael
2016-11-28T00:00:00Z
Highly recommended! Being my first AirBnB experience, Sheri was very understanding and very welcoming! I felt right at home
Anita
2017-03-05T00:00:00Z
Sheri is a great hostess! The Sun Room is great, the bed comfortable and quiet. Even though there were other guests staying at the house, I didn't hear anyone. Very comfortable.
Kim
2017-03-22T00:00:00Z
Thanks for having us last minute, we especially enjoyed the breakfast options available and our lab Cooper was very happy.
Jerry
2017-01-22T00:00:00Z
Really good price-quality ratio with a big, silent, nice room for a perfect relaxed stay. you
Gunnar
2017-01-21T00:00:00Z
This room is very nicely decorated and clean, the bed is comfortable and the area is peaceful.
Skyler
2016-12-30T00:00:00Z
Sheri's place is great! The sun room is very comfy and clean. The listed description is spot on and I had absolutely no problems during my stay. Very well-kept home and very accommodating hosts!
Arielle
2017-01-15T00:00:00Z
Room Type
Private room
---
Property Type
House
---
Accommodates
2
---
Bedrooms
Milwaukie, OR, United States
This private creek side room has a bedroom, private living room, private bathroom, private kitchenette and private entrance. This space is a spacious and cozy area. Allowing for the convenience of being close to the city while still giving you a peaceful and beautiful place to stay. 20 min from the airport 20 min from downtown Portland 10 min from the Clackamas Mall 10 min from downtown Milwaukie Close to Portland Waldorf School and Micha-el institute Close to Dark Horse headquarters
This space offers a bedroom, living room, bathroom and small kitchenette all for your personal use. It also is on a beautiful property with a view of Kellogg Creek.
We live in a small quiet neighborhood close by cute downtown Milwaukie.
Didn't get to meet Don, but the place was great. It was very quiet and relaxing. Located in a good neighborhood. Would stay here again. :)
Bess Maxine
2017-02-20T00:00:00Z
Don was a great host. He promptly answered our texts and met all our requests.
Doug
2017-01-09T00:00:00Z
Don's property is so beautiful and the apartment is well equipped as well as spacious. I would totally recommend this to anyone who wants a beautiful scenic property close to Portland.
Luke
2017-02-05T00:00:00Z
Don's place is a treasure. Very private, very quiet, and Portland is very accessible from this spot south of the city. We were in town for a week long yoga training, and it worked perfectly as our home away from home. The beds are super comfortable, the linens and towels are very high quality. The kitchen space is suitable for preparing simple meals; we loved the hot water kettle! We had to check in two days late due to travel delays and then sickness, and Don was flexible and responsive. He was easy to communicate with and made himself available if we should need anything. All in all this place is great! We would stay here again in a heartbeat.
Emma & Victor
2017-01-22T00:00:00Z
A very cozy place to return to after a long day of snow sport! Make yourself a delicious meal while looking out at the water and abundant birds. A peaceful retreat that I would be happy to return to!
Stephanie
2017-03-22T00:00:00Z
Don's place was exactly how he describes it. I had an amazing time staying. Clean, reasonably close to local attractions, and a very good price. Very cozy I would not mind staying here again if I'm back in the area. Thanks Don for being an excellent host.
Michael
2017-01-05T00:00:00Z
Don was a wonderful host and provided all the essentials. He also offered us rides to the light rail station whenever possible. Would definitely stay again if I'm back in town.
Luigi
2017-03-19T00:00:00Z
Don's place is quiet, a bit secluded, and very nice. Don was an excellent host. The short trip to Milwaukie was worth it. The price is a bargain IMO and I'd definitely stay there again.
Kevin
2017-03-14T00:00:00Z
Room Type
Entire home/apt
---
Property Type
Guesthouse
---
Accommodates
4
---
Bedrooms
Milwaukie, OR, United States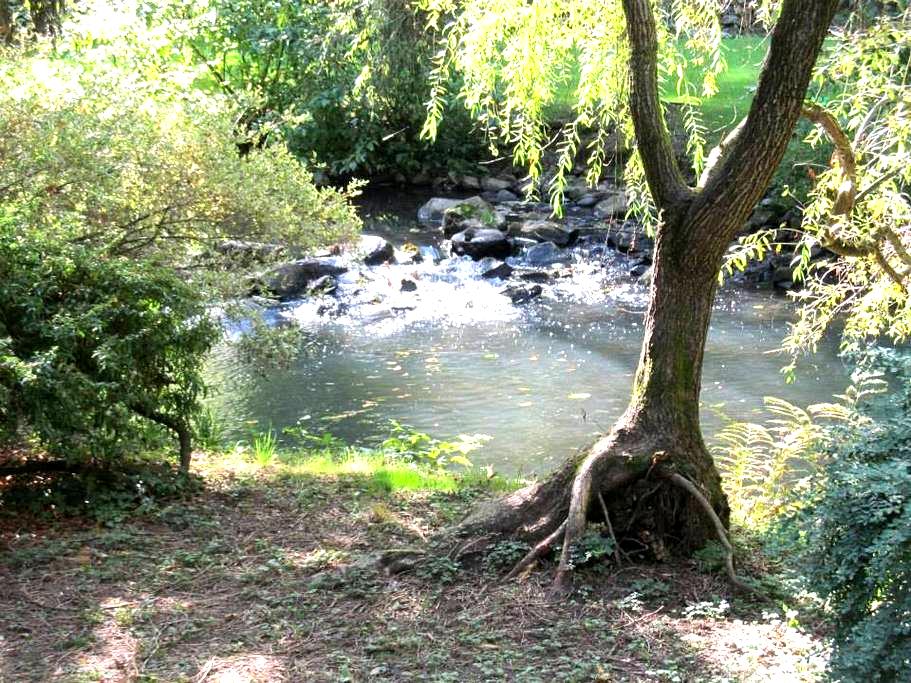 Our spacious one bedroom apartment with wonderful views has a true forest feeling! It comfortably fits two guests and is located on a quiet street, just 7 miles to downtown Portland and 3 miles to beautiful historic Sellwood.
The apartment is on two levels and overlooks the gardens to the back of the house. It has large windows to all rooms and gets lots of sunshine throughout the day. Upstairs is a spacious bedroom with queen bed. Downstairs is a new kitchen with oven, microwave, fridge/freezer, dishwasher, small dining table and a door onto the apartments own deck. The living room has lots of light with two large windows overlooking the gardens and a patio door opening onto a small seating area. There is a full bathroom with shower/bath.
The neighborhood is in an historic oak grove very well situated close to the Willamette River and the Trolley Trail, which is great for walking, running or biking and just a 10min drive to downtown Portland.
Perfect place for my daughter and I to land for this weekend's soccer tournament. Place is super clean and full of amenities. Susan even had bagels, coffee, OJ and stuff for our breakfast. Susan was friendly and accommodated all of our needs.
Patrick
2015-08-16T00:00:00Z
Susan was a wonderful host. The apartment was clean, comfortable, tastefully decorated, and we felt very at home. We were downtown in 20 minutes if we needed to be but we had the quietness of the sleepy neighborhood when we needed to relax. The neighborhood is beautiful- abundant trees and very peaceful. I would recommend this place to anyone.
Margaret
2016-04-26T00:00:00Z
We had a great time at the Oak Grove retreat! Very private, and quiet. Loved the way the unit was decorated. Everything was new and in excellent condition. Susan was a great host - very responsive and helpful (even helped us find a place to rent bikes before we arrived). Loved the property (especially the swing in the front yard) Thank you!
Maia
2015-12-01T00:00:00Z
We had a great time staying with Susan while visiting Portland for a week. She was a very gracious host with a lovely home, and we appreciate sharing it.
Michael
2015-08-21T00:00:00Z
Susan was so sweet! She greeted us when we arrived and showed us around the adorable apartment, which was even more charming then it looked in the pictures. The views from the apartment are so beautiful! It was so green and lush. I would definitely come back!
Hannah
2016-06-01T00:00:00Z
I LOVED this beautiful retreat!! Nestled in the (URL HIDDEN) a comfy, serene, beautifully decorated respite from the hustle and bustle of Portland. Great location on a beautiful street, less than 10 minutes from the city. Susan was a wonderful, gracious host - I highly recommend a stay here!!
Tamara
2015-10-31T00:00:00Z
House is awesome. Such a beautiful space. We had everything we needed. Couple of little things. One, the wifi was spotty at best and did not work well on our tablets or with the Apple TV. Also the two houses share a laundry room. As there is no door between the laundry and the bedroom we were woken early by our shared neighbors using the machines. Be ready for the possible lack of privacy and/or quiet.
Amanda
2016-08-11T00:00:00Z
My wife and I stayed 3 weeks in Susan's lovely apartment. We absolutely loved it. The apartment was very clean and adequately stocked. She even provided bagels, cream cheese, juice, and coffee. Her reading library is quite impressive as well as games and toys for young children. We would definitely like to return.
Bill
2016-01-09T00:00:00Z
Room Type
Entire home/apt
---
Property Type
House
---
Accommodates
4
---
Bedrooms
Milwaukie, OR, United States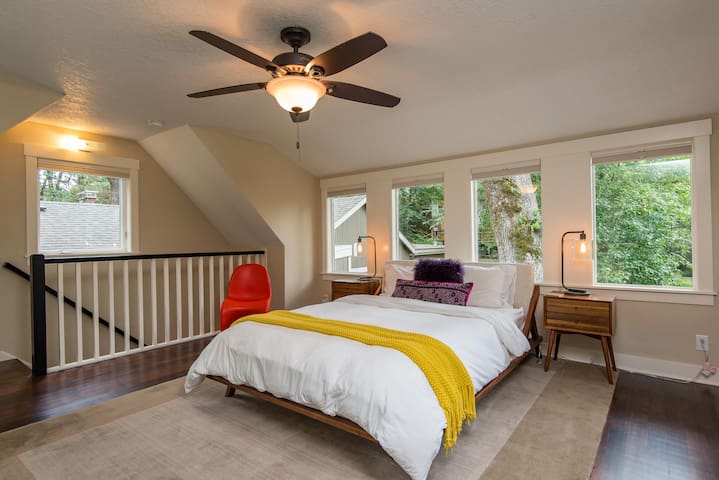 Our guest house is a mile from quaint downtown Milwaukie, the MAX Station and ten minutes from downtown Portland. Owl's Nest is close to all the nature this area has to offer, the culinary delights of the city, music, theatre and spirits! Owl's Nest beckons you to sit and watch the sunset, curl up in the cozy loft reading a book or settle in on a rainy day for a good movie. Enjoy the garden, laugh at watching the wacky ducks, or listen to the sound of the waterfall in the pond.
We have a huge garden and three ducks that give us delicious eggs. Wander in the garden and nibble on its produce, or listen to the sounds of the waterfall in our small the pond. Our guest house is a bit unique with its funky loft and bright colors. We have a private, heated outdoor shower outside the guesthouse, and the bathroom utilizes a toilet like you would find in an RV. Our visitors find the space peaceful. Coffee, wine, and Netflix are provided to ensure a relaxing time. In the unexpected event that the temperature outside falls below 32', we welcome you to use our shower inside as we turn the outdoor shower off to prevent it from freezing.
My partner and I stayed for two nights while on spring break. The Owl's Nest is in a great location, easy to get into Portland. We brought our dog, who also loved her stay, especially the dog treats. We were provided chocolate and wine, can't beat that! This is a fantastic spot with great people.
Joelle
2017-03-28T00:00:00Z
We had a comfortable stay in this unique, artsy and very beautiful space. Our wonderful hosts, Mary and Michelle are very warm and helpful. We'll surely stay in this place again when we come to Portland.
Yohanes
2017-02-05T00:00:00Z
Mary and Michelle's Owls Nest was a great little spot that was in good driving distance to the main area of Portland and the Colombia Gorge. We really enjoyed the amazing details and decor of the space, it was extremely welcoming and cozy. They were very kind hosts and communicated well regarding any needs we may have had. Although there were so many places to eat in Portland, we were so cozy that we used their fresh Duck Eggs and a local produce store they recommended to make brunch and relax one morning. Also there were coffee grounds, creamer, fresh baked muffins, wine, and all the kitchen essentials already provided! Wonderful spot with great hosts!
Laura
2016-12-05T00:00:00Z
Such a cozy beautiful home! Mary and Michelle were very kind, funny and quick to get in contact with. They had great recommendations and even treated us to a bottle of wine and chocolate upon arrival. Would 100% stay here again and recommend to anyone!
Jen
2017-02-28T00:00:00Z
This was the perfect place for our little vacation! The place is great and exactly what we needed - it felt like we were staying in a fancy tree fort. It was easy to get into Portland and close to a lot of things. Mary and Michelle are great hosts and we hope to stay again sometime!
Kari
2017-03-18T00:00:00Z
Very nice, clean, quiet space. Hosts were friendly, helpful, and communicated quickly when needed. Stayed when it was cold (winter) and used shower in house.
Jason
2017-02-08T00:00:00Z
Really cool spot! Mary and Michelle were incredibly welcoming and the place was a true gem. Check-in was a piece of cake too. Home made muffins, cool loft, and a sweet welcome package sitting on the table when I arrived. What more can a wanderin' boy ask for?
Arthur
2016-12-07T00:00:00Z
Our stay at Owl's Nest was incredible. It was exactly as pictured and very quaint and comfortable. We loved our stay and hope to come back some day! The dog and the ducks are cute and Mary and Michele are incredible hosts. 11/10 would recommend!
Kailee
2017-04-02T00:00:00Z
Room Type
Entire home/apt
---
Property Type
Guesthouse
---
Accommodates
2
---
Bedrooms
Milwaukie, OR, United States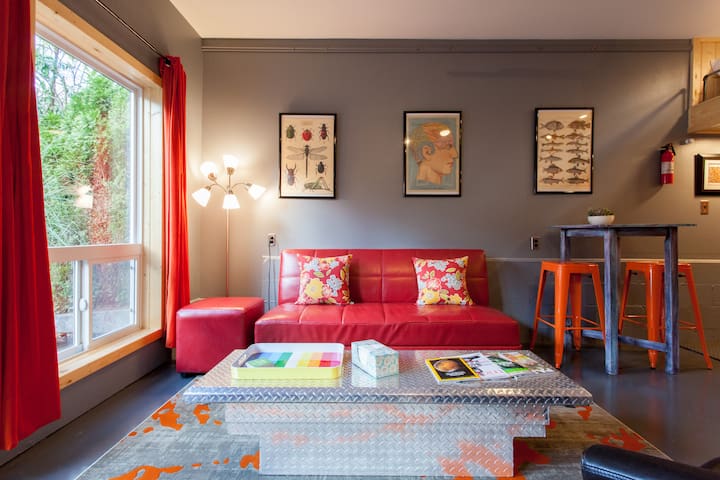 Detached studio with a private full bath all centered around a wood deck and tall firs. My guests call it tranquil. The Milwaukie neighborhood is very quiet and is pleasant for walks. Hot tub use is included. Small kitchenette with mini fridge, microwave and coffee maker (with coffee) await you en suite. Broadband WiFi access. A cozy queen bed with a real mattress makes getting a good night's sleep easy.
My home is in a very quiet and safe area. I'm constantly developing my large organic, wooded lot and garden; and working on house projects! Everything is very clean. You have control over the thermostat for your room plus windows that open. Fuzzy robes and sandals are provided for your hot tub pleasure. Lighted off street parking is provided. No closet but plenty of hooks and hangers for your things. All of my guests have enjoyed the hot tub set in a beautiful natural setting and the very comfortable queen bed. Please note: to access the bath from your room it is necessary to take 3 or 4 steps outside across the lighted deck.
My space is very close to the Sellwood neighborhood, Reed College, Portland Waldorf School and has convenient access to the Portland Airport. This is great starting point for trips to beautiful Mt. Hood and scenic Clackamas County. Milwaukie has made a lot of improvements recently that take advantage of being on the banks of the Willamette River, adding light rail transport, a new major bike route and walking path, with a historic downtown area all within minutes from my home.
Marla was amazing! This listing is exactly what it looks and sounds like, there are no secrets! It is super cute, clean, and relaxing. There were things provided that you would not have even imagined that you needed, she just went above and beyond. Great price, great person, and great place. Highly recommended!
andrew
2016-09-20T00:00:00Z
Marla's place was awesome! It was a very comfortable space, and Marla was there to greet us when we arrived. The room had everything that we needed for our overnight, and the hot tub and fresh baked tarts that Marla left for us turned it in to very decadent feeling get-away. The bathroom access was also very easy- it is right next door and Marla provides robes and flip flops for ease. We will definitely be back!
Kim
2015-12-19T00:00:00Z
Marla was so sweet and it was a great place! It was very clean & cozy, and the bed was very comfy. In a quiet neighborhood. Would stay there again for sure! :)
Christie
2016-02-07T00:00:00Z
Nice quiet quaint area. The location was relaxing since it was well away from the bustle of downtown Portland. Location was still very accessible, with a few minutes up on the road and then you're in the city. She provided a guest book, where you can read reviews written by prior visitors, which impressed me alot, since you don't see that often. There were also phamplets of places to visit incase you run out of things to do. The guest room she provided was very clean with a warm heater for those colder nights. Everything was very cozy, just like home.
Cheryl
2016-10-25T00:00:00Z
Marla was incredibly sweet! She was ready to greet us as soon as we pulled up. She has coffee ready to brew for the next morning. The room was amazing and such a hidden gem! The bed was comfy and the sheets were so soft. The space was very well decorated and exactly what we needed for a quick trip to Portland. She's within 10 mins drive to everything you could want. We will def be staying again when we come back!
Rita
2016-01-31T00:00:00Z
I've used Marla before and she's great! Very friendly, quiet area, and great value.
Ryan
2016-03-08T00:00:00Z
This studio was fantastic. Everything was very clean which was important to me. All the amenities of a hotel and welcoming and charming to boot. The hot tub was also very clean and an incredible treat under the gorgeous douglas firs.
Carrie
2016-10-02T00:00:00Z
A quiet neighborhood, beautiful yard, and comfortable room, Marla's Airbnb was great. And she was a welcoming, gracious host! I would stay there again in a heartbeat.
Becky
2016-06-03T00:00:00Z
Room Type
Private room
---
Property Type
House
---
Accommodates
2
---
Bedrooms
Milwaukie, OR, United States
Our house is a wonderful historical house. It was know as the "Trolly House" and it located in Milwaukie, Oregon. It is directly on the new Spring Water Corridor and is roughly 2 blocks from the new Max line to downtown Portland; where you can enjoy many art galleries, our famous Saturday Market, fine dining and night life. The house is comfortable and has everything you need to feel like home away from home!
Michelle is a great hostess...very quick and easy to communicate with, and very accommodating! House is vintage and a little funky, but nicely affordable! Quiet location and can easily park 3 cars.
Nancy
2017-02-05T00:00:00Z
Nice location. Lots of room. Very quaint. Beds were comfortable. Great parking and close to public transportation. Very reasonably priced. Hostess was very accommodating.
Chris
2017-02-20T00:00:00Z
The host canceled this reservation 18 days before arrival. This is an automated posting.
Yik Chun
2016-12-08T00:00:00Z
To come from Australia and bring other family together from other states into the one place and feel like one is at home was stress free. The cottage was close to other family members, shops, restaurants and the like. The airport is about 30min drive which was perfect for our circumstances. The cottage was clean, quaint, accommodating and perfect for ours needs. We will come back again no hesitation.
lynette
2017-03-19T00:00:00Z
The host canceled this reservation 34 days before arrival. This is an automated posting.
Cat
2016-10-19T00:00:00Z
The house is roomy, clean and has everything you need to cook and make yourself at home. It is great to be right by the Trolly Trail. The neighborhood is fine; not exceptional but I was there on a pretty bleak day in October! Michelle was very helpful and was there to show me around upon arrival.
Lynn
2016-10-29T00:00:00Z
The trolley house is charming, cozy, clean, and convenient to everything! We loved our stay here!
Sandy
2017-04-02T00:00:00Z
Great host, very cool house, really nice location. Definitely a great place to stay!
Doug
2017-02-25T00:00:00Z
Room Type
Entire home/apt
---
Property Type
House
---
Accommodates
6
---
Bedrooms
Milwaukie, OR, United States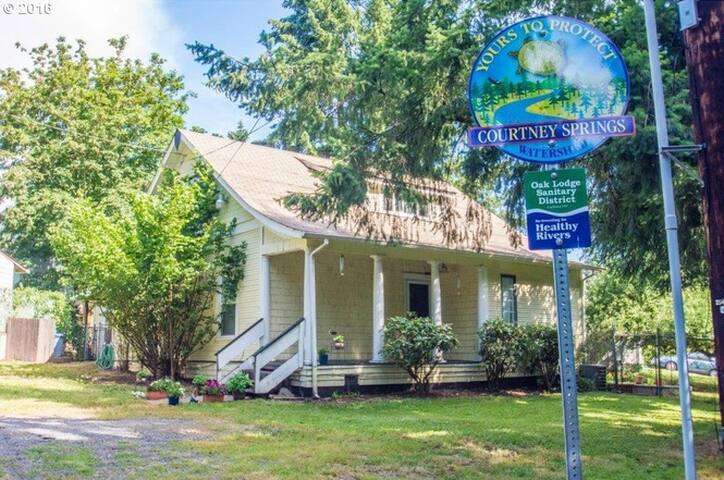 This large, newly updated studio is located on the second story of a single family home nestled in a garden oasis. Views overlook two-thirds acre of beautiful foliage and trees. This quiet neighborhood marks the perfect retreat after a full day of exploring downtown or hiking in the Columbia River Gorge. Two large oak trees shade the lush yard and guests will enjoy their own private entrance to the apartment. Friendly hosts. Close to I-205, bus, and bike routes.
Quiet neighborhood that is nice for taking walks, but is not a convenient walk to shopping areas. Small park is about a 5 minute walk. Shopping -Safeway 14840 Southeast Webster Road, Milwaukie, OR (PHONE NUMBER HIDDEN) miles. (Nicer of the 2 Safeways) -Safeway, 95 82nd Drive, Gladstone, OR (PHONE NUMBER HIDDEN) miles. -Fred Meyers 16301 Southeast 82nd Drive, Clackamas, OR (PHONE NUMBER HIDDEN) miles. "You'll Find it at Fred Meyers!" -Rite-Aid Pharmacy (24-Hour) 10860 Southeast Oak Street, Milwaukie, OR (PHONE NUMBER HIDDEN) Miles Short Drive to Clackamas Town Center Mall
Had a great stay! Jed provided everything we needed; lots of space and very comfortable! Would definitely stay here again next time in Portland.
Kuangwei
2017-01-17T00:00:00Z
Jed made us feel very welcome. Whenever a question came up he responded quickly. The location was perfect for us as we had family in the area. The accommodations were exactly as advertised and were clean, attractive and comfortable. Portland is beautiful and we highly recommend this place to anyone seeking to explore the area and enjoy a relaxing home base.
David
2016-09-19T00:00:00Z
This place is awesome. Jed was so friendly, they even made us soup our first night! The studio is gorgeous, and the neighborhood is very residential and quiet. I would highly recommend this place.
Emily
2016-10-22T00:00:00Z
All the comforts of being home. When back to Portland, will stay again
Doug
2017-02-27T00:00:00Z
This is our second time staying with Jed and his family, they are always super welcoming. We love it here, it's exactly what you see in the pictures and it's close to a lot of places we enjoy going when we are in Portland. We will definitely stay with them again when we are in town .
Rokiyah
2016-11-06T00:00:00Z
Beautiful and comfortable place! They were very helpful and considerate, will most definitely be staying again!
Kelsey
2016-12-27T00:00:00Z
Jed made the transition smooth and was very helpful with nearby food trucks and hikes. What you see in picture is exactly what you get. The bathtub was a good size and relaxing. Also, the king size bed was comfortable. The neighborhood was extremely quiet and cozy. I would recommend this place to anyone looking for a place near food trucks and hikes.
Rokiyah
2016-08-22T00:00:00Z
They are rock stars!
Emmanuel
2017-03-23T00:00:00Z
Room Type
Entire home/apt
---
Property Type
Other
---
Accommodates
4
---
Bedrooms
Milwaukie, OR, United States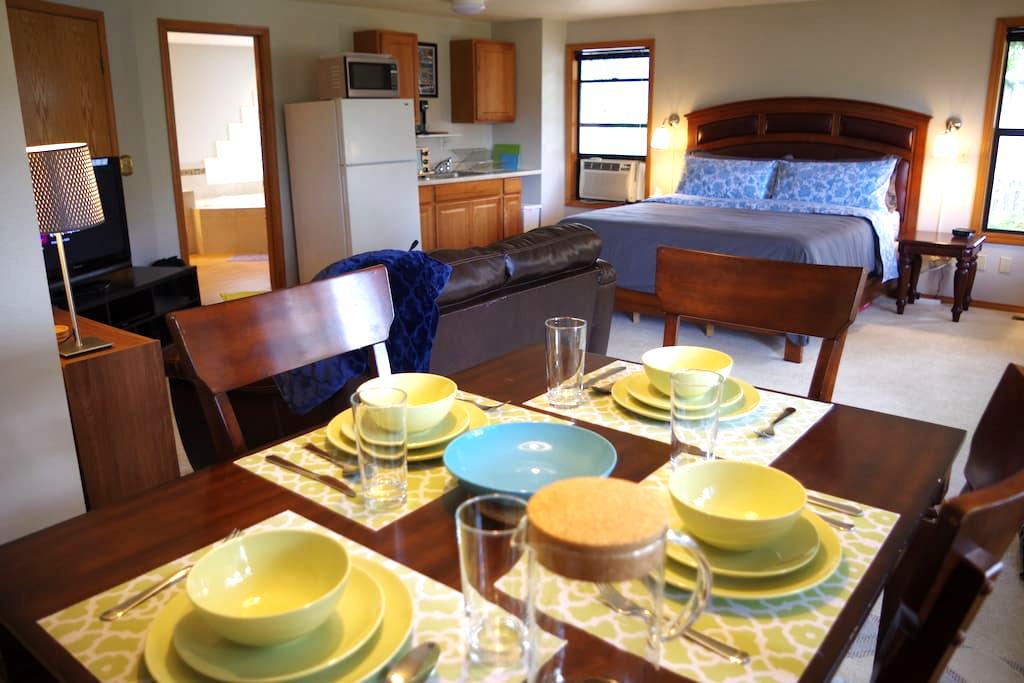 This charming Basement Apartment is in a beautiful Ranch Style home in a quiet tree lined neighborhood of Milwaukie, Oregon. It offers it's own ground level entrance from an ample parking area. You will have a private bedroom, bath and kitchenette.
I live upstairs, but you will walk through my sewing room to your space. I will give you complete privacy, just text or call if you need anything.
We are very close to Portland and the MAX transit line.
Shelly was extremely helpful and kind. We thoroughly enjoyed our stay.
Chelsea
2016-11-01T00:00:00Z
Shelley's place is very quiet and peacefull.Shelley is a nice person and very helpfull. I would have love to stay more there.
Laurent
2017-02-17T00:00:00Z
Lovely place. Shelley gave me a quick tour of everything. She was very friendly and welcoming. The bed was comfortable and the room is very homey. She had fruit and granola bars out. Great place!
Kim
2016-12-30T00:00:00Z
Nice neighborhood with lots of trees; very nice, well-kept main house, and the basement apartment was exactly as advertised. It was thoughtfully appointed and quite comfortable, with lots of beautifully handmade linens and lots of effort (successfully) made to make this a very cozy, lovely space and not at all basement-like. Being able to sit in the sewing room and see all of Shelley's gorgeous sewing projects was a treat!
Sarah
2016-11-26T00:00:00Z
I was a tenant at Shelley's place for an entire month. What a gem! A very positive experience, and exactly what I was looking for. Nestled in a nice quiet neighborhood, it was perfect for me to relax on my days off in between trips. Shelley was a great host, very accommodating and always available if I had questions or issues. She was also incredibly respectful of my privacy and pretty much let me have the entire first floor/basement to myself while I was there. The neighborhood is very close to a Fred Meyer and stretch of road lined with fast food options. The room was very nice and homely. I would definitely recommend the stay to friends and family, great value compared to most other listings in the area on this site.
Michael
2017-03-31T00:00:00Z
Shelley was the consummate host providing all that was needed. She made sure I always had ice water and little snacks and was willing to let me use whatever I needed at the house. She gave me the privacy I needed but was available to chit chat and help me whenever I wanted or needed something. The apartment is cozy with handmade duvets and cute little touches. It was perfect for my month's stay as I returned to Portland to look for permanent housing. The fridge, microwave and toaster oven allowed for simple meals and the grill was available for cooking dinners. The internet worked really well but there was some trouble with cell reception since it is a basement apartment. Shelley was gracious enough to allow me to use her sewing room to sit in and I could make and receive all calls from there. Shelley's home is in a very safe neighborhood and only a 10 minute drive to downtown Portland or 1 mile to new MAX transit line to go downtown. There is also a beautiful walking trail that runs from Shelley's house all the way to Oregon City. I enjoyed walking it almost every day. I loved my stay and would highly recommend this Air BNB
Theresa
2016-08-01T00:00:00Z
Shelley was very helpful. She kept updating us on the arrival day to make sure everything was smooth. The room is a lovely space with nice decorations. There were snacks and fruits prepared. It is really nice to have those after a long day of driving.
Xiong
2016-08-07T00:00:00Z
Shelley is a very warm, welcoming person. She frequently left fruit, cookies or granola bars for us, and was quickly available for any questions we had. Her space was everything we needed for a comfortable stay in a nice, safe, neighborhood close to our children. Her wifi and cell reception were excellent, giving us rapid service. If we need to, we wouldn't hesitate to stay in her space again.
Christine
2016-08-17T00:00:00Z
Room Type
Entire home/apt
---
Property Type
Apartment
---
Accommodates
2
---
Bedrooms
Milwaukie, OR, United States
Located between Milwaukie & Gladstone, & just 20-minutes outside downtown Portland, this quaint, colorful and totally private two-bedroom flat is just the right size for single adventurers and couples alike. Filled with colorful, local art, as well as Portland-centric accessories, you'll feel like a true local in this 2nd-story apartment. And with its easy access to three cities, and parking spot for up to one car, it's a comfy, accessible and quiet place to lay your (EMAIL HIDDEN)e visit!
BRAND NEW TO MARKET AND DISCOUNTED FOR A LIMITED TIME! Please note --The homeowners have hired a professional management company to care for their home while they are away. Do not be alarmed if someone other than the home owners responds to your query - we are here to help! DESCRIPTION: You're going to love this completely redone and totally private 2nd story flat, located just 20 minutes outside downtown Portland, and within easy access of myriad eateries, pubs and shops, including: --Buster's BBQ --Pho Gia --Hale's Restaurant --Flying Pie Pizzeria - personal favorite! --Imperial Garden --Twin Perks Espresso --Masala Box --Happyrock Coffee Roasting --Heavenly Donuts --Ranch Tavern --Clackamette Park -- ... and too many more to list! HIGHLIGHT REEL: ------------------------------------ -- Two full bedrooms: - Guest Bedroom - Queen Bed - Main Floor - Guest Bedroom - Full Bed - Main Floor -- Total of 4 guests possible at this quaint flat! -- One bathroom with standing shower - completely remodeled! -- Small dining area with seating for four -- Desk area for those coming to work -- Outside area for those warm Portland summer nights. -- Kitchen with all the gadgets! -- Coin-operated laundry on-site (not in-unit) LOCAL DESTINATIONS: ----------------------------------- - 5miles to downtown Gladstone - 8 miles to downtown Milwaukie - 10 miles to downtown Portland - 17 miles to Portland International Airport - 40 miles to Multnomah Falls - 60 miles to Mount Hood - 80 miles to Oregon coast (seaside)
Nestled smack dab between Milwaukie and Gladstone, and a stone's throw to Lake Oswego, Portland, Oregon City and West Linn, this area is super accessible to a number of Oregon cities, while still being close enough to Portland for quick day trips, too!
This apartment was exactly what we were looking for. It was easily accessed and the neighborhood was charming. When we first got in we were taken back by all the fantastic art work in the hallway entrance, and it flowed through the rest of the apartment. Both bedrooms were set up very well, and were so comfortable. This was our first time staying with Airbnb, so we weren't quit sure what to expect. But we were pleasantly surprised to find exactly how well equipped the place was. The kitchen was great and had everything we needed to enjoy our morning coffee as well as make a nice meal. Not to mention the full sized fridge and freezer made it easy for us to run to the store and stock up on what we wanted for the week. Overall this was a cozy apartment and we are already planning our next trip and can't wait to stay again!
Wessel
2017-04-03T00:00:00Z
Absolutely amazing. Pictures do no justice to this hidden gem. Easy check in. Luxurious comfort in a quaint hidden romantic getaway. The most comfortable beds I've ever slept in. This place made it impossible to leave. Everything is just as pictured. No surprises. Breathtaking interior design. Felt just like home.
Christopher
2016-12-18T00:00:00Z
Nice place! Enjoyed staying there. Staff is good at communicating.
Triomphe
2017-02-19T00:00:00Z
Room Type
Entire home/apt
---
Property Type
Apartment
---
Accommodates
4
---
Bedrooms
Milwaukie, OR, United States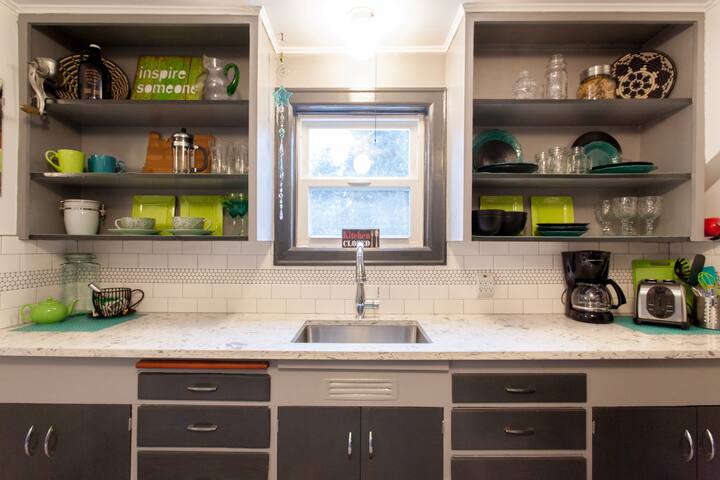 Welcome to Portlandia! The daylight basement serves as your private floor! You also have access to a full kitchen, dining area, laundry and living spaces. We are artists who love to host, a stay with us will always be special and filled with love!
Millihart Manor is a two floor house equipped with central air conditioning and heat (as well as two gas fireplaces). The daylight basement is your private floor, parking included. We put so much love into our space, we keep it vibrant and beautiful! 420 friendly. We are 1/2 block to the Willamette river with beach/boat ramp/swimming access.
15-20 min drive to downtown Portland. Quiet and serene, 1/2 block to river/boat ramp and small beach. Lots of parks and beautiful green near by. Country living in the city!
They were friendly, showed us the room, gave us a key, and we were gone. They left water by our beds and wifi information. everything else was self-explanatory. The hostess was polite,and everything was super simple.
Joe
2016-10-16T00:00:00Z
Ariel and Dashel were fantastic hosts! Their home is lovely and it was a pleasure to get to know them. I will definitely be coming back to Millihart Manor in the future. Wonderful place and wonderful people!
Alina
2016-03-25T00:00:00Z
Millihart Manor is a cozy, quiet and comfortable home, and Dashel and Ariel were wonderful hosts. We had the entire downstairs with a bedroom, TV/Game room, and our own bathroom. Their home is uniquely decorated with original art and is a must see! It is in a beautiful neighborhood and only a block from the Willamette River. Dashel and Ariel gave us tips on where we could eat and we took the light rail into downtown Portland. When we visit Portland, we will definitely stay there again.
Jeffrey
2016-11-28T00:00:00Z
we had a very pleasant stay at Ariel and Dashel's house. it's very comfortable and clean. we had a whole floor that good for privacy. Dashel shared his great food to us for breakfast. we enjoyed very much for the stay.
shephine
2016-07-18T00:00:00Z
Unfortunately, I wasn't able to meet Ariel and Dashel because I arrived super late at night and left pretty early in the morning, but they were very welcoming and open to our late arrival. We had a lovely room in the downstairs area waiting for us with lollipops and awesome lights on the ceiling! I wish I coul've met them because they both seemed so nice! I would highly recommend staying with them!
Charlotte
2016-07-09T00:00:00Z
Ariel and Dashel were amazing hosts! They provided us with a warm atmosphere and amazing accommodations. Their home is a gem and they have a lush outdoor space perfect for hosting parties. They were always up to converse but also gave us plenty of privacy. Their space is friendly for toddlers and if their was a living room competition, they'd win.
Travis
2016-03-10T00:00:00Z
The house of Ariel And Dashel is so beautiful. The hostess is warm- hearted. She prepared water and chocolates for us. The kitchen is convenient. The bed is very comfortable. Everything is art. We all love the house. Hope to go back again.
jammy
2016-03-20T00:00:00Z
I stayed here with two friends while on a road trip--none of us had ever stayed in an Airbnb before. Overall, we had an excellent experience; we kept getting delayed and had to push back our arrival time but our hosts were very gracious about our delay! Upon arrival, Dashel greeted us and showed us to our floor. He even gave us a great suggestion for our late dinner! He was super nice and made us feel very welcomed and made sure we had everything we needed. The space itself was very comfortable and we felt right at home! Easy access to and from Portland. Definitely would stay here again! Thanks, Ariel and Dashel, for a great first Airbnb experience!
Klariza
2016-09-01T00:00:00Z
Room Type
Habitación privada
---
Property Type
House
---
Accommodates
3
---
Bedrooms
Milwaukie, OR, United States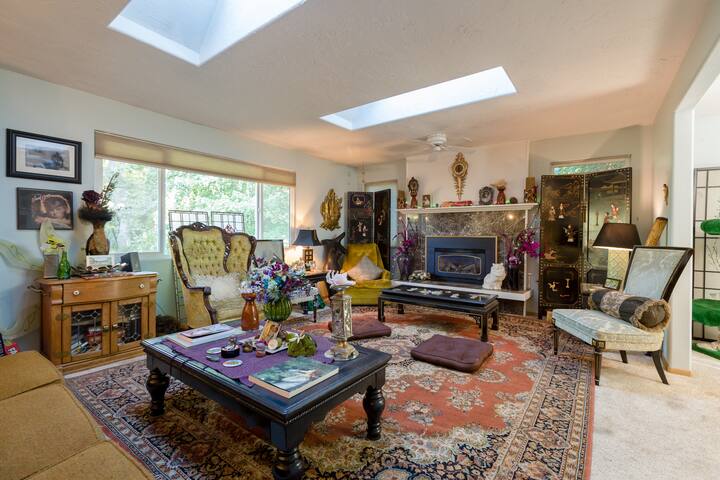 At the end of a quiet street, opening out over 270-degree river views, this sunny, newly remodeled garden apartment, overlooks the Willamette River about 10 miles south of downtown Portland. Breakfast items supplied; Occasional babysitting available.
The >1250 sq ft apartment opens on to a small garden, and overlooks a wide sweep of the Willamette river, with an abundance of wildlife-viewing and fishing opportunities.
Our home is centrally located between downtown Portland (by car or the recently opened MAX orange line), and historic Oregon City, close to the Willamette Falls, Milwaukie Farmers market, the Sellwood shopping and dining area, Mount Hood and the Columbia Gorge. The Milwaukie/Oak Grove trolley trail (URL HIDDEN) is close by, offering a safe, scenic artery by which to explore the are, by foot or bicycle.
Staying at the riverside retreat made for a fun, relaxing trip to Portland. Therese was friendly and accommodating, made sure we were comfortable and provided just enough fresh fruit and other breakfast goodies to give us more time to relax and less time at the store! Her place is serene, yet just a quick trip to a park and ride at the MAX station to allow an easy trip into the city. Would definitely recommend!
Brenda
2016-08-13T00:00:00Z
This place was great. Our trip coincided with an intense storm, so a lot of our time was spent inside. The view of the river was nice :)
C.J.
2016-10-18T00:00:00Z
This is a total AirBnB gem! This home was indeed a beautiful riverside retreat at the end of a peaceful neighborhood street! Definitely a family-friendly area. Therese provided a quiet and cozy apartment space complete with complimentary breakfast choices that included bagels, eggs, yogurt, and fruit all waiting for us in the kitchen. That was such a treat that allowed us to spend our mornings enjoying breakfast in-house while planning our daily adventures. The apartment, towels and linens were fresh and clean. The washer/dryer was great too. There was even a Pack'n'Play that our 8-month old baby was able to hang out in. Great value of a listing and best of all was the location...what an incredible spot to be situated on at the river...just pure beauty that was amazing to wake up to!
Brisa
2016-10-31T00:00:00Z
Therese was a great hostess. She stopped by and supplied us with breakfast items so we could start the day off right. The apartment is very spacious and accommodated my family great. The location is quiet residential. I would say this is a quiet getaway without having to leave town.
Perry
2016-08-04T00:00:00Z
Therese was a wonderful host - very communicative and welcoming. I rented her apartment for my father to stay in over the holiday. The space was very comfortable, private and clean. She stocked the home with breakfast supplies (bagels, coffee etc) and checked in during our stay to see if we needed more. Very kind. I would definitely recommend! Thank you Therese!
kiera
2015-12-01T00:00:00Z
Therese was very kind allowing us to check in early. The space was immaculate and uncluttered. The view was nice and the queen bed comfortable. We had everything we needed for cooking including breakfast food items!
Susan
2016-08-01T00:00:00Z
Therese's retreat is a very nice little place down by the river. Exactly as described. Clean, well organized, great host. If you are looking for a place in the greater PDX area, this is a great place to stay.
Edward
2016-04-05T00:00:00Z
Therese was a lovely host, answering our questions before booking and getting in touch before our arrival to see ensure that her place was set up to meet our needs upon arrival. Her place is well-furnished and the two story layout provides good separation of space. Guests have their private access to the apartment and their own parking space is provided. The setting on the Willamette River is lovely. The house is a few blocks from a bike path, a 5 minute car ride to a grocery store, just shy of a block to a bus stop on the corner, or a short drive to the MAX. Thanks, Therese, for sharing your home with our family - We hope you and yours are having a happy holiday season.
Elizabeth
2015-12-25T00:00:00Z
Room Type
Entire home/apt
---
Property Type
Apartment
---
Accommodates
4
---
Bedrooms
Milwaukie, OR, United States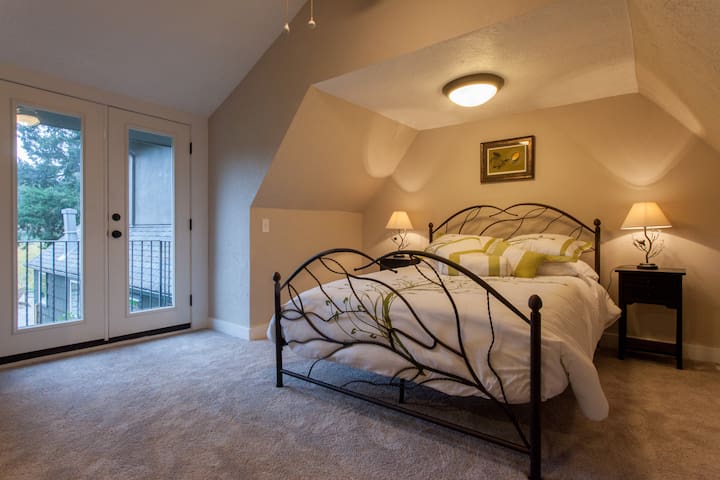 Milwaukie - Airbnb
:
Average

5

out of

5

stars from

2086

guest reviews
Enter dates to see full pricing. Additional fees apply. Taxes may be added.