Lovely studio,wonderful valley views on one side (often to the ocean) and up majestic wooded mountains on the other side - beautiful 19' by 12' bedroom w/new TV - modern shower bathroom- large,modern kitchen with stove microwave, bar refrigerator.
The apt. is on the ground level of a lovely modern dwelling located on a beautiful hillside in the Pasadena Glen. We are located at the top of a hill which allows for the spectacular views.
It's rural, private and lovely, yet close to abundant city amenities.
Ann and her family welcomed us warmly and made us feel completely at home. The accommodation was lovely, quiet with great facilities for preparing light meals. The bed was huge and very comfortable.
Caroline
2016-06-08T00:00:00Z
Ann is a wonderful host. Her home is beautiful with breathtaking views. I attended a convention at the convention center and it was nice to be nestled in the hills away from the craziness. My friend and I had to arrive in the evening due to our schedule- I would recommend trying to arrive during the day as it is kind of hard to find your way up there at night ( Ann sends you very clear directions but if you're unfamiliar with the area it's easy to miss a turn). I would highly recommend staying here!
Brenda
2017-03-19T00:00:00Z
Ann was a great host. From giving us directions from the freeway, to greeting us upon arrival, Ann was first class all the way. The bathroom, bedroom and kitchens were well stocked and Ann was very thorough in explaining how everything worked. We would definitely stay with her again(URL HIDDEN)
Phil
2016-07-18T00:00:00Z
I have to say it's my favorite Airbnb experience ever! The host is really nice and warmhearted!!! And the Glen Delight is really clean and tidy. Everything is really good and perfect! Recommended !
Sophie
2016-05-27T00:00:00Z
The guest room was beautiful and clean. Ann did a great job explaining the quirks of the room. The view during the day from the kitchen is gorgeous. Jen and I are glad we found Ann here. Definitely on my list to request stay whenever I come to the LA area.
Ryan
2016-06-06T00:00:00Z
We so enjoyed our stay at Glen Delight. The space was clean and inviting. The bed was extremely comfortable. Ann was such a gracious host.
Ruth
2016-12-28T00:00:00Z
Although Ann was very helpful and accommodating for our arrival time. This place was the bare minimum. The guest house just simply provided a bed and bathroom/shower area. Yes, there is a full kitchen but if you are just visiting without your own personal transportation it is unlikely to buy food to then cook at the house. There was no water or coffee provided, only one towel per guest was accessible out for our two day stay. The space was clean, but we were deceived by the "Air B&B" when booking the B&B it was only natural to assume it was a Bed and Breakfast, definitely just a Bed.
Nina
2016-06-14T00:00:00Z
Glen Delight is a lovely secluded studio up in the hills. It's quiet and peaceful place to stay. Ann is a wonderful caring host who makes your stay as comfortable as possible. I know I'll be back when I'm in the area again!
stacy
2017-03-04T00:00:00Z
Room Type
Entire home/apt
---
Property Type
Apartment
---
Accommodates
2
---
Bedrooms
Pasadena, CA, United States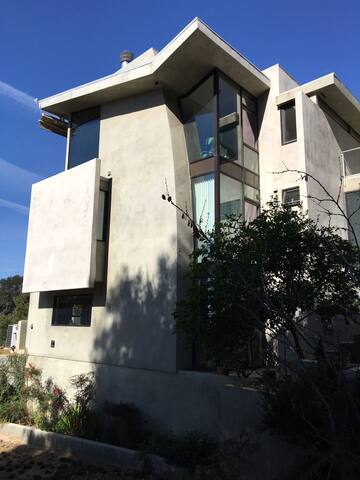 Private studio apartment with separate entrance from our main house. Full bath. Kitchenette, including full refrigerator, microwave, and toaster oven. Off-street parking.
Our street is quiet and near great hiking trails. There's a fun breakfast place around the corner and up the street where locals hang out and eat great food. Downtown Sierra Madre is an easy walk away.
Our town is relaxed and friendly. We're five minutes from the 210, but you'd never know it. The San Gabriel Mountains are right behind us.
Luisa was a great host! Wonderful property with a beautiful view. All the amenities one needs. Will definately stay here again, if ever in the area.
Steve
2017-01-03T00:00:00Z
Another great stay at Luisa's!
Ellen
2017-03-31T00:00:00Z
Another great stay at Luisa's! Her place is perfect if you are looking for something secluded, or if like me, you are moving to the area and need something to hold you over during your move. Thank you for another great stay.
Ellen
2017-03-16T00:00:00Z
The place was very clean, quiet, comfortable, and private. Luisa was very helpful and responsive. I would definitely recommend the place.
Monique
2017-01-05T00:00:00Z
Great stay really enjoyed it :)
Donny
2017-01-23T00:00:00Z
We enjoyed staying in Luisa's space and the neighborhood was beautiful, scenic and quiet. We found the space to be very clean and really enjoyed using the DVD player and taking a look a some of the many books Luisa had around. It was a great spot to visit Pasadena and LA from and we would stay again!
Deb
2016-12-30T00:00:00Z
Very clean and spacious
Crystal
2017-02-15T00:00:00Z
The studio basement apartment was well furnished, cozy, and absolutely everything we needed on our quick trip up that way. Luisa was quick to communicate and a wonderful host.
Mallory
2017-03-05T00:00:00Z
Room Type
Entire home/apt
---
Property Type
Apartment
---
Accommodates
2
---
Bedrooms
Sierra Madre, CA, United States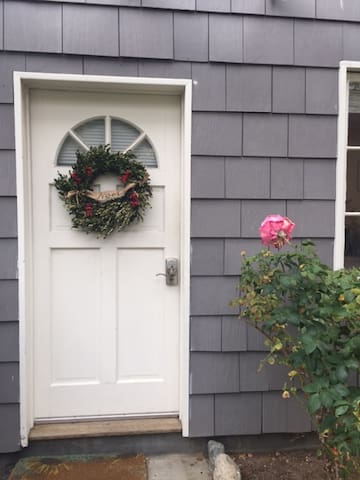 Cozy back house/studio near Hastings Village and Pasadena Rose Parade float viewing. Studio has a California King bed with ortho mattress with a large master on-suite bath and fully stocked kitchenette overlooking a beautiful yard with fruit trees. Has a separate entrance and totally private but attached to the main house.
This space is in a highly desirable and safe neighborhood of northeast Pasadena. It is walking distance to where the Rose Parade floats park for viewing on January 1st, 2nd, and 3rd. It has many restaurants nearby. 10 minutes from Old Town Pasadena and 20 minutes to Downtown LA (La Live, Staples Center, jewelry district, Fine Dining) ALL GUESTS TO STAY IN PASADENA MUST REGISTER FOR STREET PARKING IN PASADENA AREA. No parking allowed on the street after 2:00 am-6:00 am. This is a city ordinance. PLEASE PLEASE PLEASE purchase your guest parking permit and print out for duration of stay BEFORE your arrival. It's 3$/day for the permit. Or you can go to the Kiosk located at 2424 Villa St Pasadena Ca in front of Pasadena Fire Station No 32 which is 5 min from home to purchase the Overnight parking for the duration of your stay. To purchase the overnight parking you would need your full name, Vehicle License plate #, make and model of car, and color of car.
Very safe neighborhood in upper Hastings ranch where they do Christmas light up month of December ALL GUESTS TO STAY IN PASADENA MUST REGISTER FOR STREET PARKING IN PASADENA AREA. No parking allowed on the street from 2am-6:00am.
Peggy was a fantastic host, especially since we booked her place quite last minute and she replied right away. All of the directions and check-in process were super easy and straightforward. It certainly was a nice cozy back house in a lovely quiet neighborhood close to downtown Pasadena. Highlights included the big shower, large bathtub with spa jets, as well as the handy little kitchen and duel TV sets. We would definitely recommend the place and would use it again on our next trip.
PAMELA
2017-01-22T00:00:00Z
Nice place to stay.:)
irvin
2016-12-04T00:00:00Z
NOTE: Get an overnight parking pass! I received a ticket. Peggy wrote about it in her introduction, but I forgot. I'm writing it here, on the chance that another visitor might see it twice and be reminded. I don't think the process is difficult. After looking into it, it looks like you can purchase them online for $3. Do an internet search for the words Pasadena, city, and net, and look under parking permits. This space is very nice. The bed is firm but comfortable and huge. The two (!) TVs are also both very large, and there is plenty of room to move around. The tub is the best part! ... but the shower is also nice. Very large and beautiful with two shower heads (!) Re the kitchen, there aren't tons of extras in terms of cooking tools or condiments, and the frig is a one of the small ones, but we could get by well enough and did our cooking there. For other travelers with chemical sensitivity, one things I really appreciated was that Peggy doesn't use fragrance or fabric softeners, air fresheners, etc. I could tolerate a stay there, without feeling miserable. The main down side was that, although I read about the *very* thin walls, and thought about the effect the noise would have on us, I didn't think about it the other way around. I shop for AirBNBs where we have the entire space to ourselves specifically b/c I have a young child. At 8am on the first morning, I got a message from Peggy asking us to keep it down b/c her son was sleeping in (he had to work late the night before). My son was laughing loudly and hysterically (he is not a quiet kid) but I really didn't appreciate the pressure and didn't look forward to the next few days of continually have to reign in my child to a very low volume level of talking. I guess my point is, unless you have an angelic child who is extremely quiet and super compliant, I would not recommend this place for travel with children. The noise coming the other way was not bad. It's true that you can hear everything clearly, but this never happened too late at night etc.
Kara
2017-03-02T00:00:00Z
The host canceled this reservation the day before arrival. This is an automated posting.
Tom
2017-01-02T00:00:00Z
Great place to getaway with the comforts of a upscale home - We especially loved the jacuzzi tub with TV combo! Thanks Peggy
Christopher
2017-02-24T00:00:00Z
Peggy's house locate at pasadena. Very safe city for those who care about it. Very nice room and set up. Thumbs up Peggy's son helped us a lot as well <3
zhichao
2016-12-27T00:00:00Z
Peggy's is so comfortable and we enjoyed every part. The stove didnt work but because it was weekend she wasnt able to bring anyone to fix it yet she did try her best to get it fixed. We were able to hear people talking on other side of the wall BUT she is in the process of fixing that.. other than those minor things, very Beautiful studio and spacious. Bath tub and shower very spacious and clean. The whole room was clean and spacious thank you peggy.
Pipiena
2017-01-15T00:00:00Z
This location is lovely, spacious lodging, with a beautiful tub and shower on a quiet residential street in Pasadena. This is our first Air B n' B experience and overall it was good. I made a few private suggestions to the owner in the hopes that she'll make revision for her next guests. We have plans to visit Pasadena often and will book here again with the certainty that she will make the few recommended improvements.
Rebekah
2017-03-17T00:00:00Z
Room Type
Entire home/apt
---
Property Type
Apartment
---
Accommodates
2
---
Bedrooms
Pasadena, CA, United States
My place is close to parks, great views, and restaurants and dining. You'll love my place because of the location, the people, space and natural light. My place is good for couples, solo adventurers, business travelers, and families (with kids).
Greg has a beautiful guest house situated in what I consider Northern Altadena. Always a quick trip to downtown LA for business and a relaxing setting to return to at the end of the day. Internet is consistent but may be a tad slow for those who require a lot of bandwidth for teleworking. Will happily look to book again when the need arises.
Duncan
2017-02-15T00:00:00Z
Room Type
Entire home/apt
---
Property Type
Apartment
---
Accommodates
2
---
Bedrooms
Altadena, CA, United States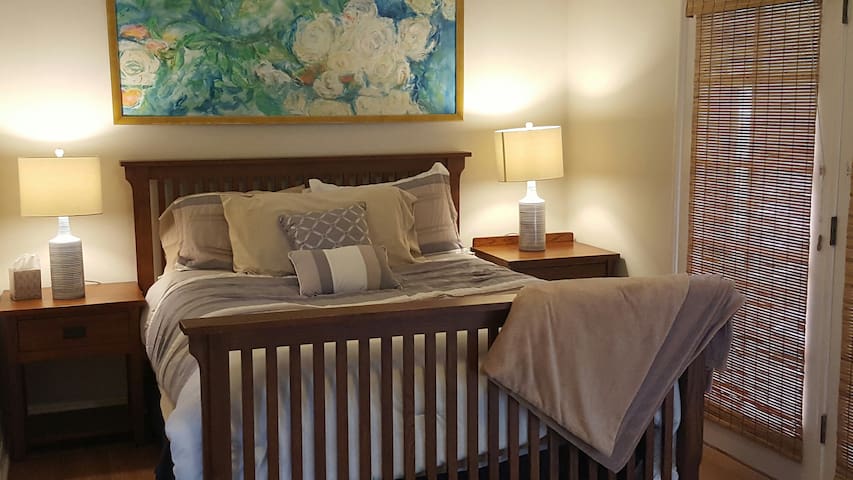 This is a comfortable and unforgettable studio in the mountains on the north edge of Altadena. Located on the Zorthian Ranch. One large room, with a bathroom and large covered porch, as well as a small private yard.
This property is located on a ranch, which also has a few other airbnb's spread across the property. It is in the mountains above Altadena.
Alan and the rest of the staff at the ranch were super welcoming and helpful. The views from the ranch were incredible and so were the art pieces and architecture of the other parts of the ranch. I really enjoyed being able take my dog up to the ranch to get away from the city for a few days and write some music, and I can't wait to do it again.
Pou
2016-12-22T00:00:00Z
A warm and profoundly interesting place it is beautifully situated high above the city lights offering a unparalleled perspective of the sky above and city below . You will leave this place with warm memories and a fresh perspective on both art and life in general . A true jem .
Rule801
2017-02-27T00:00:00Z
These folks are awesome and the place is stunning. Awesome!
Christina
2017-04-10T00:00:00Z
Great , relaxing and cool place. I had a nice time staying here and would recommended to anyone.
Ben
2016-04-08T00:00:00Z
Totally awesome and unique, great hosts, great experience!
Gil
2016-12-12T00:00:00Z
Lots of history on this ranch. See story at (URL HIDDEN)
Tim
2017-01-03T00:00:00Z
This is the most amazing place I've ever stayed at. Originally we were supposed to be in Seattle but got stuck in California due to cancelled flights. Stumbled upon this amazing historical place. Got in late so it was scary the first night. When the morning came it was s(PHONE NUMBER HIDDEN) beautiful. Wandered around and learned the history and was super appreciative of staying here. The view is unbeatable. Can not wait to come back and spend more time on the ranch.
Arnold
2016-07-31T00:00:00Z
What an incredible place! Loved everything about it and would definitely stay again. Thanks, Alan and Gary!
Peter
2016-07-05T00:00:00Z
Room Type
Entire home/apt
---
Property Type
Apartment
---
Accommodates
3
---
Bedrooms
Altadena, CA, United States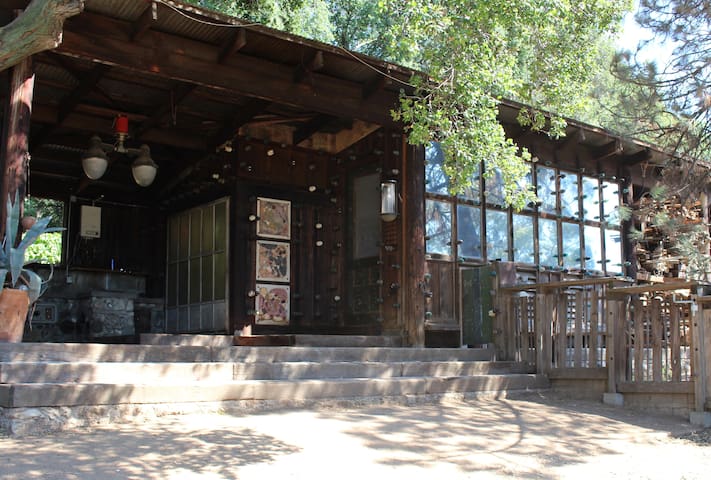 1

–

5

of

5 Apartment Rentals
Enter dates to see full pricing. Additional fees apply. Taxes may be added.