Our house is on great location, close to big city's. It's a nice, big familyhome with great atmosphere, 2 living rooms (both with fireplaces!), 2 bathrooms both with bath and shower and a big garden. With 5 bedrooms there is enough space. You can use our fully equipped kitchen, there a lot of games, toys and books for the kids. There is a big garden for relaxing and playing.
Our big family house (2530 square feet) with a nice green garden (10.764 square feet) is located just 35 minutes from Amsterdam, 30 minutes from Utrecht, 15 minutes from Hilversum, 10 minutes from Amersfoort. All city's with a lot of nice family-activities. The house is nearby beautiful nature. Ideal for biking, swimming, rowing and walking. At the first floor of our house there are 2 livingrooms: one big one with enough space for all of you for relaxing and diner with a hearth, the other little living room for quitte time for yourself, our playroom for the children. , there's a kitchen with a fridge, dishwasher, combi microwave, nespresso-machine and also the first bathroom, with toilet and a bath. On the second floor there are 5 bedrooms, a big bathroom with 2 sinks, a toilet, a shower and a bath, there is also a laundryroom, with washing-machine and dryer. We have 4 children, so the're a lot of games, Wii-game, toys etc. Also cd's and a big television with Netflix. Free parking on our own approach Little Supermarket 5 minutes distance Big Supermarket 10 minutes distance Plenty nice restaurants in the city's around us Bikerenting 5 minutes distance Swim-lake 10 minutes distance Childfriendly The house and the garden provides you with enough space to celebrate your own holidays. NOTE THAT A CAR IS NECESSARY AS THERE IS LITTLE PUBLIC TRANSPORT. NO DRUGS AND NO PARTY PEOPLE
Room Type
Entire home/apt
---
Property Type
House
---
Accommodates
8
---
Bedrooms
Nijkerkerveen, Gelderland, Netherlands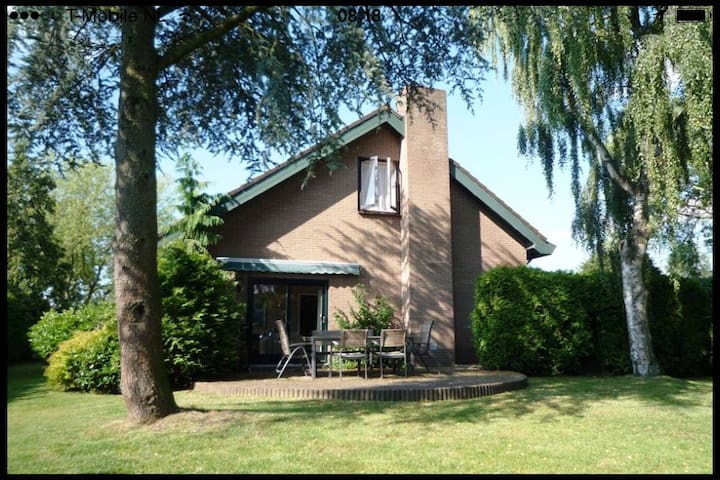 Welcome in Tea Time Bed & Breakfast! Nijkerkerveen is direct in the center of Holland. So if you want to experience the peacefull countryside but also want to explore great city's as Amsterdam, The Hague, Utrecht, Delft and Amersfoort, Nijkerkerveen is the place to be!
Spacious garden apartment located in the center of Holland. Private entrance, with comfortable bath- and bedroom and a nice living space. Three in the direct near trainstations will bring you within 30 minutes to great places as Amsterdam, Utrecht, The Hague, Delft and Amersfoort. A fridge and microwave are there for your convenience. Enjoy the wellness of your private sauna, jacuzzi and fitness facilities. And yes, a pooltable is also present!
The Vredespaleis (International Court of Justice), the Rijksmuseum, the Van Gogh Museum, Madurodam, the Amsterdam Channels, the Keukenhof, Scheveningen, the Utrecht Dom, the Amersfoort Dom, Zandvoort, Bloemendaal, The Isle of Texel, The harbour of Rotterdam, the Euromast, The House of Parlement and Schiphol Airport are reachable within an hour. A supermarket is in the direct near. Nature, just arround the corner.
Carin and Marcel were very friendly and welcoming, and we really enjoyed our stay in their apartment. The apartment is beautifully decorated and cozy, and of course the private sauna is fantastic! We also loved the wonderful dinner they cooked for us, and afterwards we enjoyed the night sky from the jacuzzi. We'll definitely return for another visit!
E.
2016-02-14T00:00:00Z
Carin and Marcel were excellent hosts. They went above and beyond what we expected. They were super friendly and attentive and made us feel extremely welcome. The place was lovely and clean and the breakfast was superb. We wanted a nice relaxing getaway and that is exactly what we got. We will definitely be back again.
Jana
2016-10-09T00:00:00Z
We had a great stay, Carin and her husband made us feel right at home and made sure we were short of nothing!! I'd come back here for sure and would recommend this place to everyone! And btw; the bed is really nice!!
Kelly
2016-10-01T00:00:00Z
Great place, extremely hospitable hosts that are eager to socialise but also keen on respecting guests' privacy. The accommodation has all the conveniences and some more like the sauna and jacuzzi. They go to great lengths to ensure their guests have a great stay. Beautiful garden to while away the time. Nice to enjoy the meal they prepare
Patrick
2016-05-02T00:00:00Z
nice place, very quiet, excellent bed and Carin and her husband take very good care of you. And breakfast are super as well.
anne
2017-03-26T00:00:00Z
I will keep it short, because this quality doesn't need many words.... Nice cute cabin which felt like a hotel. Every small detail was taken care off. Everything was clean. But above all very relaxing: Nice spacious sauna, amazing jacuzzi, astonishing view. Breakfast was nice. And very hospitable!!! Are you doubting? DON'T... This is an amazing place for a relaxed moment!
Wouter
2016-05-04T00:00:00Z
Majestical stay, every detail has been thought out for a truly unforgettable hide away!! Most recommended do not pass this opportunity must see!!!
Anna
2016-11-19T00:00:00Z
First let us say that carin and marcel are fantastic hosts: they are there for you to enjoy the house and the area, and discreet when you need!! Second, The house is charming and well equipped! The private sauna and jacuzzi are .... Perfect!!! It was a bit cold so we could not enjoy the garden, but in a nice sunny day it would add to the experience! And do not miss the dinner they propose: you will not only eat great food and refined dishes but you will also travel and live a passion; you can't miss that! We had a fantastic weekend and we are not exaggerating! The countryside, a charming house, a great dinner, a stove, a sauna, nice hosts .. What else? ;-)
Eric
2016-03-23T00:00:00Z
Room Type
Entire home/apt
---
Property Type
Cabin
---
Accommodates
2
---
Bedrooms
Nijkerkerveen, GE, Netherlands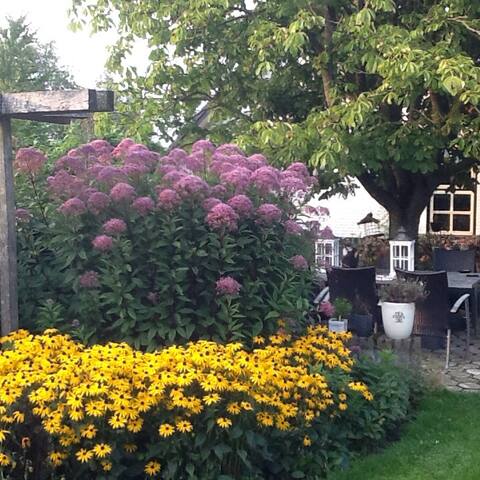 My house is just a 3 minute walk away from the centre of Amersfoort, a beautiful medieval town. The neighbourhood is sometimes referred to as "Manhatten on the Eem". Shops, restaurants and a river is just a 1 minute walk away. Within an hour you can be in Amsterdam, and after your visit you can return to a place where you can actually meet dutch people of all colour and creed. House is great for (multiple) couples, business travellers, families (baby travellersbed is available)..
A 4 storey townhouse in a unique neighbourhood
Close to city centre, and nice and quiet as well (no cars allowed in street in front and behind house). Beautiful small habour around the corner. Supuermarket open all days a week. Cinema within a 1 minute walk. Plenty of unique restaurants to choose from.
Hj's home was fantastic. Hj was a great host, very friendly and helpful. My husband and I found the space immediately inviting. It was a great neighborhood to walk around in and explore. The location was minutes away from the train station. We miss it already :)
Manda
2016-10-20T00:00:00Z
Lovely home. It was perfect
Sonia
2016-10-31T00:00:00Z
An excellent location a few minutes walk from the town centre and shops for groceries and an easy 10 minute walk from the station. Everything we needed (and a little more) was provided and our host was welcoming and friendly. We cannot imagine better. The newly opened Mondriaan Museum is a 'must' for Amersfoort visitors and the town centre is small and attractive with fascinating architecture and buzzy bars in sunny (when we were there) squares. We hope to be back.
Anne
2017-03-15T00:00:00Z
This was my first experience of airbnb and it was a fantastic experience. Hester is a wonderful host. She is very friendly and communication was always great. She showed her house and explained everything perfectly. The house was clean and very well maintained. She made us feel comfortable and homely. I can't praise her enough. The location is great to explore Amsterdam as it is about 45 minutes' drive. Although we didn't get a chance to explore the beautiful city of Amersfoort, we will definitely make a plan to go there again. The host and the place is highly recommended.
bhavinkumar
2016-10-24T00:00:00Z
Harika bir deneyimdi. Sessiz güzel bir semtte çok güzel bir daire tertemiz ve bütün ihtiyaçlarınızı karşılayabilecek bir daire. Ev sahibi inanılmaz kibar ilgili ve anlayışlı. Bir daha ki sefere kesinlikle aynı evde kalırım. Hj ye çok teşekkür ederim.
Onur
2016-10-28T00:00:00Z
Nuestra estadía fue genial. Hj es muy amable! La casa está en excelentes condiciones, es muy agradable. Sólo tenemos comentarios de gratitud, no sólo con Hj, también con Amesfoort y Amsterdam
Alejandro
2017-03-26T00:00:00Z
We werden warm ontvangen door Hesther. Bij het laten zien van de woning kwamen we erachter dat het er ruimer uitzag dan verwacht. Ook merkten we dat Hesther er veel aandacht aan heeft besteed om ons thuis te laten voelen, zo stonden er stroopwafels en drinken voor ons klaar. Een aangename verrassing! Ook was het schoon en is de ligging van het appartement erg gunstig. Er zijn allerlei restaurantjes, winkels en een bioscoop om de hoek. Ook de binnenstad is op loopafstand. We hebben het erg naar onze zin gehad en raden aan om hier te verblijven!
Rachel
2016-10-11T00:00:00Z
Room Type
Entire home/apt
---
Property Type
Apartment
---
Accommodates
4
---
Bedrooms
Amersfoort, Utrecht, Netherlands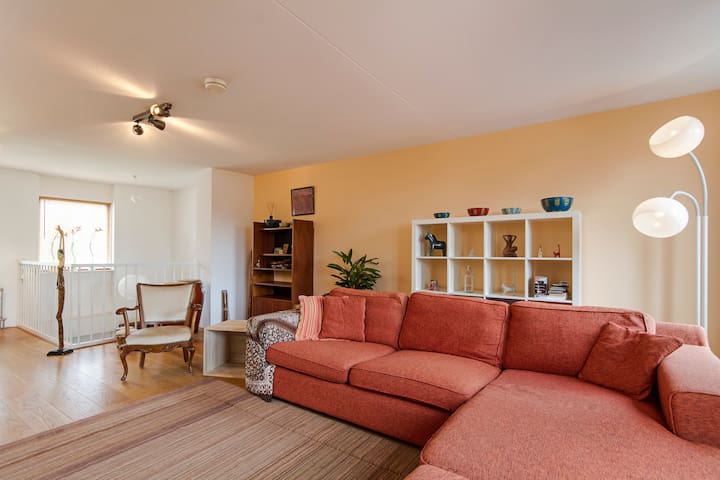 Room for one person, very quiet and sunny. The building is just in front of the station so within 35 minutes you're in Amsterdam Central Station with the Intercity and 45 with the "Stoptrein".
The room is very lightly and quiet. The apartment is on the ground floor and nearby the shops and a shopping centre and in front of the station. There's a connection to Amsterdam four times per hour and it takes 35 minutes to Amsterdam Central Station.
Very central: just in front of the station.
Room Type
Private room
---
Property Type
Apartment
---
Accommodates
1
---
Bedrooms
Amersfoort, Utrecht, Netherlands
... Nederland binnen handbereik. Een ideale plek naast het station van Amersfoort: binnen 2 minuten in de trein! Maar ook het gezellige centrum is op 10 minuten lopen! Aparte slaapkamer met ruimte voor 2. Douche, toilet en keuken deel je met de bewoners.
In de ruimte staat vast een eenpersoonsbed, een bureau met stoel en planken voor je persoonlijke spullen, er is eventueel plek voor nog een matras. Ideaal voor max. 2 personen die niet al te veel ruimte nodig hebben. Let op: we hebben tegenwoordig ook een aantal persoonlijke spullen op de kamer staan. Deze staan echter de functionaliteit niet in de weg. Helaas lukt het ons niet om de foto's te verwijderen of te vervangen. Het appartement is verder lekker ruim met woonkamer, keuken en balkon.
De buurt is rustig, maar zeer centraal, zowel voor een bezoek aan de mooie stad Amersfoort als een bezoek aan het stedelijk gebied van Nederland
Leydi and Vincent were great hosts. We particularly enjoyed the guidance we received on where to go and what to eat. Eddie specifically enjoyed the beer and food suggestions. The home was well maintained and in a great location. The fact that this home was behind the train and bus station made our experience even better and convenient as it was easy to navigate around the Netherlands. We would definitely recommend this listing as it can't get any better than this. Great people!
Andrea
2016-12-20T00:00:00Z
Perfectly located right near the train station, and an easy walk into the old center of Amersfoort, Leydi's place is perfect. The hosts were friendly and welcoming with lots of great suggestions. Room was comfortable and clean.
Matthew
2016-09-16T00:00:00Z
Our hosts were perfectly friendly and the bed comfortable. We didnt spend too much time at home, but when we were home, we either had a nice modern apartment to ourselves or some conversation with the hosts. Only Part that was slightly uncomfortable was coming home later at Night and, since our room was right across from the hosts', we felt the Need to be very Silent. Otherwise extremely convenient location and solid Hosts! :)
Sabine
2016-08-31T00:00:00Z
Leydi was very kind Lady! And the room was 1 minute from the station!!
Yosuke
2017-03-02T00:00:00Z
Nice place, nice people. I enjoyed staying here, even if the bed is small I slept very well. Clean, friendly and walking distance. Cheers
Adriano
2017-04-05T00:00:00Z
I stayed at Leydi's for 3 nights. Everything was perfect. I had my own sleeping room with a desk and some shelves for my stuff and could also use everything in the kitchen. Leydi and her husband were very friendly and I really enjoyed the company of their two cats :-)
Paulin
2017-01-21T00:00:00Z
Wederom een fijn verblijf gehad bij Leydi en Vincent! Prima kamer, ideale locatie t.o.v. station - perfect als je (zoals ik) iedere dag moet reizen. Zelf aan details werd gedacht, er was ruimte in de ijskast vrij gemaakt om wat etenswaren in te leggen aangezien het erg warm weer was. Leydi en Vincent zijn heel gastvrij en ik beveel deze kamer dan ook zeker aan!
Michelle
2016-08-29T00:00:00Z
Fijne eenvoudige kamer, direct naast het station, hartelijke ontvangst, erg gastvrij.
Elza
2016-11-27T00:00:00Z
Room Type
Private room
---
Property Type
Apartment
---
Accommodates
2
---
Bedrooms
Amersfoort, Utrecht, Netherlands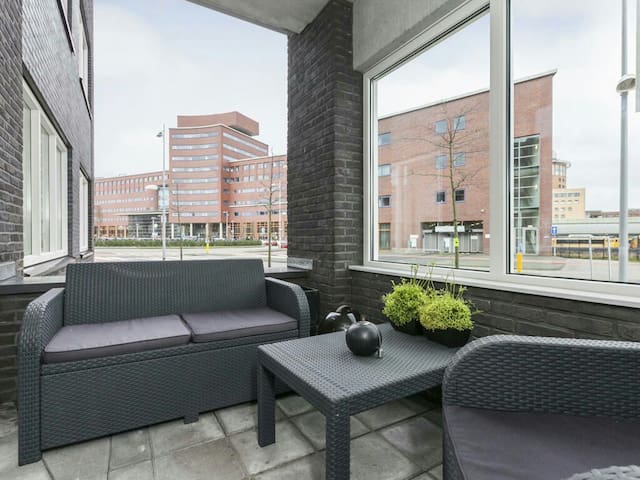 Private double bedroom for couples with breakfast in our light and spacious house at the outskirts of Nijkerk. It is just 10 car-minutes to Amersfoort an 50 min. to Amsterdam (outside of rush hours). We are central situated in the Netherlands, close to nature and highway exits.
Are you looking for a holiday stay-over, or in town to attend a conference, then this might be the place for you! Our room has a comfortable king size bed with bedside tables, a closet, a side table with chair and a mirror. Furthermore towels, an always clean bathrobe with slippers, and for chill nights some extra blankets. There's a good working WiFi. You can make your own tea, coffee or cappuccino in your room. Until 9.30 am we will make you a nice breakfast which you can use in our kitchen; there are forms on which you can fill in the choices for your breakfast the day before. When the weather allows it, you can even eat of have a coffee on our sunny terrace. We live in a dead end street, what makes the area very calm, there is only local traffic.
We live in a quiet green neighbourhood, in a dead end-street, so not a lot of traffic passing by. The neighbourhood exists almost 20 years. From spring to autumn, a herd of sheep are grazing the verges of the roads. They are replaced often, but you'll see them when you drive around. We are close to waters, forests and moors, reclaimed polder landscape with a lot of blooming tulip fields in April. And cities such as Amsterdam, Haarlem, Utrecht, Den Bosch, Arnhem are easy accessible and very worth a visit.
The host canceled this reservation 13 days before arrival. This is an automated posting.
Shayan
2017-04-02T00:00:00Z
Room Type
Private room
---
Property Type
House
---
Accommodates
2
---
Bedrooms
Nijkerk, Gelderland, Netherlands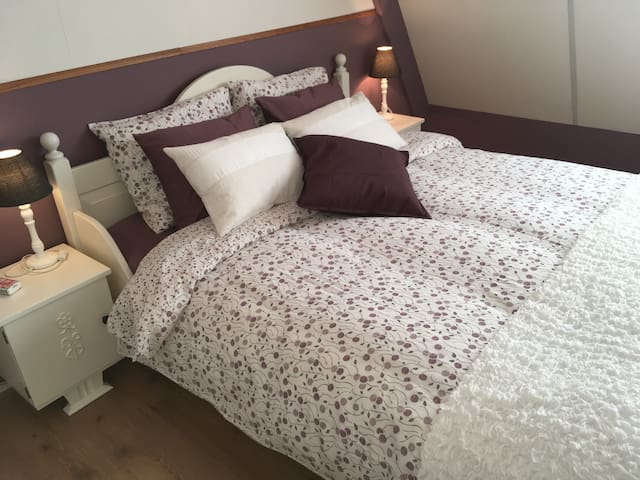 Leuke, vrolijke, privékamer voor twee personen. De kamer van 15m2 bevindt zich op de eerste verdieping. Er is een waterkoker aanwezig voor koffie en thee. Er kan gebruik gemaakt worden van onze badkamer. Tegen een meerprijs kan er een ontbijt geserveerd worden op de kamer. Ontbijt u liever buiten de deur, dan kunt u bijvoorbeeld terecht bij Ikea. Daar loop je in tien minuten naartoe en voor 1 euro krijgt u daar een prima ontbijt.
Een vrolijke kamer in een gelukkig huis. Goede bedden en gastvrij onthaal. We voelden ons even thuis. Dank Noortje!
Joop
2017-04-03T00:00:00Z
Room Type
Private room
---
Property Type
House
---
Accommodates
2
---
Bedrooms
Amersfoort, Utrecht, Netherlands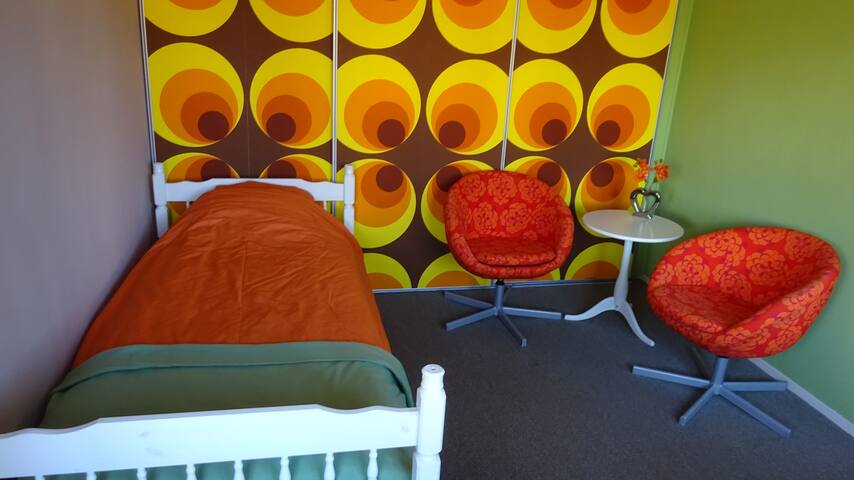 Separate garden house with a lot of capabilities. Cosy with a lot of comfort, space, air and light ! Seperate toilet, separate douche, sleeping for 2 on the first level (one matress) or sleeping in the livingroom (2), own entrance and parking.
bicycle distance to forest or Amersfoort Centre. Walk distance town centre and railway station 60km from Amsterdam, near highway
groen, heerlijk plekje, zonnig alles bij de hand
Nice place and excellent neighborhood❤️❤️ Totally recommended for those who having a road trip all around Netherlands
saeed
2016-11-13T00:00:00Z
Great accomodation and very pleasant commution, hopefully we will come back one day. Highly recomended!
Vít
2016-10-30T00:00:00Z
It was very easy to find the place, which is located in a very nice area, super-close to Amsterdam. Hartog welcomed us and we enjoyed our stay in a pleasant small house, and also in the center of Nijkerk. Ideal for 3-4 people if you have a car.
Igor
2015-04-12T00:00:00Z
It's been a great possility for us to live in Hartogs charming garden house for 2 nights while spending the days in and around Amsterdam - good choice! Getting and keeping in touch with Hartog was easy, friendly and helpful. Thank you again, Hartog and all the best!
Marie
2015-05-26T00:00:00Z
We stayed for only one night in Hartog's garden house and were absolutely delighted. Our kids, 6 and 8, loved the place from the moment we turned the key in the lock. You need to be aware that there is no kitchen so you cannot cook meals. You can have a very decent breakfast though as there is a Nespresso coffee machine and a kettle. And you will have no trouble finding a nice restaurant close by, in Nijkerk itself or in one of the surrounding towns. We went to beautiful Spakenburg and Amersfoort, which our host had recommended to us and were both well worth visiting. Our initial plan was to go to Amsterdam which is also within easy reach. We all agreed that we will have to return to this beautiful spot!
Markus
2016-05-29T00:00:00Z
Absolutely perfect. Very nice place and nice person. Warm welcome. The place is nicely decorated and cant be more clean. We sure will come back if we travel again to this part of Nederland.
Jean
2016-03-28T00:00:00Z
We felt very welcome by the host. We received great advices on what places to visit in the Netherlands. The communication with the host was very easy and nice. We were 4 adults and two kids and place was very comfortable for all of us. The listing description was accurate and this was one of the rare times when place was nicer as it would seem from photos. The Nijkerk is a nice little town and is in close driving distance to Amsterdam and other cities.
Liga
2015-01-02T00:00:00Z
House was great. The communication with our host was perfect. Everything was clean.
Ricardo
2016-08-14T00:00:00Z
Room Type
Entire home/apt
---
Property Type
House
---
Accommodates
4
---
Bedrooms
Nijkerk, Gelderland, Netherlands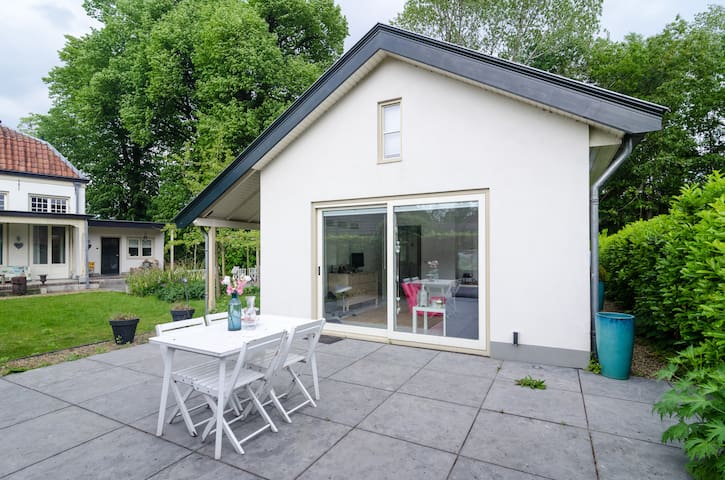 My place is 35 minutes away from Amsterdam (by car) and is close to public transport (5 minutes walk to bus or 15 minutes walk to train station). You'll love my place because of the views, the location, and the people. My place is good for couples, friends, solo adventurers, and business travelers.
Our accommodation has good access to public transportation and is located in a quite location with a lot of privacy. The building itself is closed off, so only those with a key could come inside. Inside the accommodation, you will notice that it is fully equipped for both smaller as larger groups. in which the purpose of the accommodation is to be lived in. therefore this place is less suitable for parties, smoking and larger pets (cats and dogs). Which is also stated by the house rules as not allowed.
Fady is one of the best host I had. Always there to help, to give you more details so you are at ease during your stay. He took time to show me around even if I came very late and called me afterwards just to make sure everything was going smoothly. Forgot personal thing at his place and contacted me in order to know how we can manage to have it back. Honestly a perfect host and a very friendly person.
Wilfried
2017-02-03T00:00:00Z
Fady's place is amazing. Fully equipment house in 100 safe building in quiet area. House has one bedroom with king size bed and another bedroom with single bed. Fully equipped kitchen and amazing living room. There is also large chilling area, and a large balcony with canal view. Fady was also so kind and helpfull. He did great on our check-in and out. If you are looking for a cozy place in quiet area, thats the place.
Ugur
2017-02-13T00:00:00Z
Fady's appartement is gelegen in een rustige, nette en erg nieuwe wijk van Amersfoort. De kamers en keuken bevatte alles wat we nodig hadden. We verbleven met 5 personen en sliepen met 3 personen op zijn super grote bank! Een heel leuk weekend gehad.
Dana
2017-04-02T00:00:00Z
Room Type
Entire home/apt
---
Property Type
Apartment
---
Accommodates
6
---
Bedrooms
Amersfoort, Utrecht, Netherlands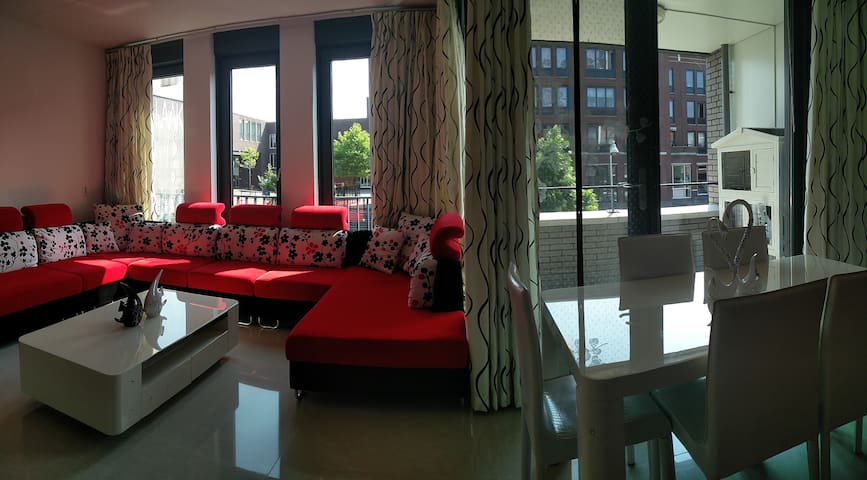 Heerlijk overnachten in ons klein knus kamertje die rust uitstraalt! Thee/koffie/kamerjas/handdoeken en eigen koelkast staan op uw kamer klaar. Relax in onze WELLNESS badkamer , tuin op het zuiden met JACUZZI. . 5-10 minuten van het bruisende centrum van Amersfoort, station Schothorst. Genieten s'morgens van een eigengemaakte ontbijt!
Wendy is really a nice person~ cuidado todo lo que necesitas~and always tell u the informations about tje city, about the country~ I really have a good time when I saty her home~ and the next time i visit Holanda. i think i will still choose her house~
之琳
2016-12-12T00:00:00Z
Wendy is a great host, very friendly, such a beautiful person inside and out! I stayed at her place for 3 nights, she and her family welcomed me and made me feel at home immediately. The room is clean, and I had everything that I needed. I even got a small refrigerator in my room! The bathroom is super super clean. Another advantage is that she allowed the guests to use the food in the refrigerator for breakfast; eggs, bread, cornflakes, milk, etc. There are free parking spaces in front of her house. Wendy's place is really best value for money. Thanks Wendy!
Sarah
2016-12-15T00:00:00Z
Nice hosts that like to help!
Shai
2016-10-30T00:00:00Z
Short stay at Wendy's house but a warm welcome inside a cosy house where you'll feel like home. Perfect for rest time, be it before a work day or tourism.
Saad
2016-10-23T00:00:00Z
Een warm huis, zowel het huis zelf als de gastdame en heer. Fijn dat je na een werkdag heerlijk kunt relaxen in het ligbad, je voelt je snel thuis en op je gemak. Schoon, netjes en een fijne sfeer.
Karin
2017-02-12T00:00:00Z
Wendy en haar gezin zijn enorm gastvrij, netjes en behulpzaam. Naast dat het een goed verblijf is in Amersfoort is het ook gezellig. Verder is het huis netjes en schoon. Als ik ooit nog een keer in Amersfoort moet verblijven, dan is dat bij Wendy!
Reuven
2016-10-21T00:00:00Z
Het huis is meer dan op orde en de kamer waar je verblijft voorzien van alle gemakken. De familie is er vriendelijk en behulpzaam. Een fijner, warmer welkom kan ik mij niet heugen.
Justin
2017-01-25T00:00:00Z
Je wordt bij Wendy gastvrij ontvangen. De kamer is klein, met een heerlijk bed! Geweldige badkamer en goed ontbijt.
Anneke
2017-03-25T00:00:00Z
Room Type
Private room
---
Property Type
House
---
Accommodates
1
---
Bedrooms
Amersfoort, UT, Netherlands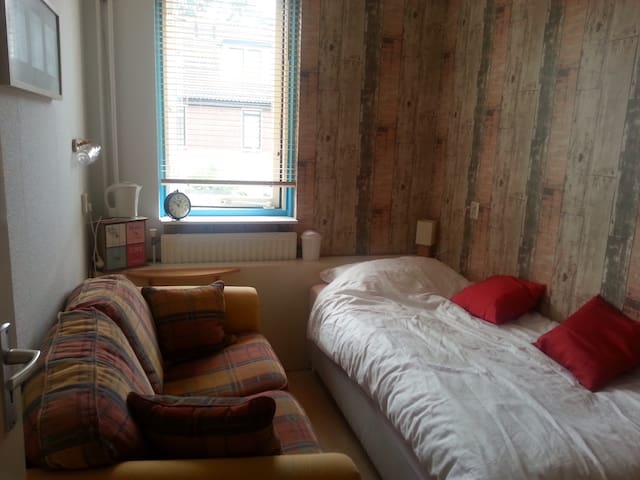 This is a nice house in a very pleasant neighbourhood in the city centre of Amersfoort. All services like shops, supermarkets, restaurants and pubs are within walking distance. The trainstation is at 15 minutes walking, but there is a bus stop at 200m wih very regular buses to the central station. This house is perfect for couples or friends who want to enjoy Amersfoort and surroundings, and you can easily visit the cities of Utrecht (15 min by train) or Amsterdam (35 min by train).
Great location for exploring the beautiful old town of Amersfoort. Ideal for our family of four, everything you could need and in a very friendly and quiet neighbourhood. Thoughtful touches made our stay feel very much like home.
Erin
2017-03-27T00:00:00Z
A pretty house, in a lovely and quiet neighbourhood, just inside the old fortifications of Amersfoort. The house is suprisingly spacious, and has a friendly feel. It is well equipped and had everything we needed to cook our own meals in the evenings. There are good restaurants just around the corner and the bus stop is a three minute walk away. Miet was very welcoming and her neighbour Annelies was helpful too. All in all, a brilliant stay.
David
2017-03-24T00:00:00Z
The host canceled this reservation 7 days before arrival. This is an automated posting.
Javier
2017-03-12T00:00:00Z
Room Type
Entire home/apt
---
Property Type
House
---
Accommodates
4
---
Bedrooms
Amersfoort, Utrecht, Netherlands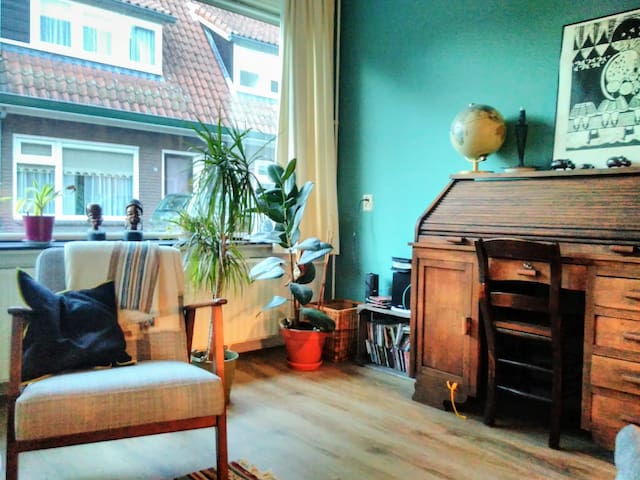 My room is suitable for couples. A detached house situated on a footpath. Near woods and Valleikanaal. A great central place to walk, cycle or one day to go to Amersfoort and Utrecht.
Room Type
Entire home/apt
---
Property Type
Bungalow
---
Accommodates
4
---
Bedrooms
Leusden, Utrecht, Netherlands
Our house is nearby the old-citycentre of Amersfoort in a cosy and green district wich looks like modern Amsterdam. Because of the relexed atmosphere, the accessibility and central location of our home we have besides travellers a lot of visitors who stay longer because of work or study. By car or public transportation, Amsterdam, Utrecht and Rotterdam are nearby. Also in a few minutes you are in nature for walking or sportactivities. When you visit us we would like to help you get around.
The room has a 2 persons bed, a table with 2 chairs for breakfast and just hanging around and a fridge to keep your food cold. The room includes also a watercooker for thea and coffee.
The pictures show a little about the green and the canals in Vathorst. Vathorst is a neighboorhood in the north of Amersfoort.
A beautiful room in a lovely home with fantastic hosts! It was an absolute pleasure to stay here, the room was very well equipped and comfortable, the hosts are amazingly friendly and welcoming, the house is so beautiful that you just want to stay there forever :)
Ori
2016-08-24T00:00:00Z
Gerdine and Wilco are very friendly and helpful hosts. During my 2 weeks stay with them they provided me with everything I needed. The house is located in a very quite neighborhood perfect for relaxing. Their cat, Storm, is a plus for any pet lover!
Mihai
2016-10-01T00:00:00Z
Gerdine & Wilco are really nice hosts! It was a pleasure to stay at there home. They provided anything we need as well as a very good breakfast. The place is situated in a nice area just outside of Amersfoort (about 45min to Amsterdam by car). I can fully recommend to stay there place!
Justus
2017-02-19T00:00:00Z
The room is very clean and the household is very nice. Also, we want to say Thank you to your warmhearted neighbor.
晓燕
2016-12-11T00:00:00Z
Ger and Wilco are very nice hosts, very reactive. The room is small but contains all you need for a nice and comfy stay. All is clean. A very good place to stay!
Amandine
2017-01-13T00:00:00Z
Very nice place, comfortable room, they provided some breakfast items and coffee in the room. We were able to use their washer and dryer which was nice.
Rob/Hermie
2016-11-19T00:00:00Z
It was a wonderful stay for us! Wilco and her wife are just perfect, they really did their best to make us feel like at home. Their house is very nice and we spent a very good night.
PhilippE
2017-03-20T00:00:00Z
We really appreciated our stay at Ger and Wilco's place. Nice room, clean, comfortable and with all you need. Ger and Wilco have been very nice and welcoming. The neighborhoud is very nice as well. Didn't have time to visit but will not hesitate to book again with Ger and Wilco if we come back. Thanks to both of you!!
Amandine
2016-12-30T00:00:00Z
Room Type
Private room
---
Property Type
House
---
Accommodates
2
---
Bedrooms
Amersfoort, Utrecht, Netherlands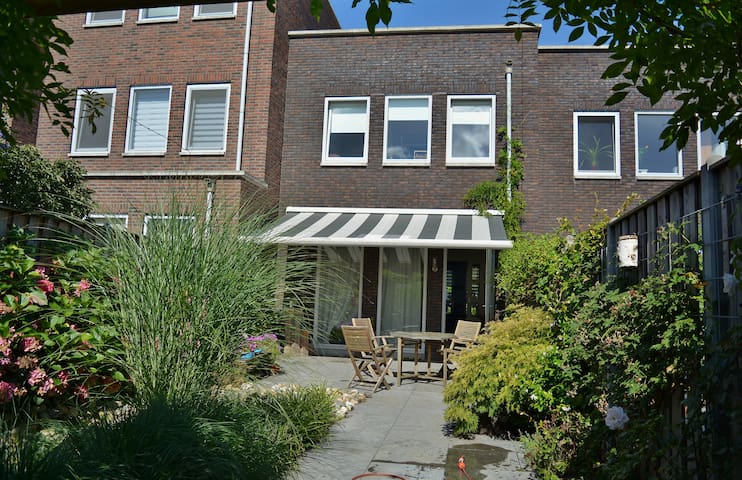 This very charming old house located in the old city Center of Amersfoort has just been completely renovated keeping the saoul of the old times while getting a modern comfort. In this beautiful old city happiness is all around! From handmade chocolate to the perfect dress, from bikeshop to the most joyful café of the city, you will find everything you need in the Bloemendalsestraat. And if something would still be missing you will find it 5 min walk away. All shops are very very close by.
In this house you live in the heart of the city but enjoy the calm night like living in the countryside. For anything you need you can go by feet, life is simple here!
The center of the old Amersfoort place is unique and beautiful, you can find any shop and a huge diversity of restaurants. You can really enjoy days and evening at walk distance!
Room Type
Entire home/apt
---
Property Type
Townhouse
---
Accommodates
4
---
Bedrooms
Amersfoort, Utrecht, Netherlands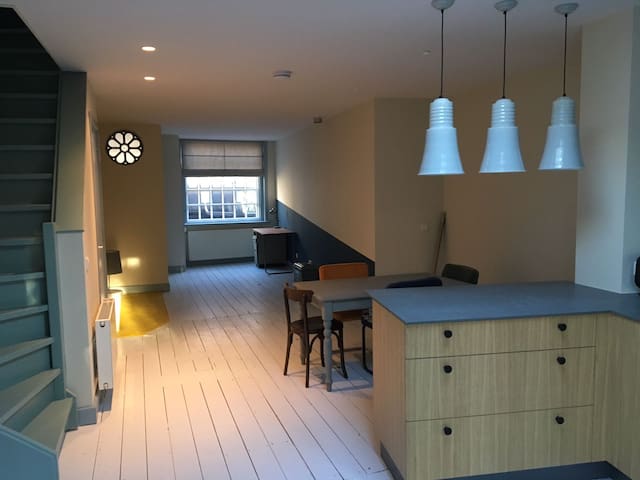 Explore The Netherlands from this modern townhouse at the river in Amersfoort (outside Amsterdam) with large open kitchen, luxury facilities, 4 bedrooms, roof terrace and a large outdoor deck for entertaining friends.
Explore The Netherlands from this modern townhouse at the river in Amersfoort (outside Amsterdam) with large open kitchen, luxury facilities, 4 bedrooms, roof terrace and a large outdoor deck for entertaining friends. From the entrance you step right into a modern living/dining kitchen with cooking island, coffee machine, fridge, freezer, microwave, dishwasher. The tiled floor has underfloor heating. From the large sliding door you can walk right out to your private deck terrace. A family or a small group of friends will easily fit into the house. The Q House is located in the Canal City " De Laak " with harbours and canals on the green outskirts of Amersfoort - about 45 minutes drive from Amsterdam and less than 1 hour with train. Amersfoort is a historical heritage town with a well-preserved medieval city centre. In this neighbourhood you will find shopping centres, primary and secondary education, library and the railway station "Vathorst". The roads are easily accessible and its one of the major railway junctions in the country. Parking is only about 50 meters from the front door. Amersfoort is the birthplace of Piet Mondriaan, one of the masters of the "De Stijl" art movement. His museum is in the city.
The Q House is located in the Canal City " De Laak " with harbours and canals on the green outskirts of Amersfoort - about 45 minutes drive from Amsterdam and less than 1 hour with train. Amersfoort is a historical heritage town with a well-preserved medieval city centre.
We had a great stay in Kristine's house. It's exactly as described in the text + photos, very spacious and modern with all the amenities you need for a prolonged stay. It's a very calm neighbourhood outside of Amersfoort itself but with a train station 5min away that connects to Amsterdam (or the airport) easily. Outside of riding a bike and a quick visit of Amersfoort you'll probably want a car to explore the rest of the Netherlands (plenty of stuff within an hour radius, and its central location is pretty useful for day trips).
Octave
2014-08-24T00:00:00Z
What a lovely house! We really enjoyed our stay!
Esther
2016-08-01T00:00:00Z
Definitely worth the price! We are a family of 5 and we thoroughly enjoyed the house. The descriptions and reviews were accurate. It was clean and well-cared for. The neighborhood and the neighbors were very nice. It is a reasonable walking distance from a grocery store. We had a bit of a miscommunication regarding our arrival and departure dates, but I should have been more careful about following up the day before arriving. Even with the miscommunication, the hosts were very accommodating. Definitely a 5-star BNB experience!
Jon
2015-07-01T00:00:00Z
The Q house is a beautiful house. Big enough for 8 people. The kitchen is filled with every equipment you could need so that it's no problem to cook, mix cocktails... The supermarket is just 5 Minutes to walk, also the station from there you can reach almost every destination by train. So you don't need the car. We fell in love with the house and Amersfoort and would love to come back next year.
Birgit
2016-08-20T00:00:00Z
Our family had a fantastic stay at Quentin and Kristine's place in Amersfoort. Charles met us both when we arrived and left, making us feel very welcome and couldn't help us enough. The house had everything we needed for our stay. It felt like a home away from home. They even set up a Christmas tree as we were there over Christmas. Thank you for allowing us to stay at your beautiful house.
Geraldine
2014-12-26T00:00:00Z
This was an absolutely incredible first-exposure to AirBnB. The home was absolutely beautiful and we felt perfectly welcome. Our communication with the host was great and we were given a great tour of the home. The apartment was clean and modern and was absolutely comfortable throughout our stay. Thank you Kristine for allowing us to stay at your home. My family loved it and it was a truly great experience!
Gordon
2014-11-07T00:00:00Z
We were welcome by Quinten dad, Charles and he very friendly and nice to us. The Q house really beautiful and feel warm as describe. Neighborhood surrounding was quite and feel very relax. We have really pleasant and comfortable stay over there for 4 night. Terima Kasih (Thank you) Quinten & Charles for giving us the opportunity to stay at your lovely house. Highly recommended to stay at Q house and if we visit Netherlands again, will stay again at the Q house.
Nicole
2015-04-26T00:00:00Z
The house was absolutely incredible, impressive and spacious and the neighbourhood so peaceful and quiet. Wonderful waking up to the view of ducks on the water while drinking a cup of coffee in the mornings. We loved staying here and the amenities provided were great such as fancy coffee machine, hair dryer, ironing board etc. The beds and linnen were on par with staying at a hotel. Our host, Charles (Father in law to the couple who own the house) was incredible and we cannot praise him enough. He met us for check in and check out at times that were convenient to us (6am!) and he kindly even provided basics such as milk, cheese and bread to tide us over until we could go to the local shop. Charles even organised a cot for our toddler with brand new linnen, teddy bear and some toys. Such acts of kindness are so welcomed especially when having travelled 8 hours in a car. Would highly recommend this lovely home
Tan
2015-07-10T00:00:00Z
Room Type
Entire home/apt
---
Property Type
House
---
Accommodates
8
---
Bedrooms
Amersfoort, Utrecht, Netherlands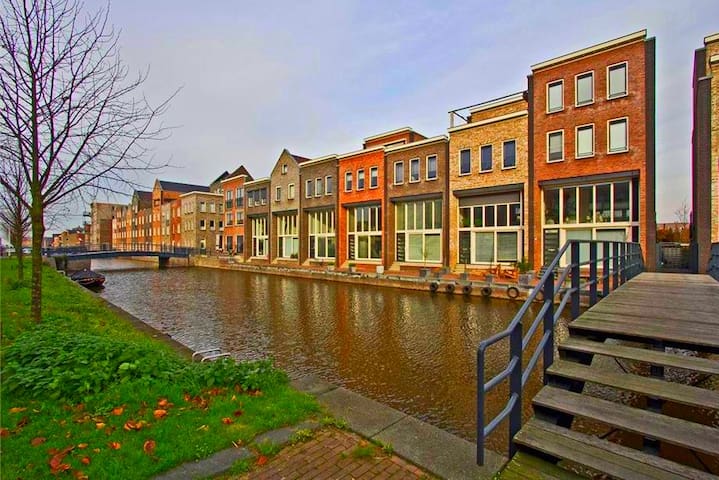 Mijn logeerkamer is midden in het oude centrum van Amersfoort, op loopafstand van de winkels, restaurants en cafés. Het treinstation is op ongeveer 20 minuten lopen. Er kunnen 2 personen slapen, de bedden staan los van elkaar. De badkamer is eenvoudig. Gebruik van de keuken in overleg. In verband met activiteiten in de benedenruimte doordeweeks, zijn de uitcheck-tijden in overleg.
The host canceled this reservation 20 days before arrival. This is an automated posting.
leo
2017-03-26T00:00:00Z
Room Type
Private room
---
Property Type
House
---
Accommodates
2
---
Bedrooms
Amersfoort, Utrecht, Netherlands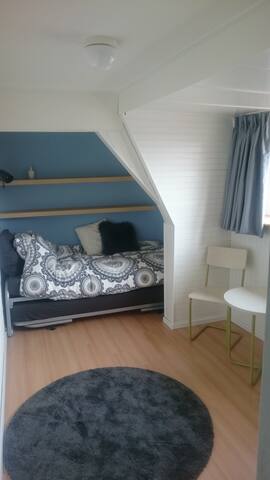 Ons huis staat op een prachtige plek in het buitengebied van Voorthuizen temidden van eeuwenoude bomen. Wij genieten het meest van de rust en de vrijheid in de heerlijke tuin of op de veranda. Dit huis is onze droom! En die delen we graag....
Volledige rust middenin de prachtige natuur
De woning is gelegen in het gebied Appel, een prachtig natuurgebied met volop fiets- en wandelroutes in de directe omgeving rond de woning. Je kunt vanuit huis prachtige wandelingen maken en in de vroege ochtend of 's avonds in de schemer zijn er reeën en af en toe herten te zien. Verder ligt het dorp Voorthuizen op 5 km afstand en bied alle denkbare voorzieningen zoals fietsenverhuur, winkels, supermarkten, zwembad, snackbars, restaurants. Ook Barneveld ligt op 5 km afstand met een uitgebreid en gezellig (oud) centrum met veel winkels en leuke terrassen.
wow... it was fantastic.. I do not know what heaven would be, but here was such a heaven for us... beautiful place, calm environment and full of positive energy... Lenie and her husband are so helpful.. just, I would be hopeful to be back again to this dreamy place...
mahdieh
2016-08-15T00:00:00Z
Lenie and her husband normally live in their house but when they rent it out they live in the house behind, separated by two large hedges. Lenie emailed us to check on arrival time to get everything in order. The house is beautifully located, has all the conveniences, a large living and dining room, a kitchen fully equiped and a wonderful covered porch (over the whole length of the back of the house). That last was very welcome: with summer tempartures but with occassional rain we could stil sit outside in the comfortable garden chairs. There is much to do in the surroundings: the Veluwe with walks, lovely town of Amersfoort (and Utrecht just some more kms further). Easy shopping in Voorthuizen (closer than Nijkerk itself). It were a few relaxing days staying here. That was wonderful.
Johannes
2016-08-11T00:00:00Z
Lenie (and Jan Dirk) were fabulous hosts; friendly, helpfull and accessible. The house and the land were even better! We (4 adults and 2 young kids) had a lovely vacation chilling and grilling in the large garden, biking and hiking in the area and 'discussing politics' on the comfy porch. Top off your stay with a cooking workshop next door!
Stephan
2016-09-06T00:00:00Z
Hi, We are a couple with 3 teenagers and we rent the house for one week, From the beginning it went smoothly as the arrival time was very flexible and we got all the direction and information needed to get there. Lenie and her husband are such a nice couple and make us feel at home from the first moment, They were very accessible and provide us everything we needed. The house was beautiful and clean and had all the facility needed so it was fun staying there. It was a great vacation and hope to visit them again.
Ayellet
2016-07-28T00:00:00Z
Het is een mooi huis op een mooie locatie. Veel rust en ruimte, maar ook voorzieningen dichtbij in het naburig dorp (Voorthuizen). In de directe omgeving is ook veel te doen. Wij zijn zelf naar de Hoge Veluwe, de Biesbosch en Safaripark Beekse Bergen geweest. Ook zijn er veel leuke geocaches ((URL HIDDEN) te vinden, waardoor je op hele leuke plekjes terecht komt. Ik vond het wel jammer dat er geen fietsen bij zaten. We konden wel huren in het dorp, maar dat is wel een hoop gedoe.
Josephiena
2016-08-23T00:00:00Z
Heerlijk rustig en ruim. Alles was aanwezig voor een comfortabel verblijf. De smaakvolle inrichting geeft rust en ruimte. Heerlijke ruim terras en tuin en alle faciliteiten ( strandje, winkels) zijn redelijk dichtbij. Prima!
joost
2016-07-15T00:00:00Z
Na het zien van de foto's waren we al gevallen voor deze woning.  Maar toen we aankwamen waren we alsnog aangenaam verrast. De foto's geven niet weer hoe mooi en ruim deze locatie is. De woning van Lenie en Jan-Dirk is voorzien van alle gemakken,  van linnengoed en handdoeken tot een luxe voorziene keuken. Daarnaast kun je genieten van de rust, de vrije natuur en zelfs als het regent op de porch lekker buiten een boekje lezen op de loungeset. De woning heeft een geweldige ligging waardoor we uitstapjes konden maken naar onder meer Amsterdam, Zeewolde en GeoFort in Herwijnen (aanrader voor kids!) zonder eindeloos te hoeven rijden. Praktisch om de hoek ligt Voorthuizen met een AH, Jumbo, Blokker, DA, verse bakker en nog veel meer. Lenie en Jan-Dirk,  dank jullie wel voor de gastvrijheid!  We komen zeker terug!
Na
2016-08-06T00:00:00Z
Een zeer welkome ontvangst. Lenie is trots op haar plek en wil dat graag delen. Paddestoelen, risotto en rode wijn als welkomstgeschenk. Het huis ligt prachtig. Zonnig met veel ruimte erom heen. We hebben genoten van de ondergaande zon en de prachtige herfstkleuren. Het voeren van de kippen en de twee bijzondere varkens was voor ons echt een leuk extraatje. Mooie keuken en ruime eetkamer en ook nog een ruime woonkamer. Heerlijk om zo ruim en rustig de vakantie door te brengen. In ons geval was de zolder werkkamer een echte uitkomst. Prima om teruggetrokken rustig te kunnen werken. Locatie is goed. Slechts een paar minuten van de A1 zonder dat je de snelweg ziet of hoort. Prima om vanuit hier naar Amersfoort, Apeldoorn of de Veluwe te gaan. Hadden nog wel wat langer willen blijven maar school en werk kunnen weer niet zonder ons.
Rene
2016-10-22T00:00:00Z
Room Type
Entire home/apt
---
Property Type
House
---
Accommodates
5
---
Bedrooms
Nijkerk, Gelderland, Netherlands
100 year old car workshop for stay. Along the old village street is a hidden garden shed (60m2). The garden has a play area for children. The house has high speed internet, TV and private kitchen. From the lounge there is beautiful view of the garden. Do not expect great luxury but a practical and enjoyable home. The house is centrally located in the Netherlands, with easy access via the motorway or train. The village has several supermarkets and restaurants.
The property consists of a large living room with kitchen on the ground floor. There is plenty of light through large windows. From the kitchen as you step on the porch in the (shared) garden. There is a small, functional bathroom with shower. The upper floor has one bedroom with two beds and one open space with a bed and a sofa bed. The staircase is steep (see photos). The house is old and we hope to grow the final depth this year, but we ourselves also with pleasure many months lived.
It is causing visibility across a pancake house, a cozy restaurant and a small bar, none of whom nuisance. 200 meters begins Hoevel Aachen forest where you can walk. The shops and restaurants are within walking distance.
Cosy and spacious house! It was well heated and we enjoyed our night there with our little daughter.
Aivy
2016-12-04T00:00:00Z
Everything is okay, lovely garden :)
Piotr
2017-04-04T00:00:00Z
Our host really put us at ease and tried to help us as much as we can to adress our questions. He provided us with a cycling plan of the area and also a small bike that can be linked to another one so that our son will not be too tired from long cycling in the nature! The place is very friendly for familly with children. A lot of toys are available in the house and there is also a playground outside. My son of 6 years had a lot of fun with our children hosts!
Nadia
2017-03-26T00:00:00Z
Fijn huisje, mooie tuin met genoeg te doen voor jonge kinderen. Aardige en behulpzame verhuurders. Hoevelaken ligt mooi centraal. Een aanrader!
Hilje
2017-02-26T00:00:00Z
Een leuk huisje, en een erg vriendelijke eigenaar hebben dit tot een zeer prettige overnachting gemaakt voor ons.
Tim
2017-03-12T00:00:00Z
Gran lugar y casa. Es perfecta para pasar unos días y el anfitrión te trata muy bien.100% recomendable
Javier
2017-03-20T00:00:00Z
Het huisje en met name de douche zijn in een deplorabele toestand. Op diverse plaatsen staan emmertjes vanwege doorlekkende regen. Vloeren zijn hier en daar opgezwollen door vocht/lekkage. Huisje was wel schoon en proper. Rustige ligging niet ver van Amersfoort.
Leon
2017-03-19T00:00:00Z
Een warme ingerichte huiskamer waar het fijn is om even bij te komen. Als het mooi weer is kan je heel rustig en heel prive buiten zitten. Harm is attent en tegelijkertijd heb je op dit plekje ook alle privacy. Je moet alleen een steile trap (naar de slaapkamer) geen probleem vinden. Ik kom zeker nog eens terug.
Jeannette
2017-02-15T00:00:00Z
Room Type
Entire home/apt
---
Property Type
House
---
Accommodates
3
---
Bedrooms
Hoevelaken, Gelderland, Netherlands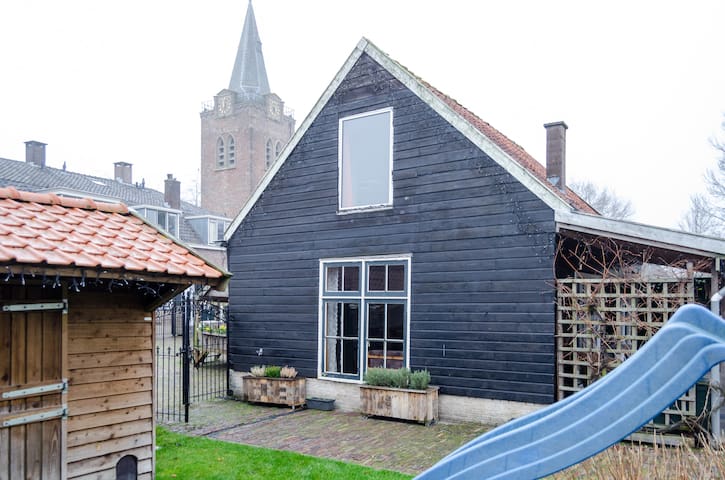 Enter dates to see full pricing. Additional fees apply. Taxes may be added.