Seems like glamping in lakes region of NH but so close to everything! About 35 miles to Boston, 16 to Providence. Patriots Place just up the road. Tweeter Center 6 miles. Easy access to highways. Excellent restaurants. Hiking trails in walking distance. You will love the peace, views and location. Ideal for couples, solo adventurers, business travelers. Please note: bedroom and bath are newly finished spaces but in full, walkout basement (with spectacular views) which is not entirely finished.
This space is very private. The bedroom and private living space offer an incredible view of the lake out back. There is a private bathroom, a custom patio outside a set of sliding glass doors and a small upper deck that guests are welcome to use. Please note, the bedroom and private bath are new, finished spaces but in the basement, with 16 foot sliding doors which open out to the patio and lake, but is otherwise not quite finished. We are on a dirt road, which gives the feeling of being somewhere out in the woods, or up in the lakes area of NH. We are only 2 miles from 95 and 495. 295 is one exit up off of 95. From the convenience of this location you can be in Providence in less than 20 minutes, Boston in 45 (depending on traffic). The Cape and other beaches are easy day trips.
North Attleboro is a gem of a town. It has a small town feel, with most people living here generation after generation. There are restaurants that could compete with the best of Boston's North End or Providence's Federal Hill. (but I wouldn't miss these if I were in the area!) There are hiking trails nearby, even a fish hatchery within walking distance.
Thanks for the wonderful hospitality.
Jon
2016-10-23T00:00:00Z
The only thing that could have made this a more perfect getaway would have been if we could have stayed longer. Irene was one of the nicest people you could ever want to meet. The friendship and hospitality that she shared with us was greatly appreciated. The location of her home was just perfect for what we wanted to do for the weekend. Her ad says the home is "a work in progress" but I can honestly say that I could move in today and not feel the need to change anything. When you step of out the back sliding door you are right on the water. You have access to the fire pit, the tiki torches, the grill and everything else in her home, right down to the fishing pole waiting for you on the beach. I can promise that we will go back again and I am 100% certain that we will make sure we take more time to spend in this little paradise. Thank you so much Irene (and Bob). We only had the day to spend this time but you allowed us to relax and show us again the good things in life that we sometimes take for granted.
michael
2016-09-03T00:00:00Z
Spending a weekend at Irene's home on the lake was just amazing! Waking up to breathtaking views and a feeling of serenity was magical. The accommodations were perfect with an entire floor of the home dedicated to our comfort. With a private bedroom and bathroom and the ability to walk right out to the beach it was just perfect. Even though the remaining area around the bedroom and bathroom is not fully finished the entire feel of the space is comfortable and accommodating. You can see that much care is given to create a welcoming and peaceful environment for her visitors. Irene herself was the absolute perfect host. Her attention to detail and warm peaceful energy just added to the overall amazing feel of my entire trip. I will certainly be coming back to stay again!!
Jayme
2016-08-08T00:00:00Z
What a great experience with Irene and her family! The place is still in work but we didn't care about that. We had a great time there and Irene was a very helpfull, kindness and lovely host :-) it was hard To leave that place. It's peacefull, You have a wonderfull view over the Lake, You can use the kayak, and ask everything You need. So We Will come back again for sure
Carole
2016-08-23T00:00:00Z
Irene was amazingly cool! Her house has an incredible view by the lake which you'll never experience with other airbnb listings. She even let us tried her kayaks on the lake. The room was clean and tidy. I highly recommend this place because this is the most interesting airbnb I've ever encountered.
Paihao
2016-08-08T00:00:00Z
I did not actually get to meet Irene, but she was very lovely to talk to. She was incredibly responsive and flexible, and really seemed to want to make sure that we enjoyed our stay. Unfortunately, we were in the area for a show at Gillette (this place is the perfect location!!) and did not have time to take advantage of the wonderful lake, but we will definitely be back. The space itself was very nice and you could tell that Irene was very thoughtful in putting together the room. There was everything we could possibly need and then some.
Chelsea
2016-08-29T00:00:00Z
This place was fantastic! Irene was very welcoming and a real pleasure to meet and the place is beautiful. It was quiet and peaceful and had all the comforts I needed during my stay. I highly recommend it!
Todd
2016-11-05T00:00:00Z
This was the perfect place for me to unwind and reflect while dealing with the loss of a close family member. Peaceful lake, great hosts, private, comfortable and spacious room. Irene and her boyfriend (name escapes me at the moment) were great company when I needed it, and generous hosts. I'd highly recommend this AirBnB home.
Eric
2016-10-15T00:00:00Z
Room Type
Private room
---
Property Type
House
---
Accommodates
2
---
Bedrooms
North Attleborough, MA, United States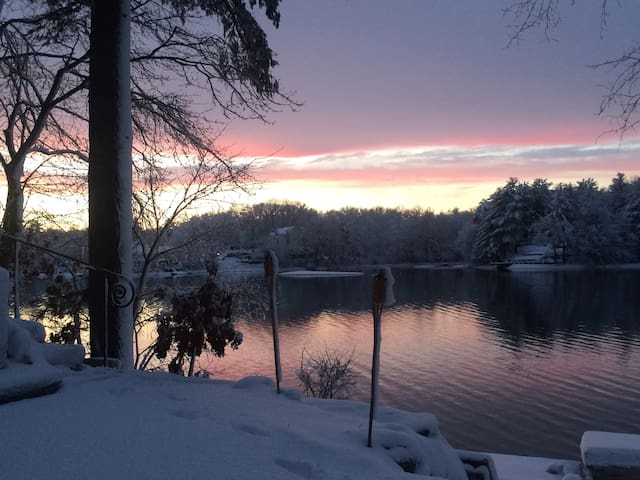 Private bedroom & attached private full bathroom! 2nd bedroom available when you book with 3 or 4 guests. Beautiful home in a quiet residential neighborhood, off-street parking. Located close to Foxboro, Mansfield & Wrentham.
1st Bedroom includes: - A sunny private bedroom, with queen size bed (with new firm mattress & foundation!) and linens (sheets and blankets) for your comfort - Bedroom has Smart TV for Netflix and Amazon Prime, with basic TV channel access - This bedroom has its own private attached bathroom with tile-lined bath/shower - Plush bathroom towels reserved exclusively for our guests 2nd Bedroom If you choose to reserve with 3 or 4 guests, another private bedroom will accommodate these guests. This 2nd bedroom has a full-size bed. Guests in this bedroom will share the private bathroom in the 1st guest bedroom. Please note: - Please contact us if you want to stay more than 7 days. We look forward to sharing our home with you! Kim & Dan
Our home is located in a quiet residential neighborhood. You'll notice neighbors walking and running, kids riding their bikes, dogs being walked, etc. If you don't mind walking, there are restaurants and convenience stores located between 1/2 and 1 mile from our home.
The rooms were clean, beautiful and had everything we needed...including snacks! Kim and Dan were thoughtful hosts that communicated promptly and accommodated our schedule even when they were not able to be home. Thank you for the comfortable and enjoyable stay.
John
2016-04-01T00:00:00Z
Kim and Dan were great hosts. My girlfriend and I stayed one night for a concert at Gillette. Dan was kind enough to drive us to the stadium. I highly recommend! Thanks again!
Jordan
2014-06-02T00:00:00Z
My friend Mark and I had a delightful time at the Bergeron's. We really felt "at home." The rooms were as described. We were in the area to attend a folk festival and had not planned to hang around the house. Due to deadlines, I had to spend most of one day doing computer work on my laptop. Dan and Kim let me "spread out" on their dining room table which worked out perfectly. The bedrooms (in particular the beds) were very comfortable and the bathroom spotless and well-provisioned. I prepared my own meals during my "workday" and Dan and Kim made all their kitchen supplies/appliances available. They were friendly and accommodating.
Craig
2015-04-27T00:00:00Z
Kim&Dan were very accommodating, the place is very clean and cute, the rooms are super comfortable. Kim&Dan provided towel, toiletries, water and even snack bars. There's also brochure for attractions to visit in the area such as the Newport mansions. The neighborhood is safe. Kim&Dan also gave us helpful tips for restaurants and parking. Overall a great experience and I would definitely recommend Kim&Dan for any one who plans to visit Newport, Providence or nearby areas.
Phuong
2016-08-08T00:00:00Z
Kim and Dan have a wonderful place, you will feel right at home in their cozy and welcoming space. They were very accommodating of our changing arrival time and responsive to communication. Very friendly, they made sure we were comfortable and had everything we needed. The rooms are large, the beds very comfortable, the bathroom as everything you could need and I have to mention the super soft towels! Though we didnt get to enjoy it, there is a beautiful yard too!
Cecile
2014-04-23T00:00:00Z
Just fantastic, clean and nice house! Hosts are well prepared for guests and seems to know how to make people feel comfortable. Highly recommended!
Ryan
2014-08-28T00:00:00Z
I had a great experience at Kim & Dan's place! They were not home when I arrived but made accommodations for me and left notes to guide me through their lovely house. The sheets and towels smelled amazing and I had coffee and a cereal bar on my way out. Everything was incredibly neat and clean yet felt like home :)
Shivani
2014-09-18T00:00:00Z
Kin & Dan were excellent hosts! The location turned out to be perfect! The room was very nice, very comfortable, and very private. I felt very comfortable and welcomed!! I hope if I need to I will be there again!! Five Star rating all the way!!!
jennifer
2016-06-27T00:00:00Z
Room Type
Private room
---
Property Type
House
---
Accommodates
4
---
Bedrooms
North Attleborough, MA, United States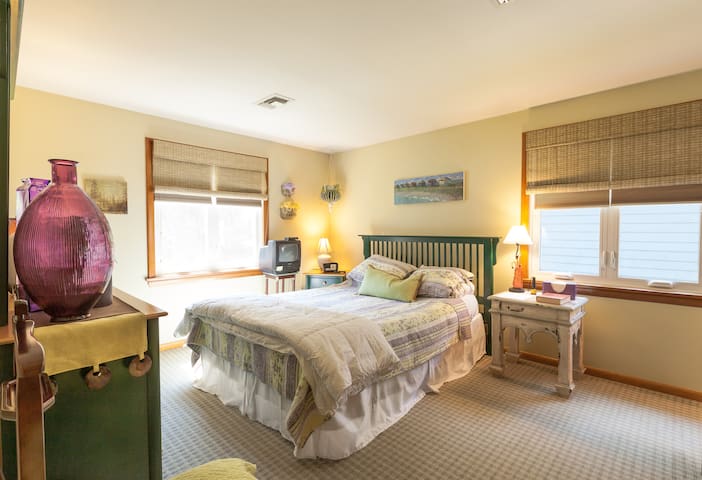 Private bedroom in a townhouse centrally located in Providence. I am a short distance from downtown, Brown, Roger Williams and Providence College. Fast internet, a home gym (equipped with Yoga mats, a rowing machine and weights), kitchen, and a very well stocked bathroom. You have access to all of downstairs, except for the one other guest room.
You have a private room adjacent to the kitchen. Known issues: I am updating the house so I have debris in the backyard, so it is off limits until further notice. A fuse blew and the electrical outlet by the bed is not working so I have an extension cord in the room you can use with the plug that's further away from the bed.
There's some cool spot right next to the house! The State House is a few minutes away and there's a Dunkin Donuts 2 minutes walk away!
Jake was a spectacular host! I had a huge room with my comfortable Airbnb bed for sure, off of a nice quiet street with a close walk to downtown. Noticed little things like extra toothbrushes in the bathroom, and while I didn't need one I appreciated that extra effort to accommodate guests. Everything was very clean, and I must mention how much of a sweetheart Jake's dog is! I'll be sure to check availability here first if I need to come back to Providence!
Brandy
2016-11-13T00:00:00Z
Very clean, lots of amenities in case you forget something, good communication. Enjoyed my stay very much.
Peter
2017-01-10T00:00:00Z
Convenient to downtown, walkable neighborhood, Jake is helpful and friendly.
Bob
2017-01-13T00:00:00Z
My stay at Jakes was awesome ! Not only I got a nice affordable play to stay , but I made a good Friend ! Highly recommended to stay at good guy jakes !
John
2017-03-21T00:00:00Z
I stayed at Jake's place for a few days in February 2017. As a young adult traveling alone, I felt very safe in the neighborhood and house that I stayed in. There's Uber and Lyft to get around, but Jake's house is also an 11-15 minute walk to downtown. Jake went beyond my expectations as an airbnb host in terms of hospitality and communication.
Kristelle
2017-02-22T00:00:00Z
Jake is a great host. He was very nice and welcoming. Place is well organized and easy to find. 2 min. walk from bus #56. Place is really close to downtown and also close to Roger William Medical Center if you are interviewing there.
Mahmoud
2017-01-23T00:00:00Z
Jake was an absolutely fantastic host - every detail was thought about, check-in was super easy, the room was very clean, and the bed was comfortable. I would definitely recommend to anyone, and would return.
Caroline
2016-12-22T00:00:00Z
Jake has a solid airbnb business set up. Convenient, clean, and had a driveway to park my truck. Would repeat.
Jeffrey
2016-12-18T00:00:00Z
Room Type
Private room
---
Property Type
House
---
Accommodates
1
---
Bedrooms
Providence, RI, United States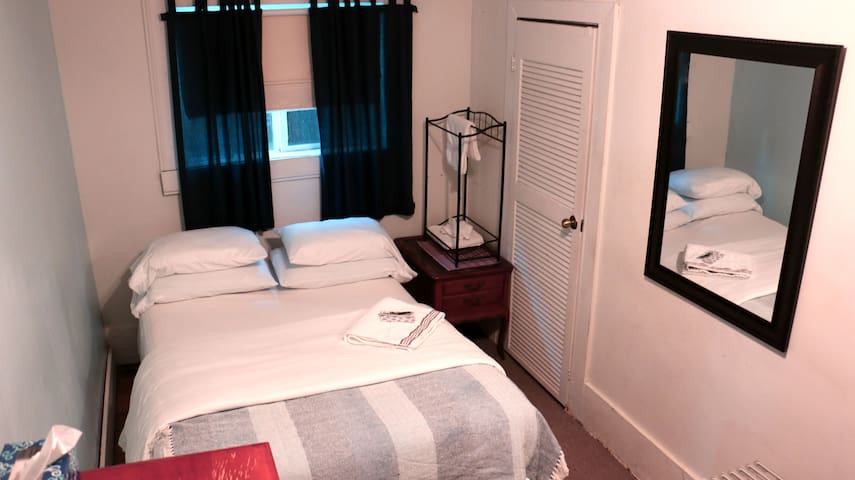 Cheery apartment with private entrance in lower level of our house in a quiet, charming, residential neighborhood 1 mile from Brown & RISD on Providence's East Side. Kitchenette w/ fridge, stove, microwave, coffee maker, dinette. Full bath & laundry. Fast internet. Parking pass available for one car to park on street overnight.
Short walk to Hope Street's restaurants, shops, and the famous Seven Stars Bakery/Cafe. Quiet residential neighborhood.
What a perfect spot for a weekend visit to Providence! The apartment is in a great location and within walking distance of all sorts of restaurants, bars, and shops. If you're not up for a leisurely 30-40 minute walk to downtown (all downhill), the bus stop is just a block or two away, and Uber was very reliable and quick. Tim and Mara's place has plenty of room for two, although I was too busy eating around town to use the huge full kitchen. (Seriously, it's bigger than the kitchen in my grad school apartment a few blocks away!) A comfy bed and chair to relax in, plush towels, good shower, and a fan rounded out the amenities. The hosts were available for check-in and check-out but gave me complete privacy during my 2-night stay. I'll definitely look into this place again when I'm visiting In the future!
Tiffani
2016-06-22T00:00:00Z
We had a wonderful time at Timothy's. The house is at a beautiful neighborhood,the place is very spacious. Great restaurants are at a walking distance,downtown is less than 10 minutes by car. The hosts were very nice and helpful,communication was very fast. The place was clean and had a great atmosphere,the bed comfortable. Would definitely recommend it!
Eszter
2016-06-11T00:00:00Z
This was a wonderful stay in Providence. Exactly as described. It is a very large unit, very well equipped, great bed, nice bathroom, great kitchen with even laundry. I really enjoyed my 2 nights at Timothy's place and sure i will go back next time. Thank you so much !!!
Yves
2016-11-08T00:00:00Z
The house was in a great location in a peaceful residential neighborhood just a ten minute drive from downtown. Tim's wife, Mara was splendid. She was very accommodating with getting us into the apartment at our own convenience and made sure we felt at home. The interior of the basement apartment was charming and warm, with a beautiful and cozy bed spread. The bathroom had plenty of amenities such as fresh towels and good quality bathroom products. We will definitely be staying here again when we visit Providence next.
Charlie
2015-10-24T00:00:00Z
Mara replied promptly to my request to visit and maintained contact whilst I orientated transport and timings. Timothy offered lifts and the accommodation was spacious and well resourced.
Keith
2015-10-24T00:00:00Z
I had a short two night, three day stay in Providence. I did not meet my hosts in person, but the communication with my hosts was easy and efficient. The hosts responded within a couple hours, if not sooner. Instructions were easy to follow about the separate entrance. I appreciated the privacy and made some use of the kitchen. If I had more time, I would cook, but ended up exploring the city. I did like the fridge stocked with water and coffee essentials. The neighborhood was relatively quiet for a residential area. There was occasional traffic and loud music from passing cars, but no more than to be expected, and late evenings were quiet. I did stay during the week, so it's possible the weekend would be noisier. The bed was comfortable and if I stayed longer, I could see making more use of the kitchen, the board games, and the books on the shelf. The space was plenty for 1 person, but with more than 2, it could get crowded. Overall, I enjoyed my stay. I would stay here again, especially considering the proximity to Thayer St. and Brown University.
Elizabeth
2016-10-20T00:00:00Z
We had a wonderful time staying here. The apartment was very clean and spacious. We would highly recommend this apartment to anyone visiting Providence.
Emily
2015-12-21T00:00:00Z
Very welcoming host! The apartment is lovely too.
Jill
2015-12-29T00:00:00Z
Room Type
Entire home/apt
---
Property Type
Apartment
---
Accommodates
2
---
Bedrooms
Providence, RI, United States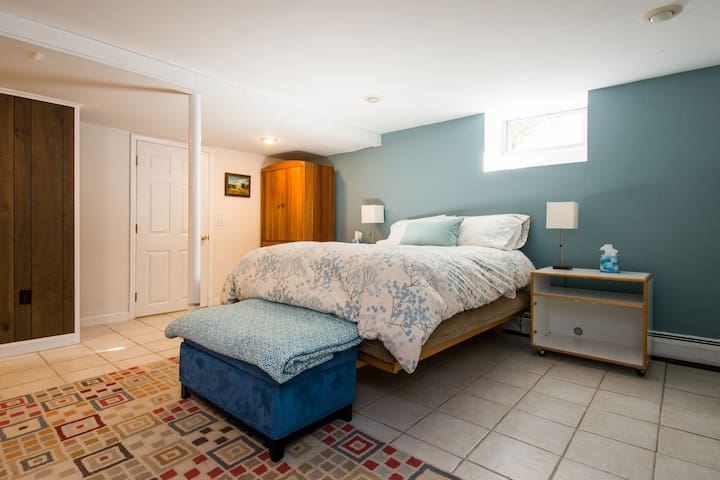 Stand-alone garden apartment with a queen bed, gas fireplace, full bathroom, and kitchenette (everything but a stove). Natural stone walls / exposed wood beam ceiling. Full stereo with a good selection of old vinyl. Washer/Dryer. Parking lot provided
This is how every airbnb should be! Travis is friendly, quick to respond, and very very easy to deal with. And the unit itself is perfect for 1 or 2 people. We spent 2 weeks in Providence, so we really needed a comfortable, clean home base, and Travis offered that and then some. The location was prime, and the convenience of an off-street parking space cannot be understated. Everything in the unit was very clean, especially the bathroom, which was immaculate. The bed was incredibly comfortable, and the added convenience of having a washing machine made our long-term stay even better. We also enjoyed having the ability to make and store food with the kitchenette. And we listened to a lot of vinyl, which Travis kindly provides for his guests. It is without question that we would stay with Travis again when we return to Providence, but I expect this awesome unit is going to be booked up a LOT in the future! :)
Chanele
2016-05-22T00:00:00Z
Absolutely loved my stay at the Whych House! The space is charming and cozy, the bed was super comfortable, and the location was PERFECT. Super close to coffee, food, and a good wine shop (all within walking distance). Only a 15-20 minute walk to Downcity if you want to head that direction, too. Travis was friendly and easy-going, the whole experience was flawless.
Maria
2016-11-06T00:00:00Z
Travis' place was so, so great -- seriously wish I could live there! I was in Providence for a 2-week workshop at Brown, and it was everything I could have wished for. Clean space, comfy bed, stocked with amenities I didn't know I needed, from wine glasses in a picnic basket to a coffee maker already stocked with coffee to anti-wrinkle clothing spray. It's in a great location -- a 10 minute walk from Brown, and a few minutes away from Wickenden, which is full of cafes, bars and quaint independent boutiques. The waterfront's also not far away. And Travis himself is super communicative. A+!
Amanda
2016-06-27T00:00:00Z
It was perfectly located (a few blocks away from brown university), had a parking space. This house had the right size. It was cozy and clean. Loved the looks, and it was on a street level so I didn't have to use the stairs. Travis was very responsive even though I think it was in a short notice. He was very flexible about the time we check in/out. Very helpful and recommended lots of places to go.
Dario
2016-03-23T00:00:00Z
Travis' place was great. Very clean, quiet, cozy, and exactly as pictured. Travis was friendly, accommodating, and very easy to get in touch with. The neighborhood was charming. A fun place to stroll and good coffee shops just a few blocks away. I would definitely stay here again!
Nicole
2016-06-01T00:00:00Z
Travis' apartment is cozy and in an amazing location. The bed is super comfortable. He made check in easy and efficient. Highly recommended!!
Rebekah
2016-04-11T00:00:00Z
Travis was a wonderful host, very responsive, timely, and thoughtful. The apartment is just as it appears, and the location is perfect. Could not be happier!
Nora
2016-03-28T00:00:00Z
Great little place. Super comfortable bed! Love the beams and stone walls. Only stayed one night. Wish I lived there! Just a couple blocks to all shops and restaurants on Thayer. Great if you're visiting Brown.
kalie
2016-04-09T00:00:00Z
Room Type
Entire home/apt
---
Property Type
Apartment
---
Accommodates
3
---
Bedrooms
Providence, RI, United States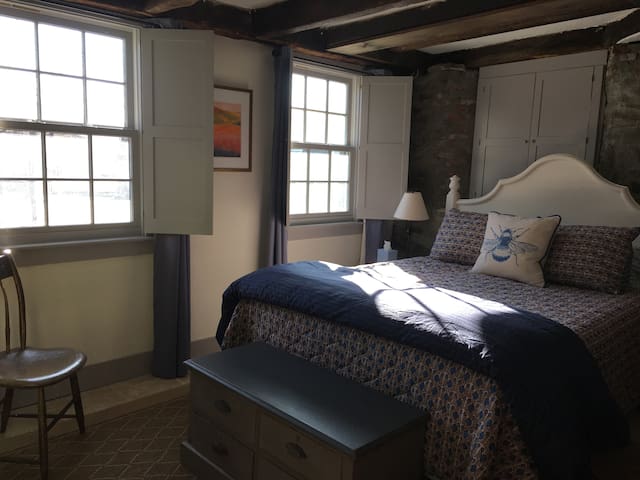 Private & lovely 2nd floor sunny corner bedroom & bath, charming 1880's Victorian house. Steps from Brown University and minutes to RISD and downtown. Comfortable queen-sized bed, fine linens, in-room TV, cable, A/C, free wi-fi and parking. Plus enjoy a delicious breakfast and excellent attention.
The sunny guest bedroom is spacious, with fine linens, comfortable bed and most of the items to make you feel at home including cable, wi-fi, alarm clock, luggage rack, closet and drawers. There's a nice three piece bathroom with subway tile shower.
Exploring Providence - College Hill and Beyond Three and-a-half centuries of history Brown is located in Providence, Rhode Island, the state's capital and largest city. Known at the "Creative Capital", Providence has long been a haven for creativity and innovation. Three and-a-half centuries of history are alive and well on the streets surrounding Brown, as is evident in the immaculately preserved Colonial, Federal, Greek revival, and Victorian houses of "College Hill". Thayer Street runs through the center of campus. You'll find the Brown University Bookstore and a host of restaurants, coffee shops, stores, banks, and street vendors. Halfway down College Hill from Brown, RISD is a vibrant community of artists and designers that attracts more than 2,000 students from around the world. The RISD faculty and alumni communities and the RISD Museum of Art give Providence a world-class arts scene.
The room and home was better than expected. It felt fresh and clean and the bed was incredibly comfortable and cozy. Rose's home is beautifully decorated and well appointed. Rose is a wonderful, warm and welcoming host. She took the time to explain everything regarding her home and the area. I was amazed at the home made breakfast Rose made in the morning. The location is incredible if you want to be close to Brown University. I look forward to staying here again!
Jeanne
2016-04-24T00:00:00Z
Our stay with Rose was exceptional. She is a wonderful host. The breakfast she made was outstanding. The room is beautifully appointed. So comfortable. A truly great stay in a great city!
MEK
2015-11-07T00:00:00Z
Rose made me feel very welcome in her home, it was almost like visiting someone I already knew! The listing was exactly as described and more. There is enough comfort and privacy and yet if you are one for mingling like me, Rose is also very keen to connect with her guests. She is a true host in the sense that AirBnB intended the word to mean. Everything was spotless clean and fresh. The house is decorated with lively green plants and it has great interior decor to go with the Old Victorian House look. Rose also went out of her way to provide a healthy, hearty breakfast - fruit salad, tea. This was my fist introduction to a delicious goat-cheese omelet. We also had great conversation during breakfast and to top it off, I was almost going to miss my train back and she so graciously gave me a ride and I made it just in time! All this happened in the space of 12 hours! I am very glad I stayed with Rose, I would do it again and I recommend everyone considering a stay in College Hill to visit with Rose - it will be a great experience!
Tich
2016-03-11T00:00:00Z
Terrific location. Fantastically light + art filled stunning space. Rose is a gem, I made a new friend!
Jennifer
2017-03-16T00:00:00Z
Rose was a perfect hostess! Her apartment was lovely and sophisticated. Her art collection is interesting and distinctive. The location was perfect for us as we used it for base camp to go to Newport, Worcester and Boston. The restaurants in Providence are wonderful, almost as good as Rose's breakfasts!
Amy
2016-08-24T00:00:00Z
This is one the best AIrbnb experience for a business traveler like myself The room was perfect with fresh water and strawberries on the table The bed is my favorite sleeping experience to date for the many beds I have slept in. The sheets were amazing too. Rose shared her dinner with me so I wouldn't have to go out late. The breakfast was perfect for starting the day off. Goat cheese and sweet potato omelettes. Excellent stay and an awesome host!
Steve
2016-03-23T00:00:00Z
Rose was absolutely wonderful and fully accommodating. Her apartment is lovely and is in an excellent location in College Hill adjacent to Brown. I would absolutely stay here again with no hesitation.
Eric
2015-09-22T00:00:00Z
What a lovely place! The room and bathroom were clean, spacious, and well-appointed. Rose went out of her way to accommodate my schedule, and to make me feel right at home. It was an excellent experience and I plan to return to stay as often as possible when I visit my son at school.
Mary
2015-12-17T00:00:00Z
Room Type
Private room
---
Property Type
Apartment
---
Accommodates
2
---
Bedrooms
Providence, RI, United States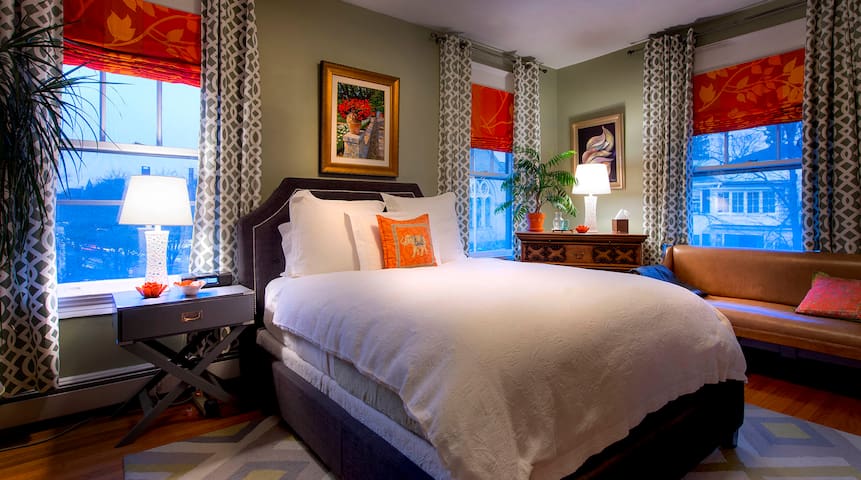 Cozy and comfortable apartment in host occupied historic house. Lively urban neighborhood. Walk to Downcity, India Point waterfront park, playgrounds, restaurants, Brown and RISD. 2 bedrooms: 1 double, 1 single. Parking space. Excellent choice for one night or a long term rental.
Newly renovated with new appliances, beds, private and comfortable space. Short walk to restaurants, shops, clubs, universities, and downcity. We are world travelers ourselves and understand the rewards and stresses of travel. Providence is a great city and we want your visit here to be special.
Fox Point is an old Providence neighborhood, historically Portuguese, close to Brown, RISD, JWU, and an easy walk to India Point waterfront park. There are Indian, Japanese, Thai, Italian and American Bistro restaurants a block away, as well as neighborhood pubs and antique shops, tattoo parlors, and the best coffee in Providence.
Mare is a very kind of host. She apologized that she couldn't meet us when the time we checked in. Her girl friend Monica greeted us. She does very care of guest whether is comfortable or not. I really appreciate her. The morning we got the muffin and orange juice for the breakfast.
Hui Mei
2016-09-29T00:00:00Z
Mare was an amazing host! From the moment we booked to the moment we left the home, Mare was regularly checking up on us to see if there was anything else we needed during our stay. We asked if she would be able to get a high chair for our toddler, and she went out of her way to find one without cost. When we arrived at the home, she had the driveway gate open and decorative lights on outside, which made us feel very welcome from the start. There was fresh breakfast food in the fridge for us so we didn't need to go out shopping. There were fresh flowers and that day's newspaper on the table. The listing was very accurately described, and it exceeded our expectations. The home was very clean and the beds were comfy and cozy. We felt like we were home away from home. The neighborhood is a premium location in Providence. There are nice bars, restaurants and convenience shops nearby. We loved Providence, we loved Mare's home and we hope to return in future visits.
Octavio
2015-01-06T00:00:00Z
Great location near the restaurants and shops on Wickenden street. Mare was a great host- when she realised she wouldn't be there on the night to greet me she made arrangements for me to meet her partner and access the place without any problems. This was an easy and comfortable place to stay within walking distance to Brown and surrounding area. The muffins and yogurt for breakfast were much appreciated! There are also lots of good coffee shops nearby.
Julia
2016-03-06T00:00:00Z
It was a wonderful experience staying here - very clean, close to city center, and very friendly. Mare was an amazing host, providing small breakfast and some small food & drinks in the fridge. On the last day, we actually left some items behind and Mare went above & beyond MAILING the items back to us. 5 star experience overall!!
Baek
2016-09-08T00:00:00Z
I arrived late due to work, and Mare welcomed me warmly and showed me around the apartment, while respecting that I was tired and wanted to rest. She very thoughtfully left a muffin and some yogurt and juice for breakfast, and cream for coffee. I didn't partake but appreciated the thoughtfulness. The apartment is just as described, it is charming and was completely adequate for my needs, with one exception. Unfortunately, I found the bed and pillows much too firm for my taste and was unable to sleep more than two hours. (The main reason I rented the apartment was to be close to a meeting I had to attend and avoid having to wake up extremely early for a 3 hour commute.) However, I am sure that bed firmness preference varies with the individual. I just happen to prefer a foam or pillow top feel. Otherwise, I had no complaints.
Amy
2016-09-28T00:00:00Z
Fantastic little place, just as advertised. Mare was quick to reply, helpful, and welcoming. Lovely Fox Point neighborhood. Place has everything you need for a comfy, safe, and quiet night. Even continental breakfast and fixings for coffee and tea, including with fresh half-and-half in fridge--a true b&b! Thanks, Mare--we had a great stay.
Ann
2016-09-16T00:00:00Z
Mare is warm-hearted and very responsible. Her place is clean, organized, and quiet. Great location with easy access to park, waterfront, shops and restaurants. Highly recommend!
Lili
2016-04-21T00:00:00Z
This place is awesome! It has everything you need and it is in a great location. Mare met me right when I got there and she left me with some great breakfast items for my stay. I will definitely be staying here again. Thanks for hosting me in Providence!
Allison
2015-10-01T00:00:00Z
Room Type
Entire home/apt
---
Property Type
House
---
Accommodates
3
---
Bedrooms
Providence, RI, United States
This is a small, private one bedroom apartment in a great walkable location on the East Side of Providence near Brown and RISD. Wickenden Street, Thayer Street, and Wayland Square with loads of restaurants and shopping are nearby!
It is a very clean, private, first floor apartment with a kitchen, living room, one bedroom, and one bathroom. Please note that it is a small apartment, suitable for a couple or single. The bedroom has a brand new queen size bed with a high quality comfortable mattress and nice linens. Abundant towels and toiletries are provided. The bathroom is narrow and compact. The shower has excellent water pressure! The kitchen is equipped for cooking. There is a drip coffee maker, stovetop espresso pot, toaster, microwave, stove, pots/pans, utensils, dishes, etc. Coffee, tea, filtered water, and basic condiments are present for guests to use. The apartment has cable TV with Netflix, Apple TV, wireless internet, and a printer. There is an iron & ironing board and plenty of hangers with full guest use of closet. Relax in nice weather in the backyard sitting area under the grape arbor. Smoking is allowed outside. A washer and dryer are available for free guest use in the basement. Bicycles can also be stored in the basement. A dedicated off-street parking space is included for guests in the lot right next door to house. Check-in time earlier than the usual 4:00 P.M. is possible if another guest is not checking out on the same day as your arrival, or bag drop off can be arranged (send me a message if you need earlier time). I welcome 2-3 night, weekly, or monthly guests!
This apartment is located on the desirable East Side of Providence in a neighborhood known as Fox Point. There is a waterfront park (India Point Park) in walking distance and a bike path nearby. A few steps from the apartment is a bakery, liquor store, coffee shops, a Thai restaurant, and a Mexican restaurant. Walkable to tons of restaurants and shopping on Wickenden St, Wayland Sq, and Thayer St. Close and walkable to Brown & RISD.
Mary's apartment is very well situated, and is close to restaurants and shops on Wickenden St, as well as Brown's campus. Her apartment is cute and cozy, and had everything that I would need, from extra blankets to a generous supply of coffee and tea. Mary also provided plenty of helpful information about her apartment and ample recommendations of what to do in the surrounding area. I highly recommend staying here, and would stay here again if I returned to Providence.
Lauren
2016-01-21T00:00:00Z
Mary's place is wonderful ! Everything was well organize for our arrival and the appartment is very confortable and cosy. There is also a cute backyard. We haven't met Mary but she made sure that we had all we need. We had a very pleasant stay and will surely recommand Mary's place.
chloé
2016-10-14T00:00:00Z
I personally love East Providence and running into Mary's listing was a lovely encounter. This was my first experience with Airbnb and I must say that I truly enjoyed my stay at her Apartment. You can tell that Mary put a lot of thought into every element of our full experience (from the décor to the placement of furniture). She left treats for us knowing that we would arrive late that night and would not have time to go get breakfast the following morning. Any questions that I may have had were answered by her perfectly typed instructions (even down to the use of the television and listing of the channel guide). All the kitchenware we needed to make dinner and dessert were available to us (we made fresh pasta and apple pie). The price for the listing was a steal considering how much other listings go for. Yes, it's a small apartment but everything has its purpose and the pictures and description she provides are very accurate. I had the best night sleep I have ever had away from home (the bed was really comfortable). The apartment, the linens, the towels...everything was extremely clean (I'm a stickler for cleanliness). To get downtown was no more than a 5 min drive from her place. I hope to stay at Mary's Apt again the next time I am in town....truly a marvelous experience and Mary was such a pleasure to communicate with. I didn't get to meet her however, she made sure I had a great experience and was very quick in responding to any inquiry during check in and check out. Why stay at a hotel when you can get more for your money at Mary's!
Erika
2015-09-28T00:00:00Z
Wonderful host who left the apartment clean and ready with some groceries waiting for me after my long trip. The apartment was great for visiting my daughter at Brown, and I would love to stay there again in the future!
Beverley
2016-04-15T00:00:00Z
Mary's little place in Providence is a real gem: cozy and charming. It's perfect for two people! She's provided everything you'll ever need to be comfortable. The location is great; it's a nice quiet neighbourhood. We ran into the friendly upstairs neighbours right away, who urged us to ask them for any help if we needed it. We didn't need it, however. Mary provided us with all the information we could ever need, from the idiosyncrasies of the apartment to the great nearby places to shop and dine. The off-street parking (for 1 vehicle) that Mary provided was a definite plus! Thanks to Mary we felt right at home :)
Vera
2016-09-12T00:00:00Z
We felt extremely welcome. Mary provided us with easy to follow instructions (as we were checking in late) and provided all the amenities that my boyfriend and I needed for a wonderful weekend in Providence :) The apartment was great, more than enough room for two people for a few nights. Overall, it was a great experience :)
Cristina
2016-04-10T00:00:00Z
Mary was very considerate, arranging things before I even thought about them. Everything went smooth, the house was indeed sunny, in a lovely quiet neighborhood, very close to Brown university. A very pleasant experience overall.
Christos
2016-08-08T00:00:00Z
Mary could not have provided a better experience during our stay in her impeccably-decorated apartment! We were visiting Providence for graduate school interviews, so it was very nice to have such a communicative and organized host--made us less frazzled during a stressful time. Check-in and check-out were effortless. Mary had directions written out so that we didn't have questions about how things worked. The apartment was clean and stocked with everything a traveller could need (i.e. coffee, food, iron, hairdryer, etc.). We enjoyed being in walking distance from several quaint food and coffee shops. Would love to visit again!
Erica
2016-01-14T00:00:00Z
Room Type
Entire home/apt
---
Property Type
Apartment
---
Accommodates
2
---
Bedrooms
Providence, RI, United States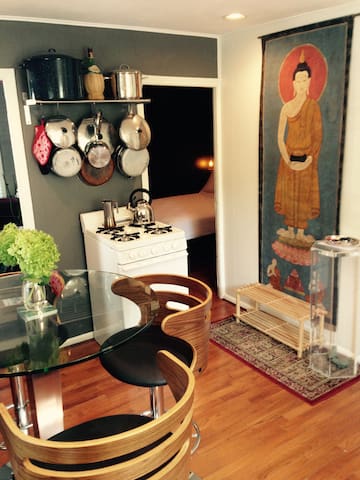 My place is an old church tastefully renovated into the most fantastic home with 30' ceilings and immense windows. It is the perfect place for a writers retreat, a place to get away and have the peace to do your work. This listing is for the entire house - which is only available occasionally when we are away, contact us for availability. It is also close to the small downtown, a great restaurant, the children's museum, the library, and parks. A walk around a lake is right across the street.
My place is an old church tastefully renovated into the most gorgeous home with 30' ceilings and immense windows. Its very quiet here and I cherish being in this beautiful space with abundant light, comfortable areas and top-quality amenities. It is a 4 bedroom/ 3.5 bathroom fantastically decorated house. There is a professional grade kitchen with a Viking stove, dishwasher, disposal, microwave, Vita-mix, Cuisinart, etc. The bathrooms are luxurious and unique and we have a huge hot water tank so you'll never run out of hot water. A bit about the various rooms: The guest suite is like its own apartment and has a bedroom with a queen sized memory foam bed, its own huge white marble bathroom, and a sitting room with an extra convertible bed. The blue room has the most comfortable double Tempurpedic memory foam bed with a nice canopy. The pink room has a sleigh bed with a Posturepedic mattress, a comfy Moroccan lounging area with cushions, rugs and pillows and its own roll top desk. The master suite is at the top of the house over what would have been the alter area and it has its own Juliet balcony looking across the whole great room and there is a little sitting area there with cushions and pillows. It has a king sized poster bed with a Posturepedic mattress and a walk in closet. Its bathroom has custom double vanities, a skylight, and its own steam shower with huge relaxation bench. You can relax in the steam room or just take the best rain shower of your life. Our church is also close to the small downtown, a great restaurant, the children's museum, the library, and parks. A walk around the lake and the Ames estate is right down the street. You'll love my place because of the ambiance, the light, and the comfy beds. It is the perfect place for a writers retreat, a place to get away and have the peace to do your work or any type of getaway. There are many different areas to sit and write from the great room to the media room, and even the bar! There is an area set up with writing prompts and exercises and also art supplies to get the creativity flowing, but these are also to use or not as you wish. You can take day trips to either Boston, Providence, or to the Cape's fab beaches. This place also has fantastic energy probably because of its history. Contact us for more info and dates it will be available. This is our home so we only rent the whole place when we're out of town, but the guest suite and guest rooms are still available when we're here.
Room Type
Entire home/apt
---
Property Type
Apartment
---
Accommodates
8
---
Bedrooms
Easton, MA, United States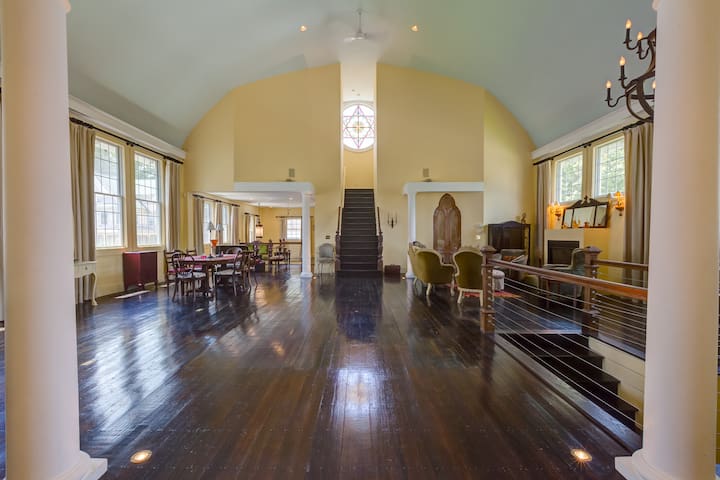 Moved into this space when some elbow grease was required. I'm renovating and updating it as time and money allows. It's simple, but I can offer you a clean, safe, no-frills place to lay your head. As a traveler myself, for the listed price, I'd consider this place a good find. The neighborhood is lively, I've got FIOS internet, and upon request I can make a mean cup of coffee in the morning. (For those who may have knee issues, bedrooms are on the 3rd floor, so lots of stairs!)
Simple accommodations with a comfy full-sized bed for a single occupant or couple, with an air mattress added for 2+ guests. I can't promise much beyond cleanliness, internet, coffee, and a place to sleep, but that I'll offer in plenty. I'm a traveler, and I've got this room set up where I'd be pretty happy with this price. This is a 4 bedroom apartment, with 3 bedrooms available for guests at any given time.
Oh man, we're in the heart of Providence's most Italian neighborhood. You're literally a one-minute walk to Atwells Avenue where you can bounce from Italian cafe to Italian cafe. Beyond that, we've got at least 25 restaurants, 12 bars, and 14ish cafes in a 10-minute walk. Also, you're a 15-minute walk from downtown Providence. Side Note: If you're here for Brown University; it's on the East Side. That means a 25-minute walk from here or a 10-minute cab ride.
great host very friend would stay again
Derek
2016-10-16T00:00:00Z
The house is as described. An in-progress labor of love. What the place lacks in finishes, John more than makes up for with hospitality, great recommendations, and wonderful conversation.
Paul
2016-09-16T00:00:00Z
Place: John's place was a great choice! Right in the heart of Federal Hill, it was a walk away from Brown University and about 19 coffee shops! 45 minute drive to Newport, Rhode Island. Parking was plenty and pretty easy (although I was not here on the weekend). Accomodations: Always had a thermos of coffee ready for all his guests! He was chalk full of suggestions for places to eat, drink and play! Room was small but perfect space to crash for the night and was right across the hall from the upstairs guest bathroom. Bed was comfy and clean! Walls are pretty thin so you may here the next room air bnb'ers but there's a fan to blur out the noise. Good price for a place to crash while exploring Providence and Newport.
Katie
2016-09-28T00:00:00Z
John was accessible and very welcoming. The neighborhood is within walking distance of amenities and a short Uber drive $6-7 ( off hours) to downtown. My room was neat and clean as was the bathroom. I would room there again.
Robin
2016-10-01T00:00:00Z
John is a fantastic host! Room was clean and exactly as pictured. Great location near restaurants! I would definitely stay here again.
Allyson
2016-09-27T00:00:00Z
Communication previous to stay and day of was great. Easy to get to and made nice meal suggestions in the surrounding blocks
Michael
2016-10-21T00:00:00Z
The listing description was accurate, the host was very kind and welcoming, and everything was clean, organized, and super comfortable.
Tyler
2016-10-03T00:00:00Z
John is a perfect, friendly host. Communication was excellent and was always happy to stop and chat, and happy and willing to help with any questions about the apartment or recommendations for things to see and do around the area. Would definitely recommend his place to stay.
Andy
2016-10-10T00:00:00Z
Room Type
Private room
---
Property Type
Apartment
---
Accommodates
3
---
Bedrooms
Providence, RI, United States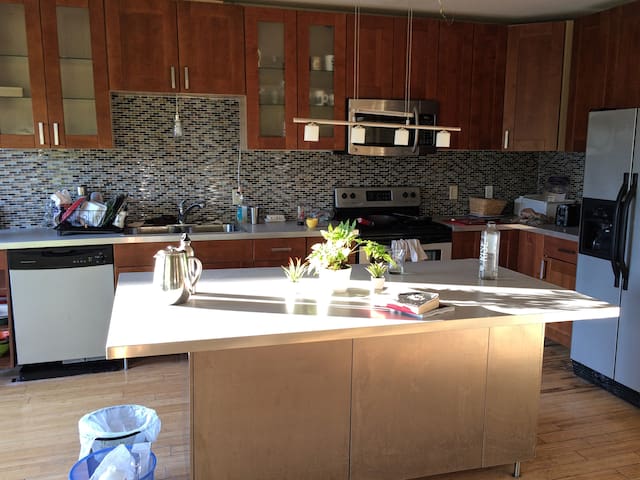 Private guest room with queen bed and study with full-size futon in 2nd floor apt. Private, adjacent bathroom with shower. Walk in safe neighborhoods to Brown, RISD, Waterfire, restaurants, shops and downcity events. Use of updated kitchen, study, living room and back yard. Off street parking. Search listing for entire house with 8 guests to for whole house. This listing provides a lower cost option to book room(s) on 2nd floor and share kitchen. Occupancy of 4 is based on 2 people per bed.
Airbnb travelers who have stayed in our apartment have appreciated the location, amenities, and have been very comfortable in our place. The neighborhood shops nearby have been a pleasant surprise for many of our guests. The apartment is airy, well-lit, and combines historic wood floors and details with updated kitchen and bath.
Historic Fox Point is a nice part of the city. There is a great mix of shops and restaurants around the corner on Ives Street and more that are easily walkable along Wickenden Street and Wayland Square. Gano Park, India Point Park, and Blackstone Conservation District are all nice places to walk along the river and bay nearby.
Kurt & Karen have a lovely home in an equally lovely part of Providence. Beautiful houses and of course the Brown buildings made for a nice city walk during both day and night. Karen was very flexible with regards to our later than planned arrival, straight out of Boston airport. Kurt was great to talk to about the history of Providence, city planning in general and the state of US politics. All in all a great stay to start off our road trip with!
Robin
2016-10-20T00:00:00Z
Kurt and Karen were great at communicating prior to my stay. They sent me detailed instructions as to where to park and how to get into the house. Kurt was able to meet me shortly after my arrival to make sure I was settled. He was happy to give advice about the area. The room was clean and there was plenty of space. The listing was exactly as described. I would gladly stay at this location again!
David
2015-11-12T00:00:00Z
Karen and Kurt have a charming, clean, and convenient AirBnB location, and we only wish we'd had more time to spend in Providence. They are very experienced hosts, and the apartment was well organized and stocked with maps, suggestions for shopping and eating, and even snacks. The location was within walking distance to Brown, which was our destination. It was the best of what makes a good AirBnB experience: being able to comfortably live in the community and not encased in a hotel building. I hope my daughter is accepted to Brown so I have the opportunity to return!
Valerie
2016-03-16T00:00:00Z
Karen and Kurt were very accommodating. We had a late change of plans and they were able to help us rearrange our schedule. The house is located close to everything. It is beautiful and immaculately maintained. Everything was comfortable, with plenty of thoughtful touches -- we especially loved the French press coffee.
Eric
2015-09-15T00:00:00Z
Kurt was awesome (I never met Karen - maybe next time?) He was not only a fantastic host but we chatted about the area and his experiences in with the local universities. The room and bath were perfect and the walk to and from work is through lovely neighborhoods and historic homes.
peter
2015-09-18T00:00:00Z
Karen and Kurt were extremely hospitable. I so enjoyed my stay with them. I had no questions because they were so thoughtful in leaving instructions, labels and helpful tips! The space was as seen in the pictures - the dinning room/living room/kitchen were beautiful!
Eric
2016-05-26T00:00:00Z
We felt really welcomed at Kurt & Karen's. Karen arranged our arrival and Kurt was a terrific greeter, conversing with us about Brown and the area. Delightful. And the apt was spatious, clean, and quite comfortable!
Barbara
2016-04-07T00:00:00Z
We had a delightful stay in Karen and Kurt's home - the neighborhood is quiet, but with shops and restaurants just around the corner. The house itself is beautiful and very comfortable, with plenty of space. Kurt was welcoming and extremely knowledgeable; we had a great time talking to him about the area. We would absolutely recommend this home to others.
Jared
2015-10-31T00:00:00Z
Room Type
Private room
---
Property Type
Apartment
---
Accommodates
4
---
Bedrooms
Providence, RI, United States
Leave your car in the off-street gated parking and walk downtown in minutes. The pet-free room and bath are on a floor of their own so privacy prevails. Comfy bed has fabulous linens. Enjoy mini fridge, wifi, bose sound dock, and may other amenities.
You have a private entrance up to your third floor accommodations. The way up is a bit unfinished, but we promise it won't infringe on your enjoyment of a sweet little set-up. The space is well-suited for a pleasant stay, You'll have a real comfy double bed with down comforter, and twin bed (sleep up to 3) There are black-out curtains for those of you who need pitch black for sleeping. It is an attic space with sloping ceilings, so especially tall people please take note. We are set in an urban oasis on the edge of downtown. Our house sits on 3 city lots that have more than 40 trees including apple and walnut trees. It is only a 10 minute walk or 2 minute drive to the middle downtown and some of the best restaurants Providence has to offer. The house has off-street gated parking so no need to worry about an overnight parking permit or ticket. During your stay you are welcome to enjoy our backyard and courtyard. It is a wonderful place to have your morning coffee or afternoon tea. A friendly dog and a new puppy live on the premises but neither have any access to your private area. Your space is pet/allergen free. Amenities: •large desk •closet with rain gear/umbrella/cooler •coffee maker and makings •small refrigerator •wireless internet •air conditioning •Bose sound-dock •Private bath – real claw foot tub with handshower About the area: It is a true urban oasis situated in a 80%residential 20%commercial zone. The streets in the area are mainly one-way which cuts way down on traffic flow. The area in general is mixed culturally, racially, and socio-economically. We have many artists, in fact the Thompson Twins used to live across the street. We also have many doctors, professionals, professors, and like most cities we have a homeless population that is served by a local soup kitchen and shelter on the edge of downtown. For many urban dwellers this will be a recognizable mix of people, but for those coming from less diverse areas you may prefer to drive around rather than walk. I have lived in this neighborhood for 15 years and know that, while it can be colorful at times, it is also safe.
Staying at Karen's place was exclusive and private, we were able to check in without any problems, the place was easy to find and Karen's instructions were thorough and to the point. Although we did not meet Karen, I felt like I knew her through her meticulous and beautiful space; this being at the top of my list of places to stay. I loved that it was private, we had the whole top floor to ourselves, it was quite and relaxing with all that we needed, Karen thought of everything from fresh drinking water to local roasted coffee. The place was super clean and neat, well furnished, I loved all of the books (it was like I had picked them out!) Karen has great attention to detail, her place inspired me. I think the only disappointment I had was that I wasn't able to meet "the master mind" of the owner!
Leah
2016-07-28T00:00:00Z
This was a great room, and everything I expected. It's very close to the center of Providence, in a very quiet neighborhood. I forgot where I was supposed to park. It wasn't a problem, because Karen's partner was there to greet us and answer all our questions. There was a book of restaurants and other info on the table for us. The bed was super comfortable. We were very pleased.
Donald
2016-05-02T00:00:00Z
Karen is such a thoughtful host! Her space is gorgeous with so much attention to detail and comfort -- beautiful linens, comfortable beds, stylish furniture, coffee service, and a cute guide to Providence. It even smells amazing! Plus, she responds to all messages promptly. The location is a quick walk or a $4 Uber ride to RISD, Brown, Downcity Providence and Federal Hill. My only regret is that I couldn't stay longer!
Andrew
2015-08-09T00:00:00Z
Karen was very welcoming and great at responding promptly. She answered all my questions immediately and was very helpful in arranging my trip and stay. The space is beautiful and tucked away, and she provides welcomed amenities as part of the stay. The ceilings are slightly lower than I expected, so if a person is on the taller side, just watch your head; otherwise, it was a great place to stay for any period of time.
Timothy
2016-11-08T00:00:00Z
Samantha and I want to thank Karen for being an awesome host! Her location in Providence was super easy to get to, her apartment for us was very clean and beautifully decorated, and her instructions to get inside were clear and easy to understand. Samantha and I were given special permission to show up to the apartment around 12:30AM because of a concert in nearby Boston and were so happy to find that getting inside was so easy. Once inside, we were delighted to have coffee & fixings awaiting us along with a clean bed and supplies for us in the bathroom. We highly recommend this location and will definitely recommend this to our friends and family!
Dave & Sam
2016-07-03T00:00:00Z
What a cozy place! Karen's spot was awesome- clean, warm, and well-stocked with anything you could need. I appreciated her flexibility with our timing of check-in and out. The glowing wooden roof makes it feel like you're in an upside down boat. Totally great. Thank you!
beth
2016-01-25T00:00:00Z
Great private, cozy, comfortable space!
Matthew
2014-11-26T00:00:00Z
I had a great experience staying at Karen's Airbnb rental. Everything was topnotch. I would definitely stay here again. Thanks.
Marc
2015-06-08T00:00:00Z
Room Type
Private room
---
Property Type
House
---
Accommodates
3
---
Bedrooms
Providence, RI, United States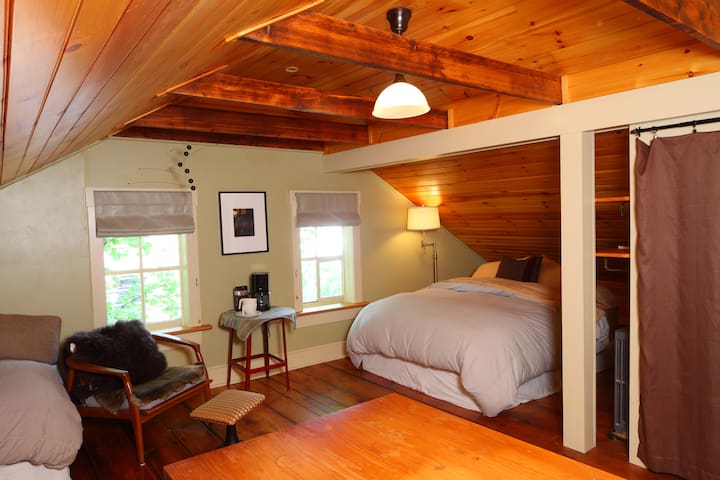 Located in Providence's lively West End neighborhood. Spacious bright bedroom in large ground-floor apartment (5 steps up to door) in beautiful 1880's Victorian building. High ceilings, hardwood floors, and lots of light. Very centrally located and just a short walk to a great variety of shops, bakeries, cafés, restaurants, and cozy bars. Guests enjoy full use of the kitchen and other common areas, and have access to high-speed internet. One off-street parking space is included. LGBTQ friendly.
Comfortable queen bed in a good-sized bedroom with lots of light. Large closet is available for hanging clothes and stowing luggage. In the warm months, there is A/C in the bedroom (the rest of the house relies on the breeze.) Guests share large modern bathroom with host. High-quality sheets, towels, and soap are furnished. Continental breakfast is provided along with a selection of teas and coffees. (For coffee connoisseurs, there is a Nespresso brand espresso machine as well as a French press).
So many things to do in this neighborhood! Great restaurants and cafés, all within easy walking distance. Here's just a sampling of what's close by: West Side Diner, Seven Stars Bakery, Loie Fuller, North, Broadway Bistro, The Grange, The Avery, North Bakery, Nick's on Broadway, Julian's, E&O Tap, White Electric, Ogie's Trailer Park, Pizza J's, and Mi Ranchito. There is also a large park just two blocks away if you need to get a run in during the day. Downtown Providence is only about 20-25 minute walk where you can find even more restaurants, live theater, movies, clubs, and other entertainment. A little further (35-40 minute walk, or ten minutes by car) is College Hill, where Brown University and Rhode Island School of Design (RISD) are located.
We spent 7 days with Michael and we were sad when we left the house. It is very nice, kind and helpful. The house is very clean and cozy. We strongly reccomend him.
Francesco
2017-03-30T00:00:00Z
My wife and I were in Providence for a show and stayed with Michael for one night. Our experience was awesome in every aspect. Michael is a great host and certainly went above and beyond to make us feel welcome. The room and the bathroom were spotless clean, breakfast muffins were delicious and we enjoyed spending some time with Michael and sharing some travel stories. The location was very close to downtown and in a nice area. I would heartily recommend Michael as a host and we look forward to coming back to Providence when the weather is a little nicer.
Simeon
2017-03-11T00:00:00Z
Michael was great, very accommodating and the place was very clean and beautifully decorated. I had a great stay and Michael made me feel right at home during my one week stay there.
Beth
2017-03-05T00:00:00Z
Michael's place was all I was looking for: it was clean, quiet, comfortable, and a beautiful and positive space to be in. Michael was a wonderful host. He was very kind and generous with his time. I arrived late in the evening but he was kind enough to stay up late to let me in the apartment and make sure that I had everything I needed. He was very helpful in orienting me in the neighborhood and giving me recommendations about what I might want to do. The place is a pleasant 20 minute walk to downtown, and there is everything one may need in walking distance. I would certainly stay at Michael's place again. Oh, almost forgot to mention the wonderful coffee he served me with yummy home made muffins in the mornings. Thanks for everything, Michael!
Serife
2017-04-01T00:00:00Z
Michael is a great host for me and my friend. He was being friendly and helpful right after we introduced to each other. The home is located in the downtown area of Providence and has a parking space. The room was clean and cozy to stay and renovated very well. My favorite part is the muffins in the morning and clean bathroom every time I took a shower. Michael also introduced us some local restaurants and places to visit. It was an unforgettable living experience!
Jiaming
2017-03-08T00:00:00Z
We had a great experience in Providence, even though it was short but our host Michael made our staying truly feels like home. His place is very neat and well-managed. Michael is very detail-oriented when it comes to hosting, he even prepared make-up removing wipe as well as other hygiene products which made us felt very convenient. Michael is also very knowledgeable about Providence and provided us many recommendations. We highly recommend Michael's place and we would love to come back again! Ps. Michael baked the best muffin :)
Linling (Lynn)
2017-02-20T00:00:00Z
Michael is a kind and friendly host who has provides a comfortable, clean and well-appointed room for a very reasonable price. He made great suggestions of places to eat given his knowledge of neighhourhood and was easy to talk to. Strongly recommend his place. We will definitely consider coming back.
Jacob
2017-04-04T00:00:00Z
Michael is a very gracious and generous host. We loved staying in his pleasant, comfortable, beautifully decorated home. He made us feel most welcome and at ease. We enjoyed our conversations and very much look forward to crossing paths with Michael again. We strongly recommend his Airbnb location and find it hard to imagine a more ideal host.
brenda
2017-02-26T00:00:00Z
Room Type
Private room
---
Property Type
Apartment
---
Accommodates
3
---
Bedrooms
Providence, RI, United States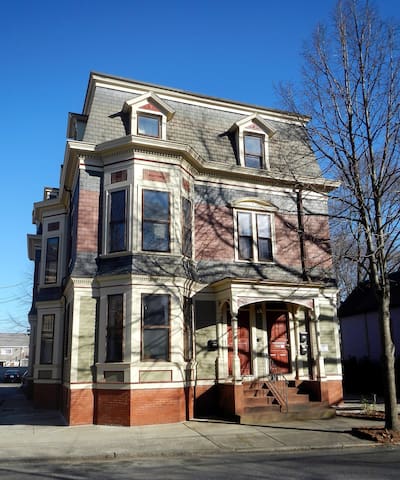 My home is an old new England sandbox built in the 1850s with a lovely room available for rent on the first floor. You will be walking distance to everything. Brown University is a ten minute drive, Providence College is a five minute drive and downtown is a ten minute walk. If you don't have a vehicle, Uber is very inexpensive since everything is very close! My name is Jake and I look forward to being your host!
You have a private, well lit room on the first floor. The room shares no walls with other guests but is adjacent to the bathroom. Known issues: House plumbing runs adjacent to this room so the water can be a nuisance if another guest has an early morning interview and needs to shower. I am updating the house so I have debris in the backyard, so it is off limits until further notice.
There's some cool spot right next to the house! The State House is a few minutes away and there's a Dunkin Donuts 2 minutes walk away!
A very good location as it's a short walk to the train station, very good value for the room and Jake is a responsible and responsive host
Caleb
2017-02-26T00:00:00Z
Had a very comfortable stay at Jake's place! He made checking in easy with clear instructions, there were plenty of snacks and drinks for guests, the bathroom is well-stocked in case you've forgotten any essentials, and the bed is a dream. It's also walking distance from the Amtrak station, which is a plus!
Camille
2017-02-15T00:00:00Z
Staying in Jake's place was such a wonderful experience. Not directly located in downtown area, the apartment is actually very accessible from the city on foot. The atmosphere is very cozy and homey - clean, organized and well-equipped. Jake is an outgoing and hospitable host. He prepares everything with his heart. I enjoyed our conversation and felt myself at home. Would strongly recommend his place to solo travelers visiting Providence!
Ivan
2017-01-22T00:00:00Z
This is my first time using AirBnB, and Jake set the bar quite high. If I have need of a place to stay here again, I will check with him first. Check-in was very easy. The home is older and a bit 'rough around the edges', but everything is very clean and organized. There are lots of little conveniences he added, which were a wonderful touch; snacks, signs, towels, soaps, and toiletries. The bed was comfortable and the room was spacious, with a small desk. The remote controlled light switch was a cool 'extra' too. Jake was a marvelous host! He is kind, helpful, easy-going, generous, and a great conversationalist. If you have a question, don't be afraid to just ask him. I would definitely stay here again. Highly recommended!
Adria
2017-02-24T00:00:00Z
Jake was a great host. He was always available for communication and very friendly. The apartment was just as described and very clean. He also has a sweet puppy Eve who is very friendly! Definitely recommend staying here.
Francesco
2016-10-26T00:00:00Z
Jake is quite a cool guy, very helpful and he has made my stay quite convenient so far by providing information and amenities... keep up the good work
Tariq
2016-10-21T00:00:00Z
Had a fantastic experience staying with Jake! Room was spacious and the bed was super comfortable. Easy parking and plenty of snacks should you get hungry during you stay. His dog was an extra bonus! Would gladly stay here again next time I'm in Providence.
Andrew
2016-11-29T00:00:00Z
Jake is a very interesting and altruistic person! I'm glad to have made his acquaintance. He lives in an older home, but it's right downtown, has fast internet, and is a great option for travelers looking for something different than a hotel. Thanks, Jake!
Jason
2016-11-15T00:00:00Z
Room Type
Private room
---
Property Type
House
---
Accommodates
1
---
Bedrooms
Providence, RI, United States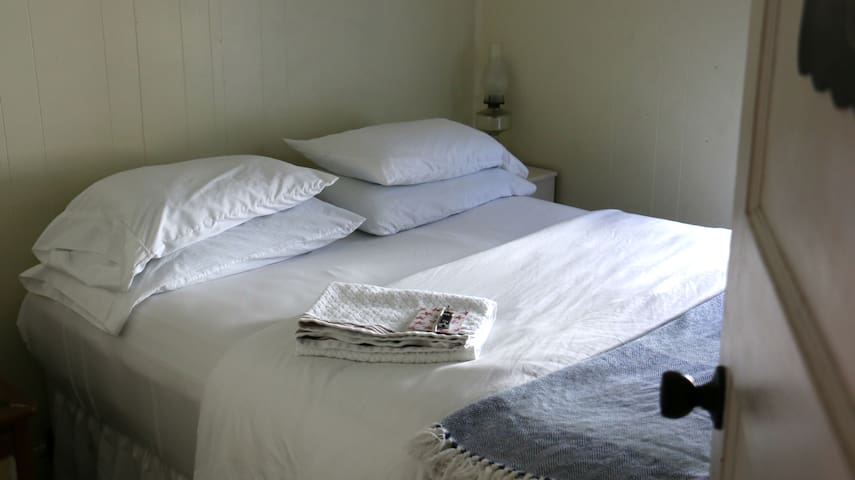 Unique studio with cool lounge vibe. Tucked away on a quiet dead end near everything on the East side of Providence. Featuring a fully equipped kitchen, comfy bed, washer dryer, gas fireplace, 2 TVs, heated floors in bathroom and yard access.
Very unique and artistic studio. It has a cool vibe.
5 min walk to whole foods. 10 min walk to Thayer and Brown. 15 min walk to Miriam Hospital
The apt. is just as described. It is very clean, the bed super comfortable, espresso machine for morning pick me up, rain shower head, and a crazy blue throne chair, my favorite place to sit. There is parking but also easy walking distance to Brown. We came for our son's graduation. It is a basement apt but very well renovated, very comfortable and quiet. Eric communicated with us promptly each time we had a question. He was unable to meet us when we arrived but gave clear directions and instructions on how to get in. He left notes taped up all over anticipating any question we might have. Overall a very positive experience.
ELIZABETh
2016-05-31T00:00:00Z
If you are looking for a cozy, comfortable, clean and quiet place then look no further. I could not even tell I was in a basement. The place is well decorated and has a cool feel to it. It was easy to communicate with the host and he is very inderstanding. I highly recommand staying at this place if you are in the providence area.
Wideleine
2017-04-02T00:00:00Z
Eric was easy to contact to coordinate key pick up and details of the apartment. The apartment was very clean, and had lots of lighting options, great art, and convenient features, like a heated bathroom floor. Great shower, and Eric had offered us toiletries, too. Our one issue was that it was a basement apartment, and the people on the first floor were having a party. It was loud and hard to fall asleep until the party was over. This might have been because it was a weekend.
Jessica
2017-04-08T00:00:00Z
Room Type
Entire home/apt
---
Property Type
Apartment
---
Accommodates
2
---
Bedrooms
Providence, RI, United States
A cozy place just outside the bustle of the city, with a great second-floor porch to relax and sip some tea. Birds and people alike love to come rest here! This is a queer-friendly home. ***** Guests with at least two positive reviews/references ONLY *****
This is a friendly neighborhood, with mostly immigrant families. The immediate area is pretty quiet and residential, yet close to Downtown and Federal Hill! The street looks a little rough around the edges, but is friendly and has a great view of Federal Hill.
Kay was an exceptional host-- prompt in communication, easy to get along with, and gracious with her hospitality. The room matched the listing-- cozy, charming, and comfortable. It's a great value, and I wish I could have stayed for longer. I'd love to stay here again when I come back to pvd!
Nina
2016-10-08T00:00:00Z
Stay with Kay was great, the location is close to everything and Kay was so helpful with all kinds of suggestions for what to do in town.
Bart
2016-10-30T00:00:00Z
Totally rad gal! It was great to meet Kay. Her place is comfortable and clean, and she's totally chill and lets you do your own thing. I'd definitely stay with her again if I ever pass back through town.
Natalie
2016-06-20T00:00:00Z
Kay was a helpful, informative host. The bed room was very well appointed and cozy. I would recommend her place for a solo adventure or couple looking for an affordable option in Providence but still close to the downtown area (15 min walk). Thoroughly enjoyed my stay and her homemade cookies was plus!
Silver
2016-09-01T00:00:00Z
Kay communicated very well during the whole stay. The apartment is nice and it was comfortable in terms of the temperature. The worst part was the bed, as it is a twin and we were two people. I believe the ad is misleading as it looks much bigger in the photos. This was a letdown as it was difficult to sleep the two nights we were there. Otherwise, the apartment is in a quiet neighborhood but is a little far from the downtown area (definitely farther than fifteen mins to most spots downtown and in Federal Hill). But you can walk everywhere if you're up for it.
Chloe
2016-08-21T00:00:00Z
Our stay with Kay was wonderful. Her apartment is adorable and she is really helpful and friendly. The only thing to clarify is that the bed is a double, not a full. We hadn't picked up on that in her profile, so that was on us!
Hannah
2016-09-30T00:00:00Z
Everything as expected. We had a wonderful time at Kay's!
Louise
2016-09-23T00:00:00Z
We had a great stay with Kay. The apartment is within easy walking distance of downtown Providence and off street parking is a bonus if you have a car. Kay was easy to get on with and we had fun talking with her in the evenings about vegan cooking. In all a brilliant HQ to explore Rhode Island from.
Joanna
2016-12-04T00:00:00Z
Room Type
Private room
---
Property Type
Apartment
---
Accommodates
2
---
Bedrooms
Providence, RI, United States
A great landing pad for your visit to Providence, close to lots of great cafes, bakeries, bars and event venues, and easy access to 95/195. Our beautiful, sunny second-floor apartment features a spacious kitchen with granite counters and island, custom cabinets and stainless appliances. Enjoy great views from the balcony, which overlooks Providence's 'Little Italy'. Shuttle bus nearby to downtown, Brown/RISD campuses. Host lives next door to help with any needs!
wonderful couple with young family, beautifully restored and comfortable in historic city
Sarah
2016-11-24T00:00:00Z
I thoroughly enjoyed my stay here. There are plenty of bars and restaurants within walking distance, and you can't beat the heated floor in the bathroom.
James
2017-04-05T00:00:00Z
Lovely apartment in a perfect location close to everything. The host was very nice .
Tyson
2017-03-25T00:00:00Z
I really enjoyed staying at this apartment. The owners are terrific - very friendly with plenty of helpful advice about Providence. The apartment is very clean and comfortable, with all the amenities we needed plus lovely extra touches such as fresh flowers, freshly ground coffee, and breakfast foods. The owner even brought us homemade cookies! I would happily stay here again, and I recommend it for your next visit to Providence. Please note there is a full flight of stairs to get to the apartment.
Sheri
2017-03-22T00:00:00Z
Benjamin's apartment was the perfect getaway for us! Such an adorable, cozy apartment set in the Italian side of town. Benjamin was extremely helpful in giving us recommendations on restaurants and how to get about the city. If we needed anything or had any questions he responded to our messages right away. We are definitely keeping this spot in mind for future trips to Providence!
Jess
2016-12-18T00:00:00Z
Nice place close to everything.
A
2017-02-17T00:00:00Z
Had a great stay at Ben's apartment. He was easy to work with on coordinating details and such. Would absolutely stay again.
Nick
2017-02-19T00:00:00Z
What a fantastic spot! We stayed at Ben's place as a quick pit stop on our way north. Being from around the Providence area I was very excited for the chance to show some friends this special town, and was thrilled with Ben's perfectly located apartment at such a great price. Ben met us at the place and had reserved a place right outside the apartment for us to park. The place is very quaint, clean, and spacious. The kitchen is recently renovated if you want to use the space to cook, we walked half a block to the restaurant packed main drag. Ben was a very accommodating and relaxed host. He gave us some tips on low-key bars in the area and chatted with us about the history and culture of the area. The place is on Federal Hill, a restaurant and bar filled area, and a short walk from downtown. We had a great trip and will definitely be checking out Ben's place again for our next Providence stay!
Liz
2016-12-03T00:00:00Z
Room Type
Entire home/apt
---
Property Type
Apartment
---
Accommodates
6
---
Bedrooms
Providence, RI, United States
This room is located in the 1st floor of the house. The apartment is decorated with art works. The apartment is clean and new decoration. Heating works very well! Everything is walking distance. Minutes walking to downtown Kennedy Plaza and the downtown bus station. And minutes walking distance to train station. This place is located next to RISD & Brown campus
The room is shared room. Basic daily supplies will be provided (body wash, shampoo, plastic cups, toilet paper, etc). There is CVS, BOA and Starbucks around the place. It's just next to the downtown Providence.
super clean,safe and quiet
Jianfen
2017-04-04T00:00:00Z
really good experience, wanna to come again
Jianfen
2017-04-02T00:00:00Z
really great place,worth coming again!
Jianfen
2017-04-06T00:00:00Z
Great and comfortable!
Rick
2017-03-28T00:00:00Z
so cool place,want to come again!
Jianfen
2017-04-07T00:00:00Z
Room Type
Shared room
---
Property Type
House
---
Accommodates
1
---
Bedrooms
Providence, RI, United States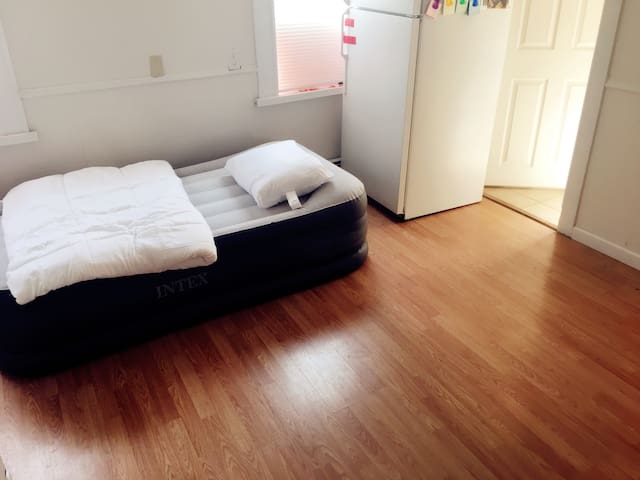 Enter dates to see full pricing. Additional fees apply. Taxes may be added.