We offer a room in our house for 2 people. Also, there may be made use of the rest of the house. We find it very nice when you come sleep with us what more nights :) We offer a room in our house for 2 persons (double bed). Ook we give you room and space in our bathroom. You have your own sink and You May use the bathroom without being interrupted.
Medium sized room with a double bed. Bathroom can be used. You get your own sink and storage space. There is a shower and a bath. Kitchen can be used and there is room in the fridge for your stuff. You can have breakfast with us and supper. Other areas can be used freely when we are at home. Middle sized bedroom with a divan bed for two persons. (140cm) Access to the bathroom, with small bath and shower. Access to the kitchen. Breakfast and Dinner is possible. May you use the common areas.
It is a quiet neighborhood, close to highways and supermarkets. 10 minutes drive to a large nature park. 20 minutes drive to the Roda Stadium where enough to find attractions such as a cinema, laser gaming hall, restaurants, Glow Golf and much more. 20 min drive to the Gaia zoo park and Mondo Verde. Close to becoming like Heerlen, Sittard, Maastricht and Valkenburg. Quite neighborhood. Easy acces to the highway. 2 supermarkets nearby. 10 minutes away from a big beautiful park: Brunssumerheide 20 minutes away from the Leisure Dome with restaurants and a lot of attractions. 20 minutes away from a zoo, attraction park. Cities: Maastricht, Valkenburg, Heerlen, Sittard, Vaals, Aachen, Liege.
The house and the room are very nice. Everything as per description. Tessie and Kevin are the smartes people you can imagine. Highly recommended! :)
Andreas
2016-06-14T00:00:00Z
I had a really cosy and nice stay! The house is very clean, quiet and comfortable and I felt home. Tessie and Kevon are really nice hosts, they also introduced me to the beautiful places I should visit in the area. It's easy and convenient to reach other interesting places e.g historical places. They are very intelligent people. I also had a nice breakfast together with Tessie and Kevon. Definitely recommended for travellers! :) I really enjoyed my stay in Limburg. Thanks for warm welcome.
Merve
2016-10-30T00:00:00Z
Very Friendly in a perfect location
Mike
2016-12-29T00:00:00Z
Thanks Tessie for the nice welcoming to Brussum and hability to be flexible on the plans.
André
2016-11-05T00:00:00Z
Host is very nice, good memory in this trip, recommended!
Jianing
2016-12-19T00:00:00Z
Hele vriendelijke mensen! Heerlijk weekendje gehad, in een heel schoon huis, met een heerlijk bed, geen 1 klacht kan ik opnoemen. Bedankt voor alles!
Pieter
2016-05-30T00:00:00Z
Tessie is een leuke jongedame die je direct welkom laat voelen. Nette slaapkamer met twee persoonsbed en je kunt gebruik maken van badkamer. We konden de volgende ochtend mee ontbijten, dus dat was helemaal super. Pinkpop terrein was een flink stuk fietsen, maar dit is een prima lokatie om te verblijven! Bedankt! Wellicht tot volgend jaar! Groetjes Werner en Miriam
Miriam
2016-06-12T00:00:00Z
Room Type
Private room
---
Property Type
House
---
Accommodates
2
---
Bedrooms
Brunssum, Limburg, Netherlands
Once upon a time... Eperience the South of Holland idyllic and personal. In a colourful and cosy house. Behind a park and a castle. Public transport around the corner. With garden. 30 min from Maastricht, Heerlen & Sittard. Breakfast incl.
My house is often described as 'magical' or ferrytale-like. Cosy with lots of colours and enough space(s). The location is beautiful, a nice mixture of nature (a garden with tall trees with squirls - and meadows nearby) and enough shops to do your daily groceries.
Nice mixture of silence and nature in the evening (trees in front of the house, meadows nearby) and a village liveliness during the daytime (with shops around the corner).
I had some time for a week holiday while changing my job. I was looking for a quite and nice place surrounded by nature to rest and gain some energy to make a good start at new work. And now, I have a feeling that I made a good choice. The house was better than the beautiful pictures online. Every space is designed and furnished to be as welcoming, aesthetically pleasing, and comfortable as possible. It's an extraordinary house in a unique setting. The front yard felt like a peaceful paradise with an amazing view (and birds) and great terrace make for pleasant breakfast and dinner outside. I felt incredibly relaxed here and everything about this place was charming. Additionally, I borrowed Nicole's bike and visited cities around daily base. It is nice to cycle around in this area because it has hilly landscape compared to Amsterdam but still affordable to cycle long distances. About Nicole; She is nice, smart, creative and social person. She has good communication skills and you can easily talk about many things with her. It was really nice to walk together around with a very nice natural landscape and also we had dinner outside in the garden with a camp fire. I have enjoyed every moment spent with her and I am looking forward to going back as soon as possible.
Ersin
2015-06-29T00:00:00Z
Nicole hosted us (one adult, one 16-year old and a one-year old) on very short notice despite the fact that she was away. Her parents were extremely warm, friendly and helpful, and I hope to actually meet her on her return. I am grateful for their openness and flexibility.
ann-marie
2016-08-08T00:00:00Z
A warm, beautiful, comfortable and friendly house and host. Finding Nicole's house was like a blessing in the sky. I just moved to the area, and I was between apartments. Her friendship and generosity was the biggest benefit that made the whole relocation experience that much easier. I would always recommend her house because of its charm and beauty, and Nicole as a wonderful host because of her warm and helpful nature.
Nina
2015-06-01T00:00:00Z
Nicole is a warm person who made us feel at home in her lovely house. The garden is very nice to sit and relax. Her cats are adorable and made me feel at home. Nicole made us a lovely breakfast and we had nice conversations.
Annelies
2015-06-14T00:00:00Z
We hebben genoten van enthousiast en warm onthaal en een warm huis met karakter! Nicole was zelf de nacht niet thuis, dus we hadden ook nog het rijk voor ons alleen :) en er lag al een eitje op ons ontbijtbord te wachten toen we 's nachts van Pinkpop binnen kwamen....wat kan een mens nog meer willen? Kortom, voelden ons zeer thuis en zijn happy. Ook genoten nog van een wandeling in het bos/park waar Nicole naast woont.
dionne
2016-06-13T00:00:00Z
Een warm welkom wachtte mij bij Nicole. De sfeer in haar verblijf kwam voor mij overeen met de persoon zoals Nicole zichzelf had beschreven. Er was ruimte voor privé indien gewenst echter haar openheid maakte juist dat we kwamen tot mooie gesprekken. Een aanrader voor mensen die naast een verblijf plek ook houden van gesprekken met meer diepgang. De plek is idyllisch waar rust en natuur samenkomen.
Yvonne
2015-06-19T00:00:00Z
Mijn dochter en ik hebben genoten in Nicole's wonderlijke huis vol hoekjes met snuisterijen, inspirerende woorden en kleuren. We werden wakker met vogelgezang en het heerlijke uitzicht op de achtertuin van kasteel Amstenrade. Voor we vertrokken stond er een fijn ontbijtje met verse aardbeien klaar. Nicole is een lieve en attente gastvrouw.
Olga
2015-04-19T00:00:00Z
Een heel relaxt verblijf in een rustige omgeving naast het park. Nicole is heel gastvrij en open. Ze liet ons helemaal vrij en we kregen in de ochtend een heerlijk uitgebreid ontbijt. Daarna nog even gezellig zitten kletsen. Kortom, zeker een aanrader als je van gastvrijheid en gezelligheid houdt! :-)
Daryl
2016-06-12T00:00:00Z
Room Type
Private room
---
Property Type
House
---
Accommodates
2
---
Bedrooms
Amstenrade, Limburg, Netherlands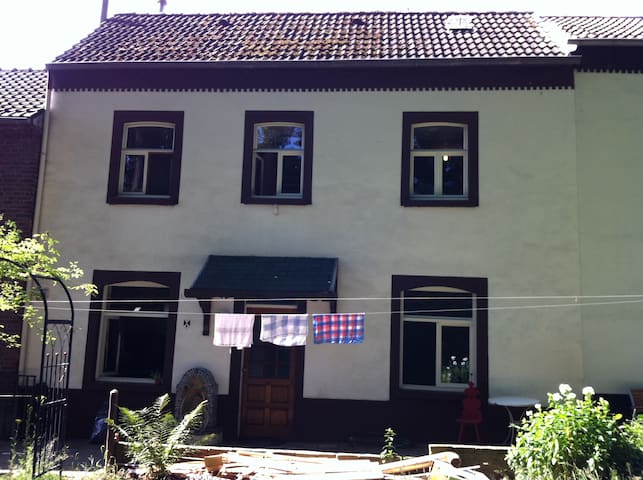 Atmospheric, cozy and equipped with every luxury 30s house in a quiet neighborhood, 10 minutes from the highway to cities such as Maastricht (25 minutes), Aachen (25 minutes), Valkenburg (20 minutes), Hasselt (40 minutes) and Liege ( 40 minutes). 10 minutes drive from the beautiful nature reserve Brunssummerheide, where you can hike, horseback riding and mountain biking. Parking at the door. The house has a spacious garden with lots of privacy on the south, equipped with a lounge sofa.
Romantic place for couples. Nice place for someone who is on the way to work.
The house is situated in a charming neighborhood 30 years with supermarket, bakery, butcher and green grocer within walking distance.
The host canceled this reservation 10 days before arrival. This is an automated posting.
Regina
2017-02-21T00:00:00Z
Room Type
Entire home/apt
---
Property Type
House
---
Accommodates
2
---
Bedrooms
Brunssum, Limburg, Netherlands
Een leuke ruime studio. We liggen meteen tegenover een geweldig natuur gebied...gewoon ff de straat over steken HeidserPark onderdeel van het bekende Brunssummerheide. Alles gelegen in Parkstad..winnaar van de eerste prijs voor beste toeristische bestemming van de wereld.
Een ruime kamer met kitchenette waar je gezellig je eigen ontbijt kan maken. Ook is er een ruime badkamer met eigen toilet en inloop douche.
Parkstad is uitgeroepen tot winnaar van de beste toeristische bestemming ter wereld ...en we liggen meteen aan de rand van het mooie natuur gebied Brunssummerheide . Als je de straat over steekt is er meteen het HeidserPark met visvijver...dit alles is ook onderdeel van de Brunssummerheide.
The host canceled this reservation 8 days before arrival. This is an automated posting.
Andre
2017-04-06T00:00:00Z
Room Type
Private room
---
Property Type
House
---
Accommodates
2
---
Bedrooms
Heerlen, Limburg, Netherlands
Wellness-Haus in mittelalterlichem Städtchen im 3-Ländereck D-NL-B, die ideale Basis für Ausflüge und Erholung - Düsseldorf 75 km - Köln 95 - Aachen 38 - Maastricht 35 - Brüssel 135 - Autobahnanschluss in 3 Minuten Herzlich Willkommen im historischen Gangelt, erstmals urkundlich als Herberge- und Etappenort erwähnt im Jahre 828. Hier warten auf euch 85m² Wohnfläche mit idyllischem Außenbereich in der westlichsten Ecke Deutschlands. siehe gangelt de Very little town typical german.
Möchten Sie ohne Eile in einem halben Tag drei Länder mit einem kopje koffie, Pommes Frites oder Abteibier besuchen oder einen traumhaften Abend auf einem belebten gemütlichen Marktplatz in B oder NL genießen und benötigen Sie Empfehlungen? Ist Outlet-shopping ein Thema oder Ski-fahren in Europas größtem Indoor-Wintersportbereich, Wassersport auf den Maasplassen? Windmühlen, historische Dampfeisenbahn oder Minigolf? Wir helfen gerne mit vielen Vorschlägen.
Really nice cosy place with fabulous landlords. Everything we needed was there, neat and clean rooms, you have to feel comfortable.
Stefanie
2016-11-20T00:00:00Z
The host canceled this reservation 7 days before arrival. This is an automated posting.
Suzanne
2017-04-06T00:00:00Z
Irene und Wimpi sind super tolle und sehr nette Gastgeber. Die Schlüsselübergabe und alles Weitere hat reibungslos funktioniert. Das Apartment ist sehr gepflegt und geräumig und man fühlt sich sofort äußerst wohl. Es ist alles da, was man braucht. Der Garten mit Grillhütte ist ein Traum und wer möchte, kann auch noch die hauseigene Sauna nutzen. Wir würden jederzeit wieder buchen!
Angelina
2016-10-05T00:00:00Z
Room Type
Entire home/apt
---
Property Type
House
---
Accommodates
4
---
Bedrooms
Gangelt, Nordrhein-Westfalen, Germany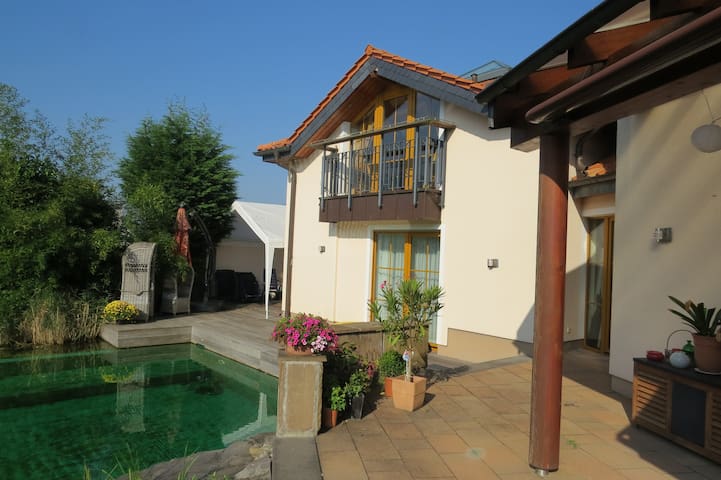 my house is a big house with lots of space inside and outside. You will feel very comfortable sitting in the livingroom, on the terrace or in the garden. The house is free standing with garden in front and backside. Possibly I am at home too.
My house is a very spacious place with a green garden and trees.
Short walk ( 5 minutes) to lovely city center with many shops, cafe's, restaurants, cinema, museum, park
Ok
Weijan
2016-06-05T00:00:00Z
Excellent host, made us feel very welcome in his home!
DAvid
2016-04-18T00:00:00Z
Hans was super understanding I was in a hurry to get to work even though I had just arrived. He quickly explained where everything was and how to use it. When I got home in the evening I was able to warm up my dinner and have a good chat to him. A truly interesting and well travelled gent!I would definitely stay again as he is very friendly!
Nikola
2016-09-30T00:00:00Z
Extremely quiet place. Well equipped of all amenities. Close to the city centre.
Dario
2017-04-03T00:00:00Z
Nice and clean house. Hans has been very flexible/helpful with us. You are renting rooms in his house (but you have access to everything)
Sophie
2016-03-28T00:00:00Z
Everything very well organised to host and welcome the guests.
Alexandra
2016-07-25T00:00:00Z
Hans is really a very nice host! During my stay at his castle, I wa feeling like at home. I will come back:)
Daniel
2016-05-10T00:00:00Z
A good location in the center of Sittard. Walking distance to the old market square and easy connection to industrial sites close to Sittard. House with lots of space and equipped with basic things for even a longer stay. And most of all the host Hans is a really helpful and nice guy. We enjoyed his company during our stay.
Janne
2017-02-04T00:00:00Z
Room Type
Private room
---
Property Type
House
---
Accommodates
4
---
Bedrooms
Sittard, Limburg, Netherlands
Mijn huis is geschikt voor 4 personen. Op zolder kunnen bovendien 2 kinderen slapen speelgoed en boekjes aanwezig. Het huis is landelijk gelegen met veel wandelroutes in de omgeving, maar winkel/cultuurstad Sittard en Maastricht zijn ook gemakkelijk te bereiken.
U kunt gebruik maken van alle faciliteiten in het huis.
Room Type
Entire home/apt
---
Property Type
House
---
Accommodates
4
---
Bedrooms
Munstergeleen, Limburg, Netherlands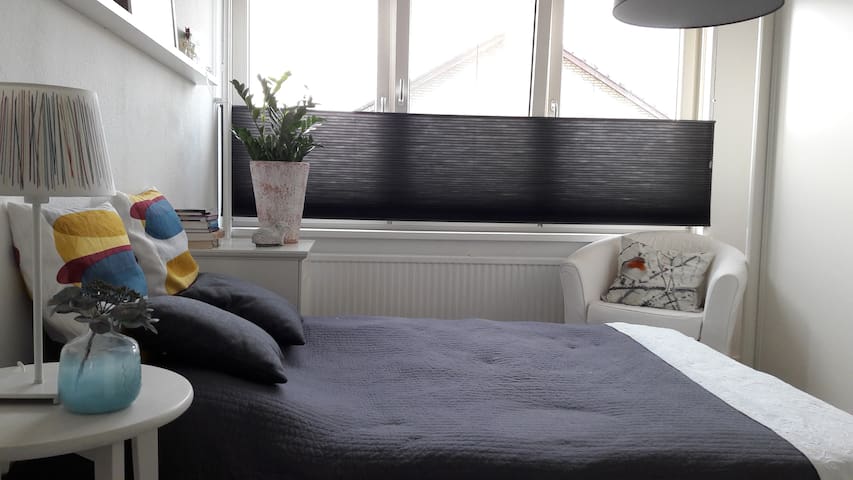 Our comfortable family house is fully equipped and suitable for large families and groups. Only a 5 minute walk to local shops and the bus-stop. Located in Parkstad Limburg on the edge of Brunssummer Heide nature reserve. A 10 minute drive to the centre's of Brunssum and Heerlen. In 2016 the Parkstad region was awarded 'Best travel destination in the World Award' from the World Travel and Tourism Council.
Open plan kitchen, lounge, diner on ground floor. Dishwasher, Gas hob, Fridge-freezer. Downstairs toilet. Spiral type staircases. Stairgates available if needed. 3 floors with 4 bedrooms. 1 large Bathroom with shower unit, Bath with shower. Separate toilet. Washing machine and tumble dryer. Garage, parking at front and rear of house.
The house is next to Brunssummer Heide, a 700 acre heathland park which has walking trails, jogging paths, mountain bike trails and bridle paths. 5 minute walk to local shops, (supermarket, bakers, butchers, chemist, hairdressers, newsagents, chipshop etc) 3 min walk to Bus stop for Heerlen & Brunssum Only 11 minute drive to SnowWorld, the worlds largest indoor ski resort. 15 min drive to Gaia Zoo. 11 min to Mondo Verde, family theme park and gardens. 30 min to Maastrict. 25 min to Aachen.
Perfect
Samuel
2017-02-25T00:00:00Z
Perfect
Samuel
2017-02-20T00:00:00Z
Perfect and neat house which is really close to the green area (5 min walk). No advice for the accommodation; it was perfect and everything is available!
Mirjam
2017-03-26T00:00:00Z
We had a very good time in Sally's house. We arrived late in the evening and the checkin was no problem. The house is very clean and is equipped with everything you need. The communication with Sally was excellent.
Markus
2017-04-09T00:00:00Z
Room Type
Entire home/apt
---
Property Type
House
---
Accommodates
9
---
Bedrooms
Heerlen, Limburg, Netherlands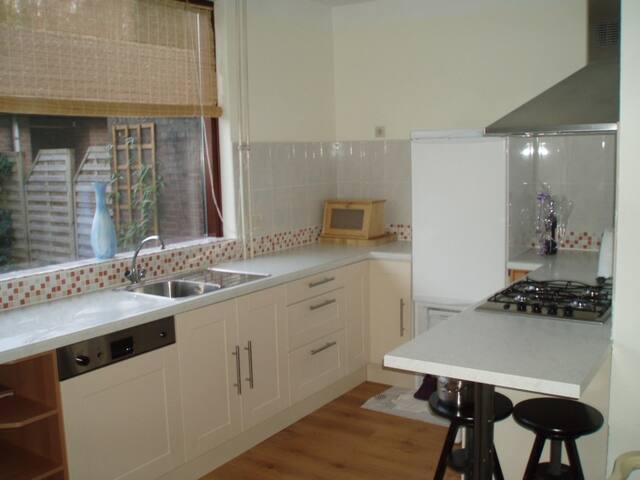 Karakteristiek twintiger jaren huis met volledig gerenoveerde en gemoderniseerde prive- etage met veel ruimte , licht en rust in Landschapspark de Graven. Met een eigen badkamer voorzien van douche, toilet en wastafel. En een separate ontbijtruimte.
Characteristic twenties house completely renovated and modernized private floor with plenty of space, light and peace in Landscape Graves. With a private bathroom with shower, toilet and sink. And a separate breakfast room with mini-refrigerator, tea and coffee. Our house is in the landscape park with nine walks and cycle routes. In the village there are 6 or coffee and dining terraces. Schinnen is centrally located in Limburg, 15 minutes from Maastricht, 30 minutes from Aachen, 10 minutes from Heerlen and 15 minutes from Belgium removed.
Ons vrijstaand huis ligt in Schitterend Schinnen tegen het landschapspark de Graven aan en in het Geleenbeekdal. 9 wandelroutes en fietsroutes starten binnen enkele meters van ons huis. Schitterend Schinnen is een groen gemeente tussen de verstedelijking van Sittard en Parkstad. Voldoende cultuuractiviteiten zijn aanwezig in de directe omgeving.
My boyfriend and I are from Amsterdam. We have spent a weekend at Cecile´s house during June. Cecile was a great host, to start with she was very flexible with the arrival time, we told her that we were arriving later than the agreed time and she was completely ok with that. The house was exactly as we expected. Everything was very clean and neat and because the room is the in the top floor, you have the feeling that you are in your own apartment (so you can have some privacy). The room was very big, spacious, with a table for breakfast/lunch and a completely new bathroom with a wonderful view while you shower! Every morning Cecile prepared breakfast for us. The room is equipped with sheets and cleaned towels so everything was more than satisfactory. We will definitely recommend you to stay at Cecile´s if you are looking for a nice weekend away from the city or if you are just looking for a quiet place in the south of Holland.
Barbara
2014-06-09T00:00:00Z
De kamer van Cecile is lekker ruim met een fijn bed. Lekkere moderne badkamer en een zitje om te ontbijten. Voor ons was het de perfecte plek voor een overnachting vlakbij de start van de fietstoertocht Limburgs Mooiste in Heerlen. Het was voor Cecile ook geen probleem dat de fietsen in de schuur werden gezet, ook al moest er even plaats worden gemaakt. Erg vriendelijk en gastvrij en daarmee dus een aanrader!
Serge
2016-05-22T00:00:00Z
Cecile was zeer gastvrij en open en zorgde voor een aangenaam verblijf
John
2015-06-15T00:00:00Z
Room Type
Private room
---
Property Type
House
---
Accommodates
2
---
Bedrooms
Schinnen, Limburg, Netherlands
Design room in the heart of Sittard
Room Type
Private room
---
Property Type
House
---
Accommodates
2
---
Bedrooms
Sittard, LI, Netherlands
My spare room (approximately 12m²) consists of 1 bedroom for up to 2 adults. There's a large bed in a tastefully decorated room (lockable). Shared use (with myself only) of the bathroom, equiped with a shower, toilet, towels and sink. For couples, solo-adventurers and bussiness-travelers. Free Wifi. Breakfast and cooking are negotiable in advance. Restaurant, bakery and supermarket are in my street. Contact me if you need transportation between Maastricht-Aachen-Airport, train- or busstations.
Distances: Maastricht 20 km, Heerlen 17 km, Valkenburg 18 km.
Restaurant, bakery and supermarket are nearby.
Room Type
Private room
---
Property Type
House
---
Accommodates
2
---
Bedrooms
Geleen, Limburg, Netherlands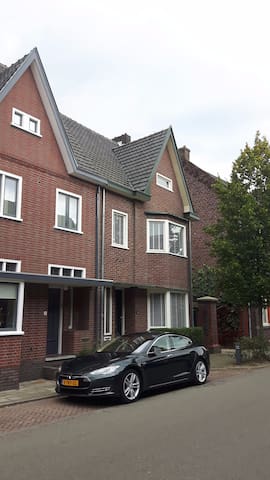 Sleeping in a cosy miner's cottage from the year 1918 with all the comfort from now. A unique experience!
There is place for 4 people and an option to add 1 extra bed.
Sittard is a nice medium-sized town with a lovely square full of fun cafes and terraces. A nice concert in popstage Volt or visit museum 'het Domein', belongs to the possibility. A 10-minute walk and you will find a large cinema with all contemporary films. The monumental city park is adjacent to my backyard and from there you walk into nature reserve 'de Kollenberg' or 'de Grave'. Pilgrimsway ''t Pieterpad' runs almost past my cottage. By train you stand within 10 minutes in the heart of Maastricht or Aachen or Liège by car is certainly worth a visit.
Dear Femke, As your first guest it's an honor to leave you this review. Although we stayed only one night at your place, we really enjoyed it as it is a very nise flat with lots of space and is close to everything in the city. I would happily recommend your place to anyone and hope you'll love doing airbnb;)
Norbert
2014-10-11T00:00:00Z
We had a fine stay:nice, clean place, quiet neighboorhood, walking distance from the centre.
hendrik
2015-08-31T00:00:00Z
Fantastic stay, so welcoming, would thoroughly recommend!
Dan
2016-12-11T00:00:00Z
Femke's cottage is deceptively big and we had plenty of space to spread ourselves out. We enjoyed having a back yard to relax in, the wifi and TV were excellent and the kitchen had everything you need to prepare and cook a meal. As we are getting a bit frail the steep stairs up to the bedrooms was challenging but once there the bed was very comfortable. The neighbourhood is pretty quiet and being tourists we found Sittard undemanding and a good base for the area. Thank you Femke for your nice old cottage.
Tony
2016-09-27T00:00:00Z
We did a quick overnight stay for a family of 4 in this comfy home. The host was wonderful; great communication in the reservation, hand written notes and instructions for using appliances at the apartment, and she continued to check on us throughout our stay to be sure we found everything and had a good night's rest. The house was very clean and full of interesting artwork!
Dustin
2015-12-01T00:00:00Z
Lovely place in Sittard! Close to the center, family and myself really enjoyed the stay...!!!
Ole
2016-07-11T00:00:00Z
Femke's home is a 10 minute walk to Sittard's center and similar distance to one of the bigger supermarkets in town...and 15 minutes to the train & bus station for anybody who needs it. Despite the cold weather during our stay, the living area is nice and warm. Femke was very responsive prior to and during our stay. She has been thoughtful and attentive, even leaving a little present for our daughter when we arrived. Our experience has been very positive and we happily recommend Femke's house to anybody visiting Sittard.
Aljoscha
2016-12-31T00:00:00Z
This cottage was very comfortable and fully suited our needs. The style and design were very personal, fun and welcoming. The town square is an easy walk and the owner provided great recommendations for evening entertainment. Fully recommended!
Wes
2015-03-23T00:00:00Z
Room Type
Entire home/apt
---
Property Type
House
---
Accommodates
5
---
Bedrooms
Sittard, Limburg, Netherlands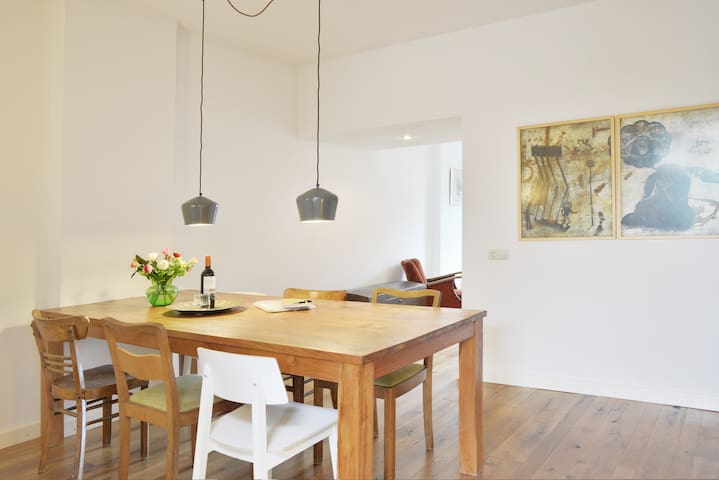 Cosy semi-detached house with spacious living room with dining and sitting area, modern kitchen with dishwasher, stove, oven hood and large fridge. Utility room with washer and dryer. Large garden with garden furniture, parasol and gazebo. Next to the house a spacious driveway for two cars. On the floor there are three bedrooms and a bathroom with shower and sink.
Great, comfortable staying (also for 5-6 persons). All is there, no trouble for looking something you always need in the house. Marijke is very helpfull en very friendly!
Radj
2017-03-10T00:00:00Z
Room Type
Entire home/apt
---
Property Type
House
---
Accommodates
6
---
Bedrooms
Nuth, Limburg, Netherlands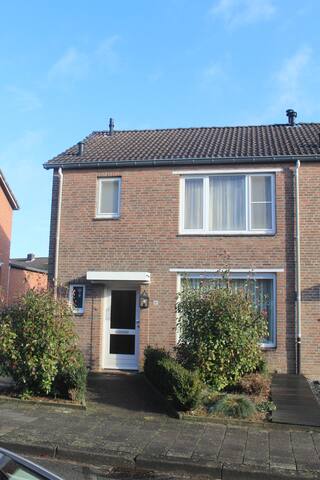 Hierbij bieden wij onze studio aan met jacuzzi, keuken, toilet, bed en digitale tv wasmachine en droger.Deze studio heeft een aparte achteringang in onze bestaande woning. De stad Heerlen en omstreken biedt vele mogelijkheden ( kwartier van Valkenburg en 20 min van Maastricht). Voor nadere info bellen of mailen.
Deze pas gerealiseerde studio is van alle gemakken en comfort voorzien. Een luxe keuken met inbouw apparatuur zoals combi oven cq magnetron, gastoestel, koelkast met vriesgedeelte. P.s hond aanwezig, maar niet in de studio die u huurt !! Op de bovenverdieping waar wij zelf wonen is ook de hond. Tevens luxe wasmachine en droger ( miele ) Delen met verhuurder in overleg. Exclusief wasmiddel. En na 21.00 uur pas gebruiken i.v.m nachtstoom. Een luxe zwevend toilet met design radiator en vloerverwarming en fonteintje. De studio is voorzien van rookmelders en een koolmonoxide melder en een brandblusser Voor extra veiligheid. En een verbanddoos is aanwezig. De studio is voorzien van kunstof ramen en deuren en een elektrische rolluik voor extra comfort. Ruimte is dan ook goed geïsoleerd. Door de hele studio is centrale verwarming aanwezig. Er is digitale televisie dvd speler en draadloos WiFi aanwezig en radio met cd. De zitkamer is comfortabel en sfeervol ingericht met romantische verlichting wat gedimd kan worden op afstandsbediening en tevens aan en uit gezet kan worden Er zijn voldoende stroompunten aanwezig. En een bureau met bureaustoel en verlichting en kluisje. De badkamer is ook zeer luxueus met jacuzzi met alle gemakken en luxe voorzien. ( digitaal gestuurd ) met afstandsbediening Mooi badmeubel met verlichting en stopcontact. Het luxe bed bevind zich in de open badkamer 160 cm bij 220 cm incl leeslampjes 2 x Voor 3 of 4 personen slaapgelegenheid Er worden dan extra bedden bijgezet. Dit zijn 1 persoons hotelbedden met dikke Matrassen !! En dus geen goedkope campingbedjes met dunne matrassen ! Voor de 3 de of 4 de persoon komt er € 15 p.p.p.n bij voor het extra bed. De extra bedden worden in de zelfde ruimte geplaatst waar het 2 persoonsbed staat. Deze studio is te bereiken door een aparte Achteringang ( bel zit op de poort ) de studio bevind zich in ons bestaand woonhuis. Er is ook ruimte ( overdekt ) voor fietsen te stallen of een motor. Dit wel op eigen risico !!! Huishoudelijk apparatuur zoals koffiezet, waterkoker,Senseo,stofzuiger zijn aanwezig zoals pannenset, geheel service bestek kopjes en wasrekjes en strijkplank met strijkijzer en föhn. Deze studio is ook toegankelijk voor rolstoelgebruikers, door de extra brede deuren is dit gemakkelijk te realiseren. Vanaf de zijstraat kunt u met de rolstoel een Bergje naar beneden en bent u zo voor de poort van de studio. P.s Afgesproken tijden nakomen zowel aankomst als vertrek tijden !! Aankomsttijd in overleg !! Uitchecktijd 11 uur !! P.s Wij vragen u paspoort en maken hier een Kopie van als u de sleutel wilt van het huis. Huisdieren niet toegestaan. Roken niet toegestaan. M.v.g Ric en Claudiae
Rustig, goed te bereiken met auto, en openbaar vervoer !! ( gratis parkeren ) Genoeg parkeergelegenheid naast de woning ( direct bij de studio ) Supermarkt direct om de hoek ( 5 min ) Lopen ( Jan Linders ) en Vocken bakkerij En zo in het centrum 15 min goed doorlopen Openbaar vervoer ( bus ) 5 min van de studio vandaan. En 15 min lopen en u bent bij het pas gebouwde maankwartier !! Heel veel winkels en nog veel meer !!! Straat oversteken en u zit in een bosrijk gebied waar u heerlijk kunt wandelen De studio is te huur voor € 42 per dag voor 2 personen. Meerdere personen kunnen ook dan brengen wij € 15 p.p.p.n in rekening. Slaapgelegenheid voor 4 personen.
I had a fantastic stay with Ric andClaudia.Their studio is even better than it looks looks in the pictures!With free parking outside the house.The studio is beautifully decorated with quality appliances.The jacuzzi was the perfect start to the day. I was able to buy some food in a supermarket (5 minutes walk) end cook it in the kitchen whilst listening to a good selection of cd's.Cable tv,remote control lighting and super-comfy sofa's and double bed were much appreciated.The small courtyard and gate onto the rear alley was well planned and gives the guest private access to the apartment. I definitely recommend this studio thanks again Ric and Claudia !
Vernon
2016-02-06T00:00:00Z
The host canceled this reservation 2 days before arrival. This is an automated posting.
Corrie
2016-07-14T00:00:00Z
Had a wonderful experience at Ric's place. Clean, cozy, sumptuous bedding. Ric is a very welcoming host, flexible and easy going. Would come again.
Philip
2016-02-07T00:00:00Z
Ric's place was nice and cozy in very quiet neighborhood, but not too far from center and train station. For us it was unusual to have Jacuzzi in our bedroom, but also quite romantic :) Ric and his wife also helped with some advises about shopping and local transportation.
Evaldas
2016-03-16T00:00:00Z
Perfect
Faton
2017-03-18T00:00:00Z
Ric's house was like a great hotel, and Ric was also really kind host! Everything was fine. The place is really comfortable and you can enjoy bath time as well. I recommend it.
真帆
2016-12-21T00:00:00Z
This place is perfect, they have absolutely every possible luxury you could imagine. On a quiet street with its own entry and beautiful furnishings. /
Jack
2017-02-23T00:00:00Z
Great time for me and my girlfriend, all was perfect thanks to Rico, he is very friendly and the place is nice!!!
Thibaut
2016-03-31T00:00:00Z
Room Type
Private room
---
Property Type
House
---
Accommodates
3
---
Bedrooms
Heerlen, Limburg, Netherlands
Beautiful townhouse near downtown Heerlen. 2 bedrooms and bathroom upstairs. Large living room incl. STOVE and new modern kitchen and 2e toilet on the lower floor. small backyard where in summer you can sit without being seen. Near park and nature reserve.
beautiful cozy living room with cozy fireplace and brand new modern kitchen
Dichtbij centrum, park en natuurgebied Brunssumerheide Close to City centre, Parc and Nature reserve
Het was perfect, hij heeft iemand al naar het huis gestuurd om sleutel te aan ons te geven. Zij was al in huis toen we kwamen, verwarming was al aan, en huis was lekker warm. Het gaaf lekker gevoel. Werner heeft regelmatig Sms gestuurd. Hij was erg aardig en bereikbaar. Hij heeft alles goed en netjes uitgelegd Omgeving was rustig, veilig . winkelcentrum was op loop afstaand. P.S: Huis is erg schoon en comfortabel, schoon badkamer en bed en de keuken. Prima woonkamer, goed internet en TV. Meer heb jij niet nodig. We geven 9 van 10,
Mehran
2016-12-31T00:00:00Z
Room Type
Entire home/apt
---
Property Type
House
---
Accommodates
2
---
Bedrooms
Heerlen, LI, Netherlands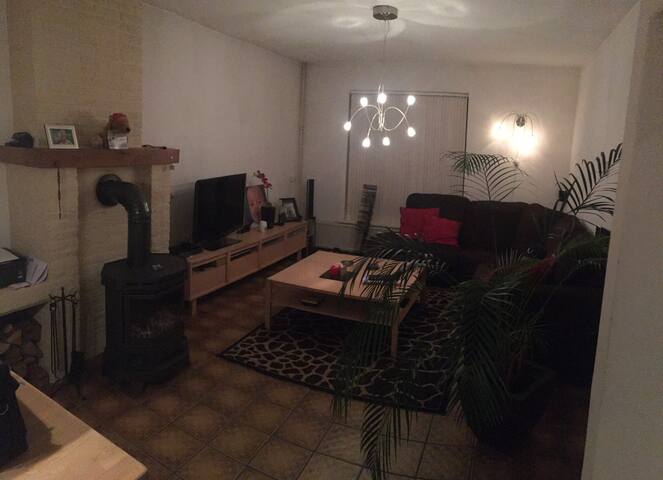 Completely equipped bungalow in village. suitable for 4 adults and sev. kids. Suitable for disabled people. Great view over garden, pond and forest. washing machine, dryer, etc. Pets welcome and free of charge.
suitable for disabled people - great view over garden, pond and forest
village - great walkies into farming fields, apple and pear orchard. close to maastricht, aachen, liege, etc.
Thankyou lucienne for the hospitality from being so dog friendly to fresh eggs in the kitchen courtesy of your hens! The accommodation is located in a beautiful part of the Netherlands and very handy to visit Maastricht too. Very clean accommodation.
melanie
2016-04-11T00:00:00Z
The reservation was canceled 5 days before arrival. This is an automated posting.
Bart
2014-12-22T00:00:00Z
We had a very comfortable stopover at your home on our way to freiburg. You were very warm and welcoming hosts. We loved your garden and the apples were awesome.
KUNAL
2014-10-31T00:00:00Z
The apartment is nice. It's located in the small village, but it's easy to find. Enough parking place in the street. The apartment is cold (sweater & slippers are a must), probably the central heating is off during the night, but the blankets are super warm, so we can sleep really well. Thanks for hosting us ;)
Lya
2015-12-24T00:00:00Z
Lucienne was very helpful and made sure we had everything we needed (even offered to buy items before we arrived). The bungalow was clean and spacious and we would have no hesitation in recommending to anyone wanting to visit the lovely village or surrounding area.
Adrian
2015-09-15T00:00:00Z
Lovely place and good location for visiting the surroundings. Owners are delightful and relax.
Gwenael
2014-04-22T00:00:00Z
The house was close to lots of walking routes which lead you through the hills and through cute old villages. Lucienne was a wonderful host. She welcomed us with some freshly picked apples and grapes out of the garden. The apartment had everything we needed.
Anne Mare
2015-10-12T00:00:00Z
We had a really nice evening in Spaubeek. Our Hosts were pleasant and helpful and we're looking forward to come back in the Future!
Noah
2014-05-04T00:00:00Z
Room Type
Entire home/apt
---
Property Type
House
---
Accommodates
4
---
Bedrooms
Spaubeek, Limburg, Netherlands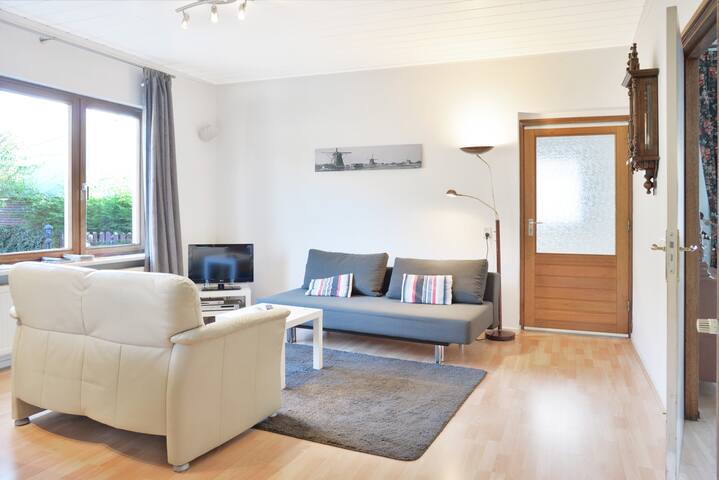 Grote, luxe, vrijstaande woning met ruime tuin! Ideaal voor gezinnen met kinderen, maar ook voor de zakelijke bezoeker biedt ons karakteristieke huis alle rust. Op loopafstand van het knusse stadscentrum aan de poort van het Heuvelland. Centraal gelegen aan de uitvalswegen naar Roermond, Maastricht, Hasselt (Be) en Aken (D). Bus- en trein op loopafstand. Veel ruimte in en om het huis (2 badkmrs, 3 slpk, kantoor, bijkeuken, garage). Ook voor meer dan 5 personen geschikt! Huisdieren in overleg.
Room Type
Entire home/apt
---
Property Type
House
---
Accommodates
5
---
Bedrooms
Geleen, LI, Netherlands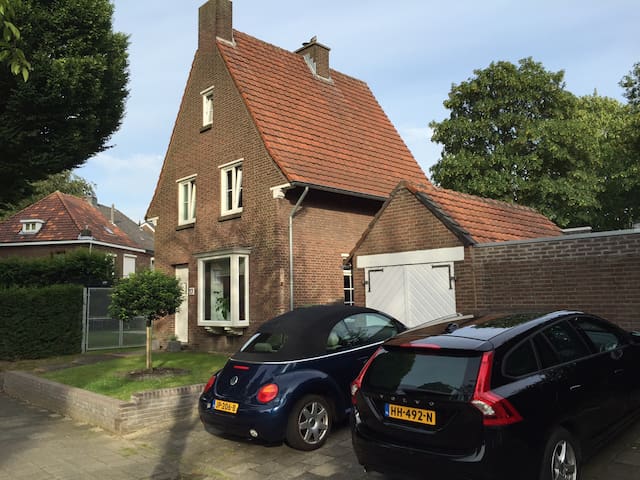 This former characteristic farm is located in the shadow of Maastricht, Aachen and Liege. One can take lovely walks / bike rides from this place. It is, after all, at the gateway to 'Het Heuvelland' of the South of Limburg.
During World War II , the farm was partly bombed by friendly fire, rebuilt by the Marshall Plan. Natural and sustainable materials are applied. The spaces are former stables and hay lofts and therefore very spacious. Whether you are in the South of Limburg for sport, business, a romantic getaway or a fun weekend away with friends, this farm will cater for all your needs. In the rebuilding of this farm, natural and sustainable materials are used. The rooms are former stables and hay lofts, therefore they are very spacious. You'll enjoy the very large sunny south facing garden.
Within 300m are a butcher, baker, fruit and milkman housed in a former farm house. Two fine restaurants are within walking distance Chinese / wok and a Greek. At about 2 km in Beek are a cozy pub, and a very good Italian restaurant, and a restaurant with a renewned kitchen. In the village Sweikhuizen 3km beautiful view from the hills of the countryside. From our stay, there are wonderful walks and bike rides to take. Furthermore the local area offers Wellness facilities and various sports activities e.g. swimming, tennis, skating and cycling on a velodrome, etc....
Ria and her husband werw very kind and friendly. There was a warm welcome with coffee and cake and we were told to ask them if we needed anything. A great house very clean. There was everything we looked for. Its the ideal place for everybody who is looking for a nice time with Friends and great hosts. Thank you for everything! :)
Patrick
2016-08-07T00:00:00Z
We had very warm welcome from Ria and her family. Ria took us through a beautiful house having well equipped kitchen and bed rooms. Ria also cooked for us a welcome Pie, which was amazing. We found the house exactly as described in the advertisement. House is very well located from tourist attraction like valkenburg castle and underground caves, also Maastricht city is on 30 min drive from house. In short me my kids and one more family with us, enjoyed our stay.
Anand
2014-12-27T00:00:00Z
All listed descriptions for this facility are exactly as described. We had a very good mail conversation from start of searching on Air B&B until we decided to book, and also afterwards. Upon arrival (wednesday afternoon) we were welcomed and had a round tour in the facilities to get to know the equipment in the different rooms. When the ambient temperature got up to around 30 degrees celcius, our hosts gave us fans for the hot bedrooms upstairs. On 200-300 meters walking distance there was a butcher/baker/green grocer and a kilometer away there is a big supermarket (Makado in Beek). We (family of 2 adults and 2 children) are very happy with our stay at "Col Du Fatten".
Göran
2014-07-22T00:00:00Z
Lovely hosts and a beautiful, large space! It was more than enough space for two families (total 8 people). A nice yard for kids to run around in too. The furniture and beds were quite comfortable. We look forward to coming back!
Shannon
2014-12-07T00:00:00Z
Ria and her husband were amazing hosts! We felt welcome immediately with her homemade Limburg specialty, Vlaai, and the great company Ria gave us while we enjoyed it in her kitchen. She even let us check in early since we had many bags and children in tow. The home was beautiful, full of history and charm!! If you are traveling with small kids, they do have a high chair, a fun bean bag chair, and a bed that we affectionately called the 'castle' bed because they had to climb stairs to get into it. We did come on an unusually cold weekend though, so the home was a bit chilly, but definitely not a show-stopper; and she had plenty of blankets on the beds. Also, the fresh bath linens were great to have, as I had seen in other listings that you had to provide them yourself. Also, we were bummed that we didn't get to see the tulip fields (they are about 3 hours further North) so Ria brought us some on our second day, because she knew we would like them!! Overall, fantastic home in a nice quiet neighborhood but still close to Maastricht, Liege and Valkenburg.
Lindsey
2015-04-05T00:00:00Z
Out stay at this lovely home was wonderful the home was so clean and welcoming and our host was so great at making sure we felt right at home and went out of they're way to be of any help. We really enjoyed our stay in this home,and the next time we are in holland will probably visit this lovely Family as they are now our Friends. Thank you guys for everything hope you enjoyed our Breakfast
Monica and David
2016-03-16T00:00:00Z
Beautiful and so unique! The place is in a quiet neighborhood, with all amenities as advertised. Very clean, Stylish decor and beautiful antiques. Ria and her husband have been very accommodating and so kind and helpful. We really enjoyed our stay! Totally recommendable!
Elena
2016-09-26T00:00:00Z
Clean, cosy, spacious! The house is just perfect! If you decide to stay at this place you will absolutely love it. The hosts are amazing, best you can get. I totally recommend it.
Alex
2015-01-18T00:00:00Z
Room Type
Entire home/apt
---
Property Type
House
---
Accommodates
9
---
Bedrooms
Beek, Limburg, Netherlands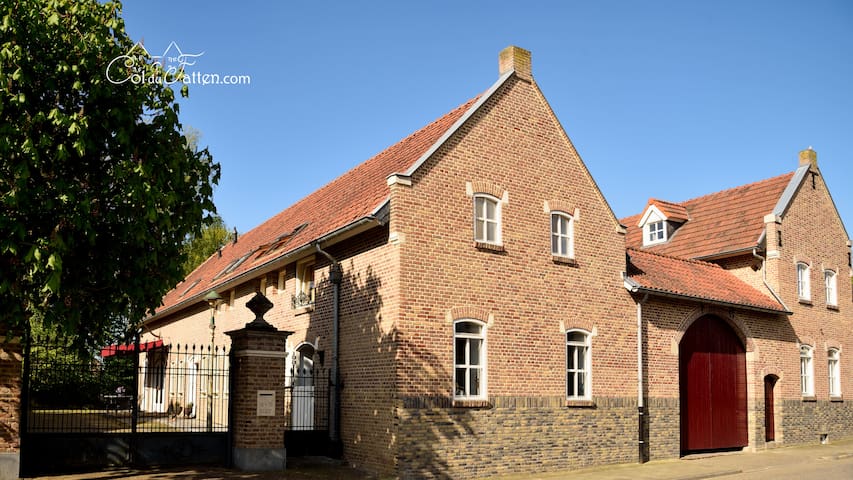 1

–

18

of

26 Home Rentals
Enter dates to see full pricing. Additional fees apply. Taxes may be added.