La quinta tiene lo necesario para el confort que buscas sintiéndote en la naturaleza por su gran patio. Se encuentra a 5 min caminando del centro y en la propiedad podrás gozar, enfiestarte, cocinar, jugar, descansar en completa privacidad. La propiedad está totalmente bardeada.
La naturaleza y tranquilidad con todos sus conforts
Carlos was a great host, his house is great and very well located in Parras. We really enjoy staying at his house, the backyard and terrace are very convenient to spend a good time with your family and friends. We were a group of 10 without any problems. I fully recommend it. Thanks Carlos
ramiro
2015-11-16T00:00:00Z
Excelent house, clean, really nice, excellent location, walking distance from the main plaza of the town. Great communication and attention from the landlords.
Marcelo
2017-03-19T00:00:00Z
Great house for a weekend, the location is one of the best, walking distance to convenience store, liquor shop, restaurants, drug store. The house is pretty accurate as the description and photos. The hammocks are one of the best features, great to relax. The kitchen is quite equipped, has everything needed to make breakfast / lunch, and there are two barbecue grills outside. The only area of opportunity is the dust and bugs, probably a deep cleaning before a guest arrives would do, and also have a fumigation to kill ants and cockroaches (not a plague but some people could freak out). Carlos and the renter lady (Blanca) are great hosts. Thanks to them.
Bernardo
2017-04-02T00:00:00Z
Great attention and communication by the host. We felt taken care of throughout the whole process. We had a minor issue and the host was very efficient in resolving it super fast even though it was a national holiday. The house is super confortable and it was exactly what we were looking for. Ideal for family and friends with great spaces and outdoor areas for a bbq or just to relax. Everything was spotless, very clean and organised.
Alvaro
2016-11-21T00:00:00Z
The house is very well located at just a 1-2 block walking distance from the town's cathedral. It's located in one of the principal avenues and has a fair amount of parking space. The house is very well maintained and has a good distribution to accommodate the number of guests that it offers. It has a large patio with all the amenities and social area that can be greatly enjoyed. The different and comfortable spaces in the house and Carlos's willingness to help you out in any matter, make this option a must in Parras.
Homero
2017-02-12T00:00:00Z
Genial
Jorge
2017-02-05T00:00:00Z
Una casa con excelente ubicación, las atenciones del arrendador increíblemente al pendiente. Las habitaciones con muy buenas camas, super equipadas todas las áreas de la casa! Excelente experiencia!
Cris
2017-03-05T00:00:00Z
Todo excelente! La casa está bien ubicada, muy tranquila. La terraza es lo mejor para pasar una buena tarde en familia y hacer una carne asada! Muy limpio todo y bastante equipada con todo lo necesario.
Alejandro
2017-04-12T00:00:00Z
Room Type
Entire home/apt
---
Property Type
House
---
Accommodates
12
---
Bedrooms
Parras de la Fuente, Coahuila de Zaragoza, Mexico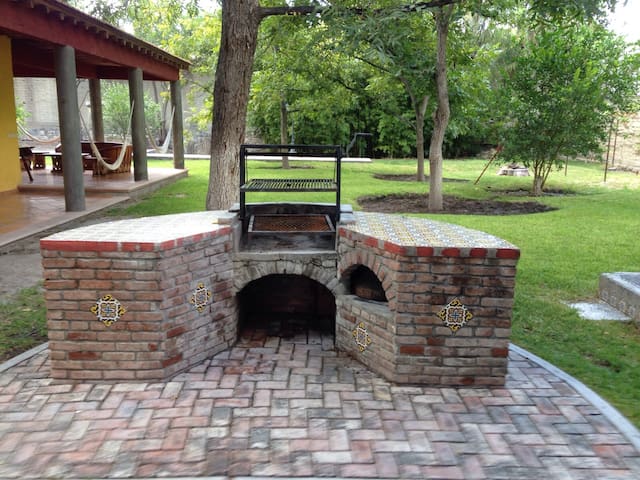 Esta hermosa casa ubicada en una de las mejores zonas ideal para descansar a 3 km de la ciudad. casa de diseño rústico cuenta con tres amplias recamaras con 2 baños y medio, amplia sala con chimenea, cocina y desayunador equipada, con todo lo necesario para una agradable estancia, un amplio jardin con palapa,asador y chimenea exterior
Alejada del ruido de la ciudad , pero a solo 3km a puntos de interés
Localizada en el fraccionamiento Rincón del Montero
Muy agradable lugar!!!
Brenda
2017-04-11T00:00:00Z
Room Type
Entire home/apt
---
Property Type
House
---
Accommodates
8
---
Bedrooms
Parras de la Fuente, Coah., Mexico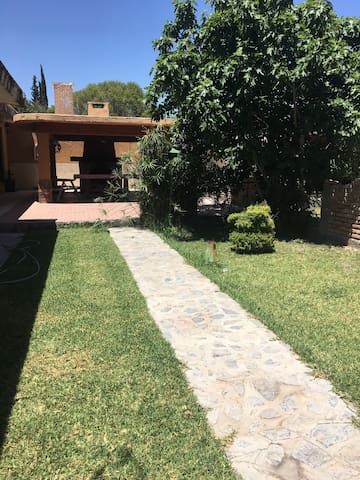 A beautiful, spacious home with 5 rooms. A bathroom for each room and a sunny central patio with a grill to enjoy the incomparable blue skies of parras.
A beautiful house with lovely family heirlooms and antique decor. Big spacious kitchen and a central patio ideal for get togetherts.
It is very close to the historic denim factory. The streets are lined with gigantic Pecan trees. The tall chimney of the factory one block away from the house is visible from every corner of the town, which makes for an excellent reference.
The house is old, clean and beautiful and has lots of potential, but it's in urgent need of repairs. We thought the price was too high to not offer guests the basics.
Leticia
2016-09-24T00:00:00Z
Spacious colonial home with potential to be great for families but needs up keeping, maintenance and could be cleaner.
Edelweiss
2016-07-18T00:00:00Z
Pefect place to stay..Ill no hesitate in returning to this wonderfull house.. 100% relaxing
Eduardo
2016-06-27T00:00:00Z
Es muy bonita la casa, muy amplia y la señora Cande es muy amable. Totalmente recomendado
Jorge
2017-03-12T00:00:00Z
Casa muy espaciosa, muy centrica y limpia, flexibles para la hora de entrada y salida. Tenia todo lo que necesitabamos!
Daniel
2016-12-18T00:00:00Z
Excelente casa, superó gratamente nuestras expectativas. Grandiosa atención. Definitivamente regresaremos, es nuestra casa oficial en Parras.
Ray
2017-04-02T00:00:00Z
La casa es muy amplia y es muy fácil de llegar. Tanto Luis como la Señora Cande son muy atentos y flexibles. Todo está limpio y el patio central es increíble. Tuvimos una estancia muy agradable
Ana
2017-01-05T00:00:00Z
Excelente lugar
Marcela
2017-01-14T00:00:00Z
Room Type
Entire home/apt
---
Property Type
House
---
Accommodates
9
---
Bedrooms
Parras de La Fuente, Coahuila de Zaragoza, Mexico
Casa estilo hacienda. Construida en el 2014, ideal para descansar. Rodeada de nogales de más de 80 años de antigüedad.
Room Type
Entire home/apt
---
Property Type
House
---
Accommodates
4
---
Bedrooms
Parras de la Fuente, Coahuila de Zaragoza, Mexico