We welcome you in our newly renovated, 90 sqm meters of neat apartment in a quiet location in Pfinztal-Wöschbach, approximately 15 kilometers from Karlsruhe, Pforzheim and Bretten away.
We can accommodate up to six persons in two separate bedrooms. The location is situated in a rural, quiet and save surrounding. Perfect for families. The apartment is fully equipped with beddings, towels, shower gel ect. Pots, pans, dishes, glasses, all necessary kitchen utensils, toaster, egg cooker, kettle, microwave, coffee, sugar, creamer, selection of teas and spices, vinegar and oil etc.
Fantastic apartment, very nicely done up and very close to a lot of beautiful cities. Hosts were incredibly kind and accommodating. On our first night we had to arrive after check in hours and hosts not only waited for us, but they shared their food with us, a gesture which we appreciated immensely.
Roland
2016-12-12T00:00:00Z
Nothing to complain or comments on. The place and Thomas hospitality is exceptional. Thanks a lot Thomas you made our stay just perfect.
Abdulrahman
2016-08-23T00:00:00Z
The apartment was better from what I expected. Equipped with all appliances, cozy, comfortable, quiet. Exceeded expectations confirmation. Thomas and Gaby are friendly and polite ... we had a great time !!!
Antonis
2016-12-28T00:00:00Z
We were welcomed very warmly by Gabi and Thomas. We found a beautiful apartment with absolutely everything that you might need for a comfortable stay both for us and for our little daughter (including games and toiletries). Thank a lot for a great stay
Rita
2016-08-21T00:00:00Z
Spacious two bedroom apartment with wonderful and friendly service. As a family of four we really enjoyed our stay and can highly recommend it! Das Apartment war sehr geraeumig und hat zwei Schlafzimmer. Wir hatten einwandfreien, freundlichen Service. Als eine vier-koepfige Familie haben unseren Aufenthalt sehr genossen and koennen es auf jeden Fall weiterempfehlen.
Ralf
2015-12-26T00:00:00Z
es war wieder ein traumhafter Aufenthalt in herzlicher Atmosphäre, wir haben uns wie zuhause gefühlt. Die Wohnung ist wärmstens zu empfehlen, da einfach alles stimmt. Herzliche, hilfsbereite Vermieter, sehr ruhig, aber dennoch verkehrsgünstig gelegen, gute Einkaufsmöglichkeiten in der Nähe, perfekte Ausstattung, sehr sauber und gepflegt, einfach zum rundum wohlfühlen. Wir freuen uns schon auf den nächsten Aufenthalt.
Anne
2016-07-31T00:00:00Z
Alles war super. Schöne kleine Wohnung für vier. Nette Gastgeber. Sehr zu empfehlen.
Alexandra
2015-05-16T00:00:00Z
Vielen lieben Dank für den herzlichen Empfang und das "Rund-Um-Wohlfühlpaket". Wir haben die Wochen sehr genossen. Die Wohnung ist traumhaft, es fehlte einfach überhaupt nichts. Liebevoll und praktisch eingerichtet, sehr sauber , ruhig gelegen und dennoch sehr gut an Karlsruhe angebunden, so dass wir unseren Deutschlandbesuch richtig genießen konnten. Die Wohnung und die herzlichen Vermieter sind sehr zu empfehlen. Wir freuen uns schon auf unseren nächsten Besuch. Herzliche Grüße.
Anne
2016-02-13T00:00:00Z
Room Type
Entire home/apt
---
Property Type
Apartment
---
Accommodates
6
---
Bedrooms
Pfinztal, Baden-Württemberg, Germany
They inhabit 2 BR. (Bedroom / living room, kitchen, dining room, bathroom / WC) an attic apartment in a quiet location in a 2-FH for sole use (pure residential area). The 3rd BR. On this floor is private, but is not used during the rental. You are in 5 minutes on the S-Bahn stop "Söllingen Station" and in about 30 min. With the train in the center of Karlsruhe (Marktplatz). are everyday items can be purchased by foot (baker, butcher, net, pharmacy, etc.).
The host canceled this reservation 5 days before arrival. This is an automated posting.
Matthias
2017-03-15T00:00:00Z
Hervorragend
Jürgen
2017-03-12T00:00:00Z
Room Type
Entire home/apt
---
Property Type
Apartment
---
Accommodates
2
---
Bedrooms
Pfinztal, Baden-Württemberg, Germany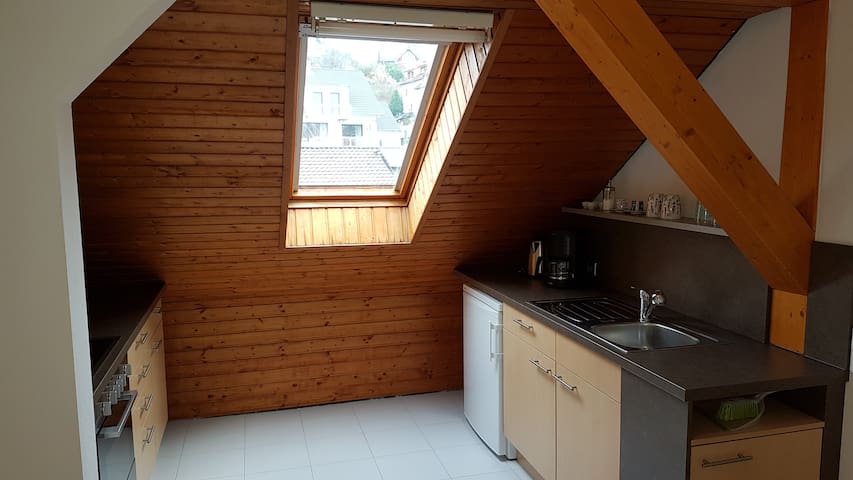 Arrive and feel good. The apartment is comfortable and cozy furnishings and is quiet. The cities of Pforzheim and Karlsruhe and the exhibition grounds Neue Messe can be reached in no time.
Arrive and feel at home in our beautiful, generous and family-friendly Non smoking holiday apartment. The apartment is suitable for families, couples and business travelers. Children under 12 years stay with us free of charge. On arrival the beds are made and towels are provided for you. The available games may be used and books invite you to read during your stay a. Towels and linens are included. The bathroom shower gel, shampoo, deodorant cream, toothpaste, cotton pads etc. The apartment is cleaned weekly and the bed linen changed weekly. Laundry service on request. The kitchen is fully equipped with dishes and pans, utensils, microwave, dishwasher, ceramic hob, fridge, oven, water and egg cooker, toaster and freezer. A small selection of spices and vinegar, oil, salt, sugar, condensed milk, coffee / coffee filters, jam and tea are available. For our younger guests, a high chair, a cot, a toilet-chair, eating utensils for children, games and books are available.
Pfinztal is located in Baden-Württemberg, in the region 'Pfinz-Kraichgau' in the district of Karlsruhe. The district is bordered on the west by the city of Karlsruhe and the east by the Enzkreis. Up to the foothills of the Black Forest is just a few kilometers. The town is surrounded by a natural setting and has an interesting topographical location. Picturesque banks along the small river Pfinz whose valley the community gave its name as well as natural forests, meadows, orchards and vineyards dominate the landscape. Since there are also historical and modern architecture, vernacular scenes and of course the people who make Pfinztal unique. Learn about Pfinztal. Attractions Sculpture, cross trail and Frühmessweg, Nature trail with forest classroom, Water Trail Hedge Trail, changing exhibitions in the town hall and community center, cabaret at the community center, museum, indoor swimming pool Hiking and excursion suggestions are in the apartment.
The apartment was lovely, well decorated and stocked with every little thing that we needed. Jutta, Armin and Mirjam met us at the apartment and gave us an introduction to the little details. They were easily accessible to answer questions, and they were quite hospitable. My husband ran into them most evenings in the garden and chatted with them. Next time we stop by Pfinztal, we'd like to stop by for a little visit!! Thanks so much for letting us stay in your home and for making us feel so welcome!!
Vicky
2016-07-23T00:00:00Z
The host made us feel welcome and provided us with information about the area.
Rafael
2015-10-11T00:00:00Z
Great house and very nice people! Thank you for this stay - it was perfect! Highly recommend this house. Very nice apartment!
Grzegorz
2017-01-18T00:00:00Z
Es ist eine sehr schöne und komplett eingerichtete Ferienwohnung. Sehr ruhig gelegen. Es fehlte nichts. Die Gastgeber sind sehr freundlich und hilfsbereit. Wir haben eine schöne Zeit dort verbracht und können diese Ferienwohnung nur weiterempfehlen.
Marie-Luise
2015-09-25T00:00:00Z
Jutta hat uns sehr herzlich empfangen. Hatten kurzfristig gebucht,hatte Zeitmässig alles wunderbar geklappt. Wohnung ist wie beschrieben, sehr groß und geräumig für uns 4 Personen. In der Küche fehlte es auch an nichts. Obwohl Jutta im Haus wohnt haben wir Sie (positiv gesehen) gar nicht gehört , wahrgenommen , das jemand noch im Haus wohnt. Haben uns sehr wohlgefühlt,werden wiederkommen .
Uwe
2016-05-09T00:00:00Z
Очень приветливая и гостеприимная хозяйка, встретила, ответила на все вопросы, живёт в этом же доме и готова в любое время помочь. Очень просторная уютная квартира в тихом спокойном уютном месте, прямо из дома можно походить или побегать среди яблочных,грушовых и сливовых садов по интересным маршрутам с горочками, в 15 мин езды от центра Карлсруэ. Квартира полностью соответствует описанию и фотографиям, есть всё необходимое для короткого и длинного проживания.
Ольга
2016-06-28T00:00:00Z
Room Type
Entire home/apt
---
Property Type
Apartment
---
Accommodates
4
---
Bedrooms
Pfinztal, Baden-Württemberg, Germany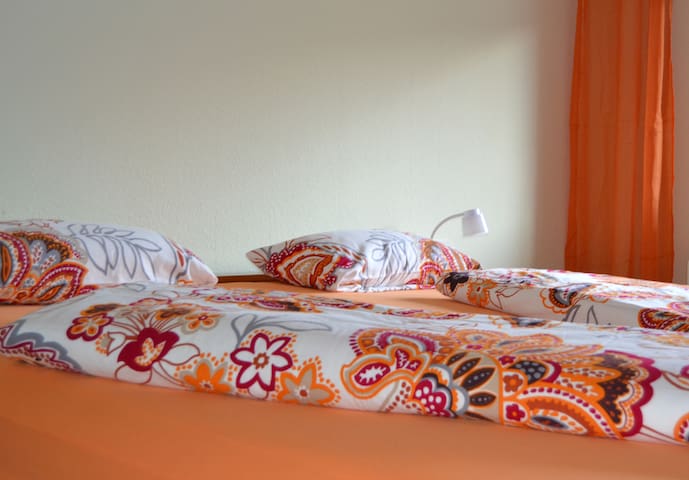 The apartment is located in a two family house near Karlsruhe in quiet rural Wöschbacher Valley. You will love this apartment because of its unique environment, the quiet surroundings, beautiful hiking trails and the nearby cities of Karlsruhe, Pforzheim and Bretten. The apartment is suitable for couples, lone adventurers, business travelers, especially for families with children.
We can accommodate up to eight persons in two separate bedrooms. The location is situated in a rural, quiet and save surrounding. Perfect for families. The apartment is fully equipped with beddings, towels, shower gel ect. Pots, pans, dishes, glasses, all necessary kitchen utensils, toaster, egg cooker, kettle, microwave, coffee, sugar, creamer, selection of teas and spices, vinegar and oil etc.
Unglaublich nette Gastgeber. Wir waren zur Messe in Karlsruhe dort und sind erst spät am Abend eingetrudelt. Gaby, Thomas' Frau, hat uns dann noch einen Topf leckeres Chilli gekocht, wirklich super! Im Kühlschrank waren Getränke, die Wohnung ist richtig toll und sehr gute Matratzen in den Betten haben uns toll schlafen lassen. Wir können Thomas' Unterkunft wärmstens empfehlen, super Location und tolle Gastgeber! Wir kommen gerne wieder!
Thomas
2016-11-14T00:00:00Z
Quelques attentions particulières, une bouteille de vin, des fruits, des boissons au réfrigérateur, des produits de toilette.... l'essentiel pour combler un oubli et permettre d'attendre le lendemain(URL HIDDEN) L'équipement, la propreté de l'appartement, le calme du quartier font que vous ne pouvez pas être déçu.
JOEL
2016-11-01T00:00:00Z
Wir waren mit 8 Personen über Silvester da, mit 4 Erwachsenen und 4 Kindern im Teeniealter. Für die Kinder wurde uns extra der Spitzboden mit Matratzen ausgelegt und zwei Betten waren dort sowieso vorhanden. Somit waren die Kinder unter dem Dachboden untergebracht und wir konnten das Wohnzimmer als solches benutzen ohne dass wir dort das Sofa ausziehen mussten. Die Wohnung ist mit der Personenzahl maximal ausgelastet. Wir haben die Tage dort sehr genossen. Gerne wieder.
Eva
2017-01-01T00:00:00Z
Room Type
Entire home/apt
---
Property Type
Apartment
---
Accommodates
8
---
Bedrooms
Pfinztal, Baden-Württemberg, Germany
This apartment is my private apartment with about 90m² in the district Wöschbach very quiet situated on a slope with a balcony and fully furnished.
Martin was a great host, with super fast communication and very flexible when we needed to make some changes to our trip. His apartment was great, in a little town surrounded by forrest yet within easy public transit commute to Karlsruhe where I had to work. There was a full kitchen will all we needed to cook for ourselves for the 6 weeks we were there. We liked the quiet, top floor apartment, and the park trails around it.
Irina
2015-07-02T00:00:00Z
Great apartment and great host! The apartment is really beautiful and the place is very nice! We stopped there for two weeks during our relocation from Italy to Germany and we had all we need inside the house. Also Martin is a wonderful host, very friendly, flexible and helpful with us, it was a pleasure to know him! I recommend it!
Isabella
2015-12-02T00:00:00Z
Martin was very friendly, helpful and prompt with all communication. The home is very lovely, warm and tastefully decorated. It had everything we needed and conformed beautifully to the description. There is a lovely view. Gorgeous lawns, trees and flowers surround us. The neighborhood is beautiful. We enjoyed the balcony, as well as the spacious kitchen and loft area. Internet access is perfect. This is such a plus! The neighbors are quiet and friendly. It is a great place to walk. We loved having a car, here, because we really enjoyed Karlsbad and Ettlingen, in addition to the immediate area. It is also awesome to be this close to Karlsruhe. Heidelberg, Alsace and the Black Forest are amazingly beautiful, as well. Thank you, Martin, for everything. We had a wonderful vacation, here. It's been a real pleasure. Hope to see you again! Susan, Chris and Sarah Grace :)
Susan
2016-08-07T00:00:00Z
Wir haben die Unterkunft für einen externen Mitarbeiter gebucht. Er war sehr begeistert, die Wohnung war für 1 Person natürlich mehr als geräumig, sauber , gut ausgestattet, die Lage ruhig . Der Gastgeber sehr sympathisch , völlig unkompliziert , die Kommunikation ohne Probleme. Wir würden jederzeit wieder für freie Mitarbeiter aber auch für private Gäste von uns bei Martin buchen.
Heike
2016-12-23T00:00:00Z
Tolle Wohnung. Groß, schön, und einfach zum wohlfühlen. Auch die Nachbarschaft ist angenehm, man ist nach wenigen Schritten im Grünen, aber auch schnell mit dem Auto in Karlsruhe. Vielen Dank dass ich hier sein durfte! Ich komme gerne wieder.
Mikael Axel
2016-07-06T00:00:00Z
Alles super. Gerne wieder! Sehr freundlich und entspannt. Wunderbarer Ort diese Wohnung. Haben uns super wohl gefühlt. Danke!
Yvonne
2015-12-28T00:00:00Z
Room Type
Entire home/apt
---
Property Type
Apartment
---
Accommodates
3
---
Bedrooms
Pfinztal, Baden-Württemberg, Germany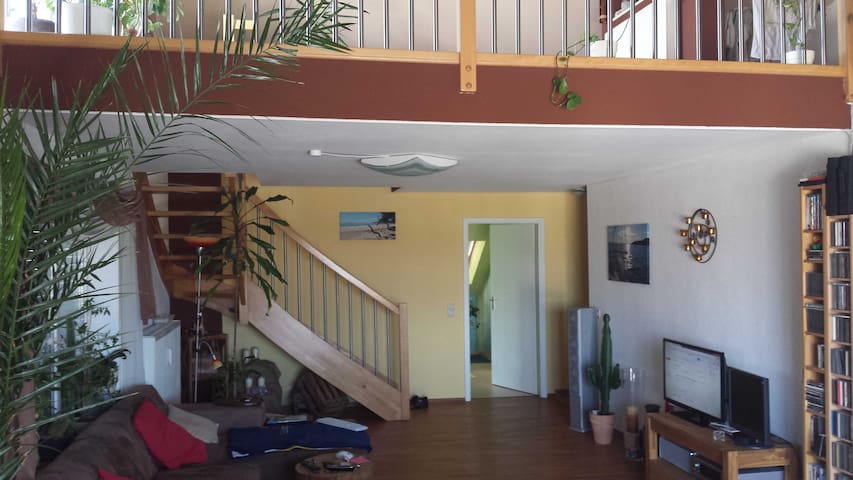 Meine Unterkunft ist in der Nähe von Stadtzentrum, Parks, Kunst und Kultur, tolle Aussicht und Restaurants und Essen. Meine Unterkunft ist gut für geschäftsreisende.
I had a great time in this flat, the bed is so comfortable, the bathroom and the shower were perfect, and the tiny kitchen has everything needed, everything in the center of the city!!
Paolo
2016-07-26T00:00:00Z
The apartment was clean and cozy, but the location is the best thing about it. The university, Schloss, a supermarket, a couple of bakeries, restaurants are all within 5min of walking distance. Lidia is very helpful and responsive.
Rastko
2016-12-04T00:00:00Z
Good place to stay in Karlsruhe as it is right next to public transport, shops, restaurants and the palace. Lidia was a very good host who made sure we checked in okay and had everything we needed for our stay. She was always a message or phone call away. Apartment had everything we needed for our stay. Bath/shower, kitchen and appliances. Great wifi, good location and on a safe, quiet street. Trams to and from the main train right outside the apartment. Only downside to our stay was getting to sleep. There was banging from the apartment above on all three of our nights here. It did stop after midnight. A good base to stay in Karlsruhe.
Chris Hatt and Charley Baker
2017-03-20T00:00:00Z
Great place!
Steven
2017-01-29T00:00:00Z
Mainstreet aswell as a tramstop and shop are all just around the corner. Big comfortable bed, nice bathroom and functional kitchen. All you need in one place!
Oliver
2017-02-27T00:00:00Z
It was perfect. Thank you Lidia for you kidness and your nice apartment.
Ghariani
2016-12-11T00:00:00Z
My week in this apartment has been amazing. Lidia is very nice host. Thank you very much, see you next time
Michele
2017-02-20T00:00:00Z
Great place to stay. Lidia is a great host and you can easily speak with her. I recommend!
David
2017-02-24T00:00:00Z
Room Type
Entire home/apt
---
Property Type
Apartment
---
Accommodates
2
---
Bedrooms
Karlsruhe, Baden-Württemberg, Germany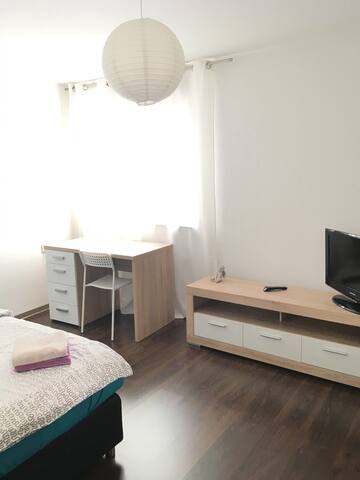 Gemütliche und sehr moderne 2-Zimmer Wohnung in ruhiger Lage. Sozusagen direkt vor der Tür befinden sich zwei Straßenbahnhaltestellen. Das Stadtzentrum und das Schloss sind mit der Straßenbahn in ca. 10min, der Hauptbahnhof in ca. 15min erreichbar. Ein Supermarkt befindet sich ca. 3 Laufminuten entfernt. Ein Italiener sowie ein gutbürgerliches Restaurant befinden sich in direkter Umgebung. Meine Wohnung eignet sich sowohl für Paare, als auch für Alleinreisende und Geschäftsleute.
I had a great stay at the appartment, staying for business 10 days. The location is excellent: quite neighborhood, the tram station is just across the street (in 15 minutes you're in the city centre) and a supermarket less than 10 minutes walk. Benni was very kind and willing, helping a lot with any sort of information. Recommended!
Dejan
2017-03-23T00:00:00Z
Alles Top. War der erste Gast und habe sogar ein Begrüßungsschreiben vorgefunden. Die Wohnung ist super und einfach nur empfehlenswert.
Andreas
2017-03-09T00:00:00Z
Room Type
Entire home/apt
---
Property Type
Apartment
---
Accommodates
2
---
Bedrooms
Karlsruhe, Baden-Württemberg, Germany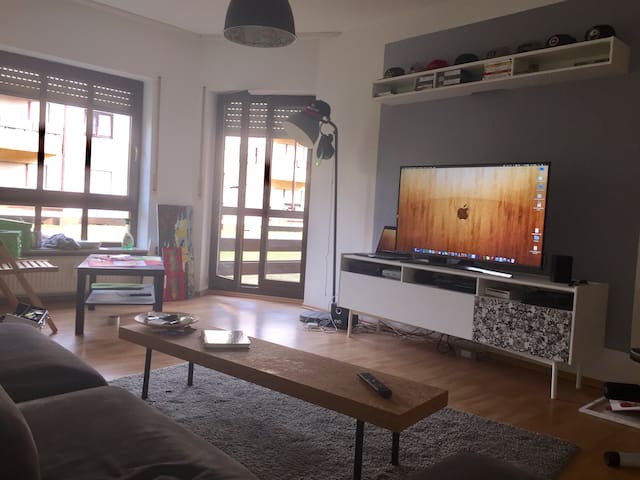 Modernes, frisch renoviertes Apartment mit separater Küche, neues Bad mit Dusche. Großes neues Boxspringbett 1,80 m x 2,00, inklusive Tiefgaragenplatz. Blick in den Innenhof, sehr ruhig! Ihr werdet Euch wohl fühlen!
Modernes, frisch renoviertes Apartment mit separater Küche, neues Bad mit Dusche. Großes neues Boxspringbett 1,80 m x 2,00. Internet mit WLAN . Ein Tiefgaragen Platz ist inklusive(Duplex höhe 1.55m) - von welchem man direkt mit dem Fahrstuhl zur Wohnung gelangt (1. OG). Im Keller des Hauses befindet sich ein Fahrradkeller und ein Raum zum Trocknen der Wäsche. In der gleiche Straße befindet sich Waschsalon-Exclusiv da bekommt man seine Wäsche günstig sauber. Bettwäsche/ Handtücher/ Geschirr/ Kochtöpfe/ Mikrowelle/ alles vorhanden. Blick in den Innenhof mit ruhiger Atmosphäre! Discounter Lidl hat direkt gegenüber auf der anderen Straßenseite neue Filiale eröffnet (Backwaren werden frisch gebacken). Restaurants und Bars um die Ecke.
Besonders beliebt ist die Wohngegend, da sie zentral in der Innenstadt liegt und trotzdem eine ruhige Wohnqualität bietet. Südstadt ist ein lebendiges und belebtes Wohngebiet, welches in den benachbarten Straßen Geschäfte, Kneipen, Restaurants und Cafés bietet. In die Innenstadt kommt man schnell mit dem Fahrrad oder Straßenbahn.
Very comfortable, clean and nice place to stay. Milena is a super host, indeed.
Kristina
2016-11-03T00:00:00Z
Unfortunately we were very late arrival due to delays on the road, so we didn't get to meet Milena. But from the start she was very communicative and kindly arranged for her lovely husband to meet us with the key when we finally did arrive. The flat is immaculate, very comfortable and has everything you could wish for during your stay, including fruit, tea, coffee, sweet treats, chocolate and even a meal for one in the fridge. We didn't see much of the area, as we had to get on the road again early the following day, but it certainly appeared to be a quiet spot, away from any main roads, with a supermarket a stones throw away. And there was free, off-road, overnight parking in the carpark to the flats, which seemed very secure. Would recommend the flat to anyone visiting this area or just passing through.
Sarah
2016-08-08T00:00:00Z
Milena and her husband are really great host and very nice people. I had a great experience. The location of the apartment is close to everything you need to have an awesome experience in Karlsruhe. The unit is very clean and well maintained. Milena is super responsive and always there to help out. I wished them my best.
Pinaki
2016-09-23T00:00:00Z
Exeptionally comfortable and clean appartement. Everything what you need and more...Good location. Tram station, Lidl are near the house. City center is a 30 min walk.
Daiva
2016-10-18T00:00:00Z
The place ia absolutely organized and clean. Milena is very responsive and punctual. Arrangement was done easily. Fantastic experience.
Joe
2017-04-02T00:00:00Z
Very nice and clean apt. Good location with many services near by. Would stay again.
Mark
2016-08-26T00:00:00Z
Milena's flat is exceptional: everything is New, bed is confortable and everything you need is purposed, éventuellement free wifi. There is a lidl in the building and the tram station is very close from here. Good réception.
Denis
2016-08-19T00:00:00Z
Everything was perfect. The appartment is very very clean !! The bed is very comfortable, we slept like babies.
Joel
2016-05-24T00:00:00Z
Room Type
Entire home/apt
---
Property Type
Apartment
---
Accommodates
2
---
Bedrooms
Karlsruhe, Baden-Württemberg, Germany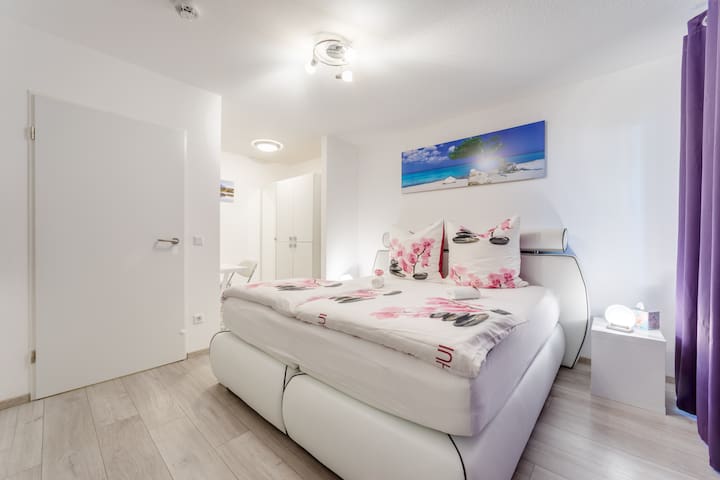 Die ausgebaute Dachwohnung ist hell und herzlich. Es gibt den geräumigen, hellen Wohn- und Arbeitsraum, in dem die Küche, die Sitzecke, der Schreibtisch und eine zusätzliche Matratze sind. Das Schlafzimmer ist davon abgetrennt. Im Bett liegt man unter dem Fenster in der Dachschräge direkt unterm Himmel. Das kleine aber feine Bad hat alles was man braucht um frisch in den Tag zu starten. Die Wohnung ist ruhig und hat Platz um gut zu kochen, sich zu konzentrieren oder Yoga zu machen.
Room Type
Entire home/apt
---
Property Type
Apartment
---
Accommodates
2
---
Bedrooms
Karlsruhe, Baden-Württemberg, Germany
Centrally located , modern large (70m2 ) quiet apartment in a prime location with accommodation for up to 6 people. From the balcony , the view over the rooftops of Karlsruhe to the Black Forest , the Lidellplatz invites you to relax and enjoy
Unique is the location of the highest apartment on the traffic free Lidellplatz in the middle of the center of Karlsruhe. Pubs, shopping and the castle can be reached in a less than 5 minutes walk. The apartment can be reached on the 6th floor by lift. The apartment is equiped with an automatic access control, so that a high standard of safety is given. From the balcony and the bedroom you have a great look over the rooftops of the city. There is a bedroom with a large double bed. Add up to 4 guests can stay in the large sun-filled living / dining room. There is a first sofa bed and a second pull-out sofa available. A large dining table seats up to 6 people. The renovated bathroom has a bath with shower combination. The toilet is in a separate room. The fully equipped modern kitchen with dishwasher, microwave, 4 burner stove, oven, coffee maker, fridge etc ... also has space for up to 3 breakfast guests. There are plenty of pots, pans and other kitchen utensils available to make you feel in the kitchen like at home. In the kitchen the system "green dot" for not throwing Food away applies. People with frequent apartment changes, do not want to go shopping every time after a long journey. Therefore, the guests find everything you need for eating and cooking such as coffee, cocoa, milk powder, oil, vinegar, spices, salt, flour, pasta, rice, ketchup, sauce etc ... already with a green dot in front. These foods are included and are not discarded after departure, as in many apartments usual. If you want to leave something out, please let mark the food as well with a green dot. The apartment is tiled bathroom and kitchen and is otherwise equipped with parquet flooring and laminate flooring. On the balcony of an outdoor furniture for eating is available. Before the house only prepaid parking Slots are available. However, there are at about 100m free parking zones without charge. A position description is received after booking
The sound of running large fountain , the French atmosphere with small cafes, shops and the young , but bourgeois scene at Lidellplatz . In a few minutes you are in the pedestrian zone or in the shopping mall ECE center with the well-known chain stores. With the running shoes you're in 2 minutes at the castle and then up to the lakes in the north to travel many miles in Hardt forest undisturbed.
Thank You Thomas, it's been very easy to book. You Answered very Quickly to the emails. The appartement is really well situated, very close from the Town center and the Kit. Very Nice Vew on the CITY. I Know where to stay when i Will get back to Karlsruhe. Thank You. Berangere
Bérangère
2015-07-10T00:00:00Z
Thomas' apartment is very spacious, comfortable, and well located. I recommend Thomas's apartment.
Michel
2017-01-18T00:00:00Z
Karlsruhe was a nice city, but it was under construction at every turn. The apartment is close to two grocery stores, shopping, and the sites. There are several places to grab a quick bite to eat or a drink throughout the neighborhood. Thomas has everything you need for a comfortable stay in the apartment. The internet was great!
Nic & Heather
2015-09-28T00:00:00Z
The host canceled this reservation the day before arrival. This is an automated posting.
Christine
2015-11-11T00:00:00Z
This apartment is in a perfect location! Walking distance from town center! Great views over the city and we really enjoyed breakfast at the Palaver cafe just below the apartment. Very spacious, great for a family with children. Our children used the sofa beds in the living room. Communication with Thomas through email and txting was good. He even called to check if everything was ok. We loved the system with the 'green dots' Thomas uses for some general items that are available in the apartment like coffee that the guests can use. This apartment made our stay very pleasant!
nynke
2015-12-22T00:00:00Z
The apt was lovely. We got into town later than I'd expected but Thomas was accommodating and made arrangements to leave the key at a nearby business. It's only a block or so from a major tram line, and he has a map of the neighborhood printed up with references to nearby restaurants, shopping, etc. The bedroom faces a little park, so if you are a very light sleeper and like to sleep in late, you may want to sleep in the other room.
Vonja
2014-10-21T00:00:00Z
Everything went fine, the appartment is in a super location in the heart of Karlsruhe and as described by Thomas. I could easily get the keys late when I arrived, which was very convenient. There is a cool breakfast place next door.
Thierry
2016-01-13T00:00:00Z
Everything was wonderful! The apartment was perfect and the location could not be better with coffee shops, great restaurants and shopping within walking distance. I would only want to stay here when visiting! Every amenity needed, fair price and a comfortable apartment. Loved it!
Sharon
2016-12-01T00:00:00Z
Room Type
Entire home/apt
---
Property Type
Apartment
---
Accommodates
7
---
Bedrooms
Karlsruhe, Baden-Wurttemberg, Germany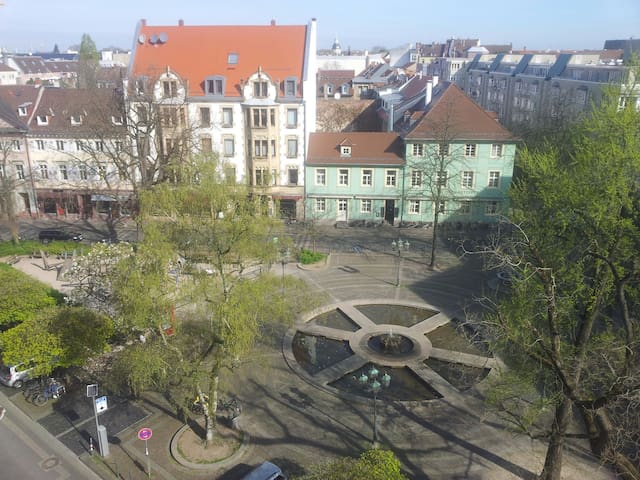 Gemütliche und praktische Zweizimmerwohnung im sowohl lebendigen als auch historischen Karlsruher Stadtteil Durlach. Eine super Anbindung zum ÖPNV (Trams, S-Bahnen, Busse; Bahnhof Durlach), Kunst und Kultur, verschiedene Einkaufsmöglichkeiten fußläufig erreichbar sowie Parks und der historische Stadtkern von Durlach quasi um die Ecke. Die Wohnung eignet sich für jeden, der Wert auf einen ruhigen Rückzugsort zum Entspannen oder Arbeiten sucht.
Klein, aber fein: 2 Zimmer plus Flur, Bad und Küche; besonders für Familien geeignet. Es gibt neben dem großen Doppelbett im Schlaf-/Wohnzimmer ein Kinderbett im Kinderzimmer sowie 2 weitere 2 Matratzen. Die Wohnung ist funktional, kreativ und liebevoll eingerichtet und lädt zum Entspannen ein!
Die Nachbarschaft ist ruhig, familiär und multikulti. Alle sind sehr freundlich und zuvorkommend.
Ines ist ein sehr freundlicher Gastgeber. Sie machte alle Anstrengungen, dass ich einen angenehmen Aufenthalt in Karlsruhe hätte. Ihre Wohnung ist ein sehr angenehmer Ort zu bleiben. Vielen Dank Ines für mich erlauben in Ihre Wohnung zu bleiben!
Friedrich
2017-04-03T00:00:00Z
Room Type
Entire home/apt
---
Property Type
Apartment
---
Accommodates
2
---
Bedrooms
Karlsruhe, Baden-Württemberg, Germany
Fantastische Altbauwohnung im verkehrsberuhigten Bereich im Herzen der Karlsruher Oststadt! 2 Minuten Fußweg zum KIT! Sehr ruhige Lage, dennoch in direkter Umgebung von Bars/Restaurants des Studentenviertels, Supermärkten, Banken und sonstigen Läden. Voll ausgestattete Küche, inklusive Waschmaschine WLAN und Kabelfernsehen gratis!
Hohe Wände (3,50m), große Fenster, echter Holzboden, geräumige Zimmer und ein traumhafter Südwest-Balkon bieten ein herrliches Wohlfühl-Ambiente.
Dank ihrer unmittelbaren Nähe zu KIT, Musikhochschule, Stadion, Bahn-Station, Supermärkten, Bars/Restaurants ist die Wohnung der optimale Ausgangspunkt für Ihren Aufenthalt in Karlsruhe! 5 Minuten mit der Bahn in die Karlsruher Innenstadt, Super Ausgangspunkt für zahlreiche Fahrrad- und Fußgängerwege zum Schlosspark!
Die Unterkunft liegt sehr schön und ruhig. Es ist sehr geräumig und gemütlich eingerichtet. Die Schlüsselübergabe hat wunderbar funktioniert. Das Bett ist sehr gemütlich und rückenfreundlich... Kann die Wohnung sehr empfehlen!
Moritz
2017-04-06T00:00:00Z
Room Type
Entire home/apt
---
Property Type
Apartment
---
Accommodates
5
---
Bedrooms
Karlsruhe, Baden-Württemberg, Germany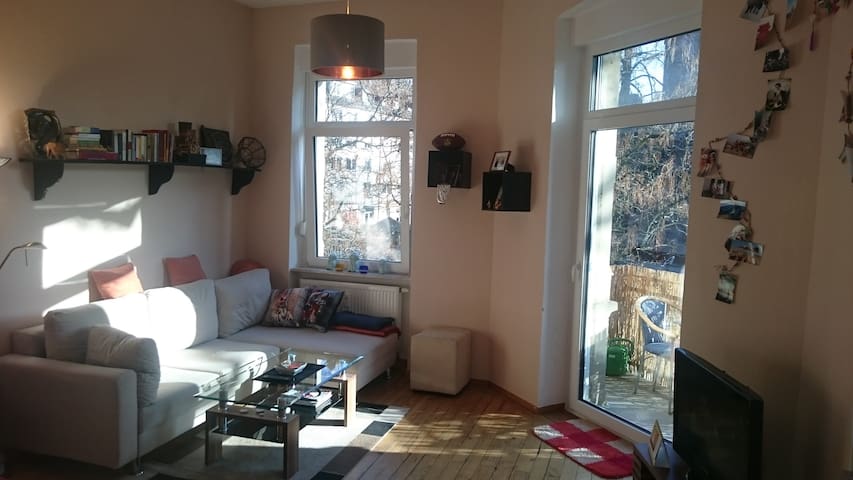 Das Apartment verfügt über einen eigenen Zugang vom Treppenhaus und ist für max. zwei erwachsene Personen gedacht. Auf Wunsch kann jedoch noch eine Schlafcouch für bis zu zwei Kinder genutzt werden.
The apartment is for two adults. If desired a sofa bed for up to two children can be used. The apartment is located in a family-occupied apartment building and has its own access from the staircase. It has a private kitchen with a sink and koffeepad-machine as well as two hotplates and pans, dishes and a refrigerator.The toilet contains a small sink. The shower is located at the kitchen. In the same house there is another apartment which is called "Atelier".
Karlsruhe-Grünwettersbach is a quiet part of the city, one street away the fields and hills to take a walk or even go hiking or by bike.
Clean and spacious stayover.
Bas
2014-07-19T00:00:00Z
Eva and her husband are very friendly and helpful .The property is located in a nice, quiet area . Easy to get city by bus; place is very clean and cosy. We were very comfortable there.
Milla
2015-08-17T00:00:00Z
Great place very clean and cosy, lovely hosts you won't go wrong with this one.
Benjamin and Blake
2015-06-23T00:00:00Z
Beautiful place easy access to everywhere. thank you for making us welcomed.
Hasan
2016-04-06T00:00:00Z
Was traveling in Europe and stayed a couple of nights in Karlsruhe at Eva Ludin's Studio. The hosts are nice and they won't bother you. Parking space is on the street and free and the studio is spacious .
Aurelian
2014-07-18T00:00:00Z
Freundlicher und unkomplizierter Gastgeber. Ruhige, saubere Wohnung. Wir kommen gerne wieder.
Elfriede
2015-08-23T00:00:00Z
es war wieder einmal sehr schön für unseren Mitarbeiter in Eva's Wohnung zu Wohnen, vielen Dank dafür, werde bestimmt wieder buchen
Evelyn
2016-08-05T00:00:00Z
Alles Prima! Sehr unkomplizierte und nette Vermieter. Super Lage mit schneller Erreichbarkeit der Karlsruher Innenstadt und des Schwarzwaldes. Zimmer war wie auf den Bildern zu erkennen.
Frieder
2014-06-02T00:00:00Z
Room Type
Entire home/apt
---
Property Type
Apartment
---
Accommodates
2
---
Bedrooms
Karlsruhe, Baden-Württemberg, Germany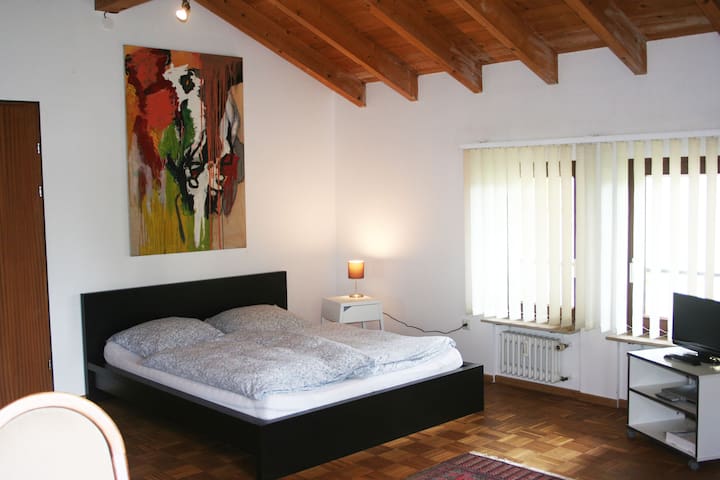 Altbauwohnung in der zentral gelegenen Weststadt Karlsruhes. Kostenlose Parkplätze direkt vor dem Haus und im ganzen Viertel. Super schnelle Anbindung an die Autobahnen A5 & A8. Bus- & Bahnhaltestelle 1-2 min zu Fuß erreichbar. In die Innenstadt Ca 15 min zu Fuß. Große Grünanlage mit See + Bootsverleih, Spielplatz, Bächlein zum Verweilen, Biergarten und Skaterplatz befindet sich 5 Gehminuten von der Wohnung entfernt. In der Umgebung gibt es viele verschiedene Restaurants und Bars.
105 qm große Altbauwohnung mit verglaster Loggia
Gut geschnittene, sehr saubere Wohnung. Unkomplizierte Gastgeber, die bestens kommunizieren. Alle Angaben waren korrekt. Schlüsselübergabe hat prima geklappt. Alles sehr angenehm. Gutes Preis-Leistungs-Verhältnis. Immer wieder gerne bei Matthias.
Yorck
2017-04-07T00:00:00Z
Wir haben zu viert eine Nacht bei Matthias verbracht. Die Wohnung ist schön, so wie auf den Fotos, alles war sauber und zur Begrüßung haben wir eine Nachricht mit allen wichtigen Infos vorgefunden, unser Ansprechpartner hat uns nett empfangen und war auch während des Aufenthalts für uns da. Einziger Minuspunkt: Die Schlafcouch im Wohnzimmer lässt sich nicht wirklich so umbauen, dass darauf bequem 2 Erwachsene schlafen können, für eine Einzelperson mag es gehen.
Katja
2017-04-02T00:00:00Z
Room Type
Entire home/apt
---
Property Type
Apartment
---
Accommodates
4
---
Bedrooms
Karlsruhe, Baden-Württemberg, Germany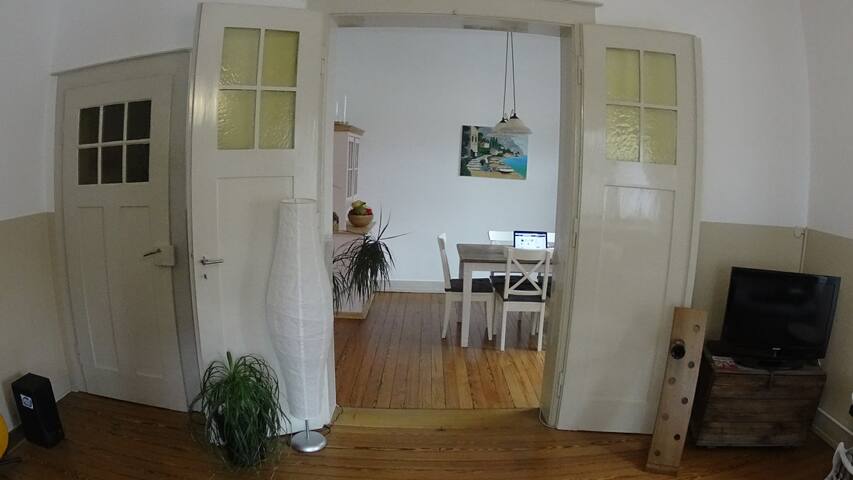 The studio apartment is small and cozy, since there is no door (just half a wall) separating my room and the living room, in which you are sleeping, it is listed as a shared room. The city center is within 10 minutes walking distance.
The studio apartment is on the 6th floor and there is an elevator up to the 4th floor.
Tram stop and university are right in front of the house. Supermarket, coffee places, bars and restaurants are just around the corner.
I had a wonderful 4-night stay at Isabel's apartment. Perfect for a student in need of a few nights stay! They are very friendly and welcoming. The location is across the street from campus and close to a main S-Bahn stop. I was honored to be there 1st customer!
Peter
2017-03-24T00:00:00Z
Had a great stay at their place. Very central in Karlsruhe, everything is close by. You have a nice table you can sit at. Isabel and Diego are nice people.
Henrik
2017-03-31T00:00:00Z
Sehr zuverlässig, sympathisch und hilfsbereit. Gerne immer wieder und nur zu empfehlen.
Daniil
2017-04-11T00:00:00Z
Room Type
Shared room
---
Property Type
Apartment
---
Accommodates
2
---
Bedrooms
Karlsruhe, Baden-Württemberg, Germany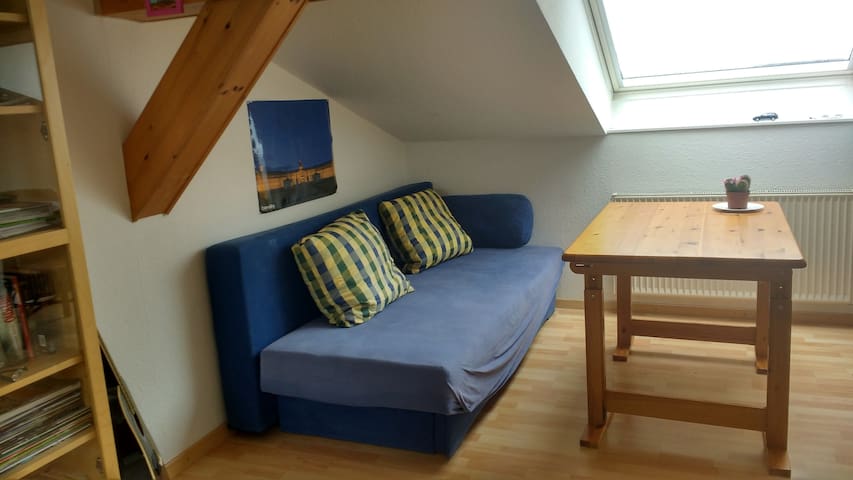 Ihr übernachtet in meiner selbstumgebauten 2-stöckigen Wohnung in der Südstadt, welche liebevoll mit Designer-Einzelstücken und handgearbeiteten Möbeln eingerichtet ist. Euer Zimmer ist im Dachgeschoss mit einem kleinen süßen Fenster mit Blick über die Dächer von Karlsruhe. Das Zimmer ist zum Wohnzimmer hin offen
Ihr übernachtet in meiner selbstumgebauten 2-stöckigen Wohnung in der Südstadt, welche liebevoll mit Designer-Einzelstücken und handgearbeiteten Möbeln eingerichtet ist. Euer Zimmer ist im Dachgeschoss mit einem kleinen süßen Fenster mit Blick über die Dächer von Karlsruhe. Das Zimmer ist zum Wohnzimmer hin offen, bitte also nur buchen, wenn dies kein Problem darstellt. Die Wohnung hat zwei Schlafzimmer, welche beide genutzt werden. Teilweise von mir, teilweise von anderen Gästen. Daher handelt es sich um eine gemeinsam genutzte Wohnung. Die Mitbenutzung von vollausgestatteter Küche, Bad, sowie des Internetzugangs ist selbstverständlich inklusive. Ich halte frische Bettwäsche sowie Handtücher Benutzung bereit. Des weiteren können folgende Dinge mitbenutzt werden: - Waschmaschine - Backofen - Wasserkocher - Herd - Toaster -Mixer -Sodastream - WLAN - Apple TV - Satellitenfernsehen - Stereoanlage Die umliegenden Straßen bieten kostenfreie Parkmöglichkeiten für PKW. Natürlich gebe ich Ihnen gerne Tipps zum Ausgehen oder anderen Unternehmungen. Es liegt auch sehr viel Informationsmaterial in der Wohnung aus. Ich wünsche Ihnen einen angenehmen Aufenthalt und für weitere Fragen stehe wir gerne zur Verfügung. Meine Gäste bekommen einen Schlüssel mit dem Sie das Haus, als auch die Wohnung betreten können, wann immer sie wollen. Der Check-In ist ab 14:00 Uhr aber jederzeit später völlig flexibel möglich. Ich probiere meinen Gästen immer zu helfen, wenn es um Informationen rund um die Stadt Karlsruhe geht. Die Wohnung liegt ungefähr 2min von der Haltestelle Volkswohnung entfernt.
Die Mitte der Südstadt bildet der Werderplatz mit dem Indianer-Brunnen als Wahrzeichen des Stadtteils, der auch als das Herz von Karlsruhe bezeichnet wird. Nicht zuletzt seine multikulturelle Atmosphäre verleiht ihm diesen Ruf. Zwischen dem ehrwürdigen Programmkino der Schauburg und dem Wirtshaus Wolfbräu mit schönem Biergarten liegen kleine Lokale wie die Milano Bar. Der vielfältige Ausdruck des Stadtteils wird vor allem beim Südstadtfest und bei den Fußball-WM- und -EM-Festen offenbar, wo Repräsentanten jeder beteiligten Nation die Straßen kolorieren. Im Osten wird die Südstadt durch das neue Wohngebiet City Park erweitert.
Best Room ever.
Ivan
2017-03-27T00:00:00Z
Great location and comfortable bed.
Christel
2017-03-14T00:00:00Z
Again I lived at Lenard's place and really enjoyed the apartment and the outfit. The Werderplatz is lively and near. A good place to be when staying in Karlsruhe short time or also for weeks
Friedrich
2017-03-05T00:00:00Z
Nice and comfortable flat, quiet area
Csaba
2016-12-04T00:00:00Z
Perfect apartment. Everything was like on the pictures :) Thanks a lot !
Viktor
2016-07-17T00:00:00Z
Lennaet is an amazing host. The few times that I need something he was there and help me. The apartment is great and very comfortable!! I recommend it!!
Ignacio
2016-05-14T00:00:00Z
Lennart gave excellent instructions in his welcome mail. The apartment is nice and everything worked perfectly. Thank you!
Juha Matias
2016-06-15T00:00:00Z
We needed a place to sleep over as we were traveling in a tight schedule - we arrived to the apartment and his friend Lukas showed us around as Lennart was away for the day. The room is quite smaller than the photos, and overall it wasn't as clean as we hoped. There was a half-opened rotten orange in the kitchen as well.
Eun Mi (Dada)
2015-11-10T00:00:00Z
Room Type
Private room
---
Property Type
Apartment
---
Accommodates
2
---
Bedrooms
Karlsruhe, Baden-Württemberg, Germany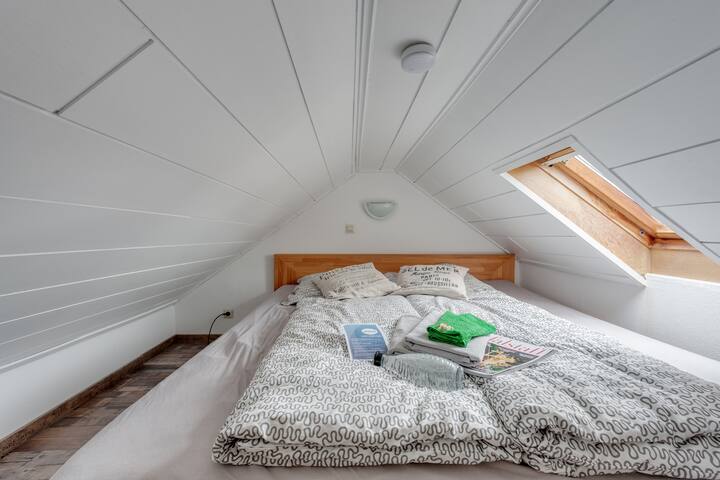 Das Zimmer befindet sich in einer WG und ist modern eingerichtet. Das Haus wurde 2015 erst gebaut. In der WG wohnen 4 Personen, welche die Küche gemeinsam nutzen. Die Küche ist mit allem ausgestattet, was man benötigt. Mikrowelle und Spülmaschine gibt es auch :-). Die Wohnung befindet sich auch 2 Stockwerken, mit 2 Bädern. Es teilen sich also nur 2 Personen das Bad. Weiterhin gibt es einen sonnigen Balkon, sowie ein Waschraum mit Waschmaschine und Trockner, der genutzt werden kann.
Room Type
Private room
---
Property Type
Apartment
---
Accommodates
1
---
Bedrooms
Karlsruhe, Baden-Württemberg, Germany
Großzügige, luxuriöse und hochwertig ausgestattete Wohnung (125qm) im Grünen in sehr ruhiger Lage. Die Verkehrsanbindung ist sehr gut, zur Bushaltestelle sind es 100m, zur Autobahn (A5) 4 Minuten, ins Stadtzentrum Karlsruhe 15 Minuten mit dem Auto. Ideal für Geschäftsreisende. Es ist alles vorhanden, das einen Aufenthalt angenehm macht.
Die Wohnung verfügt über ein großzügiges Bad mit Badewanne und ebenerdiger Dusche. Separate Gästetoilette. Die Küche ist großzügig und eignet sich auch zum Essen (z.B. Frühstück). Sie ist mit hochwertigen Elektrogeräten ausgestattet (Herd, Ofen, Spülmaschine, Waschmaschine mit integriertem Trockner). Es steht eine große Terrasse (teilweise überdacht) mit einem Tisch und 6 Stühlen zur Verfügung. Geräumiges Schlafzimmer mit hochwertigem Bett.
Direkt hinter dem Haus erstreckt sich ein Naherholungsgebiet mit Feldern und Wald.
Ales ist top
Safwat
2017-02-10T00:00:00Z
We had a wonderful stay at Bernhard's house. As host he was very gentle and punctual. His house is exactly as shown in the pictures: modern, clean, spacious and fully equipped. We definetly felt at home, and thank him for his kindness giving us information about Karlsruhe.
Renata
2016-10-09T00:00:00Z
einfach wie zuhause...sehr net.
Safwat
2016-11-11T00:00:00Z
alles ist in beste ordnung.
Safwat
2016-11-15T00:00:00Z
In Kurzform: alles bestens, sehr gerne wieder! Eine wirklich tolle und großzügige Wohnung in einer angenehm ruhigen Lage. Mit dem Auto ist man schnell in der Stadt. Die Einrichtung ist in jeder Beziehung qualitativ hochwertig. Der Mix aus modernen und top erhaltenen alten Möbeln hat mir sehr gefallen. Bernhard ist ein sehr freundlicher Gastgeber, der sich trotz später Stunde Zeit genommen hat, alles Wesentliche zur Wohnung zu erklären und Tipps zum Einkaufen in der Umgebung zu geben. Habe mich sehr wohl gefühlt.
Frank
2016-09-29T00:00:00Z
Tolle Unterkunft, toller Gastgeber! Ruhige entspannte Wohnlage, Parkmöglichkeiten sind vorhanden. Die Unterkunft ist charmant eingerichtet und hält alles bereit. Ich kann die Unterkunft so uneingeschränkt für Geschäftsreisende, aber in jedem Fall auch für Privatreisende empfehlen. Ich werde wieder buchen
Dominik
2017-02-03T00:00:00Z
TOP Lage für Geschäftsreisende und Familien in einer ruhigen und gehobener Wohngegend.
Jürgen
2017-02-17T00:00:00Z
wir immer sehr gut.
Safwat
2016-12-05T00:00:00Z
Room Type
Entire home/apt
---
Property Type
Apartment
---
Accommodates
2
---
Bedrooms
Karlsruhe, Baden-Württemberg, Germany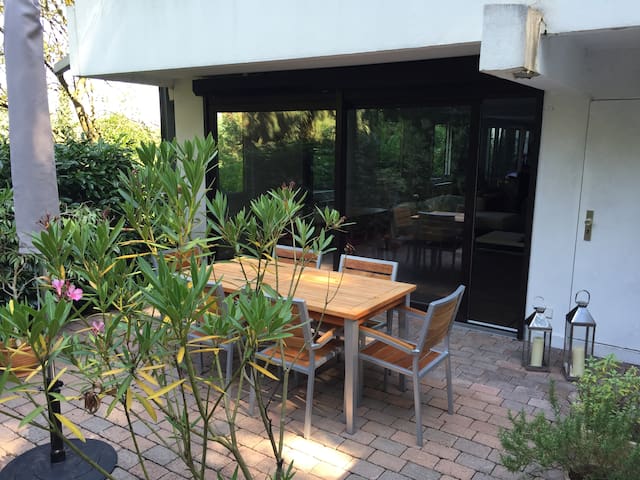 1

–

18

of

300+ Apartment Rentals
Enter dates to see full pricing. Additional fees apply. Taxes may be added.