Imitten der wunderschönen Bretagne liegt der Hof Mellon. Auf über 5 ha Fläche wird ein kleiner biologische Bauernhof betrieben, Reikianwendungen & Einweihungen, Hypnosebehandlungen & Seminare gegeben und Gästen eine gemütliche Übernachtung angeboten.
The woodhouse is confortable for maximum 4 persons. A onebedroom with a double bed on a gallery upstairs and sofabed for 2 persons downstairs, a small kitchen with an oven. The bathroom is next to the terasse in a little annexe. It's ideal for 2 adults nd 2 kids, 4 adults could be cramped.
The farm is located at the end of a small hamlet "Kergus" with a delightful view over the land. At the end of our land we buildet a clearly where you can relax and get new energie.
Jörg made us feel very welcome on our arrival despite the fact that we arrived quite late. The accommodation was amazing and very cosy. For a 'tiny house' it has everything you need. We would definitely come and stay again!
Beatrice
2016-03-18T00:00:00Z
Silke was a fantastic host, really helping us out of a very tricky spot! The hut was lovely and was a perfect getaway for us. The area was beautiful. We really enjoyed the camp fire and waking up to the chickens, lambs and piglets. Thank you
Kirsten
2016-04-10T00:00:00Z
There aren't words to describe how perfect this place is. All I can say is book it and whatever you do take them up on their offer of making you breakfast. The family is so sweet and the food was incredible. I will absolutely be back.
Taylor
2017-01-10T00:00:00Z
The host canceled this reservation 212 days before arrival. This is an automated posting.
Laurène
2016-12-14T00:00:00Z
Stayed one night in this lovely little cabin. Arrived very late to find the sofabed made up and the lights on. Kids loved the farm and visiting the animals. Breakfast was amazing, in the words of our 7 year old 'best breakfast ever!' thanks
Alan
2016-08-18T00:00:00Z
The host canceled this reservation 8 days before arrival. This is an automated posting.
Louis
2015-08-05T00:00:00Z
A cosy wooden cabin with everything we needed, in a lovely tranquil setting. Silke was very welcoming and the breakfast was lovely.
Tim
2016-09-05T00:00:00Z
It was a fantastic stay! Silke & Jorg are lovely people. Always willing to help and they make sure you have a good time! We even celebrated new year together around the fire... :) The house is cosy and has all you can wish! It's also very central, you can visit both the south and the northcoast of Bretagne from here... If you have the chance, stay here! :)
Jos
2016-01-03T00:00:00Z
Room Type
Entire home/apt
---
Property Type
Hut
---
Accommodates
4
---
Bedrooms
Plouguernével, Bretagne, France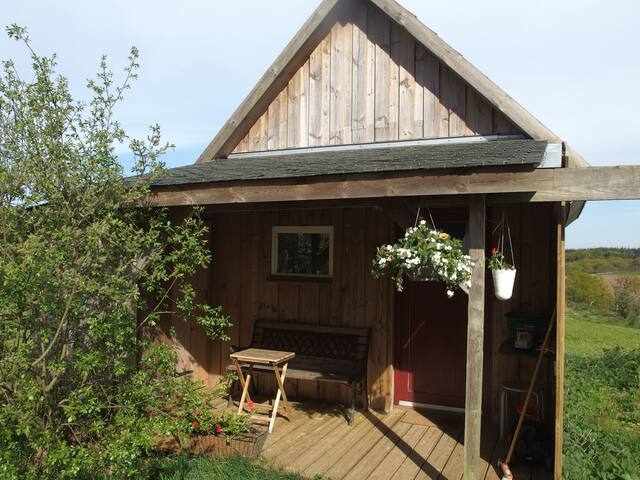 Imitten der wunderschönen Bretagne liegt der Hof Mellon. Auf über 5 ha Fläche wird ein kleiner biologische Bauernhof betrieben, Reikianwendungen & Einweihungen, Hypnosebehandlungen & Seminare gegeben und Gästen eine gemütliche Übernachtung angeboten.
Ein kleines Nurdach Hexenhaus für 2 Personen mitten im Garten der Farm, inclusive einer geschützten und überdachten Terrasse und einem eigenen Grillplatz für gemütliche Abende am Feuer. Bad/Dusche und WC befinden sich im angrenzenden Waschhaus, ca. 10m vom Häuschen entfernt. Die Küche kann auf Wunsch in unserem Gästehaus auf dm Hof mitbenutzt werden. Ideal für einen abenteuerlichen und romantischen Aufenthalt mitten in der Natur.
Unser Hof liegt am Ende des kleinen Weiler Kergus und bieten einen bezaubernden Blick über die Landschaft. Am Ende unseres Grundstücks befindet sich eine kleine Lichtung, die zur Entspannung und zum Auftanken frischer Energie einlädt.
We had a restful stay in the delightful location of Silke's witches hut.... thank you
sam
2016-07-01T00:00:00Z
What a lovely place. Great value and so relaxing. Thank you so much for your hospitality. The meal you so kindly made for us was our favourite we have had in France. We hope to come back when we are next in France.
Victoria
2016-08-30T00:00:00Z
What an amazing place to stay-we feel revived and refreshed after spending 2 nights on the Ferme Mellon!!! So friendly and accommodating, we really appreciated being made so welcome and felt really at home here. It is a true paradise and I would 100% recommend and will be back again. Thank you so much for giving us the chance to experience your amazing home.
Alaine
2016-05-19T00:00:00Z
A beautiful place with very friendly and welcoming hosts. Definitely recommend without hesitation.
Zinon et Panagiota
2016-07-05T00:00:00Z
Quirky & charming, we loved having our own private space at Ferme Mellon. The locally produced food was very much appreciated & we were made to feel welcomed.
Paul
2016-06-28T00:00:00Z
Venus à 5 chez Silke et bien? on est tous contents. Endroit superbe, une campagne tout en relief et en arrondi, des animaux partout. moi j'ai dormi dans la petite hutte en bois, j'adoooore ! et silke et son mari sont très , très bien, chaleureux, arrangeants. Parfaits tous les deux. Quant au breakfast et au dîner : on ne peut mieux faire, impeccable. les prix sont bas . bref vous l'avez compris, je suis très contente de mon séjour à la ferme Mellon
Virginie
2016-06-17T00:00:00Z
À découvrir de toute urgence !! Un endroit paisible, un logement atypique tout confort ou notre hôte a pensé au moindre détail pour notre confort ! (Jusqu'à l'après shampoing) Nous recommandons vivement ce logement magique ! Nous y reviendrons c'est sur !
Caroline
2016-09-13T00:00:00Z
Absolument génial !! Nous avons fait 2h de route pour venir, mais ça valait les largement ! Les hôtes sont délicieux, l'endroit est incroyable et la cabane hyper confortable. Je regrette une seule chose, c'est de ne pas être restée plus longtemps. Petits plus : une adorable chatonne est venue dormir avec nous dans la nuit :D et petit dej ultra bon avec des produits de la ferme
Ma
2016-09-02T00:00:00Z
Room Type
Entire home/apt
---
Property Type
Hut
---
Accommodates
2
---
Bedrooms
Plouguernével, Bretagne, France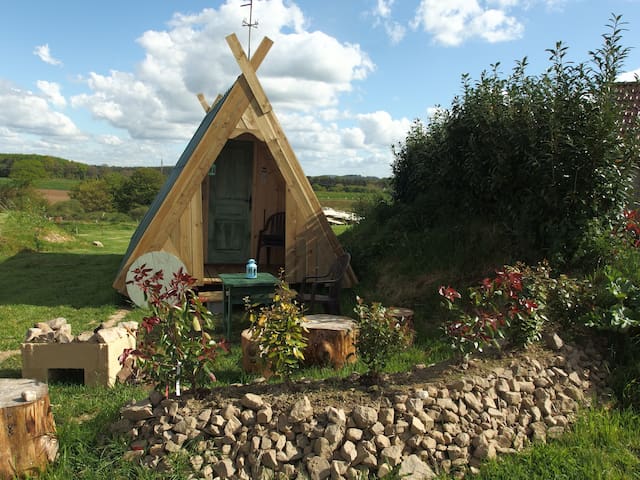 My place is in Gouarec, a pretty town in the heart of Brittany, on the Nantes-Brest Canal, the Voie Verte 6 & 7 cycling routes & forests. All with miles of cycling & walking. The beautiful coastlines of Brittany are only just over 1 hour drive. The beach at Lac de Guerledan is 10 mins away. A good selection of shops, bars & restaurants are available. You'll love my place because "Beau Rivage" is modern bright & airy & is equipped with all you need for a comfortable stay, inc. bedding & towels
Room Type
Entire home/apt
---
Property Type
Apartment
---
Accommodates
4
---
Bedrooms
Gouarec, Bretagne, France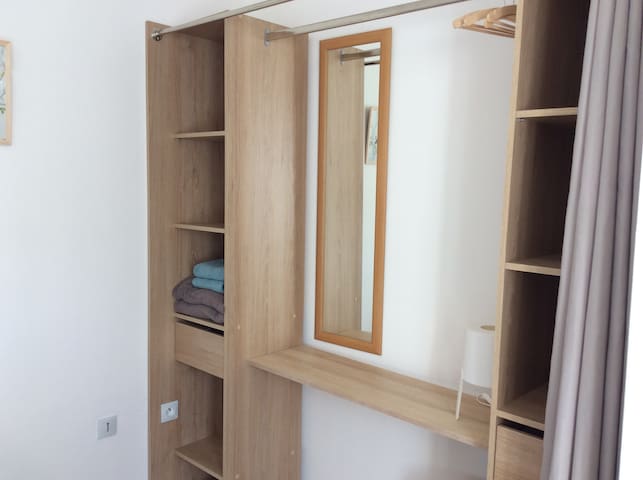 Small stone barn converted into a 2 person gite (can sleep up to 4) with mezzanine bedroom, off grid electric, log burner all within easy walking distance of the Nante Brest canal and the bars, restaurants, swimming pool in the village of Gouarec.
Ecogite-Breizh is an off grid old stone barn conversion. it has been transformed into a comfortable open plan space with a double height lounge area with a large log burner, a mezzanine bedroom, hand made free standing kitchen all powered by off the grid electricity!
Our neighborhood is quiet and pleasant in a rural setting on the banks of the Nantes Brest canal in central Brittany. Cycling, walks and socialising at one of the local bars or restaurants is the order of the day!
The perfect quiet retreat! We had such a wonderful stay in Euros' cottage. It has great cooking supplies, was spotlessly clean, and the outdoor patio is so pleasant. Euros and Pip were so kind and helpful. If you are looking for a quiet peaceful place to stay in the French countryside for biking or relaxing, you have found it. Can't recommend more highly!
Kevin and Sarah
2016-06-12T00:00:00Z
We really loved staying chez Euros and Pip! Such a friendly, enthusiastic, welcoming, easy-going couple, who made us feel completely at home. The gîte is well-equipped and comfortable, with a lovely courtyard area for eating out and wood-burning stove for cooler evenings. We felt very much in tune with their off-grid, sustainable, self-sufficient approach to life. The area is beautiful, with the canal a few minutes' walk away, and plenty to see and do further afield. We explored a wide area over our two-week stay, coastal and inland, and visited many wonderful gardens. The 'L'Art dans les Chapelles' project (contemporary artists invited to make work in medieval village churches) was particularly inspiring... But we also spent happy days just enjoying being in this lovely, homely place, visited by the resident hens! Thank you Pip and Euros! :-)
Anita
2016-07-17T00:00:00Z
Room Type
Entire home/apt
---
Property Type
Other
---
Accommodates
2
---
Bedrooms
Plélauff, Bretagne, France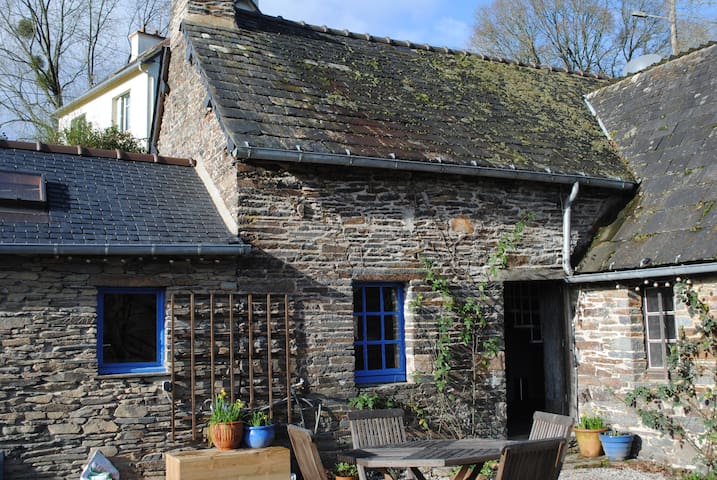 Nous vous accueillons au cœur de la Bretagne, dans notre maison en bois dans un cadre magnifique, avec vue sur la campagne et à proximité des commodités. Vous apprécierez le calme, un bain de soleil sur la terrasse et notre convivialité.
Notre maison se situe dans un petit village très convivial et à proximité des commodités.
I stayed with Mikael and Alex for 1 month. They are wonderful hosts, and the house is very clean, quiet, and peaceful. The location is in a lovely rural area, perfect for outdoor lovers, and close enough to the shops. I really enjoyed Alex's gallette and crepes! Merci beaucoup Alex and Mikael!
Lydia
2016-03-01T00:00:00Z
This new house is impeccably clean and located in the dead centre of Brittany a maximum of 1 hour approx. from everywhere on the north, south or west coasts. There is a lovely view over the surrounding countryside and, if you like walking, the local area is where you should plan to spend a few days of your stay enjoying the "gorge" and the lake. Make sure you take some evening strolls in the local woods too as that stream is so beautiful. Alexandrine was very considerate and left space available in the fridge and pantry for our groceries and Mikael was an excellent holiday planner! Both were very friendly and patient with our amateur French! Excellent WiFi everywhere. It was late spring and unseasonably cold and we were often cold in the house. When the fire was lit that solved the problem but perhaps it could have been lit more often. Bring slippers for the tiled floors. Recommended.
Iainandtamara
2016-05-23T00:00:00Z
Mikael et Alexandrine ont eu l'extrême gentillesse de s'adapter à toutes les contraintes de notre séjour (nous avons dormi chez eux après un concert au Festival des Vieilles Charrues), nous sommes arrivés très tard et avons pu rester dormir plus longtemps que prévu pour récupérer. La chambre et la salle de bain étaient comme sur les photos, très belles, propres spacieuses et fonctionnelles. La maison est magnifique et le cadre très calme. Je n'ai rencontré Alexandrine que quelques minutes mais cela a suffi pour comprendre que c'est une hôte de qualité, ainsi que Mikael par nos correspondances avant le séjour. Je les recommande chaudement, notamment pour les festivaliers qui comme nous préfèreraient passer une nuit au calme après un concert plutôt que sur le camping bondé et surexcité du festival.
Auriane & Pierre
2015-07-18T00:00:00Z
Wir wurden von Mikael und Alexandrine sehr freundlich aufgenommen. Sprachliche Hürden haben wir gemeinsam gemeistert. Mikaels Tipps zu Besonderheiten in der Umgebung und seine Tourenvorschläge waren super. Zimmer und Bad sind wie beschrieben und voll in Ordnung. Insgesamt stellte die Unterkunft mitten im Inneren des Finstere einen sehr guten Ausgangspunkt für Ausflüge in alle Himmelsrichtungen dar.
Uwe
2015-08-07T00:00:00Z
Nous avons séjourné chez le couple pendant une dizaine de jours. La chambre est très grande et très agréable l'endroit très calme et la maison, très moderne, est aménagée avec goût. Alexandrine et Mickaël sont très flexibles (nous rentions souvent tard le soir) et ont peu d'exigences. La chambre est spacieuse ainsi que la salle de bain (que nous avons partagées quelques jours avec la petite du couple).
Alice
2015-08-17T00:00:00Z
Une jolie petite chambre proche de Carhaix avec un accueil très agréable de la part de Mikael et Alexandrine. Notre arrivée décalée n'a posé aucun souci et nous avons eu de façon très rapide toutes les réponses à nos questions. Nous y retournerons sans aucun doute lors d'un prochain séjour aux vieilles charrues.
Guillaume
2016-07-18T00:00:00Z
Merci à tous les 2 pour ce refuge merveilleux . Apres une journée au festival votre maison au cœur de la nature nous a permis de récupérer . Nous avons dormi comme des bébés et même de faire une grasse matinée . Votre maison est magnifique et nickel . Au plaisir de se revoir bientot . Anne
Anne
2016-07-16T00:00:00Z
Les hôtes sont très sympathiques, vraiment accueillant et très arrangeants. la maison est superbe très propre et la chambre et la salle de bain privées ainsi que tout le linge de maison sont vraiment très bien.
Anne Laure
2015-07-20T00:00:00Z
Room Type
Private room
---
Property Type
House
---
Accommodates
2
---
Bedrooms
Plouguernével, Bretagne, France
Chambre a l'étage de notre maison de style néo-breton. Vue impressionnante depuis la terrasse sur le jardin et la vallée. Départ à pied pour l'Abbaye de Bon repos et les allées couvertes du Liscuis. Nombreuses possibilités pour la forêt de Quénécan et la vallée du Blavet avec le canal de Nantes à Brest. Ce logement convient aux couples, voyageurs en solo et compagnons à quatre pattes.
Situé en pleine campagne avec un environnement privilégié où se mêlent prairies, lac, rivière, canal, foret de 4 000 ha, landes de 500 ha, abbaye, chateau,, site archéologique, le tout sans ville, avec une âme.... De nombreuses activités tout au long de l'année : Son et lumière, randonnées, trail, festival, concerts, marché bio, expositions et bien d'autres encore.
My stay at Thierry's was a welcome rest after a long walk exploring the local, beautiful countryside. His house was warm, spacious and had everything I needed to rest and relax. Thierry was very polite and helped me in any way he could. His accommodation was clean and comfortable, with everything I needed.
Hanna
2017-01-13T00:00:00Z
une excellente surprise que ce lieu et un hôte hors du commun
Jacques
2017-02-10T00:00:00Z
Un lieu hors du commun dans un magnifique cadre de verdure. Le logement est irréprochable, excellent rapport qualité prix.
patrick
2017-04-05T00:00:00Z
Tres agreable sejour chez Thierry tres prevenant,acceuillant,sympathique.maison dans un cadre de verdure magnifique ideal pour randonner
brigitte
2017-01-09T00:00:00Z
Room Type
Private room
---
Property Type
House
---
Accommodates
2
---
Bedrooms
Laniscat, Bretagne, France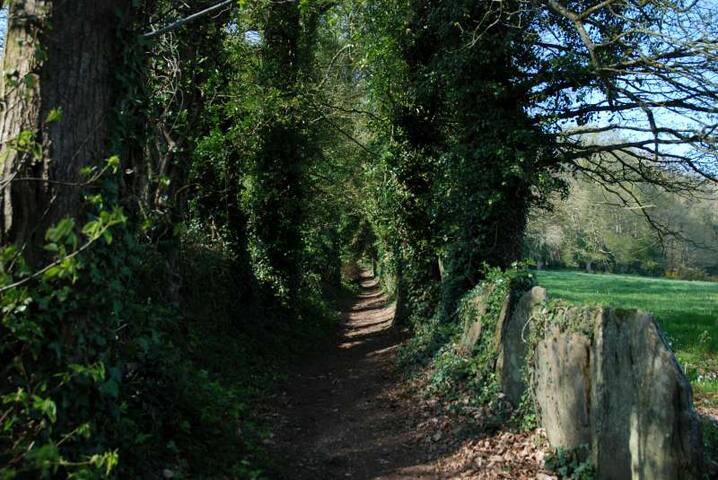 Come to the "Shire" & enjoy a Breton getaway in a 125-year old stone village Breton house. In the quiet town of Plelauff, the house is situated across from 15th c chapel on French historic register. Enjoy the stars from a rustic garden, walk down and meander along the Nantes-Brest canal or take a short drive to some scenic Breton beaches.
Your little pied-à-terre in the country is an 125 year old stone Breton village house. The first floor has a day bed with dvd player and TV. Also a large Double Bedroom with views of the chapel across the street, with wardrobe and ample storage. The large A-line shaped loft room sleeps two in a cozy bed framed by a 1913 headboard and footboard. Two large velux skylights bring in plenty of light and you have views of part of the village and the 15th c chapel across the street, Notre Dame de la Croix. Outer foyer to room holds a small armoire for your clothes.
Plelauff is a quiet village the host affectionally calls the Shire. Mostly a farming community, but in the summer many cyclists and hikers flock to Bretagne for the natural surroundings. The 15th c chapel across the street is visited by many in the summer and is open daily. It houses a unique past with both pagan and Christian symbols inside. Breton Bikes offers cycling tours here: (URL HIDDEN)
Jennifer is lovely host and has a smashing top room in her house. Thank you for allowing me to store my bicycle in your front room!
David
2015-07-18T00:00:00Z
Room Type
Entire home/apt
---
Property Type
House
---
Accommodates
4
---
Bedrooms
Plelauff, Bretagne, France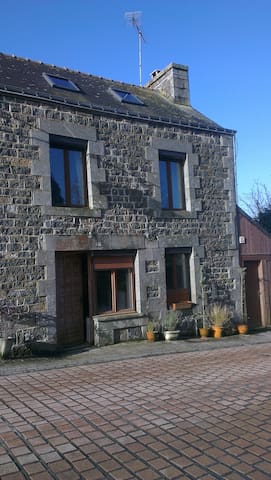 Beautiful views and peace and quiet can be found located 2 miles from Rostrenen France a lovely Breton style B&B owned and run by two English retirees. The room is a Double room with En-suite bathroom. On site off road parking. Breakfast available.
Home laid Eggs. Great company. Home cooked meals can be provided. Home from Home. Good walks and cycling in the area. Can accommodate small children in the room .Spare camp bed for a child if required.
Very Quiet, rural neighbourhood. Lots of fresh air and walks. Perfect place to escape it all.
We had a fabulous stay with Nigel and family. From tea on arrival in the garden with a "cream tea", to our lovely room with great bathroom; the whole stay was a joy. The setting is gorgeous with a beautiful garden. The room is comfortable and has all that you need, including tea and coffee making facilities. We also had a lovely dinner and shared a friendly chatty evening. Splendid hosts and great facilities-highly recommended:-)
Julie
2015-08-11T00:00:00Z
We stayed very well to Nigel' s house. Nigel and Pam are very gentle and good host and the house and the room very nice. And good breakfast!
Alessandra
2016-08-14T00:00:00Z
Una pareja encantadora que harán lo posible para que tu estancia sea lo más cómoda posible. La habitación y el baño son grandes y todo estaba muy limpio. El desayuno es generoso y siempre preguntan si quieres algo más o variar el desayuno con huevos etc...
David
2016-08-27T00:00:00Z
Casa muy tranquila y muy silenciosa. Llegamos muy cansados y el anfitrión respetó nuestra necesidad de intimidad y descanso. El alojamiento está bien, la habitación es amplia y Nigel y Pam son muy atentos. El desayuno es muy completo, nosotros tomamos el continental pero los huevos que desayunó la familia olían tan bien...
Ade
2015-08-17T00:00:00Z
Très bon accueil, chambre et salle de bain très propre ! À recommander
Sophie/Patrice
2015-07-18T00:00:00Z
Nigel et Pam sont très sympathiques et nous ont très bien accueilli - court sejour très agréable les photos sont tout à fait conformes
Magali
2016-06-06T00:00:00Z
En étant disponible pour échanger avec nous aux moments où çà nous convenait
Anne-Marie
2016-08-29T00:00:00Z
Nigel et Pam sont des personnes très accueillantes avec leur deux petits compagnons à quatre pattes. Petit déjeuner copieux, jardin très agréable, chambre et salle de bain spacieuses et confortables, très bonne literie. le tout entretenu de façon irréprochable. Marie-Laure et Anaïs
marie-laure
2016-07-18T00:00:00Z
Room Type
Private room
---
Property Type
Bed & Breakfast
---
Accommodates
2
---
Bedrooms
Rostrenen, Brittany, France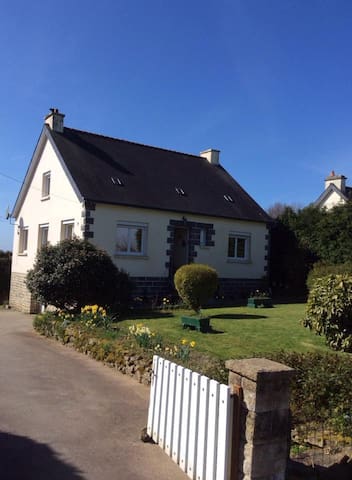 discover our cottage situated in Langoelan, we offer a fully equipped house with an outdoor pool (only from May) 1 large bedroom with a double bed + 1 person bed and a mezzanine with 1 bed
A large and comfortable gite in a lovely garden setting. Yann was friendly and helpful. Thank you very much.
sam
2016-06-07T00:00:00Z
Accueillis les bras ouverts et avec le sourire, nous avons passé un très bon séjour.
Barbara
2016-11-01T00:00:00Z
Le séjour chez Yann, c'est super bien passé. Calme et confort au rendez-vous, avec le charme du cadre environnant et du logement. Yann et sa femme sont des hôtes réellement bienveillants et chaleureux, donc nous vous conseillons de passer quelques instants chez eux. Le séjour sera à la hauteur de vos attentes!
Anaïs
2016-09-21T00:00:00Z
Le logement correspond bien aux photos, le cadre est vraiment très agréable, excellent pour se reposer au calme et apprécier un séjour reposant. L'accueil fut chaleureux bien qu'un peu court. Nos hôtes ont veillé à ce que le logement soit fonctionnel et accueillant. En plus, quelques attentions pour de nos enfants (petits biscuits, jus d'orange, ...) et des petits bonbons au moment du départ ! Bref, je conseillerai volontiers ce séjour calme et reposant !
Mathieu
2016-08-31T00:00:00Z
Nous avons passé un séjour très chaleureux de 2 nuits dans le chalet. Nous avons été très bien accueillis par l'hôte et agréablement surpris à la découverte du logement. L'hôte à pensé à tout (thé, café,...) et nous a offert une petite surprise à la fin du séjour. Je remercie l'hôte pour son accueil et son amabilité. Je recommande.
David
2016-11-24T00:00:00Z
Accueil très chaleureux de la part de Nelly qui nous attendait. Tout est bien pensé pour rendre le séjour particulièrement agréable et les nombreuses petites intentions de l'arrivée y contribuent. Cet atypique mais très chaleureux logement est vraiment comme annoncé sans aucune surprise, jusqu'au bois pour le feu de cheminé! Si une surprise ... le jardin qui l'entoure est superbe, vaste , et s'y promener est assez bluffant. Il faisait trop froid pour la piscine mais elle est à la hauteur du reste : sympathique et attirante. Vraiment un beau lieu de repos et de détente. merci Nelly et Yann
bernard
2016-06-06T00:00:00Z
Super gite Bien équipé, propre et tres lumineux Les hôtes sont à vos petits soins, feu de cheminée lors de l'arrivée, disponibilité, etc.. C'était parfait !
Paul
2017-03-14T00:00:00Z
Séjour excellent, propreté, équipement au top ! Merci pour votre accueil je recommande
Guillaume
2016-10-04T00:00:00Z
Room Type
Entire home/apt
---
Property Type
Chalet
---
Accommodates
4
---
Bedrooms
Langoëlan, Bretagne, France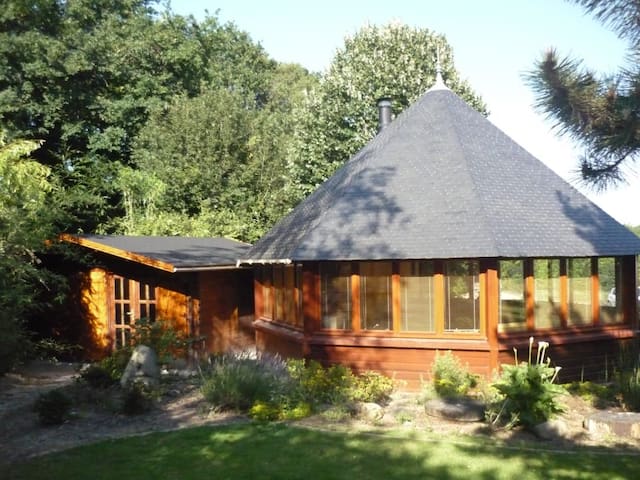 A beautiful little cottage beside the famous Nantes/Brest canal dating back to Napoleonic times. Full of character and charm, positioned in the centre of rural Brittany its perfect for relaxing or exploring the countryside and coast north and south
We believe our 'petit'cottage is quite unique , located on the famous and historic Nantes /Brest canal it was built at the same time as the canal around 1840 and was probably used by canal workers. Today the canal is for pleasure and leisure only and is used for boating, canoeing, fishing and the towpath is easy for walkng , horse riding and cycling . Virtually in the centre of Brittany it combines charm, quaintness and convenience ,all within an historic environment that is rural and peaceful but not isolated. Without leaving our 'idyl' through the seasons we can watch the canal change its colour, observe wildlife,chat to walkers,walk or cycle the towpath , explore nearby woods and walks.Or if we want to go further afield we can head to the beaches and coastal towns north or (URL HIDDEN) the summer months guests can rent the property for holidays between May and October .The cottage has full fascilities but can only accommodate two adults.
From the garden, a gate opens directly onto the tow path and canal from where you can walk in moments to the village. For anyone wanting to explore Brittany this is the perfect location. Right in the centre of the region almost anywhere in Brittany is within 2 hours drive time. The beaches north and south are about 90 minutes away. But if you prefer to stay local there's lots to do and see, walk or cycle the canal, explore forests and the large beautiful Lac de Guerdelan. The close by local village of Gouarec is full of old charm, with a patisserie , cafe/bar ,pisseria ,creperie , restaurant, and boulangery all within easy walking distance .
Room Type
Entire home/apt
---
Property Type
House
---
Accommodates
2
---
Bedrooms
gouarec, France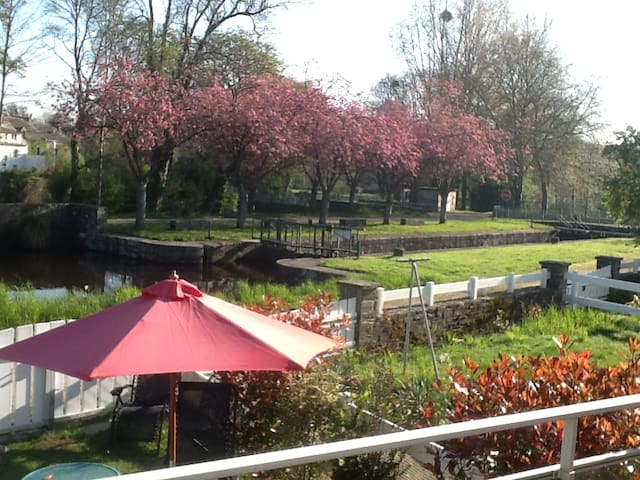 Appartement meublé tout confort, accueillant jusqu'à 3 personnes. Location à la nuit, au week-end, à la semaine ou au mois. Proche centre bourg, lac de Guerledan, Abbaye de Bon Repos, Canal de Nantes à Brest, proche de la vallée des Saints, nombreux chemins de randonnée, forêts, sites naturels, monuments historique, à environ 1H de la mer (Côtes d'Armor, Finistère et Morbihan). Salle de sport, Garage, Jardin proche non attenant, Cave, Cinéma "Ciné Breizh" à proximité.
Room Type
Entire home/apt
---
Property Type
Apartment
---
Accommodates
3
---
Bedrooms
Rostrenen, Bretagne, France
My place is good for couples, solo adventurers, and business travelers.
If you love to cycle then this is the place for you, the Nantes/Brest canal is at the end of our village, with miles and miles of cycle paths. Great place for being outdoors, we are very close to The Abbaye Bon Repos, Lake Guerledan.
Tracey nous a accueilli chaleureusement. Elle a été très arrangeante par rapport à mes contraintes.
Véronique
2016-11-13T00:00:00Z
Room Type
Private room
---
Property Type
Bed & Breakfast
---
Accommodates
2
---
Bedrooms
Gouarec, Bretagne, France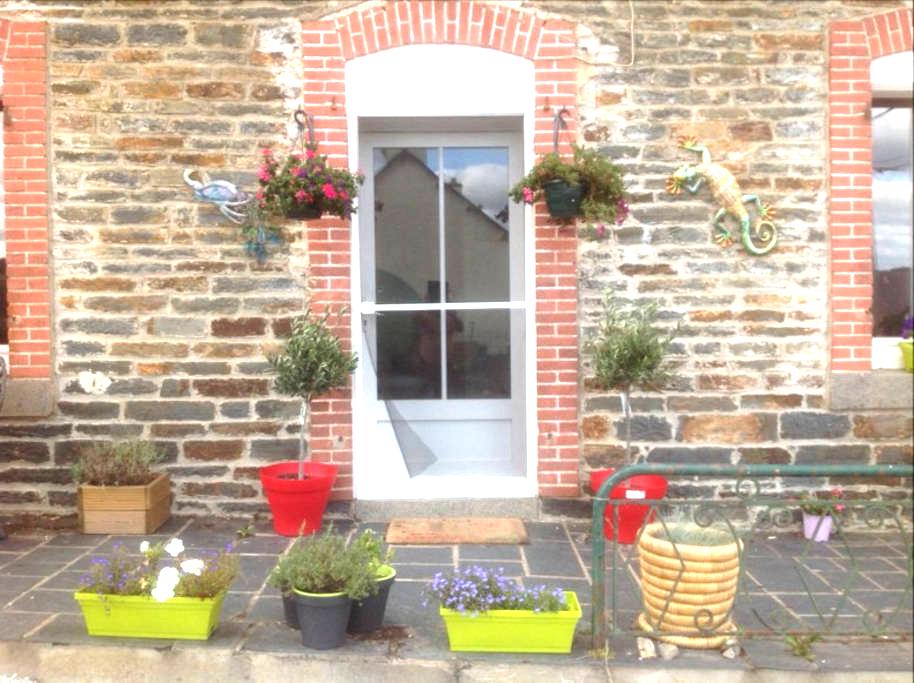 Mon logement est parfait pour les couples, les voyageurs en solo, les voyageurs d'affaires et les familles (avec enfants). Possibilité de 2 couchages en mezzanine 20€/pers supplémentaire.
Room Type
Private room
---
Property Type
Guesthouse
---
Accommodates
2
---
Bedrooms
Lescouët-Gouarec, Brittany, France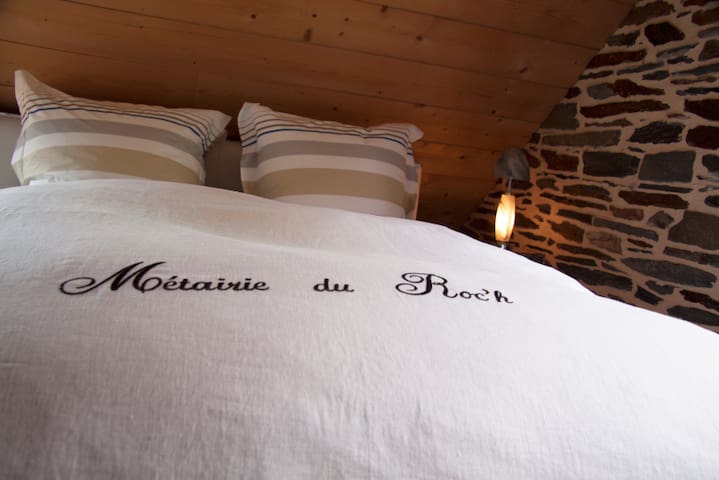 The Cider House is an unique boutique cottage designed especially for the couple who want comfort and luxury. Centrally heated throughout making it an ideal holiday home in both summer and winter.
Set in the grounds of the Manoir Pont Dorniol, the cottage was once the centre of cider-making for the community. Now it has been beautifully converted to provide an open plan sitting room with wood-burning stove, a dining area, a separate well appointed kitchen, with full size oven and hob, microwave, fridge, and dishwasher. The bedroom is located on a charming mezzanine. The gardens surrounding the cottage are private and provide space for sitting and enjoying the peace and quiet over a glass or two of wine. There is a barbeque, outdoor dining table, chairs and loungers provided All linen and towels are provided.
A lovely, large property to stay in. Gorgeous location surrounded by countryside. Lorna was very helpful with communication/directions etc before and throughout our stay.
Stefanie
2016-05-09T00:00:00Z
Beautiful place in the countryside. Very enjoyable two weeks,quiet and relaxing. Always things to discover,whether nearby or by taking a trip to the n/s/w coasts, which is appr 1h by car. Lorna is a ver nice host, helpful, kind and has very positive aura. Didn t miss anything during the stay and if so,Lorna would have been available the whole time to help.
Kristof
2015-08-07T00:00:00Z
This is a beautiful cottage set in the most peaceful countryside. The photographs really don't do it justice! But hard to capture the atmosphere? Lorna was helpful with our arrival, phoning to make sure we were OK, giving good directions and there to meet us. We had the most relaxing and peaceful week, walking and exploring with evenings warmed by the log burner. You could not be disappointed by Lornas place!
Tricia
2016-07-02T00:00:00Z
I found the Cider House to be even more special than the description provided. The quality of workmanship is astounding. The radiant floor heat is quite a treat, especially in the bathroom. The setting is perfect for relaxing or exploring. Lorna was charming, and very helpful. Simply put, this was the most relaxing cottage that I've run across while using Airbnb. Highly recommended.
Thomas
2016-01-04T00:00:00Z
We had a wonderfully relaxing stay at the Cider House. As others have mentioned I don't think the pictures do it justice. The gardens around the house are lovely and make for a really relaxing setting. We were in a great location to get out and explore the whole of Brittany with some great suggestions from Lorna. We really didn't want to come home and will definitely be back at some point!
Claire
2016-08-18T00:00:00Z
Nous avons passé un excellent séjour dans ce très charmant gite. Tout était parfait. Nous recommandons chaudement cette adresse incontournable pour des vacances en Centre-Bretagne.
Emmanuel
2015-08-20T00:00:00Z
The Cider House es simplemente, una maravilla! nosotros llegamos por casualidad porqué se nos había anulada nuestra reserva, qué suerte tuvimos. Lorna y su familia nos acogieron de una forma increíble. La casa es preciosa y el entorno inigualable. La casa está limpísima y el entorno resulta super romántico. La recomendamos a todas aquellas parejas que deseen una desconexión de todo y que quieran seguir enamorándose. Si lo que se desea es visitar sitios turísticos, está casa quizá quede un poco alejada. 100% recomendable!
neus
2015-08-17T00:00:00Z
Super accueil, personnes sympathiques, logement tres pratique bien agencé et lieu tres paisible...
emma
2016-11-07T00:00:00Z
Room Type
Entire home/apt
---
Property Type
House
---
Accommodates
2
---
Bedrooms
Laniscat, Brittany, France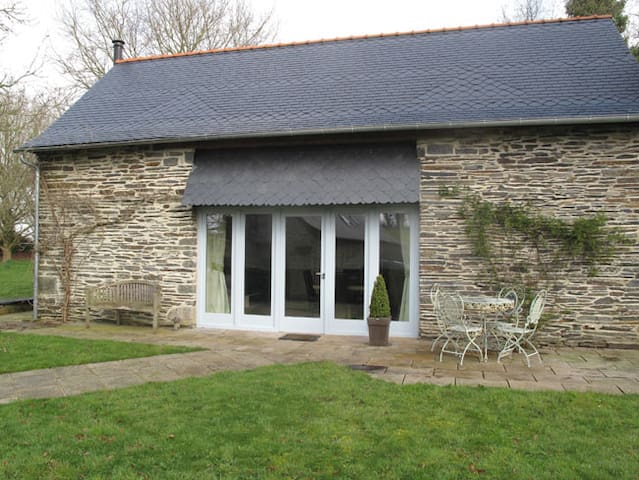 Treestone cottage is secluded & peaceful. It sits in 4 acres of ancient wooded land, with massive boulders & a stream. Otters, deer, and all kinds of bird life are all here as well as the brightest stars we have seen. It is close to an amazing organic bakery & shop, an organic pizza bakery, rivers & lakes for swimming, endless quiet roads & trails for cycling, & a great weekly market. Built in 1750, it now has a trifold oak door, velux, a great bath and a fabulous wood burner. Majical place..
We have restored TreeStone Cottage over many years. It has some great features, like the staircase made from salvaged ship wrecks, the Wiking lean burn glass fronted stove, and the amazing trifold door on the front face that we fitted during our work last year. The woods are magical and drop down to a stream that borders our land, where an old watermill sits. Close the the cottage is the massive granite boulder that stands some 4m high with an Oak tree growing up the side of it and its from this spot, a place we lived when we first came to the ruined site, that our land and cottage takes its name.
Woodland and rolling countryside with neolithic remains dotted around, and some beautiful streams and rivers...The area is really amazingly rich in terms to culture and environment. To name just a few of the things we love...many people are building their own ecohomes, earth sheltered, bio-climatic houses, and straw bale. Mellionnec has a documentary film festival each year, and has a great organic shop, bakery and pizza oven. The next commune has Coat Fur - Le Refuge, a wolf sanctuary! There are sacred springs and a ruined Roman Hill Fort within a short bike ride...oh and not to forget the wild swimming at places like Roche Diablo. The Devils Balls...
We had a great time in Mellionnec, the name defines the house very well: relaxed & secluded. We especially enjoyed the fact that there was absolutely no noise (except the noise of nature) around, the nice bathtub and the fact that the house is heated with a stove. The place is unique and beautifully renovated. For food, we recommend a great "healthy" restaurant with good vegetarian options in Rostrenen (10 minutes drive from the house), called Olrun.
Loraine
2016-11-13T00:00:00Z
We had a wonderful time at Adi & Daren's cottage. It's fully equiped and decorated with taste, the beds are confortable and the bathtub is wonderful! The fire kept us warm during the entire stay (even with a little baby). There are plenty of things to see around. Even if we didn't get to meet Adi & Daren, everything was ready when we arrived and the instructions easy to follow. And we really apreciated the welcome gift :) Nous avons passé un très bon moment dans la petite maison d'Adi et Daren : très confortable, une superbe baignoire et un poëlle qui nous a tenu bien chaud pendant tout le séjour! L'endroit est à la fois isolé mais entouré de choses à faire. Adi et Daren n'étaient pas là pour nous accueillir mais avaient laissé des instructions très claires (et un cadeau de bienvenue!). NB : toutes les instructions et les échanges avec l'hôte sont en anglais.
solene
2016-05-09T00:00:00Z
Adi was always quick to answer questions.The photos did Plumstone cottage proud,it really is as pretty as it says in the photos.I looked for a great setting,comfortable sofas to recline on and a bath as my children dont like showers.The fireplace secured a warm stay in October.There was warm water for baths and dishes,always.The upstairs were warm at night for October and we only used duvets no extra blankets.The cottage is set alongside three others but private and not overlooked in glorious countryside.The garden is like a private wood and great for walks and exploration for children.Within ten minutes you can reach a large Supermarket and Pharmacy to get what you need.A dvd player pleasantly surprised the children.I tend to prefer driving to Ferries but there is a ferry port at Bretagne if you wished to cut down on the drive.A truly pretty cottage that I highly recommend.
juanita
2015-10-30T00:00:00Z
We spent one week at Adi and Daren's cottage with our two sons (3 and 5 year-old) and it was great, like on the pictures: big garden with woods, sand tray and swings. The house is isolated and calm, perfect for having rest and for our kids full of energy. The house is nicely decorated, functional kitchen, super bathtub and good beds. There is also a welcome present, and helpful indications on the house and what to do in the area. We visited an organic farm, did some canoeing on the Guerledan lake, saw up close wolves and deers in a dedicated shelter, did some cycling on the canal de Nantes à Brest, enjoyed Carnac menhir alignements, breton carnivals and went to an old but fancy amusement park "odet loisirs" I recommend. Thank you very much Adi and Daren, we enjoyed a lot this part of Brittany we did not know very well. Rostrenen tourist office is very useful and there are some nice restaurants there too.
Priscille
2016-08-21T00:00:00Z
Adi and Daren's woodland cottage is located in pure wild nature. It was the perfect place to relax from stressful work days in a traditional brittany stone house. Adi and Daren created lovely details. We loved the fire place and bath tub :-)) Its an ideal place for families or friends to come together with a lot of space and supermarkets and boulangeries within five minutes in car. we enjoyed the beautiful surroundings of fields and woods for jogging. Thanks a lot to Adi and Daren, they gave us a lot of tipps and were helpful wherever they could ! Great experience !
Anna
2016-04-26T00:00:00Z
Wir verbrachten wunderschöne Ferien im Haus von Daren und Adi! Das Haus ist überaus liebenswürdig eingerichtet; der Garten und der Wald sind ein Traum *** Wir fühlten uns sehr willkommen und haben prima geschlafen. Die Umgebung haben wir joggend und radfahrend erkundet. Es lässt sich viel entdecken. Rostrenen ist ein gut funktionierendes Dörfchen mit 2 sympathischen Bar's auf dem Hauptplatz. Herzlichsten Dank für's Teilen an Daren und Adi von diesem zauberhaften Haus, wir würden sofort wiederkommen, was wir auch so planen* kinderfreundlich ist es im übrigen auch! herzlich sehr carol mark und mats
carol
2016-08-15T00:00:00Z
Très jolie petite maison au milieu des bois. L'intérieur est très bien décoré et conforme aux photos. Le chauffage se fait au poêle, ce qui nécessite un peu de temps pour réchauffer la maison. Beaucoup de promenade aux alentours. Nous avons passé un très agréable moment.
Hervé
2016-05-06T00:00:00Z
Nous avons passé 3 jours très agréables dans la maison d'Adi et Daren. La maison est entourée de nature! on entend le bruit du vent et les oiseaux. La maison est très joliment décorée et pratique, tout est simple et on se sent rapidement comme à la maison! C'était exactement ce que nous voulions trouver, nous n'avons pas été déçus. Nous y retournerons sûrement!
Valentine
2016-07-01T00:00:00Z
Room Type
Entire home/apt
---
Property Type
Other
---
Accommodates
6
---
Bedrooms
Mellionnec, Brittany, France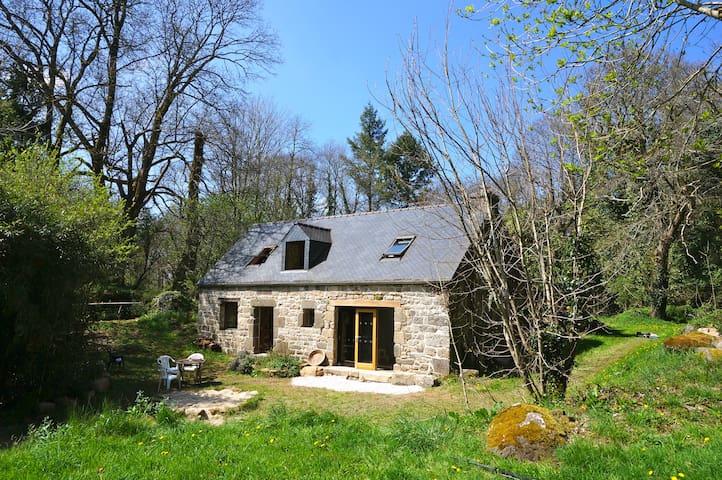 Small but cosy, on three floors, kitchen/diner on ground floor, Salon(with double sofa-bed) and bathroom on second floor, bedroom under the eves on top floor. 200/300 years old, keeping many original features. small courtyard with granite (URL HIDDEN)
Gouarec is a very special village, it was once a thriving linen centre in the middle ages, then benefitted from both the railway and the canal, Nantes/Brest. It is one of the few villages built on the banks of the canal, which has a cyclepath running 172 miles along its length. The history and compatable wealth gave lovely stone buildings in the centre. The centre is Napoleonic and in parts much older
The village has three eating places ranging from a Pizzaria, a Creperie, and a bar/restraint. Three bars, a Boulangerie, a small supermarket and an English shop, all the above are within a couple of minutes from the cottage. During the summer there are various fest noz(local gatherings)around the area. Further afield lovely places to visit, the Abbeye Bon Repos has a Sunday market, there is a great bar where you can listen to free music, while away the hours people watching enjoy their delicious Plat de Jour(plate of the day).
Cathy was very kind and helpful from the very first second we met her. The village was beautiful, we really liked the village and the charming house. Our rates will top level for our week in the cottage
Marianne
2016-07-25T00:00:00Z
I was made to feel really welcome. Cath and Paul couldn't do enough for me.
Robert
2016-06-15T00:00:00Z
Room Type
Entire home/apt
---
Property Type
House
---
Accommodates
2
---
Bedrooms
Gouarec, Bretagne, France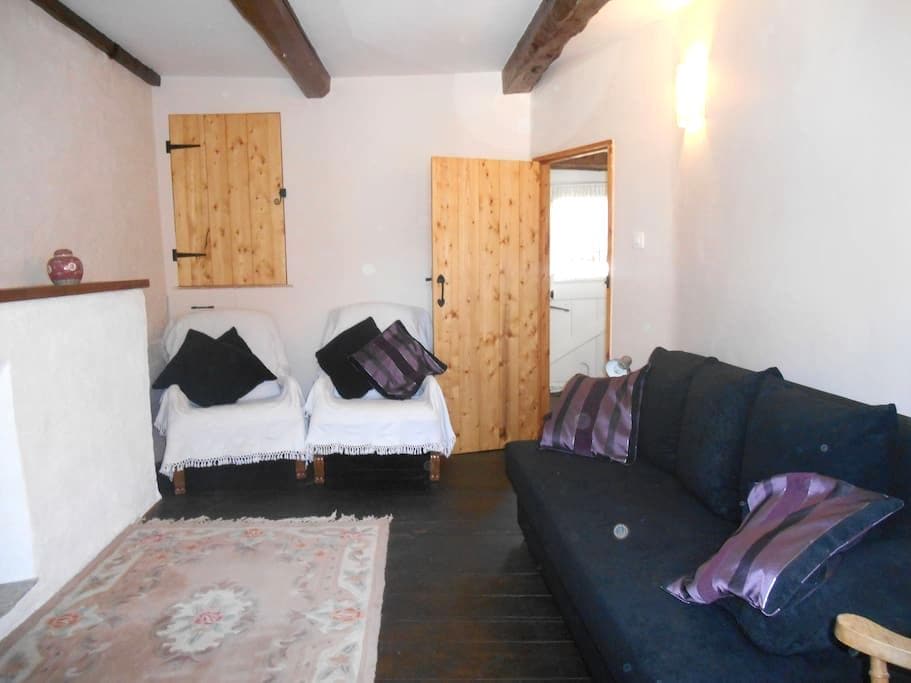 detached cottage in a quiet and friendly village in the heart of Brittany. It is located halfway between the north and south coasts (English Channel and Atlantic Ocean) which you can compare the charms. tourist region off the beaten track. To discover by taking his time.
Accommodation combining wood, stone (shale) and corten steel. This mixture of traditional and modern materials gives it a special charm. It is suitable for two adults and a baby, but if you are more numerous, we can offer the bed in our house, with a supplement. The guest room in our house has its own bathroom, own access and private terrace. You can eat at 4-5 in the cottage.
We live in a very tourist area in the heart of Brittany. You can enjoy the beaches of Lake Guerlédan, near, and practice water activities. The Abbey of Bon Repos and its sound and light show are also very famous. forges Les Salles, Quénécan of the forest, the Nantes-Brest canal, the Gorges of the Daoulas, the Landes of Liscuis with their Neolithic tombs ..., as many sites to discover and enjoy. And there are many more!
Logement très fonctionnel, agréable, au calme et hôtesse proche et réactive à vos demandes. Logement fortement recommandé pour un moment agréable et calme. Logement à mi-chemin de tous les grands sites de la Bretagne.
thierry
2016-08-10T00:00:00Z
Nous avons été très bien accueilli par Cathy. Le logement est décoré avec gout, et très fonctionnel. Nous avons passé es nuits au calme. Nous pouvions entendre chaque soir les chouettes, ce qui fut très agréable. Le cadre est magnifique et tout est fait pour que l'on s'y sente bien. Merci à Cathy de mettre ce logement à disposition des personnes qui ont envie de découvrir cette jolie région.
sylvie
2016-08-18T00:00:00Z
Cathy et son mari sont des personnes fort sympathiques et très disponibles en cas de besoin. L'appartement et très agréable. Le bois et la pierre donnent une ambiance très chaleureuse. La vue sur le jardin est superbe. Le parc est magnifiquement entretenu et l'environnement permet de se ressourcer. J'ai passé un excellent séjour. Merci Cathy !
sophie
2016-07-05T00:00:00Z
Très bon accueil. Logement fonctionnel; grand terrasse appréciable, dommage que la vue sur un entrepôt gâche un peu la sérénité et le coté bien ordonné de Cathy.
mariefrancoise
2016-08-30T00:00:00Z
Ce logement est très agréable, décoré avec goût et très bien équipé. Les hôtes sont très accueillants et discrets. Ils sont de bon conseil pour les visites aux alentours. Nous avons passé un très bon séjour et reviendrons avec plaisir.
Yoann
2016-08-06T00:00:00Z
Cathy et son mari sont très gentilles et très disponible! Le logement est très agréable et confortable, le bois et la pierre donnent une ambiance très moderne et très chaleureuse. La gîte est parfait pour qui veulent découvrir la Bretagne et le soir il y a beaucoup de silence, nous avons bien dormi et Cathy a été très gentille est à nous fait trouver des choses pour le petite-déjeuner!!! Il y a aussi dans la gîte tous les informations et les guides pour découvrir la région! En plus il y a la terrasse à disposition!! Très belle maison et des hôtes très gentilles! Merci Cathy et Jacques!
Barbara
2016-08-21T00:00:00Z
Room Type
Entire home/apt
---
Property Type
Apartment
---
Accommodates
3
---
Bedrooms
Laniscat, France, France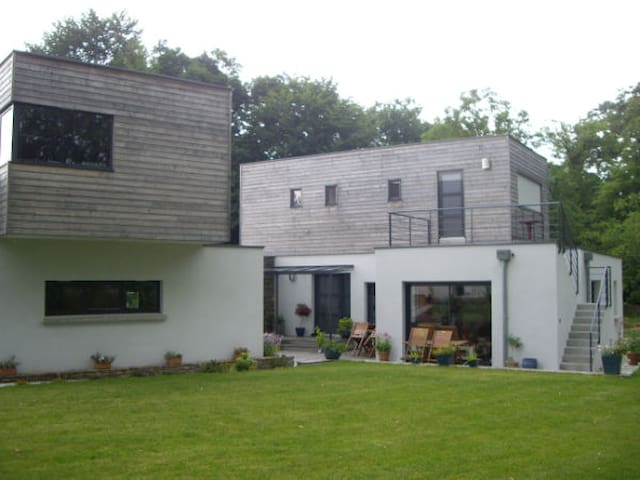 Small double bedroom on the groundfloor in 18th centuary farmhouse, set in a hamlet in the brittany countryside. With private shower and WC . The room has direct access to a sunny patio.
We are 2km from the canal Nantes à Brest,good for walking, cycing and fishing, and 10km from the lac de Guerlédan. Gouarec is the nearest town, at 6km, with shops, resturants, also a swimmingpool.
Esther was extremely helpful providing dinner on the first day as we arrived on Bastille day and she doubted we would be able to get into a restaurant. The location was convenient for cycling the voire vert and canal roads and centrally placed for day trips to the north and south coasts. We loved the rural setting and learning how they set up their bee hives. Esther and Malcolm were outstanding hosts.
Bruce
2016-07-21T00:00:00Z
Room Type
Private room
---
Property Type
House
---
Accommodates
2
---
Bedrooms
Plélauff, Bretagne, France