Briar Lodge sits in gated grounds offering rural tranquility and easy access to Dorking, Horsham, Gatwick and the M25, with excellent rail links into London. A perfect base to explore Surrey's stunning National Trust sites, with golfing, fishing, cycling,rambling and country pubs all within easy reach.
Purpose built, Briar Lodge offers complete privacy and secure parking. Outside, there is a patio area and bbq with views across the fields and woodland and access to the garden and terrace to the main house in the summer. Inside we have provided everything we would like to find on a short stay. There is an en-suite shower room with plenty of towels and toiletries, a flat screen tv with free view and wifi, complimentary bottled water and fruit as well as a hair dryer, iron and ironing board. A fridge, toaster, kettle and coffee machine are provided and a substantial freshly prepared continental breakfast using the finest local produce is served to your room to enjoy at the breakfast bar or (weather permitting) on the patio or terrace. Guests are requested to advise in advance of any special dietary requirements. A travel cot is available on request. The cabin is a comfortable size for two and will accommodate a travel cot. If travelling with a tot, access to the garden will help tire them out! Also, Room One at Briarwood is now available. A spacious ground floor ensuite, with king size bed, double walk-in power shower, plenty of towels and complimentary toiletries. There is a fridge with complimentary chilled soft drinks, tea and coffee making facilities with a selection of 'Tea Pigs' teas. Fully loaded smart tv with Netflix and Sky movies and wifi available. Private sitting room. Underfloor heating throughout....and fab White Company bedding. Click on my profile picture to see full listing and details
Located in an area of outstanding natural beauty and perfectly placed to enjoy outdoor pursuits as well as satisfy even the most ardent of shoppers, it would be hard to find a more perfectly located space to stay. Ideal for a stopover before catching an early flight from Gatwick, or to catch your breath on the way back or simply for taking some much needed time out.
The listing description was completely accurate. Very cosy, clean little cabin in Surrey. There is a lovely walking trail a short drive away and a great pub for dinner down the road. Cath was very accommodating in every way and gave me a lovely breakfast in the morning before i dashed off to work. We would need to stay for longer next time!
Erin
2016-09-26T00:00:00Z
The Luxury Log Cabin exceeded expectations; quiet, cosy and full of charm. We were blown away by the continental breakfast, and adored the friendly farm animals esp. Elvis the pig!
Louise
2016-10-28T00:00:00Z
Do not pass up an opportunity to stay at this residence on your way to or from Gatwick Airport. Tucked away in the woods south of Dorking the place has the look and feel of a log cabin escape. The location was spotless when we arrived and very tastefully decorated. Cath is an outstanding hostess who made us feel right at home. She provided us with an excellent breakfast and went the extra mile to insure our comfort during our stay. Other highlights of our stay included the National Trust, Holmwood Common and the Surry Oaks pub.
Taylor
2016-10-14T00:00:00Z
I booked this for part of a surprise weekend for my boyfriends birthday and it didn't disappoint. The log cabin and its surroundings were absolutely beautiful. Cathy was so accommodating and provided us with a fantastic breakfast in the morning. We will definitely be returning in the near future and are looking forward to it already! Thank you.
Jannah
2016-08-21T00:00:00Z
The cabin is fantastic. It's just across the driveway from Cath's house, which itself is buried away in a small corner of the Surrey hills. It's both beautiful and quiet. We loved our 1 night stay and breakfast was brilliant. Thanks Cath!
Jon
2016-10-02T00:00:00Z
We had a fantastic stay!! Catherine was a great communicator and when we arrived the place was amazing. Immaculately clean and such a cosy cabin. Catherine made us a lovely breakfast in the AM and let us play with her 2 dogs. Will definitely stay there again next time we're in the area.
Ben
2016-10-22T00:00:00Z
The whole experience exceeded our expectation. Catherine was very welcoming ans provided us with an excellent rcommendation in terms of where to eat. the accommodation was superb - exceptionally clean, high quality with lots of thoughtful touches (fresh flowers, fruit bowl and chilled soft drinks. The breakfast was superb I would definitely recommend this accommodation.
Anne
2016-06-25T00:00:00Z
Catherine's Accommodation is extremely clean, very modern and has a real sense of relaxation about it. The layout is perfect for a weekend stay, especially with the spacious shower, electric fireplace, wall mounted television and bespoke little kitchen/breakfast bar. The breakfast served was superb with freshly baked bread and a selection of continental meats/cheeses. The grounds is extremely secure with CCTV, enclosed within large electronic gates. Aside from all of this, Cath could not have been more friendly, welcoming and accommodating. She offered to take us to/from a restaurant on friday night, and even asked us if we would like anything bringing back from the shops when she popped out. I honestly think this is the only place I will be staying when i come back to this area. 10/10
Victoria
2017-03-12T00:00:00Z
Room Type
Entire home/apt
---
Property Type
Apartment
---
Accommodates
2
---
Bedrooms
Dorking, England, United Kingdom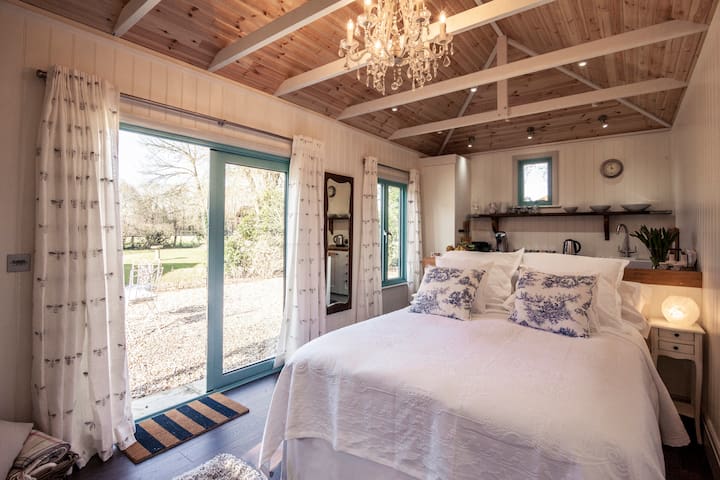 Double room, right in the centre of Redhill and 5 mins walk from Redhill station. Train to London takes about half an hour, to Gatwick airport takes ten minutes.
Comfortable, large apartment with a kitchen, living room, bathroom, separate toilet and a double bedroom with fitted wardrobe and chest of drawers. The double room has a TV with a Playstation 3. We don't have a TV license but we do have Netflix which you will be able to use in both your bedroom and the living room as well. Living room, kitchen, bathroom and toilet is shared with the hosts.
The flat is located near Redhill station (5 mins walk) next to the train line (you should expect train noise) and close to the town centre (5 mins walk) and next to a large park. There are plenty of shops, pubs, cafes around.
Sassi made me feel welcome despite the fact that I arrived early. The house is close to the station and the flat very clean. I only stayed for the night and it was perfect. Thank you!
Sabine
2015-10-22T00:00:00Z
Had big fun in Redhill...they couldn't have been nicer, and the room/etc. was great...I slept like a baby. The shower was also good, which is not always the case "over there". The wi-fi was a big help so I could get everything arranged and talk on (SENSITIVE CONTENTS HIDDEN). The train and bus station was about five minutes and London Victoria took only about 30 minutes. Redhill is located in a gorgeous area of England with hills and farms all over. There were restaurants and pubs close by and a Sainsbury's too where you can get almost anything...
William
2015-11-19T00:00:00Z
Nice and quiet room which is near to the Gatwick airport, just 1 station from redhill to gatwick.
Mirko
2017-01-15T00:00:00Z
Sassi and Nick were amazing. We were tired from a long flight and had to leave the next day but they made sure everything was good and helped us with transportation to and from airports! Wish we could have talked to them more and got to know them. The area is awesome and walk able, really close to Gatwick as well. Thanks guys! :)
Amanda
2017-01-11T00:00:00Z
The room was cozy and clean. We just stayed for 1 night, we arrived to Heathrow and the next day we left. Is easy to get there is located few block from the train station. The town is very nice. The only issue was that I had problems to sleep because my sleep is not heavy and the train runs all night near from the house
David
2017-04-05T00:00:00Z
Sassi's place was great we only stayed one night but she accommodated our later check in and early check out as we had to catch a flight at Gatwick airport which is very close by. Room and bed were very comfortable we were very happy with our stay!
Eric
2017-01-13T00:00:00Z
Fantastic hosts. Great people.
Stephen
2017-03-31T00:00:00Z
A really good choice for someone who has a flight from Gatwick airport. Just five-minute walk from Redhill Rail station. The guys were willing to help in every issue. Nice posters everywhere..
Dimitrios
2017-03-06T00:00:00Z
Room Type
Private room
---
Property Type
Apartment
---
Accommodates
2
---
Bedrooms
Redhill, United Kingdom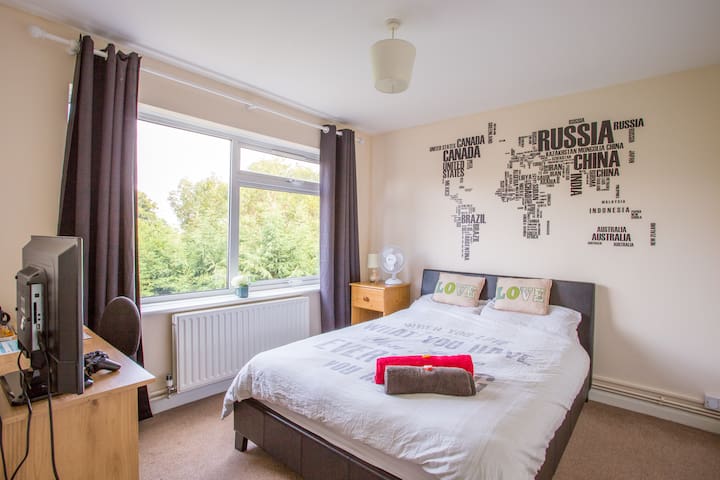 Spacious top (2nd) floor flat in quiet residential area but walking distance to both the Town Centre/Station and Epsom Racecourse. Double bedroom has built in wardrobes and plenty of cupboard space, light and airy overlooking gardens to rear. Guests have access to shared bathroom with shower, large kitchen/diner and lounge. In the room there is a TV with all digital channels, DVD and CD player. Free Internet is available too on WiFi. Complimentary coffee/tea making facilities. Towels and toiletries. You can make full use of the kitchen but if you don't want to eat in then there are 2 excellent pubs which serve food within 5 minutes walk. The town centre is less than 15 minutes walk away and the station has regular train services to both Victoria and Waterloo which takes around 35 minutes. Epsom Racecourse (home of 'the Derby') is exactly a mile away and again features a couple of restaurants/pubs or you can just walk up over the Epsom Downs and get a view right across London. If you are coming by car Epsom is only 5 miles from the M25 ( junction 9) and parking is not a problem.
A very spacious and clean double room with an amazing view if you have a habit of looking out of the window in the morning and a very comfortable double bed. Mike and his wife was very welcoming and provided all the things that helped make my stay even more pleasant. I would stay in Mike's place again and again and I will also be recommending his place to other colleagues. I will definitely recommend as a play to stay.
Sally
2016-02-23T00:00:00Z
Mike was there to greet us in the morning, gave us a tour of his home and there were tea and coffee facilities in the room along with, tv, stereo, fresh towels and a hairdryer in the drawer. He and his wife Julia were both very welcoming and easy to get along with. A lovely clean home, and a wonderful place to stay would stay again definetly!
catelyn
2016-02-25T00:00:00Z
Hosts very welcoming, room just like pictures and position very peaceful. Excellent position if visiting Epsom Downs and the racecourse - just a 20 minute walk.
JILL
2015-07-10T00:00:00Z
My daughter stayed here for her first week at University. She was very complimentary about the facilities and the hosts who were polite and informative but not intrusive. It is ideally situated for a student being ten minutes from UCA. The room was very comfortable and the facilities very clean and modern. Mike even gave her a lift to the station with her suitcase at the end of the week. I would have o hesitation in recommending this room to other travellers
paul
2016-09-15T00:00:00Z
Best airbnb host to date, very accommodating and great location would recommend to anyone. Lovely people and warming home.
Jack
2015-11-18T00:00:00Z
I stayed with Epsom for four nights while I was working in Epsom. They stay in a lovely flat in a really gorgeous area of Epsom. Easily walking distance into the town centre and train station with loads of pubs and restaurants near by. The bedroom is comfortable and well-appointed with a hair-dryer, kettle and plenty of tea and coffee. The bathroom and kitchen are both very nice and clean. The wi-fi connection is great, too. I would definitely stay again if I need to be back for work for any reason and would recommend it to anyone looking for a comfortable stay in Epsom.
Andrew
2016-09-30T00:00:00Z
I stay in mike's house about 12 days and it seems that i was in my house... Great person and great place to stay near Lindon. Thanks for all...
Gonçalo
2014-10-31T00:00:00Z
I stayed at Mike's place for 3 nights and I had a great stay. He explained everything to me within a few minutes and handed the keys. They provided me with everything I needed and were happy to help otherwise too! Definitely would stay there again! Excellent experience. Thanks!
Asad
2016-02-12T00:00:00Z
Room Type
Private room
---
Property Type
Apartment
---
Accommodates
2
---
Bedrooms
Epsom, England, United Kingdom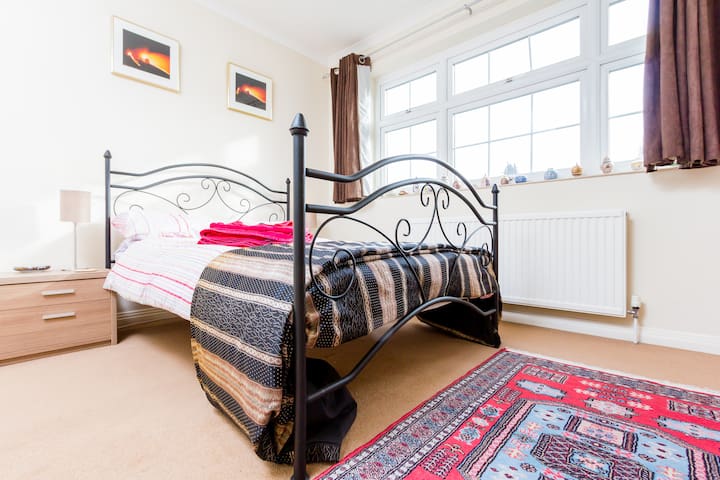 A nice, compact apartment in heart of the city. With view on university district. In walking distance from city center. Free parking, TV, wi-fi.
Room Type
Entire home/apt
---
Property Type
Apartment
---
Accommodates
4
---
Bedrooms
Reigate, England, United Kingdom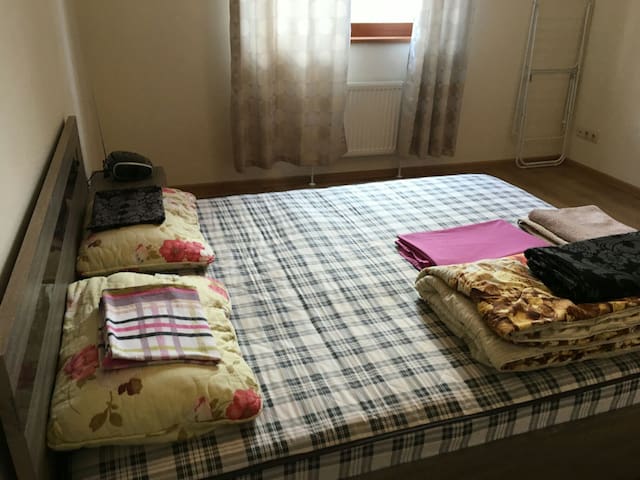 Lovely flat in the heart of Reigate Great for walkers or couples wanting a week away Close to London, easy to go for a day out -40 minutes by train, train station is 5 mins walk away Great shopping on the high street and cafes, pubs etc. A family do live downstairs so please no-one wanting loud nights out of house parties Also no immediate parking - although you can park nearby ,there are steps to the flat so not suitable for wheelchairs etc. No pets sorry
Room Type
Entire home/apt
---
Property Type
Apartment
---
Accommodates
3
---
Bedrooms
Reigate, England, United Kingdom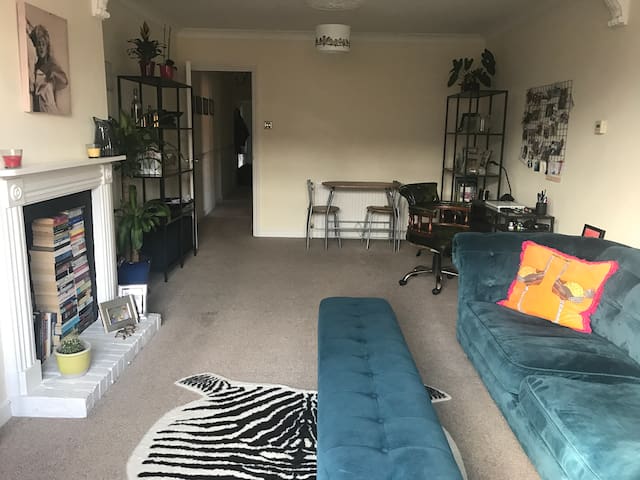 Our newly built 1 and 2 bedroom luxury apartments are a stroll from Reigate train station with direct train lines to London, Gatwick, Guildford and Reading. Reigate is also a commuter belt for the M25, M23 and A217. London Gatwick Airport is less than 15 minutes' drive away, so Reigate is quickly becoming a hub for international travellers. Being in the heart of the town Trinity House is a short walk to all local amenities. Reigate's charming high street offers good coffee shops, restaurants and
Room Type
Entire home/apt
---
Property Type
Apartment
---
Accommodates
2
---
Bedrooms
Reigate, England, United Kingdom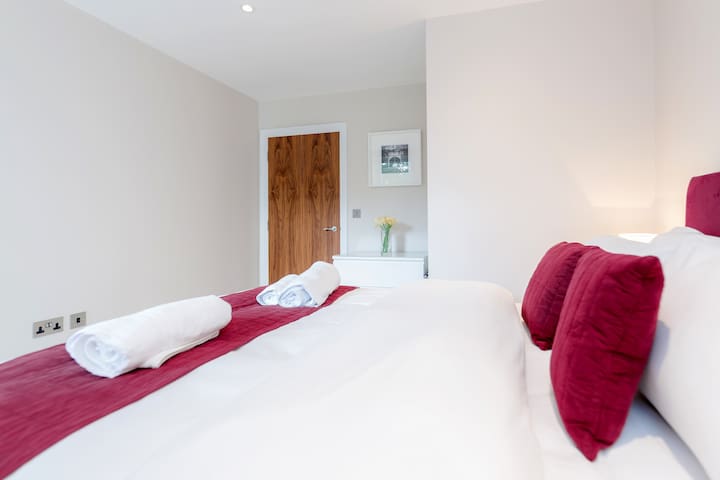 My cosy one-bed apartment has a warm and homely feel to it and is very close to the station and town centre. It's located on the hill, about a mile from the motorway exit at Junction 8 of the M25 which makes it ideal for a quick get in or getaway.
The apartment is suitable for two people and is very cosy and spacious.
Immaculately clean. Good place to stay if you are visiting on business. Near train station. Friendly and helpful host.
Tim
2017-02-23T00:00:00Z
Lovely new place, good location, quiet area, good connection to London or Brighton. All things needed in a house is available, comfy and well maintained. Will definitely go back and would recommend anyone. 5*
Joao
2017-02-27T00:00:00Z
Great apartment. Warm, quiet and super clean. There is a handy co-op just round the corner. The centre of Reigate is a short walk away. We had a lovely stay.
Katy
2017-03-05T00:00:00Z
Clean & cosy apartment. Responsive host too
Terry
2017-02-14T00:00:00Z
Room Type
Entire home/apt
---
Property Type
Apartment
---
Accommodates
2
---
Bedrooms
Reigate, England, United Kingdom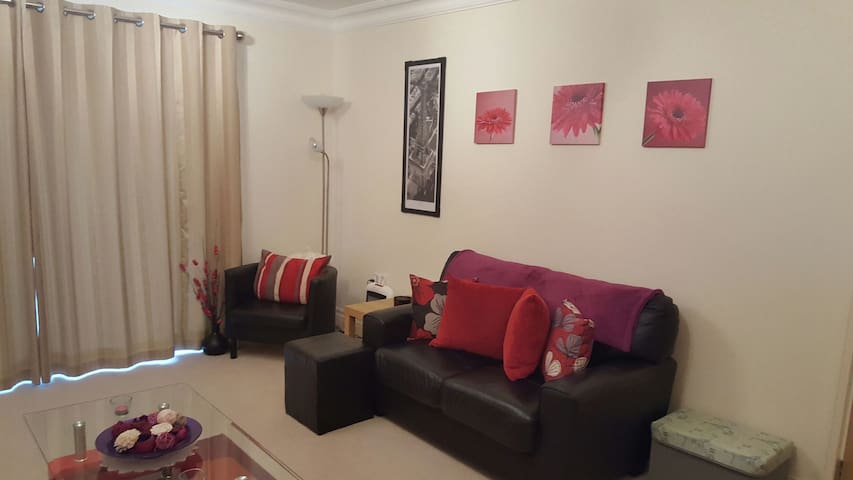 Large and bright ground floor Victorian flat situated just 30 minutes from Central London and the Sussex coast.
The apartment is set in a quiet residential road, just a 10 minute walk from the town centre, park and a mainline train station with direct trains to London and the Sussex Coast. It compromises of a large, bright double bedroom with feature bay window and double bed to sleep two. The living / dining space can sleep a further two (airbed). There is a well-equipped family size kitchen and bathroom with bath and shower. The kitchen opens out onto a south facing cottage garden, with large decking area, lawn, patio and BBQ for outdoor dining. Residential parking is available. Ideal for UK holidays, business trips, temporary relocation, weekend breaks.
The apartment is on the border of Redhill and Reigate, set in the heart of Surrey, just 30 minutes by train to London and the beautiful Sussex Coastline. Locally Redhill is a bustling town centre, while Reigate offers boutique shopping, cafes, restaurants and bars. "One of the world's most visited cities, London has something for everyone: from history and culture to fine food and good times. London is where you will find the major museums, galleries and most iconic sights, but visit Hampstead Heath or the new Queen Elizabeth Olympic Park to escape the crowds and view the city's greener hues up close. Or venture even further out to Kew Gardens, Richmond or Hampton Court Palace. West Sussex offers a welcome respite from fast-paced adventures. The serene hills and valleys of the South Downs ripple across the county, fringed by sheltered coastline. Beautiful Arundel and cultured Chichester make good bases from which to explore the county's winding country lanes and remarkable Roman ruins. While East Sussex is home to rolling countryside, medieval villages and gorgeous coastline, this inspiring corner of England is besieged by weekending Londoners whenever the sun pops out. And it's not hard to see why as you explore the cobbled medieval streets of Rye; wander around historic Battle, where William the Conqueror first engaged the Saxons in 1066; and peer over the edge of the breathtaking Seven Sisters chalk cliffs and Beachy Head near the genteel seaside town of Eastbourne. Brighton, a highlight of any visit, offers some kicking nightlife, offbeat shopping and British seaside fun. Off the beaten track, you can stretch your legs on the South Downs Way, which traverses England's newest national park, the South Downs National Park." Lonely Planet
We really enjoyed our month's stay at Joanne's tranquil apartment. Clean, well equipped and comfortable, we had everything we needed to feel at home. The backyard is very pleasant and sunny which should be an added attraction in the summer months. The location was perfect for us, within close distance to Redhill, and Reigate town centres as well as Merstham. Parking was always available on the street.
Maude
2016-04-01T00:00:00Z
Environment is good and quiet. Joanne is very kind. We all enjoyed our holiday in her house.
Kam Wah
2016-09-05T00:00:00Z
We stayed here for 7 weeks while our house was being extended. Even though there were 4 of us the very large bedroom allowed us to stay in good comfort. I would highly recommend this flat for other users.
Duncan
2017-02-14T00:00:00Z
Great place and very handy location, would recommend to anyone
David
2016-11-22T00:00:00Z
This is a really nice homely apartment to stay in and Jo is a fantastic host. The apartment is clean, warm and very comfortable to stay in and I would certainly stay here if Jo allowed me next time. Convenient for town and station. Thank you.
Graham
2016-12-17T00:00:00Z
Jo was a lovely host, very friendly and she provided terrific information about the local area. Communication was great and she was very supportive with us needing to stay longer whilst looking for a flat. The flat is nicely laid out and we soon felt right at home. The location is brilliant with only a short walk to the town centre and local transport. Unfortunately, there was quite a lot of noise from the flat upstairs and to the side of the property but the surrounding area is nice and quiet and we still enjoyed our stay. The flat does get cold, particularly the bathroom so we definitely suggest keeping the door open but with the heating on, the flat soon feels warm and cozy! Overall, we enjoyed our stay and it was perfect for our first couple of weeks back from abroad. Thank you!
Arturas
2016-02-26T00:00:00Z
The host canceled this reservation 4 days before arrival. This is an automated posting.
Simon
2017-02-19T00:00:00Z
Joanna's place is a very comfortable, clean flat where we felt very much at home very quickly. Not so far from London (when the strikes on Southern do not hit!). I would definitely recommend it...
Apollo
2017-01-02T00:00:00Z
Room Type
Entire home/apt
---
Property Type
Apartment
---
Accommodates
4
---
Bedrooms
Redhill, Surrey, United Kingdom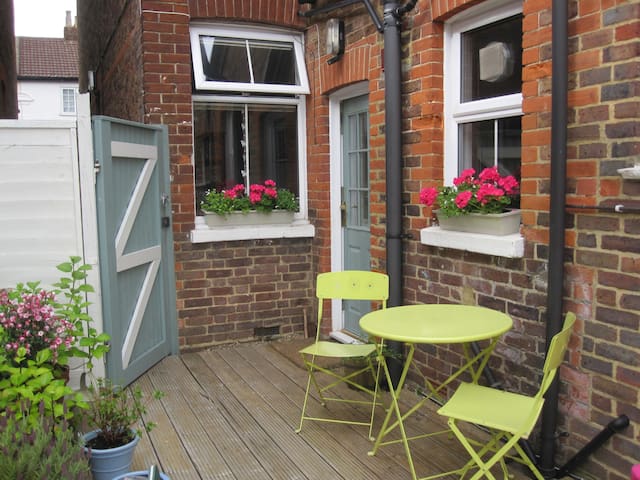 A lovely split level apartment in an Old Victorian property full of character. Airbnb'ing the place whilst I am working away. Guests are welcome to use the entire kitchen and bathroom. Specific wardrobe dedicated for guest use with clean bedsheets and spare towels as required. Location is within a 10 minute drive to Gatwick Airport and has its own private parking space. Walking distance from shops, pubs and train station with direct links to London. All in all a nice place to call your own.
The host canceled this reservation 3 days before arrival. This is an automated posting.
Michael
2017-02-17T00:00:00Z
The apartment was very nice and the communication was very good. We could check in very spontaneously. We had a great time there!
Hannes
2017-03-26T00:00:00Z
Lovely place to stay. Maria was brilliant, really helpful and friendly. Definitely will recommend and will come back!!
Nitharsan
2017-02-14T00:00:00Z
Handy spot, parking, WiFi kitchen etc.
Martin
2017-03-15T00:00:00Z
Clean cosy and safe. Single bed funky split level split level apartment once part of a larger house. 15 mins walk from redhill station; about 8 from earlswood station. 435/430 buses to reigate and redhill stop next to it. So it's close to gatwick. Very helpful and responsive hosts.
Andrew
2017-03-19T00:00:00Z
Room Type
Entire home/apt
---
Property Type
Apartment
---
Accommodates
2
---
Bedrooms
Redhill, England, United Kingdom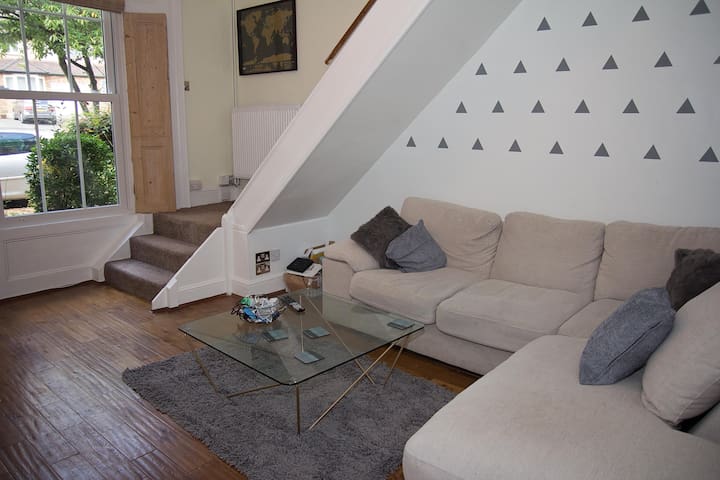 This is a comfortable clean double (URL HIDDEN) bathroom and shower room are new and modern. The maisonette is in a quiet private road but only a 10 minute walk into the centre of Redhill (B.R. mainline into Victoria).15 minute drive to Gatwick.
This is a newly carpeted room ,with double glazing and the maisonette is fully central heated. There is a TV with Sky plus in the bedroom.
Reigate is 10 minutes away with a smart selection of Bars and Restaurants. Redhill is a bustling small town with a direct mainline into London. Gatwick airport is a 15 minute drive away.
I had a lovely stay. Big comfy bed, lovely furnishings and spotless bathroom and kitchen. It's very handy for Redhill station and the centre of town. It's also v close to a bus stop for quick access to East Surrey Hospital. The friendly cat made for excellent company.
Ramon
2016-01-06T00:00:00Z
Room Type
Private room
---
Property Type
Apartment
---
Accommodates
2
---
Bedrooms
Redhill, United Kingdom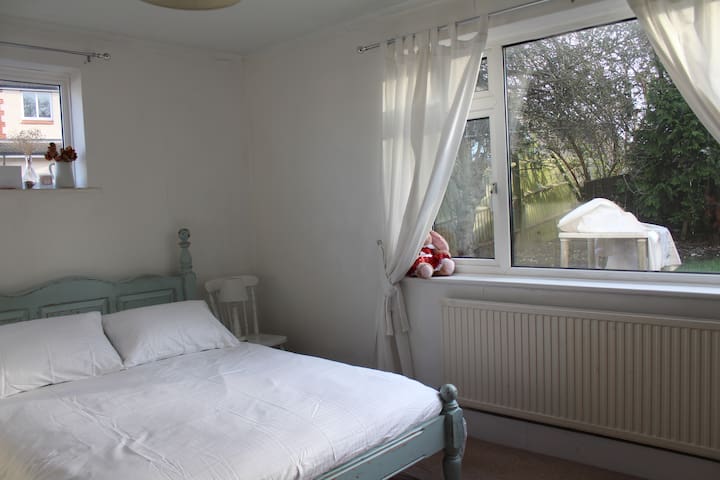 Extra large 1 bedroom apartment with master bedroom, en-suite bathroom, living room, kitchen and parking. Huge bedroom with super king bed (American king size) and private sitting area. We rent when we travel so you'll have the entire place. Cute town center with grocery store and pubs, 10-15 minute walk to train, beautiful hikes nearby and Gatwick. Please note: apartment is by a train line so you will hear the trains passing, earplugs provided for light sleepers. Suitable for 2 adults, 1 child.
Master Bedroom with En-Suite: - one super king size (American king size) bed - en suite bathroom with full shower, toilet, sink - extra sitting area with comfy leather chair - dresser and closet space for your clothes - lots of natural light but with shades to pull down for sleeping - pack n play sleeper included for those younger guests Kitchen: - all new appliances - kettle with coffee/tea provided - all cooking utensils provided (pots, pans, dishes, cups, etc.) - spices and oils for cooking provided - washer in kitchen, tumble dryer also in apartment - large dining table Living Room: - large comfy sofa - sitting chair - TV with cable, XBOX and Amazon Prime - plenty of books to keep you occupied - Sonos system throughout the apartment for music Sitting Room: - sofa and two extra chairs - great for reading/relaxing
Room Type
Entire home/apt
---
Property Type
Apartment
---
Accommodates
3
---
Bedrooms
Redhill, England, United Kingdom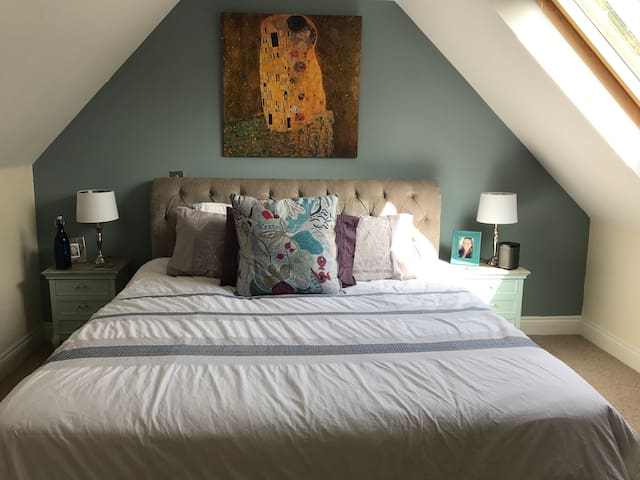 Redhill Garland offers Serviced Accommodation, with one double bed in the bedroom and a double sofa bed in the lounge (laundry for the sofa-bed available upon request). The property is ideal for those that are wanting a base close to the centres of Redhill and Reigate and with the excellent road and rail transport links the South of England is within easy reach. Whilst there is no parking on the property parking is available in Garlands Road and the nearby streets, which is free where there are no parking controls. Redhill Garland is equipped with a kitchen, lounge, bathroom and bedroom. Luxurious towels and bed linen are provided at Redhill Garland. The bedroom has a sturdy double bed with a luxury mattress, wardrobe with full length mirror and bedside table and lamp. There is an open plan living space containing comfortable sofa which turns into sofa-bed (as second bed) if you want to book extra guests in to stay. Next to the sofa is a side table with a lamp for ambiance lighting this space also contains the dining table and chairs. There is a flat screen 'SMART' TV and Free high-speed WIFI. You will have sole use of the property which includes a fully fitted kitchen where you can surprise your friends, colleagues or family to your latest creations. The kitchen also contains washer dryer, fridge/freezer, dishwasher, microwave and includes all usual cooking utensils and appliances. The property has one modern bathroom which contains a bath with shower, toilet and sink with mirror and heated towel rail. The nearest airport is London Gatwick Airport, 9 km from Redhill Garland. The nearest train station is Redhill, 650m away from the property. We operate a 24 hour self check in.
Redhill Garland provides luxury modern accommodation close to the Surrey town of Redhill. Which is a short distance from London Gatwick Airport and just 40 minutes by direct train to central London. The property is situated 350m from Redhill Town Centre and 3km from Reigate. The property is 30 km from London and 46 km from Brighton & Hove. The property is 41 km from Windsor. Croydon is 16 km away, while Guildford is 28 km from the property. Redhill Garland is within close proximity to the Airport and the Business areas of Redhill, Reigate and Crawley which make this an ideal business stay. The Neighbourhood: As well as Redhill being a first class transport hub it enjoys a wonderful park with Cafe facility and is very close to numerous field or woodland walks. There are also many cycle routes that cater for both road and off road cyclists. There is a local gym that accepts day entry it is a short walk away and provides several different classes and activities along with a large gym and swimming pool. The Belfry shopping centre containing many popular brands to cater for all tastes is just a 5 minute walk away. At night there are a number of bars and restaurants for you to choose from. With Redhill and Reigate being so close this property it is ideal for those that are working away from home with one of the many businesses that now find their base in this area. Many of our guests have also found that the excellent rail links to London make this a great place to stay for a quick commute to London or Guildford, Croydon, Gatwick or Brighton. Close by there are a number of parks and woodlands that have lakes and water ways where you can participate in a number of water sports including sailing, wind surfing, pedalos, canoeing and fishing. For those who wish to catch up on some culture there are a number of theatres locally that regularly have performances to suit all tastes, and whilst London would be the main point of interest for museums there are some local museums that provide first class specialist interest about the local area and its history. Redhill is located in the south west of Surrey at the foot of the north downs, and has two fine vine yards nearby both of which have on site restaurant facilities and carry out a range of wine tours and experiences. House Rules: No smoking Not suitable for pets No parties or events Please be considerate to neighbours as noise travels, no loud music after 10pm No unregistered visitors staying overnight May not be safe or suitable for children (0-8 years) Check-in is after 3PM Check-out before 11am on day of departure Refundable damage deposit of £250 should be paid prior to commencement of stay
great place really worked for us.
stuart
2017-03-03T00:00:00Z
Room Type
Entire home/apt
---
Property Type
Apartment
---
Accommodates
4
---
Bedrooms
Redhill, England, United Kingdom
Cosy room in Redhill. It's clean and tidy and very comfortable. My place is good for solo adventurers.
Room Type
Private room
---
Property Type
Apartment
---
Accommodates
1
---
Bedrooms
Redhill, England, United Kingdom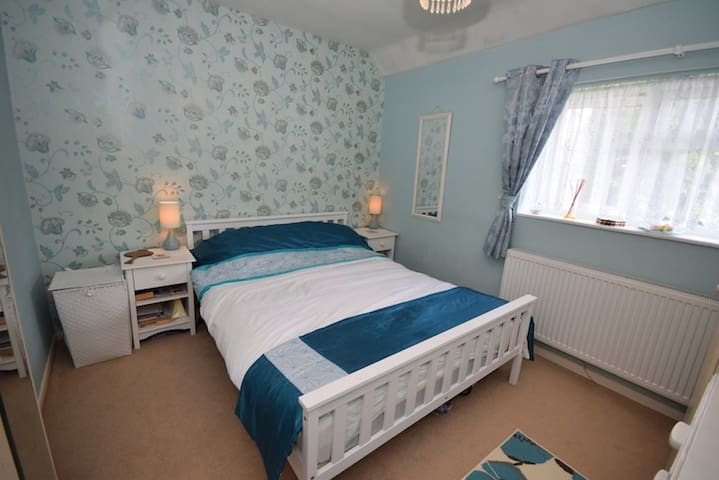 1 bedroom flat in the small town of Redhill. 2 minuet walk to the train station which has direct lines to both London, Brighton and 15 minuet drive from Gatwick airport. There is a private garden and en-suite bathroom. Full use of washing machine/dryer and kitchenette with white goods. The flat has Sky and broadband all included. Perfect for short or long stays and perfect for people wanting to work or travel to London.
Room Type
Entire home/apt
---
Property Type
Apartment
---
Accommodates
2
---
Bedrooms
Redhill, England, United Kingdom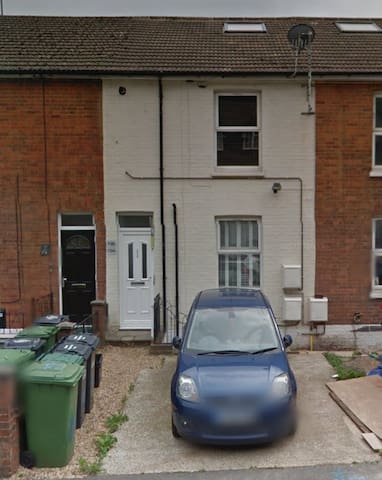 Set in the beautiful Royal Earlswood Park in leafy Surrey with great transport links by bus & train to Redhill, London, Crawley, Gatwick Airport & Brighton. A bright, quiet & airy Single-room / Single-bed with MF topped mattress & neutral quality bedding. Access to a fully equipped Gym & Pool. Walking distance to the East Surrey Hospital, a driving range & Golf. Suitable for professionals working or training at East Surrey Hospital, Redhill, & or Manor Royal Crawley. Great for LGW.
Stunning apartment set a Private Park. Calm, peaceful artistic place which will suit anyone who enjoys music, cinema and art. The bright and airy single-bedroom features: - Very high ceilings & tasteful (humourous) neutral decor - A Single-bed with a hugely comfortable MF Mattress Topper & quality neutral bedding - For your convenience: Ample hanging Storage, a standing Valet & in-room Senseo Coffee Maker / Supplies - For your personal entertainment: Amazon LCD TV, DVD Player & access to 100's of movies & boxsets
A beautiful Private Park with easy access to the Driving Range & Golf Course. Walking distance to the Plough at St Johns. Great restaurants in Reigate and Leisure Park with 15 screen cinema and bowling in Crawley.
This is a really great place - the location is really interesting - an old asylum - and Chris's flat is at the top of one of the original buildings. Despite being really close to Redhill (5 mins by bike) it is very quiet at night and close to some good walking (Greensand Way). And you can use the swimming pool and gym in the converted asylum chapel! Chris is a very generous and friendly host and the room extremely well equipped and comfortable. I warmly recommend it.
Kate
2017-04-05T00:00:00Z
Great bloke, lovely place to stay, takes time out to get to know you will do anything for you. Would definitely go back if work sends me back that way.
Martin
2017-03-17T00:00:00Z
Chris is a wonderful and friendly host. His place is very clean and tidy and one would easily feel comfortable staying here.
Yasmin
2017-03-09T00:00:00Z
Room Type
Private room
---
Property Type
Apartment
---
Accommodates
1
---
Bedrooms
Redhill, England, United Kingdom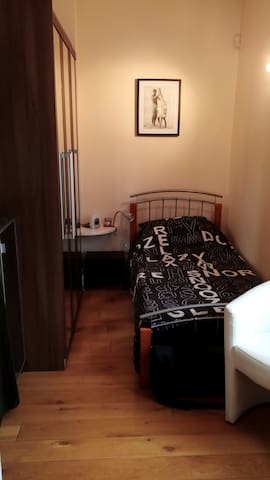 Entire 1 Bedroom Apartment, right in the centre of Redhill and 5 mins walk from Redhill station. Train to London takes about half an hour, to Gatwick airport takes ten minutes.
Comfortable, large apartment with a kitchen, living room, bathroom, separate toilet and a double bedroom with fitted wardrobe and chest of drawers. The double room has a TV with a DVD player. We don't have a TV license but we do have Netflix which you will be able to use in both your bedroom and the living room as well. If you are looking for comfort then we would recommend the apartment for two people as the sofa bed in the living room is a bit hard, we do have two airbeds that you are able to use as well though. The apartment is located next to the train line, so there can be train noise.
Great flat that I spent the a weekend in whilst visiting family. Very close to nearest station, simple check in/out and a great space to spend time in.
Daniel
2016-12-26T00:00:00Z
Very comfortable stay. Had everything we needed. Very warm. Very close to the station; 5 minute walk. Also close to Sainsbury's and a park. Thank You very much!!
Jordi
2016-11-07T00:00:00Z
good
Dominiek
2016-12-30T00:00:00Z
Room Type
Entire home/apt
---
Property Type
Apartment
---
Accommodates
4
---
Bedrooms
Redhill, England, United Kingdom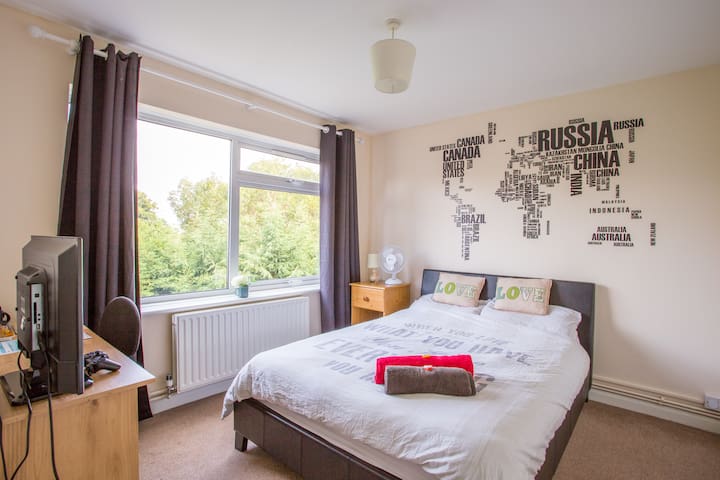 My apartment is situated in a grand listed building with beautiful grounds and pool and gym for residents. The flat has huge rooms and high ceilings and offers a peaceful place to stay near Gatwick. Private parking space , ensuite shower room from £35pn
Spacious room with small double bed . Firm mattress . Ensuite shower room Small desk area . Large windows but no view as lower ground floor .
The East Surrey Hospital is at the bottom of our grounds so this room also ideal for anyone visiting there. Buses go from there to Gatwick both terminals although takes a good 45 mins .
Great host, very welcoming!
Michael
2017-01-17T00:00:00Z
Linda was a very gracious and accommodating host and the room and bathroom were clean and comfortable. I've already stayed with Linda twice and will do so again without hesitation.
Rachid
2016-12-16T00:00:00Z
This was my first week here & it is absolutely brilliant. Linda is the perfect host. Accommodation was superb with large room & en-suite shower room. Stayed on the hottest day of the year but the flat was lovely & cool. The grounds are stunning.
Mark
2016-07-22T00:00:00Z
I have stayed at Linda's several times now. It's a nice place in lovely surroundings. Linda is a great host.
Michael
2017-01-27T00:00:00Z
Linda was extremely friendly and made me feel very welcome in her home. She was very helpful with any questions I had about the area and how to get around. Room is perfect and as per description. Clean, warm, Wi-Fi and ensuite. Apartment located in nicely renovated historic building with beautiful gardens and grounds.
Brian
2016-06-28T00:00:00Z
Extremely welcoming and friendly Linda was the perfect host. The room and whole flat are extremely clean. No noise from neighbours the room is large with a lovely comfortable bed. The en-suite is lovely with lots of hot water Perfect location and train station a 5 min walk Would highly recommend. Stayed for a week and will stay again Thank you
Graham
2015-10-22T00:00:00Z
Excellent Airbnb - Linda was really helpful and super accommodating, she didn't mind us arriving late and even gave us a lift in the morning. Her place is great - clean, comfortable and really good value. Would definitely stay here again, and it recommend it to anyone.
Williamed
2016-07-11T00:00:00Z
A lovely place to stay. The accommodation is in picturesque park grounds. The bedroom was large with a comfy bed and a work area. The wi-fi was very good too. The bathroom was clean and a good size. I enjoyed my stay and would definitely stay again.
Michael
2016-09-16T00:00:00Z
Room Type
Private room
---
Property Type
Apartment
---
Accommodates
2
---
Bedrooms
Redhill, United Kingdom
My place is good for couples.
Room Type
Entire home/apt
---
Property Type
Apartment
---
Accommodates
4
---
Bedrooms
Dorking, England, United Kingdom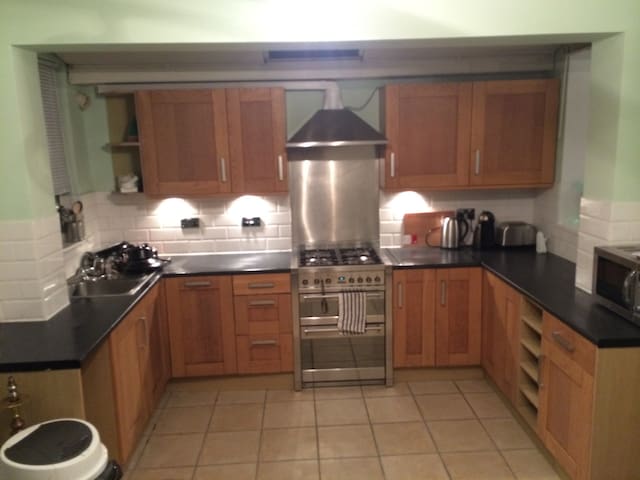 1

–

18

of

52 Apartment Rentals
Enter dates to see full pricing. Additional fees apply. Taxes may be added.