Our apartment is right in the centre of the village just few steps from the main square and the sea! Enjoy yourself on the private balcony with the view and a chilled glass of white wine of Vernazza!
The apartment is located in the centre of the village, has a private balcony with table and chairs where to enjoy the sunset over Vernazza , the room is in a quiet back street. Has plenty of sunlight. the apartment can host 2 or more guests, there are 2 bedrooms with king sized beds. We have WI-FI. In the village there are restaurants and bars, all the other shops as grocery store, the baker and the bank are open. restaurants bars and wine shops are already open for business. it would be better for you to arrive to the village by train as there is no parking for tourists, you can leave the car in Levanto or La Spezia, the train takes you to Vernazza in 10, or 20 minutes. I do come and pick up my guests at the train station and take them up to the room you have just to keep in touch and let me know on which train you will be sitting on, there are trains averagely every hour. There is no kitchen, glasses mugs and kettle are provided, we have some tea , for more tools like cutlery ask and it will be provided. there is a fan in the apartment , but the flat has a natural breeze running through the flat keeping it fresh also in summer. the apartment is facing north. In 2015 an accommodation tax has been put in place by the town hall. The tax is 1 € for each person each night till the third night. the collected money goes to recover and keep open the paths that lead to the terraces
Vernazza is the nicest of the 5 villages and the apartment is located in the oldest part of the village
Very nice, clean and quiet apartment in a grear location with a beautiful view. The hosts were very kind and friendly and I would stay again. Thank you!
Alexis
2016-05-30T00:00:00Z
Margheritas apartment was a great base for our night in Vernazza - the view was lovely and the apartment was nice and clean. Right in the heart of town overlooking the piazza and the sea, a very sweet spot. Margherita was also kind enough to meet us at the station and guide us to the apartment. Only thing to be aware of is there are no kitchen facilities except a small fridge, apart from that, we loved it!
harley
2012-09-28T00:00:00Z
The apartment is just as pictured - which is perfect. Loved the town, shops and restaurants. Margherita made great recommendations. She met us at the train station and couldn't have been more helpful or responsive.
Mary
2014-04-06T00:00:00Z
This is the place to stay in Vernazza. There is a beautiful view of the water and the piazza from the bedroom balcony. Margherita is a very helpful hostess who is a native of the area. She met us at the train station and directed us to our apartment.
Kimberly
2012-07-08T00:00:00Z
Decent apartment with an amazing view from the balcony in a great town. The apartment is comfortable, but isn't anything special other than the balcony... Definitely plan on taking advantage of it while relaxing with a glass of wine after a day of hiking!
Josh
2016-06-14T00:00:00Z
A wonderful apartment in a truly gorgeous part of the World. The photos and description are accurate and everything works well. Margherita is very interesting and cool. She was waiting at the train station and also provided itinerary suggestions with places to go/eat/see, etc. The only bad part was having to leave!
Salvatore
2015-07-07T00:00:00Z
Margherita was a gracious host and had great recommendations tailored for us upon arrival. We did almost everything she recommended! The flat is in a perfect location with a great view. Margherita was available if we needed her for anything but we had no issues. I left my American SIM card behind and she mailed it right away. Very accommodating! Great stay, no complaints!
Morgan
2016-09-23T00:00:00Z
Lovely host, lovely place. It was a pleasure meeting Margherita. A perfect host. She's informative about places I should visit first and food places I should check out:) Although I only stayed one night at this location, I will surely miss this quaint little town. The view from the balcony was magical. I can't wait to visit again and highly recommend her place.
Khris
2015-06-25T00:00:00Z
Room Type
Entire home/apt
---
Property Type
Apartment
---
Accommodates
4
---
Bedrooms
Vernazza, Liguria, Italy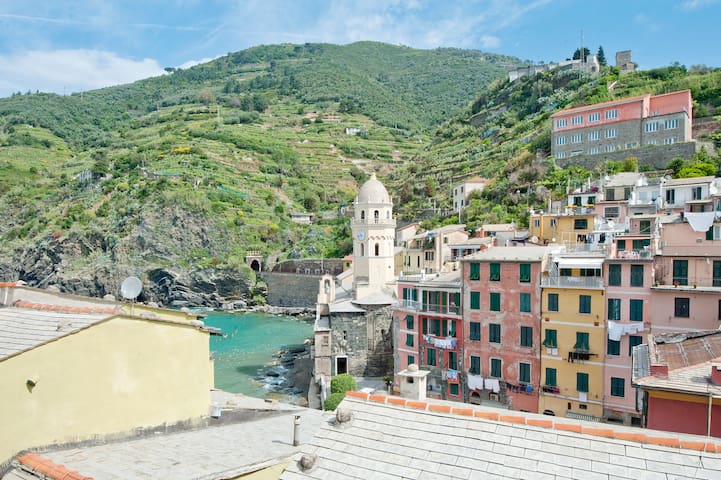 Cozy, comfortable, quiet, central, fully equipped home, ideal for families and groups. Fully renovated in 2017! 4 minutes walk from the train station and perfect base for visiting Cinque Terre (Riomaggiore, Manarola, Corniglia, Vernazza, Monterosso), Portovenere, Lerici.
House "Nautilus" is a comfortably furnished apartment situated in a late 800 building, in the center of old town La Spezia, very close to central railway station and car-free zone. We offer two rooms, a double and a suite, a bathroom and a kitchen. Our apartment is an ideal starting point for trips and excursions to Cinque Terre, Portovenere, Lerici, Sarzana, etc. All the main means of transport terminals are nearby. All the essential services (shops, markets, restaurants, laundries, internet centers, parking lots, taxi, bycicles) are available in the immediate vicinity. We'll be very happy to provide information, suggestions and material about places to visit and public events like the "Palio del Golfo" (a very popular rowing competition taking place the first Sunday in August). We are currently planning to integrate the offer to our guests with trips in our private boat to the Golfo dei Poeti. It's the best way to appreciate its natural beauties.
Il quartiere umbertino è il nucleo storico di La Spezia. Molti dei suoi palazzi, compreso il nostro, hanno più di 150 anni.
Guido is very nice. He picked us after midnight and gave us many suggestions about our trip. His flat locates in a good place which is closing to seaside and train station. The facilities in the room are very good. These all make us feel warm after many train transfer on the way to La Spezia. I'll go back.
Bella
2012-04-12T00:00:00Z
We liked staying in Guido and Roseannes charming apartment so much that we stayed an additional day. The apartment is perfect for a visit to Cinque Terre or Portofino and San Margherita!
Sandy
2012-05-23T00:00:00Z
Guido was the perfect host. He even met us coming from the train station. The instructions to find his place were accurate and he explained everything well. His accommodation was very comfortable, clean and user friendly. His information about how everything worked and about the area was detailed and helpful.
Diane
2012-07-06T00:00:00Z
Guido is an accommodating host who speaks excellent English. We had to advise of a delayed arrival time and he was very flexible and understanding about this. The kitchen is fully equipped except for microwave and the apartment is very centrally located and clean and secure. The train station is 5 minutes' walk but those arriving by car should note that there is no parking on site ; Your best bet is to park in the underground car park at the station unless you are lucky enough to find street parking. Try to avoid arriving in the rush hour period from 4 to 7.30pm as it gets extremely congested in the single lane tunnel access which you can't avoid.
Marianne
2013-09-20T00:00:00Z
We stayed only one night, in fact only a few hours to sleep, but we found it very clean, spacious and confortable. Everything as it is said in the site. Very thoughtful guest, leaving leaflets of tourist information in the flat. We didn´t meet Guido but the lady who welcomed us was very friendly.
Gabriel
2014-04-01T00:00:00Z
A wonderful place to stay if you are visiting the cinque terre The apartment is in a fantastic location and it was much better staying in la spezia than in the five villages. Apartment is wonderful and Guido is a great host. Highly recommend the apartment and the cinque terre.
David
2016-04-01T00:00:00Z
TRULY AMAZING I had to drop my luggages due to my early arrival, he kindly let us leave the bags in his garage and gave us lots of recommendations to go around cinque terre. Not only that, the place is huuugeee. I think about 6people can stay with no stress, even 10ppl could fit it. Hahhaha Also there is a small supermarket right below. I defiantly recommend Guido's place, my dad wanted to stay longer in cinque terre just because Guido's place was amazing hahah Thank you so much for your kindness and your hospitality! I will defiantly come back
WooJung
2015-06-17T00:00:00Z
Guido was extremely helpful and friendly. He also accommodated our request to check in early and leave our bags in the apartment so that we could head over to Cinque Terre as soon as possible. Would definitely recommend this to our friends!
Jason
2014-11-23T00:00:00Z
Room Type
Entire home/apt
---
Property Type
Apartment
---
Accommodates
7
---
Bedrooms
La Spezia, Liguria, Italy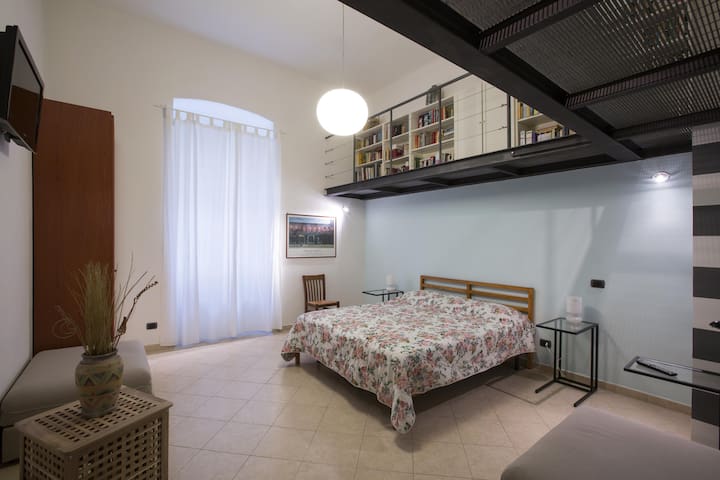 For a long experience, we recommend a medium stay of 3 nights.
We propose to rent in a typical apartment of approx. 75 sqm. 200 meters from the sea, parking, hiking trails and from the train station. Typical ligurian house tower from the 2nd to the 4th floor with a balcony ( with table and chairs ) with view on the village Riomaggiore. You can rest in two double bedrooms ( or 4 single beds ). We can arrange another single bed or a baby bed in the rooms or in the living area. The kitchen is fully equipped and has a living area with sofa bed. Bathroom with shower completely renovated in January 2013. The apartment is furnished in a homely atmosphere. Supply of towels and linens, ceiling fans or desk, hair dryer, central heating. The kitchen is equipped with stove, refrigerator with large freezer, electric ovens, tea, italian and american coffee. Possibility offer parking area in the country to 10 euro/day. Riomaggiore is closed to traffic; it can be accessed only at certain times. The price is from 75 euros for 2 people. Each extra person from + 25 euros. Starting from March 2015 the Municipality of Riomaggiore has established the tourist tax. The tax is applied from March to October. Amount: 1 euro/person per night for a maximum of 3 continuative nights. Exemption: minors up to 10 years of age. We are open from March 20 to October 31. The apartment is very bright and is located in a quite and central area, close to the main street, with shops, restaurants and other services in the range of about 100/200 meters. All accessible on foot. The apartment is located in a stategic area of access to all services and beauty to visit. Type one of a kind. Small pets are allowed.
Via Matteotti is a small typical street behind the main street via Colombo. It's a very quite place to stay and...for good sleeping...Really few meters far from the centre. The balcony has a wonderful view on the ancient part of Riomaggiore, to the green and the castle.
Maurizio is an excellent host! He helped us get parking for the car, pointed out the stores, restaurants and sites. The town is lovely and the apartment is too. A very nice, off-season stay!
judith
2016-11-07T00:00:00Z
Apartment was fantastic. Great location and looked just like the pictures. Maurizio was a great host who replies to inquiries very efficiently and gave great recommendations for restaurants around the area.
Conor
2015-07-23T00:00:00Z
Marizio met us at the Bar Centrale just like we discussed. He kindly carried my luggage up all the stairs to the lovely apartment... Yes, there are many stairs, but anywhere you stay in Riomaggiore will have lots of stairs! The multi-level apartment was excellent for my husband and I. The bathroom may be a bit small for a family but perfect for a couple. The bedroom is spacious and has an excellent ceiling fan to keep you cool during the hot days. The kitchen is well equips and perfect with a small lounge area. The balcony off the kitchen is perfect to enjoy some evening sun and a glass of wine. We also used the small clothesline to hang our stuff to dry! Great stay, great apartment! Would def stay here again and recommend it to friends and family!
Erica
2014-09-17T00:00:00Z
Maurizio was a fantastic host! He was so friendly and welcoming and gave us lots of information and tips to help us get the most out of our stay. The house was beautiful and I didn't want to leave. Thanks again Maurizio I hope to come back again in the future :)
Josie
2015-04-13T00:00:00Z
Maurizio's home was wonderful! I highly suggest staying in one of the 5 Cinque Terre towns and if you should choose to do so, please consider a stay with Maurizio. The apartment is true to the photos and the town is even more beautiful in person (probably the prettiest or a very close second of the five). As far as Maurizio's attentiveness, he was so incredibly gracious! He gave us clear instructions on the meeting point from the beginning and was very responsive every time I needed to be in touch. He even helped us with our bags up to the apartment (you will greatly appreciate the help)! I also injured my ankle while there and he even called the local doctor to make sure he was in when I went to see him. That was a step above and beyond! One note for everyone looking to book, please do try to heed his warnings about bags. The less is better as there are some length of steps leading to the apartment as well as in the apartment itself. It doesn't detract unless you are not very mobile (or strong) - speaking from experience on this one. :P Maurizio, my family and I greatly enjoyed our stay in your beautiful home. We highly recommend it to anyone who would be interested! Grazie Mille!
Alexandra
2016-05-23T00:00:00Z
Maurizo was very welcoming and carried cases to the apartment and had some fresh water available for us. The apartment was beautifully presented and very clean with high quality linen and fittings. The location was very central, however steps could be a challenge for some people. We loved staying in this apartment and would recommend this apartment to all. Thank you Maurizo.
Colleen/Peter
2014-09-07T00:00:00Z
Really nice apartment at a central place. Maurizio explained very good the way to the meeting point and everything important to know in the apartment and gave us good recommendation for restaurants. I would definitly stay here again.
Natalie
2014-07-23T00:00:00Z
My wife and I have just spent four nights at Maurizio's appartment . We what can I say ? From the first moment you meet Maurizio, you are at ease. He is just the kindest friendliest man we have met, in many years of travelling . Nothing was too much hassle or effort for him. The app was in the best spot in town, just off the main drag, right in the action. Close to all the eateries , shops ect. Very clean house, comfy beds, lovely balcony, all the kitchen gear you need.It was just perfect for us. I would recommend this place to anyone. Thanks Maurizio , you helped make our stay memorable !
David
2015-05-16T00:00:00Z
Room Type
Entire home/apt
---
Property Type
Apartment
---
Accommodates
6
---
Bedrooms
Riomaggiore, Liguria, Italy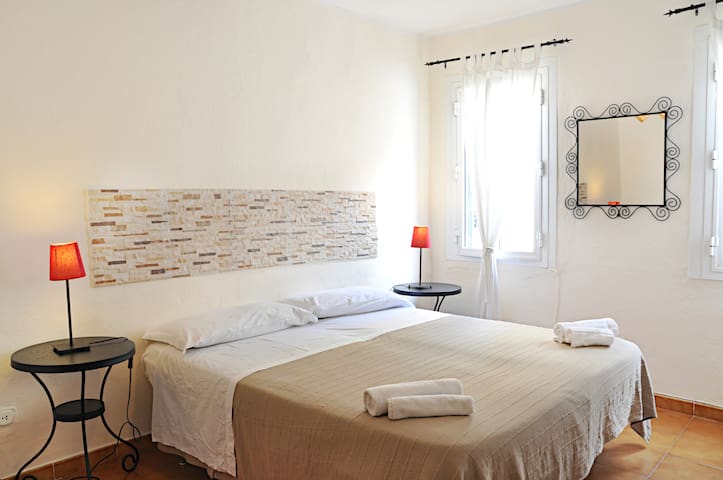 Room with an Amazing seaview from the private terrace.
If you want to enjoy the peace of the nature and stunning views, then this room could be the solution to your requests. A spacious apartament where is possible to have 2 double beds or a double plus 2 single beds, wardrobe, refrigerator, private bathroom with the shower and a large private terrace with an amazing sea view. We'll provide you towels, sheets, shower gel, hairdryer. The room can accommodate four persons. It remains at the beginning of the footpath from Vernazza to Corniglia, 5 minutes of stairs from the center of Vernazza, the same distance from the sea, beaches, bars, restaurants, markets and train station. Because there are 5 minutes of stairs to get to the house, I recommend bringing small bags or the bare essentials. Another option might be to use the baggage transfer service from the station in Vernazza (running in high season from early April to early November) or you may have the chance to store the luggage in Vernazza at the railway station in a deposit running in high season from early April to early November or at the railway station of La Spezia Centrale that is open all year long.
Andrea was very welcoming. The description about the location and view is absolutely correct. It has an awesome view from the terrace. There are few steps to reach to this place but its not much. Location is probably in the middle of coast and railway station. Andrea was also helpful in recommending the places to see and eat. I would highly recommend to anyone looking for a place with great view.
Sorabh
2014-10-15T00:00:00Z
After a short walk up some stairs (s Wife who showed us to our place. The room is a no-frills type of the room that has the basics for a short stay. The highlight is the terrace, with an AMAZING view of Vernazza and the water. Most of the time you would either be exploring the town, hiking, so the room is perfect for that. The terrace is great for morning, sunset and seeing the stars at night, really has to be experienced to be understood.
Wil
2016-06-27T00:00:00Z
Really wonderful view. The patio looks out over the ocean and is truly beautiful. The hike up is a long one the first time you do it, but you'll get used to it very quickly. Vernazza is a town of up and down. The apartment was functional, aside from the cooling situation. The weather was brutally hot when we were traveling and the lack of a screen door was really uncomfortable. There are a lot of winged insects in the area. Unfortunately only a single window had a screen, so getting airflow was really difficult and the bedroom just baked (even with fans on).
Mike
2015-07-24T00:00:00Z
First Airbnb experience and it was great! Best part about this spot is the view. My friends and I were in love with the view from the terrace. It was our own private terrace right on the edge of the cliff overlooking the town and coast. Andrea was a lovely host. He met us at the train stop and was super nice and helpful!
Jenn
2016-02-17T00:00:00Z
Amazing view!!
Amanda
2017-03-17T00:00:00Z
The photo on th ad does not do the view justice! It is a good hike up uneven stairs to get up there - but the apartment was great. It was easy to meet with the host and be shown to the apartment. The apatment its self is small but confortable. We only stayed 1 night as we were touring Italy.
Rebecca
2015-07-08T00:00:00Z
The views are exactly as depicted. Andrea's apartment was a mich needed respite from big city touring. The place is quiet and safe. We even slept with the door open for the sea sounds and breezes. The journeys between villages is worth the effort. Be forewarned... it requires some effort to get to this apartment. You must be able to climb many flights of steep stairs to get there. But it is so worth it!! Also, the bed is upstairs but the bathroom is downstairs which isn't unusual for Europe in general anyway.
Christine
2016-01-22T00:00:00Z
The place very well addressed our needs.
New
2015-05-24T00:00:00Z
Room Type
Entire home/apt
---
Property Type
Apartment
---
Accommodates
4
---
Bedrooms
Vernazza, Liguria, Italy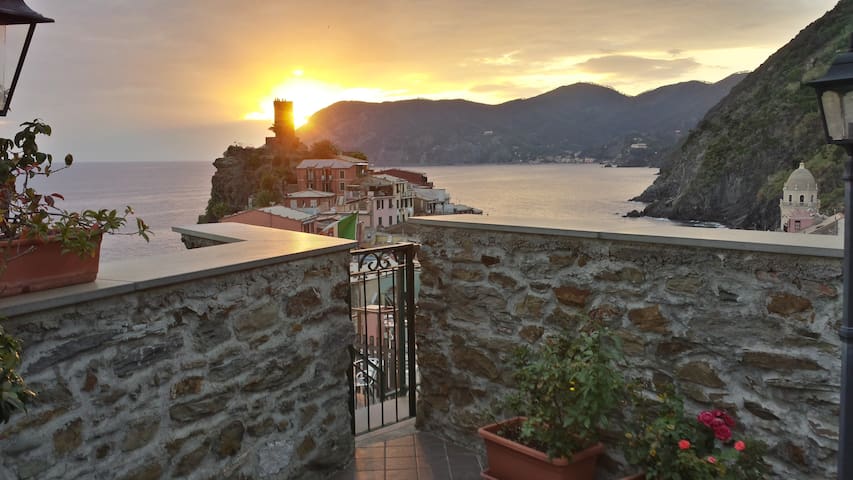 Appartamento accogliente a 20 minuti dal Parco Delle Cinque Terre e dalla Lunigiana, con terrazza panoramica ottimo punto di partenza per visite a Genova ,Pisa, Firenze. puo' ospitare comodamente sino a quattro persone.
Grazioso appartamento con ingresso indipendente a 20 minuti dal fantastico mare di Portovenere e dal Parco delle Cinque terre. Ottimo anche per visitare la bellissima Lunigiana. A pochi passi la fermata delle corriere avrete a disposizione i mezzi per muovervi liberamente. Noi saremo sempre a vostra disposizione per qualunque informazione e necessità. Godetevi la rilassante vista panoramica dalla terrazza mentre gustate un aperitivo a fate colazione.
Il paese in cui si trova l'appartasmento è molto tranquillo,ma fornituto di tutto,da supermercati a banche
Room Type
Entire home/apt
---
Property Type
Apartment
---
Accommodates
4
---
Bedrooms
Bolano, La Spezia, Italy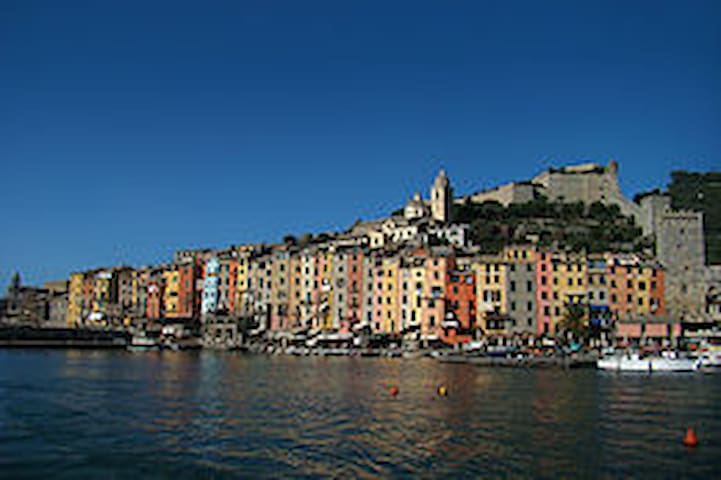 Caratteristico appartamento a 50mt dal mare, al secondo piano in una tipica casa di pescatori genovesi dei primi del '800. Situato sulla via principale tra Genova Quinto e Genova Nervi, un incantevole borgo del Levante genovese. Ottima base per visitare Genova e le meravigliose Cinque Terre. Il delizioso arredamento unito alla splendida vista mare e alle spiagge di fronte, ne fanno un luogo ideale per un soggiorno romantico sul mare, senza rinunciare a bar, ristoranti e negozi sotto casa.
L'appartamento comprende un ingresso con salottino e divano che diventa letto singolo con vista mare, cucina open space, camera da letto con letto matrimoniale e splendida vista mare, bagno con doccia. Camera da letto e sala con vista mare, cucina e bagno con vista su caratteristico vicoletto e collina. Ideale per coppie che vogliono godersi una vacanza al mare, in completo relax, senza rinunciare alle comodità della città. La casa si trova sulla via principale e quindi animata da bar, ristoranti e percorsa dai mezzi pubblici. Direttamente sotto casa quindi si trovano diversi negozi tra cui: farmacia, supermercati, edicola, alimentari, panifici, ristoranti, pizzerie, gelateria/creperia, oltre che diverse spiagge con baretti per ottime colazioni e aperitivi sul mare. Ma soprattutto aprendo il portone e attraversando la strada ci si ritrova direttamente sulla spiaggia. Il rinomato porticciolo di Nervi si trova a 5 minuti a piedi dalla casa e, attraversandolo, si giunge sulla famosa passeggiata Anita Garibaldi da cui si vede il golfo di Genova fino a Portofino. Inoltre proseguendo la passeggiata Anita Garibaldi per circa 15/18 minuti, ci si trova nello splendido Parco di Nervi. Infine a 500 mt dalla casa si trova la stazione ferroviaria di Quinto al mare, raggiungibile in 7 minuti a piedi. La stazione di autobus e treno si trovano a soli 3 e 7 minuti a piedi, per raggiungere facilmente le altre mete liguri da visitare in giornata: Chiavari, Rapallo, Camogli, Santa Margherita e Portofino, oltre alle immancabili Cinque Terre. Spiaggia libera di fronte a casa. La casa è dotata di: lenzuola, asciugamani, coperte, cuscini, piatti, bicchieri, posate, tazze, tegami. La cucina è fornita di elettrodomestici base: frigorifero, piano cottura, forno a microonde e bollitore. Inoltre è possibile usufruire del televisore e del lettore DVD. I vari consumi (energia elettrica, gas, acqua) sono compresi nel costo di affitto.
Nervi è un incantevole borgo del Levante genovese famoso per le bellezze naturalistiche e la mitezza del clima. Il quartiere di Nervi è situato sul mare: nei mesi estivi si può scegliere tra scogliera o spiaggia di sassi a poca distanza dove prendere il sole e fare il bagno. Dal porticciolo partono traghetti per Camogli, San Fruttuoso e le Cinque Terre In un circuito quasi completamente pedonale e lontano dalle auto e'possibile partire dal nucleo storico del porticciolo e, percorrendo la passeggiata Anita Garibaldi, raggiungere i parchi dove, attraversando il roseto, si raggiungono le ville patrizie sedi della Galleria d'Arte Moderna delle raccolte d'arte Frugone e Luxoro. Uscendo dai parchi verso il paese e' possibile scegliere se arrampicarsi per i viottoli che portano alla panoramica spalliera di S.Ilario o, dopo la visita alle botteghe dei pittori, incamminarsi verso il centro. Qui è possibile decidere ancora se ritornare in passeggiata percorrendo l'elegante viale delle Palme o se continuare per la via principale dove lo shopping e qualche richiamo di gola sono tappe quasi obbligate. LA PASSEGGIATA a mare, lontana dal traffico e adagiata sulla scogliera, si snoda per circa due chilometri "raccordando" il porticciolo con lo scalo di Capolungo. Scendendo dai numerosi accessi si puo' accedere alla scogliera e nella stagione estiva gli stabilimenti balneari consentono un tuffo in mare e nelle piscine ricavate tra gli scogli o in mezzo agli ulivi. La sera è possibile assaporare piatti di pesce e focacce in locali sul mare. La passeggiata confina per circa meta' del proprio tragitto con i parchi ed il roseto ai quali e' collegata da diversi passaggi. I PARCHI: alle spalle della scogliera, un elegante raccordo di 100.000 metri quadrati tra i monti ed il mare. Tra le palme o all'ombra dei pini marittimi è possibile passeggiare godendo la fioritura del roseto che si prolunga da Aprile fino a Novembre. Inoltre i parchi di Nervi ospitano: la raccolta Frugone nella seicentesca villa Grimaldi, il museo d'arte moderna di villa Serra e la dimora-museo di villa Luxoro. E' il più grande parco urbano sul mar Mediterraneo, dove la flora mediterranea si unisce a piante esotiche e tropicali. Ingresso Gratuito. Indirizzo: Via Capolungo, 1, 16167 Genova / Tel. (PHONE NUMBER HIDDEN) / (URL HIDDEN) Orari: Gennaio-Febbraio 8,00-17,30; Febbraio-Marzo 8,00-18,30; Aprile-Agosto 8,00-19,30; Settembre 8,00-18,30; Ottobre 8,00-17,30; Novembre-Dicembre 8,00-17,00. IL PORTICCIOLO E CAPOLUNGO: Sono i due estremi della passeggiata a mare e Il porticciolo e' il cuore storico di Nervi: le case coloratissime, la spiaggetta, i pergolati e le piccole barche "posteggiate" sulla banchina sono raccolti tra due speroni di roccia sui quali vegliano, arroccati, il castello da un lato ed il collegio Emiliani dall'altro. All'altro capo, dopo aver percorso i due chilometri di passeggiata si raggiunge lo scalo di Capolungo un micro borgo con le case sulle rocce e gli scorci sulla scogliera o sui giardini delle ville a picco sul mare. Da quest'angolo tranquillo e raccolto e' possibile risalire verso villa Luxoro passando davanti alla stazione di S.Ilario, quella di Bocca di Rosa. (famosa canzone di Fabrizio De Andrè). S. ILARIO E LE ALTURE: Le "creuze" (salite di mattoni e pietre) che si arrampicano alle spalle di Nervi permettono di raggiungere S.Rocco e S.Ilario da dove partono panoramiche passeggiate a mezza costa o sul crinale e da cui è possibile godere di uno splendido panorama sul golfo Paradiso e, nelle giornate di tramontana, scorgere le sagome di Corsica e Capraia.
Fantastic location, cute and cosy apartment with a lovely host Erika. Nervi hot spots within 5-10 min walk, super breakfast place opposite on the street. We made trips to Monte Carlo, Sanremo, Bossana Vecchia, Pisa, Portofino, Cinquterre, - all available from this place within 1-2 hours by car. So many memories... Absolutelly recommended!!! :)
Diána
2016-08-23T00:00:00Z
What a great place and a beautiful location! The place was clean and Erika was very helpfull to us.
Cas
2016-07-31T00:00:00Z
We had a nice trip there, the nearest town, Nervi, is really cute and you can have a nice walk along the sea, quite romantic! Genova center is a bit far but the bus stops right next to the house!
Frédérique
2017-02-12T00:00:00Z
Convenient city location with easy access to Genoa (city) and in my case time spent in Camogli, Portofino and the beaches - so beautiful being at the ocean and the weather was perfect. Mrs E was helpful getting me orientated to the flat and neighbourhood.
Jennifer
2016-10-11T00:00:00Z
Amazing apartment and a fantastic host! We stayed here for 5 nights, a great location with one of the best gelato cafes we have ever been to directly across the road..and the views, they are absolutely stunning! We had the best time. Erika was fantastic and went above and beyond for our stay along with her friend who greeted us there and her husband. We would love to return at some point. Thanks Erika!
Carla
2016-09-30T00:00:00Z
Erica was an amazing and accommodating host!
Danila
2016-09-23T00:00:00Z
Erika has a nice appartment close to the see. The apartment is modern and well equipped. Across the road there are nice places to eat, and opertionities to enjoy the see. It is a lively part of the city. This can make some noise, especially noticeable with the windows open. Erika has provided me with a lot of tips what to do, where to eat and how to travel. All considered the place of Erika has a lot to offer at an sharp price.
fedor
2016-09-22T00:00:00Z
Welcomed and shown the flat
Phil
2016-11-10T00:00:00Z
Room Type
Entire home/apt
---
Property Type
Apartment
---
Accommodates
3
---
Bedrooms
Genoa, Liguria, Italy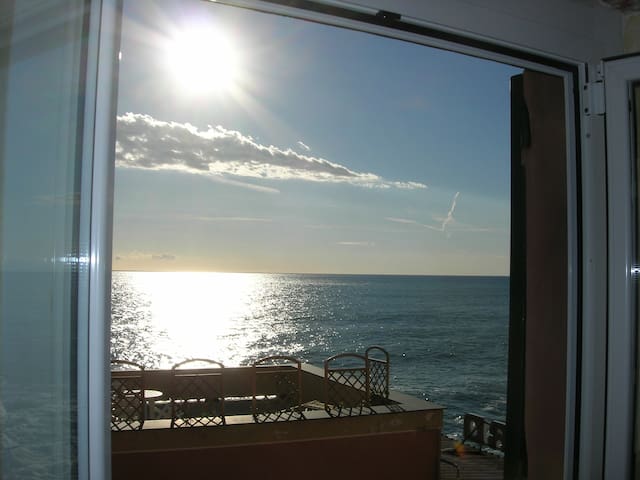 Room with an Amazing seaview from the private terrace.
If you want to enjoy the peace of the nature and stunning views, then this room could be the solution to your requests. The room is small, but anyway has his double bed, wardrobe, small refrigerator, private bathroom with the shower and a large private terrace with an amazing sea view. We'll provide you towels, sheets, shower gel, hairdryer. The room can accommodate two persons. It remains at the beginning of the footpath from Vernazza to Corniglia, it remains 5 minutes of stairs from the center of Vernazza, the same distance from the sea, beaches, bars, restaurants, markets and train station. Because there are 5 minutes of stairs to get to the house, I recommend bringing small bags or the bare essentials. Another option might be to use the baggage transfer service from the station in Vernazza (running in high season from early April to early November) or you may have the chance to store the luggage in Vernazza at the railway station in a deposit running in high season from early April to early November or at the railway station of La Spezia Centrale that is open all year long.
The host, Andrea, had very good communication with us after booking the room, and also as we neared the actual visit. He provided us with very clear instructions on how to find the property, and actually met us at the Vernazza train station to accompany us to the property. Very helpful and professional! The property has the best view in Vernazza--with two terraces--the view is to the west, so you can catch the sun in the afternoon, and then watch the sun set. We will certainly return to this property when we re-visit the Cinque Terre area!
Stuart
2016-03-17T00:00:00Z
The views from this room are spectacular. We stayed for just one night and it was perfect -- comfortable bed and a warm shower. The room is very small but has everything we needed, plus a beautiful terrace. It was a pleasure to meet Andrea and he was an excellent host.
Tom
2015-03-13T00:00:00Z
Phenomenal view from terrace!
Carol
2016-06-02T00:00:00Z
Andrea was a very gracious and helpful host. Location amazing and what a view!!! Hike up was long as described but so so worth it. Supermarket is 5 minute walk down the stairs and by the train station if you need anything. Room was as described - very small (cozy!) - and the WC was nice , very clean. No issues with water pressure. The terrace was by far the most spectacular view I have ever come across. Would easily stay here again if I return yo Cinque Terre.
Seth
2014-08-27T00:00:00Z
Andrea met me and my fiancee at the Vernazza train stop on a Tuesday afternoon and was very friendly and helpful with information about the surrounding area as well as places to see and eat. The hike to the room from the train station was pretty strenuous (at least for us), even with the relatively small amount of luggage we had. Andrea was kind enough to help us with our luggage. For those of you who don't like walking up a lot of stairs or tend to carry a lot of luggage with you, this is something worth considering. When we got to the room, the walk was well worth it for the view. The balcony (quite big) outside the room has a beautiful view overlooking Vernazza and I would highly recommend the room to anyone who wants to wake up to one of the most scenic views in Cinque Terre. The room and amenities were quite modest and are probably best suited for a couple that travels light. However, the room itself was quite clean and we didn't have any issues with it. Also, something else to keep in mind is that since the room is so high up the mountain, there's not a ton of lighting available towards the top at night. Make sure you have a flashlight on your phone!
Danny
2016-03-10T00:00:00Z
We stayed at the Rustico Picollo for 3 nights, overall an amazing experience. The accommodation was beautifully located on the Cinque Terre trail high above Vernazza. The views were spectacular, the atmosphere unforgettable. Andrea's Father helped us with our luggage up the 259 plus steps. Guests need to be aware that it is a long way up and a long way down, so you need to take everything you need with you. We highly recommend this place.
ALICJA
2013-06-13T00:00:00Z
My friend and I have a very good sea view in Andrea's room. There is a very beautiful garden and the room is clean and cozy. Since this room is at the top of the hill, we have to go back to our home early in the evening (the first night we went back home at 8:00 pm, there was no light at the last path, we got a lot of fear when walking back.) So if you want to spare your time in the evening, better to download some movies and kill the time. Overall, thank you, Andrea, to offer us this room!
Sophia
2014-01-13T00:00:00Z
Andrea is very kind and nice, the room is on the top of the village so he help us for the luggage. It's really perfect view of Vernazza. But if you have heavy luggage and only live one night may considerate seriously, cause the most of time you are outside. If you plan to saty at home for daytime then here woukd be a good choice. The hot water system was broken when we live, and it's really dark in the night so noboday can fix it. Hope to check it in advance for the further guest. Anyway, Thank you for your hospitality, Andrea.
Tracy
2015-12-28T00:00:00Z
Room Type
Entire home/apt
---
Property Type
Apartment
---
Accommodates
2
---
Bedrooms
Vernazza, Liguria, Italy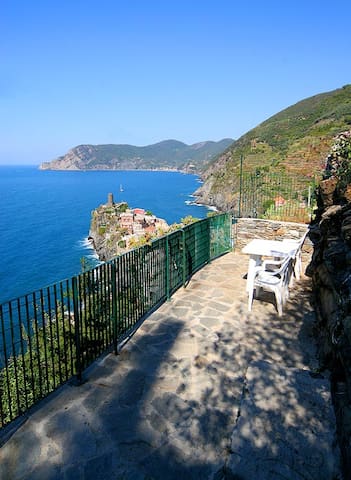 Apartment located in a building in LERICI on the second floor of 1400 with a beautiful balcony overlooking the medieval square suitable for families with children easy to reach from the station and convenient as a starting point for the five lands
The apartment looks out on the balcony with a beautiful medieval square in 1400 in the heart of Lerici base for 5 Terre, Portovenere, Portofino the apartment is furnished and tastefully renovated with frescoed ceilings comfortable within walking distance from the bus stop (atc spice) for spice and sarzana
1) during the winter count consumption separately (cost € 6.00 per day) to stay longer than 2 days from 3 days in the summer period 15 / 06- 15/09 minimum stay 7 days 2) real-time: (website hidden) 3) PAECHEGGIO THE VALLEY: pay online Option 1 calls (phone number hidden) Option 2 download app Easypark AREA CODE 630 from 1 October to 30 April to pay Saturdays and holidays from (phone number hidden) cos(URL HIDDEN)free from Monday to Friday from 1 May to 30 September from (phone number hidden) cost € 1.50 / h
I can report witH confidence that this will likely be your favorite air B and B! It's a lovely picture but the real life apartment is even better! The owners are kind, genuine and ideal hosts.
Melinda
2016-09-23T00:00:00Z
The apartment was in a fantastic location and was a beautiful place to stay. It is in a small square just off the main Piazza Garibaldi. This meant we avoided the craziness of the main drag but still had the life of a small square with few restaurants below us. We had a balcony where we could sit with an aperitivo watching the world go by. The apartment was furnished beautifully, clean, and had everything we needed. Maurizio's mum was very helpful during our stay and despite no mutual language shared, we got through just fine. The parking situation isn't great - I had to park the other side of town in the main beach car park - however this is the case for the whole of Lerici and just cannot be avoided. Maurizio (& mum) is very helpful with providing parking tickets which gives parking at a reduced rate.
Stephen
2015-09-05T00:00:00Z
It is paradise! We wouldn't leave. The pictures can't give you the hole charisma it has. We felt very comfortable and had everything we need in the middle of Lerici. It is everything around the accommodation and Maurizio's tipps for restaurants are great! He told us a wonderful place for swimming. It was amazing!THX
Pia
2015-10-01T00:00:00Z
The apartment was perfectly placed near the main area but just nicely out of the way. The area is stunning and the people were awesome. We met Maurizio's mother who was really nice and she welcomed us into the apartment. I can't wait to return with my fiancé in the summer.
Stephen
2015-12-08T00:00:00Z
The place is just as described and photographed, and the location is delightful. Mauricios mum was so kind and friendly and the check in was completely hassle free. There are loads of things to see and places to go in walking distance (so come by public transport if you can), but the place is still quiet in the evenings as the square was not noisy at night. The kids loved to sit on the balcony and look down at the folks eating and playing cards in the square.. We had a lovely few days in Mauris place.
Gareth
2016-09-01T00:00:00Z
Maurizio was there to receive us and made us feel really welcome. The neighbourhood is superb, right in the centre of this beautiful resort. Everything was as described.
John
2015-08-05T00:00:00Z
Maurizio is very helpful and welcoming. The house is in perfect location, at centre of the town and very well maintained The private parking is little away but walkable. Definitely recommended stay.
Naveen Kumar
2015-05-08T00:00:00Z
Maurizio has been a great host . Very easy to contact , helpfull to park the car . The flat is absolulty fantastic , better than on the picture , and the area is lovely . I warmly recommend this place. Joan .
joan
2015-10-20T00:00:00Z
Room Type
Entire home/apt
---
Property Type
Apartment
---
Accommodates
4
---
Bedrooms
Lerici, Liguria, Italy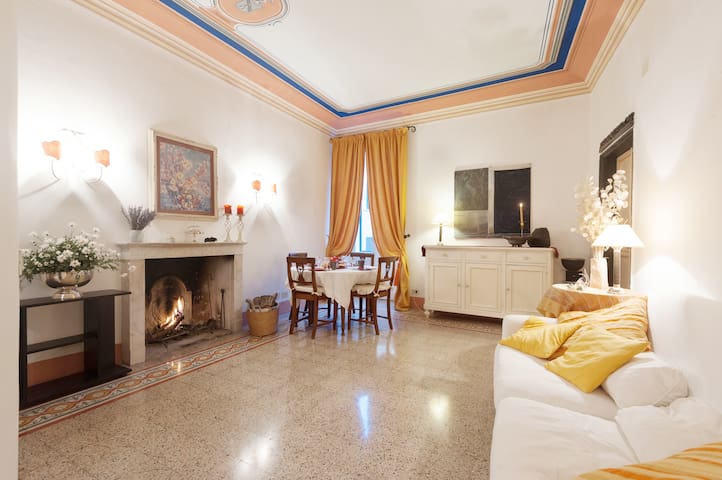 Charmant gîte situé à la pointe du Cap Corse, tout équipé avec piscine privative.
My gite is situated in one of the most beautiful regions of Corsica the "Cap Corse" intensify, you will accommodate in a old house dating the beginning of the 14th centuries completely redone in new this year right in the heart of the village of Rogliano unless ten minutes by car beaches and businesses, you will stay in one of the most active marine of the "Cap Corse" ideal for the young couples as well as for the oldest the atmosphere and the being lacking activities: gone hiking, sail, dive, or simply relaxation by the sea will find what you are looking for to you there certainly. Of a surface about 75m ² for a capacity from 2 to three persons maximum (couple with a child). The gite is established(constituted) by 3 levels (completely new): -Ground Floor(Floors): entrance(entry), lounge(show), buanderie. -1st: cooking(kitchen) - 2 nd: room(chamber), room of bain You will also have a direct access to a swimming pool and to a terrace where from you will have a fantastic view over the sea and the montains. Tarifs a week: - except summer season 450 euros, summer season (in July-aout): 900 euros.
Great place with lovely terrace and exceptional views. The house is quite remote, but the terrace with the pool is an amazing place to relax. Arthur was very helpful in directing us to the house and meeting us there to check that we had everything that we needed. Lovely trip - thank you very much.
Megan
2015-05-09T00:00:00Z
Really lovely gîte, perfect for a couple – spacious yet still intimate, with lovely details like a spiral staircase and exposed stone wall. Absolutely picturesque surroundings, but quite far from local amenities in Macinnagio so best if you have a car or don't mind spending money on taxis. The roads in Rogliano are narrow and winding, so probably not great for inexperienced drivers. There are stunning views of the rolling hills from the private courtyard/pool area, and amazing stars at night! Arthur was a good host – communicative and amenable, while respecting our privacy while we were there. We would recommend the place!
Vicky
2014-10-29T00:00:00Z
The apartment has everything to offer and looks like pictured and described. The view from the terrasse is simply fantastic. Arthur is a really nice and helpful host. Thanks a lot!
Elias
2016-03-23T00:00:00Z
Arthur is a great host. We were delayed on our arrival and he waited for us until 9:30 pm to show us the way to his property. He personally showed us the location of the house, which would be very difficult to find otherwise. His property is very unique and comfortable, in beautiful location on the Cap Corse. I would highly recommend anyone to stay with Arthur.
Rishi
2016-05-24T00:00:00Z
Beautiful and stylish private house in the mountains of Cap Corse with a great view from your own terrasse with swimming pool. The house is located in 10min driving distance from the harbour of Macinaggio (supermarket, shops, bars, restaurants) in the hills of Rogliano. If you like something very special and typical for the region, this appartement is the right one for you. The pictures reflect reality - it's amazing. It combines the historical style of a Corse house with all the luxury of modern life (wellness shower, wooden terasse, sun beds, shower on terasse, fully equipped kitchen, Sat TV, etc.). Arthur is a great host: very friendly, supportive and always available via phone, quick help with any question, he lives next door. We really found what we were looking for: true Corse experience, far away from typical tourism, very quiet, the luxury of privacy and enough space to feel comfortable spending a week or more. Rogliano is an authentic village in the mountains. You can start hiking trips in front of your door and explore ruins from the middle age. One restaurant is in walking distance and for everything else you need a car.
Hannah
2015-06-13T00:00:00Z
Arthur's house is lovely. It is within a very old building, in a very old village. The area is very unspoiled and remote. The view is stunning & there is a beautiful swimming pool to use if the weather is good. This is the ideal place to unwind, relax and rest. The surrounding area is perfect for casual hiking or mountain biking. Driving around the Cap Corse, there are many beautiful things to see. There is a larger town within a 10 minute drive, with a great boulangerie, restaurants and a supermarket. We would love to visit again!
Morgan
2013-09-21T00:00:00Z
The place is awesome! Great pool, rocks in the living room and a nice design in every room, that makes you feel the love the owner has in the refurbishment of this old house. Enjoy the view from the pool-terrace over the mountains just to the ocean at breakfast and the stars at night but be also ready to climb some steep bends with your car ;-)
Stefan
2013-10-06T00:00:00Z
This gite is in quiet remote village called Rogliano, it is about 6km from the nearest shop etc. The hills are very steep and winding so you have to be fairly fit to walk up and down them. The gite itself is part of a very large house and has a fantastic view of the mountains and sea and the swimming pool is lovely. With regard to the accomodation, it is fairly basic. It is on three floors and you have to go up and down a very narrow spiral staircase,so it is impossible to get suitcases up to the bedroom, you would have to unpack on the ground floor. The living room is on the ground floor, kitchen and swimming pool on the second and bedroom and shower/toilet on the third. This accom is not suited to the infirm or elderly so make sure that you are able bodied! The kitchen has no oven only a hob so only simple meals can be prepared. Although the setting is stunning the gite is very simple and could have been better equipped.
lesley
2013-09-27T00:00:00Z
Room Type
Entire home/apt
---
Property Type
Apartment
---
Accommodates
3
---
Bedrooms
Rogliano, Corsica, France
Un appartamento completamente ristrutturato, al secondo piano, con un meraviglioso balcone sul mare. Comodo, confortevole, con un panorama straordinario sul Monte di Portofino e sul mare di Camogli.
Bruno is such a n energetic and happy host. We were greeted by Bruno at the port as we drove in from Venice. He helped find us parking and walked us to the apartment nearby. It is right on the ocean and the view really takes your breath away. The apartment was very clean and cute and well furnished. Bruno showed us how and where to operate the eminities. Suggested various restaurants, and things to do. I would highly recommend this host and his beautiful apartment and Camogli. Bravo Bruno,Grazi mille!
Rick
2016-06-12T00:00:00Z
This is just a perfect place for a vacation in Liguria!
Claude
2016-04-06T00:00:00Z
Beautiful apartment and village. We fell in love with Camogli. The apartment has everything you need for a stay. Bruno is very accommodating and very generous. He gave us recommendations with restaurants, transportation, shopping, and helped with luggage and parking. Bruno even gave us a lift back to the car. The view is outstanding. Thank you Ugo !!!!!!! I hope to see you in Chicago!
Olga
2015-09-24T00:00:00Z
Every thing was perfect.Bruno is a very nice person, very helpful ... He gave us all the good informations for a perfect stay in his house. Great place to stay Fantastic view Very confortable appartment
Marie Catherine
2016-08-12T00:00:00Z
Bruno was an exceptional host. His warm manner and engaging sense of humour was a delight. He was highly professional and responsive to all our enquiries prior to our arrival. He also met us at the train station on our arrival and accompanied us also on our departure. His apartment was clean light and airy and is above a promenade facing the beach. The views are stunning. He recommended places to eat, visit and the location of the nearest supermarket. Camogli is a hidden gem. It ticked all our boxes. Travelled as a family with 2 teenagers. Would highly recommend this stay. A highlight of our stay in Italy.
julie
2016-09-29T00:00:00Z
Bruno met us at the train station and gave us a mini-tour orientation to Camogli. He recommended some restaurants which were excellent. The apartment was just like that shown in the pictures. Everything was clean and worked. I especially enjoyed the balcony overlooking the boardwalk. Chemically is a lovely beach town. I would recommend staying at Bruno's place to anyone. This is the closest location to the Chinqua terra but doesn't have as many crowds. It easily connect via train and often boats. Grazie Mille Bruno!
Marla
2016-09-21T00:00:00Z
Absolutely AMAZING apartment and place. Camogli was our favorite village in the riviera. The apartment was everything we wanted and more. Bruno is absolutely accommodating and very generous. Gave us the best restaurants, chairs for the beach, towels, and helped with luggage. The view cannot even be described in words ..... One of the most amazing places and air bnbs. Grazie Mille Ugo !!
Christina
2015-09-08T00:00:00Z
Bruno is one of the kindest and friendliest hosts we have had. Nothing was a problem! This was such a fantastic place to stay - a beautiful jewel on the coast of Italy. The balcony is literally overlooking the main atreet looking straight out to sea. Couldnt reccomed it more and i would love to go back! See you soon Bruno!
Sarah
2017-02-26T00:00:00Z
Room Type
Entire home/apt
---
Property Type
Apartment
---
Accommodates
4
---
Bedrooms
Camogli, Liguria, Italy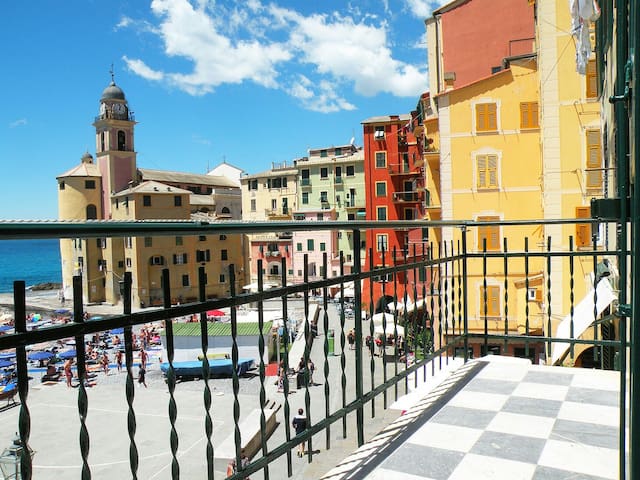 At 250 meters from the old town and the beaches, the apartment has a large living room with sofa bed, kitchen, two comfortable double bedrooms, bathroom and three balconies. Top floor with elevator and air conditioning.
Located 250 meters from the historic center and the beaches, the apartment has a large living room with sofa bed, kitchen, two comfortable double bedrooms, bathroom and three balconies. Top floor with elevator and air conditioning. Strategic location, just steps from the beach and the main attractions of Santa Margherita Ligure. Air conditioning and lift. The owner lives in an area adjacent to the apartment, so it will be available for any problem. The area is quiet , on one side of the apartment overlooking the pretty gardens of Villa Durazzo, it allows you to enjoy a great view of the green from two balconies and one of the two bedrooms . For lovers of the sea , Santa offers a variety of landscapes: sand , stones and rocks, coves and picturesque bathing vibrant and welcoming . For those who enjoy walks and short hikes , the surroundings of Santa Margherita offer numerous opportunities to discover rural landscapes , ancient villages and a sea view without pari.Riuscita fusion of nature and human activities , the Park of Portofino is a perfect example of a development landscapes with a long continuous as harmonious succession of natural ecosystems and crops , with an extraordinary diversity of environments, all to discover! Also recommended visits to Villa Durazzo , and the Abbey of Cervara. Do not miss a walk in the center among the many shops that offer Santa to a popular commercial excellence boutique or history of " big names " international , prestigious watchmakers and jewelers , modern and stylish sportswear stores or shoe ... Not only business elite , but also many shops which cover all needs of residents and tourists : Mouth-watering pastries , traditional focaccia and inviting , attractive perfume , food historians and new supermarkets , phone shops and computer ... But above all, the many , glorious and famous fishmongers, where to buy the delicious fresh fish from the Gulf of Tigullio and the extraordinary red shrimp Santa . The apartment is about 800 meters from the train station and 250 meters from the bus stop . Along the two streets that border the house there are public parking spaces , while at 150 meters you will find private parking . The famous square of Santa Margherita Ligure, Genoa heart of nightlife , is about 150 m . For young people is not to be missed an evening at the Covo di Nord Est , disco that has made the history of Santa Margherita , which opened in the summer on Wednesdays, Fridays and Saturdays . You can enjoy excellent dinners by the sea thanks to the many restaurants ( email hidden) advice, also , to do the Card Bike, where guests of municipal bicycles for the whole holiday , which will allow you to visit the magnificent beach of Paraggi and Portofino , the pearl of the East . For families , in addition to days at the beach , you can visit the Aquarium , the largest in Italy and the second in Europe. For sports lovers , about 600 m you will find tennis courts and football pitches.
La zona è tranquilla, su un lato l'appartamento affaccia sul grazioso parco di Villa Durazzo, ciò permette di godersi un'ottima vista sul verde da due balconi e da una delle due camere da letto. Per gli amanti del mare, Santa offre una varietà di paesaggi: sabbia, sassi e scogli, piccole insenature pittoresche e stabilimenti balneari vivaci ed accoglienti. Per chi ama le passeggiate e brevi escursioni, i dintorni di Santa Margherita offrono numerose occasioni per scoprire paesaggi rurali, antichi borghi ed una vista sul mare senza pari.Riuscita fusione tra natura ed attività umane, il Parco di Portofino è esempio perfetto di uno sviluppo di paesaggi con un tanto continuo quanto armonico alternarsi di ecosistemi naturali e coltivazioni, con una straordinaria diversità di ambienti, tutti da scoprire! Consigliate anche le visite a Villa Durazzo ed all'Abbazia della Cervara. Da non perdere una passeggiata nel centro tra i tantissimi negozi, che regalano a Santa un'apprezzatissima eccellenza commerciale: boutique storiche o di "grandi firme" internazionali, prestigiose gioiellerie ed orologerie, moderni ed eleganti negozi di abbigliamento sportivo o di calzature... Non solo commercio d'elite, ma anche tanti negozi che coprono ogni esigenza di residenti e turisti: golose pasticcerie, tradizionali ed invitanti focaccerie, attraenti profumerie, alimentari storici e nuovi supermercati, negozi di telefonia ed informatica... Ma soprattutto le tante, gloriose e famosissime pescherie, dove acquistare il buonissimo pesce fresco del Golfo del Tigullio e lo straordinario gambero rosso di Santa.
The flat looked just like the pictures but in reality the rooms were larger and fully stocked!
paula
2014-10-11T00:00:00Z
The apartment is even better than in the pictures - very convenient for a family with two children. A bright bathroom with terrace - fantastic! Gabriele is very friendly and helpful host, we did not have any problems at all. The location is very good, about 5-7 min to the beach by relaxing walk. Two supermarkets in one minute by walk, same for cafees and restaurants. Definetely recommended!
Andrey
2016-07-24T00:00:00Z
It's the best apartment we had in this trip out of three locations in Italy! We really loved this apartment , three balconies , well designed and decorated , good location,supermarket around, few min walking from the seaside....and Gabriele is super nice ,he helped us a lot, thank you! :-) it was amazing ! I would choose this apartment again if I come back to the town and I think I will ! :-)
Echo
2015-06-20T00:00:00Z
Gabriele was the perfect host, very nice apartment close to city center and marina. We didn't need a car. Apartment has wifi, very nice balcony views of Villa Durazo, would definitely return.
W Andrew
2015-05-23T00:00:00Z
Gabriele is the most helpful and charming host you could hope to meet. As with other guests, he met us at the train station and helped with our luggage to get to the flat. He is very prompt and courteous in every communication. The flat itself is spacious and well kitted out with everything you need. Location wise it couldn't be better - five minute walk from the best restaurants, supermarkets, cafes, the beach and the ferry port. Perfect for enjoying Santa and exploring Portofino, Cinque Terre etc by either boat or train. We would definitely recommend the flat and would not hesitate in staying there again.
Etem
2015-09-16T00:00:00Z
Gabriele met me at the apartment right on time and set up my internet connections and gave me instructions for the washing machine!
paula
2016-05-16T00:00:00Z
Gabriele's apartment was beautifully appointed and perfect for a weekend getaway in Santa Margherita. The location was ideal for exploring the city, the waterfront and Villa Durazzo. We enjoyed lunches and dinners out in the city and made breakfasts every morning in the fully-stocked kitchen. There was a lovely assortment of juices in the refrigerator, and most of the staples we needed for cooking and making coffee and tea. A grocery store was only one block from the apartment for everything else we needed. Beautiful views of the city and the adjacent gardens from every room, even the bathroom! Gabriele was a gracious and generous host. He sent information on the region prior to our arrival, including perfect directions to the apartment. He met us promptly to give us keys and a tour of the space. He was available via phone or text for any needs during our stay, and replied promptly to our questions. If we return to Santa Margherita again in the future we will definitely stay at Gabriele's beautiful apartment!
George
2016-01-19T00:00:00Z
We enjoyed our stay very much! Gabriele was very kind . Our stay was welcoming and comfortable. The apartment worked out well for us - we loved the location being close to the main attractions. We were able to have a few meals in the apartment and that worked out for our family - everything we needed was available. We also loved the park across the street.
Lisa
2015-11-21T00:00:00Z
Room Type
Entire home/apt
---
Property Type
Apartment
---
Accommodates
6
---
Bedrooms
Santa Margherita Ligure, Liguria, Italy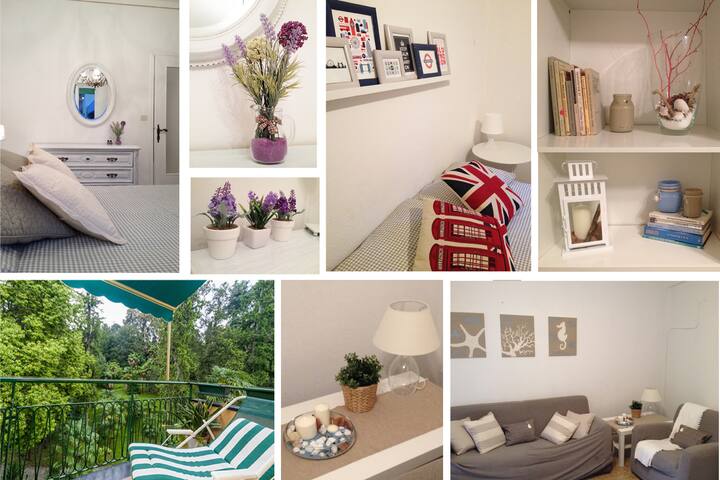 apartment living room and kitchen recently renovated
apartment living room and kitchen recently renovated
Pitelli is a village of rebellious tradition, its central location allows you to easily reach Lerici, Portovenere, 5 terre
Hi . Federico. Great to see u n stay ur sweet home. This place is best i ve been in italy . So warm n quite. I want be there again. If anyone visit there u can hear great italy country sound over windows.
성운
2015-10-26T00:00:00Z
Federica (Federico's sister-in-law) was very warm and friendly. We were treated with organic hand made (by Federica) jams, which we loved. I was also given vegan croissants, soya milk and the kitchen has a good espresso machine. The flat is clean, modern and welcoming. It is also located in a very convenient position, between La Spezia, Lerici and Sarzana, also very close to the Cinque Terre. At the same time, you can find peace away from crowds. I would definitely recommend this accommodation.
Pedro
2015-07-12T00:00:00Z
Federico is a true Superhost and deserves this title more than anyone on AirBnB!!! The room was in perfect condition, very clean and for breakfast he serves Home made confitures and honey from his families' farm. We were very lucky to visit Pitelli during The annual festival Pitei 'n Cantei. Federic Showed us around the village, acted as our personal guide and he had great tips for the area. He even took us from and to The station in La Spezia several times. If you want to experience true Italian Hospitality, get in touch with the real flavors of italy and if you're looking for an enthusiastic host and a great accommodation, Federico's Place is right for you. We, my girlfriend and I, Loved The stay and will definetly be in touch with this perfect host and nicest person, who Speaks good English and French by The way.
Felix
2015-08-10T00:00:00Z
After visiting Florence and Rome, I was ready for a quiet location to stay to see Cinqeu Terra. This was the perfect location to do that. The home was clean, comfortable and Quiet. If you stay here you must dine at the Pin Bon restaurant. The seafood is awesome and the value is unbeatable.
George
2016-05-28T00:00:00Z
The apartment was nicely planned out for a simple stay within a quaint hillside town overlooking La Spezia and Federico's family were great in providing us with breakfast including a lovely array of their own locally sourced honey and lots of local suggestions to visit. It was a comfortable base for a two night visit.
Simon
2015-12-07T00:00:00Z
Well-remodeled apartment. Nice and clean. Parking, great view. Don't forget to check Pin Bon restaurant (close by).
Elena
2016-06-11T00:00:00Z
Overlooking the countryside of La Spezia and the Bay of Poets is the little village of Pitelli. It was our host, Federico, who informed us of the many places to see in the area and we were able to optimize our trip with a quick visit to San Terenzo and Lerici. A fortified castle is present in each of the two towns and the promenade along the beach makes it easy to journey between them. Federico also recommended a delightful restaurant (Stralunà) that offers excellent service and food. Our apartment was modern and recently furnished. We were also given a little breakfast basket with homemade jams. The apartment was also not far from the parking lot at the entrance of the village. The highlight of our visit was a tour of the village provided by Federico. Unfortunately, had to leave early the next morning because we would have loved to stay a few more days in Pitelli.
Johannes
2015-06-09T00:00:00Z
We loved staying at Federico's place: the room was exactly as pictured, very clean and modern, and the facilities were great for cooking ourselves as well. He was helpful and showed us things to do around the area, and also left some breakfast items to use, which was really nice. We can totally recommend staying there to anyone!
Jemina+Ville
2015-10-25T00:00:00Z
Room Type
Entire home/apt
---
Property Type
Apartment
---
Accommodates
2
---
Bedrooms
Pitelli, Liguria, Italy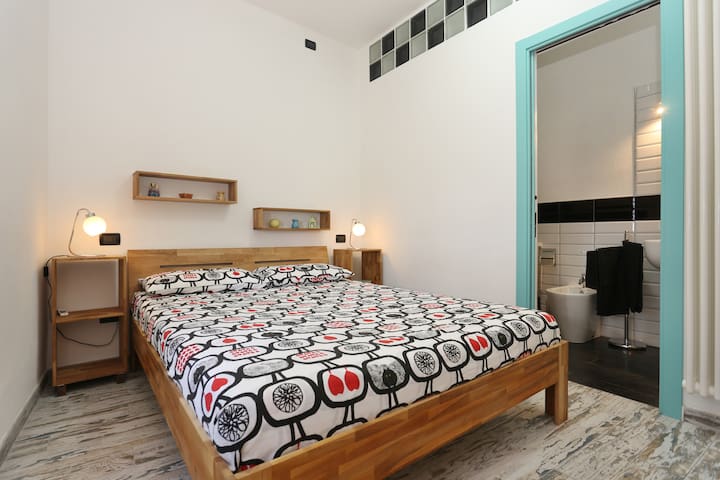 Vi sentirete come a casa nel grazioso e comodo monolocale nel pieno del centro storico a un passo da tutte le principali attrazioni turistiche della città (acquario, cattedrale di San Lorenzo, Expo, i carruggi). Vicinissimo metropolitana e linee bus.
L'appartamento è situato nel cuore del centro storico, nella zona più tranquilla e pulita, recentemente restaurata, ricca di ristoranti tipici e facilmente accessibile: la fermata della metropolitana dista 200 mt. (con la metro si raggiungono le stazioni ferroviarie di Principe e Brignole); (email hidden). si trovano le fermate di tutte le linee di autobus con cui raggiungere ogni zona della città e l'aeroporto grazie al servizio Volabus. Per chi arriva in automobile, tutto il centro di Genova è zona a traffico limitato, in cui possono parcheggiare solo le auto dei residenti. Nei pressi di Vico Boccadoro è possibile parcheggiare l'auto presso il Parking Marina a €15 al giorno a 5 minuti dall'(email hidden). si incontra Piazza delle Erbe, il luogo clou della movida genovese, in cui gustare l'aperitivo e una cena (email hidden). è situato il Museo di Sant'Agostino, in cui ammirare il chiostro medievale e le numerose mostre. A poche centinaia di metri si trova il complesso di Santa Maria di Castello. L'appartamento è a pochi passi dalla casa di Cristoforo Colombo e da Porta Soprana, la porta medievale di accesso alla città antica. A 1 km. circa a piedi si raggiunge l'Expo. Qui si può visitare il famoso Acquario di Genova. E sempre dall'Expo si può prendere il battello e andare a visitare i luoghi incantevoli della Riviera di Levante (Camogli, Portofino, San Fruttuoso, le Cinque Terre). Vicinissime le principali attrazioni turistiche e culturali della città: la cattedrale di San Lorenzo, Palazzo Ducale, via Garibaldi patrimonio dell'Unesco con i suoi meravigliosi palazzi e musei. Dall'appartamento tutte le zone del centro storico sono raggiungibili a piedi in pochi minuti.
L'appartamento si trova nella zona più tranquilla e pulita del centro storico, nella quale, a differenza di tante altre parti del centro storico genovese, si gira serenamente anche a tarda sera. Nell'adiacente Via Ravecca si trovano numerosi ristoranti e locali di ottima qualità. In Piazza Sarzano, oltre al Museo di Sant'Agostino col suo chiostro medievale, ci sono un minimarket e un mercatino di generi alimentari sempre freschi.
It was great staying at Francesca & Alessandro's place. It is really near to the Metro and just 5 minutes walk from the old city centre. The flat had everything as described, really clean,cosy and comfortable. We really like how their place is so organized. Besides that, most importantly we really appreciate them for receiving us from the Metro and helping us with our boarding passes, along with some information of the city & what to see from Alessandro.
thom
2015-06-19T00:00:00Z
Aparment is very cozy, with great location within the historical center of Genoa. Further there's a underground station 2 min away from it. We had wonderful time and Franceska and Allesandro are great hosts.
Krasimir
2016-05-09T00:00:00Z
Me and my boyfriend fell in love with this apartment! The bed wasn't the world's comfiest but we were both so tired from travelling it wasn't a problem. We were only there for a night, and wished we could have stayed longer, it was absolutely adorable! Alessandro met us at the nearest metro station, and waited a significant amount of time as our train was late and we got on the wrong metro line, so we were very thankful that he was so lovely about it! Would definitely stay here again if we return!
Erin
2015-09-11T00:00:00Z
That was perfect stay in Genova! Appartment is nice, cozy, very well equiped and situated. We have no any trubles with internet, water or gas. Everything works fine. Sofa bed is quite comfortable to stay for some days. This place totally corresponds with photos presented in site, so no any worries about this. Alessandro provided very good advices, we used some of them (for visiting and eating) and can confirm that they are really good. We hope to stay here in future again.
Tatyana
2015-07-10T00:00:00Z
The appartment was very nice and clean, everything we needed was there. Alessandro has been a great host, thanks to the information he gave us it's been really easy to park close to the appartment. He also gave us some "local" tips so we could really enjoy the city. In the end we had a great stay in Genoa !
nadi
2015-02-16T00:00:00Z
The appartement is located in the central part of Genova, easy to reach, with small shops, cafés and bars, a local market and a lot of typical Genovese ambiente. Francesca and Alessandro are great hosts, welcoming and happy to help whenever they can. The flat is well equipped and in very good condition. I really enjoyed being there and am already planning my next stay!
Uta
2015-03-02T00:00:00Z
OK!
carolina
2016-11-14T00:00:00Z
The apt is well located and very functional. The only thing is the bed. It's a sofa bed an not very comfortable :( We did not have the chance to meet Francesca and Alessandro but they were always available by email.
Alexandre
2015-08-20T00:00:00Z
Room Type
Entire home/apt
---
Property Type
Apartment
---
Accommodates
2
---
Bedrooms
Genoa, Liguria, Italy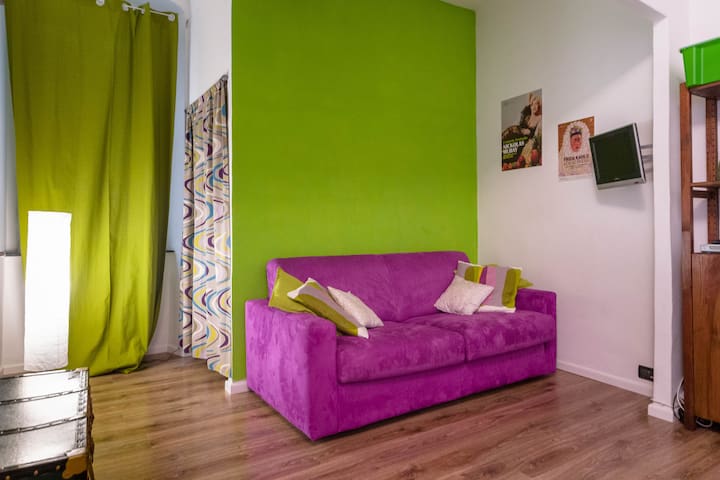 Magnifique 4-pièces en plein coeur de L'Île-Rousse, à seulement 200 m de la plage et de son eau cristalline. Peut accueillir 4 personnes au maximum grâce à deux chambres et un salon équipé d'un canapé convertible. Cuisine équipé, baignoire et wifi.
This delightful top-floor apartment in the heart of l'Ile Rousse is quintessentially Corsican and lovingly cared for. From its high ceilings and richly tiled flooring to its traditional textiles and retro chandeliers, Apartment Maddalena exudes a certain timeless charm whilst offering simple and unpretentious accommodation. French doors lead from the kitchen, sitting room and one of the bedrooms to a south-facing balcony with views across the rooftops of l'Ile Rousse to the mountains of la Balagne in the distance.
A warm welcome with few Corsican snacks and a bottle of wine. Madeleine helped us with finding parking spot in crowded old centre of the town and with our luggage up to the second floor. The apartment was amazing. Large, clean with all that you might need (including an aircon in one room). Madeleine's place is located 20 meters from bakery, 40 meters from supermarket and 2 minutes walk from a lovely beach. We'll definitely return next year! Thank you Madelaine for letting us stay. Best holiday ever :)
Tom
2015-09-01T00:00:00Z
Madeleine was a lovely host. She reserved us a very warm welcome, gave us many useful tips and kept in contact with us during all our stay. She really took care of us! She also got a small camping bed for our baby, attention we really appreciated. The flat offers plenty of space and is really well equipped, allowing us a quick and smooth arrangement. The flat, with its very central position, is perfect to enjoy Isula Rossa with its excellent beaches and good restaurants. The lack of parking is the only bug of this beautiful village, but luckily you won't need to use the car anymore as you'll find whatever you need just steps from Madeleine's flat. So park the car when you arrive and forget it! In case we'll be back to lsula Rossa we'd certainly love to look again for Madeleine's flat!
Alberto
2016-08-30T00:00:00Z
She is the kindest and very flexible. Even though my French is really poor, we could speak as she knows a little english and online translator helped as well :) We got help from her in every reasonable time! The apartment is just like on the pictures and very very clean! The kitchen is well equipped. We love the balcony the most where we spent breakfasts/lunches sometimes. We will definitely return one day! The island, Ile Rousse, and the food is amazing! Thank you for everything!!
Judit
2016-06-26T00:00:00Z
Madeleine is a wonderful host and her apartment is super well located next to the beach, cafes, farmers market ...!
Marc
2015-08-02T00:00:00Z
Nous avons été très bien accueilli chez Madeleine, de merveilleux conseils pour notre séjour. L'appartement est grand, bien situé au cœur de l'Ile-Rousse et nous l'avons trouvé très propre à notre arrivée. Merci pour l'accueil, la serviabilité de notre hôte ! Expérience recommandée !
Margot
2015-08-10T00:00:00Z
L'hôte a été très accueillant, avec notamment beaucoup de conseils pour profiter des alentours, mais aussi une bouteille de rosé et une confiture faite maison. Le logement était assez bien décrit même s'il manquait (à notre goût) une table à manger dans le salon (pour pouvoir manger convenablement à 5-6). Enfin le quartier est très sympa, dans le centre. Par contre dommage qu'il n'y ait pas de place de parking, parce que dans le centre de l'île rousse c'est difficile d'en trouver. Séjour sympa en tous cas.
Thierry
2015-08-18T00:00:00Z
Schnelle Antwort, Madeleine ist sehr zuverlässig, hilfsbereit und überaus herzlich. Wir wurden mit einem Wein und selbstgemachter leckerer Marmelade empfangen und haben die zentrale Lage in der ruhigen Wohnung sehr genossen. Immer wieder gern!
Gudrun
2016-08-14T00:00:00Z
L'appartement et son emplacement est idéal pour passer un merveilleux séjour à l'île rousse et dans les environs. L'accueil a été plus que parfait. En résumé, une vraie rencontre avec la Corse et ses habitants dont les propriétaires ont été de merveilleux ambassadeurs. Merci encore à Maddy et Patrick pour leur générosité et leurs conseils !
karine
2014-10-05T00:00:00Z
Room Type
Entire home/apt
---
Property Type
Apartment
---
Accommodates
6
---
Bedrooms
L'Île-Rousse, Corsica, France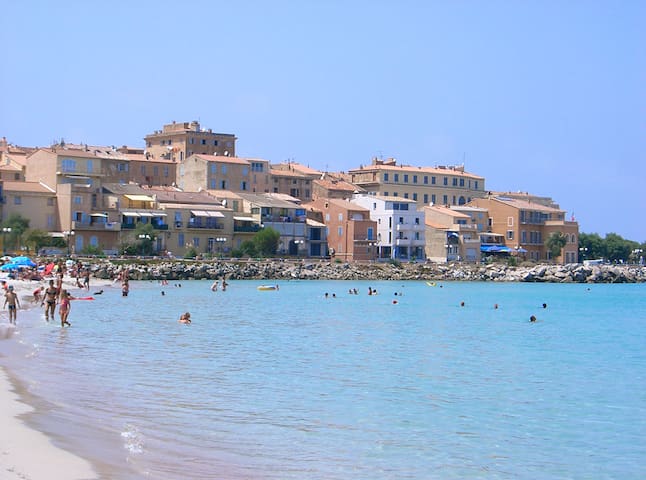 L'appartement est très charmant et entièrement rénové. Dans le centre ancien de la ville la cage d'escalier est en très mauvais état mais le logement en vaut la (website hidden) est très lumineux. Mais attention il s'agit d'un 5ème étage sans ascensseur!
joli appartement climatisé avec 2 chambres au 5 eme étage. Location idéale pour 3 adultes ou un couple avec 1 enfant. L' appartement est situé place du marché dans le centre historique de Bastia. La chambre principale peut héberger 2 personnes. La seconde chambre est pour pour 1 adulte ou 1 enfant. Le quartier du marché est assez animé et se trouve en plein centre ville. On y trouve de nombreux restaurants. La vue sur les montagnes et l'église St-Jean est superbe. Il y a également de petites vues sur la mer et la citadelle. Un parking public se trouve juste devant le batiment.
Le quartier du marché est assez animé et se trouve en plein centre ville. On y trouve de nombreux restaurants. C'est l'endroit idéal où sortir diner ou boire un verre le soir.
The apartment was nice. Lots of utensils in the kitchen. Good location - walking distance to most places.
angela
2017-02-13T00:00:00Z
An amazing place, easy to get to from the port and in a delightful town! It's such a stylish apartment and was perfect for our stay. The 5 flights of stairs are worth it every time you set foot in there! An oasis!
Eilís
2016-07-22T00:00:00Z
YOU would like to have a GREAT time in Bastia? Then meet Anne and stay at her appartement. It is furnished quite tastefully. There is nothing you will miss, it is located central, means all you need happens/ you can have in front of the door... Anne was a host very hospitable. Anything you want to know she could give you an answer for... ... like this way having holidays is soo wonderful... Thanks a lot, Anne... we need to come back once...
Christin
2015-06-14T00:00:00Z
I had the occasion to stay a night in Anne's apartment, it is just like in the picture, meaning brand new, well organised and super clean and very easy to find his way. Anne is very welcoming without being intrusive. Perfect, would definitely recommend it.
Jan
2014-08-09T00:00:00Z
Apartment very modern, stylish yet confortable and very clean. Stayed here only for one night, but we would have enjoyed longer stay also. Fifth floor a bit excercicy, but manageble. Anne was very well in contact to us and arriving and departing was very smooth.
Tanja
2014-09-08T00:00:00Z
Great apartment with beautiful design! My boyfriend and I slept really well in the double bedroom, and our other friends, another couple, slept in the loft area-they enjoyed it and said it was very cozy. It's in the centre of Bastia and we arrived a bit late at night but Anne Marie recommended a nice place to eat. I recommend this place! Thank you Anne Marie!
Jocelyn
2013-08-24T00:00:00Z
We stayed a week in Anne's apartment and it was just wonderful. The flat is located in the very heart of Bastia, right at a very lovely market place full of bars and restaurants and you feel at home immediately. After having climbed up the stairs to the apartment, you have everything you wish: a very light and modern living-, sleeping- and bath-room, a perfectly equipped kitchen and just amazing and wonderful views over the town. Everything is very clean, tidy and proper. The great photos of the apartment are only giving you a first impression - reality is even better. Anne's very warm welcome and her really helpful extra recommendations (excursions, restaurants, hotels etc.) are "the icing on the cake" and make it an - at least! - five-star-accommodation.
Alex
2014-10-01T00:00:00Z
The photos don't do this apartment justice, it is immaculate and designed to a very high spec. The location is fantastic, we ate every night in the square downstairs but you could equally cook in the flat. Anne-Marie was very helpful and there is also a parking permit available. I would certainly recommend staying here in Bastia.
Laura
2016-07-20T00:00:00Z
Room Type
Entire home/apt
---
Property Type
Apartment
---
Accommodates
2
---
Bedrooms
Bastia, Corse, France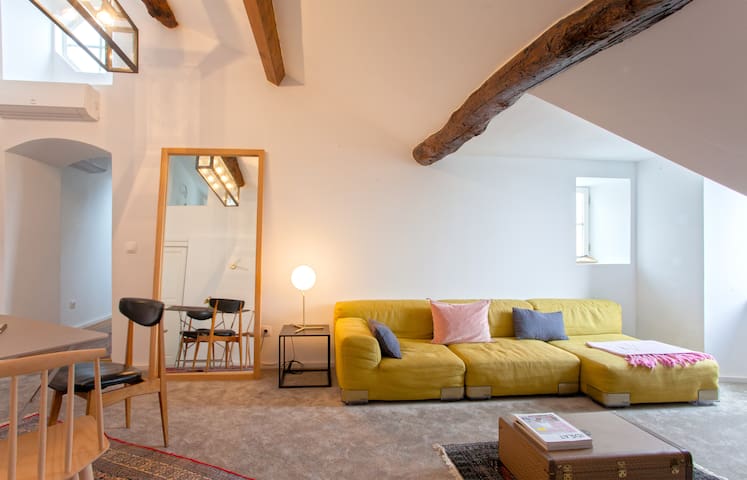 Studio apartment n.2 è uno spazio ristrutturato recentemente con gusto e particolari di design moderno inserito in un contesto di Villa storica. E' indipendente ma nello stesso tempo situato all'interno del giardino della Villa e sicuramente è la parte della casa dove è possibile vivere comodamente l'interno e l'esterno poichè situato al pian terreno. Nella zona in basso, si trova l'angolo cottura perfettamente attreun divano che all' occorrenza puo' essere utilizzato anche come divano-letto,
Villa Federici, the most ancient mansion in La Spezia, built in the first half of the eighteenth century, opens its gates to people who appreciate beauty. The villa is located on the first hill of Mount Santa Croce, behind the Cinque Terre hills, on the street that connects La Spezia to Portovenere and Cinque Terre. The 180° panoramic view on the Gulf of the Poets, the Apuan Alps, the Versilia, make your stay at this historic mansion really "poetic". Once you go through its gateway you'll find yourself immersed in the middle of a natural park, with the biggest and most ancient cedar tree in Italy. The villa makes only a two-floor apartment available to guests in order to preserve its "poetic" atmosphere. The flat has all comforts and a minimalist design combined with the ancient parts of the mansion. Villa Federici is situated in Fabiano Alto, about 10-15 minutes from the city centre and from the main railway station of La Spezia. Fabiano can be easily reached by car or by bus (line 23 or 21). Being on the way to Portovenere and the Cinque Terre, the villa is particularly suited to people who want to reach these destinations. For hikers and mountain bikers it is also possible to go to the Cinque Terre using the C.A.I. paths, going through unforgettable panoramic areas and steep sea cliffs (1 hour walk). It is also possible to visit the nearby Apuan Alps, the white marble quarries of Carrara, the Lunigiana with its enchanting medieval villages and its hundred castles.
La Villa si trova sulla collina prospicente il golfo dei poeti ed il centro storico di La Spezia,città principale e punto di partenza per chi trascorre le vacanze nel Parco delle splendide 5 terre oppure nel Parco naturale di Portovenere e dell isola Palmaria o ancora in quello di Lerici e Montemarcello. La zona è solitamente tranquilla e residenziale,molto ambita perchè vicina alla città ma nello stesso tempo fuori dal caos e dal traffico. Dalla Villa è possibile salire a piedi lungo la scalinata e raggiungere la" Via delle 5 terre" (10 minuti) oppure scendere e raggiungere il centro della città (20 minuti).
Our hosts welcomed us promptly after a phone call to say we had arrived. What a magnificent part of the world. Laura & her husband were so attentive & accommodating. They shared with us so much information and were available for any of our needs. Their hospitality was second to none and we thank them sincerely. We enjoyed our drinks together. Our room was perfect and the castle, grounds, tree and views, just as you see them on the photos. Perfect stay - will recommend.
Annie
2016-04-30T00:00:00Z
This apartment blew us away! Laura and her husband are the most generous and helpful people. The apartment itself was amazing also, very modern and neat! The views of La Spezia are breath taking! It takes about 40 minutes to walk to the centre of La Spezia but you can also catch the bus! We had an extremely relaxing and great time in this apartment, I would stay here again in a heartbeat!
Simone
2014-05-20T00:00:00Z
Laura was a top notch host. We arrived late after missing our train in the rain & she still picked us up from the station with a smile. Her place has a lot of very interesting history and an incredible view. We were there only a short time and I wish we could have stayed longer. We very much enjoyed our stay! Would definitely recommend! Thanks Laura, L&J
Joseph&Lori
2016-06-05T00:00:00Z
Laura was such a fantastic host! She and her husband met me and my husband and helped us carry our bags down the path to their house. Parking in the area is tricky, but Laura provided excellent instructions on where to park - really appreciated! The apartment was perfect! It was clean and had all the amenities we needed. The view from their house is spectacular. Laura was SO helpful giving us suggestions for the area and for the Cinque Terre. She even suggested a great place to park our car in La Spezia while we hiked the Cinque Terre. Her knowledge and love of the area is fantastic! Thanks for everything. We look forward to returning someday!
Corinne
2015-05-19T00:00:00Z
Laura was very helpful The place was good and I recommended this place
Nathalie
2016-07-04T00:00:00Z
Cinque Terre, Cinque Terre... This is the only place you should choose if you are planning on visiting there! Laura took us under her wing like we were family! She picked us up from the train station, dropped us off at the train station so we could go to Cinque Terre, and then also gave us a ride back to the train station we were leaving. And if that wasn't enough she personally took us to a summer block (foam and dance) party that just so happened to be going down the night of our arrival! The place was amazing to say the least. We were comfortable and cozy. This place is very uniquely decorated and fun for a stay. We were provided breakfast pastries, coffee, juice, and water each of the days we were there. What a great experience!
Zac
2016-06-14T00:00:00Z
One of my very best airbnb experiences, hands down. Laura and her husband were the friendliest, most accommodating hosts, and the villa is stunning with amazing views of la spezia. The area of the villa where we stayed was well stocked, comfortable and so thoughtfully set up. Couldn't recommend this place enough!! Thank you Laura for all you did to make our cinque Terre adventure unforgettable!
Lindsey
2015-04-09T00:00:00Z
Laura met us at the train station and gave us a lift down to the centre along with the lots of helpful advice on what to see and where to go. She was very welcoming and helped us with everything we needed. I would most definitely recommend anybody to stay here, the apartment is very modern with all necessary facilities and loads of history.
Peta
2014-09-15T00:00:00Z
Room Type
Entire home/apt
---
Property Type
Apartment
---
Accommodates
3
---
Bedrooms
La Spezia, Liguria, Italy
In the charming village of Tellaro, overlooking the Gulf of Poets, rent wonderful studio apartment with private entrance and garden with sea view. The house is about 100 meters from the sea and has direct access to the sea from the steps of the cliff where you can easily swim and sunbathe, 800 m equipped or free beach. Furnished with sofa bed and foldaway kitchenette, paved with the original hand-painted typical Ligurian beginning 900 tiles. Private bathroom designed with floor, sink and large shower, all in Bardiglio and Carrara marble. The apartment is equipped with bed linen, towels, Phoon, television, tea and coffee, free wifi. Ideal for a romantic weekend or a holiday, for lovers of the sea and walking. In the village there are lovely restaurants and bars, grocery stores, newspapers, tobacco ... everything that can needs for a pleasant stay. From the paths of the Park of Monte Marcello, among olive groves with characteristic dry stone walls, views of the Gulf of Poets, the islands of Palmaria and Tino, Portovenere and La Spezia is breathtaking. The bus to Lerici is 100 m away from the house, boats leave from Lerici to Portovenere and Cinque Terre. To reach the studio you need to travel on foot for about 50 m, through a typical Ligurian alley, you can't get the car to the house. Possibility of parking space.
Such a magical stay in Tellaro. The location of the studio is perfect if you like lounging in beautiful gardens, wandering through old Italian alleyways and being just a minute away from a dramatic coastline and view of the church. The studio is the perfect size for a couple. Guiseppina's neighbors, who greeted us, were friendly and charming and Guiseppina even left some yummy treats to enjoy on our arrival! We will definitely be coming back.
Maya
2015-05-26T00:00:00Z
Tellaro is a perfect little seaside village, and Giuseppina's studio is the ideal sanctuary from which to explore. Giuseppina and her husband Franco were the kindest hosts we have ever met through airbnb. They went above and beyond their call of duty to help me and my small family out. The studio itself is exactly as described. It is clean and stylishly decorated, with quality linen and the most amazing shower. The kitchen is small but functional. And the garden feels very private and is a lovely spot for an evening drink. Thank you again Giuseppina and Franco, you saved me and our trip to Italy!
Jade
2015-07-21T00:00:00Z
We arrived in Tellaro with great directions on how to get there via public transport and it was so easy and welcomed by a neighbour who showed us around. The apartment is small but has all the essentials and was spotless. Giuseppina had left a bottle of water and prosecco in the fridge for us too, which was lovely. It was pretty warm at night time without air conditioning, however there were a couple of fans which helped. The town is beautiful and full of character. Lots of lovely places to eat and have drinks! If you are coming for a beach holiday be aware that there are not many sand beaches in this area, we struggled to find one that was free and not totally over crowded, however the sea is amazing if you enjoy going for a swim. The garden with the property is a bonus and the view is spectacular. We spent many evenings sitting in the garden enjoying a drink before dinner!
Jemma
2016-07-07T00:00:00Z
Great place with a lovely view from the corner of the garden. We didn't meet Giuseppina but her neighbours were absolutely lovely and they helped us with bags, parking, local advice etc. As mentioned previously the bed (sofa bed) is not great, but apart from that would recommend.
Patrick
2016-09-20T00:00:00Z
Guiseppina's place is very cute and in an amazing location. The studio is nicely furnished and small but comfortable and has everything you need - a spacious bathroom and a small kitchen. The garden is great to sunbathe and have breakfast or dinner. It only takes 2 minutes to get to the sea, which doesn't have a beach but rocks to lie on and jump into the water from. The village is beautiful and not at all touristic. The communication with Guiseppina went very smoothly even though she was away, and her neighbours took good care of us. We'd definitely come back.
Stefanie
2016-07-03T00:00:00Z
We really enjoyed our trip to Giuseppina's apartment and we loved Tellaro itself. The apartment is great and the garden is absolutely beautiful. Giuseppina's neighbours met us when we arrived and when we left and we had no problems at all. We'd really recommend staying at Giuseppina's apartment.
Harriet
2016-07-01T00:00:00Z
We stayed four nights at Giuseppina's studio apartment. It is cozy, but with all you need. It has a very nice bathroom and the setting is sweet, a lovely yard where we ate our dinners. It is convenient to everything, yet quiet with the sound of the ocean in the background. We would recommend.
Michaela & Peo
2013-09-14T00:00:00Z
I had a excellent time at the studio of guiseppina. terrific and splendid. i can highly recommend this spot. unfortunately, we hadn't the opportunity to meet guiseppina in person, but her neighbour and her husband were as hospitable as i could wish for. perfect stay at a perfect place.
isabelle
2013-08-13T00:00:00Z
Room Type
Entire home/apt
---
Property Type
Apartment
---
Accommodates
2
---
Bedrooms
Tellaro, Liguria, Italy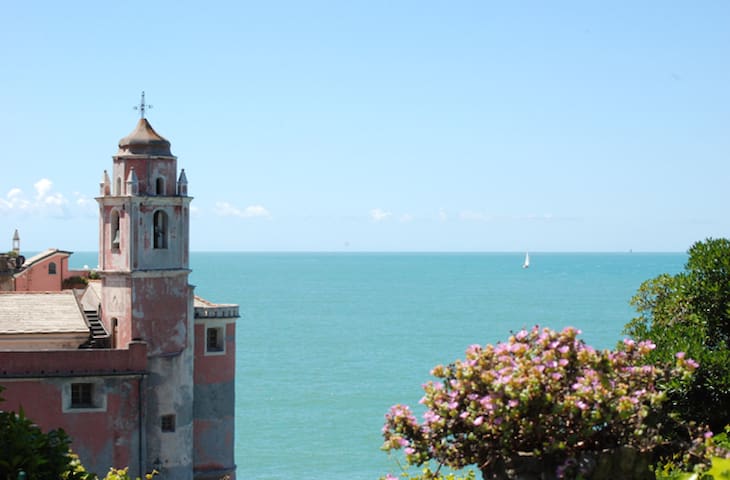 Spacious room with sea view in the center of Vernazza, the heart of the park and Lands, consisting of living area, balcony with spectacular sea views, master bedroom, bathroom. Near the railway station, about 200 meters. a few steps to reach the apartment, the beach shops, restaurants and bars are within walking distance. FREE WI-FI A few meters away are the paths for the other countries of the 5 lands There is no kitchen use, but there is a microwave phone, a refrigerator and an electric kettle. The price includes bed linen, towels and final cleaning
Marcella was an excellent host for our time in Vernazza. She was very timely in our communication and was waiting for us at the front door to the apartment right as we arrived from the train. She provided us with restaurant recommendations and showed us how to access the trail to Monterosso. The location of this apartment in Vernazza was incredible and the balcony on the square was the best to drink wine and view the sunset in the evening. The pictures of the apartment do not do it justice! An exceptional experience and we would return to this location when we return to Vernazza!
Jonathan
2016-05-06T00:00:00Z
With a spectacular view of the harbor and main piazza, this gem in located in the center of the action in Vernazza. We found the the apartment just as described, impeccably clean and well appointed. It was perfect for two people. It is however located above a restaurant on the main piazza and there was a bit of noise until midnight or so when everything begins to close down. Marcella was an excellent host, great communication before and throughout our stay. We would definitely consider a stay here again.
Jan
2015-09-13T00:00:00Z
Marcella was punctual and helpful
Susan
2015-09-03T00:00:00Z
I couldn't recommend Marcella's apartment highly enough! We really enjoyed our stay there. It's a bright, clean, spacious place with everything you might need and the balcony was absolutely fantastic. The photos don't do the view from there justice and it was a great place to just chill with a drink and watch the world go by in the square below. You really are the envy of everyone down there! Marcella was an excellent host, meeting us and showing us around the property and gave us recommendations, for example places to eat. We hope to visit again next time we are in Vernazza as it was a brilliant base for exploring Cinque Terre.
Lisa
2016-06-11T00:00:00Z
We had the most wonderful time in Vernazza thanks to Marcella and her fabulous apartment. Marcella met us at the apartment to give us a little tour and tell us about the fun events happening in town that night; she is extremely helpful, funny, and warm. The apartment itself is perfect: comfortable, prettily decorated, and spacious. Marcella's balcony overlooks the lively, beautiful piazza (as another reviewer mentioned, it is indeed the only balcony on the piazza!) and the ocean so the views are sublime and soothe the soul. After a leisurely dinner at a local trattoria, we spent the rest of the night sitting by the ocean and then had some wine up on our balcony for some prime people-watching. We couldn't have asked for more and will definitely be back as soon as we can!
Joanna & Matthew
2015-08-22T00:00:00Z
You could not find a more central and easy to find stay as Marcella's, with a spectacular view of the harbor square. The modern apartment has a living room, small kitchenette, bedroom and bathroom. The terrace is right in all the action, and we loved the view! With only a few steps up to get to the apartment, we didn't have to trade convenience for the fantastic view. The new windows kept out the noise of the square below, but the crashing of the waves was still audible and a joy to wake up to. Marcella was a gracious and friendly host.
Raanan
2016-06-20T00:00:00Z
This is my fourth time staying in Marcella's gorgeous apartment, and I cannot imagine staying anywhere else in Cinque Terre! Everything is ideal -- the location is perfect, the balcony is perfect for morning coffee, and the apartment could not be more comfortable. Simply perfect.
collier
2016-12-04T00:00:00Z
Host made us feel very welcome. The little apartment was perfect, the view amazing and we thought Vernazza was the pick of the five adorable villages. Alas, we could not hike due to weather, but took train to all the places and really enjoyed ourselves. Our apartment was warm, stocked to meet our needs. We felt very safe. Vernazza has a little village life that we could observe and were fortunate enough to be a part of in a small way. We loved our apartment, Vernazza, the sights, the land, the cafes. Highly recommend this apartment and Vernazza.
Candy
2014-11-07T00:00:00Z
Room Type
Entire home/apt
---
Property Type
Apartment
---
Accommodates
4
---
Bedrooms
Vernazza, Liguria, Italy
Riviera Ligure di Levante - Airbnb
:
Average

4.8

out of

5

stars from

3078

guest reviews
1

–

18

of

300+ Apartment Rentals
Enter dates to see full pricing. Additional fees apply. Taxes may be added.