Mon logement est proche des vignes (vignerons), de la forêt (balades, VTT). Vous apprécierez celui-ci pour sa situation, la vue et l'emplacement. Pourquoi l'avoir appelé ainsi car auparavant c'était la menuiserie du village avec son hall d'exposition et son atelier... A partir de septembre, réservation uniquement pour les week-ends.
Venez découvrir un lieu de zénitude et vous ressourcer au cœur d'un environnement de pleine nature. Vous apprécierez le calme et le bain dans une eau à 31 degrés (piscine intérieure)
10 mn de Reims, dans un village viticole, entre vignes et bois, chemins de randonnée et belle église romane, proche des sites de la 1ère guerre mondiale. Commerces et Gare TER à 3 km. Visite de cave et dégustation possibles chez les différents viticulteurs à Prouilly et dans les villages aux alentours. Equitation possible à 3 kms
Florence a ete aux petits soins du debut jusqu' à la fin de mon court sejour. Sa maison est magnifique et tres bien entretenue. Je vous la recommande chaudement! J'y retournerai sans l'ombre d'une hesitation!
Vanessa
2016-09-21T00:00:00Z
Très belle expérience pour notre premier Air bnb. Florence nous a très bien accueilli et nous a fait nous sentir à l'aise très vite. Piscine, petit déjeuner et chambre grand confort, à recommander vivement!
Georges
2016-09-18T00:00:00Z
Un accueil chaleureux et une disponibilité agréable. Florence sait mettre ses hotes à l'aise tout en leur laissant toute autonomie.
didier
2016-08-06T00:00:00Z
Room Type
Private room
---
Property Type
House
---
Accommodates
2
---
Bedrooms
Reims, Alsace-Champagne-Ardenne-Lorraine, France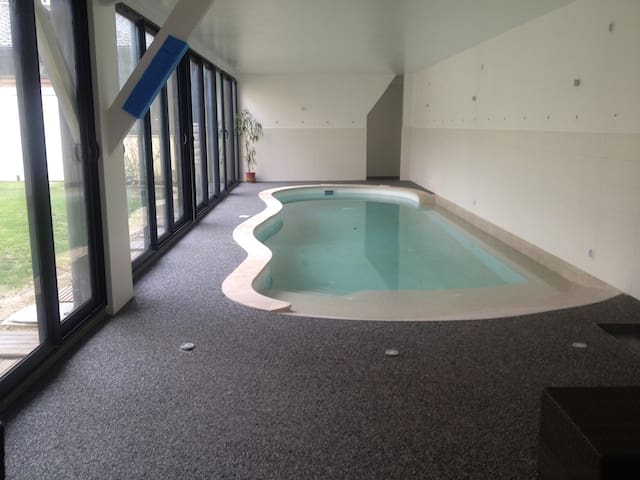 The Soldat Carouge cottage is located in a green area enclosed by walls of 1300 m2. It is a former building of 98 m2, stone, completely renovated while retaining the charm of the old. Atypical House consisted of split-level that will seduce you by its view on the garden, the secure heated pool, and finally the quiet of the countryside. Sheets are provided and beds are prepared upon arrival
The Soldat Carouge cottage can accommodate up to 5 adults with 2 bedrooms and its vaulted stone room where you will find an extra bed. The latter will appeal to children who will appreciate this unusual space. Lovers of the old buildings will be won over by this House that retains the charm of the old all by adding the elegance of modernity.
Roucy is located 20 minutes from Reims where access is by main roads. You will love this charming village made up of old typical stones houses of the region and its green surroundings. Beautiful walks are expected for the nature lovers. For sports, exciting races on foot are also in the program. A bakery is located a few meters from the House.
This is the most unique home! We loved the 'cave' bathroom and bedroom. The house is about 25 min from Reims and we took advantage of the location to see Pomerey champagne house and the cathedral. The house is secluded with a beautiful backyard. We really loved it and will be back for a longer trip.
Erika
2017-04-02T00:00:00Z
Nous avons passé le réveillon de nouvel an 2017 dans le gîte Carouge. Régine est très agréable et disponible. Le logement, à environ 20 minutes de Reims, est très chaleureux et bien équipé. Idéal si vous souhaitez visité et découvrir les maisons de champagne, il est situé en bordure de la région Champagne, le premier producteur que nous ayons trouvé est à 10 min en voiture. Nous recommandons vivement le gîte de Régine. Nous nous reverrons peut-être en été pour profiter de la piscine :-)
Nicolas
2017-01-01T00:00:00Z
Emmanuelle
2017-04-09T00:00:00Z
Room Type
Entire home/apt
---
Property Type
House
---
Accommodates
5
---
Bedrooms
Roucy, Nord-Pas-de-Calais Picardie, France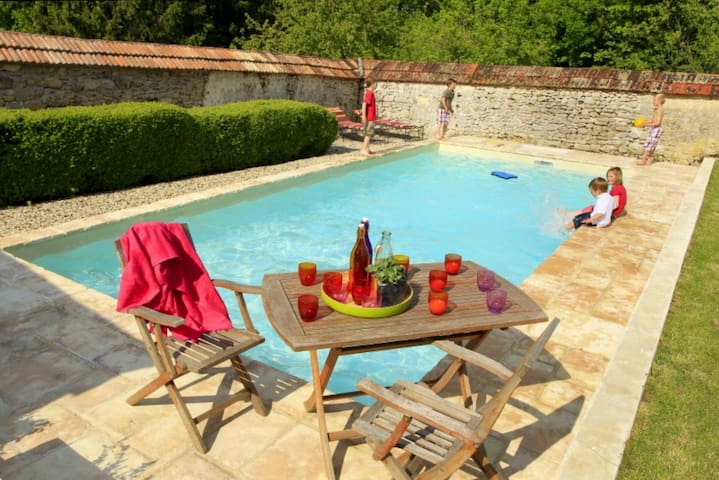 This charming house of 130m2 is located in an old barn of the eighteenth century in a small village in the heart of the Champagne vineyards. You have private access to the hammam, sauna and Jacuzzi.
services included - Jacuzzi, Sauna, Hammam (permanent access) - Linen (sheets, tablecloths ...) - Towels, bathrobes - Bath towels (spa) - Hair dryer + toilet kit - Cleaning (at end of stay) - Coffee / Tea - Wifi / TV -equipped Kitchen (dishes, dishwasher, microwave combination oven, fridge, induction hob, extractor) - Channel Bluetooth hi-fi in the common room -Nécessaire breakfast (milk, orange juice, butter, jams, ...) out pastry
We are in a small village typical winemaker of Champagne
The host canceled this reservation 35 days before arrival. This is an automated posting.
Anais
2016-06-05T00:00:00Z
We had one night to stay in champagne so no time to visit Reims however we still had an excellent stay, lovely home, tastefully decorated, amazing facilities, super comfortable bed! the spa was perfect (with the operation written concisely in a greeting booklet) & champagne tasty. benjamin was super helpful & on hand for our queries and questions. We will definitely be back & for longer next time!
Olivia
2016-04-13T00:00:00Z
Staying in Trigny was a wonderful experience. Benjamin was a perfect host - friendly and obliging. Nothing was too much trouble. The apartment was spotless, beautifully and stylishly furnished - and very spacious. Trigny itself is a beautiful village set among vineyards: don't miss the opportunity to explore it and its surrounds! Thoroughly recommended.
John
2016-09-03T00:00:00Z
Very nice apartment in the nice country yard of Trigny, surrounded by family runned Champagne Vin Yard, is an ideal place for spending couple of lesure days. Fully functioned spa equipment, comfortable bed and morden design, yet to be mentioned is the friendly owner Ben, we will definitely see us again;-)
文君
2016-06-09T00:00:00Z
Benjamin's place is amazing and was a real treat for two nights in Reims. It's spotless, well equipped and has the added luxury of the steam, sauna and jacuzzi. Breakfast was also delicious as was the champagne! Lovely stay, Merci Benjamin!
Sophie
2016-06-01T00:00:00Z
Benjamins place is simply spectacular. Everything was brand new and spot clean, the provided breakfast was really nice and kitchen had all amenities you could ever think of. Bedrooms were really quiet and all rooms had their own air source heat pump for excellent heating control/possibilities. Parking in front of the house is perfect, no need to have the car on the street. Benjamins place is quietly located on a small street right of the "main" road of Trigny, which in itself is a small one in this tranquil village. Just a few minutes drive from Reims, the house is perfectly located. Benjamin as a host was really nice and quick to respond to anything when asked for. We stayed for three nights and would not hesitate to go back anytime.
Vicente
2015-10-05T00:00:00Z
Wow! What an amazing place both building and village. Set within a village surrounded by vineyards, the house is amazing. Was wonderful to unwind and relax with such great amenities and easy access to Reims and champagne houses. Will defiantly recommend to family and friends and look to visit again soon.
Paul
2016-03-18T00:00:00Z
What a stay! Literally the place was stunning, and you're surrounded by vineyards!Everything was super classy, a real treat for our anniversary. Benjamin was an amazing host too, hand delivering us a fresh breakfast every morning! The village itself was fun too - exceptionally quiet but we took a trip out to only pub and had an awesome night practising our French with the super friendly locals! Highly recommend this place!!
Tom
2015-09-30T00:00:00Z
Room Type
Entire home/apt
---
Property Type
House
---
Accommodates
4
---
Bedrooms
Trigny, Champagne-Ardenne, France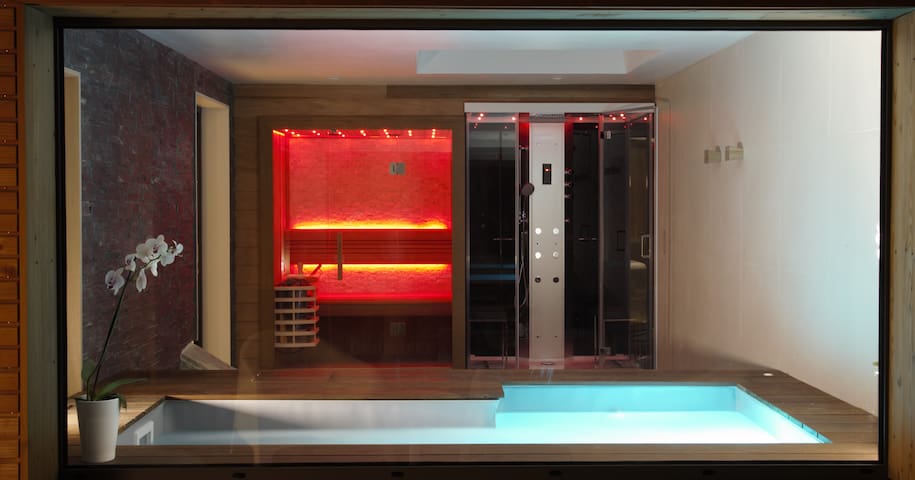 The room interior decoration elegant, warm and comfortable, clean and tidy, Sheshi life complete, two rooms are double bed, which is 1.8 meters wide Zhuwo room. Large living room space, kitchen, bathroom, refrigerator, washing machine, living appliances are.
Room Type
Private room
---
Property Type
House
---
Accommodates
2
---
Bedrooms
菲姆, 香槟-阿登, France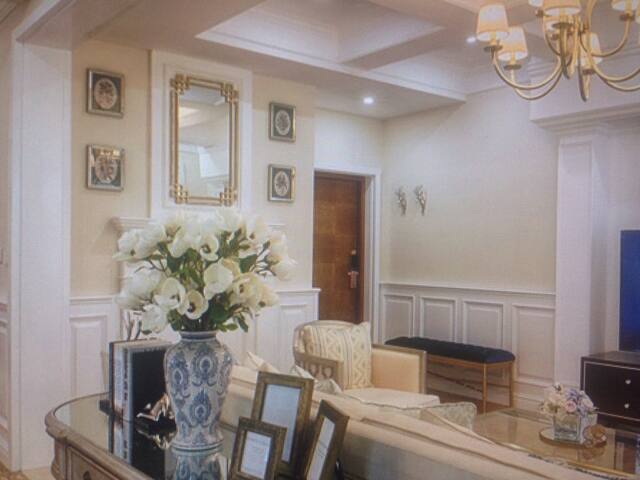 Situé aux pieds des vignes, le gîte peut accueillir jusqu'à 6 personnes. L'intérieur : Il dispose d'un coin salon, d'une cuisine équipée, de deux chambres à lits doubles et d'une chambre à deux lits Équipement : Plaques vitrocéramiques, micro-ondes, four, réfrigérateur, cafetière électrique, grille pain, lave-linge, lave-vaisselle et télévision couleurs. L'extérieur : Un salon de jardin sur terrasse de 28m², un jardin de 100m² et un parking privé pouvant accueillir 3 voitures. La Marne, thérapie relaxante ! Vous aimez la culture, détendez-vous dans les cités où l'art et l'architecture rivalisent de beauté en parcourant villes et villages. Vous êtes épris de nature, entre forêts, jardins et vignobles, le paysage vous offre une multitude de luminosités en empruntant, entre autre, la route touristique du champagne. Vous savez apprécier la gastronomie régionale, venez découvrir les saveurs de notre terroir. Vous serez séduits par l'authenticité et le charme de notre région. Le meilleur accueil vous est réservé.
The Gite is absolutely fabulous. Everything is ten times better in real life than the pictures show, so the pictures really underrate the cleanness and serenity of the place. We had a most relaxing week here. The village is super quiet and pretty. Everything in the Gites works perfect (they even have an iron!!!). We also tasted the champagne from our host, and it was very nice. All in all, this is the most value for money and relaxing place that I have ever encounter in Airbnb. I highly recommend it to people (up to six) for holiday here.
jia
2014-07-20T00:00:00Z
This is a simply wonderful gite in the most magnificent location. Everything we could need and more was provided as well as a bottle of their own delicious champagne. The hosts are the most lovely people and the region is a delight to explore.
Kathy
2013-12-28T00:00:00Z
Had a great stay will surely return
Verpoort
2014-09-09T00:00:00Z
What a beautiful place in a gorgeous village! The house is big and comfortable - 2 bedrooms and a toilet upstairs, 1 bedroom + bathroom + kitchen/living downstairs. The house is literally 20metres from the vines. The rooms are decorated nicely, the beds were comfortable, and as a travelling family of 3 adults and 1 baby, it was perfect and such great value. The place was well equipped, and we even got to sample some of Agnes's Champagne. Agnès met us when we arrived, showed us around, and even recommended a nice restaurant in the neighbouring town. The house is in the town of Pèvy, which is about 20min drive out of Reims. It is picturesque, and you can drive from town to town through rolling hills of champagne vines. It's easy to get to Reims and Eperney, but it's all the villages I between that are the most beautiful. We would recommend this to any of our friends and family travelling to Champagne, it's lovely.
Ashley
2015-07-12T00:00:00Z
We would like to say only 1-word about the place and about Agnes&Michel: FANTASTIC , FANTASTIC & FANTASTIC. We arrived very late, around 23:30 and it was raining, but Agnes&Michel were waiting for us in front of their house, knowing that we couldn't find the address. In the house we were welcome by a bottle of their own Champagne brand Dessaint Fauvet. Thank you Agnes&Michel, we will come back soon. The utilities in the house were superb and everything you name it Agnes&Michel place have it. And almost forget to mention taht the house have separated 3-bedrooms. Unbelievable , Great and of course FANTASTIC. Pevy is only 30" away from reims and 2-hours form Paris. Willy&Nani (NL) and Ferydoon&Lali (USA)
Willy
2013-06-21T00:00:00Z
This is THE place to stay in the Champagne region of France. Agnes and Michel are very warm and welcoming. They met us with treats from the region and helped me locate a map when needed. The drive out to Pevy is beautiful. The view from the house is spectacular. Vineyards on one side and the charming village on the other. Very roomy and spacious house, exceptionally clean, and all the amenities needed to cook and enjoy ourselves. I would definitely stay here again (and hope to return in the future).
Hilary
2013-05-23T00:00:00Z
Agnes was fantastic. She received us, showed the house that is even better from the pictures! Everything that you need the house has it! The place is so nice, calm and beautiful, right across a lot of vineyards. We also had a chance to inaugurate a great spa that Agnes installed outside the house!!
Patricia and Eduardo
2015-09-01T00:00:00Z
We had a great stay! Enjoyed the house, the vineyards and the champagne. Verry clean and nice house, very friendly. We will be back in the future.
Mark
2013-06-11T00:00:00Z
Room Type
Entire home/apt
---
Property Type
House
---
Accommodates
6
---
Bedrooms
Pevy, France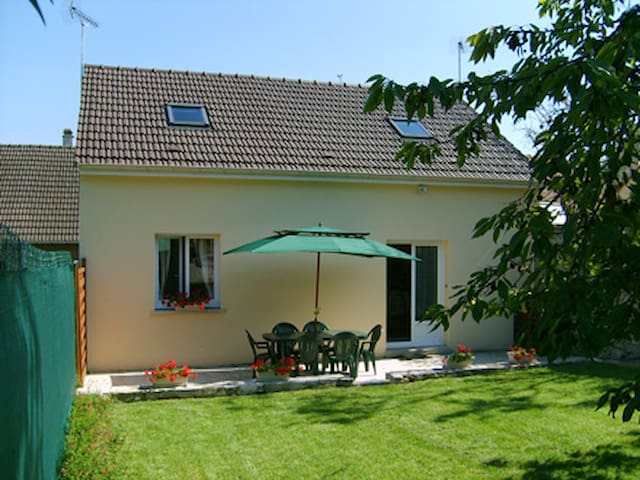 Nous avons passé un excellent séjour chez Amandine. La maison est très propre et décorée avec beaucoup de goût. Elle est située dans un joli village, à 30 min de Reims, ce qui vous permet de partir à la découverte des maisons de champagne de la région. Amandine a été plus que disponible pour faciliter notre arrivée et nous conseiller sur les centres d'intérêt dans la région. A noter : une terrasse au calme pour profiter des beaux jours !
caroline
2017-02-05T00:00:00Z
Ce gite est tout simplement magnifique ! Agréable et calme vous vous y sentez comme chez vous des le 1er instant ! Amandine et son mari sont discret et à l'écoute ! Nous recommandons ce lieu très bien placé pour visiter Reims et profitez de center parcs
christelle
2017-01-01T00:00:00Z
Room Type
Entire home/apt
---
Property Type
House
---
Accommodates
7
---
Bedrooms
Courville, Alsace-Champagne-Ardenne-Lorraine, France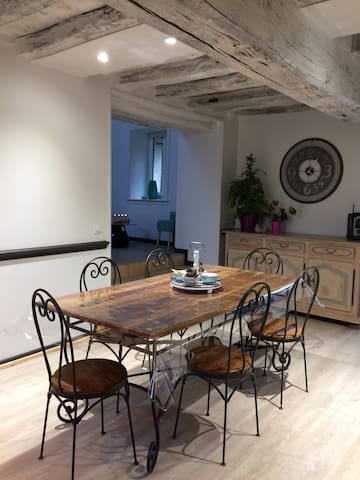 Cecile welcomes you to his old farmhouse and offers a room with terrace and garden in a small green and quiet village.
Room with separate entrance overlooking a large terrace. Large bathroom with shower. separate toilet. Breakfast included. Available : Refrigerator, microwave, TV, baby bed
The host canceled this reservation 64 days before arrival. This is an automated posting.
Kevin
2016-12-04T00:00:00Z
Magnifique chambre d'hôtes, dans un cadre splendide. L'appartement est spacieux et agréable, avec une chambre pour les parents et une chambre pour les enfants à l'étage. Le jardin est très agréable avec une belle vue sur la campagne environnante. La propriétaire est très gentille. Nous recommandons !
Aurelie
2016-08-22T00:00:00Z
Notre hôte nous a permis de passer un week-end des plus agréables, à la fois grâce à l'hébergement proposé, plein de charme et de confort mais aussi de part sa disponibilité et sa gentillesse tout au long de notre séjour. Une véritable parenthèse de bien être à la campagne.
Pascal
2016-07-18T00:00:00Z
LE LOGEMENT ETAIT PARFAIT COMME NOUS AVIONS PU LE VOIR SUR PHOTOS SITE TRES AGREABLE CADRE CALME ET REPOSANT NOTRE HOTE NOUS A ACCUEILLI AVEC SIMPLICITE ET CONVIVIALITE TOUT ETAIT PARFAIT.
delphine
2016-05-17T00:00:00Z
Room Type
Private room
---
Property Type
House
---
Accommodates
2
---
Bedrooms
Serval, Picardie, France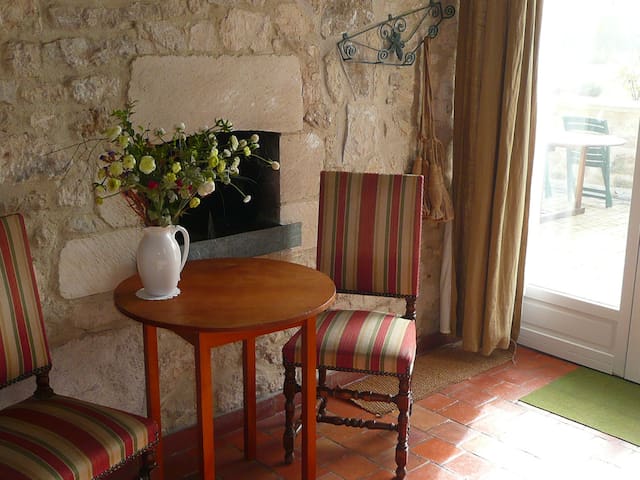 Mon logement est parfait pour les couples et les familles (avec enfants).
Room Type
Entire home/apt
---
Property Type
House
---
Accommodates
10
---
Bedrooms
Vandeuil, Alsace-Champagne-Ardenne-Lorraine, France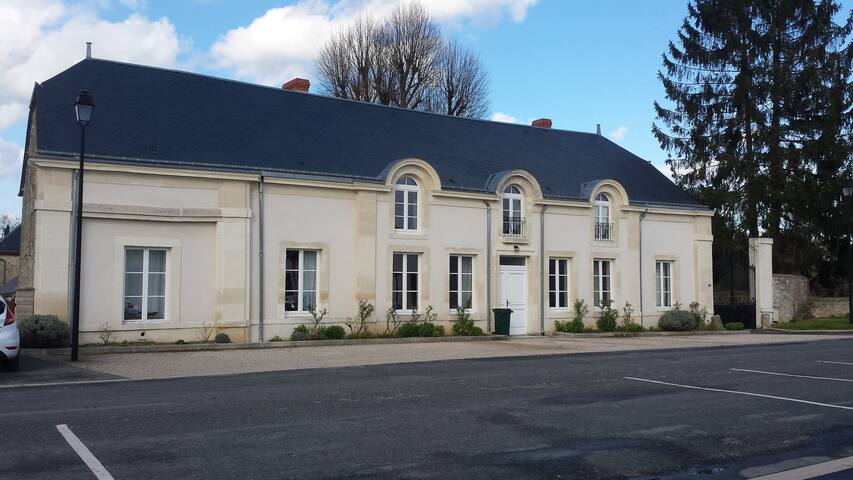 Nous habitons une maison avec jardin dans un petit village à 15 mn de Reims: les avantages de la campagne tout près d' une ville réputée pour son histoire avec la possibilité de promenade dans le vignoble champenois, sans oublier le chemin des dames
La maison est spacieuse et calme avec une terrasse et un jardin. La chambre que nous proposons est équipée d'une douche et d'un lavabo.Possibilité d' ajouter un lit bébé (fourni) ou un matelas pour une personne supplémentaire.
Notre maison est située au pied des vignes et permet de nombreuses balades à pied.
Very welcoming host couple. Lovely to meet you.
Monica
2016-10-14T00:00:00Z
Bon accueil avec explications claires sur les modalités courantes de la maison. Village à quelques kilomètres de Reims. Petit déjeun er copieux. A recommander
nathalie
2015-06-09T00:00:00Z
Le superbe environnement naturel et les hôtes TRÈS accueillants ont fait de notre séjour une expérience agréable et confortable. Nous avons très bien dormi et le petit déjeuner avec la brioche maison était tout simplement délicieux à partager avec nos hôtes! Mais par-dessus tout, ce sont les échanges chaleureux et généreux qui se sont spontanément créés entre nous tous qui feront partie de nos beaux souvenirs de voyage; nous étions les premiers québécois à colorer la maison de nos accents... Nous recommandons cet endroit sans hésiter. Johanne et Pascal, les Québécois...!
Johanne
2015-07-01T00:00:00Z
Christine et son mari nous a super gentiment accueillis. Etant dans la même tranche d'âge, nous avons pu bavarder, discuter de maintes et maintes choses. Nous avons ressenti une grande connivence avec nos hôtes. La maison est située au bord des vignobles. Il y fait calme et agréable.
Francine
2016-05-15T00:00:00Z
Bien accueillis par notre hôte. La maison est située dans un village paisible du vignoble champenois. La chambre confort avec une bonne literie. Petit déjeuner fait maison
Matthieu
2015-06-22T00:00:00Z
Après une longue journée de route, nous avons été très bien accueillis par Christine et son mari Jean-Claude. Les enfants fatigués du voyage ont pu se dégourdir les jambes dans le jardin pendant que nous prenions appétitif entre adultes. Le déscriptif de la chambre correspondait bien à ce que nous avons vus. Le lit est confortable et la chambre suffisamment grande pour accueillir les deux lits parapluie de nos enfants. Nous avons particulièrement appréciés le petit déjeuné fait-maison et toute les petites attentions faites à notre égard. Nous recommandons vivement !
Klara
2015-08-03T00:00:00Z
Excellent accueil. Couple très sympathique. Chambre agréable. Très bon petit déjeuner avec vue sur les vignes de Champagne. A recommander.
prigent
2015-09-07T00:00:00Z
De verhuurder heeft ons prima welkom geheten door ons te ontvangen in de tuin met een glas drinken. Daarna heeft ze ons de kamer gewezen. Zij en haar partner spraken alleen Frans, dat vond ik wel een probleem, maar geluk heb ik een man die van franse afkomst is en dus vloeiend Frans spreekt.
Marijke
2015-09-13T00:00:00Z
Room Type
Private room
---
Property Type
House
---
Accommodates
2
---
Bedrooms
Branscourt, Champagne-Ardenne, France
My accommodation is perfect for couples and families (with children).
cottage La Pommeraie in Champagne for 4 people, located in the Domaine de la Pommeraie Marne, 20km from Reims, Epernay 40 km capital of Champagne, 110 km from Paris. Between vineyards and forests, house in a private garden along a small stream, restored with old materials in a design spirit. Ground floor: spacious living room very bright overlooking a large terrace, fully equipped kitchen, bathroom (shower, double sinks and toilet. 1 floor:: serving 2 bedrooms, large bed room 160x200 CHERRY bedside tables wardrobe, desk, sink and South Eastern exposure Almond room twin bedside tables wardrobe, chest of drawers western exposure Private parking Internet connection Ideally placed to visit Champagne, Disneyland Paris cultural tours, architectural heritage listed by UNESCO: Reims Cathedral Basilica of St. Remy, the Art Deco Champagne cellars
Room Type
Entire home/apt
---
Property Type
House
---
Accommodates
4
---
Bedrooms
Ventelay, Champagne-Ardenne, France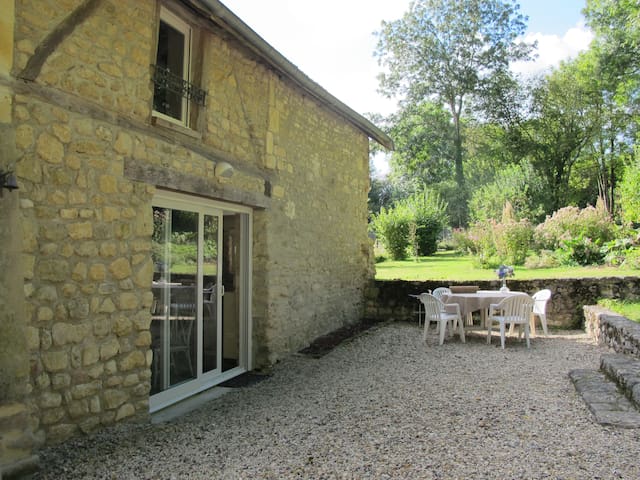 CHARMING VILLAGE, IDEAL FOR REST IN THE COUNTRY NEAR cross BEFORE REIMS CHAMPAGNE AND TREASURES. 1 large bedroom with a double bed (140/200), a cot 1 shower + toilet shared with 2 cottages. 10% reduction if renting 2 rooms. Kettle, hairdryer, bathroom in commodities. Breakfast possible (+ € 5 per person) closed parking. WIRELESS. Pizzeria, gourmet restaurant, bakery and grocery store in the village.
2 Rooms, rented independently of the other. The 2 bedrooms can be rented by the same family. The house is on a plot of 1200 m2. It consists of two wings separated by a kitchen. At the foot of vineyards and hiking trails. It is possible to park cars in the property.
To give you a glimpse of our beautiful village that welcomes every 2 years in June, the festival: ART & JAZZ IN MY BACKYARD, we advise you to watch video on the site.
fantastic host and lovely house great recommendation. worked perfectly for our family. hôte fantastique et recommandation grande belle maison. a parfaitement fonctionné pour notre famille.
dean
2017-02-19T00:00:00Z
Room Type
Private room
---
Property Type
House
---
Accommodates
2
---
Bedrooms
Hermonville, Grand Est, France
Sur les hauteurs d'un village de l'appellation champagne, le clos de la tourelle offre le calme et l'authenticité d'un site exceptionnel, au pied d'une église romane et d'une tourelle médiévale. Venez découvrir les charmes de Reims et du vignoble champenois, son histoire et ses traditions en séjournant dans ce gîte classé 3 épis gîte de France et labellisé vignoble et decouverte. Viticulteurs passionnés, nous proposons également un circuit découverte du vignoble avec dégustation.
Maison XVIII ème restaurée dans le respect des bâtis ancien, badigeons de chaux, enduit chanvre et peinture à l'ocre. Sur trois niveaux : un salon et une salle de douche en rez de jardin, semi enterré, entrée dans le gîte par le rez de chaussée sur la place de l'église, offrant une pièce à vivre avec cuisine toute équipée et enfin deux chambres et une salle de bains sous combles. Jardin fleuri et arboré, avec vue sur la vallée et la tourelle, transats barbecue et salons de jardin. Une bouteille de notre champagne vous attend à votre arrivée dans le gîte. Vous pourrez également déguster les fruits de notre verger bio, rhubarbe, prunes, cerises, noisettes et poires.
Gite près d'une route sans circulation, sur la place fleurie et arborée d'une église romane du XII ème siècle. Des circuits de randonnées pédestres ou cyclistes, entre bois, pâtures et vignes, sont accessibles au départ du gîte. Tournée du boulanger passe devant le gîte tous les matins sauf le lundi. Fismes, ville tous commerces à moins de 10 minutes du gîte.
Really nice place to stay, Sophie was great, she made our stay fantastic
Manuel
2017-02-12T00:00:00Z
Room Type
Entire home/apt
---
Property Type
House
---
Accommodates
6
---
Bedrooms
Arcis-le-Ponsart, Grand Est, France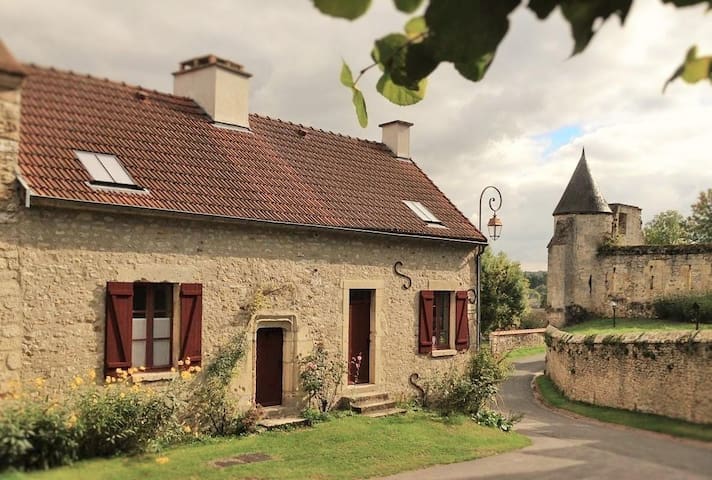 Mon logement est proche de La ville de Reims , a 45 Mn en voiture du parc eurodisney..
Room Type
Entire home/apt
---
Property Type
House
---
Accommodates
4
---
Bedrooms
Treslon, Alsace-Champagne-Ardenne-Lorraine, France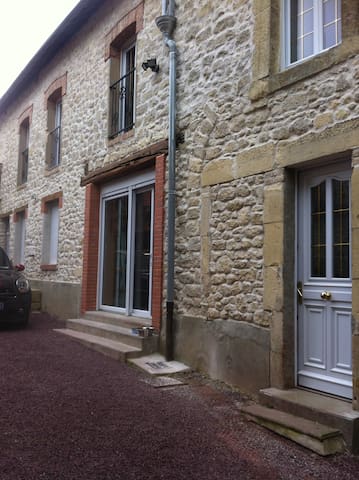 10 minutes from the golf of Viller Agron, very comfortable and beautiful old house, very calm and retired but 10' from the shops, between forest and wine yards, on the touristical road of champagne degustation (very good organic champagne at 10')
Our very quiet cottage will welcome you anytime to rest, have a drink, a bath, walk in the lovely country of woods and wineyards. A cistersien abbey is in the forest, and we will open you the roman church of the 12th century with historical explanations. I play dobble base and can accompagny you singing, playing the piano, the guitar or the irish pipe. We are on the touristical road of champagne' wines, and can present you a very good quite organic champagne on a very reasonnable price. For romantic meals we also know a wonderful castle (15 minutes driving) with excellent meals and quite cheap (especially for lunch). In Reims we can guide you to the more unforgettable places. We are also in the midle of historical places (First World war)
The village is very beautiful: hilly, sunlighted and with fresh air (always a little wind is blowing). You will sleep perfectly. The roman church is wonderful and very close to the house, full of history and with an incredible sound. The choice of walking path is very rich.
We had a splendid time at Valerie's and Paul's old charming village house! For us it was an authentic French countryside experience, easily accessible from Paris/Reims/the Champagne area. The neighbourhood is really calm so we were able to sleep really well (little tip: check out the sky at night & discover all the stars, incl. the milky way). Local tips that they gave us helped us to enjoy almost a research free holiday. And we absolutely loved the breakfast outside on the terrace. Thank you for having us!
Eva
2016-08-09T00:00:00Z
I can easily recommend this place. We had two nights here in cosy surroundings with breakfast in the old country kitchen.
Erik D
2015-08-16T00:00:00Z
Paul and Valerie kept close contact to us during our trip through france to ensure that everything will work out fine and that we will be able to find their home on our way back. The route was explained in a detailled way so we could easily find their house and had a very warm and musical (:-)) welcome.
Renate
2015-08-30T00:00:00Z
Paul and Valérie are a very hospitable couple in a charming house at the French countryside. They are very outgoing, and gave some excellent recommendations of things to do. We went to their friends for champaign tasting, which was great. And Paul recommended an excellent restaurant at a Chateau, as well as a beautiful church at Reims which we would have never been to otherwise. The surroundings are beautiful - we love this area. The room was very large, excellent bathroom down the hall (which was no problem at all, as the house is very large) and nice breakfast outside in the garden. We had a magnificient stay!
Melanka
2015-08-11T00:00:00Z
We were treated like family at this lovingly restored home in the Champagne region. It is a wonderful place in the countryside from which to explore the vineyards and Rheims. The lodgings exceeded our expectations and we enjoyed breakfast and coffee each morning of our four day stay. Paul and Valerie proved to be very accomplished and fascinating. They were exceedingly patient with our efforts to speak French. Their English is much better than our French. The bath is not en suite but is in a separate wing of the home with the guest bedroom--so that was not a problem. We would definitely recommend this accommodation to anyone in the area with a car and a love of the countryside.
Linda
2014-09-29T00:00:00Z
Lovely big country home. Beautiful surroundings, bedroom clean and warm. Lovely cooked breakfast. Wonderful host who spoke very good English
Karin
2015-05-25T00:00:00Z
This was one of our best Airbnb experiences ever. Paul was communicative and clear prior to our visit and the directions were spot on. We arrived at the appointed time and were welcomed warmly on a chilly day. We felt like we were at home in this rustic French farmhouse and a lot in common with Paul and Valerie. Since they are both fluent in English, we had much to discuss over wine in the evening and coffee in the morning. The helped to guide us to events and sights in the area and served as interpreters for our visit. The house if filled with books and music so it was like being at home. We will return again if we are in that part of France.
Bruce
2015-04-02T00:00:00Z
The interior of the house is a work of art. I felt like I had stepped back in time to the "Belle Epoque" and would not have been surprised to see Monet and Renoir debating colors and lighting. The kitchen has modern appliances and the internet is fine and I think there was a TV somewhere but really, the main attraction of the place is to get away from it all. There is a 12th century church in town which may be the most recently constructed building. The streets look like something out of a Pissarro painting. We just came from Giverny and felt like the place was a welcome reminder of that. The accommodations were excellent as far as we were concerned. All of Europe was going through their worst heat wave in history (what Miami residents think of as a normal Summer) so the upstairs rooms were like an oven when we arrived. Paul suggested we move a mattress and bedding downstairs for my wife and me. Our sons are made of sterner stuff and slept well upstairs while my wife and I slept like the dead downstairs. Paul said Spring is his busiest time and I easily believe it is a wonderful time to be there. It was cool and pleasant in the morning so I imagine normal Summer days are fine. I would not mind spending a week wandering around, playing the piano, and relaxing. WIth Paris traffic delaying us by about 2 hours, we arrived pretty late and I totally blew it not telling Paul what our numbers were in Europe and not writing down both his phone numbers. As a result we relied on a very kind neighbor of Paul's to contact him at work (he is an air traffic controller and has odd hours) and he told us where the key was and came back early to help us settle in. My wife played a little on the piano and had a nice discussion with Paul about life and everything while my son and I played chess. Breakfast was very good. Paul's English is excellent. The house is about 30-40 minutes from Reims by car. I would strongly recommend a good GPS in Europe. We used the free version of the Sysgic app which worked well on the iPhone, not as well on an Android device.
Michael
2015-07-04T00:00:00Z
Room Type
Private room
---
Property Type
House
---
Accommodates
6
---
Bedrooms
Arcis-le-Ponsart, Champagne-Ardenne, France
Notre gîte est proche d'activités adaptées aux familles. Vous apprécierez son confort (3 épis aux Gîtes de France, 3 étoiles classement des meublés) la cuisine, les lits confortables. Le gîte est parfait pour les familles avec enfants. Tarif variable en fonction de la saison Pour les musiciens, nous mettons à disposition un Clavinova Le gîte est louable à la semaine, du samedi 16 h au samedi suivant 10 h. Hors saison touristique haute, nous acceptons les réservations en mid-week.
Gîte inséré dans un petit village (120 habitants) entouré de bois. Sur le chemin de grande randonnée
Room Type
Entire home/apt
---
Property Type
House
---
Accommodates
6
---
Bedrooms
Bouffignereux, Nord-Pas-de-Calais Picardie, France
CHARMING VILLAGE, IDEAL FOR REST IN THE COUNTRYSIDE, NEAR REIMS, BEFORE roam the CHAMPAGNE AND TREASURES. A large bedroom with a double bed (140x200) single bed (90x190). A shower + toilet shared with two guest rooms. Kettle, hair dryer, basic products in the bathroom. A breakfast can be served in the kitchen, warning in advance, for € 5 per person.
Two guest bedrooms are located on the left side of the house on the 1st floor. They are rented independently from each other.
To preview the village, go to the site of artetjazzdansmacour
Room Type
Private room
---
Property Type
House
---
Accommodates
3
---
Bedrooms
Hermonville, Grand Est, France
Although the room is small, you will have your own instant hot water pot. You will find tea bags and a large cup, maybe some water, soda, fruit juice or tea in the fridge. There is a good street shop, and they prepare a decent variety of hot foods.
Room Type
Entire home/apt
---
Property Type
House
---
Accommodates
1
---
Bedrooms
Muizon, Alsace-Champagne-Ardenne-Lorraine, France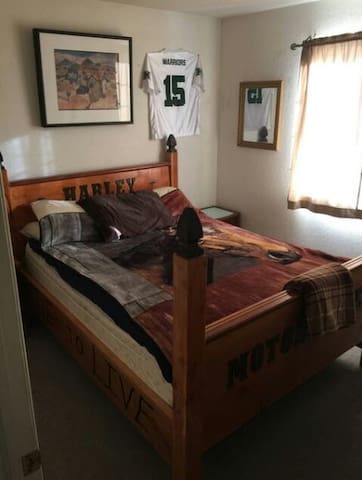 In a small stone house dating from 1747 and completely restored , you will stay in a spacious room overlooking the Halles dating from the sixteenth century. The village is located in the Tardenois , a natural area 25 km west of Reims.
The rooms are on the 1st floor of a small house next to our main building . It is a stone country house with the charm of old buildings of the Tardenois .
Lagery is a village that has retained its authenticity with old stones , its castle, its Romanesque church and its hall dating from François 1er . The abbey of Igny is only a few miles away.
What a great find! We loved it and wish we could have stayed longer. Very spacious, clean and lovely breakfast provided too.
Wendy
2016-09-08T00:00:00Z
Beautiful home in a quaint village. A perfect location for the Champagne region with Reims nearby. Olivier was a gracious host who even provided breakfast in the morning. Highly recommended!
Virginia
2015-06-24T00:00:00Z
It was a very nice stay. The owners were very friendly and the gite was clean and very cosy! Love to visit again. And the champagne was very very very good!
Jeroen
2016-07-14T00:00:00Z
This is gem of a gite nestled at the beginning of the vines in a lovely little village. The hosts and the location including lovely courtyard and gardens. Bliss !
Oran
2016-08-01T00:00:00Z
The house was beautiful and very peaceful. Olivier was very kind, talking to us about hikes we could take, and places to get champagne and food. He also provided some local champagne for a great price.
Alain
2016-10-19T00:00:00Z
Amazing stay! If you're going to have a car to explore the region this is a great option. The bonus is there are cats, dogs and horses on the property so its a fun and homely experience.
Lucy
2016-11-08T00:00:00Z
Awesome hosts. Such a wonderful village. We very much enjoyed our time there.
Clifford
2015-07-02T00:00:00Z
Olivier spoke good English and was extremely helpful when we realised we had to leave early the next morning. They managed to rustle up breakfast for the next day at short notice which was greatly appreciated. very accurate listing. The village square and chateau farm were really interesting and unexpected.
Alistair
2015-09-01T00:00:00Z
Room Type
Entire home/apt
---
Property Type
House
---
Accommodates
4
---
Bedrooms
Lagery, Champagne-Ardenne, France
Romain - Airbnb
:
Average

4.9

out of

5

stars from

344

guest reviews