Enter your check in date in the format dd-mm-yyyy
Enter your check out date in the format dd-mm-yyyy
Listings you can book without waiting for host approval.
Enter dates to see full pricing. Additional fees apply. Taxes may be added.
This July and August, you can try one of these 100 highly-rated homes, at all price points, and experience a local's view of Sonoma. 24-hour check-in, Instant Book, and local wine and snacks let you just sit back and enjoy your trip.
Great XVth century restored Bourgois artistic familyhouse bild on a 12th century chapel. The river Allier on walking distance to swimm canoe and fishing. The Roman abbaye de Chanteuges on top of the little village. Artedu weekly courses in summer in art and photografy and music possible for one week. artedu.nl/en. price 95€ non including breakfast 10€ per person. Possible to have dinner at La Grande Maison, but please notify us before. Menus from 21,50 to 27,50€
4 Big rooms with private bathroom and a very nice view, marble bathrooms, a restaurant in the old 12th century chappel, a lot of teraces and garden with lavender, herbs and roses and cactus (micro climat)4 rooms with private bathroom, one annex on the pallier attached at the room.one wit a bath in the room itself. Also a familysuite for three persons in two seperate rooms with the bathroom in between is possible. This is not a standard hotel so no tv on the rooms and no big isolated walls in this old historical house. books, a piano, cdfilms. Acces to the restaurant Salon cellars, garden and teraces, their is a frigde with a honestybar, wifi You can ask me to organise canoeing, hiking trails, explore the surroundings.
In the top 10 most beautiful places on earth lonely planet 2016 Historical surrounding, vulcanic, green. train directly from Paris to Langeac and their I can pick you up. easily by car take along good shoes, high heals a bit difficult on the streets in Chanteuges
Unbelievable haven. A must to visit. The accommodation is in a 16th century building and if you are in to old, this is for you. It took our breath away. The dinner and breakfast were amazing and we could not fault our host. Our only complaint was it was very difficult to find as GPS does not register the address. Marloes was helpful with this and is putting a map on AirBnB. Amazing experience.
Donna
June 2016
Marloes habite une grande maison dans laquelle elle loue de nombreuses chambres. L'accueil est de ce fait plutôt impersonnel : après 2j, elle ne savait même pas qu'elle chambre nous occupions, ni combien de nuits nous avions passé chez elle. La maison à un charme rustique, pas d'intimité entre les différentes pièces du fait de simples planchers en bois et de cloisons non isolées qui nous font profiter des discussions des chambres voisines. Ce charme ancien m'a tout de même permis de me remémorer mon enfance à la campagne chez ma grand-mère!
Séverine
August 2016
Ein wirklich sehr altes Haus, auf einer ursprünglichen Kapelle erbaut. Wir schliefen ganz oben unter dem Dach, kleine Zimmer aber nett und einfach eingerichtet mit Blick über das Dörfchen. Marloes selbst machte uns Frühstück und bekochte uns an einem Abend mit leckerem franz Essen im Restaurant. Den Aperitif genossen wir zusammen am Kamin. Das ging aber nur weil wir außerhalb der Saison dort waren :) Ein kleines Bad mit Dusche und Waschbecken, aber alles ganz neu hell und sauber. Die Betten waren komfortabler als gedacht.
Danie
September 2016
Room type
Private room
---
Property type
---
Accommodates
2
---
Bedrooms
1
Chanteuges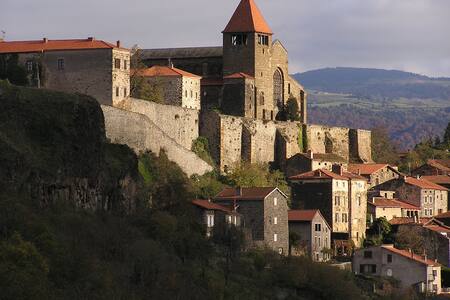 Since it was a gift to my sister, I can only report what she said. They were delighted with everything about their stay, felt extremely welcome, Jean-Pierre was charming, delightful, extremely attentive to their needs, on call, a perfect host. As for the neighborhood, rhwy were very pleased with it too.
Sylvie
December 2016
Le logement se situe dans un quartier calme,à proximité du centre ville et des commerçant accès par la voie piétonne (pharmacie, boulangerie...). Un stationnement à proximité, facilement accessible dans une. L'intérieur de l'appartement est très spacieux, neuf, bien équipé ( four, four micro-ondes, couvert, un lit 2 places, une machine à laver), hyper confortable (chauffage électrique). Les propriétaires sont vraiment très accueillants, Ils sont d'une immense gentillesse et générosité. Ces avantages m'ont permis de passer un séjour en toute tranquillité et simplicité. Je recommande cet appartement pour une escale à courte ou longue durée pour un rapport qualité-prix très avantageux.
Benoit
December 2016
Appartement très fonctionnel et propre. Propriétaire sympathique
Prisci
June 2016
Room type
Entire home/apt
---
Property type
---
Accommodates
4
---
Bedrooms
1
Langeac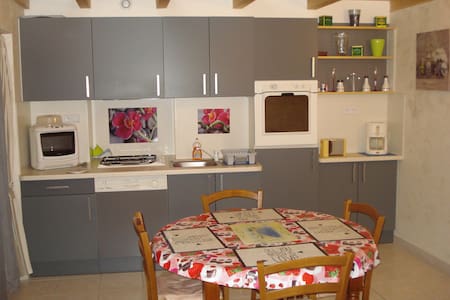 From the outside it still looks like a goatshouse but inside...? Surprising inside and the surrounding at the feet of an Roman abbaye, near the river Allier to have a swimm. Fishing or canoing, rafting etc. Dinner and breakfast in La Grande Maison
A high-sealing studio with vulcanic rocs inside, a disign showerroom, a kichenette, a space outsite to eat. Everything there like a luxerous hotelroom. Many articles in magazines. Special! All touristinformation. Hikingmaps at la Grande Maison where you can also have breakfast and dinner if needed. I can arange for you all kind of spotives things on the water or in themountains and when you stay a whole week for 700 euros you can inscribe at the summer art and music courses (www.artedu.nl/en)
You stay in between the local french nice people. But don't try to drive your car in the litte street to discover you can not turn. That they don't like:) you can park in front of the Cabane. Nearby trainstation ( the train from Paris to Marseille) at 5 km. Than a taxi or let me pick you up. fly to Clermont Ferrand from Amsterdam or Brussel an rent a car or come by train. Take good shoes and leave your high healshoes at home.
The host canceled this reservation the day before arrival. This is an automated posting.
Christine
If you are looking for a calm and beautiful place - Chanteuges it is. It is a very picturesque spot in the French countryside. Marloes was very friendly, helpful and runs the most tasteful Auberge in the region. Breakfast and Dinner were delicious. We can definitely recommend it. Thank you Marloes Jeanne et Pascal
Jeanne
July 2016
Room type
Entire home/apt
---
Property type
---
Accommodates
2
---
Bedrooms
1
Chanteuges
Nous avons été très bien accueillis par Huguette et avons apprécié sa (URL HIDDEN) maison correspondait tout à fait à la description . Nous l'avons trouvée très propre , très fonctionnelle , nous étions à l'aise et avons passé un excellent séjour. Nous retenons l'adresse.
martine
May 2016
Nous avons passé un très bon séjour. Maison spacieuse et bien équipée avec un garage, idéale pour le groupe de motards que nous étions. L'endroit est calme, pas très loin du centre même si la route à pied n'est pas très agréable à cause du trafic. Le jardin en face avec table, barbecue et vue sur les montagnes est un vrai bonheur. Un accès Wi-Fi aurait été un plus, la 3G étant quasi inexistante dans cette zone... Au final nous recommandons vivement cette location!
Djul
August 2016
Super séjour dans cette maison ! L'hôtesse est très sympathique, accueillante et souple sur les horaires. La maison est vaste, fonctionnelle et toute équipée, on s'y sent bien. A refaire sans hésiter !
Louis
April 2016
Huguette et son mari nous ont accueilli avec beaucoup de gentillesse et de disponibilité. Ils sont également arrangeant: j ai pu garer ma voiture ds leur garage car elle ne rentrait pas ds le garage de la maison louée avec le coffre de toit. La maison est agréable, spacieuse et propre. Il y a même un jardin pour manger au calme avec une super vue !
Steve
August 2016
Room type
Entire home/apt
---
Property type
---
Accommodates
7
---
Bedrooms
3
Langeac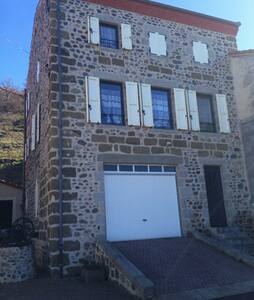 Let's enjoy L'Auvergne in this unusually warm place called "Le Petit Nice". In Langeac, you will be at the right place for fishing, hiking or visiting some cultural sites. Do not hesitate anymore, try L'Auvergne for your next trip in France!
Completely renovated in 2016, what used to be an old craft brewery is now transformed into a painter studio with nice appartments to rent on the first and second floors. The walls are made of wood and rocks, it gives a very warm and cosy aspect to the place. Fully equiped, you can travel light.
The apartment is located in a very quiet neighborhood, next to supermarkets and some wonderful french bakeries! Just have a 5 minutes morning walk and you'll enjoy a perfect breakfast "à la française"! There also is really tasty restaurant, especially the organic one named "The Pinocchio". After this divine lunch, you can have a walk to "L'île d'Amour" where you can take benefit from this wooded parc, and recharging your batteries next to "L'Allier", a large salmon river that brings peace in this place. The apartement is 5 minutes on foot from the train station. And 1 hour riding from the Loudes airport. Also half an hour from the A75 highway
Nous avons passé un très agréable séjour avec notre petit bébé à Langeac, dans l'appartement de Marie-Blanche. L'appartement est beau, propre et fonctionnel. Marie-Blanche charmante et accueillante. Je recommande!
anne laure
August 2016
Un accueil chaleureux, un logement confortable, très bien équipé, et décoré avec goût, fidèle à la description, à quelques minutes à pied du centre ville.
Véronique
July 2016
Room type
Entire home/apt
---
Property type
---
Accommodates
4
---
Bedrooms
1
Langeac
I will welcome you in a charmingmedieval village in Auvergne : in Chanteuges (South Auvergne). The gite "La Calade" is located on a gravel path that leads to the Abbey and Cloister of the twelfth century. Access to the house is pedestrian, so quiet and pleasant. The cottage is fully equipped. It features a large balcony overlooking the valley, a garden equipment lets eat. The beds in 140 and 160 are located on the mezzanineThe surroundings to discover the nature nearby river (swimming, canoeing / kayaking, rafting), climbing, hiking. In cultural terms, the painted churches, castles and museums dot the area. Every Tuesday and Thursday you can go on the market of the neighboring town where you will find local products (Auvergne cheeses, sausages, meat of the country, beekeepers ...). For rainy days, a television is in the cottage. The price of 66 Euros / night for the rental of the house in its entirety (this is not a fee per night per person). If you are more than 5 persons or if you want more space, you can rent the studio-house which is close to the cottage. It can accommodate up to 4 people (52 Euros / night).
Logement bien agréable et équipé. Karine s est montrée bienveillante et jamais envahissante. A l écoute, souple pour l accueil comme pour le départ.
Francine
July 2016
Room type
Entire home/apt
---
Property type
---
Accommodates
5
---
Bedrooms
1
Chanteuges