Apartment with quaint charm and character in the heart of Petit-Champlain. Near Place Royale, Chateau Frontenac, the Plains of Abraham, the Museum of Civilization, the Old Port, restaurants etc ... My home is perfect for couples, families (with children), solo travelers and business.
You have access to the balcony overlooking the Rue du Petit-Champlain.
The apartment is cozy and the location is great.
Fanny
2016-08-22T00:00:00Z
We had a wonderful stay at Serge's place. You will simply not find a better location to stay in Quebec City. The Musee de Civilization, Place Royal, Le Finucular, Chateau Frontenac, shops on the rue de Petit Champlain are literally seconds to 5 minutes walk away. The apartment was very clean and spacious. The bathroom was clean but less luxurious them one you would find in most hotels. I would definitely stay there again.
Gerald
2017-03-15T00:00:00Z
Serge was the perfect host - everything was spotless and ready for our arrival, the apartment has all amenities, and he was available to assist with some technical issues we had (been locked out of the apartment while our travel companions had the key). The apartment itself is amazing, and right in the heart of the lower old town Quebec, and every bit as scenic as the pictures show. Also, possibly the most comfy bed I've ever slept in.
David
2016-09-19T00:00:00Z
Loved staying in this spacious flat in the heart of old Quebec City. The apartment had everything we needed including a washing machine and dryer. We loved the view from the balcony where we chilled with a glass of wine, a good book and watched the beautiful view.
Carlos
2016-08-31T00:00:00Z
Wonderful spot to experience the city. Spacious, clean and cozy. Close to everything. Host and everyone we encountered was friendly and helpful.
Stephen
2017-01-16T00:00:00Z
Wonderful location it doesn't get any better
Terry
2017-02-08T00:00:00Z
Excellent place and location. It's situated in the most picturesque street in the city and the place is huge. When we arrived, couldn't believe the amount of space in there. Location provides easy access to walk anywhere in the city and the funicular up the hill to the chateau F is only a few doors up the road.
Chris
2016-12-14T00:00:00Z
Serge was an impeccable host and extremely accommodating. The location is even better than we imagined and the perfect spot for a first time visitor in Quebec. Would highly recommend it to anyone interested.
laura
2016-10-30T00:00:00Z
Room Type
Entire home/apt
---
Property Type
Apartment
---
Accommodates
4
---
Bedrooms
Ville de Québec, Québec, Canada
Located in the heart of the St Jean Baptiste borough our renovated studio will allow you to experience this vibrant soulful neighborhood with it's many restaurants, boutiques cafés and nightlife and also explore the historic old city.
Very cozy and welcoming studio. Small yet fully equipped. The place has character. Kitchenette is very basic but usefull. Includes mini-fridge microwave, toaster, coffeemaker, induction coocktop, kettle and utensils . Sleeping quarters are in a mezzanine. Free indoor parking is includes (20$/ day value ).
My fiancé and I loved the place. The brick wall in the apartment gives character to the place. It is clean and spacious enough for the both of us. Leo is very reliable, hospitable and replies very fast. The parking is an underground monitored parking lot and it is close to the apartment and we felt safe leaving our car there. It is very close to Old Quebec which makes it perfect. We would definitely stay here again when we come back in the summer.
Harlett
2017-02-16T00:00:00Z
I booked Leo's apartment as a pit stop while traveling thru Quebec and am glad I did. Great little place located right in the heart of a hip neighborhood with nice restaurants, bars, and coffee shops all right down the street. The old city is just a short walk away and the free parking in a garage made things even more convenient. The loft isn't huge but has plenty of character and is more than comfortable for 1-2 people. If I'm in Quebec again I will definitely seek this apartment out again. It made exploring Quebec City very easy and exciting.
Nick
2017-03-24T00:00:00Z
We had a great time at Leo's. Any more than 2 people I wouldn't recommend as it's close quarters but the space was used perfectly. We were able to pull our vehicle right in front of the entrance, unload, and then park our car (huge bonus on free parking!) The apartment is extremely close to anything you could possibly need - but still quiet enough to sleep in. Will definitely book again!
Kate
2017-03-08T00:00:00Z
Superb location in the heart of Quebec City! Leo was quick to respond with easy instructions on parking and entrance into the building. The loft space was simple and everything you would need for a night stay in the city!
Julie
2017-03-30T00:00:00Z
Very nice location
Gabriel
2016-09-02T00:00:00Z
Leo's apartment is so well-decorated while simultaneously very comfortable. My boyfriend and I adored staying here. It was about a 10 minute walk from Old Quebec which was not ideal for staying in the winter, but luckily there are a few restaurants and shops within a 2 minute walk of the apartment. Leo was very nice and easy to communicate with. We loved staying here and will do it again if we find ourselves in the area!
Maddie
2016-12-20T00:00:00Z
Very clean, cute, and beautiful apartment! For a small space, the decor and arrangement makes the apartment feel bigger than it actually is. Location is amazing, it's within walking distance to Old Quebec (about 10 mins away). Also the neighboring restaurants and shops are a big plus.
Carmen
2016-05-01T00:00:00Z
Leo's flat is perfect for a couple of days in Quebec. You can arrive at any time because you open the room with a code so no need for someone to hand you over a room key, the flat is small and cosy but has everything you need and is located around 10 min walk from the city center. There is a supermarket 5 min away and you can even park your car in front of the flat. Good experience overall
Alexandre
2016-12-24T00:00:00Z
Room Type
Entire home/apt
---
Property Type
Apartment
---
Accommodates
2
---
Bedrooms
Ville de Québec, Québec, Canada
Located between the upper and lower town, and a few meters from a metrobus stop, this great and cozy flat is the ideal place to discover the heart of the Capitale nationale! You will be within walking distance of all tourist attractions of the city (rue St-Jean, rue St-Joseph, Place D'Youville, Abraham's plains) and local shops and bars. You will have the apartment for you.
The host canceled this reservation 19 days before arrival. This is an automated posting.
Tony
2017-04-02T00:00:00Z
Room Type
Entire home/apt
---
Property Type
Apartment
---
Accommodates
2
---
Bedrooms
Ville de Québec, Québec, Canada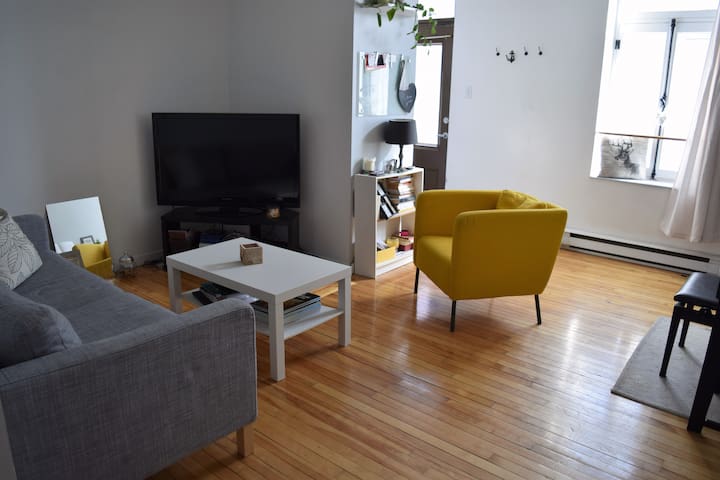 Great room, cozy and welcoming typical! Can accommodate two people and very central, close to everything. Enjoy its kitchen, its easy access to shops and proximity of the Plains of Abraham.
The apartment is in a Victorian architecture and century-old block.
The area where the dwelling is located is one of the most beautiful in Canada.
We had a great 2-night stay at this place between Christmas and New Years. We are a couple in our mid-twenties and had never visited Quebec. The studio apartment is located right on a lively street that leads into Old Quebec (It's about a 5 minute walk to the gate of historic Old Quebec). Outside the main gate of Old Quebec, the city shuts down the main road where all the different bars and restaurants are for a New Year's festival. They had a carnival set up outside the gate with a Ferris wheel and everything. Further down the road (closer to the apartment), all the different bars and restaurants had people sculpting outdoor bars out of ice. As it gets closer to New Years people are allowed to drink outside at the different ice bars. At night the whole place is lit up and there's music playing all day and night. It was really cool to be right next to all of that. The actual apartment is small but clean and cozy. There's parking on street and a couple garages nearby. Despite all the activity outside, the apartment was very quiet. Mourad was a great host and even gave us a couple free drinks at his restaurant. I would recommend to anyone that wants to visit Quebec and be in the middle of all the action.
BRIAN
2016-12-29T00:00:00Z
My partner and I had a great stay at Mourad's place, it had everything we needed, was ideally located, beautiful architecture and was a great price! We would definitely stay there again. Mourad was great in responding quickly to our questions, and accommodating our needs.
Maureen
2017-03-12T00:00:00Z
Very convenient to all the Old Town attractions. Lovely apartment, very cosy and a great value. Would definitely stay again!
Alexandra
2017-01-16T00:00:00Z
Très bien placée, proche de tout les restaurants et les petit bars, propriétaire très gentils répond rapidement au demande. Très heureuse de mon séjours à Québec
Valérie
2017-01-12T00:00:00Z
Impeccable, propre et super bien situé. Merci pour tout!
Pierre
2016-12-30T00:00:00Z
Excellent séjour dans ce charmant petit appartement en plein centre de la vieille ville. Idéal pour un couple. Nous reviendrons.
Stephane
2017-01-08T00:00:00Z
Room Type
Entire home/apt
---
Property Type
Apartment
---
Accommodates
2
---
Bedrooms
Ville de Québec, QC, Canada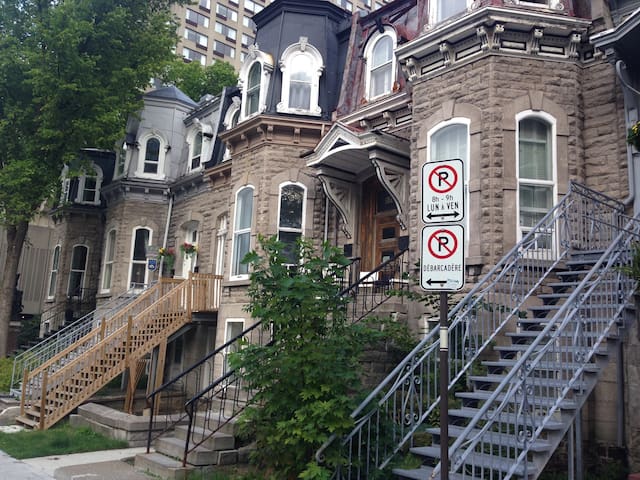 friendly accommodation in the heart of the city. Full kitchen, perfect for couples or small family. smiling and very accommodating hosts.
Apartment with a nice clean style.
Small historic neighborhood with lots of local services
Loved the location - very close to old Quebec and lots of great restaurants. Cute little place
Andrew
2017-03-19T00:00:00Z
We really enjoyed staying at Gabs place, we felt very welcome even though we showed up earlier than planned. The place is very clean and super nice! Many thanks, we had a great time in Quebec City!
Miriam
2017-04-01T00:00:00Z
Gab's place was great! My girlfriend and I had never been to Quebec City and chose this location randomly and it exceeded alll our expectations. The apartment is clean and it's super close to downtown and old Quebec!
Justin
2017-03-18T00:00:00Z
The appartment is perfect, it has anything you could need in the kitchen, you can walk to old Québec and enjoy it, close to marché due vieux port. Quiet and warm! I'd like to stay here if I' ll return to Québec.
Paulina
2017-04-09T00:00:00Z
Le petit appartement de Gab et Yvan est très mignon et agréable, parfait pour un court séjour en amoureux à Québec. Il est très bien situé, à une quinzaine de minute de marche de la vieille ville. On trouve facilement tout à proximité. Communication facile avec nos hôtes. je recommande fortement ce logement !
Delliere
2017-04-02T00:00:00Z
Appartement propre très agréable calme Communication rapide et courtois Rien à redire
sylvie
2017-03-29T00:00:00Z
L'appartement de Gab est super, très propre et bien decoré. Dans un quartier très calme. Quand vous êtes à Québec et que vous voulez un appartement entier pour vous? La référence, c'est l'appartement de Gab.
Sandrine
2017-03-26T00:00:00Z
Très bel appartement (plus grand que ce que peuvent laisser supposer les photos), propre et bien entretenu. Idéalement situé non loin du centre ville (accessible à pied ou en bus) et des restaurants de la rue Cartier. Gab et Yves sont faciles à contacter et se trouve à quelques portes de l'appartement en cas de problèmes ou pour des conseils. Vraiment un excellent rapport qualité/prix, je réserverais volontiers cet appartement lors de mes prochaines visites à Québec !
Julie-Camille
2017-03-22T00:00:00Z
Room Type
Entire home/apt
---
Property Type
Apartment
---
Accommodates
3
---
Bedrooms
Ville de Québec, Québec, Canada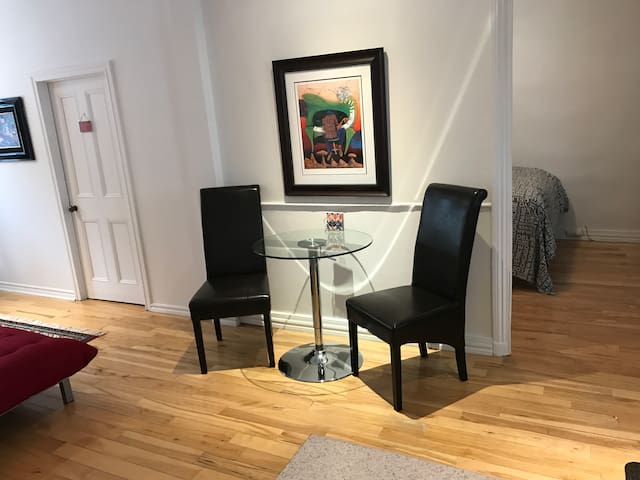 Beautiful brand new apartment near old quebec (10 min)
It is a nice and modern place. We really enjoyed our stay but the distance to old Quebec is 15 minutes with the car not 5 minutes like in the descriptiin.
Niklas
2017-03-10T00:00:00Z
This was our first Airbnb experience and it went beyond our expectations. The host Philippe was warm and very welcoming. He gave amazing recommendations for places to eat and much more. The appartment was clean, functional, close to the Mont Morency falls and old Quebec and reasonably priced. We would definitely look into renting this place the next time we come.
Thomas
2016-10-11T00:00:00Z
Awesome stay at Philippe's! A beautiful place, with 3 confy beds and a a great kitchen. Highly recommend!
Mathieu
2017-03-03T00:00:00Z
Everything was great. We stayed there with our one year old and it's super child friendly. The washer and dryer is a huge plus to the apartment. Would definitely stay there again. Thanks
Ronny
2017-01-13T00:00:00Z
This place is absolutely beautiful. No complaints. The location is close to everything and Philippe is a wonderful host. I would recommend his place to anyone.
Katy
2017-02-18T00:00:00Z
Philippe's home is new, renovated and clean. We loved the furniture and the overall layout. You could easily fit 6 people. It is a basement apartment, but very bright. It is about 10 minutes from the city center. Quebec City is wonderful!
Jaana
2017-02-20T00:00:00Z
Thanks for having my family and I! Really nice place. The amenities were very nice. I wish we could have stayed for as long as we had planned but it was well worthwhile.
Ethan
2017-03-15T00:00:00Z
It was an absolutely great place to stay! It was clean, modern, the beds were great! It also has a fully furnished kitchen which save us a ton of money and Netflix for when we decided to spend a night in! We had a really great time!
Gwendolyn
2017-03-08T00:00:00Z
Room Type
Entire home/apt
---
Property Type
Apartment
---
Accommodates
6
---
Bedrooms
Ville de Québec, QC, Canada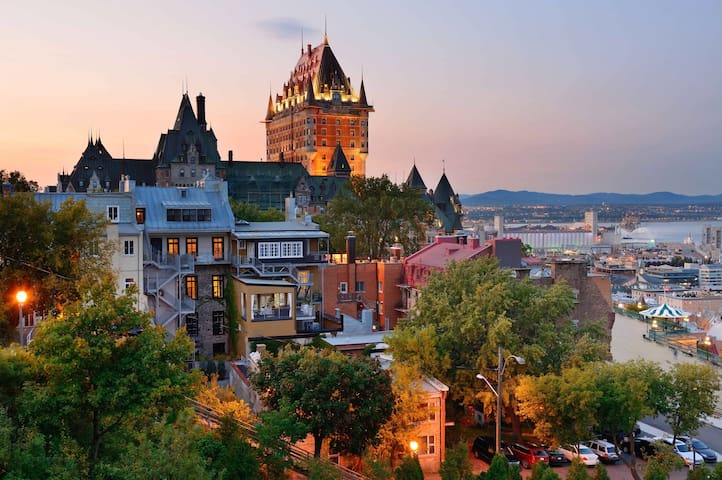 Condo on two floors sunny and full of character. Close to the beautiful Cartier Street. Sleeps 4, two bedrooms and a sofa bed. On foot, theater, restaurants, grocery stores. Near Plains of Abraham and Old Québec. Have a good stay !
Very well located near the beautiful Cartier street, the apartment warm time with brick walls and wood floors sleeps up to 6 people. Two bedrooms with queen beds and a large sofa bed suitable for 2 people. Clawfoot tub in the master bedroom and bathroom with shower on the second floor, outdoor terrace.
At 2 minute walk from the beautiful Cartier Street. Nice restaurants and cafes nearby. Museums and theaters. Halles with butcher, fishmonger, bakery, florist and all you need for your stay. Park and Plains of Abraham near you to stretch or relax. Old Quebec is less than 15 min. walk.
This place was perfect in every way. Stéphane was there to greet us and show us around and he saved us a parking space which was great. The apartment was beautiful and exceeded our expectations. Stéphane did a great job refurbishing this place and bringing it back to it's Old World Charm. It is located in a wonderful quaint neighbourhood that has everything you need and within walking distance of Old Quebec. We loved staying here and hope to be back.
Theresa
2016-03-24T00:00:00Z
We had a great weekend at Stephane's place. He was there to welcome us when we arrived, showed us around, and provided us with a map as well as the number for a cab company. His condo was beautiful and very clean, and we had everything that we needed there. We were close to the great shopping on Cartier Street, and not far from from Grand Allee and Rue Saint Jean. It was only about a 10-15 minute walk into Vieux Quebec. We would definitely return here!
Jill
2016-04-05T00:00:00Z
A great airbnb experience! The apartment was very well located. There are many restaurants, pubs and groceries stores within a 2-5 minute walk. The apartment itself was just as the pictures described. Lots of great natural light, spacious, and had everything we needed. I would recommend the apartment to others and would also look to stay there again.
Heather
2017-03-19T00:00:00Z
The apartment is lovely, and the neighborhood, for me, is ideal. Five minutes or less to a dozen great restaurants and bars. It's the kind of neighborhood I would love to live in. In fact, it reminds me of the neighborhood in Brooklyn where I lived for about 15 years. If I come back to Quebec City, I would return to this apartment without hesitation.
ron
2016-10-15T00:00:00Z
Stéphane's place in Quebec City was ideal for our ski trip to Le Massif. Beautiful home, and great to have such a nice kitchen. Only challenge was finding parking, but Stéphane had warned us that that would be the case before out arrival. Would definitely recommend!
Allison
2017-01-28T00:00:00Z
This apartment is consistent with the pictures-spacious and clean. The only difficulty was the parking on Quebec City streets-watch the posted signs. I ended up with a ticket! Hope to return
Betty
2016-11-28T00:00:00Z
This place is great. Stephane was very helpful and accessible upon our arrival to Quebec City. Location, location, location! The apartment is located within a short walk to Old Quebec City or a block from Cartier where there are many cafes, restaurants and shops. We thoroughly enjoyed our stay and would book with Stephane again
Kelly
2016-07-28T00:00:00Z
The listing was exactly how described and shown in the photos. The old-brick-feel is really charming and the beds were cozy. The location is also spot on. It's only about 10 minutes from the old city and less than a two minute walk to a number of restaurants and markets. Also, Stéfane was a wonderful host. He met us right on time, was responsive throughout our stay in terms of responding to questions and gave us clutch advice for parking.
Ardeshir
2016-05-09T00:00:00Z
Room Type
Entire home/apt
---
Property Type
Apartment
---
Accommodates
4
---
Bedrooms
Québec, Québec, Canada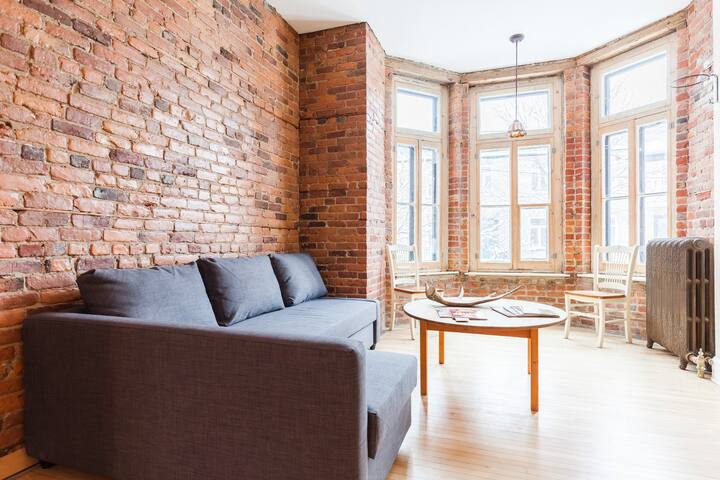 This charming suite is located in the hart of Old Quebec city ,Walking distance to the Chateau Frontenac or petit Chamlain or the plain d'habraham. Walking distance to stores and the popular street saint -jean and so much more.
This rental is in a supreme location to many attractions and in a beautiful part of town. It turns out this was the first time this place had been available for rent through airbandb. There were a few inaccuracies in the listing and bugs to be worked out. The host was quick to respond to emails offering guidance and advise, but the host is not on site- and the person who was sent by the host to assist was not qualified or helpful. A list of suggestions has been sent to the host based on our rental experience. If these changes are made, I believe this rental will be a great place to stay and I would certainly consider staying again in the future.
Andrea
2017-03-19T00:00:00Z
Room Type
Entire home/apt
---
Property Type
Apartment
---
Accommodates
4
---
Bedrooms
Ville de Québec, Québec, Canada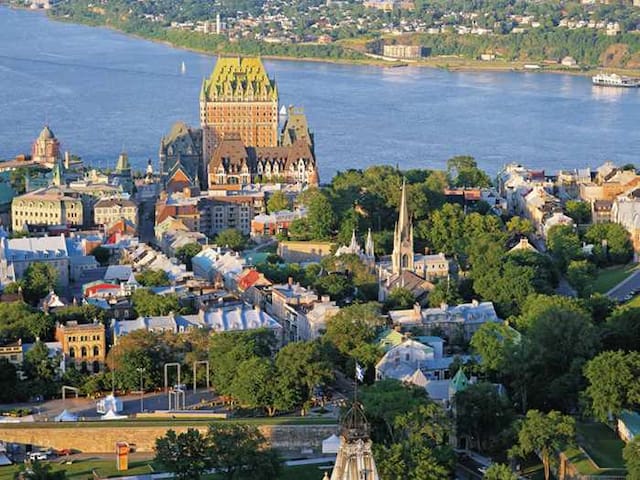 Modern, top floor with stunning sun terrace. newly renovated walk from the city center and all services. Modern, last floor with a great sunny terrace. Recently renovated, walking distance from downtown. 31 days / min days
Wonderful location near the Old City.
This place is well located, clean and very comfortable. Sébastien is easy to get a hold of and the place is loft-style decorated, very cute. Best suited for 2 or 3 guests but works okay for 4 as well.
Cristina
2017-02-12T00:00:00Z
Amazing location, close to view Quebec and all the best places in town, comfortable and easy check in!
Alexandre
2017-01-30T00:00:00Z
Listing was accurate. Location was ok. Place spacious and clean. Stair leading in were in need of replacing.
Deb
2016-10-12T00:00:00Z
Great location at the heart of a typical Québécois neighborhood. Accommodations are very accessible (small grocery right in front) and walking distance from vieux Québec and Plaines d'Abraham. Parking in the area is not a huge issue. Sébastien is a great guy. Even if the apartment was still under renovation and a few things were missing or broken, he provided solutions in a very short time.
Kym
2016-09-22T00:00:00Z
The apartment is very spacious which is beautifully designed and built but there were some problems like - the lock of the door of the apartment was very tight and took us 10 minutes to open the door. Even the lock of the bathroom is not in working condition. The speed of internet is too slow, most of the times it didn't work. Small grocery store is just below the building. Old town is 20 minutes walk away.
Nirmala
2016-10-19T00:00:00Z
A very cute apartment, and a very convenient location. It was around a 15 minute walk to old Quebec, and also the newer part of the town where good restaurants/bars, and stores are located.
Seema
2017-02-18T00:00:00Z
Perfect for a long-weekend! The apartment is really nice and the location is great.
Tonje
2017-03-19T00:00:00Z
Great location, very clean apartment and quiet neighbours. The description is very accurate to what is offered at this apartment. Short 15 minute walk to Old Quebec and plenty of restaurants.
Nathalie
2017-01-01T00:00:00Z
Room Type
Entire home/apt
---
Property Type
Apartment
---
Accommodates
3
---
Bedrooms
Ville de Québec, QC, Canada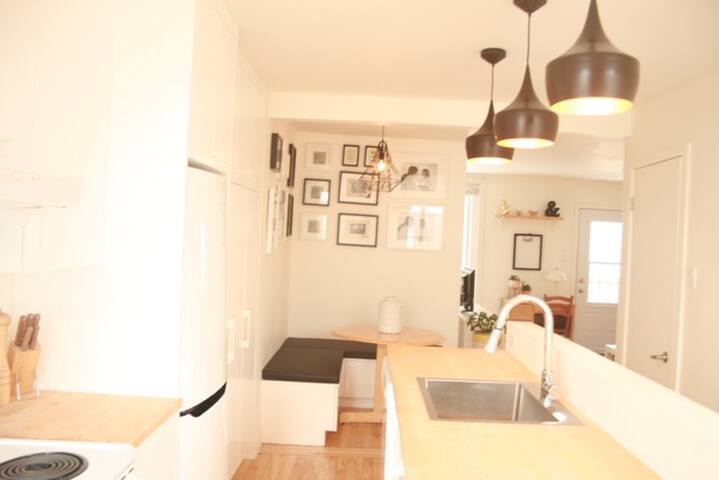 Located between the wonderful historic parc Plaine Abraham and the famous street Grande-Allée, this condo is unique because it allows you to stay in a quiet and cozy place while being in a very lively and central spot: the Old Québec. See more below!
This condo is one of a kind. You can not be better located to enjoy everything that Québec is offering to you. The majority of the festivals or special events are happening only a few steps from there. It is right behind a historic building from 1874, that is now a business complex. The main entrance, is from that building. This entrance is directly in the heart of one of the most prestigious street in Québec : La Grande-Allée. You will find different restaurants, bars, spas, historic sites, sports areas, etc. La Grande-Allée is very lively and another good thing is that the condo is mostly safe from noise as it is located between two builidings For those who are looking for good sleep, you will be happy to find this quiet but central place. Another nice aspect is that there are no direct residential neighbours, so again, it goes along with the fact that the place is quiet. Moreover, if you want to go on the Plaines D'Abraham to relax, explore, run, do some cross country skiing, ice skating or anything else, you have a direct access, without passing by Grande-Allée and so the business complex. It is a one minute walk. It is also a walkable distance from the Château Frontenac, the sites where you have beautiful views on the St-Laurent river, Le petit Champlain and many other must in Québec city. The condo also has a balcony. You will be comfortable inside the condo. During the evening, you can use the different LED lights to create a nice atmosphere. Everything is furnished so you can cook, make cocktails, put your favorite musique, do your laundry and of course, sleep tightly. A computer with internet will be at your disposition if you don't bring yours. We have also a smart TV with Netflix. There is only one bedroom in the condo, but you can sleep four as you can use a very comfortable and quality air mattress with bedsheets, additionnal pillows and blankets. You can put it directly on the living room. Don't worry, it have curtain for the windows. Cleanliness is very important to me so be sure the condo will be impeccable when you will arrive. For those who are in a business trip, you have the possibility to rent with me a meeting room in the business complex. Some photos of the room are available (#22, 23 and 24 of the photo album). With this service, you have access to coffees, sparkling waters and white wine. Also, you can use the printer if necessary (0,25$ per page). The price to rent the meeting room is 29$US/CAN for one hour or 59$US/CAN for 3 hours.
If you are looking for a grocery store or a liquor store, you can find it on the St-Jean street. It is a 10/12 minutes walk. There is the adress : 853, rue St-Jean, Québec, Québec, G1R 1R2. Some take outs (St-Hubert, La galette libanaise, Baifoo, Subway, etc) are also available on Grande Allée street as an alternative if you don't want to walk. Moreover, I suggest you to take a look on my map localisation on the condo ad, I write it a lot of good spots!
We were so at home at Vincent's place, and he worked with us directly to make sure we got to his place using the New Orlean Express bus from Montreal (something neither of us were familiar with). He went on line and helped us to be sure we arrived at the most convenient station to get to his place, as there was more than one and it was somewhat confusing. We found Vincent's place to be very hip with all the modern conveniences and located in the heart of a very trendy area. Also just a walk away from many other cool spots, including the really old part of the city. The full size bathroom with tub was great. Did not realize how much we would enjoy the ambiance with the colored LED lights in all the rooms, and we enjoyed the balcony as well while eating dinner we made in the kitchen that had everything we needed. There was also special lighting out there! We also enjoyed the French press coffee maker because while there we thought let's do as the locals do, but for convenience he also had a coffee maker with the pods. It was nice he offered both options. This was my first trip using this service with a girlfriend and I can't wait to travel again but next time enjoying the experience with my husband.
Kristen
2016-09-23T00:00:00Z
Excellent location!!! Within walking distance to the very heart of the old town, and amidst a lot of great restaurants and bars. The off-site parking was convenient. And the apartment was very cleanly maintained.
Shanqi
2016-10-14T00:00:00Z
This was the perfect place to stay for our weekend at the Carnaval! It was right in the action, but since it was at the back of the building, we didn't get any of the noise from the street when we wanted to go to sleep. The apartment itself is very cool, loved all the decor and furnishings. Vincent had some great recommendations of local places to try - definitely get the poutine from Sul'Side, right downstairs! I would absolutely stay here again the next time I go to Québec!
Elizabeth
2017-02-12T00:00:00Z
Vincent was so wonderful and very friendly even though we were quite late. The place was very clean and in the best location! Easy walking all over the old city and beyond! It is such a great spot because it is located between two streets, eliminating the sound from both of those streets. Very quiet! I could not imagine it being any better!
Julie
2015-11-27T00:00:00Z
We enjoyed our stay in the flat- the best part was the location- super convenient to everything! Here is my summary of Vincent's apartment: Pros: -Vincent: he was amazing with communication and super friendly. He met us in person to show us in. He even delivered umbrellas for us to use when it rained! -Location: The Grand Allee is the dining hub of QC! There are numerous restaurants to choose from and lots of beautiful terraces. It is also easy walking distance to lots of shopping and sightseeing -Cleanliness: The apartment was spotless, and very well maintained. It was plenty of room for two people and all of our bags TV/Movies: My husband loved the large TV and Netflix subscription -Washer/Dryer: We were traveling for 12 days, so doing laundry on the road was a must. Overall Appointments: The towels were fresh and fluffy, there were toiletries and things provided, so that was nice also Cons: -The building in the photo is where you enter, although you walk up the stairs, through the building, down stairs, across a courtyard to a separate building, up more stairs, and through a total of 3-4 locked doors to reach (URL HIDDEN) it is not exactly this building that you are staying in. -The location can be noisy. We were there during a terrace festival, which ended at midnight. That was great with us....until the cleanup started at 1am and went all night. Also, one evening the downstairs restaurant was building something in the courtyard and had floodlights and a nail gun, drill, and saw going at almost 1am. They were very nice and receptive- they stopped working when I opened up the door and told them I was trying to sleep. I suppose this is the payoff for staying right in the city center. Overall, for the price, this was a great place to stay. It was nice to have a comfortable 'home' and not a hotel room to go back to at the end of each day exploring.
Celesta
2016-06-19T00:00:00Z
The location is fantastic and there is a good variety of places to eat close by. Vincent was a very considerate host, we really appreciated him putting our bags in our room whilst we were out sightseeing. There is a beautiful Park behind the apartments.
Tracy
2016-10-07T00:00:00Z
This place was the perfect weekend getaway. Just as promised, Vincent was there at our arrival to welcome us and answer any questions we had about parking, household amenities, and places to go. His apartment was beautiful and the location couldn't have been better. I would highly recommend this place to someone looking for a prime spot to stay in this charming city.
Sami
2015-11-01T00:00:00Z
The flat is very spacious, comfortable and reasonably well equipped. The location is very convenient for the cafes and bars on the Grande Allee. It's about a kilometre from shops and into town. Despite being close to the action on the Grande Allee, it was quiet at night as the apartment is set back from the road. Vincent was very helpful in making arrangements for check-in, etc. and was there to meet us at the agreed time. We felt the cleaning could have been a bit better and the wifi was sometimes a bit weak but overall we enjoyed our stay.
Adrian
2016-06-24T00:00:00Z
Room Type
Entire home/apt
---
Property Type
Apartment
---
Accommodates
3
---
Bedrooms
Québec, Québec, Canada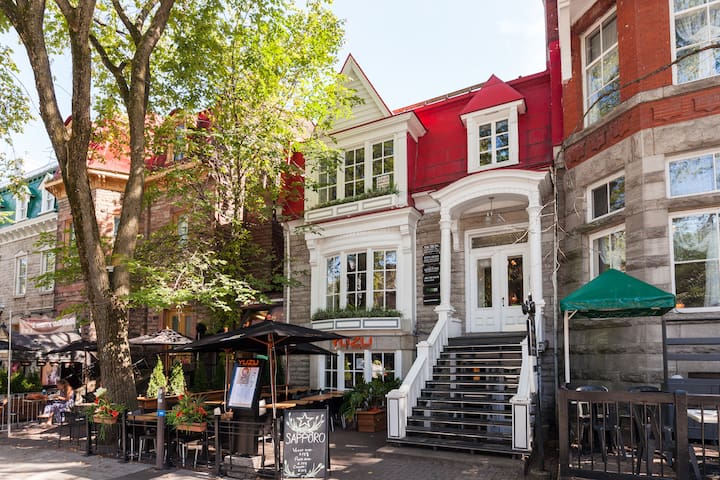 Nice apartment close to everything in the old Quebec. Walking distance to all the main attractions, come and live the old Quebec experience!
2 bedrooms . You have access to a complete kitchen
The old buildings, the lights at night, the history itself behind this city makes it wonderful to walk around. Museums are also close to the aparment.
Fantastic place in a perfect location in Old Quebec. Though I did not meet Julien, he was easy to communicate with about the apartment. Arrival and departure were easy. Everything was just as described in the listing. My boys and I had a great time.
angie
2016-07-20T00:00:00Z
This was an AWESOME place to stay! Clean apart - just like the pictures! The place is downtown: GREAT LOCATION!
Audrey
2016-05-02T00:00:00Z
The apartment was spacious and in a perfect location!
Elizabeth
2016-07-15T00:00:00Z
Nice location, easy walk to most of the tourist destinations. Julien is quick to respond to all queries. its in an old building and little dated......
Poonam
2016-05-20T00:00:00Z
The host canceled this reservation 16 days before arrival. This is an automated posting.
Liz
2016-06-01T00:00:00Z
Great location, clean apartment, enjoyed the decor! Comfortable to hang out in, wish we had stayed longer!
Bobby
2016-07-21T00:00:00Z
Julien's place is the perfect location for exploring the old city and for enjoying the festival d'ete. Highly recommended.
Joel
2016-07-10T00:00:00Z
The apartment in the old part of Quebec is a perfekt spot to explore this City. Although we did not meet, everything was as described; including the parking place for our car. This was great, because there is not much parking space for cars in the old part of town. The apartment is very nice, and has everything we needed. Julien answered all our questions and helped us with his assistence. Thomas
Thomas
2016-08-10T00:00:00Z
Room Type
Entire home/apt
---
Property Type
Apartment
---
Accommodates
3
---
Bedrooms
Québec, QC, Canada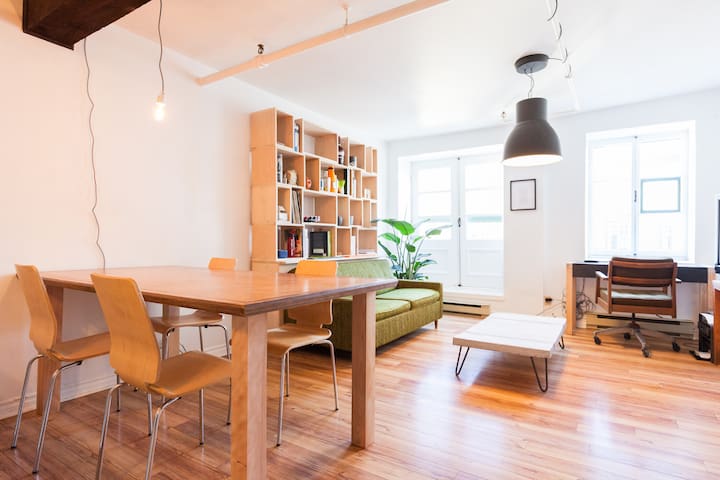 Discover the beautiful city of Quebec and its charming Old Quebec. A large apartment NEWLY refreshed with 2 large rooms for your comfort and tranquility in the heart of Downtown. Welcome everyone.
You will find this easy access housing and especially close to everything in Quebec, in the heart of the city center it will satisfy you with its intimate and quiet side. The accommodation is fully equipped (complete appliance) a large living room, 2 large bedrooms, area to open bathroom with corner shower, whirlpool and overlooking the 2 rooms, business customers for work space, dining room for 6 to 8 people and patio where you can relax after a long day visit Quebec and its main attractions ....
We call the Saint-Roch district, one of the oldest districts of Quebec. A neighborhood in constant effervescence or marries media-technology and cultural life with its Saint-Joseph Street trendy (libraries, theaters, concert hall, shops and very nice restaurants and bars), everything to make your stay enjoyable.
The place is cozy and clean. Dave is so kind and helpful.
Nick
2016-10-11T00:00:00Z
great location near great night life! host was very helpful and accommodating. everything was clean and modern.
Bethany
2016-10-01T00:00:00Z
Thank you a lot
Adelina
2016-11-14T00:00:00Z
Dave & Clara's place was a pleasant experience for our family of 4 and our 'explore Quebec' experience. It's modern touch and unique layout was engaging for us - especially our 2 boys and their sleeping in 'the loft'. The location is near Old Quebec and Dave is super helpful with giving local tips.
Dan
2016-11-08T00:00:00Z
Great place for a family or a group of close friends. the apartment is very spacious and clean. There are several restaurants and bars from walking distance.
Amine
2016-11-25T00:00:00Z
Thank you Dave and Clara for such amazing place to stay. Clean, comfortable and modern apartment. If somebody is looking for a place to stay in Quebec ...you must chose their place. Hope to visit you again!
Ekaterina
2017-01-16T00:00:00Z
The host is very nice, the apartment is clean and sweet. Just the bathroom is in the middle of the room, it is a little inconvenient for us.
Ziyu
2016-10-22T00:00:00Z
Huge apartment, very comfortable, nicely decorated. There was 1 main bedroom with a double bed, 1 loft room with a double bed, and a fold down single bed in the large laundry/storage room. All very comfortable. Funky open plan layout which is cool, but best suited to people who are totally comfortable with each other because there are no solid doors on the bedrooms and bathroom. Although, we were fine with it because we were travelling as a family. Walking distance to the old town and other cool parts of Quebec City. Great communication with Dave and Clara. Would definitely recommend.
Anita
2016-10-04T00:00:00Z
Room Type
Entire home/apt
---
Property Type
Apartment
---
Accommodates
7
---
Bedrooms
Ville de Québec, Québec, Canada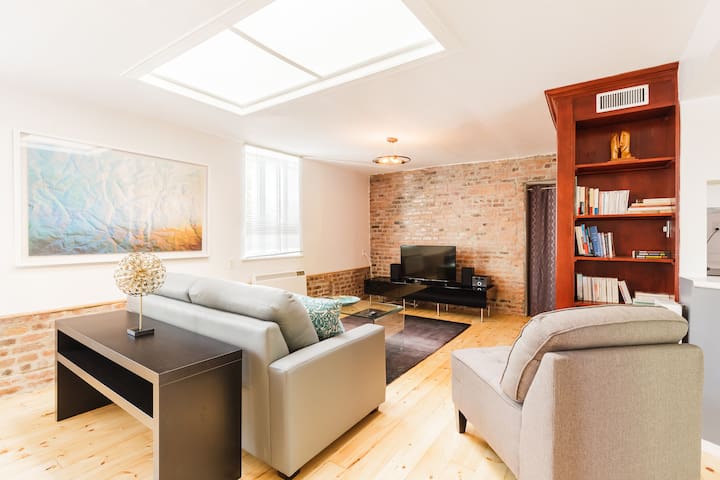 Apartment welcoming in the heart of St-Jean-Baptiste neighborhood. Quiet area located within walking distance of downtown, Old Quebec and the Upper Town (Abraham and other Plains.)
Wifi is included, you can use the pantry (spices, flour, condiments, staples, etc.)
The St-Jean-Baptiste neighborhood is almost exclusively residential area which makes it a very quiet place. The apartment is located 2min walk from St-Jean Street known for its small shops and good restaurants and bars that leads directly into the old Quebec (15min walk). The St. Roch neighborhood is a neighborhood frequented by locals is renowned for the St. Joseph Street (shops, restaurants, bars and nightclubs), is 5min walk too. Finally, Cartier Street, most exclusive, with its shops and delicatessens is 5min walk. It includes a great neighborhood cinema we love to attend.
Room Type
Entire home/apt
---
Property Type
Apartment
---
Accommodates
4
---
Bedrooms
Ville de Québec, Québec, Canada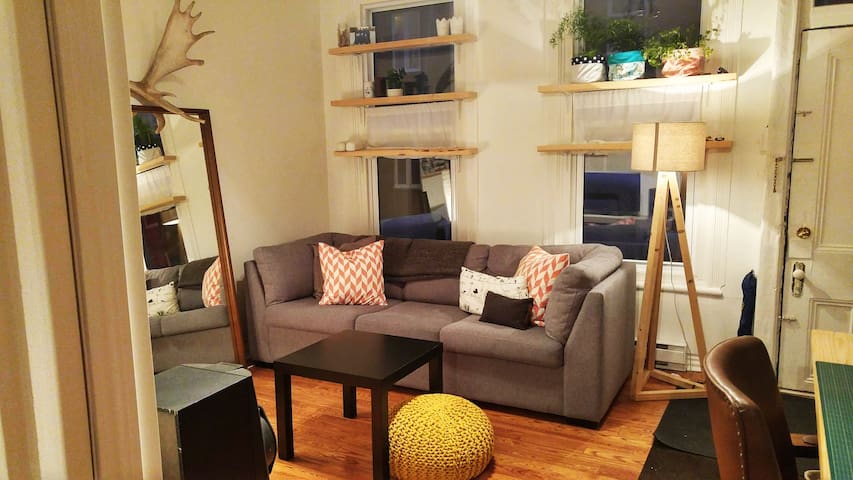 spacious accommodation for your family at the river. Quiet and beautiful sunsets on the water. A small cozy corner in a house in 1829. An ancient charm. Looking forward to welcoming you during your stay!
Area near services. Grocery store, convenience store, cycle path, the water's edge. At 9 minutes from the ferry to the old QC or bridges.
Room Type
Entire home/apt
---
Property Type
Apartment
---
Accommodates
10
---
Bedrooms
Lévis, Québec, Canada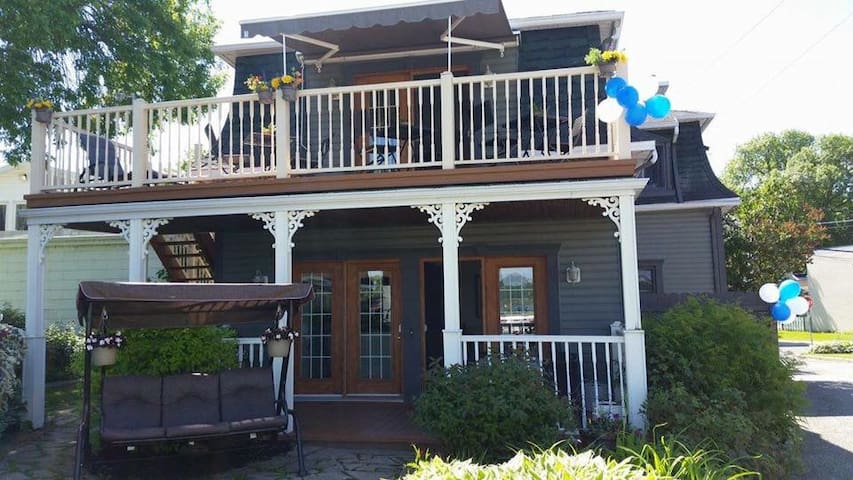 Charming 4 ½ rooms located near the district of Saint-Roch. Convenient to the Metro supermarket 2 min. walk and to take the bus. (Familiprix, restaurants, park ...) Popular areas of St. Joseph and St. John (restaurants, concert halls, bars ...) are 15 min. walk and Old Quebec in 20 minutes. The situation will also help you easily achieve the great Quebecois natural spaces.
Room Type
Entire home/apt
---
Property Type
Apartment
---
Accommodates
3
---
Bedrooms
Ville de Québec, Québec, Canada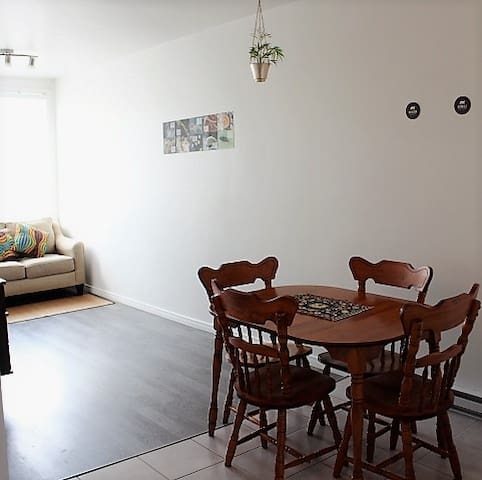 This elegant two-bedroom apartment in the heart of historic Old Quebec offers the perfect combination of great location and designer style. The layout of this gorgeous apartment is perfectly accented by the unique décor and playful color combinations.
Room Type
Entire home/apt
---
Property Type
Apartment
---
Accommodates
3
---
Bedrooms
Ville de Québec, Québec, Canada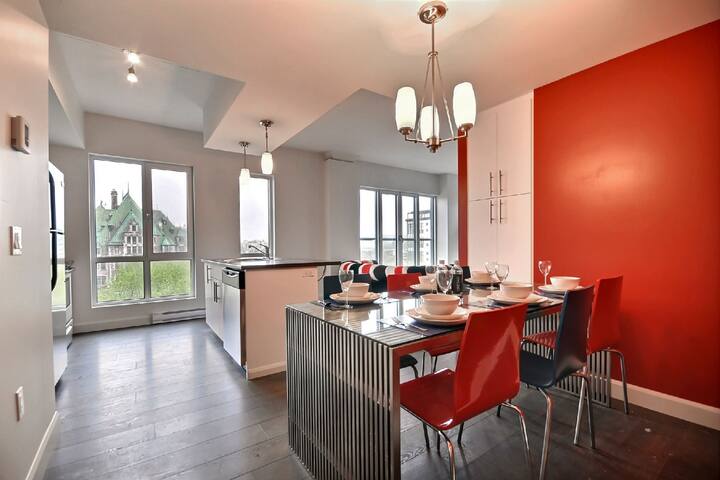 he historic, colorful and friendly St. John's is the city of Quebec at its best. Ideal for young couples this intimate places and located in the heart of all the attraction of old Quebec. Everything for you has less than 2 minutes ... grocery pharmacy, restaurant bar EVERYTHING
The intimacy of the stones the place is perfect ... to be enchanting to leave you enchanted by the splendours of the city and the return in warm and cozy sheets will allow you to spend a memorable time in the city which serves as cradle For the whole of America
Old Quebec is the historic heart of Quebec City. It is here that the founder Samuel de Champlain built the Habitation there in 1608. The geography of the place is decisive: Cap Diamant dominates the St. Lawrence River, on the edge of which is a strip of low ground1. At the top of the cape stands the "Haute-Ville" while at the foot of it is "Basse-Ville" 2. This is brought together by the concept of the "Heritage Site of Old Québec".
The apartment is in the very best location for exploring Old Quebec. Sufficiently warm, large windows, and overall good feel in the apartment. Parking is an issue as it is a seperate expense NOT included
Jonathan
2017-03-04T00:00:00Z
Jean François est un hôte adorable! Il a rendu l'arrivée et le départ très flexibles et faciles à effectuer. L'appartement est charmant, très propre, et extrêmement bien situé dans le vieux Québec, tout en étant très calme. Par ailleurs, il est placé juste en face d'un parking, ce qui est très pratique lors qu'on arrive en voiture. Je reviendrai avec grand plaisir dans cet appartement lors de mon prochain passage à Québec!
Laura
2017-02-20T00:00:00Z
À deux pas de la rue Saint-Jean, petit appart sympathique dans un immeuble patrimonial. Près de tout et excellent rapport qualité-prix.
Stefan
2017-03-09T00:00:00Z
Room Type
Entire home/apt
---
Property Type
Apartment
---
Accommodates
4
---
Bedrooms
Ville de Québec, Québec, Canada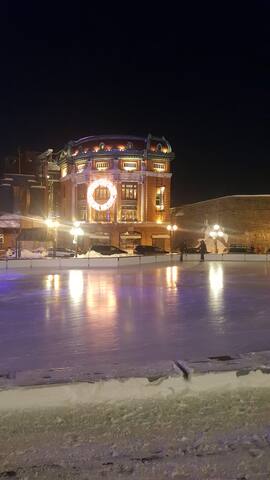 Our accommodation is situated 5 minutes from Old Quebec in front of the Island of Orleans and Montmorency Falls is conveniently located directly on the river. It is bordered by a bike path. Enjoy our accommodation for its ease of access to all kinds of activities, cleanliness and all the services offered. Our accommodation is perfect for couples, solo travelers, business travelers and families (with children).
My wife and I stayed with our 6 month old daughter. The place was perfectly clean and well appointed. Would not hesitate to recommend.
Jason
2016-08-28T00:00:00Z
We were completely satisfied with our stay. The place is new and got everything you need to live.
Mostafa
2016-08-07T00:00:00Z
Beautiful home! It was very clean and well equipped with everything you need. 10 minute drive to Quebec City and a walkable distance to the Falls.
Annie
2017-03-25T00:00:00Z
Very nice place and pictures are accurate. Please was very clean and communication with host was smooth
Jake
2017-02-17T00:00:00Z
Catherine's home was perfect for our family of four. When we arrived were very happy to see that the description and pics were exactly what we were expecting with one wonderful surprise, an air conditioning unit already on for us. It was extremely hot that day. I really appreciate Catherine checking in on us to make sure everything was okay, which it was. I would highly recommend a couple or a small family staying at Catherine's home for a visit to Quebec City. Great location with even with a wonderful coffee and sandwich shop a 2 min drive away when you need to get food fast.
Jennifer
2016-07-24T00:00:00Z
Catherine's place was in a great location. Right on the bike trail,15 minute walk to the falls and a very easy drive to old Downtown Quebec City. It is a cute little apartment and worked out perfect for us.
Terry
2016-10-07T00:00:00Z
The location is great, right behind the river and a few minutes drive to Montmorency falls, St. Anne-de-Beaupre shrine and Ile d'Orleans. The apartment itself looked just like in the pictures; expensive, modern and very clean. It has been furnished artfully and with an eye for detail. Catherine has filled the place with everything you would need and we wanted for nothing during our stay. It is hands down the best place we have found on airbnb. Jeff and Cath were wonderful hosts. Jeff came over to welcome us when we reached the apartment and communication was excellent throughout. We thoroughly enjoyed staying there and would definitely go back. We would recommend Jeff&Cath's apartment to everyone who is visiting QC.
Julie
2016-07-17T00:00:00Z
Clean and beautiful home. Catherine was great for asking us when we arrived and if we were comfortable. Thank you for the great stay!
Chanel
2017-02-12T00:00:00Z
Room Type
Entire home/apt
---
Property Type
Apartment
---
Accommodates
4
---
Bedrooms
Ville de Québec, Québec, Canada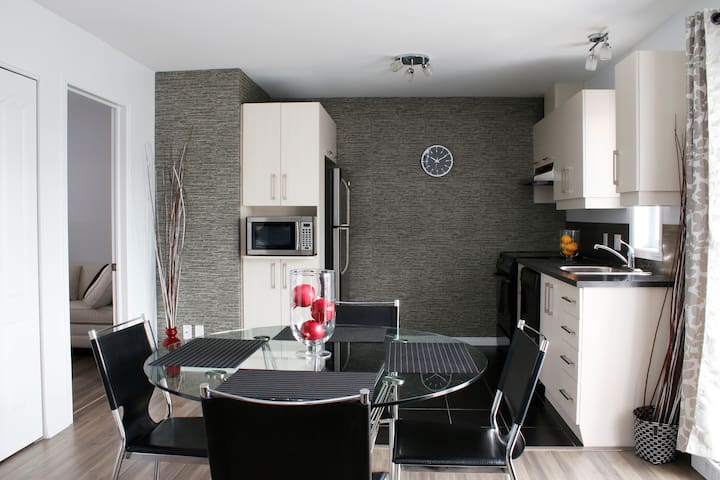 1

–

18

of

300+ Apartment Rentals
Enter dates to see full pricing. Additional fees apply. Taxes may be added.