My house is near the hiking and biking area. Do you love peace and a great view, so you're in the right place, The house is equipped with plenty Arven furniture. My accommodation is good for couples, families (with children). Friends.
This accommodation presents you with beautiful panorama and plenty of sunshine. From the house it is on the same to various hiking and biking trails.
There is at the neighbors directly meat eggs and milk from the farm
Room Type
Entire home/apt
---
Property Type
House
---
Accommodates
6
---
Bedrooms
Santa Maria Val Müstair, Graubünden, Switzerland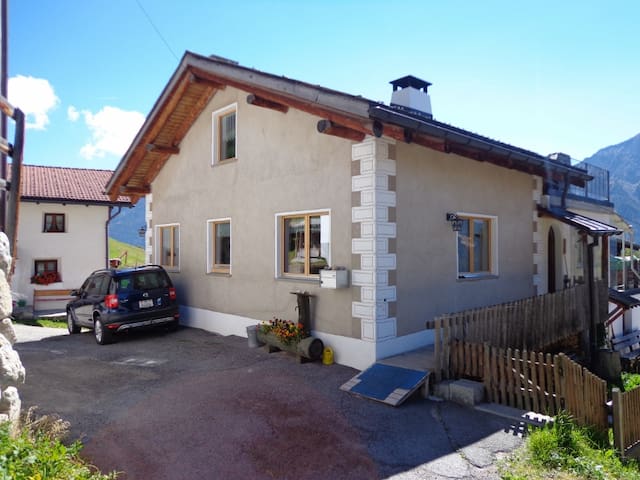 finely furnished, very bright, it has two bedrooms, a typical "stua double" in wood and an ideal room for two children, bathroom with bathtub and washing machine, kitchen with all the accessories including dishwasher, sunny terrace
the pedestrian island comfort, away from traffic and at the same time the tranquility and views of the ski slopes
the center of Bormio with its history and the many shops for shopping
Stefania was a very kind host and we had the opportunity to stay in her apartment in the heart of Bormio - a lovely little town in the upper Veltellina. We enjoyed our stay a lot!
Marianne
2016-07-30T00:00:00Z
The host canceled this reservation 58 days before arrival. This is an automated posting.
Alessandro
2016-06-09T00:00:00Z
very nice and welcoming. comfortable apartment. Must provide electic kettle. No WiFi!!! Not car accesible.
Eytan
2015-06-26T00:00:00Z
Good stay had to Stefanie , cozy town. Bakery and other shops right next door . We got to Bormio for cycling. ride there. Bormio is a good base for many routes . Stefanie had little bike room where with some difficulty just good for four bicycles. Beds slept well and communicate with Stefanie was good. It was a good stay in Bormio.
Sipke
2016-07-28T00:00:00Z
Stefania was an amazing host! She communicated quickly and was kind enough to let us park our car at her house. The apartment is on a lovely little pedestrian street in the centre of everything. It is bright, clean and spacious, and had everything we needed. Stefania also brought us maps and gave us lots of useful information about the area. We had a great mini vacation in Bormio, and would definitely stay at this apartment again!!! Thanks Stefania!
Stefanie
2015-07-06T00:00:00Z
I stayed at the apartments early June 2015 for four days around the Gran Fondo Stelvio Santini. Nice little apartment right in the heart of Bormio just a few minutes walk from the main square and all amenities. Has everything you need and plenty of space. No issues with the hot water n shower (essential after a hard days riding) or the heating. Bed was comfortable and the kitchen had all I required for breakfast, my lunch and evening meals I ate out. Stefania was an excellent host, answered all queries and requests promptly, gave me an excellent dinner recommendation, and even offered to pick me up from Tirano (an 45mins-1hr away) as my planned flight was going to be too late for the connecting bus.... I thought that was really lovely of her and over and above what she had to do to. I was also able to use husbands track pump, saving me bringing mine over which was really handy as well. I would happily stay here again.
Jaison
2015-06-09T00:00:00Z
Simply awesome on all aspects. First, the host family is wonderful. I am a cyclist and came to ride the amazing roads in the area. Stefania's husband, Renato, went out of his way to help me with routes, directions, as well as a bike to use. I felt I was not just staying at someone's place, but was visiting friends. They were just awesome. I cannot say enough about them as hosts and now friends. Second, the apartment is centrally located in the old town, just off the main square with coffee shops, restaurants, bell tower, church, etc. You literally overlook the square from the bedroom window. From the kitchen window, you overlook the mountains and ski slopes. The apartment is on the third floor. The place is very comfortable, clean and feels like home. Third, I came with a car. To my knowledge, you cannot drive up to the apartment since it is in the old town. I parked in the local park outside the old town and then texted Stefania. Her husband and daughter came and met me. They let me park at their house, which was just a 5-10 minute walk to the rental apartment. They then helped me with my bags and walked me to the apartment and showed me everything I needed to know about the place. Finally, the apartment does not have internet access. But that was not a problem as Bormio Tourism offers free wi-fi in the square right next to the apartment. To summary, wonderful hosts with a very centrally located and comfortable apartment is a very amazing town. Highly recommend this place.
Bruce
2015-08-26T00:00:00Z
Perfectly located apartment in downtown Bormio. There is a ski shuttle stop in the piazza less than 100 m from the apartment. The apartment is well-equipped, clean, and comfortable. It is on the second floor (no elevator). There are nice views of Bormio town and the mountains from the apartment. Parking is a bit of an issue, but if you get lucky there is some paid parking about 30 meters from the apartment (which is free overnight) and about 150-200m from the apartment there is a larger, free public parking lot. There is a dishwasher, but we didn't use it as we were only there for a couple days. Great kid's room!
Chiara
2017-03-05T00:00:00Z
Room Type
Entire home/apt
---
Property Type
House
---
Accommodates
4
---
Bedrooms
Bormio, Lombardia, Italy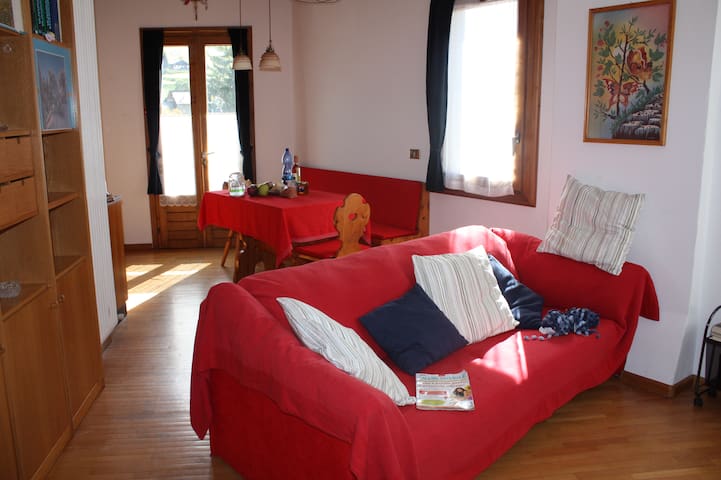 Baita Ralon is a typical mountain house recently renovated. Nestled in lush meadows and forests offers nature lovers a perfect setting for a quiet holiday. It remains close to the ski slopes and a 10-minute drive from Bormio following the road that leads to Bormio 2000.
For those who want a holiday in contact with nature, our Baita is ideal: it is situated away from traffic but at the same time close to the road leading to the ski resorts of Bormio 2000. The Baita is fully restored, with two bedrooms, a living room with a small loft and kitchenette and, finally, two bathrooms.
We loved staying here. It's above Bormio with beautiful views across the valley. Perfect as a base for cycling, walking, relaxing, etc. Clear starry nights. We were snug and cosy too - the fire pumps out a lot of heat. Bedding and towels were well provided. Gabriella lives close by and is easily contactable.
Alistair
2016-08-03T00:00:00Z
Excellent accommodation. Could not give a single negative. Amazing location. Amazing view. Amazing house. Lovely family to greet you. Cannot wait to return one day. We travelled through the italian Alps in the summer and this really was the highlight accommodation of our stay.
Jman
2016-07-11T00:00:00Z
Very nice, clean and cosy house in a good reachable, but quiet place high over Bormio. The house is furnished very nice with tasty wooden furniture, all in a fitting modern country style. Gabriella is a very friendly host, who helps with instructions and who has answers to all questions. Definately a place to return!!!
Nicole
2016-08-08T00:00:00Z
Gabriela's place was so lovely and in such a quiet and relaxing setting. The cycling literally at the door was fantastic.
Bianca
2015-06-17T00:00:00Z
La baita di Graziella e dei suoi fratelli è semplicemente bellissima! praticamente nuova, arredata con gusto e ricercatezza estreme, ma allo stesso tempo funzionale in tutti i confort che offre, si trova in una posizione isolata rispetto a Bormio, quasi invisibile dalla strada che sale al Ciuk, e si affaccia su una piccola radura tra i boschi che attualmente (metà aprile) è ricoperta di crocus... e sulla quale al mattino hanno fatto capolino alcuni cerbiatti! da parte dell'host ci sono state dapprima puntualità ed efficienza nella risposta, quindi disponibilità, cortesia, ed elasticità impagabili, sia al nostro arrivo che in partenza (non essendo previsti arrivi il giorno della nostra partenza ci è stata offerta la chance di "estenderci" in un decisamente "late check-out"). Romantica, silenziosa, accessoriata di tutto, particolarmente apprezzabili la stufa a legna e la cabina doccia di gran pregio, è una soluzione che ci sentiamo di consigliare vivamente. Noi torneremo senz'altro, grazie!
alessandra
2016-04-11T00:00:00Z
La Baita è ancora più bella di quello che si vede dalle foto. Immersa nel verde, una volta entrati si respira la vera atmosfera di montagna. E' stata recentemente ristrutturata ed ha finiture di pregio, che fanno capire quanta cura sia stata posta nella sua realizzazione. Gabriella e la sua famiglia sono persone squisite, sempre disponibili e attente alla soddisfazione dei loro ospiti. Non da poco, biancheria da casa disponibile e cucina super attrezzata, cosa rara per una casa di villeggiatura. Complimenti!
ELENA
2016-08-15T00:00:00Z
Baita restaurata a due piani meravigliosa. La casa è sulla strada per Bormio 2000 vicino al Ciuk (comodo per partire a sciare), bellissima posizione anche se non vicinissima a Bormio. Gabriella e i suoi fratelli sono stati gentilissimi durante il soggiorno!
Matteo
2016-03-16T00:00:00Z
Le foto del sito non fanno risaltare a dovere questa casa, che è stata ristrutturata e curata al dettaglio dal marito e dalla gentilissima Gabriella, che sin da subito si e mostrata gentile e premurosa. La casa è proprio tipica di montagna, sopra Bormio con bella vista sia sulle montagne che su Bormio stessa. Consiglio vivamente a tutti di andarci per scoprire questo posto davvero molto bello. Da ritornarci assolutamente, e grazie ancora di tutto a Gabriella.
Mauro
2017-01-02T00:00:00Z
Room Type
Entire home/apt
---
Property Type
House
---
Accommodates
4
---
Bedrooms
Bormio, Lombardia, Italy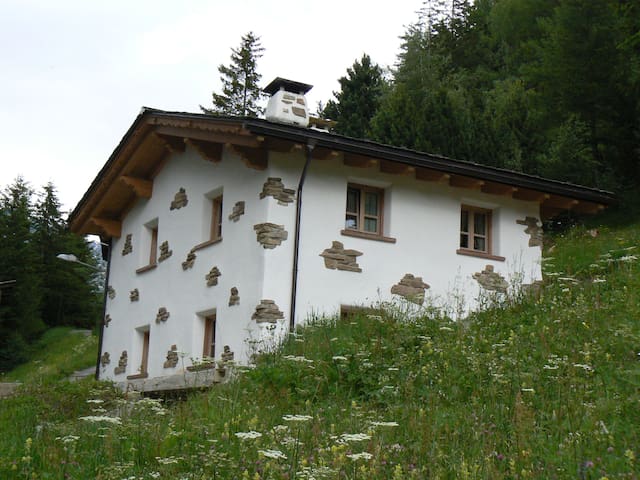 In una casa indipendente, a 1500 metri di quota, immersi nella natura abbiamo a disposizione un piccolo, romantico monolocale completo di tutto..per riposarsi, sciare...piccolo bagno, piccola cucina...tutto mini...!!
Quite small but very cozy and comfortable appartments. There are everyyhing nessesary for everyday needs. Chiara is a wonderful host!
Liubov
2016-09-14T00:00:00Z
A Nice, very small apartment to stay for a few days. Perfect cycling area!
Katja
2016-08-10T00:00:00Z
Chiara is a very nice lady that has truly welcomed us to her home. She was really flexible and took her time for us. The apartment was, as Chiara told us, 'piccolo' but contained everything we needed. We had a good time, grazie mille!
Sanne
2016-08-29T00:00:00Z
The house is really nice. Small, but not very tiny! It has really everything that you could possibly need. There's a bus that run few times a day to go down to Bormio (very comfortable if you go skying, because it is included in the (SENSITIVE CONTENTS HIDDEN)ass and so you don't pay the ticket for the car park!). Chiara is very nice and her availability is awesome: we run out of gas while cooking and in exactly 8minutes they changed the gas bottle!
Ludovica
2017-03-04T00:00:00Z
The apartment is small however has everything you need. It is suited to a couple. We had a car and were able to travel about as Oga is a brilliant location and close to Bormio. A couple of restaurants in walking distance. We went to one of them 3 times. Parking at the apartment. Would recommend the apartment and the communication with Chiara was excellent and she was very helpful.
Ali
2017-02-21T00:00:00Z
Loved Chiara's place great to have the little kitchen to cook in. The shower was good too welcome after a hard days skiing. The village is in a beautiful location and Chiara's directions really helped.
Alan
2017-03-08T00:00:00Z
A great apartment in a great spot. Chiara was extraordinarily generous and accommodating, which made transportation easier for us. Note two things: first, oga is outside of Bormio, so this listing is most convenient if you have a car. You can certainly make it work with the bus, but it's a bit less flexible. Second, Chiara says that the apartment is small, but it's comfortable and about the size of a standard hotel room (with bath and kitchenette). Certainly not cramped by my standards. And there are many lovely and remote walks just out the front door. Overall, a great stay.
Henry
2016-12-16T00:00:00Z
Chiara welcomed us warmly and showed us the amenities. There was great communication with Chiara. The apartment is small as described but it has all that is needed and is in a great location in a friendly village. Such a joy to stay here and experience that area. We highly recommend Chiara and her apartment.
Marty & Jannie
2016-08-04T00:00:00Z
Room Type
Entire home/apt
---
Property Type
House
---
Accommodates
2
---
Bedrooms
Oga, Lombardia, Italy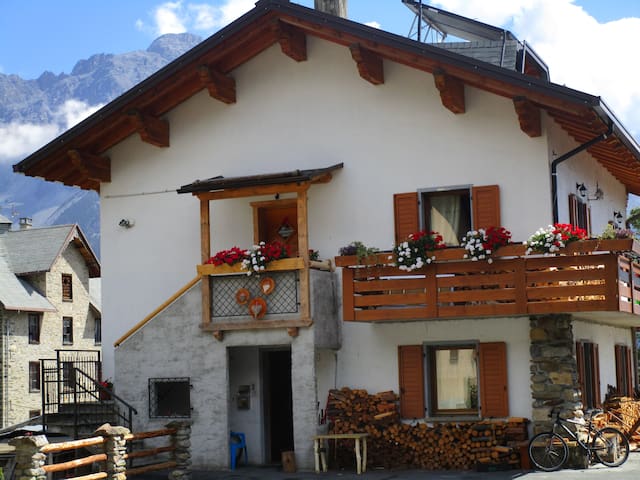 Das sonnige Mals, das die erste pestizidfreie Gemeinde in Europa werden will, ist ein idealer Ausgangspunkt für Wander-/Rad-Ausflüge im Sommer und Ski-Aktivitäten im Winter. Der Panoramablick auf den Ortler und der große, ursprüngliche Garten mit alten Palabirnbäumen laden zum Träumen ein. Das Haus hinterlässt einen minimalen ökologischen Fußabdruck (Klimahausstandard A+) und verbindet individuelle Architektur mit Wohnkomfort (inkl. WLAN). Ein nachhaltiges Urlaubslerlebnis ist garantiert.
Das Haus liegt nahe am Ortskern und trotzdem sehr ruhig. In 5-10 Minuten erreicht Ihr die Läden zum Einkaufen und die Cafes, Gasthäuser zum Essen und Trinken. Der Punibach ist ca. 150 m entfernt, je nach Wasserstand könnt Ihr ihn plätschern hören. Am Gartenende steht in unmittelbarer Nachbarschaft ein kleiner Bauernhof, dessen 6 Kühe, einige Hühner und viele Katzen Ihr oft auf der Wiese sehen könnt. Die Küchenzeile ist komplett ausgestattet mit Geschirr, Besteck, Töpfen, Geschirrspülmaschine, Wasserkocher, Elektroherd und Backofen.
Mals hat sich in einem Bürgerentscheid mit einer Dreiviertelmehrheit dazu entschieden, die erste pestizidfreien Gemeinde Europas zu werden. Diese Ökosensibilität spürt Ihr schnell: Ihr erhaltet viele einheimische Produkte aus biologischer Landwirtschaft und begegnet Vögeln und Schmetterlingen, die Ihr schon lange nicht mehr gesehen habt. Bei uns im Garten kommt zur Zeit gerne ein Stieglitz.
Katrin's Home is beautiful And comfy. We had wonderful time in Mals that is a small And nice place also very strategical for excursions ( there s a fast train that takes almost everywhere) Katrin is a wonderful host, even if she wasn't in Malles she give us all the help we needed. We'll come back for sure! Thanks!
Flavia
2016-08-27T00:00:00Z
Great location, spacious, nice views, great village... upper range of accommodation. Works very well for 6-7 people.
Prof Dr Rochus
2017-03-05T00:00:00Z
Wir haben mit 8Personen eine wunderbare Ferienwoche in dem wirklich geräumigen Haus verbracht. Die Schlüsselübergabe war völlig problemlos. Es hat wirklich alles gestimmt. Die Kommunikation ist hervorragend. Eine kurze Nachricht und schon steht jemand zur Verfügung. Die Gegend ist wunderschön und bietet sehr viel Möglichkeiten sich zu bewegen. Wir kommen gerne wieder.
Annette
2016-08-13T00:00:00Z
Es erwarte uns in Mals ein wunderschönes Haus und ein sehr netter Empfang. Auch der Mailkontakt im Vorfeld war sehr freundlich und wir erhielten umfangreiche Infos für unseren Urlaub. Die Umgebung ist ein Traum. Man kann wandern (von anspruchsvoll bis leicht), Radfahren, schwimmen, in Meran bummeln oder oder oder... Das Haus ist ein Traum, sehr groß und hochwertig verarbeitet. Meine Söhne hatten ihre eigenen Zimmer und ein Bad und fühlten sich sofort wohl. Auch in der Garage, in der mehrere Autos Platz finden, konnte man bei Regen Basketball spielen. Die Aussicht auf die Berge ist sogar aus dem Bett und der riesigen Dusche möglich. Das Preis-Leistungsverhältnis stimmt hier wirklich. Wir sagen ein ganz herzliches DANKESCHÖN für diese phantastische Zeit!
Susanne
2016-08-06T00:00:00Z
Das Haus ist sehr geräumig und mit allem ausgestattet was man braucht. Passend zum Skifahren oder Wandern. Vielen Dank für die tolle Unterkunft!
Aleksandra
2017-01-08T00:00:00Z
Wir durften eine Tolle Woche im Haus von Katrin verbringen. Das Haus ist extrem grosszügig und mit allem ausgerüstet was es für eine Woche Urlaub braucht. Die Lage ist einmalig mitten in Mals. Ein absolutes Highlight ist die Rundum Sicht von Berg und Tal durch die grossen Fenster. Immer wieder entdeckt man neue Blickwinkel. Absolut Traumhaft! Sogar von unter der entspannende Regendusche im Elternsuite kann man die Aussicht geniessen... Der Buchungsablauf mit Katrin war sehr unkompliziert und zuvorkommend. Auch die Betreuung durch ihre Bekannten vor Ort war perfekt. Herzlichen Dank und auf ein Andermal
Mirjam
2016-07-30T00:00:00Z
Room Type
Entire home/apt
---
Property Type
House
---
Accommodates
8
---
Bedrooms
Mals, Trentino-Alto Adige/South Tyrol, Italy
Beautifull bright apartment with balcony overlooking a natural lake in a beautiful South Tyrolean resort. It accomodates 6 persons with two bedrooms, kitchen with adjoining lounge and bathroom.
Beautifully bright apartment with balcony on the second floor in a beautiful South Tyrolean resort. It has a kitchen with adjoining lounge and offers to accommodate 6 persons. The kitchen and bathroom have been recently reseted and are in absolutely good condition. The building has an elevator, little spa with Finnish sauna and steam sauna. In the next area you can expect a wonderful countryside. You can hike, its even close to ski in summer! Climbing, swimming, parties, barbecues, fishing, or simply enjoying the free time in your own home! You are in Italy and able to communicate well in German. Excellent pizzerias and restaurants with Tyrolean specialties await you. Or even simply cooking in your own kitchen! I bring you the key and you can come and go when you want. I look forward to your inquiry and to hear from you!
Die Südtiroler Kulturregion Vinschgau ist geprägt von kultureller Vielfalt und historischen Zeugnissen. Jahrhundertealte Waalwege, Wanderwege im Nationalpark Stilfserjoch und ein dichtes Netz an Mountainbike-Trails schlängeln sich durch die aus über 10 Jahrhunderten reich gesegnete Kulturlandschaft. Skifahrer finden in ihrem Urlaub im Vinschgau sechs sonnenverwöhnte Familienskigebiete. Die Römerstraße Via Claudia Augusta erlebt heute bei Fahrradfahrern neue Aufmerksamkeit: Von Mals bis Meran führt ein 80 km langer, einfacher Fahrradweg, der historische Kirchen, Burgen, Ruinen und antike Stätten im Vinschgau kreuzt. Über 300 Sonnentage erwarten Besucher in Südtirol und im Vinschgau.
We spent very nice 10 days in this flat and have no major complaints. The cable car up the mountain is just around the corner and there are many well-marked trails that start close-by. We did not meet Mike in person but his parents who were friendly and helpful. Emails and SMS with Mike were quick and uncomplicated. The flat was as described and still very new. Noise from the street and persistent church bells was well isolated by the windows. We were unlucky with the summer weather and would have liked to have the heating turned on somewhat, but it was not possible. The Wifi reaches only the lobby and with luck part of the bedroom; it is also quite strictly rate-limited.
Thomas
2014-08-07T00:00:00Z
Unser Aufenthalt bei Mike Hofer in Südtirol war einfach super! Die Wohnung ist wunderschön gelegen mit einem traumhaften Blick über das Bergpanorama. Die Wohnung ist ganz neu renoviert, sehr groß und gepflegt. Mike war jederzeit erreichbar, falls Fragen auftauchten, auch wenn wir ihn nicht persönlich kennenlernen durften. Wir würden immer wiederkommen und empfehlen Mike und seine Wohnungen wärmstens weiter! :)
Greet
2015-04-11T00:00:00Z
Super Unterkunft mit schöner Ausstattung und viel Platz...gleich zum wohlfühlen, Alles Neu und auch der Sauna Bereich schön und am Abend nutzbar (bei Absprache auch zu andere Zeiten möglich), bequeme Bademäntel und Schöne Tücher wurden zur Verfügung gestellt! Super Bikerent im Dorf bei Sporttenne, Singeltrails auf allen noceaus fahrbar sowie schöne vielseitige Wandertouren möglich! Fam. Hofer hat uns herzlich begrüsst und am Ende wieder Verabschiedet! Unterkunft und Region sehr empfehlenswert!!
Kathrin
2016-10-10T00:00:00Z
Wir waren zum biken da und es war wundervoll! Die Unterkunft ist nur wenige Minuten vom Lift entfernt. Ein abschließbarer Abstellraum für die Räder ist vorhanden
Sekina
2016-09-08T00:00:00Z
We hebben een heerlijke week gehad in St. Valentin auf der Haide. Het appartement is erg fijn, met meer dan voldoende ruimte voor 7 personen, goede bedden en een luxe sauna. Ook in de omgeving is veel te doen. Het contact met Mike verliep soepel en was prettig.
Marjo
2016-08-10T00:00:00Z
Neurenoviertes Bauernhaus, mit viel Liebe zum Detail, Fliesenleger und Spengler dürften Künstler sein:-). Das ganze Haus duftet nach Zirbenholz, da Kästen, Küche und Bette eben aus diesem Holz gefertigt (Tischler!!!) sind. Sehr freundliche Gastleute (Mikes Eltern). Wlan- Kastl in der Wohnung. Bäcker, Lebensmittelladen, Pizzeria, Sportgeschäft und Gondelbahn auf die Haideralm zu Fuß ereichbar. Haideralm- Bergstation der Gondelbahn mit Hüpfburgen, nicht nur für Kinder ausgestattet. Wanderkarte haben wir von den Gastgebern erhalten. Kurzum, ein Glücksgriff. Kann ich nur weiterempfehlen
Markus
2016-07-31T00:00:00Z
Siamo stati molto bene da Mike e Inge. L'appartamento è nuovissimo, spazioso e confortevole (solo la cucina potrebbe essere un po' più attrezzata...) I servizi aggiuntivi, come la sauna e il bagno turco, fanno la differenza. Il posto è magnifico, in un punto strategico dell'alta Val Venosta, da cui si possono raggiungere le valli laterali in cui fare splendide passeggiate. Ottimo per attività sia estive sia invernali.
silvia
2015-08-23T00:00:00Z
Room Type
Entire home/apt
---
Property Type
House
---
Accommodates
6
---
Bedrooms
St. Valentin auf der Haide, Trentino-Alto Adige/Südtirol, Italy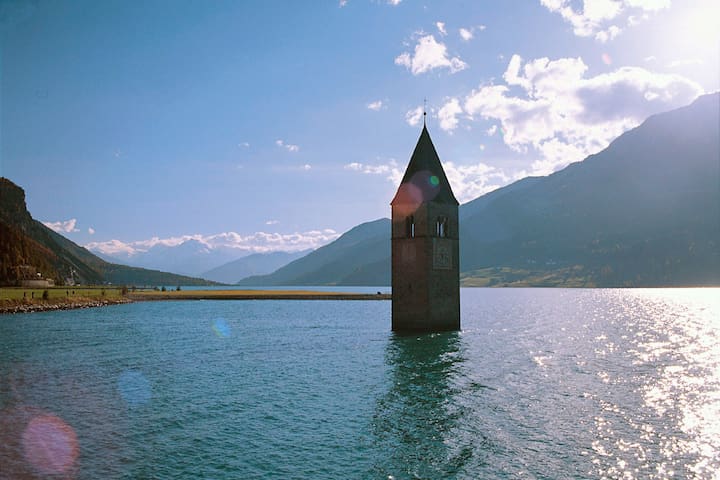 Cute, 2 bedroom appartment in the stunning Val Müstair Region. Contains all amenities and a small outside sitting area to while away the time.
Ideal for 2 Adults and 2 Kids Outside sitting area with Wood BBQ Garage and outside parking spo 2 Bedrooms 2 Bathroomst
1 km to border of South Tyrol (Italy) 20 km to swiss national parc
The apt is nice, much nicer than the pictures. Very warm. Spotlessly clean. Full of natural light. Well equipped, washer, dishwasher etc, even sledge and snowshoes. Ample amenities. I can wholeheartedly say that Hansruedi cares alot about his guests. From this apt to the monastery is 15 mins walk, a very nice walk. Typical Swiss village, small alleyways with cute houses along. But to explore other area car is necessary. We went to Scuol, luckily the weather was very fine, and the first half journey is stunningly beautiful. Gigantic snow peaked mountain, with blue sky in the background. I couldn't help thinking that I was driving inside a postcard. (Well, it is Swiss National Park, what do you expect? :) ) All in all, great stay, excellent value of money.
Alice
2016-02-14T00:00:00Z
We had a wonderful time in the home in Mustair. The home is in a wonderful location, very clean, larger than we thought and ample space for our family of four. We had easy communication before the stay and we felt the hosts were very informative and easy to contact. I would definitely recommend.
Jessica
2016-08-23T00:00:00Z
This is a wonderful chalet in an incredible location. Val Müstair is breath taking and the chalet provides easy access in any season. The chalet is larger than in the pictures and is well-appointed.
Diane
2017-01-02T00:00:00Z
Es war eine herrliche Zeit im Val Müstair! Wandern, Lesen, Abende vor dem Ofen, nach Italien zum Pizzaessen rüberlaufen,... Die Wohnung ist eigentlich noch schöner als auf den Fotos und sicherlich ist es im Sommer herrlich, wenn man auch noch den Gartensitzplatz nutzen kann. Die Küche ist super ausgestattet und liess es auch zu, dass wir komplizierte Gerichte zubereiten konnten. Die Kommunkation mit Hansruedi war immer schnell und unkompliziert. Merci vielmal!!!!
Oliver
2016-03-26T00:00:00Z
Der Empang war warm, das Angebot entsprach den Erwartungen. Die Auskünfte waren hilfreich. Der Aufenthalt war sehr angenehm.
Severine
2015-06-07T00:00:00Z
Wir wurden sehr herzlich empfangen und sogar an der Postautostation abgeholt, hat uns sehr gefreut. Ebenso freuten wir uns über die Flasche Wein mit dem Aperogebäck. Wir fühlten uns sehr wohl.
Fred
2016-08-05T00:00:00Z
Lieber Hansruedi Die Tage in eurer Unterkunft waren ausgesprochen schön. Man fühlte sich von Anfang an sehr willkommen, nicht zuletzt auch wegen der tollen Willkomensüberraschung. Es war alles mit viel Liebe hergerichtet und man konnte spüren, dass die Familie Weber keinen Aufwand scheut, damit sich die Gäste in ihrer Wohnung wohl fühlen. Wir haben alles so vorgefunden wie im Inserat beschrieben und die tolle Lage der Liegenschaft hat uns zusätzlich sehr sehr gut gefallen. Am Dorfrand ruhig gelegen und doch war man in wenigen Gehminuten im Zentrum. Sehr tolle Lage. Wir werden bei unserem nächsten Aufenthalt im Val Müstair jedenfalls sehr gerne wieder dort wohnen. Wir kommen jederzeit gerne wieder. Ich kann das Bijou jedem nur empfehlen. Liebe Grüsse Erwin
Erwin
2015-09-28T00:00:00Z
Wir waren bereits zum zweiten mal in der sehr gemütlichen,zweistöckigen wohnung von hansruedi und margrit. Obwohl wir sie bis jetzt noch nie getroffen haben,wirken die sms-kontakte (innerhslb weniger stunden antwort,perfekt!) sehr offen und vertraut. Wir fühlten uns sofort willkommen. Sogar ein willkommensbild und eine flasche wein standen bereit. Alles ist sehr wohnlich,liebevoll und praktisch eingerichtet:sehr empfehlenswert! beim ersten besuch hatte ich etwas mühe mit den spinnen,die die wohnung auch zu mögen schienen...dieses mal waren keine da-das machte es noch viel entspannter für mich;-) Für kleine kinder ist die wendeltreppe etwas gefährlich,aber mit etwas kreativität konnten wir unsere jüngere tocher(17mt.) problemlos davon abhalten... val müstair ist ein ruhiges tal-natur pur,herrlich für wanderungen und spaziergänge...auch bei kühlen temperaturen im oktober: minus in der nacht... und erstes schneemännli in lü:-) Lieben Dank und wer weiss,bis bald!
Esther
2016-10-15T00:00:00Z
Room Type
Entire home/apt
---
Property Type
House
---
Accommodates
4
---
Bedrooms
Müstair, Grisons, Switzerland
appartamento completamente arredato in stile alpino composto da 2 camere (1 matrimoniale, 1 con letto alla francese), bagno con vasca e lavatrice, cucina-soggiorno con divano letto, lavastoviglie e balcone. ampio parcheggio.
A due passi dalla pista ciclabile/passeggiata pedonale e dalla pista da fondo.
This was a wonderful stay. A very nice flat and a roomy space. Everything was very clean and the host great.
Jonathan
2016-08-11T00:00:00Z
Hi dear, this is Maria. when we arrived there she came to the bus stop to pick our family by car. room was big however it takes long time to reach house by bus from the pontrisina station it takes 45min, but the host was wonderful we never forgot! I miss there so much will visit there again near future. XX
Maria
2015-07-25T00:00:00Z
Ms Ivana's daughter, Francesca, came to meet us and showed us the way to the house. We didn't have a precise timing agreed on, but Francesca was kind enough to come to pick us up when we arrived to Livigno. The apartment was very spacious, clean, nicely furnished and just minutes away from the centre of Livigno, the supermarket, restaurants, shops, etc. The house is situated in a perfect location, very close to the centre, however off the main road which makes it a quite location. And the most amazing thing is that whichever window you look out from, you can see beautiful mountains all around you. The second day we could check out later (at approx. 3pm), which gave us enough time to go to Larix adventure park, come back, grab a bite and depart. Overall it was a short (one night!), but excellent stay.
Rasa
2015-08-27T00:00:00Z
Very helpful host, Appartment clean and tidy. Very recommendable! A bit far from the center of town and a bit tight for 5 people, better for 3.
Philipp
2015-08-11T00:00:00Z
We enjoyed very much our stay in Ivana's apartment. The place is new and very clean! Francesca/Ivana were very welcoming and easy. For our little girl, they even organized a baby bed and a high chair!!! The apartment is outside of town, but right next to the bike path and the bus stop of the free shuttle bus that brings you anywhere in town.
Marc
2016-08-02T00:00:00Z
Perfetto
Silvio
2016-08-20T00:00:00Z
Fuga di ferragosto
Beatrice
2016-08-15T00:00:00Z
Abbiamo soggiornato una notte nel mese di Agosto. L'appartamento è veramente grazioso come nelle foto. L'ampio balcone consente di ammirare il verde delle montagne circostanti. Siamo rimasti contenti sia dell'appartamento ma anche della disponibilità della signora Ivana e di sua figlia.
Andrea
2015-08-13T00:00:00Z
Room Type
Entire home/apt
---
Property Type
House
---
Accommodates
4
---
Bedrooms
Livigno, Lombardy, Italy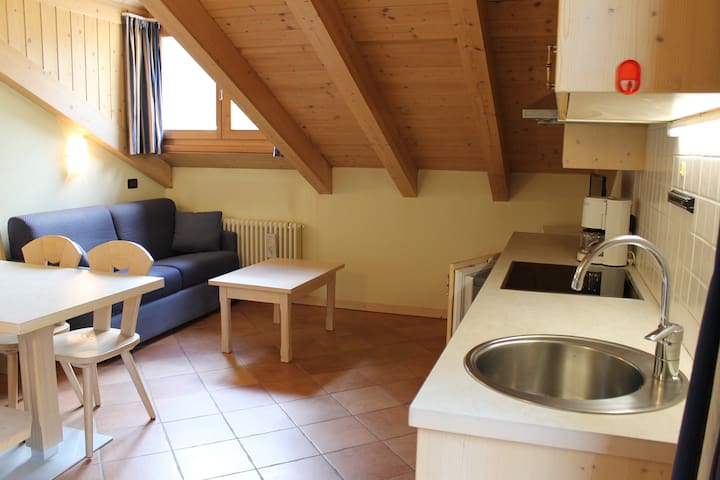 Das Haus Pimunt 285 ist mit Naturbaustoffen liebevoll renoviert worden. Im Studio hat es ein Doppelbett, Kochgelegenheit, Dusche, Lavabo und WC. Die Gasse Pimunt ist nicht befahren, sehr ruhig und gerade unterhalb dem Ospidal Scuol.
Pimunt ist ein noch alter Dorfteil im Osten von Scuol
Alesch gave us a warm welcome. We enjoyed our stay at his cozy and tasteful studio. The kitchenette allowed us to prepare breakfast and small dishes.
Janos
2015-01-18T00:00:00Z
Alesch and Maryse made us feel very welcome. We were greeted with a cup of tea and conversation in their dining room. The description was accurate and we enjoyed relaxing and cooking in the warm and cosy studio. The studio is ideally located - very quiet but just a short walk to the shops, restaurants, spa and buses. Alesch and Maryse are lovely and we had some interesting conversations when we bumped into them in the hallway. We even had the priviledge of a private viewing of Alesch's art work. They are an inspiration to a conscious way of life! Thank you and we will be back.
Peter
2016-01-15T00:00:00Z
I stayed here for the second time and will come again! Alesch and Maryse very welcoming and relaxed. For me perfect location and very quiet....far away from the noise of the big city!
Peter
2016-09-23T00:00:00Z
Alesch and Maryse made my stay in Scuol an unforgettable one. From the very first to the very last minute, I had nothing but a perfect time. They both welcomed me very warmly, starting off with a lengthy chat and a much needed warm tea. Alesch and Maryse were extremely helpful whenever I needed some information. The studio is just lovely - it has all the amenities needed to make one's stay perfect. The warm morning light that shines through the windows makes for a perfect start into the day. I will definitely visit Alesch and Maryse again and already look forward to doing so. Once again, thanks the both of you! All the best, Petra
Petra
2016-08-05T00:00:00Z
Lovely, very well equipped studio in a great location. The space is even larger than on the photos. Alesch and his wive were very welcoming, even though we were somewhat chaotic while booking. Highly recommended!
Patrick
2017-01-31T00:00:00Z
Sehr schönes geräumiges Zimmer, hell, freundlich, Bad mit Fenster, zum Wohlfühlen. Das gesamte Haus ist sehr ansprechend und modern renoviert und man sieht gleich, dass die Besitzer u.a. auch Künstler sind. Sehr aufgeschlossene nette Leute, bei denen wir gerne wieder buchen würden.
Helga
2015-02-22T00:00:00Z
Alesch und Marise haben uns herzlich empfangen. Wir fühlten uns gleich sehr wohl. Das ganze Haus und die Ferienwohnung haben eine wunderbare Atmosphäre Zum Abschluss hat uns Alesch sein Lager mit Skulpturen, Filmen und und Fotografien gezeigt und von seinem reichen Leben erzählt. Das hat uns sehr berührt. Herzlichen Dank für Alles. Wir werden ganz gewiss gerne wieder kommen.
Andreas
2016-02-19T00:00:00Z
Unser erster "Einstieg" in das Airbnb System war ausgezeichnet, - Maryse und Alesch sind wunderbare Gastgeber, man wird herzlich und humorvoll empfangen und wir genossen das magische Ambiente des Hauses, die traumhafte Ruhe, - ein wahres "Versteck" um sich zurückzuziehen! Der Wohnraum ist einfach und respektvoll kombiniert, alles Notwendige ist vorhanden und man fühlt sich gleich wie zu Hause! Die zentrale Lage des Hauses ist ideal für einen "Sprung" in das Thermalbad, gute Busverbindungen sowie Einkaufsmöglichkeiten. Wir bedanken uns ganz herzlich für die warme Gastfreundschaft der beiden Engadiner und freuen uns schon auf den nächsten Sommeraufenthalt!
Maria Theresia
2016-01-31T00:00:00Z
Room Type
Entire home/apt
---
Property Type
House
---
Accommodates
2
---
Bedrooms
Scuol, Grisons, Switzerland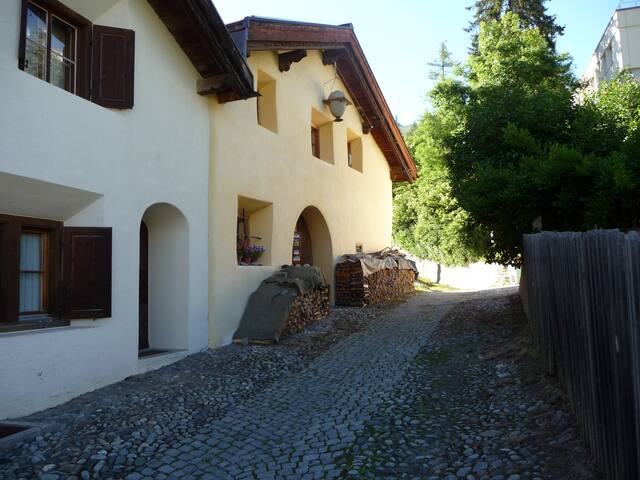 Gently renovated Grisonhouse house, about 350 years old. Large apartment on the 1st floor. Small balcony facing west. Bath / toilet and bedroom downstairs. Behind the house smaller and quieter lawn. Very quiet, but centrally located.
Preise Die Kurtaxe und Tourismusförderungsabgabe sind im Mietpreis nicht inbegriffen. Konditionen/Extras Bettwäsche und Badezimmerwäsche fakultativ. Für die durch den Vermieter zur Verfügung gestellte Bettwäsche werden pro Person CHF 15.00 verlangt. Für die durch den Vermieter zur Verfügung gestellte Frottewäsche werden bis fünf Personen und Woche CHF 15.00 verlangt. Jede zusätzliche Person kostet CHF 5.00. Endreinigung CHF 70.00 obligatorisch Ab 24. September wird nur der 1. Stock (5 Personen) vermietet.
Room Type
Entire home/apt
---
Property Type
House
---
Accommodates
8
---
Bedrooms
Santa Maria im Münstertal, Graubünden, Switzerland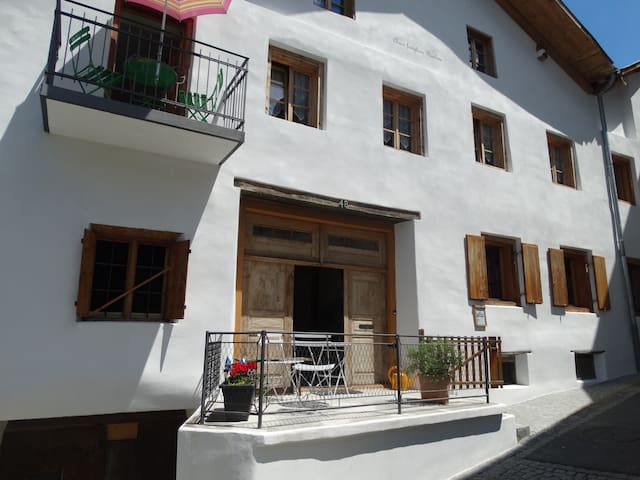 The house is located in the Stelvio National Park in historic Stelvio below the Ortler in the immediate vicinity of the ski and hiking areas Solda and Trafoi. The tranquility and the views of the Ortler open the mind. The newly renovated, historical stone house combines the comfort of modern life, the simple beauty of an old farmhouse in the upper Vinschgau. Our accommodation is good for couples, families with children, single travelers and adventurers.
The house and the village Stelvio are embedded in a spectacular natural beauty that bring relaxation for body and mind. If you live in this house, you can experience what makes the unique atmosphere of an ancient mountain village in the upper Vinschgau in South Tyrol, which has developed by mining.
The world famous Stilfserjochstraße, the Ortler as the highest mountain in the Eastern Alps, the summer ski resort Stelvio, the snow-sure ski area Solda, the magnificent mountain scenery of the Ortler are just some of the highlights of the area.
Idyllisch und urig!
Jana
2017-02-28T00:00:00Z
Wir hatten einen traumhaften Urlaub in Stilfs! Wenn man Ruhe und Bergdorfathmosphäre sucht, ist man hier genau richtig. Das Haus ist sehr liebevoll und stilvoll eingerichtet, eignet sich wunderbar als Familie. Grosse Autos sollte man zu Hause lassen, da es wirklich ein Bergdorf mit sehr sehr engen Gassen ist. Das Skigebiet Sulden ist super zu erreichen und Gomagoi und Prad sind mit dem Auto nicht weit. Wir kommen auf jeden Fall wieder! Ach ja, aber man sollte nichts gegen Kirchturmglocken haben, die läuten direkt vorm Fenster. Aber mit dem fantastischen Bergpanorama kann das gar nicht stören!
Konstantin
2017-01-01T00:00:00Z
Appartamento accogliente e molto curato. Il paese è molto tranquillo e quasi privo di turisti quindi la tranquillità è assicurata.
Gianmarco
2017-01-07T00:00:00Z
Es hat uns ausgezeichnet gut in Stilfs und in dem Häuschen gefallen! Sehr toll und mit besonders viel Liebe zum Detail eingerichtet. Es war auch sehr sauber und sehr gut ausgestattet.
Philip
2017-03-05T00:00:00Z
Room Type
Entire home/apt
---
Property Type
House
---
Accommodates
4
---
Bedrooms
Stilfs, Trentino-Alto Adige, Italy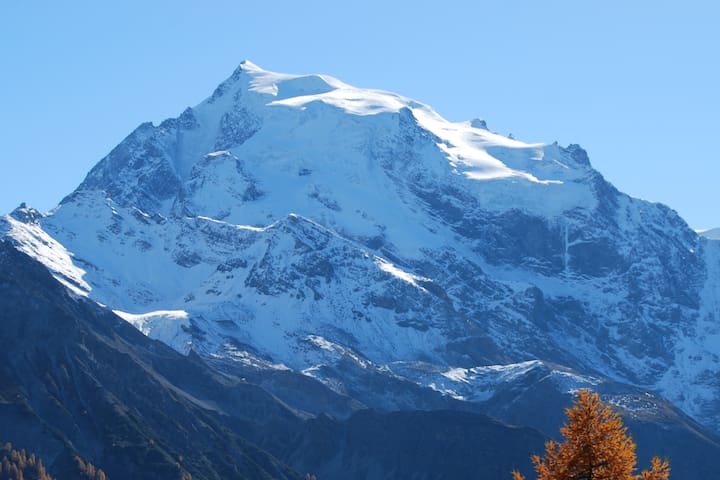 Baita di montagna di fine '600 ristrutturata alla fine degli anni ottanta. Vista splendida sulla Cima Piazzi
Room Type
Entire home/apt
---
Property Type
House
---
Accommodates
4
---
Bedrooms
Valdidentro, Lombardia, Italy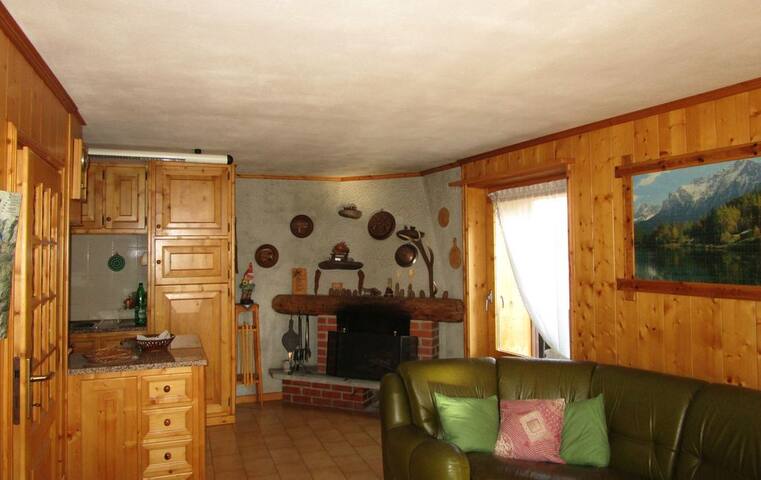 A small mountain hut located next to the cross country ski slope during the winter and surrounded by green and nature during the summer! A stunning location and a perfect getaway from stress, with an outside BBQ and an inside romantic woodenstove.
A cozy chic chalet made by 3 doublerooms and 3 bathrooms, recently renovated, with furnished kitchen, laundry, outside garden, parking place, garage.
Just across the street you'll have a typical farm which purhase local products as cheese, meat, eggs, milk and bread. There's also an Agriturismo where you can eat local dishes and meals.
This Chalet's location is stunning. The views of the valley (north and south) are amazing. It's also located far enough from the busy-ness of Livigno in August to be very quiet and relaxing. But, close enough to hop into town (by bike or drive) very easily. And, there is access to amazing hiking right out the door! Sara and her family are in the hospitality business in and around Livigno, so they know what they are doing and everything was handled perfectly! The quality of the workmanship in this chalet is top notch. It also feels brand new. Has plenty of closet and storage space so you can unpack and really feel at home. It's also cozy and comfy enough to spend the day in if you get some bad weather. Good TV reception and excellent wi-fi. Kitchen has everything you need to do basics---nice coffee maker and hot water kettle for tea. Microwave, toaster, pots and pans. We also were lucky enough to get fresh eggs from their chickens and pick fresh lettuce for our salads. And, we rode the high quality bikes (Bianchi) they provided into town and around the greenbelt. We stayed here for 3 weeks and hated to leave. Most days we had to pinch ourselves to make sure this wasn't an amazing dream.
Lori & Tom
2016-08-28T00:00:00Z
Great place to stay with friends in Livigno everything is close and you still are away from the crowd. The Skibus is close and brings you within minutes to one of the mountains either carousello3000 or mottolino. There are 3 restaurants close by and farmyard were you can buy meat, chesse and dairy products. Great Place we love the barbeque and the sauna at nights when it was snowing.
Simon
2017-02-11T00:00:00Z
This chalet is absolutely perfect! Situated bit away from centre but not remote as it might seems. Small farm where you can buy local products, two cozy restaurants where you can get great food, waterfall and icy river, many trails - all are reachable by foot. If you decide to go to centre you can either use the bus, bike or go by foot (about 15-20min). The chalet is very cozy and it has its own atmosphere, it was well equipped and very clean. Though the rooms in the basement were bit colder than we expected but it was nothing that would had bothered us. We had a great stay also because of this challet so we would like to return hopefully very soon.
Roman
2016-06-26T00:00:00Z
The chalet Sara in Livigno is absolutely wonderful. A nice well decorated and new chalet with splendid mountain surroundings. Sara showed us around and is a great Italian hostess. I can absolutely recommend this spot for summer and wintertime.
Cornelis
2015-05-04T00:00:00Z
We had the most incredible stay in this beautiful chalet. It was even better than described and what the pictures showed. On top of that, Sara and her family were the most helpful and went above and beyond what the rental agreement required (Sara came on a Saturday afternoon to allow us access to all the bicycles - not included in the rental price- so we can ride them with our kids). The place is perfect for a little retreat, with fireplaces inside and outside that the kids loved. Just a great experience.
Carlos
2016-05-09T00:00:00Z
The chalet is simply perfect. A location, not right in the center of Livigno but not so far, is good. I can recommend it. I am sure you will enjoy it.
Petr
2016-09-11T00:00:00Z
What a lovely spot. We enjoyed 3 nights in this wonderful chalet in Livigno. Fully equipped kitchen, fireplace in the living room and outdoor BBQ with seating. Sauna with free tokens and best of all....vegetable patch and fresh eggs from the garden!!! Thank you Sara for hosting us, we can totally recommend this place. Lovely with lots of passion for details.
Bridget
2016-09-30T00:00:00Z
Замечательный дом, есть все необходимое для незабываемого отдыха как компанией друзей , так и отдохнуть семьей!
Viktor
2017-01-14T00:00:00Z
Room Type
Entire home/apt
---
Property Type
House
---
Accommodates
6
---
Bedrooms
Livigno, Lombardia, Italy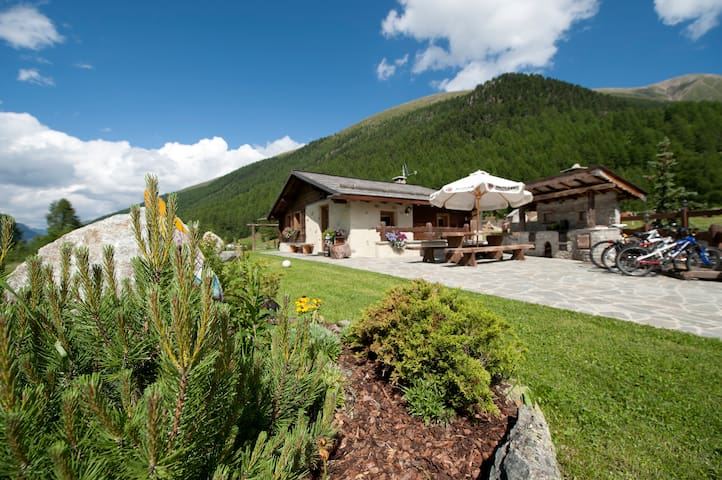 Your house is situated off the touristy center of Scuol and just next to the biggest Swiss National Park. Ideal for families or couples, perfect to ski, go on a hike, enjoy the area`s rich culture and / or wellness offerings.
Your house is situated off Tarasp and just next to the biggest Swiss National Park. It is the sunniest part of Switzerland. In the winter it is perfect for skiing (next to Motta Naluns) or for chilling next the Swedish oven in the winter. In the summer you can go hiking in the Swiss National Park, jump into a nearby lake called "Laj Nair". In the neighborhood you can buy fresh milk and cheese from the "Alp Laisch". In the backyard you can have a sun bath in a garden, with a view at the mountains. It all plays together, the air, the intensity of the light, the flower fields in early summer, the larch forests in autumn and deep snow in the winter. Can one be wrong when it was nearby where Johanna Spyri got inspired for her Heidi novels, the Russian Zar by the mineral springs, Thomas Mann by his Zauberberg?
There are few traditional Engadiner Bauernhäuser in the neighborhood and the people are all very nice and helpful.
This very charming house is located in a tiny village close to Scuol. We had wonderful walks, bought delicious cheese and sausage at the nearby farm and loved the skiing at Scuol. We found Agnes kitchen well equipped, mostly ate at home. I loved the fact that the children could go from the kitchen in the garden to sledge or build a snowman. When you pack your bags, do take some warm sweaters as not every room has heating and it does get cold.
Juliane
2017-02-11T00:00:00Z
Schitterende locatie, mooi sfeervol huis, jammer dat er geen WiFi is. Verder is voor een heel gezin lastig dat er maar een wc is, die zich in de badkamer bevindt. Heel luxe dat auto in garage geparkeerd kan worden.
Marije
2017-02-26T00:00:00Z
Le lieu répondait à toutes nos attentes. Nous avons mêmes rêvé nos petits et grands enfants partager ce lieu privilégié . Un monde de silence. Les cloches des vaches inspirent un Fritz Häuser dans son univers. Cet endroit est attachant, vrai, authentique.
Francois
2016-09-14T00:00:00Z
Petite maison là-bas au fond de la vallée... pour se ressourcer de façon idéale! Ce joli chalet a dépassé nos attentes: agréablement rénové, l'intérieur est vraiment cosy et on s'y est senti agréablement bien. De plus, il est bien équipé, particulièrement pour les familles avec enfants. Côté soleil de l'après-midi et du soir, il y a un joli petit jardin, où il fait bon relaxer. Les vestes et chaussures peuvent être laissées au vestibule et n'encombrent ainsi pas l'espace de vie. La maison est située dans un hameau calme à environ 10 minutes en voiture de Scuol. Dans le village précédent, il y a un petit magasin avec des produits de la ferme. Ces quelques jours passés là-bas nous ont suffi pour tomber amoureux de la région. Les jolis villages alentours, la proximité du parc national, Scuol et ses commerces, le château de Tarasp et la nature bien sûr avec de nombreuses possibilités de rando. Tout cela nous a enchanté. Nous recommandons vivement! Mélanie
Mélanie
2015-10-10T00:00:00Z
Wir haben eine tolle Woche in diesem wunderbar renovierten Engadinerhaus verbracht. Es ist an ruhiger Lage und ein guter Ausgangspunkt für Ausflüge und Wanderungen im schönen Unterengadin. Die Gastgeber waren sehr zuvorkommend und es hat alles reibungslos funktioniert, wir können sie nur weiter empfehlen!
Sandra
2016-07-17T00:00:00Z
Wir haben mit unserer vierköpfigen Familie einen wunderschönen Urlaub im Chalet verbracht. Alles war wie beschrieben. Unsere Kinder (6 und vier Jahre alt) haben sich auch sehr wohlgefühlt, konnten auf der großen Wiese hinter dem Haus spielen und haben sich mit den Kindern des Bauern angefreundet. Sehr gerne wieder!
Andreas
2016-08-20T00:00:00Z
Schönes Engadiener-Haus. Geschmackvoll und gemütlich ausgebaut und eingerichtet. Die unkomplizierten Gastgeber stellen ihr Haus und die ganze Einrichtung grosszügig zur Verfügung. Sehr erholsame und schöne Ferien. Skigebiet von Scuol in 15 Min mit dem Auto gut erreichbar. Uns hat es sehr gut gefallen. Wir kommen gerne wieder.
Christoph
2016-02-20T00:00:00Z
Kommunikation mit Gastgeberin hat wunderbar geklappt, Preisleistungsverhältnis in Ordnung, grosszügiges Haus mit Charme.
Andrea
2017-02-19T00:00:00Z
Room Type
Entire home/apt
---
Property Type
House
---
Accommodates
6
---
Bedrooms
Scuol, Graubünden, Switzerland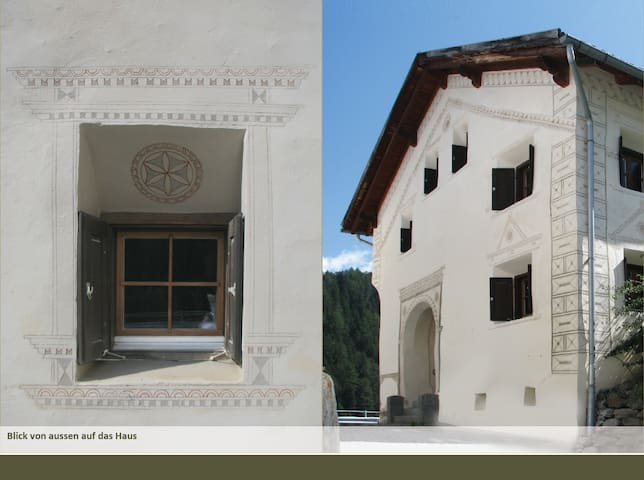 Appartamenti Rosengarden con Ristorante Pizzeria 7 km da Bormio e sue meravigliose Terme 25 Km da Livigno Nel bianco della neve d'inverno ubicato sulla pista di fondo a 500 m. impianti risalita D'estate immerso nel verde dei prati e il blù del cielo
Extremely nice and understanding hosts. We were very late, but were still kindly greeted and accepted. This is more like a hotel/rental apartments than an airbnb so everything is done profesionally. Had to provide our ID's and pay tourism tax. The room was not the same as the pictures, but it was confortable and all that we needed.
Ieva
2016-10-01T00:00:00Z
Abbiamo soggiornato 2 notti nell'appartamento, pulitissimo, spazioso e arredato con stile. Bellissima zona, in mezzo alla natura ma vicina ad ogni servizio. I proprietari sono stati gentili e disponibili. Sotto al residence c'é anche il ristorante, comodissimo!
Valentina
2016-10-23T00:00:00Z
Alloggio perfetto, parcheggio privato, bagno molto grande e attrezzato di tutto. Proprietaria gentilissima e disponibile. Ottimo anche il ristorante nel residence...ottimi prezzi e porzioni abbondanti. Consigliatissimo! Torneremo di sicuro!
Francesco
2017-01-22T00:00:00Z
Ho soggiornato per una sola notte con la mia fidanzata, ci siamo trovati molto bene e abbiamo cenato nel buonissimo ristorante sotto casa! Ottima la posizione per raggiungere sia Livigno che Bormio.
Marco
2016-12-04T00:00:00Z
Ho trascorso insieme a mio marito un piacevole fine settimana a bormio ed ho passato una notte al (URL HIDDEN) siamo trovati veramente bene.La proprietaria,che già al telefono Si era dimostrata molto gentile,ci ha accolto con disponibilità e (URL HIDDEN) graziosa mansarda era proprio come appariva sul sito,attrezzata,pulita e confortevole.Graditissime le fettine di torta come benvenuto.Sicuramente tornerei magari in estate.Un saluto particolare al tenerissimo gattino della (URL HIDDEN) anche il ristorante pizzeria proprio sotto casa cucina buoni piatti ad un prezzo accettabile, ,
Paola
2016-10-09T00:00:00Z
L' accoglienza è stata calorosa e gentile, con anche due fette di torta di benvenuto. I proprietari sono molto disponibili. L' appartamento è in bellissimo contesto e grande comodità per la presenza del posto auto.
Marianna
2016-09-14T00:00:00Z
Meravigliosa struttura tipica della Valtellina, molto comodo avere il ristorante/pizzeria sotto casa! Consigliatissimo
Riccardo
2016-11-01T00:00:00Z
Appartamento bellissimo, anche più di come appare in foto! I proprietari poi sono di una gentilezza unica e fanno di tutto per farti sentire come a casa: la signora Tina è stata disponibilissima, piena di attenzioni per noi e pronta a suggerirci le bellezze del posto da andare a visitare. Il paesaggio circostante è meraviglioso! Anche il ristorante sotto gli appartamenti è molto buono ed il personale gentilissimo! In definitiva....consigliatissimo!!! Se avrò occasione di tornare nuovamente in queste zone, sicuramente cercherò di allogiare qui!!
Daniele
2016-04-25T00:00:00Z
Room Type
Entire home/apt
---
Property Type
House
---
Accommodates
4
---
Bedrooms
Valdidentro, Lombardia, Italy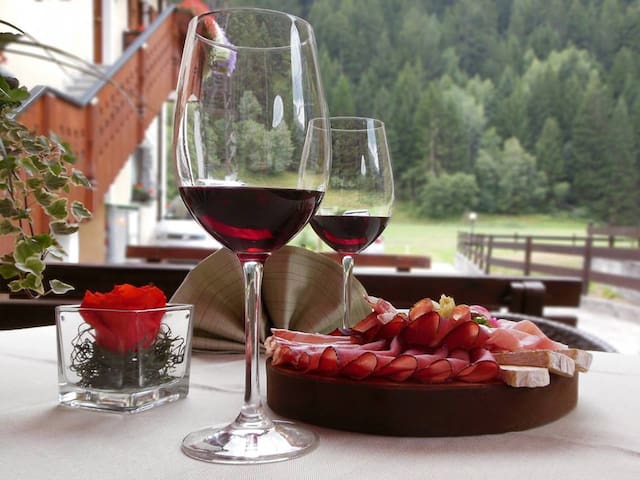 Das Haus liegt am Dorfanfang und in der Nähe der kleinen Verkaufsstelle für Hofprodukte. Es hat zwei Schlafzimmer mit jeweils zwei Betten. Das Bad und die Küche wurden 2010 renoviert. Die ruhige Lage bietet einen schönen Ausblick auf die Berge, zum Haus gehören noch eine Terrasse, eine Garage und ein kleiner Garten. Unzählige Wanderwege laden zu schönen Erlebnissen ein, das Skigebiet Motta Naluns liegt nur 11.5 km entfernt. Im Dorf gibt es zwei Restaurants. Herzlich willkommen!
Room Type
Entire home/apt
---
Property Type
House
---
Accommodates
4
---
Bedrooms
Remüs, Graubünden, Switzerland
My accommodation is close to the city center. My accommodation is suitable for couples, business travelers, families (with children) and furry friends (pets).
Appartamento accogliente, pulito e in pieno centro CONSIGLIATO grazie
Veronica
2016-12-09T00:00:00Z
Tutto ok...pulito accogliente e in centro
Marco
2016-08-21T00:00:00Z
Room Type
Entire home/apt
---
Property Type
House
---
Accommodates
3
---
Bedrooms
Livigno, Lombardy, Italy
The house consists of two apartments, separate entrance, large balcony, the furnishings are simple. In both apartments there is a small wood stove, firewood and provided by the landlord. The house is ideal for groups of friends skiing enthusiasts (Bormio and Livigno), the bikers (step of the Stelvio, Gavia and Mortirolo), trekking and glacier
Room Type
Entire home/apt
---
Property Type
House
---
Accommodates
8
---
Bedrooms
Premadio, Lombardia, Italy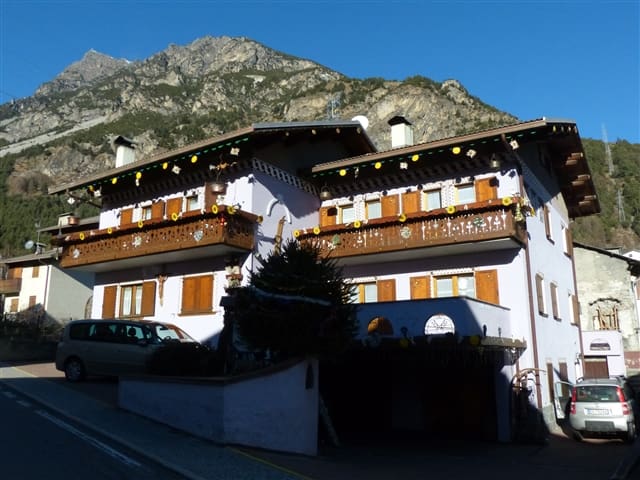 Santa Maria Val Müstair - Airbnb
:
Average

4.73

out of

5

stars from

196

guest reviews
1

–

18

of

57 Home Rentals
Enter dates to see full pricing. Additional fees apply. Taxes may be added.