*FREE* TRANSPORT FROM & TO THE AIRPORT Country house 3 minutes by car from the center of Markopoulo, 10 minutes by car from the airport, 10 minutes by car from the sea and 5 minutes on foot from the historical medieval tower of Vravrona.
Our house is a three-story house.On the semi basement which is very bright as well, there is a bedroom with a double bed, an office, a playroom/livingroom with a sofa (trundle) bed that turns into either in double or in two single beds, and a big bathroom with a shower. KITCHEN There is no Kitchen, but there is a small Fridge, Microwave oven, a coffee maker, a shaker for your cold greek coffee (frappe!) and a kettle for your hot coffee or tea! Of course, there is water on the fridge, glasses, plates, utensils etc in the closet. FOR LITTLE AND ...BIG KIDS! There is a big screen TV and a Nintendo Wii in the livingroom, for the kids and family fun!!! FOR MUSIC LOVERS In the living room, there is also a Yamaha Upright Piano that you can use anytime! And of course, we are willing to help you if you need anything else!
We have a lovely family as our next door neighbors but in general in the neighborhood there aren't too many houses. As you can see in the map, is a new neighborhood that is under development.
Even though I booked his place on short notice, Christos picked us up from the airport. The apartment is clean and roomy. There are coffee and tea in the unit. His cat Misty is so adorable and welcoming. His dog is very cute. There is a sheep in the courtyard, along with the olive trees in the surrounding which makes you feel countryside and peaceful. Got a ride back to the airport the next day and they even prepared sandwiches for us to take to the airport. It's a very peaceful place to stay after all the hectic of getting in and out of airport.
Kevin
2016-10-12T00:00:00Z
Christos and his wife were great hosts and thanks for your hospitality shown during our stay. We liked the house as its accessible to Airport. Christos even pick up and drop us off to the airport. Excellent communication and response time. Christos and his wife were too good, very kind, and very supportive. The house was very clean with all needed amenities. He also ordered delivery good for us, which was very helpful. My daughter enjoyed playing swing and touching Micky(cat), Goat, Dias (dog) !! Overall its an excellent service and Highly recommended !!!!
Santosh
2016-11-18T00:00:00Z
Very convinient host! He helped us to spend a pleasent night instead of sleeping at the airport...=) He picked us up straight to the airport at 1.30 AM what else could i ask? He is formidable host!
Paul
2016-08-28T00:00:00Z
Christos has been very patient and sweet. He waited for us even when we were late and even gave us some cookies when we arrived. The space and condition of the house is beyond expectations. Very thankful for picking and sending us off to and fro the airport. Highly recommended even during winter!
Evelyn
2016-12-23T00:00:00Z
We haven't met Christos but met his lovely sister and mom. They are really nice and helpful. The house is near airport and it's clean. We recommend this place if you would need the accommodation near the airport. Thank you Christos
Amanda
2017-01-15T00:00:00Z
Excellent hospitality from Christos and his family. The apartment is close to the airport and is recommended for travelers they need a comfortable stay before of after their flight . Although i have been there in winter time the area is quiet, surrounded by natural environment and i suppose will be a really nice choice also during spring- summertime for families with children to play at the huge safe playground outside the apartment,spend time walking around or visiting the nearby places and the seaside. Christo's family is very flexible and willing to offer transport at your convenience when you need. A really clean and safe place to stay if you would like to avoid crowded city accommodation
Stamatia
2017-01-13T00:00:00Z
It was a great place to spend the night near the airport. Christos patiently waited at the airport after we arrived at Athens airport. We were waiting in the wrong place. We got a ride back to the airport early the next morning so it was convenient.
Wendy
2017-03-24T00:00:00Z
Christos is an excellent host. They provided free transport to and from the airport. Punctual and comfortable. The place is amazing.. Clean, quiet and warm. Christos responds to all messages and emails and requests almost immediately. It's perfect if you want a place near the airport and away from the busy city.
Amr
2017-02-11T00:00:00Z
Room Type
Entire home/apt
---
Property Type
Other
---
Accommodates
4
---
Bedrooms
Anatoliki Attiki, Greece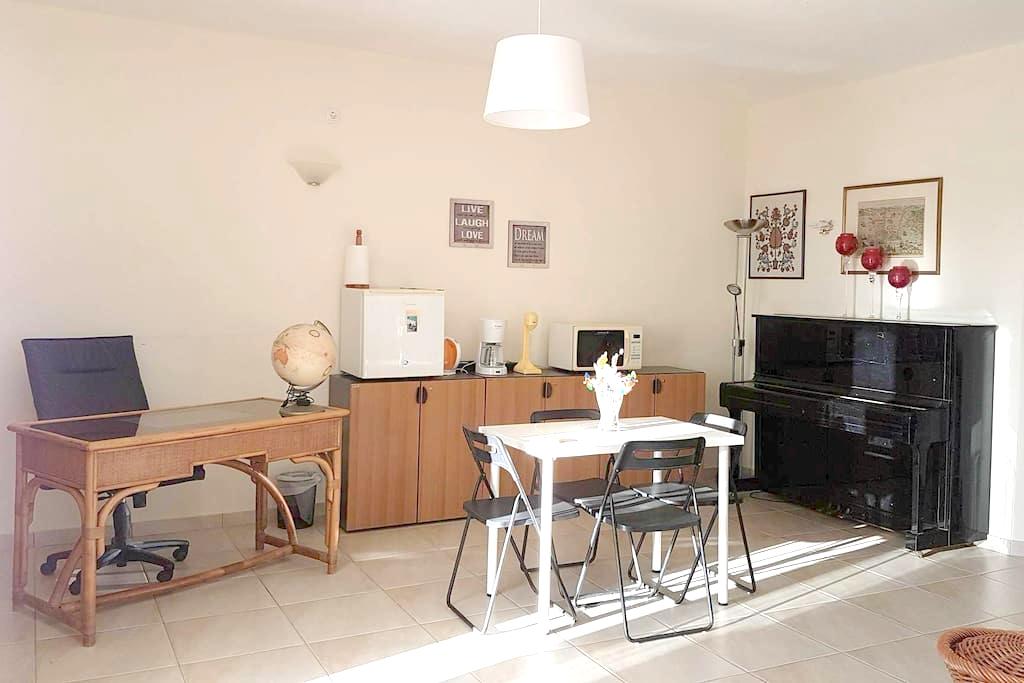 Room with independent entrance, bathroom and outdoor kitchen. Beautiful surroundings 2 km from the port & 2 min from sea
La Maison Rose was gorgeous - excellently positioned so the amenities of Aegina Town are close, but far enough a way to feel truly peaceful among fig and olive trees. The apartment was bright and beautiful, and Henri-Paul and Theo made us feel truly welcome, lending us bikes and leaving us figs, olive oil from their own farm, and a fresh loaf for breakfast. I cannot recommend this place enough!
Ayesha
2016-08-12T00:00:00Z
I had the most wonderful time with this wonderful family in this beautiful house. It was paradise, exactly what I needed. It is calm and peaceful there, the decoration very tasteful, the view breathtaking and the host always there for some good advice. By bike the city center is not far away. My highlight was the little party on the rooftop under the stars with Greek and international friends of the family. I definitely recommend staying at the maison rose!
Vanessa
2016-08-08T00:00:00Z
HP and Theo are very welcoming hosts, the studio is tiny but comfortable, the outdoor kitchen is great! The beach is very close and everything can be easily reached with the bikes for the guests. We had a great time and would love to come back!
Giulia
2016-10-04T00:00:00Z
I had a lovely stay at the Pink House. Henri-Paul and Theodora are the most wonderful hosts and the studio was perfect! I can't wait to come back again.
Floortje
2016-10-15T00:00:00Z
Irene and Giulia found themselves optimally at Henri-Paul house. He was very nice in indicating them everything.
Anna
2016-07-31T00:00:00Z
It was so nice to stay at Theodora's and Henri's place, the best AirBnb experience I've ever had! The house is so beautiful, close to the sea and village. It was very nice to chat with Henri and Theodora, they were very welcoming and provided us with great advice about what to do while on the island. I could talk on forever, but I'll just end with saying that I would love to stay here again, and I would recommend anyone to do the same!
Simone
2016-07-12T00:00:00Z
For people looking for true airbnb spirit and a genuine Greek island residence experience, look no further. It is a small apartment next to the owner's lovely main house, but there is complete separation and privacy. The whole place is located on a large piece of land half kilometer from the beach and with great view of the whole seaside with islands of Moni and Agkistri. The apartment was clean and practically complete. We loved the open air kitchen and the artistic taste of the owners, something that you can notice on small details like kitchen objects. The owners are super kind and interesting to talk to with lots of activities on the island, some of which are voluntary.
Nikos & Mary
2016-07-18T00:00:00Z
We had a lovely short stay at Henri-Paul's place. It was just what we were looking for. The room is a good size and the bed was comfortable. We really liked using the outdoor kitchen although you have to watch out for the mosquitos. It is a bit of a distance to walk into the port, but HP lent us some bikes to use and we also rented a quadbike. I would definitely recomend HP's place if you are looking for a quiet, relaxed place to stay for your holiday.
Matthew
2016-09-29T00:00:00Z
Room Type
Private room
---
Property Type
House
---
Accommodates
2
---
Bedrooms
Egina, Greece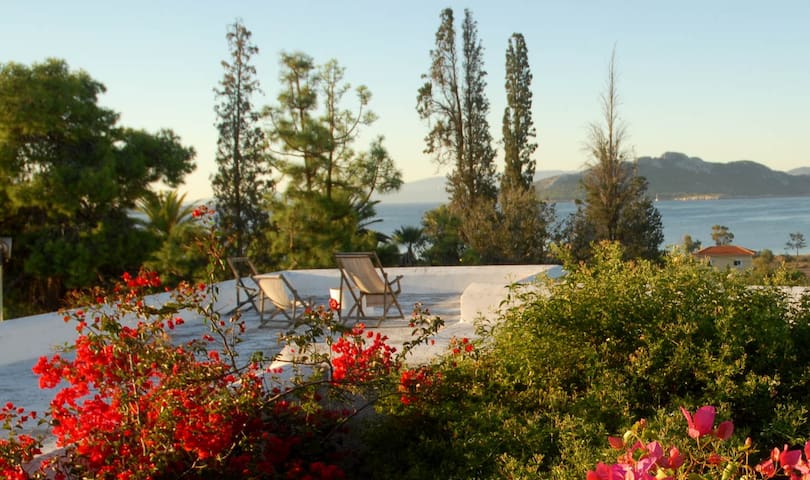 Penthouse studio, with private furnished terrace and stunning sea view. On the 5th floor, with free Wi-Fi, offering open space with double bed, sitting area with sofa, fully equipped kitchen and private bathroom. Located on Athens coast, Metro station which can get you to city center is at 10 min. walk, while in less than 50m you can find local bakery, super market, pharmacy, ATM, 24h kiosk, and many more.
Penthouse studio, with private furnished terrace and stunning sea view, located on the 5th floor of a new building, offering free Wi-Fi. There is a double bed, wardrobe and a very comfortable sofa, flat-panel TV with Greek and English/French channels, air-condition and fully equipped kitchen, offering fridge, oven, stovetop, toaster, electric kettle, coffee/tea maker, cookware, dishware, utensils and free bottle of water. Private bathroom a with shower cabin and complimentary shampoo, conditioner and shower gel. The studio is air Feel like home and let me know of any special needs to take care of!
The area of Elliniko (located in the south suburbs of Athens) is close by Athens riviera and the beaches. The apartment is in a quiet neighbourhood and nearby you can easily find a bakery with local delicacies, coffee shops, where you may enjoy your coffee, 24h/7d kiosk, ATM, pharmacy, super market. You can even have your coffee and snacks or even food (traditional Greek souvlaki or pizza etc.) delivered at the studio and enjoy it at the private terrace during the day or under the moonlight!
Absolutely wonderful place in a very local area, not very far from shops, restaurants and bars. Food shopping in supermarkets is expensive though, don't be caught short with money
Jake
2016-09-02T00:00:00Z
Absolutely loved staying at Elvina's place! She is amazing host. Make you feel very welcomed and proved her guests with a maximum useful and important information about surrounding area, transportation, ets. As well It is very cozy, safe, equipped with all essentials what guest may require. I was staying during New Year holidays so the place was lovely decorated, a nice touch from the host. Definitely will go back again!
Veronika
2017-01-01T00:00:00Z
Elvina made our stay just perfect! She was very helpfull and provided us with all possible information. The place is perfect for a couple, there is everything you need and much more. =)
Sophya
2016-08-14T00:00:00Z
Elvina was a great host and the place was amazing. Great location, just a few minutes walk from the metro, which was super cheap for a 24-hour pass. Pictures don't do the view justice - it overlooks the surrounding neighborhoods and really offers a stunning view of the sea and mountains. Check in/out was super easy. Elvina provided helpful info such as a local map detailing shops, restaurants, and markets close-by, as well as recommendations for getting around. Thanks, Elvina, for a great stay!
David
2016-10-23T00:00:00Z
Elvina's place is one of the best I've stayed in using AirBnB's for the past over 2 years. The description is accurate, the location great, the place neat & comfortable, the terrace just the perfect place to enjoy sunset while eating some of the tasty Greek olives.... Elvina welcomed us warm: none of our question remained unanswered, she was pro-active in asking and giving advice as well as in fulfilling our small wishes. Well done!
Maggie
2016-07-25T00:00:00Z
Everyone should stay here. It was an amazing opportunity for everything. Very central place for all things and so close to amazing food! 10/10 would recommend!!
Brad
2017-03-27T00:00:00Z
Perfect view and nice studio, good location. Elvina is very nice and very helpful. Thanks a lot for great time we had!
Greg and Magdalena
2016-11-01T00:00:00Z
Dear Elvina and George, Stephanie and I had a wonderful trip to Athens, and we owe much of that to you. We enjoyed our stay at the apartment that you graciously let us stay at. We loved how everything in the apartment was brand-new and we think that it was in a more quiet area of Glyfada area. Having you set-up a early check-in and also leaving directions, first class service. Again, thank you very much for helping to make our trip an enjoyable experience and please pass-on our thanks to George and your aunt who helped us as well. We will most definitely recommend your apartment to any of our friends who plan to travel to Athens. Ευχαριστώ πολύ!!! Mario and Stephanie
Mario
2017-03-13T00:00:00Z
Room Type
Entire home/apt
---
Property Type
Apartment
---
Accommodates
2
---
Bedrooms
Glyfada, Attica, Greece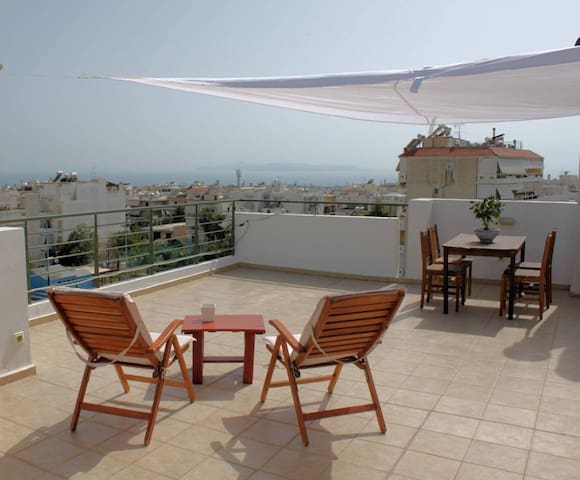 Fully equipped 35 m² apartment 4th floor close to kallimarmaro stadium You can walk easily to kolonaki to Acropolis to Plaka to Syntagma Easy to reach from the airport. Recently renovated
Very central apartment in a quiet neighborhood 100 meters away from a nice square full of coffee shops and restaurants and a mini market.
Quiet neighbourhood close to the city centre At 100 meters a nice square with restaurants and coffee shops
Thank you very much for the accommodation. Beautiful flat with brand new amenities, very clean,comfortable bed,central location with easy access to everything. Super helpful host. We will definitely stay here again.
manus
2016-11-22T00:00:00Z
Yan's apartment is centrally located,very clean and modern.Highly recommended for solo travelers and couples
Daniel
2017-03-09T00:00:00Z
Yannis arranged everything for a smooth check in although our arrival was a bit late. He also offered us a late check out which it was very convenient. The apartment has enough space for two people, is bright and everything seemed to be brand new. The location is very central, about 10 min walking to Syntagma and even though it's not in the touristic buzz of the city provides many options for walks, cafeterias, bars, restaurants and easy commuting to other neighborhoods. All in all, great value for money!
manos
2016-10-16T00:00:00Z
Thank you your hospitality.The apartment is very nice decorated, very clean in a great location. We will stay here again when we are in Athens
Jorgi
2016-12-04T00:00:00Z
Thank you for a fantastic stay at your simple and very nice decorated (URL HIDDEN) can reach the best part of Athens by foot.The apartment is very clean very quiet and the host is always available to help. Highly recommended.
paliti
2016-11-20T00:00:00Z
This apartment is a gem of a place—spacious, beautifully furnished, and perfectly located.
Diana
2017-03-12T00:00:00Z
Everything was perfect!Clean apartment,comfortable bed,in a central location. Highly recommended
aggela
2017-01-26T00:00:00Z
We loved our stay at Yan's house. The space is not very big, but it had everything we needed. Yan is very attentive, helpful and responded very quickly. We had a great time in Athens. I strongly recommend.
Suzana
2017-01-15T00:00:00Z
Room Type
Entire home/apt
---
Property Type
Apartment
---
Accommodates
2
---
Bedrooms
Αθήνα, ΑΤΤΙΚΗ, Greece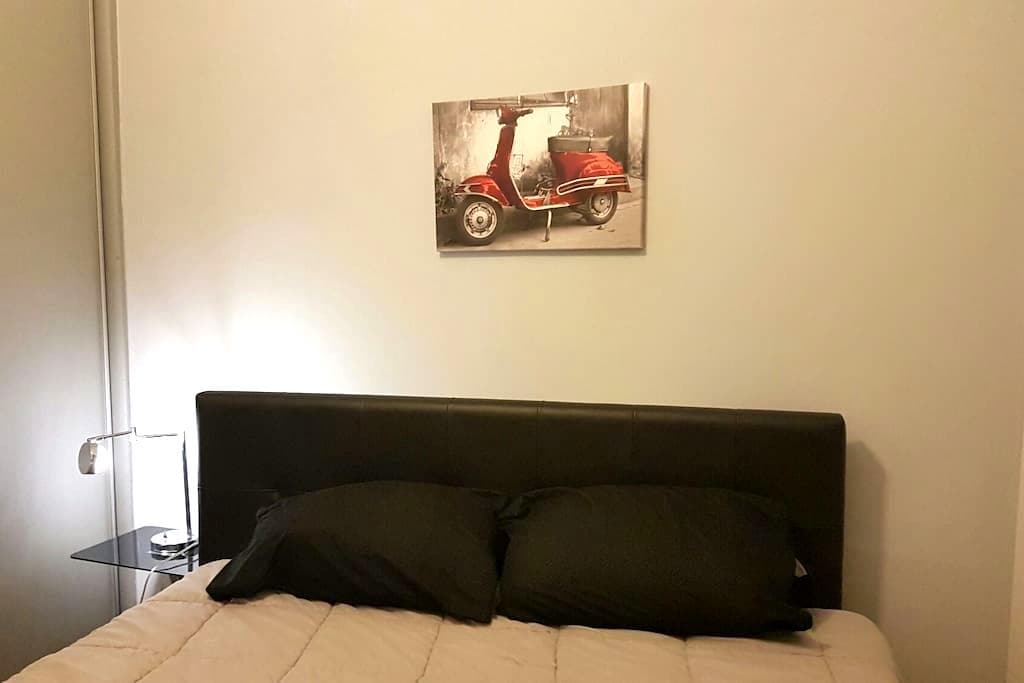 My room is close to the beach & the city center with public transport connections.Reasons that my room will like: Very nice view from 6th floor,Near Niarchos Foundation,Quiet Neighbourhood ,Exclusive use of the Terrace .
Amazing view & big balcony !
Good location, convnient and very easy going hosts. They respoded immediately to any request. An actual bed would be better but it was comfy overall. Good internet connection. The lack of an actual proper shower was a bit inconvenient but could be dealt with.
Eloi
2016-10-01T00:00:00Z
The flat is exactly as described by Maria. It is a clean and convenient place suitable for one person. It is on top floor so the view is amazing. Maria is extremely helpful, willing and available to provide any information or help at any time during your stay. I would surely reccomend this place and revisit it!
Thanassis
2016-08-04T00:00:00Z
Nice location, small place that can fit to a single person traveling for work and need an economic place just to sleep. Hosters are very friendly, willing to help you whit anything you need.
Giannis
2016-10-23T00:00:00Z
Maria and her family are super supportive and helpful for me. They are invited me when Christmas time. It was very good time spend together :) The room very equipment and clean also good locations and good view balcony ! Thanks very much ! Hope too see you :)
Takemaru
2016-12-28T00:00:00Z
Maria is very present and welcoming and understanding (I had last minute changes in my travel plans). I can only recommand dealing with her :)
Anne
2016-07-21T00:00:00Z
Very nice place for one person. Maria and her mother are very helpful. Neighborhood is good: safe and near to city centre and coast too.
Tomáš
2016-10-13T00:00:00Z
Maria and her mother were very helpful and I really enjoyed staying at this place - view on Athens from rooftop is amazing!
Petr
2016-10-04T00:00:00Z
I had a wonderful stay here. Maria was very friendly and helpful, she helped me with providing directions to places, good places to see, and even took me out to some local places :) The apartment was perfect for a solo traveler like me, I stayed for a week - it had all the essentials needed for living. The terrace was my favorite part - it's big and beautiful! Also, the location is great, only 15 minutes away from center by bus, about 20 - 30 minutes to the port and about an hour from the airport!
Valeria
2016-09-08T00:00:00Z
Room Type
Entire home/apt
---
Property Type
Apartment
---
Accommodates
1
---
Bedrooms
Kallithea, Greece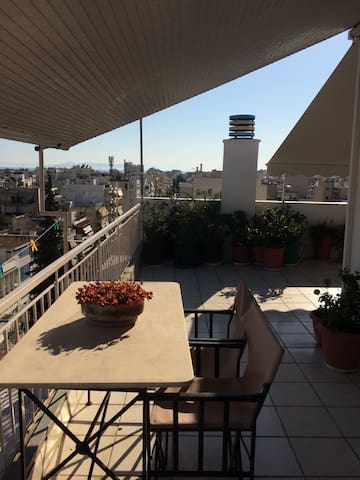 In the heart of Athens, our newly renovated charming studio with the amazing Acropolis view is the perfect place to host any couple or friends visiting Athens center. The neighborhood is one of the must see places in Athens full of major archeological sites, bars, restaurants and wonderful places to explore. The property is in walking distance from all major attractions and downtown trendy areas and only 10 minutes walk from Acropolis, Parthenon, Ancient Agora, Plaka, Keramikos and Gazi area.
The space is fully renovated with our personal taste. All appliances and furniture are new and nicely and comfortably placed around the studio for more convenience. The one space charming studio is on the top floor of the property and that is why has this amazing view of Acropolis. It offers one big size bed, air condition, a modern bathroom, a kitchenette with a fridge, a kettle, a toaster and all available cutlery and has a big private balcony with view to the lovely neighborhood of Psyrri. The studio has two balconys with amazing view in both of them. One has full view of the Acropolis Parthenon and the other has a wonderful view of the Planitarium.
Psyrri neighbor is unique and the heartbeat of Athens.
Room Type
Entire home/apt
---
Property Type
Apartment
---
Accommodates
2
---
Bedrooms
Athina, Greece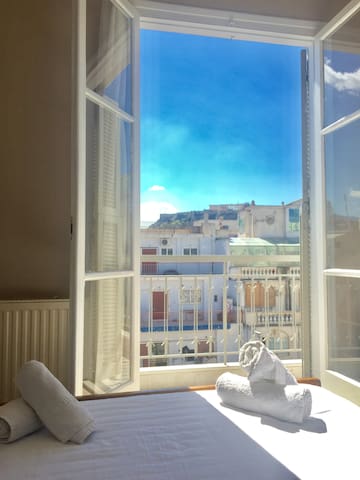 Maistrali'studios is our attempt to combine modern facilities with Agistri'traditional (URL HIDDEN) the result of this,was the construction of five studios built on the first floor of the oldest hotel in Agistri by the sea.
Room no 7 has incredible sea view.It is lightful and cosy too. Breakfast is served on a lovely coffee shop at the entrance of our studios(on demand) Nursery bed is available on request House cleaning is on the price It includes wi-fi, fridge, fully-eqiupped kitchen and a private balcony.
Fall in love with the Greek sky,taking all the colors of the palette which reflect in the sea.Walk on the sandy beach and swim in crystal clear waters. This is Agistri for me.. My hometown,only 45min.away from the port of Piraeus,is a unique destination of those seeking to combine modern with tradition,relaxing atmosphere with night life. ''How is it possible?'' you could ask me Well,come and visit us and you will find it out yourselves.
Anastasia was communicative, speaks great English, provided tips on local beaches and had a very flexible check-out policy (i.e. because no new renters were arriving on the day we left, we could check out whenever we wished, which was great). Check in was a breeze as well. The studio is centrally located, just seconds away from nice places to hang out on the beach, clean, and comfortable. I wouldn't hesitate to stay at Mistral studios again.
Bryan
2016-09-11T00:00:00Z
Our experience staying with Anastasia was great! The location was perfect in the middle of Skala. Anastasia was very responsive and helpful with any questions I had about the island which certainly improved our stay. If I visit Agistri again, I would definitely stay again!
Nolan
2016-07-29T00:00:00Z
The host canceled this reservation the day before arrival. This is an automated posting.
Mateusz
2016-11-16T00:00:00Z
Anastasia was great, she was very diligent and very helpful. She was always interested in offer me information about buses and whatever I needed. The location is amazing, just in front of Skala's beach, close to the church. Cannot be better, really
Manuela
2016-07-24T00:00:00Z
Everything was perfect! The location of the room was exactly in the center and there was near anything you need. The room was very clean and renovated. It had everything you need to stay a lot of days. Anastasia is very kind and helpful and we are grateful for the hosting. Certainly we will visit Maistrali studios again if we visit the island.
Μυρτώ
2016-06-27T00:00:00Z
The room has a fantastic view, it is clean and bright and with a small kitchen which is very handy. I would definitely come back!
Matteo Marziano
2017-04-07T00:00:00Z
We had a nice stay at Anastasia's apartment. She helped us out with everything we needed. Even if the apartment is in the middle of Skala, it was quiet and you have a view on the ocean from the balcony.
Johanna
2016-10-08T00:00:00Z
No problems - had a great time!
Emma
2016-11-22T00:00:00Z
Room Type
Private room
---
Property Type
Bed & Breakfast
---
Accommodates
2
---
Bedrooms
Skala, Greece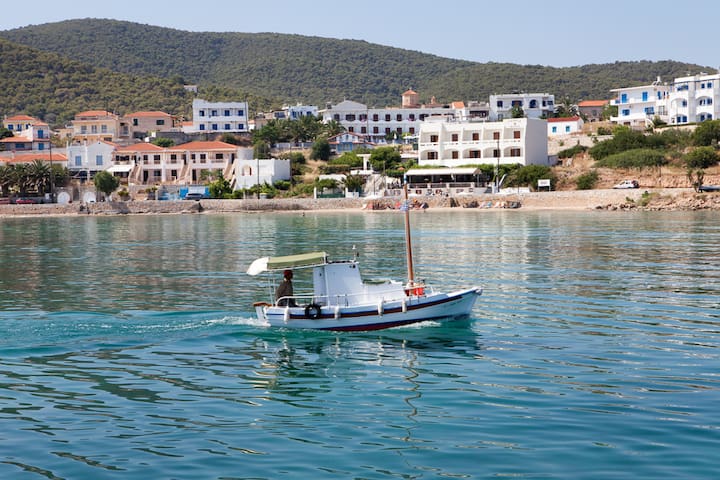 My place is near the airport and public transport. Reasons that my room would like: a comfortable bed, neighborhood and light. My space is suitable for couples, activities for an individual and business travelers.
To diammerisma located 5 minutes drive from the airport. Also located seven minutes from Porto Rafti beach and half an hour from Rafina port from where the boats to the Cyclades. Also located five minutes and from the metro station with direction to Athens.
The neighborhood is peaceful and quiet, a short distance from the center of the suburb with market, supermarkets, mobile phone shops, the snack bar and estistoria.
Nicolas was a great host. With a wide variety of ideas for the rest of our trip, and great personal vibes for our time there, it was the ideal place to start the adventure we had on the Attica Peninsula.
Austin
2017-02-05T00:00:00Z
Nicolas is a great host, very accommodating & friendly. We flew in around 9pm and left that morning at 4:15am for our flight. His place was very close to the airport so it was perfect for a quick stay before flying out. He provided pick up and drop off for a very reasonable flight and made everything extremely easy for us. I would highly recommend this place to stay!
Chandler
2017-03-12T00:00:00Z
Nicolas was a charming guy! He was there to pick us up from the airport and was full of great information about places to eat in his area. He was friendly and helpful in every way, and his place was spotlessly clean. He gave us our own space to rest and sleep, but was always on hand if we needed to ask him anything. We'd highly recommend this air bnb to anyone who needs accommodation close to the airport, and we'll definitely stay with him again in the future if we fly from Athens. Thank you so much Nicolas, and all the best! :)
Kristina
2017-02-27T00:00:00Z
Nicolas was very communicative, his place was close to the airport, and he was very flexible with my airport drop off time. I would recommend. Thanks Nicolas!
Jen
2017-03-10T00:00:00Z
Nicolas was absolutely fabulous. My favorite Airbnb stay thus far. He left an amazing impression of greek people for us. He was amazingly helpful with providing transportation and being very thorough with helping you navigate Athens. I highly recommend staying with him! Also-- the bed is much larger than the pictures and so comfortable! My 6'1 husband slept very comfortably.
Jennifer
2017-04-04T00:00:00Z
Amazing ! We had a big issue for coming and Nicolas literally saved us by picking us up. Nicolas made everything for us to feel good in his cosy home. Thank you Nicolas ! I hardly recommend !
Matthieu
2016-10-03T00:00:00Z
The host was really amazing. He offered a pick up from the airport and helped us to save money being ripped off by the taxi driver in Athens. He was very jovial despite having a back pain due to minor accident at the gym. We offered to cook dinner for him but instead he made us the best Cheese Pie we ever tasted in Greece. It was really incredible. He went above and beyond as a host. He even made us some espresso with biscotti. The stories he shared about life in Greece made us understand the day-to-day going on in this beautiful country. I will definitely come back to stay here with Nicolas.
Rahimaton
2016-10-11T00:00:00Z
Nicolas is a wonderful host, very attentive and welcoming. In addition its housing is close to the airport, so I thoroughly recommend his room !!
Colette
2016-10-05T00:00:00Z
Room Type
Private room
---
Property Type
Apartment
---
Accommodates
2
---
Bedrooms
Markopoulo Mesogeas, Greece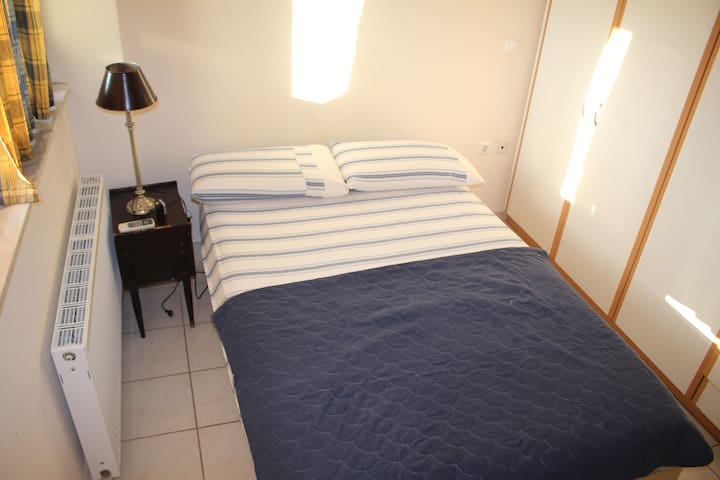 Basement with garden and elevated terrace for sea view. Simple appartement of 2 rooms and a kitchen, decorated with love. Everything accessible on foot: backeries, beaches, taverns etc. Suitable for guests with disabilities (except terrace).
A neoclassical house with garden in the historic town of Aegina - the first capital of Greece.
The sea breeze brings sounds and smells ( e.g. grilled octopus) from the promenade.
This was a great stay. Perfect location close to the port and within walking distance of many shops and restaurants. An amazing view from the rooftop. Clean and spacious in a charming part of town. I would highly recommend.
Michael
2016-09-29T00:00:00Z
Excellent stay in Aegina. Apartment is just as described. Did not meet Eftichia but was met upon arrival by her mother who spoke good English and was most welcoming and provided us with as much information as we needed. Would definitely recommend and hope to return again in the future! Renee
Renee
2016-09-09T00:00:00Z
The place is like in pictures. Nice and confortable. Close to the port and the centre. We enjoyed staying in this place for a Week and we felt like at at home.
mathilde
2016-09-24T00:00:00Z
Eftichia house is a perfect place to stay, nicely situated and with a stunning view from the roof terrace. The bedroom has an air-condition which was a nice surprise for me, as it's hot like hell in Egina, but like Eftichia mum said: This is Greece, this is sun.
Monika
2016-08-05T00:00:00Z
Staying at Eftichia's was a fabulous way to enjoy the loveliness that is Aegina town. The apartment itself is very clean and comfortable and to be honest the pictures don't do it justice. It's in a quiet area just a few minutes from the port and you really get a sense of the mellow Aegina lifestyle. From sunny breakfast's everyday under the pistachio tree to the best views of the sunset from the terrace this flat was a real find. My favourite thing however was the friendliness and hospitality of Eftichia's mum. Everyday she greeted you with a big smile and even though her English may be limited the lovely lady even had me up to her terrace for an unforgettable ouzo and mezze evening. Greek hospitality at its very best. Efcaristó!!
Gloria
2016-07-07T00:00:00Z
This is the second time we have stayed at this apartment. Everything is just as described in the online description. The hosts, Eftichia and Ka. Kaiti were, as always, very hospitable and did everything to make our stay very enjoyable. Weather too was perfect for November! Thank you once again for a memorable stay and we hope to return again soon! Best regards. Renee and Family
Renee
2016-11-12T00:00:00Z
I was made very welcome at Eftichia's place. Her mother Kiria Katie is a very interesting lady who speaks English well. The apartment is perfect - a double bedroom with sliding doors opening onto a lounge with 2 sofa beds. The kitchen & bathroom have everything you need. There is no TV but a radio can provide background music. There is a lovely shaded courtyard. Up 16 steps is a wonderful rooftop with table & chairs - amazing views! The whole place is safe, peaceful and private. Angina is a bustling town with many tavernas & shops - full of character! I'll be back!
Fiona
2016-09-18T00:00:00Z
It was an amazing trip. Eftichia and her mom were very friendly and helpful. She's provided a lot of information about area: swimming places, bus stations, restaurants and bars. The area is quiet and safety, a lot of cats and lemon trees. There is an own terrace on courtyard with nice sea view. Perfect place to meet sunset.
Alexander
2016-06-22T00:00:00Z
Room Type
Entire home/apt
---
Property Type
Apartment
---
Accommodates
3
---
Bedrooms
Αίγινα, Αττική, Greece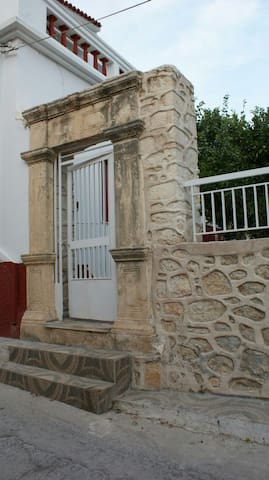 Odama tren istasyonuna yakın, gece hayatı , Toplu taşıma, parklar, şehir merkezi. seveceğim odama nedenleri: çevre, son zamanlarda pazarda, yenilenmiş. Benim uzay çiftler, etkinlikler bir birey için, iş seyahatinde ve (çocuk) aileler için uygundur.
Room Type
Entire home/apt
---
Property Type
Apartment
---
Accommodates
3
---
Bedrooms
Athina, Greece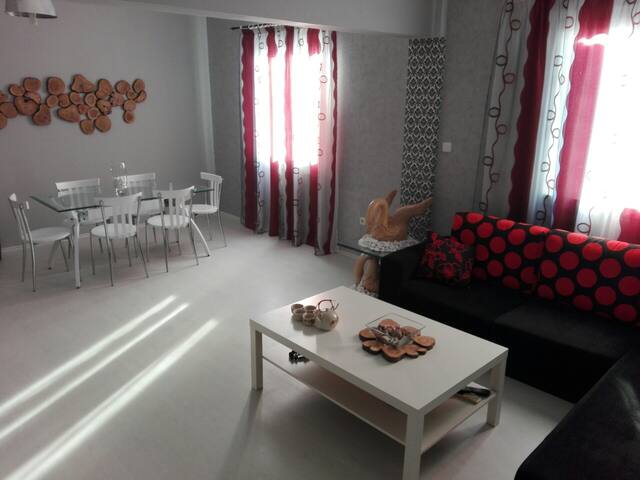 Situated 6km from Cape Sounio (Ancient Temple of Poseidon) and close to Charakas beach(350m).5 Minutes walk .Athens is only 60 km This newly (2016)built house is a perfect getaway for a relaxing vacation or a short stop-over with amazing sea and hill views as far as the eye can reach.
Newly built house(2016) with quality and modern design. Spacious rooms with view to the sea and the hills. Fully equipped kitchen including dishwasher. Spacious balconies and an accessible garden. Energy efficient construction with LED lighting, fully air conditioned, energy fireplace, electric shutters, steel plated door and double glazed windows with screens. Free wi-fi connection and landline calls upon request.
Quiet neighbourhood offering pleasant countryside walks along the sea or up the hills. The sandy beach has calm shallow waters safe for children. May-September.You can enjoy a refreshment at any of the two beach bars as well as sun beds and umbrellas. The closest mini market, bakery and taverns are at a distance of 3km (Legraina).
Sandra and Simos were very welcoming, and their guest apartment was beautiful. It was very clean and inviting, with nice decks. I wish we could have stayed in Sounio longer, but sadly we only had one night before flying out of Athens.
Cady
2016-06-04T00:00:00Z
Fabulous! Apartment in Sounio. Beautifully appointed and decorated. The kitchen was very functional for us as a family; clean new bathroom; comfy beds with ironed linen, fabulous wardrobes for travellers. The Sandra and her husband were very friendly and hospitable. We shared a glass of wine and they allowed our boys to go for a bike ride on their bikes. Fabulous location with lovely sea view - great for our al fresco dinner. This is one of my favourite AirBNB apartments. I could easily imagine staying here for an extended period.
Caroline
2016-11-05T00:00:00Z
Sandra's place we fantastic! We loved everything about it. Everything was very clean and the fire they had going when we arrived made the place feel just like home. I would recommend having a car if your stay there or using the Taxibeat app get a cab to go places.
Ian
2016-11-26T00:00:00Z
A lovely place to stay with amazing sea view. The house interior really beautiful and clean with all the furniture and appliances to be brand-new. But the best part is Simos and Sandra and their hospitality. They were always there to help and make our stay the best it could be. Everything was above expectations. A highly recommended place to stay
Kleanthis
2016-06-13T00:00:00Z
We drove to the spot that our (SENSITIVE CONTENTS HIDDEN) maps directions took us and because we didn't have internet connection, we were fearful to not find and connect with our hosts. We were WAVED down and greeted with huge smiles and welcomes by Sandra and Simos! EVERYTHING was better than advertised. They were incredibly gracious and friendly. They were so available to answer and direct our short stay. The home was so aesthetically perfect..... the view, the interior, the patio space, the gardens. We have four children and the space worked just perfectly for us. I honestly wish we could have stayed for a week! This place offered a sweet refuge for our family. THANK YOU Sandra and Simos!
Chrissie
2016-07-31T00:00:00Z
The apartment is furnished with a very good taste, is the most clean apartment we ever had. It is very new. The owners live in the same building on an upper floor so that anything you need you can get promptly. Sandra and Simon are very friendly and warm persons. You really feel like at home in their house. The house is situated in a quiet area.
Raija
2016-11-09T00:00:00Z
Very new and very clean place, everything works, kitchen is fully equipped. Beds are comfortable and clean. Location is great too. Definitely a great value.
Kirill
2017-02-13T00:00:00Z
Everything was perfect. Very kind people and the house was really good
kostas
2017-02-24T00:00:00Z
Room Type
Entire home/apt
---
Property Type
Apartment
---
Accommodates
6
---
Bedrooms
Sounio Charakas Anatoliki Attiki, Attica, Greece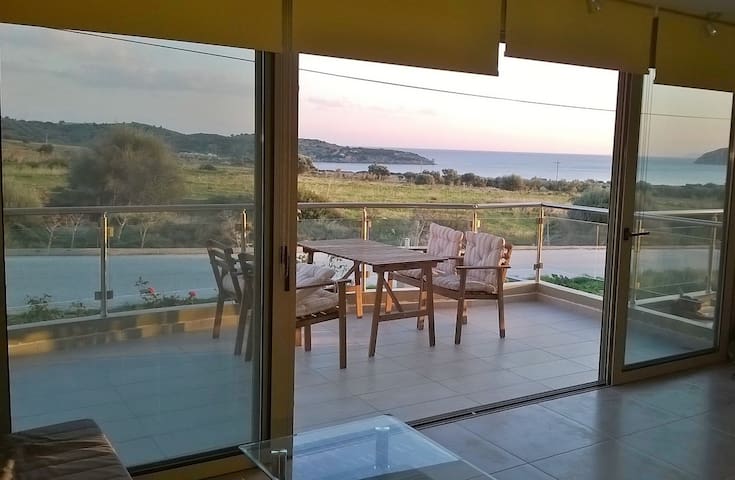 a very relaxing small seaview house 5 minutes from the beach by walk and close to the center of anavissos!
Ο υπέροχα διαμορφωμένος και περιποιημένος κήπος του,καθώς επίσης και ή θέα στον πανέμορφο Σαρωνικο Κόλπο• Η καθαρά χαλαρωτική και καλαίσθητη αισθητική του εσωτερικού χώρου. Άλλο βασικό χαρακτηριστικό είναι τα φυσικά υλικά κτισιματος που αποτελούνται από ξύλο και πέτρα και προσδίδουν απόλυτη αρμονία μετο πράσινο του κήπου. Η ανεξάρτητη είσοδος.
Η γαλήνη ηρεμία καθαριότητα και κυρίως ησυχία με υπέροχη θέα προς την θαλασσα Το δε πάρκινγκ είναι ελεύθερο και προστατευμένο γιατί ο δρόμος που βρίσκεται το σπίτι καταλήγει σε αδιέξοδο.
Olga was so warm and welcoming- she was such a friendly host and went out of her way to make us feel at home. Olga kindly invited us to have lunch with her which was delicious! Olgas home is beautiful- the apartment is great and the garden around it is amazing. The location is good for a relaxing trip outside of Athens, and although it unfortunately rained during our time there, we still had a great time- thanks so much Olga!
Katie
2016-10-22T00:00:00Z
Olga was a great host, very helpful and kind ! Even if we stayed only 1 night, our stay was incredible. The apartment is very beautiful and comfortable, with amazing sea view and located very close to the beach. We would definitely recommend this apartment !
Emilie
2016-08-02T00:00:00Z
This is a fantastic place to stay, everything is much better than described. Olga is a fantastic host and willing to help with everything. The house itself is very comfortable and the garden around it very big- you could seriously stay there for the whole time and not go anywhere, unless it is the beach which is 5 minutes walk. We will definitely be back if we get enough days off.
Anna
2017-03-26T00:00:00Z
H Κα Όλγα ήταν εξαιρετική οικοδέσποινα! Είχε φροντίσει για τα πάντα, μας εξυπηρέτησε απόλυτα με τις ώρες άφιξης/αναχώρησής μας και ήταν πολύ πρόθυμη να μας βοηθήσει σε όλα. Το σπίτι ήταν τέλειο, πολύ προσεγμένο, πολύ καθαρό με φανταστικό κήπο και θέα προς τη θάλασσα. Ελπίζω να επιστρέψουμε σύντομα. :)
ΕΙΡΗΝΗ
2017-04-02T00:00:00Z
Η κ. Όλγα ήταν μια άριστη οικοδεσπότρια, ευγενική, κατατοπιστική και πάντα στη διάθεσή μας! Η τοποθεσία του σπιτιού είναι υπέροχη και ο κήπος μαγευτικός!! Το διαμέρισμα είναι πολύ βολικό για δύο άτομα και έχει απίστευτη θεα! Σιγουρα θα το ξανά προτιμήσουμε! Ευχαριστούμε για όλα ! La signora Olga è stata una padrona di casa eccellente, cortese, disponibile e sempre a nostra disposizione! La posizione della casa è ottima e il giardino incantevole! L'appartamento è molto comodo per due persone e ha una vista da sogno! Speriamo di ritornarci presto! Grazie di tutto!
Stylianos
2016-12-16T00:00:00Z
Room Type
Entire home/apt
---
Property Type
House
---
Accommodates
2
---
Bedrooms
Ανάβυσσος, αττικι, Greece
Welcome to a stunning, sunny apartment in the very heart of Athens between Monastiraki and Syntagma (go everywhere by foot). It has the best views on the Acropolis, a gorgeous balcony, a lovely kitchen and bathroom. Beautifully decorated, fast Web.
The apartment is a penthouse on the sixth floor of a very central building (there is an elevator). It consists of a kitchen, a bathroom, a dining area and two bedrooms, one of which is available for renting. All the facilities of the house (balcony and common areas) are accessible from that room. The apartment has two balconies: a large one which faces the Acropolis and is sunny from sunrise to sunset, and a cosy one at the back, with a Mediterranean feel. The apartment is airy and sunbathed. The entire apartment has classic wooden flooring. The room has heating and air conditioning but the apartment is made in such a way that we usually don't need it. As you will see from the photographs, the room has a natural colour scheme (white, green and brown) which, combined with the natural light that fills the room, makes it a very peaceful space. It has an extra large double bed, railing for your clothes, and a small vintage corner with two darling armchairs for your philosophical conversations. There is no television in the room (because TV is no fun!) There is a fully equipped, modern kitchen, complete with an espresso machine and all facilities. The bathroom was recently renovated in a modern style, it has a lot of natural light. The dining area has a vintage feel but on a sunny day (which is almost every day), you are more likely to want to have your dinner and wine on the balcony whilst watching the Acropolis.
This is considered a very safe neighborhood. The apartment could really not be more central, it is located between Monastiraki and Syntagma squares ; it is on a street which runs parallel to Ermou, Athens's commercial, pedestrian street. Whether you are interested in shopping, the arts, culture, historical sites, or want to explore Athens's night scene, you will be able to walk EVERYWHERE from the apartment. There is a selection of coffee shops right at the bottom of the building, as well as wine bars and places to eat. There is a supermarket seconds away.
Dimitri is really courteous and kind. His apartment is central and you can walk to every sight. You also have an amazing view to Akropolis from his terrace. He helps us in every way: where to eat, what should we see etc. It was a good time in Athen :)
Huong Linh
2017-02-21T00:00:00Z
Dimitrios is definitely a super host! He really treats us like friends and are happy to help us whatever we need. Upon arrival, he waited us outside McDonald's near the exit of the subway station and led us to his home. Then he explained everything in details to us not only about the place, but also about the surrounding area. His girl friend and him made a book about recommendations in Athens. Also, he is always online whether on the Airbnb platform or (SENSITIVE CONTENTS HIDDEN), so it is extremely convenient for me to get in touch with him. I didn't print the boarding pass before the flight to Santorini, and I told him at 9pm, he helped me with the problem and come back at 12pm, it was really nice of him to do so for us. He is always pleased to talk and chat with us, and he offered to drive us to the airport to send us off with two 30-inch luggages to the airport. The location is fantastic, for it is not only located in the heart of Athens where all the places are within walking distance, but also has a nice view of the cathedral and the Acropolis. It is near the syntagma square, which is probably the largest transport station in Athens, so whether you take a taxi, bus, or subway are very convenient. The room is spacious with a bed and the balcony is great too! It just feels like home, so everything is quite cozy and warm. Above all, I am so glad that I chose this place at first, and I sincerely recommend everyone to feel the hospitality of Greek people, if it is available haha!
Ziying
2017-02-02T00:00:00Z
Nice room and useful information from host!
Yee Jing
2017-01-15T00:00:00Z
Wonderful appartment, amazing view from the balcony, and a great host who went out of his way to make me welcome. The appartment is very spacious, clean, and located just minutes from Syntagma square. I would definitely stay here again.
Ludek
2017-01-16T00:00:00Z
I can't say enough about how wonderful this experience has been. Aside from the awe inspiring view from our bedroom as well as the balcony, this apartment had everything we needed and the bed was huge and comfortable. My only regret is that we couldn't stay longer. There is a lovely tea shop on the ground floor of the building for a quick pick me up and a local (within a stones throw of the buildings entrance) grocery store with fresh cold cuts and wonderful yogurt. Our host was a wealth of knowledge pertaining to Athens (typical tourist stuff) as well as the best tavern to stop in and have delicacies from Crete whisked to your table. Best travel experience of the year.
Taiwan-Katie
2017-03-04T00:00:00Z
His hosting was amazing. He picked me up at the airport and then took me around the city for a few hours. The accommodation was so organized and has maintained cleaness. The view from the balcony was impressive, the words can't explain it. Appreciate his hospitality. Once I come to Athnes during summer, I would love to stay here again.
Madoka
2016-12-29T00:00:00Z
Dimitrios' place was exactly as described. Except that it was his brother Giannis' place. This was no problem and Giannis was great, meeting us at Syntagma and taking a lot of care to introduce us to his place and help us find somewhere to . He walked us up the road and showed us 3 restaurant options of varying prices but all good food. The balcony is sensational and I took the same photo of the acropolis as in the picture. All good, thanks Gianni.
Mark
2016-07-22T00:00:00Z
Dimitrios place is great. The location, the great balcony with a grand view on the Acropolis. All one can desire when visiting Athens. Dimitrios is a very hospital and well organized person.
Castrum Peregrini
2016-12-28T00:00:00Z
Room Type
Private room
---
Property Type
Apartment
---
Accommodates
2
---
Bedrooms
Athina, Athens, Greece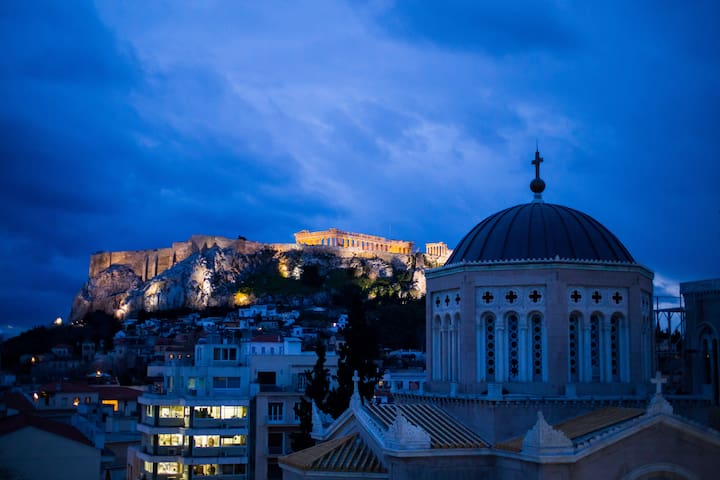 -Transport FREE from and to the Metro station (upon request). -24 sq. meters studio 10 minutes from airport by car. -Special price for the transport from and to the airport -Suitable for 1 to 2 people, fully-equipped in pleasant green surroundings. -Near to metro and suburbian station. -Free internet (WiFi)
A wonderful studio which is located in Argithea, a wonderful hill near to Air port El Venizelos (10 min) and near Peania-Kantza metro station and Spata city. Fully-equipped in pleasant green surroundings and garden.
Very silent neighborhood, special for relaxation and calmness.
Really a nice place to stay, everything is prepared and available in a room. Tiana is very kind and friendly, airport transfers charge also reasonable. strongly recommended.
Chiang
2016-11-08T00:00:00Z
Tania made a wonderful treat for me and drove me to the airport.
Stephanie
2016-10-10T00:00:00Z
Tania was amazing by picking us up from the airport and dropping us off in the morning. This is the second time staying in Tania'a place and everything was great! I loved my stay here and it's has everything you need for a short stop before flying out of Athens airport.
Ashleigh
2016-10-07T00:00:00Z
Tania was very friendly and funny person. The house was clean and nice. We had nice talks with her and her son. It was a bit difficult to communicate with her when we didn't have internet because she relied to the airbnb message for communication.
Julius
2016-10-13T00:00:00Z
Tania was amazing from start to finish. Being my first time in Athens Tania helped me to work out the cheapest way to get to the accommodation and then offered to pick me up and drop me off at the airport for a cheap price. Tania's communication was fast and I was always easily in touch, which can be difficult when only using wifi overseas. The house was everything it described and more! I would highly recommend choosing to stay with Tania. Great location very close to the airport. Perfect for overnight stay before flying out.
Ashleigh
2016-08-31T00:00:00Z
Tania's place is close to airport. The room is very clean and looks the same as in the pictures. Tania is a great host, easy communication and even gives us some cookies and fruit upon our arrival. Overall it is a great stay for anyone who needs to stay over a night near airport.
liangcheng
2017-02-22T00:00:00Z
Tania was very on top of communication, answering me on any questions I had and making sure everything was okay. She picked us up from Rafina port and drove us to the airport in the morning for a fair price, plus we didn't have to worry about calling a taxi. The room is very comfortable and has everything needed in order to enjoy your stay. She was very friendly and provided us with anything we needed. It felt like staying at an aunts house. Would highly recommend staying here if you need to be close to the airport.
Brandon
2016-08-06T00:00:00Z
Tania's son received and delivered us at the airport for a very good price, it was totally worth it! The hospitality we received was beyond expectations, and we had the best Airbnb experience with this host. The apartment was clean and neat. We had everything we needed for our stay, and even got some breakfast. I will highly recommend this host! A great stay if you want to access the airport easily!
Emma
2016-08-16T00:00:00Z
Room Type
Entire home/apt
---
Property Type
House
---
Accommodates
2
---
Bedrooms
Paiania, Attica, Greece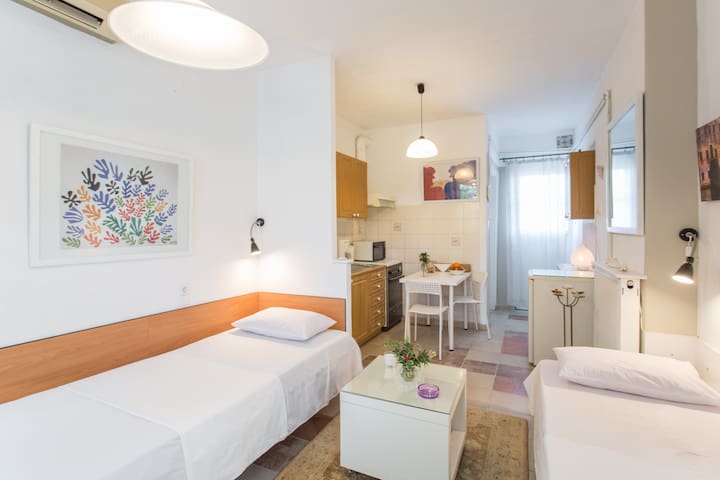 Hi there! we are three flat mates inviting you to stay in our spare rooms. We live in the heart of Athens, 5 minuites from Syntagma square (connection to the airport) Monastiraki (train for Peireus) and Plaka and 10 or 20 minuites walk from the rest of the center. Our house is a 1860's historic building, an experience in itself. It is perfect as a base to explore Athens or transit for the islands. Nightlife is all around so we can't offer a quiet stay but a comfy and friendly one
The house is a Historic Mansion built in the 1860's . It's a beautiful building and you are welcome it all it's spaces and the the terrace.
The house is in the heart of Athens, right in the commercial area and more specific in the wholesale market for jewellery, crafts, fabrics, buttons etc. It has great dinning places all around and bars in the evening From here you are within walking distance to all other neighborhoods. 5 min to Plaka, Monastiraki, Syntagma square by foot 15 min to Thiseion, Acropolis by foot 20 min to Exhareia, Keramikos by foot
There are two really great things about this place- the people, and the building itself. Which is of course everything. I had really nice conversations which I'll remember, with Lilli and Giannis. In fact, in addition to the fact that they were both very welcoming and very easygoing, I learned something from talking to both of them. Talked philosophy and poetry with Giannis, and about inspiration and the art of living with Lilli (she is a jeweler, ask her about her craft, and take some home with you. I didn't get the chance to look, but next time, I will!) The house is a wonder in that it is not only very old and beautiful, but also, almost immaculate. I don't know how they keep it so spotless - this is very rare for a building that has undergone different stages of restoration! Finally, the location is very convenient, of course.
Rebecca
2016-11-18T00:00:00Z
Fantastic location in the very center to explore Athens next to Ermou Street. Great neoclassical house in a lively neighborhood. Comfortable room, very cosy, fine, safe, neat and clean. Yiannis and Lilly are great and so hospital hosts. Highly recommended!
Panayiotis
2016-07-21T00:00:00Z
We had a pleasant stay in the historical manison, Giannis showed us the house and we had a beautiful evening on the rooftop. The rooms are small but with the ventilators running we had a good sleeping climate despite of the heat outside. Lilly gave us some very useful descriptions, which helped us to get around in the city and the place is really central. We´d love to come again.
Katharina
2016-09-01T00:00:00Z
Our experience at Lilly's place was great and the communication went smoothly since the very first moment. The room is nice and cosy and the bed very comfortable. Everything was exactly like described and we did not experience any negatives. This beautiful house is located right in the heart of Athens, close to all the main tourist attractions and many bars and restaurants. Just perfect. Special thanks to Giannis for being so kind and helpful. I definitely recommend staying here.
Antonio
2016-11-28T00:00:00Z
The house is very nice and treated in many small but significant details . The reception was very good! All this, denotes love toward the house and the guest. I recommend it to everyone!
Giovanni
2016-08-20T00:00:00Z
Can't imagine a better airbnb experience. Giannis and his friends are great hosts and the apartment is simply amazing. Perfect place to stay in Athens.
Michał
2016-11-09T00:00:00Z
We had really layover in Athens. Also thanks to Lilly :) We got all the information and supplies we needed and a very warm welcome! The neighborhood is awesome and I would really like to come back another time and stay longer.
Lisa
2016-09-10T00:00:00Z
Lilly was very friendly and helpful. The communication was very good, too. The room is really cozy. The room, the two bathrooms etc. were very clean and we felt really comfortable. The house is located close to restaurants, bars and public transport. I really recommend that place :-)
Maike
2016-09-20T00:00:00Z
Room Type
Private room
---
Property Type
House
---
Accommodates
2
---
Bedrooms
Athina, Greece
A fast Wi-Fi beautiful PRIVATE Airbnb room with EXTRA SPECIAL MATRESS to rent in Athens for independent traveler who wants comfort,next to Syngrou Fix Metro station,10-15 min walk to Acropolis, SAFE residential area, automatic check-in (late OK), lovely balcony, pretty bathroom and full kitchen use , Air-con in room, washing machine, balcony, Near restaurants and shops, walkable, modern, Well-equipped kitchen, Near public transit, near night life!!!
Here is one brand new and very beautiful private bedroom in fully equipped shared self-service apartment. To be sure this room is for you-please do READ THE WHOLE DESCRIPTION and the HOUSE RULES before you book. In this big lovely private bedroom there is big cozy bed, big wardrobes, lovely balcony, mirrors, desk for working. All linens, towels and maps provided, and of course the rooms door has also lock . Fully equipped kitchen and lounge area, bathroom with cozy mini spa and bath will be shared with another room. There is also washing machine and iron in apartment. You are kindly asked to use those with special care. There are altogether two bedrooms in this newly renovated luxurious apartment, one (this) room is for you to use, the one other is similarly rented to other neat and polite guests. Our most common guests are one or two girls or couples, rarely single males. This is PERFECT PLACE FOR INDEPENDENT TRAVELER WHO LIKES COMFORT. IF THIS ROOM IS NOT AVAILABLE OR YOU NEED MORE THAN ONE ROOM PLEASE CHECK OUR OTHER LISTINGS TOO! https://www.airbnb.com/s?host_id=2089542&s_tag=HmvlTuM4 Please find time to READ the WHOLE DESCRIPTION and house rules before the booking. AFTER BOOKING- please find time to YOUR ITINERARY- BOOKING DETAILS- HOUSE MANUAL- there is all information you need to know about our AUTOMATIC CHECK IN AND ATHENS :) Neither of us is living in this place, but Tia visits occasionally and we are always available via phone or internet to assist you with any kind of questions you might have. We also provide maps, instructions and a computer in public area for guests to use. We have automatic check in system that we provide detailed instructions for. This room is a perfect option for the independent traveler who wishes well arranged accommodation.
It is very safe central and residential area- very near to Acropolis. Near touristic and business center. Excellent connection with port, airport, city. The apartment is next to Syngrou Fix Metro Sation and jus opposite of the Museum of Modern Art. Koukaki is not exactly the gem for the architecture lovers, as it is a very casual Athenian area, but it can boast with the central location and security. So it is the best choice for those who look for the safe and quiet place really near the center. Nearby to LIVELY AREA, nice shops, and bars, supermarkets in walking distance. Etc.
Room Type
Private room
---
Property Type
Apartment
---
Accommodates
2
---
Bedrooms
Athina, Greece
The apartment is located in a leafy suburb of Athens, Nea Smyrni. The area is very safe, with aristocratic blocks. It provides differential public transportation as well as a wonderful market for someone to obtain whatever needed!Town's ornaments are its impressive squares and the famous park, which is located close to the apartment and is ideal for either amble or exercise.
The apartment nestles like a wandering bird in the seventh floor of a stately building offering a limitless, spectacular Acropolis, Lycabettus Hill and Philopappou hill view. It consists of a warm and hospitable open-plan space where a fully equipped kitchen is seated alongside with a cozy living room from which Acropolis is visible and a double size bed which offers relaxing sleep! The bathroom is small but fully operational and with everything anybody may need. Internet and television are available at once offering information and entertainment anytime! Finally there is a huge balcony, which offers a limitless view and lets the visitor feeling like being in heaven!
NEA SMYRNI , is one of the nice, relaxing areas of Athens and you have the opportunity to discover the real city of Athens and not just the typical touristic areas.The house is next to the city center, ideally situated between Athens historical center and Piraeus port. The apartment is 3 minutes walk from a beautiful park, and 5 minutes drive from the magnificent seaside walk of Palaio.Faliro and the newly build marina of Flisvos where you can choose among, our unique open air cinema, coffee shops, bars and restaurants, while enjoying beautiful sunset
I had wonderful time at Panagiota &Petros's home. It's small, but nice,clean, cosy and well-equipped, with a wonderful view from the balcony. The hosts also left some fruits,coffee/tea etc, which was very nice Highly recommend this place.
Даша
2017-04-11T00:00:00Z
I loved staying in the studio. Panagiota and Petros are very welcoming and easy-going hosts. We had a great communication. The studio is very sunny, cosy, clean and has everything you need. Very nicely decorated as well. The balcony has an amazing view and it's ideal for spending some quiet time. The city centre is around 5-10min away with public transport (depending on traffic) and there are buses going frequently. Tram is also a good option, especially if you want to go to the beach. There is a good supermarket nearby and the neighbourhood is very safe and calm. I would definitely recommend it and hope to return soon as well :).
Tea
2017-04-02T00:00:00Z
Panagiota and Petros are very pleasant and helpful hosts!They welcomed me in their cosy space and explained everything was needed in full detail.The apartment has a spectacular Acropolis view,especially at night it is pure magic.The studio itself was clean,comfortable,with everything somebody needs in order to have a pleasant stay!Thank you very much guy's and I'll definitely see you again!
Kostas
2017-03-02T00:00:00Z
Panagiota & Petros are great hosts, they provide you with everything you need for the pleasant stay in Athens. The comfortable apartment made with love for details with the huge terrace on the top of the house and with the fantastic view of the Acropolis and other hills is fantastic. I miss already my breakfast with this special view. The area is safe and good connected. I highly can recommend the accommodation and the hosts - thank you!
Ana
2017-04-07T00:00:00Z
Room Type
Entire home/apt
---
Property Type
Apartment
---
Accommodates
2
---
Bedrooms
Nea Smirni, Greece
Our cosy apartment is in the centre of historical Athens..Full equipped and brand new electronics!Best location-Metro omonoia station 5'minutes walk-metaxourgeio station 1'min walk!! Explore Athens and all the nearby Sights! Acropolis-Museum-Syntagma! Enjoy!!!
Our place is unique!! First of all it's a whole apartment-studio and it concludes a bath and a kitchen full equipped! Secondly, it has its own small and sunny balcony, so we have light all the day! We are on the fifth floor and of course we provide you elevator!
It's a nice place, walking distance to any location in the city center. Really close to subway. Host is very nice.
Irene
2017-04-05T00:00:00Z
This light, cosy apartment is in a great central location, just minutes from the metro and walking distance to Syntagma and Acropoli. It is situated on a main road so a bit of road noise is heard however it was not a problem. I'm a solo female traveller and I had no concerns regarding my safety staying here. I regularly came and went late at night and early morning and felt safe. Alexandra was a perfect host, and gave me many recommendations of things to see and do. Would highly recommend staying here.
Yvonne
2017-02-22T00:00:00Z
It was all nice and sound. Good price value!
Kissling
2017-03-19T00:00:00Z
Alexandra is one of the best hosts i have ever met. She patiently waited for me to get to the apartment and she had everything prepared to welcome me: putting the heater on, extra sheet and towels,.. and she was there to offer tones of helpful advices on easily reaching the main touristic sites of the city and the best food and beverages stores and restaurants. Place is well located in the heart of the city and everything is easily reached by foot in 10 to 20 min such as Acropolis and Thessio, Monasteraki, Syntagma square,... Overall I had a good stay at Alexandra and Dima 's bnb! I would highly recommend it! Thank you Alexandra for being such a super great host!!
Charbel
2016-12-29T00:00:00Z
Although my stay at Dima's was short I can say that it is an excellent place to stay, it's indeed very close to the metro and has a very excellent host.
Angelos
2017-01-17T00:00:00Z
The owner is absolutely great. I was provided with absolutely clear map of routs on the map of the city and explained how to reach every "must see" place
Anna
2016-11-13T00:00:00Z
Very nice and clean place in the central part of the city. Totally recommend!
Maxim
2016-10-09T00:00:00Z
Arriving was very uncomplicated. The apartment ist small, but perfect for a short stay in Athens. It was very clean and we didn't miss anything.
Johanna
2016-10-16T00:00:00Z
Room Type
Entire home/apt
---
Property Type
Apartment
---
Accommodates
1
---
Bedrooms
Αθήνα, Αττική, Greece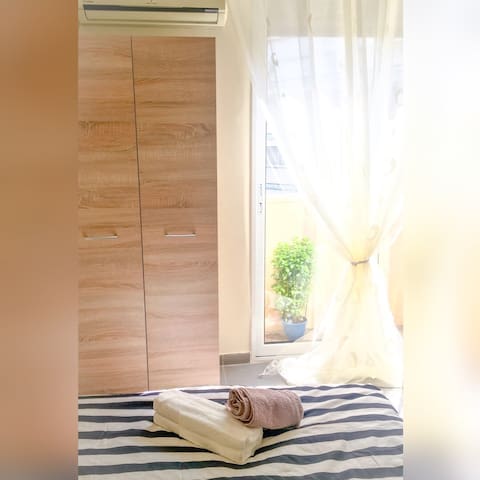 Enter dates to see full pricing. Additional fees apply. Taxes may be added.