Comfortable double bed room, spacious, bright, with lots of storage space and work desk. Private bathroom with bathtub. Located in the centre of the city of Aveiro, near restaurants, supermarkets, activities, art and culture, public transports and shops. Apartment with lift, petfriendly and three car parks nearby, a free outdoor one and two covered.
A Catarina é uma simpatia , dedicada, sempre disponível e adora animais.
Elsa
2017-03-12T00:00:00Z
Catarina nos reservou um ótimo espaço! Logo que chegamos, deu ótimas dicas sobre a cidade. O lugar é incrível, tanto a estadia como a localização. Quarto e banheiro limpos e organizados. Simplesmente não há o que reclamar.
Keyla
2017-04-07T00:00:00Z
Room Type
Private room
---
Property Type
Apartment
---
Accommodates
2
---
Bedrooms
Aveiro, Aveiro, Portugal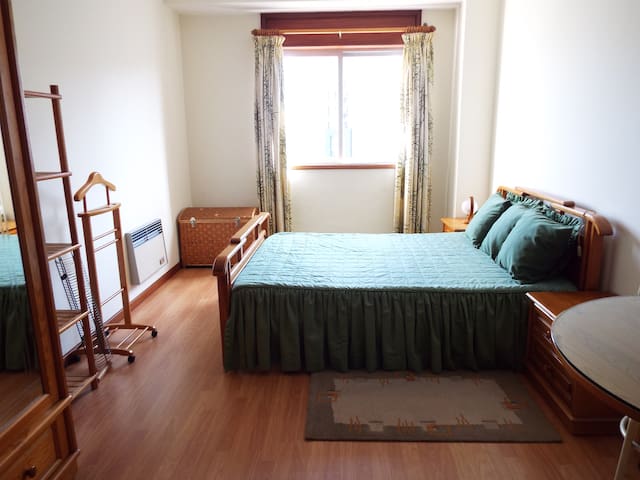 Our home is 2 minutes walk away from the city center, close to most of Aveiro's touristic attractions, restaurants and night life. It's located on a quiet and traditional street. Free parking is available nearby. 15 minutes walk from Aveiro University. It can comfortably house 3 people but it is possible to accommodate up to 6 people (please contact us for details). For updated night rates, ensure you define both the check-in and check-out dates.
Renovated traditional house originally from the 50s in a quiet local neighborhood in the city center. House is split in two independent units: the "Upper House" and the "Lower House". Both can be booked separately (this is the Lower house listing).
I was in visit with my parents, we stayed 2 nights in Cristiana&Rui's place. Unfortunately we didn't met them but we had a nice welcoming by one of their friend, Jorge who make feel like home. The flat was super clean and it's well decorated and equiped. There are so many good restaurants and shop closed to the flat, actually you can go everywhere by feet in Aveiro from the flat. We had a nice time in this beautiful city.
Coralie
2017-03-03T00:00:00Z
Very comfortable and kind host
YoungSun
2017-03-14T00:00:00Z
A casa do vento nos surpreendeu por seu aconchego e conforto. Super bem localizada, nos proporcionou excelente hospedagem
Rosane
2016-11-20T00:00:00Z
La casa Do Vento est une maison très bien équipée à la déco soignée, dans un quartier calme et surtout pittoresque ( maisons de pêcheurs) bordant le canal et la lagune. Nous habitions l'appartement du rez-de-chaussée. Nous n'avons pas vu ses hôtes mais un mot daccueil et une petite liqueur locale nous attendaient, c'était charmant ! Une amie de Christiana nous a remis les clefs ainsi que le contact d'une autre personne francophone si besoin. Merci pour toutes ces attentions.
Catherine
2016-10-27T00:00:00Z
Foi uma estadia curta mas muito boa! Arrumado, limpo, uma decoração muito gira. Quando voltar a Aveiro, decerto voltarei a ficar aqui hospedada! O pessoal envolvido é todo muito prestável e simpático.
Margarida
2016-10-30T00:00:00Z
O imóvel é excelente, porém precisa melhorar a calefação para os periodos de inverno. O chuveiro necessita reparos também. Excelente localização, roupas de cama limpas e cheirosas e cozinha bem completa.
Carlos Silverio
2016-12-26T00:00:00Z
Recomendo a casa, apenas sugiro uma variedade maior de louças e cuidado com produtos vencidos (cápsula de cafés).
Lucas
2017-01-17T00:00:00Z
Recomendo esta casa! A localização é óptima. É conveniente irmos aos postos de interesse principais, incluindo a estação. Fica numa rua tranquila e segura. A casa estava limpa e era confortável, só que por acaso o aquecedor de água não foi ligado com antecedência, demorando algum tempo para tomarmos duche. Apesar disso, tudo correu muito bem! Obrigada pela gira cartinha e pelo licor de Aveiro!
Xuemin
2017-02-25T00:00:00Z
Room Type
Entire home/apt
---
Property Type
Apartment
---
Accommodates
3
---
Bedrooms
Aveiro, Aveiro, Portugal
Our cosy apartment is located in Albergaria-a-Velha, a little town 10 min. from Aveiro city. From here, you can explore all the Center Region of Portugal, only 30min. from the cities of Porto or Coimbra and 15 min. from the beach Costa Nova. Located near the IC2 and only 2 minutes far from the A25, a perfect place for business travels and families discovering the center of Portugal, because of the proximity of the main highway axes (A1, A25 and A29).
It is located on the path to Fátima sanctuary, in a town where traditionally the catholic peregrines stops to rest, get strength and treatments to continue their path. Visit Center Region website: (URL HIDDEN)
Albergaria-a-Velha is a little town but has everything we need near: Supermarket (500mts); Coffes and restaurants; Music Auditorium – Cineteatro Alba (URL HIDDEN) Local Market with fresh products every day; Swimming pool and Tennis court. The surrounding area has a very beautiful natural landscape, beginning with the Water Mills Route "Rota dos Moinhos" with walking paths along the mills. There are also some pedestrian trails: Trilho dos Três Rios e o Trilho do Linho, that begins in an old traditional classified village Vilarinho de São Roque – Aldeias de Portugal. The walking or biking path along the old train rail path – Ecopista do Vouga. The Pateira de Fermentelos (the biggest natural lagoon of Peninsula Iberica) only 20km. The Festival do Pão (bread Portuguese festival) and the FESTIM (Intenational Music Festival) occurs in June.
Room Type
Entire home/apt
---
Property Type
Apartment
---
Accommodates
6
---
Bedrooms
Albergaria-a-Velha, Aveiro District, Portugal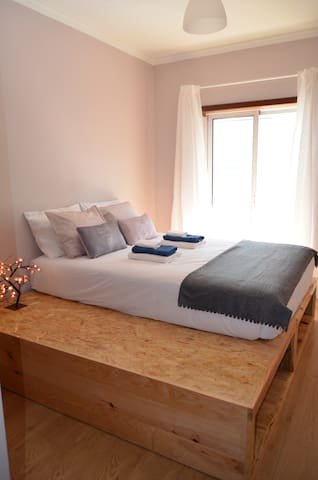 Pleasant and sunny, the Literature Room is one of 4 bedrooms available at this historic notable house with a great tradition in Arts and Culture. Combining modern amenities and vintage charm, it's located in the very heart of Aveiro. The room has a nice balcony and is very peaceful. Aveiro's Museum is right across the street, everything worth visiting is at walking distance and Aveiro's stunning beaches are just a 10 minutes drive. Did we mention there's a cinema in the basement?
You'll love the Literature Room, a very pleasant and sunny bedroom that combines modern amenities with vintage charm. It is one of the 4 private bedrooms available in the Aveiro Arts House, each one dedicated to a different art — Painting, Pottery, Cinema and Literature — in tribute to the multifaceted artist Vasco Branco. Aveiro Arts House is a notable house with a great tradition regarding Arts and Culture. There is even a small private cinema auditorium in the basement, equipped with 40 seats, mini-bar and projection booth, which you can visit on demand. You're also welcome to attend the exclusive events we occasionally host in the auditorium, such as movie projections, small concerts, poetry readings or wine tastings.
The Aveiro Arts House is located in an absolutely central historical neighbourhood. Nevertheless, the site is very peaceful and quiet with a small park across the street, and everything worth visiting is at walking distance: The Museum of Aveiro is right across the street and it's a 1-minute walk to the main Church, a 2-minute walk to the Municipal Theatre and the City Hall, and a 3-minute walk towards Aveiro's lovely River Canals. If you wish to enjoy Aveiro's stunning beaches, it's just a 10-minute drive or a 4-minute walk to the bus stop.
Hugo and Ana made our stay in Aveiro memorable. Their home is beautiful and the personal connections and details the house carries made all the difference. The room and common areas were clean, the other guests were cool, the location was perfect and the hospitality we received from Hugo and Ana was above and beyond. Looking forward to returning!
Daniela
2017-02-05T00:00:00Z
Great palce to be in Aveiro one of the best locations in the city!
Marcio
2016-12-17T00:00:00Z
Great place to stay. The house has an amazing ambience, both due to it's history and current inhabitants! Feels like home. Its conveniently located in a quiet area of the city centre, with spacious and clean rooms.
Annick
2017-01-31T00:00:00Z
Appartement superbe et tres original, accueil et disponibilités des hotes tres bons, rapport qualité/prix rare.
christian
2016-10-28T00:00:00Z
Room Type
Private room
---
Property Type
Apartment
---
Accommodates
2
---
Bedrooms
Aveiro, Aveiro, Portugal
New apartment in the city center with private garden. The space is just steps away from the main city museum and the Cathedral. Close to parks, art and culture, restaurants and shopping area. At the end of the day, after a moliceiro ride through the canals of our city, you can relax in the garden of 100 square meters. The place is perfect for couples, families (with children), University students and business travelers. We are waiting for you, see you soon!
This is a new apartment just a few steps away from the city center. It's fully equipped and has 100 square meters of private garden, perfect for children or adults... See for yourself!!
This apartment is situated in the city center, just a few steps away from the city's museum, city's cathedral, restaurant's, park, and a lot of other places. Start the day with breakfast outside in the garden, with warm bread baked in a wood oven, then go out into the city and discover it! The city is small so you won't get lost... but even if you do we'll be in touch to give you a hand! :)
Awesome place, awesome host. Love the apartment, great outside area and very clean and functional. Perfectly located. Zé was really helpful with tips for Aveiro and finding the best food and coffee! Thanks!
BEN
2016-09-29T00:00:00Z
Nice and central :)
Gustav
2017-02-11T00:00:00Z
The apartament is nice, quiet and fully equiped to be confortable. Ze has been very kind and his advices very helpful to enjoy our holidays in Aveiro.
Rita
2016-10-12T00:00:00Z
This place is just amazing! The best getaway you can dream of. The beautiful, cozy, and clean living room, kitchen, and bathroom with a private garden to relax and feel like you're in a countryside. We stayed there actually to do some work and it turned out to be so productive that we didn't even get to go out at night. The location is perfect, situated in the beautiful old town center. Jose was so friendly and helpful with everything we could do in Aveiro and I would recommend this place to everyone who comes to Aveiro. If I could, I would have stayed there for a month.
Jenny
2016-10-06T00:00:00Z
A very nice and modern appartement with a spacious garden in the center of the city. Zé will be a perfect and attentive host for you. He is full of very usefull advices that will make your stay in Aveiro pleasant!
Maureen
2017-03-10T00:00:00Z
Zé is an amazing host. He gave us useful tips on where to eat and what to visit. The house is lovely, clean, cozy and bigger than what you can see from the pictures. We couldn't ask for more.
Angela
2017-03-19T00:00:00Z
It's very nice apartment , situated just within few minutes from town center . It will be perfect for couples or family with kids . We really enjoyed our stay there and would like to say big thank you to Miguel and Catarina !
Olga
2017-01-28T00:00:00Z
O apartamento é muito bem localizado - pode ir a pé a todos os pontos turísticos do centro de Aveiro, é praticamente a 2 passos. É super confortável: apesar de estar frio e chuva, estava muito quentinho! Além disso, apesar de simples está mobilado com muito bom gosto e tem o tudo o que é necessário. No Verão será ainda melhor por causa do jardim, que é sem dúvida um plus! A cereja em cima do bolo é o host, o Zé Miguel, que é super simpático e acolhedor, e nos deu ótimas dicas sobre restaurantes e com quem tivemos uma ótima conversa. Jantamos no restaurante Bairro, junto ao Mercado do Peixe: moderno mas na tradição da taberna tradicional portuguesa, é divinal. Recomendamos sem hesitação!
Teresa & Miguel
2017-01-29T00:00:00Z
Room Type
Entire home/apt
---
Property Type
Apartment
---
Accommodates
4
---
Bedrooms
Aveiro, Aveiro, Portugal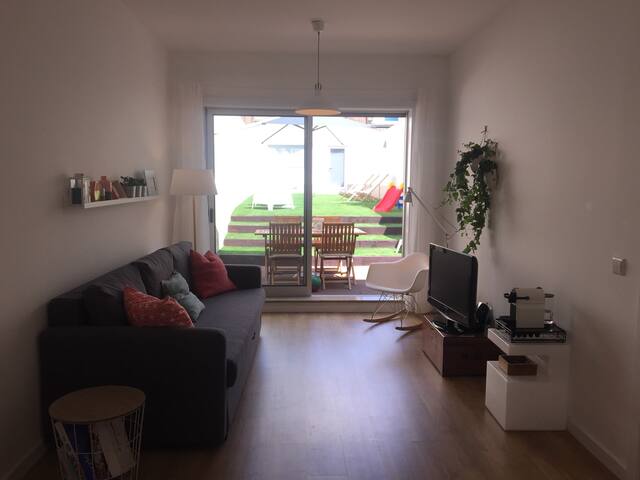 Located in one of the oldest parishes of the city of Porto and 10 minutes from the outstanding downtown of Porto, the apartment emphasizes the Fine Arts that conquered in the "Northern capital" and the iconic Faculty of Fine Arts of the University of Porto.
With a minimalist and traditional decoration, and only 3 minutes from Campo 24 de Agosto metro station, the apartment is located in a peaceful street and close to the historical centre. Comfort and harmony are the keywords for those who would like to stay in the Fine Arts Apartment.
Highlights Majestic Cafe Faculty of Fine Arts Garden of São Lázaro Porto's Library Rua de Santa Catarina Porto's Coliseum Batalha Church of Santo Ildefonso National Theater of São João
Room Type
Entire home/apt
---
Property Type
Apartment
---
Accommodates
4
---
Bedrooms
Porto, Porto, Portugal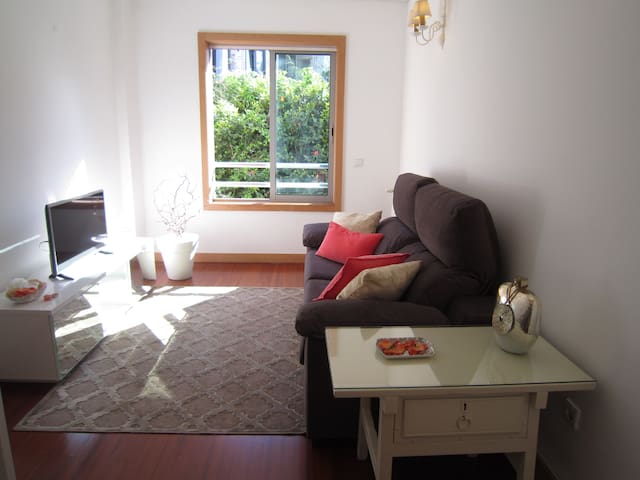 We are located in a central area of the city, near to the historical center and the famous Aveiro's Lagoon (20 min by walking). The room is spacious, illuminated and has a little balcony.
We are located in a central area of the city, near to the historical center and the famous Aveiro's Lagoon (20 min by walking). The room is spacious, illuminated and has a little balcony.
Ideal for who is looking for a calm place and near from cafés, restaurants, shopping malls and the University of Aveiro.
Thanks to the best hosts! We really enjoyed our stay in your cozy and beautiful apartament. Close to the city centre, in opposite side of the street is supermarket and everything what a traveler needs. Hosts are really friendly, awesome people. They took us to nice coffee bar next to ocean and told interesting facts about Aveiro. If I will have chance to come back to this gorgeous city, I will choose to stay with Miguel and Tito :) Thank you very much!
Gunta
2017-04-02T00:00:00Z
Tito and Miguel were the best hosts! They are friendly, helpful, and went above and beyond to accommodate us and show us Aveiro, and the time spent talking with them was one of the best parts of my time in Aveiro. Would recommend them to all of my friends and family!
Harshita
2017-03-01T00:00:00Z
The most hospitable AirBnB place I've stayed. Fantastic place, lovely food, and great company.
Robin
2016-11-20T00:00:00Z
I can't recommend staying with Tito and Miguel enough. They just made my stay incredible, they served me breakfast, took me for a trip and treated me like their friend. I really didn't want to leave. I will miss you and come to Prague, please ☺☺☺
Linda
2016-12-10T00:00:00Z
Great room! Very comfortable, good location, perfect standard. Recommend!
Przemysław
2017-04-04T00:00:00Z
Mesmo que eu descreva a experiência em me hospedar no apartamento de Tito e Miguel não conseguirei traduzir o quanto foi gratificante. Posso falar do quarto e banheiro, que são espaçosos (muito mesmo), da cama confortável, do café da manhã, que é preparado com muito carinho por Miguel (que adora cuscuz, gente...), da disponibilidade dos dois em indicar os melhores lugares para visitar, comer (ovos moles, castanha d'ovos, bolo de caco, pastel de feijão, ..., entre outras guloseimas "engordantes" da região), fazer compras (se não tiver cuidado, vais passar o dia no shopping). Posso também falar do guia maravilhoso que é Miguel - sempre disposto a te ajudar e facilitar tua vida na cidade (como ele trabalha com vendas no ramo de louças, pode te indicar os melhores lugares da cidade para você comprá-las) e sempre encantado com a região onde vive (ele tem dicas preciosas da cidade) e fascinado pela cultura brasileira (acho até que ele é um português falsificado, hein...). Posso descrever a tranquilidade de Tito, que, como um bom pernambucano, tem uma bagagem cultural impressionante. Enfim, posso passar horas escrevendo a respeito de minha experiência nesse período, mas, quer um conselho? Reserve o quarto de Tito e Miguel. Só assim você vai entender (e viver) a real proposta do Airbnb. Boa estadia em Aveiro e divirta-se!
Rosana
2017-02-19T00:00:00Z
Tito e Miguel são anfitriões de primeira linha, simpáticos, atenciosos e sempre disponíveis! O quarto e amplo, iluminado, cama confortável, e banheiro individual que proporciona toda individualidade! Foram dias ótimos que passei em Aveiro e sai com aquela vontade de quero voltar!!
Julio
2016-11-14T00:00:00Z
Excelente hospitalidade, local bastante agradável e aconchegante!!
Rodrigo
2017-03-27T00:00:00Z
Room Type
Private room
---
Property Type
Apartment
---
Accommodates
3
---
Bedrooms
Aveiro, Distrito de Aveiro, Portugal
The Sweet Garden é um apartamento mimoso no centro de Aveiro, cheio de pormenores de decoração, privilegiado com um terraço espaçoso com todas as necessidades para usufruir da melhor forma a sua estadia em Aveiro.
The Sweet Garden is a charming apartment, full of decorative details, privileged with a spacious terrace with all that you need to have a memorable stay in Aveiro. We are a couple in love with travelling, tourism, other countries and other cultures. The comfort and well-being is essential to be able to enjoy a stay out of our own house. The apartment has all of the comfort and fulfills all the needs for you to feel as if you were at home.
Somos um casal apaixonado pelo turismo, por viajar, por outros países e por outras culturas. O conforto e bem-estar é o essencial para podermos desfrutar o máximo de uma estadia fora da nossa casa. Desta forma surgiu o The Sweet Garden, que tem todo o conforto e preenche todas as necessidades para se sentir em casa fora de casa. Desta forma pedimos para que tratasse das coisas como se fossem suas.
Had a wonderful stay at The Sweet Garden. Lovely place to relax in after exploring Aveiro, everything is of great quality . Highly recommend.
Tim
2016-06-10T00:00:00Z
THE SWEET GARDEN was perfect for a stay in Aveiro. The apartment is clean, stylish and quiet. The terrace is a very nice relaxing spot in the back of the flat. We missed a little a personal welcome and short briefing for Aveiro.
Rocco
2016-10-13T00:00:00Z
The host is reachable in very little time, which can be very helpful. The apartement is quite cold so be sure to turn on the heater early enough. If you want to cook a proper dinner in this place be sure to check the equipment first. The bedroom is next to the sidewalk make sure to close the shades!
Anna
2017-01-12T00:00:00Z
Very clean, great outside area, close to everything. Parking no problem
Cory
2016-09-01T00:00:00Z
Our stay at the apartment was perfect in all aspects! I also appreciated the fast responses that the host gave me.
Mori
2016-07-12T00:00:00Z
Apartament is like described, funiture and amnities look pretty new, however when we arrived xmas decorations were still all around the flat - not a huge issue but not something you expect to see two weeks before Easter. Communication was somehow lacking the personal touch and was rather impersonal - not very much in airbnb spirit..
david
2017-03-28T00:00:00Z
Lovely apartment. Very cozy. Actually better than the photo. We walked everywhere.
Deb
2017-03-13T00:00:00Z
The Sweet Garden is a lovely property whose owners have fun decorating, for the guest's delight! I was really impressed by the design sense. All the furnishings and fixtures are well-chosen and pleasant to use. I stayed alone but it would have been great for a couple or more. A nice place to invite your Aveiro friends in for supper and to enjoy the pleasant large terrace. Sweet Garden is very convenient to the station, which is why I chose it. To go to the university was a 4€ taxi ride from the station rank.
claire
2017-03-23T00:00:00Z
Room Type
Entire home/apt
---
Property Type
Apartment
---
Accommodates
4
---
Bedrooms
Aveiro, Aveiro, Portugal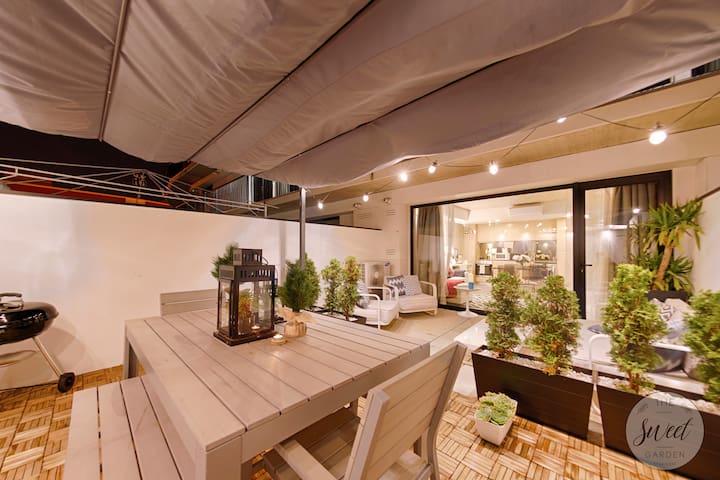 Overlooking the S. Roque Canal lies the Canal House, the groundfloor of one of the most beautiful houses on Aveiro's historical center. This three bedroom house has been recently renovated in contemporary design. Bikes are available for guests.
The Canal House was built in the beginning of the twentieth century and has recently been renovated. The contemporary interior design has been incorporated into the classical original architecture. A lounge and dinning area have direct view to the river through the front door. On the entryway there are bikes and as well as a table and chairs for an al fresco dinning by the canal.
The house is located in the most central neighbourhood of the city – the lively and colourful "Beira-Mar" and the historic quarter of the Art Nouveau. Just by our doorstep you will find walking streets with Aveiro's most interesting cafes, restaurants, groceries and other stores as well as street and indoor markets where locals sell fruit and vegetables, second hand clothes and antiques.
Mariana made me feel very welcome and like family in our conversations as did her sister when we arrived. The apartment on the canal is clean and comfortable and so close to downtown Aveiro, restaurants and shops as well as the famous Moliceiro rides. we really enjoyed our stay and would definitely book this home again....The beds are comfortable, kitchen is well supplied,and although a young adult nightclub is nearby the bedrooms do not allow the sound to disturb one's sleep.We were most pleased with Mariana's and Ricardo's apartment.
Linda
2015-09-14T00:00:00Z
Beautiful home in great location - out of the buzz of the busy touristy streets, but close enough. Area is close to the beach, hiking spots, vineyards etc.
Corné
2016-08-04T00:00:00Z
We enjoyed our stay in Marianas house, that is really very central and allows to feel Aveiro at its full beauty. Canal and big boats are right in the front of the door as well as all other offerings Aveiro has. Especially we were happy about real heating that is rare in Portugal. Thank you very much!
Agnese
2016-03-14T00:00:00Z
The space was exceptionally nice, design tasteful, lots of space for 3, all the amenities you need. Location great even though taxi couldn't fine it. Lovely on a canal, down from the fish market and many restaurants. Walking distance of everything and easy to navigate. Bar was a bit loud next door in evening. Host and their cleaning staff very helpful and a pleasure to meet.
Sherry
2016-10-13T00:00:00Z
We were met at the apartment by the cleaner, who showed us around and left us with the key. The apartment is lovely with high-ceilinged bedrooms, a comfortable living room and a front door that looks out over the canal. Mariana was easy to contact and very helpful.
Cris
2016-09-07T00:00:00Z
3 of us had a brilliant stay in Mariana's apartment, very central for Aveiro, and beautifully designed. It was very comfortable, with plenty of space for 4-5 people. It was spotlessly clean, with comfy beds and a large bathroom. The town centre with restaurants bars and shopping are just a few moments away, and the 10 minute drive to the beaches was just what we wanted from our holiday. We also had great fun with the bikes! Thank you also to Filipe who was very welcoming and helpful during our stay.
Lucy
2016-08-31T00:00:00Z
The place is lovely and stylish and the location is great, like stated in the description. You can reach almost everything within a walking distance and the city center is just gorgeous. Just one small thing: the flat is quite noisy due to the bar next door and the owners living on the top floor.
Sarah
2016-10-21T00:00:00Z
This gorgeous wee apartment looks exactly like the photos, it is just stunning! We had a lovely stay in Aveiro and the apartment was everything and more that we were imagining. It was very clean and today, cosy, beautifully decorated and well equipped. Thank you for a lovely stay.
Sian
2016-09-14T00:00:00Z
Room Type
Entire home/apt
---
Property Type
Apartment
---
Accommodates
5
---
Bedrooms
Aveiro, Aveiro, Portugal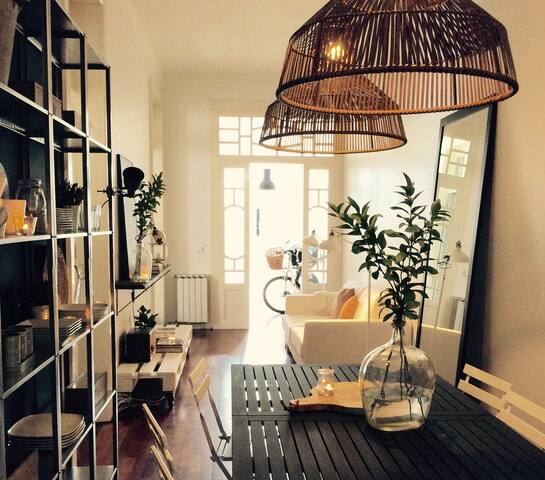 Apartamento totalmente equipado e muito agradável, com muita luz e duas varandas viradas para o mar, situado na Avenida principal. Perfeito para duas famílias, para amantes do surf e da praia.
A casa torna-se muito agradável devido à luz sempre presente, de manhã entra por um lado e à tarde do outro. As duas varandas (da sala e de um dos quartos) estão virados para a praia, no Verão é possível observar o por-do-sol à frente das varandas. Toda a casa fica num tom dourado nestes momentos.
A Praia da Barra representa um lugar excelente para passar férias ao longo de todo o ano, mas particularmente no Verão. Devido ao mar Atlântico e à qualidade das suas ondas, torna-se um destino ótimo para surfistas. Também para famílias é um destino fantástico, pois a "praia velha" (junto ao Farol) tem características fantásticas para as crianças.
The apartament is excellent. Good location, equipped according information provided. We like location and view on the dunes. Picking up and giving back keys was perfectly arranged. We definitely recommend this apartment for families.
Piotr
2016-08-01T00:00:00Z
Appartement agréable en famille, chambres spacieuses, la plage est magnifique au couché du soleil.
Nicolas
2016-07-24T00:00:00Z
Liebevoll eingerichtete Wohnung, herzliche Vermieterin mit guten Restaurant-Tipps – wir haben uns hier sehr wohl gefühlt. Was uns besonders gefallen hat: 3 min zu einem wunderschönen und leeren Strand (im Oktober). Rundherum eine gute Infrastruktur: 5 min Spaziergang zum kleinen, erstaunlich gut sortierten Supermarkt, schräg über die Straße zu einer Bäckerei, 5 min zum richtig guten Metzger. Wir kommen bestimmt noch mal wieder ...
Isabel
2016-10-17T00:00:00Z
Alles hat super gepasst in der Wohnung! Super Lage, nur ein paar Schritte zum Strand. Gerne wieder!
Saskia
2016-09-26T00:00:00Z
La casa muy espaciosa y bonita. Bien equipada y luminosa. Recomendable
Aida
2016-11-02T00:00:00Z
Большая, удобная, комфортная и красивая квартира со всем необходимым инвентарём. Хорошее расположение. Единственный минус-стройка напротив дома, но это временное явление
Alexander
2017-04-01T00:00:00Z
Es sind wirklich nur 3 Minuten zum langen Sandstrand. An der nächsten Ecke gibt es leckere Brötchen und süße Stückchen und um die Ecke ein kleiner Supermarkt. Das reicht schon zum glücklich sein. Die Kommunikation mit Alexandra war perfekt und ihr Mutter (spricht auch deutsch), hat uns freundlich empfangen und sich um alle unsere Wünsche gekümmert. Ein Schlafzimmer der geräumigen Wohnung geht vorne zur belebten Straße hinaus, ein Schlafzimmer zum ruhigen HInterhof. Mittags hat man Sonne auf den Balkonen mit Blick über die Straße zu den Dünen.
Daniela
2016-09-13T00:00:00Z
Eu e a minha familia gostamos muito deste apartamento. As camas sao grandes e confortáveis. As roupas de cama e toalhas limpas e suficientes. As loiças de cozinha tbm sao suficientes. A D. Fatima e uma pessoa simpatica e prestável pois tivemos logo no primeiro dia um problema com o estore da sala que foi prontamente resolvido. Recomendo este apartamento pois e pertissimo da praia, do mercado, supermercados, bares cafes, etc. A praia da Barra e lindissima.
Faty
2016-09-17T00:00:00Z
Room Type
Entire home/apt
---
Property Type
Apartment
---
Accommodates
4
---
Bedrooms
Gafanha da Nazaré, Aveiro, Portugal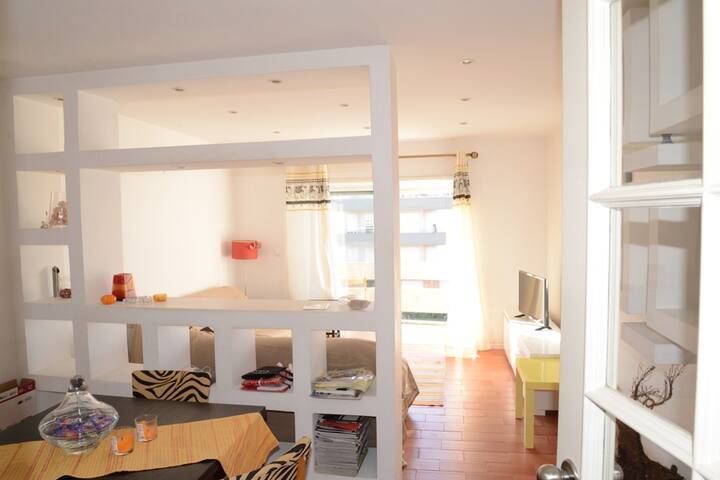 Bedroom in apartment available with 1 double bed for 2 people. You are in Santa Maria da Feira, 28 km from Porto and buses available until 8.30pm.
The flat is in the city center, the Castle, the hospital, the Feirense football pitch in the street Doctor Antonio Carlos Ferreira Soares. In the area with cafes, bars, shops... Good stay!
The neighborhood is quiet. Pleasant. With night and social life.
The host canceled this reservation the day before arrival. This is an automated posting.
Alessandra
2016-08-17T00:00:00Z
Noemia was so helpful and friendly! We enjoyed our 3 days in her flat so much! Thanks for everything! We will be back.
Noemi
2016-10-15T00:00:00Z
Noemia is very nice and helpful and all the time smiling. place ideal in every respect, clean, close to the train station, 20 minutes walking distance, I recommend this place.
Maciek
2016-09-29T00:00:00Z
Noemi was very nice with us, she was always there to help. Santa Maria Feira is a very beautiful village with a fantastic castle. I recommend !
Maria
2016-08-23T00:00:00Z
O quarto é exatamente como descrito, limpo, organizado e silencioso. Fui à festa medieval e a localização não poderia ser melhor, muito próxima e cômoda. Noémia não estava na casa no momento de nossa chegada, mas fez o nosso check in e check out muito facil.
Lorena
2016-08-07T00:00:00Z
ótima localização, espaço confortável como na foto. Recomendo!
fernanda
2016-10-23T00:00:00Z
Al llegar al destino, después de la confirmación de la reserva nos encontramos conque nadie nos recibía, después de llamar durante más de dos horas, resulta que me dice que no sabe que ha pasado pero que no me ha reservado nada, nos vimos en la calle, a las ocho de la tarde, 12 horas después de mi llegada, nos ofreció una habitación en la casa de una amiga suya, donde nos alojamos una de las dos noches que habíamos reservado y pagado.Excelente el trato de la familia que nos acogió en su casa, aunque no era lo que yo había reservado.Muy descontenta.
Magdalena
2016-08-16T00:00:00Z
Super. Belle accueil.
Aziz
2016-08-11T00:00:00Z
Room Type
Private room
---
Property Type
Apartment
---
Accommodates
2
---
Bedrooms
Santa Maria da Feira, Aveiro, Portugal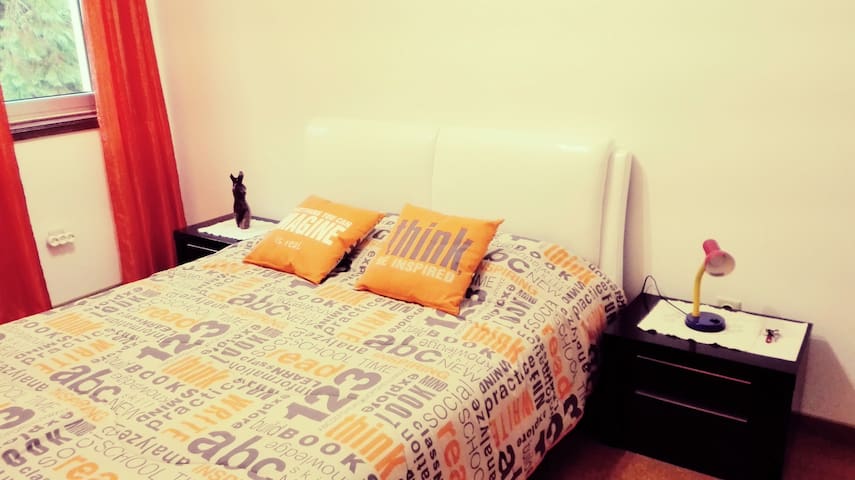 Em zona calma, a 500 mtrs da praia.
Room Type
Entire home/apt
---
Property Type
Apartment
---
Accommodates
5
---
Bedrooms
Gafanha da Nazaré, Aveiro, Portugal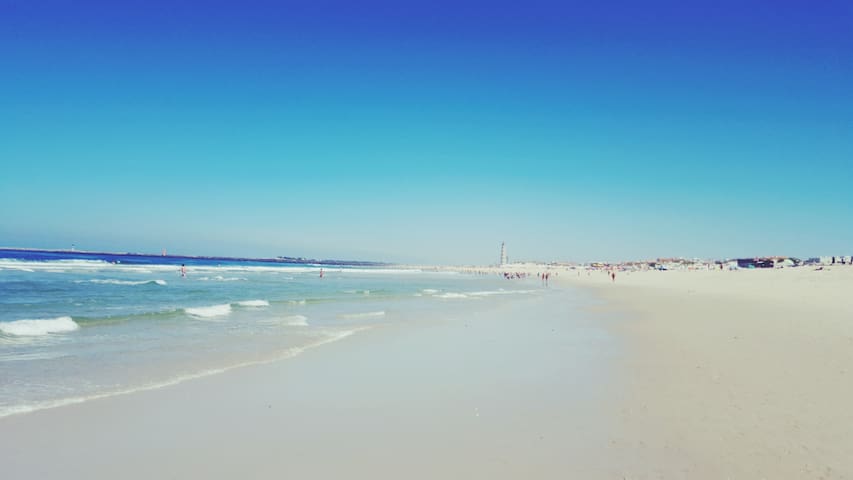 A cozy flat for two in the city center (Praça do Peixe). If you want to enjoy Aveiro's old town and simulate how it's living in the city, you should consider to be our guest :) You may meet our friendly neighbors, cook delicious fish from the market, and eat at the restaurants nearby. Lúcia and Diogo
Relax and enjoy the comfort and convenience of living in the city center at a walking distance to all the things that make Aveiro special, without having to face the confusion of a busy street. Enjoy drinks, dinner with friends, or a special sunday brunch on sunny mornings at our private little terrace.
Our neighborhood is amazing. The street has this vibe of old town where the neighbors care for each other. There's an old lady living in the corner which might ask you to take her to the church nearby because her sights are no longer in great shape, there's young couples, old couples, kids, barbecues, clothes hanging in wires and the best: lots of smiley faces. The best restaurants and drinks are at walking distance.
Room Type
Entire home/apt
---
Property Type
Apartment
---
Accommodates
4
---
Bedrooms
Aveiro, Aveiro District, Portugal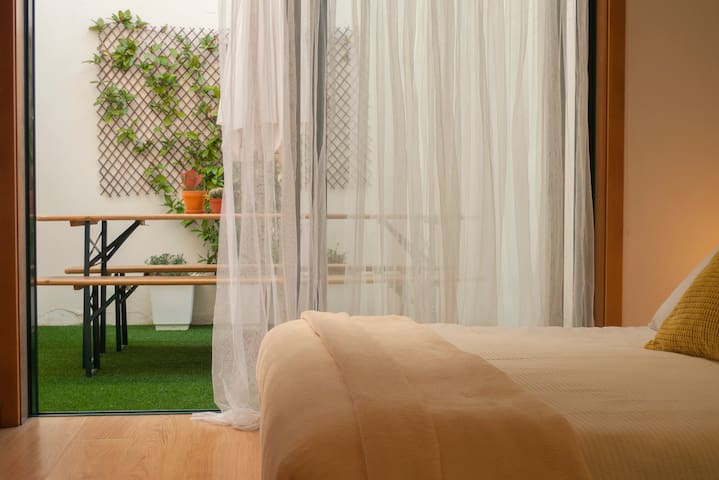 A fully furnished and equipped apartment, with 1 couple bed and 2 sofa-beds. It's ideal for a family or a group of friends. You will certainly enjoy it, whether you're staying for a short period or a longer one, professionally or on vacations.
A new apartment in the city center. This is a T1 Kitchenette with a great area. This means that the kitchen has an equivalent to the area of a room, with a sofa bed which can sleep 2 people. Also the room has an area the size of a room. Here, besides the bed, there is also a sofa bed which can sleep one person, a TV and a small balcony overlooking the street. I believe that this apartment is great for: - 1 double; - 1 couple with 1 or 2 children; - 3 or 4 friends.
Aveiro is a city with ideal features for a weekend getaway with family and friends. By staying in this apartment, there is no need to take the car. There are supermarkets and restaurants within a few meters, the night area is also very close and you can catch bus to the beach area. You can not come without Aveiro sightseeing boats in Moliceiros or taste the famous Ovos Moles. Also the Forum Aveiro is a reference site, while Mall outdoors.
Apartment was beyond our expectations: very clean, nicely decorated, had all essentials needed for comfortable staying, very good location. Me and my friends spent just one night, but we did feel like at home. Thought we didn't meet João in person, his parents welcomed us very warmly, showed around and recommended places to see around, helped with parking, even provided extra mattress (which was not a part of offer), some bread, milk and delicious tomato jam :) communication with João was smooth. Would definitely recommend this place to stay!
Mykolas
2015-04-22T00:00:00Z
Honestly I can't say enough good things about Joao and the hospitality he provided my girlfriend and I. When we arrived via the train he was there to pick us up with a big smile on his face and a helping hand for our luggage. The apartment was no doubt the nicest one that we stayed in on our stay around Portugal, and the location was perfect for the city. Everything is just a short walk away (minus the beach), however if you are looking to make a trip to do some surfing the bus stop is only a minute away from the apartment. Not only did Joao provide us with detailed instructions for the best food and attractions in the area, he also convinced us that we needed to make a short trip to Porto and see how beautiful it wasWe made the trip and definitely owe it all to Joao for his great advice. If you're staying in Aveiro, you need to contact Joao. You won't regret it!
James
2014-09-17T00:00:00Z
Our stay with two couples at this apartment was great! It all started when we arrived at the Aveiro train station. João picked us up and gave us a short guided tour by car. João is the best host you can wish. Before we started our trip to Aveiro, he gave us information about the nicest spots in and around Aveiro. During our stay, João answered every question we had and gave us some recommendations of places we should visit. The apartment was spacious, light and clean and is situated in a nice street. The jukebox in the apartment is very cool and you can use him for free! We would highly recommend this apartment and this host!
Judith
2014-08-29T00:00:00Z
Great experience. Had his parents meets us, and we were an hour early. Apartment was in a great location and fully equipped. After a long day of travel we really appreciated the food and water. He was a perfect host and would recommend him to all.
Diane
2015-09-28T00:00:00Z
Everything was ok. Say thaks to João for his help and let us to use his house. Only one thing to improve. The bed should be change and get one biger. Althought the apartament is in a no car zone, you can park really close. The room is bigger than photos
Pedro
2015-08-05T00:00:00Z
My girlfriend and I only spent one night in João's apartment but we wish we could have stayed longer! Plenty of room for two with a polished retro look to the living/dining room complete with jukebox. 10 min drive to Barra beach, 5 min walk to the canals and old town where many restaurants are located, it was the ideal spot. João's brother Pedro came to give us the key and show the place, and he was as helpful as he was kind and welcoming. Communication was fast and easy. Definitely recommend!
Jean-Francois
2015-06-22T00:00:00Z
It was a really nice time... The flat is really clean and the sleeping room is a dream... We piked up at the train station from maria.... A really nice couple.... Everytime again the same flat!!! Thanks a lot it was a amazing time
Recep
2016-07-09T00:00:00Z
We have just spent three days at the apartment. The apartment is wonderful, clean and with enough room for us and our 1 and 2 years old daughters. João very kindly provided us with a travel cot. He also left some bread, which our daughters loved, and milk. Great location, it is set on a pedestrian walkway just 5 minutes walk from central canal. There are plenty of nice cafes and restaurants in the area. João's parents met us the day we arrived and showed us where to park for free just around the corner. João contacted us to check everything was ok, he has been a great host. If we visit Aveiro, we will try to stay in this apartment for sure. Highly recommended!
Belen
2014-07-26T00:00:00Z
Room Type
Entire home/apt
---
Property Type
Apartment
---
Accommodates
4
---
Bedrooms
Aveiro, Aveiro, Portugal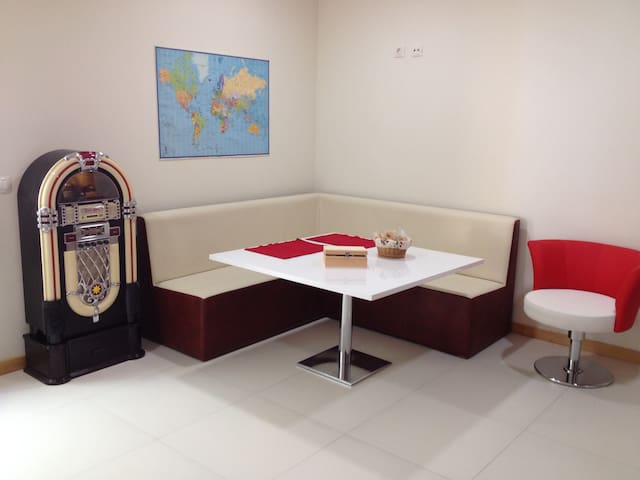 apartamento duplex para quatro pessoas no centro histórico da cidade de aveiro um quintal e terraço para comer ao ar livre. Muito acolhedor, espaçoso e luminoso. Bom para quem tem animais que podem ficar no quintal.
Paula was a great host - she collected us from the station and gave us a lift to the house which is beautiful. We felt very at home there. The house is very spacious with a large comfortable bed, 3 terraces and a garden. It is only 5 minutes walk from the town centre where there are lots of restaurants and bars. We would definitely recommend this home to others.
Liz
2015-06-30T00:00:00Z
A nice house in a very central part of the fabulous town of Aveiro. Beautiful interiors, nice living & dining area and lovely terrace. Recommended.
Simon
2016-08-02T00:00:00Z
Great house in the heart of city centre. Very nicely designed and furnished. Easy to park 3-4 min walking distance. Highly appreciate
Burcu
2014-10-20T00:00:00Z
Paula came to pick us up at the train station, which was very nice of her, and on the last day also gave us a lift back there. She is a great host, very friendly and always ready to help. She showed us the city and gave us great advice. She also came to get the keys back at the time that best suited us, although it was on a weekday. The house is marvelous. It is located in a very quiet street, in the center of Aveiro and has a beautiful garden and also a little terrace. It is beautifully furnished and has a very special cachet. We had a great time!
Samuel
2014-09-16T00:00:00Z
Paula's place is wonderful. It may look like something from a style magazine but it's full of the paraphernalia of daily life and that combination worked perfectly for us. It was obviously a family home and my son loved it immediately, especially the room full of toys! We were very comfortable very quickly. The garden is a work in progress but charming none the less. Paula was always available, despite working full time; she even picked us up and dropped us off at the train station. The house is minutes away from the centre by foot and very close to various coffee shops, restaurants and small provision shops.
steven
2015-06-16T00:00:00Z
Excellent loft. Perfect location in the city center, close to the restaurants, bars and sight seeing location. The loft has everything you would need and looks just like the pictures. Highly recommended.
tindent
2016-06-28T00:00:00Z
Alles hat bestens geklappt. Es war fast wie ein Ferienaufenthalt in einem Haus von Freunden, da die Wohnung auch privat genutzt wird oder wurde. Paula ist unkompliziert und vertrauensvoll, gab uns gute Tipps. Von der Strassenseite erscheint das Haus recht unscheinbar, ist aber toll ausgebaut und geschmackvoll eingerichtet. Es hat viererlei Aussensitzplätze, einer davon im angrenzenden Gärtchen. Einziger Nachteil - man hört etwas den Lärm der Autobahn, obwohl man im Grünen sitzt. Das Auto kann auf öffentlichen Parkplätzen in der Nähe parkiert werden. Ein schöner Aufenthaltsort, den wir empfehlen können.
Jean-Marc
2016-06-14T00:00:00Z
Muy agradecidas a paula. Apartamenyo dúplex enorme con todas las comodidades y en el centro de aveiro. Muy económico en relación con la calidad del apartamento.
Ana
2014-08-28T00:00:00Z
Room Type
Entire home/apt
---
Property Type
Apartment
---
Accommodates
4
---
Bedrooms
Aveiro, Distrito de Aveiro, Portugal
O apartamento Maraveiro V, localizado no centro da cidade de aveiro, a poucos metros do teatro aveirense e do centro histórico. Ideal para quem quer visitar a cidade dos moliceiros. Apartamento T0 totalmente novo, confortável e equipado para se sentir em casa.
O Apartamento Maraveiro V, é composto por um espaço aberto com zona de estar, sofá-cama, zona de refeições, zona de dormir, cozinha totalmente equipada e uma instalação sanitária com duche. A casa dispõe de rede Wi-Fi e TV por fibra. A cozinha disponibiliza frigorífico, micro-ondas e forno, placa de indução, máquina de lavar-roupa e máquina de café e chá. Todos os utensilios estão disponiveis na cozinha. Disponibilizamos cadeira de refeições para bebé
Zona central da cidade de Aveiro, a poucos metros do teatro avereinse, Centro Comercial Fórum Aveiro, o centro histórico e Bairro da Beira- Mar. Próximos de bons restaurantes e pastelarias tradicionais de Aveiro, onde pode provar nossos saborosos ovos moles. As praias da Barra e Costa Nova estão aproximadamente a 10 km
Room Type
Entire home/apt
---
Property Type
Apartment
---
Accommodates
4
---
Bedrooms
Aveiro, Aveiro, Portugal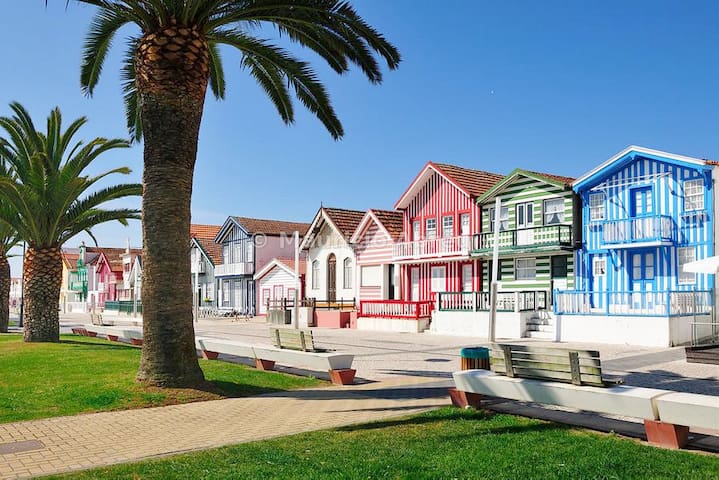 Apartamento a margem da Ria no centro da cidade. Duplex acolhedor, amplo e luminoso, totalmente equipado que funciona como showroom para peças únicas de decoração. No coração urbano, pitoresco, gastronómico e boémio de Aveiro, a 10 minutos das praias
Da cama, uma vista maravilhosa da Ria. A surpreendente tranquilidade numa fantástica localização, aliadas ao conforto acolhedor de um apartamento amplo e com muita luz, com vista para a Ria de Aveiro. Toda a decoração é feita com peças únicas comercializáveis, num conceito e showroom.
O bairro da Beira-Mar é o mais antigo e pitoresco da cidade. Logo à saída da porta está a zona pedonal no centro histórico da cidade, onde se realizam feiras e se encontram as melhores esplanadas, restaurantes, artistas de rua, comercio tradicional, galerias de arte e mercados de artigos em segunda mão. A nossa rua , um cais, de uma imprevista tranquilidade termina de forma abrupta com o bolício boémio e vida bairrista, circundada por parques e pela Ria.
This was a luxurious apartment. Dina welcomed us and got us oriented for our one night stay. Everywhere worth visiting was within walking distance. I highly recommend a moliceiro ride beginning a half hour before sunset, so you experience the views during daylight and after city lights turn on. Also, the hot stone filet mignon at La Mamaroma is a must for dinner. Museu de Aveiro was amazing, and the chapel inside had one of the most spectacular artwork/craftsmanship we found throughout Portugual. In short, we had a great time in Aveiro, got our best sleep in this bed, and found this apartment to be very high quality and reasonably priced. Communication with our host was fantastic and you can tell that they truly want to help and provide any support needed for your stay.
Rick
2015-12-24T00:00:00Z
We stayed in Ana's appartment for 3 nights with our 1,5 year old daughter. The appartment is very nice, with comfy furniture and it's beautifully decorated. Ana is a great host, always available to answer questions or give advice, she also had foreseen everything for our daughter, a cod, high chair, dishes,... The appartment is at just a few minutes from the old city centre. Aveiro is a cosy little city with some good restaurants (try out Ana's tips!) and close to some nice beaches. At the end of our stay, we found it was a pity that we didn't stay for 1 extra day.
Jan
2015-07-30T00:00:00Z
Such a great location!! Amazing owners, they actually picked us up at train station! Great people, great service, great apartment!! Also they spoke great English
Mikaela
2015-06-12T00:00:00Z
We had wonderful days in Aveiro. Definitely caused by the perfectly hosts - Ana and Dina. They were warmly and very helpful. We stayed in contact the whole stay. At any time they were interested in how we are doing and how they could made our stay even better. But it already was perfect. Before the trip we also got a lot of information, so we were very well prepared for Aveiro. The house is great. Cozy, clean and modern. At any time they made aus feel like home. So, we will definitely come back and stay at Sabaramar.
Juliane
2015-07-26T00:00:00Z
We stayed in Aveiro three days. We are a family. My husband my daughter and me. My daughter had a workshop in the University there and we decided to go all together.Ana the ower of the house is a very kind and helpful person. She came to the train station to pick us with Dina the woman who takes care of the house. Dina is also very helpful and was there in any need. A human tuch in our vacations.The house was located almost in the center of the town with wonderful view to the chanel. Everything was just like the photos. The house is very comfortable and decorated very nicely. We really loved it. It was a pitty that we had to stay so little. Thank you so much Ana and specially you Dina for the hospitality. Hope to come back and see you again.
Μαρία
2016-03-20T00:00:00Z
Despite arriving later than planned due to a delayed flight we were very well welcome by Dina. The appartment is Fully furnished and really clean. The decoration is lovely, the bed very comfortable and we even woke up with pastries ! I recommand this flat for a stay in Aveiro
Thomas
2016-07-23T00:00:00Z
Your hosts Ana & Dana will extend a warm welcome. Ask appropiate questions as to the personal goals for your visit They were both accessible & every morning Dana would leave a pastry bag on our door. Which was always a wecomed delighful treat
David
2017-02-24T00:00:00Z
Ana and Dina were amazing! Dina gave us a lovely welcome and then Ana called by with some delicious warm pastries, twice. This property is exceptional. Exactly as described and VERY comfortable. It is lovely to be right on the canal, with all the colourful boats going past during the day. Short walk to the restaurants at the fish market, and the plaza. Absolutley gorgeous, and loved very much our stay at SABERAMAR
Julia
2015-07-13T00:00:00Z
Room Type
Entire home/apt
---
Property Type
Apartment
---
Accommodates
4
---
Bedrooms
Aveiro, Aveiro, Portugal
Vai adorar o meu espaço por ser na cidade, a 3min a pé da Universidade e pela possível companhia e partilha com quem a habita. Quarto privativo. Internet incluída. Sala com tv. Cozinha equipada. Wc exclusivo para os hóspedes (sanitário). Boa exposição solar. O meu espaço é bom para casais, aventuras individuais, viajantes, amigos peludos (animais de estimação), etc. Possibilidade de acrescentar uma cama.
Com uma construção datada da década de 90, o apartamento foi renovado, está bem conservado, é amplo, espaçoso e tem muita luz natural. O apartamento é constituido por: 3 quartos, 2 casas de banho, 1 sala, 1 cozinha e uma despensa.
O apartamento situa-se numa extermidade duma zona de residência social, que pela proximidade à universidade, se está a transformar maioritariamente num bairro académico. Apenas a 3/5 minutos a pé da Universidade de Aveiro e ladeado por um dos maiores centros comerciais da cidade, está na mesma rua do mercado de frutas e legumes. Tem estacionamento grátis, quase sempre disponível.
I stayed in Isabel apartment for 2 nights. I needed a place close to the university because I was attending to a conference there. I find her place very convenient, very close to the uni and easy to reach from the city center. Isabel and her boyfriend gave me precious advices about the city (very good restaurants!!) and they were always available for anything. Comfortable and clean room.
Enrico
2016-11-05T00:00:00Z
The accomodation is simple, but Isabel is very kind and friendly, always ready to help with anything you might need :)
Denisa
2017-03-23T00:00:00Z
This flat is great. Isabell is a very nice, friendly and helpful person. My room was cosy, the bed was quite big and comfortable as well. I got my own bathroom with towel etc. I really recomend this offer!!!
Anna
2016-09-09T00:00:00Z
Isabel was very nice and helpful. She welcomed us personally and showed us around the town. The room was perfectly clean and equipped. Big plus is the living room and the kitchen which could be used. The flat is a bit outside of town close to the university, which makes parking easy. Walking distance to the city center (roughly 20 min). The low water pressure in the shower was a bit of a drawback, but maybe we did something wrong there. Overall it is a very recommendable room (+ host :-)).
Peter
2016-10-14T00:00:00Z
Obrigada, Isabel for your kindness and hospitality! Very nice room, nicely arranged and comfortable. Isabel is a great smily host full of live and kindness. We arrived very late but though she took time to wait for us in the street and help us carry our luggage upstairs. I recommend her, definitely!
Khushboo
2016-10-07T00:00:00Z
I used Isabel's flat due to my work in Aveiro University and I really recommend it. The flat is well located, the room is functional, in case you want to sit and go through some work for a few hours and the kitchen is well equiped. Isabel is a delight and always ready to help!
Tiago
2017-02-10T00:00:00Z
Isabel is a lovely host. She does eveything she can for her guests. For instance, she took me by car from the train station. I didn't see her while I was at Aveiro but she is always ready to help. The house is perfect, really clean and it is located in a calm neighborhood near universidade de aveiro.
Francisco
2017-02-28T00:00:00Z
Isabel was a great host. She and her friend picked us up from the train station and drove us through the city to show all the interesting places in the city. Furthermore, they shared lots of useful information with us. They always had a smiling face. The apartment was very nice and clean with all necessary home appliances. Thanks for all Isabel & Carlos!!! Regards
Ashta
2016-10-12T00:00:00Z
Room Type
Private room
---
Property Type
Apartment
---
Accommodates
2
---
Bedrooms
Aveiro, Aveiro, Portugal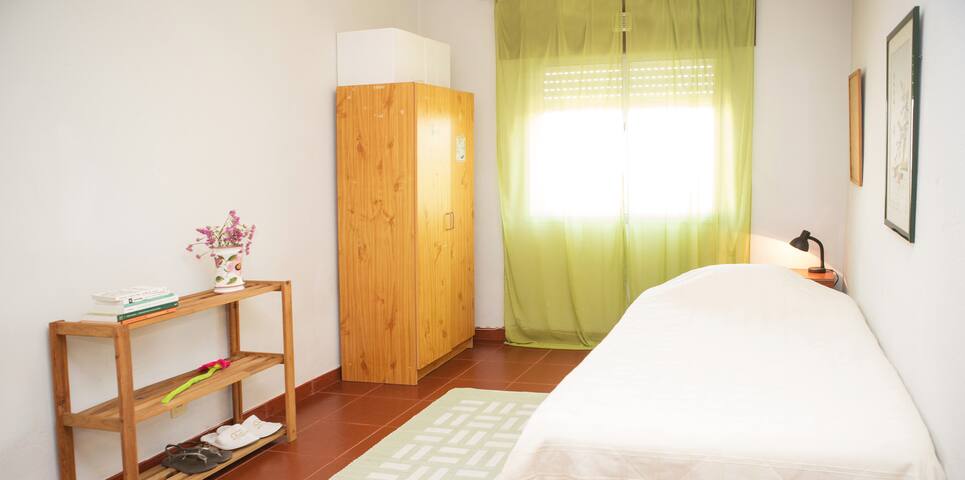 1

–

18

of

300+ Apartment Rentals
Enter dates to see full pricing. Additional fees apply. Taxes may be added.