Cozy one bedroom apartment with stunning views of the Langhe hills Heritage
Apartment with beautiful views of the Langhe. strategic position to reach other typical villages such as Barolo (7.5 km), Verduno (2.5 km), Cherasco (8 km), Bra (13 Km) or Alba (14 km) capital of the Langhe and home and fine wines truffle. In nearby La Morra there are wine bars, restaurants and shops (grocery, pharmacy, tobacco etc ..) to meet all needs, without the need to travel by car. Also lovers of trekking and mountain biking from La Morra will enjoy a network of paths through 7 throughout the city, passing through the woods and the great Barolo vineyards, for about fifty kilometers. Parking in enclosed courtyard with electric gate. Common garden with barbecue. We are available to advise you and give you all the information you need in order to make your stay pleasant and relaxing. A "CASA NINI" you will not find the TV. It 'was a choice, because the LANGA hills are a sight to enjoy fully. No TV show could match the. Been back and relax.
Though we had a few mishaps like the boiler going out and blowing a circuit having the stove and electric heater on at the same time, the apartment was as nice as advertised. Great view to Alps and short drive to center of town for dining and walking. Hosts were very accommodating and we would stay there again.
Tom
2014-12-14T00:00:00Z
Amazing hospitality! I was at business trip and felt like at home. Ferderico and Barbara are very friebdly and helped us with everything we needed to know. Thanx.
Jirka
2014-07-01T00:00:00Z
i have had many great airbnb experiences, but this would have to be the best. hosts were so warm, helpful and fun. apartment is beautifully renovated. i actually took a photo of the bathroom - never done that before. stunning view. close to la morra. i believe la morra is the nicest of the barolo communes.
al
2016-08-23T00:00:00Z
Really nice and cozy apartment down to every detail. Beautiful view form the small terrace, the place was clean and welcoming. We met Barbara which was so nice and explained to us all we wanted to know about the area of La Morra. Really worth staying to enjoy both the apartment and the beautiful Italian village of La Morra.
Alon
2014-10-10T00:00:00Z
Our stay at Casa Nini was fabulous. The apartment is very comfortable, detailed and charming. The view is very nice, especially when the sun sets behind the Alps (can only be seen at sunset) on the horizon. But most of all, Federico and Barbara were so welcoming and they have a great vibe. The time we spent with them, drinking good wine will be cherished in our memories. Thanks so much!
laura
2014-09-01T00:00:00Z
My husband and I had a wonderful stay in Casa Nini. It's walking distance to the center of La Morra and centralized for driving all over the Piemonte wine region. Federico was very nice and was able to communicate all features of the apartment, even with our language barrier. The apartment is well appointed for a gastronomy/wine enthusiast. We would be happy to stay here again during our next trip through the region.
Christine
2015-10-13T00:00:00Z
Great apartment with a fantastic view. Very nice hosts, who took care of everything perfectly. We decided to stay langer because we felt so comfortable and the spot is perfect in the area. Thank you very much!
Henning
2015-10-09T00:00:00Z
Excellent location, fantastic view, lovely wine theme apartment. Excellent weekend.
Simon
2015-10-19T00:00:00Z
Room Type
Entire home/apt
---
Property Type
Apartment
---
Accommodates
2
---
Bedrooms
Simane, Piemonte, Italy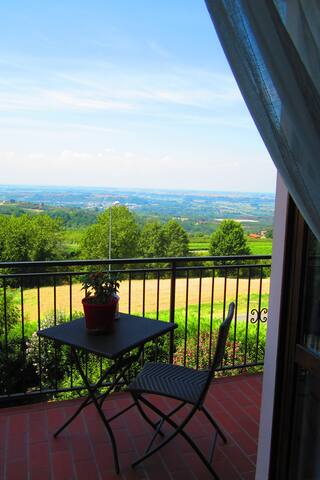 The apartment is situaded in La Morra's centre at the hightest point of the first village of Barolo Region. It borders with the San Rocco Church which was built in the 18th century.
You'll find the property in the historical centre, directly opposite the town hall and the impressive Barocca church dedicated to San Martin (the patron saint of the village). The famous CANTINA COMUNALE (see photo), the Gallo Wine Gallery, and the Barolo's wine Cellar are just a short walk from the residence.
L'alloggio si trova nella via principale del paese, ma ciò nonostante gode di una pace ed una tranquillità notturna senza eguali.
I have traveled a great amount in my 58 years and have met many people and stayed many places. My recent experience in La Morra, Italy has to rank in my top three places ever!!! Street View and Mariella were incredible. The apartment was immaculate. It was incredibly well furnished w everything you could possibly need. The best blow dryer and bed in all of my recent travels. The genuine spirit of Mariella was like having a new best friend! Please consider this apartment if going to the Piedmont area of Italy. You will love it!
Linda
2015-10-31T00:00:00Z
We loved (EMAIL HIDDEN) is a cosy apartment in the centre of the historic village. Bars and Restaurants are on your doorstep. It was well equipped and the bed is super comfortable. Mariella is really friendly and has great advice about things to do and see. We hope to return one day.
Suzanne
2017-02-26T00:00:00Z
a long story short: we (2 friends) had a great time at mariellas apartment! but first things first: communication and responsiveness of mariella was extraordinary - she always replied very quickly, friendly and helpful! our arrival was seamless! The (SENSITIVE CONTENTS HIDDEN) maps location for the address is not accurate (use this one: (PHONE NUMBER HIDDEN)"E) but use the public parking around the town if you want to leave your car. For unloading and loading the car, we used a small place just next to the apartment - very convenient!!! Even though Mariella couldn't be there for our check-in, she organised a friend (Emanuela) who is also very kind to give us the keys, show us the apartment and answer all our questions - thank you again for that! The Apartment is as described and is very conveniently located, clean and modern. There is even a small room in the ground floor where we could safely store our road bikes and our newly acquired wines :-) That made really a difference for us as wine lovers and cyclists... The wifi is also reliable and convenient. The speed was about 2Mbit/s which even allowed us some low quality video streaming. We finally met Mariella on Saturday - we had a really nice chat and a cup of coffee at Mange (a great cafe you might need to check out). We wanted to stay longer, but when we had to leave the check-out was as easy as the check-in... dropping the keys in the mailbox and we were on our way home... This was my 5th stay in the region, but this was the best one and mostly because of the convenience of a accommodation in the centre of la morra where you can walk to all restaurants and wine bars in the evening. We'll be back!
Christian
2016-05-09T00:00:00Z
My husband and I had never been to Europe before and this trip to Italy was to be a trip of a lifetime. We were new to Airbnb, and Mariella's place, Street View, was one of two Airbnb experiences we had on this trip (the other experience was great too!) After we booked with Mariella, she promptly sent us email links about the town, complete with maps, suggested things to do, etc. She offered great advice and communicated immediately whenever we had questions, and this was off and on for at least 6 weeks prior to our trip! Indeed, we felt like we already knew Mariella before we even met her. When we did finally meet, we immediately warmed to her genuine charm and friendliness. She made sure we were checked in and knew about everything in the apartment and then she made sure we didn't miss the local wine tasting which would be ending in about an hour! Later, we even ran into her and her husband at another local festival, and they greeted us like old friends and showed us around the festival, making sure we tried the right foods and saw the best highlights. The next day, Mariella even met us for coffee and assisted us further by helping plan a strategy for our next 3 days and what were "must-see" destinations. She highlighted everything on the map and made sure we did things in a logical way for each day trip so that we weren't driving all over the place and wasting travel time- this was very efficient for us. Her advice was perfect. We ended up seeing and experiencing a lot of things we would have missed if Mariella hadn't pointed us in the right direction. We will definitely stay at Street View for our next trip to Italy, not only because of the fabulous location of her wonderful apartment Street View, but also because we just genuinely like Mariella! We hope some day we can host her in our home if she ever comes to Kentucky- that's just the kind of person she is- someone you want to get to know better. Grazie mille Mariella, from the bottoms of our hearts for your wonderful help and guidance as we negotiated our travel in Italy. Our time spent with you while we were staying at Street View will stand out as a highlight of our trip. What an over the top experience!
Martha
2016-10-18T00:00:00Z
Mariella's apartment in la Morra was a highlight in our Italy trip. Where to begin? The town is beautiful and safe, the apartment is perfectly located and tastefully decorated. We had everything we needed, including a great hairdryer and a super comfortable bed. The town of La Morra is so worth the visit that we are already planning our return. Thank you Mariella for providing us with a great experience.
Ines
2016-06-01T00:00:00Z
Fantastic apartment in the heart of La Morra! Can't wait to come back soon.
Sean
2016-03-28T00:00:00Z
The apartment is brand new. The apartment is small but efficiently furnished. Good restaurants are all within walking distance. The view of the Alps and surrounding hills is magnificent and different every day.
Bernard
2015-05-24T00:00:00Z
Mariella met us upon arrival and gave us a tour of the apartment. She was very friendly and helpful.
clara
2016-08-13T00:00:00Z
Room Type
Entire home/apt
---
Property Type
Apartment
---
Accommodates
3
---
Bedrooms
La Morra, (CN), Italy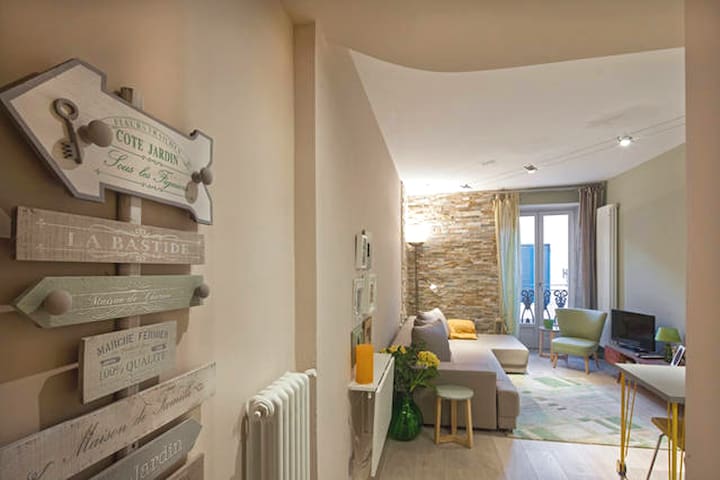 L'appartamento è un ampio bilocale situato nella piazza centrale di La Morra, posizione ideale per visitare le Langhe e il Roero. La casa è composta da un ampio salone con cucina, camera con letto matrimoniale, bagno e balcone. Fornito di biancheria, stoviglie, asciugacapelli. Di fronte all'appartamento è possibile trovare parcheggio gratuito nel grande piazzale sottostante.
Simona and her Mother were very helpful and welcoming. The apartment is very well located in the charming village of La Morra. It is simply decorated and equipped with all the basics one needs for a short stay. It was very clean and warm. When welcomed by Simona's mother I was offered any assistance if needed. I would definitely recommend Simona's apartment.
Lysiane
2017-02-16T00:00:00Z
Clean and big flat. I thought there was only one room from photos, instead there were both living room and bedroom. It is in the middle of Langhe's area, so it's easy to reach every village around. A disadvantage is that there isn't wifi. We recommend, Marco and Sanja.
Marcoandrea
2016-11-02T00:00:00Z
simona and the parents were very helpful in accomodating me at the last minute. the apartment is brand new, clean and right in the heart of la morra so perfect location. the only thing is that there are no appliances (tv, washing machine, etc) but overall it was a pleasant stay.
Alice
2016-10-22T00:00:00Z
Simona and her father were very kind and helpfull. The appartment is very good in a beautiful village.
Clarisse
2016-11-13T00:00:00Z
Tutto era perfetto: un appartamento pulito e completo di tutto il necessario per me e il mio compagno! Non indifferente il parcheggio gratuito proprio accanto casa
Giusy
2016-11-20T00:00:00Z
centrale, comodo, moderno, spazioso
elena
2016-12-07T00:00:00Z
A causa di impegni lavorativi siamo arrivati alle 23.30 invece che alle 21.30. Abbiamo comunicato la (non indifferente) variazione d'orario il giorno stesso del nostro arrivo. Simona, con grande gentilezza, ci ha detto che non c'era problema. È venuto ad aprirci Luciano, papà di Simona. Ci ha dato qualche dritta sulle località da visitare e ci ha mostrato l'appartamento mostrandoci dove tenevano la biancheria (asciugamani) e come alzare il termostato. L'appartamento è molto luminoso e con una splendida vista (si vedono le montagne e la valle) ; è situato all'ultimo piano di una bella palazzina ed è composto da sala/cucina abitabile con una finestra molto grande, camera da letto, disimpegno e bagno. Non è provvisto di Wi-Fi ma c'è la televisione. La casa è silenziosa ed appena fuori dal centro storico di La Morra, che è un paese davvero delizioso. La cucina è provvista di beni di prima necessità (sale, olio, zucchero) e anche tisane e caffè. Simona è riservata ma disponibile, insomma, la padrona di casa perfetta. Insomma...un rifugio perfetto per visitare le Langhe. Grazie
Margherita
2016-12-24T00:00:00Z
Siamo stati ospiti di Simona per il ponte del 1° Novembre. Simona è cordialissima ed è stata sempre molto disponibile sia per il check in che per il prosieguo del nostro soggiorno. L'appartamento è molto bello, pulito e in ordine. La location è perfetta per chi vuole girare il centro di La Morra, è vicinissima al centro e ha di fianco un grande parcheggio gratuito dove è possibile lasciare la propria auto. Consiglio agli altri utenti che vogliano andare a La Morra di prenotare questo alloggio.
Giovanni
2016-10-31T00:00:00Z
Room Type
Entire home/apt
---
Property Type
Flat
---
Accommodates
2
---
Bedrooms
La Morra, Piemonte, Italy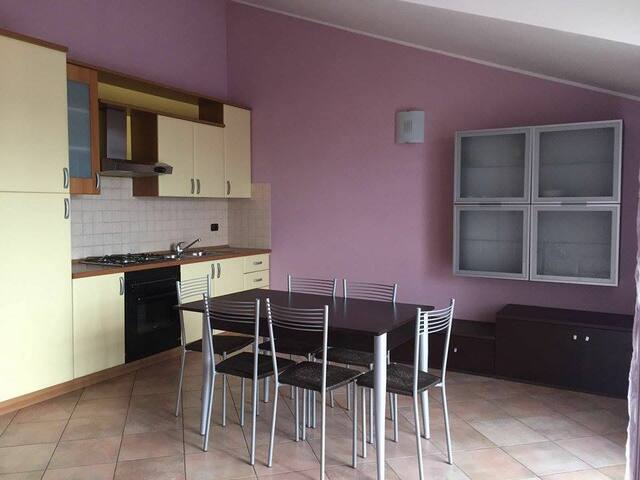 Situato nel centro storico , zona Borgo di La Morra . Particolare alloggio con i soffitti in mattone antico. Può ospitare 4 persone . A pochi passi dal centro storico e dalla meravigliosa passeggiata verso Cerequio , Brunate . Accanto il molino di La Morra . Godetevi il vostro soggiorno nelle meravigliose Langhe !
L'alloggio e' ampio , spazioso e centralissimo.
Il Borgo adiacente al centro offre bellissima vista verso le Langhe , il Molino storico biologico . Punto di partenza e arrivo di meravigliose passeggiate nelle più famose vigne di Nebbiolo da Barolo . Il forno per in pane caldo dalla prima mattina .
Casa dolce casa nel Borgo is a beautiful, comfortable, and very peaceful home. We loved our stay and felt extremely welcome! Maria Cristina goes above and beyond- the kitchen was full of ripe peaches and tomatoes, freshly baked cake, fig compote, and other foods. The location is perfect in the lovely town of La Morra situated in the heart of Cuneo- and Barolo wine country. There are walking routes through the region, fabulous restaurants, and wineries! I would highly recommend staying and I look forward to returning!!
Rory
2016-09-22T00:00:00Z
Very nice apartment, great location! Maria Christina was very welcoming and a very good host! Would defiantly want to come back here!
Oda
2016-07-17T00:00:00Z
Excellent stay, Maria Cristina gave us a warm and lovely welcome in an excellent place and with lots of home made food for breakfast, plus tons of details and suggestions about things to do and places to visit. Just perfect
Federico
2016-10-31T00:00:00Z
Very nice apartment in La morra, excellent position to visit Langhe. Maria Cristina was very nice and always available to give to us every kinds of informations we needs.
Giuseppe
2016-06-06T00:00:00Z
Cristina was a gracious and welcoming host. She was very flexible with meeting us. She also left us some lovely home made treats and breakfast food and plenty of water. The apartment was spacious and clean. The bathroom had two sinks and a large shower. Washing machine was available including liquid. The kitchen was well equipped for our needs. Cristina made sure we had information about the local area and was very helpful. There was a dedicated car park for us to use. The apartment was very well located in central La Morra. I would highly recommend this property and host.
Christina
2016-09-21T00:00:00Z
Simple place in town of La Morra. Comfortable bed and nice home-baked bread for us on arrival! I did not realize it was a ground/basement floor apartment, but everything was very nice. I recommend staying there and visiting Renato Corino winery down the hill from La Morra :)
Dylan
2017-02-12T00:00:00Z
We are very happy we could stay at Maria Cristina's place. She is very responsive, takes care of everything so you feel comfortable and have all you need. The location was very good and easy to find. The appartment itself was just perfect, exactly what we were expecting. You feel yourself like at home. The excellent bakery is literally few steps away. Very important -parking place available next to the appartment. In case we come back to Barolo area, we definitely take the same accomodation, highly recommended!
Piotr
2016-09-17T00:00:00Z
Great place for the value! The host was extremely responsive and helpful. Parking space was provided, which is always a plus. And we had fresh fruit, cake, cheese and coffee ready in the morning. Really cute home as well.
Samara
2017-03-05T00:00:00Z
Room Type
Entire home/apt
---
Property Type
Apartment
---
Accommodates
4
---
Bedrooms
La Morra, Piemonte, Italy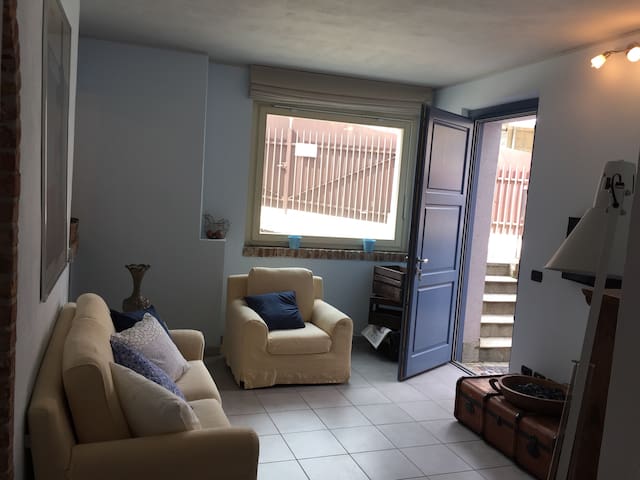 Splendido ed accogliente appartamento di 100 mq. affacciato sulla piazza Del Belvedere di La Morra. Un Belvedere tra i più belli al mondo, nel cuore del sito Unesco Langhe-Roero-Monferrato. Arredato con mobili antichi può ospitare comodamente 4 - 6 persone, è dotato di 2 bagni. Ampio soggiorno che guarda il Belvedere con cucina ottimamente attrezzata.
Room Type
Entire home/apt
---
Property Type
Apartment
---
Accommodates
4
---
Bedrooms
La Morra, Piemonte, Italy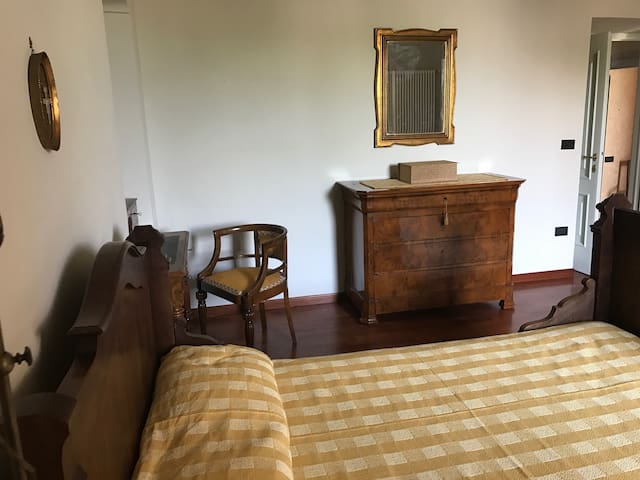 L'appartamento si trova a La Morra, in un piccolo edificio splendidamente ristrutturato, in una zona tranquilla, arredato con oggetti vintage e di design italiano. La cucina è completamente attrezzata e funzionale. La zona giorno si affaccia sul paesaggio Langhe grazie ad una grande finestra che rende la stanza molto luminosa e da cui si può accedere alla veranda. L'appartamento è immerso nella Langa, vicino a cantine, negozi tipici, ristoranti e ai sentieri del Barolo.
The apartment was very nice and Emanuela was very accommodating.
Oda
2016-08-30T00:00:00Z
Très beau séjour dans un appartement joliment rénové et plein de charme... La petite terrasse avec une belle vue sur les collines des Langhe est superbe ! Très bon accueil de la propriétaire qui sait vous mettre à l'aise et vous conseiller des restaurants ou des endroits à visiter aux alentours... Bref, un endroit où nous reviendrons j'espère !
Mathieu
2016-08-15T00:00:00Z
Room Type
Entire home/apt
---
Property Type
Apartment
---
Accommodates
4
---
Bedrooms
La Morra, Piemonte, Italy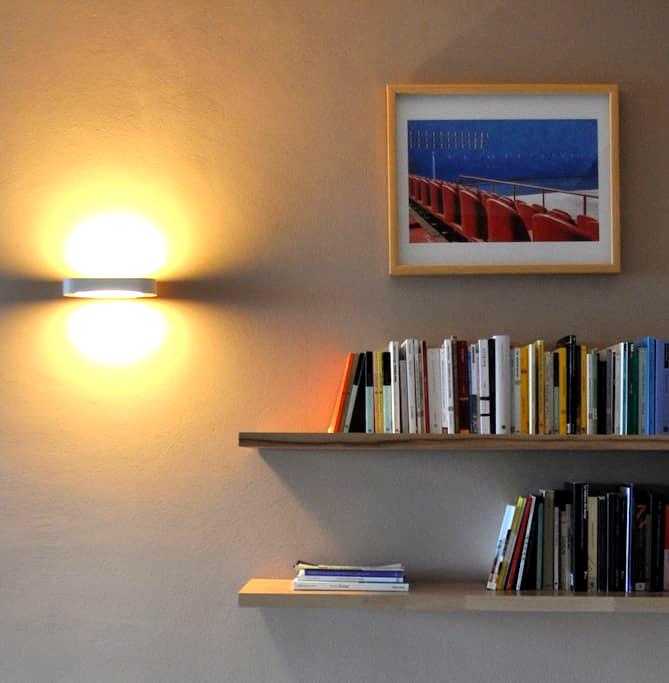 Located in a quiet area in this beautiful portion of villa apartment it has 2 bedrooms and a large bathroom equipped kitchen accommodates up to 5 persons, is equipped with all amenities and has private parking, large terrace solarium.ottima position to walk into the nature the vineyards of the Langhe.
The space !!! great for those with children !!! in an accommodation of over 75 m you will find everything you need to pass in serenity vs the holiday. Children under 3 are free is available to them an additional bed to be placed in the parents' room, the high chair and plastic kitchenware, the kitchen is fully equipped for cooking with various appliances, oven, microwave, coffee machine with waffles offered, (URL HIDDEN) the yard for children's play area and swimming pool, equipped with deck chairs, umbrellas and games for children.
In my area I love the silence and the contact with nature, for those who come in spring is magic birds singing in the woods at dawn and dusk !!! late summer, however, you live fully the harvest and collection of hazelnuts ! fantastic for walkers along the paths of the Langhe you will find the right atmosphere for a great holiday !!
Me and my friends had a very good stay at Silvia's house. She is very friendly and helpful person, and her place is fantastic cool and clean. She baked a apple cake for us and we really love it. We will definitely come back again in the future! Thanks Silvia !!!
LysEmily
2016-05-03T00:00:00Z
Silvia is the best host you can have. Discreet, helpful and kind. The place is very clean, and it has all you need for a quiet vacation. Fresh eggs from the chickens, figs from the garden and Silvias home made cookies is just some of the small things that made this stay perfect. The pool is great, and the view from the whole property is just stunning. Every night we spent out on the huge terrace looking at the wine-yards, Mont Blanc and the rest of the Alps. Just marvelous! We will come back for shure!
Siri
2016-07-17T00:00:00Z
My two colleagues and I stayed with Silvia for two nights while visiting restaurants and wineries in the area. The apartment itself is gorgeous; very spacious and clean, and the balcony and pool bring the experience to a whole other level. Silvia was very helpful throughout our stay and we loved it so much that we would have stayed a third night, but unfortunately the apartment wasn't available. La Morra itself is a nice little town within a short drive of Alba, Bra, Monforte and many wineries and restaurants. I would definitely stay there again.
Zee
2016-09-30T00:00:00Z
The two bedroom apartment was ideally suited for my business associate and myself. The eat-in kitchen/den was equipped with appliances (espresso maker, microwave oven) and utensils for cooking and/or warming up meals. I always enjoy a washing machine. Our trips, business or vacation, are usually two plus weeks and a washing machine allows us to pack half the amount of clothes. There is a large wrap around deck with great views which would be great in the summertime We invited Silvia and Claudio for hors'doeuvres and wine from some of our wineries. It was most enjoyable and we were able to overcome the language barrier with their limited English and my limited Italian. I highly recommend Silvia's apartment and look forward to future visits to La Morra and the Barolo wine country.
Larry
2016-02-15T00:00:00Z
Me and my father stayed at Silvias place for 2 nights. The place is absolutely magic. The apartment has large rooms which all have a door out to the surrounding balcony. From the balcony you can enjoy stunning view over langhe and eat your dinner and lunch. We spent one entire day sunbathing and cooling down in the fresh water of the pool in the yard. 10 min walk to La Morra where you find great restaurants. I really recomend this place, and whould definitely come back.
David
2016-09-23T00:00:00Z
Top accomodation on the highest spot of La Morra.Warm and friendly people.
Peter
2017-02-12T00:00:00Z
Absolutely fantastic experience! On late arrival Silvia reserved a table for us at a lovely local restaurant. The space was incredible. Views were spectacular!
Ali
2016-10-15T00:00:00Z
Abbiamo passato un ottima settimana. Silvia e la sua famiglia sono molto simpatici e gentili.
Nicola
2016-08-07T00:00:00Z
Room Type
Entire home/apt
---
Property Type
Apartment
---
Accommodates
5
---
Bedrooms
La Morra,Alba, Piemonte, Italy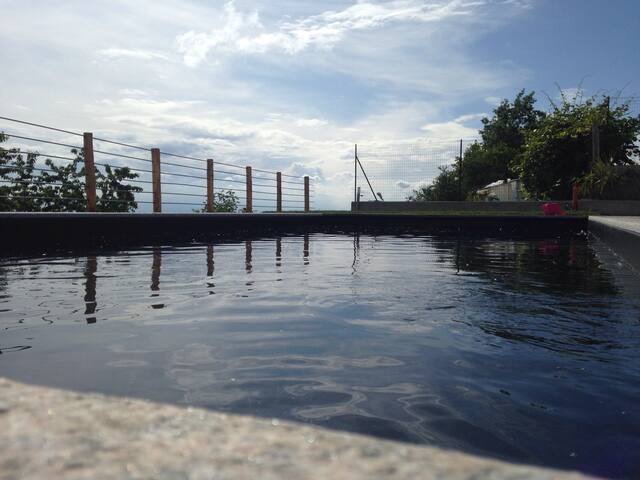 Vi diamo il benvenuto alla ROSA NEL BORGO.Nel centro storico di La Morra, dopo una lunga e sapiente ristrutturazione di una casa di fine '700, abbiamo dato vita a una casa vacanze.E' un'ottima soluzione per una piacevole vacanza nel paese di La Morra
L'alloggio dispone di camera da letto,bagno,cucina,terrazzo,parcheggio privato. Si trova a pochi metri dal centro storico di La Morra raggiungendo i migliori ristoranti e vinerie. L' alloggio può ospitare due persone con possibilità di usufruire di un divano-letto in salotto per la terza persona.
La Morra è un paese di circa 3.000 abitanti, si trova nelle Langhe, culla enogastronomica del Piemonte. Questa è la zona di produzione dei grandi vini piemontesi: Barolo, Nebbiolo, Dolcetto e Barbera, famosa in tutto il mondo anche per il pregiatissimo Tartufo Bianco d'Alba. Con una breve passeggiata si puo' raggiungere comodamente il centro del paese dove si trovano ottimi ristoranti e negosti enogastronomici. Il pane fresco, le torte, e dolci ci sono tutte le mattine dal panettiere che si trova subito sottostante. Dalla Rosa nel borgo, per gli amanti delle passeggiate e del verde, c'è la possibilità di fare molti sentieri, che conducono nei più famosi vigneti di Nebbiolo di La Morra.
Rosanna's place was fantastic. Perfectly situated in La Morra and the place was spotlessly clean and tidy. Rosanna was meticulous in her efforts to give me a smooth check-in and her recommendations for the area were spot on. I would definitely recommend her place to other guests. 5 stars
Calvin
2016-08-20T00:00:00Z
We had a lovely relaxing time stay at Rosanna and Giorgio's apartment. We were unfortunately held up in Turin for 1 night but communication was easy and our check in process was great with Giorgio meeting us when we arrived. The apartment is comfortable and very spacious with parking which was good for us. The locals also made us feel very welcome. La Morra and the surrounds are just beautiful and we often ran into Giorgio and Rosanna in the town. Giorgio also very kindly hosted us for a tasting of his wines at his winery that was a wonderful experience. We would recommend staying here as you will really feel at home. Thank you Rosanna and Giorgio and hope to see you in Australia soon!
Katie & Josh
2016-09-02T00:00:00Z
Rosanna and her husband went above and beyond to make our visit to La Morra a wonderful experience - thank you for being such welcoming hosts! Make sure to try the wine from their winery nearby. We loved La Morra and it is a great base to explore the Barolo area - there are several restaurants and the town is the highest in the area so has excellent views. The apartment itself is walking distance to the centre of town, is spacious and comfortable, modern and clean. The fold out bed in the living area is also very comfortable. I have nothing bad to say - come here!!
Geoff
2016-08-17T00:00:00Z
Rosanna and her husband George are amazing hosts that supplied us with absolutely everything we needed: a spacious and beautifully renovated apartmemt, super nice and warm welcoming with some good advice/ reccomendations and privacy. What else do you need to spend a couple of lovely days in the gorgeous area of Barolo. Thanks you very much :)
Malgorzata
2016-09-05T00:00:00Z
This was a great apartment! Clean, cozy, great design and was right in the heart of La Morra. We loved staying here and will return again and again. We even ran into Georgio at a local restaurant and he came over to open the bottle of wine he had produced. Great experience!
julian
2015-12-22T00:00:00Z
Comfortable apartment in La Morra. Very spacious and easy access to nearby town and vineyards. We visited Rosanna in her vineyard cellar and her and her sons were very warm and accommodating. They also make great wine! For those driving, off-street parking is right behind the house.
Guil
2016-08-24T00:00:00Z
Everything was perfect! The town is beautiful, the place included parking and host was very helpful for local restaurant recommendations and wine tasting! Highly recommended.
Olivier
2015-07-05T00:00:00Z
Great appartement, enough space, very clean, huge roof terrace to relax. Very friendly hosts. The wine tasting at the owners winery is a must! We really enjoyed it.
Markus
2015-09-06T00:00:00Z
Room Type
Entire home/apt
---
Property Type
Apartment
---
Accommodates
3
---
Bedrooms
La Morra, Piemonte, Italy
Tra i vigneti delle stupende terre del Barolo spicca la casa , originaria del 1901. La struttura è situata in posizione tranquilla, all'ingresso di un'antica borgata da cui si gode un ottimo panorama. Appartamento indipendente.
APPARTAMENTO GIALLO: (per 2 – 4 persone, ca. 55 mq.): piano terra, cucina-soggiorno con divano letto matrimoniale, camera da letto matrimoniale e bagno . Uscita sul giardino panoramico con tavolo, sedie e lettini per la piscina. Cucina attrezzata di stoviglie, forno da incasso, frigorifero con freezer, lavastoviglie e microonde.
Posizione panoramica della frazione. Tranquilla e vicina alle più famose cittadine: La Morra, Alba, Serralunga d'Alba, Cherasco e molte altre.
Room Type
Entire home/apt
---
Property Type
Apartment
---
Accommodates
2
---
Bedrooms
La Morra, Piemonte, Italy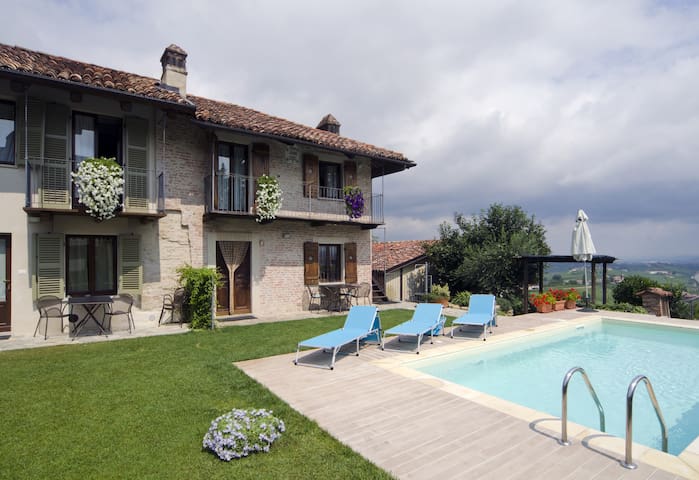 Appartamento luminoso e spazioso dove essere a casa anche lontano da casa. Ampia cucina con tutto quello che ti serve. Camera da letto confortevole e silenziosa. Terrazzo, giardino nella natura a due passi dal paese di La Morra e dai servizi.
Casa a due passi dal centro di La Morra. Appartamento a piano terra con giardino e terrazzo molto silenzioso e nel verde. Barbecue a disposizione Parcheggio di fronte a casa. o su richiesta al coperto.
We were met on arrival by Severinos son and shown everything. It was easy. Great location and good home from home.
lieve
2016-06-08T00:00:00Z
Very nice place to stay. Small town with a wonderful view. Nice restaurants and very nice wine bij Severino in his wineshop Le Vigno bio. And he knows a lot about wine.
Rien
2016-09-09T00:00:00Z
Room Type
Entire home/apt
---
Property Type
Apartment
---
Accommodates
4
---
Bedrooms
La Morra, Piemonte, Italy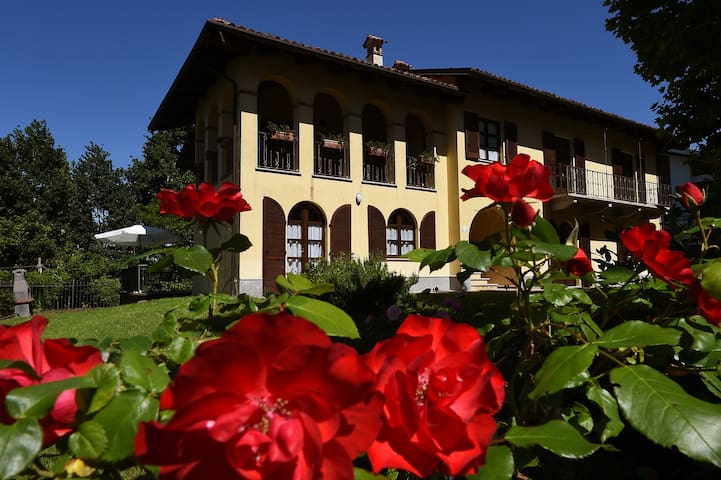 Located in the centre of La Morra a small village in the UNESCO Heritage area of Barolo vines, BellaVita apartment is close to typical restaurants and wineries. Whitin few minutes by car there are more than 60 vine producers, some of them can be reached on foot from the apartment. You will be able to enjoy the beautiful landscape of the Langhe hills form the window. It will take you 15 minutes to go to Cherasco Golf Club, 15 minutes to Alba and 1 hour to Turin by car. Trains depart from Alba.
BellaVita is made up of a big living room with Wi-Fi connected TV, a small but fully equipped kitchen with fridge, dishwasher, pans, coffee and tea, and two double bed rooms, one with a queen size bed and the other with two single beds. The bathroom has shower and essentials (hair dryer included). Wi - Fi connection is provided and there is a car parking available attached to the house to which you can get directly in.
La Morra is on the top of a hill in the Lange, included in the Unesco Heritage list since 2014. The city has maintained the original medieval architectures and planning. The path along the old castle fences is very romantic. The castle was destroyed in the Middle Ages but the bell tower has been constructed over the only tower that remained. The square is still called "Castle Square" in the memory of it, from this spot you can take advantage of the stunning panoramic view of the Langhe. La Morra il called the "Belvedere" that means "the point of view" because of it.
Room Type
Entire home/apt
---
Property Type
Apartment
---
Accommodates
4
---
Bedrooms
La Morra, Piemonte, Italy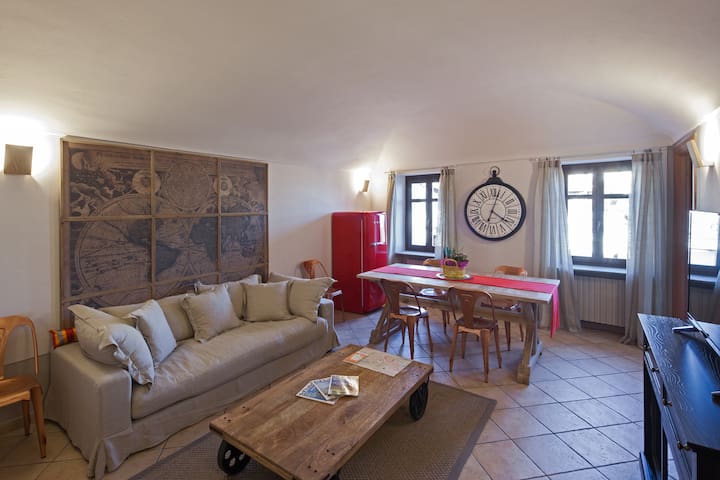 Situata nel cuore del borgo di La Morra, Casa San Martino si trova nella posizione ideale per visitare le Langhe e il Roero e permette di godere di tutte le comodità di casa. Può accogliere due persone.
Casa San Martino prende il nome dalla centralissima via in cui si trova il palazzo, ristrutturato di recente con gusto e attenzione ed immerso nella tranquillità del borgo. L'appartamento, a cui si accede da un piccolo cortile interno, è composto da un ingresso con cucina, corridoio, servizi con doccia e camera da letto matrimoniale. È accessoriato di stoviglie ed elettrodomestici (forno, frigorifero e lavatrice), TV, biancheria da letto, da cucina e da bagno ed è dotato di un ripostiglio a pian terreno che può essere utilizzato come deposito bici. ----- Casa San Martino takes its name from the road (central but very quiet) in which the building is placed. The palace has been recently renovated in a thoughtful and tasteful manner. The apartment is accessed from a small internal courtyard. It is composed of a kitchen, a corridor, a bathroom with shower and a double bedroom. It is suitable for two people. You will find all you need to cook and eat (including the fridge and an oven), a washing machine, a TV set, table linens, bed sheets and towels. On the ground floor there is a storage room where you can keep you bicycle.
Dalla sommità di una collina, il paese di La Morra si affaccia sullo spettacolare panorama della Bassa Langa del Barolo, un'area che unisce alla bellezza paesaggistica tesori eno-gastronomici celebri in tutto il mondo. Casa San Martino si trova nel cuore di questo splendido borgo. Saremo lieti di consigliarvi ristoranti, negozi, escursioni e prodotti tipici.
Ottima accoglienza e massima disponibilità per risolvere un piccolo inconveniente. posto ideale per "gustare" il meglio delle Langhe a pieno.
Alberto
2016-11-13T00:00:00Z
Casa davvero accogliente, bella e comoda: in pieno centro storico a La Morra. Host carinissima e molto disponibile. Weekend eccezionale!
Mattia
2016-11-06T00:00:00Z
L'appartamento è molto bello, nuovo e comodo per 2 persone. L'ubicazione è ottima, perché nel centro storico di uno splendido paese.
Giovanni
2016-10-23T00:00:00Z
Gentilissima e disponibile, alloggio nuovissimo e molto grazioso.
Erique
2016-10-09T00:00:00Z
Casa San Martino è perfetta per due persone che vogliono passare un tranquillo weekend in queste zone. E' tranquilla, accogliente e ha tutto il necessario. La proprietaria è molto gentile e disponibile, ci siamo trovati benissimo!
Gian Luca
2016-11-01T00:00:00Z
L'appartamento è molto accogliente ordinato e curato in ogni piccolo dettaglio. Lo consiglio davvero!
Maddalena
2016-10-30T00:00:00Z
Appartamento pulitissimo ed accogliente, ben situato nel centro storico di La Morra, paese stupendo con vista mozzafiato sulle langhe. Facile da raggiungere, perfetto per coppie che vogliono passarsi un weekend in relax, Carla e Loredana sono state host estremamente gentili e disponibili a fornirci informazioni sui dintorni e luoghi d'interesse. 10, consigliatissimo!
Giorgio
2016-07-18T00:00:00Z
Room Type
Entire home/apt
---
Property Type
Apartment
---
Accommodates
2
---
Bedrooms
La Morra, Piemonte, Italy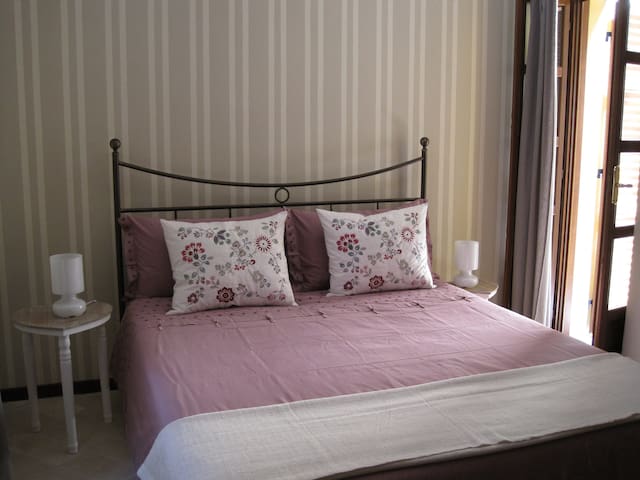 Apartment in eco-friendly home. In the quiet hamlet Annunziata of La Morra, La Notte apartment is the ideal accommodation to enjoy the silent atmosphere of the countryside.
Located on the second floor of a green building house, the apartment is fully furnished and can accommodate up to 5 guests. You'll be greeted with a terrace overlooking the Langhe and Roero hills. The great panorama will make your stay unforgettable! Completely independent apartment with separate entrance. Inside: living area with fully stocked kitchen (you are welcome to cook), one bedroom with double bed, opportunity to put up to three single beds in the private part of the living room, which can be closed, bathroom. The house is equipped with a natural cooling system. Private garden with plays for children and parking. •Terrace, overlooking the hills, furnished with table and chairs •Completely stocked kitchen (hob, microwave, dishwasher, coffee makers, coffeepot, tools, cookwares) •Wi-fi internet connectivity •Natural cooling system. No air conditioning, because it's an eco-friendly house. •Camping bed for free •Safe •Private garden with plays for children •Parking •Expenses included •Prices vary depending on the number of guests •Located within walking distance of two restaurants The apartment, partly surrounded by vineyards, is very quiet.. to enjoy nature in relax and autonomy!
La Morra, capital of the Barolo area, from its Belvedere offers an unmissable view overlooking the hills planted with vines. Renowned for its food and wine and the many wineries, La Morra offers a number of walking routes to the country lanes. Passing through the small roads that wind through the vineyards, you can breathe the charm of these hills, in direct contact with nature. Do not miss the Chapel of Barolo and the centuries-old cedar of Lebanon, which can be seen also from the apartment! Renowned food and wine area, the langa boasts excellent farms and restaurants of high (URL HIDDEN) La Morra you will find more than sixty winemakers, many restaurants and taverns. Among the most famous wines of the area's famous Barolo. Numerous local products, cheeses, hazelnuts, fine ingrendient of regional sweets. Suitable area for nature lovers, in Langa is no shortage of walks through the vineyards and trails.on the hills majestic medieval castles, among which that of Barolo, home to the brand new Wine Museum. Important cities for history and culture, Alba, Bra, Pollenzo and Cherasco, a true pearl of the Langa of Barolo. Just an hour's drive to Turin, a city rich in history and art, which is worth a visit.
What to say about La Notte; I can't wait to go back. As pictured it is bright, clean and modern. Equipped with everything we needed for a 3 night stay. Breakfast on the sunny terrace is not to be missed. Chiara was a wonderful host and the location is perfect for exploring the Langhe.
Kevin
2015-04-23T00:00:00Z
Lovely apartment nestled in the Barolo-Alba-Barbaresco region. Bright with natural light, spacious, modern, well equipped, and very clean. Plus Chiara and her father were wonderful hosts.
Jeff
2015-03-04T00:00:00Z
A beautiful apartment with the best view in all of Europe. Stunning place to visit. Chiara is a fantastic host. Our only disappointment was that we should have stayed longer.
Mick
2015-06-19T00:00:00Z
Chiara was very gracious and made our stay very enjoyable. First of all the apartment was very modern and comfortable with great amenities- reliable wifi, tv great shower, easy parking etc. However the best part was the stunning view of the beautiful Italian country side from the terrace. Chiara also made local maps and tourist info readily available as well. We hope to be able to visit again soon!!
Peter
2015-03-31T00:00:00Z
Incredible apartment with stunning view from the terrace. Chiara is a wonderful host, very friendly and reachable but allowed us our space to relax and enjoy it. The apartment stays cool, even in August heat due to their natural cooling system and everything is to a great standard. As a great bonus the kitchen is well equipped and a good size to cook in. Annunziata is a lovely village, and super convenient for so many great hilltop towns, Alba and even Torino and beyond. We'd absolutely love to return - it felt like a home away from home.
John
2016-08-14T00:00:00Z
Our only regret about this lovely apartment is that we didn't stay longer. The apartment is spacious, and we especially enjoyed the beautiful terrace, with lovely views both day and night. Although we didn't do much cooking during our stay, the kitchen was very well-equipped. Instructions are posted throughout the apartment, and there is plenty of available information about exploring the area. The bed was very comfortable, and the bathroom is wonderful and quite large by European standards. There is also a fantastic restaurant, L'Osteria Veglio, just down the street. Chiara is very friendly and readily available if needed. We would return in a heartbeat.
Lisa
2016-09-25T00:00:00Z
Very happy with la notte apartment. Chiara was a great host with great restaurant recommendations. She was very timely in getting back to all my emails prior to my stay and even arranged all my winery visits!! I will definitely come back to la notte when I return to the barolo area. The apartment was beautifully equipped and very modern in a quiet neighborhood between la Morra and barolo which is perfect. Easily can access all areas of the region and very close to the barolo alba road
Raphael
2014-11-18T00:00:00Z
Chiara and Emmanuel's apartment is just the perfect place to enjoy a holiday in La Morra and the Barolo region. Chiara was so helpful, from helping to carry luggage to calling to set up appointments for wine tasting and seeing that all of our needs were met. The apartment has a great view and relaxing on the deck with a glass of wine makes a wonderful evening. We like to sample the local cuisine but also occasionally for a simple evening like to cook ourselves. Her kitchen has all you need to prepare a fantastic meal and is very easy to use and care for. We really enjoyed our stay and hope we can return someday.
Steve
2016-06-26T00:00:00Z
Room Type
Entire home/apt
---
Property Type
Apartment
---
Accommodates
4
---
Bedrooms
Annunziata, Piemonte, Italy
Questo spazioso alloggio recentemente ristrutturato, si trova nel centro storico del paese. La cucina è fornita di ogni utensile di cui potrete avere bisogno. L'appartamento è vicino ad innumerevoli ristoranti e locali. A due passi dall'appartamento è possibile godersi il panorama mozzafiato dal famoso belvedere. Nel paese vengono spesso organizzati eventi enogastronomici, non esitate a chiederci! L'appartamento è ideale per famiglie e gruppi di amici.
Amazing place- def recommend for staying in La Morra. Elena and her family were great hosts and super responsive whenever we had questions. Will def go back here again !
Dana
2016-11-16T00:00:00Z
Elena was unable to greet us however her parents came and met us and showed us where to park and helped carry our luggage. The apartment was lovely and the town of La Morra perfect! We had a brilliant time. Elena's family are winemakers and we had a tasting of their wines which were superb!
Maria
2016-06-24T00:00:00Z
Located in the center of La Morra, this apartment was a perfect way to experience living in a small village in Italy. We were serenaded hourly by church bells and everything you would want is within walking distance. The rooms were great and the apartment was bright. We were happy to find a washing machine and the wall heater was awesome. The kitchen was well equipped and we enjoyed cooking local pasta while enjoying a glass of Barolo. Prior to the trip we had a number of questions and Elena was gracious and responsive providing wonderful detailed answers. We had a couple of special requests and she was able to accommodate.
andrea
2016-10-17T00:00:00Z
Super séjour. Appartement tout confort, correspondant à l'annonce. Les contacts avec Elena ont été faciles.
PIERRE GUY
2016-07-12T00:00:00Z
Room Type
Entire home/apt
---
Property Type
Apartment
---
Accommodates
6
---
Bedrooms
La Morra, Piemonte, Italy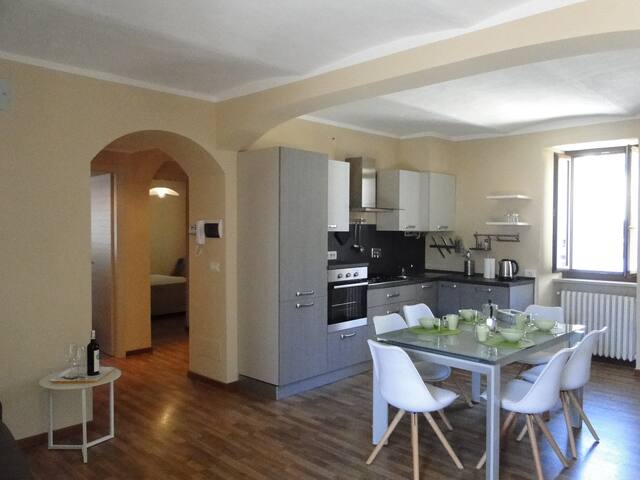 Il confortevole appartamento si trova in una delle vie principali che portano al piccolo centro che culmina sul "salotto" delle Langhe, il Belvedere, da cui si possono ammirare a tutto tondo le splendide colline che in autunno si colorano di tutte le sfumature che vanno dal verde al rosso più vivo.
L'alloggio si compone di un luminoso ed ampio soggiorno con doppio affaccio sul cortile e sulla via principale. Il cucinino è ricavato da una nicchia del salone. La camera da letto si trova adiacente al bagno, entrambi con affaccio sul balconcino.
semplicemente perfetto!!!! La casa veramente vicina al centro !!!!! Pulita e accogliente. C era tutto !!!!! Abbiamo passato 3 bellissimi giorni !!!!!! Grazie di tutto, della vostra disponibilità e accoglienza!!!!!!!
Antonella
2016-11-01T00:00:00Z
Room Type
Entire home/apt
---
Property Type
Apartment
---
Accommodates
4
---
Bedrooms
La Morra, Piemonte, Italy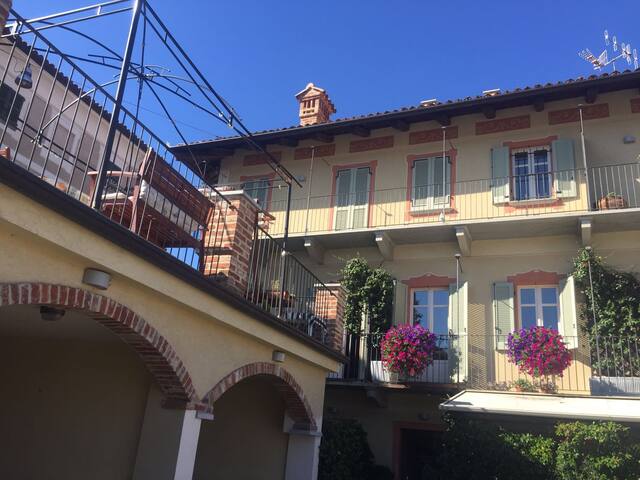 This apartment is a cement room, quiet and safe. The bathroom is equipped with electric water heater
Room Type
Entire home/apt
---
Property Type
Apartment
---
Accommodates
4
---
Bedrooms
La Morra, Piemonte, Italy
ADVANTAGE OF THE PROPERTY The apartment is situaded in La Morra's centre at the hightest point of the first village of Barolo Region. It borders with the San Rocco Church which was built in the 18th century. You'll find the property in the historical centre, directly opposite the town hall and the impressive Barocca church dedicated to San Martin (the patron saint of the village). The famous CANTINA COMUNALE (see photo), the Gallo Wine Gallery, and the Barolo's wine Cellar are just a short walk from the residence. Amoung its shelves is a grand choise of bottles of local wines, or otherwise you may choose to wandel through Bastioni with its beautiful views of surronding vineyards facing your residence. And for those wishing to stay in the centre of town, a short stroll away you'll find shop, restaurants, pubs and vineyards and the "Seven paths to Barolo" that you'll find between the vineyards. So, why choose to stay at La Morra? Because it's the most well known village in the "Langarole" Hills and because at 513 s/l it's highest region in the area sporting panoramic views. It's no wonder it has come to be known as "Belvedere delle Langhe" (the lookout point of the Langhe Hills). Also, it's a village situated between working vineyards with a large portion of "Vineyards di Nebbiolo" the oldest native vine of black grapes of Piedmont. One of the most noble and precious types of grape in Italy which has given rise to a series of great wines including Barolo, Piedmont's Pride in the wine world.
Mariella was an amazing host. Between the time we booked to arriving at her villa, Mariella maintained communication, provided us with maps and other information she thought would be of interest We had got a bit confused negotiating the narrow streets around La Morra, but Mariella came quickly to our rescue and escorted us to our villa. This villa had everything we needed including lots of little extras. There was even a good range of English DVDs. Her husband Frank set us off with the information needed to explore the local wines. Mariella does not live in La Morra which is not a problem in any way. Should we have needed anything, Mariella had given us local contacts.
Sheryl
2015-07-05T00:00:00Z
Mariella and her husband were really helpful and have a lot of local knowledge and contacts. Pointed us to some good restaurants and recommended a great truffle hunter. The apartment was beautiful, clean and well furnished. Convenient parking was available nearby. Restaurant guides and a DVD of Barolo Boys in the apartment were a really nice touch.
Jonathan
2015-11-18T00:00:00Z
Mariella is a fantastic host. She is very kind and helpful, and knows everyone in La Morra. The flat is perfect. Everything is brand new and spotless. It is right in the centre of town and it is full of charm and comfort. Highly recommended.
Robin
2014-02-17T00:00:00Z
Mariella's place is the perfecly matched by modern and history. The center of UNESCO history conservation is the place we wanted to stay. Mariella is very kind and warm. The place is well equipped and clean. We really enjoyed the stay and look forward to staying in the future. Thx Mariella.
Jay, Jong-Song
2016-07-03T00:00:00Z
What a little, clean and well furnished apartment in the middle of la morra! Enough parking within 50 meters. We stayed three nights there and have really enjoyed everything. Thx Mariella, we will come back.
Albert
2012-08-06T00:00:00Z
Highly rate and recommend this apartment! This apartment was perfect for our weeks' stay! Central location. Free parking very close by. Quality amenities! The photos are an accurate representation of the apartment. Mariella was on holiday during our check in, but we had her friend Emmanuella who was friendly and incredibly hospitable. Perfecto!
Jeffrey
2014-08-21T00:00:00Z
My goodness - this was the most marvellous stay we had in Italy. The apartment is in central La Morra - parking is not an issue, just a very short walk...but worth it. Everything in La Morra is walking distance, with some of the best restaurants in the Langhe surrounding. If you're not looking to go out - the kitchen is completely equipped for you to explore the local produce with your own creativity. The decor in the apartment has been well thought-out and rather high quality. Fireplace, Television and a swathe of DVDs for any rainy day. Even has an iron (a rare appliance in any accommodation)! Needless to say, we were utterly astounded with the hosts hospitality, the quality and the location of the apartment. I highly recommend this to anyone looking to stay in La Morra/Barolo/Langhe. It's certainly one of the most picturesque towns in the Langhe.
Brendan
2014-12-01T00:00:00Z
Mariella and Franco are phenomenal hosts! This is the BEST condo in La Morra. We felt right at home. Everything was immaculate and clean. The kitchen is fully stocked with all needed supplies. The bed is like sleeping on a cloud. The location is right in the heart of La Morra. Mariella and Franco were so gracious and helpful with recommendations. I felt like I was staying at a family members house. If I ever return I will stay with them and recommend all my friends to stay with them.
Jessika
2015-12-08T00:00:00Z
Room Type
Entire home/apt
---
Property Type
Apartment
---
Accommodates
4
---
Bedrooms
La Morra, Piemonte, Italy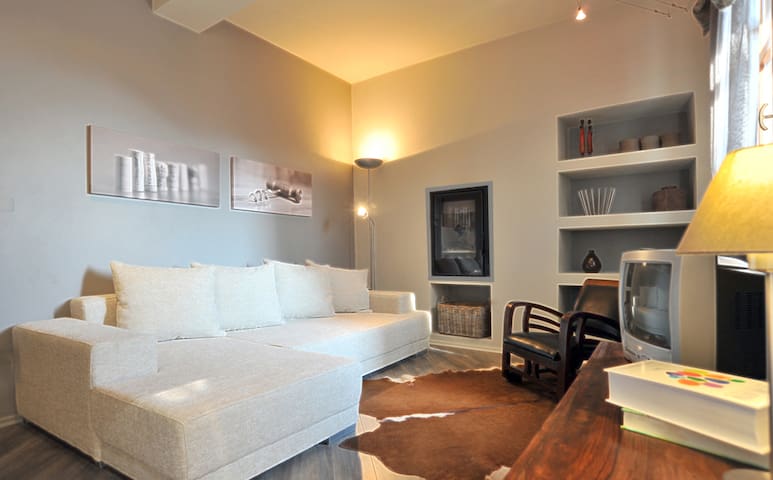 Situated in a quiet courtyard of a renovated complex: AL 34 apartments" La Morra, Apartment "C" is a cozy , modern and finely renovated flat, in the heart of La Morra town. Apartment "A" is the perfect solution for families, couples or friends to explore the Langhe's UNESCO. Fully furnished, the apartment has fully equipped kitchen, 2 large kingsize bedrooms, large bathroom with shower toilet and bidet , balcony with huge view. Air conditioning, wifi, private parking.
Apartment "C" is at the ground floor of a renovated complex: AL 34 apartments" La Morra. This flat would suit one or two couple or a family with child. It features a living room with table and fully-equipped kitchen with everything you need to cook your meals , the sleeping area is set up as two quiet bedrooms each with a king size bed and a bathroom with a confortable shower. The wonderful and exclusive balcony can be a wonderful place to read, eat, drink our fantastic wine, have breakfast or just relaxing " al fresco".Air condition and free wifi. If you are coming with your own vehicle, there is a private parking space included in the price.
La Morra is a cozy town with a lot of wineries restaurant and wine bar. you can enjoy it. There are a lot of small roads to discover , been strolling so many times up and down. A lot of restaurants and ' Osterie' with better price for great food!
Room Type
Entire home/apt
---
Property Type
Apartment
---
Accommodates
4
---
Bedrooms
La Morra, Piemonte, Italy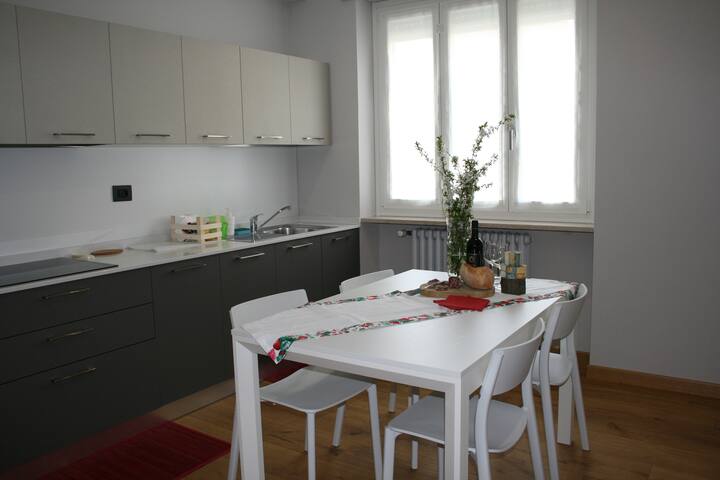 Simane - Airbnb
:
Average

4.71

out of

5

stars from

199

guest reviews