Enjoy your stay at your new family home away from home. Close proximity to the airport means no rush and que up on our busy road to catch your flight. It also means quick escape to the provinces on domestic flights. Located in a relaxing and quite area. Two rooms with single beds each and ceiling fan are available.
Safe and friendly neighborhood
Room Type
Private room
---
Property Type
House
---
Accommodates
2
---
Bedrooms
Honiara, Guadalcanal, Solomon Islands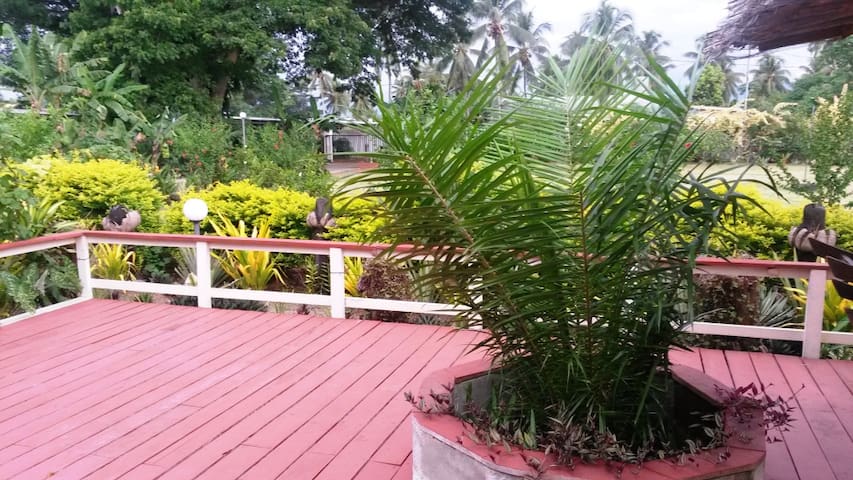 My place is close to Airport by 5 minutes drive. Safe and quiet neighborhood. Conveniently suitable for group travellers accommodating maximum 6-people. The king size bed in each of the 2-ensuite rooms (aircons and ceiling fans) are particularly great for couples or partners. Only single beds are available for the other 2-rooms (ceiling fans only) with shared private bathroom. The daily rates provided are for each room range AU$70 - $130.
Nice private garden and big space for parking
Very quite and safe neigborhood
Room Type
Private room
---
Property Type
House
---
Accommodates
6
---
Bedrooms
Honiara, Capital Territory, Solomon Islands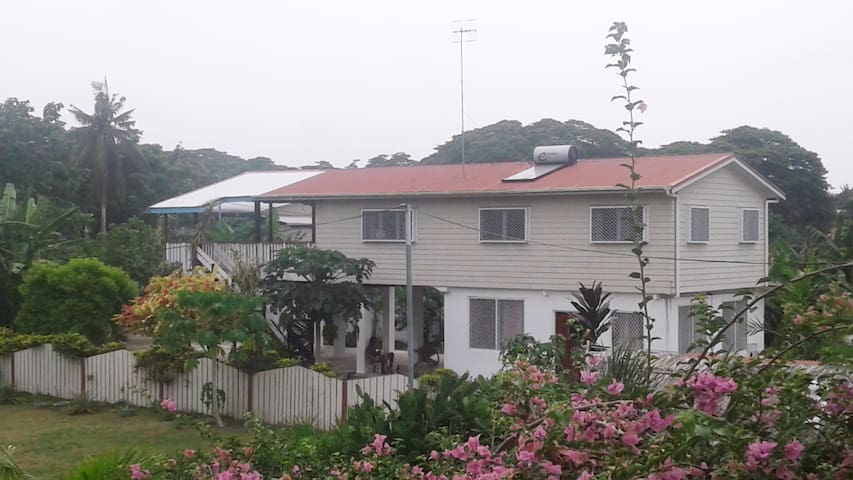 We have a fan in the room no aircon. If you are staying on Friday and Saturday nights these nights can sometimes experience noise due to there being a licensed pub 1 km down the road this is not always just sometimes and is never on any other night. Please note if you are coming to the Solomons for the first time I recommend visiting the outer islands so you can truely experience how beautiful the Solomons truely are.
We have a basic bungalow accommodation available in a natural setting, you can hear the waves at night and enjoy the peace of the seaside. The room is self contained with its own bathroom, fridge with complimentary water and tea and coffee making facilities. All linen and towels are provided, we have mosquito nets on both the beds and a small fridge in the room if you want to store food. There is no aircon but a fan in the room. If you are from a cool climate you might find this hot depending what season we are in.
We live in a very rustic area with the best sea views available on the coast we are not right in amongst the hustle and bustle so you can return from your day to a small slice of paradise. We often have dolphins out the front.
Staying at Kelly´s place was a very nice experience. The place is lovely, room very tidy and clean, comfy bed. Kelly and the staff are very attentive - there´re fresh fruits on arrival and bottled water + milk and muesli is in the fridge for light breakfast. Kelly and her husband are very friendly and helpful and provided a lot of valuable advice to us. They even helped to arrange our trip to the nearby island. Everything was great. Would highly recommend the place. Kelly, thank you very much!
Julia
2016-07-16T00:00:00Z
I personally did not have a chance to meet Kelly, as she was away for Easter holiday, but she was very helpful from the very beginning when I started to plan my trip to Honiara. She answered all my questions regarding to what-to-dos and how-to-dos and even helped me with going through the interesting visa process. However, I got up to meet his extremely friendly staff. They made me feel like I stay with my family and took good care of me as a lonely traveller. Alfred never stayed back to share his experience and accompany me in his free time. The way Selina cooks the dishes makes you feel like they are special for you. Francis and Stuart were there to chat when everyone else was gone. Kathy helped me to tackle daily struggles like topping up the credit on my phone etc. and told me stories about WWII. Last but not least, Jerry was my guide to get my head around how to go certain places. All in all, this was the holiday I have been looking forward to for long while. Falling asleep and waking up with the sound of waves were priceless. Its friendly and cosy environment makes it easier to socialize and merge with the local people for a different experience. I totally recommend staying at the Ofis instead of taking a room in an isolated resort. This is where I will stay, if I happen to travel to Honiara again. Thanks everyone for making my initially questionable choice of holiday escape unexpectedly so special!
Aren
2016-03-30T00:00:00Z
A nice short stay for me in Honiara. It was a good little place, a bit out of city center but that was fine. It's easy to catch a bus. Helpfull staff and great food in the restaurant.
Tanja
2017-02-04T00:00:00Z
Outstanding host who is keen to ensure you enjoy your stay. The rooms are lovely and attached to restaurant with small rocky beach that you can kayak off. My room had a large four-poster bed. It's out of town but it's very easy to catch the minibuses going by every 5 minutes costing 3 dollars. There are some great snorkeling beaches about 5km away and you can kayak for about an hour to some wrecks. Both Kelly and the insight team are keen to provide advice and ensure you enjoy your stay.
Jens
2016-06-05T00:00:00Z
Kelly is very lovely person. Strong woman who do business in jungle called Solomon Islands. Place is very basic but clean. Do not expect anything and accept everything in Solomon Islands. Good pizzas in the same house and very popular place.
Sven
2016-04-03T00:00:00Z
Kelly was extremely helpful and prompt whenever i messaged her. The house merri was very helpful too. Clean and tidy place.
Nick
2016-12-31T00:00:00Z
Hey, Kelly! Thank you for the wonderful stay. It was indeed one of those most memorable of the island groups. I really admire you putting down roots in the Solomons and setting up this nice, laid-back guesthouse. Your staff were so attentive and always with smiles on their faces. I especially loved the food! The ladies really tried to make each meal special. Also I loved the tour David and Kathy made for me to relive the WWII area and taking me to the airport. Good luck and love that little boy for me! Wanda
wanda
2016-03-23T00:00:00Z
Charming place directly by the ocean, super friendly and helpful staff. I enjoyed my stay there, especially the kayaking trips. The food in the restaurant is good as well.
Ella
2016-03-13T00:00:00Z
Room Type
Private room
---
Property Type
House
---
Accommodates
2
---
Bedrooms
Honiara, Capital Territory, Solomon Islands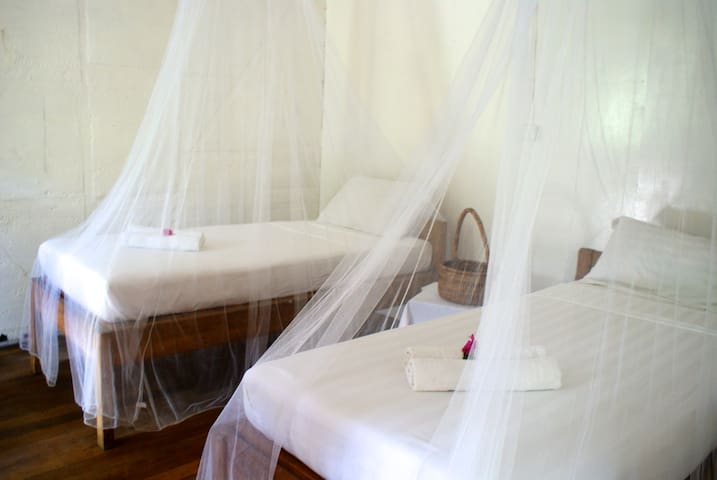 We live in a clean, gated & guarded family home nestled in Tavio Ridge, Honiara. You'll have 1 bedroom with aircon/fan, wardrobe, bedside table & access to all amenities including our large kitchen. 20mins from beaches and very close to buses, taxis and the CBD with restaurants, stores, banks, nightclubs and more.
Infants and young children are welcome. We also welcome LGBT. We have a full time cleaner on site ensuring someone is always around as you come and go. Help yourself to fresh fruits from our guest fridge, tea or coffee and enjoy our great ocean view. Our close proximity to town is a bonus for convenience.
Room Type
Private room
---
Property Type
House
---
Accommodates
3
---
Bedrooms
Honiara, Capital Territory, Solomon Islands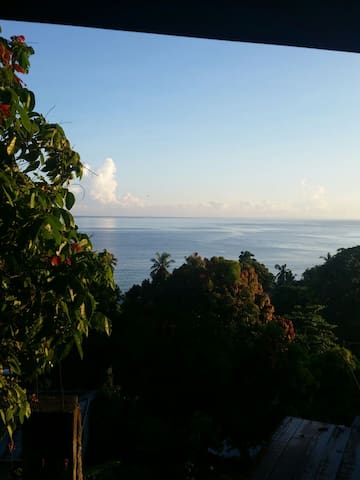 We are situated 5 minutes out of town on the seaside. We have three rooms available the studio room is the biggest it has a outdoor shower/ensuite and a small kitchen area. There is a shared outdoor kitchen if you would like to cook. This room does not have a sea view it has a sea peak, you can hear the sea at night it is very close.
We are located on the sea side there is a beautiful reef out the front and lots of local children swimming from the neighboring settlement. We have many coconut trees and are very unique for the solomons.
We have a boutique property right on the sea side it is our own little piece of paradise in a busy third world city. You can often see dolphins right out the front. You can kayak directly in front and see the reef and many species of sea life.
The Ofis was an amazing place to stay overlooking the sea about a 10minute $3SBD bus ride from the city centre (the bus stop is 1minute up the road from the gate near white river's fresh fruit and vegie market). The onsite cafe is delicious and good value for Honiara and the room was perfect for what we needed with a comfy bed, ensuite and hot water. Kelly went to extra mile each time to help us out with tips for our travels, the cafe/house staff would also help us at the drop of a hat and the security guard even walked us up the road to help us get a new tyre for our motorbike when we hit one of honiara's notorious potholes. We highly recommend Kelly's place and would definitely stay again. It's perfect if you don't mind getting your own wheels or a 5-10 minute local bus to the city centre (which is a pretty cool experience).
Naomi
2016-05-05T00:00:00Z
If you're looking for accommodation with a little more soul and personality, The Ofis is the perfect place to be. We loved hanging out in the cafe with its seaviews and local children playing along the shoreline. The water looked very enticing but sadly it was quite polluted with rubbish (not the accommodation's fault of course). Staff were also super friendly and helpful, helping us catch the bus, activate our SIM cards and answer any questions we had. The food is fantastic as well – the Ofis smoothie and fish tacos are a must-try! Location-wise, it's close to town yet far enough to be quieter, although there can still be a fair bit of noise at night. That didn't bother us though. Rooms are basic and the power can sometimes cut out but we had everything we needed and would gladly stay there again.
Eliza
2016-10-17T00:00:00Z
I had a great stay at the ofis, the staff were really friendly and helpful, the room was clean and the food at the café was great! I would stay here again. It's a little out of town but it's not hard to get a taxi and there's secure parking if you have a car.
jonathan
2016-10-30T00:00:00Z
Very chilled and relaxed, right on the water for a morning swim. Close to town and friendly. Great restaurant on site.
Ben
2016-09-27T00:00:00Z
Kelly was very responsive before during and after my stay. Compared to much more expensive hotels, the experience at The Ofis was much more satisfying. Idyllically located in a quiet part of Honiara right on the beach, there are no better options. There is even a good standard cafe as part of the complex right on the water! Good quality coffee and healthy fresh food at your fingertips, happy staff and as much privacy as you require..... Ill be staying there as often as I come to Honiara!
Malcolm
2016-02-11T00:00:00Z
Thanks for quick response on taxi driver not showing up. It is especially impressive considering that you were overseas. Wifi would have been nice.
Vijay
2017-01-08T00:00:00Z
The host canceled this reservation the day before arrival. This is an automated posting.
Michelle
2017-02-02T00:00:00Z
After 4 stays here, I really enjoy the familiarity and relaxed atmosphere
Malcolm
2016-07-11T00:00:00Z
Room Type
Private room
---
Property Type
House
---
Accommodates
2
---
Bedrooms
Honiara, Guadalcanal Province, Solomon Islands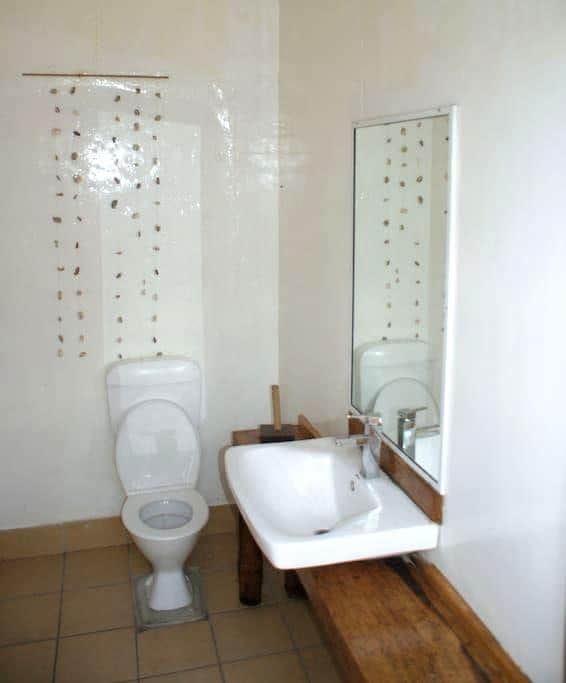 Private waterfront house and guest bungalow in cool, tropical rain forest setting. Go native – albeit in modest luxury - in the Solomon Islands. Dine on fresh fish and locally grown organic fruit, vegetables. Includes housekeeper and cook.
House and guest bungalow in private setting fronting warm tropical lagoon. We particularly encourage people interested in the opportunity to spend time living immersed in the life style, nature and culture of the Western Pacific. The Solomon Islands has very little tourism and remains a relatively undeveloped country. The majority of Solomon Islands subsist daily from their immediate sea and forest resources for their daily needs. If you're interested in a stay off of the regular tourism routes then Lagoon Haus offers that opportunity. Our house is sited at Isisu Point, near Peava Village on the SE corner of Gatokae Island in Marovo Lagoon in the Solomon's Western Province. You can look it up on (website hidden) Earth with these coordinates. 8˚ 47.342' S (PHONE NUMBER HIDDEN)' E Please scroll down to the section 'Getting Around' for information about how to get there.
The house is sited just outside of my home village Peava. It's a small village with a population is about 200 people. People there are self employed and daily tend their gardens which provide the bulk of their food together with fishing. The land and sea are very plentiful so people also have a lot of free time and are very social and always keen for conversation. Like most people in the Solomons, we are spiritual and attend church regularly. Singing is an important part of worship and guests are always very welcome. The neighbouring villages are connecting by walking tracks through garden of forest broken by steams and beaches. Visiting between villages makes for nice bush walks.
The host canceled this reservation 3 days before arrival. This is an automated posting.
rebecca
2015-11-10T00:00:00Z
Staying at the Lagoon house was one of our biggest highlights of our Solomon Islands trip. The location was perfect, just a few metres away from the beautiful sea and within walking distance of the lovely, unique local village. Wendy and the girls were genuine, extremely helpful, friendly and enjoyable to be around. The food without doubt was the BEST we've had throughout our trip. Prior to setting off, we were in contact with Wade (Wendy's partner) who gave us bucket loads of information, which helped with the plain sailing of our trip (pun intended!). The communication was second to none. We had such an amazing time staying at the Lagoon house, and would highly recommend it to any adventurous folks out there looking for an unique experience. We would love to come back someday. Thank you so much guys! Thalia and Tom
Thalia
2015-04-27T00:00:00Z
The Lagoon house was excellent and I very much enjoyed my stay. Wendy and everyone else was really nice and made me feel very welcome. I opted to have food purchased and prepared for me during my stay and it was well worth it, being affordable and much easier than trying to do it all on my own. It's quiet and private, but the village is just a few minutes walk away. Be sure to do a lot of snorkeling and take the kayaks out, the diving is excellent, and walking around the island was great fun. Be prepared though, small electronics can be charged, but my larger tablet would not charge while I was there. If possible, bring car chargers for whatever you need to charge, as the outlets are all for car chargers. Also, the wood carvers on the island give a better price than you will get in Honiara, so take some extra cash if you want some really nice souvenirs. Getting there and back is quite a trip, and be aware of "island time". I was glad that I planned an extra day between when I was supposed to return to Australia and my next flight leaving from Australia because one of the airplanes broke down in the Solomons and my flight was cancelled, leaving me stranded in Honiara for an extra day. Overall, it's a great experience and a great way to get off the beaten path and see a place that isn't touristy yet. I was very relaxed by the time I left.
Bethany
2015-05-22T00:00:00Z
We had an amazing experience at the Lagoon House. Wade and Wendy were brilliant in helping us prior and having their friends assist us in Honiara with the ferry etc. Solomon Island logistics are challenging but were made easy with the advice and support we received. At the house Delniah was just brilliant and sharing a little in her life and that of her family was a special part of our stay in the house and the village. She did wonders in the kitchen producing lovely food and kept everything clean and tidy the whole time. Tokapae was a great and safe boat skipper and took us snorkelling and fishing while their daughter Paecy was wonderful with our kids and a great guide for our local walks and activities. The snorkelling and marine life was beyond awesome and the chance to see some of village life a really wonderful experience. Delniah and Paecy even helped prepare fish we caught for our dinner. The house is perched in the forest with surf crashing on the reef just outside with big verandahs and comfy hammocks making the hot days comfortable. This was a wonderful, relaxing, educative and adventurous experience for our family and we can't thank the hosts enough. If you are thinking of staying here then feel free to check out our 13 year olds blog of her experience at (URL HIDDEN)
Robb
2016-07-20T00:00:00Z
My family and I had such a relaxing wonderful holiday in this magical part of the world. The location, the people, the accommodation. The thoughtful care we received from Delnia and her family was such a special treat. The food was incredible and delicious. All my communications with Wendy were extremely helpful and easy. I highly recommend this type of holiday to any one who wants a reset and a reminder that life can slow down. My family and I made some really special connections which has made us super keen to return. Thank you for this amazing experience...
Camilla
2016-09-14T00:00:00Z
Delniah was fantastic. Your home was lovely and we enjoyed some of the best coral reef snorkelling we've ever done. Kids disappeared each day to dive and play with the locals. We loved access to the canoes and I took out the Kyak to the nearby island on a smooth day. Tokapae was great and took us on a tour to the islands more than once. He patiently followed us in the boat as we snorkelled along the coral gardens. Tokapae and Delniah was so helpful in getting us on the Fair Glory on our return trip. We had a fantastic holiday. Thanks.
Murray
2016-06-28T00:00:00Z
Thank you Wendy and Wade for a wonderful experience in the Solomon Islands. While planning our trip, your prompt and friendly emails were really appreciated. Thank you to Delniah and her family and all the Paeva community. A little touch of paradise.
Adrian and Lyn
2015-08-31T00:00:00Z
From the moment we arrived we knew we had found paradise, Delniah (cook and cleaner and now friend) and her family greeted us with their endless smiles and the most amazingly delicious food (must love fresh seafood, garden vegetables and fruit!!). Absolutely stunning location, secluded and incredibly relaxing environment. We stayed for a month and found plenty of wonderful activities to do, island exploring, fishing, kayaking, snorkelling, diving, lazing in hammocks, visiting neighbouring villages and attending community functions. Snorkelling amongst a myriad of sea life and coral was a daily highlight. The ultimate chilled get away. We had a wonderful stay and send a huge Thankyou to Wendy, Wade, Delhnia and her family. Jay & Robyn
Robyn & Jay
2015-05-29T00:00:00Z
Room Type
Entire home/apt
---
Property Type
House
---
Accommodates
6
---
Bedrooms
Peava, Western Province, Solomon Islands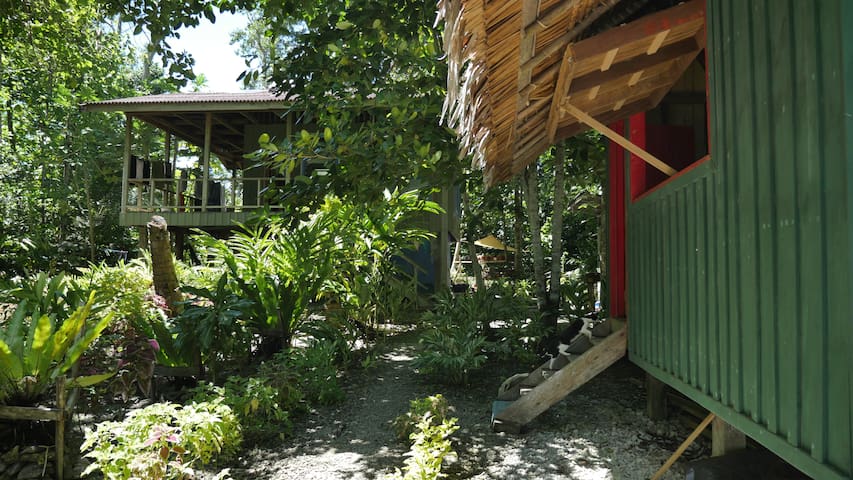 Enter dates to see full pricing. Additional fees apply. Taxes may be added.