A refurbished 1965 Silver Bullitt Airstream Caravan. The all American glamping experience with its cool silver lining. Complete privacy. Cleverly fitted with galley kitchen, dinette, queen size bed/day bed and separate luxury bathroom. A Unique escape for the style savvy.
The Airstream Silver Bullitt Caravan is located in an absolute beachfront gated secure estate. We are situated at Sunrise Beach, just 5 min from Hastings St. Noosa, peaceful and restful and far away from the humdrum world of distractions and confusion. A private retreat located next door to our home. Here is the perfect place to relax whilst at the same time enjoying the luxury of residing in this classic American Icon, the Airstream! Parking is also secure.
This unique accommodation is absolutely stunning, a true paradise. Christina is lovely and very helpful, we had a terrific time and can't wait to come back :)
Martina
2017-03-18T00:00:00Z
I cannot recommend Christina's unique glamping experience enough! The silver bullet is like nothing else I've ever seen and thoroughly enjoyed the way it has been decorated and how well equipped it was with a great air conditioner, fan and all things necessary for a home cooked breakfast. The best part of our trip by far was the location, sunrise beach is a beautiful spot with amazing views and private beach access and it's only a 5 minute drive to the main parts of Noosa which we spent most of our time at. Also, Christina is very warm and friendly and made us feel very comfortable in her part of paradise. Thanks again Christina, we will definitely be back again!
Jessica
2017-02-24T00:00:00Z
Everything about this airbnb was amazing. Christina is a fabulous host and our stay was seamless from arrival to departure. The location is gorgeous and secluded, so nice and quiet - the perfect little getaway to relax and switch off from everyday life. Hands down the best airbnb experience I have had - I will definitely be telling all of my friends about this private oasis and returning as soon as possible! Do yourself a favour and book this slice of heaven - you will not be disappointed!
Fi
2017-02-27T00:00:00Z
Look exactly like the pictures if not better! Waking up to the best view and sound of the ocean. Away from the buzz from Noosa but still close enough to everything. We will definitely be back next time visiting this area!!
Janice
2017-03-11T00:00:00Z
This place was the perfect little gem for me and my girlfriends 1 year. The air con was a life saviour for the hot days we stayed.
Gavin
2017-02-04T00:00:00Z
Best views in the cosiest space. Could stay forever
Donna
2017-01-29T00:00:00Z
This was the most incredible experience that just would not have been possible in a hotel!! Stunning location & beach views, the cutest airstream full of character, brand new gorgeous bathroom, everything you could possibly need, & we left feeling totally relaxed & with the biggest smiles on our faces as the owners were some of the loveliest, warm & accomodating people we've met.. Christina made our stay absolutely perfect & we couldn't thank her enough!! We will definitely be back, counting down the days already(URL HIDDEN)
Kc
2017-03-24T00:00:00Z
Christina's place is exactly as described. A true gem. Absolutely loved my stay there. The van is perfect and the view is to die for. Christina is a pleasure to communicate with and an amazing host. You won't be disappointed.
Kristy
2017-02-10T00:00:00Z
Room Type
Entire home/apt
---
Property Type
Bungalow
---
Accommodates
2
---
Bedrooms
Sunrise Beach, QLD, Australia
This is a simple ,spacious , nice , clean light and cosy modern apartment with swimming pool , water aircon. short stroll to beach, bus, bike ride to shops and close to many of the lovely sights and attractions that Noosa and the sunshine coast has to offer......
Our unit is conveniently located within a short stroll to the beach, the bus stop which provides a regular service to a lot of the major attractions including the sweeping stretch of surf beaches and sub tropical paradise bays to swim and surf, National park rainforest and coastal walks to superb, surf , swim and snorkel locations only accessible by foot.... Local supermarket and cafes are 5 mins by car and 10 by bus. Bus links to the River and a variety of water activity, the famous Steve Urwin Wild life park. The mountain ranges , beholding year round waterfalls , water holes and bush walkes are spectacular views are also under one hour by car and accessible by bus and provide a cooling place to explore on a day to hot for the coast. In the evening you may like to enjoy a picnic dinner or fish and chips with a panoramic view, just down the road at the park overlooking the beach. The local Sunshine beach cafes , bistro dining and fish and chip shop is just ten minutes walk further along the beach heading south..... No wifi but portable hot spot and mobile phone available for your internet and phone use & convenience. WASHING MaCHINE avail.
The neighbourhood is a 1.5 min mike to beautiful beach or a look out, minutes for the heart of Noosa heads, the famous Surf spot and popular Tourist destination for its sublime tropical beaches, Majestic ,pristine Nature and abundant wildlife .... (if your lucky a koala siting)..... , 10 minutes by car or 30 by bus to Noosaville , where Gympie Terrace provides access to the goegous family friendly river side parks to enjoy a sunset picnic or barbie or treat yourself to a budget or fine dining experience at one of the local award winning restaurants or cafes.... And one of the best Ice cream/ gelato bars in Australia. Access to boat tours , fishing boat hire or a variety of water sport fun is also available from Noosa river on Gympie Terrace
Ngaire was the perfect host. The place was spotless, spacious and in a wonderful position. I would recommend this to everyone - from singles to family. A magic get away! Thank you for your thoughtfulness and help - even helping us with out washing. Much appreciated!
Switch
2016-05-28T00:00:00Z
Had a lovely stay at Ngaire's home. It's well sized and cosy with a relaxed vibe. A nice quiet neighbourhood, just a short stroll to the beach. There was food in the fridge to use, which was a nice touch. Only criticism is that the kitchen wasn't very clean. Other than that, great stay, recommended.
Lucy
2016-10-08T00:00:00Z
Ngaire was a great host and very helfpul and prompt with communication. The house was spacious and comfortable. We found that the cellphone reception wasn't great so we had trouble using mobile data while we were there.
Julie
2016-08-08T00:00:00Z
So sweet and friendly, even got one of our friends croissants for her birthday! Very cozy and clean place:) Close to the beach
Emma
2017-03-10T00:00:00Z
Simple house but expensive for just one day (as cleaning fee is $45). Very noisy bed.
Vera
2016-09-12T00:00:00Z
Great stay, very easy and v close to Noosa and the eastern beaches
Alasdair
2016-11-06T00:00:00Z
So good so nice place,We'r so enjoy.Thank you Ngaire.
佳福
2016-06-08T00:00:00Z
Great location in nice tidy apartment not far from a beautiful beach
Darren
2016-05-15T00:00:00Z
Room Type
Entire home/apt
---
Property Type
Apartment
---
Accommodates
4
---
Bedrooms
Sunrise Beach, QLD, Australia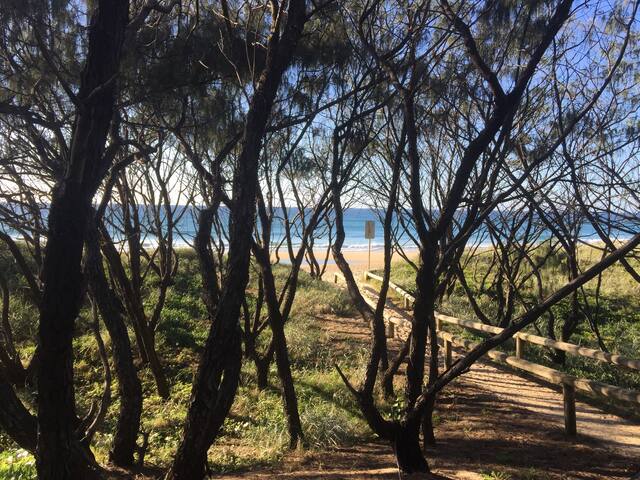 Bright, sunny 2 bedroom ground floor apartment with views of the ocean. Beautiful costal design located with a 5 minute walk to Sunrise Beach. Enjoy your own private patio with New BBQ and sunset views over the beach.
We keep our space clean, open and relaxed. Its light and bright and allows you to make the most of the ocean breezes. Make yourself at home during your stay with the apartment coming fully self contained. Enjoy a refreshing beverage in the courtyard overlooking Sunrise Beach and a bbq for when you feel like cooking.
Enjoy the amazing surrounds of what Noosa has to offer. Sunrise Beach is located within a 5 minute drive from the buzz of Hastings Street. Enjoy to relax in the local surrounds with a 5 minute walk to the beach. A family friendly area.
Room Type
Entire home/apt
---
Property Type
House
---
Accommodates
4
---
Bedrooms
Sunrise Beach, QLD, Australia
This is a brand new completely stand alone private 1 bedroom 70 metres sq apartment, with completely separate private access, perched amongst trees in the heart of Sunrise Beach where you are a 7 mins stroll to gorgeous unspoilt coastline & 10 mins drive to famous Hastings Street for shopping, cafes, restaurants & National park. The apartment is spacious, modern, sunny and waiting for YOU! Walk to the local cafe in the morn for awesome coffee and jump in the ocean...Sunrise Beach is waiting!
The upstairs apartment is private and spacious and you will feel rejuvenated after your stay here. It is a totally separate building away from the main house. Every window has a view of trees and the sky, which makes you feel very relaxed. Balcony is perched high for privacy and refreshing breeze.
Sunrise Beach is a quiet undiscovered beachside haven where we live everyday thanking our lucky stars we live in paradise! You can walk down to the beach, local cafe or along to Sunshine Beach Surfclub and surrounding cafes and restaurants and if your really energetic and like walking you can continue along the beach through the National Park over to Hastings Street which takes roughly 2-4 hours depending on how many swims you have on the way and how many whales you spot! Once there you can feast at world class restaurants or enjoy an ale overlooking Laguna Bay from the Noosa Surfclub Balcony.
Great place; quiet, newly built by the looks of it, all new furniture, very clean, well equipped, etc. And a great host. Definitely will book again!
Jan
2017-04-09T00:00:00Z
Rebecca is a great host, very friendly and accomodation was outstanding; spacious, private and clean.
Sarah
2017-03-11T00:00:00Z
Amazing little place!! Just what we needed, nice and quiet and clean and spacious and brand new. Had a great stay and Bec is great!!
Andrew
2016-12-26T00:00:00Z
Rebecca was a lovely host, casually greeting us on arrival. The apartment was clean, modern and welcoming. It was light, breezy and spacious for a one bedroom. Would recommend 10/10.
Caitlyn
2017-03-25T00:00:00Z
I cannot recommend staying at this beautiful little beach pad enough. The apartment is so beautifully finished and so new and modern. It's way more spacious in reality too. The location is absolutely perfect. My husband and I are in our 30's so we weren't too interested in staying near Hastings street, but the bus stop was pretty much on the door step if we wanted to make the short journey in. We were a very short walk from the stunning sunrise beach, which was completely tourist free and felt like it was all ours at some points. There are plenty of friendly locals and dogs and the cutest little brunch spot 10 mins walk away, right near the beach. Rebecca was a lovely host. We arrived during cyclone Debbie and Rebecca made sure that everything was ok. She even offered us a relocation to a friend's place, when the power was out (due to Debbie) . We declined as we loved this place so much, even without electricity. Thankfully it came back on shortly after. If you are hesitating about staying here, don't! You will not regret it. It has everything and is such a lovely neighbourhood, so well looked after by the local community. I highly recommend that you stay here! I will definitely be back if Rebecca will have us!
Laura
2017-04-01T00:00:00Z
Thanks to Rebecca for a lovely stay at her Sunrise Beach apartment. My partner and I enjoyed every minute, and everything went smoothly. We will definitely be back for a weekend!
Steph
2017-01-06T00:00:00Z
Rebecca's place is a spacious and comfortable apartment up one flight of stairs next to her house. The space itself is extremely well done -- nice benches, very nice bed, the shower and bathroom are great. And there was an excellent provision of teas, coffees, little mini-cereal boxes etc when we arrived. Rebecca was also super easy to deal with and made check in and everything very easy. I strongly recommend this place and would happily stay there again.
William
2016-12-03T00:00:00Z
What an amazing stay! Could not fault a thing. Rebecca was such a lovely host, very welcoming and provided excellent communication. The apartment was exceptional, so clean and cosy. Would love to book again!
Ariana
2017-01-02T00:00:00Z
Room Type
Entire home/apt
---
Property Type
Apartment
---
Accommodates
2
---
Bedrooms
Sunrise Beach, QLD, Australia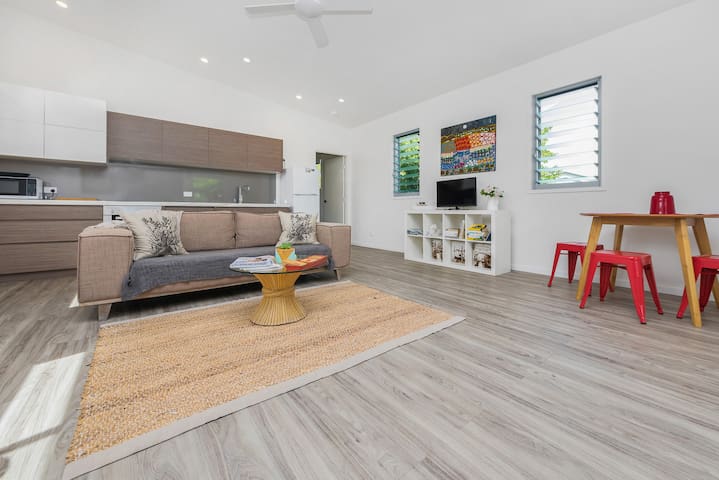 This spacious seaside bedroom (w/ensuite) is your perfect escape. Ideally positioned 1.5km's from Sunshine Beach it offers a large private (heated) swimming pool, 180 degree water views, and a modern coffee shop/cafe at street level. The apartment is part of a small friendly complex, and promotes a fun and safe place to relax. *Large luxury bed, with TV *Wardrobe *Coffee/tea facilities *Linen, towels, umbrella & surfboards *Direct beach access *Courteous Japanese hostess
This home is approximately 5km's south of Hasting St/Noosa. An easy commute, yet far enough away to be peaceful and quiet. Enjoy the best of both worlds, and do so at a fraction of the cost.
*This is unquestionably one of the nicest holiday accommodation areas, and is the chosen neighbourhood for many families that reside permanently in Noosa. *Sunrise Beach is very close to Noosa Main beach, without any of the parking difficulties, and late night 'party' crowd. *Access to the Sunshine Beach retail precinct is a short walk on the sand. Alternatively take theNoosa National Park headland walk into Noosa Main beach!
Kat is a great host. She is very helpful and friendly. The room is great and has an ensuite bathroom - was great for us. Not far from Noosa, we had a great time.
Michael
2017-04-08T00:00:00Z
Really enjoyed my stay with Kat. Made to feel at home, and Kat was very helpful and kind. The view of the ocean was lovely and the beautiful beach just a few mins walk away. Great cafe downstairs. what more do you need when you have a chance for a break away? Thank you so much Kat for making me welcome
Emma
2017-03-12T00:00:00Z
Kat is great, friendly and helpful and the place is fantastic. Highly recommended
iain
2017-02-01T00:00:00Z
perfect in every way
Thomas
2017-01-29T00:00:00Z
Lovely accomodation at a great location . The host is very sweet and helpful and would happily stay there again
Paul
2017-03-18T00:00:00Z
Nice place for a weekend getaway.
Ben
2017-02-26T00:00:00Z
Japanese people are always kind and welcoming ... book this place if you want to experience the ultimate surfing /lifestyle getaway or even just a relaxed holiday coupled with the warmth hospitality of Japanese culture :)
Richmond
2017-03-25T00:00:00Z
Kat war eine super Gastgeberin. Unsere Unterkunft war sehr sauber und ordentlich und die Lage der Wohnung ein Traum. Außerdem war Kat sehr hilfsbereit und lieb. Absolut weiterzuempfehlen :-)
Miriam
2017-04-03T00:00:00Z
Room Type
Private room
---
Property Type
Apartment
---
Accommodates
2
---
Bedrooms
Sunrise Beach, QLD, Australia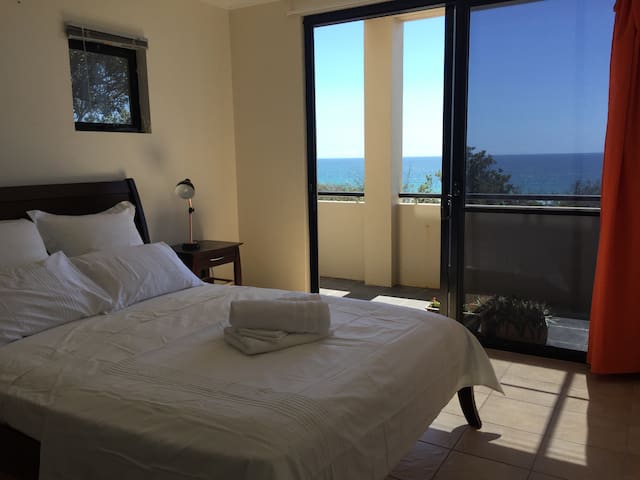 Positioned on the top level of the complex, this three bedroom penthouse apartment offers ocean views and modern living.
The apartment is spread over one level with open plan lounge, dining and kitchen opening out to balcony with six seater outdoor table perfect for summer evening dining. The master suite also appreciates the ocean view and has direct access onto the balcony, with spa bath in ensuite. The apartment complex offers lift access to the apartment, community BBQ, heated pool and spa. | Ocean Views | Ensuite with Spa off Master Suite | Lift Access | Shared Pool in Complex | Off Street Parking - No Garage | Walk to Beach, Restaurants and Shops
Short drive to Noosa's Hastings Street and the delights of Noosaville An easy drive from Sunshine Coast International Airport Stunning Patrolled Beach, Surf Club, Cafes and Restaurants within Walking Distance
Great location and modern, roomy, tidy apartment. Only disappointment was the cold swimming pool!
Kirstin
2016-07-09T00:00:00Z
Room Type
Entire home/apt
---
Property Type
Apartment
---
Accommodates
6
---
Bedrooms
Sunshine Beach, QLD, Australia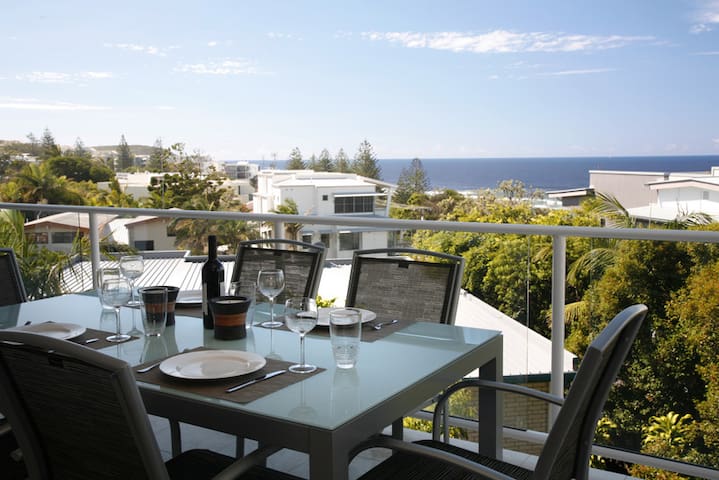 Seaview on Tingiri is a north facing beachside apartment located between sunshine and sunrise beaches. Beautiful ocean views in a peaceful location its the perfect getaway for couples or families.
Our apartment is opposite the beach between sunrise and sunshine. Featuring gorgeous ocean views the apartment is located a 10min walk through the rainforest to the hub of sunshine beaches restaurants cafes and the surf club.Its only a 200 metre walk to beach access at sunrise which is patrolled on weekends and school holidays. It has 2 bedrooms each with queen size beds both decked out with pillowtop mattress and luxury bed linen.Each bedroom has access to a bathroom which is perfect for couples or families. There is a fully equiped kitchen and laundry as well as lock up garage. A swimming pool is available for guest access.
On the edges of both sunshine and sunrise beach its the perfect location.
Great place, great location, great hosting
Simon
2017-03-18T00:00:00Z
Lovely little unit with stunning view.
Nick
2017-04-04T00:00:00Z
Sea view on Tingara is a private beachside getaway and beautiful space to relax in. We were able to make the most of walking to the beach and nearby restaurants, and national parks are a short drive away. We left feeling refreshed. It was a pleasure to meet Sarah who is a friendly and considerate host. Sarah and Craig have done a great job doing up the unit and it is full of thoughtful touches.
Jessie
2017-03-08T00:00:00Z
Sarah was very friendly and flexible when we wanted to arrive a little bit earlier. The house is also very nicely decorated and clean. Recommend to anyone!
Coen
2017-04-05T00:00:00Z
This is a beautiful airbnb - spacious, clean, beautifully appointed. It was an Instagram dream ;) We were so glad we chose this over a hotel! Waking up to beautiful views of the ocean, relaxing on the super comfy couch, and taking a short stroll to Sunshine Beach and grabbing coffees at Chalet and Co on the way. Didn't get a chance to check out the pool as we were too busy swimming at the nearby beaches. Will definitely be back!
Julia
2017-04-01T00:00:00Z
We recommend this house to everyone. It was super clean with surprise raisin bread in the cupboard along with other groceries. The spectacular view was a handed by the proximity to the ocean. An excellent choice of decor.
Julie & Angus
2017-03-15T00:00:00Z
Good location with spectacular views and within walking distance to shops, cafes and beaches. The apartment was modern, well furnished with a well-stocked kitchen. There was also wi-fi. Communication with Sarah was excellent and she made us feel very welcome. We were very happy with our stay and would happily return in the future.
Paul
2017-03-12T00:00:00Z
It was awesome to stay at this place. The house was so clean and nice and you have everything you need to enjoy your holiday.
Yana
2017-03-22T00:00:00Z
Room Type
Entire home/apt
---
Property Type
Apartment
---
Accommodates
4
---
Bedrooms
Sunrise Beach, QLD, Australia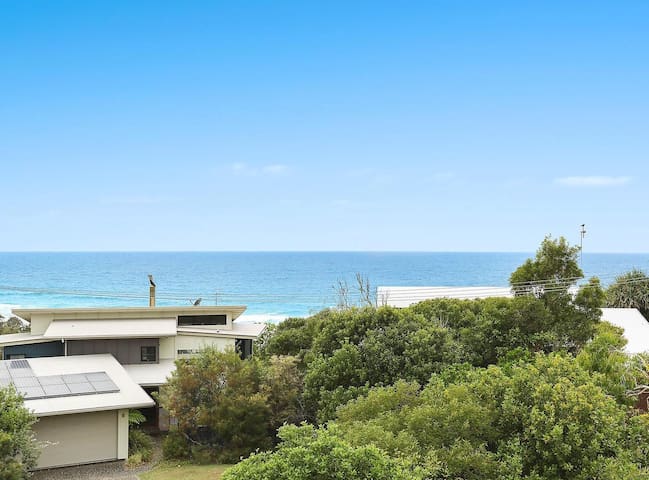 Homely beach style space with everything you need, just 400m walk to beach and 5 minutes drive to Noosa Heads and Sunshine Beach cafe precinct. Newly renovated home offering a choice of lovely outdoor living spaces, complete with outdoor shower and BBQ. Fully equipped kitchen, and basic condiments. Comfy and relaxing bedrooms and sitting areas. Attractions include Noosa National Park, cycle paths all the way to Peregian; Noosa River and our famous Hastings Street are just a short drive away.
This space is ideal for small groups or families. The lovely front garden is perfect for alfresco dining, relaxing, or unwinding after a long day on the beach, shopping or site seeing. There kitchen is fully equipped with modern appliances and all the utensils you will need. There are also a lovely range of herbs growing in the gardens (seasonal), which you are welcome to help your self to, if you decide to eat in. This space is not suited to large gatherings or parties, due to the property neighbouring mainly family homes.
Family friendly neighbourhood, with neighbouring park and dog exercise areas, including the beach. A choice of beautiful local beaches to suit prevailing weather conditions. A walk in the Noosa National Park is a must during your stay. Too many awesome local restaurants to mention (see Trip Adviser - Noosa, Sunshine Beach, and Gympie Terrace river precinct).
My wife and I and our two dogs had the privilege of being Deb's first guests. Deb was a wonderful hostess whose home is absolutely beautiful. It is conveniently located to Sunrise beach (400m), Sunshine Beach, and Noosa Main Beach. The house is well appointed with a modern kitchen and bathroom and a large outdoor area out the front and rear of the property. The small touches such as fresh milk, pantry essientials, and lovely toiletries make this a wonderful place to stay. I would highly recommend a stay in Deb's place and we will certainly be returning. Thanks Deb!!
Christopher
2016-10-30T00:00:00Z
The house was clean and comfortable, with everything we needed and walking distance to the beach. Deb was very welcoming and accommodating of our needs. We were surprised to find that a door in one bedroom was all that separated our part of the house from another area where the residents could be heard loudly in the kitchen and watching television. The back entrance to the house is also shared with these neighbours. For this reason I would not stay here again.
naia
2017-02-07T00:00:00Z
Very nice place at the beautiful Sunshine Coast. The beach is in walking distance and Noosa is a 5 minute drive away.
Andreas
2017-01-26T00:00:00Z
Deb's place is amazing! Super clean and has a two great outdoor areas. Deb is wonderful and was available to meet us when we arrived. It is a 10minute walk to the beach. We will definitely be back!
Briar
2016-12-04T00:00:00Z
The host canceled this reservation 62 days before arrival. This is an automated posting.
Janet
2017-02-11T00:00:00Z
Thank you for a great weekend! We walked to the beach each morning. It was lovely sitting in the front private courtyard to relax with a drink and meal. Deb was welcoming and the home has everything you need.
Penny
2016-11-20T00:00:00Z
Deb was fantastic, as was her house. Everything was very clean and tidy. Deb met us at the house and let us in early, which was most appreciated as we had to be somewhere prior to check in.
Joshua
2016-11-26T00:00:00Z
Deb's place was perfect for us. Very clean and tidy and lots of outdoor space. I would highly recommend staying here since it is a short walk to the beach and only a short cab ride to Hastings. The only downfall was the lack of cell phone reception at the house but we did have access to wifi. Overall, Deb was a great host!
Puneet
2017-01-29T00:00:00Z
Room Type
Entire home/apt
---
Property Type
House
---
Accommodates
6
---
Bedrooms
Sunrise Beach, QLD, Australia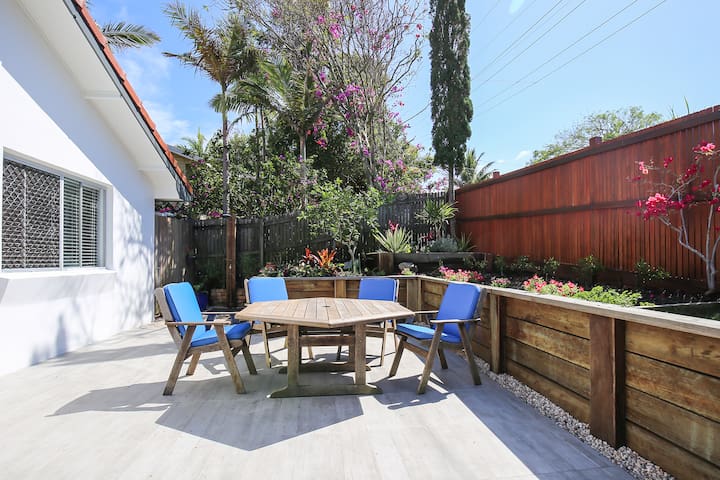 Private self contained bungalow, with own private street access and outdoor shower. Fully self contained kitchen and private bathroom with freestanding bath. Own private outdoor area with bbq. Full access to plunge pool. Only 10 minutes walk to beach on shade park walkway. 10 min drive to the iconic Hasting st shopping precinct. Close to bus stop and Noosa Junction shops.
Close to beach. Situated at top of a small quiet crt, backs on to National Park.
We highly recommend Alana's beach bungalow! It is exactly like the photos and Alana is super lovely! The bungalow is amazing. Alana had everything we needed for breakfast! This place is great
Alex
2017-03-22T00:00:00Z
Alana's bungalow is a lovely place with everything you need to escape from your daily routine. The place was clean, it was beautiful and had lots of amenities. Alana was always helpful if we needed anything. I would totally recommend this Airbnb to anyone.
Miguel Angel
2017-03-15T00:00:00Z
Good stay. Unfortunately we did have issues with both front doors multiple times (we couldn't open it!) as the heavy rain had caused issues with it opening and she had a builder over to look into it as soon as we left. But Alana was very helpful and friendly. Breakfast was a lovely touch. Great location.
Priya
2017-03-23T00:00:00Z
My wife and I stayed one night having decided to turn our Noosa day trip into an overnighter. We contacted Alana early evening and she arranged everything for us very quickly. We loved our short stay here and are already thinking of planning a longer stay, making Alana's place our base for fully exploring the Noosa area. In addition to a beautifully designed and decorated interior, a very comfortable bed and a pool area that is divine, it's oh so quiet. There's no neighbours at the rear, just nature and bird song. Bliss!
Fred
2017-03-27T00:00:00Z
Amazing place! Extremely well decorated. The host left us some quality continental breakfast items which were delicious! We loved her beautiful dog Roxy too. Good location. Short drive to beach and shops. Would definitely recommend.
Alexandra
2017-03-08T00:00:00Z
This is truly a beautiful home and one of the nicest accomodation experiences I have ever had. I wanted to live there! Comfortable and beautiful nice and close to everything but secluded for comfort. Down to the coffee and soaps left out for us everything was perfect.
Rani
2017-03-03T00:00:00Z
The epitome of what Airbnb is all about. Unique space, clean and wonderful host. Alana had a lovely loaf of fresh bread waiting for us, along with cereal, milk, eggs and some other comforts. The space was really well equipped, clean and comfortable and I only regret not being able to stay longer.
David
2017-03-06T00:00:00Z
Room Type
Entire home/apt
---
Property Type
Bungalow
---
Accommodates
2
---
Bedrooms
Sunrise Beach, QLD, Australia
Beachy...light and breezy..relaxing...eco-friendly...convenient location to beautiful, white sand beaches, Sunrise Beach and Sunshine Beach cafés within easy walking distance. Also, Sunshine Beach Surf Club, that offers free quality musos, is a pleasant walk along the beach or via a bike path ( although you can book free shuttle bus that will collect you and drop you off at the front door). Only 5 minutes drive to Hastings St.
Excellent for families or up to 3 couples who enjoy holidaying together
It only takes a few minutes to walk to the beach for a swim and leisurely stroll, brisk walk or jog, along miles of clean beach. The ocean can be glimpsed from the front deck. It's very convenient to the coastal National Park track and a full morning can be spent walking and swimming through the National Park before catching a bus back home from Hastings Street.
We had the best time. Such a great vibe and awesome house. Super homely.
Maria
2017-03-10T00:00:00Z
Peta's home was beautiful, had relaxing indoor and outdoor sitting areas, and was very well equipped. Its really close to Noosa (6 minute drive) and you can also walk along the beach/national park coastal walk which is really nice and takes about 2.5 hrs all up. Everything was great about our stay, would definitely recommend!!
Ellen
2017-02-21T00:00:00Z
beautiful home very close to the beach and sufficient distance from the hussle and bustle of Noosa which makes it very serene.
Nicolas
2017-01-10T00:00:00Z
Peta's place is very comfortable, it has everything you need. Good location within a short drive of hastings street etc. Peta was very communicative leading up to and during the booking, thanks for having us!
Anthea
2017-02-12T00:00:00Z
Peta was very accommodating and made our stay a breeze. The house was great, lots of covered deck space. Had a nice bbq one night. Check in and out was extremely easy. The house is cooled using fans only. I would stay there again.
Blaze
2017-03-30T00:00:00Z
This is wonderful place for a truly relaxing holiday. The house is equipped with everything you need with the exception of wifi but there is a cafe just around the corner with free access. Can't recommend highly enough!
Julie
2017-04-08T00:00:00Z
Peta's house was comfortable and clean. It's just a five-minute drive to Noosa's Hastings Street. The beach is a short walk from the house.
Marie
2017-02-26T00:00:00Z
Peta was great to communicate with. Home was lovely and comfy. Great for families. Well equipped kitchen and loads of chill out spots/decks. Beds are comfy. Beach is an easy stroll away.
Emily
2017-01-29T00:00:00Z
Room Type
Entire home/apt
---
Property Type
House
---
Accommodates
6
---
Bedrooms
Sunrise Beach, QLD, Australia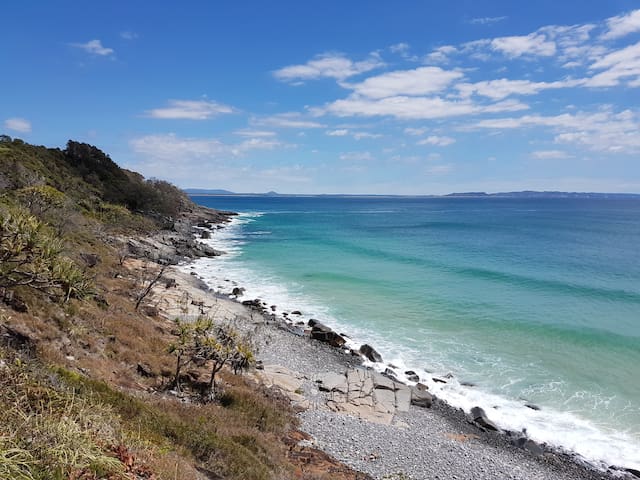 Top Floor Apartment with uninterrupted Beach and Water views. Less than one minute from front door to the surf. Hear the waves crashing on the beach from your bed and living room. Watch the Sunrise from the balcony every day. During the whale migration we see whales every day. Less than 10 minutes drive to Hastings Street, Noosaville and Noosa Junction. Walk along the beach to the National Park. Bus Stop is 2 minutes from the front door.
Great host - welcomed us on arrival and even carried our bags up all the stairs. Excellent location with beautiful views over the ocean directly across the road with a short walk to the beach. Bodo and his son were great with our 11 month old, who was a bit unsettled at night during our stay. Room towards the back of the house was a bit warm - windows open for the breeze were fine however there wasn't any flyscreen and due to recent rain the mozzies got us a bit. Our host tells us this is unusual though. Felt more like we were staying with a relative or a friend.
Karen
2017-03-04T00:00:00Z
I misread the ad and thought we had the whole apartment to ourselves. So when i realised we were sharing it I was petrified! But that was unnecessary, my son fell in love with Bodo's son and did not stop talking about him. He was a bit upset that be barely seen them. Very pleasant stay. Thank you.
Gosia
2017-03-26T00:00:00Z
The ocean on your doorstep, beautiful view! Nice open flat, only there for a night but was great!
Sandra
2017-04-09T00:00:00Z
The beauty of the location cannot be overemphasised. The hosts are busy people but provide you with everything you need. Level 2 with no lift to was a pleasant exercise for our group but might not suit everyone. The beds are very comfortable and spacious kitchen/living room had everything we needed and more.
Julia
2017-02-24T00:00:00Z
Bodo is an absolute gentleman and it was a pleasure to stay at his apartment. The location and views are phenomenal with the beach on your doorstep and only a 5 min drive from Noosa main beach. Would definitely recommend a stay here!
Bradley
2017-03-11T00:00:00Z
I travelled to this residence for the weekend with my partner and friends and we were beyond happy with our stay. Bodo was a fantastic and friendly host and made sure we felt welcomed. The property itself is literally a short 1 minute walk to the beach and has a stunning view. All rooms were spacious and comfortable. We would not hesitate in choosing this place again, highly recommend.
Shane
2017-02-12T00:00:00Z
Bodo and his son were very welcoming and easy going. Lovely company the short amounts of time we crossed paths. Incredible view, good vibes and bright, airy apartment. Thanks for your hospitality and carrying our bags up the stairs for us!
Helene
2017-02-17T00:00:00Z
Great flat!
Jeanne
2017-03-30T00:00:00Z
Room Type
Private room
---
Property Type
Apartment
---
Accommodates
4
---
Bedrooms
Sunrise Beach, QLD, Australia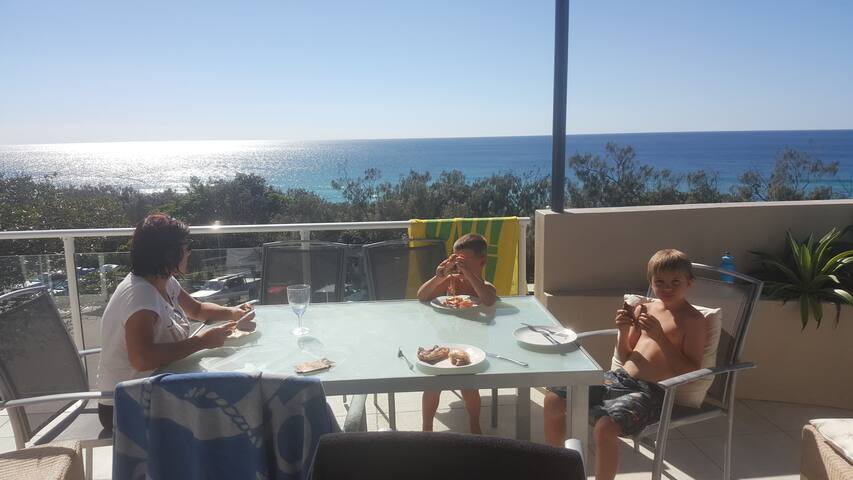 Enjoy the Amazing Beauty of Noosa, loose yourself in the Spectacular Noosa National Park with it's Stunning coastline and wildlife. Watch the resident Dolphins at Hells Gate and the Whales in season. We are situated in an elevated position in the family friendly Sunrise Beach. A 5 minute drive from the Vibrance of Hastings Street, Main Beach and the National Park. A 10 minute walk to stunning Sunrise beach, 3km from Noosa Junction and 5km away from Gympie Terrace and all the water activities you could wish for. Oh and then there's the endless places to eat. You will not need to cook! Our home is a three level architecturally designed pole home and your space will be a converted Art Studio on the ground floor with a deck with hammock and Ocean glimpses. The room is open plan but a U-shape so there is some privacy for families and has a large fridge for your convenience, a TV (DVD's only) and sofas. There is separate access and a fence planned but for now the garden is shared. We have a playful dog who will share the garden (a Weimaraner), he loves all humans and dogs and may expect a cuddle! There will be some overhead impact noise being a timber home which we are working on reducing. We are a family of four with children aged 8 and 10 years and Happy to help plan your time in Noosa or leave you to get on with it! Our place is good for couples, families (with kids) and well behaved furry friends.
The space is bright and airy with ocean breezes and a lovely outlook, perfect for chilling with a glass of wine on one of your two elevated shady decks.
The Noosa Aquatic Centre is just a 2 minute drive away and has several heated pools, including a 50 metre, 25 metre and 17 metre pool, toddler pools and a cafe and barbecue areas. Local Sunrise shops including Foodland, Bottle Shop, Doctors, Dentist, Chemist, Butchers and hairdresser 1 minute drive. The Junction is 3 minutes drive and has everything you could need including Coles Supermarket, IGA, Fuel Station, Target Country, Cinema, Boutique clothes shops and many choices of restaurants, bars and cafes. Sunshine Beach Village is a lovely place to hang out and dine day or night. The Sunshine Beach Surf Club is worth a visit and looks over the ocean. Just 2 minutes in the car to get to Sunshine Beach.
Great host, great home, great views.
Amy
2016-11-15T00:00:00Z
We had a great time staying in Jo's place. The house: clean, bright, large room with own entrance and bathroom and great terrace and access to garden. A fridge, microwave and water boiler are there as well but no kitchen in case you need that. We were fine without since our daughter eats only pasta anyway and the possibilities for eating in Noosa are seemingly endless. The location: Up the hill with ocean view in a nice residential area. You can walk to the beach but a car is convenient, especially with kids like we had. The host: Jo was great, super helpful (even hung up our laundry), relaxed (let us check out pretty late) and caring (there was a storm abd she made sure we were ok, warning us before and asking afterwards). To sum up: great place and grest money for value. We'd come again any time and can absolutely recommend staying here.
Magdalene
2017-03-31T00:00:00Z
Lovely quiet place, great for family stay!
Matej
2017-02-26T00:00:00Z
Stunning view of the coastline from a relaxing balcony and to top it all off the joy of a hammock! The space was well furnished and the cherry on top was the occasional visits from Baxter their gorgeous pup. The room was spacious and beds super comfy. Amazing stay and would do it again!!
Eileen
2016-11-29T00:00:00Z
This is great place for a family holiday. Lots of room and a clean, spacious place to retire to after a day at Noosa's beautiful beaches.
Yasmin
2016-12-07T00:00:00Z
We stayed at Jo's place with two children for 4 nights. Location was great, close to the central and beach. very residential and quiet. Jo was an amazing host who was so attentive to our request. We will definitely come back here if we visit Noosa again!
Hiroko
2017-04-06T00:00:00Z
Jo your place is beautiful. I kept admiring it the whole weekend we were there. Your communication with us was above and beyond and we were very happy with the room. Your children are lovely and so was Baxter! Next time we will come with our two kidlets and stay with you again. Many thanks for welcoming us into your stunning home. Libby
Libby
2017-03-04T00:00:00Z
Great place! Highly recommend a stay here if you are heading to the sunny coast
Julie
2017-01-22T00:00:00Z
Room Type
Private room
---
Property Type
House
---
Accommodates
4
---
Bedrooms
Sunrise Beach, QLD, Australia
The perfect place for a family holiday :) This apartment has everything you need for an amazing family holiday. 180 degree views of the Pacific and a world class patrolled beach right out the front. Sit back, relax and enjoy.
Enjoy the open space in this spacious unit. Large bedrooms and large renovated bathrooms. The unit is located at Sunrise Beach and has a coffee shop just down stairs for the early morning coffee. Sunshine Beach Village is Just a short stroll either through the walkway at the end of Tingira Cres or along the beach.
The stay at sunrise serenity was amazing. The views from the lounge room were beautiful and we were lucky enough to sit on the verandah with a glass of wine watching the whales and the sunset. Place as described. Would differently recommend to other and stay again.
Kieren
2016-10-17T00:00:00Z
Great location spacious unit with fantastic views of the ocean
Lisa
2016-11-17T00:00:00Z
Accommodation is excellent, view out of the front is spectacular - one not to miss. The apartment is very roomy and clean. My main concern was on arrival we had to meet the hosts friend who was not answering her phone, therefore we were stuck outside, feeling very cold. After some time we managed to get through and given the code into the apartment. We were informed by the hosts friend she would pop round the next day to tell us about the area, introduce herself and sort out the parking situation - as we could not park in the allocated secure parking. We never met her throughout our stay which was disappointing
Joanne
2016-08-31T00:00:00Z
Wonderful location for those wanting a quieter setting than Hastings st. But still only a quick drive away from everything. An older unit but very comfortably furnished and clean and amazing views. The views are everything. And so lovely to have the beach right at our doorstep.
Jelena
2016-10-23T00:00:00Z
We had a lovely break at Sunshine Beach. The apartment was spacious and well-equipped. The view from the balcony was awesome. The area is lovely to explore.
Sarah
2016-08-19T00:00:00Z
Lovely area, stone throw away from a beautiful beach. Even if not sunny - ideal beach for walking. Balcony over looking the beach, amazing! Very private!
Laura
2016-03-20T00:00:00Z
Spacious apartment in a fantastic location with gorgeous views.
Sarah
2016-08-26T00:00:00Z
This was a little slice of paradise. It was close enough to everything, yet far enough away to feel secluded. Two days we were at the house, we barely left the house. The view from the porch makes you never want to leave. I can not say enough good things about this house. Perfect place for a couples getaway, family getaway, or even just a time for you to get away. We cooked every meal at the apartment and enjoyed coffee at a close by place. For sure a number one place to stay in my book.
EmilyAnne
2016-05-09T00:00:00Z
Room Type
Entire home/apt
---
Property Type
Apartment
---
Accommodates
6
---
Bedrooms
Sunrise Beach, QLD, Australia
Jojo's in Sunrise is a gorgeous self-contained flat on the ground floor of our home. A short stroll to the beautiful Sunrise Beach. Close to shops, aquatic centre and easy transport to Noosa Junction & Noosa Heads. Pushbikes for you to borrow for fun rides along the coastal path to Peregian and beyond. Welcome to Sunrise!
The flat has recently been renovated with lots of love and it is a light, airy, happy space! Quirky artwork throughout, handmade Australian soaps in the bathroom, lots of little extras in the kitchenette to help you settle in and pushbikes for you to borrow. Your own barbecue and outdoor sitting area for those well deserved sundowners! There is a pull out sofa bed if you need to accomodate an extra guest or 2.
We provide many information booklets for you to get to know some of our local favourite eating spots, tour operators etc. Always very happy to have a chat about any of them if you would like.
We had a great stay at Jo's. Everything was perfect. The unit was super clean, nicely decorated and had everything you could wish for. Bruce and Jo were really nice hosts. Jo even organised a porta cot for our Baby which was amazing! Also the home-grown tomatoes were a delight. We would definitely come back and can highly recommend JoJo's in Sunrise.
Nicole
2016-11-25T00:00:00Z
Perfect accommodation and great location - definitely recommend.
jenog1
2016-12-09T00:00:00Z
Jo's flat was just perfect for our weekend away. Well-appointed, clean, and lots of lovely extras (such as plenty of spare towel, fresh flowers, milk in the fridge for tea, etc). An easy drive to everywhere we wanted to go in the area. Comfy bed too. Thanks Jo for a lovely stay!
Monica
2017-03-18T00:00:00Z
We loved Jo's place! Great location in Sunrise Beach, easy walking distance to the best beach on the Sunshine Coast and central to nearby shops and delish restaurants. The unit is very spacious and clean, well appointed with all you need to settle in for days in and around Noosa. Super comfy bed and linens, sweet outdoor spot to enjoy brekkie and listen to the birds, bikes and beach towels available, and wonderful hosts who made sure we felt at home and provided little extras like garden fresh tomatoes and fragrant flowers to greet us. Solid wifi connection was handy when some unexpected travel changes became necessary. Quiet and private, easy to find in a lovely neighborhood, and excellent communication from our hosts. We will most definitely stay here again on our future trip back to this gorgeous spot! Thanks Jo & Bruce
Cathy
2016-11-19T00:00:00Z
Great place to stay
Marco
2017-01-13T00:00:00Z
Jo's place was lovely! My partner and I had a wonderful stay. Nellie the pup was so sweet, came and said hello both nights when we got home :)
Annie
2017-04-08T00:00:00Z
Lovely self-contained flat. Very clean, great layout and styling. There is a BBQ to cook up meals, lovely soft towels and a comfy couch to relax. Jo was wonderful, she came and picked us up from the bus station and took us for short a tour of the area to get our bearings. Would recommend to anyone wanting a quiet getaway. Thanks Jo!
Rachael
2016-12-12T00:00:00Z
So peaceful and relaxing :) The best early Christmas break
Kim
2016-12-03T00:00:00Z
Room Type
Entire home/apt
---
Property Type
Apartment
---
Accommodates
2
---
Bedrooms
Sunrise Beach, QLD, Australia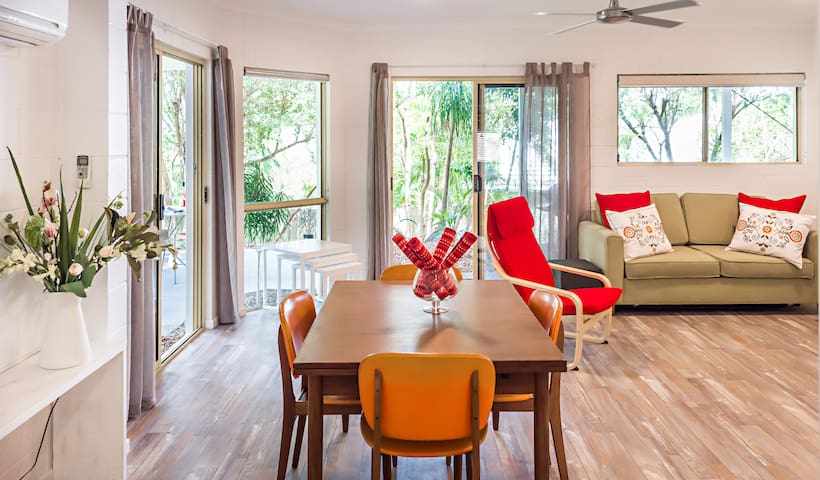 Located in idyllic Sunshine Beach & a 5-minute drive to Noosa Heads, this casual beach house, is ideal for families and will be your home away from home. Our house, one of the original 70's Sunshine Beach shacks, built by a true hippie surfer, is close to beaches, national parks & public transport; you will love this place because of the location, the outdoors space, the neighbourhood and the proximity to restaurants, bars, cafes and shopping.
An eclectic beach décor with high ceilings, exposed beams and plenty of natural light, you can spend your days lying around relaxing in either the indoor or outdoor living areas or take a 5 minute stroll and swim at a fully patrolled beach. There is a main house which has 3 bedrooms and 2 bathrooms whilst the separate studio, with full bathroom, sleeps a further 3 (ideal for teenagers or guests). A full size kitchen, with every appliance imaginable, is part of the open plan living that includes a dining area and large lounge. A great deck with BBQ and a terrace with outdoor dining for 8 is also ideal for eating outdoors on summer days. In the main house, the 3 upstairs bedrooms include a king size master bedroom which has a balcony and a small modern bathroom, the main family bathroom and full size laundry are on the ground floor. There are also 1 under cover car park and plenty of street parking.
We love this quiet beach community. The house is located in a quiet family orientated street and you are within walking and driving distance to many of the well-known cafes, restaurants, surf clubs and bars in the Sunshine Beach and Noosa vicinity as well as retail shopping, supermarkets, bottle shops and public transport. If you have your own car, there are also some great day trips to Noosa Northshore, Eumundi for the famous markets or the hinterland to visit Maleny and Montville.
Our host Kim made us feel very welcome. Arriving and departing was seamless. Sunshine Beach is a fantastic location near Noosa and the house is close to the beach and shops. The house was spotlessly clean and a thoughtful welcome pack was waiting for us.
Therese
2017-01-02T00:00:00Z
Room Type
Entire home/apt
---
Property Type
House
---
Accommodates
8
---
Bedrooms
Sunshine Beach, QLD, Australia
Spacious, private, self contained studio located on the beautiful Sunshine Coast at Sunrise Beach. Own entrance, courtyard. A 5 minute walk to the beach, Chalet and Co Cafe and a 5 minute drive to Noosa Heads. Very private.
The apartment is downstairs in a two story home and includes separate bedroom and bathroom, living room, kitchenette/laundry facilities and own gated courtyard BBQ area. A short stroll to patrolled beaches, bus stop and convenience store. 5 minute drive to Noosa Heads. Internet and Netflix available.
There is a patrolled surf beach two streets away from us, cafe/shop. Also not far the Noosa Aquatic Centre on Ben Lexcen Drive, Bakery, Butchers, Chemist, Doctors, Bottle Shop and more.
Lovely house, extremely clean and everything you needed for the perfect getaway :) thankyou for having us!
Amelia
2016-11-26T00:00:00Z
We really enjoyed our stay at Kim & Gregs' place. They are such kind people and the flat is very spacious, cozy and lovely furnished! There's great attention to the detail and you can find everything you need during your stay. The opportunity to use Netflix was an extra bonus. Noosa Heads is a short drive but no problem by car. I definitly recommend this place and would stay there again.
Valentina
2017-03-18T00:00:00Z
This is a lovely place to stay in a great location. Kim was very welcoming and the place was spotless. Would recommend for anyone to stay here and we would love to stay here whenever we're back in Noosa.
Charlie
2016-12-16T00:00:00Z
A lovely private space with lots of room. Some excellent touches such as beautiful furniture, a blackboard with a welcome message, and a variety of breakfast cereals to choose from. Great to fall asleep with the sound of the ocean nearby.
Mario
2017-03-22T00:00:00Z
Great communication, beautiful beach close by.
dave
2017-01-07T00:00:00Z
Lovely and spacious spot. Close to good beaches and with plenty space to spread out and make yourself at home. Everything is very clean and in good working order.
Nicci & Chris
2016-12-29T00:00:00Z
Lovely hosts in a lovely location close to Noosa, very nice quiet place and dressed beautifully. Would highly recommend.
Daniel
2017-01-23T00:00:00Z
Close to the beach, comfy bed, clean and spacious place. Would definitely recommend for anyone wanting to chill on the Sunshine Coast!
Ronald
2017-02-11T00:00:00Z
Room Type
Entire home/apt
---
Property Type
Apartment
---
Accommodates
2
---
Bedrooms
Sunrise Beach, QLD, Australia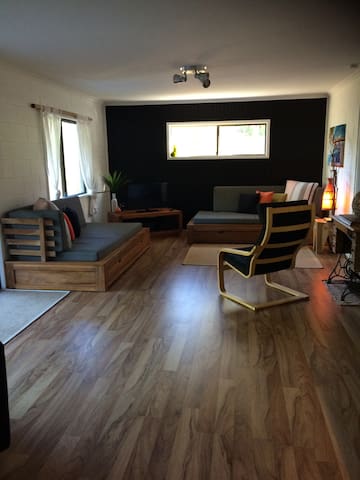 BUSH TO BEACH-a place to call your home for a while..... The Tree Top Eco Retreat has its own private entrance. The bedroom is fully enclosed with glass, timber and bamboo. In winter it is warmed by the sun all day so it stays cozy warm. In summer you can open the louvre windows and the fresh ocean breeze cools the room.
Are you looking for something a little bit different? Do you want a rustic and romantic couples getaway? Or are you looking for some peaceful self-time away from it all, to recharge the soul? Do you want to enjoy a beautiful sunset from the comfort of your king size bed? Are you a nature lover, looking to take walks on the beach and see whales at play? And also be close to world class restaurants? If so, then we are looking for YOU! Your private, cosy, fully enclosed Bali style thatch roofed bedroom looks open to the elements but it is in fact fully enclosed with bamboo and glass and protected from all weather. It overlooks the Australian bush national park, with floor to ceiling views on two sides. This is no standard room! At night you sleep snug and warm, under a blanket of stars and the soothing sound of the ocean. In the morning, native bird song gently sings you into the new day. Just down the steps you have your own separate indoor/outdoor covered bathroom, (fresh rainwater shower&bath) and a spacious deck, (which is adjoined to the back of our solar powered home) to sunbathe and relax in a hammock with a good book. You can book in an amazing in-house massage and you also have access to our yoga studio, complete with mats and props. You have your own guest parking spot right outside the house. The beach, shops and bus stops are walking distance. Famous Hastings street shopping and restaurants are 5 km. Also plenty of great markets for some unique gifts. See our other listing: we also rent the entire house-ask us for availability INCLUSIVE: *Crisp white soft cotton sheets *King size bed *Tea and coffee (provided) and basic food making facilities ( fridge, microwave oven, toaster, jug) *Shampoos/soaps *Filtered water *Free pick up from Noosa Junction (from 2pm) ENJOY *Our bi-weekly yoga classes: Tues &Thurs 9.30am *An outdoor candlelit bath *Leisurely walks to the beach and parks *The friendly relaxed peaceful natural surrounds *Breakfast at a local cafe overlooking the ocean *Enjoy an in-house professional massage *Noosa Farmers produce market on Sundays *Famous Eumundi Markets on Wednesday and Saturdays There is also plenty of sightseeing, shopping and restaurants, markets, movie theatres and entertainment. We can provide you with all the information. We also offer on request: * Free Pick up from Noosa bus station *Lifts around Noosa for a small fee *Babysitting-while you enjoy a nice dinner out BOOKINGS: We have a two night minimum stay. If you can see some single nights available on our calendar, contact us to book them. Also please HAVE YOUR PROFILE COMPLETED (including photo) and tell us about yourself. We can't wait to meet you and share a slice of our heaven with you ;) ACTIVITIES MENU We have a list of fun things to do which we offer (at additional cost): *GUIDED NOOSA NATIONAL PARK WALK: World heritage flora and fauna. Explore hidden coastal coves and lush rain forest pockets. Chance to see native wildlife in their natural habitat including rare birds, sea turtles, koalas and dolphins. *SUNSET PACKAGE: 15min drive and easy 20 min walk up to Mt Tinbeerwah, a 265m high volcanic plug boasting panoramic 360 degree views across the entire sunshine coast. Enjoy the sunset with drinks and tapas. *LEARN TO SURF PACKAGE at Noosa Main Beach Something maybe you've always wanted to do? Now is the time to give it a go on the Noosa beach idyllic beginner waves. One on one personal attention and care. *SUP-Stand-up Paddle Boarding Hire the boards or take a tour with Andrew around Noosa's amazing waterways. View all kinds of bird and aquatic life in their natural habitat. No experience necessary. *ROMANCE IS IN THE AIR PACKAGE-bubbles, chocolates and roses brought to your room. For the ultimate in bliss include a couples luxury massage. *MASSAGE Leave all your worries and stresses behind, release tension and feel renewed with one of our many types of in house massage including deep tissue, relaxing, Kahuna or chair massage. *PERSONAL YOGA CLASSES: Get back on track and in the flow! A personal yoga routine created especially for you and your needs. Includes one of Amys yoga CDs. For more information and prices, please contact us. We have everything here in Noosa, it depends on your interests. If you have any questions or concerns, please feel free to ask us. You can find out more about us and what we do on our website: sunshinewellbeing Amy and Andrew GETTING THERE AND AWAY Our closest airport is the Sunshine Coast Airport. You can get transfers by 'Cols Airport Shuttle' who also do transfers from Brisbane airport. OTHER TOP HIGHLIGHTS: Noosa National Park Australia Zoo Fraser Island Noosa Everglades Horse Riding Noosa Hinterland-Montville and Maleny
This rooftop oasis was exactly what my partner and I needed to press the refresh button and start 2015 properly. We have not one thing to complain about, only absolute praise. Amy and Andrew were undoubtedly the most helpful, kind and considerate people we've met, they had no hesitation in telling us wonderful places to get dinner and sneaky paths through the forest to a quite beach. To have people so open to sharing a part of their home was amazing. This is of course not to mention the stunning, private area provided for us. Unbelievable view across nearby forest, bird friends flying about so close, stunning outdoor/indoor bathroom that I wish I could steal, a yoga room at our dispense and not to forget the bedroom itself, a castle in the sky welcoming in the morning sun with the sun setting directly opposite. An absolute pleasure.
Emma
2015-01-19T00:00:00Z
We loved staying in the Tree house. It was very peaceful & relaxing. The hammock was a big winner.
Johanna
2016-10-19T00:00:00Z
This was an unforgettable stay away. Loved it.
Annie
2014-12-03T00:00:00Z
Our stay with Amy (Andrew was away) was perfectly lovely. Really enjoyed the view from the top room.
Anneka
2016-04-04T00:00:00Z
We had the most perfect two days at Amy and Andrews. Couldn't speak more highly of their beautiful home or family. Thankyou so much for such a special time. Couldn't recommend this more, it's a piece of heaven!
Rowan
2014-02-19T00:00:00Z
A beautiful relaxing stay while visiting Noosa for a weekend wedding. Thank you so much for sharing this amazing space Amy and Andrew. It was a privilege to be able to enjoy it for an all too short two nights. Highly recommended listing. Thanks again!
Shane
2016-09-18T00:00:00Z
We loved our stay in Noosa in the Tree Top Eco Retreat. The space is beautiful, and is the perfect set-up for a quiet, romantic and relaxing stay. There's plenty of space with the bedroom, back deck, and yoga space. The indoor/outdoor bathroom was great too! Amy and Andrew were wonderful and very accommodating. Their dog, Mana, was such a sweetheart too.Their home is located in a quiet area, walking distance to the beach and a short drive or bike ride to any area in Noosa. I also booked a massage with Andrew, and would encourage everyone to do this as well! We would happily recommend Amy and Andrew's listing to anyone looking to stay in the area. Thanks so much for having us!
Ben & Paige
2015-09-13T00:00:00Z
We had a wonderful time, thanks Amy and Andrew. Would go back again. Lovely to stay.
Kate
2016-08-29T00:00:00Z
Room Type
Private room
---
Property Type
House
---
Accommodates
2
---
Bedrooms
Sunrise Beach, QLD, Australia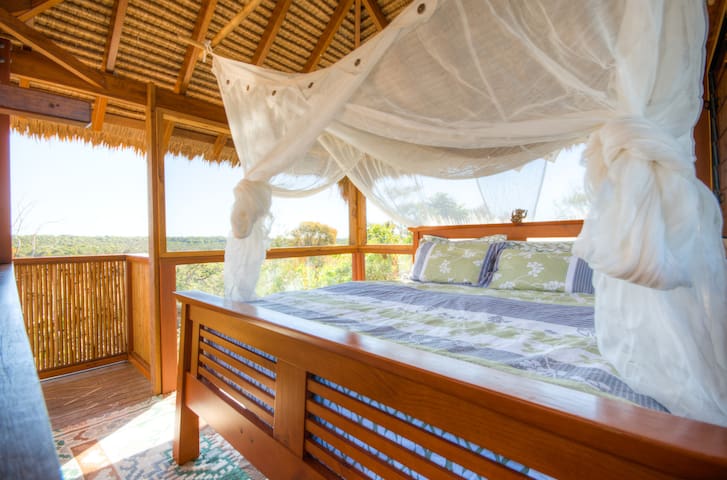 Beachside Luxury Oasis Architecturally designed to capture spectacular beach and ocean views from almost every room, this idyllic beachside oasis promises the ultimate in luxury and relaxation the moment you walk through the door.
Overlooking beautiful Sunrise Beach, this split level house features modern, open plan living, dining and kitchen on the ground level with stunning Spanish limestone tiles throughout. Bi-fold doors create the ideal indoor/outdoor transition and open to 3 separate outdoor areas for soaking up the sun, alfresco dining or relaxing beside the attractive infinity pool with a cool drink on the outdoor entertaining terrace. The modern kitchen features granite bench tops, loads of storage and includes a Nespresso coffee machine. A family sized Weber barbecue offers an outdoor cooking alternative. This level also features an additional guest WC, separate media room with Panasonic projector and huge screen for cinematic enjoyment that opens onto a private courtyard that captures the afternoon sun. A reading room could be used as a 5th bedroom with a sofa bed that can covert for up to 2 additional guests if required. Upstairs there are four generous bedrooms and three bathrooms. - The large master suite on top level over looks wide beach and ocean views and has a king size bed, en-suite, a large walk-in robe with a private balcony. - The second bedroom has a king size bed, en-suite, built in robes and also has a private balcony. - Bedrooms 3 and 4 each have 2 x single beds (can be converted to a king if required), built in robes and share a separate bathroom and toilet. Glass balustrades and 2 level voids allow a fabulous flow of natural light throughout and sea breezes are invited through each level via glass louver windows. The large double garage has secure internal access to the ground level. A complimentary bottle of sparkling Australian wine will help ease you into your beachside holiday experience. It will be complete whether you are with family or friends, with everything you need is right here - from the Nespresso coffee machine to free Wi-Fi, Foxtel or two minute stroll a short walk to stunning Sunrise Beach. Beach access is safe and accessible via an underpass so there are no roads to cross. Centrally located, the many of the attractions of the Sunshine Coast are on your doorstep.
Marina was a great host. She helped out with a few changes to bed configurations etc. It was a perfectly located house with the best views! We loved it here.
Elly
2016-08-01T00:00:00Z
We have been to the Coast many times but this was our first trip up to the sunshine coast with our newborn and the extended family. Marina was very responsive from the start. In preparation for our stay she answered all our questions and went out of her way to ensure our needs were met. The house has spectacular views and is VERY well equipped with everything you can think of and even things you wouldn't think of! The location is AMAZING. just metres down the road a short walk to beach access, you can take your dog too! The house was very clean, spacious and beautiful. Thank you marina for a beautiful stay, our family had a wonderful time!
Anu
2016-06-26T00:00:00Z
We had a great time and thoroughly enjoyed the facilities.
Geoff
2016-10-14T00:00:00Z
Room Type
Entire home/apt
---
Property Type
House
---
Accommodates
10
---
Bedrooms
Sunrise Beach, QLD, Australia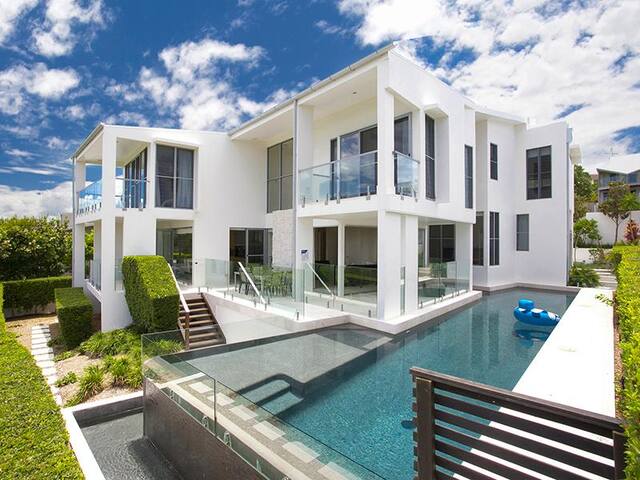 Enter dates to see full pricing. Additional fees apply. Taxes may be added.