In Casa Melo you will enjoy a relaxing atmosphere, long walks in the woods to discover nature, and a lot of historicity in the surroundings ..... we are waiting for you..
The property is located in the immediate vicinity of the city of Sutri, in the province of Viterbo, and more precisely in the majestic "Calandrina park," behind which one encounters the hot springs of Vicarello. Since Casa Melo is immersed in the Vicarello park, a natural reserve of the area, you can see all kinds of animals: deer, boar, foxes, weasels, porcupines. These sites will undoubtedly make your stay more exciting, as "nature" is key here!! The history of Sutri (known in ancient times as Sutrium) is witnessed by the numerous archaeological finds in the area belonging to different eras. Its origins are quite ancient, thought to date back to the Bronze Era. Sutri experienced a period of strong growth under the Etruscan reign, as an agricultural and commercial town, and today you can still detect the Etruscan influence. The long-standing amphitheater, one of a kind as it has no external walls and is housed entirely within natural boundaries, is a popular destination for tourists. It remained hidden for centuries in the hill from which it was derived, and was brought back to light only in the second half of the 19th century by the owners of the above property. The amphitheater is the site of theatrical performances in the summertime, and the living nativity scene at Christmas time. Long walks on Etruscan paths will give great thrills to those passionate in the field, from Bassano on, and there are paths open to aspiring speleologists. One of the main attractions of the area, in addition to the breathtaking views visible along every route, are the "Baths of the Popes." The hot springs are called "dei Papi" (of the popes), especially because of the intervention of a specific pontiff: Pope Nicholas V. He found such benefit for the treatment of his ills in these healing waters that in 1450 he had a beautiful palace built in this area, so that he could stay there whenever he needed. Ever since then it has been called the "Bath of the Pope." These hot springs offer the pleasure of immersing oneself in the monumental pool that measures over 200 square meters, replenished exclusively with thermal water from the Bullicame spring: a precious toning bath for skin care in winter and in summer. The cave represents a treatment unique in its kind: a natural Turkish bath where small waterfalls of spring water at a temperature of 58° C heat and suffuse the environment with beneficial vapors... wonderful moments to share also with your loved one... Continuing our journey exploring the natural attractions of the area surrounding the property, we find the "pools of St. Callisto," another wonderful site for those who like to relax in the warmth of thermal springs, this time more modest in size but set within a framework of greenery and simplicity. A few kilometers from Casa Melo is the lake of Bracciano, which can be accessed from the town of Trevignano, a town known for its tasty ice cream shops, rides for children on the main square, art-house Cinemas, ice rinks in the winter, traditional cafes and bakeries, spas and indoor swimming pools in the winter. Bracciano is a beautiful health resort, full of cafes and restaurants of all types and styles. Long walks along the lakefront will make your stay even more relaxing and "cool" in the summer, considering the lake's suitability for swimming. On the lake you can also engage in sports such as canoeing, wind surfing and kite surfing during the summer months. Along the way, we recommend a visit to the village of Calcata. Built on a fortress, it has become an attractive meeting place for hippie's, and the Forest of Manziana. In all the surrounding area of the property it is possible to go horseback riding, and there are numerous places where you can rent horses. For archery enthusiasts, in the small town of Bassano, there is one of the largest centers for zen archery— a destination each year for those who are passionate in the sport who gather from all over the world. The strategic location of Casa Melo allows you to reach the sea in only thirty minutes or so by car, so you can enjoy a fresh local seafood lunch in a restaurant by the sea, or a day of total relaxation at the beach. Civitavecchia, Fregene and Fiumicino are the main destinations. The "Oaks" golf club will complete your stay. It is one of the largest clubs in central of Italy, where you can spend a day of absolute enjoyment playing golf. Casa Melo was conceived by the owner to offer our clients a stay of peace and tranquility, in a context that is simple yet refined, complete with amenities such as sauna, Turkish bath, dance floor, billiards, and table soccer, which will accompany you through the discovery of wonderful landscapes so beneficial to our mental well-being. The house is equipped with every comfort. The four bedrooms are tastefully decorated and quite spacious. We also allow your four-legged friends to join you; there is a large fenced area adjacent to the villa. We also offer the possibility of providing transportation in a comfortable and luxurious property car to/from the airports of Rome and the train stations, and for all the required movements. To avail yourself of this, please request the car at the time of the booking. Casa Melo is composed of four bedrooms, each with its own bathroom, sleeping a total of eight. It is also possible to add single beds and a crib for children on request when booking. The high-quality bed linens and towels provided during your stay ensure your maximum comfort. Satellite TV, washing machine, dryer, dishwasher, fireplace, and available Wi-Fi, round out the standard equipment. Welcome to Casa Melo, and enjoy your stay!
The house is really beautiful, decorated with taste and immerse in nature and with a big garden to enjoy. It looks even better than in the pictures! The host, who leaves in a villa near by, was lovely and she provided us with all the basics and much more in the house, such as water, coffee, cookies, fruit, pasta and parmesan! The surroundings are just what you dream of Italian countryside: old towns to visit, a lake to swim in, museums and history all around, and nature to enjoy. We just wished we had stayed longer!
Carin
2016-07-18T00:00:00Z
Perfetto per una fuga dalla cittá! La casa é bellissima, calda e spaziosa, elegantemente arredata, dotata di tutti i comfort (wifi, TV ecc) e con un grande camino che ci ha ipnotizzato durante la nostra permanenza. Cristiano é stato sempre rapidissimo nel rispondere ad ogni nostro dubbio e il sig. Adelmo che ci ha accolto per darci le chiavi, ci ha fatto trovare il camino acceso, la casa giá riscaldata dai termosifoni e ci ha spiegato tutto con grande disponibilitá e gentilezza. Qui gli animali non solo sono ammessi ma sono i benvenuti (finalmente!) a patto ovviamente che si comportino bene e non facciano danni in casa. Incredibile trovare un angolo di paradiso cosí vicino alla cittá, torneremo presto sicuramente!
Baba
2017-01-29T00:00:00Z
Cristiano e la sua casa hanno reso speciale l'occasione speciale per cui siamo stati suoi ospiti. La casa è forse anche più bella di quello che si vede nelle foto. Il parco della casa è veramente splendido. L'accoglienza e l'assistenza per le questioni ordinarie impeccabili. Per chi cerca il relax in mezzo alla natura con sauna e gli scoiattoli fuori dalla dalla finestra è perfetto! Grazie ancora Cristiano.
Sandro Lorenzo
2017-01-22T00:00:00Z
Appena fatto il check out alla casa di melo, abbiamo passato un bellissimo week end nella pace più assolta e nel totale confort. la Villa e la stessa proprietà rendono molto di più che in foto! Cristiano è stato molto gentile dandomi tutte le indicazioni necessarie prima e dopo la prenotazione, mentre il signor Adelmo, gentilissimo, ci ha mostrato tutta la casa e fatto trovare il caminetto acceso! in cucina c'era già tutto l'essenziale per un ottima colazione! grazie di tutto e torneremo sicuramente presto!
Davide
2017-03-27T00:00:00Z
Bel luogo, un po' isolato, ma molto silenzioso. Consigliabile il periodo estivo in quanto la casa è in una zona d'ombra. Molti insetti in casa (ragni e grilli) sono caratteristici della zona. Arredamento Vintage. Buona accoglienza di un'addetta che vive in loco. La casa è molto vicina al lago di bracciano(trevignano) ma a diversi km da Sutri.
Carlo
2016-11-01T00:00:00Z
Casa Melo si trova all'interno di una tenuta immersa nel bellissimo parco della Calandrina. È un rifugio perfetto per chi come noi è in cerca di relax, calma e tranquillità. La casa è molto confortevole, calda, ampia e ben arredata. Cristiano è stato un host davvero molto disponibile. Super consigliato!
Claudia
2016-10-17T00:00:00Z
Il nostro breve soggiorno a Villa Melo è stato semplicemente meraviglioso. L'alloggio è molto curato, accogliente, dotato di tutti i confort. Posizione ideale per il relax e il riposo. A pochi chilometri dal lago di Bracciano. La signora Lidia che ci accolto è stata gentilissima e premurosa. Un'esperienza indimenticabile!
Barbara & Pietro
2016-11-29T00:00:00Z
La casa, che si trova all'interno di una tenuta naturalistica molto suggestiva, è ben in ordine, molto calda, accogliente e completa di tutto. Abbiamo trovato a nostra disposizione la legna già preparata per il bel camino, frutta, latte, pasta, acqua e tutti i generi di prima necessità. A pochi metri vive una persona molto gentile (con la quale abbiamo fatto il check-in) in grado di assistere per qualsiasi problema. Cristiano è stato molto gentile, rapido e preciso nelle varie comunicazioni ed ha risposto sempre immediatamente a tutte le domande. Abbiamo soggiornato per 5 notti: esperienza molto positiva e certamente consigliata!
Matteo
2016-11-25T00:00:00Z
Room Type
Entire home/apt
---
Property Type
Villa
---
Accommodates
8
---
Bedrooms
Sutri, Lazio, Italy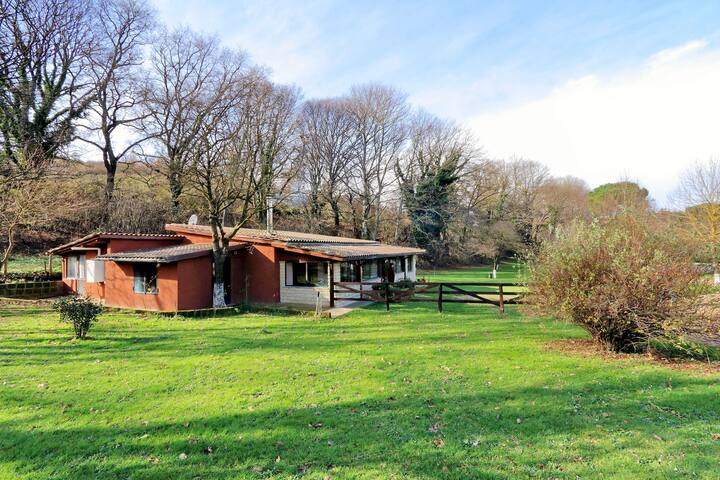 My accommodation is close to Rome, Viterbo, sutri, Lake Bracciano, Lake Vico, park monsters ,, art and culture, magnificent panoramic views, restaurants. My accommodation is suitable for couples, business travelers and families (with children).
Room Type
Private room
---
Property Type
Villa
---
Accommodates
4
---
Bedrooms
sutri, Lazio, Italy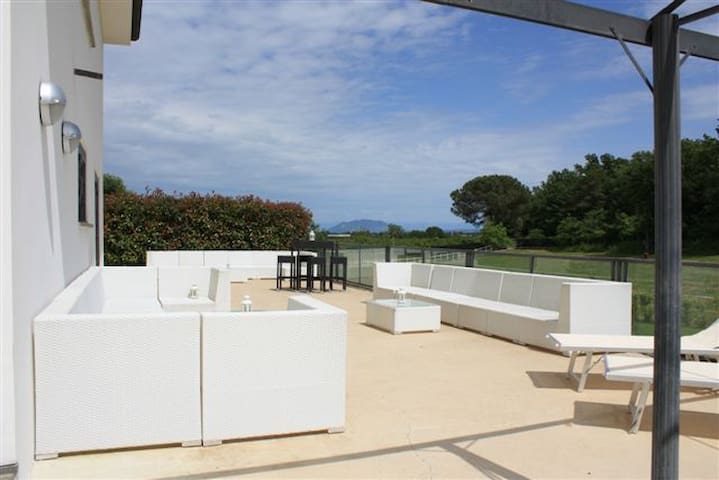 A Sutri (Vt) lungo la via Francigena a 40 km da Roma e 25 da Viterbo si affitta appartamento al centro storico completamente ristrutturato e con arredamento nuovo, composto da: soggiorno con divano letto matrimoniale, 1 camera matrimoniale,cucina e bagno con doccia.Vista panoramica sul parco dell ' anfiteatro.
Tutto perfetto! Ci siamo sentiti per telefono la mattina stessa per l'orario di arrivo dato che il nostro viaggio non ci permetteva di saperlo in anticipo. Luigi è sempre stato tempestivo nella comunicazione e puntuale all'appuntamento. La mattina dovevamo lasciare l'appuntamento all'alba per riprendere il cammino e anche questo non è stato un problema. Luigi ci ha consigliato su come muoverci in paese ed è stato disponibile per tutto. L'appartamento è appena ristrutturato ed è tutto pulito. Ottima scelta!
Giulia
2016-08-22T00:00:00Z
Room Type
Entire home/apt
---
Property Type
Apartment
---
Accommodates
4
---
Bedrooms
Sutri, Lazio, Italy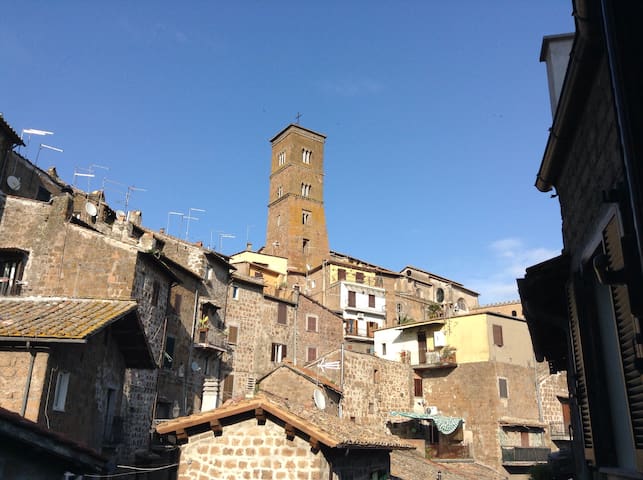 Il B&B Etruscan Garden è immerso in un importante parco archeologico nel suggestivo borgo di Sutri, 50 km a nord di Roma. La struttura, risalente al XIII secolo, è stata elegantemente ristrutturata e finemente arredata con mobili d'antiquariato.
The suite, consisting of a double bedroom, bath and drawing room, has its own entrance and terrace which overlooks the magnificent garden for that special breakfast. An international golf course is only 3 miles away. English spoken. 1 luxury suite composed of bedroom, bathroom and drawing room with private terrace and garden. Minibar, wifi, television. Extra services offered such as yoga, massages, guided tours and a vast selection of excursions. Present on location if need for any reason. Located in a wonderful archaeological park intertwined with mystery legends and myths. Closets station: Capranica-Sutri Buses: To and from Rome and Viterbo Airport and station transfers available upon request.
Most beautiful archeological area, filled with myths, mystery and legends, with a unique amphitheater carved in rock.
Etruscan Garden is Magical. We had a full apartment: bedroom, luxury bath, and a generous sitting room with chaise, desk, several chairs, full tea and coffee service, book shelves filled with art and science books in English and Italian, all looking out to the beautiful garden via two windows and French doors! The location is so peaceful, as it borders the archeological park with beautiful walking paths. In the extensive garden, a white horse, Lola, completed the stunning scenery. However, it is Sarah and Claudio's gracious hospitality that makes this stay in a 17th century church so divine. They served breakfast of our choice at the time of our choice, on the terrace just outside our room. They have lived here over 30 years and their daughter is an archeological guide so they were able to recommend local markets for shopping, restaurants for eating (most within short walking distance), and far more day trips than we could complete. They also own an antique shop on the property, so you can imagine the historic décor. We fully enjoyed our taste of medieval times in this historic home and hope to return again soon.
Roxanne
2017-03-29T00:00:00Z
The hosts Sarah and Claudio were absolutely wonderful and went above and beyond in every sense to make our stay as comfortable and easy as possible. The house is absolutely unique and the garden downright magical. I thought the beautiful garden setting where we had breakfast couldn't get any better, but then Claudio opened the gate for us and we literally walked into the archeological park with an Etruscan necropolis, amphitheater and unbelievably beautiful ruprestrian church. A unique experience you couldn't find anywhere else.
Erica
2015-05-10T00:00:00Z
Accueil très chaleureux de Claudio et Sarah dans leur demeure historique, véritable château miniature dans un parc historique, au pied du village perché de Sutri, directement sur la SS2 vers Rome. Une etape "cosi" so english in the heart of Italy !
Florence
2015-07-21T00:00:00Z
Room Type
Private room
---
Property Type
Bed & Breakfast
---
Accommodates
3
---
Bedrooms
Sutri, Lazio, Italy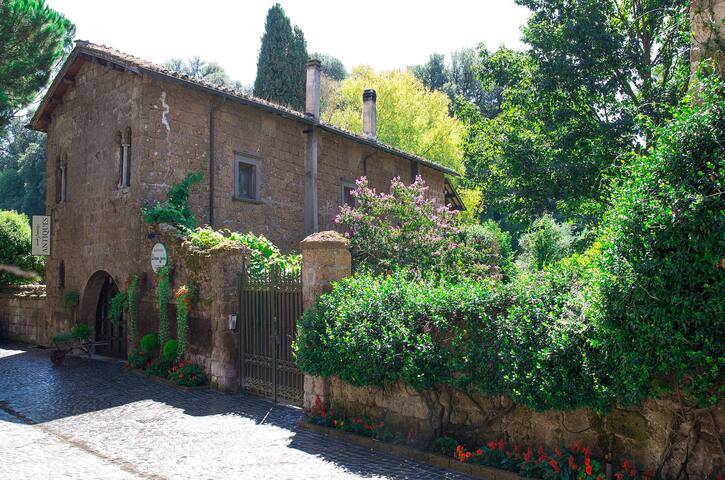 In our house in the historic center of Sutri, 30 minutes from Rome, we rent two double rooms with en suite and a single with private bath. We are in a historic building, just meters from the Town Square and the Cathedral. The house is furnished with antiques.
La cura dei dettagli e la Terrazza panoramica
Il centro storico della città
Benedetta and Andrea are incredibly welcoming and generous hosts. Sutri is a beautiful little town and they are really helpful with organising site-seeing, restaurants etc. The rooms themselves are comfortable and homey and the food provided was so, so good. They go beyond the call of duty to make their guests feel happy and at home while allowing them space to relax and enjoy their stay. Such a special stay and wonderful people!
Anna
2016-10-16T00:00:00Z
Room Type
Private room
---
Property Type
Bed & Breakfast
---
Accommodates
2
---
Bedrooms
Sutri, Lazio, Italy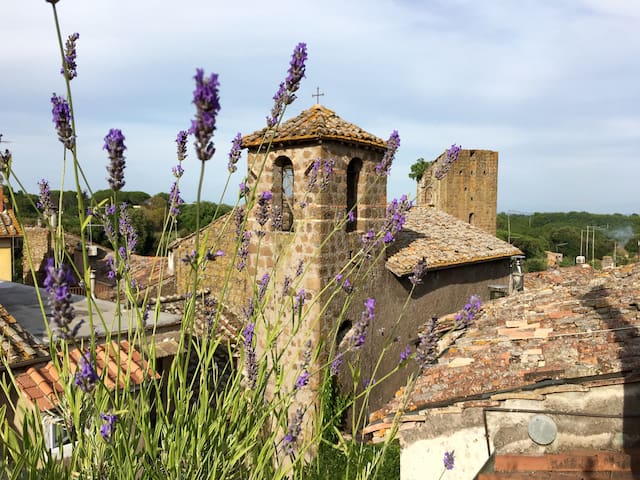 Casa di campagna indipendente, di recente costruzione. Troverete quiete e relax per le vostre vacanze, circondati dai campi da Golf della Federazione Nazionale Italiana Golf - Club Le Querce. Tre camere da letto con bagno privato, cucina e soggiorno.
La casa è una tipica abitazione di campagna, di recente costruzione; affaccia sui campi da golf della Federazione Nazionale Italiana Golf - Le Querce. E' un luogo ideale per trascorrere giornate in assoluto riposo o cimentarsi in piacevoli escursioni nelle tante località di interesse nei dintorni. La casa si trova vicino ai seguenti luoghi di interesse: Sutri 10 km Nepi 6 km Castello dei Borgia 6 km Palazzo Farnese - Caprarola 25 km Lago di Monterosi 3 km Roma 40 km Trevignano 10 km Lago di Bracciano 10 km Bracciano 10 km Via Francigena 1 km Nelle immediate vicinanze ci sono due maneggi, una scuola di addestramento rapaci, un parco avventure per bambini e un acquapark.
The place is fantastic, beautiful views and surroundings. Villa Giada provide access to country side and near inserting towns like Nepi, Sutri and is very close to Rome. My 4 year old Son and my 1 and half year old girl love to be in Lago Bracciano. All my family really enjoy be there. 5 Start location.
Eduar
2016-08-19T00:00:00Z
This is a very spacious property inside as well as outside. Several cars can be parked on the compound. The house has three floors. Downstairs the kitchen, which caters for the biggest meals you can cook with all the kitchenware available. The middle floor has a sitting room with in-roof balcony and two bed rooms. Top floor has two more bedrooms with another in-roof balcony. Day trips to Rome and evenings in the country side. This is a highly recommended place.
Eyco
2016-09-09T00:00:00Z
Rosalba è stata cortese è disponibile; la sua casa è molto bella. Noi abbiamo utilizzato soprattutto il giardino e solo per il pomeriggio. La casa si trova in cima ad una collina ed ha una vista superba, sia di giorno che di sera. Consiglio vivamente un soggiorno in questa bella casa.
Paola
2016-05-09T00:00:00Z
Alloggio incredibile, molto più bello di quanto appare in foto e con una veduta unica.. Tra l'altro vicino a tutto!! Perfetti anche nell'accoglienza!!
Alessandro
2017-01-01T00:00:00Z
Nous avons été agréablement accueilli par Stefano le mari de Rosalba. La maison est grande, bien équipée, avec une vue imprenable. La maison se situe à 5 minutes d'un charmant lac où il fait bon de se rafraîchir après une longue journée de visite à Rome. Il ne faut pas plus de 40 minutes en voiture pour être dans le centre de Rome en plein mois d'août ! Nous recommandons vivement!
Claire
2016-08-07T00:00:00Z
Fantástica casa, muy limpia, ordenada y grande. Estuve con mis padres y mi hermana y fue muy agradable, tanto el lugar como los anfitriones. La zona de los alrededores es muy bonita, hay muchos pueblecitos que visitar, los lagos Vico y Bracciano, so preciosos y con lugares para comer muy agradables. Muy recomendable
Ana
2016-07-18T00:00:00Z
Room Type
Entire home/apt
---
Property Type
House
---
Accommodates
7
---
Bedrooms
Sutri, Lazio, Italy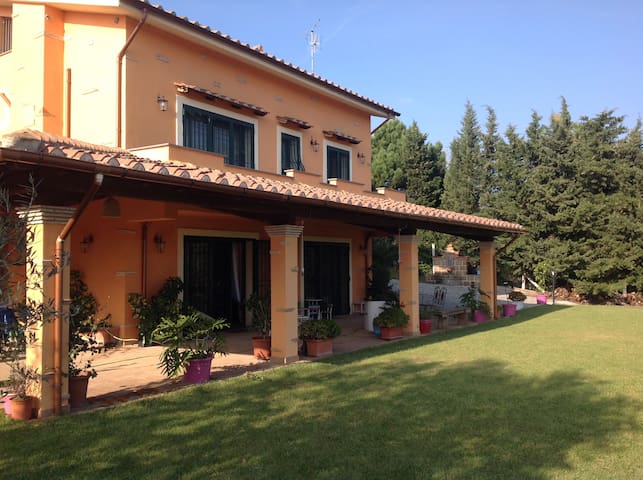 In 35 metri quadri c'è tutto a disposizione, in pieno centro storico, termoautonomo, al piano terra, zona notte con letto matrimoniale e grande armadio, divano a penisola comodissimo, cucina, forno a microonde, soffitto in legno con travi antiche
La comodità di essere in pieno centro storico con la piazza del Comune a venti passi, negozi, trattorie tipiche, e a cinque minuti a piedi fermata del bus con collegamenti diretti per Roma e Viterbo.
Pieno centro storico con le vie tipiche strette sfocianti nella piazza centrale
Room Type
Entire home/apt
---
Property Type
House
---
Accommodates
2
---
Bedrooms
Sutri, Lazio, Italy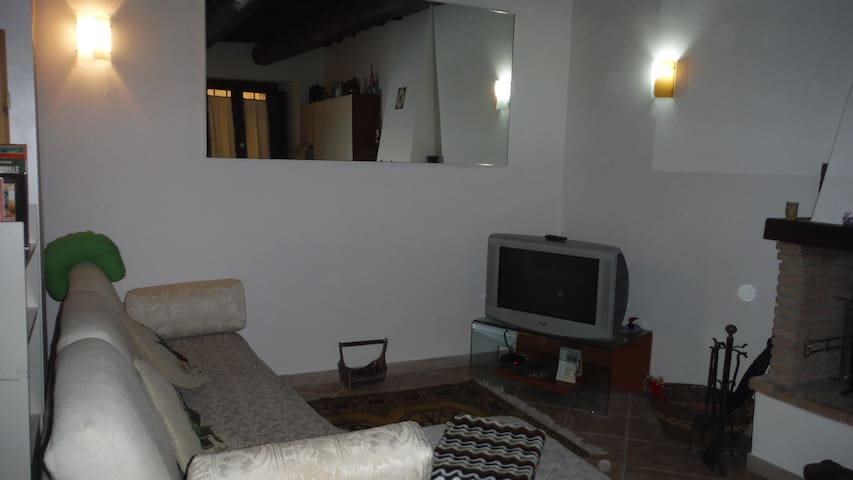 Newly renovated loft. Livingroom with fireplace, warm bathroom with great shower and kitchen fully equiped. You'll find a cozy bedroom up on a mezzanine. Enjoy our breakfast in the 24/7 Bar of Cavour Square in front of the apartment.
Lupo's loft was beautiful and clean. All necessities were included with a high quality finish, the 24/7 bar with WiFi was convenient especially for a late check in and the town was quaint and lovely. We would highly recommend this place.
Marjah
2016-07-31T00:00:00Z
Fantastic place! Lupo was a wonderful host that was extremely helpful for us. The apartment is so cute and beautiful, as is the surrounding town, we truly didn't want to leave.
Jordan
2016-09-27T00:00:00Z
This is great little studio apartment. It is beautifully decorated, furnished and finished. It overlooks a little square which is very atmospheric with a bar/ cafe just below. This is a great place to stay
Chris
2016-07-08T00:00:00Z
We didn't manage to meet Lupo, but he was very easy to communicate with and informed us of how to collect the keys. The room was beautiful, spacious, clean and although it has a medieval theme it was very modern inside. It is a very small town, so there wasn't much for us to do, but we only planned to stay one night as a rest through our road trip. The bar (more like a cafe) downstairs is open 24/7 so you do have a sense of safety. The bed was very comfortable! There is no wifi in the room itself, and you would have to go downstairs to the bar to use the internet. There is also no parking outside the loft, we had to park down the road (which was free) and walk up, but it wasn't an issue.
Nasim
2016-09-06T00:00:00Z
Lovely spacious flat located opposite a charming traditional village square. Ample free parking and Lupo was very communicative before the stay. The bed was comfy and the relaxed check out time meant we weren't in a rush to head off the next morning. Although it's a quiet village, the night we stayed, a stag party arrived into the tiny square opposite with AC/DC's 'You Shook Me All Night Long' blasting out of a pickup truck and proceeded to butcher about every English and Italian song ever recorded! It was brilliant to watch from the apartment though - our experience was much more fun because of it! Left (and picked up) the keys from the little bar right next to the apartment.
Jack
2016-07-16T00:00:00Z
The place is very great in the center of Sutri. Well equiped and very cosy with a beautiful view on a small square. Lupo is a great host. I recommend this place
Emmanuel
2016-08-23T00:00:00Z
nice loft, clean and comfortable. Me and my girlfriend stayed there for one night and we really enjoyed the nice area in the centre. Easy parking close to the apartment
Silvano
2016-07-25T00:00:00Z
Cozy and rustic in a perfect location. Fast and helpful communication including welcoming note. It was very cold when we arrived and air conditioning only heated upper mezzanine level so we lit the fire. Unfortunately we didn't realize that the chimney wasn't fully functioning so we spent the night in a fume filled room.
Kate
2016-12-08T00:00:00Z
Room Type
Entire home/apt
---
Property Type
Apartment
---
Accommodates
3
---
Bedrooms
Sutri, Lazio, Italy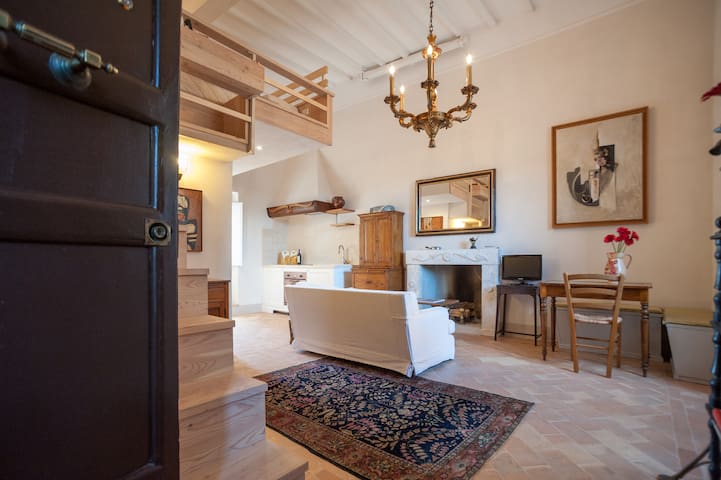 Confortevole camera B&B in appartamento lussuoso appena ristrutturato nell'antico (300 A.C.) borgo di Sutri, a 30 minuti sia da Roma che da Viterbo. L'appartamento è in pieno centro storico ma affacciato sulla campagna , e dal suo soggiorno si vede da un lato la Cattedrale e dall'altro si ha una vista senza ostacoli sulla collina di fronte . Camera matrimoniale con letto alla francese e bagno privato con cabina doccia .
Appartamento moderno, dotato di ogni comodità, confortevole e silenzioso pur essendo in centro. Da casa e sempre in 30 minuti di auto potete essere in centro a Roma , o alle terme di Viterbo , o in una delle città d'arte della Tuscia che sono tutto attorno .
Sutri è un antichissimo borgo, risalente al 300 Avanti Cristo.
Room Type
Private room
---
Property Type
Bed & Breakfast
---
Accommodates
2
---
Bedrooms
Sutri, Lazio, Italy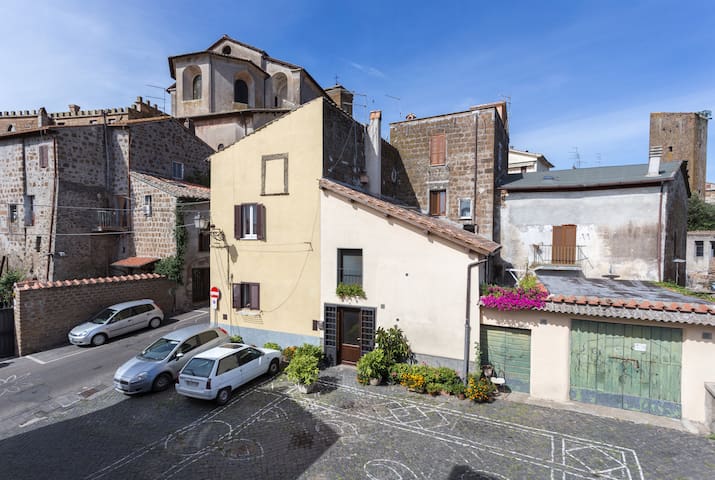 2 Bedroom garden apartment in 4-hectare property. Sleeps 5. Own garden, terrace, parking, garage. On hills above Lake Bracciano, Peace, tranquillity and unique views. Ideal for relaxation, sports and sightseeing. Nearby towns: TREVIGNANO ROMANO, by Lake Bracciano - 15 mins- Beach, sailing, restaurants, bars, supermarkets; SUTRI - Ancient hill town - 20 mins - Etruscan amphitheatre, Mithraic temple; BRACCIANO - 20 mins - Castl(URL HIDDEN) See our websire - (URL HIDDEN)
The garden apartment is one of only two abodes in a 4-hectare property. Guests drive up to the entrance patio, which has plants and a table for outside eating or drinks in the evening sunlight. On entering the apartment, you are in the living/dining room (sofa,coffee table. TV, round table and 4 chairs + child/adult dining chair) with a picture window at one end and a fully equipped modern kitchen (fridge/freezer, cooker, oven, dish washer, broom cupboard) at the other. All pots/pans, kettle, teapot, cutlery, crockery necessary for simple or more complex cooking available. As you go into a wide corridor, there is a a double bedroom on your right. To the left is the walk- through wardrobe and fully equipped bathroom (shower, bidet, washbasin and washing machine), at the end of the corridor there is a large bedroom with a double bed, desk and chair, and a sofa/single bed. It has a door to the patio.
Localita La Calandrina is an exclusive rural development which people have chosen because of the peace and quiet, the forest, the views, the nearby lake and the many interesting surrounding towns. It is in the middle of the Bracciano regional Park. It is an international community where people from different countries mix with Italians.
This is a very comfortable apartment in a beautiful house. The hosts were incredibly welcoming- even inviting us in for a glass (or two) of wine. They were forthcoming with lots of helpful information. The location is very quiet-you need a car-but there is lots to keep you busy in the local area and it's very easy to get to Rome on the train. Very highly recommended.
Jodi
2017-02-10T00:00:00Z
Appartamento come da descrizione, immerso nel verde a 15 minuti dal lago. Marisol è' stata gentilissima ed ha accolto le ns richieste prontamente. Ci tornerei sicuramente !
Claudia
2016-08-15T00:00:00Z
Room Type
Entire home/apt
---
Property Type
Apartment
---
Accommodates
5
---
Bedrooms
Sutri, Lazio, Italy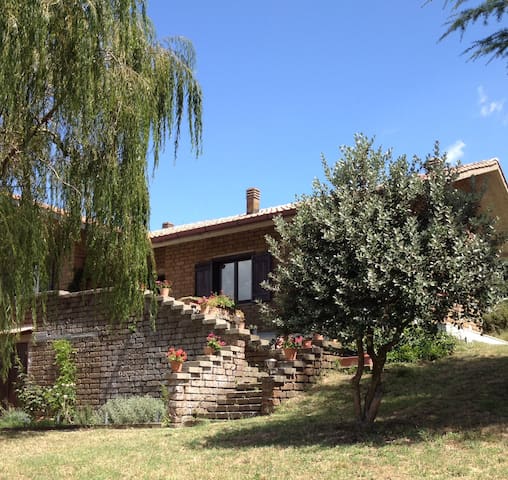 L'appartamento, sviluppato su due piani, si trova all'interno dell'antichissimo borgo di Sutri. E' composto da un grande salone con angolo cottura, due stanze da letto, un bagno con doccia e una soffitta. La casa è stata finemente ristrutturata e arredata con mobili di antiquariato, oggetti in rame, soffitto tradizionale in legno e mattoni in cotto. E' possibile utilizzare il grande camino del salone. Rimarrete incantati dal suggestivo contesto medievale.
Room Type
Entire home/apt
---
Property Type
Apartment
---
Accommodates
4
---
Bedrooms
Sutri, Lazio, Italy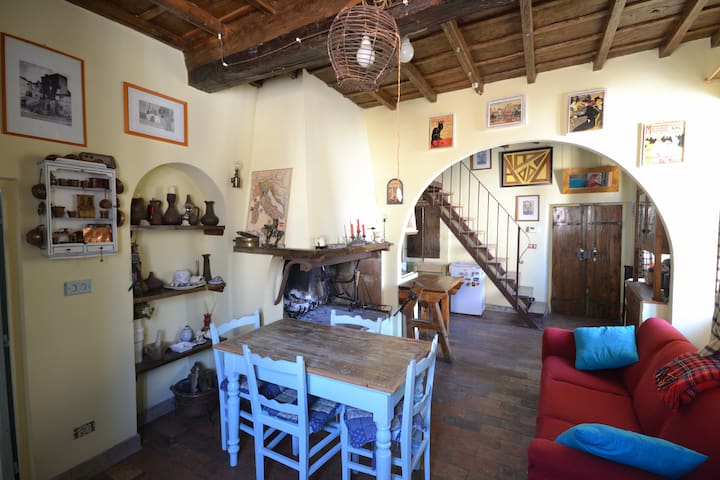 L' appartamento si trova nel centro storico di Sutri ed è stato completamente ristrutturato. Il sofitto è in legno originale invecchiato dal tempo. L'appartamento è su due piani; il secondo è mansardato ed è perfetto per due bambini. La casa è provvista di asciugamani e lenzuola, ha una sala pranzo spaziosa con soffitto in legno, cucina e bagno privato con set di cortesia. Siamo sulla via Francigena.
Room Type
Entire home/apt
---
Property Type
Apartment
---
Accommodates
6
---
Bedrooms
Sutri, Lazio, Italy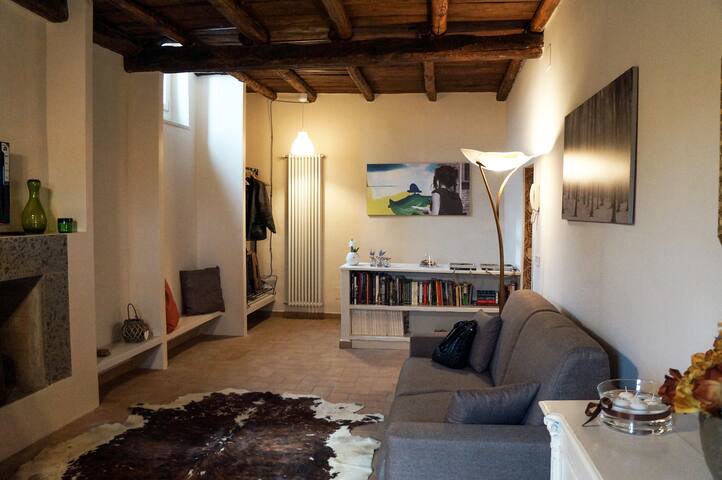 Il nostro splendido e accogliente loft a Sutri ti permette di godere in serenità le bellezze del posto ( lago di Bracciano, lago di martignano, terme dei papi, anfiteatro e grotte etrusche, antico Mitreo, la vicina Roma), con il massimo confort. Perfetto per coppie o famiglie, cucina attrezzatissima, ottima ospitalità.
Il design interno, l'esser fornito di ogni confort e dettaglio, per offrire una vacanza in pieno relax
My husband and my stay at this wonderful jewel of a place in Sutri was beyond our expectations. Chiara's mother, Simona, and her aunt, Juliana, greeted us so warmly when we arrived. They pointed us to their favorite restaurant, Locanda di Saturrno, which had a beautiful setting and generous portions of delicious cuisine. The loft itself is wonderfully arranged, allowing ample space. It was a joy to be there, and I found myself imagining actually living there - it would have been exactly what I would've wanted in a permanent residence. I sat on a cushion by the window in the kitchen looking out across the old part of town with the cathedral right there in front of me. Magical. We wished we could have stayed much longer.
Lisa
2015-08-15T00:00:00Z
Bellissimo loft in centro a Sutri. Perfetto per giocatori di golf, a 5 minuti dal Campo Nazionale e vicinissimo a Roma. Locale pulito, accessoriato e confortevole. Consigliatissimo!!!
Marzia
2017-03-10T00:00:00Z
L'appartamento molto curato nello stile è anche funzionale, luminoso e i lucernari elettronici sono fantastici. A pochi metri dall'ingresso vi è una pizzeria di qualità con una discreta varietà di birre artigianali. Consigliato
matteo
2015-12-20T00:00:00Z
Room Type
Entire home/apt
---
Property Type
Loft
---
Accommodates
4
---
Bedrooms
Sutri, Lazio, Italy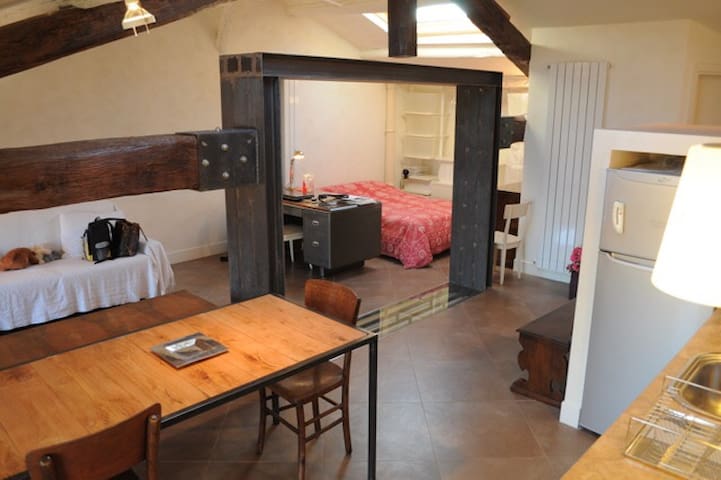 Elegante villa in zona tranquilla e ben collegata,disposta su 2 livelli con al piano terra ampio soggiorno,cucina abitabile,camera matrimoniale e bagno;piano primo 2 camere e bagno,ampia zona esterna con giardino e posto auto privato.
Room Type
Entire home/apt
---
Property Type
House
---
Accommodates
4
---
Bedrooms
Sutri, Lazio, Italy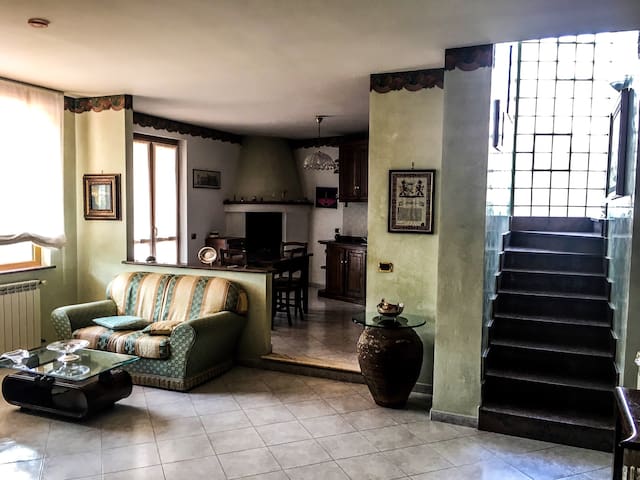 L'Alloggio Nella mia villetta vicino al bosco all' interno di un comprensorio denominato "Colle Diana", ho aperto il mio Bed & Breakfast, dove la pace e la tranquillità fanno da padrone. Il lago di Vico è a pochissimi km e anche l' affascinante lago di Bracciano ai piedi del rinomato Castello Odescalchi.
Nella mia villetta vicino al bosco all' interno di un comprensorio denominato "Colle Diana", ho aperto il mio Bed & Breakfast, dove la pace e la tranquillità fanno da padrone.
Colle Diana, il comprensorio dove si trova la mia casa, così denominato perché all' interno sorgeva i resti di un tempio dedicato a Diana, dea italica, latina e romana, signora delle selve, protettrice degli animali selvatici, custode delle fonti e dei torrenti, protettrice delle donne, cui assicurava parti non dolorosi, e dispensatrice della sovranità. Ed ancora dea della caccia, della verginità, del tiro con l'arco, dei boschi e della Luna..insomma un posto pieno di energia e romanticismo
Room Type
Private room
---
Property Type
Bed & Breakfast
---
Accommodates
2
---
Bedrooms
Sutri, Lazio, Italy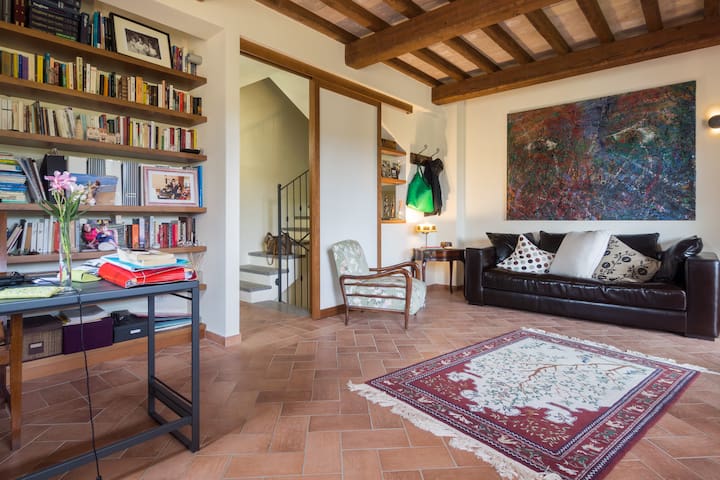 French Brass Bed and Leather Sofas, Cooker, Fridge/Freezer, Washing Machine and Internet. On a beautiful Piazza. In a very picturesque village. Friendly neighbours with a cafe on the Piazza.
This apartment is in the Historic Centre. It is also on a Piazza.
Local people are very friendly. Often times there are festivals and music is celebrated in Sutri.
Room Type
Entire home/apt
---
Property Type
Apartment
---
Accommodates
4
---
Bedrooms
Sutri, Province of Viterbo, Italy
Il casale Piancastgno è immerso nella splendida natura dell'alto Lazio ed è dotato di ogni comfort per rendere il vostro soggiorno unico ed indimenticabile.
Room Type
Entire home/apt
---
Property Type
Villa
---
Accommodates
8
---
Bedrooms
Sutri, Lazio, Italy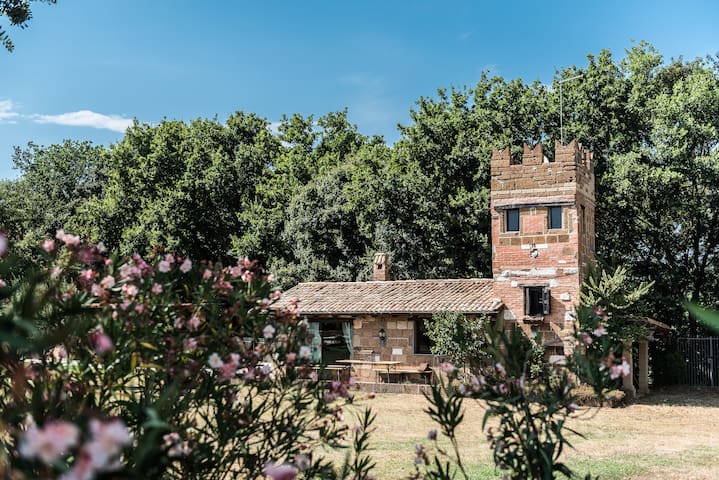 Villa near Golf Nazionale in a district with shared pool. Large living room with fireplace,large kitchen,4 rooms,4 baths,2 hobby rooms with fireplace and 2 beds in one of theese. Air conditioning in 3 rooms. Garden and large terrace with barbecue and wood-fired oven.
Villa next to the Golf Nazionale,in a luxurious compound with pool. Large living room with fireplace,study with pool table and fireplace. 4 bedrooms with 4 bathrooms,spacious kitchen,laudry and hobby room with fireplace with two beds. 3 air-conditioned rooms. Garden and spacious porch on 3 sides of the house.
Questa casa è l'ideale per chi vuole stare a due passi da Roma per visitarne le bellezze,ma poi vuole ritirarsi nella pace della campagna laziale.
The house is big and beautiful with wonderful terraces. the highlight of the location is the amazing view on the golf and countryside. We could watch a different sunset everyday. The swimming pool is large and only 2 minutes walk from the house. But there were opening hours. The national golf is very close so we could take lessons and have lunch. It was great fun. For food we had to drive to Sutri. Rome is 40 mn drive. Me and my family (4 adults and 4 teen agers) we spent a good Time.
Mouloudia
2016-08-24T00:00:00Z
Het was een prachtig huis met een geweldig uitzicht en prachtige zonsondergangen! Het welkom door de verhuurders was warm en erg gastvrij. Er stond zelfs drinken, fruit, melk, koekjes, zoutjes en water klaar. Voor de omgeving leek het even wennen en niet alle Italianen die daar wonen waren even gastvrij en aardig. Minpunt voor ons waren de beperkte zwemtijden en regels rondom duiken en springen. Niettemin hebben Valeria en Alberto adequaat gereageerd en misverstanden proberen op te lossen. Rome ideaal dichtbij! Leuke dorpen eromheen. Heerlijk meer in de buurt om te zwemmen. En alle rust en ruimte in en om het huis. Parkeren dicht bij huis kan wel een probleem zijn in verband met minder tolerante Italianen. Maar wij, 2 volwassenen en kinderen in leeftijd 16,13,12,11,9, hebben genoten van mooi Italië in een prachtig huis met geweldige ligging. Milly
Milly
2016-08-14T00:00:00Z
Room Type
Entire home/apt
---
Property Type
Townhouse
---
Accommodates
10
---
Bedrooms
Sutri, Vt, Italy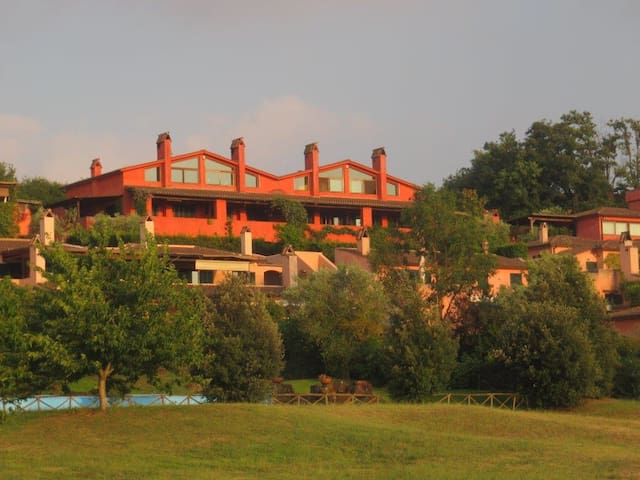 Sutri - Airbnb
:
Average

4.07

out of

5

stars from

42

guest reviews