A spacious cathedral-style cottage with beautiful mountain views! Situated on a dead-end street only 1 hour from Montreal and surrounded by outdoor activities ( kayak, hiking, mountain climbing) and services; 5 min drive to a ski-hill.
Quiet street with mountain views. 4 bedrooms ( 2 queen beds, 4 single beds). Spacious and bright living room. Fully equipped kitchen (also basic spices).
Restaurants, ski-hills, mountain hiking, groceries, bike trails, amusement parks.
This was the first time I booked a larger place with a group of friends. We were five women and spent two nights at the Blue Cottage. From my initial inquiry to the end of our stay, Hyoun-Joo was very quick, kind and helpful in answering all of my questions. I felt welcome, particularly after having approached a different host who seemed suspicious of my intentions. The place itself was easy to find, was very well equipped (including towels and linens and a small hairdryer) and was just the right size for our needs. A binder with information was available, and the host left us a little gift which was unexpected and appreciated. My friends were pleased with the cottage and commented on its cleanliness. There are three floors: the top floor is where you will find the mezzanine/queen bed and half bathroom; the main floor (where the main entrance is) is where you will find the purple room/single bed, bathroom with bathtub/shower (and detachable shower head), washer & dryer, kitchen (fridge, stove, dishwasher, etc.) and living room; the basement (with a separate entry) is where you will find the remaining bedrooms - one room with two single beds and other room (green circles) with queen bed. A couple of helpful tips: -If you are using the hot tub in the winter, it is best to heat it several hours in advance (I later learned it can take 4-5 hours), setting it to 104 and keeping the top closed. -It is best when flushing the toilet to hold the lever down until the water goes down, otherwise it may not flush fully. (That said, we didn't experience any issues.) Other things that were nice: -The heat could be regulated in the individual areas. -There were many mirrors, trash cans and kleenex boxes in the different areas (and extra toilet paper if needed). -We enjoyed the fireplace - there was lots of wood and kindling available. -The host offers samples of skincare products to try and a trust system if you are interested in purchasing any of them. -The cottage is situated close to different services and activities. Roughly 15-20 minutes away is the Parc Régional de Val-David/Val-Morin where we enjoyed cross country skiing, and a few minutes away is a popular breakfast/lunch place called Au Petit Poucet (just keep in mind the wait can be long). I think it would be a nice place to visit in the summer as well to experience the private lake. I was really grateful for the positive experience and that my friends were happy with their stay. The rate was very reasonable. If anyone is considering a convenient, clean and affordable place to book as a group, I would not hesitate to recommend Hyoun-Joo's cottage.
Liane
2015-03-01T00:00:00Z
We had a wonderful time! There were 8 of us in all and the cabin was more than big enough for all of us. Highlights included the wonderful hot tub, well equipped kitchen, wood fire and comfy beds. Hyoun Joo responded rapidly and was a great host. Thanks for having us!
Zoë
2016-12-11T00:00:00Z
We had a great experience at Hyoun Joo's cottage. The place was clean, comfortable and a great escape from the city. Hyoun Joo was very accommodating and easy to communicate with. I would recommend this cottage to anyone.
Mike
2016-10-10T00:00:00Z
What a perfect place for a get-away. Our host was extremely gracious and even left a personalized note just for us! Everything that we read would be there, was there and in perfect working order. From the spa to the fireplace to the comfy beds that held our slumber. The house was clean and extremely well kept and supplied. The area was quiet and serene yet with grocery stores and parks easily accessible. Sincerely it was one of the best stays ever!
J.P.
2015-11-08T00:00:00Z
Had an amazing ski trip getaway. Amazing home. Would come again.
Rodney
2016-12-21T00:00:00Z
A very positive experience with our host, who proved to be very organized and flexible. The property was beautiful and safe for our young children. The cottage itself is also kid-friendly, spacious, clean and very bright. We really appreciated how well equipped it was... everything we needed was there and more! The beds and bedding we're extremely comfortable, as was the patio furniture on the outside deck. I would definitely recommend this property for anybody who is looking for a great spot to relax, enjoy nature and all that Val-Morin and Val-David have to offer (great for any outdoor sport enthusiasts).
Emmanuelle
2016-05-03T00:00:00Z
The host canceled this reservation 42 days before arrival. This is an automated posting.
Annik
2015-06-26T00:00:00Z
Very nice place and easy to communicate with host. No issues and cozy place!
Jennifer
2017-03-12T00:00:00Z
Room Type
Entire home/apt
---
Property Type
House
---
Accommodates
8
---
Bedrooms
Val-Morin, QC, Canada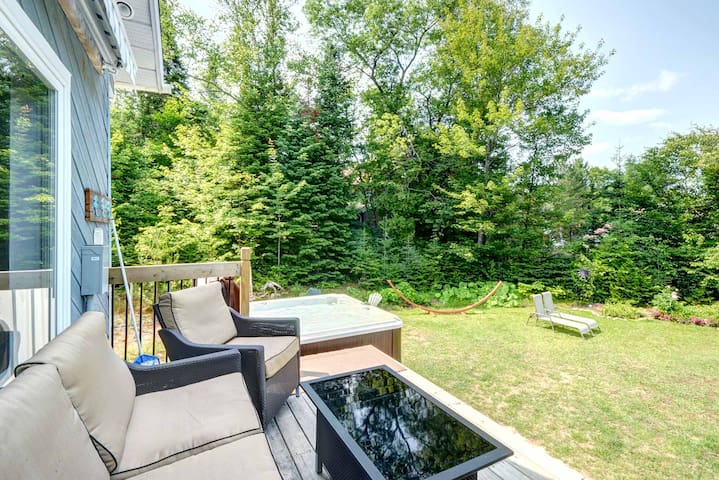 This beautiful home offers the best view in the Laurentians. Whether winter, summer, fall or spring this is an amazing location. Skiing, snowshoeing, skating, horseback riding, dog sledding, rock climbing, swimming, really so much to do here.
This gem is my home in the Laurentians. It is one of the most spectacular views in the region and very quiet. Close to all activities and amenities, it is a wonderful place to live and to spend time with loved ones. The view speaks volumes. The fresh air and wonderful breeze on the mountain. Solitude, bliss I am not at the chalet when I have guests. This is a private residential neighbourhood and we intend to keep the peace and quiet here at all times.
This neighbourhood is on the border of Ste. Adele where you will find wonderful restaurants, cinema, 2 large grocery stores and wine stores. Everything you need is within 5 minutes. All neighbouring towns offer skiing, swimming, beaches, lakes, antiquing, gourmet restaurants, outside concerts; really too much to mention here.
The house was great and ticked away near the end of a road. Very private and beautiful view. Victoria was very nice and accommodating.
natalie
2016-05-28T00:00:00Z
This was the most beautiful views ive seen in my life, the house is very nice and clean. Victoria welcomed us with cheese and bread and it was easy to communicated with. Definitely we're coming back for vacations. And the spa with that view was just perect for relaxation.
jeff
2016-05-02T00:00:00Z
We loved staying here! Victoria was lovely. She gave us a warm welcome and all the info we needed. And the view!!! Holy cow. We worried the deck wouldn't be as great as it was in the pictures, but we were wrong! It was gorgeous. We spent a lot of time out there lounging. We highly recommend the place and hope to return!
Lu
2015-06-26T00:00:00Z
The host canceled this reservation 28 days before arrival. This is an automated posting.
fanny
2015-09-12T00:00:00Z
The pictures on Airbnb instantly drew me to this place, but standing on the patio and overlooking the valley was breathtaking. The cottage was cozy yet big, clean and homey with modern touches. Victoria was friendly, helpful and went out of her way to make our birthday getaway amazing. Everything and more than what we wanted for a great and peaceful time. Can't wait to get back.
Simon
2015-07-20T00:00:00Z
Unfortunately, I wasn't able to stay long due to an emergency. But for the time I was there, I can say that the view was fabulous and the jacuzzi was wonderful. Vicki was a great host, looking forward to returning someday!
Michael
2015-10-26T00:00:00Z
Very beautiful landscape. Very clean and very comfortable house. 家族4人で泊まりました。とても素敵なお宅で驚きました。部屋は広々としてとても清潔。オーナーも明るく大らかで楽しい人でした。何より眺めの美しさは、写真以上!!お値段は安くはないですがその価値はあります!小さなケーキとフルーツジュースのプレゼント、ありがとうございました。
Satoko
2015-10-03T00:00:00Z
Room Type
Entire home/apt
---
Property Type
Cabin
---
Accommodates
6
---
Bedrooms
Val-Morin, QC, Canada
My home is close to all services, tourist activities and is suitable for families. Enjoy the tranquility that gives you the view of the trees surrounding the field. Enjoy comfortable beds. Located 1 hr. from Montreal to exit 76 of Autoroute des Laurentides in the mountains. You will be 4 kilometers from Val-David, and 40 kilometers from Mont Tremblant. For the Sivananda Yoga enthusiasts center is 3
The hosts were welcoming, the rental was very clean and it had all of the amenities we needed. Would recommend!
Tammy
2016-09-02T00:00:00Z
Jean- Guy and Marietta were very welcoming and helpful. The house provided us will everything we needed and more, It was organized, tidy and really clean just the way we like it!!!
Maria
2016-09-06T00:00:00Z
Very good, nice environment
Sean
2016-08-28T00:00:00Z
The host canceled this reservation 2 days before arrival. This is an automated posting.
Juliette
2016-06-29T00:00:00Z
Great place, I recommend it if you are looking to get away and just relax. They have a fireplace and a great view of the out doors.
Vikas
2017-01-03T00:00:00Z
We went to Jean-Guy s place for a quick weekend outside of Montreal. And we were everything but disappointed! The place is gorgeous, spacious, and with a beautiful view on the wood. There is an indoor and outdoor fireplace. We were Jean-Guy first 'short term' rental, and you could tell he had experience with tenants! I strongly recommend anyone visiting the Laurentian's to visit his place! You will love it!
Marie-France
2016-07-17T00:00:00Z
I stayed for 4 nights. The place is very big and has all you need. Kitchen is well equipped. The outside is facing the lake forest with barbeque, rest chair and table and chairs. You will feel like you are inside a forest. The unit is well lit. The location is perfectly in between Mont Tremblantvand Montreal. Great supermarket 5 minutes away. Restaurants and gas stations closeby. Hosts were very nice and welcoming, always asking if everything is OK and provided me with information about the area. Highly recommended !
meni
2016-08-13T00:00:00Z
Vacationing in the house of Jean Guy and his wife was an absolute pleasure. We were staying in a separate lower part of the house which is totally private. It has its own patio facing a forest area with pines and birch trees. Both living rooms, kitchen and our master bedroom were very comfortable to stay and to relax. Main living room and master bedroom have large windows and they are bright and full of natural light. Sun is coming in the morning to the patio and living room and moves to bedroom afternoon. Apartment is airy and it was pleasant to stay there in good sunny and bad rainy days. Kitchen is fully equipped to prepare a gourmet meal based on fantastic Quebec products. The bathroom was clean and large enough, has bathtub-shower combination, shower with excellent water pressure. The owners are very nice elderly couple, they made us feel very welcome and presented us with a large fruit basket upon our arrival. Jean-Guy was checking on us during our stay to make sure that everything was going fine for us. He even provided us with wood for fireplace. We parted as an old friends and thinking to return next summer.
Ilya
2016-08-27T00:00:00Z
Room Type
Entire home/apt
---
Property Type
Apartment
---
Accommodates
8
---
Bedrooms
Val-Morin, Québec, Canada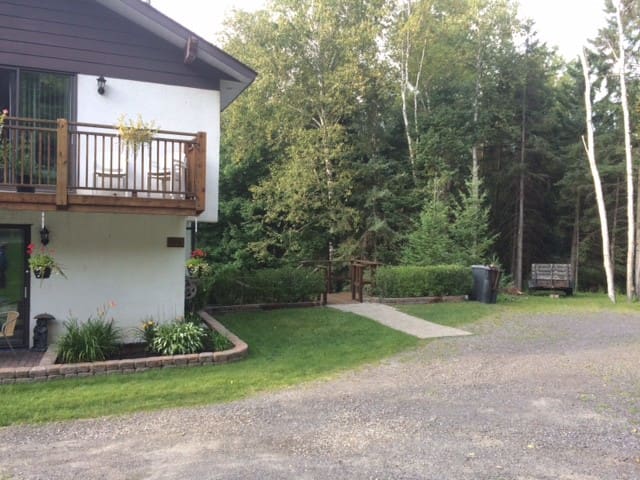 Cozy little cottage, in open air. A bedroom and a sofa bed in the lounge. Located in cul de sac, it offers a wooded area and a bbq and wood adirondacs chairs for relaxing outdoors.
3 minutes from the village of Val-David (grocery, restaurant, bistro, bike rental, canoe ...) Located 5 minutes from the Dufresne Park (hiking, mountain biking, climbing.) Near lakes, rivers, parks (Mont-Tremblant, Don beaver ...) Surrounded by mountains, 2 minutes from the nearest Ski hill ... 15 minutes from St-Sauveur, 45 minutes from Montreal ...
Great stay! Very quiet and very clean. Perfect for what we wanted. Would definitely recommend to anyone who wanted to get away for a couple of days! :)
Kassidy
2016-07-12T00:00:00Z
Delphine's chalet is a perfect getaway for two. The house is at the end of a cul-de-sac and separated from any neighbours by thick trees. It felt very isolated for a place so close to all the amenities (restaurants, supermarket etc...) of town. Delphine greeted us to show us around and had a fire going for our arrival. The chalet is very well designed and although small, feels very spacious. The kitchen is well equipped for cooking, everything you would need for oven or stove. We were there on a particularly cold weekend and the chalet easily stayed warm enough. There are 2 ski hills under 5 mins away, and several others within 15 mins drive. I really enjoyed my stay here and would not hesitate to recommend it to others.
Edmund
2017-03-13T00:00:00Z
The little chalet was exactly what I was looking for; adorable and perfect. Super quiet and away from everything. The chalet was very clean and had everything I needed. It was a perfect solo get away and I would definitely recommend Dephine and her chalet. Dephine, merci pour tout; c'était très apprécié! natacha
natacha
2016-05-28T00:00:00Z
Delphine met us at the cottage to give us the keys, and show us the space. She was so sweet and welcoming. The description and pictures do not do it justice, you cannot feel the love and caring that have been put into the place until you arrive! Although the chalet is cozy, it is also spacious, and everything needed was there. The grounds and neighborhood were also peaceful and beautiful. We would absolutely love to stay there again if we are in the area.
Sharon (Giri)
2016-07-26T00:00:00Z
Great trip and great cottage. Everything was very clean and surpassed my expectations. Definitely recommend and want to come back.
Jordan
2016-07-11T00:00:00Z
A tranquil retreat near a woodland. The area is beautiful and I could not have been happier. Try the pizza at Cal's!
Nathan
2016-08-31T00:00:00Z
Superbe séjour tranquille dans ce petit chalet bien équipé. La communication avec Delphine fut rapide et efficace. Merci!
Marie-Ève
2017-04-06T00:00:00Z
Super séjour dans le charmant petit chalet chaleureux de Delphine! On s'y sent tout de suite bien et c'était très propre, fonctionnel et bien situé pour visiter les alentours. * Le mini mini hic: lorsque nous mangeons à l'extérieur, on entend la route 117 qui se trouve pas très loin. Adresse que nous allons définitivement conserver pour y retourner!
Maude
2016-07-29T00:00:00Z
Room Type
Entire home/apt
---
Property Type
Chalet
---
Accommodates
2
---
Bedrooms
Val-Morin, Québec, Canada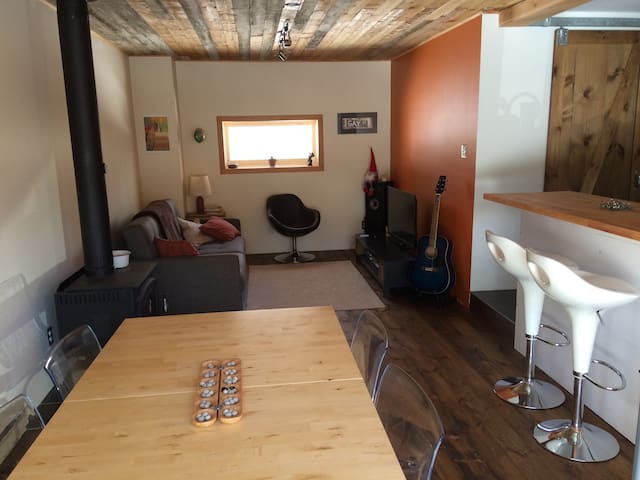 Close walk to the Sivananda Ashram Yoga Camp. Between 5 to 15 minutes drive there are several outdoor activities (biking, canoeing, hiking, beach, golf, water slide, horseback riding), cinema, restaurants, summer market, shopping.
Room Type
Entire home/apt
---
Property Type
House
---
Accommodates
2
---
Bedrooms
Val-Morin, Québec, Canada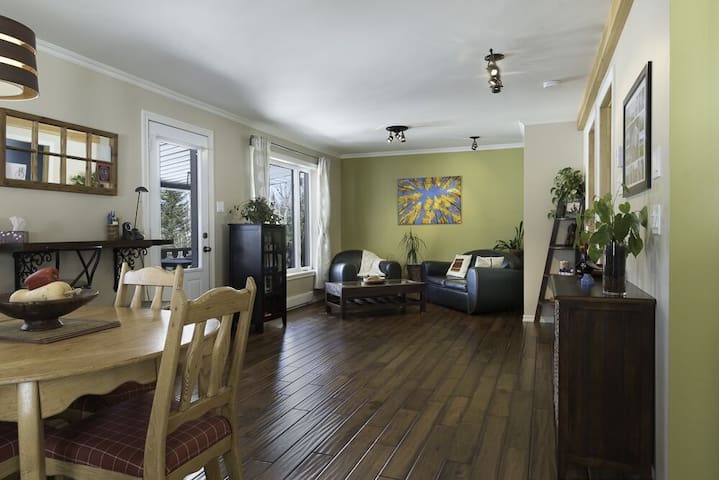 Hello and welcome to my cottage / house. In the Laurentians, near the ski slopes, restaurants famous. peaceful and chaleureux.Mon accommodation is close to art and culture, restaurants, beach and facilities for families. Enjoy my accommodation for the area, comfortable bed, brightness, comfort and cuisine. My accommodation is perfect for couples, business travelers, families (with children) and four-legged.
This air bnb experience with Daniel at his Chalet was beyond perfect. Daniel was such a courteous host and great communicator. He had the fire place lit for when we arrived. The chalet is decorated with a mix of modern and vintage and the photos do not do it justice. You will not be disappointed. It is a gem! There is everything you could need, including coffee grinder and big fluffy towels, and our stay felt incredibly easy, which is just what we needed on a weekend away. I have definitely let my friends and colleagues know about this wonderful place; easy to get to, charming, wonderfully kind host, and we certainly plan to return.
Louise
2016-10-16T00:00:00Z
This unit is flooded with natural light and had nice views of trees. A separate den downstairs is good for teens to hangout. Very clean, nice atmosphere. Small desks in every room, so great for a working holiday. Close to Sivananda yoga ashram. Friendly host.
Debbie
2017-02-26T00:00:00Z
Had a great trip to the Tremblant area. Daniel was a great host and his accommodations were everything we needed. We would go again without hesitation.
Mark
2017-02-20T00:00:00Z
Nous avons passé une semaine extraordinaire dans le chalet de Daniel et avons eu beaucoup de mal à le quitter . Ambiance cosy et chaleureuse , décor élégant et aménagement fonctionnel, emplacement enchanteur et vue magnifique sur la nature alentour, et beaucoup de choses à découvrir aux alentours , promenades en raquettes ou non, randonnées en chien de traîneau, motoneige, cabanes à sucre, tout y est ! Daniel est un hôte très attentionné et délicat et son accueil d'une grande gentillesse ! une adresse que nous recommandons particulièrement pour séjourner dans les Laurentides
Frédérique
2017-03-13T00:00:00Z
Daniel est quelqu'un de très accueillant, il veille a garder contact pour s'assurer du confort de ses hôtes. Honnêtement, c'est le genre d'hôtes qui contribue au succès d'Airbnb et c'est certainement le genre de personne sur qui on veut tomber. Daniel est a recommandé sans hésitation avec un endroit très chaleureux.
Dany
2016-10-10T00:00:00Z
Un endroit paisible et arrangé avec bon goût. Un accueil chaleureux ... un excellent séjour chez Daniel. Recommandé sans restriction!
sylvie
2017-03-19T00:00:00Z
Room Type
Entire home/apt
---
Property Type
House
---
Accommodates
4
---
Bedrooms
Val-Morin, Québec, Canada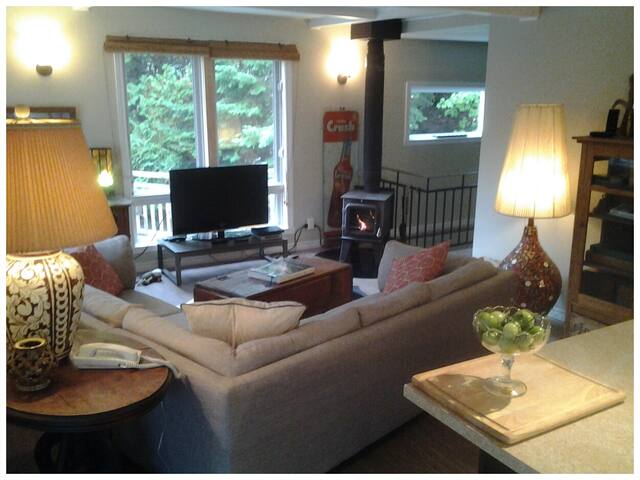 We live in a beautiful wooden house near a small lake surrounded by mountains. The house is spacious and the rooms are freshly renovated. Outdoor, leisure and culture nearby. 20-minute walk from Val-David.
Nice renovated room, comfortable double bed. Combinable with our other ad on the larger of the two rooms we offer. See why "bucolic mountain vacation" Wake the birdsong included also!
We are located in a quiet location in a private road. A 20 minute walk from Val-David: His only farmers market Saturday morning, festivals, restaurants, breweries, shops and more! (Website hidden) ideal location: Just 15 minutes from the Saint-Sauveur station and 30 minutes from Tremblant Resort. And only 10 minutes walk from the village of father Christmas! (URL HIDDEN) Sivananda Ashram Yoga center near
Had a good stay with Nathalie and Eric at their charming place in Val David. They made us feel very welcomed during the 3 days. They gave us lots of advice on activities in the area. Location is amazing with a small lake just meters away and lots of stars to stare up at night.
Garrett
2014-09-25T00:00:00Z
Nathalie and Eric are very welcoming people. Before I even met them, they were already inviting me to join their plans for the evening. The house is sweet, quiet, there's lots of space. I passed a quiet and refreshing evening - which is what I was looking for. Thanks again for having me stay!
Julia
2015-04-13T00:00:00Z
Really made the stay enjoyable. Great conversation, art work and tips for the area.
Alec
2016-12-09T00:00:00Z
Natalie and Erik were great hosts with a great sense of humor. They have a cozy home right next to a private lake that you can go on with a pedal boat. We really enjoyed our stay and would surely recommend this place!
Michael
2014-10-05T00:00:00Z
This was our first airbnb experience and it exceeded our expectations. Nathalie and Eric were wonderful hosts and we felt at home right away. They were so helpful in recommending restaurants and activities, and even lent us some of their equipment. We enjoyed great conversation, a LOT of laughs, coffee, an impromptu cake, and even a spot-on caricature. Our only regret is that we could not stay longer. Merci Nathalie and Eric, and we hope to see you again one day!
Stefania
2015-02-18T00:00:00Z
Nathalie and Eric are a wonderful french couple. The trip was enhanced by the fact that we had such an amazing house and hosts. There house is amazing. It has pool table, plethora of instruments and what not! Lovely lake right outside the house. Eric is really funny and both are very helpful. We almost felt that it was our own home. The room had wooden walls and beautiful lamp. I am so impressed that I want to go back and stay with them again when I go to Val-Morin.
Nehil
2014-10-13T00:00:00Z
Natalie and Eric were friendly hosts with a very cute apartment, the surrounding is beautiful and very quiet. For our feeling, the temperature in the house was generally too low (between 17.5 and 19 °C). However, it was possible to heat our personal room which we did and which worked out well. The room was small but comfortable, the left side of the bed was squeaking terribly. The kitchen is furnished beautifully and well equipped. Playing pool in their living room was fun! Altogether, we had a great time in Val-Morin.
Anna
2014-10-07T00:00:00Z
Very cute home, great value for the price! Nathalie was very friendly and made us a lovely cafe in the morning! Very well equipped kitchen!
Lisa
2015-10-13T00:00:00Z
Room Type
Private room
---
Property Type
House
---
Accommodates
2
---
Bedrooms
Val-Morin, Québec, Canada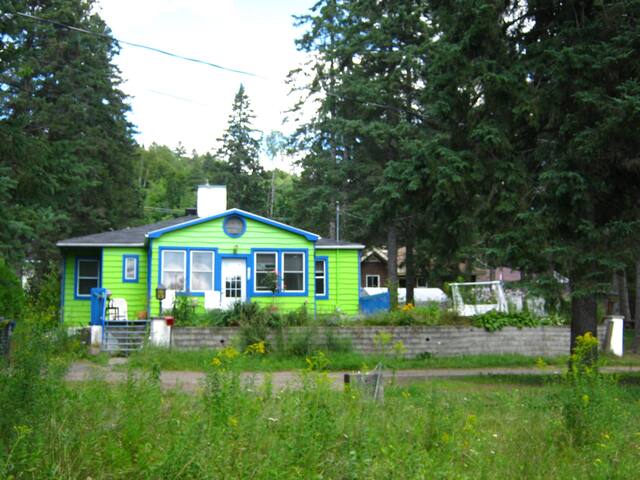 Enjoy this beautiful 5 Bedroom Chalet at the foot of the mountain in front of the snow park, and the snowshoe trail, near tremblant mountain, ste-agathe, Montreal (45 min) just perfect to visit, 2 minutes from val david.
Room Type
Entire home/apt
---
Property Type
Cabin
---
Accommodates
12
---
Bedrooms
Val-Morin, Québec, Canada
My accommodation is close to parks, art and culture, outstanding views, restaurants and the beach. Enjoy my home kitchen, comfort, location and view. My accommodation is perfect for couples, solo travelers. double parking included.
house warm, romantic and inviting to meditation, it is perfect for solo travelers wishing to enjoy the tranquility, to afford time introspective and contemplative in the company of the fire outbreak, inspiring music on my Ipod. Couples will also find their account in this intimate atmosphere.
My house is near the village of Val David, you'll find there Cafés / Bistros very charming. My favorites: The General Café, where you can lunch all day until 15h every day with an outgoing original menu of classic breakfasts and cozy artistic atmosphere with super friendly people! There is also the Café C'est la Vie, which also ensures ultra nice atmosphere. Both are on the street of the Pine Forest along the bike path Ptit Train du Nord. Others must, Summer and until the end of October there is the Public Market on Saturdays all day with a driveway also dedicated to artisans in the area. At any time, a visit that will be worth a visit is the General Store which offers a nice variety of items / decorations home accessories and they even have a small cafe area with pastries and ice cream. Place really charming and stylish! For outdoor enthusiasts, you'll be delighted by hiking or climbing Mont Condor.
The host canceled this reservation the day before arrival. This is an automated posting.
Krystal
2016-09-15T00:00:00Z
Our friends stayed at Annie's with their one month old baby and had a really good time. The place was described very cosy and comfortable. Annie was super helpful, she went really out of her way to make them comfortable. I highly recommend this place :)
Jessica
2016-09-24T00:00:00Z
Annie's space is very beautiful and spacious. Some special features are the wood stove and separate heating controls in each room, plus a space heater. The views were lovely from the many windows. There is ample parking. It was also extremely quiet and peaceful, yet within a short drive of Val David with restaurants and also the linear park and other ski and snowshoe areas. Highly recommended!
Mary
2017-02-24T00:00:00Z
Nous avons adoré notre séjour chez Annie. L'endroit est propre, des plus charmant et très chaleureux. Nous nous sommes bien senti dès notre arrivée, l'énergie est calme et apaisante. Magnifique endroit pour se ressourcer seul ou en couple, prendre des vacances de la ville! Les petites attentions de notre hôte ont agrémentées notre séjour (merci!). Petit havre de paix à visiter ou revisiter, à réserver sans hésiter!!
Julien
2017-02-10T00:00:00Z
Room Type
Entire home/apt
---
Property Type
House
---
Accommodates
3
---
Bedrooms
Val-Morin, Québec, Canada
I am looking to rent for the period 1 to 22 May I live a very humble and charming cottage. There is no fluff, it's small, clean and comfortable. The bike path North train and to 0.5 km, the lively village of Val David is 3 km. At 5 mns car is dufresne entries for the park welcoming walkers, climbers, skiers, and mountain biking.
Room Type
Entire home/apt
---
Property Type
House
---
Accommodates
5
---
Bedrooms
Val-Morin, Québec, Canada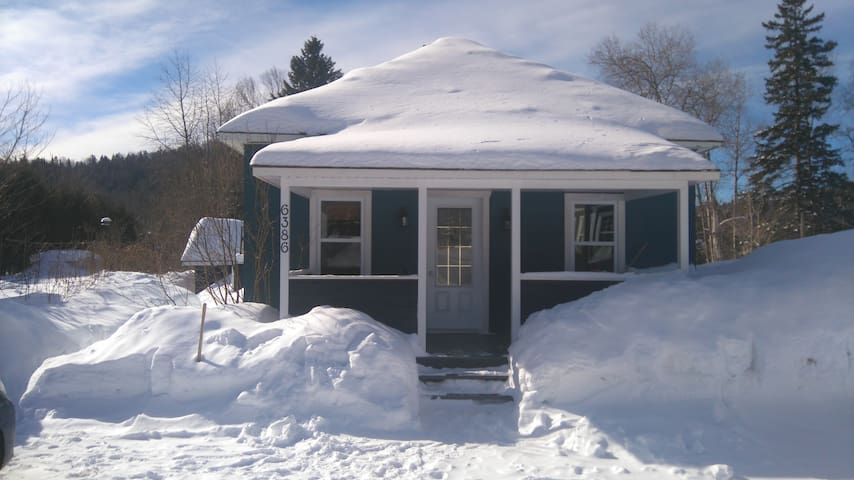 My home is near the Petit Train du Nord, Parc Regional Far Hill, Sivananda Ashram Yoga, Theatre Du Marais, The Convent of Val-Morin, Lake Raymond and Rivière du Nord, and more! Enjoy my home for comfort, warm welcome, proximity to a multitude of outdoor activities, need to rejuvenate, play sports, or traveling with pooch. My accommodation is perfect for couples, solo travelers, sportsmen and four-legged.
We are just minutes from the center of Val-Morin, just minutes from the Petit Train du Nord. And 3 km from the beautiful village of Val-David
One of the best Airbnb experience we've ever had, definitely felt the "nice" Canadian vibes immediately. Sonya stayed up late for us due to a flight delay, and warmly welcomed us with her two dogs. The place was clean, cute, and the entire 2nd floor was for us to use. It's also obvious through the decoration & meditation area in the house that Sonya is the director of the local spa services. Our car was unfortunately stuck under ice in the drive way, leaving us stranded prior to our ski trip. Sonya and her husband went above and beyond to help us move the car (sadly didn't work with traction control), and even call a towing company for us. Very helpful considering we don't speak a word of French. Definitely recommend anyone who's looking for a short trip to the beautiful Quebec area, and will stay again if the opportunity arises.
Kyle
2016-12-30T00:00:00Z
The host canceled this reservation the day before arrival. This is an automated posting.
Quentin
2016-10-02T00:00:00Z
As advertised, as well as clean and private. The hosts provided perfect communication (in English and French) before and during our stay. The space is perfect for a small group or two couples and is a great getaway spot for anyone to experience all that Val Morin and area has to offer. We will likely try to stay here on our next visit in the area and will recommend to others. Merci Beaucoup!
James
2016-12-28T00:00:00Z
Room Type
Private room
---
Property Type
House
---
Accommodates
6
---
Bedrooms
Val-Morin, Québec, Canada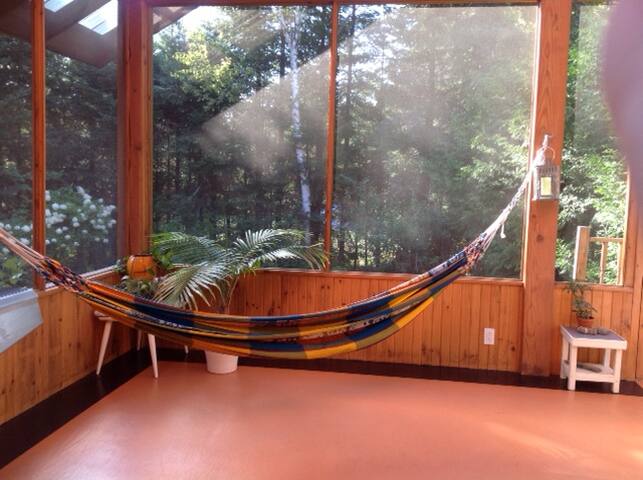 Superbe séjour chez Thierry. Thierry a été extrêmement réactif et serviable pendant tous nos échanges avant notre séjour. Il était également présent et l'appartement parfaitement propre à notre arrivée. Il nous a mis tout un équipement pour bébé à disposition ce qui était quasi vital pour nous! Le logement est extrêmement lumineux et chaleureux. On s'y sent vraiment vraiment bien. Nous étions nombreux mais avons tous assez bien dormi même ma petite sœur dans le canapé-lit. La literie est vraiment top d'ailleurs ! Particulièrement pour la plus grande chambre. Laveuse sécheuse très pratique. Wifi et matériel sono génial ! Je noterai aussi que l'agencement de l'appartement était parfait. Les 2 chambres sont grandes, la salle de bain vraiment très convenable et les pièces à vivre communiquent ce qui donne quelque chose de très conviviale. Je préciserai qu'il nous a juste manqué un peu de vaisselle et qu'il faut obligatoirement prendre la voiture pour se rendre dans le centre de Val David. Autrement noter aussi que pour nous les voisins charmants ont encore plus illuminé ce séjour bien sympathique. Il y a de belles promenades à faire aussi dans les environs. Bref. encore un grand merci à Thierry !
Nicolas et Catherine
2017-01-01T00:00:00Z
Grand logement, très lumineux et confortable. Tous les services et une foule de sports d'hiver à proximité. Nous avons adoré notre séjour et retournerions chez Thierry n'importe quand!
Melissa
2016-12-22T00:00:00Z
Room Type
Entire home/apt
---
Property Type
Apartment
---
Accommodates
6
---
Bedrooms
Val-Morin, Québec, Canada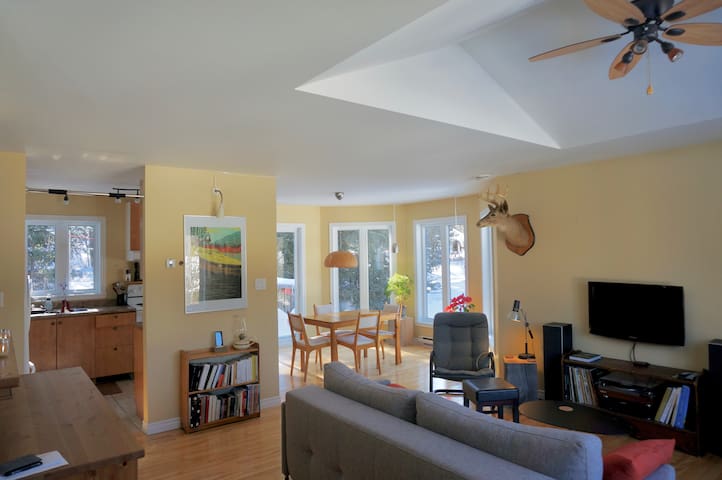 Open space in the midst of the woods. Very quiet area. Close to nature walking,cross country ski trails. snowshoeing,snowmobile highway in walking distance. Beautiful lake in walking distance. House has gas stove & oven for cooking ,wood burning stove for a warm,internet, snow & grass maintenance. 1 1/2 acres of land. House is spacious,clean and comfortable. Master bedroom, Small office/ guest room . House can sleep 8 adults. Finished basement ( optional bed), living room (bed) large screen TV.
Open areas and light make this special jewel a place to visit and rest. On cold nights 2 wood burning stoves are available to use. Fresh water comes from the Well. On clear nights the stars shine brighter and shooting stars are common in the sky. The wood burning stove adds to the warm atmosphere. Bird watching is a must during the day.....but watch for the deer and fox...they love to visit.
Silence,quiet,peace............ away from the maddening crowd
Room Type
Entire home/apt
---
Property Type
Holiday home
---
Accommodates
6
---
Bedrooms
Val-Morin, Québec, Canada
Bright Relaxing Clean Fresh Calming
Remote and tranquil natural area. Private beach for renters and residence only on clean pristine lake
Quiet and private natural surroundings wild animal sightings bird watchers paradise
Room Type
Entire home/apt
---
Property Type
Bed & Breakfast
---
Accommodates
4
---
Bedrooms
Val-Morin, Québec, Canada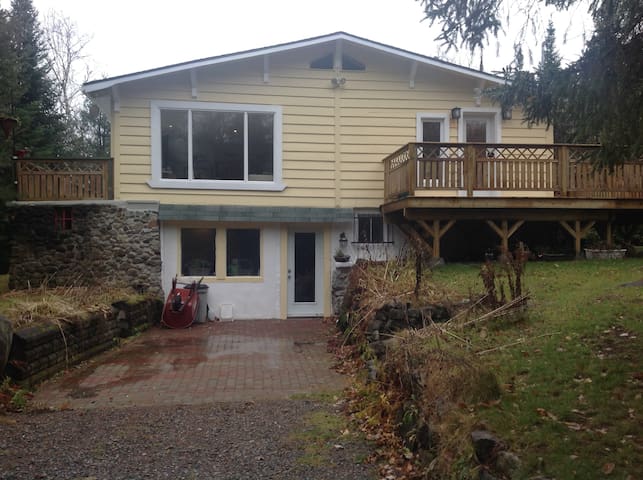 Located in the heart of the Laurentians. 2 acres, inground heated swimming-pool, spa, ice skating, trampoline. Approximity of cycle track, cross country and alpine skiing, hiking, climbing, water slide, and 1001 outdoor activities, sports and cultural.
It's good to live: perfect for a family gathering or friends. The dream kitchen invites us to prepare delicious meals and allows everyone to gather around the island or to slip to the veranda while feeling together. Our look is door outwards: when we see our friends in the spa, in the pool, on the trampoline, on the ice. The house has several rooms to accommodate everyone. The very spacious game room really helps to party and have fun without disturbing those who prefer to remain calm because this room is well isolated from the rest of the house. Library filled with books and board games. Four bedrooms with queen beds. Fifth Chamber (yoga) with a single bed. In the basement a second air television to stream movie or play Wii console. Three bathrooms: one with a clawfoot tub, the second with large shower with jets and the third is a shower room inhabited by the washer and dryer. double garage and outdoor parking. Outside: an in-ground heated pool (during certain months of the year.) Jacuzzi (4saisons) .A barbecue and outdoor furniture (summer season) .Trampoline.. Skating rink (on ice in winter when the weather permits) and dirty concrete during the other seasons. Place for a fire.
Despite the fact that we live here already for 8 years, I sometimes still pinching myself to see if I'm dreaming. Laurentian is a huge playground for any outdoor enthusiast and regardless of the season. We are a few minutes to walk from the small northern rail track and the magnificent David val val morin park (far hills), the beach of Lake Raymond. A 5-minute drive from Val David, 15 minutes ds st-savior, 35 minutes from Mont Tremblant, and 55 minutes from Montreal. The list of options is comprehensive. For cultural activities there are some theaters, galleries, festivals and so on.
If you have looking for a place to stay in the Val-David/Val-Morin area this is the vacation place to stay! We booked here with our family of 6 for 1 week over New Years and have no regrets. If you ski this is close to downhill locations and within two minutes of Far Hills cross-country skiing. It is a short drive to Saint-Sauveur and Tremblant. The hot-tub, ice-rink and large screen TVs helped for those days we stayed at the house. Mireille was very helpful with any questions and was quick to respond. Thanks!
Andrew
2017-01-05T00:00:00Z
We stayed at the chalet for a family gathering and had a really enjoyable time! The hot tub is superb and it was great having our own private skating rink. Bedrooms are well setup and there was lots of common areas for us to hang out in. Overall, we had an amazing gateway and would definitely rent again.
Tatyana
2016-12-27T00:00:00Z
We were welcomed by Mireille and shown around their lovely home. It was exactly as presented and very clean and comfortable. The house is arranged on different levels allowing for privacy for families sharing but with a lovely kitchen, lounge and dining area for family activities. The location is also superb being close to Val Morin/Val David with the lovely park where you can snow-shoe and X-country ski. Mont Tremblant was only 40 mins away for those who like the downhill experience. We thoroughly enjoyed our visit and would recommend this place for those looking for a winter holiday.
Susan
2016-03-15T00:00:00Z
The hosts were extremely helpful and friendly! Great place. Well separated rooms. Beautiful kitchen. Would rent again!
Brian
2016-05-09T00:00:00Z
Mireille and Francis were great! Very friendly and easy to talk to. Mireille gave a great tour around the house and left us to it. She had sure we were comfortable and happy with everything. The place itself was amazing! Very spacious and lots of activities. The foosball table and the jacuzzi were the best! The hockey rink was unbelievable. We had a blast and couldn't ask for a better host! Thanks again!
Randy
2016-02-07T00:00:00Z
We had an amazing time at this magical home nestled in the Laurentiens. It was - as many have already stated - even better than the pictures and that's saying something as the pictures are gorgeous! A lovely bright, comfortable and spacious home. Mireille is a tremendous host - warm and very helpful. We stayed with our two kids (8 and 11) who declared it an A+ holiday. Many hours were spent bouncing on the trampoline and enjoying the pool. Make sure to pack your hiking shoes and bring your bikes - amazing trails for both are very nearby. Highly recommend to all. We will likely be coming back!
Jillian
2015-09-05T00:00:00Z
Mireille was an excellent host. She was warm and welcoming, and waited for us to arrive in order to show us around the place. The home is lovely. It was our first time in Val-Morin and we really loved how the home was in proximity to so many grocery stores, gas stations and restaurants. It is a beautiful town. The backyard has everything you could possibly want. A great jacuzzi on the patio, a heated pool and a trampoline. I would definitely come back there again!
Julia
2015-08-16T00:00:00Z
Mireille is an excellent host! She is so warm and friendly, and is very good at communication. She responds quickly, and even checked in by text message during our stay to make sure everything was to our liking and going well. We had the pleasure of meeting her at the home at the beginning of our stay. Mireille's home is so beautiful and surrounded by nature. Even with three young children, we were able to escape the hustle and bustle of the city and truly relax in her wonderful home. It was big and spacious, with plenty of room for the kids to play and for us to have fun. The kitchen is gorgeous and fully stocked with everything we needed to make our meals. Mireille even welcomed us with some sparkling ciders and fruit. So sweet :) She is also an animal lover and allowed us to bring both our dogs, who were both exhausted at the end of the day from the fresh country air and full days of play. The pool is so much fun, and we all spent so much time in it! Nice and heated, it is always comfortable to be in the water. Her home is not even five minutes away from Lac Raymond, a clean nice beach & lake. About a 10 minute drive to the quaint town of Val-David, where you can enjoy unique cafes, restos and ice cream. The grocery store is also in the town, so it's not a far drive at all if you forget something and need to stock up. There's plenty of bike trails around which we didn't use but they were beautiful. There are neighbors down the road, but we didn't hear a peep the entire time. This is truly a wonderful escape in nature, in a warm and comfortable home. We would definitely rent from Mireille again! Thank you again, Merci! Sophia
Sophia
2015-07-17T00:00:00Z
Room Type
Entire home/apt
---
Property Type
House
---
Accommodates
9
---
Bedrooms
Val-Morin, Québec, Canada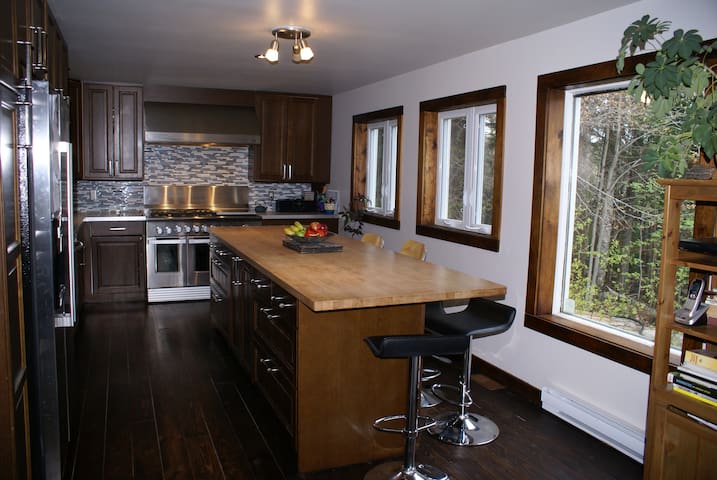 It was great! The house matched the listing, so there were no surprises. The host communicated with us throughout the booking process, and we were met at the arranged time. The house itself was spacious, and provided enough room for the 5 of us to enjoy our stay. We appreciated the pool, and the spacious yard - as well as the close proximity to the beach.
James
2016-07-22T00:00:00Z
Notre séjour s'était bien passé ,le chalet est bien situé et nous avons tout à notre disposition , la piscine est bien les enfants en adorer et aurait aimer profiter plus.
Fawzi
2016-08-07T00:00:00Z
Nous avons beaucoup aimé notre séjour en famille : piscine chauffée, à 5 minutes à pied du lac, foyer pour feu de camp, la maison est toute équipée dès l'arrivée (café, mayo, beurre de peanut, nombreux jeux pour les enfants). C'est vraiment clé en main pour les familles. L'hôte est très hospitalier en plus !
Cedric
2016-07-31T00:00:00Z
Room Type
Entire home/apt
---
Property Type
House
---
Accommodates
6
---
Bedrooms
Val-Morin, QC, Canada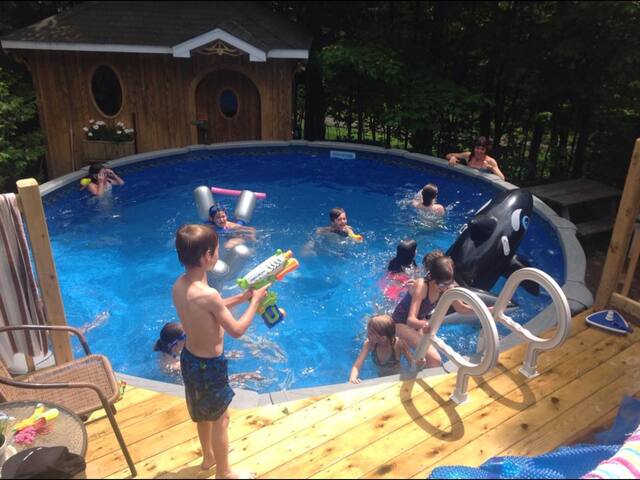 Adorable little warm rustic summer wooden chalet on the edge of a beautiful large lake with access to a pedal boat, canoe and 2 Kayaks. but not isolated cottage with a beautiful fireplace. We occupy the nearby cottage on a very large 5 acres shared by 2 cottages. You will have your privacy on your property but we have a single platform that will be shared. We are a quiet couple without children.
Small cottage in very warm and rustic wood. Decorated with taste ... you will experience a change of scenery with an authentic atmosphere of the 40s !!
Very quiet area in the forest but 10 minutes of services: grocery stores, movie theater, restaurants. Village of Val-David with its open-air market, its many shows rolling Baril and the village of St-Sauveur and Ste-Adèle that offer many outdoor concerts during the summer.
My friends and I had an amazing experience at Eliane and Pierre beautiful cabane. The cabane is in the middle of the wood and super cosy!! The lake and the dock are perfect to relax and enjoy the sun. I would go back anytime! Plus, Eliane and Pierre are extremely friendly and will do everything to make your stay unforgettable!
Florent
2016-08-15T00:00:00Z
We had a wonderful long weekend at Eliane's place. It is a lovely cabine at a beautiful lake with lots of activities in the area. Very nice and friendly hosts. Thanks! Highly recommended!
Stefan
2016-09-06T00:00:00Z
Super petit chalet décoré avec goût, idéal pour déconnecter de la ville. Nous recommandons assurément cet endroit vintage à quelques pas du lac. Merci pour ton accueil.
Jessica
2016-08-29T00:00:00Z
La cabine est très charmante et Eliane s'est très bien occupée de nous. Ce fut un séjour très agréable.
Nadine
2016-10-23T00:00:00Z
Nous avons passé une très belle fin de semaine dans la cabine d'Edgar. Petit chalet authentique et joliment décoré. la terrasse n'a pas vue sur le lac mais le ponton bien équipé pour chiller est à 100 mètres et très plaisant avec canoë, kayak, pédalo pour profiter du lac et des alentours. Le terrain est agréable car entièrement boisé avec un grand espace pour le foyer extérieur. Attention les lits sont un peu petits pour des personnes de plus de 6 pieds. Donc le chalet est rustique mais si vous recherchez un peu d'authenticité, vous passerez un super séjour !
Eric
2016-08-01T00:00:00Z
Room Type
Entire home/apt
---
Property Type
House
---
Accommodates
4
---
Bedrooms
val-morin, Québec, Canada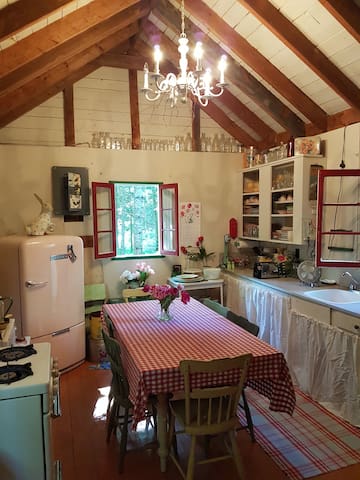 My home is close to the family friendly activities, night life. Enjoy my home for comfort, view, location and people. My accommodation is perfect for couples, solo travelers, business travelers, families (with children) and large groups.
Great Laurentian cottage easily accessible by the 117 or the 15 North " Near the village of Santa Claus, in Wonderland, ValKart, Val Morin Golf, Ski Belle Neige and Vallée Bleue, ... 5 minutes from the Village of Val David and Sainte Adèle The calm near Laurentian festivities of Val David, Sainte Adèle, Saint Sauveur and Mont Tremblant perfect for family gathering, party with friends or romantic weekend .... Welcome to the Laurentians
A haven near places of festivities and good restaurants
The host canceled this reservation 3 days before arrival. This is an automated posting.
Pierre-Luc
2016-12-31T00:00:00Z
Great host, great place and really close to ski areas!
Zeynep
2017-02-19T00:00:00Z
Bien situé, ce logement aurait besoin d'un peu de rénovations. L'espace est grand et quand-même agréable.
Benjamin
2017-03-05T00:00:00Z
Super endroit, très grand.
Antoine
2016-12-03T00:00:00Z
Room Type
Entire home/apt
---
Property Type
House
---
Accommodates
11
---
Bedrooms
Val-Morin, Québec, Canada