Experience the best of spring in the beautiful French countryside, just 15min drive from Falaise! This bright, recently renovated private apartment in our country farmhouse is a peaceful space to get away and explore historic Normandy. Includes a private kitchen, lounge and large bathroom. Breakfast available as an optional extra. A great first stop from England, a peaceful getaway from Paris, or a great place to base your travels in historic Normandy. LGBTI / Gay friendly.
This gorgeous farmhouse is situated in a rural village 15min from Falaise. With a kitchen and dining area downstairs, and large open lounge, bedroom and bathroom upstairs, there is so much room to move around in this apartment! There's also books, movies and games for your enjoyment. The apartment has radiators throughout and an electric blanket on the bed for your comfort on chilly nights. The old wooden stairs are a little steep, so please be careful when you're going up and down - put shoes on before going up or down the stairs.
Brieux is a small and peaceful village in rural Normandy, a short drive from Falaise - birthplace of William the Conquerer. With a car you can access a range of historic attractions, or you can take space to breathe and relax in the comfortable house and garden.
My boyfriend and I had the best time at the farmhouse! Shane was the sweetest and most helpful host, cooked us a very nice dinner the first night and we had a great time with him. Everything you need is there, it's a very cozy place and perfect for a romantic getaway. We will come back with pleasure and hope to see Shane again!
Alice
2015-11-24T00:00:00Z
The Beautiful farmhouse is indeed gorgeous! Everything is in place and spacious! I liked the mute tones of the bathroom and bedroom to get to relax and sleep well. Even with friends we decided to not go to bed too late to start the next day as fresh as possible and Shane helped us by providing us some homemade chocolate cakes for breakfast!
Céline
2015-04-07T00:00:00Z
Shane was incredibly hospitable and made our arrival effortless. Perfect directions and a warm welcome. A delicious meal was even awaiting us upon arrival - a very tasty one for that matter. The space itself was utter perfection - a quintessential french cottage that was charming and cozy.
Tanya
2015-11-24T00:00:00Z
The listing description was exactly as described and pictured. The guesthouse was perfect for a long weekend with a bit of sight seeing and relaxing. Shane and Paul were both extremely friendly and helpful. Their dog, Lucy, and ours had a blast playing together in the garden the entire weekend! I would highly recommend staying here and are thinking about returning next year.
Susan
2016-05-09T00:00:00Z
We had a great stay at Shane and Paul's house. We could have not hoped to end our holiday in a better place. The apartment we booked was lovely and comfortable. Great bed and shower, the garden outside is lovely and full of sunlight , but what we loved the most was Shane and Paul's company! Shane cooked us a delicious meal ( free meal) and we had dinner together. It turned out to be a very nice night. Shane and Paul are very entertaining and interesting people and it felt like being at friend's house. Great airbnb experience, great company. Thanks guys!
roberta & gordon
2015-07-11T00:00:00Z
Shane and Paul were wonderful hosts, incredibly communicative and friendly - we even got two delicious slices of banoffee pie on our second day! The apartment is clean and spacious, and really a beautiful space to unwind and relax. We made use of the wonderful garden, both for lounging about and playing with Shane and Paul's wonderful and beautifully behaved pup, Lucy, who really was a delightful addition to our stay. All in all we had a really lovely (if too brief!) stay and we would definitely recommend Paul and Shane's lovely apartment to anyone looking for a relaxing stay in the Normandy area!
Laura
2016-07-21T00:00:00Z
Shane has been a very kind host during our stay in his amazing and charming appartment. We were looking for a gateway out of Paris for my husband, our little baby (3 months old) and I. And we found what we were looking for : a quite, cozy and cocooning appartment in the middle of normandy. Shane cooked for us for the first evening which is a kind attention after the 2,5 hours drive. I really recommend this place !
jessica
2016-02-16T00:00:00Z
We stayed at Shane & Pauls's farm during a short break in Normandy, hoping for a quiet break from the busy city, and we weren't disappointed. The self-contained flat within the main building was cosy and comfortable and chock full of French character. Shane & Paul are welcoming hosts, and we enjoyed sharing a meal together on our first evening. They were around when required, but also gave us our own space. The farm is located in a very quiet and rural location, although the nearest big town of Falaise is only about ten minutes drive away. A car is definitely required. All of Normandy's main attractions are easily accessible as day trips from here, and this is a good base for a trip to this region.
Richard and Graham
2015-09-07T00:00:00Z
Room Type
Entire home/apt
---
Property Type
Apartment
---
Accommodates
4
---
Bedrooms
Brieux, Lower Normandy, France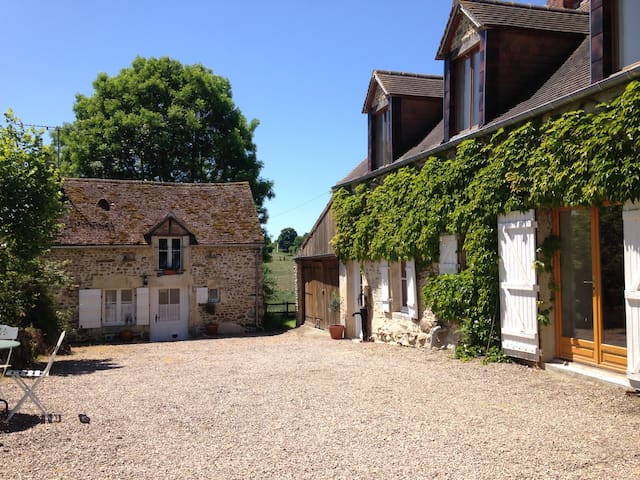 Fully renovated small cottage in the center of Argentan, close to schools, offices, touristic attractions, hospital. Just 50 km from Caen, near the remembrance Normandy invasion, sites of Haras de Pin (10 minutes). Easily accessible from Deauville-Trouville, Honfleur, Etretat.
The cottage easily fits four adults person, with an extra bed can sleep five. We are happy to welcome the whole family from kids to grannies! Pet friendly place!
Super clean, friendly we stayed one night but we enjoyed it at all. Perfect for family!
Katherine
2017-04-09T00:00:00Z
Super accueil Une adresse à retenir
Pascal
2017-03-29T00:00:00Z
L'accueil de Viktoria et sa famille a été très agréable. Joli logement très bien rénové, plein de charme, en plein centre d'Argentan. Nous avons passé une très bonne nuit (calme et literie au top). Vous pouvez y aller sans hésiter!
Anne-Claire
2017-04-08T00:00:00Z
Room Type
Entire home/apt
---
Property Type
Apartment
---
Accommodates
5
---
Bedrooms
Argentan, Normandie, France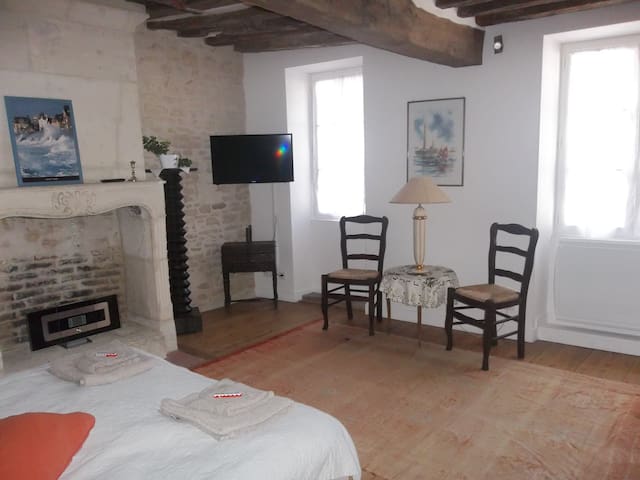 Inside a small town, this apartment is ideal for a romantic getaway or family, spacious, bright, according to the documents, you can switch to the traditional fireplace with these ripe stone to the spacious glass-roofed .
You also have a room with a quality sofa bed that can be used for 2 personnes.L'appartement is 155 m2, it is spacious which is not evident in the pictures.
You will have some restaurants and bars all within walking distance so you can enjoy your evening free, I can tell you with your application the nice places.
Très bon moment passé dans ce joli appartement/maison ! Simplement extra !
Aude
2016-06-05T00:00:00Z
Logement atypique vraiment très sympa et décoré avec goût. Propre. Ideal pour un couple avec des enfants. Très bien situé. Je recommande.
Aurelie
2016-08-07T00:00:00Z
appartement parfait, exactement à l'image des photos. très agréable ,propre et super lumineux. si je reviens dans la région, je reviendrai sans hésiter. très bien situé dans Argentan. merci
Sonia
2016-05-17T00:00:00Z
Charmant et très atypique Très bien placé au niveau de la ville
Eric
2016-11-27T00:00:00Z
Très bel appartement très bien situé. Un très grand merci Mickaël pour votre accueil. Nous avons passé en famille un très agréable séjour à Argentan
Samuel
2017-02-05T00:00:00Z
logement très original mélant l"ancien et le moderne ou l'on se sent très bien. situé au milieu de tous les commerces et restaurants..en plus Argentan est une ville très agréable et sympatique. (très bien décorée pour les fetes de fin d'année).
Evelyne
2016-12-30T00:00:00Z
Séjour très agréable, la maison est conforme au descriptif. N'hésitez pas à louer chez Mikael, il a été très disponible pour nous et très arrangeant pour les heures d'arrivée et de départ.
Khaled
2015-11-16T00:00:00Z
Le logement est idéalement situé, appartement spacieux. Séjours très agréable!
Cédric
2016-01-25T00:00:00Z
Room Type
Entire home/apt
---
Property Type
Apartment
---
Accommodates
4
---
Bedrooms
Argentan, Basse-Normandie, France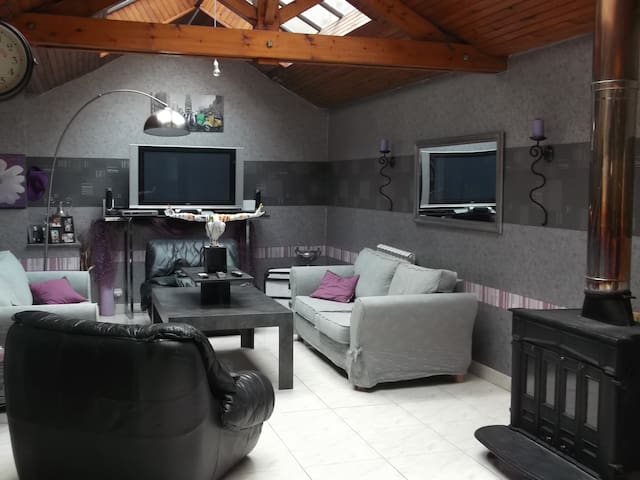 Appartement tout confort, Au premier étage : 3 chambres, 2 chambres doubles, 1 chambre simple, grande salle de bain avec douche , toilettes indépendantes. Au rez de chaussée : grand séjour , cuisine. En cœur de bourg, commerces à proximité.
L' appartement est situé à 4 km du" Haras du Pin", Haras National avec visites, fêtes l'été "les jeudis du Pin", à 15 km de la" Ville d'Argentan" (belles églises, Donjon, Tour Jeanne d'Arc, musée de la Dentelle dans un magnifique cadre, plan d'eau avec possibilité de pêche à la journée, piscine, cinéma," visite de la ville en calèche"! et proche de nombreux sites touristiques tels que le" Mémorial de Coudehard- Montormel", Mémorial de la bataille de Falaise,"village de Camembert"," Château de Guillaume le Conquérant" à Falaise"Château de Sassy", à Mortée, "Parcours santé" dans la magnifique forêt de Silly en Gouffern," Les Roches d'Oêtre" hautes falaises qui dominent la rivière L'Orne. Les plages du débarquement à 80 km; La station thermale de Bagnole de l'Orne et son casino .L Mont St Michel se situe à 170 km, sans oublier le Perche, Mortagne se situe à 65 km.
Quartier paisible dans le centre bourg d'un village de 420 habitants, doté de commerces : boulanger, bar, tabac, presse, relais poste, restaurant, boucher-charcutier, épicerie, coiffeur, marchand de légumes, garage -station essence.
The host canceled this reservation 4 days before arrival. This is an automated posting.
jacky
2015-06-23T00:00:00Z
L'appartement est conforme à la description. Idéalement situé dans une région magnifique. Mado nous a accueilli très chaleureusement avec dynamisme et cordialité. Merci Mado pour les petits +. Nous garderons un très bon souvenir de ce week end et n'hésiterons pas à retourner dans cet appartement. Nous le conseillerons également à notre entourage.
Thérèse
2015-05-17T00:00:00Z
Room Type
Entire home/apt
---
Property Type
Apartment
---
Accommodates
5
---
Bedrooms
Le Bourg-Saint-Léonard, Basse-Normandie, France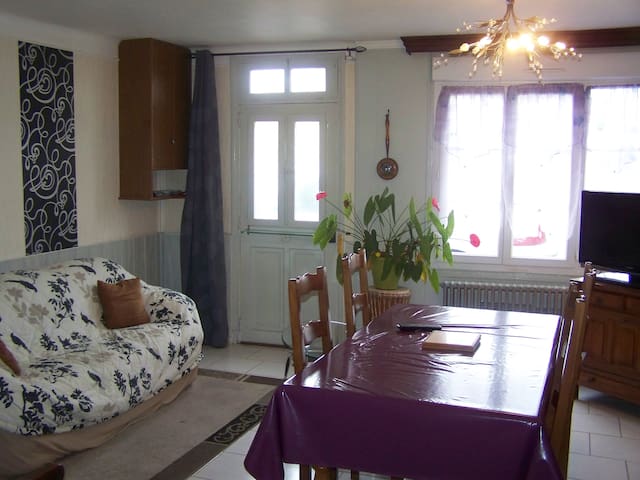 Studio, ideal for 2 people in an old hotel near the city center, 20 meters from the hospital. completely renovated housing. Argentan is a quiet town that is 15 minutes from the Haras du Pin, Montormel, 50 minutes from Caen, 1 hour from Deauville. Possibility to rent individual rooms with shower room and toilet of one or two people (30 €)
Room Type
Entire home/apt
---
Property Type
Apartment
---
Accommodates
2
---
Bedrooms
Argentan, Normandie, France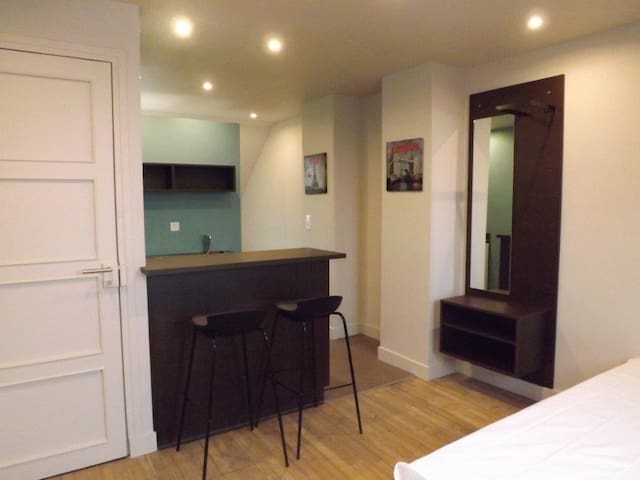 This top floor apartment in a two story building is right in the centre of Falaise. Close to all amenities but with great views overlooking the park of Château de la Fresnaye. It is a one bedroom apartment with a sofa in the lounge which can be transformed into a double bed. Falaise is a small and pretty town famous for being the birthplace of William the Conqueror as well its part in the end of the second world war.
Room Type
Entire home/apt
---
Property Type
Apartment
---
Accommodates
4
---
Bedrooms
Falaise, Normandie, France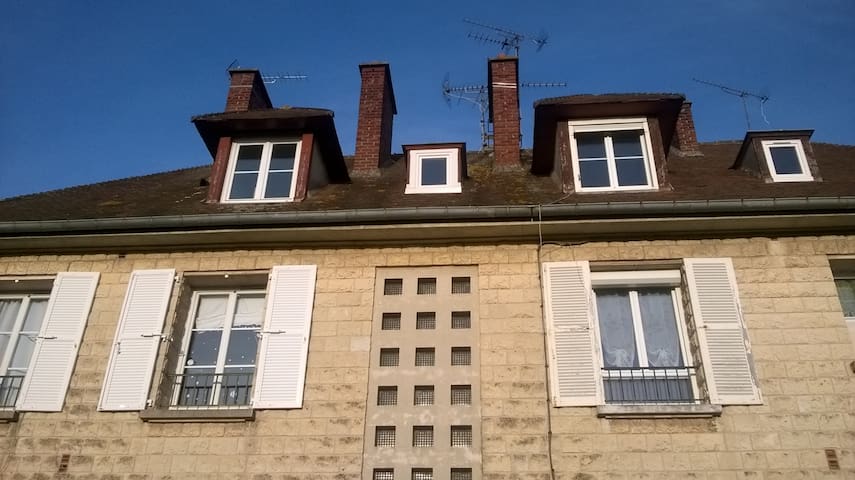 Cet appartement fait parti d'un grand corps de ferme, situé au 1er étage du bâtiment principal on y accède par une entrée indépendante en gravissant un ancestral escalier de pierre. A l'intérieur se mêlent le confort actuel et les traces du passé.
Tout en étant complètement indépendant cet appartement se trouve dans la demeure principale. D'environ 70m2 il peur accueillir de 2 à 5 personnes plus un enfant (1 lit d'appoint dans la chambre principale). Très confortable mêlant le moderne et l'ancien. Une bibliothèque est mise à disposition
Nous sommes situés dans un petit village typique tout en pierres du pays avec sont château fort du 11ème siècle. Nous sommes à proximité de Falaise avec le château de Guillaume le Conquérant et de Saint Pierre sur Dives et son Abbatiale, il y a aussi les plages du Débarquement, Caen, Bayeux, Deauville etc...
Martine and her husband, Michel, were very accommodating and friendly. despite the language barrier, they showed us the true warmth of french hospitability and left name cards of restaurants and travel brochures around the area for us to plan our time in normandy. courcy is really quiet and inaccessible unless you have a car (which we did) but it's a good base to explore normandy and the surrounding regions of honfleur, etretat and caen. The place was really nicely furnished and cosy, good for 5 people and maybe 5 + 1 kid. the kitchen was excellent with cooking equipment, a really good oven, food processor etc. we really enjoyed our time here thanks to Martine and her husband and would recommend this place to anyone in the area!
Michelle
2016-04-12T00:00:00Z
We have just returned from a very enjoyable stay with Martine. She was such an amazing host, brilliant communication from start to finish and very warm and welcoming. We loved the accommodation which was perfect for a visit with grandma and our young son (age 4). Our son particularly enjoyed the pool area and there were lots of things to play with at the property and animals to visit. The area was lovely, very rural and peaceful and we enjoyed some day trips to Chateaux close by but mostly enjoyed spending time at the property and by the pool. A very relaxing holiday that we would highly recommend to others.
Karren
2016-08-28T00:00:00Z
Lovely quiet place half an hour from Caen. Martine and her husband are friendly and generous people who really care about their guests. The kids enjoyed the pool, which was heated even this late in the season (second half of October). The beds were comfortable, the shower was great and the kitchen was small but functional. We had everything we needed to enjoy a comfortable holiday in Normandy. Thank you!
Christina
2016-10-22T00:00:00Z
Dans un cadre charmant, Martine a su nous accueillir avec gentillesse et prévenance. Nous avons particulièrement apprécié la piscine (encore un peu fraîche en cette saison) et la bibliothèque (on y trouve de tout : des BD de Tardi aux ouvrages sur les moines cisterciens...). Nous recommandons vivement ce gîte aux familles désireuses d'allier le tourisme à la détente.
Nicolas
2016-04-15T00:00:00Z
Nous avons passé une superbe semaine de vacances dans la paisible campagne normande entouré d'animaux. Le logement se situe dans un ancien corps de ferme typique de la région, rénové avec beaucoup de goût et entouré d'un grand jardin. L'appartement est propre et l'équipement est complet! Nous avons pu partir tous les jours à la découverte d'endroits magnifiques et en rentrant nous faisions un petit plongeon dans la piscine! Un grand Merci à Martine et son mari pour leur accueil, leur conseils et pour avoir fait de se lieu un véritable petit havre de paix où il fait bon se ressourcer en famille!
Rébecca
2016-10-29T00:00:00Z
Courcy est un petit village très calme et joli. Martine vous y accueille dans son petit nid douillet, au milieu de ses animaux.
Marie-Josee
2017-01-01T00:00:00Z
Room Type
Entire home/apt
---
Property Type
Apartment
---
Accommodates
5
---
Bedrooms
Courcy, Basse-Normandie, France
Mon logement est proche de les activités adaptées aux familles. Mon logement est parfait pour les familles (avec enfants) et les grands groupes.
Room Type
Entire home/apt
---
Property Type
Apartment
---
Accommodates
10
---
Bedrooms
La Hoguette, Normandie, France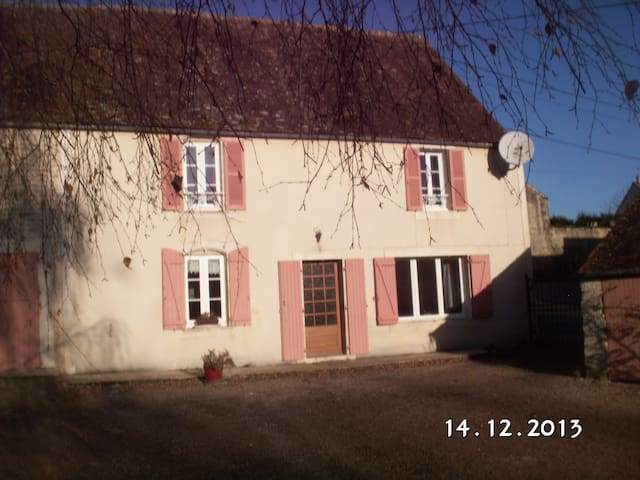 Ici, les visiteurs peuvent facilement se rendre aux principaux touristiques, les magasins, les lieux de restauration de la ville. L'emplacement supérieur de l'appartement le rend pratique pour les touristes à visiter les points chauds de la ville.
Room Type
Entire home/apt
---
Property Type
Apartment
---
Accommodates
4
---
Bedrooms
Falaise, Normandie, France
Bienvenue dans notre cadre verdoyant à la Guicharderie, situé à Saint Germain de Clairefeuille, aux portes du Haras du Pin. Vous profiterez de la quiétude des lieux, en vous relaxant dans le sauna, le jacuzzi et les allées herbagères.
Bienvenue dans notre cadre verdoyant à la Guicharderie, situé dans le village de Saint Germain de Clairefeuille. Notre ferme, typiquement normande, fut construite il y a plus de 150 ans (1870). Une fois à l'intérieur, vous apprécierez ce petit cocon emprunt d'authenticité dégageant un agréable sentiment de tranquillité. Vous pourrez par ailleurs profiter du jardin et de l'espace privatif (jacuzzi, sauna). Le domaine est entouré de vallées, collines et villages vous invitant à la découverte. La région est aussi richement pourvue en infrastructures vous permettant de pratiquer la randonnée pédestre, l'équitation et le vélo. Bienvenue à la Guicharderie
vous bénéficierez de la quiétude des lieux et la vue sur une nature verdoyante où pâturent les juments accompagnées de leur poulain.
Beautiful location and fantastic host! Perfect stay all round!
Lilley
2017-04-12T00:00:00Z
Un lugar con mucho encanto, rodeado de naturaleza ! La casa muy bien y la atencion de guillaume y su mujer perfecta! Nos facilitaron mucho la estancia!
Bruno
2016-06-26T00:00:00Z
Dépaysement total !! Excellent accueil ! Guillaume est à l'écoute et très chaleureux ! Logement idéal pour couples qui cherche un moment de détente!
Gaëlle
2016-11-13T00:00:00Z
Room Type
Entire home/apt
---
Property Type
Apartment
---
Accommodates
2
---
Bedrooms
Saint-Germain-de-Clairefeuille, Lower Normandy, France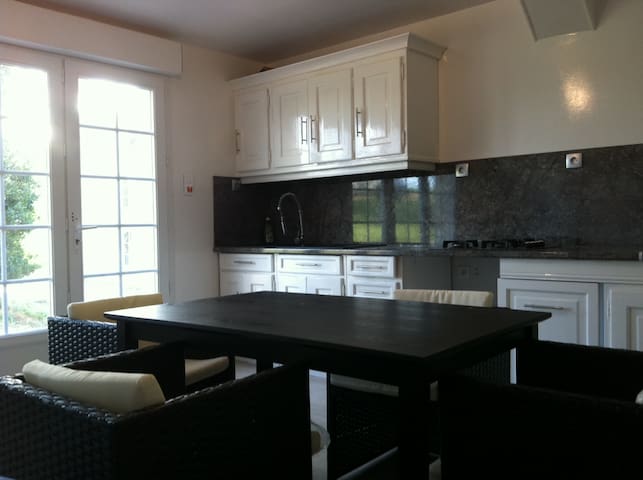 appartment in the heart of the medieval city of Falaise, decorated with care and completely renovated. It has all modern comforts (wifi, TV, Blu-ray, Bluetooth speaker ...) Ideally located near the shops, restaurants, and the Saturday town market, you are on foot to different museums of the city. (Castle of William the Conqueror, museum of automatons ...) and a few minutes by car from the leisure centers of Clécy and Pont d'Ouilly in the heart of the Suisse Normande.
A modern loft spirit that contrasts with the calm and serenity of the medieval city of Falaise.
Falaise, city of guillaume the conqueror, pretty medieval city in the middle of Normandy and with two steps of the Norman Swiss. You will also like to visit the museum of automatons a few steps away as well as the numerous and varied restaurants at your disposal.
Room Type
Entire home/apt
---
Property Type
Apartment
---
Accommodates
4
---
Bedrooms
Falaise, Normandie, France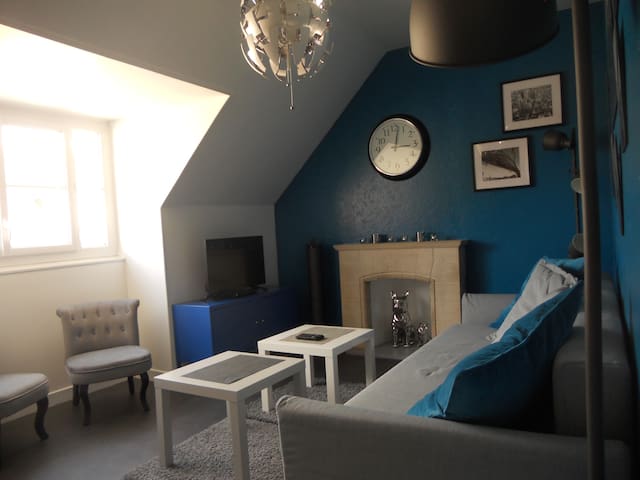 Julien nous a réservé un accueil très chaleureux!! L appartement est très jolie, très propre et fonctionnel avec tout le nécessaire pour petit déjeuner.Situation idéale, face à la gare d Argentan. Merci à Julien pour ce super week end!
Olivia
2014-09-21T00:00:00Z
Hôte d'une grande gentillesse et de sollicitude. Appartement en duplex très bien situé. Très propre et confortable. Et surtout très silencieux. Si en repasse par Argentan, on reprendra cet appartement sans hésitation. Tous nos remerciements vont à notre hôte.
Hamoud
2015-11-27T00:00:00Z
Appart soigne confortable et au calme!! Je recommande vivement sans compter la disponibilité de l'hôte!! Sans hésitation j'y retourne ..
Dany
2015-10-30T00:00:00Z
Tout a été parfait et nous avons passé un excellent week-end. L'appartement est hyper sympa et il était très bien situé par rapport à nos besoins. En plus, ils ont été très flexible pour les horaires d'arrivé et de départ. Nous le recommandons vivement.
Julien
2015-09-27T00:00:00Z
Julien et Héloïse ont étais très flexible en question des heures! Logement bien agréable, bien claire et généreux aussi bien situé. Nous avons passer un bon moment en Normandie. Meric pour tous! Il est à recommander.
Therese
2015-05-25T00:00:00Z
J'ai été accueillie très gentiment par Héloïse, qui m'a fait visiter l'appartement. Celui-ci était très propre et très joliment aménagé. Le quartier est très calme. J'ai été très contente de mon séjour!
Maud
2015-11-19T00:00:00Z
Room Type
Entire home/apt
---
Property Type
Apartment
---
Accommodates
4
---
Bedrooms
Argentan, Lower Normandy, France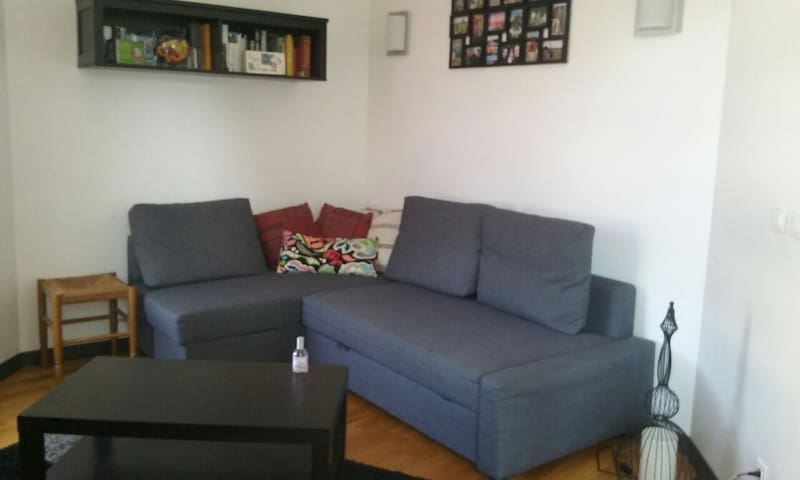 Very lovely and quiet flat in the heart of Falaise. Parquet, Fire place, Stones and wooden beams, american kitchen on two floors, nice furnitures. 25 minutes far from Caen, close to the Normand Swiss and the area of the haras.
L'appartement est très agréable. La chambre est située à l'étage. Vous pouvez cuisiner dans l'appartement. En ma présence, vous pouvez faire du feu si vous le souhaitez. Présence d'une télévision. Cuisine à l'américaine
View on the old roofs, at less than 1km far from the castle of William the Conquister. Easy and free parking.
Room Type
Entire home/apt
---
Property Type
Apartment
---
Accommodates
3
---
Bedrooms
Falaise, Basse-Normandie, France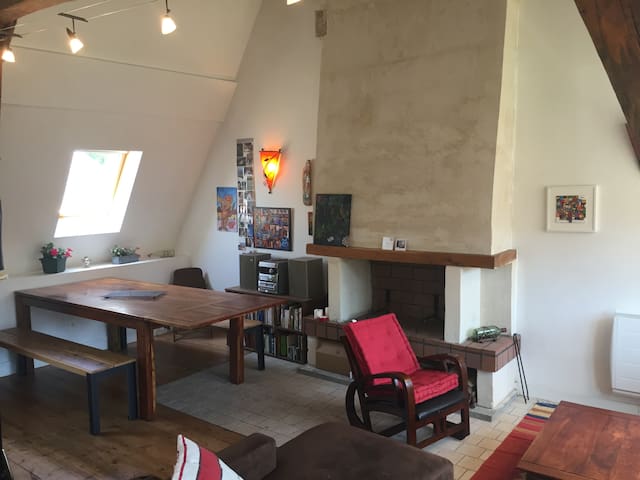 Magnificent open-plan conversion of courtyard coach house in historic country estate. Choice of four gîtes – can be booked together for large groups (Almé 12pp, Baloubet 8pp, Cor de la Brière 9pp, Double Espoir 12pp). (URL HIDDEN)
Rural France
Room Type
Entire home/apt
---
Property Type
Apartment
---
Accommodates
8
---
Bedrooms
Neuvy-au-Houlme, Lower Normandy, France
Xi An Shun look at the end is a great day for the next few weeks back to the next few weeks
Zone and then the other side to this one out there and do the same way you want the same way about a year
Em casa do it again with a little bit more about this guy has been a long
Room Type
Private room
---
Property Type
Apartment
---
Accommodates
6
---
Bedrooms
圣皮埃尔, 下诺曼第区, France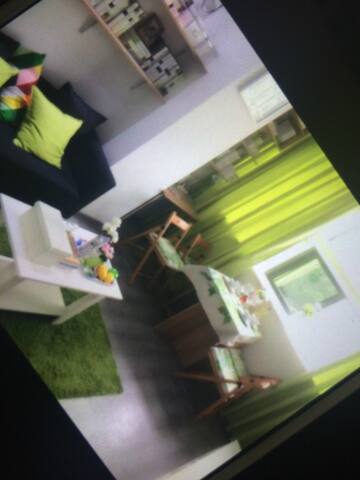 Jolie studio avec déco sympa, dans petit village calme avec tous commerces, cinéma, piscine et supermarchés ouverts le dimanche. Ballades en campagne à 5 min à pied. Je ne serais pas forcément sur place, donc accès avec digicode dans le logement.
The host canceled this reservation 18 days before arrival. This is an automated posting.
Gildas
2016-02-09T00:00:00Z
The studio is very accessible, in a quiet, small street. It is nice, the bed is super confortable. Don't expect to be as a hotel room, with white and super impeccable sheets and towels. Though, it's fine and I felt good the week I stayed there. John is a super nice person and was very helpful with his advices. I would repeat it for sure.
Claudia
2016-08-14T00:00:00Z
The studio is good size and serves well for a cheap night stop between Normandy and Paris.
Antonia
2016-09-20T00:00:00Z
Joli petit studio. Horaires d'entrée et de sortie flexibles, très pratique.
Stéphanie
2016-08-01T00:00:00Z
petit appartement pratique. bon rapport qualité/prix. l'équipement est assez sommaire mais suffisant pour notre court séjour. on peut arriver et partir à l'heure qu'on veut c'est très pratique!
Fanny
2016-09-25T00:00:00Z
Logement conforme à la description. Literie confortable, rue calme. Système de remise des clés pratique.
JEAN-LUC
2017-01-27T00:00:00Z
Un petit cocon, les draps qui sentent bon le propre, une rue calme, une organisation très efficace pour l'entrée dans les lieux. Impeccable. Je recommande complètement.
ANGELIQUE
2016-03-04T00:00:00Z
Chambre conforme à la description, bon rapport confort/prix.
Darioush
2017-02-27T00:00:00Z
Room Type
Private room
---
Property Type
Apartment
---
Accommodates
2
---
Bedrooms
Gacé, Basse-Normandie, France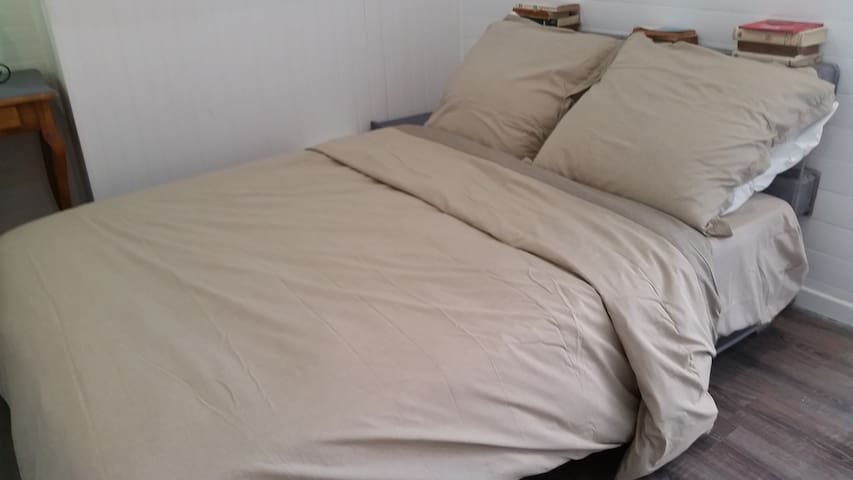 Nous avons été très bien accueillis par Annick. La chambre spacieuse, confortable et décorée avec beaucoup de goût. La maison est entourée d'un beau jardin et l'endroit est très calme. Nous avons beaucoup apprécié ce court séjour et la gentillesse de nos hôtes. Tout était parfait!Nous recommandons vivement cette chambre d'hôte.
Isabelle
2016-08-30T00:00:00Z
Parfait, très joli maison, jardin bucolique, magnifiques poules et beau chat! La chambre indépendante est très confortable et joliment décorée. Annick et son mari sont charmants, je recommande!
Camille
2016-08-29T00:00:00Z
Nous avons été très bien reçu par Annick qui est une superbe hôte. La chambre est indépendante, cosy et très bien décorée . La maison est calme et le jardin très mignon. On se croirait dans un petit cottage anglais. Nous vous recommandons vraiment d'y séjourner.
Clara
2016-09-11T00:00:00Z
Room Type
Private room
---
Property Type
Apartment
---
Accommodates
2
---
Bedrooms
Bellou, Normandie, France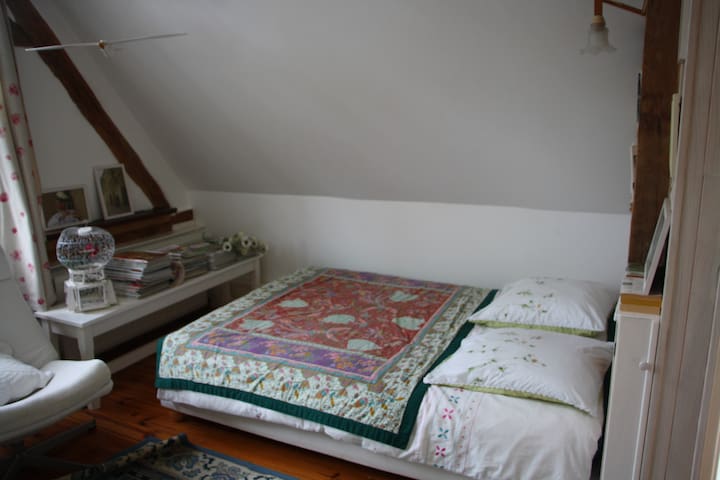 Villedieu-lès-Bailleul - Airbnb
:
Average

4.61

out of

5

stars from

130

guest reviews
1

–

18

of

111 Apartment Rentals
Enter dates to see full pricing. Additional fees apply. Taxes may be added.