We are an off grid, solar powered working farm five minutes from Karangahake Gorge, Waikino / Waitawheta with a beautiful yurt for guests to stay in. Our back gate opens on to one of NZ's most popular nature spots with bush walks, waterfalls and river swimming right here. We are 5 min drive away from the Hauraki Rail Trail or 25 minutes from the surf beaches. Our yurt would be ideal for solo adventurers, couples who want to try glamping or families that want to spend time in nature.
Our farmstay is 5 minutes away from the stunning Karangahake Gorge. Our 6 metre yurt style is modern retro, bohemian and quirky - a unique glamping experience. Staying in a yurt is a beautiful experience, you will feel so at home amongst nature. We have 10 hectares of meadows and native bush, and we invite you to be a part of our solar powered, earth loving lifestyle. The yurt includes a super king size bed, a double sofa bed and then mattresses that we can pull out for kids/ guests. The beautiful, sustainably built bathroom is off the deck and includes a bio-toilet that is reset between each booking and hot shower. Self-contained, covered kitchenette with everything you need minus a fridge. (We provide a cool box and ice!) You will get a key to our back gate which takes you immediately on to Conservation land and the many beautiful walks of the Karangahake Gorge, and even the Kaimai Ranges if you are keen for a real mission! Sit out on the deck and watch the sunset on the mountain, watch the galaxy of stars appear over your head as the native ruru and glowworms make an appearance. This is especially suitable for families as we are a family run farm with lots of kids! However we do ask you to keep an eye on your little ones as this is a working farm and we wouldn't want any tiny little ones exploring right off the side of the deck!
Our eco farm stay is at the foor of Karangahake, on the Waitawheta River. We have bush walks and waterfalls and biking and hiking and swimming galore. Adventurers and people wanting to get in touch with nature will enjoy our busy working farm at this very popular summer spot. We are five minutes from the award winning Bistro with its incredible wood fired pizzas, and a 15 minute drive away from the two local towns, Paeroa and Waihi. The Karangahake Gorge is right at the foot of the Coromandel, from here you could do some great day trips up to Hot Water Beach and Cathedral Cover. Or you might want to head to the local surf beaches, Waihi Beach or Whangamata or all the other family friendly activities such as the awesome Bullswool Farm just up the road.
It was such a delight to stay with Lucy and Tim and their children in this beautiful yurt. It was cosy and warm on an otherwise cold night thanks to the log fire and there was plenty of space inside. Not that you'd want to spend too much time behind canvas as the views from the farm are breathtaking and there are beautiful deckings from which to admire it. The walk through the gorge from the yurt is spectacular and beat many of our other much more publicised walks that we did during our month in New Zealand. We were very inspired by the family's commitment to green simple living and it was a privilege to be part of that for a night. We would highly recommend this if you love nature, care about your impact on the planet and want to experience a creative and comfortable approach to simple living!
Joanne
2016-10-18T00:00:00Z
Loved this place. Amazing river swimming right at the back gate. Grand view. Close to great walks and more swimming (via the back gate!) Fabulous fun for our toddler. Peaceful, beautiful, serene with brilliant hosts. The yurt was gorgeous, clean and had everything we needed. Highly recommended.
Hannah
2017-02-25T00:00:00Z
A lovely place to stay! It might be off grid, but there was nothing lacking in comfort. The hosts were open with communication and friendly, the views are amazing, and the river was a lovely place for the kids to swim. Highly recommend this place!
Kathryn
2017-03-21T00:00:00Z
This place is an antidote to a mad world. Don't just go for a holiday - go and live there and recall what life used to be about before you became a slave to technology! Lucy and Tim are wonderful people and great hosts too. Colin and Margaret Barlow
Colin
2017-03-28T00:00:00Z
Staying in the yurt was easier then i expected it to be. Shower had warm water, cooking food was easy. There is a stream right next to the property which was beautiful and fresh to swim in. Even had lots of shallow flat areas we could take pur 1 year old buy into. Such a beautiful and relaxing get away.
Eddy
2017-02-03T00:00:00Z
Hiden away in a peaceful little valley, and pretty much off the grid. The surrounding area is amazing and we had a great time on the cycle trail and swimming in the river through the mining tunnel!
Alexander
2017-02-05T00:00:00Z
We loved everything about staying in Tim and Lucy's yurt. The location is spectacular - peaceful, beautiful, plenty to do if you want to walk, swim, play....and a great place to do a whole lot of nothing too ;) Tim, Lucy and the girls were welcoming, friendly and super helpful. And the yurt itself! Everything we needed, and nothing that we didn't. Beds were super comfy, the space was so charming, and using (and learning about) the bio-loo added a novelty factor that we enjoyed. It felt great to have what felt like a luxury experience, knowing we were stepping lightly on our planet too. Thanks so much, we really recommend this place highly :)
Pete
2017-01-03T00:00:00Z
Really enjoyed my stay here! Amazing location and super cool set-up. Hard not to feel relaxed and connected to nature. Hosts are really nice and helpful. Highly recommend!
Gareth
2016-10-21T00:00:00Z
Room Type
Entire home/apt
---
Property Type
Yurt
---
Accommodates
4
---
Bedrooms
Waikino, Waikato, New Zealand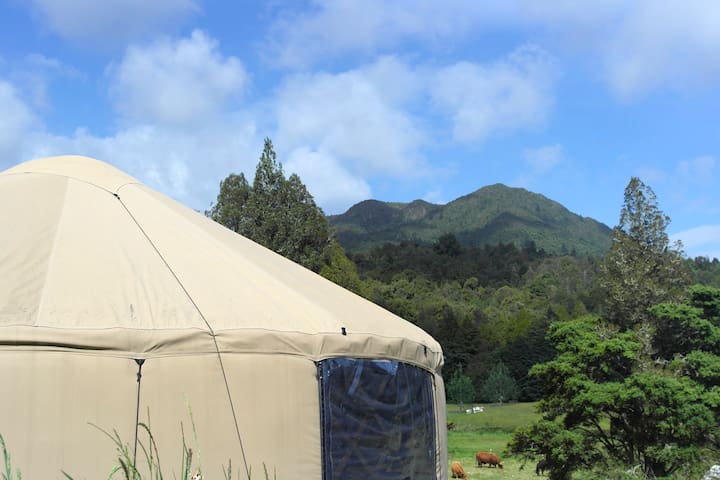 WE ARE IN THE BAY OF PLENTY We have a whole camp site for you and only you. We have bedding for two people and an extra tent at the ready to pop up if you have more than two. (They will need to bring their own mattresses, bedding). Private setting, close to lots of attractions.
You can see the private setting in the photos with access to the river, kayaking, hammock, bean bags, open fire, candles, gas BBQ, fresh clean lovely linen. All you need to bring is your food.
The Wainui River is a picturesque landscape of three amazing bridges one of which leads on to the Kaimai Tunnel (longest in NZ). The stream heads up through the bush to lovely fresh water swimming holes.
This was my very first glamping experience and I have to say we thoroughly enjoyed it! We sat by the open fire with our beers and took in the beautiful night sky. The bed was comfortable and the yurt was roomy. What a fun night! Not to mention Andrea was easily available and responded quickly.
Maggie
2016-04-27T00:00:00Z
The site was exactly as described. Rustic camp site, but very lovely. We did not end up staying the night as it was very rainy and the drive to the camp site is down a somewhat steep dirt road. We were afraid we would get stuck at the bottom if it continued to rain and decided not to stay the 1 night planned. Would try it again in better weather.
Jessica
2016-03-26T00:00:00Z
This is a really unique experience, after staying at several air BnB accommodations, sleeping in a beautiful yurt and cooking in the outdoor kitchen with a campfire nearby was so much fun and very relaxing.
Natalie
2017-01-02T00:00:00Z
Andrea is a relly friendly women. The location was really clean and well kept and there are a lot of things to do. The bonfire and kayak opportunity was great fun! But the kitchen facilities and the shower wasn't really like 'glampig', so other campinggrounds have got better equipment normally. All in all it was a good experience and we would defenitly recommend it to every campingfan!
Marek
2017-01-06T00:00:00Z
We loved our stay with Andrea. The bed was super comfortable and it was really lovely to spend a couple of days in the wild. I've never experienced cicadas before, wow, I have now. So amazing. Loved the idea of the camp fire although we never got round to using it as we had mega early nights due to jetlag. Thanks so much for having us. Kate, Tom and Jemima. x
Kate Spinks
2017-02-06T00:00:00Z
We stayed here for New Years Eve and had such an amazing time and experience. Our first time glamping and would definitely do it again. The facilities here are fantastic and we had such a comfortable night sleep. Spending New Years by the camp fire was different to our usual city experiences and we loved the quiet, calm and private experience in Riverside Glamping.
Shane
2016-12-31T00:00:00Z
Had a great time glamping, made use of all the facilities which were excellent. Great option in a good area - would recommend to all.
James
2017-04-01T00:00:00Z
Great value glamping spot for an off-the-grid getaway. The facilities have been well thought through and the bed is very comfortable. Loved the fire pit and the opportunity to kayak up the river. We had planned to have one of our two dinners in Katikati but enjoyed the campsite so much we ended up just buying more supplies instead! Very private and relaxing. It rained during one night of our stay but we were perfectly comfortable watching the fire from the dining shelter and the bell tent stayed totally dry. Listening to the rain pattering on the canvas was lovely!
Amanda
2017-01-21T00:00:00Z
Room Type
Entire home/apt
---
Property Type
Yurt
---
Accommodates
6
---
Bedrooms
Waikato, Waikato, New Zealand
My place is walking distance to the very popular Mount Maunganui beach, restaurants and dining are close by, as is public transport, supermarket and nightlife. You'll love my place because of the cosy unique style of accomodation, the lotus belle tent is a romantic hideaway in a private back garden, soak in a luxurious cedar wood hot tub, and drift off on the comfy bed with hypoallergenic bedding. My place is good for couples or solo adventurers. Located about 45 mins walk from main beach.
Enjoy a glamping experience in a unique Red Lotus Belle tent, located in a private backyard with hot tub, outdoor shower, compost toilet and laundry. In addition the outdoor BBQ, fridge and table allow you the sense of living in your own space. (We will require ocassional access to the washing line and vege garden plus share use of the hot tub)
The beachside resort of Mount Maunganui is New Zealands number one domestic tourism destination, the pristine world class beach is only a couple of minutes walk away, also in easy walking distance is Central Parade with a New World supermarket, cafes, post office, and Thai restaurant. The main mount shops are within 5 mins drive.
Odette got in touch straight away with the need to know details. The glamp is awesome- spa pool, outside shower & the yurt itself with all quality touches: fluffy towels, luxe robes & tea. I'd kinda like to live like that forever. I'll hopefully be back! Especially as it poured with rain during my stay and I didn't get to walk up the mount or hang out at the beach... Meg is super cute, and Odette was really welcoming! 5 star stay! Thank you!
Claire
2017-02-16T00:00:00Z
My friend & I enjoyed our Red Gecko experience, Odette is a lovely host
Rebecca
2017-01-02T00:00:00Z
Lovely place to stay, really enjoyed staying somewhere more unique but with all the facilities, loved the outdoor shower and hot tub. Odette was so accomodating to our individual needs and Nutmeg (the dog) was beautiful. Thank-you.
Victoria
2017-01-07T00:00:00Z
A very cool experience right near the beach. Easy walk to mount shops. Yurt and outdoor shower and hot tub were great, a fun experience. Good value for a couple.
Gemma
2016-12-31T00:00:00Z
Great place to stay! Very central to shops etc and the outside shower and tub were amazing! Definitely recommend!
Evan
2017-03-26T00:00:00Z
Odette's glamping is amazing! The yurt is a haven of peacefulness and perfect for a romantic getaway. We loved the Ofuro! Odette is very friendly and responsive. Highly recommend this Mt Maunganui gem
Katy
2017-02-28T00:00:00Z
Friendly clean and amazing experience
Marshall
2016-12-28T00:00:00Z
Amazing Yurt! It was raining during my stay but the tent kept me nice and dry (and warm). Odettee was lovely and offered for me to shower and cook inside her house. Meg the puppy was really sweet and we went for morning walks together. I loved my stay at the yurt, would definitely return =)
Laura
2017-03-09T00:00:00Z
Room Type
Private room
---
Property Type
Yurt
---
Accommodates
2
---
Bedrooms
Tauranga, Bay Of Plenty, New Zealand
Spend a night or two 'off the Grid' (no Power) in our self-catering Genuine Mongolian Yurt. A unique experience and less than 1 hour from Auck Airport. Beaut swimming beach only a few mins drive then relax under the stars in a gorgeous 100 yr old outdoor bath .
The Yurt is tastefully decorated with quality furnishings. A wonderful camping experience with all the luxuries of home. Relax and enjoy a steamy hot bath outside under the stars in a gorgeous 100 yr old bath heated by way of an old copper, wood fired, water boiler. A clear dome adorns the top of the Yurt so you can enjoy the stars on a clear night from the super comfortable queen size bed. At the moment we do not have hot running water but there is an indoor shower (cold) which is very refreshing in those hot summer days.
We are situated only 50 mins south of Auckland CBD. Take a beautiful drive through the quaint little village of Clevedon which hosts a number of craft shops and has a local Farmers market every Sunday morning. Then travel on through Kawakawa bay towards Orere Point. Our property boarders on to one of Aucklands most beautiful Regional Parks - Tapapakanga which has a lovely sandy swimming beach and is a great fishing spot. Tapapakanga is situated on the north western shores of the Firth of Thames. This coast is also known as the Sea Bird Coast and is popular with Birdwatchers from all around the world. It is also part of the Kayak Trail - starting from Maraetai and finishing in Waharau. You can complete the whole 4 day trail or just have a leisurely paddle around the shoreline exploring all the hidden little coves. A five min drive takes you to a very popular fishing spot - The Mussel farms off Matinagarahi Beach. Your boat can be launched from here directly from the beach with a 4 wheel drive or there are two Boat Ramps within 15 kms either direction. Kawakawa Bay Boat ramp is accessible in all tides and Kaiaua Boat ramp You can take leisurely 30 min coastal drive south through Kaiaua to the Miranda Hot Pools which are Natural Mineral pools. A 50 min drive south and you can explore the Thames Market which is held on a Sat morn. Thames township is the beginning of the Coromandal Peninsular which has a rich history of Gold mining and has many attractions that are well worth visiting.
What a place! Exactly as described! As per all other reviews a real opportunity to get off the grid! An opportunity to see some of the real nz! The star show at night with a fire was a real treat!!! Would recommend highly :) thanks Josy :D
Dion
2017-03-18T00:00:00Z
The place was amazing and I enjoyed every moment of it. It was a great escape and such a short drive from Auckland city. Highly recommend
KitKi
2016-08-07T00:00:00Z
The yurt was amazing! Much better than we expected. So comfortable, and everything was thought of. Josey and Bruce were very welcoming, and were there if you needed them. But also left us alone to enjoy there own little peice of paradise. The bed was outstanding, and the outdoor bath was just beautiful, and quite an ingenuous thing. They even managed to put on a stunning evening and a full moon. Can't ask for more than that. I would highly recommend this place, apart from the fact that I don't want other people to know about it. Thanks Josey and Bruce. You really do have a little slice of heaven there. Thank you for sharing it with us. It was an unforgettable experience. I have already booked the next stay with them. x
Sheriden
2016-01-26T00:00:00Z
The host canceled this reservation 7 days before arrival. This is an automated posting.
Yuko
2016-05-29T00:00:00Z
staying in a yurt is a very unique experience and with this one you get a truly amazing time. it's relaxing to get off the grid and enjoy the views, the hikes. the bed and the bathtub. Josy and Bruce were genuine hosts and I would definitely recommend this place.
Belinda
2016-10-12T00:00:00Z
We were made to feel so welcome and the place was better than we could ever have expected! Even with overcast sky the outdoor bath was magical. Thank you for the wonderful experience!
Andy
2016-03-24T00:00:00Z
The yurt was a fantastic experience and the outdoor bath was definitely the highlight
Tessa
2016-11-01T00:00:00Z
Stunning little getaway for those keen to get away from it all in the great outdoors. Bruce & Josy have done an amazing job of setting up this unique yurt and making it as cosy, warm and comfortable as possible. We stayed for one night for our anniversary and loved the feeling of being surrounded by nature, peace and quiet. It was a rainy gloomy night but that didn't deter us from filling up the outdoor bathtub and enjoying a soak in this unique location. Highly recommend a visit to get away from the hustle and bustle of life!
Julia
2016-09-24T00:00:00Z
Room Type
Entire home/apt
---
Property Type
Yurt
---
Accommodates
2
---
Bedrooms
Auckland, Auckland, New Zealand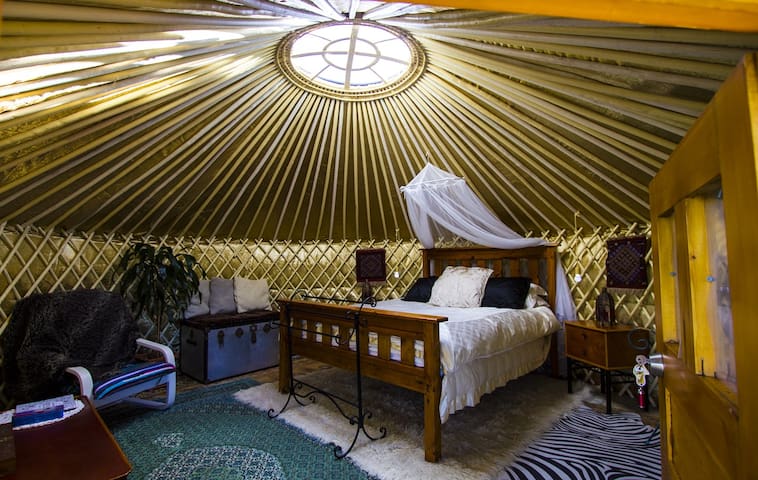 Waikino - Airbnb
:
Average

4.91

out of

5

stars from

141

guest reviews
Enter dates to see full pricing. Additional fees apply. Taxes may be added.