My place is close to the beach, restaurants, dining and parks. You'll love my place because of the location, the high ceilings, and the ambiance. My place is good for couples, solo adventurers, and business travelers. You will have private entrance as its basement and its spacious with attached bath and closet.
It's a great family neighborhood with single family homes. Lots of kids on the road during weekends. Please be courteous of the neighbors.
Clean. Quiet. Comfortable. Easily within distance of work and some shopping. There was a bit of miscommunication at times but the fault with that lies with us. We enjoyed our stay.
Sarah
2016-12-14T00:00:00Z
I can't speak more highly of my stay! The room is made to feel like a mini-apartment and is very spacious and quiet. The bed is extremely comfortable and everything was super clean and new. The residence is located in a nice neighborhood. The private entrance aspect is perfect for those who kind of keep to themselves. While Prashanth maintains a comfortable distance, he was extremely accommodating and responsive when I had any inquiries. Ideal for those in town for work. Absolutely zero complaints!
Kirby
2017-02-10T00:00:00Z
I had an excellent stay and Prashanth was very accommodating. The room is very spacious and neighborhood is nice. I highly recommend staying here.
James
2017-01-07T00:00:00Z
Prashanth was a great host! Very acoomadating with our hectic schedule! 5 out of 5 would stay again!!!
Stephanie
2017-01-22T00:00:00Z
Great neighborhood. Clean comfortable and private rental. Great place to stay.
Nicholas
2017-02-25T00:00:00Z
Room Type
Entire home/apt
---
Property Type
Other
---
Accommodates
2
---
Bedrooms
White Marsh, MD, United States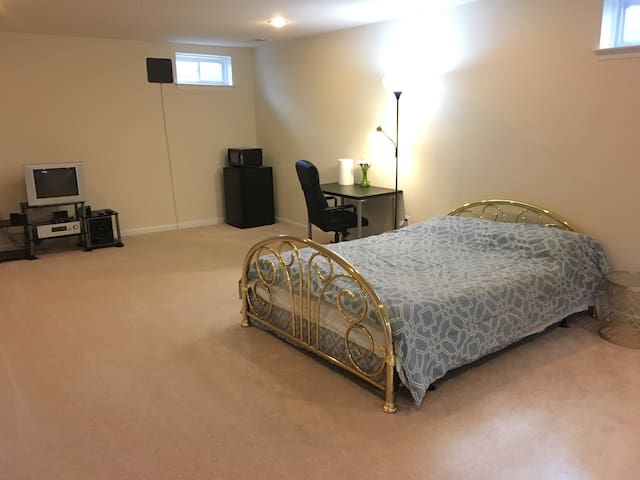 Come stay at our comfortable and affordable motel in lieu of driving home after a night of celebrating. Rest and refuel for the road ahead at our Williams Burg Inn Motel. We offer an ideal location off Pulaski Highway just 20 minutes from the exciting attractions of Baltimore. Our newly refurbished rooms feature two double beds, refrigerator, desk area and FREE Wi-Fi. Rates are very affordable and we even offer discounted rates for longer stays.
Room Type
Entire home/apt
---
Property Type
Other
---
Accommodates
2
---
Bedrooms
White Marsh, MD, United States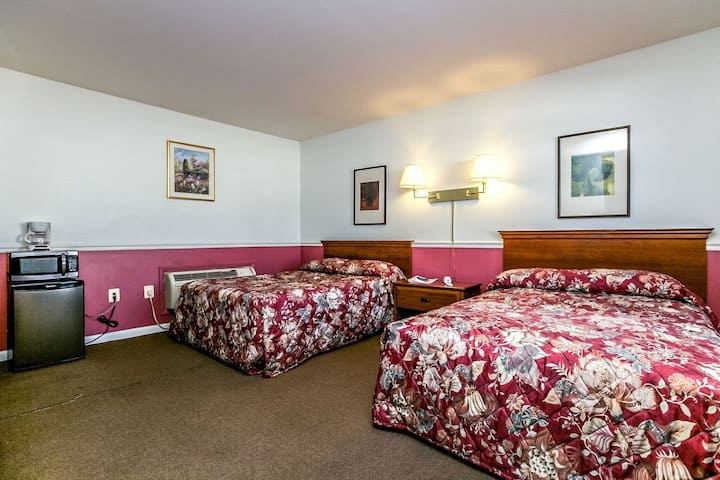 1 bedroom available all year round. Located in Rosedale MD where you are minutes away from CCBC Essex campus,MedStar Franklin Sq Medical Cen. Walking distance from Golden Ring Mall & many restaurants. Easy access to public trans & highway, also minutes away from White Marsh Mall (MEGA BUS STOP).
A Cozy private room with full size bed, 40" television in room w/free wifi & cable.
Very amendable to answering any questions you may have, however if personal space is important to you, I am more than happy to let you do your own thing! :)
Nadirah was an exceptional hostess. She went out of her way to accommodate you. The location is clean and quiet and also very close to the bus line. I feel very fortunate to of confirmed this stay!
Heather
2016-09-25T00:00:00Z
Naderah was very friendly and nice , accurate in description her house, calm and safe neighborhood
LOUAY
2016-09-12T00:00:00Z
My friend and I had a nice time staying at Nadirah's over the July 4th weekend. The home was lovely, cozy, and nicely decorated. Nadirah was kind and friendly. She gave us our space, and she was welcoming and offered us snacks upon arrival and breakfast. Loved how considerate she was. Thanks for a pleasant first time Airbnb experience!
Winnie
2016-07-05T00:00:00Z
This was my second time staying and it was just as pleasant as the first time.
Marquita
2016-12-23T00:00:00Z
She had snacks and water ready when I got there. And I had access to raisin bread, coffee, and orange juice for breakfast. She was very nice and hospitable.
Marquita
2016-12-16T00:00:00Z
The house was clean. The host was pleasant and very supportive. I would surely rent again from her.
David
2017-03-21T00:00:00Z
This is my second stay with Nadirah in her clean cozy apartment, safe and quite neighborhood, very close to Franklin MedStar Hospital , For sure this would be always my first choice once I have to come back
LOUAY
2016-12-06T00:00:00Z
Comfortable and convenient stay
Rachana
2017-01-29T00:00:00Z
Room Type
Private room
---
Property Type
Apartment
---
Accommodates
2
---
Bedrooms
Baltimore , MD, United States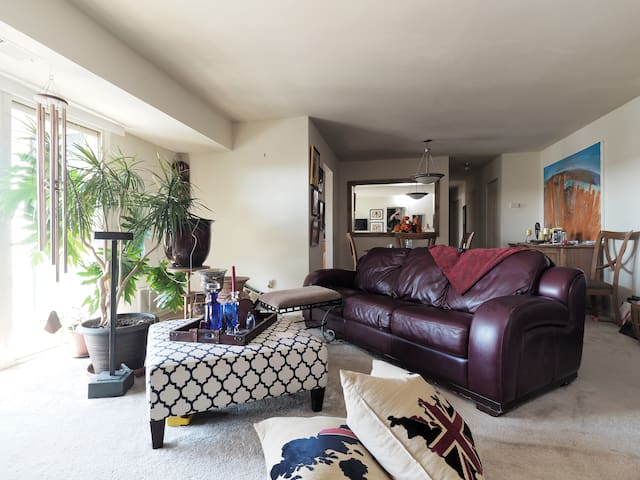 This cozy, unique first level apartment has hardwood floors and lots of light with an eclectic feel. With privacy and all the amenities, you'll feel at home on this tree-lined street, quiet suburb of Baltimore.
My apartment has a unique layout, the kitchen is on the lower level. There you'll find the coffee bar, (tea and hot chocolate as well).
The Overlea neighborhood dates back to 1895, but now you'll find a mix of owner residences and small rental units. If you have a good eye, you'll notice original structures and hints of its past.
Another great stay!
CLEVON
2017-01-14T00:00:00Z
Gia was a great host. She was very welcoming and made me feel comfortable in her home. The apartment was exactly as described and as pictured. Plenty of parking on the street. Gia provided yummy breakfast foods, which I know was listed under amenities, but was still awesome to have once I got there. Gia is one of those hosts who really enjoys hosting and really cares that you have a positive experience, and not just a room to crash in. I would highly recommend :)
Helen
2017-02-24T00:00:00Z
Great place to stay. Close to Baltimore. Gia was a great host!
Taeler
2017-03-09T00:00:00Z
Gia is a generous and thoughtful host. Her home is welcoming, comfortable, and clean.
Kate
2017-02-11T00:00:00Z
Gia's place was lovely! Clean, comfortable, and comforting!
Anne-Marcelle
2017-02-26T00:00:00Z
Gia's place is spotless, cozy, warm and very comfortable. She is very nice and was very helpful and was great to talk with. Thanks Gia and I hope to stay at your home again sometime!
Jeff
2017-04-06T00:00:00Z
Great host, lovely home, comfy bed with lots of pillows. I highly recommend this place for a good nights rest!
David
2017-03-30T00:00:00Z
I've stayed here before an plan to stay again because of Gia's professionalism and kindness. It's as if she's done Airbnb for years but it's just her personality. Thanks Gia
CLEVON
2017-01-07T00:00:00Z
Room Type
Private room
---
Property Type
Apartment
---
Accommodates
1
---
Bedrooms
Baltimore, MD, United States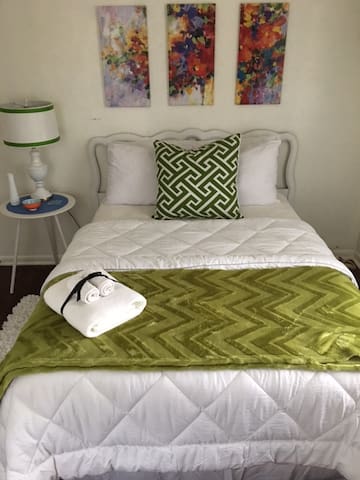 House is 22mi from BWI Airport and a short drive (20-30 mins) from the center of Baltimore City. You'll love my place because of the private large bedroom/bathroom and fully equipped open kitchen. Also considerably safer than the heart of Baltimore City. My house is great for EVERYONE.
PREAKNESS WKND DISCOUNT. MAY 19-21 (FRI,SAT & SUN) $72/nt. 20min drive MESSAGE ME FOR DETAILS! The large PRIVATE GUEST BEDROOM occupies the entire 2nd floor with a door that can be LOCKED. The bedroom area has an elegant comfortable custom built queen size bed with a 14" memory foam mattress (a guest favorite.). Also in the bedroom area is a mobile diverse clothing storage area with hangers and an iron/ironing board. A 32" Roku TV with several channels (sports, news, tv, movies & music) is in great viewing area. A comfortable 2 chair seating area is located within the room for ideal relaxing. 3 full length mirrors adorn the wall to get every angle of yourself before a day/night out. A beautiful, PRIVATE, modern, organized and large BATHROOM includes (body wash, shampoo, conditioner, fresh towels and washcloths and a hair dryer.). A separate heating system is located in the bedroom for those who like to remain toasty especially during winter. The guest space is a perfect retreat for your travels. *The neighborhood is considerably quieter and safer than staying in the heart of Baltimore City. Less consistent police, fire, and helicopter noise. No driving for extended time looking for a place to park or expensive garage fees. Less dangers of walking from your car to the residence. And considerably less vehicle break ins.
The Elmwood neighborhood located in Overlea and minutes from White Marsh is in a quiet & safe area just outside the city by approximately 5 minutes. Close to I-95, I-695 & I-895 for travels to cities like Philadelphia, D.C. and other parts of Maryland. My home is within walking distance of a local bar/restaurant, liquor store, convenience store and plenty of small restaurants. A grocery store, gas station, shopping mall, movie theater and The Avenue which boasts many restaurants and shops is a 5-15 minute drive. *The neighborhood is considerably quieter and safer than staying in the heart of Baltimore City. Less consistent police, fire, and helicopter noise. No driving for extended time looking for a place to park or expensive garage fees. Less dangers of walking from your car to the residence. And considerably less vehicle break ins.
The place is exactly like the pictures - very nice, clean, and spacious. No complaints!
Alex
2017-01-02T00:00:00Z
Tiffany was an incredible host, so welcoming and accommodating. We had the upstairs loft area all to ourselves with a private bathroom. The whole house was pristine, and Tiffany furnished all the essentials. Easy walk to the bus stop to go into the city centre.
Christen
2017-03-15T00:00:00Z
Tiffany and her family were great host. The place was very clean and her communication was very quick. The room was very private and secure. Her post is very accurate. Food and shopping was just a 10 minute drive away in White Marsh as well. I would highly recommend this place as it is very comfortable and she was very professional. Oh and the dog was very cute and friendly! If I could give her 10 stars I would!!!! I felt very safe and comfortable!
Courtney
2017-02-12T00:00:00Z
There needs to be an option for places on Airbnb that are absolute standouts. Beyond just rating five stars for every category one should be able to identify hosts' places that are brilliant. This was one of those places. The room, which was the whole top floor of the house, was the opposite of the usually deceptively photographed places in that it was way better than the pictures (they don't do justice to the actual spaciousness and comfort). I would compare it to a mid level suite at the Marriott or Hilton with a very comfortable queen sized bed, refreshingly clean and warm aesthetic, a swivelling tv with Netflix, a large, fully-stocked, attached bathroom and liberal use of the kitchen. The value for money based on that is just remarkable. Things were actually better than described. The place is kept extremely clean and the host was super welcoming. I had amazing friendly interactions with the hosts' family who made me feel exceptionally comfortable. This was, without a doubt, a standout. Definitely staying here again if I'm in Baltimore.
Osama
2016-12-09T00:00:00Z
This is a great place to stay, I would recommend it to anyone staying in Baltimore. It is clean, safe and quiet. Very comfortable bed. The host and her family are very nice. I prefer to cook and the kitchen had all I needed. The pictures do not do it justice. They have the cutest dog as well. Bella was such a joy to be around.
Norah
2017-01-16T00:00:00Z
The room was awesome, the family was very sweet and accommodating!! This room has everything thing you need! The pictures do not do it justice, it is on par with any upscale Maryland hotel! I would definitely stay again whenever I'm in Baltimore!
JASON
2017-03-22T00:00:00Z
As a solo traveller, I definitely recommend this location and Tiffany as your host! I plan to come back and I'm sure I'll look to see if this location will be available. You won't be disappointed.
Francisco
2017-03-27T00:00:00Z
Easy check in. Quiet neighborhood with no problems parking. Just spent 1 night but the bed was comfortable and exactly what I needed.
Sarah
2016-11-30T00:00:00Z
Room Type
Private room
---
Property Type
House
---
Accommodates
2
---
Bedrooms
Baltimore, MD, United States
We are in close proximity to Towson, Johns Hopkins, Loyola and Morgan Universities and surrounded by great places to eat in the NE of the city. You'll have a Private Entrance, Room + Bath, all completely separate from the rest of the house. A place for you to regroup from your travels - a peaceful room with a nook to eat or work in, sliding doors to a deck for relaxing in warmer weather, in a quiet neighborhood with coffee shops, grocery stores, and restaurants minutes away, plus easy parking.
We've tailored the space to provide the ultimate privacy and comfort of a separate suite for the cost of renting a room in our home. With a private entrance in the back of our house, easily accessible, the place should feel all your own. The space is well lit, has high ceilings, and a convenient build-in unit to allow you to store your clothes, hang them, and have plenty of counter space for spreading out. We've included a table with two chairs as a nook for eating or working. As well as a sofa chair for relaxing. Our intent is to create a space that will cater to a wide variety of people's needs. It's an ideal setting for a couple, a single person or 2 friends who are in town for interviews, research, work, or tourism, and want a quiet place to recoup and feel safe at the end of the day. There's a mini fridge, a microwave, and a coffee maker with mugs (and coffee and sugar). This way our guests are able to store their own food and to stay in and eat in their own space if desired. There are fresh sheets, multiple pillows, extra blankets, and towels and washcloths provided. Bar soap, shampoo and conditioner are on hand. For warmer months we have a ceiling fan and window a.c. which do wonders against the Baltimore heat. Radiator heat keeps it cozy in the winter. The space has a sliding door out to our deck, which you are welcome to use for some fresh air, etc. Though we ask, as stated, that you don't host any parties or loud events.
Our neighborhood is Hamilton, and is part of a diverse, quaint, and friendly area in the NE of the city. There are many places to eat that are raved about by locals - Hamilton Tavern (famous for its burgers), Zeke's Coffee (Baltimore's #1 coffee), Koco's Pub (famous for their crab cakes), Red Canoe (a beloved book shop cafe), the Silver Queen diner, and other bars, take out, and groccery stores that are all within 10 minutes from our house.
This is an awesome place to stay. it is quiet, very clean, and comfortable. I had my own space with a separate entrance. Lori was great with communicating during my stay and made my time great!
Taeler
2017-02-10T00:00:00Z
We spent 2 nights at LoriJean's place, and it is completely marvelous! Every detail, from communication to cleanliness to attractiveness was great. The neighborhood is quiet, and though not in the center of town, there are restaurants etc close by, and getting downtown is a reasonable drive. Having a private entrance was nice, and bonus: the room was decorated with exquisite landscape paintings done by her husband. They have two young children, and you may hear them a bit, which did not bother us one bit, but be aware if that might be an issue for you. I highly recommend this stay for your visit to Baltimore. Note: of you are planning to spend a lot of time Downtown or around Fells Point, you will have to do some driving through sketchy neighborhoods to get out to this stay, though truthfully moving around in Baltimore from 'hood to 'hood inevitably includes passing thru sketchiness. It's that kinda town. A cool city, but quite old and run down.
Steven
2017-04-02T00:00:00Z
Lori's place is clean, cozy and few minutes away from downtown. Enjoyed the privacy we had with a separate entrance and bathroom. Lori is a great host, she waited on us when we were running a bit late and checked-us in at 10:30 pm. It's a great place to stay-in in Baltimore.
Rima
2017-03-26T00:00:00Z
Lori's place offer you the privacy you need with it private entrance .. both guest and host can go on with its own living arrangements comfortably. I stayed for 8 nights. Lori's always quick to give help and answer for any question.. just a text a way. It just all awesome.. if it is less than perfect her place is just wonderful with more plus than less.!! Be a ware with the cuteness of two little kids (toddler), they might steal your heart :)
Ayu
2017-02-19T00:00:00Z
Lori's place was very cozy, clean, and comfortable. With separate entrance we had all the privacy we were looking for. Great communication, great value. Definitely recommend.
Arunas
2017-03-19T00:00:00Z
Super cute, spacious and very clean room at a great price. The hosts were great and we would definitely stay here again.
Janee
2017-03-12T00:00:00Z
LoriJean's home was perfect. The room and bath were perfectly clean, roomy, very comfortable and close to my down town destination. LoriJean was very nice and quick to provide assistance. I would highly recommend and would happily stay hear again when I return to Baltimore.
Courtney
2017-02-26T00:00:00Z
Room Type
Private room
---
Property Type
House
---
Accommodates
2
---
Bedrooms
Baltimore, MD, United States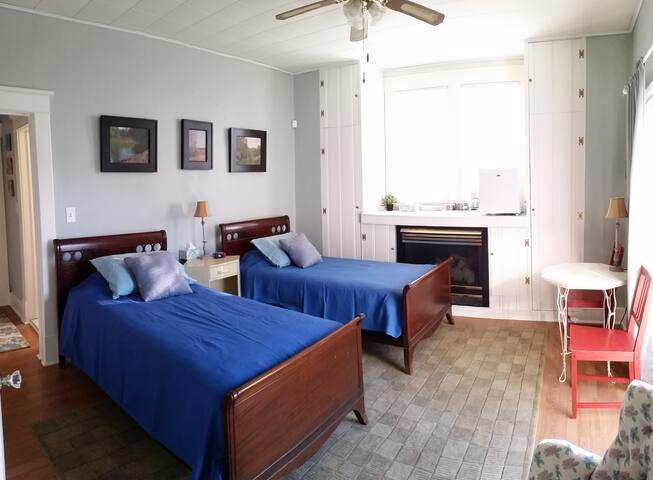 Want to stay in the Baltimore and not be in a tourist trap? This place is for you! This house is in a quiet neighborhood, ample parking, walkable to parks and accessibility to downtown and attractions. Perfect for families visiting Baltimore and colleges in the area. 1 mile from Loyola & Notre Dame of Maryland University, 3 miles from Johns Hopkins, 2 miles from Towson University, 3 from Morgan State and 7 Miles from Coppin State and 7 miles from Stevenson University - Greenspring Campus.
Don't want to stay at a hotel? This is the place to stay! The house is a single family home with a wonderful yard and gardens around the property. You also have a grill to use and a deck to enjoy. Not too many Air B and B's have this in Baltimore. Want to cook on the road? The kitchen is fully updated and is a cooker's dream. Want to cook you favorite meal on the road? You can do it! I have tons of spices, pots and pans, and several small appliances (Toaster, coffee maker (of course) waffle maker, blender, coffee grinder). If you have forgotten or do not have time to grab your favorite drink, I have sodas, bottled water, and other soft drinks ;) You also don't have to buy random stuff like dish soap, plastic containers or foil. You can use mine! I also have a TV in the kitchen! So you can hang out with your family and friends while you cook! There is a dinning room table for 8 for you to enjoy. There is also a living room with tons of space on couches. All rooms have fresh paint and are super clean. I have towels set up for you along with fresh sheets and duvet covers. If you forget any random toiletries, I have them to save the day! Want a place just to relax, have a drink or read a book? The back yard is perfect for that! The huge deck is perfect for morning brunches, afternoon laptop work, or happy hour drinks! Birds and squirrels are frequent visitors in the morning hours.
The house is 1/4 mile away from Belvedre Square Market place, which has restaurants, a movie theater, bars, and a market. The house is also 3/4 mile away from a Giant Grocery store, Panera, Chipotle, Walgreens, Rite Aid, Zoe's Kitchen and Starbucks. My neighborhood is a quiet family style neighborhood. I also live across the street from a nursing home, so there are plenty of people walking around.
Great host, very friendly very helpful. Very nice house in a awesome neighborhood, best Air bnb experience ever.
Yuanfeng
2015-08-08T00:00:00Z
It's clean and comfortable
Bhaarat
2017-03-01T00:00:00Z
Mike's house is so cute and cozy. My family and I had a great night in Baltimore and enjoyed Mike's house for the night. He's very responsive, and strives to make your stay as comfortable as possible. I would love to book his place again should I come back to Baltimore.
Sapphira
2016-08-21T00:00:00Z
Nice place. Nice host. Would recommend.
Ahsun
2015-08-09T00:00:00Z
Wonderful. Charming house in a great location! The host was more than accommodating!
Jennifer
2015-09-14T00:00:00Z
Mike was very accommodating with an early check-in time, which really made a difference for us as we had an afternoon wedding to attend. The house was just as described and a very nice place to stay.
josh
2016-10-09T00:00:00Z
This was an excellent place to stay in Baltimore! Centrally located but still a quiet corner of the neighborhood. The house was perfect for a family - great kitchen and dining room. Adorable and charming are words that come to mind when I think of the house itself. Tastefully decorated and very comfortable! Highly recommended to anyone who wants a home away from home in Baltimore.
Kelly
2016-12-30T00:00:00Z
Mike with an excellent host! The house was clean and comfortable and everyone felt very safe. It is exactly as posted, we would highly recommend staying with Mike.
Cathy
2016-11-12T00:00:00Z
Room Type
Entire home/apt
---
Property Type
House
---
Accommodates
6
---
Bedrooms
Baltimore, MD, United States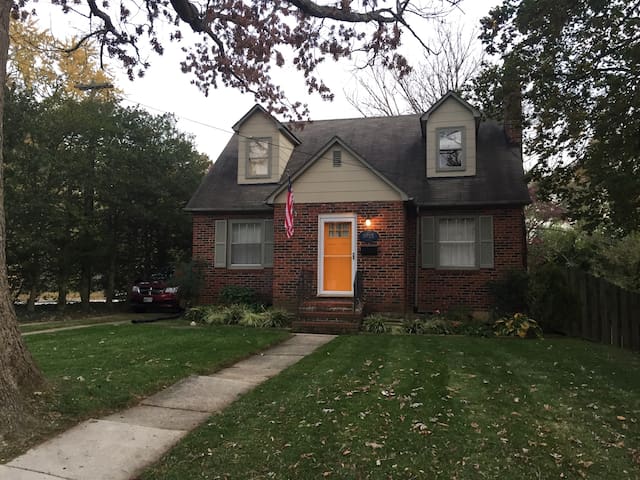 Great historic community close to bus line. Centered near John Hopkins university,Loyola university,Morgan state university.
My girlfriend and I spent the weekend at Delores' home and we really enjoyed our stay. Delores was a great host and was incredibly responsive to our questions. I would love to stay at the home again if given the opportunity!
Paul
2017-04-09T00:00:00Z
This was a very nice room to stay in, very clean, and very friendly.
Leslie
2017-01-22T00:00:00Z
This place served its purpose and was ideal for the location I needed. The host was pretty prompt with responses when messaged during ideal times. The host was not intrusive and there was little to no interaction. Parking is on the street and my husband and I didn't have a problem finding a spot in front of house. We visited in March so there were some cold days so the heat was adequate, maybe too adequate for us (we are hot natured people), but there was a ceiling fan in the room. There were some areas of uncertainty that needed clarity which I have mentioned to the host. Overall my stay was ok and the location was good for the nature of my trip.
Dasha
2017-03-12T00:00:00Z
Everything was perfect. I would recommend to every one. I will stay again.
Doug
2017-04-05T00:00:00Z
Room Type
Private room
---
Property Type
House
---
Accommodates
2
---
Bedrooms
Baltimore, MD, United States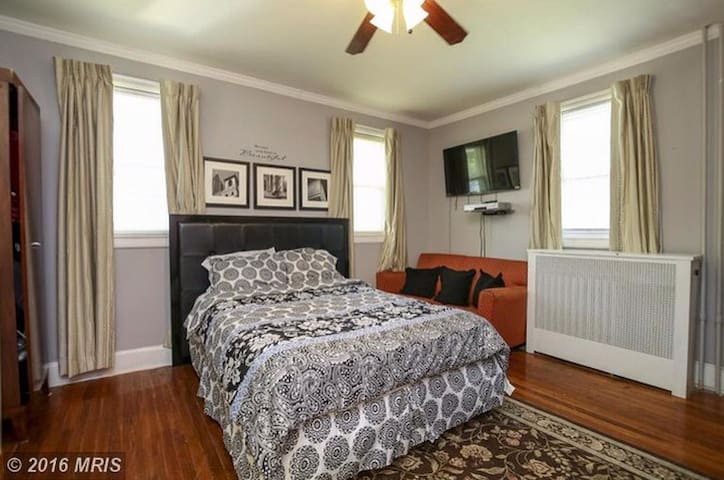 My place is close to parks, art and culture, restaurants and dining, Sheppard Pratt, Goucher College, GBMC, Mt Sinai, I-83 ,695 and downtown. My place is good for solo adventurers.
You are welcome to use use the rest of the house. Please take shoes off upon entering.
I have very nosey neighbors. Even tho the parking is free they are possessive about the parking.
I had an excellent stay. It was peaceful and quiet. Definitely would love to stay there next time.
Joe
2017-03-31T00:00:00Z
Jenny's place is good for an extended stay for someone here on business. It is in a residential neighborhood in the Baltimore suburbs.
John
2017-01-18T00:00:00Z
It is great.
Jian
2017-03-02T00:00:00Z
Room Type
Private room
---
Property Type
House
---
Accommodates
1
---
Bedrooms
Baltimore, MD, United States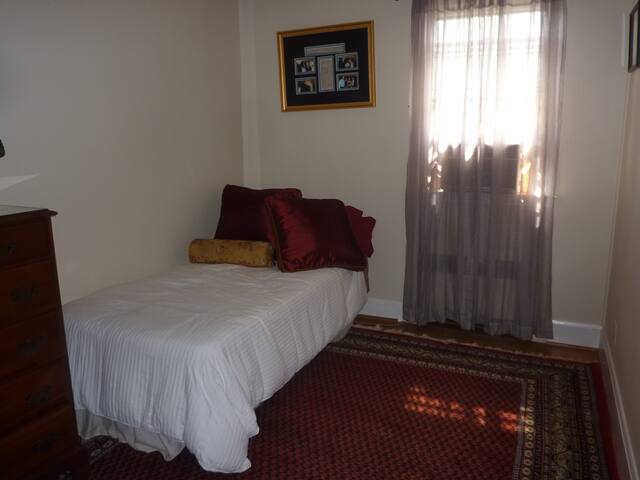 Perfect location for JohnsHopkins! Doublewide, 3bedroom home comfortably fits 8 adults and 2 children. No luxury has been overlooked. Marble Kitchen stocked with culinary essentials. Jetted tub in every bathroom. Custom mood lighting package. Chandelier. Leather couches, Importen Persian wool rugs. Enjoy grilling/yoga/wine at sunset on the roof!
Guests can enjoy our jetted tubs in every bath, mood lighting, gourmet marble kitchen, dining room with chandelier and our nicely furnished roof deck.
Steps from BistroRx, tennis and playgrounds, and an easy walk to Johns Hopkins Medical, Fells Point or Canton. Patterson Park is a lovely neighborhood which is community oriented, family friendly and diverse. You will feel right at home in our friendly community.
Meghan's got a great set up going here. Amazing place. Neighbors are very friendly and most everyone knows Meghan in case you ever need anything! Would absolutely stay again.
Quincy
2017-03-12T00:00:00Z
Meghan was a good hostess. Her house is beautiful and updated. Across from a park, walkable to downtown fells point. It had plenty of room for 9 adult women. Only complaint was her cleaning crew. They didn't have any toilet paper in the house when we got there. They left dirty dishes in the dishwasher and they didn't have any clean towels for us. We don't blame Meghan for this because she was very accommodating and responded to all of my texts and questions quickly. Overall we had a great time and we would come again.
Ashley
2017-04-02T00:00:00Z
Beautiful home! The pictures are accurate and the house has a great feel to it. Meghan was a great host and was attentive to our needs during our stay. Parking was a bit of a hassle during the evening hours when everyone had returned from (URL HIDDEN) times we had to park a couple blocks away. The parking behind the house is very small and really does require a compact car to fit, and even then seems like it would be a bit awkward. Also, there is only one TV in the house (in the living room). Be prepared to share or bring a laptop to watch movies while the kids play video games -that's what we did! We enjoyed our stay and will always try to stay here when returning to the Baltimore area. Thanks Meghan!
Nina
2017-03-16T00:00:00Z
Great atmosphere in the house! It could be suitable for almost any group of people from family's with kids to friends on a weekend getaway. Thank you for letting us you your wonderful home Meghan!
Lee
2017-03-26T00:00:00Z
Nice place, Nice Host, Semi-Close to attactions
Jared
2017-04-05T00:00:00Z
Meghan was very responsive throughout our stay. The house was portrayed accurately and centrally located right on the corner of Patterson park. Her roof has an amazing panoramic view of the area. Would absolutely book with Meghan again!
Jack
2017-01-02T00:00:00Z
This place is one of those rare AirBnb houses where it is equally great for both adults and kids. There is an adorable kids room, complete with crib, toys, changing table and bed with side rails. But there are also two spacious and private king bedrooms with bathrooms on the second and third floors. Our party was made up of four adults and three kids under five and the place felt plenty spacious. Being right on the park was amazing; there are two great playgrounds (one basically opposite the house and one on the south end) within a few minutes walk. We were lucky to have 68+ degrees in February, so were on the rooftop deck every evening for the sunset and grilling dinner. Would definitely stay here again and recommend to any group (especially with kids) visiting Baltimore.
Nicole
2017-02-20T00:00:00Z
Meghan was amazing! We had a few hiccups in the beginning but the communication was effective and prompt! We had so much fun. The house was great there are lots of games to play and plenty of stuff for little ones to play with for families! There is a huge park across the street to enjoy your daily exercise. Also the deck was beautiful with great views of the city! We were about 10 minutes away from most anything that we wanted to see or do! We will be coming back to stay again!!
Dayle
2017-03-29T00:00:00Z
Room Type
Entire home/apt
---
Property Type
House
---
Accommodates
8
---
Bedrooms
Baltimore, MD, United States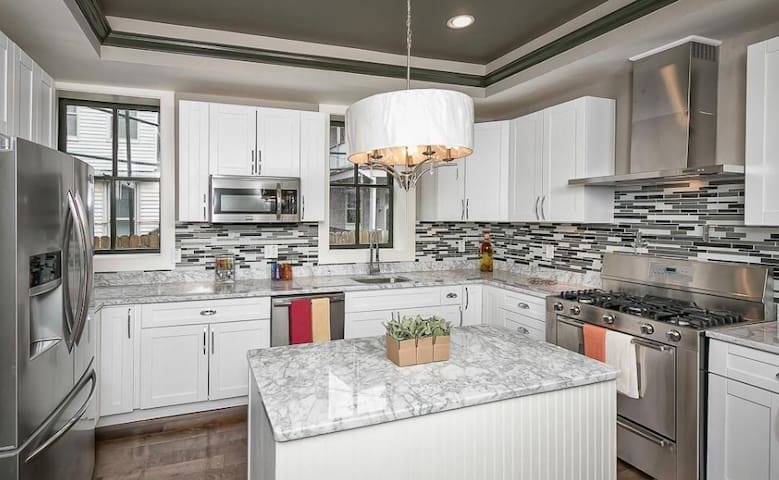 Seeking guests interested in inexpensive simple living. The second bedroom, living room, bathroom, and kitchen are available to guests. Offering a simple living space for guests with basic amenities which is reflected in the low price. At this time, the space does not offer towels and kitchen utensils.
The townhouse is conveniently located in Waverly. A historic village in the heart of Baltimore, Waverly is a safe, culturally diverse neighborhood with an active community life, innovative schools, affordably priced housing, and a strong sense of community. Conveniently located near I-83, York Road and major bus connections, Waverly provides easy access to downtown Baltimore, Towson, and the beltway. Solid working/middle class neighborhood, with a high percentage of home ownership. Ancient Waverly, when it came into being, was called "Huntingdon," from St. John's Episcopal Church, Huntingdon the community's oldest church, dating from the 1840s. In 1840 the town of Waverly included six buildings all clustered near the 3100 block of York Road: a shoemaker's shop, a corn husk depot, a blacksmith, and three small stone houses. The shoemaker, Jacob Aull, was an immigrant from Bavaria whose sons built the houses in Waverly's first housing boom and whose daughter Louisa became a neighborhood historian. Surrounding this little village, away from York Road, there were still the estates, summer houses, arboretums and horse farms of the affluent. In 1866, a large parcel of land, much of it previously used for pasture and farming, was bought and divided into lots. New avenues were laid out. More houses were built, as were the first firehouse, the town hall, and finally the Post Office. Obtaining the Post Office led to the change of name to Waverly, after Sir Walter Scott's first novel, Waverley, to avoid confusion with the myriad Huntingdons. With rural origins and a history as a suburban village, by 1974 Waverly was considered representative of an urban community.
Contact Airbnb.
Karen
2017-02-13T00:00:00Z
It is what it is for the price is it is. May not be suitable for long term stays but if you're up for it, it's no more a challenge than it is living in any other apartment . It's ultimately a good place to kick off your shoes, relax, and enjoy your stay in Baltimore.
Kenneth
2017-03-12T00:00:00Z
For this price, good place.
Leila
2017-03-15T00:00:00Z
The place was decent and affordable. There is a market close by which make you stay easier. The only downside to this place is that the heater was not working and I had to buy one to be able to survive chilly nights in Bmore. They should also provide a blanket as well.
Mehdi
2017-01-23T00:00:00Z
Great place if you just need a bed and showe
Sean
2017-04-02T00:00:00Z
Second visit here. Can't complain at this price!
Leila
2017-03-26T00:00:00Z
Good for when you are on a budget. A bed and shower! That's it!
David
2017-03-16T00:00:00Z
Joba's place is an easy walk to JHU campus, simple but quiet and comfortable, and great value. :)
Jacob
2017-03-03T00:00:00Z
Room Type
Private room
---
Property Type
House
---
Accommodates
2
---
Bedrooms
Baltimore, MD, United States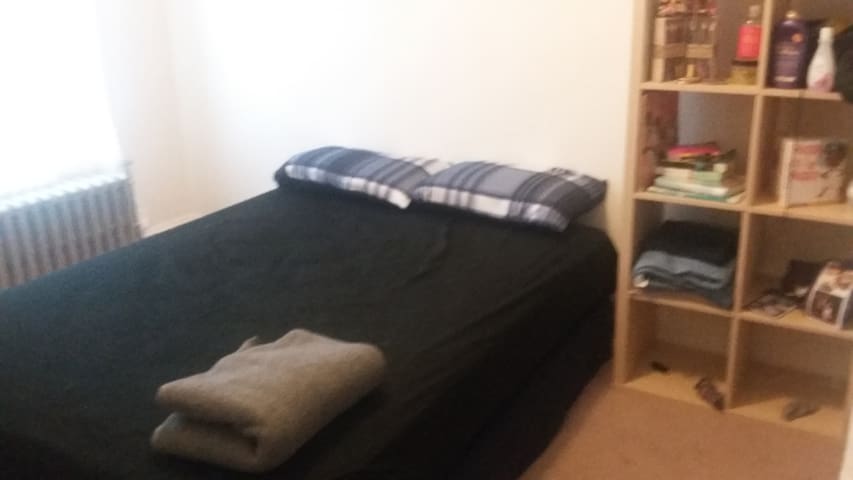 My pet and couple-friendly row home is the perfect place for a weekend adventure.You'll love the high ceilings and Moroccan themed design. Less than a mile from Johns Hopkins and the bar neighborhoods of fells and Canton. Only 2 miles from the harbor
Perfect central location. Clean airy room gives you plenty of privacy.
Patterson park, Baltimore's biggest park is just 3 blocks away and features basketball courts, soccer and football fields, walking and biking trails, public pools and a dog park! Walking distance to the bars.
Caroline has a lovely home. The check-in process was really easy as she left the key and instructions in the mailbox, which was really helpful. The neighborhood is quiet and nice, a short walk from Patterson Park and a few buses to downtown run by the house. Would definitely recommend-- it's a great value!
Thom
2017-03-26T00:00:00Z
Very private. I enjoyed having the bathroom next to the bedroom though it isnt connected to the room. The neighborhood is NOT good but I didn't have issues. It was very scary driving at night to find parking. However, the theme inside is nicely done and Caroline is accessible though she'll leave you be if needed. The room is a good size. It gets cold at night but an extra heater is provided and makes it cozy.
Ameenah
2017-02-02T00:00:00Z
Beautiful and cozy house! Little details that make the place great! Caroline is a awesome helpful and careful host! Help us in everything. Really recommend her! Baltimore is a nice city too.
Murilo
2017-02-16T00:00:00Z
Really nice room and house to have at your disposal! Caroline was very helpful.
aaron
2017-04-08T00:00:00Z
5 stars all around! The room was spacious and clean, with plenty of room for luggage and clothes. The bathroom is nice and tidy, with hot water in the shower (which is very nice in winter time). Caroline is a great host and answered all my questions for local food/attractions, as well as morning traffic. I'm definitely staying here again next time I'm in Baltimore!
Brian
2016-12-08T00:00:00Z
It was quite cozy . Love how she designed a place .
Avery
2017-02-10T00:00:00Z
A little city noise. Nice location. Great value.
Trisha
2016-11-27T00:00:00Z
Caroline's place was beautiful and in a great location. She was extremely accessible and flexible with my travel arrangements, and gave me a comfortable place to stay during my short visit. Thanks so much Caroline!
Hannah
2017-03-15T00:00:00Z
Room Type
Private room
---
Property Type
Apartment
---
Accommodates
2
---
Bedrooms
Baltimore, MD, United States
My place is close to public transport, parks, and the city center. You'll love my place because of the spacious house and competitive price. This room for rent is good for one person.
This is my smallest room, it has a twin bed (very comfy). A desk with a swivel chair. I don't have a TV in the room now, but I can give you one if you really need it.
Darley Park is a developing neighborhood. The neighborhood looks worst than it really is. This block in particular is a pretty nice block with a lot of older homeowners. During the summertime, because it is such a long block, the kids come out to play in the street.
Had a nice stay, David was very accommodating
Alice
2017-01-09T00:00:00Z
David himself was very easy going. Accomendated me earlier than I originally schedule due to my travel issues. The room had a lingering odor. Also couldn't provide a wash towel for me to wash up with.
Ernest
2017-01-02T00:00:00Z
Great host.
Kaye
2017-03-16T00:00:00Z
As advertised. Very affordable and close to downtown.
Matthew
2017-03-09T00:00:00Z
Great experience! It's easy to find, friendly atmosphere of the place. Clean apartment, comfortable couch, convenient location, and a friendly and pleasant host. Definitely recommended.
Nimesh
2016-12-09T00:00:00Z
Good value for money
Osama
2016-12-30T00:00:00Z
David is absolutely a nice guy with patience and humour. All of his helps and explanations make me feel like that i'm at home. I'm really appreciate for his hosting. 感谢感谢!!!
TENGYUE
2017-02-24T00:00:00Z
Well David was nice, the bedroom it's a small and it's has 2 door in ur room which mean you can hear what it happening in the next room ,the neighborhood it's looks unsafe , I think if you looking only for rest it's worth it it's a cheaper price .
Roger
2016-12-11T00:00:00Z
Room Type
Private room
---
Property Type
House
---
Accommodates
1
---
Bedrooms
Baltimore, MD, United States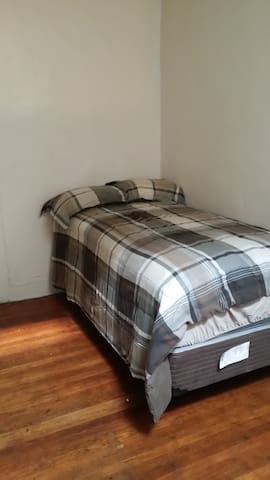 This 1 bedroom, family/pet friendly apartment with great light, and a dining area. There is a full sized bed, an air mattress, and a couch in the living room that pulls out. The kitchen has gas appliances. It is very clean, and comfortable space. Located the very safe Canton neighborhood, this simple apartment, is a great place to rest your head. Free Parking right outside the building. Good for couples, small groups, families, adventurers, and business travelers.
It is a furnished apartment, with hardwood floors, and a dining area. There is a small desk in the living room suitable for a laptop. There is a living room with a couch and TV. There is a full sized bed in the bedroom, and blackout curtains.
It is a very quiet neighborhood, and very close to everything. The apartment is minutes away by car from several shopping centers with lots of restaurants, bars, grocery stores, The Fells Point area, and The Harbor. It is a 10 minute drive to Johns Hopkins, and Downtown.
Room Type
Entire home/apt
---
Property Type
Apartment
---
Accommodates
4
---
Bedrooms
Baltimore, MD, United States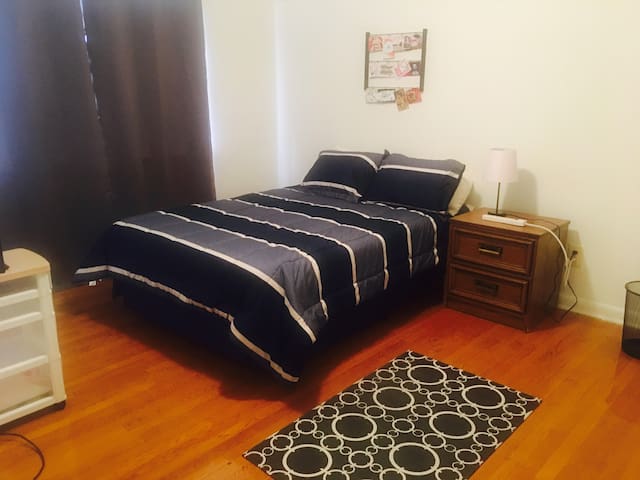 Space available is the entire remodeled basement. Includes private full bath, private entrance, laundry, separate bedroom and large living room area. Close to Downtown Baltimore City, Quick Jump on to 95. Close to local colleges: MICA, Johns Hopkins, Morgan, Towson, Goucher, Loyola, UB. Bus Stops Close by, Quick Drive to Baltimore Inner Harbor and Fells Point The Neighborhood is beautiful and lots of green space. Large From Porch, Beautiful Gardens. Lots of Light.
Space Includes: Mini Fridge Microwave Desk Wireless internet Complete privacy Flat screen TV, Apple TV, Netflix Separate Entrance Full bathroom Separate, full bedroom with large closet Full bed Large sectional Sofa Clean towels Clean Sheets Lots of Light Separate living room with large comfy sectional sofa Washer and Dryer in Unit
Hamilton/ Beverly hills Neighborhood is known as an artistic and creative Baltimore City Neighborhood. It is city living with a suburban feel. The area is very green and houses many families. Our neighborhood has been named one of the safest in Baltimore City. There are walkable amenities: Safeway, Liquor store, 711, Royal Farms Walkable Restaurants/ Bars: Maggies Farm, Red Canoe, Lauraville House, Silver Queen Diner, Hamilton Tavern, Los Amigos.
We came several hours earlier and they were okay with it. We had no problems getting to the place and were welcome and shown what we needed to know.
LOOEY
2016-11-16T00:00:00Z
This was more than perfect. Area was safe and easy to get to. Basement was like a small but cozy apartment. Very clean and Julie and Scott were very welcoming. Would definitely stay again if in the area. Thanks so much!
Ana
2016-11-27T00:00:00Z
Very kind people, nice and comfy place to stay. Scoot and Julia are a great hosts, definitely I recommend this post.
Camilo
2016-09-17T00:00:00Z
Julie has been so great I extended my stay. She's on top of anything I brought to her attention and around for any questions about the area.
Randi
2016-10-01T00:00:00Z
Julie and Scott were extremely welcoming. We arrived at their home later than expected but they didn't mind and stayed up waiting for us. Everything was super clean! The space is great! I would definitely recommend staying here again.
Danilo
2016-11-07T00:00:00Z
Julie and her husband have a beautiful and comfortable house! Very nice and accommodating people. The set up was perfect for what we needed! I would highly recommend it.
Kelsey
2016-11-21T00:00:00Z
Room Type
Entire home/apt
---
Property Type
House
---
Accommodates
2
---
Bedrooms
Baltimore, MD, United States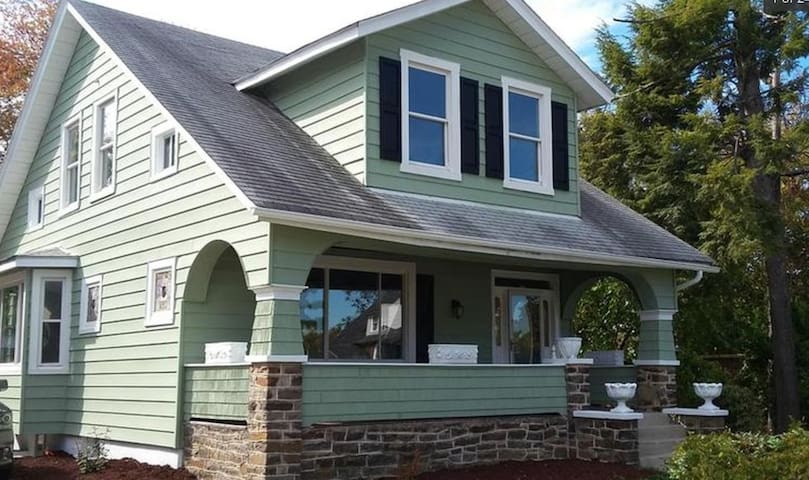 Enjoy your visit in Canton's most luxurious apartments. This shared, 2- bedroom apartment features your own private room and bathroom, laundry, full kitchen, as well as cable and internet connection. Free parking is included, in addition to 24-hour gym access. It's more than just a place to sleep.
Conveniently located across the street from Canton Crossing (Old Navy, Target, Harris Teeter and several other shopping and dining options). We're also minutes away from the famous Canton Square and Fells Point entertainment and eatery hotspots.
Convenient shopping, entertainment within walking distance from all that Canton has to offer. Canton is one of the safest areas in the Baltimore, MD area and this apartment is the best in the area.
This apartment is beautiful, spacious, and within walking distance of some nice restaurants and shops.
Brandon
2016-11-05T00:00:00Z
Aquil was a great host! Very kind and showed us how to get into the apartment complex. I could not ask for anything else.
Paul
2016-10-16T00:00:00Z
Shhhh! This is the best kept secret in Canton/Baltimore. Great place with all the amenities. You have all the amenities of a 5 Star hotel. Walking distance to dozens of restaurants and entertainment. Easy parking and easy access to highway and city. I highly recommend Aquil's place if you have business on the East side of Baltimore, the harbor or downtown. I'll stay there on my next visit to Baltimore.
Jerry
2017-02-16T00:00:00Z
Wonderful hosts. Amazing place. Don't miss it!
Michael
2017-01-21T00:00:00Z
Welcome message before we arrived!
Ann
2016-11-20T00:00:00Z
A really outstanding açcomadation; large bedroom comfortable king-size bed, desks, tv with cable, and WiFi access. There was an adjoining full bath with a large bathtub. Aquila is an excellent host, he was understanding and patient when my arrival time was delayed. He was helpful beyond the call of duty in assisting me with my bags and was always pleasant. I was attending an intense course so was not around alot. The location was ideal, and there were restaurants and a shopping center nearby. Highly recommended.
Laura
2017-03-05T00:00:00Z
Second time in space and absolutely love it. Will be back again. Clean, friendly, quiet and owner does the little things that make it great.
William
2016-12-09T00:00:00Z
Aquil's place was amazing! The cost was so great for being so close to everything down town. He has great advice on places to eat and hang out. He was prompt and easy to work with. The bed was so comfortable and the room and bathroom were very clean. Best airbnb place so far!
Meagan
2017-02-25T00:00:00Z
Room Type
Private room
---
Property Type
Apartment
---
Accommodates
2
---
Bedrooms
Baltimore, MD, United States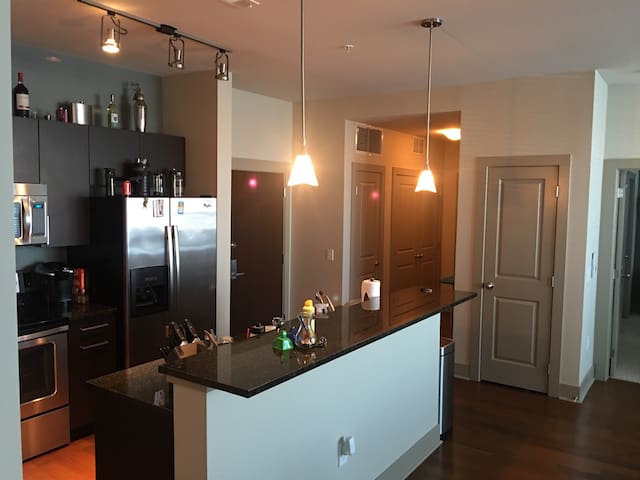 This 'charming' row home basement apartment is recently renovated, comfortably furnished with hand-crafted pieces and comes with a dedicated parking spot which is rare. True to its history, the space features lower than normal ceilings (not ideal for guests 6'4" or taller) but that only enhances its character. There are numerous shops and restaurants within walking distance and the Inner Harbor is only a short drive away. It is located a half mile from Johns Hopkins Bayview Medical Center.
This entire row home was recently renovated by its owner who is an international carpenter. The space features many hand-crafted pieces and tons of unique detaill. The basement apartment is perfect for those looking for a short-term or long-term stay. It features a private fully-stocked kitchen (minus microwave), dining area, living room and memory foam queen bed. The laundry room is available to all guests as well and is shared with the home owners.
The apartment is conveniently located in the unique Greektown neighborhood, is close Interstate 95 and just 10 to 15 minutes from the Inner Harbor. The neighborhood features many regionally authentic restaurants and shops and is easily walkable. Johns Hopkins Bayview Hospital is only half a mile from the property. The neighborhood is transitional though rather safe and popular with all guests. Our guests have always felt safe and have had no issues. It is however not ideal for guests looking for pristine streets and high value real estate. Those are basically impossible to find in Baltimore. The space is an easy 2 minute walk to Samos and Ikaros Restaurants and 1 mile from Canton Crossing Shopping Center. The location is great for exploring the Baltimore area.
Parking space was a tight squeeze, but other than that, the place was beautiful. It was convenient to the downtown area in order to enjoy the scenery and local activities.
Rebecka
2016-11-13T00:00:00Z
A Maryland - native, living in NC, I stayed here for a few days while visiting friends in Baltimore. I was greeted warmly by Emir's mother, even though I accidentally arrived earlier than expected. The apartment was clean and comfortable and delightfully decorated with lots of updates. I loved the attention to color and detail in the decor -- that turquoise pan! I also really enjoyed lying on the very comfy couch, reading and drinking coffee. Because you'll be living for a few days underneath a busy family with small kids, this will be a great option for you if you are an early riser with a full schedule. The neighborhood was quiet and clean and close to lots of Greek and Latino restaurants and shops, I enjoyed discovering Greek Town and Patterson Park. Thanks again for a quick, comfy visit!
Desaray
2017-01-17T00:00:00Z
Thanks for a great stay in Baltimore. We really enjoyed our stay here.
Kelsey
2016-11-19T00:00:00Z
With a last minute stay this was a great choice. The booking and checking in process was extremely easy and the combination pad for the entry was very simple. As it states in the description the ceiling is lower than usual, at 6'4" I'm taller than the recommendation however it was still very doable to stay here. The room was very clean and tidy and the instructions for arriving to and getting acquainted with the apartment were perfect. I'd stay here again for sure.
Nic
2016-11-07T00:00:00Z
Really enjoyed my stay here! Very comfy space and a pretty convienant spot. I really liked how walkable everything was. Wouldn't mind staying here again, especially because of the easy parking.
Iv
2017-03-16T00:00:00Z
Place is exactly like the pictures. Everything was very clean and had everything necessary for our stay. The parking spot is a little tough to get in and out of, but the spot itself is fine. Theres a ton of restaurants around the area, and things to do are no more than 20 min away. Overall was a great place to stay.
casey
2017-02-13T00:00:00Z
Accurate description, slightly sketchy neighborhood
Rachel
2016-10-21T00:00:00Z
I really enjoyed staying in the private apartment within Emir and Sarah's place. The check-in process is well defined and simple to follow, and Emir and Sarah are spot on with their communication. The apartment is very secure, cozy, comfortable, clean and quiet! The added bonus, the assigned parking spot. Baltimore street parking is very challenging and the private parking spot is a huge bonus. I really enjoyed staying in Emir and Sarah's home and I look forward to doing so again during one of my next trips to Baltimore. Also, and as a side note, this neighborhood is full of history dating back to the Civil War. The neighbors are very knowledgeable about this and are very friendly and talkative as well.
Carl
2017-03-09T00:00:00Z
Room Type
Entire home/apt
---
Property Type
Townhouse
---
Accommodates
2
---
Bedrooms
Baltimore, MD, United States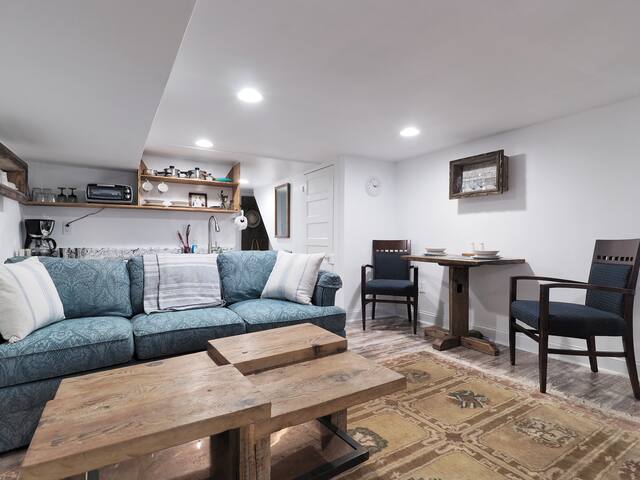 This is an Amazing semi-detached home in a well-established neighborhood in North Baltimore. Close to great shops and restaurants in Belvedere Square and short drive to major Baltimore attractions, Towson Town Center, Loyola, JHU, Towson U. Beautiful outdoor space, the light, the comfy bed, the kitchen, the peace, the trees, the neighborhood is like a quiet country road, but you have everything you need 1 block away. Good for couples, solo adventurers, & business travelers.
This is a cozy, quiet street and a very short drive to most of the major universities in town, including Towson University, JHU, Goucher College, Stevenson University, Notre Dame, Loyola University, so perfect for families doing the college visit circuit or for parents visiting their students, or visiting faculty. The house is also very close to many of the major hospitals for traveling nurses and physicians—Union Memorial, St. Joseph's Medical Center, GMBC, Good Samaritan, Sheppard Pratt, Sinai, Maryland General Hospital, Kennedy Krieger, Mercy, Johns Hopkins, and more. 15 minute drive from all the major attractions, Inner Harbor, Baltimore Museum of Art, American Visionary Art Museum, National Aquarium, 2 minutes from Towson, 5 minutes driving distance from light rail and I-83. Just 45 minutes from Washington, DC. My house is on a quiet, beautiful street in a great neighborhood. Belvedere Square is walking distance with amazing food, shopping and wine bars and hosts a wonderful summer music festival every Friday night in the summer months. You can also walk to our beautiful Senator Theater, one of the top-rated art deco style movie theaters in the country, with first-run movies. My house is a 5- minute drive to Whole Foods, Trader Joe's, Giant, 5 minutes to the best mall in MD! Towson Town Center. And of course a Starbuck - 5 minute walk, 1 min drive. There are 2 bedrooms with 1 king-size bed and 1 full size Serta Futon. Additionally, the house has full bath upstairs + 3/4 bath in basement, eat-in kitchen and granite countertops, gas stove/oven, central A/C, heat, hardwood floors, washer/dryer, office/sunroom and much more. Beautifully decorated and furnished. Wi-fi and Direct TV with the NFL Ticket provided. There is also an AMAZING Peloton Cycling Bike which you are welcome to use for any of the live or recorded classes. Please be at home here and anything you forgot - I will try to provide. In addition you will have: - Fresh linens and towels - Hairdryer - Shower and hand soaps - Directions to and information about local area attractions - Coffee and teas - Condiments Also, the house is not child proofed, so it's not a great space for families with small children. Also, I have a small Pomeranian - so if you have allergies, this may not be the house for you.
This is BEAUTIFUL neighborhood walking distance to soon many shops and restaurants. Belvedere Square has wonderful restaurants, pubs, markets, and an art-deco movie theater. In the summer months, each Friday night they block off the area for a concert in the Square. Food and beverage vendors are out and people set up picnic style dining and listen to various local bands perform. Awesomeness!
Capella's cozy, comfortable duplex was a great find for me. Me and my co-worker came up on business and did not want to stay in a hotel when we can have more room to move around in in an airbnb. After working for 18 hours straight it was so nice to come back to her place and sleep. Her kitchen is roomy & fantastic and I wish I had the opportunity to enjoy it more. Location is great close to many places to eat and parking was easy. If ever traveling here again I would definitely stay here! Thank you so much Capella!!!
kim
2016-10-27T00:00:00Z
Very, very comfortable & clean. Great tv and internet.
Maureen
2016-12-24T00:00:00Z
The host canceled this reservation the day before arrival. This is an automated posting.
Pierra
2017-01-17T00:00:00Z
The house was as pictured. It's well kept and clean. Great wifi and TV in the living room and bedrooms. King size bed was a bonus. Communication was fast with no issues for arrival or departure. Easy street parking. Overall a great experience. Would stay here again when we visit Baltimore next time.
Sylvia
2016-11-01T00:00:00Z
This is our second time staying at the location for a long weekend. The house is as pictured, clean, fast wifi, private, family friendly. Easy street parking. Short drive to Baltimore and the airport. Good communication with easy check in and out. Would stay again in the future.
Sylvia
2017-01-03T00:00:00Z
Capella was a great communicator. The apartment was as described...adorable and comfortable. Thanks Capella.
Nick
2016-10-02T00:00:00Z
Room Type
Entire home/apt
---
Property Type
House
---
Accommodates
2
---
Bedrooms
Baltimore, MD, United States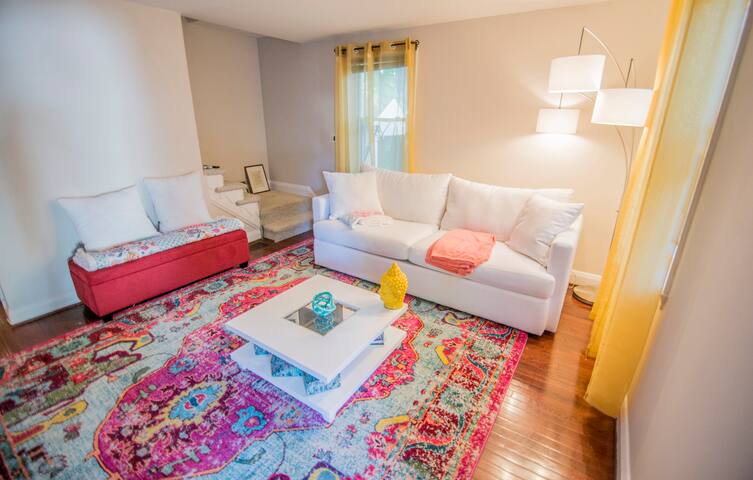 Enter dates to see full pricing. Additional fees apply. Taxes may be added.