A unique location in the Village of Williams Bay on Lake Geneva. 1000 feet from the Lake front! We are part of the Harbor View Motel property in Williams Bay, while these Cabins share a roof top with each other, they are separate from one another, so no common walls. Our shared wooded, spacious grounds, picnic tables, deck, volleyball, horseshoes, open fire pit and boat rides are perfect for families, friends and reunions. We are pet friendly. Walk to the lake front and e
Jim was a great host. Communication and check in/out went smoothly. He even gave us passes to get on the beach for free. The space is very rustic but in a great location. We had a fun time.
Amanda
2016-09-04T00:00:00Z
James was easy to contact and assisted when questions asked and able to provide requests. Accommodations were neat and clean.
Lynn
2016-08-08T00:00:00Z
Room Type
Entire home/apt
---
Property Type
Apartment
---
Accommodates
4
---
Bedrooms
Williams Bay, WI, United States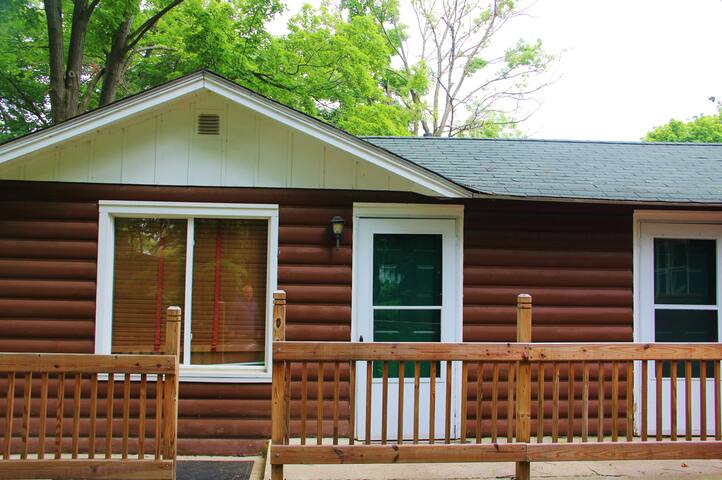 Our 1 bdrm condo is located on a quiet street just 5 min from gorgeous downtown Lake Geneva! Cozy up by the fireplace or walk down to Lake Como; either way, you won't be disappointed!
The condo is located at Interlaken Condominiums at The Lodge at Geneva Ridge. While we are in the same lot as the hotel, there is a $7 fee for condo owners to use the pool by the hotel. Condo owners are welcome to use the second outdoor pool free of charge, it is located by the lake. There is an outdoor bar as well as restaurant at the hotel.
Alexis was very communicative and had suggestions for what to do and where to go. The condo was in a quiet area set back from the road and had access to the lodge (which has Internet access). I would stay there again.
Jonathan
2016-08-19T00:00:00Z
The host canceled this reservation the day before arrival. This is an automated posting.
Andrea
2016-09-14T00:00:00Z
The listing was accurate but the condo was quite basic. The location was very convenient for our purposes. Neighborhood was quiet and felt very safe. Bed was comfortable.
Dave
2016-09-25T00:00:00Z
Alexis was very helpful! Her place is very close to Lake Geneva and the kitchen, porch, and bedroom were very nice. Thank you for accommodating our late request!
Andrea
2016-09-29T00:00:00Z
Fabulous location!!! We had a fantastic time and if we stay in Lake Geneva again this is our go to place!!!
Giselle
2016-08-02T00:00:00Z
Overall very nice stay, a few technical issues but they could be easily fixed. Nice and quiet, plenty of space and close to the fun around lake geneva.
aendri
2016-11-01T00:00:00Z
This condo is great! It's very clean, comfortable and a great location. Just a brief walk to a lake with beautiful views and only a five minutes drive to downtown Lake Geneva. I highly recommend this condo and so appreciate the easy check in and out experience that Alexis provided.
Brianna
2016-07-30T00:00:00Z
Great location! Easy to get around Lake Geneva area. Walking distance to a nice supper club called "Mars", which is on Lake Como. Love the fireplace and cozy atmosphere.
James
2016-10-23T00:00:00Z
Room Type
Entire home/apt
---
Property Type
Apartment
---
Accommodates
2
---
Bedrooms
Lake Geneva, WI, United States
My place is close to everything that beautiful Lake Geneva has to offer; shopping, night life, restaurants, recreational activities and the gorgeous downtown area with the fabulous lake in its center.. You'll love my place because of the comfy bed, the neighborhood, and the coziness, but mostly because it is so unique and so beautiful. Located on a nature preserve and a bike path which you can use to bike or walk to beautiful downtown Lake Geneva. My place is good for couples.
Room Type
Entire home/apt
---
Property Type
Apartment
---
Accommodates
2
---
Bedrooms
Lake Geneva, WI, United States
My place is close to the beach, great views, restaurants and dining, family-friendly activities, and nightlife. You'll love my place because of the ambiance and the neighborhood. Geneva Street is YOUR "home away" in DOWNTOWN Lake Geneva. Located steps from restaurants & FUN recreational shores of Geneva Lake ~ yes, it's all about location! You will truly feel at home in this well-appointed 3 BR apartment with a fully equipped kitchen. You'll enjoy all this lake town has to offer ~ plus serenity.
Downtown Lake Geneva couldn't be any closer.
We had a fabulous stay! Sam was in contact with us during the day of our arrival and even let us check in a bit early. Patty and Sam gave us a tour of the two story home and told us to call with any questions. There were cute notes around the house with instructions on how to use the tv, stove, etc. There was also a jug of fresh iced tea and cold water waiting for us in the fridge! The home itself is very charming with eclectic decor. It had everything we needed for our stay: beach towels, fully stocked kitchen, coloring books and markers for the kids, etc. There are two bedrooms upstairs along with the full bath, kitchen, and living room. The bottom floor has a half bath, one bedroom, cozy sitting room, and a room with a small dining table. The best part of this house is the location. We walked everywhere! The beach, dock for boat cruises, tons of restaurants and shopping are only a couple blocks away. It was great to be able to walk to dinner, have a drink or two, and not worry about driving home. The only thing to keep in mind if you're traveling with small kids is that you'll be spending most of the time on the second floor so the stairs could be a bit of a safety concern. Also, it is an older home so the plumbing is old too. Overall, we had a wonderful stay. I suggest breakfast at Simple Cafe, Good Vibes (Sam even gave us a discount) for lunch, and the s'mores ice cream at Kilwin's (all within walking distance). We'll be sure to recommend this lovely home to anyone traveling to Lake Geneva.
Karen
2016-08-11T00:00:00Z
Our host made us feel most welcome!!!! The neighborhood could not have been better! I highly recommend this rental and I will be planning on a return weekend to Lake Geneva because of these hosts and this magical large cottage.
Heather
2016-07-12T00:00:00Z
Very lovely place to stay in Lake Geneva! The owners were very welcoming and helpful during our stay. They met us at check-in to show us around and were very accessible during our whole visit if needed. The place is very homey and well decorated, more like staying at a friend's house than a hotel, which was wonderful. Great location to everything in town, no need to drive. Would stay again for sure!
mandy
2016-07-23T00:00:00Z
Sam was awesome and her restaurant (Good Vibes) was one of the best meals (Smoked Salmon Sandwich) we had during our stay. The Airbnb was actually bigger than expected and the nieghbors were friendly. The apartment is actually 2 stories and connect to a small store, which was great. Sam went above and beyond in her readiness and willingness to make our stay the best it could be.
Tim
2016-08-08T00:00:00Z
We stayed at Samantha's place in October and had such a wonderful time! This is the coolest house in a great location and the host has great communication and is very welcoming. The home was perfect in every aspect. Very warm and welcoming and the furnishings/decorations, etc. couldn't have been more charming. We had our sons and my husband and i and our son's fiance with us and there was so much room that everyone had space to spread out and be comfortable all weekend. I highly recommend this house for a perfect stay in Lake Geneva and cannot wait until we go back again. Wouldn't even think of staying anywhere else...perfect host, perfect house!!
Karen
2016-10-23T00:00:00Z
Lovely place and a great location! Would absolutely stay again.
Angie
2017-03-05T00:00:00Z
What a great place! Samantha and her mom are wonderful hosts! They greeted us when we got there and showed us around the house! It is in a perfect location right near everything you need. It is above a really cool little shop! Our trip got cut short because of unforeseen circumstances and they were generous enough to refund me the for the day we didn't get to stay! Samantha also has an amazing little restaurant called Good Vibes that is right around the corner from the house! Definitely recommend checking that out! They were responsive to texts and it was very easy to communicate with them! The place is HUGE! It felt like it kept going! This is perfect for a large group! Sitting out on the deck in the morning and evening was beautiful! I hope you get to enjoy this place as much as we did. There is a lot of love in the house! We can't wait to go back! Thank you!
Dr Kalie
2016-06-27T00:00:00Z
This is such a great find - right in the heart of downtown Lake Geneva, it's an apartment in a charming bungalow. Within a few blocks, you have so many options for shopping, dining, exploring, and hiking the lake shore path. Samantha and Patty were incredibly responsive, and the decor and amenities are charming. Great wi-fi, comfy beds, plenty of room for relaxing, including a nice little patio. The kitchen is well equipped if you plan to cook. We also loved dining (and getting a discount!) at the Good Vibes cafe that Samantha owns around the corner. Great food and atmosphere. The off-street parking is a huge bonus as well. This was the perfect spot for our girlfriends' getaway weekend, and a great value. Highly recommended.
Kate
2016-10-10T00:00:00Z
Room Type
Entire home/apt
---
Property Type
Apartment
---
Accommodates
10
---
Bedrooms
Lake Geneva, WI, United States
Wrigley Beach House is across from beach, great restaurants and dining, family-friendly activities, exciting nightlife, and unbelievable views. You'll love Wrigley Beach House because of the coziness, the views, the location, and you will be right in the heart of all the action! Wrigley is also great for couples, solo adventurers, and business travelers. A word of warning, it is a very lively environment so if that is what you love this is the place for you!
This apartment offers all of the comforts of home on the lake in the heart of Lake Geneva. The kitchen is convenient for casual meal prep or a pleasure for the gourmet cook. You'll need nothing but clothes, your personal items and the food and drinks you love. The deck offers hours of entertainment with sunbathing, people watching, cooking out on the grill, sipping cocktails at sunset or coffee in the morning with a good book.
Wrigley Beach House is unique in that it is like a home away from home, a great retreat, and offers the rare combination of being just steps away from the lake, beach, library, favorite pubs, fine dining, casual dining, coffee shops, and great walking opportunities.
Room Type
Entire home/apt
---
Property Type
Apartment
---
Accommodates
6
---
Bedrooms
Lake Geneva, WI, United States
Amazing open floor plan in Abby resort. Comfortable and cozy filled will plenty of light. Triple bunk bed makes this unit ideal for families. Completely remodeled with smart home system and key less entry. Enjoy all the Abby has to offer private adult and kids pool just steps away. Reserved parking.
Newly remodeled with control 4 smart home system.
Family orientated
Very comfortable and quiet place, felt like home. Overall, a very enjoyable experience and would recommend to others. Unit is cleand and location is very accessible.
Luke
2016-10-09T00:00:00Z
The kitchen is amazing and had everything we need it! It's is in a nice area, quiet, clean and beautiful. Thank you for allowing us to stay in your home. The Patio is awesome, we enjoyed hanging out on the patio.
Andreea
2016-08-21T00:00:00Z
Sal's Villa was the perfect place for my family (2 kids) to get a quick get away. Everything was very clean and brand new! I loved the decor and was well stocked for anything we may have needed for a few days. The location is great with access to the pools, just down the street from the back and the marina with boat rentals. Thank you again and hope to be back soon!
Jenny
2016-08-11T00:00:00Z
Sal was a great host- very responsive and provided great directions. The condo was gorgeous!!! Beautifully decorated and spacious. Plenty of towels including pool towels, which was great. Very clean. The unit also has a huge deck with a grill, and although we didn't use it, I could see how it would be a great perk for families. I would highly recommend it to anyone. The only thing to note is that it is a second floor walk up- so if you need an accessible unit it may not work for you.
Jill
2016-08-07T00:00:00Z
The condo was absolutely beautiful and even bigger than the pictures. We were very comfortable there and loved the amenities. Sal was a great host, very nice, patient and extremely accommodating. We would definitely stay here again.
Katie
2016-08-30T00:00:00Z
This condo unit is beautifully updated with a clean, modern feel. The common areas and pool are nicely manicured and well maintained. The price was less than 2 rooms at the neighboring hotel; but provided so much more for a comfortable weekend. Host responded immediately to email/text questions about the unit and access. Overall, completely satisfied and very pleased.
Michael
2016-09-18T00:00:00Z
Loved the condo - spacious and great for a family. Would be our go to place for any future Lake Geneva visits
Rohit
2016-10-02T00:00:00Z
It has enough space and all kinds of cookware. We feel comfortable and convenient.
子敬
2016-12-28T00:00:00Z
Room Type
Entire home/apt
---
Property Type
Apartment
---
Accommodates
5
---
Bedrooms
Fontana-on-Geneva Lake, WI, United States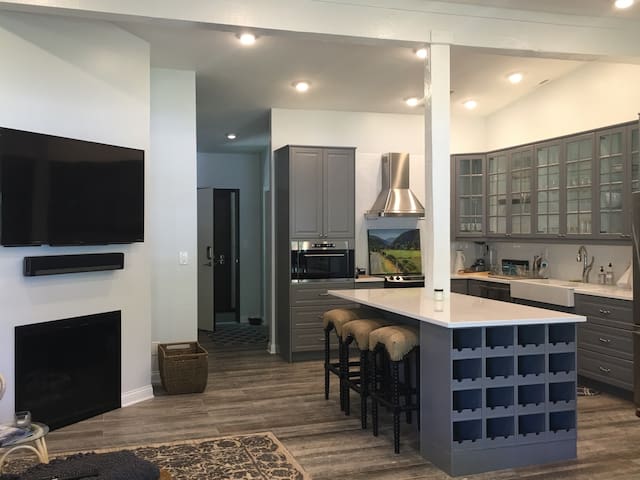 DOWNTOWN Lake Geneva Darling Upper Level Studio Apartment. DISCOUNTS for 3 night stays, please text areacode630.890 then 6364. Walk to all the wonderful shops and restaurants. Small kitchen with dishes, glassware. Stove, Refrigerator, Toaster, Microwave, Coffee Pot. Full bathroom with shower. Perfect for 2-3 guests!! Full sized futon and twin bed in main living section with TV and stereo. Dining table with 2 stools. Cable TV & WiFi. Linens & Towels provided.
The Nautical Upper Level Studio Apartment can accommodate up to 3 guests and is decorated throughout in all lighthouse and sailboat decor. The furnishings, bedding, linens and dinnerware are all in a 'Nautical' theme. A stay at the Nautical apartment in Lake Geneva, Wisconsin is a whimsical treat, located right in the downtown Lake Geneva!! This is the location where visitors have been coming to play for over a quarter century. Right outside the front door you will find bustling night life, renowned restaurants, superb shopping and area attractions. No matter what the occasion, when you're looking for a fun, relaxing stay, The Nautical Inn, located in downtown Lake Geneva, Wisconsin offers vacation rental accommodations sure to meet all your needs. Being a resort destination area and weekends being a premium we do not split up weekend nights therefore; we cannot accept Saturdays as a check-in or check-out day. IMPORTANT RESERVATION INFORMATION - When the Nautical of Lake Geneva accepts an "on-line" booking thru the automated AirB&B system guests will receive an email requesting our "Rental Agreement" to be submitted to us to complete the booking. We reserve the right to cancel a reservation should the "reservation request form" not be submitted back to us within 24 hours of accepting the reservation.
The Nautical Vacation Rental homes are located right in the heart of downtown Lake Geneva!! Just 2 blocks to all the wonderful shops, restaurants, the beach/lakefront, boat rentals and awesome nightlife!!
Large home with plenty of space. Close to shops and fun in Lake Geneva.
Bill
2017-03-19T00:00:00Z
Room Type
Entire home/apt
---
Property Type
Apartment
---
Accommodates
3
---
Bedrooms
Lake Geneva, WI, United States
This is an entire private apt. in a lower level walk-out of my waterfront home on Dutch Creek Bay on the Fox River on the Chain of Lakes. Bring your boat or PWC and park in my slip (launch from a local marina) and visit the many attractions on the Chain! Over 1.5 acres, mostly in back. Turnkey furnished w/king bed, blowup & couch. Gas furnace & A/C. Bring food, phone & yourself! WIFI & Bluetooth, Direct TV & 2 TV's w/ DVD. 8 blocks to shopping. Yard sports & games provided. Canoe available.
Great Location but very private. Great alternative to a motel room, especially for traveling business people. Main room is 450 sq.ft. and somewhat divided with a closet and drapes. It's more of a large studio with two defined areas. There is a hall to the bath, sauna, kitchen and laundry area. It is fully lockable. I enjoy my privacy and assume you do too.
Upscale quiet neighborhood but close to everything. Lots of Oak trees.
My stay at Greg's place was beyond expectation, such a peaceful lovely place. Great for a getaway to relax and enjoy the view to this lake. Everything was clean, ready when we arrive and the neighborhood is safe. A place that I would recommend 100% and would even return if possible!
Irma
2016-11-16T00:00:00Z
Never met Greg but there really wasn't a need to being that everything that was needed was available. Pretty view and cute studio. Only thing was the water. Don't know if it's a Chicago thing or just being by the lake butt he water smell was not pleasant at all and kept feeling like I still had soap on when I would shower. Don't know if it's because a water softener is used but I didn't dare to cook there. I came to Chicago from NY to be with my daughter who was graduating from the navy on her 19th birthday so we didn't really spend a lot of time in the apt besides to sleep but it was a great stay and a steal of a price. I would recommend Gregs place hands down.
Blanca
2016-10-02T00:00:00Z
What a great property (with an unusual number of trampolines, haha)! The rented unit is even better than the photos—very clean, tidy, functional. And Greg is very responsive & hospitable; when we arrived, there was a slight humming coming from the kitchen closet, but when I texted Greg he came down to fix it immediately. Other than that, we didn't see him at all—we just enjoyed the lovely view of the water & relaxed in the cozy atmosphere. Highly recommend if you're looking for a mini getaway in a quiet town!
Alma
2016-11-11T00:00:00Z
Great location. We enjoyed grilling, canoeing and just hanging out in the large yard with all of the wild life. Easy access to the city, about an hour drive, and several state parks, 5 to 10 minutes. The host, Greg, was very helpful and accommodating. We plan on returning next time we visit the area.
Robert
2016-07-26T00:00:00Z
Met with Greg ahead of time. He was very accommodating. I found the apartment to be very clean and had everything I needed for my business trip (wifi, etc). The location is very tranquil and Greg was a great host.
Tony
2016-08-26T00:00:00Z
Never met Greg! Which was actually, OK. He got us situated last minute. I think he sensed that my girlfriend and I just needed a get away and some alone time. I trusted him easily by our conversations, by previous reviewers words and by how organized he was and how well kept his cool little pad was. Was a beautiful view, very cool little one room apartment, sauna, wifi, blutooth music, Wood birning stove, nice kitchen, clean all over. Just very welcoming and warm and accomidating. Felt taken care of and as if someone had thought about everything we might need already. Was just great :) We honestly had a couple of our best days this summer there and it was largely do to how cool this Airbnb was. Thank you a million times, Greg.
Simon
2016-08-05T00:00:00Z
Great place right on the water. The host left detailed notes, and lists of how to work everything including the remotes! Cute little place, and off the beaten path, but still close to town where there were some cute bars and restaurants. Great view of the lake! I would definitely stay here again!
Melissa
2016-10-16T00:00:00Z
Greg's home is really nice. It is extremely peaceful and picture perfect. I would definitely recommend others.
Ishshah
2016-09-24T00:00:00Z
Room Type
Entire home/apt
---
Property Type
Apartment
---
Accommodates
4
---
Bedrooms
McHenry, IL, United States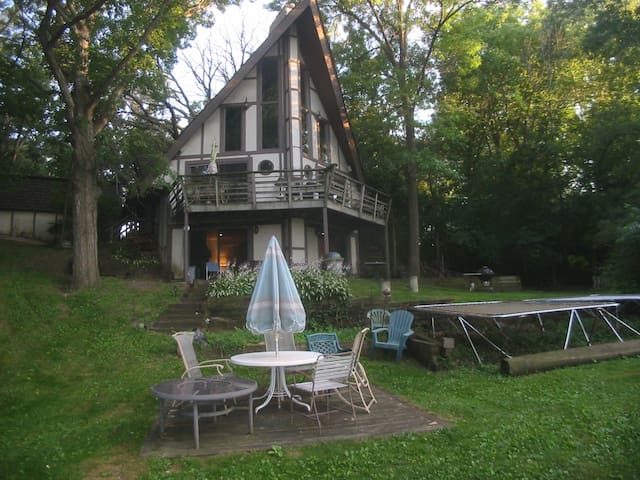 My cute and cozy condo has two bedrooms, 1 bathroom, a full kitchen, washer and dryer, parking space in lot, and a small porch to enjoy a cup of coffee while listening to the birds chirping. It is located 5 miles from Alpine Valley, a short walk to the Lake Beulah boat launch, a mile from I-43. It is also a short walk to the East Troy square which has a cute and delicious coffee shop called Square Roots.
Stop looking for other places to stay, you've just found it. If you're visiting in the winter, this place is down the street from Alpine Valley-- where Sam is a snowboarding instructor! If it's summertime, there's a lake nearby where Sam can teach you how to wake board! For all times in between, you can join Sam on an indoor rock climbing session or scenic hike, all before settling down on the couch next to her friendly Jack Russell Terrier for some quality life chats about international travel.
Kevin
2017-03-24T00:00:00Z
Sam was very (URL HIDDEN) just wasn't what we were expecting.
Rebecca
2017-03-19T00:00:00Z
Sam's place was clean and quiet. Her dog Tracker was adorable. I picked this place because it was close to where we needed to be but also because my Fiancé loves dogs! We only stayed 1 night but Sam was very welcoming during our stay. We had a nice hot shower in the morning and Tea.Thanks for a great stay!
Brandy
2016-12-17T00:00:00Z
Sam was such a good host. She was great at communicating as we changed our arrival time a bit. We had a full day skiing and her place was a perfect way to end the day.
Tommy
2017-01-01T00:00:00Z
Sam is nice and accommodating. Her dog is also very sweet.
Lynn
2017-02-22T00:00:00Z
Sam is a wonderful and gracious host, and the space is charming and comfortable!
Bryan
2016-12-22T00:00:00Z
Enjoyed my stay in this cozy condo. Great location for doing some snowboarding at Alpine!
Amy
2016-12-31T00:00:00Z
Our stay was wonderful. Sam was very helpful during the check in process. The place was very cute, cozy, and clean, and we loved hanging out with Sam's dog.
Margarita
2017-02-04T00:00:00Z
Room Type
Private room
---
Property Type
Apartment
---
Accommodates
2
---
Bedrooms
East Troy, WI, United States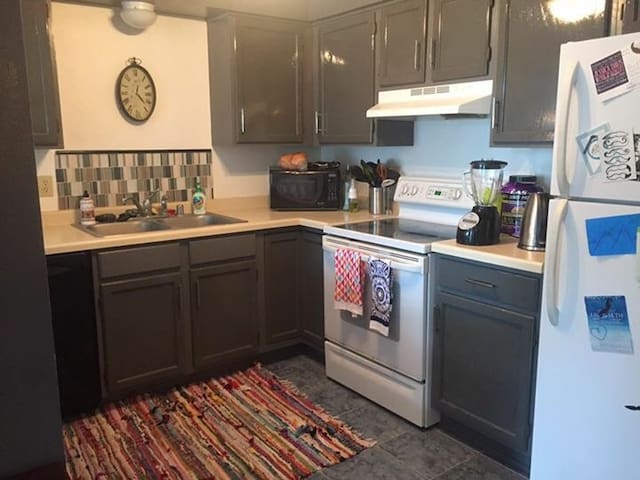 Woodstock has been rated "The Little Town in Illinois That Might Just Be The Most Unique Town in The World" - check it out online. Spring is in the air, so come enjoy our lovely getaway on 5 acres. With the woods in front & open views of horse pastures in back, you''ll have all the privacy & peacefulness that country living has to offer in this updated 2nd floor apt above our garage that is totally separate from our living space w/private entry. Experience the beauty of all 4 seasons with us!
There are many extras and special touches that will make your stay memorable - from holiday and seasonal decorations to breakfast foods and yummy snacks. With a private entry and off-street parking, this beautifully decorated 2nd floor apartment is approximately 700 sq.ft. and has been recently updated. It includes a romantic bedroom with a brand new memory foam queen mattress (plus an extra twin-size air mattress if needed), a cozy well-appointed living room with a 37" flat screen TV that has DirecTV capabilities and a full bathroom with a large shower. If you're staying only one day or a couple months, you will have everything you need in the fully equipped, spacious eat-in kitchen with a BEAUTIFUL view out back. We provide "yummy" foods if you'd like to make your own breakfast (eggs, bacon, cereal, milk, juices and home-baked goods). If you are inclined to cook all your meals or just a batch of cookies, we have all the basics you need (flour, spices, sugar, etc) during your stay here. From the coffee/tea station, popcorn station, and tons of snacks that we provide, you'll never need to leave! And of course, there's free Wi-Fi!
There is much to do here! Just 15 minutes away, the historic Woodstock Square with its famous Opera House and unique & quaint shops and restaurants is special and not to be missed. The movie "Groundhog Day" with Bill Murray & Andie McDowell was taped here in Woodstock and you'll see signs all over town indicating which scenes were taped in that particular spot. The incredible Lake Geneva recreational area is less than a half hour drive away and a wonderful place to spend a couple days visiting. Also, Royal Oaks Fruit Orchard and Oney's Christmas Tree Farm and Nursery are just a few minutes drive. McHenry County has over 20 conservation areas with hiking and nature trails. 3 of them - Rush Creek, Pleasant Valley and Boone Creek are within 15 minutes of us. We can provide you with all the necessary information upon your arrival regarding these nature conservation areas - just ask! With the Concorde Centre's meeting & banquet facilities just a few minutes down the road; and the Starline Factory, which is a mecca for weddings, events, art, food and history about 10 minutes away in Harvard, we have SO MUCH to offer!! With our reasonable rates and beautiful country setting, why stay at an expensive, uninspired hotel room, when you can enjoy a complete suite that offers everything and more during your stay. Lake Geneva is a beautiful area, but their overnight facilities are pricey, and I guarantee you, you'll be glad you stayed here in the peace and quiet where there are no crowds! By all means, go out during the day to explore northern Illinois and southern Wisconsin, but I promise you, coming back here and staying overnight will put "the cherry on top" of your adventures and make your time in our "neighborhood" special and memorable!!
Sandy is an amazing host. She has a beautiful gift of hospitality and helping you feel at home. Bob is also very nice and welcoming. Their property is beautiful, peaceful and relaxing. I enjoyed my time outside watching the hummingbirds play tag and admiring her beautiful flowers. The pool is beautiful and a nice warm temperature, and it's so nice that it's private. The bed is very comfortable and Sandy goes above and beyond to make sure you have everything you need, even things you didn't know you would need and enjoy. She blessed us with wonderful yummy snacks and breakfast options. We felt so at home in this beautiful place and it brought rest to us to be in such a peaceful setting. We are sad we couldn't have stayed two nights.
Theresa
2016-08-21T00:00:00Z
This was probably one of the best Airbnb stays I've had. Sandy was a wonderful and responsive host and the apartment was more than advertised - very clean, meticulously decorated, and super cozy and comfy! Sandy even went out of her way to help with birthday surprises - balloons, roses, and the most wonderful lemon cake I've ever tasted! I cannot thank Sandy enough for making our stay so very wonderful!
Michelle
2016-09-05T00:00:00Z
We enjoyed our stay very much. This was our first time using Airbnb. The pool was fantastic and all of the amenities Sandy had was such a nice touch. The drive to downtown Woodstock and to Lake Geneva is very reasonable. We would stay here again. Perfect size for a couple.
BRADLEY
2016-07-20T00:00:00Z
Sandy and Bob are wonderful hosts! They were very welcoming and accommodating. Sandy met us and gave us an excellent tour the property and the apartment. They go way above and beyond as hosts. Plenty of treats, the apartment is spotless and the pool, gardens and wildlife are very relaxing - just what we were looking for in a place. The entire experience was a 10++++. We are making our plans to go back several more times.
Nancy
2016-09-06T00:00:00Z
Sandy did an amazing job at making us feel welcome! The home and grounds were immaculate and had everything we needed! She stocked the fridge with great breakfast items, eggs, muffins, with little touches like special spreads and ice coffee beverages. We loved being able to watch birds in the trees and horses in the distance right from our breakfast nook! It was our first Airbnb experience and will be a tough one to match. It is evident Sandy loves what she does and its reflected in all the little touches that made this home a great rental for us! bed was comfy and living space was perfect for my husband and I who stayed two nights.
Deb
2016-05-23T00:00:00Z
We rented this space for our first mini vacation with our newborn baby. We were looking for something close to Chicago with a pool option. We got so much more. The pool was perfect and was left to us to use exclusively. There were so many food and drink options provided for us. I've stayed a couple other places that provide minor amenities and snacks but sandy provided iced coffee, popcorn, seasonings for cooking, multiple juice options and bacon and eggs! We had a great time and would definitely come back when we are looking for another quick private pool day. There's also wildlife - the neighbors on the next lot have beautiful horses and wild turkeys roam the land.
Michelle
2016-07-15T00:00:00Z
If there was a higher rating than 5 stars, I would definitely have given this place more! Sandy was very accommodating and welcoming. The place is peaceful and serene, yet close enough to Lake Geneva for shopping and lake activities. Woodstock is a lovely town to explore as well. It was a relaxing, warm place to spend our Mother/Daughter weekend
Lynn
2016-08-26T00:00:00Z
Sandy went above and beyond expectations. She is such a gracious and generous host. Thank you for everything! We especially liked the food options, popcorn maker, and drinks. The room was quiet and we felt totally separate from your residence. If there were six stars, you would have gotten that from us. Thanks again!
Camille
2016-10-08T00:00:00Z
Room Type
Entire home/apt
---
Property Type
Apartment
---
Accommodates
3
---
Bedrooms
Woodstock, IL, United States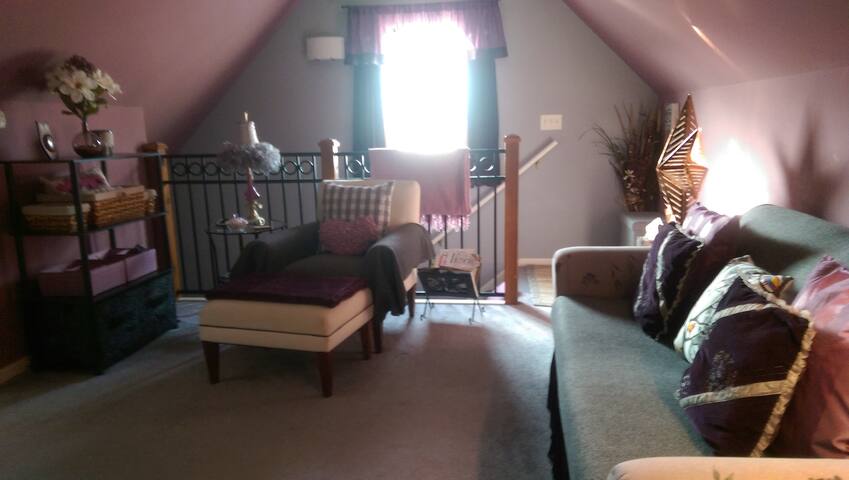 My place is good for couples, solo adventurers, business travelers, families (with kids). Nature lovers & outdoor enthusiasts will love this place. Plenty of marinas & boat launches nearby. We are a couple blocks off the Fox River. Moraine Hills State Park is a 10 min. walk , Chain o' Lakes State Park (public boat launch) is nearby. There is a bike trail off the back yard that connects to 100's of miles of bike trails.Bring your tent & have a campfire (local ord. apply).
We hope you will make yourself at home in this comfortable duplex. It is a casual space with room to spread out a little. The large sunny dining room opens to the spacious kitchen. If you enjoy cooking, help yourself to the herb garden, tomatoes & peppers, & quite possibly a watermelon! There is a TV in the living room that includes Netflix. The kitchen offers all the basic pots, pans & utensils, as well as coffee, tea, and basic condiments. There is a selection of books for both children & adults. Scrabble, cards ,games, etc.. There are lots of flowers, birds, butterflies as well as other wildlife. Great for photography. Parking for boat trailer.
A diverse & quiet neighborhood is out the front of the property, however your space ( patio, gardens, campfire etc... is in the rear of the property. You will feel like you are more in the "country". It is a farm-like setting & private out back.
The hosts were very responsive and some of the kindest people we've had the pleasure of renting from. Our stay in McHenry was a blast for everyone. Make sure to check out Richardson's Adventure Farm and head to Woodstock for some of the best BBQ this side of the Mississippi. And don't miss brunch at the pancake place in McHenry on the river. If you sit at the bars you get your food served to you via train. And the menu is unlike anything you'll find. It puts pretty much all breakfast/brunch places to shame, including those in Chicago. Lastly, if the weather is nice, cozy up with a bonfire. It's an amazing way to end a day. Taking the evening to be warm by a fire and staring at the stars makes your soul sing.
Jim
2016-10-23T00:00:00Z
When we arrived, Lori and Frank were there to greet us. I had mentioned we were coming with mu Mom to celebrate her 85th birthday, and the centerpiece on the table was a mini birthday cake with "85" on top. We were so surprised at their thoughtfulness. The place was cozy, comfortable and cleaned with natural products, as best we could tell. They even stocked food items in the kitchen. There were nice touches of artwork in every room. Thank you!!
karen
2016-10-14T00:00:00Z
Frank and Lori were very welcoming from the beginning. The place was very clean, smelled great and had everything we needed and more. The garden was beautiful with lots of room for kids to play.overall, we had a great experience.
Roberto
2016-09-10T00:00:00Z
Frank and Lori were great! Very accommodating of my schedule. The place was nice and just what we were looking for. We'd book again if the need ever arises and recommend them to anyone looking for a place to stay in the area!
Erica
2016-10-11T00:00:00Z
Frank and Lori were very kind and hospitable. Not only is their home beautiful, very clean, and in a great area, but their attention to detail made us feel comfortable and "at home." From putting fresh picked flowers from the garden on the dining table, to having firewood and chairs for us to make a campfire as well as supplies for s'mores, to allowing us to use their two bikes, grill, and have fresh vegetables from their garden...we really could not have imagined a more perfect place or more perfect hosts for our weekend getaway! The property is beautiful with their garden of plants and flowers, and it felt like a cottage/countryside home. The surrounding area was great with plenty for is to do. We enjoyed hiking at the nearby state park, going to the drive-in (5 min from home) and canoeing on the Fox River. Would highly recommend staying at this gorgeous home!
Tonilee
2016-09-05T00:00:00Z
Frank and Lori treated me the best way, very good communication, the house was very clean has everything you occupy. my stay was the best definitely recommend anyone stay here I would stay again if I had to return to this area thanks, Thanks, frank and Lori for making me feel part of your home!
Raul
2016-10-10T00:00:00Z
beautiful yard
Sha
2016-10-03T00:00:00Z
Thanks again! The place was great. Would recommend.
Kevin
2016-10-16T00:00:00Z
Room Type
Entire home/apt
---
Property Type
Apartment
---
Accommodates
5
---
Bedrooms
McHenry, IL, United States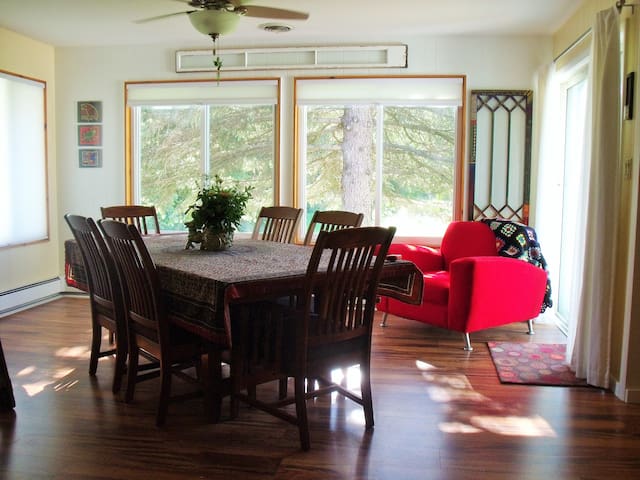 Secluded 5 acre retreat. This completely private space is a Walk-Out Lower Level Apartment with windows. large family room with 50' TV, a full kitchen, laundry room, tiled bathroom w/ large, glass-enclosed shower and separate bedroom. Private patio with views of pond on property and miles around you. Bedroom has King Sized bed and if you request, two twin sized mattresses can be set up in large family room for no extra cost. Tenant on upper level is younger and extremely AirBnB friendly.
Just a few miles from the Woodstock business district and quaint Woodstock Square.
Our stay was good. Shower was amazing! Unfortunately we had a bit of a hard time finding the area at first. There was no wifi because of a tenant issue. There was no hairdryer but host lists it. There were bugs in the place and the tenants were quite loud at 6 in the morning. But otherwise it was a good stay.
Katelyn
2017-03-05T00:00:00Z
Room Type
Entire home/apt
---
Property Type
Apartment
---
Accommodates
4
---
Bedrooms
Woodstock, IL, United States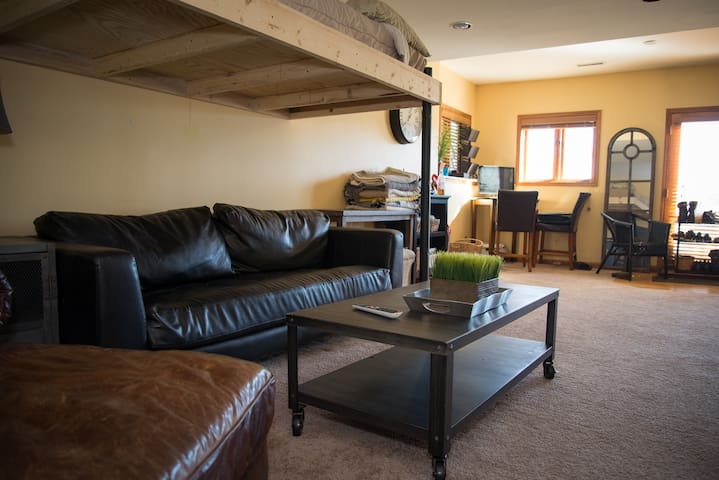 Welcome! This wonderful private upstairs apartment close to the heart of Woodstock is spacious, beautifully decorated, clean, and located in a very unique historic town. The house is on a tree lined street with many victorian houses and is a short walk to the Metra train station, the Woodstock Square, public library and a large city park that has walking, biking and a Waterpark. Groundhog Day was filmed here. Come relax and enjoy!
This non smoking serene space is completely furnished with carefully chosen furnishings to surround you with comfort and inspiration. It has lots of room with a large open living/dining/kitchen area, bathroom with tub and shower and a large bedroom suite. You can step right outside the apartment directly onto your own balcony and look up at the stars at night or have coffee in a lounge chair in the morning. Some call it the "treehouse" because it overlooks beautiful gardens with mature trees and is a great getaway. There is garage parking for one vehicle on the premises. The apartment is located on a tree lined street of great older homes and only three blocks from the historic Woodstock Square with lots of quaint shops, great restaurants and coffee shops. Walk another few minutes and you can catch a commuter train east and take a relaxing train ride to the burbs and downtown Chicago. Also close by is Emrickson Park with walking and biking paths, ponds to fish in, Woodstock Waterworks (a water park) , and the library. Not too far away in the neighborhood is a Dairy Queen. Plus McHenry County offers many, many additional parks and recreation areas and the Fox River too. Within 25 minutes is Lake Geneva, Wisconsin - something you will want to go see for sure. If you are looking for church or a spiritual experience close by, there are many demoninations within walking distance including a brand new Buddhist Temple right off the Square. Come visit - curl up in a leather chair and put your feet up, browse through the many inspirational books here , the original artwork, and enjoy your visit when you aren't out and about visiting the great community around you. You'll want to come back again.
This neighborhood is the best! The house sits on a tree-lined street that leads directly to the Square and has many older houses with several that are plaques as historic homes. The newer Woodstock library is one block away within walking distance . Also just a short walk down the street is Emrickson Park with great walking and biking paths, tennis courts and in the summer months is Woodstock Waterworks is open with water slides, two swimming pools and a children's wading pool.
We needed a place quickly and Susan was able to accommodate. We found the place charming and met our needs as well as the first time. Woodstock, Il. has a charming square and is a quiet town. She is also a few blocks away from a large park - Emerson Park. I was able to take a couple of morning jogs on some well groomed paths. If we are in the area, we would stay here again and again.
Elizabeth
2014-04-10T00:00:00Z
Susan place was just what we needed. Good Wifi, complete kitchen, wonderful bed and breakfast goodies. We would stay here again.
Elizabeth
2014-04-01T00:00:00Z
Whenever I am in woodstock, I stay at Sue's (ps- only if someone else is already not enjoying it. Need to do my advance bookings as Sue's place is always in demand). No wonders why everyone wants to stay here, because it is the best. I love the house, it recoups me, makes me creative, calming and balancing. It has everything one needs for a comfortable living, very neat and clean. Even has a deck. I enjoy the open and serene environment. Sue is a fantastic host. She goes an extra mile in making everything perfect. I love her, she my great friend and guardian too. She values relationships and makes earnest efforts in keeping them alive. I love walking in park or the reservation area with her, we love going to the farmers market together, and most of all we love watching movies together at Woodstock theater which 5 mins walk from the house.
Sayida
2016-02-20T00:00:00Z
Whenever I am in USA, I have to stay at Susan's house because there are a million pluses and it is impossible to describe how good her house,ambience , Susan and her whole family is. Susan is very respectful of her guests needs and goes beyond measures to ensure that the guests are comfortable. The house is amazingly magical. Every moment spent for me in it is a grounding and relaxing experience. It calms me and unavails all my talents, I do so many creative things in the house. It has all the things required for great living. I am so thankful to Susan for the lovely house , her friendship, her family, for giving me a home away from home. Also Susan is the most environmental friendly American I have met her. I love her so much.
Sayida
2017-01-11T00:00:00Z
We really enjoyed the neighborhood with a park for my dog and I to walk in just a few blocks away. A wonderful farmers market 2x a week within walking distance and right in the historic district. We immediately felt welcome with so many little (URL HIDDEN) many treats....even if we didn't eat it, it made us feel cared about. Really good quality soap and shampoo, etc. Susan doesn't skimp on anything....good frying pan and everything available to cook with. We were gone most of the day and early evening but always very private and quiet. Would definitely stay again if in the area.
Irene
2014-08-10T00:00:00Z
Susan was a very congenial and helpful host. The apartment was comfortable and well appointed. The location was perfect for me. Within walking distance of the Woodstock square.
Susan
2015-08-28T00:00:00Z
AAA+ Airbnb experience! Susan was a very hospitable and gracious host. Highly recommended! Thanks again, Susan. :)
Marlena & Mike
2014-04-15T00:00:00Z
My husband and I had a lovely quiet weekend in Woodstock - we really enjoyed walking to the Farmer's Market. The apartment was clean and private, just what we were looking for!
Laura
2014-10-05T00:00:00Z
Room Type
Entire home/apt
---
Property Type
Apartment
---
Accommodates
2
---
Bedrooms
Woodstock, IL, United States
A spacious one-bedroom apartment on the second floor of our home. There is a full kitchen and bathroom, a comfortable living room with an incredible picture window, secure parking and storage. 50-acres of farm, woods, our horses and canoes await. We're close to the Richard Bong Rec Area, the Mars Cheese Castle, Alpine Valley, Lake Geneva, Kenosha, Racine and Milwaukee.
We are on 50-acres just 7.3 miles west of I-94 in SE Wisconsin. Richard J. Bong Recreation Area is 1 mile to the west, offering all kinds of outdoor fun. Concerts and skiing at Wilmot Mountain and Alpine Valley are 20 minutes away. Up to four beds fit in the bedroom and a couple more can comfortably fit in the living room. There is plenty of secure room for your vehicles/bicycles/motorcycles/boats, etc. You are encouraged to interact with nature walking through the woods, canoeing on Friendship Lake, relaxing or playing on acres of private lawn-it is similar to having a big park all to yourself. Our family lives in the rest of the house, down the hall and below the apartment with our two dogs, Quigley and Daisy. We will check you in and check you out, though you may check yourself in. We will, however, remain available throughout your stay. We ARE the neighborhood- 30 miles from Milwaukee and 60 miles from Chicago. Fairly solitary, we enjoy majestic sunsets everyday and sterling displays in the Midwestern skies every night. It is relatively silent out here and you are immersed in nature, with woods to north, west and east, and a sizable lake. Richard J Bong Recreation area is 1 mile to the west, skiing at Wilmot Mountain is 20 minutes away, Alpine Valley is 24 minutes away. We are 7.3 miles west of I-94 (at the Mars Cheese Castle). Twenty miles away is the Metra Train Station in Kenosha. A full kitchen and a small bathroom are all yours. There are pots and pans, silverware, coffee maker, plates, cups, mugs, and fresh water. Tap water is drinkable- it is well water, however, with a bit of an earthy smell- so we only cook with tap water. For drinking water, we will provide a 5-gallon water jug of fresh water. The apartment is on the second floor with a private entrance.
We ARE the neighborhood- 30 miles from Milwaukee and 60 miles from Chicago. Fairly solitary, we enjoy majestic sunsets everyday and sterling displays in the Midwestern skies every night. It is relatively silent out here and you are immersed in nature, with woods to north, west and east, and a sizable lake. Richard J Bong Recreation area is 1 mile to the west, skiing at Wilmot Mountain is 20 minutes away, Alpine Valley is 24 minutes away.
This place is really great! Anna and Doug were so nice and accommodating. I'd absolutely come back.
Kyle
2016-06-06T00:00:00Z
Absolutely wonderful experience with Doug, we came from Michigan with our two boys ages 5 and 3 (we had a birthday boy!) and although we didn't have the pleasure of meeting Anna, we know that she is probably just as amazing and welcoming as Doug, just really good honest people! Doug showed us around and made us feel so welcome and comfortable. He was so sweet to our boys and they keep saying they want to go back. We will for sure be back. The apartment is very quaint and comfortable with everything you would possibly need. There's also books and provided water. Doug even let our son borrow some boots so we could go around the trails. We wish we would have stayed an extra night. We will be coming back for sure! We loved the countless amount of exploring that is available to do and the horses are just so lovely and beautiful! Our boys really enjoyed feeding them carrots! Love this place so much:)
courtney
2016-03-21T00:00:00Z
I needed to get away for a day and think, write, be away from the world, and Doug's place fit the bill. The listing was very accurate. Not near anything, very calm and peaceful. Not fancy, just the basics. Doug is a super nice guy, easy to communicate with and talk to. Loved their dog too!
Danny
2016-06-30T00:00:00Z
Anna and Doug were extremely friendly and helpful. They welcomed us with open arms and were very easy to talk to. The apartment was nice and cozy. Plenty of room for us and our pup. We had such a great time, got to meet the dog, the horses, and take the canoe out on their private lake. I would definitely recommend this place. Super close to Lake Geneva too for a fun day in the sun. :) Oh, and they even surprised us with fresh sliced watermelon which was extremely sweet! Thanks guys!
Courtney
2016-07-18T00:00:00Z
Anna and Doug were excellent hosts. Very sweet and accommodating . The apartment was very comfortable and clean and the land and horses are absolutely beautiful. There was also, a large filtered water dispenser which was a very nice touch. Unfortunately when we arrived so did the mosquitoes (a lot of them!!!) which made it difficult to be outside. I encourage anyone visiting to check in on the bug situation before you go. I am looking forward to going back in the fall when I can explore the amazing grounds.
Dorie
2015-07-05T00:00:00Z
I would definitely recommend this place for a nice quiet getaway in a beautiful location. The owners were very friendly and accommodating to us. The apartment was very nice with almost everything you might need, the only item not there is a microwave. The location is very convenient and easy to find. It was close to a large recreation area, highways, shopping and friendly neighborhood restaurants and taverns. We would certainly come back again!!! Thank you Doug & Anna=-)
Karen
2014-10-24T00:00:00Z
Doug and Anna were fantastic hosts. The farm apartment was exactly as described. The grounds were lovely and the apartment was perfect. My husband and I regret that we weren't able to enjoy all the amenities on the farm, but our weekend was filled with other obligations. We're looking forward to another trip soon where we'll have more time to check out the lake and relax on the grounds!
Jane
2016-06-13T00:00:00Z
It's a lovely farm. The place was nice and clean, and Doug was available for questions and tips.
Yuval
2016-04-14T00:00:00Z
Room Type
Entire home/apt
---
Property Type
Apartment
---
Accommodates
5
---
Bedrooms
Kansasville, WI, United States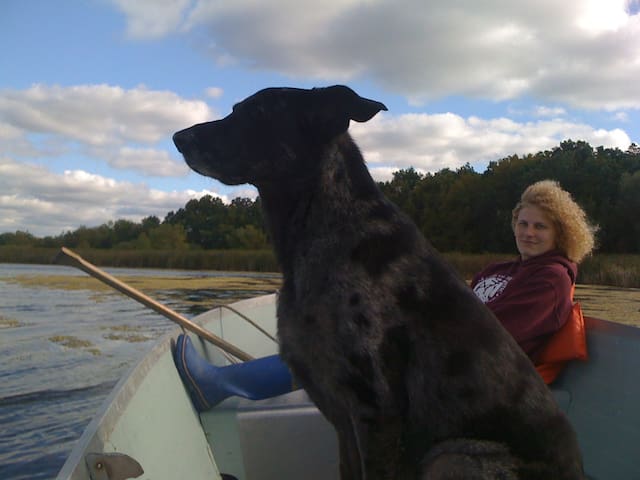 The Coach House is a beautiful lofted apartment attached to a lakefront home on Wonder Lake. This modern unit is cozy yet spacious and features two bedrooms, 1 bathroom, and a deck. The unit sleeps 6 comfortably. Check for rate specials below.
This 1,200 square foot lofted space was once used as a dance studio by the owners (hence the disco ball ceiling fan still present). There is a private entrance and living space (kitchen, living room, bathroom, and 2 bedrooms)
Wonder Lake is a private community located in McHenry County. The town is packed full of events such as weekly water ski shows, fishing competitions, snowmobiling races, boating events and a 4th of July fireworks display that rivals neighboring towns like Lake Geneva.
Jason was an excellent host for the coach house. He met us early and took us on a tour of the rental. He emailed us early to inform us of curb work that was being done and was very informative during the construction. He answered all of our questions about the rental as well as the local area. The coach house is a great getaway. Thank you, Jason!
Lori
2015-08-07T00:00:00Z
Jason was wonderful - very friendly and helpful - and we very much enjoyed our stay at this peaceful little place that is quiet and tranquil. We plan to come back soon as this was a great experience that I highly recommend.
Rene
2015-06-26T00:00:00Z
This place was awesome! My lovely loved staying here and relaxing on the lake. Even when raining the house offered great views of the lake. I would definitely stay here again. Jason was also amazing and met us at the house and gave us the tour even though we didn't arrive until pretty late in the evening. He provided us with his number and was 100% available if we had any questions. Thanks Jason!
Michael
2015-05-11T00:00:00Z
Everything here was amazing. The place was nearly designed and wasn't far from town, but far enough that we felt like we "got away" from the city. Everything we needed at at the place and everything worked just fine.
Silas
2015-03-26T00:00:00Z
Jason was a great host! We enjoyed our time here and loved all of the amenities that the house provided.
Noemi
2016-08-01T00:00:00Z
My family and I had a great time at this Air BNB. It is clean, spacious and right next to the lake. The house is connected to the owners house and the Air BNB is towards the back (not facing the lake). It was great to have access to the owners kayaks, canoes, etc as well. Jason is also a great host and very helpful.
Saachi
2014-09-21T00:00:00Z
Room Type
Entire home/apt
---
Property Type
Apartment
---
Accommodates
6
---
Bedrooms
Wonder Lake, IL, United States
1 Bedroom apartment. Has its own bathroom with a shower. Has a kitchen. Has a nice living room. About 7 minutes from two different Metra lines. Both lines go downtown. One passes through Ohare. Minutes from Great Lakes Naval base, Gurnee Mills mall, and 6 Flags Great America! :)
The house is surrounded by lakes and forest preserves. Lots of fishing, hacking, horse and bike riding.
It's surrounded by lakes and forest preserves. Lots of biking, hiking, boating and fishing activities.
The host canceled this reservation the day before arrival. This is an automated posting.
Paige
2016-02-13T00:00:00Z
Room Type
Entire home/apt
---
Property Type
Apartment
---
Accommodates
8
---
Bedrooms
Lake Villa, IL, United States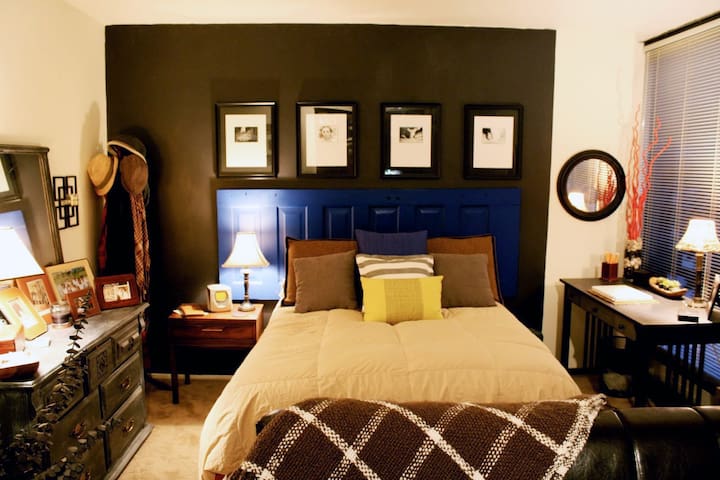 This walk-out basement apartment is spacious, bright and cozy. It has an open floor plan with three beds including a queen, a twin, and a futon that makes into a very comfortable double bed. The property has a cottage garden and lots of outdoor space for enjoying nature. Walk five minutes to the Historic Woodstock Square to enjoy music, plays, community activities, dining, unique shops in one direction and a large tree filled city park with great walking paths and a water-park on this street.
The location of The Secret Garden is on an older, tree-lined street with some nice homes including victorians. It is within a short walk to the public library, a city park with walking paths and a watermark, and the historic Woodstock Square is just 3 blocks away. The location couldn't be better for guests who can pick and choose what they want to do, and not have to drive anywhere except maybe groceries.
Susan is very available, kind and helpful. It was hot in the house for me being 8 months pregnant so her daughter and she brought fans down to help cool me off. If there was anything I needed the responded immediately and we figured it out. Susan is very kind and made us fee extremely welcome.
Megan
2016-08-08T00:00:00Z
Susan was a wonderful host. She was very helpful and accommodating. She welcomed us with some food in the fridge. It was great to have a nice place to stay with our child when visiting family in Woodstock.
Jared
2016-06-09T00:00:00Z
Amazing little spot! Beautiful home and close to everything. Very friendly hosts. Made it feel like home.
Arabella
2016-09-27T00:00:00Z
This was the second visit with Susan and again I was very pleased with my stay. Susan takes care of her guests like family and goes above and beyond to make sure that everything is just right her accommodations are charming!
Susan
2016-07-26T00:00:00Z
This is a very convenient location for walking around town. Susan was very accessible anytime we needed her.
Tod
2016-08-15T00:00:00Z
Room Type
Entire home/apt
---
Property Type
Apartment
---
Accommodates
4
---
Bedrooms
Woodstock, IL, United States
This newly constructed home which won the Architectural Crystal Key Award in Chicago is truly a unique site on the Chain O'Lakes. It's perfectly situated at the top of the Chain on Lake Catherine with spring fed waters reaching 45' deep and is access
Room Type
Entire home/apt
---
Property Type
Apartment
---
Accommodates
4
---
Bedrooms
McHenry, IL, United States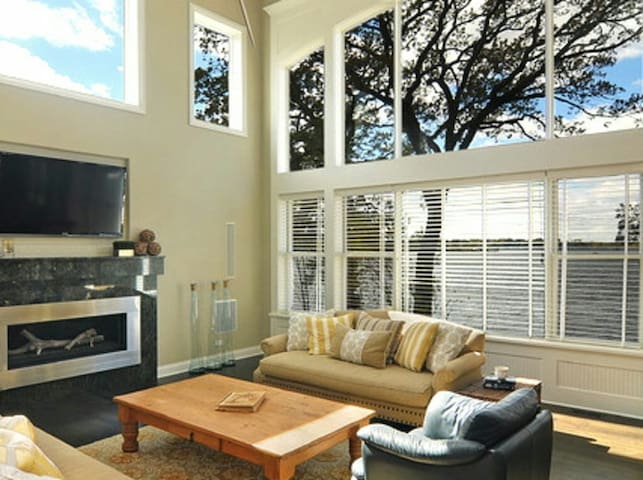 Williams Bay - Airbnb
:
Average

4.87

out of

5

stars from

313

guest reviews
1

–

18

of

18 Apartment Rentals
Enter dates to see full pricing. Additional fees apply. Taxes may be added.