A majestic century home on the edge of town. Your guest room has excellent view of the 2 acres of manicured gardens. Within walking distance of downtown or the GRT (Grand River Transit) bus stop, 1 km. Private washroom and sitting room across that hall with TV & DVD.
Marg the hostess speaks fluent Dutch.
Elmira is situated in the heart of horse and buggy Mennonite country, and is only minutes away from St Jacobs a popular tourist area.
Made us feel like part of the family. The property was beautiful. Was a little bit of heaven in the countryside. The breakfasts were suberb. Lot of TLC went into it.
sandra
2015-08-09T00:00:00Z
Lavern and Marg were amazing hosts. They made us feel welcome from the moment we arrived. Their home is immaculate, the gardens spectacular. The locations is great-easy drive to Waterloo, St. Jacobs, Fergus and Elora- but their home is a perfect place to just stay put and relax. Exceptional breakfasts made with the freshest, home or locally grown ingredients. Lavern and Marg joined us for breakfast each morning which made us feel more like family than guests. We would highly recommend staying here and hope to go back next year.
Jo
2015-07-25T00:00:00Z
We were in Elmira for my husband's dad's funeral. Lavern and Marg made our couple of days so comfortable. We were so warmly welcomed. Their home is a haven, our upstairs unit was cosy and beautifully decorated, with everything one could possibly need. Our children were able to occupy the main floor bedrooms. We cannot wait to come back in the spring and bring my dad as he would be enamoured with the Homestead and the wonderful engaging company of this delightful couple. Thank you for your kindness, and amazing breakfasts! One of our best experiences overall at a b&b. Sending hugs!
Hilary
2015-12-11T00:00:00Z
Really lovely place! Beautiful garden with a pond, gazebo, swings and hammock! Lavern and Marge were very warm and welcoming hosts. They gave us a early check in and upgraded the booking! Marg gave us a quick tour of the suite too. Nice bright open space and super clean! The breakfast is good Kings ! Soufflé, sausages, pancakes and grilled pineapple to name a few of the dishes and everything tasted amazing. Not to forget great conversations with both Marg and Lavern. I would definitely go back and recommend anyone who craves for some peace and quite time away from all the hustle and bustle of our busy city life !
Jayaprakash
2016-06-27T00:00:00Z
My girlfriend and I stayed at the Brubacher Homestead for a wedding happening nearby. Lavern and Marg were extremely accommodating to us providing an early check-in. The homestead and surrounding garden is gorgeous. The rooms are comfortable, beds and linen are very soft, and the small amenities such as snacks were a nice touch as well. Breakfast was simply amazing. Not only was the breakfast casserole and blueberry dessert delicious (both myself and my girlfriend had seconds) but again the nice touches like special cheese to go with your warm applesauce, syrup for your coffee and fresh tomatoes from the garden made this one of the best meals I've ever had. That's not even mentioning the hosts Lavern and Marg who were a joy to talk to, it honestly felt like we were sharing stories with old friends at breakfast. Highly recommend and we look forward to staying again sometime in the future!
Chris
2016-10-02T00:00:00Z
From the moment we arrived up to our departure our hosts have made us feel welcome and have taken care of us in a way you would only expect from friends! Everything was perfect, from our room with fresh flowers, chocolates and a bottle of water to a lovingly prepared delicious breakfast in the morning. They also gave us a lot of useful information about the area. We wished we could have stayer longer than two nights!
Jack
2016-10-21T00:00:00Z
Marg and Lavern had a nice fire in the fireplace for our arrival. This was our third stay with them and was even more enjoyable than the last. As always, the conversation was warm and inviting. Our room had lots of blanket options, and we were given the opportunity to set the sleeping temperature, which I appreciated. A wonderful, nutritious breakfast with specialty coffee was enjoyed, with care given to our dietary restrictions. Thank you for another memorable stay.
Audrey
2016-11-06T00:00:00Z
I booked this lovely homestead for my parents and this is what they had to say: We, the city-slickers, came to the Brubacher Homestead for a weekend of much needed R&R and a little slice of country living, but what we got was the whole pie!  We enjoyed our time with the Brubachers immensely, from their generous hospitality, to the delicious gourmet breakfasts, to the walks through an oasis of gardens, to the tractor rides, and of course the utter comfort of their home.  Marg and Lavern were wonderful hosts and we look forward to our next visit.  Thank you for the delightful experience!
Stephanie
2015-08-16T00:00:00Z
Room Type
Private room
---
Property Type
Bed & Breakfast
---
Accommodates
2
---
Bedrooms
Elmira, ON, Canada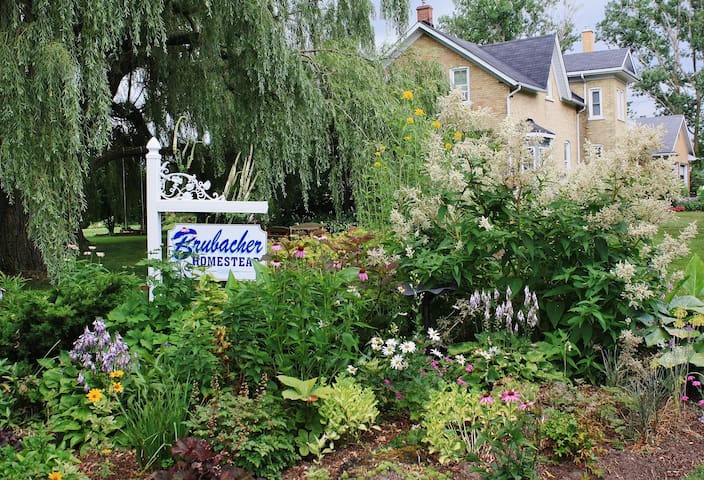 Spacious 3 bedroom home backing onto farmland; large ensuite w/jacuzzi tub, spacious bedrooms, open concept with large kitchen, familyroom w/ fireplace, driveway parking, backyard with playground, trampoline & hottub, internet, large flat screen TV w/netflix
Beautiful spacious home overlooking farmland, 10min from Kitchener-Waterloo.
Quiet small town neighbourhood with all the necessities available within minutes (grocery stores, pharmacy, etc...). Minutes walk to park & bike trails. 10 min drive to Waterloo region with malls.
The listing was as described - a lovely home and a great base for our family. We appreciated the food basket at arrival, the welcoming backyard and the peaceful surroundings. It was a great base to visit the surrounding areas. Thank-you, Kelly!
New
2015-08-23T00:00:00Z
Dale met us and showed us around the house, answered all our questions and gave us information about the neighbourhood and the surrounding areas. Kelly had also left us a page of helpful information and contact numbers, as well as a welcoming package to get us started in case we had not been able to get to the shops yet. This was greatly appreciated. Because I grew up near here, I knew the area quite well, and my husband and I enjoyed driving through the historic little pioneer towns and Mennonite communities which make up this part of Siuthern Ontario. We went to the Strawberry Fesival in St Agatha, some antique furniture and farm equipment shops and yards and enjoyed the delicious Mennonite cooking at local restaurants. Everyone was very friendly, and it was interesting to see both the changes and the many unchanged locations in the area.
Judith
2015-06-27T00:00:00Z
Kelly and Dale's home was as described and had everything needed for our stay! They were very flexible in arranging a check in time at which Dale met us, welcomed us and showed us around! Dale stayed in the basement throughout the stay but provided us with complete privacy for the remainder of our stay. The house was very nice and modern, we had the use of a hot tub, bbq, full kitchen, etc. We would recommend it to anyone wanting to stay in the Elmira area! Thank you!
Erin
2015-06-12T00:00:00Z
Room Type
Entire home/apt
---
Property Type
House
---
Accommodates
7
---
Bedrooms
Elmira, ON, Canada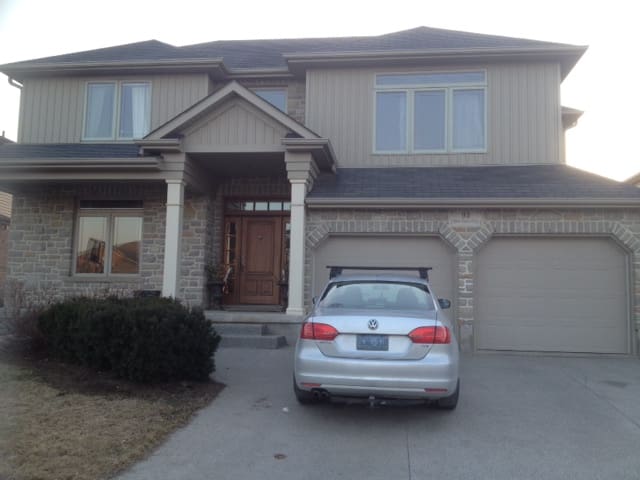 FISHER Airbnb -Very Large loft room with one queen bed, one twin bed (4th person can be acommodated with inflatable mattress). Fridge, wi-fi, cable, dvd, breakfast. Juice, water, soda in fridge. Near Waterloo, St. Jacobs, Kitchener, Elora, Fergus & Guelph.
Comfortable, very large loft room in our home. If you are visiting St. Jacobs, Waterloo, Elora, Fergus, Elmira, Kitchener or Guelph. A great location. Only minutes away from St. Jacobs, a wonderful accommodation in the heart of Mennonite country! 15 minute drive to Waterloo and Kitchener or take the bus (GRT Route 21). 20 minutes away from scenic Elora Gorge and Quarry and 25 minutes to Fergus. 20 minutes from the city of Guelph. A very large private room for 1,2,3 or 4 persons in the town of Elmira. A 4th person can be accommodated with an inflatable twin bed. Cost is $55 for one person, and it is $10 per person extra up to 4 people. The room has two beds - one queen size bed and one twin size bed. This room is located on the second floor of the home. There is a staircase going upstairs. There is a television with cable, DVD player and small fridge in the room. Wi-fi is available for you. You will have bottled water, juice and soda in the fridge on your arrival. Coffee and tea is always available for you in the kitchen. We also set out a selection of cereals, toast, local homemade jams, hard boiled eggs, etc. if you wish to have something to eat in the morning. (we will have one gluten free cereal available). You have use of your own personal bathroom on the main level by your stairway. There is a 15 acre park that has a large playground directly behind our home. Easy access to "Kissing Bridge Trail" (the Trans Canada trail), for cycling or hiking. We can store bicycles for you and provide information and cycling routes. We are happy to let you know the highlights of "St. Jacobs Country", and the unique culture of the Mennonites in our area. 5 to 10 minute walk to restaurants, stores, coffee shop and bus stop. Wi-fi, cable, laundry facilities and free parking for car in our large driveway. The house has central air, but an additional portable air conditioner is also available for your use. Elmira is a quaint town and our neighbourhood is very safe and friendly. We have a lovely backyard where you can relax or you can walk directly into the park from the end of our yard. We have a cat, Annie, she is 3 years old. She is very friendly. There is a downstairs door that you can leave closed (as Annie can try to sneak in). :) I want to ensure everyone is aware, in case of persons with an allergy to cats. We do not allow visitors with pets.
Quiet neighbourhood on one way street. Have lived in this community for almost 40 years.
Cheryl and Brad were super welcoming and accommodated my late arrival with no issues at all! The room was big and comfortable, I had the full upstairs! Everything I could have needed was provided and several breakfast options available. 10/10 would recommend and I would love to stay there again should the opportunity arise! Thank you!
Greg
2016-01-21T00:00:00Z
Although only a short stay, I can definitely say that Cheryl offers an exceptional space. We could tell immediately that Cheryl and her husband were great people who went above and beyond as hosts. The loft bedroom was comfortable and clean. It had everything we could have possibly needed including a fridge stocked with drinks, wifi, air conditioning and our own private bathroom. We loved everything about our stay and look forward to staying with Cheryl again in the future. I would 100% recommend staying here. Thank you so much for the wonderful experience!
Alicia
2016-06-26T00:00:00Z
Our stay completely exceeded our expectations! Right from the moment we came in the door we were greated warmly and felt so comfortable. The loft is super cozy and gives you all the creature comforts of home...and then some. We really enjoyed the freshly baked bread and assortment of jams offered for breakfast. And we really loved cuddling with Annie the cat who is an absolute sweet pie! The location was perfect for making a day trip into Elora or St.Jacobs to sample the local Mennonite culture and flavours. Cheryl was so lovely to help us find exactly what we were looking for and made great recommendations. What a wonderful retreat, with kind, friendly and funny hosts. We will definately be back!
Elle
2016-07-05T00:00:00Z
she is super kind. and the house is super nice. when we arrived there very late but she was welcome and we didn't know how to get to niagara falls and then she told us. moreover, she asked her friend who's taxi driver that if we could take the taxi with cheaper price. so we could go there. it was super confortable. Also, about breakfast it was awesome too. she prepared bread, cereal, coffee...etc. we stayed there only 2nights but we wanted to stay more actually. when we go back again we would like stay again!!! we appreciate for everything to Cheryl.
Nanami
2014-09-25T00:00:00Z
It was very nice, comfortable and most important you can feel your home. The owners are very hospitable, neighbourhood was calm n pleasant and location was stunning. The room was clean and equiped with all possible aminities. We reached their place at 3:00 am and still we were welcomed with smile. We just sent a message and in flash the owners came out and took us for home tour. The frige was jampacked with great breakfast options. Waiting for the next visit
Rammohan
2016-09-17T00:00:00Z
Fantastic introduction to the Airbnb experience. My thanks to Brad and Cheryl for being such warm and welcoming hosts. It was great to meet you (and the cats!). The room was lovely and such a comfortable bed! I loved the view at breakfast, while I had my tea and toast (home-made bread!). Highly recommended.
Sheldon
2015-10-29T00:00:00Z
The house is very clean and quiet. I appriciate the extra blanket. And the breakfast was thoughtful I had many option to choose - variety cereals, homemade bread, many options for beverage and jams etc. And I love the cat, she is so lovely. I already miss her. It was wonderful trip with excellent experience of AirBnB in the peaceful region. :)
신실
2016-10-26T00:00:00Z
Cheryl is a great host and you wont be disappointed to stay at her place, the breakfast include her home made yummy bread and jams, selections of cereals, coffee was ready in the morning for us. Thank you so much.
Alsa
2017-04-01T00:00:00Z
Room Type
Private room
---
Property Type
House
---
Accommodates
4
---
Bedrooms
Elmira, Woolwich township, ON, Canada
A majestic century farmhouse on the edge of town. One km from Grand River Transit (GRT) bus stop. Within easy walking distance to downtown Elmira. This is the upper suite a complete bachelor apartment, with a queen size bed. A double high pillow top queen size air mattress is also available for additional guests when more than two guests want to sleep in the same room.
Private entrance and private balcony with a full kitchen. Queen size bed, with en-suite washroom. This unit is air conditioned for your comfort. A double high, pillow top queen size air mattress is also available for additional guests in the same room.
Elmira is in a community where horse and buggy Mennonites are a common site. Elmira is also noted for the Elmira Maple Syrup Festival.
Elegant and roomy accommodations with 5 star gourmet breakfasts and two of the most generous, helpful and kind hosts you'll likely ever meet. The property is beautifully gardened, with a lovely garden bridge - a great place for photography. Centrally located, it is easy to get to neighboring towns for sightseeing and shopping, as well as theater in St. Jacobs and Stratford. The hosts very thoughtfully shared some local history and mapped out a perfect drive to get the flavor of the Mennonite area, which included a covered bridge and quilt shopping at a private farm. My best friend and I had a wonderful girls weekend away from the hustle and bustle of New York City. Thank you to Lavern and Marg for a perfect stay!
Patricia S
2016-10-16T00:00:00Z
Great, private, perfect!
Sara
2017-01-06T00:00:00Z
This place was amazingly spotless with all of the touches in place. The coffee was superb. The breakfast was one of the best I have ever had... Homemade potato pancakes, homemade jams, sausage, egg quiche, jalapeno jam, yogurt and fruit and more. But the crowning Jewel was the beautiful gardens. I've never seen anything so beautiful that wasn't a public garden. Great job!
Poppy
2016-08-27T00:00:00Z
Room Type
Private room
---
Property Type
Bed & Breakfast
---
Accommodates
4
---
Bedrooms
Elmira, ON, Canada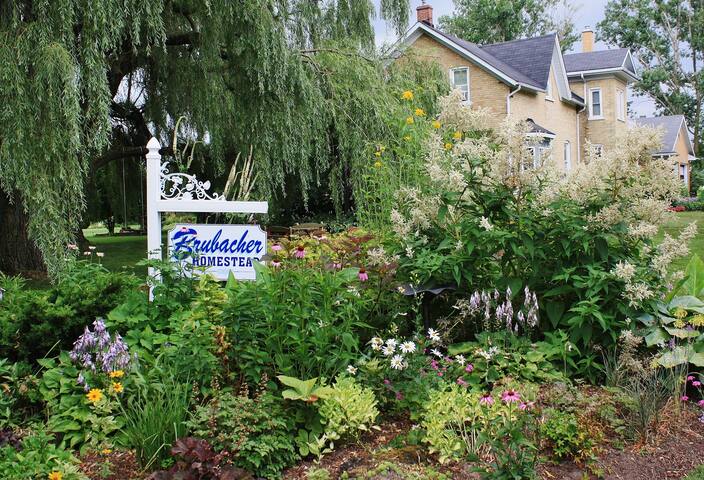 Elmira - Airbnb
:
Average

5

out of

5

stars from

151

guest reviews