The apartment The Girls Room is part of our farm, used to sleep here the resident girls. It has its own entrance, terrace and garden. Over a path you walk into the Wadden Sea (1.5 km). A peaceful, rural setting. We have an agriculture company.
There is a kitchen, a bedroom and a bathroom with shower. Large hall with wardrobe, dryer and washing machine. Outside furniture includes a barbecue and an outdoor heater. You can choose a double bed or two twin beds. At a minimum stay of 5 nights you get free linens and towels. For shorter stays you can bring your own or rent from us for 6 euros pp
The location near the flats and in Pieterburen makes it a peaceful place. A day to Schiermonnikoog, enjoy cycling or walking (and walking network Pieterpad), mudflats (also with us) and explore the beautiful area with many small villages and attractions.
Bei unserer Anreise war das Apartment bereits fertig und auf dem Küchentisch wartete eine kleine Willkommensüberraschung auf uns. Das Apartment war sauber und sehr gemütlich. Es fehlte uns an nichts.
Corinna
2016-08-04T00:00:00Z
Sehr ruhige und idyllische Umgebung, bereits nach einem kurzen Fußmarsch gelangt man direkt ans Wattenmeer, nächstgrößere Orte sind entweder mit dem Fahrrad oder dem Auto zu erreichen, Pieterburen (das allerdings nicht allzu viele Einkaufsmöglichkeiten bietet) ist in fußläufiger Entfernung. Die Unterkunft selbst ist ein kleines, gemütliches Einlieger-Appartment mit eigenem Zugang und Terrasse (welche man erreicht, wenn man den Hof von Karin und Tjaart einmal umrundet). Inklusive: ein sehr bequemes und großes Bett, ein sehr sauberes Bad und eine Küche, in der maximal ein Toaster gefehlt hat, ansonsten aber alles vorhanden war. Unsere Gastgeberin Karin war enorm freundlich, gut gelaunt und hilfsbereit, selbst, als wir uns einen Fön und Gewürze leihen mussten kam sie uns sehr entgegen. Bei unserer Ankunft warteten ein herzliches Willkommensgeschenk - lokal hergestelltes Dinkelbier -, jede Menge informative Broschüren und eine verschriftlichte Kurzübersicht, welcher der nahegelegenen Orte welche Einkaufsmöglichkeiten, Ärzte und dergleichen bereithielt, auf uns. Wir fühlten uns während unseres gesamten Aufenthalts wie zuhause und können die Meidenkamer in Karins Hof nur empfehlen.
Florian
2016-05-17T00:00:00Z
Wir sind trotzt verspäteter Ankunft herzlich empfangen worden, die Gastgeber sind hilfsbereit und freundlich. Lage und Ausstattung entsprachen genau unseren Erwartungen, es war herrlich ruhig und erholsam. Besonders sehenswert ist die Seehundstation in Pieterburen, nur wenige Minuten mit dem Fahrrad entfernt. Alles in allem ein wunderbarer Aufenthalt.
Mathias
2016-07-20T00:00:00Z
Danke für erholsame, ruhige drei Tage bei Dir, Karin! Wir sind sehr nett empfangen worden und kurz durch die Räumlichkeiten geführt worden. Alles einfach, aber sauber! Eine große Küche, ein Kingsize-Bett und eine sehr gemütliche Sitzecke auf der Terrasse mit Blick auf den Deich - das ist das, was wir gebraucht haben.
Peter
2016-09-11T00:00:00Z
Bij aankomst stonden er 2 pilsjes voor ons klaar. Die smaakten heerlijk. We hebben een wad wandeling gemaakt en konden hiervoor hoge gympen op de boerderij lenen. De gids haalde ons op bij de boerderij. De volgende dag zijn we naar Schiermonnikoog geweest en hebben daar heerlijk rondgefietst en op het strand gelegen. De laatste dag hebben we eerst de landloop gedaan, die start vanuit de boerderij. In de middag zijn we naar Dokkum gereden. We voelden ons heel welkom en Karin en Tjeerd zijn erg vriendelijk.
ankie
2016-07-09T00:00:00Z
Der Aufenthalt war unglaublich! ...unglaublich entspannend...unglaubliches Preis-/Leistungsverhältnis...unglaublich nette Gastgeberin. Kann man nur weiterempfehlen. Vielen Dank nochmal für alles!
Robert
2016-05-30T00:00:00Z
Wir wurden von Karin sehr nett empfangen und nach einem Info Gespräch wo sich in der gemütlichen Maiden Kammer alles befindet konnte unser Urlaub beginnen.Die Unterkunft ist einfach aber Gemütlich .Karin und ihr Mann Bert sind sehr nette und Hilfsbereite Gastgeber ,die Lage des Hauses ist Traumhaft ruhig und Idyllisch für Ruhesuchende absolut zu empfehlen.Wir kommen gerne wieder hierhin bis zum nächsten Mal viele Grüße Claudia und Peter
Peter
2016-05-15T00:00:00Z
Wir haben uns bei Karin sehr wohl gefühlt. Es ist genügend Platz und alle Dinge, die man in Küche und Bad braucht sind vorhanden. Auch der Außenraum ist durch den alten Bauernhof (inklusive Trampolin und Spielraum) sehr ansprechend und es gibt keine bessere Lage zum Wattenmeer. Vielen Dank!
Maren
2016-09-25T00:00:00Z
Room Type
Entire home/apt
---
Property Type
Apartment
---
Accommodates
2
---
Bedrooms
Pieterburen, Groningen, Netherlands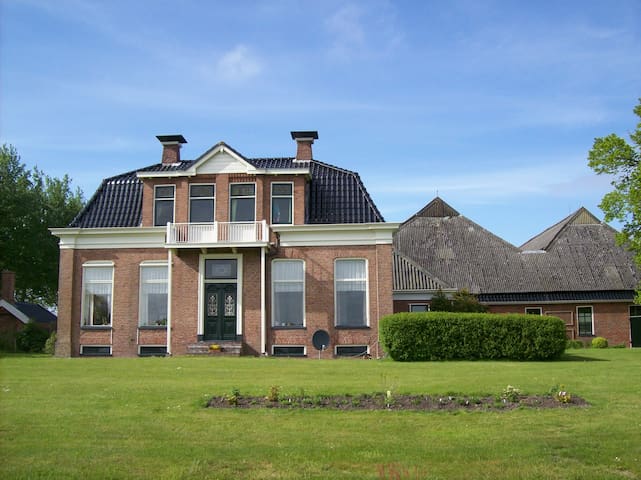 Sleeping at school! Something for you? It's possible! We have an old school, in a nice small village near the sea. One of the six rooms is furnished as a guest room. In the neighborhood you can eat, enjoy hiking and biking! So please be welcome!
Sleeping in a classroom! We are Maria Madelon & Arnold Veeman. Both artists. Maria Madelon is a painter, Arnold a music composer. We want to share this very inspirational environment to you! More background information about their work as artists can be found on: mariamadelon . n l arnoldveeman . c o m
In the neighbourhood you can do so many things. Go out for a brisk walk or ride; there are superb restaurants here, go and try them out! Also very close to where you stay there is The Seal Rehabilitation and Research Centre open for public. So if you're interested, like many other international guests enjoy yourself and make a visit. It is really worth your time!
Arnold and Madelon were very welcoming and helpful from the beginning on. Our big comfy room already smelt of freshly baked muffins! :) We stayed 5 nights and in the end felt almost like home. The huge room, the little private kitchen and the relaxing & calm atmosphere were simply great. Thanks Arnold and Madelon for this pleasent time at your place!
Carolin
2014-08-28T00:00:00Z
We felt welcomed and enjoyed our stay in the school a lot. Madelon and Arnold are open minded and very friendly hosts. The atmosphere in the school was great.Keep in mind, that the next supermarket is 4km away and the local restaurant isn´t open everyday, when you arrive hungry after a long day cycling :) But the kitchen is well equiped,so you can easily cook a nice dinner for yourself.
Henrike
2015-08-19T00:00:00Z
The atmosphere of the old school together with the paintings of Maria Madelon everywhere makes it a unique place to stay. Arnold and Maria Madelon are very friendly people and made us feel right at home and we had the luck of staying during one of their "Toes Toavel" events. An evening with food, music and art. Everything was clean and we slept very well in the bed. The room has very large windows, might be an issue for those who can only sleep in the dark. The location is very convenient if you want to visit the waddeneilanden, it is about 15 minutes from Lauwersoog where the ferry to Schiermonnikoog departs. One of our most special Airbnb experiences so far.
Frank and Laura
2016-08-29T00:00:00Z
Wir haben die Zeit in der Schule sehr genossen und können das Erlebnis nur weiterempfehlen. Arnold und Madelon haben uns sehr gastfreundlich behandelt und es hat uns an nichts gefehlt. Sogar ein super feiner Kuchen stand für uns bereit und wir erhielten auch eine Führung durchs ganze Haus! Wirklich toll!!
Anina
2014-10-09T00:00:00Z
Het verblijf bij Arnold en Madelon was uitstekend. Het 'huis' zelf, alsook Arnold en Madelon, waren een inspiratiebron! Het ontvangst was zeer hartelijk (en de homemade cookies heerlijk). Ruimte hadden we in overschot! Je voelt je heel welkom en meteen thuis. Ook handig dat we fietsen tot beschikking hadden om de mooie natuur ginds te verkennen. De tip van het biowinkeltje in de buurt was ook heel interessant aangezien ze daar veel lokale lekkernijen hadden waar we ons maar al te graag aan schuldig maakten. Vervelen is geen mogelijkheid: de kamer is uitgerust met een hoop aan literatuur, schaakbord, dvd's, ... en de omgeving leent zich perfect om sportief de buurt te verkennen.
Katrien
2016-05-24T00:00:00Z
Deze bijzondere plek ademt creativiteit! Ik kreeg een warm welkom van Arnold en Madelon en voelde me meteen thuis. Zoveel licht en ruimte, maar toch huiselijk. Kwartier rijden naar Lauwersoog, mijn startpunt voor het wadlopen. En zoveel mooie dorpjes en weidse natuur op fietsafstand. Ben heel dankbaar voor de inspirerende gesprekken, de energie, tips voor restaurantjes e.d., dat ik een fiets mocht lenen en zelfs bij een prachtig concert van Arnold belandde. Een geweldig weekend!
Lizanne
2016-08-08T00:00:00Z
Der Geruch frisch gebackener Muffins begrüßte uns an der Tür. Madelon und Arnold haben uns sehr herzlich in ihrem wunderbaren Zuhause aufgenommen. Die Bilder geben einen guten Eindruck über diese coole Location und das Zimmer war groß, gemütlich und sauber. Location und Gastgeber sind kinderfreundlich. Für einen entspannten und ruhigen Urlaub abseits des Mainstreams ideal geeignet.
Malte
2015-05-19T00:00:00Z
Room Type
Private room
---
Property Type
Apartment
---
Accommodates
2
---
Bedrooms
Kloosterburen, Groningen, Netherlands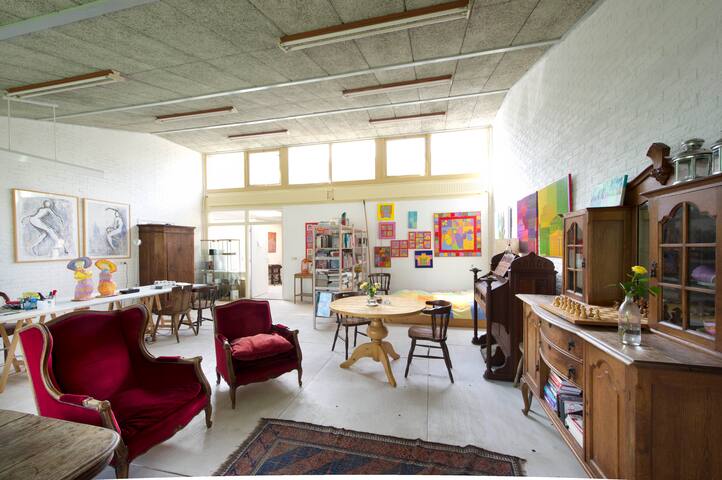 Space to relax and enjoy! This applies to our spacious 5 (A6) person apartment located behind the barn of our Groningen village farm. With private use of infrared sauna, kitchen and terrace, near the Wadden Sea dike.
In the back part is room for 5 people to stay comfortable. Coming here, guests for years! Two large double bedrooms and a small one room together with a large central TV room and a large bathroom apartment. A complete extra bed is available for a 6th person. Through a separate entrance, accessible by the 130 year old barn Groninger you have access to a private apartment. You can also enjoy wellness ... with an infrared sauna in the private and (at extra cost) a wood-fired hot tub in the open air. Here you can enjoy the tranquility, you might see an owl fly past or hear barking a deer in the vicinity.
Nearby is a lot to take. Examples include: - Tidal flat walks (even in winter) - Boat trips across the mudflats - Seal tours on the mudflats - Visit to the island of Schiermonnikoog - Visits to the unique zoo in Leens Doezoo - Visit the tea museum in Houwerzijl - Abraham's mustard in Eenrum - etc
Such a lovely place to stay, beautiful area, amazing sauna and great hosts!!
Jessica
2015-10-17T00:00:00Z
Bas' and Ester's apartment was clean and well arranged. The kitchen was equipped with the minimum required like plates, cutlery, a pan and pots. As we wanted to cook and the knife was not sharp enough, Ester bought us a pack of new knifes the next day. Thank you for that, Ester. The bathroom was very big and there were a lot of towels provided. There is even an additional toilet room, just in case. The sauna in the big bathroom is very nice after a long day of walks in the wind. The kitchen is very big and can perfectly be used as a gathering point. The sea is round about 10 minutes driving distance away and the next big supermarket round about 5 minutes. The next bar/pub is called Willibrord and is 10 minutes away - by walking. The bar is also a pizzaria and has the best pizza and stake I have ever tasted. The only thing we had to object is that the apartment and all in it smells mouldy since it's build into a barn. People with a sensible nose could get sick after a while. But this apart, our stay was positive and we enjoyed the calm and remoteness of the little town. Thank you for your hospitality, Bas and Ester.
Lana
2014-08-25T00:00:00Z
Very relaxed and beautiful experience!
Kristian
2016-08-29T00:00:00Z
We had a great time at Bas&Ester's place! The place is spacious, well maintained. The sauna and hottub were outstanding. Throughout our booking they had been quick to respond to all our questions and helped us during our stay too. The location is beautiful too, we will definitely consider returning!
Zsuzsa
2015-12-24T00:00:00Z
Hello Bas and Ester, thanks for a wonderfull week in Molenrij. We have enjoy it. Matthias:-)
Matthias Uschmann
2016-08-06T00:00:00Z
We were welcomed by Bastian, and he made sure we got a good start. The sauna is excellent. And the appartmant has all you need
Caspar
2016-03-28T00:00:00Z
Amazing place and hosts. Love it soooo much, everyone should try it!
Gabriel
2015-11-16T00:00:00Z
Bas and Ester have been very friendly and helpful in all matters. It is a very quite and comfortable place for relaxing, especially with the hot tub in a starry night. Thanks a lot!
Melanie
2015-04-08T00:00:00Z
Room Type
Entire home/apt
---
Property Type
Apartment
---
Accommodates
6
---
Bedrooms
Molenrij, Groningen, Netherlands
Our comfortable apartment is quiet and yet only 2 minutes walk from the cozy restaurants in Pieterburen and the SRRC. You can book a full organic breakfast. Cycling, walking, mudflat hiking, birding experience ... Zen!
The house has 4 bedrooms, 2 bathrooms and a cozy living room / kitchen. You can relax wonderfully in Pieterburen and enjoy mudflats, kick biking, canoeing, cycling and hiking.
The vastness of the landscape and beautiful cloud and starry skies are unique in the Netherlands. Far away from the highways, industrial and railways! Experience the tranquility, space and clean air. At restaurant Waddengenot is a children's playground with free go-kart track.
The house in Pieterburen was very nice, comfortable and space full. the neighbourhood is very quiet and perfect for nice walks in the countryside. It was a very nice stay, and we felt very welcome. Thank you.
Emmanuel
2015-08-29T00:00:00Z
Very comfortable, well-furnished holiday home in a quite area. I can highly recommend this accomodation.
Jannik
2016-12-30T00:00:00Z
Een zeer mooi appartement in het pittoreske Pieterburen. We werden vriendelijk ontvangen door Wil, die ons graag wilde vertellen wat er allemaal te doen was in de omgeving. Het appartement ziet er zeer nieuw en goed onderhouden uit, precies zoals op de foto's te zien is. Wat activiteiten betreft valt een bezoekje aan de zeehonden (heel dichtbij) en het Lauwersmeer (20 minuten rijden) waar we boten hadden gehuurd (Suyderoog) zeer aan te raden. In tegenstelling tot wat we van de foto's dachten gaat het niet om een vrijstaand huis, maar zijn er meerdere accomodaties tegen elkaar aan geplaatst in wat vroeger een oude (volgens mij) bakkerij was.
Jeroen
2014-07-29T00:00:00Z
Die Kommunikation mit Wil war freundlich und problemlos. Wir wurden freundlich empfangen. Wir waren mit 10 Leute über Silvester im Haus und es fehlte uns an nichts. Die Küche ist optimal ausgestattet. Sehr entspannte und ruhige Gegend. Wir hatten lediglich ein freistehendes Haus in direkter Nähe zum Meer erwartet, an dem Missverständnis waren wir aber selber Schuld.
Heiner
2016-01-02T00:00:00Z
Sehr ruhig gelegenes Haus, das von einer netten Besitzerin geführt wird. Will war sehr gut zu erreichen und freundlich.
Wiebke
2017-01-03T00:00:00Z
Wir hatten mit einer Gruppe von acht Erwachsenen und drei Kleinkindern eine der Wohnungen gemietet. Wil hat uns sehr sehr freundlich empfangen. Die Wohnung war modern und gemütlich mit allem was man im Alltag benötigt ausgestattet. Alles war ordentlich und sauber! Die große Wohnküche hat den Erwachsenen und Kindern genügend Raum geboten. Pieterburen ist wirklich sehr klein (keine Einkaufsmöglichkeiten), aber ein nettes Dorf. Sehenswert ist die Sehundaufzuchtstation. Außerdem kann man von hier gut eine Wattwanderung buchen oder Räder ausleihenm. Es gibt zwei Gaststätten. Alles in allem ein ruhiger Urlaub mit viel frischer Luft und ruhiger Umgebung!
Melanie
2015-01-03T00:00:00Z
Room Type
Entire home/apt
---
Property Type
Apartment
---
Accommodates
11
---
Bedrooms
Pieterburen, Groningen, Netherlands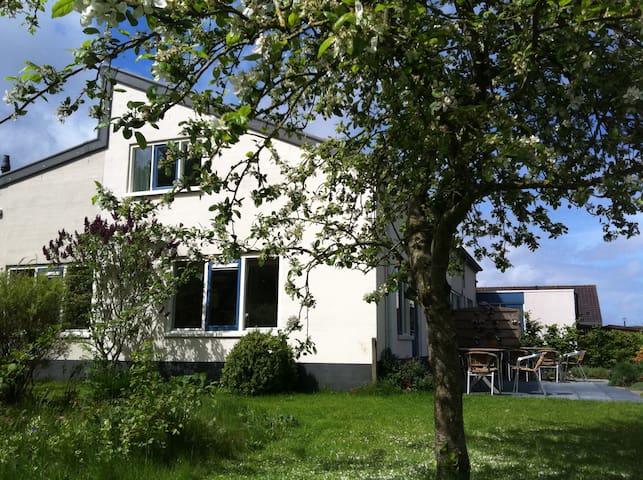 Family home with a large kitchen and cosy livingroom with tv. One bedroom is downstairs for the grandparents ?, upstairs you wil find 4 bedrooms 2 for parents and 2 for the children all rooms have a washbasin. Modern bathrooms and wc. Large terrace. The Waddensea is nearby 3 km. There you can bike on the dike. There are beaches within 20 km. by Lauwersoog. There is also the departure of the ferry to Schiermonnikoog with its great beaches. It is worthwhile to visit these for one day.
This is a familyhouse. Downstairs is a bedroom for the grandparents ? Close to the bathroom and wc.There 2 stairs, each stair reaches 2 bedrooms 1 for parents and 1 for childeren. So everybody has its privacy.
The house is located in a quiet place. Yet still it is only a two-minute walk to the centre of town where you will find the Sealcentre, the starting point of the Pieterpad, the mudwalking hiking opganizations, the restaurants and the village cafe.
I visited Pieterburen with 8 friends and we had a great time in Wils guesthouse. Wil is a very friendly and warm person. The house is very clean. There was enough space for everyone and we did not miss a thing. I can recommend it to other groups as well as to families.
Sarah
2015-07-05T00:00:00Z
very nice and clean place. the accomodation was comfortalbe, you can also rent bikes and go for a trip, it´s a quiet nice place, with the car its about 20min from Groningen, the host was very friendly, you can also book breakfast if you wish
Juliane
2015-06-07T00:00:00Z
We really enjoyed being at your place in Peterborough. It was beautiful, clean, clear, modern, quiet, and there was a great restaurant in walking distance. Your breakfast was delicious fans of the Takeaway lunch option fantastic.
Devi
2016-09-08T00:00:00Z
Von der Planung über den Kontakt bis hin zur Abreise war alles perfekt!
Mahmut
2016-05-30T00:00:00Z
We verbleven in het huisje met een groep van 10 jongeren. Er werd op voorhand gezegd dat ons huisje grensde aan andere huisjes maar daar merkten we niets van. Omdat we met zo'n grote groep waren, kwamen de wastafels in de kamers zeer goed van pas. We konden makkelijk met 10 zitten in de eetkamer en ook in de living was er genoeg plaats. We vonden het een heel leuk verblijf en raden het zeker aan aan andere groepen.
Margot
2016-11-01T00:00:00Z
Wij hebben erg genoten van het huisje en Wil was een perfecte host. Het huisje is goed gelegen in het dorp, heeft een fijne parkeerplek, is ruim voorzien van benodigdheden en van alle gemakken voorzien. Bovendien was alles erg netjes en verkeert het huisje in goede staat. Wil was erg flexibel (later dan verwachte aankomst, extra handdoeken, later uitchecken) en ontzettend vriendelijk. Echt een aanrader!
Mireille
2015-08-29T00:00:00Z
Room Type
Entire home/apt
---
Property Type
Apartment
---
Accommodates
11
---
Bedrooms
Pieterburen, Groningen, Netherlands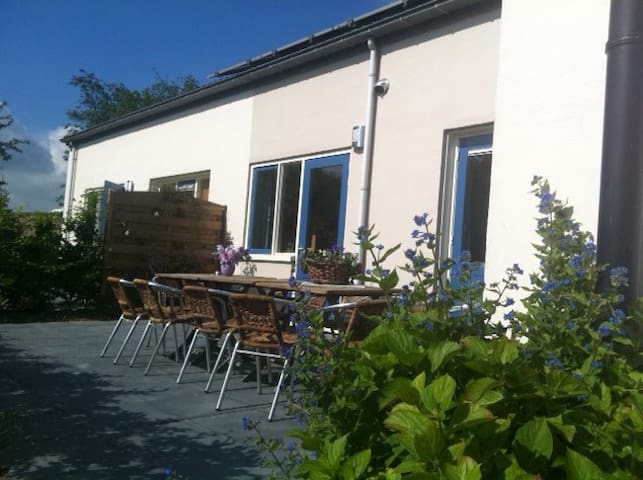 Het appartement met op het zuiden gelegen terras is modern, cosy en rolstoeltoegankelijk. Met 1 slaapkamer, royale badkamer, en slaapbank in de woonkamer/ keuken is het geschikt voor 2 tot 4 gasten. De moderne keuken is voorzien van alle apparatuur. Veel privacy. Minimaal 3 aaneengesloten nachten te huur.
Een heel compact huisje met veel privacy en tuin op het zuiden.
Pieterburen is een klein landelijk dorp, waar je helemaal tot rust kunt komen. De sterrenhemels zijn prachtig. Het is hier nog echt stil. De lucht is schoon en de mensen zijn vriendelijk.
Room Type
Entire home/apt
---
Property Type
Apartment
---
Accommodates
4
---
Bedrooms
Pieterburen, GR, Netherlands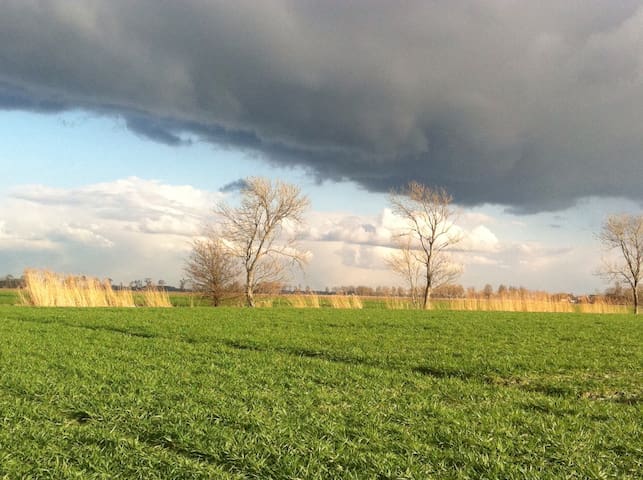 Het Dorpslogement ligt vlakbij Noordpolderzijl, de Waddenzee en de stad Groningen. Je zult er genieten van de plek vanwege de rust, de sfeer, het mooie plattelandsdorpje Warffum, de comfort en de privacy van een eigen appartementje. En binnen 25 minuten zit je in hartje Groningen! Mijn ruimte is geschikt voor reisgenoten, solo-avonturiers en zakenreizigers.
Het logement is gelegen op de eerste etage van het rijksmonument en bestaat uit een van de twee slaapkamers, een badkamer met regendouche en een goed uitgerust zitkamertje. Het logement is in de periode april tot en met september van donderdag tot en met zondag beschikbaar. Een aantal weken in de zomer is het gehele huis aan de Schoolstraat ook beschikbaar als zomerhuis. Buiten het zomerseizoen is het logement een schrijf, denk- en werkplek.
Warffum is een klein wierdedorpje waar de tijd een beetje stil heeft gestaan. Zo vind je twee huizen verder het Openluchtmuseum waarin je kunt bekijken hoe het Groningse platteland er honderd jaar geleden uit zag. Verder heeft Warffum een bakker, een aantal restaurants en een paar winkeltjes. Het Openluchtmuseum dient tevens als VVV. Verder kun je heerlijk eten op het Hogeland, streekmarkten bezoeken, van het wad genieten, een visje eten in de haven van Lauwersoog, een zomers plattelandsconcertje bezoeken of op vintage-jacht gaan. Dit is een ongekend romantisch gebied met de bruisende stad Groningen in de buurt!
Room Type
Private room
---
Property Type
Apartment
---
Accommodates
2
---
Bedrooms
Warffum, Groningen, Netherlands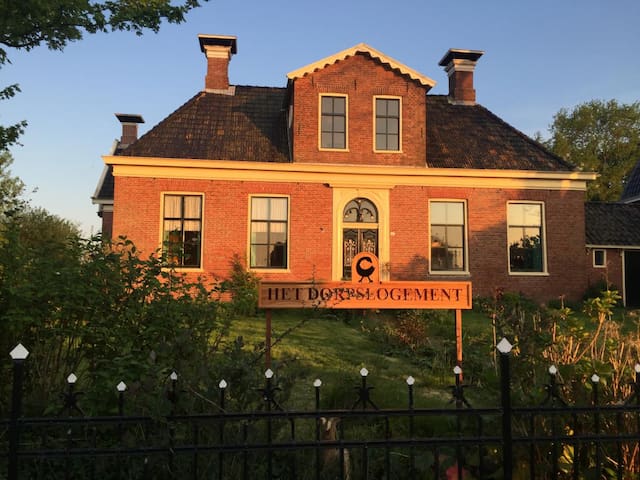 Mijn ruimte is vlakbij openbaar vervoer. Je zult genieten van mijn plek vanwege de rustige omgeving, ruime woonkeuken en prettige douche.
Room Type
Entire home/apt
---
Property Type
Apartment
---
Accommodates
4
---
Bedrooms
Groningen, Groningen, Netherlands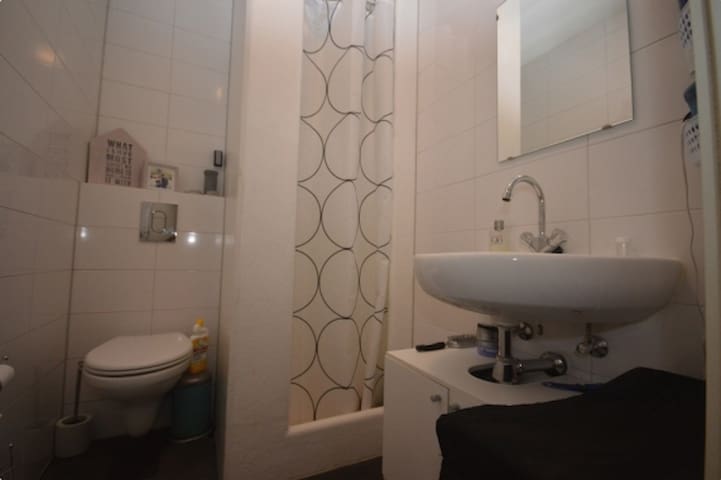 The apartment is close to Station Noord (train and bus station), nightlife, family-friendly activities and both universities (University of Groningen, Hanze University). The place is in a quite neighbourhood, very light and cosy. You can use the fully equipped kitchen and the huge living room. My place is good for couples or solo adventurers. A shopping mall , cafes and restaurants are in walking distance. It's fast and easy to get to the city centre or the university campus (Zernike) from here.
I had a comfortable stay at Thyra's place. Thyra was nice and friendly, flexible check-in times and quick replies are a plus. The room was clean and located in a quiet neighbourhood. Located close to the University and supermarkets. Recommended.
Bart
2017-02-21T00:00:00Z
The host canceled this reservation 17 days before arrival. This is an automated posting.
Chris
2017-03-30T00:00:00Z
Thyra's room was clean and comfortable. The flat was spacious and complete with anything I could've needed for my short stay. Very quick walking distance from Groningen Nord station.
Matthew
2017-03-12T00:00:00Z
Room Type
Private room
---
Property Type
Apartment
---
Accommodates
1
---
Bedrooms
Groningen, Groningen, Netherlands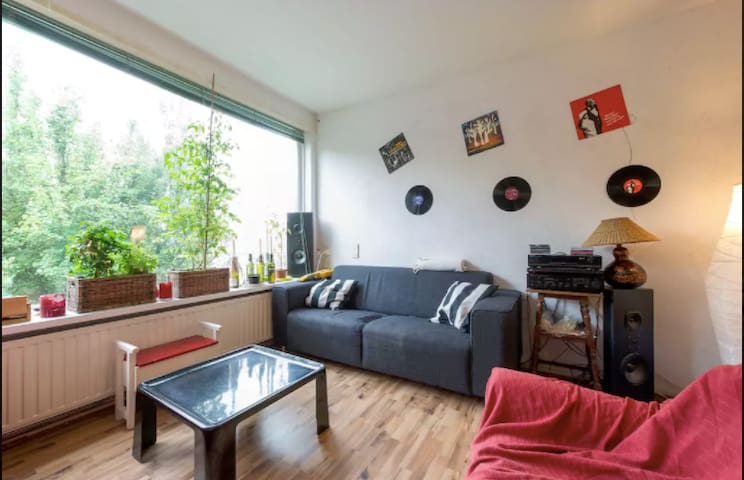 Come and stay in our cosy apartment in a truly wonderful building and perfect location to visit our lovely city of Groningen.
PERFECT LOCATION BETWEEN CITY CENTRE AND UNIVERSITY We live with our family of 5 in an old school build in 1927. Our house is built in an old neighbourhood near the park " Het Noorderplantsoen ". Within the old gymnasium of the school a guest room has been created. It can hold 4 people comfortably (2 on a double bed and 2 in a bunk bed) and even 6 on a extra sofa bed. It has got it's own entrance, it's own shower and toilet. It's also got it's own kitchenette with a fridge, a hob, a microwave and a sink. Also a television and good WIFI are available. We provide bedding and towels and if you stay more then a week or so you can also use our washingmachine. You look out on to the garden of the house with a little terrace you can use. The distance to town is 5 minutes by bike and there are a couple of extra bikes for you to use. The apartment is perfectly suitable for a couple, family or a group of friends. A supermarket is very nearby and a railway station (Groningen Noord) is at a short walking distance. Groningen is an old city with a lively buzz to it. The nightlife is very good and we can also provide you with some good tips for restaurants in the city centre and in our local neighbourhood. The city has got a lot of culture, including 2 bij festivals Noorderzon in the summer and Eurosonic in january. Groningen city is also a short drive to a habour so you can visit the picturesque Wadden islands, which we would thoroughly recommend for a day trip. Our house is also situated very close to the popular walking trail "Het Pieterpad" that runs from the northern tip of the Netherlands to the most southern tip of the country. If you enjoy cycling there are plenty of cycle routes in the surrounding countryside. Let us know if you would like the bikes, we set them up for you. Hope to CU soon Bas and Jo
Our neighborhood is one of the most characteristics in the city of Groningen. It's located next to an old park.
Bas and Jo are very nice hosts, providing you with useful tips and information about the city and the country. The apartment is located in a quiet neighborhood near a park, close to the city centre and university. Perfectly suited, for example, for visiting scholars.
Joël
2016-04-30T00:00:00Z
Bas and his family were fantastic hosts welcoming us on arriving we felt like old friends. the apartment was as we expected and more, after a warm welcome and a run down on where things were we quickly felt at home, Bas was even able to provide a couple of bikes which is the must have transport in Groningen, and on a bike you can get to the centre in 5-10mins. location is beautiful situated next to Noorderplantsoen, hidden away down one of the picturesque streets surrounding the park, the old school is set back from the street and has a large garden which the room opens on to, with an apple, and fig tree, along with 5 resident chickens (I was lucky to get a couple of fresh eggs off Bas) we just found the location bliss and peaceful. For what we paid we could not have asked for anymore the room had everything we needed the bed was comfortable with a good shower a little kitchen with a fridge and even a TV.
Stu
2015-09-19T00:00:00Z
Bas and Jo were lovely hosts. They were very friendly and helpful. The apartment was unique, cozy and perfect for a week in Groningen. We also got two bicycles for the week! The apartment is located in a characteristic neighborhood and very close to the city centre. Recommended!
Liberty
2013-04-12T00:00:00Z
It is a very nice place in a quite and beautiful neighbourhood. I enjoyed the stay there very much, especially the wonderful garden and the convenient access to supermarket. Bas is a quite nice person who provided me much help before my journey. So are Seerp and Esther, who provided me many life tips and were always very patient to my questions. As a foreigner, I really benefited a lot from them.
Zhou
2016-11-30T00:00:00Z
We had a great stay at Bas' apartment! The fact that it's a former school, makes it a very special place. It's a spacious place with a nice bed and it's located close the city centre. Bas and Jo welcomed us to the apartment, offered us breakfast and were very flexible regarding check in and - out time. We would recommend this place to anyone!
Joke
2012-11-05T00:00:00Z
We loved our stay at Bas & Jo in Groningen! They were super helpful with us hauling our luggage around (brought us + 3 bags to the station :) and helped get my partner's laptop connected to wifi. The apartment is lovely and private (awesome design!), in a central location but still very laid back. There were 2 bikes at our disposal with which we cruised around happily, as one should when exploring Groningen... We'd definitely stay there again!
Cillian
2013-06-10T00:00:00Z
The apartment is very centrally located nearby train station Groningen Noord and the "Pieterspad". It's the ideal place to discover Groningen city and its surrounding. We were warmly welcomed by the owners and appreciated their hospitality and knowledge about city and region. The apartment provides all facilities that a traveller needs such as private bathroom and entrance. We will surely visit Groningen again and would definitely recommend this apartment to others. Warm regards, Ans & Jan
ans repkes
2012-10-02T00:00:00Z
We had a great stay at this cosy apartment. The beds are very comfortable and everything is very clean and nicely decorated. It is on walking distance from the city centre, but with the bikes we could borrow here (for free!), it was even easier to see everything. I would definitely try and rent this place again when paying another visit to Groningen. Highly recommended!
Renate
2012-08-28T00:00:00Z
Room Type
Entire home/apt
---
Property Type
Apartment
---
Accommodates
4
---
Bedrooms
Groningen, Groningen, Netherlands
Haus Greta liegt an einer Gracht in einem Ferienpark. Der Ferienpark liegt hinter dem alten Seedeich am Lauwersmeer. Das Ferienhaus ist an einer Sackgasse gelegen, zum Spielplatz sind es 40 Meter, zum Lauwersmeer 500 Meter, zur Nordsee 5km. Der Garten grenzt an einen Wassergraben, in dem auch gerne geangelt werden darf. Ihnen steht eine überdachte Terrasse mit Gartenmöbeln zur Verfügung. Es darf gerne gegrillt werden.
Das Haus ist komplett ausgestattet für 4 Personen und hat eine Wohnfläche von ca. 50 m². In einem der beiden Schlafzimmer steht ein Einzelbett, im anderen ein Doppelbett. Außerdem befindet sich im Wohnraum ein gemütliches traditionelles Wandbett. In den Wohn-/Essbereich dringt durch die großen Fenster viel Tageslicht ein. High speed Wlan, 40.000 Download und 3000 Upload. Kabel Tv und Sat TV. Eigener Parkplatz vor dem Haus.
In Oostmahorn: -Zur Anlage gehört auch ein Spielplatz mit 2 Fußballtoren, einem Basketballkorb und einem Volleyballfeld. -Es gibt einen täglich geöffneten Supermarkt mit frischen Brötchen, 3 Restaurants, 2 mit Blick auf das Lauwersmeer. Eine Pizzaria, eine Pommesbude, ein Strandimbiss und eine Kneipe gibt es vor Ort. -Es gibt einen Grasstrand und einen Kindersandstrand sowei einen naturstrand. 3 Spielplätze einer am Strand, einer direkt am Park, und in 800 Meter entfernung ein Spielplatz mit einem großen Luftgefüllten Sprungkissen. -Von Oostmahorn aus gibt es eine tägliche Fährverbindung zur Insel Schiermonnikoog. -In der umgebung gibt es malerische Fischerdörfer, die Nordsee, die Mittelalterliche Stadt Dokkum, die Inseln Ameland, und noch viel schöner, die Insel Schiermonikoog, liegen direkt vor der Küste. -Der Nationalpark Lauwersmeer besticht durch seine Schönheit, wilde Rinder und Wildpferde gibt es in Holland nur hier. Das Lauwersmeer hat die beste Wasserqualität aller Binnengewässer in den Niederlanden. -Die Nordsee ist in Luftlinie lediglich 3 km, das Lauwersmeer (jetzt Süßwasser) nur 200 m entfernt. Das nahegelegene Lauwersmeer ist ein Paradies für Angler und Wassersportler aller Art. Zander und Hechte von einem Meter und länger sind hier keine Seltenheit. -Nordsee ist in 3 Km Entfernung Luftlinie, mit dem Auto in 5 Minuten zu ereichen.
Room Type
Entire home/apt
---
Property Type
Apartment
---
Accommodates
5
---
Bedrooms
Anjum, Friesland, Netherlands
A one person cosy comfortable bedroom
The room is located at the south very lighted room
The park is very close, 30 m. Distance, it's a very quite area although so central. Post office, supermarket, library, restaurants, are all a stone throw away.
Gio is a very friendly host! She offered me everything I needed for a short, basic stay and our interesting conversation in the kitchen made it a great stay :-)
Maud
2017-04-08T00:00:00Z
The room is clean and comfortable with a desk and good storage space. There is a big window so lots of daylight, especially in the afternoons, and good curtains so that it's dark enough at night. Kitchen and bathroom are fine. I didn't use the washing machine or the roof terrace, but they were there if I wanted to. The house is a typical Dutch townhouse, about 100 years old, so there are steep steps, and it feels traditional rather than super-modern. You're five minutes on a bike from the historic centre and 10 minutes from the university's Zierike campus. Very good value for money!
Stephen
2017-04-07T00:00:00Z
Close to the center (Gio may give you a bike to get there) yet quiet. Big park right around the corner. Lovely and very easy going host, when I came there the bike wasn't ready yet, so she gave me a ride to the city center. Definitely recommend!
Henning
2017-03-12T00:00:00Z
Gio is a very kind person. I strongly recommend you to stay in her place.
YONG
2017-02-05T00:00:00Z
She is a really really nice person and help me so much! I like her!
Wu
2016-08-04T00:00:00Z
Small and cozy room, very characteristic Dutch house. The host is particularly pleasant and willing to help. Well-positioned in a quiet area where to start visiting the city!
Daniele
2017-03-31T00:00:00Z
The place is really close to the city center. The room was lovely and very comfy. The host is welcoming and here to answer any questions you might have.
yasmine
2017-03-02T00:00:00Z
Erg gastvrij. Denkt mee in mogelijkheden. Mocht de fiets lenen om nog sneller in de stad te zijn. Allemaal erg goed geregeld, super snelle communicatie bij vragen. Oftewel TOP!
Kyra
2017-03-26T00:00:00Z
Room Type
Private room
---
Property Type
Apartment
---
Accommodates
1
---
Bedrooms
Groningen, GR, Netherlands
Mooi en gezellig appartement op loopafstand naar het noorderplantsoen. Binnen 5 minuten fietsen bevind je je in het centrum. Het appartement heeft 1 slaapkamer en een eigen badkamer. Er is gratis parkeergelegenheid.
Appartement op de 2e verdieping.
Het is een gezellige volksbuurt dichtbij zowel het centrum het noorderplantsoen en de rijksuniversiteit. Ook het station (noord) is lopend te bereiken.
Great place! I would recommend it :) don't hesitate :)
Manon
2017-03-30T00:00:00Z
The host canceled this reservation 5 days before arrival. This is an automated posting.
Caitlin Joelle
2017-02-12T00:00:00Z
Japke and Ronald were both very friendly and welcoming. The flat was lovely and clean and in a nice location close enough to the centre. Communication was great and all of our queries were answered promptly. Thank you very much!
Will
2017-04-05T00:00:00Z
Goede ervaring! Mooi, netjes en schoon appartement op loopafstand van het centrum. Communicatie en aankomst verliep allemaal goed, en we konden wat spullen die ik liever niet in de auto wilde leggen nog later op de dag ophalen.
Eva
2017-03-12T00:00:00Z
keurig appartement, en alles strak geregeld.
siem
2017-02-19T00:00:00Z
Het is een klein zolderappartementje. Als je een goedkope plek zoekt in Groningen, is het prima. Openbaar vervoer is op een paar minuutjes lopen.
Karin
2017-02-27T00:00:00Z
Room Type
Entire home/apt
---
Property Type
Apartment
---
Accommodates
2
---
Bedrooms
Groningen, Groningen, Netherlands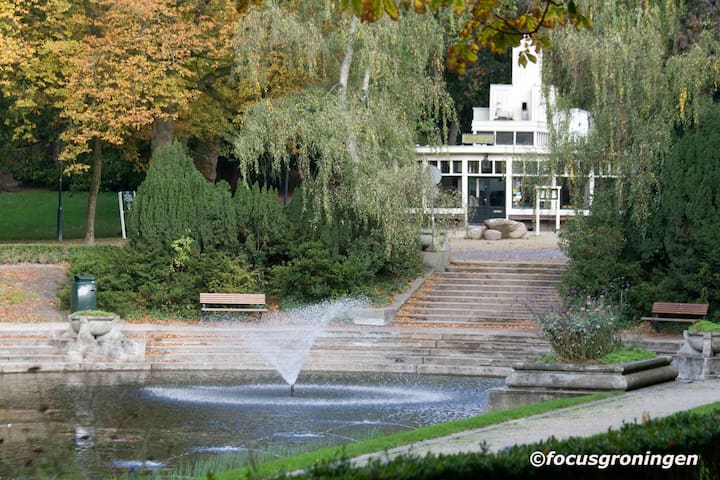 Nice big studio (27m2), kingsize bed and living room in one. All in one kitchen, separated bathroom, balcony with 2 chairs. You have your own place with everything you need (TV, WIFI, everything to cook, refrigerator, wasmachine, shower, toilet etc etc). Very close to university and city.
Television, all functions Kingsize Bed Comfortable Sofa Kitchen Furnished Balcony, 2 chairs
Big shopping centre 1 mile away 3 Supermarkets around the corner Busstops about 100m Groningen City (5 min with bike / 5 min in bus)
We enjoyed our stay in Pieter's studio, everything we needed was present and the room was bigger and more spaceful than we expected.
Lucrezia
2017-02-04T00:00:00Z
Great location, a nice 25-minute walk to the city center. Small but fine for a short stay. Pieter was great even when we had a little diffulty finding the address, he ran outside to find us : ))
Ginger
2017-04-09T00:00:00Z
Sehr zentral gelegenes Appartement mit Balkon in einem Hochhaus in ruhiger Lage. Naher Fußweg in die Stadt. Hat uns gut gefallen.
Susanne
2017-01-22T00:00:00Z
De communicatie met Pieter was uitstekend, hij kwam me zelfs ophalen toen ik het niet kon vinden. De locatie was voor mij prima, dichtbij het Zernike waar ik dagelijks moest zijn. De studio is klein maar comfortabel en gezellig ingericht. Groot genoeg om met zijn tweeen een paar nachten te logeren! Aanrader!
Tom
2017-01-26T00:00:00Z
Room Type
Entire home/apt
---
Property Type
Apartment
---
Accommodates
2
---
Bedrooms
Groningen, Groningen, Netherlands
De Oare Keamer is een luxe accommodatie U kunt er met maximaal 4 personen verblijven. Je hebt een eigen opgang, een grote slaapkamer en een volledig ingerichte woonkamer met een heerlijke hoekbank en eigen keuken. Alle voorzieningen op loopafstand.
Het appartement in hartje Kollum heeft een ruime leefruimte met een hoekbank en twee comfortabele fauteuils. Er is een eigen keuken welke van alle gemakken is voorzien. In de ruimte kun je met gemak met vier mensen verblijven.
U bevindt zich in het oude centrum van Kollum midden op de "voorstraat". Dit is de winkelstraat van Kollum. Voor uw appartement mag u vrij parkeren en zijn alle winkels op minuten afstand van uw verblijf. Ga zeker een dagje naar Dokkum, Waddeneiland Schiermonnikoog of geniet van Nationaal Park Lauwersmeer.
We were attending a wedding about 10 mins away and stayed just one night. They apartment was spacious, bright and comfortable for the 4 of us. Jantina is very friendly and hospitable. Communication was excellent and I would definitely stay again to get a chance to explore the area. Would completely recommend staying at Jantina & Klaas Jan's apartment!
Sharmishta
2015-08-23T00:00:00Z
We loved our stay in Kollum. Klass Jan's apartment was spacious, clean, and had everything we needed.
Steve
2016-06-05T00:00:00Z
Klaas and his wife were great and lovely hosts. They were very friendly and helpful giving us recommendations about what to do in the area. The apartment is pretty, beautiful, cosy and quiet. My friends and me felt at home. I definitely recommend the apartment. Thank you for your hospitality!
Nora
2014-08-18T00:00:00Z
We stayed 2 nights at this wonderful apartment in the cute town of Kollum. Communication with Klaas Jan was excellent and the apartment was clean and comfortable. He and his wife were very accommodating and we would stay again!
Peter
2016-08-12T00:00:00Z
We had a wonderful stay in this beautiful townhouse. Klaas Jan and Jantina gave us a warm welcome and we felt at home right away. Thanks a lot! Katrien
Katrien
2015-10-05T00:00:00Z
Thanks for the welcome and the Friesian coek. We found the home to ideally located, right on the main street of the town. Just step out and start shopping. The bed was very comfortable with separate shower and toilet .Large great room with all in. We found Kollum to be close to a lot of the Friesian highlights. Hope to be back sometime.
Jake
2016-06-18T00:00:00Z
It was a great experience: very welcoming and friendly guests and extremely charming rooms in a wonderful historic house. Kollum is a very nice little town ideally suited to discover beautiful Friesland. Can only recommend it!
Ulrich
2016-09-11T00:00:00Z
We had a wonderful time in this charming town thanks to the generous hospitality of the Stellema family. The apartment was bright, clean and comfortable. We relaxing enjoyed the large living area and getting a good night sleep before our Wadlopen adventure on the Wadden Sea. The Stellema family made us feel welcome by staying in contact and providing recommendation around the area. The tea/coffee, towels and hairdryer were especially appreciated. We wish we could have stayed longer!
Elizabeth
2015-06-07T00:00:00Z
Room Type
Entire home/apt
---
Property Type
Apartment
---
Accommodates
4
---
Bedrooms
Kollum, Friesland, Netherlands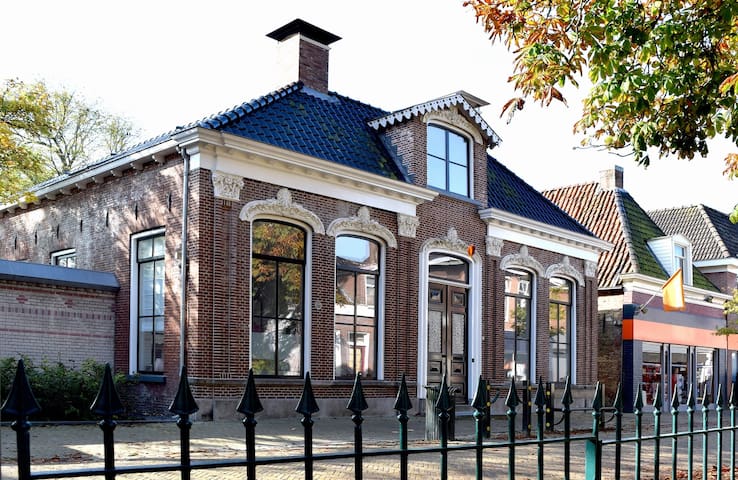 Hi There! Are you ready to explore Groningen's versatility? Casa di Mo is the perfect spot for you. Want peace & quiet? Read a book in my spacious sunny garden. Ready for more excitement? Enjoy the vibrant city life around the corner. The Grote Markt, the Hanze and RUG universities are really close by. Supermarkets, restaurants, stores, bus stops & train station North are a 5 minute walk. With free parking right in front of my house, Casa di Mo is the ideal location for your visit. C u soon :)
(Dutch below/voor Nederlands zie onder de Engelse tekst) Your single bedroom is quite cozy. Most likely you'll be hanging out in the apartment, which is homey and spacious at the same time. You can hang out with just Fuzz (my lovely cat) or with several people. Love to cook? Use the variety of pots and pans, grill, toaster, or microwave/oven combo). Additionally, I've been told (by people that are more kitchen princesses) that my cooking knifes are of good quality, I tend to agree but I'm no expert... Love chilling? Watch the latest series/movies on the flatscreen TV by casting your downloads/stream via the Chromecast. Additionally, there are games you can play, books you can read in the garden or on my comfy couch. You can watch loads of dvd's or listen to old school cd's (cupboard underneath the TV). Like bathing? You can use some of the provided bubbles and enjoy a relaxing bath. Or take a shower whichever you prefer! Dutch/Nederlands: Je kamer is gezellig (zie foto's). Je kunt je kleding ophangen of neerleggen in de lade onder het bed. Waarschijnlijk slaap je alleen op de slaapkamer en eet je lekker in de woonkamer relaxed op de bank, aan tafel of geniet je heerlijk buiten in mijn tuin. Als je van badderen houdt dan ben je bij Casa di Mo op de juiste plek. Er wachten bubbels op je en mocht het regenen dan is er genoeg vermaak binnenshuis. De kast in de woonkamer staat vol met boeken, spelletjes, old school cd's en dvd's! Hou je van koken? Dan kun dit naar hartelust doen in mijn ruime keuken. Maak gerust gebruik van mijn kookboeken, elektronica en potten en pannen :)
There are many take away restaurants around the corner of my apartment block. From Pizza to Shoarma, Sushi to Indian. Do you want to have the best french fries in Groningen? Go to Cafetaria 'De Koning'.The streets called 'Bedumerweg' and 'Nieuwe Ebbinge' have it all. If you do not want to leave the house, there are take away menus waiting right there for you too! If you choose to cook your own meals, there are several supermarkets in the neighborhood. (The 'Aldi' and 'Jumbo' at the Korreweg (The famous student streets of Groningen) or the 'Albert Heijn in the Ebbingestraat. All a 3 -5 minute walk! The indoor shopping mall Paddepoel is close by too. Should you wish to do lots of shopping, you can park your car right outside the shopping mall. Noorderplantsoen is the best of all though! The northern entrance is again right around the corner. You can enjoy a barbecue there, go running, skating, hiking, picnicking, play basketball/soccer, whatever you want! To top it all off, within five minutes you are in the bustling city center of Groningen (the Grote Markt). Here you can shop till you drop, there's good food, lots of partying in the 'Poelestraat' (free entrance everywhere ... perfect for bar hopping), have a drink outside on what we call terraces during summer (with heaters), go karaoke singing at a jazz bar ... just enjoy! In January the famous Groinger Festival comes back to town 'Eurosonic / Noorderslag' This is a music talent scout festival with lots of free performances throughout the city. You'll be enjoying the live music at the Grote Markt in about a 12 minute walk to enjoy the live music. Once back home, you can sleep peacefully :) Dutch/Nederlands Als je de hoek omgaat van mijn appartementenblok, dan sta je midden op de straat van de afhaaltentjes :) Van Pizza, tot Shoarma, Sushi tot Indisch of heb je zin in de lekkerste patat van Groningen? (snackbar de Koning). De Bedumerweg/ Nieuwe Ebbinge heeft het allemaal. Mocht je geen zin hebben om het huis uit te gaan, dan liggen de afhaalmenu's in huis voor je klaar! Ga je een stukje verder dan heb je keuze uit de Aldi en Jumbo bij de Korreweg (De bekende studentenstraat van Groningen) of de Albert Hein in de Ebbingestraat. Alle drie op 5 minuutjes loopafstand! De andere kant op vind je de Lidl en als je dan doorloopt (10 minuutjes vanaf mijn huis) heb je het winkelcentrum van Paddepoel met o.a. de Hema, scapino en van allerlei winkeltjes! Het Noorderplantsoen vind ik zelf het aller fijnste. Deze is om de hoek en daar kun je heerlijk barbecueën, hardlopen, wandelen, picknicken, basketballen, voetballen, skaten, pootje baden..verzin het maar! Als klap op de vuurpijl sta je binnen vijf minuten in het bruisende centrum van Groningen (op de Grote Markt). Hier kun je naar hartelust shoppen, lekker eten, stappen in de Poelestraat (overal gratis entree...perfect voor bar hopping), terrasjes pakken, karaoke zingen in Jazz bar...kortom genieten! In Januari begint Eurosonic/Noorderslag weer. Di t is een mega groot muziek talenten scout festival met veel gratis optredens door de hele stad. Vanaf mijn huis sta je in 12 minuten lopen te genieten van de live muziek op de grote markt en als in mijn huis zelf bent, kun je heerlijk rustig (URL HIDDEN) muziek hoor je in ieder geval niet :)
I stayed at Moniques place for the second time and I can really recommend it! :)
Esther
2017-01-19T00:00:00Z
Moniques apartment is a wonderful place to stay in Groningen. Unfortunately she was traveling while a was in her apartment and we couldn`t meet but her lovely friends who manage the apartment while her stay abroad are as friendly and lovely as I suppose Monique is, too. Fuzz is a very lovely cat you`ll adore him.
Katharina
2017-02-02T00:00:00Z
The host canceled this reservation the day before arrival. This is an automated posting.
Karsten
2017-01-20T00:00:00Z
The apartment is 15-20 min walk from the center and only 5 min to local shops and restaurants. The area has a great buzz. The apartment is located in a quite street and has a great outside space. Daphney who welcomed me, was extremely friendly and helpful. The place is great value for money and I would certainly stay again.
Marc
2017-04-02T00:00:00Z
I had a very good wellcome an a very nice stay in the company of Fuzz. All was excelllent. Very cozy room in a very clean and well-equiped appartment which is also well connected to the city centre. I would repeat for sure!
gregori
2016-12-16T00:00:00Z
Perfect as always! :)
gregori
2017-02-17T00:00:00Z
Monique is an AMAZING host. High energy, friendly, a kind of person that makes you feel at home. Her place is very clean and comfortable. The area is nice to walk with people on the street as well as green areas and nature. I enjoyed very much my staying with her.
Tiago
2016-10-26T00:00:00Z
Moniques' place was super cozy and made me feel like home immediately! :) Thanks!
Esther
2017-01-11T00:00:00Z
Room Type
Private room
---
Property Type
Apartment
---
Accommodates
1
---
Bedrooms
Groningen, Groningen, Netherlands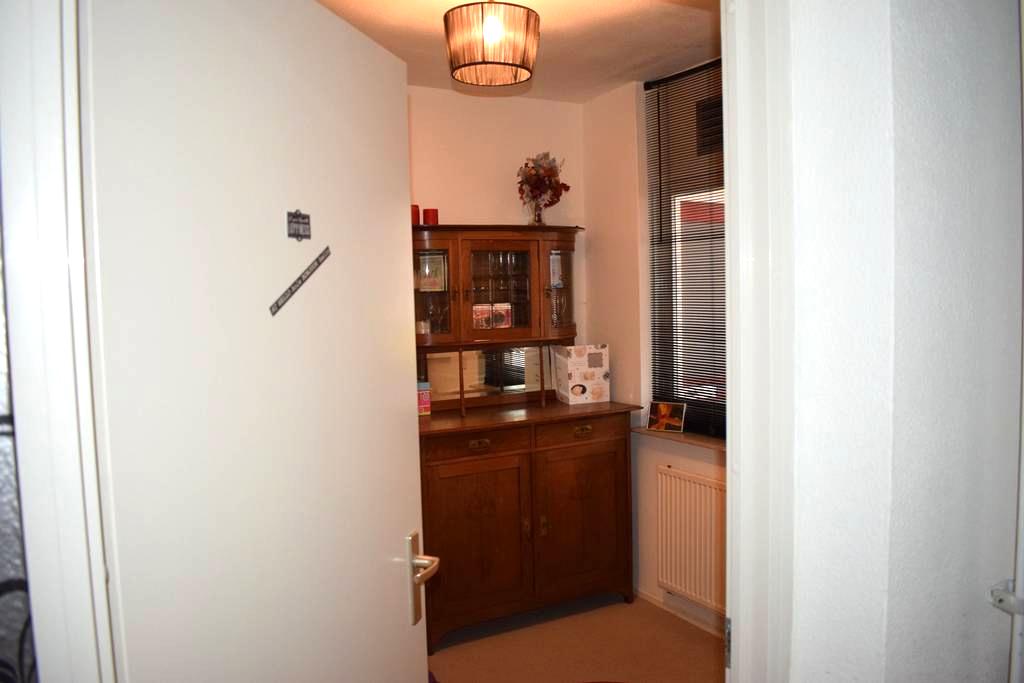 Een ruim appartement op tien minuten afstand van het centrum van Groningen. De woning bestaat uit een woonkamer, een keuken, een badkamer, een wc, twee slaapkamers met tweepersoonsbedden en een balkon. De woning staat in een rustige buurt op twee minuten lopen van een busstation en treinstation Groningen-noord.
Cery clean house. Nice city, see u sonn :))
Dav
2017-03-13T00:00:00Z
I think everything is perfect about Emily's appartment. Very good for up to 4 persons, clean and cosy, 10-15 minutes walk to the city center. I highly recommend it!
Ivan
2017-02-19T00:00:00Z
A nice flat in a very peaceful area. Emma was very warm and welcoming. The walk to the town centre is quite a distance when you have bags, probably around 20-25 minutes, though there are regular bus links that will save you if you don't want to walk! An Albert Hein and some cafes nearby for food. Thanks Emma
Pete
2017-03-03T00:00:00Z
Great place to stay over! :) highly recommended !
Pablo
2017-02-22T00:00:00Z
Lovely and clean place to stay ! The city center is really nearby .
Nicolai
2017-03-04T00:00:00Z
The host was very nice to us. We had a relaxing evening during our business journey. Thank you!
Ana
2017-02-15T00:00:00Z
The host canceled this reservation 6 days before arrival. This is an automated posting.
Harry
2017-03-26T00:00:00Z
Emma has a good sized flat with 2 bedrooms and a lovely large sitting room. It is very close to Noord station but it is also easy to walk to the centre. Near to a lovely park which was full of plants when we visited. We only met Emma briefly but she was very welcoming and was happy for us to text her with any questions or problems (There were none) Definitely recommend. Thanks Emma
Sue
2017-03-25T00:00:00Z
Room Type
Entire home/apt
---
Property Type
Apartment
---
Accommodates
4
---
Bedrooms
Groningen, Groningen, Netherlands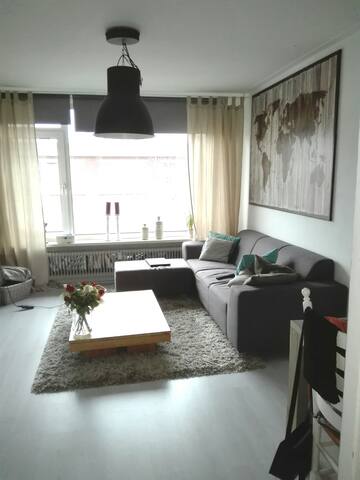 Bed to sleep
Room Type
Private room
---
Property Type
Apartment
---
Accommodates
1
---
Bedrooms
Groningen, Groningen, Netherlands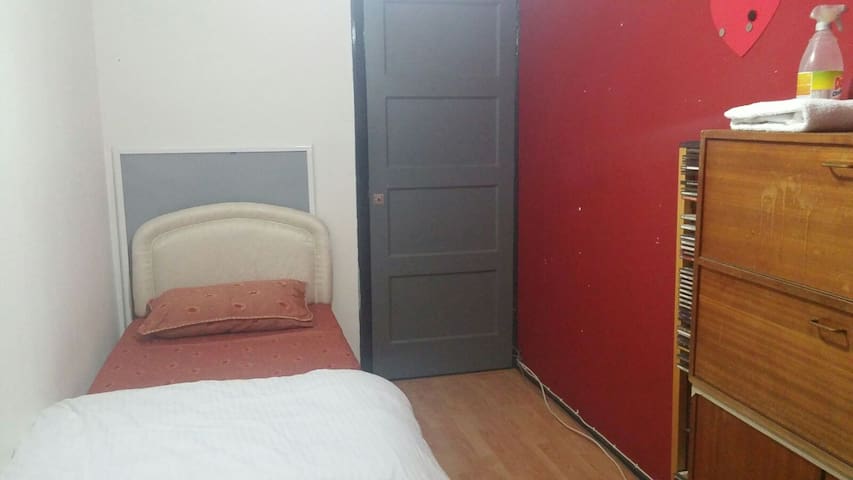 1

–

18

of

300+ Apartment Rentals
Enter dates to see full pricing. Additional fees apply. Taxes may be added.