A natural space with an authentic African vibe. Comfortable queen size beds, bamboo shower set amidst tropical foliage . Screened patio,enjoy a private candlelit dinner under the stars.....Located on the grounds of Moringa Ingadi.walking distance to all in treasure beach. Hiking , beaches, restaurants and entertainment, local groceries, fruit/veg stands and the delights of mother nature all around you.
What guests are saying:
"Jayne's property is truly a relaxing retreat in the quiet community of Treasure Beach. We stayed a week, and our kids (9 and 3) are already asking to return. We spent the entire week on foot. Many restaurants (and the beach!) within a 5-15 minute walk, although Jayne let us know before we arrived that she could help point us in the right direction if we wanted to plan any excursions or tours. There's no sidewalks, but we still found it quite walkable for our family - those with younger kids may want to bring a stroller though. We fell asleep to the sounds of frogs and crickets (and some pretty funny-sounding goats sometimes), awoke to roosters, but also had no problems sleeping past 10am most mornings. Sometimes in the distance we could hear live music at night, which was nice. You will find frogs and small lizards (geckos?) outside, once or twice inside the hut, also some bugs - you're in nature! The hut is well-screened so we barely saw a mosquito. There is a mini fridge, buy a pack of water bottles on your way there and you're golden. Jayne is quick to reply to messages and although we didn't meet her this time around (we kept to ourselves), her son Skip was always available when we had questions. He was also able to pick us up from the airport and drop us off again for a reasonable fee - much more enjoyable than a taxi. He treated us like friends and is one of the reasons we had a wonderful stay. We wouldn't hesitate to stay here again the next time we come to Jamaica. We got an authentic experience during our visit and would highly recommend our hosts."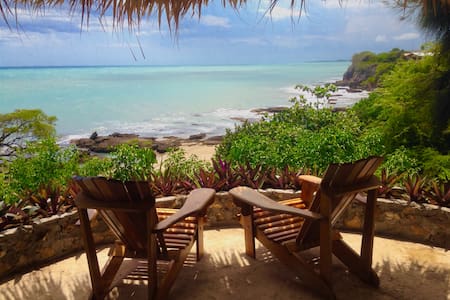 SUPERHOST
Entire apartment · 2 guests · 1 bed · 1 bath
Avita SeaSide Cottage Apt- AC - Cabana-Pool-Beach
The cottage is set back 150 ft from the seaside cliff cabana - see above photo- overlooking a secluded beach. The bedroom suite is AC'd. Kitchen, living/dining area + porch. Surrounded by forest, sea, birds, dolphins, turtles & offshore reef. The village of Billy's Bay - 2 restaurants (77 West) & general store is a 5-minute drive. Jack Sprats & many more places to eat & hang out within a 10-minute drive. Airport pick can be arranged. Car, moped & bike rentals are available.
What guests are saying:
"Me and my husband stayed here for our honeymoon and it was simply amazing! I was initially a little nervous about the safety, but that wasn't an issue. We felt very safe where we were and felt confident that the caretaker Bredda would always lead us in the right direction! The caretaker Bredda was awesome! He helped set up and coordinate all activities and was our driver the whole time. I would not recommend trying to drive or even scooter on these roads. Dirt roads that lead up to the cottage are extremely narrow and bumpy and twisty, not well lit. We paid Bredda pretty standard taxi fees to get around each day, so plan for that in your financial plan. (More than an Uber but nothing super crazy). We paid him in cash and he accepted US dollar or Jamaican. Most things we did was cash only, but Bredda will be able to take you to an ATM if needed so I wouldn't stress too hard about the amount of cash you bring. The cottage is very basic, but it's all you need. Bredda stopped at a grocery store for us so we got basic groceries for simple meals when we didn't feel like eating out. We ate a lot of eggs, and the eggs there were great and very fresh. Buy only what you need, people are a LOT less wasteful than what we are used to in the US! WiFi is available but iffy (who needs that though when you have these views!) AC in the bedroom kept it cool, but even with it off it never got too hot inside. Our favorite thing that we did outing-wise was go to Pelican Bar, it was SO FUN there. We spent most of our enjoyed hours at the beaches that you walk right down the stairs to. We were the only ones down there so it is very private and so special and scenic. The views are simply breath taking. Lots of wildlife! We didn't bring bug spray but I would absolutely recommend doing that for the mosquitos!! There was a dog on the property (Brownie) who we became very close friends to!!! She is just a puppy so a little rambunctious but we just fell in love with her! She sat with us on the front porch and loved coming on our beach walks with us for hours. She truly made our trip extra special; it's like the Air B&B came with you own personal pet. :) Bredda also made our stay very special. I am a nurse in the US and was asking him a lot of questions about what the healthcare is like there locally, so he actually set up for me to talk to and quickly tour with an administrator at the local hospital! We thought that was so cool. Things you also might consider to bring/ pack on your own because their was limited supply at the cottage: toilet paper, dish soap, trash bags. We definitely want to and hope to go back some day!!"
Villa Serene is a 4 bedroom villa situated on Jamaica's south coast. It is well appointed to offer the true explorer a real taste of some of the best attractions which the south coast has to offer. Nestled on a private beach, privacy is guaranteed as the property is off the beaten track with all the comforts of home. The villa offers spacious accommodation on two floors as well as a stunning pool garden area which opens out on to the beach. The villa is ideal for large groups up to 12 guests.
What guests are saying:
"From the moment we were picked up by Clifford we felt at home. He greeted us with hugs, a big smile and refreshments. There was a car seat ready for the use of my 2 year old daughter. We stopped by the supermarket shortly after at Montego bay to pick up groceries.Clifford also helped us with questions regarding the currency which was tricky for the first few minutes. We also stopped with Clifford for some Jerk chicken which was delicious. Once at the villa we were greeted by the host Cheryl and she showed us around, helped us get comfortable and let us know shes a phone call away if we need her. There was a high chair, a playpen in the main living room and a crib with a mosquito net in our bedroom which I absolutely appreciated. We also ended up finding a baby doll and books, thank you my daughter enjoyed. We had some wedding running around to do and the host pre-programmed the arrangements for pick up and drop off with clifford. Her communications were fast during our planning time. Shamoir (sorry if I mispelled) prepared delicious meals and worked with what we provided. We enjoyed spending time at the pool which was clean and big. As well as the beach. Villa provides some sun screen :) But you should also bring some as a just in case. Also bring lots of water proof mosquito repellent! There was a speaker which we used at our convenience :). The ladies who upkeep the house are sweet, work fast and leave everything spotless. At Drop off Clifford did not leave until he helped us inside the airport with our luggage and we were completely checked in. Overall we enjoyed spending 4 days there and the people who work there are Amazing so please tip on your way out :)"