A casa fica na praia à 200 mt. ao NORTE do povoado de pescadores de Morerè, 6 km sul da pequena vila de Velha Boipeba. Tem uma linda praia de areia branca na frente, protegida pelo recife, com piscinas naturais. O lugar è muito bonito e preservado e o mar fica na frente do portão do jardim tropical particular de 20.000 mq. Pode abrir-o e sair numa das mais belas praias do Brasil. Tem WiFi. Tem caseiro que pode ajudar nos varios serviços, colher frutas, cocos, etc. NÃO TEM AR CONDICIONADO.
What guests are saying:
"Excellent location in front (literally) of the sea on the beach of Moreré and 15 minutes walk from the beach of Bainema (the bar at the end of the beach of Bainema is great, with a shrimp stew with an unmissable banana). Moreré is a quieter (but also more beautiful) part of the island of Boipeba, but it has everything you need: supermarket with basic things and several options of beach huts with good food and beautiful views (I recommend Jack's hut) and some restaurants (I recommend Casa Filter's burger). Alfonso's house is large and has a balcony with hammocks in the shade for a good nap or reading, and a wonderful garden, very well maintained and that preserves local species. The house has a more rustic style and the only caveat for those who are sensitive to heat is that it gets very hot in summer, especially at night when the windows and doors are closed to prevent insects from entering. Mandatory fan in my case. The caretaker Estandislau takes care of everything very well (he is a born landscaper) and presented us with green coconuts from the garden around our walks. He knows the local flora and fauna very well. I loved the lesson he gave us about coconut in its various forms. As for the preparation of the trip, Alfonso was super reactive, quickly answering my questions with great kindness."
Pequeno e aconchegante, nosso chalé de 37 m2, está localizado em frente ao mar rodeado por um lindo jardim de coqueiros e flores. No café da manhã o nascer do sol e no jantar o nascer da lua, tornam a vista da copa e da varanda inesquecível!
What guests are saying:
"The house is great very well equipped extremely clean a whim, everything works, excellent bed, shower, air conditioning, WiFi anyway it is a dream. The location is the best of Moreré in front of the sea at low tide you have a natural pool in front of the house loved. summing up Perfect beautiful house loved Great location The beach is a dream (consult tide table to enjoy the natural pools) Nature prevails in the very green spot many birds, sleep and wake up to the noise of the sea and birdsong is priceless Those who seek peace, rest and beauty are going to the right destination. Tips Carrying as little luggage as possible due to transportation is not so easy to get to Moreré. Today in Boipeba has quad or tractor options don't worry no shortage of transportation to Morere. Bring a flashlight (some parts have no lighting) Aquatic sneaker to enter the sea Very protective Repellent Left side of the house walking down the beach 300 meters Paradise Restaurant and an amazing ice cream shop Right side of the house 150 meters Mr Antonio's restaurant and access to the villa. The vast majority accept cards Hope this helps Edinho thank you very much it was all amazing you are to be congratulated Almir Moreré native responsible for maintaining the house he is very helpful and helped us in everything. Thank you very much Almir you are enlightened by God."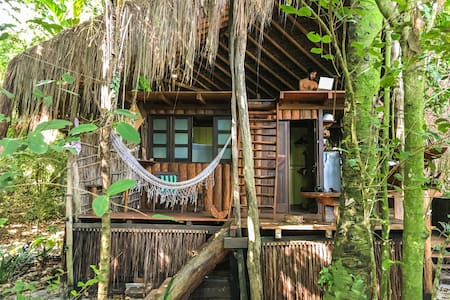 SUPERHOST
Entire cottage · 6 guests · 3 beds · 1 bath
Bungalow da Praia em Moreré 5m mar na maré cheia
O Bungalow no Canto do Moreré fica a 5m do mar com a maré cheia, em um local de mata atlântica nativa beira mar. A área de 15mil m2 tem 7 habitações, todas bem afastadas, o que garante bastante privacidade. É ideal para casais, famílias e grupos que procuram contato com a natureza em uma experiência única com a fauna e flora local. Acomoda até 6 pessoas e possui quarto e mezanino, um banheiro e cozinha. Dispomos da nossa biblioteca, wifi e pets são bem vindos, desde que avisados antecipadamente
What guests are saying:
"I'm happy to say that I've had my most relaxed holiday in years. The area of Moreré is incredibly beautiful, the house has been build beautifully and is taken care of very well. The host was really helpful & made us feel at home. Fast responses if we had a questions. The place is really open, you are really staying in the middle of nature; This is something you have to love. We opened the windows and saw hummingbirds flying around the house - hearing a constant evolving soundscape of crickets and birds thoughout the day... doesn't get any better than that."