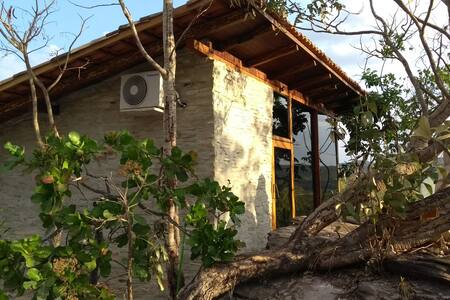 SUPERHOST
Entire bungalow · 4 guests · 2 beds · 1 bath
Chalé Morro Velho 2 Natureza e cachoeiras privadas
Charmoso chalé encravado num afloramento rochoso, construído em madeira de demolição, pedra e vidro que resulta numa perfeita união entre as facilidades modernas e o charme da natureza. Tv a cabo com mais de 200 canais, ar condicionado, forno e fogão Bosch eletrônico, cama king size com 4m² de onde se pode ver a cidade de Pirenópolis, o por do sol, o espetacular céu noturno e as estrelas cadentes... No mesmo sítio do Chalé Morro Velho, anunciado neste site e com mais de 80 avaliações 5 estrelas.
What guests are saying:
"We went during the week in March 2020. A couple and two children (3 and 4 years old). We loved the stay. The waterfalls have easy trails (They went well) and well signposted, our favorite was the last one. There is no need to go out to visit long and paid waterfalls. We have been to other times. Above the chalet, inside the property there is a very beautiful viewpoint too. Better to walk in sneakers or crocs than slippers (tip). It rained fast every day in the late afternoon but nothing to hinder our plans. The highlight of the chalet, besides being very charming and rustic, is the air conditioning AND the Wi-Fi that allowed us to watch our Netflix during the moments of rest. We took lots of games and toys for the kids and it was an amazing family connection day. We cook a few days there too. We love ecotourism, only go if you like peace and quiet. For those who like this vibe it is a place to get to know. And we will definitely return. Karla always very friendly in our conversations on the cell phone, and zandinho and see the homemade ditto, helpful and cheerful. Our car ran out of battery and he helped us most willingly. The larger house was not rented on the days we stayed there, so the children were able to swim in the rock pool at the headquarters. It is also a great option for a larger group. We want to go back with friends. We only have compliments !!!"
Experiência mágica para a harmonização de casais (e isolamento) em santuário da natureza, na Quinta de São Chico, a 3,5 km da cidade. 1) Bangalô romântico, ao som da cachoeira, decoração sofisticada. 2) Energia revigorante; paisagem e natureza exuberantes; vista do Vale, alvorada e pôr-do-sol; trilha na mata e cachoeiras exclusivas. 3) Circuito para jornada espiritual e terapêutica. Capela para oração, espaços de meditação. Área inspira o encontro com o Ser Superior e para a da Paz Interior.
What guests are saying:
"Mr Carlos' space is simply AWESOME, without words to describe what the view is, the landscape and the waterfall that is there. To have an idea is muchoooo more than the Photos, it's beautifulooooo, it's wonderfulooooo. We love everything, and the housekeeper from the place that served us is super polite, and asks for what you need. AMAMOOOOOS and we'll be back for sure."
Minha casa é sua casa! Uma casa verde primavera, colorida como a vida pede! Espaço romântico e decorado em cada canto, varanda exclusiva com banheira, cozinha completa, TV, ar cond., wi-fi, jogos de tabuleiro, baralho, recepção 24h, piscina e churrasqueira Refúgio com muito aconchego e segurança para dias de romance e descanso. "Parece um pedacinho do céu que caiu e foi parar em Pirenópolis! Que lugar incrível e aconchegante, registrou Gabriel, que já esteve conosco. A 800m do centro histórico
What guests are saying:
"I appreciate the hospitality, we really felt at home, the house also had everything we needed, besides a sensational mine coffee, some cookies and a chocolate under the bed, very comfortable house, very good air conditioning and great taste for decoration! Congratulations for the good taste and great service, no doubt when we return to Piri we will be at your home again !!"