Located in a beautiful country setting this is a 2 bedroom 1 bathroom guest suite with living room/dining area, and kitchenette (microwave, coffee pot and mini fridge only, NO OVEN, NO SINK) located just 5 miles from Lava Hot Springs. Cabin is on 5 acres and is great for those who want to enjoy the hustle and bustle of Lava Hot Springs but also get away from the crowds. During winter months roads/driveway may be snowy and icy. 4 wheel drive, all wheel drive or studded snow tires recommended.
What guests are saying:
"This was the perfect space to meet up with friends who used the basement space while we parked our motor home nearby. A beautiful outdoor space is adjacent to the unit complete with comfy patio furniture. Bekah was incredibly accommodating in every respect. She loaned us beach towels we used for the rafting adventure, gave us fresh eggs from her yard chickens which we cooked in our motor home, she was totally flexible in allowing us to choose where we parked the RV and allowed early check in, and she recommended things to see and do. The animals on site were fun and the adorable doggies (in their large, beautiful fenced yard) loved attention if you wanted to give it but were not demanding at all. Another plus for us is the property is a little cooler than directly in the town of Lava Hot Springs and felt like a nice escape from the small crowds there. The entire family made an effort to respect our space ,but there is no escaping the fact that you are living in the heart of their beautiful property so interactions cannot be totally avoided if that is a problem for you. It certainly was not a problem for us. All 4 of us highly recommend this place to hang out for a few days or even longer while you enjoy the small town feel of Lava Hot Springs and the fun it has to offer."
This camper is a 1953 Deville named Mabel. This is a glamping experience. Inside you find a queen size bed, 2 chairs and a side table. (No bathroom or kitchen in camper)Located at our campground just 1 mile from town. Included in your rental is a pinic table, fire pit, 2 camp chairs and bedding. Relax in this camper and enjoy Lava Hot Springs. Hot pools, river float, hiking and more. Heat, air conditioner power and water at campsite. Portable toliet in campground.
What guests are saying:
"I had such an amazing stay here. I decided to go on a trip alone & I did not regret it. The mini camper was so cute & clean. A totally unique & amazing experience. I loved it so much! The bed was so comfy & I slept well. It was cold at night but the heater kept me warm. If you go during summer there is A/C so that will not be a problem. What I love the most was the journal for the people that stayed at the camper. You get to read their personal experience during their stay & that made it so unique. This was a great idea! The camper & the entire property was well maintained. There's even towels inside the camper for you to use. Restroom was clean! I just wish I stayed longer. Small town but I love visiting Lava Hot Springs. The people are so hospitable there. I'll bring my friends next time & would love to relax at the campfire. Thank you so much for sucha unique & fun experience!"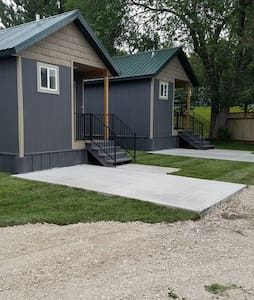 SUPERHOST
Entire cottage · 4 guests · 2 beds · Half-bath
Cozy Studio House just outside Lava Hot Springs
These are perfect little houses to stay during your trip to Lava Hot Springs. We are located right outside of town in Lava Mobile Estates Campground. These cozy houses have beds, half baths, TV's with Dish, air conditioning and heating. Although they don't have showers in the houses, during summer months, guest have use of our campground bathrooms with showers.
What guests are saying:
"Very nice place to stop for the night. Small and clean. We fit two adults, two young kids, and a baby with no problems. No shower, but if you are here to swim just shower at the pool."