A contemporary home in the forests around Bruges, with all necessary luxury, where you can drift away in modern fairytales, visit the romantic Bruges, or wander through the mysterious woods in ever needed solitude.
This two bedded apartment offers a wide range of relaxation options. What with a "Jeu de Boules" deck in the garden, or the luxurious bath in the bathroom? The fully equipped kitchen looks as though designed for your eyes only, although as inviting to prepare some mouthwatering dishes. The light-overflown living room looks out over the grand forest of Ryckevelde, one of the oldest forests of Bruges with in its center the Castle of Ryckevelde. The old Saint Trudo Abby is just a walk away. This home-away-from-home is an excellent starting point to visit Bruges. Only 10km (6mi) away from the center of the city, where the Middle Ages seem never far away, Bruges is easy accessible by bus, bike or car.
Deep inside the famous Ryckevelde forest, one of the oldest and most mysterious forests in the area, the apartment is the perfect place to go hiking or just wandering between the trees. For the city-lovers, the beautiful city of Bruges is just a short drive away. Visit the grand Belfry on the market place, enjoy the medieval streets and see if you can spot the famous black swan in the waters.
Our Trip to Brugge was complete with a stay in Catherine's appartement. The house is just like on the photo's. You will be able to use the upper part of the house, which was bigger than our entire apartment in Amsterdam. The garden is enormous, and there are even a few deers walking around! We also saw a couple of squirrels. On a beautiful summer day it's perfect to read a book for example. Catherine was there to welcome us and helped us out a lot with our choices for restaurants. We can definitely recommend 'De Mess', that's located on a 10 minute walk from the apartment. As you can hear; the apartment met our expectations and we will recommend it to anyone going to Brugge.
Johanna
2017-04-03T00:00:00Z
Beautiful apartment, just as shown in the photos. Brugges is a very short car ride away, but you have the peace and quiet of the woods - best of both worlds.
Abigail
2016-03-30T00:00:00Z
Great apartment and a fantastic host. Ideal for exploring Bruges
Peter
2016-11-05T00:00:00Z
Terrific - this is one of the best places I have stayed in. It is absolutely gorgeous and in an AMAZING location. Miles and miles of gorgeous wooded hiking / running / biking trails are literally outside the door.
Alex
2016-05-22T00:00:00Z
Catherine was a great and discrete host. The description and pictures are not enough to describe how beautiful this place is. The location is perfect, just 10 mins away from the city centre by car and the house itself is just great. Well taken care of till the last detail and seriously comfortable with anything you might need inside. The communication with the host was very easy and made our stay really comfortable. All the provided information for the city were very useful and all the information provided before arrival were very accurate and helpful as well! I would definitely recommend this place to all travellers seeking for a chilled environment to relax away from the noise of the city!
Tasos
2016-03-06T00:00:00Z
Everything about the stay at Catherine's home went perfectly. The house is just as pictured and has a really interesting design/style. I've never seen a door like the one to the bedroom! There are deer in the front yard and it's a very picturesque relaxing area. We hiked into downtown Bruges on one of the paths - it's about 3.5 miles and was very enjoyable. You can also take the bus into town which was 3 Euros and 15 mins. It was also nice that there was parking. Catherine and Hans gave very clear instructions on how to get into the house and were very responsive when we sent messages. Overall good experience!
Leslie
2017-04-07T00:00:00Z
Really lovley host and really beauiful house. Maybe the best on Airbnb! This house is what Airbnb wad invented for.
Ulten
2016-09-23T00:00:00Z
A wonderful place in the midst of the forest. A perfect getaway if wanting to take in both the Flemish countryside and the city of Bruges. Can only recommend Catherine's hospitality as our stay at her place sure turned into a memorable one.
Wim
2016-09-09T00:00:00Z
Room Type
Entire home/apt
---
Property Type
Apartment
---
Accommodates
4
---
Bedrooms
Damme, Vlaanderen, Belgium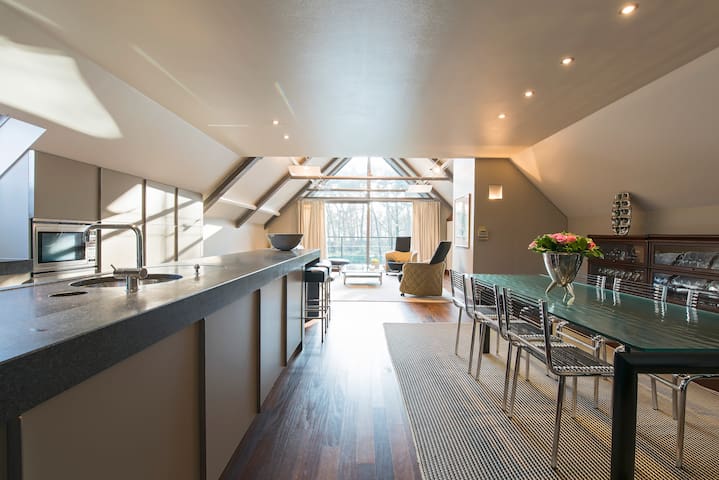 A very cosy and spacious apartment at your disposal in an ideal, quiet village, centrally located between Bruges-Knokke-Ghent with easy road connections to Antwerp and Brussels
The apartment is located at 15min of Knokke (fancy beachside), 10min of Bruges and30min from Ghent. Ideal location in a residential area of a quiet village
We had a very good stay in Tine's house. Tine and Cedric were very nice and made our trip very pleasant. Hope to come back for another trip !
Hubert
2016-10-02T00:00:00Z
Accueil très chaleureux par nos hôtes dans leur maison familiale. Ils ont le soucis du détail pour rendre ce séjour très agréable ( décoration, encas disponibles. ..) L'étage est très agréable pour un séjour associant repos et visite des villes avoisinantes.
Fred
2016-12-31T00:00:00Z
Le logement était mal décrit et c'est pourquoi je n'ai pas séjourné sur place car j'avais réservé pour un "logement entier", l'hôte refuse un remboursement partiel alors que je n'ai pas dormi sur place. L'annonce a d'ailleurs été modifiée depuis ce qui prouve bien le manque de clarté. J'attends toujours un geste de la part de l'hôte.
Stéphanie
2016-08-15T00:00:00Z
Bon séjour chez Cédric et Tina. La maison est dans un quartier très calme a 10 minutes en voiture du centre de Bruges. Un salon, une salle de bain et une chambre superbe mais c'est a l'étage de leur maison. Le + : petit déjeuner !
Lauralie
2016-10-31T00:00:00Z
Een super verblijf gehad bij Tine & Cedric! Zeer gastvrij, rustige en goed gelegen locatie. Dichtbij de kust en de mooie stad Brugge. Zeer schone en ruime kamers met een zeer luxe badkamer. Ideaal om te ontspannen. Daarnaast is het ook mogelijk om heel de dag van de zonnige tuin te genieten. Een aanrader voor alle type reizigers!
Bob
2016-07-25T00:00:00Z
Des personnes très agréables et serviables . On est venu pour le calme on a pas été déçu. Je conseil à tout le monde cette adresse . Endroit très propre et très joli .
Benoist
2016-12-18T00:00:00Z
Room Type
Entire home/apt
---
Property Type
Apartment
---
Accommodates
2
---
Bedrooms
Damme, Vlaanderen, Belgium
Luxe appartement met twee slaapkamers, badkamer met inloopdouche, aparte wc, volledig ingerichte keuken met alle toestellen, woonruimte, salon en groot terras met uitzicht op de beboste omgeving.
Riche Terre offers luxurious and cozy guestrooms. Unique about this is the 5-stars spacious apartment with terrace and stunning views of the wooded area. The location is very central, on the edge of the forest 'Ryckevelde' and a stone's throw from the historic city of Bruges. For cycling or walking this is the prefect location. Several marked trails are available. In the evening you can enjoy the local gastronomy. There is a wide choice of excellent restaurants nearby and at the picturesque town of Damme. Next is the elegant seaside resort of the Belgian Coast "Knokke-Heist" in the vicinity where you can enjoy "Fun Shopping". Not because you must, but because you want to. The Family Christiaens guarantees an enjoyable and romantic stay with the family hospitality. Possibilities will included hiking, biking, horseback riding and golf. We wish you a warm welcome ! See you soon. The magnificent five-star apartment has a total area of 110 m2 and is located on the first floor at the rear of the building. Through a separate entrance, you can reach the apartment with an easy staircase. The apartment has two separate bedrooms with double bed, a spacious bathroom with rain shower and separate toilet. The elegant living room has a separate lounge with flat screen TV and DVD. The fully equipped kitchen has all appliances including dishwasher, fridge, freezer, oven, microwave, toaster, electric stove with fume extraction, washing machine, etc. .. Furthermore, the apartment has a spacious sun terrace with stunning views of the wooded area. Pets are unfortunately not allowed. Our apologies. For the welfare of our guests, the apartment is completely non smoking. Check-In: from 3pm to 8pm Check-Out: from 9am to 11am at the latest THE PRICE INCLUDES : * use of water and electricity * heating consumption * sheets and duvet covers (synthetic) * 1 towel and 1 bath towel per person (per week) * household products, dish detergent, toilet paper, trash bags,... * use of Wifi ANY ADDITIONAL COSTS : * purchase from our 'Honesty' bar * Breakfast service :€10,- per person, per day * Extra roll-a-way bed for children : €25,- per night
Room Type
Entire home/apt
---
Property Type
Apartment
---
Accommodates
4
---
Bedrooms
Damme, Flemish Region, Belgium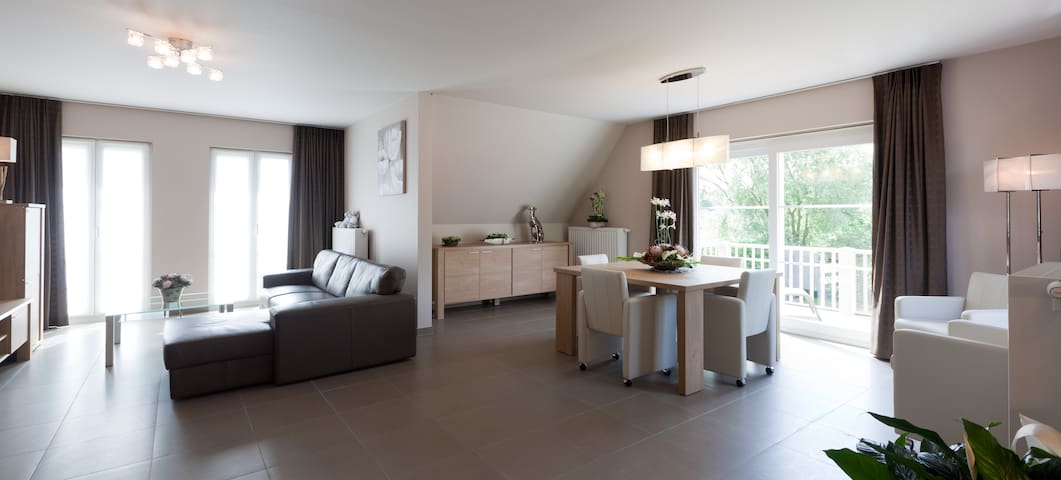 If you are looking for a modern, belgium, classy look that is very comfortable, has a pleasant room temperature across the entire appartment. 1 Minute walk from Fish store, Grocery, Bakery & Vegetable store. 3 Minutes walk from bus stop
Appartement conforme à la description et proche de Bruges. Nous n'avons pas croisé Jens mais il a été disponible lors de la préparation de notre séjour et arrangeant pour que l'on puisse récupérer les clefs en arrivant tard. Je recommande cet hébergement.
Charlotte
2016-01-05T00:00:00Z
Room Type
Entire home/apt
---
Property Type
Apartment
---
Accommodates
3
---
Bedrooms
Maldegem, Vlaanderen, Belgium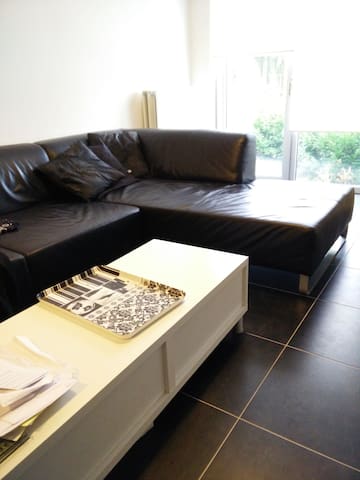 Studio, completly furnished, kitchen, bathroom, double bed and balcony with a magnificent view over fields and canal. Fantastic sunsets. Excellent location between Bruges, Ghent and Knokke. Excellent for cycling and peaceful walks.
The location between Bruges, Ghent and Knokke and the magnificent views.
The area is very unique. Aside 2 canals that run next to each other, unspoiled, lots of space. Cows, goats and donkeys in the field, a fresh egg from the chickens....
The place is really cozy and intimate. We spent a really lovely time in the area: it is really close to Gand and brugge. Karel is really a nice host, very helpful and smart. Try its wine, it is delicious!
Paolo
2015-12-07T00:00:00Z
Karel's place is a wonderful place to stay a little quirky but in a very! Good way highly recommended, his assortment of wines and cidre is very good
Ken
2015-05-27T00:00:00Z
We had a wonderful time at Karel little appartment. Everything was as described with no bad surprise. We would stay there anytime again and can recomment this place.
To
2015-06-08T00:00:00Z
Le studio est très bien pour les plus jeunes. La literie n'est pas confortable et l'accès au studio n'est pas des plus aisé pour les personnes âgées. Ceci pourrait être mentionné dans la description. La proximité des villes et de la côte est un point très positif (10 à 25 km). Le vin de Karel est superbe et on ne peut s'empêcher d'en emporter avec délice. Karel et son épouse sont très sympathiques, leurs traits d'artistes et leur inventivité se manifestent partout. Ce peut être très agréable pour les plus jeunes et nous le recommandons. Le chat est mignon et ne manquera pas de les distraire la nuit s'ils n'ont pas d'autre occupation. L'environnement est buccolique, agrémenté de grandes promenades au calme, le long des canaux, entre les rangées de peupliers. A recommander pour les jeunes.
Jean-François
2016-08-17T00:00:00Z
Karel nous a accueillis de façon très agréable et nous a présenté le logement. Il a répondu aux questions que nous nous posions sur la visite de Bruges. Karel nous a offert une bouteille de son apéritif "Pomme Charelle" que nous avons découvert pendant le séjour. Karel s'est montré discret et prêt à nous renseigner pour la suite de notre voyage : Knokke, et la commune de Retranchement aux Pays-Bas. Bon séjour dans le logement proposé par Karel, au calme et proche de lieux fort intéressants.
Alain
2015-07-23T00:00:00Z
Notre séjour chez Karel a été parfait. Le studio est très mignon, on s'y sent vraiment bien. Tout était très très propre et fidèle aux photos présentées sur le site. Les 2 fauteuils rouges visibles sur les photos ont été remplacés par un canapé 2 places très confortable. Le studio est situé juste en face de l'espace de vente des produits de Karel. Endroit génial un peu fou avec des surprises partout. Karel est un hôte très sympathique qui nous a fait découvrir son univers et nous a aidé très rapidement lorsque nous avons eu un petit problème d'internet.
Céline
2015-12-31T00:00:00Z
Un endroit bohème aménagé de façon originale qui rompt avec les canons de la déco en vigueur. Karel s'avère être un hôte très dispo, accueillant et chaleureux qui n'hésite pas à vous régaler de ses productions maison (dont son vin de pomme). Un endroit serein avec une belle perspective donnant sur les champs où flânent les ânes (discrets), les moutons... Quelques poules, coqs et pigeons déambulent dans la cour devant l'annexe que Karel a transformé en salle de réjouissances (dégustation, concert entre amis...). Une petite pensée pour le petit chat gris qui nous a tenu compagnie toutes les nuits et qui se montre particulièrement avide de câlins...
Pierre-Cédric
2016-08-12T00:00:00Z
Room Type
Private room
---
Property Type
Apartment
---
Accommodates
2
---
Bedrooms
Maldegem, oost-vlaanderen, Belgium
Renovated apartment 300m from the dike and beach of Ostend Kitchen with dishwasher and stove Living room with sleeping sofa Double bedroom Shower Free wifi & parking bed linen and towels on request at € 10 per person Public transport (tram and bus) within walking distance At maximum 10 minutes from downtown and exit near Ostend
Very good location in quiet area 300 meters of embankment and beach in Oostende
Quick but very nice stay
Riccardo
2016-10-02T00:00:00Z
The place was as advertised, easy parking and nice place. Spacious and well heated for the winter, four people can stay perfectly.
Luis
2017-02-18T00:00:00Z
Friendly welcome, clean apartment, great experience
Peter
2017-01-23T00:00:00Z
Everything was perfect! Beautiful furnished apartment. There was everything you need. Very cozy rooms with a chimney in the living room which was perfect in the cold January. ;) We enjoyed the stay and felt like home. Dirk was also very friendly and welcoming and he recommended us a good Italian restaurant where we've had super delicious pizza with beach view. Thanks Dirk. We would definitely come back to Ostend and recommend your place :-)
Sandra
2017-01-08T00:00:00Z
We stayed only one night at Dirk's little apartment which was warm, clean and cosy.
Nanna
2017-03-04T00:00:00Z
We had a very nice stay in the apartment. It is located nearby the beach and you can take the tram to the center so that was convenient. We stayed only one night but would definitely like to go back.
Merijn
2016-11-20T00:00:00Z
Friendly hosts, quick to respond to messages. Our bikes were kept somewhere safe overnight. The apartment was perfect, v clean. Easy to check in and out. Highly recommended! Thank you!
Tara
2017-03-22T00:00:00Z
Dirk's place is one of the best places I have stayed at. The rooms are spacious and cozy. The kitchen and bathroom are modern and well equipped. The place is accessible by tram, bus and is on a walkable distance from the beach. Which is a site to behold. Dirk is a great host and replies within an hour to all the queries.
Kriti
2017-01-03T00:00:00Z
Room Type
Entire home/apt
---
Property Type
Apartment
---
Accommodates
4
---
Bedrooms
Oostende, Vlaanderen, Belgium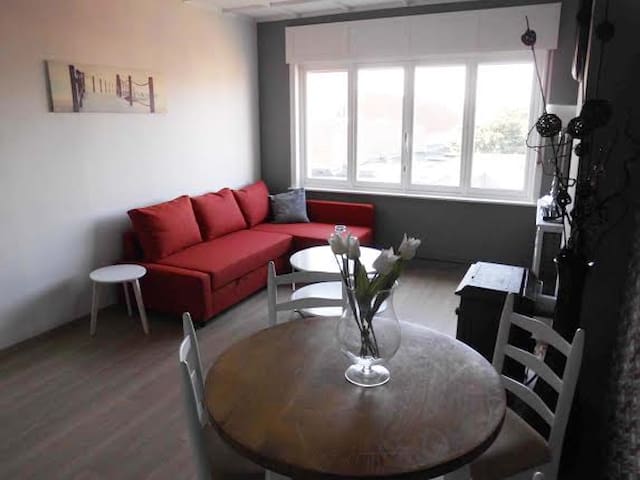 studio promenade seating terrace, one double bed box, 2 bed with duvets, Internet connection; TV, radio, microwave oven, refrigerator, coffeemaker. No smoking, no pets. Walking distance to shopping mall, movie theater, race track, golf.
Free parking nearby and supermarket
Everything fantastic no complains what so ever. Nice view, new apartment and the father of Stijn very sympatric person.
Xavier
2015-10-12T00:00:00Z
Modern, comfortable, clean and spacious studio, fantastic location and perfect communication. 10/10 recommendation!
Vincent
2015-06-05T00:00:00Z
Stijn offers a great place to live in, supertidy and cosy and near to everything - with a great full frontal seaview. The tram is just around the corner and it takes just 15 minutes to walk to the Ostende Kursaal. I didnt get the chance to meet Stijn in person, but from our communcation before my stay, I am sorry I didn't get the chance to say hi. Instead his friendly mother gave me the key to the appartment. The description of the flat is all fine - everything worked out for me. I give Stijn and his wonderful flat my biggest recommendations here on airbnb!!
Andreas
2016-01-10T00:00:00Z
Stijns father was there to greet us and was very helpful showing us everything. He was very friendly.
Adrienne
2016-07-10T00:00:00Z
Very clean and well equipped apartment with a lovely balcony overlooking the beach. There is large supermarket and a tram stop just behind the building. Also there were 2 bikes which could be used - and the promenade in front of the building was perfect for a ride along the coast.
D-J
2016-05-29T00:00:00Z
Sehr modernes Apartment mit direktem Blick auf das Meer, einfach klasse! Ebenfalls war es praktisch, dass man zwei Fahrräder zur Verfügung hatte. Wir können es nur weiterempfehlen, es hat uns an nichts gefehlt :)
Bianca
2015-07-02T00:00:00Z
Goed uitgeruste studio met zicht op strand en zee. Gratis parking, supermarkt en tramhalte achter de hoek. Er zijn 2 fietsen ter beschikking. Dit is zeer handig om naar het centrum van Oostende te fietsen. Aankomst en vertrektijden zijn vlot en flexibel te regelen. We waren een stuk bagage vergeten en dit werd vlot nagestuurd, waarvoor veel dank.
Wouter
2016-11-14T00:00:00Z
Accueillis très chaleureusement par le papa de Stijn, nous avons été agréablement surpris par la propreté et la clarté de l'appartement. Très bel équipement, très bon rapport qualité-prix (+ 2 vélos à disposition) Nous y reviendrons certainement.
Catherine
2016-11-02T00:00:00Z
Room Type
Entire home/apt
---
Property Type
Apartment
---
Accommodates
3
---
Bedrooms
Oostende, Vlaams Gewest, Belgium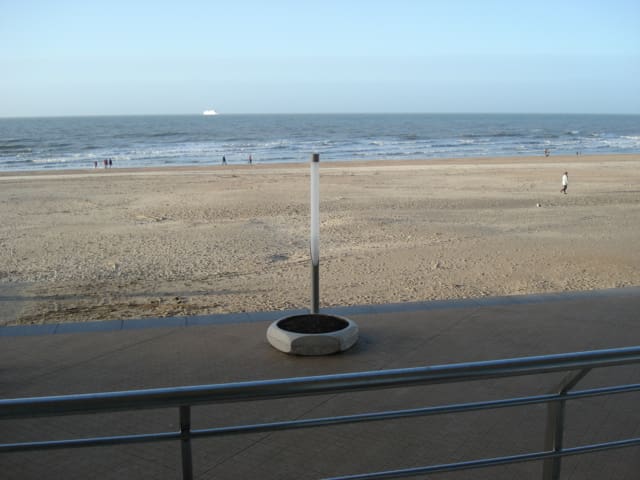 Private room in a spacious apartment on the Albert I promenade. Once you step outside you're on the beach and near a lot of restaurants. The centre is a 5min walk Privé-kamer in een ruim appartement op de Albert I promenade. Stap je buiten dan sta je op het strand en dichtbij de restaurants. Het centrum is 5min wandelen Chambre privé dans un apartement spacieux dans la promenade albert I. Quand vous sortez, vous êtes à la plage et proche des restaurants. Le centre est une promenade de 5min
Spacious apartment with a pleasant patio which offers views over the promenade, the casino and the beach. Zeer ruim appartement met een aangemane patio waar men kan genieten van het uizicht over de dijk, het casino en het strand. Appartement très spacieux aven un patio agréable qui offre des vues sur la promenade, le casino et la plage.
The neighbourhood is excellent and offers you a wide variety of restaurants and attractions. De buurt is uitstekend gelegen en biedt u een brede waaier aan restaurants en attracties. Le quartier est excellent et vous offre une une variété des restaurants et attractions.
The pace was really spaceous and clean and just a decibed in the pictures. Check in and check out was easy and flexible. The best thing is the sea view from the living and the veranda. Leaving the house you are directly at the shore. Many restaurants around.
Gabriela
2017-01-23T00:00:00Z
Andreas's home is truly beautiful, with very nice heirloom cabinetry and stunning views of the ocean and the boardwalk. The guest room is spacious with a sink and a large bed. We could not have asked more for a unique place in Belgium on the beach. We stayed just one night but the accommodations and location would be perfect for a long stay with access to the beach and other surrounding activities. Andreas is a sharp, interesting young man and a gracious host.
Dana
2016-12-31T00:00:00Z
The apartment is near the promenade and the sea. Location is excellent. The view from the apartment is amazing. Andreas is really friendly and it was no problem to live with him in the same apartment. I highly recommend this apartment.
Andrea
2017-04-13T00:00:00Z
Andreas was friendly & knowledgeable of the area. It was a comfortable space and good value for the money.
Jerusha
2017-03-12T00:00:00Z
The apartment deserves everything 5 stars. Location is perfect with a lovely sea view and inexpensive to stay. The apartment is very clean, well-maintained and is big, comfortable and cosy. The bedroom has sunlight in the morning which makes it even more perfect to stay during the winter. Restaurants are all within walking distance. I highly recommended everyone to stay with a friendly guy, Andreas. He responds fast to emails within 1 hour which makes booking easy and swift.
Shirline
2017-01-06T00:00:00Z
We had a wonderful stay! Perfect location, comfortable bed, Andreas was very kind and discrete. Everything was perfect!
Eva
2016-12-09T00:00:00Z
Andrews m'a mis de suite à l'aise, l'appartement est grand et identique au photo. Très belle vue sur la mer. Merci à lui.
Celine
2017-01-05T00:00:00Z
Andreas is een vriendelijke rustige jonge gastheer die ons hartelijk heeft verwelkomt in zijn gezellig nostalgisch appartement. Ik kon helaas niet goed uitslapen door dat er werken waren in het appartement van de 2de verdieping, maar dat is tijdelijk. Je kan genieten van een prachtig uitzicht op zee!
Johanna
2017-01-15T00:00:00Z
Room Type
Private room
---
Property Type
Apartment
---
Accommodates
2
---
Bedrooms
Oostende, Vlaanderen, Belgium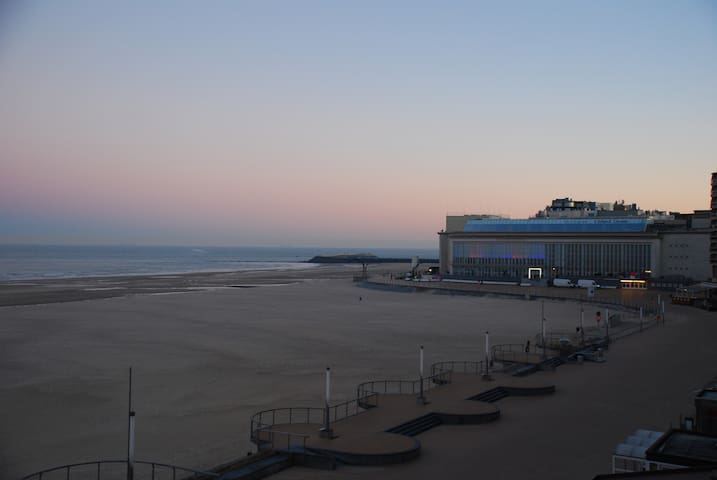 Renovated studio with separate bathroom, kitchen, spacious living areas (including bunk beds and folding sofa bed) and an ocean view for Raversijde / Ostend. Total area 42 sqm. Proximity to tram and airport. Parking provided. Internet provided.
A very friendly and nice family . Beautiful well maintained apartment on the beach with sea view and centrally . I am very happy and thank you for the great week . Regards Jacqueline
Jacqueline
2016-07-16T00:00:00Z
Full-star rating for this stay! We were kindly welcomed in her lovely place. Not only did Saskia treat us with a tasty beer and snacks, the appartment is completely what the description promissed; a nice, cosy and clean appartment with a stunning view. You are a few kilometers from the city Oostende which makes it perfect to enjoy a calm stay at the beach. Whenever you want to visit Oostende, public transport gets you there under 10 minutes. I highly recommend this place and we will be sure to book this place again next year.
Ward
2016-09-26T00:00:00Z
We had a fantastic stay at Saskia's apartment. We never met her in person but her husband extended a warm welcome to us. He showed us the apartment and told us where to find groceries, good bars and restaurants. We even found a lovely little welcome gift in the fridge on our arrival (Thank you!). Further communications with Saskia were very nice and helpful. The apartment has a narrow balcony (wide enough for 4 chairs) with a beautiful view of the ocean. Perfect.
Felix
2016-10-01T00:00:00Z
Stunning view - Saskia welcomed us kindly at the apartment, explained everything and also gave us a locals insight where to go and what to do - stunning view - the apartment was well equipped and offered everything we needed including a private parking spot - stunning view - We really loved Saskia's place and would like to return. Thank you, merci beaucoup, dank u and dankeschön, Saskia. Did I already mention the stunning view from the apartment :-D?
Georg
2016-06-30T00:00:00Z
Saskia was a great host and obviously went out of her way when our ferry was delayed by the French security forces. The location has a great view of the beach, is convenient for the tram and parking is good. The only think that we did not get on with was the traffic noise.
Philip
2016-07-23T00:00:00Z
The apartment is amazing, especially the view what you can see sitting on the sofa :) we liked it a lot. Saskia was very friendly and gave us all information and suggestion what we needed.
Vladimír
2016-02-25T00:00:00Z
The host was amazing providing bits and pieces such as bread and milk so we didn't have to rush out to find shops. She was welcoming and friendly and sorted any problems we had as soon as possible. Would definitely use the property again.
anne
2016-03-30T00:00:00Z
Saskia, had a very friendly welcome. Conducted tour of the house and explained everything in detail. In the howling stay no problems! The apartment is bright and clean with a spectacular view. Saskia, thank you very much!))
Dmitrii
2016-06-15T00:00:00Z
Room Type
Entire home/apt
---
Property Type
Apartment
---
Accommodates
4
---
Bedrooms
Oostende, Vlaanderen, Belgium
A beautifully renovated apartment (kitchen with dishwasher) on the third floor with lateral sea view. The apartment is located 50 meters from the sea and within walking distance of the center of Oostende. Ideal to spend the day at the beach and at night enjoy the bustling Ostend.
A cozy living room with corner seat and longchair. TV (digibox Telenet) wifi available. A table with 6 chairs and a trip goal. Equipped kitchen, gas hob, oven and microwave and dishwasher. There is also a fridge and freezer. and a Senseo machine and a kettle available. There are two bedrooms. Bedroom 1: A double bed (consisting of two single beds with a split topping), electrically adjustable. Bedroom 2: A sturdy bunk beds and a single bed Bed linen is included for both bedrooms will be covered beds. A newly fitted bathroom: shower and sink hairdryer is provided. Attention: No beach towels are available, please bring them with you. A separate toilet. vacuum cleaner, brush and trigger are present also a small ironing board, iron and drying rack. apartment'd leave broom clean.
Perfekte Lage, perfekte Wohnung und perfekte Gastgeber! Wer Lust hat, einige Tage in schönen Stadt Ostende zu verbringen, sollte sich diese Wohnunh unbedingt anschauen. Unvergleichlich Lage mit Meerblick und nur 50 Meter Fußweg zur Einkaufsstraße. Die sehr schöne Ausstattung der Wohnung, gemütliche Betten und ruhige Nachbarn machen den Aufenthalt äußerst angenehm und erholsam. Die Gastgeber sind unkompliziert und sehr freundlich. Dieses Appartement im Herzen Ostendes ist einfach nur zu empfehlen! :-)
Michael
2017-02-26T00:00:00Z
Un appartement entre la mer et le centre de la ville! Très cosy, une literie au top, une rénovation juste comme il fallait et un équipement plus que parfait. Cet appartement vaut vraiment le détour, j'y retournerais volontiers à l'occasion !
Mathieu
2017-03-01T00:00:00Z
Apparemment très agréable et pratique. Situation idéal où tout est faisable à pied. Le parking gratuit à 10 minutes a pied est un plus. L' accueil fut chaleureux par le propriétaire et ses enfants. Nous recommandons certainement et ne manquerons pas d y revenir certainement. Merci. Emma
Emma
2017-04-13T00:00:00Z
Een aangenaam, ruim, netjes en rustig appartement dat heel mooi ingericht werd door de eigenaars. Zeer centraal gelegen. Wij verbleven met onze kindjes (5j + 1j) en vonden het heel handig dat alles op loopafstand bereikbaar was. Alles wat je nodig hebt is aanwezig in het appartement, ook heel leuk dat de bedden reeds opgedekt zijn bij aankomst. Terrasje vooraan met zicht op zee is ook een meerwaarde.
Ruth
2017-03-26T00:00:00Z
Zeer goede locatie. Schone, ruime flat. Zeer geschikt voor een weekend in Oostende.
Stephan
2017-03-12T00:00:00Z
Très bel appartement avec vue latérale très agréable sur la mer. L'appartement était très propre, conforme aux photos. Equipement de base dans la cuisine (attention, pas de micro-ondes). Merci à Reinout et sa famille de nous avoir permis de passer un magnifique séjour à la mer. Nous reviendrons avec plaisir :)
Pauline
2017-04-02T00:00:00Z
Appartement très lumineux, très agréable et fonctionnel. Situation idéale, proche de la digue et du centre commercial... Logement équipé de qlq jeux de société. Nous le recommandons et nous y reviendrons certainement.
Caroline
2017-03-19T00:00:00Z
We werden super onthaalt en kwamen terecht in een super appartement waar we even aan de dagelijkse sleur konden ontsnappen.. Een echte aanrader
Barbara
2017-03-04T00:00:00Z
Room Type
Entire home/apt
---
Property Type
Apartment
---
Accommodates
5
---
Bedrooms
Oostende, Vlaanderen, Belgium
Here you imagine yourself as it were in the sea! Beautiful view over the beach of Ostend Casino to the French coast. But a stone's throw from the old town!
Spacious living room with .... view of the sea !!
On the seafront of Ostend, near the restaurants, Casino, Thermae Palace and a stone's throw from the old center. Everything at hand.
Warm welcome and smiley person with great suggestion on the city. I truly recommend this place.
Mathias
2015-10-26T00:00:00Z
Seaview64 was a great apartment for our family (4 adults) with plenty of room and well-equipped kitchen. The view is excellent and the building is in a good location for restaurants and shops, with a tram stop nearby. Melanie was very welcoming and helpful during our visit. We would love to stay here again next year!
Nancy
2016-09-14T00:00:00Z
Topplek!
Stephanie
2017-04-04T00:00:00Z
Nice place with great view. You can do a lot of things around the place, the Kust-Tram is closeby.
Jakob
2016-12-15T00:00:00Z
The host canceled this reservation 30 days before arrival. This is an automated posting.
Myriam
2016-03-16T00:00:00Z
Amazing place with an amazing view. Plenty of space and clean. Loved it! Easy to check in and out. We hope to come back.
Kara
2016-10-10T00:00:00Z
The host canceled this reservation 6 days before arrival. This is an automated posting.
Cornelia
2016-05-09T00:00:00Z
Terrific location and very welcoming and helpful hosts. The place is very comfortable with lots of space and a well-equipped kitchen. Just what we were looking for in a weekend on the beach. The view is fantastic!
John
2016-01-18T00:00:00Z
Room Type
Entire home/apt
---
Property Type
Apartment
---
Accommodates
6
---
Bedrooms
Oostende, Vlaanderen, Belgium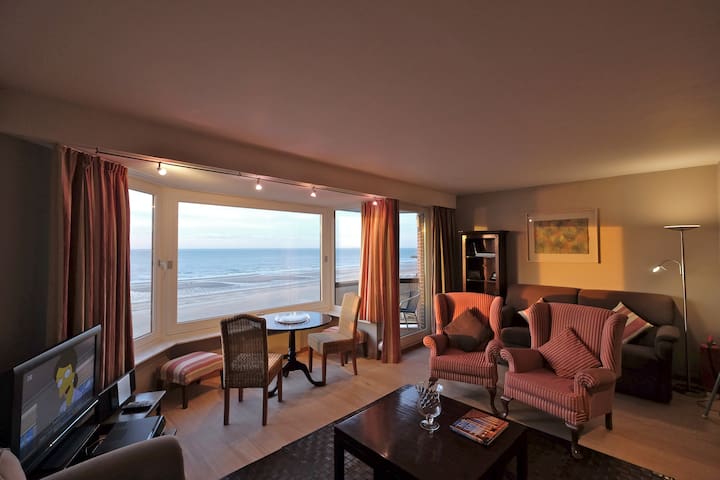 This accomodation contains one bed room (16 m²) with 1 double bed, one living room (20 m²) with 1 sofa bed and kitchenette. There's also a private bath room with toilet, bath tub and lavabo. The Belfry on the Market square is only 5 minutes walking. There's an efficient check-in/check-out process.
- The accommodation is located on the first floor (level +1) of the building. - A baby travel cot can be provided if requested at the time of booking (15 EURO extra).
Room Type
Entire home/apt
---
Property Type
Apartment
---
Accommodates
4
---
Bedrooms
Brugge, Vlaanderen, Belgium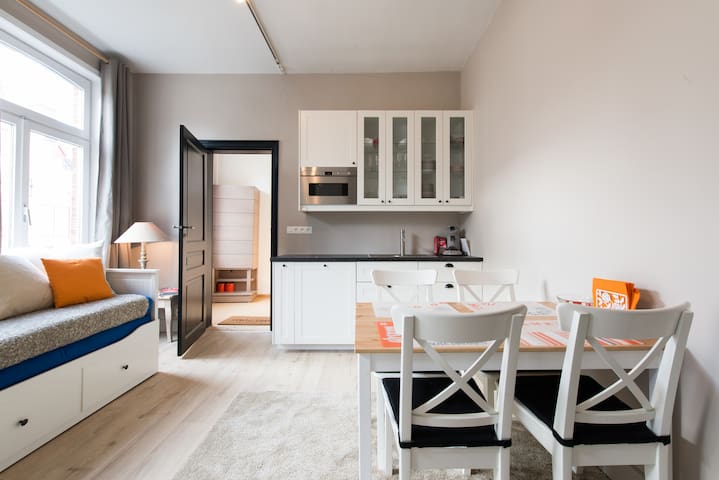 This 43 m2 apartment is ideally located 50 from the seawall. It has been recently renovated and has everything to have a pleasant stay in Oostende (Mariakerke)!
In the living room you'll find a comfortable sofa, that can be transformed into a 2-person bed, and a 4-person dining table. The bedroom has a double bed and a storage corner with an iron, ironing board and a vacuum cleaner. The bedroom can be separated with a folding screen. For both the beds there are duvets and pillows available, bedding (bed, duvet and pillow cover) isn't included. The Kitchen is equipped with a microwave/grill, a coffee machine (coffee pads are included), an induction cooker, hood and fridge, pans, plates and cutlery is also included. Pepper & salt is also available, dish-towels aren't. The bathroom consists of a toilet, shower and a sink. There's a hairdryer available and toiletpaper and hand soap is included. Towels aren't included. On the terrace you can enjoy the sun all day long in the relax chair or have a morning coffee! The apartment has digital tv, wifi, an AirPlay speaker (or any audio source using a standard audio-jack).
Located in Mariakerke, Oostend, in a quiet side street (en at 50 meters from) the seawall. You can find a bakery, laundry, newsagent and a tearoom at less than 100 meters. Other restaurants, cafés and supermarkets are available at 10 minutes walking.
Loved my stay. The apartment was perfect. I wish it were mine. ;-) Will be back for sure.
Dagmar
2017-01-30T00:00:00Z
This charming studio was perfect. Clean, tasteful, and comfortable. We were able to fully relax and take advantage of the seaside, bike rides walks, cinema and restaurants. My daughters were particularly happy with the Kinepolis complex a 10 minute walk from the apartment. Adriaan and Jimmy ensured that we had everything we needed. I appreciated their personal message on our arrival wishing us a pleasant stay.
Louise
2016-11-01T00:00:00Z
The host canceled this reservation the day before arrival. This is an automated posting.
violaine
2017-01-04T00:00:00Z
Great place, just as described. Stylish furnished and everything clean and in good shape. Even the kitchen is fully equipped if you need it. Very close to the beach ( maybe 50m), supermarket and train station within walking distance. We recommend this appartment to anyone who wants to have a relaxing visit while in Oostende. We would rent it again.
Kirsten
2016-06-06T00:00:00Z
Adriaan's & Jimmy's apartment was very clean and gave a very comfortable feeling throughout our stay.
Florian
2016-12-12T00:00:00Z
Adriaan and Jimmy were amazing! The apartment was exactly as we expected and more. The location was 30 seconds walking from the sea, also right next to a tram stop. Thanks a lot Adriaan & Jimmy.
Konstantin
2016-10-03T00:00:00Z
The appartment is very nice, furnished lovingly and so cosy, totally as described and close to the sea. It was really nice to get possibility for late check-in. Communication was very good and uncomplicated. We got a map of the area arround with points of interest, parking possibilities and a list of what we should bring, so nothing was missing. Thank you, guys! Highly recommanded!
Alexandra
2016-05-17T00:00:00Z
Perfect appartment for 2 persons
Simon
2016-08-01T00:00:00Z
Room Type
Entire home/apt
---
Property Type
Apartment
---
Accommodates
4
---
Bedrooms
Oostende, Vlaanderen, Belgium
Modern apartment on the 9th floor with stunning views of the racecourse and golf - for those who really want to relax! Aim sang terrace of 11m2 Tram stop at 20m. city center on foot 20 minutes. seawall 50m Thermae Palace and Venetian galleries 5 min walk Besides Kinepolis and close to Casino Spar Shop seawall Delhaize 100m or 10 minutes. sleuyterarena / shopping / stadium KV Oostende at 10 min Parking at € 1 / day (1/10 - 30/3) Bed / bath linen
Stunning view and sunny terrace. Separate toilet At rear, no street noise Terrace accessible from living room and bedroom Living room with adjoining kitchen Parquet flooring (no carpet)
50m from the sea and tram station nearby Hippodrome wave see also (URL HIDDEN) operations
Dit appartement is een echte aanrader! Patrick was enorm hulpvaardig, bedankt!
Femke
2016-10-15T00:00:00Z
Bonjour, nous tenions à vous remercier pour votre accueil et pour nous avoir permis de passer un magnifique week-end à Ostende, dans votre appartement. Je pense personnellement que ce fût l'un des plus beaux week-end que j'ai pu passer ces dernières années, et je vous en suis reconnaissant, car sans vous, rien n'aurait été possible. La propreté de l'appartement, et l'équipement qui nous est proposé, correspondaient tout à fait à nos attentes, et le prix du séjour est totalement justifié. L'accueil de Patrick fût bref, mais très concret, tout était très bien expliqué, très clair, et ce fût un plaisir de le rencontrer. Nous espérons pouvoir reloger chez vous d'ici cet été pour profiter d'un plus long séjour encore, et nous l'espérons, d'un peu de soleil et de chaleur! Bryan & Alessandra
Bryan
2017-01-31T00:00:00Z
Correcte ontvangst met welkomstbubbel en zeer leuk appartement. Alles op wandelafstand bereikbaar. Een aanrader.
Jef
2017-02-20T00:00:00Z
Die Wohnung ist mit allem ausgestattet was man braucht. Sehr schöne Wohnung. Toller Ausblick (wenn kein Nebel da ist ;-) ) Sehr freuntliche Besitzer, es hat alles sehr gut geklappt. Ich empfehle die Wohnung weiter :)
Eduard
2016-12-31T00:00:00Z
Een heerlijk rustig weekendje weg. Flesje bubbels en heel hartelijk ontvangst door Brigitte. Het appartement was super in orde, voorzien van alle gemakken. De communicatie met Brigitte was heel fijn en snel. Een echte aanrader dit! Je hebt fenomenaal uitzicht en bent 50 meter van het strand verwijderd. Nogmaals, wij hebben een heerlijk weekend gehad!
Dyantha
2017-03-19T00:00:00Z
Alles voorhanden voor een sterke prijs,potten én pannen,kruiden,Mars en olijilie.......en een lekkere fles Cava om dat weekend,week of maand in te zetten .Wifi,wat Hifi,en neen geen plaats voor een Fifi.....maar bovenal dat werkelijk schitterende uitzicht over de Wellington renbaan............we zaten op het 9de,hoe leuk moet hat dan op die andere etages wel niet zijn.Doen!!!!
Annick
2017-04-06T00:00:00Z
Zeer mooi appartement met prachtig uitzicht op de golf van Oostende. Op wandelafstand van het centrum + tram vlakbij. Vriendelijke gastvrouw, die zorgt dat alles in orde is!
Jolien
2017-04-08T00:00:00Z
L'appartement, comme décrit, est situé un peu en retrait du centre ville d'Ostende qui est accessible en tram en 5 minutes ou 15 minutes à pieds par la digue. Arret de tram à 50 mètres, digue de mer à 50 mètres (traverser la rue, vous y êtes). Supermarchés à 10 et 12 minutes à pied. L'appartement se trouve au 9em étage, la vue donne sur l'hypodrome d'Ostende, il y a fait calme, bien chaud même sans chauffage, tout le confort, les petits plus, la bouteille de mousseux offertes ainsi que jus de fruits, eaux, petit chocolat. Linge de lit, de bain et de cuisine fournis. Matériel de cuisine complet y compris une friteuse, des épices, des huiles et j'oublie surement quelque chose. Au salon, magazines et livres en francais et néerlandais. Appartement spacieux neuf, belle TV 4K qui avec une qualité d'image parfaite, chaines courantes en Néerlandais, en Francais, en Anglais et en Allemand avec du choix, netflix aussi disponible. Vous pouvez aussi brancher un disque dur portable puisque la TV possède un lecteur multimédia intégré. Donc, vraiment tout le monde peut y trouver son compte en cas de mauvais temps ou en plein hiver lorsque la vie à la côte est un peu moins animée. La propreté est irréprochable, le soin qu'apportent Patrick et Brigitte à leurs hôtes est tout simplement superbe. En résumé ce fut pour nous, une de nos meilleures expériences Airbnb pour ne pas dire la meilleure. Encore merci, nous y reviendrons si l'occasion nous le permet. Note : le frigo est nickel pour 2 à 3 personnes. Demandez confirmation mais je pense qu'il n'y a pas de freezer. Rien de négatif en cela, c'est juste pour ne pas prendre de surgelés durant vos courses ou trop de viande en une fois. Le lit, on y passerait la journée tellement le matelas est bon....
Thierry
2017-01-03T00:00:00Z
Room Type
Entire home/apt
---
Property Type
Apartment
---
Accommodates
2
---
Bedrooms
Oostende, Vlaanderen, Belgium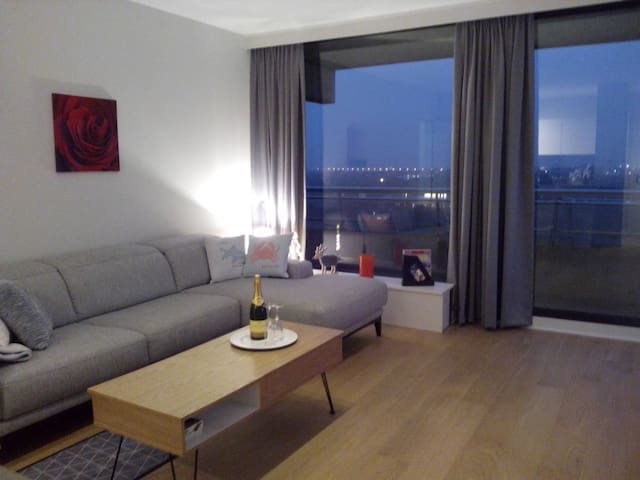 Recently renovated appartement with 3 bedrooms, all with seaview, 2 with terrace. Fully equipped kitchen and bathroom. Toplocation I mondain Knokke
Very large appartement with unique sea view on the 4th floor.
Incredible view
Jean-Francois
2016-12-03T00:00:00Z
Stef's appartment is ideally located. Facing the sea with 10 m. at least of window that allows an incredible view. it is very space and has all the amenities required. Communication with Stef was smooth. I would strongly recommend it!
Daniel
2016-05-09T00:00:00Z
Voor de tweede keer zijn wij in dit ruime fijne appartement geweest. Super goede plek, aan de boulevard, tegenover het strand. Naast het zeezicht vanuit de woonkamer ook vanuit de slaapkamer zicht op strand en zee!
Annemiek
2017-02-26T00:00:00Z
Een super locatie , met een geweldig uitzicht over zee! Niets te veel gezegd in de beschrijving! Een heel ruim appartement met drie ruime slaapkamers, gezellig ingericht en een gastvrij ontvangst! Zeker de moeite waard om hier nog een keer terug te komen.
Frans
2016-05-03T00:00:00Z
Vriendelijke, eerlijke en snelle communicatie. De locatie is perfect, zo fijn direct aan het strand. Een zeer ruimtelijk appartement. Erg fijn!
Annemiek
2016-10-23T00:00:00Z
Room Type
Entire home/apt
---
Property Type
Apartment
---
Accommodates
6
---
Bedrooms
Knokke-Heist, Vlaanderen, Belgium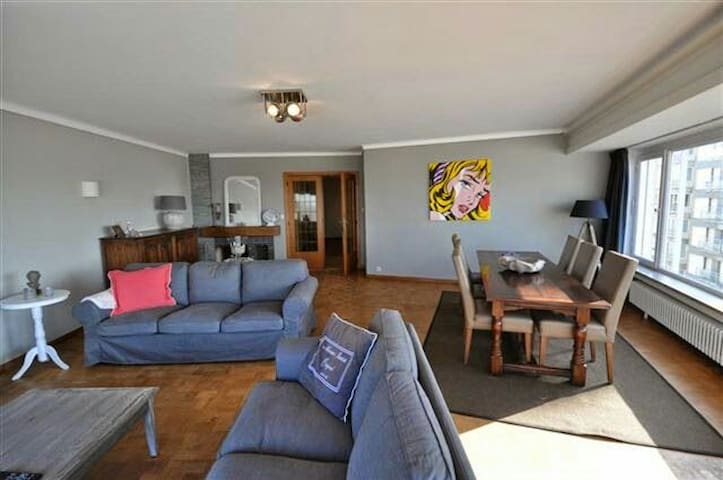 My room is on the third floor, near the beach, public transport (coastal tram - stop Racetrack), Kinepolis cinema, racecourse. You'll love my place because of the light, the sea, the newly fitted kitchen and bathroom with shower, comfortable bed. My room is suitable for couples and solo adventurers. Bring your own bed sheet and pillow cases. Free parking at 800 m. In the immediate vicinity you pay 1 € per day parking fee.
Department stores within walking distance.
Everything was perfect. Koen is an excellent host. Place ... it is the best place in Ostende.
Zaur
2016-09-10T00:00:00Z
Koen is a very friendly host. His apartment is small, cozy and equipped with all necessary things. He leaves a folder for his guests with helpful informations, e.g. a map of Ostend, a list of supermarkets in the surrounding area, password for Wi-Fi... The studio looks exactly as presented on the pictures. Directly in front of the building is a tram station. But the really best is the view on the sea. If you want to relax after a stressful day with sightseeing, you just can sit on the balcony and enjoy the sunset. Whenever we get the chance to spend our holidays in Ostend again, we definitely will decide for Koen and his apartment.
Dani
2016-10-07T00:00:00Z
Koen is a very friendly and attentive host and from the apartment you can very well start to trips by bike along the coast, or by car to Bruges or Ghent. Everything for a great holiday, I have found. Thank you for a very nice and relaxing time. Vielen Dank Michael
Michael
2016-10-01T00:00:00Z
Koen hat mir spontan und hervorragend dabei geholfen seine Unterkunft zu finden, da mein Navigationsgerät in diesem Falle keine Hilfe war. Meine Tochter und ich wurden dadurch mit fast einer Stunde Verspätung unsrerseits trotzdem sehr herzlich von ihm und seiner Frau empfangen. Sie zeigten uns direkt alles Notwendige und gaben uns einige Tipps für unseren leider nur kurzen Aufenthalt. Das kleine Appartment war sehr sauber und für 2 Personen wirklich mit allem ausreichend ausgestattet. Das Bettsofa war sehr bequem und der Ausblick auf die Nordsee atemberaubend und unbeschreiblich! Koen hätte uns rund um die Uhr zur Verfügung gestanden, wenn wir Fragen oder Probleme gehabt hätten. Bei der Rückgabe des Appartments erzählte er von seinen Umbauplänen und ich drücke ihm dafür die Daumen, dass er bald beginnen kann und alles so wird wie er und seine Frau sich die Neugestaltung vorstellen. Er wundert mich nicht, dass dieses Studio so gefragt ist, da die Herzlichkeit und Hilsbereitschaft Ihres Besitzers, als auch diese fantastische Lage jeden von dem Angebot überzeugen wird. Koen, wir werden uns wiedersehen und ich bin gespannt auf die geplante Umgestaltung! Liebe Grüße an dich und deine Frau von Alina und Sylvia aus Deutschland
Sylvia
2016-10-11T00:00:00Z
Ausstattung und Sauberkeit waren top. Wir waren sehr zufrieden!!! Vielen Dank
Karin
2016-10-20T00:00:00Z
Notre hôte à été très sympathique et accueillant. Il va moderniser son logement, ce qui le rendra encore plus attrayant.
D'heur
2016-11-02T00:00:00Z
Appartement très lumineux avec une vue magnifique sur la mer. La résidence est calme et propre. Koen est une personne vraiment sympathique, il nous a montré les différents magasins, points d'interêt à proximité de l'appartement. Il y a un parking à 800m qui est entièrement gratuit ce qui est un plus. Nous y retournerons certainement car nous sommes très satisfaits de notre séjour. Merci Koen et à bientôt.
Maud
2016-09-03T00:00:00Z
Le logement est très agréable et bien équipé. La situation géographique du logement est parfaite, vue sur mer, proche de toutes commodites, du centre ville d Ostende et de l axe principal vers les autres grandes villes de Belgique. Koen et sa femme nous ont très bien accueilli, ce sont des gens charmants et arrangeant. Nous recommandons cet hôte et ce logement.
Nolwenn
2016-12-31T00:00:00Z
Room Type
Entire home/apt
---
Property Type
Apartment
---
Accommodates
2
---
Bedrooms
Oostende, Vlaanderen, Belgium
Welcome in my flat! It is at the 5th floor of Residence San Marco (Zeedijk 123) in Ostend. The flat has a fenomenal view at the sea and is located near the Royal Galleries of Ostend and the Ostend Hippodrome racetrack.
Vanop de 5de verdieping, gelegen op de zeedijk, heb je van uit dit appartement een prachtig uitzicht. Alle moderne voorzieningen zijn aanwezig met als leuke extra een jaccuzi en een gezellige haard op koudere dagen. Er zijn twee aparte slaapkamers met telkens een dubbel bed. De zetel in de living is tevens een uitrekbed.
Op zonnige dagen is de dijk in Oostende centrum bijzonder druk. Hier kan je nog rustig fietsen en wandelen en vind je zonder problemen een ruim stukje vrij strand om te gaan zonnen. Een wandeling van 20' brengt je via de prachtige Koninklijke gaanderij naar het hart van de stad. Een aanrader om dit 's avonds te doen als het historische gebouw feeriek verlicht is. Verder zijn de nabijheid van de tram, de Kinepolis en de Delhaize ook een pluspunt.
Clean, comfortable flat with a great beachfront location and view. Bring your beach amenities to take full advantage of the beautiful beach. Tram stop just around the corner. Fast, easy communications. Recommend without hesitation.
Eric and Amy
2016-07-11T00:00:00Z
Francesca was a very nice host and we really appreciated our stay in Ostende. The flat is very recent, well-furnished and the view mostly appreciable. We would go again to Francesca's flat with pleasure !
Gauthier
2017-01-08T00:00:00Z
Very spacious apartment, fully equipped with an amazing view. Had the best time here. Hope to come back soon.
Barbara
2015-12-27T00:00:00Z
We had a great time in Ostend at Francescas apartment! The apartment has everything you need and the view on the sea is amazing, at the morning we were only sitting in front of the window and we enjoyed the view and observed the sea. We will definitely come again.
Melanie
2016-05-24T00:00:00Z
The host canceled this reservation 3 days before arrival. This is an automated posting.
Lindy
2016-05-26T00:00:00Z
Perfect appartement for a weekend with friends.
Mandy
2016-10-16T00:00:00Z
Super place
Olivier
2017-03-26T00:00:00Z
Heel ruim en goed uitgerust appartement. Ruime woonkamer met een zeer ruime keuken. Heerlijk dubbelbad. Op loop afstand van het centrum en mooi uitzicht op zee.
Steven
2017-01-28T00:00:00Z
Room Type
Entire home/apt
---
Property Type
Apartment
---
Accommodates
6
---
Bedrooms
Oostende, Vlaanderen, Belgium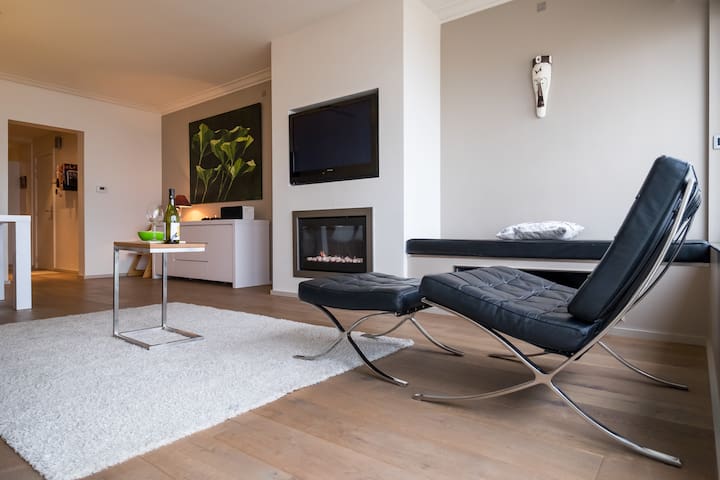 56 m²- 12th floor, with view on the city, hippodrome and golf, situated to the sud, +/- 50 m from the sea , +/- 1 km from the centre Large living + kitchen 1 bedroom with double bed, 1 bedroom with bunkbed, bathroom, wc apart, large terrace, garage
The apartment is entirely renovated and is situated on the 12 th floor with a superb view on the city, the hippodrome and the golf, near the sea (+/- 50 m), the cinema and the centre of Ostend (+/-1 km). The flat is completely furnished: 1 bedroom with double bed (width 160 cm) 1 bedroom with a bunkbed (width 90 cm) Living with a sofa bed (width 140 cm) Kitchen Bathroom WC apart
Everything was according with the add. The house was clean and new, and the views amazing.
Victor
2015-09-06T00:00:00Z
The apartment was perfect for our family of five. Jozef was very helpful leading up to, and on our arrival. The only thing that I would suggest is providing the name of the tram stop. We were looking for street names and missed our stop on arriving. We had to get off and turn back which didn't end up being a big deal but we were all tired after a day of travelling. The apartment is very well stocked and very clean. Being so high up, it is very quiet and the view over the golf course and the city is quite stunning. The boardwalk and beach are literally right out the front of the building, and across the street so there is access to a grocery store and restaurants. The beach is stunning. It is about a fifteen minute walk into Ostend from the apartment (along the boardwalk) and a very pleasant one to do. The tram is also right outside the door and only two stops into Ostend. We travelled into Bruges for the day which was an easy trip with the tram and the train. We would definitely stay in this location again!
Julie
2016-09-01T00:00:00Z
We had a fantastic time at Josef's apartment in Ostend. It was wonderfully clean, even pristine, when we arrived. We hope that we left it just as we found it. If anything the advertisement for the apartment understated it. While located about 50 m from the sea it is on the 12 floor and has spectacular views inland over the city of Ostend, a golf course just below and a racing course where the Belgians race hippos. There were no hippos while we were there but we spent two evening sipping chilled white wine and watching the golfers hack around the course as the sun set over the town as the lights came on. Very special. The apartment ws very well and sensitively equipped. We had all of the cutlery, plates, glasses and stuff that we needed. There was even an old hi-fi with a few CDs which we really liked. The homely touches such as the photos of Josef, his wife and grandchildren were special. It made us feel like guests in soemo0ne's house rather than customers in a hotel. Ostend was a surprise to us. We had expected a rundown fishing port but instead found a very lively active city. The weather was spectacular, the board walk packed. There was a good choice of, rather expensive, restaurant and bars. A supermarket is just around the corner. The private and secure parking is an added bonus. Finally, to Josef. Josef is a star. Finding the apartment was easy. We were a little late but Josef was waiting. He gave us an excellent introduction to everything in the apartment and the area all in English!! Josef. I hope that one day we will meet again.
Malcolm
2016-05-10T00:00:00Z
Jozef was very pleasant, He was very reaponsive in communications. We arrived at around 9 pm, he was himself there to give us the keys and welcome us. We had a warm welcome, he showed us house and briefly told us about the nearby places and super markets. The location is 50 meters away from the beach, 50 meters to the nearest public transportation and 10 mins from Oostende station with a tram.
Kalla
2016-11-14T00:00:00Z
Great flat with nice view from the 12th floor. We had a great time. Thank you...
Benjamin
2015-06-01T00:00:00Z
Nice modern apartment in a good location, Jozef met us on arrival and was helpful. thanks!
Ryan
2016-10-22T00:00:00Z
We had a fabulous time, the flat was super cosy and with easy access to the beach and Oostende. We would come back!
Susanne & Kevin
2015-05-05T00:00:00Z
Josef met us personally at evening. He is very positive and open-heart. The apartment is spacious, with a lot of light and convenient. The place is very quiet. We found that location of the apartment is very good - second line of buildings from the sea. Bruges is 30 minutes by car, it seems more convenient to travel there by car and pay 2 euros per 1 day parking then travel via train (5 euros per person in one side).
Dima
2016-06-14T00:00:00Z
Room Type
Entire home/apt
---
Property Type
Apartment
---
Accommodates
5
---
Bedrooms
Oostende, Vlaams Gewest, Belgium