Nous vous proposons une chambre avec lit 2 personnes ( Petit déjeuner français compris) salle d'eau et WC séparés, dans notre logement situé dans le bourg, à 5mn à pied du centre ville, sur un jardin clos de 3000m², avec piscine . A proximité du château de Pompadour, de St Robert, Brive, Collonges la Rouge, Turenne, notre maison convient aussi bien aux couples qu'aux voyageurs en solo. Nous proposons également une autre chambre (Voir autre annonce)
Ancienne maison entièrement rénovée, chaleureuse, qui plait à nos amis, entourée d'un grand jardin, calme et reposant.
Objat est un bourg de 4000ha environ, assez dynamique, avec un marché sympa le dimanche matin. Notre propriété est située près du centre ville (5mn à pied). Les villes et villages aux alentours sont souvent typiques : Pompadour, St Robert, Collonges la Rouge, Turenne et Brive la Gaillarde bien sûr.
Une belle maison au centre d Objat, un accueil chaleureux, une très belle rencontre, que du bonheur. J'ai passé 3 jours extraordinaires. Merci à vous 4 et aux Matous
frederique
2016-08-12T00:00:00Z
Très bon séjour à Objat dans cette charmante maison, très agréablement surpris par le cadre même si les photos parlent déjà d'elles même. Un accueil chaleureux avec des hôtes aux petits soins. Petit déjeuner en terrasse face au jardin et vue sur la piscine, avec pain maison et lait tout droit venu de la ferme, un plaisir dès le matin. Merci encore pour ce séjour, court certes, mais qui en valait la peine.
Julie
2016-08-15T00:00:00Z
Tres chouette Maison avec jardin (avec belle piscine) merveilleux!! Excellent acceuil par Frédéric et sa famille. On se sent vraiment chez soi... A recommander sûr et certain!
Jona
2016-07-18T00:00:00Z
Étant de passage pour une nuit, Valérie et Frédéric nous ont accueillis de la plus belle des manières avec nos enfants: sympathie, bonne humeur et convivialité. Merci pour tout.
Caroline
2016-08-14T00:00:00Z
Très bon accueil, bon moment passé ensemble même si ce fut rapide! Merci encore
Adèle
2016-08-16T00:00:00Z
Frédéric et sa famille ont été des hôtes très aimables et très accueillants. Nous avons eu le temps de discuter autour d'un souper improvisé, juste après une petite baignade dans la piscine. Leur maison est un petit coin de paradis sur Terre. Merci pour ce moment de détente!
Marie
2016-07-25T00:00:00Z
Room Type
Private room
---
Property Type
House
---
Accommodates
2
---
Bedrooms
Objat, Aquitaine Limousin Poitou-Charentes, France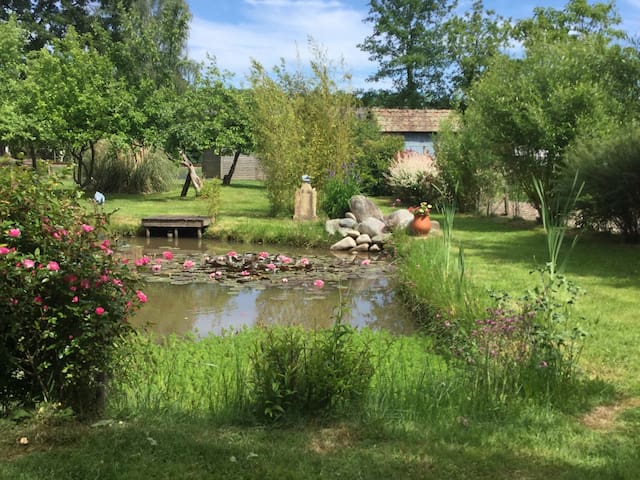 Petite maison de charme meublée dans un cadre calme et agréable avec accès piscine en été. Nature et terroir à portée de mains et nombreux sites touristique à découvrir (collonges la rouge,rocamadour,gouffre de padirac...) canoé, randonné,vtt,pêche..
Endroit calme et reposant tout en étant à proximité de commerces et accès autoroutes.
The host canceled this reservation 38 days before arrival. This is an automated posting.
Marie-Agnès
2016-11-15T00:00:00Z
J'ai renouveller mon voyage a allassac encore une fois tout c'est tres bien passé
Frédéric
2016-09-19T00:00:00Z
Nous sommes arrivés avec nos deux enfants sans connaître la région. Isabelle nous a bien aidé à organiser nos excursions. La maison est très bien située pour visiter les beaux villages de la région. Les enfants ont adoré la maison, la piscine, jeux tels que balançoire ou trampoline! Bien que pas habituées à côtoyer des animaux, elles ont adoré leur compagnie, jouer et leur donner à manger. La maison est à l'image d'Isabelle: pleine de lieu d'échange et de partage. Bref, on a adoré et vous recommande vivement l'expérience !!!
Mahyar
2016-07-29T00:00:00Z
Merci pour cet accueil. Notre grande de 10 ans s est régalée dans la piscine. Isabelle a eu la gentillesse de lui prêter ceinture , matelas et lunettes. Quel bel après midi. Quant à la petite dernière elle fut ravie de sa rencontre avec chacun des petits compagnons à 4 pattes ! Court séjour mais bien charmant. Nous reviendrons avec plaisir en Corrèze et plus particulièrement chez Isabelle. Karine & cie
Karine
2016-07-16T00:00:00Z
Accueil très chaleureux. Petite maisonnette bien équipée et fonctionnelle dans un environnement calme et proche de la nature. Les enfants ont adoré les petits animaux et la piscine.
Thomas
2016-07-30T00:00:00Z
Excellent accueil, c'était parfait très confortable. merci pour tout!
leo
2016-05-02T00:00:00Z
des hôtes charmants, souriants, accueillants, à l'écoute de nos besoins, nous recommandons sans hésiter.
Christine
2016-01-13T00:00:00Z
De passage pour une nuit, nous avons été bien accueillis. Studio pratique et au calme.
Jerome
2016-10-23T00:00:00Z
Room Type
Entire home/apt
---
Property Type
House
---
Accommodates
2
---
Bedrooms
Allassac, Limousin, France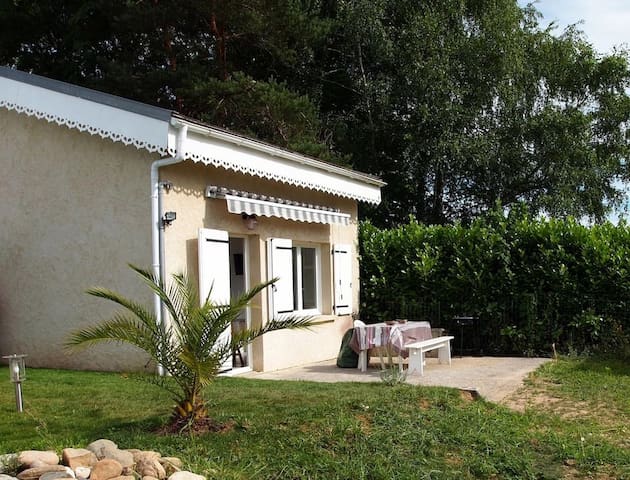 Cette maison en prise directe avec la nature est parfaite pour les familles (avec enfants) et les grands groupes. L'endroit est idéal pour se ressourcer dans le calme et la beauté des grands espaces. Beaucoup d'activités touristiques sont possibles pour le plaisir de tout le monde. Piscine enterrée , pompe au sel sans chlore, à usage exclusif. Jardin et grande terrasse. Le silence est Roi sans voisin ni vis à vis. L'essayer c'est l'adopter :).
Logement idéal pour se reposez au calme . Merci à Sophie
Pascal
2017-02-08T00:00:00Z
Room Type
Entire home/apt
---
Property Type
House
---
Accommodates
8
---
Bedrooms
Saint-Cyr-la-Roche, Aquitaine Limousin Poitou-Charentes, France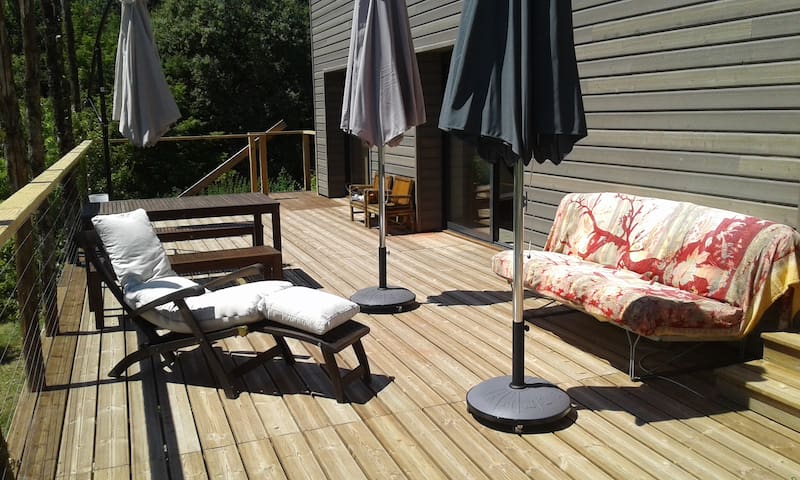 Cottage of 220 m² for 6 to 12 people, with pool Located in the countryside, on hillsides, quiet, overlooking countryside and green hills. Ideally located south west of CORREZE, on the edge of the Limousin, Quercy and Périgord.
Gite of 220 m², 4 stars. On the ground floor kitchen of 25 m² bathroom and WC utility room dining room and living room of 66 m² with two terraces, one south of 16 m², north of 25 m² 1st floor bathroom and separate toilet room with 1 bed (PHONE NUMBER HIDDEN)nk and shower room with 2 beds 90/190 room with 1 bed of 140/190 room with 1 bed 160/200, bench, sink and shower room with 1 bed (PHONE NUMBER HIDDEN)nk and shower 2nd Floor room with 1 bed of (PHONE NUMBER HIDDEN)throom with sink and shower
quiet area, 2 minutes from shops: supermarkets, all retail shops, pharmacies, medical group, physiotherapists, restaurants .... In July and August Estivales Wednesday, evening outdoor performances free of charge.
Très bon séjour Logement très bien equipe au calme absolu Le descriptif est précis et exact enfin l hôte est charmant n hésitez pas
Christel
2016-07-11T00:00:00Z
Un séjour très agréable dans une grange rénovée avec beaucoup de charme et de goût par des hôtes discrets et charmants. Cette maison est adaptée pour passer des vacances avec plusieurs familles sans avoir l'impression d'être les uns sur les autres. Maison très propre avec beaucoup d'espaces de rangement. A recommander sans hésitation.
Franck
2016-08-28T00:00:00Z
Le logement est très agréable et conforme aux photos. Nous y avons passé un très bon séjour. Le petit plus était que nous avons eu un feu dans le poêle en arrivant :)
Marie
2016-03-18T00:00:00Z
Room Type
Entire home/apt
---
Property Type
House
---
Accommodates
12
---
Bedrooms
Objat, Limousin, France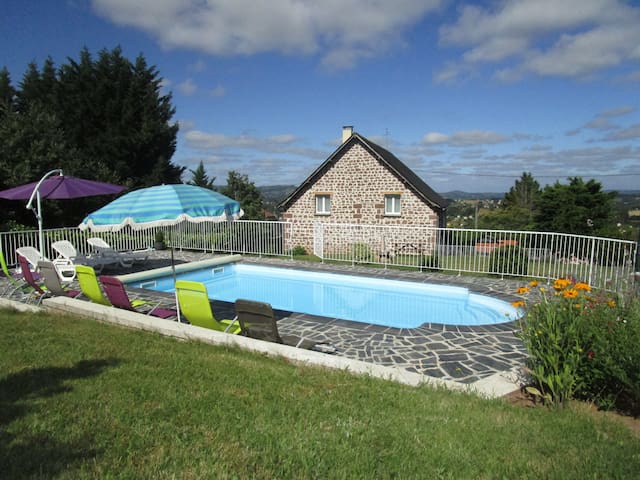 A hillside in the heart of a green pen we welcome you at the end of a private road in a set of local stone carefully restored, 5 minutes to shops Objat. Enjoy the peace and tranquility of the place.
Stay in a local stone barn (the sandstone) in the next pre cottage on the ground floor or side valley house, upstairs. Each of the two houses in its independence. Pre side has a living room with a kitchenette, a seating area with sofa bed and TV, two bedrooms with shower and toilet and a terrace with barbecue and garden overlooking the meadow. The valley side has a living room with a kitchenette, a seating area with sofa bed and TV, a mezzanine with 2 beds 90 and another room with a bed in 140. From the living room you can go out on a balcony overlooking the valley of Objat.
You stay in a green pen in the middle of meadows and woods and enjoy the beautiful view of the valley of Objat.
Bonjour Arnaud, Un grand merci pour l'acceuil, le gite est magnifique, agréable a vivre avec tout plein de surprises. Nous sommes venus avec 4 ados qui ont adorés le gite et les alentours. Enorméments de visites proposées dans un périmettre restreint. Merci pour les bons moments que nous avons passés. Christelle, Dom, Nina, Capucine, Tom et Lucas
christelle
2016-07-30T00:00:00Z
Gite paisible et au calme. Magnifique vue sur Ia vallée. Propriétaire accueillant et bienveillant. Grand jardin, piscine et animaux à proximité pour la plus grande joie des enfants. Idéal en famille
Fabien
2015-08-30T00:00:00Z
Room Type
Entire home/apt
---
Property Type
House
---
Accommodates
6
---
Bedrooms
Objat, Limousin, France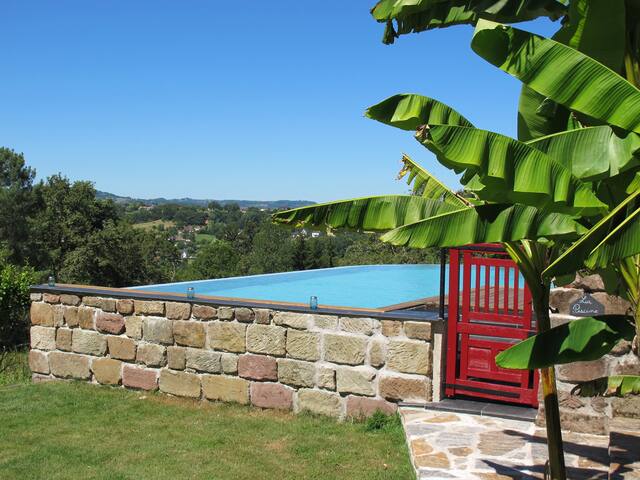 Guest artist and jewelry courses! Log off! The "Workshop Cottage" is a typical Correze charming space designed by an artist to make you feel calm, surrounded by beautiful objects in a natural setting in the heart of an old hamlet of sandstone and shale. An ideal place to disconnect and breathe! In particular you can do internships organized by Olivier Julia around the metal arts. (Information on the artist's website in his name)
The cottage of the workshop is a charming little nest where everything is done for pleasure and rest. For fall or winter evenings a large fire awaits you and music is also present (mini CD tuner with Bluetooth chain access to your devices). The leather chairs and wicker are welcoming and comfortable. Linens are provided as well as bath towels. An extra bed 110 x 190 is available in the large room to accommodate a child (the sheets are to bring this to bed) No ménage..on expenses counting on you to make the house as clean as when you arrive !! You can also do all kinds of activities according to your choice: Courses organized by the host, Olivier JULIA, professional artist metal for 30 years: - Realization of copper jewelry, brass, silver, enamel on copper - Sculptures, hammered metal objects -small patinated copper furniture (All information on the website Olivier JULIA) You can also visit the workshop of the artist and enjoy demonstrations of his work while taking an aperitif in the workshop. The cottage is located near the village of Objat (aquarécréatif space) of Brive and its famous market, 1h caves of Lascaux and Eyzies. (Valley of Man). To visit also the village of Collonges la Rouge, Turenne and Carennac In summer the castle Saillant 5km offers famous concert season (Festival of Vézère) and the village of St Robert (one of the most beautiful villages in France). Nearby still is the village of Pompadour: city of the horse, hitches contests, races and castle! (Horse riding)
The hamlet of Ceyrat is a set of houses typically Corrèze and charming, with studded slate roofs and old walls of sandstone and shale. the workshop which hosts courses is right next to an old barn (internship program on Olivier JULIA website)
The host canceled this reservation 65 days before arrival. This is an automated posting.
Philippe
2017-02-02T00:00:00Z
Olivier et sa femme nous ont très bien accueillis dans un logement bien rénové au sein d'un petit bourg. Ils ont été serviables. Olivier nous a fait découvrir sa passion. Le village est agréable, bien situé pour rayonner dans les villages aux alentours.
Renaud
2016-10-31T00:00:00Z
Nous recommandons vivement le gîte d'Olivier : nous avons vraiment apprécié le logement et la chaleur du feu de cheminée. Les environs sont également très agréables avec pas mal de parcours de randonnées. Olivier a été très accueillant et bienveillant en préparant un lit pour notre fille de 2 ans.
Albrespy
2016-11-13T00:00:00Z
Au coeur d'un hameau pittoresque, un charmant petit gite joliment restauré. Ici, vous trouverez le calme et le confort. Accueil sympathique et discret d'Olivier.
Isabelle
2016-12-08T00:00:00Z
Très joli gîté restauré dans une belle bâtisse corrézienne. Tout le confort nécessaire pour un beau séjour calme et reposant à la campagne, accompagné de beaux feux de cheminée. La cheminée et l'ensemble de la location sont encore mieux que sur les photos. Olivier est un propriétaire discret et à l'écoute. Toujours disposé à rendre service et il partage volontiers sa passion. Nous recommandons sans réserve.
Léonor & Martin
2017-01-04T00:00:00Z
Très beau petit gîte, idéal pour passer une soirée chaleureuse avec sa grande cheminée. Olivier est un hôte discret mais efficace, très réactif et qui nous a ouvert les portes de son atelier avec une petite démo à la clé !
Jérôme
2017-02-19T00:00:00Z
Nous avons vraiment apprécié notre séjour dans le gîte d'Olivier. Olivier était très accueillant et arrangeant pendant notre séjour. Le gîte est situé dans un village très pittoresque, mais le point culminant pour nous était la cheminée géante! Nous recommandons le gîte d'Olivier!
Fraser
2016-12-28T00:00:00Z
Excellent accueil dans un endroit en tout point conforme à la présentation, voire un peu mieux. Le gîte est parfait pour une petite soirée romantique, au calme et au coin du feu. A découvrir !
Pascal
2016-11-24T00:00:00Z
Room Type
Entire home/apt
---
Property Type
House
---
Accommodates
2
---
Bedrooms
Voutezac, Aquitaine-Limousin-Poitou-Charentes, France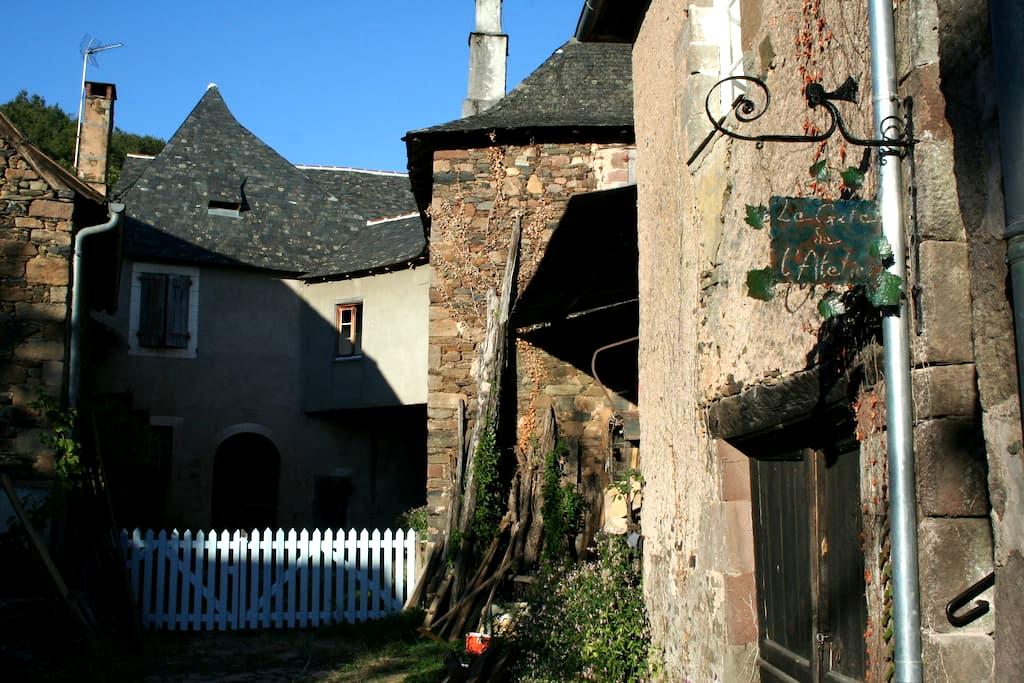 House located in a quiet village in the countryside near Objat. The house offers a large living room on the ground floor, loft style, with fully equipped kitchen (American fridge). On the ground floor a room with bed 140, a bathroom and a separate toilet. Saddler with washing machine + 2nd fridge. Upstairs 3 bedrooms with 3 SDE (SDE 2 with shower, sink and toilet, one shower room with double sinks and toilets but no shower), mezzanine. Terrace with table, chairs, pergola and barbecue Gas 1.
House of 180 m2 offering 4 bedrooms with 4 bathrooms. Kitchen with dishwasher, refrigerator, coffee maker Nespresso coffee + ... cinéna equipped home computer with video projector and large motorized screen
Room Type
Entire home/apt
---
Property Type
House
---
Accommodates
8
---
Bedrooms
Voutezac, Aquitaine-Limousin-Poitou-Charentes, France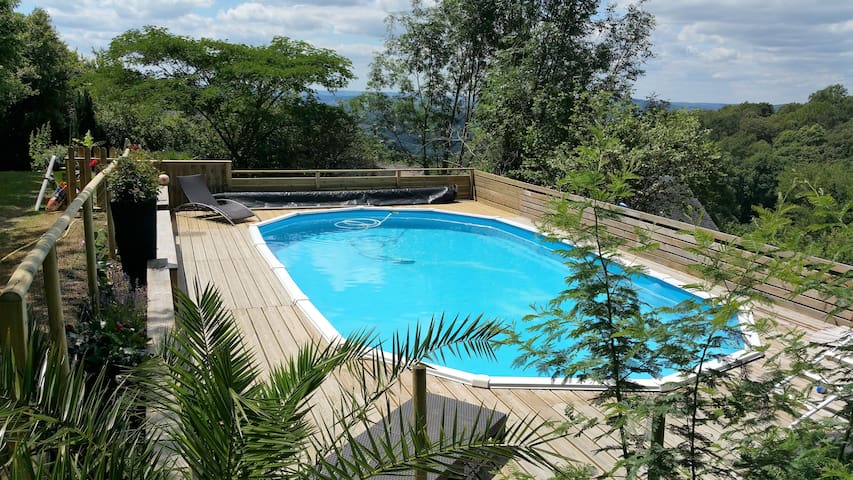 J'ai été reçu avec mes deux enfants aussi bien que si je me rendais chez des amis de... 15 ans : simplicité, disponibilité, mise à l'aise, commodité (place de parking). Mes enfants ont immédiatement adhéré et je n'ai pas eu le temps de ranger mes affaires qu'ils étaient déjà dans la piscine avec les enfants de mon hôte. Epicuriens et altruistes dans l'âme, l'atmosphère et l'ambiance de la maison vous mettent aussitôt à l'aise.
Gilles
2016-07-27T00:00:00Z
Maison authentique et verdoyante avec une très agréable piscine. Frédéric, Valérie et leurs 2 filles vous réserveront le même accueil que pour leurs amis, vous n'aurez pas envie de repartir. Vous pourrez partager leur passion de la musique et de l'équitation. Leur convivialité vous enchantera. Notre bébé était le bienvenu également. Une fabuleuse étape pour connaître Brive et ses environs.
Isabelle
2016-07-19T00:00:00Z
Accueil super agréable par une petite famille très chaleureuse. On a passé un excellent séjour dans leur très belle maison aux allures typiques de la Corrèze. L'odeur de pain grillé venait chatouiller nos narines tous les matins. Comme un chef d'orchestre, notre hôte Frédéric, organisait avec des produits fait maison, le petit déjeuner que nous prenions tous ensemble sur la terrasse ensoleillée, dans une atmosphère bonne enfant ! Ce sont des personnes qui connaissent également très bien la région et peuvent apporter de nombreux conseils de visites et de sorties. Nous recommandons vivement un passage chez eux pour une nuit ou plus.
Elo
2016-08-16T00:00:00Z
Frederic en de hele familie waren ontzettend vriendelijk en gastvrij. Elke ochtend stond er een ontbijtje klaar en de tuin is prachtig. Zeker een aanrader!
Diederik
2016-08-01T00:00:00Z
Vous êtes très bien accueillis par cette toute gentille famille qui vous accompagne pour que vous sentiez très à l'aise. TRès bonne literie. Bravo pour votre parc si réussi. Merci encore.
Muriel
2016-07-22T00:00:00Z
Room Type
Private room
---
Property Type
House
---
Accommodates
2
---
Bedrooms
Objat, Aquitaine Limousin Poitou-Charentes, France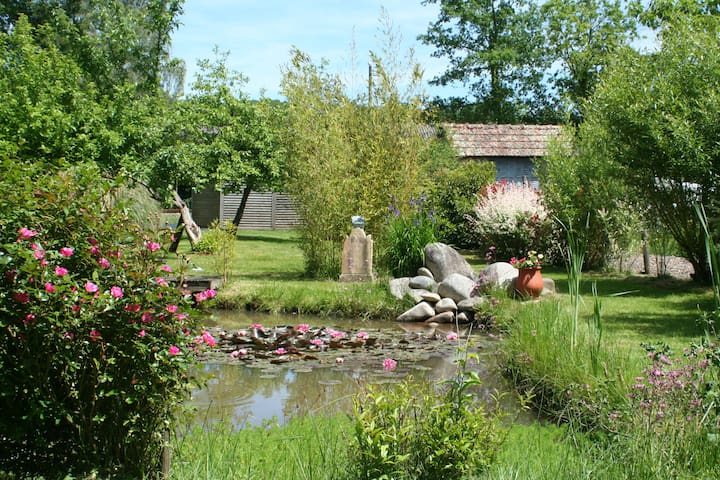 Two rooms a kitchen and a bathroom, the bathroom has a modern intelligent toilet and bathroom facilities, a kitchen with a disinfection cabinet and a full set of kitchen utensils, can cook their own food, two bedrooms, 1.8 bed 1.5 meters each one,
Room Type
Private room
---
Property Type
House
---
Accommodates
2
---
Bedrooms
瓦尔, Nouvelle-Aquitaine, France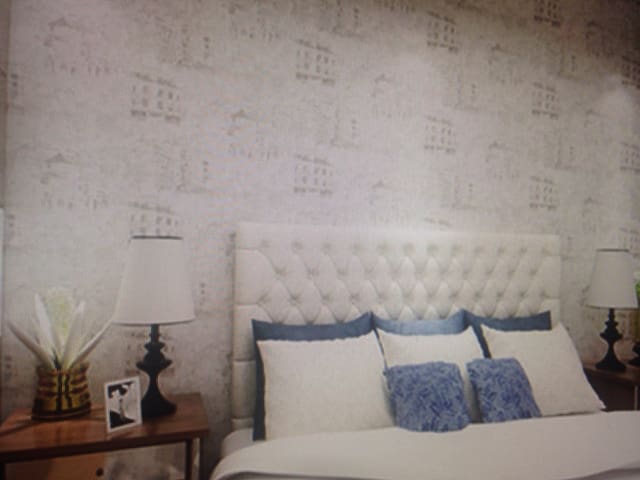 Au porte du Périgord Noir; Allassac, village Médiéval est une petite bourgade de 3000 habitants, situé dans un petit hameau nommé La Chartroulle, le gîte domine toute la Vallée de la Vézère à 4 km du bourg. Gite de France 3 épis.
Maison de famille pouvant accueillir jusqu' à 10 pers située sur les hauteurs d' Allassac dans le pays de BRIVE LA GAILLARDE, PAYS D'ART et HISTOIRE VEZERE et AUVEZERE ARDOISE dominant la Vallée de la Vèzère. 3 chambres, 2 lits de 140, 2 lits de 120 , 4 lits de 90, 1 lit enfant, 2 lits bébé.Cuisine indépendante, salle à manger(35m*), 2 wc, 2 salles de bain, TV, micro-onde, congélateur,four èlectrique,lave linge, sèche linge, Lave vaisselle, barbecue, salon de jardin, balançoire, bac à sable, équipement pour bébé: Gite calin et pêche. Table d'Orientation sur place(500m).A proximité:Brive la Gaillarde, Objat, Donzenac,Tulle, Uzerche, Vigeois. Vous pourez visiter : Collonge la Rouge,la citée médiévale de Allassac et de Donzenac, le site des Ardoisières aux Pans de Travassac , le petit marché d'Objat, le Haras de Pompadour, les Grottes de Lascaux II, Saint Robert, Aubazine, l'abbaye et le Canal des Moines trés beau site à ne pas manquer !!Rocamadour....ect.. documentation dans le gite.Nous vous proposons de visiter notre ferme (bovins et chevaux de trait) gratuit!
le gite se situe dans un hameaux dominant toute la Vallée !!
The host canceled this reservation 163 days before arrival. This is an automated posting.
Patricia
2015-12-02T00:00:00Z
Propriétaire très accueillante. Marie-Laure renseigne sur les activités possibles. Elle est très facilement joignable et très heureuse de faire visiter la ferme.
Martine
2014-07-19T00:00:00Z
Gîte très sympathique, superbe vue ! Tout est très propre et la cuisine est parfaitement équipée. Nous avons passé un très agréable week end en famille. Merci à Marie-laure pour son superbe accueil ! Très bonne communication tout au long de la réservation.
maeva
2015-09-07T00:00:00Z
Bon gîte, idéal pour un séjour entres amis.
Sam
2015-11-23T00:00:00Z
Room Type
Entire home/apt
---
Property Type
House
---
Accommodates
10
---
Bedrooms
Allassac, Limousin, France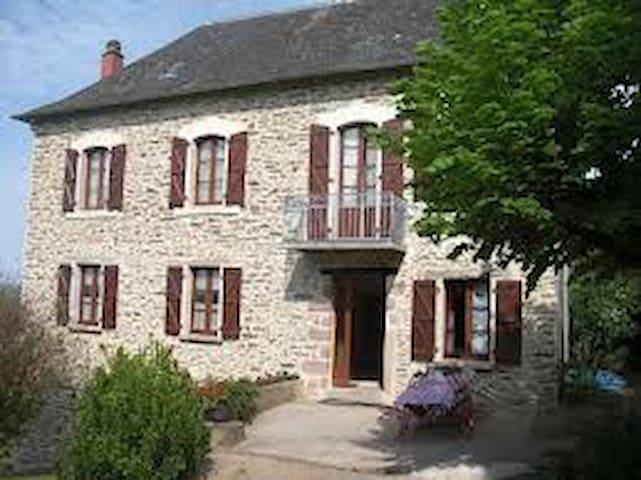 Ce gîte très confortable a été complètement rénové avec soin. Il est situé en pleine nature au centre de la propriété familiale. Une grande piscine ( à partager) est à la disposition des vacanciers. De nombreuses balades sont possibles .
La maison a été entièrement rénovée. Elle dispose d'un équipement complet. Elle est confortable aussi bien en hiver qu'en été
Super accueil dans un gîte très sympa et tout confort, au calme dans la campagne corrézienne. Mention spéciale pour la confiture de pêches de vigne maison !! Attention cependant pour l'accès, (SENSITIVE CONTENTS HIDDEN)Maps situe mal le gîte, de l'aide locale sera nécessaire pour arriver à bon port.
Thomas
2016-05-07T00:00:00Z
Très bon gite tout équipé et très propre ! Rien a redire, l'emplacement est idéal ,très calme avec un ciel etoilé magnifique le soir en bonus. De plus très bon accueil de la par de Danielle avec Pot de confiture et Noix en prime. Parfait séjours merci à Danielle et son mari
Yvan
2017-02-21T00:00:00Z
L'accueil était très chaleureux. La piscine est très agréable, d'autant plus apprécié à cause de la chaleur que nous avons trouvé en Corrèze en arrivant.
Jürgen
2016-07-26T00:00:00Z
Lieux parfait pour décompresser et être au calme ! Nous étions un groupe d'amis et nous aurions adoré rester plus longtemps, c'est une très bonne location avec de bon équipement et l'aménagement est super ! Je recommande fortement !
Quentin
2017-01-28T00:00:00Z
Court mais très excellent sejour. La maison est rénovée et décorée avec gout et la piscine fort sympathique.
jennifer
2016-08-15T00:00:00Z
Room Type
Entire home/apt
---
Property Type
House
---
Accommodates
6
---
Bedrooms
Perpezac-le-Blanc, Limousin, France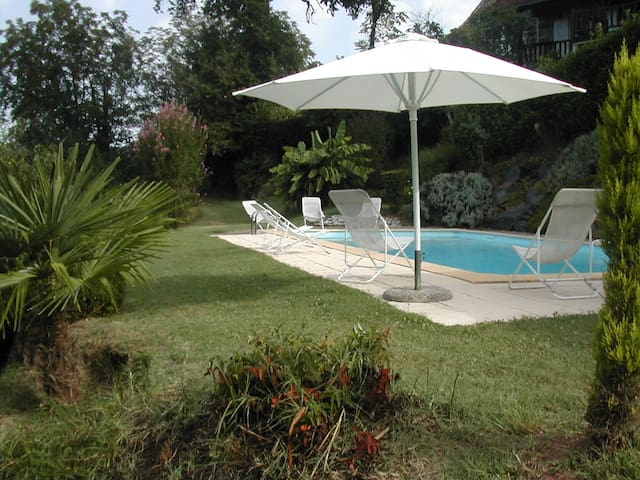 Very comfortable detached 2 bedroomed cottage situated in peaceful countryside midway between the popular towns of Pompadour and Objat. Perfect for relaxing but also well positioned for exploring the many interesting & historical "beaux" villages.
The non-smoking cottage is furnished and equipped to a high standard and caters for up to 4 adults in 2 double bedrooms on the first floor. The ground floor is open plan with lounge; dining area & well equipped kitchen. The bathroom, separate toilet & laundry room are also found on the ground floor. The rear garden is private & secluded & includes a terrace for outside dining. Sun loungers & gas bbq provided. There are NO EXTRA COSTS involved with renting the cottage as the rental price includes all electricity & gas usage, and all bed linen & towels are also provided. A well behaved dog is also welcome. Bookings must be for a MINIMUM of THREE NIGHTS and are subject to our Booking Terms and Conditions which include a deposit against damages of 100€. The cottage arrival time is from 4pm and guests are requested to vacate by 10am on departure day.
The nearby towns of Objat and Pompadour, both within 10kms of the cottage, possess supermarkets and various shops; open air swimming pools and other amenities. Objat is well known for its all year round Sunday market and Pompadour for its Equestrian events including horse racing regularly during July and August. Also popular in July and August are the evening Farmer's Markets held at various places, the closest being at Le Saillant.
David and Doreen are excellent hosts and have a lovely cottage in a beautiful and peaceful setting. The welcome pack of provisions was appreciated. The wifi signal is not the best, but if that is not essential to you and you want to relax in peaceful surroundings, I reccommend this cottage. There are lovely places to explore nearby.
Brenda
2016-08-17T00:00:00Z
The stone cottage was exactly as publicised, with a lovely garden and only fields for neighbours. We were greeted by our hosts and shown where to find things. They were always ready to offer advice and assistance, for example on restaurants, maps, where to visit or get groceries. There is a book in the house with comments and ideas from other guests, that is very useful. The house is lovely in a calm setting. Doreen and Dave were very kind and helpful, and we intend to go back. Friends of ours are now also interested.
Karina
2015-08-22T00:00:00Z
Lovely house ! Perfect place to enjoy the nature and relax. We spend a wonderful week in family!!
Emilie
2016-08-14T00:00:00Z
Logement conforme à l'annonce, accueil sympathique, explications pour accéder au logement correctes, calme, beauté du site, cottage très propre et bien équipé. Séjour extra !
Dominique
2016-08-07T00:00:00Z
Très charmante maison indépendante, cadre magnifique, intérieur et terrasse correspondant aux photos. Très bien entretenu, très propre, très bien équipé (ustensiles de cuisine, serviettes...). L'accueil de David était très chaleureux. Vivement recommandé pour une immersion dans la beauté de la nature corrézienne.
Emma
2015-09-13T00:00:00Z
Le cottage est très joli, très bien équipé et la vue est magnifique. A notre arrivée, un petit panier de bienvenue nous attendait (lait, beurre, pain frais, jus d'orange, confiture, vin...). Très bon accueil
elodie
2016-08-21T00:00:00Z
Room Type
Entire home/apt
---
Property Type
House
---
Accommodates
4
---
Bedrooms
Saint-Solve, Limousin, France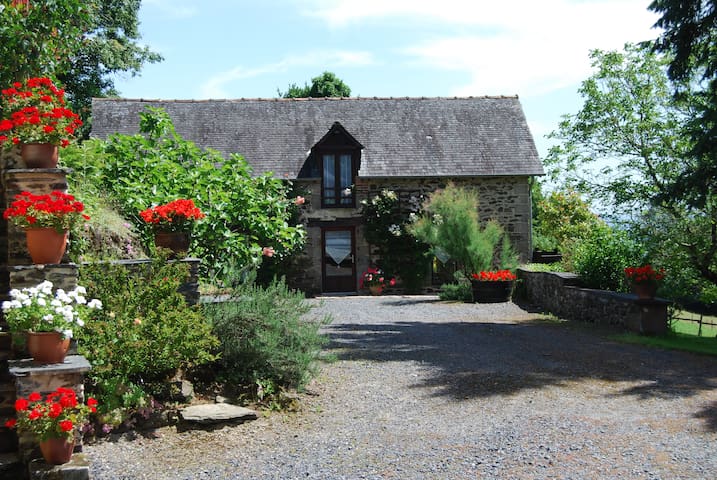 Maison en pierre entièrement restaurée. Située au fond d'un petit village (14 habitants) TRES calme... Si vous aimez le calme de la campagne, n'hésitez plus !!
Room Type
Entire home/apt
---
Property Type
House
---
Accommodates
6
---
Bedrooms
Allassac, Aquitaine Limousin Poitou-Charentes, France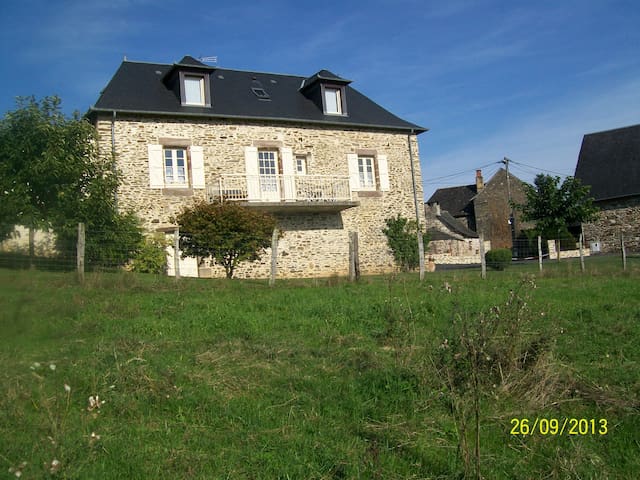 Very pretty cottage set in historic sleepy village, close to Brive City, Pompadour and Objat, surrounded by outstanding countryside. Balcony overlooking the magnificent architectural masterpiece viaducts. Brive airport 40 mins, Limoges airport 75.
Enjoy a glass of wine on the balcony at the end of the day, overlooking the stunning of views of the Correze.
Tranquil peaceful village yet accessible to main vibrant local towns.
thanks very much for everything.
Rafael
2016-08-04T00:00:00Z
Brenda is trustable host . Everything were perfect even the arriving . The house is clean with a stunning view of the valley !
Ziad
2016-10-16T00:00:00Z
Brenda was a lovely host, very welcoming and helpful. She suggested visiting the sunday markets at nearby Objat, which we thoroughly enjoyed. Communication was excellent, and keys were very convenient. The accomodation was very comfortable and warm, perfect for our family with 2 small kids. Tea, coffee and milk were provided and the place was spotless. It was very pleasant to watch the sun set from the balcony. We would have liked to stay longer!
Sonya
2016-10-23T00:00:00Z
Unfortunately, A drastic change in our arrangements meant we had to cancel our stay at Brenda's. She was very understanding when I informed her by telephone
Ieuan
2016-06-19T00:00:00Z
Brenda was a great and really helpful host in all aspects. We didn't get the chance to meet her, but the communication with her went well. Her little maison was a cartoon-like place in a lovely enviroment. The only thing we were missing was the salt from the kitchen, however, there were various other spices. We happened to leave a towel of ours behind at the accommodation and Brenda was lovely to offer to wash it and return it to us on our route home. We arrived late at night, but it was easily solved, as well. Thank you Brenda for being a great host for the night we stayed at your maison.
DrFerenc
2016-06-15T00:00:00Z
Excellent in all respects. Clean and provided everything we needed! Thank you
TOM
2016-08-21T00:00:00Z
The Petite Maison is magic of Alice's Adventures in Wonderland. Brenda took care about every detail. The place was clean and comfortable. We stayed during The Perseids time and enjoyed extremely beautiful spectacle in the sky from the balcony (not mentioning the view during the day). We will come back with great pleasure to Petite Maison.
Wojciech
2015-08-13T00:00:00Z
We did not have the pleasure of meeting Brenda but she was on hand when we needed to contact her. The house was very comfortable, full of character and lovely place to be. Everything in a self catering cottage that we needed was there. The view from the back balcony is beautiful.
El
2015-10-21T00:00:00Z
Room Type
Entire home/apt
---
Property Type
House
---
Accommodates
4
---
Bedrooms
Vignols, Limousin, France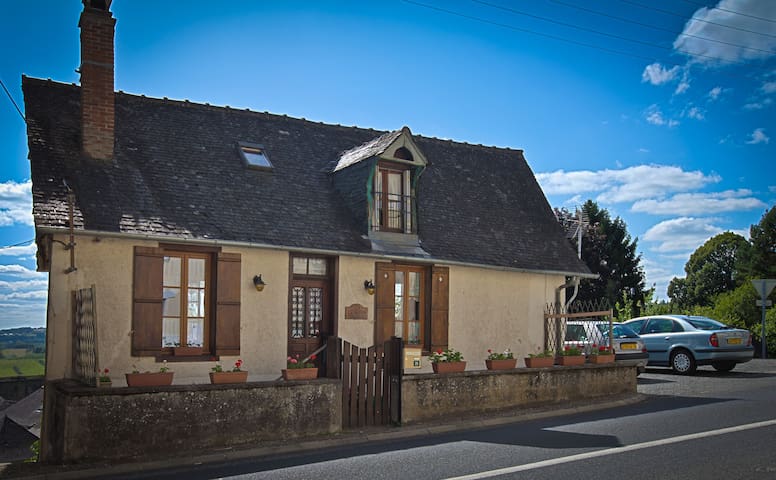 The cottage is in a hamlet with just 2 other houses so very quiet and peaceful but is only 1 minute from the village and its' shops plus 3 bar/restaurants all with indoor and outdoor dining facilities. There is also an Indonesian take-away!
The cottage is open-plan and split-level. The fully equipped kitchen/dining area has 3 steps leading up to the cosy living room where there is a music system and TV. The TV can be turned either towards the living room or the kitchen. There is also a small office and WIFI. The 2 bedrooms are on opposite sides of the house, one on the ground floor, the other, loft, bedroom on the first floor. Both have double beds and are very spacious. The loft bedroom has more than enough space for 2 single beds as well, if required. The bathroom has a large bath, separate shower, basin and toilet. The terrace has a bar/BBQ and outdoor fridge. The private, heated, salt-treated 9 x 4m pool, open from May to October weather permitting, and its' terrace overlook several valleys and has fabulous views! Parasols abound and Palm and Banana trees offer natural shade.
Ayen is a small village on the Correze/Dordogne border 20 kms north west of Brive-la-Gaillarde. The departement of the Lot is only 20 kms away. Locally many walks - not for the faint-hearted as this area has magnificent views hence hills and valleys! The list of tourist sites to visit is exhaustive with everything from the 2nd most visited tourist spot in France - Rocamadour; to Pompadour - home of the National Stud; Lascaux; listed villages; museuems, pavement cafes, fishing, lakes with sailing and water ski-ing etc. etc. etc. Fantastic bird watching. Night sky superb.
Despite the old photos, this is an amazing place to stay, with just about everything you could want. Swimming pool, large open plan house, rolling countryside, small French villages nearby - its all there. Dawn was a lovely and considerate host, and gave us a good induction to the house and pool. Would recommend without reservation.
Malcolm
2016-06-28T00:00:00Z
The cottage was the secluded idyll we were looking for, Dawn's place only has one neighbour but you'd never know they were there, the pool area feels very private thanks to the banana palms and bamboo. The house is well equipped with kitchen stuff, picnic gear, towels, there was even a big basket of sun cream, shower gels, shampoo's etc - very useful when 100ml is all you can bring from home on the plane. Additionally the whole house and patio area are rigged up with speakers, we had great fun going through Dawn's collection of 80's cassettes and dancing to Stevie Wonder on the patio in the sun! The pool is heated, so even though we had pretty changeable weather we swam regardless. There are 2 routes to the village of Ayen - one picturesque dirt track over the hill (20min walk) the other on the road (we saw 2 cars in 1 week) takes about 15mins. Ayen has lots for such a small town - Bank and ATM, 3 bar/restaurants, 1 posh restaurant, boulangerie, and small supermarket. Dawn was super helpful, very accommodating and completely unobtrusive. Thank you Dawn, we had a lovely hol.
Abby
2016-06-19T00:00:00Z
Room Type
Entire home/apt
---
Property Type
House
---
Accommodates
6
---
Bedrooms
Ayen, Aquitaine Limousin Poitou-Charentes, France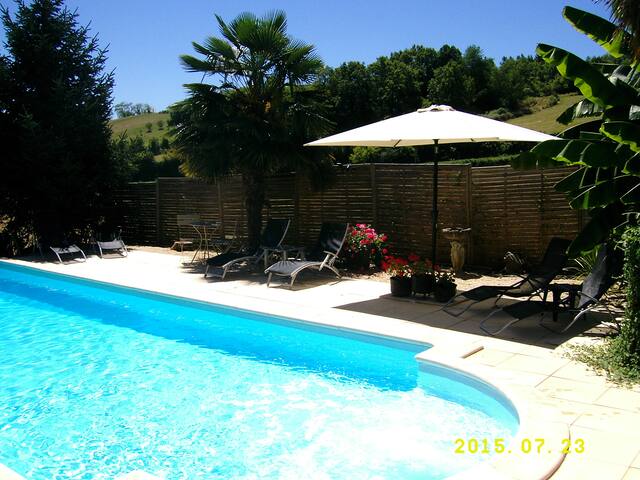 Maison typique en brasier proche des accés autoroutiers A20 et A89 (5mn) et à la limite des départements de la Dordogne et du Lot.La ville la plus proche est Brive la Gaillarde : 15kms et vous pourrez visiter Rocamadour,Sarlat, Collonges la rouge,les grottes de Lascaux... Emplacement idéal pour étape au calme, lors d 'un long trajet sur autoroute!. Vous apprécierez mon logement qui est situé à la campagne si vous aimez l'authenticité, la simplicité et la quiétude alors vous serez comblés .
Chambre spacieuse sur 2 niveaux, salle de bains et wc privatifs
Petit hameau tranquille
Room Type
Private room
---
Property Type
House
---
Accommodates
2
---
Bedrooms
Allassac, Nouvelle-Aquitaine, France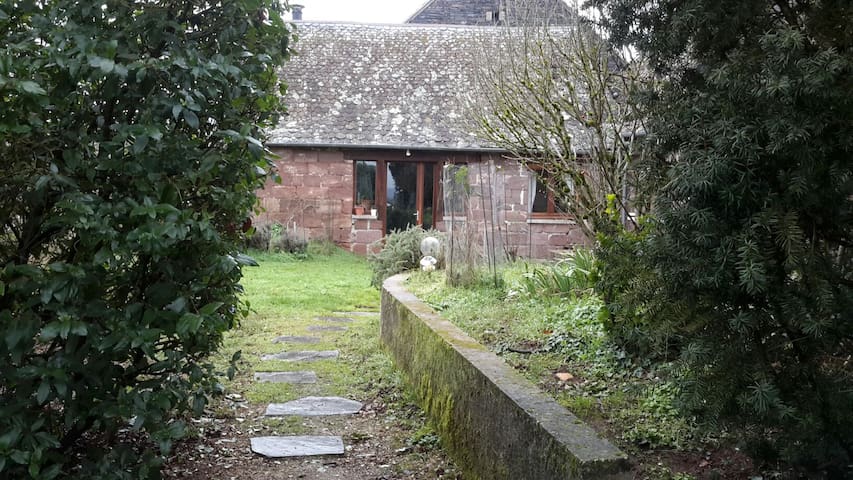 Maison rénovée,intérieur chaleureux! Idéalement située à 5mn de l'h A20 et de l'A89 . Vous pourrez profiter du calme tout en étant proche de brive la gaillarde et des environs trés touristiques de la vallée de la dordogne et du lot!Ainsi vous pourrez visiter Rocamadour,Montignac,Sarlat, les grottes de Lascaux,Collonges la rouge........
Location souhaitée à la semaine, minimum, pour cette période de vacances scolaires
Petit hameau tranquille propice à la promenade
Room Type
Entire home/apt
---
Property Type
House
---
Accommodates
6
---
Bedrooms
Allassac, Nouvelle-Aquitaine, France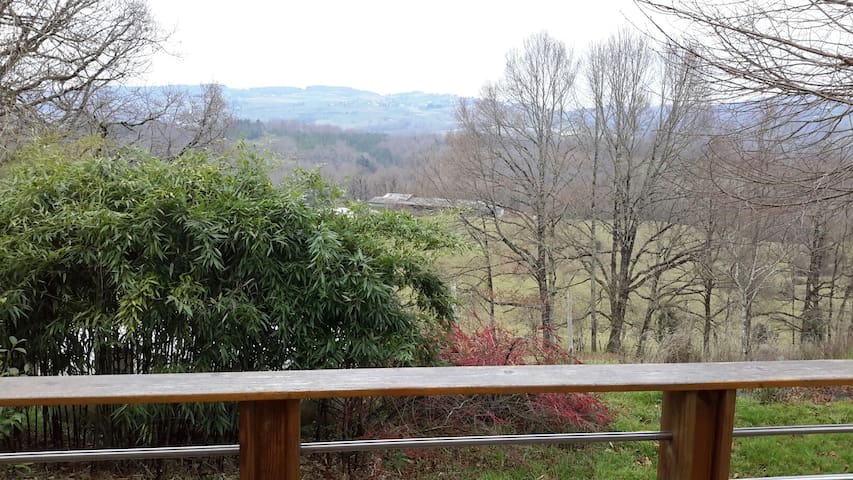 Fully renovated barn with traditional low beams, yet bright and airy. Peaceful location in rural setting where life moves at a slower pace. It is perfect for those looking for an escape from today's busy life and to explore numerous attractions.
Situated within the grounds of the main house but maintaining its own privacy, the owners are on hand should you need them. The Gite has 2 bedrooms and a bathroom upstairs with a large open plan living area on the ground floor. There is a private patio and garden, at the rear of the property to enjoy the sunshine and for breakfasts and evening BBQ's, or just relaxing with a glass, or two, of wine whilst taking in the late sunset. There is a larger garden, at the side of the Gite, exclusive to guests, and a grassed area in front. All within a short drive of local shops, bars, supermarkets and restaurants.
During the summer months there is a water park with lazy river and water slides to be enjoyed in Objat where you can take your own poolside picnic. Arnac Pompadour also boasts a pool together with an historic chateau whilst also being a famous equestrian centre. Both towns have a tourist office where you will find details of many other attractions and activities both local and further afield. The Gouffre De Padirac a cavern that existed in the 3rd century contains a subterranean river system flowing 100 meters below ground that is partly negotiable by boat. This cave system is regarded as "one of the most extraordinary natural phenomena of the Massif Central." is only an hour and 25 minutes away by car. Rocamadour in the Dordogne Valley is also a must, just a stones' throw from The Gouffre. Collonges la Rouge, one of the most beautiful villages in France with wonderful restaurants, is an hour away and well worth a visit, as is picturesque Perigeaux with narrow winding walkways and open air dining, not to mention Sarlat, Bordeaux and Bergerac. Vide Greniers, (attic clearance) are a regular event, a French version of a car boot sale. Sometimes stall holders do this for a living and are very aware of what they are selling. Some stall holders are really clearing their attics out and bargains certainly can be had.
Room Type
Entire home/apt
---
Property Type
House
---
Accommodates
4
---
Bedrooms
Vignols, Aquitaine-Limousin-Poitou-Charentes, France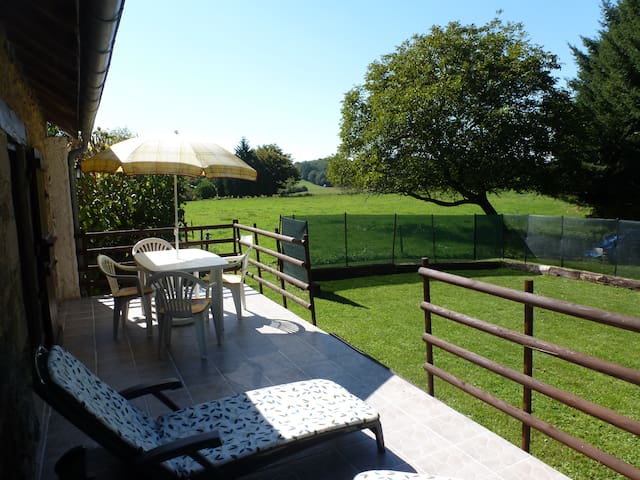 1

–

18

of

43 Home Rentals
Enter dates to see full pricing. Additional fees apply. Taxes may be added.