This little space is in our garage accessed by a sturdy stairway/ladder. There is ample room for 2 people & also an area to make a cuppa & toast for breakfast. Your own bathroom, located in the laundry of main house, is a short (outside) walk.
Follow the painted path through the garage to climb to your own private & quiet space. Room for standing but if you do bump your head, the exposed beams are carpeted to cushion the blow! A window provides ventilation as well as views across the property. There is also a bookshelf with a good variety of reading material & games. Tea, coffee & sugar are provided along with some basic utensils & crockery. Easy access to water for filling the kettle. There is a fridge available for your use.
We think our attic would be ideal if you are passing through Waihi & need an affordable but comfortable place to stay. Also, for someone wanting to experience something different in accomodation options.
The quality of sleep in the cosy attic room was exceptional. The property is in a very quiet area & Maree & Greg's gardening, fishing & cooking skills provided us with a delicious meal - Maree's apple dessert still has us drooling. The bathroom is part of the main house & while this was not an issue for us, those needing a very short walk to use the facilities in the middle of the night might find it a little too challenging to get to. We really loved the attic - comfortable beds, a space to make our breakfast and Maree & Greg had lots of good pointers for us tourists. I thoroughly recommend this for anyone who is limber enough for the very sturdy ladder. We also recommend the gold mine walk.
Thomasina
2015-02-09T00:00:00Z
Maree & Greg were very welcoming and friendly. Their place is just outside of Waihi and has lovely natural surroundings. It was so peaceful with an excellent large garden where you can sit and enjoy. We stayed in an attic in a building near the house and were provided with facilities for cooking. They gave us good advice and we enjoyed conversations with them.
John
2017-01-03T00:00:00Z
They are very nice couples and I spent a great time talking to them. I was surprised first to go through garage and climb up to my room, but at the end all was fine as I slept very well. The house is clean and nice.
Tomaz
2016-02-01T00:00:00Z
Maree and Greg were wonderful hosts! Such a heartwarming couple and definitely made us feel very welcomed. Their backyard orchard was such a treat with some fresh fruit for the picking! The attic itself was such a cozy and cute accommodation - definitely highly recommend!
Linda
2016-03-31T00:00:00Z
We had a wonderful stay at Maree's cosy attic! We were welcomed warmly and the room was very well equipped with all we needed. Maree and Greg were incredibly generous and we so appreciated their thoughtfulness with fresh fruit from their trees and a lovely evening meal with freshly caught fish. We highly recommend their place for a budget priced holiday if you are OK climbing up a ladder to get to your room. (Which for us just added to the experience!)
Gillian
2015-04-08T00:00:00Z
I had a wonderful stay in Maree and Greg's home. They were very nice to me and I slept very well in their quiet and lovely attic. Everything was very clean and decorated with care.
Anthony
2015-04-20T00:00:00Z
Maree and Greg were very welcoming. The property is beautiful and I loved waking up to the sound of rain on the roof, and a Tui bird singing. I stayed for one night and had a great time.
Kelly
2015-11-13T00:00:00Z
Lovely place to spend a night. Maree was kind and helpful - would definitely return :)
aengus
2015-10-17T00:00:00Z
Room Type
Private room
---
Property Type
Loft
---
Accommodates
2
---
Bedrooms
Waihi, Waikato, New Zealand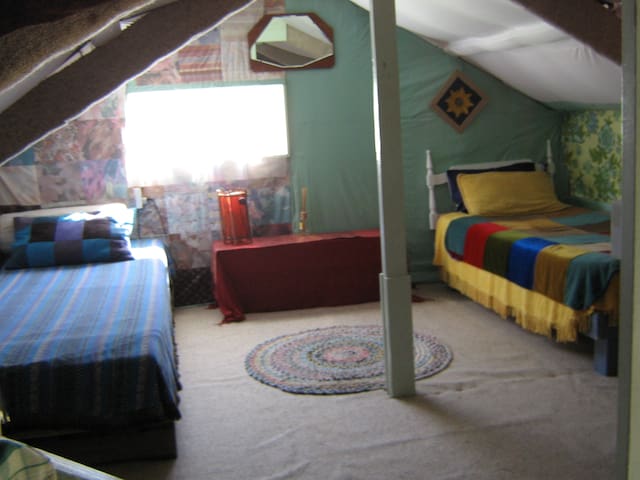 This charming and spacious barn with a loft room is nestled amongst acres of lush green trees, plants, fruits, and flowers. Perfect for those seeking a good night's rest after exploring the Bay of Plenty or wanting a bit of solitude and personal space for a mini yoga/meditation retreat. It is also within walking distance of the wedding venue Fountain Gardens. The natural harbour with swimming and a fishing jetty and slipway are a couple of kms away and lovely nature walks within easy reach.
On the first floor, there is a kitchen and dining area as well as living room with a couch and sofa. The renovated bathroom is also located on the first floor and contains a modern stand-up shower. Located on the second floor is the loft bedroom (sleeps 2) with lots of natural light, a working desk and lovely balcony where you can sit and absorb the calming sights and sounds of nature. Towels, bed linens, and duvet are provided. There is a flat screen TV with a selection of DVDs, board games and a music player that are available for entertainment. Cutlery, plates, bowls, glasses, mugs, tea kettle, a small stove, oven microwave and fridge are also provided. We are in the process of installing WiFi. You can access it from the main house for emails etc.
The Black Sheep Bar and Restaurant is within walking distance and has great food, ambience and live music on some weekends. There is a Freshchoice supermarket and Boat Club Restaurant and Bar in Omokoroa, a few kms away. Bethlehem is 6 kms away with many shops and eateries.
Room Type
Entire home/apt
---
Property Type
Loft
---
Accommodates
2
---
Bedrooms
Tauranga, Bay Of Plenty, New Zealand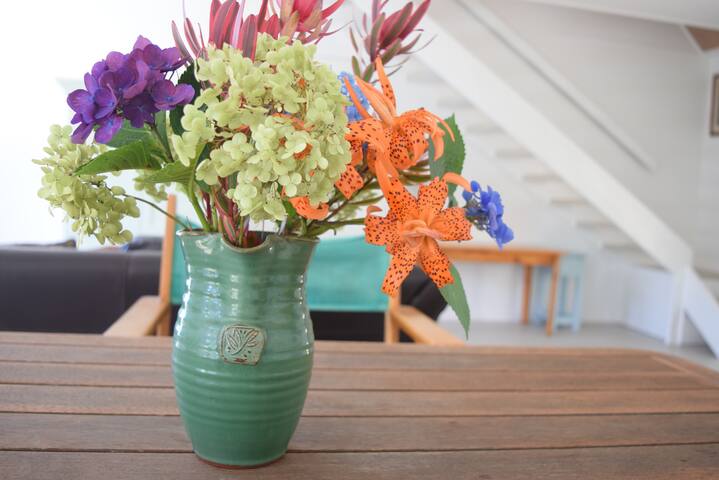 This snazzy modern loft is situated at the back of a spacious lifestyle block. Located on the outskirt of Hamilton, Its peaceful and laid back yet just 10mins away from central city. Sit on the deck and revel in the lush well established estates surounding. Perfect for those wanting to catch an early flight or night stop overs as just 10min from Hamilton Airport and Mystery Creek Event Centre. 5mins from Waikato University, 10mins from the Hospital and Advantidrome. This loft is ideal for those in town for Business or Recreational events. Or travellers looking for a comfortable stopover.
Rural/Bush feel with City Location
Its quiet and peaceful yet you have the hillcrest shops 3 minutes up the road. It has the country feel but so close to town. Street turns off of SH1 so very easy for getting places. * 5min from Waikato University. * 10 - 15min from Cambridge Advantidrome, Hamilton Airport, Waikato Hospital, Mystery Creek Event Centre, City Central Bars and Restaurants. * 25min from Karapiro rowing club.
Shani was in touch in advance of my checkin to make sure that I was able to get to the property and welcome me. She's a lovely host and was always happy to help and make sure that I had everything I needed for my stay (including some lovely home grown tomatoes). The property is in a beautiful setting, only 5 mins drive from town (possible to cycle to town easily), and had everything I needed to feel at home. In addition, the flat is very private and quiet - I can't rate it high enough - a must stay if you're in Hamilton.
Fabrice
2017-03-28T00:00:00Z
A lovely loft in a beautiful setting - very peaceful and private. Shani and her mum are lovely hosts and make you feel very welcome. We will definitely stay again!
KiereNgaire
2017-02-14T00:00:00Z
The host canceled this reservation the day before arrival. This is an automated posting.
Bernhard
2017-02-02T00:00:00Z
Lovely place well furnished and in the nature without been far from the city, thanks for having us
Rachel
2017-02-18T00:00:00Z
Loved it! Very cute place!!
Madison
2017-02-16T00:00:00Z
Room Type
Entire home/apt
---
Property Type
Loft
---
Accommodates
2
---
Bedrooms
Tamahere, Waikato, New Zealand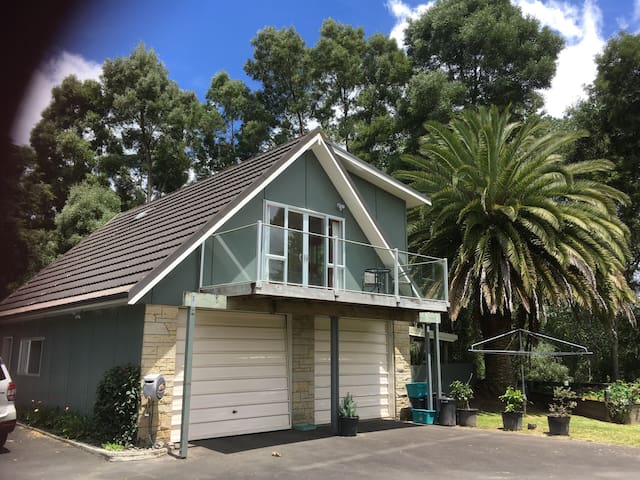 A comfortable, spacious 1 bedroom loft with separate lounge (with foldout couch), kitchen and bathoom located on a working horse farm minutes from Cambridge in the heart of the Waikato.
Loved our time at the Brightwells over the 2014 Fieldays, it was exactly what we needed for four big tiring days! Cathie was such a pleasure to deal with, made sure we were comfortable and warm. Very comfortable bed, clean kitchen with everything you need and good shower! Also, the location to Cambridge was very close yet nice to be out in the country.
Sarah
2014-06-16T00:00:00Z
Cathie's loft is very cozy and is stocked with everything you need. We brought food before arriving in her place but were surprised to see that she had kindly provided fruits, bread, milk, honey, jam, etc, etc for us. Cathie and her family were very friendly. We really appreciate that she took time from her busy schedule to show us around the horse farm and share interesting stories with us. It was an unforgettable experience to stay at the place and is highly recommended! We will return again some day soon.
Qijin
2014-08-13T00:00:00Z
We had a great few days relaxing at the loft. It's close to town but far enough away to feel secluded. When we arrived there was a lovely little selection of fruit & essential bits. Helen made us feel welcomed and around if we needed anything. Felt very spoilt! Would highly recommend Cathie place!!
Kody & Grant
2017-03-24T00:00:00Z
A fantastic spot in a great location just outside of Cambridge The loft has everything you need and is within easy access of Cambridge, Hamilton and the surrounding areas Cathie is a fantastic host, and the loft is perfect for anyone who is into horses or wants a quiet stay just outside of town - we'll be recommending it to family and friends when they come to visit
Russ
2017-03-17T00:00:00Z
We thoroughly enjoyed our extended stay at the loft. The location is great, close to town if needed but very quiet and peaceful. The only interruptions were the gorgeous horse and foal in the front paddock.... Perfection!
Janette
2017-03-02T00:00:00Z
Very welcoming hosts. Great location. Would definitely recommend and stay again ourselves.
Amanda
2016-06-19T00:00:00Z
What a perfect place to stay. The bed was so big and so comfortable. Didn't get to meet Cathie as I came late and left early each day but we communicated by phone. Beautiful bowl of seasonal fruit, muesli, bread, milk and yoghurt awaited. Was super looking out over the paddocks with the foals in. So clean and tidy. Definitely recommended.
Cherie
2017-02-04T00:00:00Z
Cathie is very friendly and greeted us with a warm welcome on our arrival. If you enjoy a rural setting and surrounding, this place would be ideal. This place may not be suit people who mind stairs, as it is split level living. We enjoyed our stay.
Vincent
2016-07-22T00:00:00Z
Room Type
Entire home/apt
---
Property Type
Loft
---
Accommodates
4
---
Bedrooms
Cambridge, Waikato, New Zealand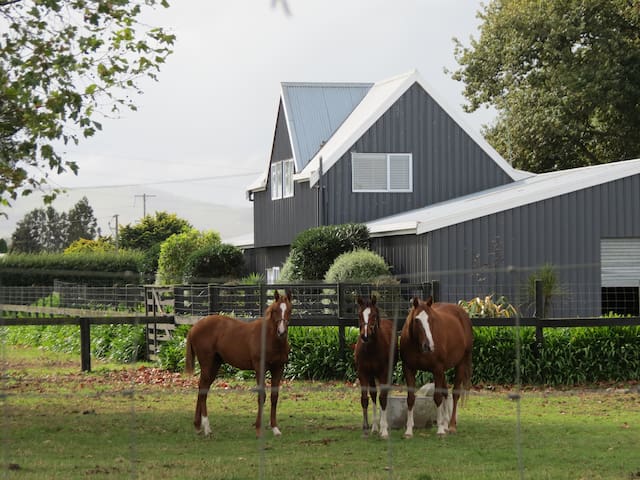 We are set on a 13 acre lifestyle block with native bush, fruit trees, vege gardens and some farm animals too! The Loft... this spacious bedroom and lounge area overlooks the garden and native bush. There is also an adjoining queen bedroom and an en-suite with toilet and vanity and a private shower next level down. Microwave, jug and toaster are in the room (guests may use the main kitchen for meal preparation on pre-request). (Owners live in house)
We have some farm animals on the property, so please mind the chickens as you drive up to the house! There is an abundance of native (and exotic bird-life) near the house and in the bush block for any nature-lovers hoping to catch a glimpse of our rare bellbirds.. At any given time in the house, there may be 3 permanent people including myself, 1 or 2 helpers in the orchards and then other people in other dwellings on the property. We're all a friendly bunch and happy to chat or assist in any way we can :)
The house itself was lovely, as was Melanie, however at the time I don't think it was completely ready for guests. It was very clean and nicely set up for our arrival, and Melanie was very accommodating to our last minute request to stay. Unfortunately, due to the lack of rain there was limited water. There was no wifi, and we didn't have our own key. Mainly, the house was listed as being access to the entire home, when in reality we had access to the loft. When it's ready, the house will be a lovely family home to join.
Nicole
2016-08-30T00:00:00Z
Nice surrounding!
Daniela
2017-03-26T00:00:00Z
Nice place for an overnight stay. Melanie was very accomodating when we had to checkin a bit later than planned.
Sa
2017-01-28T00:00:00Z
Clean and very comfortable place. Melanie is a very friendly and accommodating host. Thank you! Highly recommended.
Amir
2017-01-06T00:00:00Z
This is a gorgeous wooden house surrounded by picturesque hills and forests. We had the whole top floor to ourselves, making it a luxurious two bedroom suite! The furnishing of the place makes it the ideal "cottage cozy" perfectly suitable for a romantic getaway or vacation. We were very sorry to only spend one night in this heaven!
Ola
2016-11-30T00:00:00Z
Melanie was very accommodating, and we really enjoyed our stay at her beautiful farmhouse in the country.
Matt
2016-10-21T00:00:00Z
We absolutely loved staying in Melanie's gorgeous loft. We had so much space and the views were stunning. Less than half an hour to the beach and the town of Tauranga but still that feeling of being in the real countryside, what a great location. Melanie looked after us very well and was welcoming and friendly, she even gave us a tour of her property. We will definitely be back next trip, thanks Melanie.
Jen
2016-09-28T00:00:00Z
Good place! Very spacious and private
Adam
2017-01-05T00:00:00Z
Room Type
Entire home/apt
---
Property Type
Loft
---
Accommodates
4
---
Bedrooms
Oropi, Bay Of Plenty, New Zealand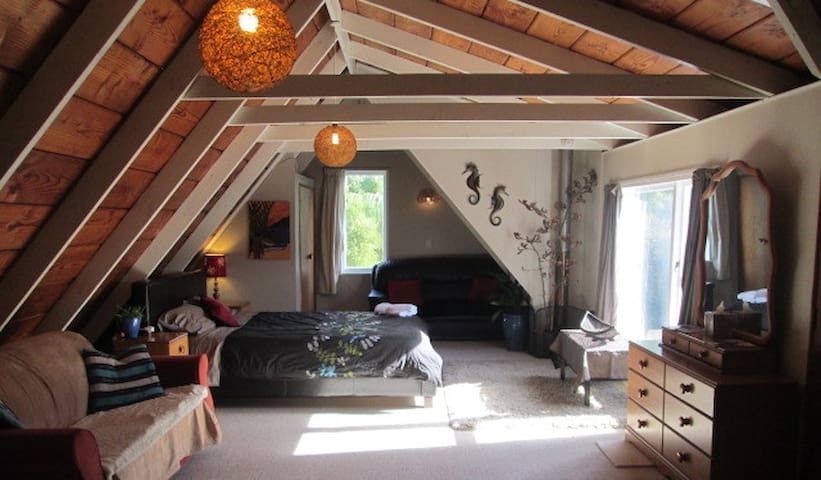 A private eco country retreat 30 minutes from Tauranga CBD. Enjoy the farm animals and see stunning morning vistas of farmland and mountains and watch the sun go down on the Kaimai ranges from the verandah or bedroom. Treat yourselves and get away from it all in luxury.
Solar powered and off the grid eco friendly in luxury near new studio apartment. The modern kitchen with small fridge, crockery, cutlery and utensils, hotplates, an electric frypan and a small benchtop oven and there is also an outdoor barbeque. The owners organically farmed animals include goats and beef cattle and they have an large vegetable garden and produce may be available in season. The Solar heated swimming pool suited to summer use, is located at the owners residence nearby and guests are welcome to use it.
A quiet neighbourhood with sounds of birds and farm animals. We're in the country located on a quiet country lane yet close to town.
Beautiful country setting. The hosts were friendly and helpful. The accomadation was clean and comfortable. We will definately stay here again when we next visit Tauranga.
Chris
2016-12-30T00:00:00Z
Room Type
Entire home/apt
---
Property Type
Loft
---
Accommodates
2
---
Bedrooms
Tauranga, Bay Of Plenty, New Zealand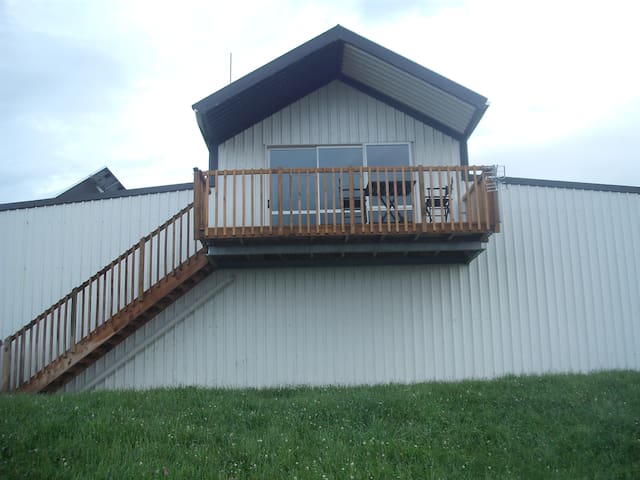 Waikino - Airbnb
:
Average

4.51

out of

5

stars from

57

guest reviews
Enter dates to see full pricing. Additional fees apply. Taxes may be added.