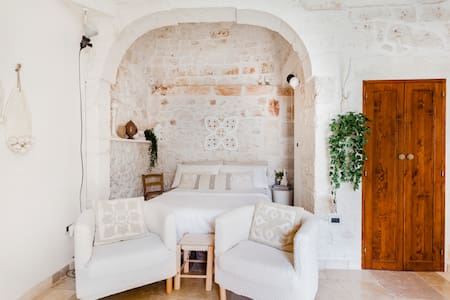 PLUS
Tiny house · 2 guests · 1 bed · 1 bath
Pietrachiara-Deliziosa casetta in pietra con terrazzo nel cuore di Ostuni
CIS: BR07401291000000184 In a beautiful pedestrian courtyard, a few steps from the main square, you can experience this delightful and small house. The terrace of this charming nest offers a magnificent view. Inside, entirely in white stone, traditional decorations and design choices.
What guests are saying:
"Carlas house is Great with a wonderful rooftop terrace! Everything is very neatly decorated and the place is very welcoming ! Tiny bit comforting ! Communication with Carla was very easy and we had no problems at all ! There was everything we needed. Even finding a parking spot was easy in the nearby neighborhood. The place is quiet although close to the center - sleeping with open doors was no problem. Ostuni is a great Place to explore Puglia and even to relax at the beach! We would always come back and recommend the place to our friends."
Is a studio apartment made of stone, elegantly furnished in traditional style. The attention to detail will make the visitors fully immersed in tradition and comfort at the same time.
What guests are saying:
"Cozy, convenient and cheap. Perfect for 2 and also pretty good for 3. When you open the door, you find yourself in a quiet street in the historic center of Ostuni. Even so, it is only 50m away from the best restaurants and shops in Ostuni. A perfect choice for a trip to Puglia."
2 Floors XIX century house in the old town of Ostuni for 2/3 guests, entirely made of stone, Free WI FI, balcony and roof terrace with a view on the sea, decorated in typical Puglia style with care for details and tipycal features, full equipped. Parking is easy to be found in the street under the house.
What guests are saying:
"Our stay in Gaetano's place was very nice. The house is charming and doesn't need a lot to make it feel homey. Gaetano was very accommodating and communicative and we were happy to be able to check in early. Ostuni is beautiful and especially since the tourism is at a low point because of Covid-19 we could enjoy the it without big crowds of people. If you are looking for a time and place to visit Ostuni, now is the time and Gaetano's is the place to stay."