Nestled on the banks of the Swift River is Chucky's Ital Villa. Running waters of the Swift set a peaceful mood. Swimming holes, easy walk to untouched beach, 5 min route taxi to Port Antonio, Blue Montain Tours avail. Paradise! Feel free to freelance life here. Also check out Chucky's Ital Villa #2 and #3.
What guests are saying:
"If you need to relax and unwind away from the city life look no further. Chucky's place is simply beautiful. The location itself is more than perfect. You will be immersed in nature with a variety of trees, birds, and the fresh water river. Within walking distance is a beach and convenience shops. Getting into town is just a short taxi ride away. I've been to Jamaica many times, but this is my first time staying in Portland which is the most beautiful parish in all of the country. Chucky is a great human and you will be honored to be in his presence as an amazing host. I will stay here again and pass the word along to others to stay here in paradise."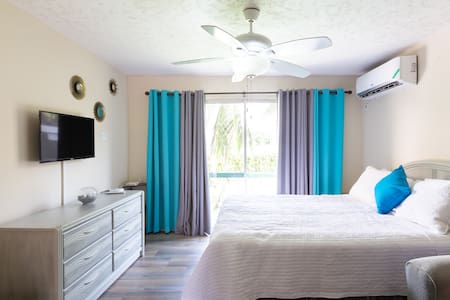 SUPERHOST
Entire condominium · 2 guests · 1 bed · 1.5 baths
Modern Apt in perfect location in New Kingston.
Exquisitely furnished and decorated apartment suitable for business travelers or guests with a high standard for accommodations.
What guests are saying:
"Sandy's place is clean and easy to get to. Although I found Kingston completely safe, the 24 hour security adds an additional peace of mind. In fact, as I was walking out the gate, phone in hand, Brian (security guard) told me not talk walk with my phone as it wasn't safe. Sandy herself was very responsive and helpful. I had a couple questions after checking in and she made sure I was settled and comfortable and responded very quickly. A very, very good experience - with air conditioning! - that I highly recommend."
Charming, modest 2 bedroom 1 bath cottage available for short/long term rental with an outside garden & rear parking available for one car . Centrally located on a street with residential homes and light commercial businesses.
What guests are saying:
"It's the ideal location as you are not far from the local supermarket. Its about a 13 minute walk or 3 minute drive. Its about a 5 minute walk from the local craft market and about a 3 minute drive into town if that. The neighbors are very friendly and I felt safe just roaming the neighborhoods stopping at local shops. There is a local store which offers basic essentials like mosquito or bug spray, first aid items, toiletries, snacks and more. I spent a lot of time at seaside with my friends. Shan Shy Beach which is 5 minutes away by car was nice. I spent a lot of time there. There is a bar with a pool table and a restaurant that offers local foods like Curry & Stewed chicken or fish with Ackee & Salt Fish on certain days and many more dishes cooked to order. We also managed to get a tour of the island on a fisherman's boat which was nice. Bikini Beach was nice also as I attended a party on Emancipation Day recently. If you plan on shopping in town ur best option is to go to National Bank atm to get some Jamaican currency. You get more for your USD (U.S. Currency) if you get JMD (Jamaican Currency) in Jamaica verses at the airport or in the U.S. Ramtulla (local supermarket) accepts debit and credit cards. They also sell beer and spirits which was reasonable. There is also another supermarket in town named Kamal's that I frequented for items as well. There are a couple local pharmacy's also. Taxis are easily accessed at the main road (Folly Road) which is 3 minute walk from the cottage."