Our luxurious bungalow has a bedroom, luxurious kitchen with all necessary asesorios, air conditioning, swimming pool, central etcEs, next to the golf course Maspalomas-just 5 minutes from the beach in a quiet area and has a encant
This beautifull bungalow is completely renovated and has got everything you need for unforgettable vacations !!!Its situated near the golf place and a fun Park for the whole family!!!!2 minutes walk to the supermarket and 5 min.with the car to the nearest beach!
supertranquila area to relax 100% -the perfect place to relax !!!
A last minute trip for me and partner for his birthday. Couldn't of found a better place to stay. Very well equipped from cooking utensils to laundry detergent. Birgit and her husband Eduardo were great and really helpful. Eduardo picked us up from the airport and was so friendly even though. He checked us in and everything was explained great. We had a lovely time with lots of things to do and only a 5 minute cab ride to the beach costing around 3-4 euros. Walking can take about 20 minutes but still straightforward. You can also rent a bike for 8 euros for a whole day and cycle there. The supermarket is only 5 minutes away which is handy. There's a water park and sea world close by and playa de ingles is only 5 minutes by cab to. Bungalow had extra nice features large flat screen tv, Stereo systems and karaoke. It's located in a lovely picturesque gated community with lots of security and alarms for the bungalow. People there are so friendly. Birgit was a great help and catered to our needs a few times with no complaints. Had a lovely time and will definitely be going back.
Savannagh
2016-11-27T00:00:00Z
Brigit and Eduardo were very welcoming and flexible host. I was the first guest in the Bungalow ;) The bungalow was very comfortable - nicely decorated and well-equipped. Within 10 min I felt as if I was at home! The location is ideal for getting around - Taxi station is near and in 25min by walk (pedestrian path) you are on the beautiful Maspalomas beach. There's also a mini-market right below the bungalow block, and a couple of restaurant close by! Would highly recommend Birgit to anyone, and will certainly consider staying here again on my next visit ;) Thanks Birgit and Eduardo!
Aurélie
2016-08-17T00:00:00Z
we hv been very happy to be birgit guests! the bungalow is even better as u see from photoes and u can find inside everything u can need to live like it s yr house. you really feel at home. Also the complex is nice and there is very useful supermarket and small restaurants just few mins walk from the house. Birgit and her husband really care of guests whtvr they can need. we really liked it all!
Antonio&Shiela
2016-09-20T00:00:00Z
Tanto Eduardo como Birgit son encantadores y unos grandes anfitriones (nos recogieron y llevaron al aeropuerto entre otras cosas) con una comunicación fluida para todo aquello que pudiéramos necesitar. El bungalow está muy bien cuidado y en una zona muy tranquila, ideal para una cena en pareja y para disfrutar de la terracita. Está situado a unos 20 minutos andando a las dunas y bastante próximo a Playa del Inglés, de todas formas hay una parada de taxis muy próxima que por 4€ te llevan hasta el Faro de Maspalomas. Asímismo hay un par de centros comerciales a 5 minutos andando con restaurantes y zona de ocio. Una muy grata experiencia. Sin duda repetiremos cuando tengamos ocasión.
Borja
2017-03-07T00:00:00Z
Experiencia fantástica!!! Limpio, todo cuidado, trato inmejorable!! Recomendable 100%!!
Helena
2016-08-22T00:00:00Z
Eduardo nos recibió estupendamente , un tipo super amable y atento , dispuesto para cualquier cosa , nos explicó muy bien el funcionamiento de la casa , y se ofreció para cualquier problema que se presentara. El apartamento está genial super equipado , tranquilo , no molestas a nadie y nadie te molesta a ti , bien ubicado y todo muy nuevo y limpio.
Sebastian
2016-11-03T00:00:00Z
Sehr schöner Bungalow, einige nette Nachbarn, die dauerhaft in der abgeschlossenen Siedlung Kiwi (mit Pool) wohnen. Birgit ist sehr aufmerksam und bemüht, dass alles bestens klappt. Maspalomas ist sehr weitläufig, Strand und Strandpromenade per längerem Spaziergang oder 10-minütiger Velofahrt gut erreichbar. Taxi in Nähe.
Andreas
2016-10-13T00:00:00Z
Der Bungalow ist wie beschrieben: Super gemütlich und zum Wohlfühlen. Es ist alles (und noch mehr) da was man braucht. Birgit hilft einem wo sie kann, um den Urlaub perfekt zu machen. Bis zum Strand sind es leider 35-40min zu gehen, aber mit (günstigen) Taxis ist man schnell dort. Wir hatten einen tollen Urlaub! Auch dank der Unterkunft!
Judith
2016-10-30T00:00:00Z
Room Type
Entire home/apt
---
Property Type
House
---
Accommodates
2
---
Bedrooms
Maspalomas, Canarias, Spain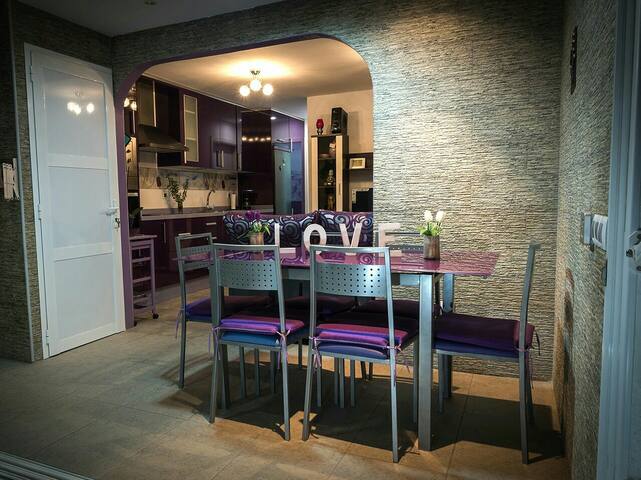 Our Bungalow transmits relaxation and tranquility providing unique experiences around every corner. A place to escape the extres. And 20 minutes from the shopping and the wonderful beach of Maspalomas.
The terrace the best place to enjoy the outdoors and sunbathing.
International Park area of Maspalomas is fully equipped with shopping areas, golf courses and sports grounds and close to the beach. But turn away from the noisy center of the capital.
We enjoyed our 7 day stay in Maspalomas but not without some reservations:- Location The apartment is located some distance from the main centre of activity and poorly supported by shops, bars and restaurants. Taxis or a hire car is a must. This is not the fault of our host but the fault rests with ourselves in failing to research the area thoroughly. The Accommodation We were a party of four adults but regret to say that the unit is, at best, suited for two adults and two children. The room with the bunk beds is incredibly small and in my opinion is not suitable accommodation for two adults. I would define the accommodation more realistically as a two bed unit. The rental charge for the week did not reflect this limitation. The internet We watched one movie early in the week via streaming but, following that, the internet dropped to a dialup speed of .05 mb. We reported this issue to our host but the deficiency was not resolved. The Apartments Garden I must praise this aspect of the property by awarding it a score of 10 out of 10. It is generous clean and well appointed with garden furniture. All four of us loved our time spent in the garden. Communication Unfortunately, as a party, we do not speak Spanish and our host does not speak English. We did manage however to communicate with the help of (SENSITIVE CONTENTS HIDDEN) translations. Our host did respond quickly to any queries or issues that we raised. Conclusion We did enjoy our stay but it could have been better when account is taken of the above comments.
Noel
2017-02-27T00:00:00Z
We loved staying at Ricardo's! Easy check in, good map to find the place and a nice size for our family of 5 (2 adults and 3 kids- 5, 3 and 6 months) The yard and pool were great for the kids. Both our 3 and 5 year olds could climb into the top bunk though it is quite high. Would recommend it for kids over 4. Great with a baby cot! It was in a quiet part of town away from the coast but with a car it is only a 10 minute drive away. We would happily stay here again and we loved Maspalomas too.
Kristen
2017-03-06T00:00:00Z
Mi chill out is a nice place for staying in Mas Palomas. The garden is great place for enjoying the sun the whole day.
Marinus
2017-03-21T00:00:00Z
We enjoyed our stay at Mi Chillout very much. Our host was very friendly and extremely helpful. The bungalow was well equipped for day to day living, cooking etc with good wifi connection. Very clean and well kept. Our only very small criticism was that the sleeping arrangements we not overly comfortable but overall a great relaxing stay.
Ernest
2017-01-08T00:00:00Z
Ricardo is a great Airbnb host. He was very helpful when we got lost trying to find the bungalow at the beginning of our stay, and continued to help throughout. He recommended some great restaurants, and was very good at responding to texts and telephone calls. The bungalow is exactly as described, and its setting on a gated compound is very safe and secure. The swimming pool was a great feature, although we were not brave enough to take a dip at Christmas! The pool is family friendly, with a fence and key access to keep it safe for toddlers. The bungalow is well equipped, and the outdoor space has good quality outdoor furniture that is super for quiet relaxation in the sun. The wifi gives a good connection with high speeds.
Phil & Vicki
2016-12-31T00:00:00Z
Very nice bungalow, clean, well-equipped kitchen, bathroom and garden. Nice place to stay with family or with friends. Recommend for everyone. Ricardo is very kind host :)
Marta
2017-01-17T00:00:00Z
L'appartamento è confortevole e carino, Ricardo molto disponibile. Abbiamo chiesto un tostapane e ci è stato consegnato in qualche ora. Mi è piaciuto il giardino e lo spazio per mangiare fuori. L'atmosfera intorno è tranquilla e l'alloggio è l'ideale per rilassarsi. Grazie
Valentino
2017-02-13T00:00:00Z
Petit bungalow avec un bel aménagement extérieur. Bien équipé et une bonne situation.
Caroline
2017-02-18T00:00:00Z
Room Type
Entire home/apt
---
Property Type
House
---
Accommodates
4
---
Bedrooms
Maspalomas, Canarias, Spain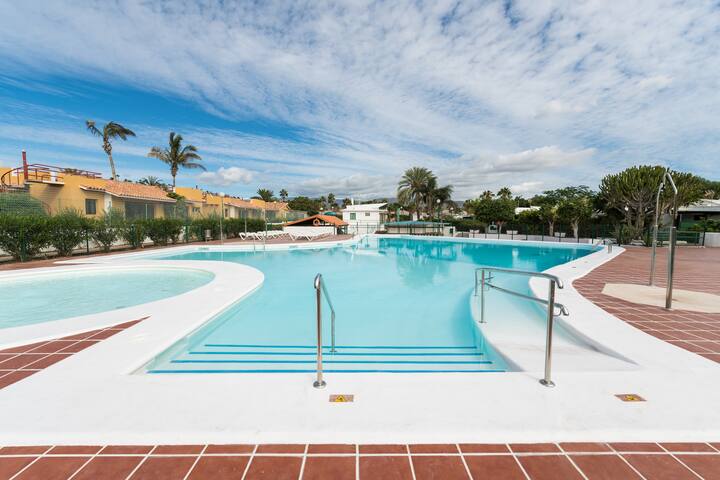 Room in Maspalomas close to the dunes and the Faro de Maspalomas bus stop and taxi at the door of the house just 10 minutes walk away is a large park with restaurate club actracione ecc.
Nice little house in a holiday park. Beaches are at 20 minutes distance walking. One disadvantage of the place is that the house smells like smoke since Luca and his parents smoke inside the place. Another disadvantage is that the place is quite small, so it can be a bit crowded when everybody is there. Otherwise the house is in a good condition and clean.
Pieter
2017-01-28T00:00:00Z
After reading all others reviewing I still decide to stay at Luca's Bungalow. NO REGRETS. I saw myself immersed in a typical Italian family full of life and love. The place recommended for just one guest as they are already three people leaving there. On my stay, there was no pet around. Everything was always very clean. As you realized from other people comments they are smokers but at any time it bothered me as they done it most of the time outside. For two days of my stay I was ill and the mother "Silvia" took care of me and help me go through this difficult time. As I am happy with what I got I recommend it.
Osvaldo
2017-02-09T00:00:00Z
Luca was a great host, friendly, helpful and charming.
Jeanette
2017-02-11T00:00:00Z
Tutto ok! Grazie, Luca!
Ramin
2017-02-26T00:00:00Z
Room Type
Private room
---
Property Type
House
---
Accommodates
2
---
Bedrooms
Maspalomas, Canarias, Spain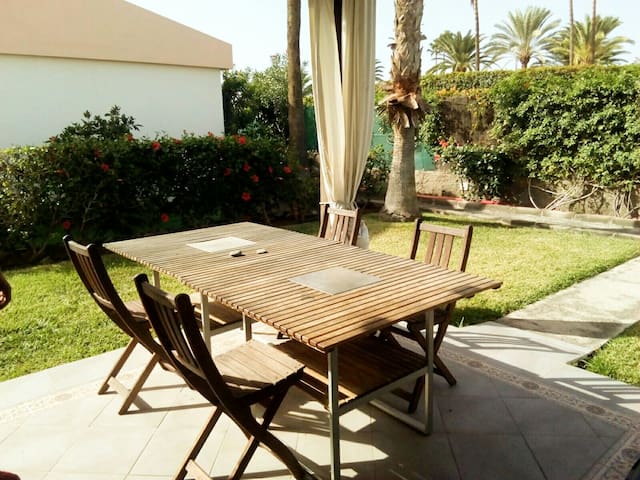 The spacious and bright room has 2 single beds, private bathroom en suite, use of inner terrace. In addition you have a private access. Centrally located in a quiet residential area, close to supermarkets, local bars and restaurants. I have 4 friendly cats and if you don't want to enjoy them, they don't need to be in your room. Feel at home in my house, therefore, do not hesitate to ask. I can inform you about the options out there to make your stay in Gran Canaria a success.
Our purpose when you visit us is that you feel at home and that you can enjoy the wonders of Gran Canaria; Sun, sea, mountain and sunrises and sunsets will make your stay unique in our house ...
Excellent location, quiet area with excellent neighbors and easy access to places and sites necessary to enjoy and spend a few days of quality and relax in your holidays.
Ton's place is beautiful and nice. You have access to the terrace and the cats are quite nice. We could ask Ton questions about our trip and had a nice evening in the dunes of Maspalomas. Perfect stay!
Julia
2017-02-02T00:00:00Z
Amazing place, really clean and with a little private garden with polants and a comfortable sofa. The room has two single beds, a fridge, internet working, and an amazing toilet with a big shower. A place where to be and relax and Ton is a real gentlement. thanks for all
Federico
2017-02-03T00:00:00Z
I only met Ton's friend Abel. He was a fantastic host, welcoming and helpful. The room was also great, super clean and spacious. Abel's cats are nice and clean. The neighborhood is a quiet residential suburb. A short taxi ride will take you to the nightlife areas.
Guilhem
2016-12-26T00:00:00Z
We had an excellent time at Ton's beautiful appartement. He has a very large house in a quiet residential neighborhood with very nice local and affordable restaurants and bars. Taxi to the beach or city center is only a 5 minute ride and will cost you just 4 euro. The room and bathroom are very spacious, clean and with nice interior. There is wifi, a washing machine and you can use the large modern equipped kitchen. In the room there is a private fridge/freezer. The room has access to a patio with a lounge area and lots of shade which is very welcome during the hotter days. Ton is very friendly and accessible and will do everything to make your stay as pleasant as possible. If you are looking for a place to stay in Maspalomas and this room is still available, wait no longer!
Rob
2017-03-21T00:00:00Z
Lovely, clean and serene !!!
Samuel
2017-03-02T00:00:00Z
It was really good choice! Nice room , clean and comfortable.Ton is friendly and helpful. I recommend this place to enyone!
Monika
2017-02-27T00:00:00Z
Tom is a very gentleman! The room is clean and confortable. The bathroom and shower top!
Cesare
2017-02-12T00:00:00Z
Recommended :) Ton is very nice and friendly, the accomodation is fine and tidy, better than we expect it:)
Flórián
2017-03-22T00:00:00Z
Room Type
Private room
---
Property Type
House
---
Accommodates
2
---
Bedrooms
Gran Canaria. Maspalomas, Playa del Ingles, Gran Canaria; Las palmas, España., Spain
Bungalow fully equipped in secured private residence close to everything, air conditioning, tv, internet, washing machine, garden, pool, parking At 2 minutes by car or 10 minutes walk from the Yumbo and the beach
The host canceled this reservation 37 days before arrival. This is an automated posting.
Julen
2017-02-02T00:00:00Z
Virginie is a very nice, open minded and uncomplicated person. You deserve what is told in the description. Would come there again ...
Rainer
2017-02-25T00:00:00Z
Note this is room only, the host may sleep in the living room during your stay.
Tom
2017-02-08T00:00:00Z
Virginia kindly welcomed us into her home and we were very grateful for the bed and quiet space she offered before our hike. Perhaps a kettle could we made available to guests so they can make a cup of tea in the morning though. I don't think that is too much to ask.Thanks for all your help Virginia and best of luck with your stay in GC.
Shaun
2017-02-07T00:00:00Z
Place was neat and tidy. Close to shops, restaurants and beach. Only issue was not being aware that we would be sharing the space with the owner/landlord so not too much privacy.
Valeria
2017-02-04T00:00:00Z
Everything went well. Thank you
Tjasa
2016-12-21T00:00:00Z
amazing person amazing place..very professional. deeply suggested
Marco
2017-03-24T00:00:00Z
Nice apartments and no hazzle! Ten points!
Mikko
2017-02-06T00:00:00Z
Room Type
Private room
---
Property Type
House
---
Accommodates
3
---
Bedrooms
Maspalomas, Canarias, Spain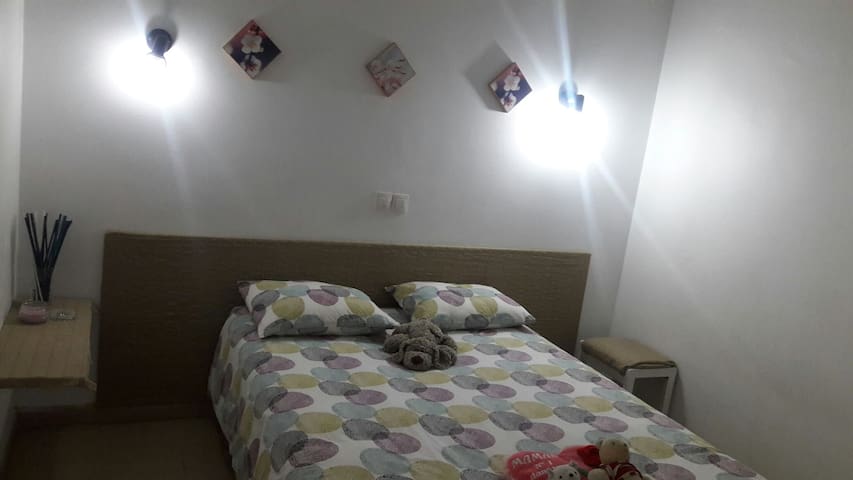 VERY SUNNY AND QUIET BUNGALOW WITH 2 ROOMS, TWO BATHROOMS AND TWO PORCHES. THREE POOLS AND SNAKS BAR, NICE PLACE WITH GARDEN AND TENNIS COURT. THE BUNGALOW HAS PARKING.
SUNNY PLACE
QUIET PLACE AND SUNNY
Nice apartment in a owner complex. Easy to find an good for getting around the island - 2 minutes to GC-1.
Mark
2017-03-05T00:00:00Z
Monsi dealt promptly with all our enquiries. The accommodation has been tastefully renovated. Not much to do in close vicinity.
Leon
2016-12-05T00:00:00Z
Very nice and cozy apartment, friendly and safe neighborhood and a helpful host
Svava Kristján
2017-01-11T00:00:00Z
We had a great experience. Monsi was very helpful throughout the entire process. The flat was nice and the weather was great during our stay! I would definitely recommend staying with Monsi.
Alex
2016-02-26T00:00:00Z
We had a fantastic time. The apartment was great and had everything you needed. Monsi was fantastic. Would definatly go back. A car is highly recommended to get around and see the island!
Rebecca
2015-12-15T00:00:00Z
Monsi gave me a great warm welcome, it was a pleasure to meet her. She is kind and considerate and nothing is a bother for her to ensure you enjoy and get the most from your stay. She provided me with lots of local information. The apartment is basic but comfortable. Good bed and shower. South facing terrace which I spent most of the time on when in. I hired a cycle to get about with lots of places accessible from the apartment. There are three supermarkets of varying sizes all within easy reach on foot. For the cost it represents excellent value. I enjoyed the three weeks I stayed for and would recommend based on cost and location. Thanks Monsi.
Leslie
2016-02-05T00:00:00Z
We had a wonderful experience at Monsi's apartment while we stayed in Gran Canaria. The place is in a safe, quiet residential area close to beaches and shopping, and very clean with plenty of amenities. Monsi was very responsive anytime we had questions, and her neighbor who lives next to the unit helped us out as well. Would definitely stay here again!
Sarah
2015-12-24T00:00:00Z
Everything was perfect! Big, clean and cozy rooms, amazing view from the terrace. We stayed only 3 days, but we enjoyed the place a lot! Monsi was a great host, really flexible and she always replied to my texts straight away. I really recommend Monsi's apartment, we would definitely come back!
Fruzsina
2016-10-17T00:00:00Z
Room Type
Entire home/apt
---
Property Type
House
---
Accommodates
4
---
Bedrooms
Maspalomas, CN, Spain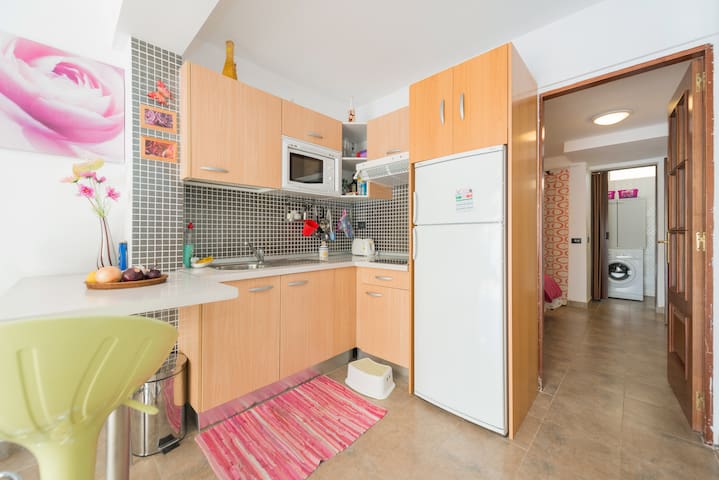 Bright spacious room in Maspalomas 10 mins from the Yumbo/beach. Its only a 10 minute walk from Playa Del Inglis. Room fully furnished. WIFI available. Kitchen available and outside patio with table and chairs
We have parking outside the house available and parking under the house
Its a very quiet area mostly residential people. Its within walking distance from most areas and have a market every Sunday and every second Sunday a fruit market. Local supermarket 5 minutes walk. We are also bike friendly
We had the chance (or not) to have the only rainy day in maspalomas, but Gary is for nothing of course ! Our stay was fine, Gary and his friends are nice and very helpful (he asked us if he could take us from bus stop to guide us to his house). The room is correct, maybe not for a long stay though, because it is small. For the price, this is decent !
thomas
2016-09-13T00:00:00Z
Thanks for all !! It was amazing. Je and his wife were helpful and nice. They adviced us a lot.
Michaela
2016-10-05T00:00:00Z
Our visit was adequate for the price. For sleeping was ok but if you want to spend more time in the house, it wasnt comfortable. We cant talk to each other during the day. When Gary told us about it that we were loud (we speak normal), he was too rude to us. Next thing was that everywhere were hairs and sometimes smell. His wife was great and we havent problem with her, sometimes she talked with us. Nothing from these things werent so big problem, but it was uncomfortable for us.
Michaela
2016-10-31T00:00:00Z
Spacious room, with good communication by car with the Maspalomas beach.
Marco
2017-03-22T00:00:00Z
Gary and his girlfriend were lovely hosts from the beginning to the end. Would definitely recommend for good quality and reasonable price.
Louise
2016-11-24T00:00:00Z
Our stay was short, but for one night was everything OK. The comunication with Gary was without any problem and hosts are nice. The room is quite small, but for staying one or two nights is sufficient.
Martin
2016-11-17T00:00:00Z
Gary is a very friendly and kind host. The room and everything else is very clean. We really enjoyed maspalomas. Thank u for everything!
Luisa
2016-07-07T00:00:00Z
Pleasant hosts, accommodation is about 25 minute walk to the nightlife area of Playa del Ingles. Free on street parking was good. However not being allowed to use the kitchen between 12 -4 each day was ridiculous, and we were not advised of this until check in. Only one shower per person per day is inadequate when it is 36 degrees outside. Also lack of toilet paper in the bathroom was an issue, surely leaving a spare roll is not too much to ask? We were given only one towel per person, a small hand towel each would have been appreciated.
Jackie
2017-03-11T00:00:00Z
Room Type
Private room
---
Property Type
House
---
Accommodates
2
---
Bedrooms
Maspalomas, Canarias, Spain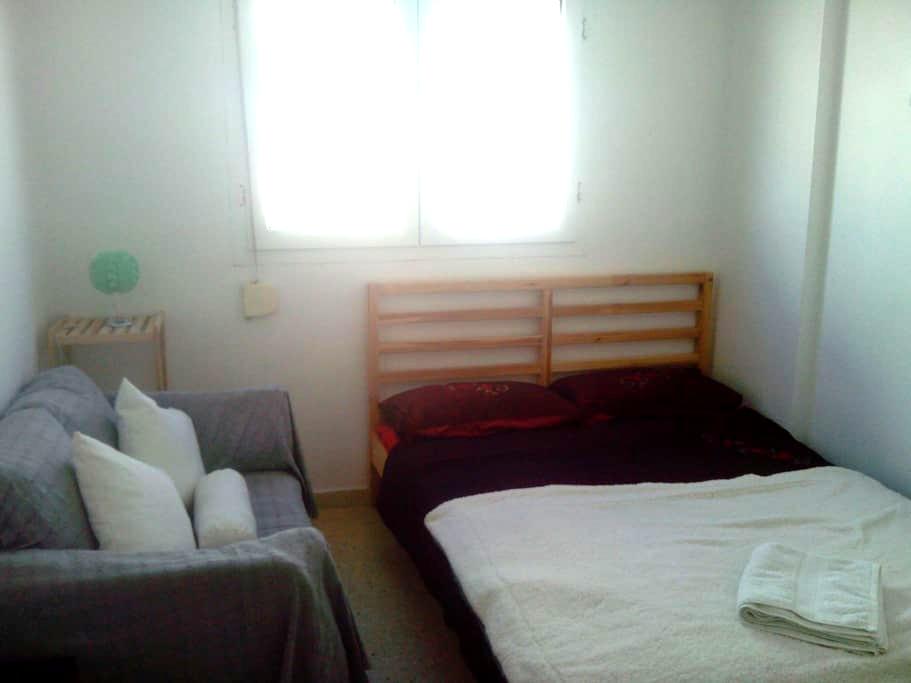 The property is fully developed (+ certified drinking water source). Palm trees, papaya, bananas, lemons, oranges and cacti ... 45 m into a mountain-driven cave (part of the restaurant). The houses all have electricity and water. Swimming pool with drinking water;) Sea view, horses on the finca (riding possible) The location is 20 km from Playa de Ingles Restaurant with individual supply on the property. pick up- and drop off - service possible (30 euro).
The individual form of holiday. Time to relax and enjoy life - with animals and more not far to the happenings. The wooden houses are small and cosy. Our restaurant 8 am - open end serves warm kitchen from 9 am - 9 pm.
No immediate neighborhood, but very interesting and sympathetic. Small local private producers of u.a. Honey, wine, coffee, cheese ...
My girlfriend and I had a lovely stay at this place. The weather was great and everyone was very friendly and gave us privacy. The food was magnificent and very reasonably priced. There cannot be any complaints about this. Top notch! The location is very far from everything but that was expected. We loved it there, the views are amazing and it is easy to get to with a car. Our only negatives are with the listed amenities; there is no wifi, air conditioning (there is a small heater with a fan mode), no lock on the home or bedroom door and no kitchen that guests can use. It would be nice to have air conditioning as it can get very hot but we managed just fine :) The other listed missing amenities are not necessary, however I feel it only right to warn others. I would recommend contacting the host before if any of these concern you, as things may have changed since this review. With all that being said, this is a fantastic place to stay and we really enjoyed it. PS. Don't be scared to drive on the windy roads in the dark, we managed just fine :)
Aden
2017-04-02T00:00:00Z
Axel is a wonderful host, always friendly and helpful. The place he runs in the nature is also amazing from several points of view, and everybody will be delighted to stay there i am sure.
claude
2017-02-26T00:00:00Z
Axel and his partner Arim are really nice hosts and did a good job to make it a great stay for us! It is a special place very far away from everything - which is really nice and placed with amazing views of the mointains and ocean! Arim serves great food which you can enjoy while the sun goes down over the mountains. You will need a car to get there and get around, but it is a beautiful ride in the mountains!
Ida
2017-02-21T00:00:00Z
wir waren rundum glücklich :) super Ausblick, leckeres Essen, Frühstücksbierchen, entspannte Atmosphäre... Also alles was das Herz begehrt :)
luzie
2017-03-27T00:00:00Z
Room Type
Entire home/apt
---
Property Type
House
---
Accommodates
3
---
Bedrooms
Maspalomas, Canarias, Spain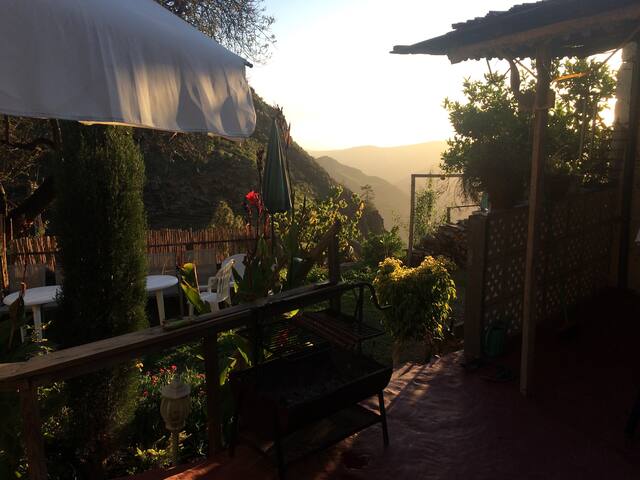 Bungalow two rooms for four people 2 adults and 2 children or three adults in quiet complex. Communal swimming pool. A 5 minutes walk from the dunes and the lighthouse of Maspalomas.
Being a 10 mnt walk from our best Maspalomas beach and near shopping centers where you can find the best brands and numerous hotels where you can stroll and visit without problems
This is beautiful place for holiday: great apartment and fine host. Maspalomas dunes locate in walking distance, beach too. Very calm place, good neighbors. Fast inthernet and many TV programs in all widespread languages. Highly recommend. Big thanks Hector for unforgettable rest. Yury and Lada.
Yury
2016-01-10T00:00:00Z
The accommodation was great for my partner and myself. It is walking g distance to the dunes and faro maspolomas where the restaurants and beach is. We can not wait to go back. Great for couples
Penelope
2017-01-08T00:00:00Z
We had a wonderful relaxing stay at the apartment. It was immaculate and clean. The location is perfect. Highly recommended.
Tracy
2015-10-31T00:00:00Z
The apartment was as promised. We were received very well on arrival. Market, beach and bars are a 5-10min walk away. Very nice.
Niilo
2016-02-29T00:00:00Z
We had a great time in Hectors apartment and enjoyed the time in Maspalomas. Everything was exactly as described. For the communication with Hector it might help if you speak a little Spanish.
Friederike
2017-03-17T00:00:00Z
I'd definitely recommend this apartment. Nice quiet location, 10-15 walk to beach and shops. Apartment is nicely decorated and well equipped.
Kevin
2017-03-24T00:00:00Z
Close to a lot of things with a car or a longer walk. Photos make place seem larger than it was as it was a small place for two adults and two teens. It's getting a little worn down. Amenities were good. Place was quiet. Hector was very responsive. Would stay again as a couple but not with 4 people.
Mark
2016-12-29T00:00:00Z
Good quiet neighbourhood. Perfect for what we needed. Place was as described and had everything we needed. Super comfortable bed in the main bedroom.
Ger
2017-02-11T00:00:00Z
Room Type
Entire home/apt
---
Property Type
House
---
Accommodates
4
---
Bedrooms
Maspalomas, Canary Islands, Spain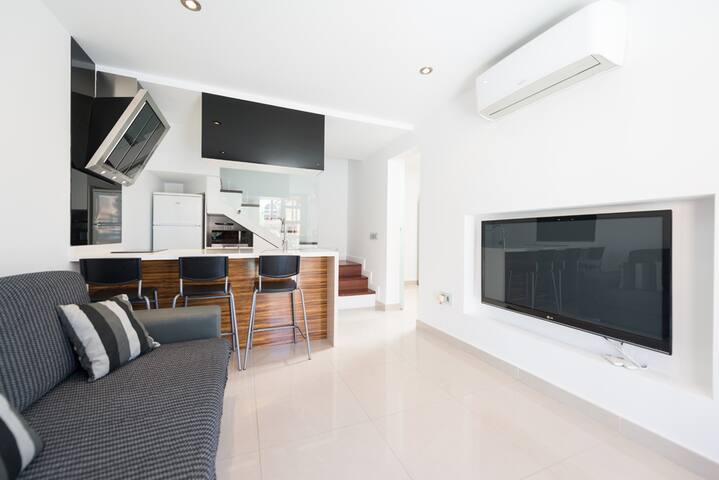 The house is in a quiet street, but near a lot of restaurants, bars, supermarkets, busstops. Beach at 3,5 km. There are 2 dogs, small and friendly and 3 cats but not in the private room.
The room Loes is renting is part of a lovely terraced house with garden. In the neighborhood you will find some convenience stores and a bus stop to Faro de Maspalomas and the famous Dunes beach. The main street (avenida de Tirajana) is in walking distance too but, at first, may require some shrewdness to find a comfortable route, as this district is residential and slightly set apart from the area of the movida. Anyway what I loved most of my stay is the relaxed reception of Loes and his husband! :-)
Gianluca
2017-03-21T00:00:00Z
Hello everybody, the nice room is really nice! It's located in the quiet part of the city. There is nice view into the garden from the room, where you could eat as well. I was given fresh fruit and water when I arrived. Loes and her family is friendly and helpful. I could recommend you stay at Loes place.
Petra
2016-10-10T00:00:00Z
Nice, quiet place. Loes and her husband helped me with my bagage and also drove me to the bus station the last day.
André
2017-02-26T00:00:00Z
I spent 10 days at Loes's place for vacation. It was indeed a very nice room, and the garden was great, as well. It was about 30 min tight-pace walk to the beach. There was an issue with the noise on the second floor. There are three rooms there: mine, the one of Loes's son, and of another boy, who rents the room long-term. The first night, I got woken up by loud TV at 2am, then at the second night, again by noise at 4am ((SENSITIVE CONTENTS HIDDEN), I think), by this boy in the other room. The walls are just thin, that's normal. I knocked on his door and he was fine turning it down. The third night, there was noise from both rooms already at 10:30-11, and I knocked and talked with the boys. Loes's son was not happy. The next day, I talked wiht Loes, she was not happy, either. She told me that this was Spain and one cannot expect quiet hours in any case before midnight. She says, maaaaaaybe, if there is noise at 2am or 4am, then maaaaybe, you can ask them to be more quiet. But all comes with a maaaaybe, even at 2am and 4am. But even at midnight, apparently, one cannot have such an expectation from a house in Spain. I was not cool with that. She told me that the other boy, in the room right next to mine, was leaving the next day or something -- what a solution, wait until about 40% of my vacation is over, so that then it becomes more quiet. I can't say that Loes was friendly; however, yes, the noise level did turn down after the 4-th night there, and, from the 5-th night on, the 2nd floor was indeed nice and quiet. A second issue was that the kitchen wasn't very clean, some plates had a little food residue and some cupboard handles had some stickiness, but I was OK with that, not a big deal. Loes's husband was a very nice and friendly guy. Overall, yes, I did have a good stay and the last 6 nights were quiet up there on the second floor. Again, the room and the garden are great.
Kaloyan
2017-02-20T00:00:00Z
Loss was so welcoming, lovely & very helpful. So nice to be considerate of my needs, offering to wash my clothes, sewing gear & more. Bed was so very comfortable, shower fab, wardrobe storage great, quiet at night & peaceful during day. Pet dogs/cats were lovely to be around. I felt safe in the friendly neighbourhood, well located for transport to mountains & elsewhere, about 30 mins walk to beach. I'd like to return sometime.
Clifford (Cliff)
2017-03-19T00:00:00Z
Great stay at cozy house with nice people
Tomas
2017-03-25T00:00:00Z
Die Kommunikation mit Loes war zu jeder Zeit völlig unkompliziert und schnell. Das Zimmer war sehr gemütlich und sauber. Die Unterkunft hat einen schönen Garten und liegt in einer absolut ruhigen Wohngegend. Loes und Maik waren wundervolle Gastgeber, herzlich, offen und immer hilfsbereit. Die Hunde und Katzen waren sehr lieb.
Sylvia
2016-03-23T00:00:00Z
Das Haus liegt sehr ruhig und trotzdem zentral, so dass ein Urlaub ohne Auto möglich ist. Loes ist eine sehr herzliche Gastgeberin, die sich sehr gut auskennt und mir gute Tipps und Informationen zur Insel gegeben hat. Vielen Dank.
Gabi
2016-03-16T00:00:00Z
Room Type
Private room
---
Property Type
House
---
Accommodates
1
---
Bedrooms
San Fernando de Maspalomas, Canarias, Spain
Quiet bungalow with original style: independent bedroom with: air conditioning, High speed internet Fibra Wi-Fi no limit , refurbished in August ' 16 in modern style, bedroom with linings ,full equiped kitchen, lounge , tv, bathroom with towels and terrace and small garden. Two swimming pools.
Cozy bungalow in modern Style completely reformed of 30 metro quadro has all the necessary for a private in relax, air conditioned, high speed wifi, kitchen equipped with 2 hob and medium large fridge and freezer, large bathroom, lounge with television and sofa bed, beautiful terrace of 15 m , with table, chairs and awning and curtains, all for a relax in style. EVERYTHING IS NEW
The site is very quiet and in an ideal location that is 15 minutes from the Yumbo - Center gay night, and only 5 minutes from the supermarket Spar in iron square, and has a supermarket very close, in EL FARO 2, a shopping center near the complex, where you can find restaurants, bars. The site has a sports area for running, and sports, is located near a parco atracione Holiday World and a 20-minute walk from the beach of faro de Maspalomas, dunes or 5 minutes by car. the gay to the n7 chiringuito Beach and the famous nudist beach. To go to the Yumbo commercial centre, the most important centre gay friendly playa del ingles in 15 minute walk. In front you have the bus stop.
Fabrizio has given a lot of thought and put in a lot of effort to making his apartment comfortable and an enjoyable place to stay. Everything you could think of was provided from lots of storage, fast internet and all the cooking utensils you could need. Fabrizio himself was very welcoming and couldn't have been more helpful in settling in and it was nice to know he was on hand if we needed anything. He even provided a bottle of wine, fresh fruit and some nice cakes for our arrival. The complex itself was going through a transformation with a lot of builders onsite so the was a lot of noise during the day but they won't be there forever and it'll make what was becoming a run down place a vibrant and decent place to stay. If I plan on coming back to Gran Canaria again soon I'll definitely stay here again.
Graeme
2017-03-26T00:00:00Z
Very clean, nicely decorated place within a closed residential area close to the beach in Maspalomas. Fabrizio is a caring host and is always available if anything is needed.
Jannik
2017-01-07T00:00:00Z
We had great holidays at Fabrizio's place. The bungalow is charming and perfect for two-three people. We didn't have any problems during our stay and the contact was easy and very friendly. Highly recommended.
Diana
2016-12-09T00:00:00Z
Very kind and helpfull host, bungalow clean, cozy close to the shop and restaurants. Recomendation if you want to rest and relax!
Michał
2016-10-04T00:00:00Z
Our host Fabrizio was so lovely and made us both feel very welcome. When we entered the bungalow it was a lovely surprise to see it decorated with lovely Christmas lights,decorations and a chocolate Santa. He met with us and went through in detail all the places to visit and also had a folder full of information on where to go and what to do. The bungalow was a lovely compact size, very clean and had everything we needed for our stay. We had a very enjoyable stay at the bungalow and was walking distance or a short taxi to all the nightlife and beaches. We look forward to returning again in the near future.
Thomas
2016-12-19T00:00:00Z
F was great! We had a great time, the place was new, everything was clean, he welcomed us really good, there was everything we needed for our stay, gave us a folder with good explanations about the area. Great locations, so a near to everything! Highly recommend!!
Bentzi
2016-09-25T00:00:00Z
Fabrizio's bungalow is a perfect place to stay if you are visiting Maspalomas. It is located in a quiet area near the golf clubs and it is walking distance from the city centre, Yumbo and Faro 2 CC where the beach and Meloneras promenade start. The bungalow is really cozy, incredibly chic and really clean. It has a fully equipped kitchen and u have access to a lovely pool as well. Fabrizio gave me and my friend some tips as well, where to go, what to see, where to eat and really enjoy our stay in Maspalomas. Definitely give it a go if u are ever planning a trip to Gran Canaria.
Ivan
2016-12-04T00:00:00Z
We had a great time at Fabrizio.s. We arived a bit late,but he vas waiting patiently for us. He spended time to explain how everythig works and he gave us plenty information about shops,restaurants and all we wanted to know. The bungalow is located in a werry quite location,and is werry clean and nicely decorated. The beach is not werry close,but we new that,so we have had a car rented online from RENTALCARS for 105€. Just stay away from GOLDCAR,they cach you with t&c that are not updated on theyre webside,and overcharge you with insurance costs.Overall,a fabulous time,fantastik weather and we.ll be back soon.
Pavel
2017-03-16T00:00:00Z
Room Type
Entire home/apt
---
Property Type
House
---
Accommodates
3
---
Bedrooms
Maspalomas, Canarias, Spain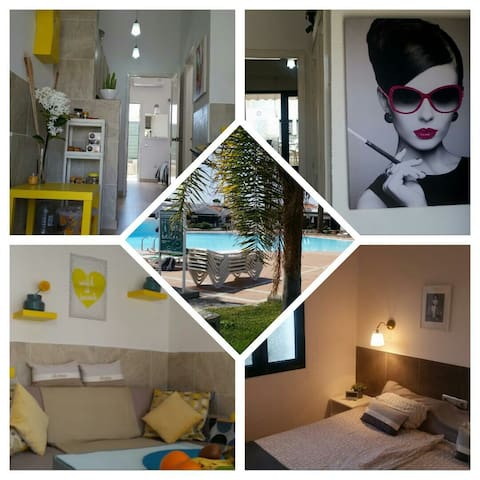 Es una casa amplia.cómoda.Con mucha luz.,ya que tiene ventanas en todas las habitaciones. (Tiene un baño y un aseo que son compartidos).esta a unos20mtos de las playas.y de los centros comerciales.
Esta en una zona céntrica.En Maspalomas Cerca de la playa y las zonas comerciales.El traslado fácil.En bici,en bus,en taxi.Oh caminando el tiempo siempre es bueno
convivimos varias culturas en armonía. Y esta en una zona muy tranquila. Y centrica.Donde te puedes mover fácil,con bici,bus,taxi.Andando que tiempo es muy bueno
Wonderful place if you have car to visit all the beach in maspalomas
Fausto
2017-03-15T00:00:00Z
Amazing host!Very friendly!House is very clean and tidy!The view from balcony-beautiful!
Monika
2017-03-18T00:00:00Z
Very nice and friendly place. Quiet street and nice view from a terrace. Maybe it is not a center of a city, but it is easy to drive everywhere from there, especially by car. Room was very clean and cozy. We felt as at home. Very good atmosphere and friendly hosts and other guests. Only missing thing was a private bathroom in a room, because there is only common one.
Kamil
2017-02-16T00:00:00Z
Room meets the describtion. The house is very clean. I had a bit little problems with finding the house but Ariannas mom helped me finding it and pucked me up where the taci driver put me. You can walk to the beach if you are sporty. There are supermarkets closeby. I didn't meet Arianna but her mom was there. She was very nice, polite and availible when I had questions. I recommend staying here.
Denise
2016-12-31T00:00:00Z
Staying at Eloinad's house is more than a wonderfull experience. You will feel like with your family . She is wonderfull helpfull and she will make you feel like in your own house. Also you will meet with excellent people that will make your stay there more smooth and funny. Definatelly cant wait to come back !!
Carlos
2017-02-18T00:00:00Z
We stayed in this apartment for a weekend (2 nights). It is located in the north of Maspalomas, near the motorway. In the neighbourhood, there is a square with plenty of parking spaces and a few shops. The checkin was quite easy, Carmen picked us up at the Square and showed us the house. The room itself is located on top of the building and has got a direct access to the rooftop terrace, from where you have a great view on Maspalomas. It isn't big, but very clean and comfortable! The only negative points are the WIFI (connection not available in room) and the fact that there are usually 2 or 3 other guests in the house, so that it might disturb other people, if you get up early or arrive late. Nevertheless, it was a very positive experience - I would come back!
Lennart
2017-01-22T00:00:00Z
Friendly and quiet, felt very much at home. We were given a set of keys to our room, the entri door and main door. The kitchen had all the facilities needed to make food the way you wanted. All the guest were also very open and friendly and you could visit and talk outside or in the kitchen or even living room. We had full access to internet WiFi which was great for us as we like to communicate with family and friends. There are many resturants and stores near by. Some buses were 5 minutes away, others 10 to 15 min. Arianne & her mother are very service minded. They were very helpful in transport, just let them know. I enjoyed paying for their driving services. I would like to return there again.
Dale R.
2017-01-06T00:00:00Z
We have mixed feelings about our stay with Eloina. Negative: Noise. The house is badly soundproofed and 4 rooms are rented to Airbnb, we were constantly awoken at night from late arrivals, midnight showers. Not to speak of loud TV and phonecalls past midnight, that the owner did nothing about. Bathroom. Unlike stated in the ad, up to 4 Airbnb couples share just one bathroom/toilet. We spent a fair amount of our holiday sitting on the stairs waiting for the bathroom. Water. The house runs out of water, then you have to wait an hour to shower. Positive: Cleanliness. It was amazing how clean the room and common areas were. Location. If you have a rental, the location is perfect: Only 2 minutes and you're on the highway and of to adventures. But the location is very quiet. Neutral: Keep in mind that Eloina speaks basically no English. WiFi is good in the living room, but it wasn't available in our room (green room).
Stephan
2017-03-26T00:00:00Z
Room Type
Private room
---
Property Type
House
---
Accommodates
2
---
Bedrooms
San Bartolomé de Tirajana, Canarias, ES, las palmas, Spain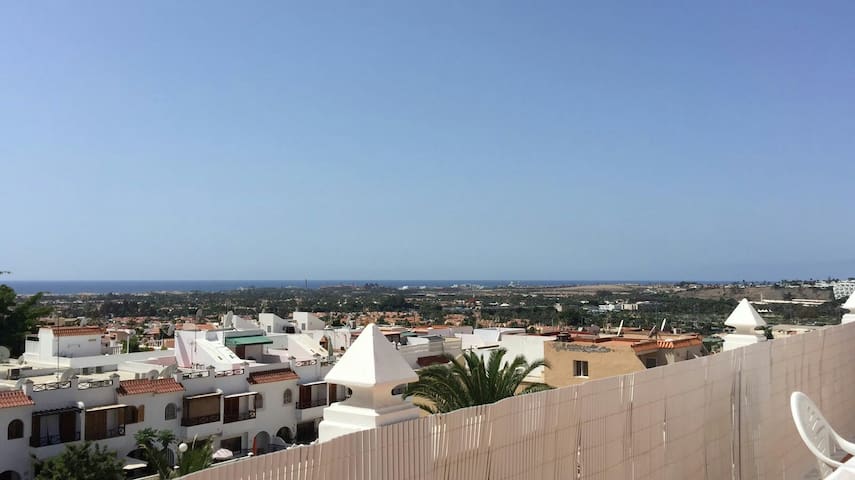 Hi, happy welcome to Nicks&Micks!We love to meet new people! Just ask-we want to be your perfect host. In the heart of exciting city centre but nevertheless private are and quiet house! When staying with us you will enjoy a lot included like: Showergel,shampoo,conditioner,bath&beach towels,free WIFI,SAT TV,washing mach.,dryer,free parking,iron And the most amazing breakfast we offer you:6,50€ pp/day-Read our reviews, our guests love it! Every second day we are cleaning and change the bath towels
Ruhige Lage dennoch mitten im Herzen von Playa del Ingles Mitten in Playa del Ingles und doch Privatheit und Ruhe. Mit eigenem Parkplatz enthalten. Ein Katzensprung zum Yumbo und zur Cita 10 Minuten, Strand in 10 Minuten und 20 Minuten zum Gay-Beach. Wir haben einen schönen abgeschirmten Garten, falls es mal nicht an den Strand geht mit eigenem Pool und Sonnenliegen. Ein eigener 9 Meter langer und knapp 3 Meter breiter Pool lädt zum Abkühlen ein. Eigener Parkplatz und Wifi inklusive. Es ist liebevoll im kanarischen Stil eingerichtet, bietet ein Single Schlafzimmer für 1 Person. Eine gemeinsame Küche, ein gemeinsames modernes Bad mit Duschkabine und ein schönes großes Wohnzimmer mit Sat-TV. Wir bieten ein umfangreiches Frühstück für nur 6,50€ pro Tag an. Alle bisherigen Gäste haben das gebucht und sind sehr zufrieden - lest unsere Reviews dazu! Unser Frühstück beinhaltet folgendes: Baguette, Croissants, Toast, Rührei/Spiegelei/gekochte Eier, diverse leckere Marmeladen, diverse Joghurt, Obst, Süsses wie Gebäck oder Milchreis, Müsli, Wurst, Käse, Butter und natürlich Orangensaft, Kaffee und Tee. Alles frisch zubereitet am Morgen und serviert zwischen 8.30 und 10 Uhr im Aussenbereich. Wenn ihr Frühstück bucht servieren wir es draussen im grossen Gartenbereich. Hinter dem Haus sind die Sonnenliegen, Pool und Barbecue. Benutzung der Waschmaschine und Trockner inklusive.
Eine sehr ruhige Nachbarschaft, das gilt auch für unsere Gäste.
Tastefully landscaped and peaceful yet so close to the action. Nick and Mick are also wonderful hosts! I can't wait to come back. They're doing it right!
Kevin
2017-03-10T00:00:00Z
An exceptionally clean and spacious home located within minutes of The Yumbo but set in a really tranquil residential area. Nick and Mick were such perfect hosts from the booking process to our return home. It was my birthday and to my surprise they presented me with a card and cake. That was really unexpected and so kind. We were looked after more like family than guests and they go the extra mile to make your stay a happy one. Our needs were always attended to and they were so helpful. As for the location and quality of accommodation you could not wish for better. They even got in touch to ask how our journey was on our return home. If you are wondering whether to stay, don`t hesitate, you will have a quality stay with fantastic, genuine hosts.
PAUL
2017-02-27T00:00:00Z
Absolutely perfect ! The bungalow is located in a very nice, quiet, and strategic area, very close from the shops, the beach, the yumbo center, bus station etc. The single room is very charming, clean, quiet and the bed very comfortable. The bungalow is perfectly clean, with a beautiful decoration and totally equipped. There is a lovely terrasse when you can have your breakfast every morning looking at the fabulous small garden with a lot of flowers. Nick and Mick are so fabulous hosts : they always do their best to feel welcome in their home. I have to thank them again for their kindness, attention, availability and of course their amazing hospitality during my stay. I appreciated a lot their company, our conversations and all what they did to make me feel at home. To sum up, Nick and Mick are the perfect hosts and I highly recommend you stay in their fabulous bungalow ! It is obviously one of my best experience with airbnb and I will come back without doubt. Mille mercis encore, Nick & Mick, pour ce merveilleux et inoubliable court séjour ainsi que votre grande gentillesse !
ANTHONY
2017-03-19T00:00:00Z
Amazing hosts, one of my best experiences using airbnb. Nick and Mick are really friendly people with a lot of attention to details and well being of their guests. They are always open for a chat and to give help and tips. The Apartment is really well located and has a nice garden with pool where one can relax. I highly recommend them as hosts!
Paolo
2017-03-29T00:00:00Z
Nice small single bed, with access to washer/dryer, kitchen and private pool. They will gladly drive you to the airport for a fee for those leaving before the busses start, which was a huge help.
Graham
2017-03-14T00:00:00Z
Nick and Mick were perfect hosts, very attentive and gave me very good recommendations on what to see and where to eat. The place is nice and very conveniently located, as you have supermarkets, pharmacy, bus stops, bars and restaurants all less than 5 minutes walk. It's also 10-15 minutes walk from the beach. I'm planning to go back to Gran Canaria later this year and I'm definitely going to stay here again.
Domenico
2017-03-26T00:00:00Z
Soggiorno perfetto!la casa davvero molto bella e spaziosa, stanza piccola ma decisamente confortevole.tutto pulitissimo. La posizione è ottima, a pochi passi dal centro commerciale Yumbo, bar, ristoranti, market. A due passi dalla fermata del bus per poter raggiungerete qualsiasi parte dell'isola. Nick e Mick sono due persone adorabili, sempre gentili e disponibili..non mi hanno fatto mancare nulla. Ah da provare assolutamente la loro english breakfast :) Insomma...consigliatissimo!
Valentina
2017-04-03T00:00:00Z
Room Type
Private room
---
Property Type
House
---
Accommodates
1
---
Bedrooms
San Bartolomé de Tirajana, Canarias, Spain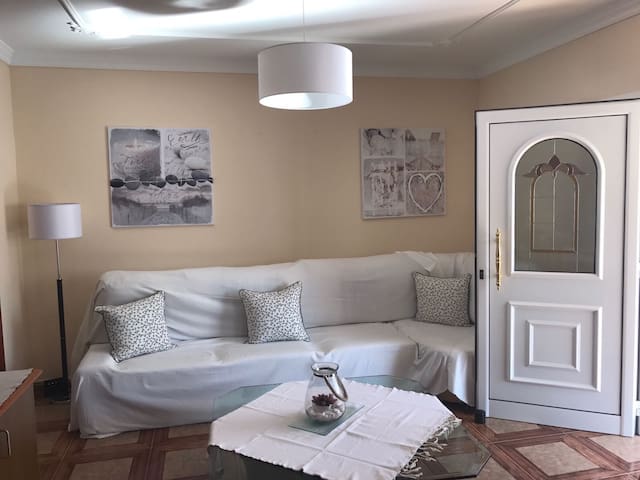 Se alquila habitación en complejo residencial a unos metros de la Las Dunas de Maspalomas, parques, paseo, supermercado, parque de atracciones cerca. Jardín privado, aparcamiento. piscina
Aparcamiento, piscina, jardín, tenis, pingpong, campo de fútbol, parque con paseo de palmeras, bici..
Elegante, cómodo a Playa del Inglés y Meloneras, cerca a parques de atracciones "Holiday Word, Ocean Park, Sioux City y mas", Casinos y campos de Golf. Supermercado dentro del complejo; un relajante paseo entre palmeras os llevará a la playa más bonita y conocida por sus maravillosas dunas hasta el faro de Maspalomas.
Room Type
Private room
---
Property Type
House
---
Accommodates
1
---
Bedrooms
San Bartolomé de Tirajana, Canarias, Spain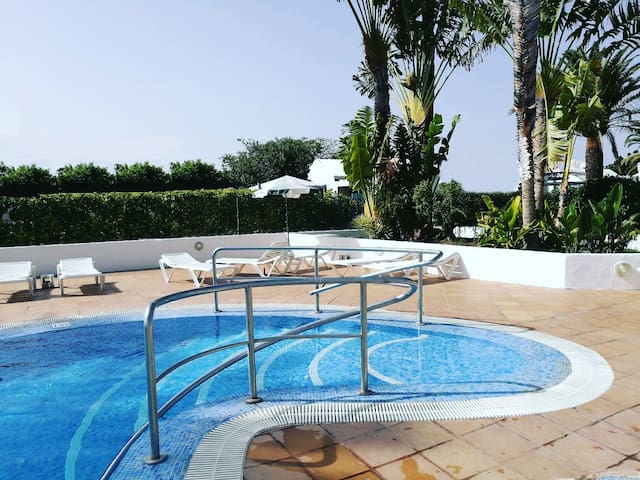 Bright and very quiet bungalow, almost inside the Maspalomas golf course, in a residential complex. All on a level with no stairs! Gorgeous gardens, pools and solarium. Restaurants, supermarkets and more nearby. Complete satisfaction and pleasant stay with all the comforts of a house very equipped. One bedroom, recently refurbished within walking distance to the dunes and beach. Ideal for walking, cycling, etc. Very welcoming. Two free bikes included. Great for couples.
The bungalow is fully equipped with flat LED TV, satellite dish, big refrigerator-freezer, dishwasher, induction vitro, oven, washing machine, microwave oven, mixer, iron and ironing board, orange juicer, toaster, 10 tableware and glassware (to full use of dishwasher and forget hand wash the dishes), enough kitchenware and all linen and towels provided including beach towels and sunbed. Ceiling fans in bedroom and living room. anwing in the terrace, plus, coming soon, air conditioning.
Located in the International Field of Maspalomas, next to the Golf Course of Maspalomas, near dunes and near Meloneras with its great activity of shopping centers and restaurants. Close to Playa del Ingles but away from crowds and noise. There are two restaurants and supermarkets (little) 100m away. (Dunagolf-Dunabeach Bungalows), and many more in the surrounding area
We had a wonderful week at the bungalow, it was beautiful inside and had all the amenities you would need. The scenery was fantastic and it is exactly how it was described. Isabel & Richard are wonderful hosts and very welcoming- I'd definitely recommend a stay.
Ian
2017-03-19T00:00:00Z
Perfect bungalow for cuople. You have everything what you want. The owners are nice,helpful.
Adrienn
2017-02-07T00:00:00Z
We had a very good stay, the bungalow is very calm, clean and really good located. The beds can be easily put together so you can have a double bed if needed. You can walk or take the bikes to the beach and some great restaurants and bars! Isabel and Richard are very kind and helpful, they answer very quickly on questions and gave us some good tips. We would recommend this bungalow to everyone who wants a quite, relaxing and sunny holiday!
Jasper
2017-02-26T00:00:00Z
Isabel and Richard are wonderful hosts. They met us in the bungalow and explained everything. The apartment is very clean and quiet. It was great time for us and big part of success comes from Isabel & Richard. The bungalow is located about 40 minutes walk to the beach but our hosts offered bicycles and if you use them you can go to the beach within 10 minutes. The place is very quiet and we can recommend it to everyone who likes sun, silence and good atmosphere. Olga & Michal
Michał
2017-02-17T00:00:00Z
It was a very pleasant experience to stay with Isabelle and Richard. They are the perfect hosts for a visit and they answer to all your questions. They have much information to give/share and do react very fast to emails. The house is small but very beautiful. You have all you need to cook and prepare a nice dinner. I can only recommend this house as it is precisely as described in the Airbnb homepage. For sure; we will come back to Isabelle and Richard and their lovely house in the future :-)
Lisette
2017-03-11T00:00:00Z
The house is perfect and located in a calm complex. The swimming pool is more beatifull than on the picture.. Maspalomas is an ideally place to visit the island (20' to puerto de mogan,10' to Meloneras 60' to agaete). Isabel and Richards are perfect hotes.. they recommand visits, restaurants. They answer to questions quickly during the stay. We were with 2 babys and they have prepared two cribs with sheets.
Julie
2017-03-29T00:00:00Z
Isabel e Ricardo disponibili e accoglienti la casa carina e nuova con tutto ciò che serve per un buon soggiorno . Tranquillo e silenzioso il villaggio dove si trova ..
Fabio
2017-01-28T00:00:00Z
Room Type
Entire home/apt
---
Property Type
House
---
Accommodates
4
---
Bedrooms
San Bartolomé de Tirajana, Canarias, Spain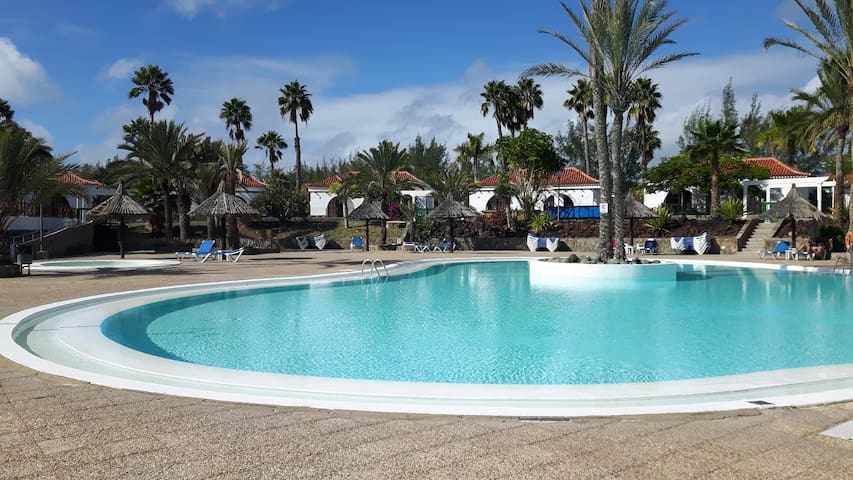 My accommodation is good for couples, adventurers and travelers negocios.tiene 2 Pathio, garden, solarium sea view! Close to all amenities and the beach! central location to visit the island!
solarium private garden and sea view
Barium and very well served tranquillo
Staying at Roberta's place was great! I only stayed one night and Roberta took the time to welcome me and give me all the information I needed. The location is really beautiful with an incredible view on the sea. The room was clean and tidy and breakfast was also abundant and tasty; I definitely recommend this airbnb!!
Erica
2016-10-22T00:00:00Z
We enjoyed our stay with Roberta and her family. We felt very welcome in a nice house atmosphere. We definitely recommend her place.
Mario David
2017-01-07T00:00:00Z
During our stay Roberta and her family were very friendly and helpful. The area is nice with a lot of shops located near to the apartment. It's also very close to the bus stop to Faro. I can really recommend the stay at Roberta's house.
Kamila
2016-12-23T00:00:00Z
We had a great time at Roberta's house. They are friendly en helped us to find the way at the island. They gave us the key of the house, so we get in and out whenever we wanted. We liked el tablero, because it was quiet and nearby maspalomas.
Hanno
2017-03-13T00:00:00Z
A really nice house with lovely people always available to give information and suggestions about beaches and entertainment areas. Happy to met them.
Renzo
2017-03-31T00:00:00Z
Roberta was great. the room was nice and clean and breakfast was very good. i would recomend the room to everyone. ps lovely cat
Petr
2017-01-20T00:00:00Z
I can definitely recommend to spent time in the house and with the family. Everything was uncomplicated and easy to handle with special wishes. The house, bedroom and also the bathroom is clean. Also to communicate is very comfortable, cause she and her husband is speaking a few languages.
Kai-Uwe
2017-01-12T00:00:00Z
Hi Roberta, Everything was good. Room and house clean and tidy. Atmosphere realy nice. We are happy to recommend this place. Regards
Robert
2016-12-11T00:00:00Z
Room Type
Private room
---
Property Type
House
---
Accommodates
2
---
Bedrooms
El Tablero, Canarias, Spain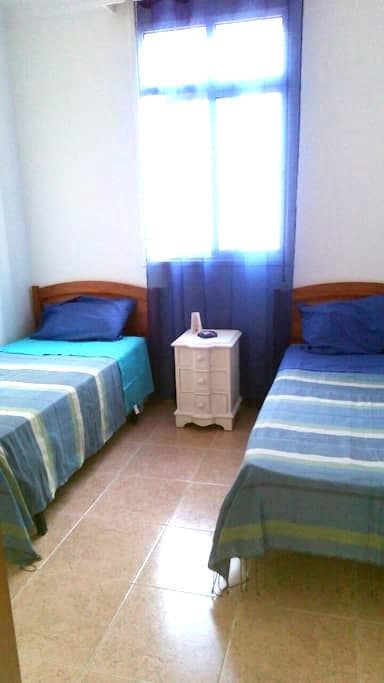 Fantastico bungalow en Maspalomas com piscina cerca de todos los servicios.Estancia minima 5 dias.
Se encuentra cerca de la playa,las Dunas de Maspalomas y centros comerciales.
The place was ok. We were 4 persons, so we were expecting four beds. It turned out there were one double bed, a sofa and a madras under the sofa. And they were all hard to lay on. The place outside and the pool was nice, so was the neighbors. The internet didn't always work, there were all days it was good and days it wasn't working at all. And the warm water lasted for 3 minutes. After all this, we had a nice stay in gran canaria.
Lena
2016-02-05T00:00:00Z
Perfect host. Nice place perfect for couples ! The bungalow is in front of the the pool and 10 minutes from the beach. The only thing that is missing is a microwave oven.
Edwin
2016-02-21T00:00:00Z
Great stay. We've got everything as described. Wifi only outside by the pool.
Liuda
2017-03-28T00:00:00Z
Prise en charge de l accueil et remise des clefs impeccable. Bungalow idéalement placé et bien équipé. Des vacances parfaites Excellent. Everything was great. We just want to Come back.
Virginie
2016-02-14T00:00:00Z
Sehr nette Unterkunft, entspricht exakt der Beschreibung des Gastgebers. Die Anlage ist gepflegt und ruhig, wir hatten durchwegs ungestörte Nächte, der Pool ist sauber. Die Unterkunft selber bietet alles, was man zum Urlaubmachen braucht. Wir haben viel selbst gekocht, dafür war alles da. In dem Bett haben wir wunderbar geschlafen. Die nächste gute Einkaufsmöglichkeit ist in 10 min zu Fuß erreichbar (der Supermarkt in der Anlage hat aber auch das Wichtigste), nur zum Strand ist es zu weit, um zu Fuß zu gehen; da sind wir lieber Taxi oder Bus gefahren. Der Schlüsselempfang und seine Rückgabe waren völlig unkompliziert. Für Radfahrer ist Gran Canaria traumhaft und Maspalomas der ideale Startpunkt.
Ulrich
2016-04-02T00:00:00Z
La casita está super bien, muy bien ubicada, en una zona comunitaria segura y con una piscina chulisima. Lo unico que no tiene wifi y que el sofa/cama no es muy comodo, pero la casita es ideal, y el casero nos dejó hasta toallas de la playa y tiene muchos utensilios para la cocina
Ester
2016-03-15T00:00:00Z
Appartamento molto carino , e dotato di tutti i confort. Posizionato all'interno di un piccola comunità residenziale privata. Molto bene curata e con guardia di sicurezza notturna. Unico neo , il Wi-Fi e solo presente alla piccola clubhouse , all'entrata.
josef
2016-01-12T00:00:00Z
La posizione e il complesso di bungalow sono comodi per raggiungere Playa del Ingles e altri punti di interesse. L'appartamento ha la metratura diffusa in zona turistica, ovvero circa 50 metri quadri, che sono pero' sufficienti per una vacanza in coppia. L'arredamento non e' lussuoso o nuovo ma funzionale.
Ilaria
2017-02-22T00:00:00Z
Room Type
Entire home/apt
---
Property Type
House
---
Accommodates
4
---
Bedrooms
San Bartolomé de Tirajana, Canarias, Spain
Habitación y baño en casa con jardín, piscinas, vistas mar, cerca de todo y tranquila, wifi, tv, pequeña cocina.
We really enjoyed our stay at Mercedes place. She - and her son - were very nice and helpfull, gave US many advises. She speaks very well english and german. The kitchen is fulle equiped, which was very helpfull to prepare the breakfast and dinner on our own.
Iwona
2017-02-07T00:00:00Z
Todo bien. Gracias y hasta otra
Víctor
2017-03-13T00:00:00Z
Muchas gracias por tu hospitalidad! Me encantó pasar tiempo con Mercedes. Ella es muy buena persona y hasta me llevó a la playa! Me hubiera gustado quedarme más tiempo. Gracias por todo y un abrazo!!
Ida
2017-02-26T00:00:00Z
no tenemos mas comentarios. un abrazo a Mercedes
carmen
2017-02-12T00:00:00Z
Das was eine absolut perfekte Unterkunft für uns. Wir haben immer im schönen Mercedes's Garten gefrühstückt und Abendbrot gegessen. Die Küche hatte alles um das Essenszubereitung zu ermöglichen. Auch von hier konnten wir ganz bequem unsere Fahrradtouren starten. Wir hatten Fahrräder gemietet (Verleih ist in der Nähe) und waren schnell überall. Es gibt aber auch die Bushaltestelle am Haus. Mercedes und ihr Sohn sind sehr freundlich und hilfsbereit. Im Habe herrscht auch freundliche und angenehme Atmosphäre. Ich würde diese Unterkunft idyllisch bezeichnen. Herzlichen Dank an Mercedes die uns untergebracht hat.
Yury
2017-02-25T00:00:00Z
Vi havde et rigtigt godt ophold på 4 dage. Mercedes er en diskret vært, men samtidigt nærværende og dejlig åben. Vi synes det er en meget god kombination, når man bor under samme tag. Veludstyret køkken. Vi kan varmt anbefale
John
2017-03-18T00:00:00Z
Room Type
Private room
---
Property Type
House
---
Accommodates
2
---
Bedrooms
San Bartolomé de Tirajana, Canarias, Spain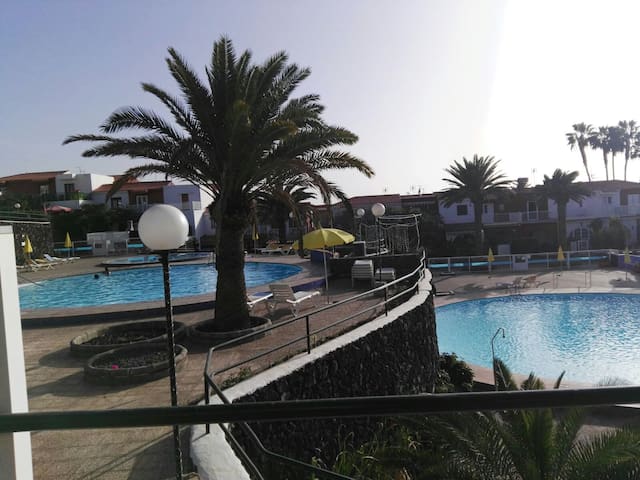 El Tablero - Airbnb
:
Average

4.56

out of

5

stars from

319

guest reviews
1

–

18

of

237 Home Rentals
Enter dates to see full pricing. Additional fees apply. Taxes may be added.