Clean and quiet accommodation
What guests are saying:
"I went there for the first time, and it was so good, I had a job in the neighborhood for work this time, but I booked it again without going to the hotel!!! It's pleasant and neat, and the surroundings are quiet and so good that I'm very happy whenever I go :) There's nothing in the hostel, so it's good to eat and over convenient!"
Our cozy and comfortable Weini House is located overlooking Jamsil "Lotte World" and "Sukchon Lake". 我们 温馨 、 舒适 的 招待所 位于 首 尔 蚕室, 前 观 '乐天 世界' 和 '石村 湖'。 Lotte Mart, Lotte Department Store, Eat Alley, Cafe, etc. are formed nearby. 周边 有 乐天 免税店 、 乐天 百货商店 、 地下 购物 街 、 咖啡 厅 、 美食 街 等 It has a convenient living environment. 具备 了 便利 的 生活 环境。 All rooms are fully furnished and can accommodate up to 4 people. 提供 应有 的 食宿 设施, 最多 可供 4 人 投宿。 You can enter and exit the first floor through a special card, so it is safe to tie women together. 必须 使用 专用 出入 卡 进出 大门, 所以 女性 游客 单独 或 团体 投宿 也 非常 安全。 Convenient transportation facilities on subway lines 2 and 8 招待所 位于 地铁 2 号 线 和 8 号 线 附近, 方便 搭乘 大众 交通。 If you use your own car, we offer a convenient parking space ~~ Suitable for couples, business travelers, families with children.
What guests are saying:
"Sometimes I stay in Jamsil, but this is one of the best Jamsil Air B&Bs I've had! The price was a little expensive compared to other places, but I was so thankful for the quick reply and convenience of the host. When we choose a lodging because we have to eat food, we consider cooking utensils very important. There are also 4 pots and 2 frying pans. But I wish I had one folding table. I tried to come again in June, but I can't make a reservation whether it is already full or not.. Anyway, I want to come here again next time. The access is good, and the view is the best because the lake is visible at a glance. thanked!!!! ps We got a lot of garbage, but we collected it because we cleaned it up very hard."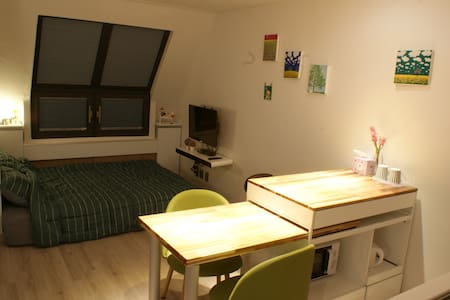 SUPERHOST
Entire apartment · 4 guests · 1 bed · 1 bath
[SALE] A special house for you(Jamsil/LotteWorld)
Hello. Nice to meet you. I'm Korean who likes traveling and communicating with new people. :D This time, I decorated my first house that I lived in for a year. and I opened this house for you. My house is perfect condition, Location is great! you can connect to other places very fast and easily. Everything is new. It is on the 8th floor. Of course, you can use the elevator. I hope you come to my house and have a comfortable and enjoyable time.
What guests are saying:
"Briefly. 0. The host was very kind and he was good at contacting me even on the day I left. 1. Heated, air-conditioned. 2. There is a two person sofa with pretty and soft interior lighting. There is also a wine opener. 3. Seokchon Lake is just 1 minute away, so it's perfect for a walk or a glass of beer. 4. There is a CU convenience store right in front, and the oven chicken house is also nearby. 5. There is a restaurant near Sundae Gukbap that seems to have changed lives. If you go to Jamsil again, you have a willingness to visit again. * Those who bring vehicles! The parking tower is broken and you have to park on the first floor of the building, but it doesn't have enough space. It would be convenient to park before 10pm."