The host couple lives on the property to answer any questions and to help make your stay comfortable.
What guests are saying:
"The schedule was changed urgently, and I was looking for a hotel in Buryaburya, and I was attracted to the photo of the hotel and made a reservation. The outside was quiet, so it was just the feeling I wanted, but I was surprised that the inside was so much better than I thought!!! The lawn and flowers in the garden, the spacious windows in the room, and the stylish interior were pretty. We checked in late in time but the host was really nice and nice. Thank you for coming out right there. It was a really good 2 nights. I have no words to express more"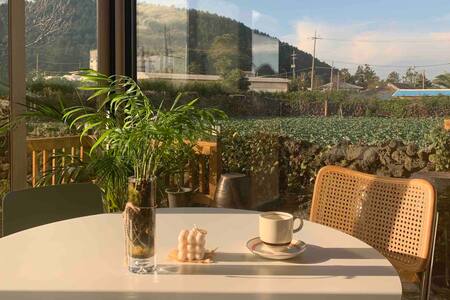 SUPERHOST
Entire cottage · 4 guests · 1 bed · 1 bath
Jeju_wgz "제주외갓집" 은 휴식이필요한 여러분을위한공간입니다.(2박이상~2주가능)
We invite you to a hotel where you can be satisfied with the amenities, location, and price. There are 13 courses and 14-1 courses in Jeoji Oreum and Olle-gil around the lodging, and there are gardens that you can think of in 10 to 15 minutes by car, Castle of Glass, Osulloc and Xinhua History Park, and International English Education City. The park, Hyeopjae, and Geumneung Beach are also nearby for convenient use. In addition, our lodging is equipped with a variety of amenities and a clean environment, and I think the warm sunlight coming in from all directions is enough to boost your energy, and the time to look at the low rise while eating will remain a memory for a long time. We will be a host who always strives with an open mind and thoughts for a healthy day to day.
What guests are saying:
"Since it was the rainy season, it rained and humid all day and night for 3 nights, but thanks to the accommodation, I was able to make a pleasant trip to the end. The host feedback was very good right away and the accommodation was clean. Most of all, the kitchen interior was so pretty that I could sit and heal at any time for breakfast, lunch, and dinner. There are some hidden restaurants such as Jeoji Oreum, Dang Mall (?) Meat Noodle Collection, Seojin Ine Restaurant, etc."
It is a multi-story structure located in HanDong, a quiet coastal town east of Jeju Island. - 3 minutes walk to the sea, you can see the sea through the attic window. - Famous cafes and restaurants are close by. - Full HD beam projector, laptops and boss speakers make you feel at home in theaters. - We have simple cooking facilities. We offer bread, jam, butter, juice and fruit for self-service breakfast. - It's a special house where the landlord makes furniture, cuts stones, welds them :)
What guests are saying:
"Because of the accommodation, I went to Pyeongdae for the first time and everything was perfect. Be sure to read it, because the information about the surrounding restaurants and information prepared by the host is really good! The night is full of stars and the sea is about 5 minutes on foot, so I think you can go in the summer. The warm sunlight and the scenery outside the window, cats, stars and clouds remain in my memory"