Cambará Container Blue, located 800 meters from the center of Cambará, with an incredible view of a valley. The decor adds a special touch to the place. Equipped with everything for your comfort: TV, hot / cold air conditioning, fireplace. Bathroom with porcelain tile, shower glass box, hair dryer. Kitchen with fridge, cooktop, electric oven, coffee maker, electric kettle, toaster, dishes, cutlery, pots, cups, glasses and other accessories. Double bed, bed linen, bath towels. Pets are welcome.
What guests are saying:
"We spent 2 days at Container Blue and we loved the experience. We were not lucky with the weather because it rained a lot, which made us enjoy and enjoy the space even more. Very comfortable. It was super cold and the space has a fireplace, air conditioning and heater for the bathroom. Firewood available for replacement with the house that lives in front, something that helped a lot to keep the temperature of the environment pleasant. The kitchen is super well equipped and has everything you need to make meals. The internet fluctuated a lot in speed, running out of time. Bed with many options of comforters and blankets for cold weather. We just think the bed is too small. I measure 1.70 and even for me I kept my feet out of it. The view is incredible, best of all. It's really worth it! Super recommend and would go back."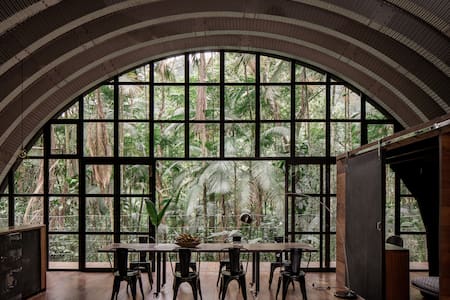 PLUS
Entire house · 6 guests · 2 beds · 1 bath
Swim Under a Private Waterfall at a Tranquil Forest Haven
Sip a refreshing glass of the natural spring water, then take a dip in the secluded natural pool at this nature-inspired, architectural masterpiece in the forest's heart. Pick bananas, look for monkeys and watch blue butterflies fluttering by too.
What guests are saying:
"Arca is a sanctuary, it was my home for 3 months. It is full of positive energy, as soon as you get there it becomes part of you. The sorroundings are there to make you connect completely with nature and yourself, you are in the middle of the "forest", the waterfalls are perfect to make you enjoy the sun and good swims, pure water cleanning every part of you human body and soul. Animals giving you the gift of their sounds and behaviors, you become part of them. The house is very confortable, having everything that is needed for you to feel at home. Lucas, looks after the house and the clients and Ican assure you that he is there for everything that is needed, he is a beautiful soul willing to give the best and help in everything he cans. As for Marko and his family there may be no words to explain... I had the great opportunity to spend lots of time with them, they always had me in account always doing and learning. With them I learned about nature, eco living, co-working and gave me the opportunityto integrate completely in the local life. Marko is a curious soul which is looking to learn every second as well as looking for ways to better the world. His wife is pure light, she is always willing to show you everything she can to heal in the inside. And their children are free souls full of love being raised in a matter of freedom and self decision. I am very thankful that I got this experience, felt part of a big family and loved. I could have not have a better quarantine time, I arrived as one person and left as a complet more evolved one, and all this was because of all and each of them. I do strongly recommend spending time in the Arca house, you will as I did grow as a human and in spirit."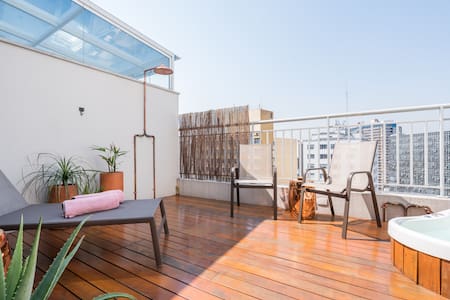 SUPERHOST
Entire apartment · 3 guests · 2 beds · 1 bath
PENTHOUSE MODERN AND COZY - 80m2 - PRIVATE JACUZZI
Completely new. The apartment has less than 2 month of use. Dedicated exclusively for guests. Private area of 80m2 and is located in a new building, built by Cyrela, with high standard finish, with security and 24h doorman. Just 50 meters away there is a 24-hour supermarket from Sunday to Sunday. The subway is around the corner, only 100 meters from the building.
What guests are saying:
"Simply TOO much experience. Beautiful penthouse, stylish, with a beautiful view to the center of SP. The space is very stylish, cozy and the top floor is incredible. I really enjoyed the hydro on the roof with my husband, during the day and night. The place is wonderful and has a very good vibe. I highly recommend it, I also highlight the readiness in the host's responses, as well as the availability to negotiate check-in and check-out. I plan to return soon."