The huge terrace with a big new gazebo at your complete disposition will surprise anyone with a stunning wiew on the blue sea. This little apartement with all comforts has one bedroom with a double bed (with air conditioning), one little kitchen and a bathroom with shower and is perfect for a relaxing vacation.
This little apartment is on top of a house of two floors. This means that you have to climb up to the second floor, but that you will have privacy and a stunning wiew on the sea.
Letojanni is very near to Taormina, Castelmola, Sant'Alessio, Naxos, all very beautiful places to visit. I recomend to plan a visit or a bath at the Isolabella bay and a trip on the Volcano Etna. You can also visit che cathacombs of Savoca, have a trip to the very tipical village of Gallodoro.
Renata was so kind to adjust the listing so we could stay here for 2 nights. To be honest, the environment was not for us. It was quite noisy, with trains passing early morning - late evening and along a busy road with fast traffic. On the last day the main gate lock broke, which did not add to our feeling of safety (of course this is just unfortunate but still). It is very close to the beach and boulevard of Letojanni though. Bear in mind that the road there is quite dangerous with cars passing at high speeds. Not child-friendly or for peace seekers. The terrace is spacious indeed but it still lacked character. We could see it still needs quite a bit of work. The houses below are empty which did not add to the atmosphere. The house itself it nice but basic amenities (a lighter for the gas, toilet paper) were missing. In a way, you get what you pay for but we expected more from this place. Still we very much appreciated Renata's flexibility. Conclusion: if you like a place close to Letojanni boulevard, affordable and do not really care much about atmosphere or traffic this place will suit you.
Felix
2016-09-05T00:00:00Z
The place looked as advertised but had some poor communication with the host, we didn't get to meet her in person which was a shame. The gardener let us in who is a friendly guy but doesn't speak any English. We had no toilet paper for the stay and didn't receive any even after letting the host know. It has a great terrace with a very nice view but it is very loud because of the motorway, street and train tracks. We asked for Internet and he gave us a little wifi box which was very nice and helpful.
Lisa
2016-09-09T00:00:00Z
The house is perfect to visit Letojani and Taormina! The house it's at 5 minute walking to the sea, 10 minutes to Letojani city center and Taormina is reachable by at or bus! Amazing view and excellent support from the owners! Definitely recommended to spend a great summer!
Laurenz Agustin
2016-08-07T00:00:00Z
Very beautiful views to the sea, clean appartment, and comfortable, but if you go walking be aware of cars. Railway station 1.9km. Very good comunication with Renata. Vistas muy bonitas al mar, apartamento limpio, y confortable, pero si vais andando llevar cuidado con los coches. Estación de tren 1.9km. Muy buena comunicación con Renata.
Miguel Ángel
2016-07-20T00:00:00Z
Renata has a lovely located flat with an amazing view of the sea. Very close to both Taormina and Isola Bella and about an hour drive to Etna. Easy to communicate with and Giovanni, the guardian of the flat, was welcoming us.
Johanna
2016-09-16T00:00:00Z
Renata was very kind and helpful. The apartment was clean and the view was amazing :) Highly recommended!
Kitti
2016-10-17T00:00:00Z
The apartment is ok. View is beautiful, beach is about 5 minutes walk and the center of Letojanni 10. We didn't get to meet Renata, but the gardener was very friendly. Downside of the apartment is that it is very noisy. It is situated about 50 m from the highway, 100 m from the railway and, literally 50 cm from very busy road, with traffic running the whole time. It also have big terrace but only one chair to sit on.
Predrag
2016-09-07T00:00:00Z
Beautiful place with great view.
Ben
2016-10-20T00:00:00Z
Room Type
Entire home/apt
---
Property Type
Apartment
---
Accommodates
2
---
Bedrooms
Letojanni, Sicilia, Italy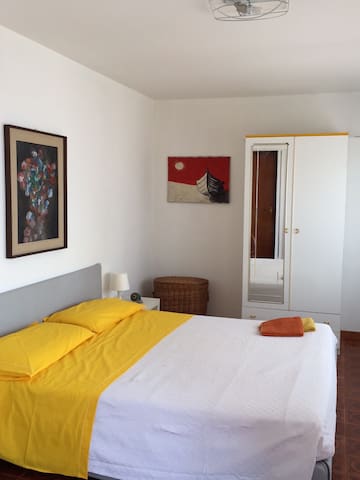 This cool and recently refurbished small house is in the centre of town, across the road from the beach. A cozy double bedroom and living room with sofa bed. The kitchen is very simple with eating space. Big and comfortable bathroom. Outdoor shower.
At the end of an alleyway is my little white house. Above and around it are a couple of other houses but normally occupied only in July and August and the atmosphere is friendly and calm. Every room, including the bathroom, can be accessed by a french door. Although I have lived here (happily!) the house is conceived as a frill-free holiday home. Coming back from the sea you can wash off in the outdoor shower and walk right into the bathroom for a hot shower! The kitchen is simple with a practical worktop, two electric rings, a kettle and a toaster. Alternatively, there is a small but efficient BBQ outside where you can grill fresh local fish. The living room has a sofa bed but there is no door between the living room and the rest of the house. So to get to the bathroom from the bedroom you have to walk past the living room. The bedroom is cozy and the bed is comfortable. Every room has an electric ventilator.
The house is at the end of a quiet alleyway just off Letojanni's seafront. In the immediate area there are excellent little foodshops, bars and plenty of restaurants. The beach in front of the house is public but there are also lidos with sun beds and umbrellas a stone's throw away.
We absolutely loved our stay in Annamaria's apartment in Letojanni. The apartment was very modern, clean and tidy, and the attention to detail was very nice. There were beach bags and bats and balls, books, even drinks in the fridge for our arrival. The flat is right on the crystal clear beach and also a short walk into town. Taormina is a 5 minute drive away. I would love to come back next year and spend more time in the apartment and in Lettojanni. Thank you Annamaria for being so welcoming we couldn't have asked for more! Grazie
Emma
2014-09-06T00:00:00Z
We really enjoyed our stay in Letojanni and the apartment was great. It had a modern standard and offered everything that one could possibly need. Also, the location just by the beach makes it hard to beat! Annamaria was a very friendly host and helped us out with various things, like booking taxi from the airport since we arrived late at night and making arrangements for us to go visit a wonderful restaurant in the small mountain village of Gallodoro. She had even left us a treat the first night when we arrived; wine, olives, cheese, bread, coffee, tea, cookies etc. Very thoughtful! We would definitely recommend Annamaria and her apartment to anyone that wants to go visit Taormina/Letojanni. We are already longing to go back ourselves!
Jenny
2016-06-13T00:00:00Z
Lovely little place in small town north of Taormina, Letojanni. Such a charming town out of the hustle and bustle. The apartment is delightfully renovated and annamaria is very easy to reach and happy to help in any way including arranging the key for us to arrive very late at night. Thanks for having us we loved staying in Letojanni!!
Sophie
2015-09-27T00:00:00Z
This a nice apartment near the sea. It's clean and modern. Thank you to Annamarie for all help during our stay. We could recommend a stay during the low season because there are only a few tourists and all the people in town are friendly. We enjoyed our stay a lot. Thanks again
Ariane
2017-03-19T00:00:00Z
Puck and I have travelled a lot and use AirBnB very often. Anamaria's place is defiantly in our top 3 places where we have stayed in so far. We love the modern fully equipped bathroom. The apartment is literally located 30m from the beach!! :) We will defiantly come back to this place when we are visiting Sicily again. Thanks for a wonderful stay!!
Mark Jan
2015-09-18T00:00:00Z
It was a great expérience ! Nothing else to say . - The appartement was just like in the picture. Fully furnished ( towels, bed sheets, soap etc etc ) - great location by the see - cool place regardless of the outside temperature - lots of things to see and go ( useful information in Anna Maria ' s book ). - Anna maria enquired our well being before and during the stay.
steve
2016-07-04T00:00:00Z
Annamaria was a great host: helpful and easily contacted. We loved the flat in Letojanni too.
Rebecca
2015-09-21T00:00:00Z
The apartment is very nicely arranged and new. Although it is pretty dark in cloudy weather it is also not that hot when the temperatures rise. The bathroom is awesome if it wasn't for the water-spitting toilette with each flush. But we think that can be easily fixed. Annamaria is very nice and helpful and put a lot of effort into a little written guide that gives you a ton of useful information about everything you need to know in this place and around. We had a good time!
Katrin
2015-10-16T00:00:00Z
Room Type
Entire home/apt
---
Property Type
Apartment
---
Accommodates
3
---
Bedrooms
Letojanni, Sicily, Italy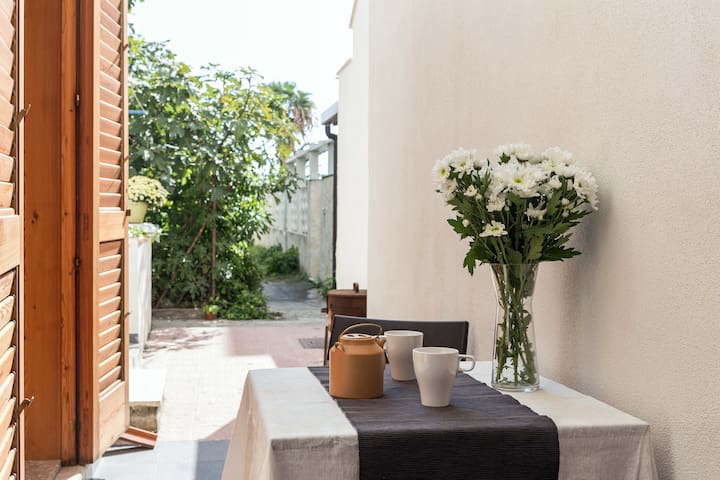 L'appartamento si trova a circa 100 mt dal mare con spiaggia libera o con lido. Comodo con i mezzi pubblici per raggiungere Taormina e le località circostanti. Fornito degli accessori di prima necessità per un soggiorno comodo e confortevole. Il paese offre tante soluzioni x gustare le specialità locali, negozi di alimentare, souvenir, pub e Steak House Nota Bene: la foto dell'annuncio è stata scattata da un ristorante sul lungomare di Letojanni.
L'appartamento sito al primo piano è composto da: sala da pranzo con cucina a vista, camera da letto matrimoniale con possibilità di aggiungere un terzo letto, soggiorno con divano letto matrimoniale, bagno con doccia e due balconi. Si trova nella via centrale del paese ed è vicino a molti negozi di ogni genere.
This place was perfect for us! We were welcomed very friendly and we felt very comfortable and safe. It was nice to have an own equipped kitchen to cook and eat in private. The place is very close to the beach and cafés, restaurants or little supermarkets with fresh fruits etc. Letojanni is a cute and beautiful Sicilian village very close to Taormina and Giardini Naxos. The people are very friendly and welcoming everywhere. Unfortunately we didn't meet Angelica, but her sister was very friendly. Thank you, we will come back! :-)
Ljuba
2016-09-10T00:00:00Z
Our hosts always answered all of our questions and were very kind. The place was remarkably clean and spacious, in the center of town. They were flexible on the check-in and check-out times, and always punctual. We would recommend this place and hope to come back soon.
Anne
2016-09-04T00:00:00Z
Angelica gave us a very friendly welcome and was also very helpful and courteous. We really appreciate it and we can highly recommend this very clean and tidy apartment in a central location.
Manuel
2016-09-15T00:00:00Z
Good location, good comonication although Angelica didn't speak english, but we understood seach other. There is no wifi tho, but otherwise everything good.
Marta
2017-03-31T00:00:00Z
Great Apartment For litttle Money
Rabea
2017-04-01T00:00:00Z
Die kleine Wohnung von Angelica liegt sehr zentral und war für uns optimal. Man fühlt sich sofort wie ein Einheimischer, da sie noch original gestaltet ist. Ich kann die Unterkunft empfehlen und würde wieder dort wohnen.
Jochen
2016-09-23T00:00:00Z
L'appartamento si trova davvero vicino al lungomare di Letojanni, ma il balconcino non dà sulla spiaggia, come avevamo creduto osservando una delle immagini pubblicate. Nel complesso una casa estiva pulita, che offre tutto il necessario per una bella vacanza al mare.
Aurelio
2016-08-31T00:00:00Z
Angelica je velmi milá, komunikace po sms bez problému, osobní komunikace velmi zábavná, protože Angelica nemluví anglicky a my zase italsky:) Ale naše setkání proběhlo velmi dobře, pokaždé jsme se domluvili. Letojanni je klidné místo pro relaxování a perfektní místo pro výlet do Taorminy a přilehlého okolí. Byt byl velmi čistý a dobře vybavený, byli jsme zde moc spokojeni a určitě se sem zase rádi vrátíme.
Zuzana
2016-10-03T00:00:00Z
Room Type
Entire home/apt
---
Property Type
Apartment
---
Accommodates
4
---
Bedrooms
Letojanni, Sicilia, Italy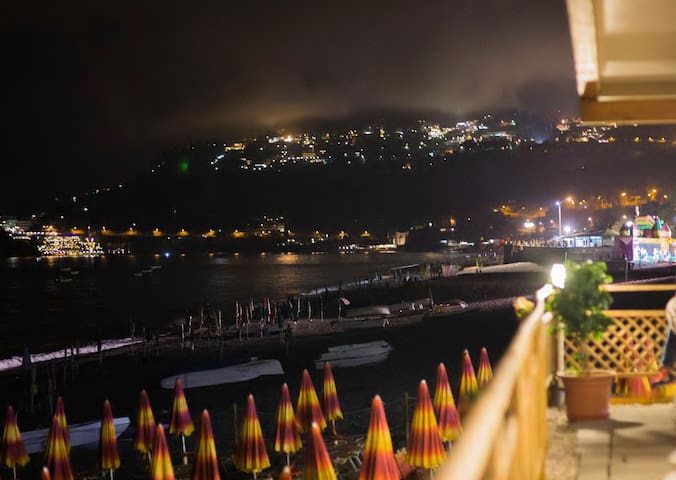 Il nostro mini appartamento è collocato al piano terra, composto da una camera da letto, bagno e cucina. Dotato di tutti i comfort necessarii, è ideale sia per chi vuole trascorrere una vacanza al mare sia per chi vuole visitare le località vicine.
Il quartiere è molto tranquillo. Il paese è ricco di Bar e Ristoranti dove potrete assaggiare le specialità siciliane. Granite, Arancini, Pesce e Pasta sono le nostre specialità. Abbiamo sia spiagge libere che strutture balneari.
Great location, place was clean with many amenities, Host made us feel very welcome, water, juice, coffee available upon arrival for free. just feet away from the beach but no views of it
Oscar
2016-06-08T00:00:00Z
We like this kind people - Maria and her mother. Nice apartments near sea. Comfortable and cozy place for two persons.
Vita
2016-09-17T00:00:00Z
Maria Paola is very kind person. apartment is very well situated Just few steps from the beach!!clean and really Nice!! the bar "enjoy" closed to the apartment offers delicious sea products and not expensive ! many thanks Maria Paola looking forward to see you again !
Daria
2016-07-21T00:00:00Z
Maria Paola and her mother were incredibly nice hosts. Maria Paola was always available whenever we needed help. (Which was quite often! Thank you again for everything!) The apartment was absolutely lovely, calm, very spacious and clean and also a good hiding spot from the intense sun light during noon, in a very close location to the beach and the center of Letojanni. Upon arrival Maria Paola had many things in the kitchen for us prepared and also towels and an umbrella for the beach, which we thought was incredibly thoughtful. We had such a good time at her place that we were thinking of coming back next year again! Thank you again for hosting us! ______ Maria Paola und ihre Mutter waren unglaublich nette Gastgeber. Sie waren jederzeit für uns da, wenn wir Hilfe brauchten und haben uns viele Tipps fürs Reisen in Sizilien gegeben. Die Wohnung war sehr schön, sehr ruhig und sauber, mit viel Platz um sich wohl zu fühlen und sich vor der intensiven Mittagssonne zu verstecken, nur wenige Meter vom Strand entfernt und wenige Schritte vom Centrum Letojannis. Bei unserer Ankunft hatte Maria Paola schon viele Sachen für uns in der Küche vorbereitet und auch Handtücher und Sonnenschirm für den Strand lagen schon bereit. Wir hatten so eine schöne Zeit, dass wir gerne nächstes Jahr wieder kommen würden! Vielen Dank für alles!
Silke
2016-07-16T00:00:00Z
Great host, nice proximity to the beach, easy transport by bus or car to Taourmina. The apartment was great with everything you need - towels, fridge, kettle, washing machine, drying rack and wine. I would highly recommend!
Caitlin
2016-07-19T00:00:00Z
Bellissimo mini appartamento situato in una buona zona di Letojanni. Consiglio per chi come me ha soggiornato in questo locale per farsi un paio di giorni di mare. L'appartamento ha tutto quello che viene descritto nel sito, anzi anche qualcosa in più. Credo che fino a 4 persone può andare bene. Ho trovato tutto i beni di prima (URL HIDDEN) mini appartamento si trova vicino a botteghe, chioschi, rosticceria, panifici, raggiungibili anche a piedi. Dentro la casa si respirava aria veramente di pulito. Devo dire che avendo anche un coinquilino che viveva nell'appartamento accanto e la proprietaria che vive sopra non si e sentito in 3 giorni nessun (URL HIDDEN) signorina maria Paola con sua madre devo dire che sono state abbastanza disponibile. Disposte anche a spedirmi via posta alcune cose che ho dimentica li. L'unica nota poco dolente era il letto, essendo 2 lettini uniti non si dormiva in maniera comodissima, ma secondo me a confronto le note positive di questo piccolo appartamento il fatto del letto ha poco conto. Lo consiglio. E se capita ritornerei volentieri. Grazie.
Enrico
2016-05-23T00:00:00Z
Maria Paola è stata eccezionale! Per diversi inconvenienti siamo arrivati da lei alle 2 di notte e lei è stata sempre disponibile e gentile nonostante la mattina si sarebbe dovuta svegliare presto.
Gloria
2016-06-06T00:00:00Z
Ci siamo trovati benissimo! Maria Paola e sua mamma ci hanno accolto calorosamente spiegandoci un pò tutto e dandoci indicazioni sulle località della zona da visitare, mangiare ecc... La casa era come da descrizione, ottima. Letojanni è molto carina, punto d'appoggio per chi vuole visitare anche le zone circostanti come Taormina, Giardini di Naxos, Isola Bella ecc... La consiglio vivamente!
Samuel
2016-09-19T00:00:00Z
Room Type
Entire home/apt
---
Property Type
Apartment
---
Accommodates
2
---
Bedrooms
Letojanni, Sicilia, Italy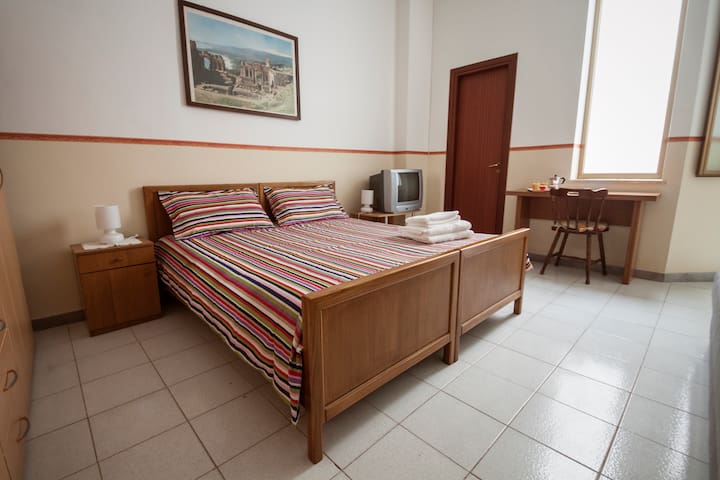 Favoloso appartamento sul mare di 90 mq. arredatissimo, con 7 posti letto, composto da una camera da letto matrimoniale, una cameretta con due letti singoli, ampio salone con confortevole divano letto matrimoniale e letto singolo estraibile, cucina con lavastoviglie, forno a microonde ed elettrico, frigo, n° 2 bagni, n° 2 balconi, terrazza con vista sul mare, con cucina esterna e barbecue, dotato di tutti i confort: asciugacapelli, lavatrice, biancheria completa. L'appartamento si trova al centro di Letojanni e dista solo 20 mt. dalla spiaggia.
We had the pleasure to stay at Giovanni's place for one week. The apartment is just great, and the terresse is a fantastic spot, from where you see the beach and the ocean. Geovanni is a good host you can relay on and he is helpfull and flexible. So we can strongly recommand this place for a good summer holiday
Claus
2016-07-13T00:00:00Z
Everything was perfect!
Peter
2016-09-27T00:00:00Z
Nos encontramos con un apartamento muy bien puesto con todo lo necesario y mas aun.La hubicacion en exelente hermosa playa y vista de Taormina diurna y nocturna hermosa .Una terraza para disfrutarla.Los anfitriones Helena y Giovani exelentes ,llegamos retrasados y no tuvimos ningún inconveniente nos esperaban con total cordialidad Volveríamos y lo recomendamos con total seguridad. Gracias también a la mama de Helena.Ricardo Matilde Magi y Roberto
Ricardo
2016-06-06T00:00:00Z
Giovanni e sua moglie sono stati molto disponibili e cordiali.
Pina
2016-08-03T00:00:00Z
L'appartamento è un terzo piano senza elevatore, localizzato in una zona molto tranquilla senza rumore. La spiaggia è a due minuti a piedi e la terrazza è. meraviglioso per una cena con gli amici. Tutto l'appartamento è nuovo e la cucina e il bagno funzionavano benissimo. RACCOMANDATO!!!
Elena
2016-06-07T00:00:00Z
Giovanni ist ein sehr freundlicher und herzlicher Gastgeber. Wir haben uns, trotz die Sprachbarriere, sehr gut verstanden. Das Apartment war genau sowie beschrieben und alles sauber und komplett ausgestattet. Ich würde es jedem weiter empfehlen.
Biljana
2016-09-30T00:00:00Z
Anfitriona encatadora y un estupenda casa, muy limpia y muy muy bonita. Justo delante de la playa y cerca de todo tipo de tiendas y restaurantes, los cuàl se agradece con 3 niños. El desayuno o la cena en su estupenda terraza es un gozada.....yo repetiría. Como única pega, el ruido del tren que consigue que nadie necesite despertador....
Alberto
2016-07-03T00:00:00Z
Room Type
Entire home/apt
---
Property Type
Apartment
---
Accommodates
7
---
Bedrooms
Letojanni, Sicilia, Italy
in zona centrale del paese a circa 80m.dalla spiaggia si arriva a piedi ,provvisto di tutti i confort,la biancheria per tutta la casa inclusa,lavatrice ferro e asse da stiro,aria condizionata e ventilatori,2 bici a vostra disposizione,asciugacapelli
Stefania and her mother was a really nice, pleasant and hospitably hosts. When we arrived at their place, Italian coffee, wine and fresh fruit was waiting for us. The place is in a house, one street from the seaside, it is very spacious with everything what you need and more. It has big balcony, garage, two bathrooms, and for the icing on the cake Stefania and her mother are really nice hosts! Too bad we stayed there only one night.
Adrijana
2016-09-27T00:00:00Z
Location: This flat is in the centre of the town, a 2 minutes walk from the beach. The only disadvantage is that it's difficult to find a parking spot (one way, crowded with cars street), but Stefania has a private parking space which should be available for you. The apartment: It's •much• nicer that on the photos. It's spacious (large living room + open kitchen), big bathroom, and bedroom with a monster size bed. It was sterile clean when I arrived, and the bed was covered in few layers of bedding stuff, ideally stretched on it – honestly an impressive arrangement. Important for visitors during winter: there is a gas heater which warmed up the bedroom in less than an hour to habitable temperature (I was there on the 29th December), and turned this flat into a cosy place. Bonus: there's Wi-Fi. The hosts: I was welcomed by Stefania's mother, and she's one of the nicest hosts I met during my journeys ever. She's like an aunt who welcomes you to her house saying "make yourself at home" and she means it, exceptionally warm and helpful person. I arrived late evening and got from her two local food specialities and a basket full of fruits. I talked to Stefania only once, but she handles the communication on (SENSITIVE CONTENTS HIDDEN) and responds very fast to any queries, great girl with great smile. If you are considering visiting Letojanni, I can't recommend this place high enough, don't look for any other location.
Maciej
2016-12-30T00:00:00Z
The host canceled this reservation 50 days before arrival. This is an automated posting.
Raman
2015-06-03T00:00:00Z
Стефания очень гостеприимная хозяйка! Готова была решить любые вопросы ( она живет этажом выше! ). Квартира была полностью подготовлена, чистенькая. Фотографии полностью соответствуют действительности, описание квартиры тоже. Городок очень милый, море рядом(дом расположен на 2 линии), магазины расположены близко! Из Летоянни мы легко добрались на электричке до Таормины, Мессины и Катании, там есть, что посмотреть! В городке люди очень приветливые! Спасибо большое Стефании за все!!!)))
Olga
2015-09-26T00:00:00Z
Disponibilità e gentilezza,oltre ad un appartamentino veramente carino e difronte al mare meraviglioso! Vicinissimo a Taormina centro! Lo consiglio!!
Erika
2017-01-01T00:00:00Z
Это было незабываемо! Стефания – чудо гостеприимства. Она заказала нам трансфер из аэропорта Катании – семью из 3-х человек ждал микроавтобус (!), куда с легкостью поместился наш немаленький багаж, и с ветерком доставил в пригород Таормины прелестный городок Летоянни. Квартира расположена на втором этаже ( по-итальянски на первом - al primo piano) - 3 спальни, огромная гостиная зона с кухней и обеденным столом и 2 сан.узла - очень удобно. По периметру идет балкончик. Все сделано с любовью и заботой о гостях. По приезду нас ждали фрукты, бутылка вина, сладости, кофе, вода и сок в холодильнике, что очень приятно. За месяц до приезда я занялась арендой машины и выяснила, что в Летоянни худо с парковкой (и это мягко сказано). И тут Стефания БЕСПЛАТНО предлагает нам место в гараже, который находится на первом этаже дома. Поверьте – это подарок небес. Я много готовлю сама – и оборудование кухни для меня важно. Очень часто приходится пользоваться старой посудой, которую хозяйки передают гостям по наследству, думая, что не все готовят, значит можно и не заморачиваться. У Стефании все почти новое, куплены наборы специально для гостей, что тоже радовало меня каждый день. Было много полотенец, шампунь, мыло, фен и утюг! А еще Стефания баловала нас помидорками и имбирным печеньем. До моря - 50 метров, длинный галечный пляж, чистейшая вода, есть оборудованные платные пляжи, но много и бесплатного побережья, вечером на 2 часа прибежать – сказка. Через 2 дома кофейня, где я каждое утро пила кофе с сицилийскими сладостями. А в 10 утра прямо под окнами останавливается машина с фруктами - по 1 евро за килограмм - продавец кричит на всю улицу Bella frutta! Я могу написать еще очень много, но Сицилия - это моя давняя любовь, и Стефания помогла мне почувствовать это еще раз. На прощание бросила монетку – вернусь! That was unforgettable! Stefania is a genius of hospitability. She booked a transfer for our family of 3, and we found a microbus waiting for us that perfectly fit our enormous luggage and quickly brought to Letojanni – Tarmina suburb. The apartment is on the first floor – 3 bedrooms, large living room with kitchen zone and 2 toilettes. Balcony goes by a perimeter. Everything is made lovely and carefully. Upon arrival we found fruit, wine, sweets, coffee, water and juice in the fridge. When I planned rent a car it appeared Letojanni was tough with parking. And Stefania offered us a parking place in her garage in the basement free of charge. Self-catering is important for me and I found kitchen well-equipped and comfortable. Stefania also offers lots of towels, shampoo, soap, hair-dryer and an iron. The flat is 50 meters from the long pebble beach, clearest water. 2 min to the supermarket Spar and pasticceria with fantastic Sicilian sweets and coffee. Every morning at 10 you hear a fruitmonger calling Bella frutta! and offering 1 euro per kg excellent fruit. I love Sicily and Stefania helped me to feel this one more time.
Ирина
2016-07-13T00:00:00Z
Room Type
Entire home/apt
---
Property Type
Apartment
---
Accommodates
6
---
Bedrooms
Letojanni, Sicilia, Italy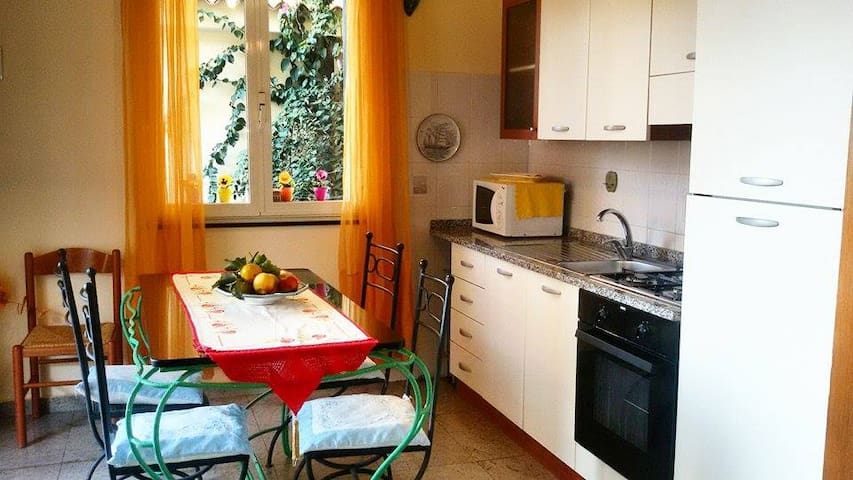 My apartment is in Mazzeo, province of Taormina: while the centre of Taormina is on a hill, Mazzeo instead is the part of Taormina overlooking the seaside. My place is only a few steps from the beach, about 30mt, and it's the perfect location if you want to relax, visit many interesting places, enjoy good food in the restaurants/pizzeria nearby, go for a walk in the Mazzeo-Letojanni seafront. The bus stop to Taormina centre is only 150mt away and it's a 10minutes journey for 1€, all the attractions in the area are easily reacheable by bus or train. If you come by car, parking is free in the blue parking lines all along the seaside in Mazzeo. It is a very safe location for single travellers, couples, friends and family. My place is comfortable but not perfect, you will hear neighbours and kids playing because it's in a small street, but here you can live like a local; it's not a hotel and suits people who are interested in being part of how Sicily breathes and lives. The apartment is exactly as shown in the pictures, one bedroom with double bed, a kitchen with double sofa bed and a bathroom; bedroom and kitchen overlook the balcony, from which you can see the sea. The apartment is about 700mt from Letojanni train station, 3 km(5 min by car or by bus) from Isola Bella and from the cableway that takes you directly to Taormina. Internet: I will give you a portable wifi router, so you can turn it on/off whenever you need it.
Our stay at Veronica's place was excellent! The apartment was just as it was described and she was very accommodating. Throughout our stay Veronica helped us with questions that we had. A big thank you from both me and my girlfriend. We definitely recommend staying here.
Ross
2015-10-13T00:00:00Z
Veronica is very welcoming and extremely helpful! she does everything she can to help you. The apartment is very clean and the perfect size for 2 people. It is right beside the beach and only a bus ride away from Taormina. An excellent place to stay if you want to live on the beach and stay away from the hordes of tourists in Taormina. I highly recommend this place!
Tyler
2016-07-05T00:00:00Z
Our journey in this apparment was very pleasant! Veronica is very hospitable and friendly person, ready to help you in every question! She gave us a detailed instruction of how to get to her house, which restaurants and shops are near it, which places we can visit. Also we were met with fruits and cookies and it was very nice. The appartment completely corresponds to photos on site. It is very clean, cosy and nice. There were a lot of useful things for cooking such as salt, sugar, oil and even pasta in the kitchen. The beach is near appartment so you can hear the sound of the sea. Sometimes it can be loudy at the street, the neighbors are very close, but its a feature of such a little towns and you can feel how it is to live in this place. We loved Mazzeo, Letojanni and Sicily as a whole and higly recommend to visit this place and stay at the appartment of Veronica! Anna and Natalia, Russia
Анна
2016-10-13T00:00:00Z
Wonderful flat in the front of the sea. The flat is in a very authentic residental area, with original neighborhood and in the morning comes the fruit and vegetable man. The flat is very complete and comfortable, we had a good time here.
Friedemann
2013-09-20T00:00:00Z
We had a wonderful stay at Veronica´s apartment. Everything was just perfect and Veronica is a very very good, friendly and kind host. Our stay could not have been better! The beach is just across the street and the village of Mazzeo is really beautiful and very close to Taormina and all the other main attractions of the regions. Shops and restaurants are in walking distance... (1 to 5 minutes). After a few days we really felt like being locals! We stayed one week with 2 adults and 1 child (2 years). The apartement is just perfect for a little family like ours! Best regards, Dirk
Dirk
2014-05-11T00:00:00Z
The apartment is as described very near to the beach. 10 meters to the boulevard and about 40 meters to the Ionian Sea. Apartment is clean and big enough for two persons. Air-conditioning functions well, wifi did not function. Mazzeo is a beautiful, quiet place near Taormina. Great beaches and a good bus connection to Taormina (15 minutes). Veronica gave us a good tip for going out in Mazzeo: we had a great time! We recommend this B&B!
David
2014-08-27T00:00:00Z
We lived in this apartment 4days in the middle of June 2013 during a trip to Sicily. For sea view + Taormina and Mount Etna place is good. Sea directly across the street, clean free beach. The apartment has everything you need. The keys were taken and left in a nearby restaurant. I recommend it to all go to this restaurant, there is a great home cooking and a great hostess! The prices and quality is much better than in the restaurants that are close to Letojanni. apartment for a couple or a family with a child. There is a small bed and even a playpen for the baby. There is a washing machine, dishes, beach umbrella. Train station 10 minutes. To Taormina can be reached by bus or train one stop. Pebble beach, the water is clean. Nearby there is a small supermarket. Once again I recommend the restaurant Arco Rosso, all the rest on the waterfront, we went first, were worse. In our restaurant, locals and tourists sit up late at night. The apartment is not new, but the price is very good. Thank you Veronica.
Tatiana
2013-06-16T00:00:00Z
The apartment is exactly as described. Very good location, clean and comfortable. Veronica is really nice, she send us many useful details such as train info, where to eat. The town is an excellent place to stay, people there are very friendly and warm. Recommend!
YU
2014-03-28T00:00:00Z
Room Type
Entire home/apt
---
Property Type
Apartment
---
Accommodates
4
---
Bedrooms
Mazzeo, Sicily, Italy
The view and the terrace are simply outstanding, the flat is cozy and clean, tha area is away from the chaotic Letojanni center, that is still very very easy to reach. The parking is free and within few meters from the flat. We aim to the best and offer assistance for any need.
We rent in Letojanni, 2 km away from Taormina, a nice, comfortable and relaxing flat of about 40 square meters, with a balcony of about 20 square meters that offers a simply outstanding view over the Ionian sea. It can host up to four people and offers a range of comforts like two bathrooms (totally renewed), a internet wifi connection -free up to 4 gigabytes, 10 € fee for extras-, air conditioning, satellite tv, microwave owen, fridge, washing machine, barbeque, bath towels and bed sheets included. The flat is very nice, romantic and quite. You will love and remember the breakfast in your private balcony in the shiny morning light, as good as the dinner at candle light. Special price for longer stays. Please get in touch for any information you may need, we will promptly contact you. PS. HIER MAN SPRICHT AUCH DEUTSCH!! AQUI FALA-SE TAMBEM PORTUGUES!!
Bruno is a perfect host who from the very beginning was very easy to communicate with. We booked the apartment 4 days before our arrival and Bruno was extremely fast and responsive at confirming the booking and giving us directions – all in all, making it a carefree experience for us. He met us very promptly, is very hospitable, showed us around he local village and even kindly bought some delicious local bread for us. Bruno also recommended us the local supermarket, which was fantastic, stocking cheap fresh fruit and vegetables, cheese and wine. The property location is unique. It is located on top of the village, up in the mountains but the proximity to a large hotel doesn't make you feel isolated, so it as at once a quiet haven but also near a more lively atmosphere if you desire it. The local hotel offers lunch or dinner for 23 euros per person, a spa and a lovely bar which you can use at any time, including live music. It is also close to Taormina, around 5km, so easy to explore all the beautiful places there. There is also a gorgeous beach on Giardini Naxos ,which is around 15 mins drive. The highlight of the property is the huge terrace as everyone has already described where we spent almost every morning and evening. The property is located in the mountains so when it is very hot, the breeze is ideal for cooling off. Unfortunately we visited during one of the biggest rainstorms of the year, and we had to spend a lot of time in the apartment. The accommodation was clean and functional, well equipped and the bed was very comfortable, however there were aspects of the property which need some renovation in our opinion. For some reason, unlike other visitors, we found the motorway unexpectedly quite noisy. Overall we had a good time and think Bruno's flat was a very good choice in that area.
natalya
2015-10-05T00:00:00Z
Thank you Bruno and Melania for everything. We were happy to stay in this wonderful and cozy apartment,) After that experience we would prefer staying in flats rather than hotels. The flat is amazing, there is everything to fill comfortable and stay happy. Thank you for youe pieces of advice concerning the places to see, to visit and to eat,) Anastasia
Anastasia
2013-06-29T00:00:00Z
Bruno, thanks for your friendly granita-meeting and so cozy, clean and beautiful apartment, especially for wonderful view from the balcony. We felt very nice there and appreciate you were always in touch to help us. Wish you good luck!
Olga
2013-07-18T00:00:00Z
Staying chez Bruno was a lovely experience. He Was very helpful with everything: directions to the apartment, suggestions of What to do in Sicily, everything. The apartment is very beautiful, we suggest everybody to wake up early to see the sunrise from the balcony. We highly recommend staying with Bruno, he is the perfect host.
Erin
2015-06-27T00:00:00Z
Bruno is amazing! He makes you feel very welcome. He even sent an email of tips on restaurants, sights etc and helped us with booking tables etc. He goes out of his way and it's so great to have local knowledge so accessible. The apartment itself has breathtaking views and is perfectly situated away from the busy tourist trap of Taormina, but close enough to travel in and out with ease. It's so comfortable and cosy - we loved just sitting, drinking wine on the terrace and watching the world go by. I couldn't rate this property any higher. Perfect.
Emily
2016-07-07T00:00:00Z
I recommand Bruno's appartment. We spent a nice week in front of the see. We've especially appreciated the disponibility of Bruno, his advices and his kindness.
VALERIE
2015-05-08T00:00:00Z
We spent a very relaxing few days at Bruno's place. Lovely apartment, beautiful views from the balcony. Bruno is a brilliant host. He provided us with lots of information and tips on things to do in the area and was contactable throughout or stay. I would highly recommend Bruno's place
Claire
2016-08-30T00:00:00Z
We had a terrific stay at Bruno's place! I would definitely recommend the place for your stay in Sicily. The location is perfect and the view is stunning! The apartment has all you need for a comfortable and relaxed stay! On top Bruno is very nice and helpful. He gave us excellent recommendations about where to eat and what to see. Perfect, perfect! Many thanks Bruno - it has been a marvelous stay!! We come back!
Olivier
2014-08-15T00:00:00Z
Room Type
Entire home/apt
---
Property Type
Apartment
---
Accommodates
4
---
Bedrooms
Letojanni, Sicily, Italy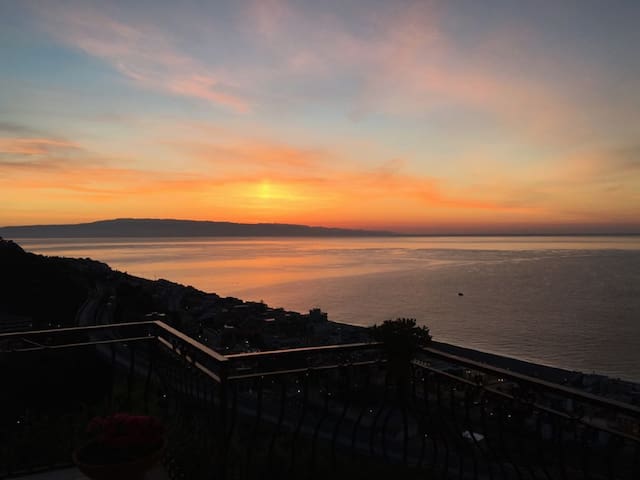 Charming apartment sea view with private beach , up to 4 person, all confort included. Bus stop right outside (3 min to Letojanni center, 15 min to Taormina old torna, 20 min to Forza D'Agro' -set film "The Godfather", 40 min to Catania -Etna vulcan city- and other connections. Minimum 2 days. We speak English, French, Polish and Italian.
Apartment 45 mq, sea view terrace, kitchen equippede in all the necessary (glass,dishes,casseroles...), bathroom with shower,tokets,towels, hairdryer, badroom(double bed cm 1,40),living room with tv and sofà bed for 2 persons cm 1,40. Free private beach acces with 2 sunbeds and umbrella.
L'appartamento si trova ad un 1 km dal paese di Letojanni, grazioso paesino ai piedi di Taormina con ampie ed attrezzate spiagge, ristoranti sul mare, pizzerie, bar, supermercati e negozi di vario genere.
Bianca was a wonderful host - helping us out when we got slightly lost (as we often did) and providing fresh-fruit and water on arrival (and the all important coffee). The apartment has a lovely feel to it and has a wonderful vibe. I would also rate the beach as better then isola bella (one of the huge benefits is that it was not very crowded). The apartment also has everything needed to make it home for a few days - and the views cannot be beaten. The apartment is a convenient drive to Taormina and the high-way (Bianca also gave us some great recommendations to visit). There is also a bus stop nearby (which we did not use but seems very handy).
Emma
2016-09-22T00:00:00Z
Un quartier résidentiel tout près à la mère, l'appartement est petit mais très bien équipé et avec la terrasse qui donne directement sur la mère. 20 minute à pied jusqu'à centre ville en se promenant sur les quais. Les hôtes sont très accueillantes et très gentilles, pour notre petite fille de 3 mois elles ont préparé le petit baignoire et table à langer - ça nous a bcp servi et aidé. La seule chose c'est l'insonorisation qui pourrait être mieux - on entendait bien les trains passant à côté. Le moustiques aussi étaient bien présents mais c'est un problème général de l'île j'ai l'impression.
Дарья
2016-10-14T00:00:00Z
Room Type
Entire home/apt
---
Property Type
Apartment
---
Accommodates
4
---
Bedrooms
Letojanni, Sicilia, Italy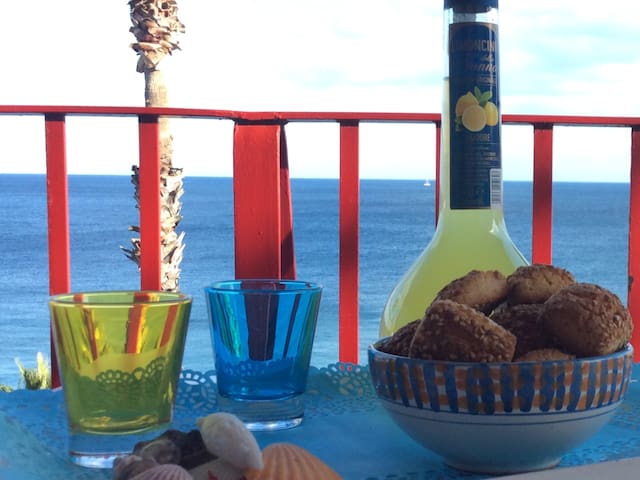 Appartamento bilocale appena ristrutturato, con cucina e bagno attrezzati al primo piano di un complesso residenziale con discesa diretta al mare, ampio prato condominiale. La vista dal balcone e dalla spiaggia è fantastica, dal sorgere dell'alba fino alla vista di Taormina illuminata che si riflette sul mare. Gli autobus per Taormina passano all'incirca ogni mezz'ora e la fermata è a 50-100 metri dall'ingresso del residence.
Room Type
Entire home/apt
---
Property Type
Apartment
---
Accommodates
4
---
Bedrooms
Letojanni, Sicilia, Italy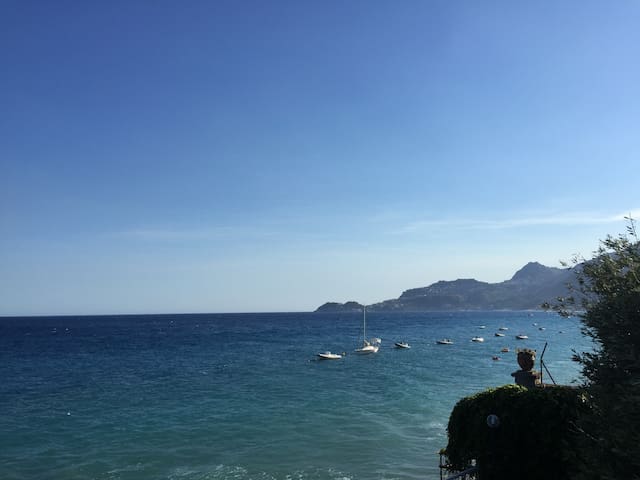 Прекрасная возможность отдохнуть на море и окунуться в сицилийскую действительность. Всего в двух шагах от Таормины, прямо у моря расположились апартаменты для всей семьи. Огромное колличество достопримечательностей, развитая инфраструктура
Beautiful view! The hosts were the best AirBnB hosts we've had in more than 10 different stays! Very attentive and friendly and helpful. Beautiful views! Great for a family of 5. They provided a bottle of champagne to greet us. Nice to have 2 bathrooms. Very reasonable price. We visited in off-season so the area was very quiet. We would stay there again.
Darren
2017-03-26T00:00:00Z
Room Type
Entire home/apt
---
Property Type
Apartment
---
Accommodates
6
---
Bedrooms
Letojanni, Sicilia, Italy
Located right in front of the largest and most beautiful beaches of Taormina, on the waterfront close to bars, restaurants, pizzerias, all kinds of shops, and 300 mt. from the bus stop, the apartment is surrounded by a large Sicilian garden.
Located right in front of the largest and most beautiful beaches of Taormina, the apartment is surrounded by a large Sicilian garden. The garden with citrus trees, olive trees, exotic plants and wisteria pergola is furnished with table and chairs, loungers and outdoor shower, and is surrounded by an ancient wall covered with bougainvillea and closed by a gate, within which is located its own private parking. The apartment (located on the ground floor of a one a floor villa) is located on the waterfront close to beach establishments, bars, restaurants, pizzerias, and all kinds of shops, and is 300 mt. from the bus stop, 10 minutes (by bus or car) far from the historical center of Taormina, located on a hill. Coming out of the gate of the garden there are both a large public beach and different beach establishments. The sand here is medium to thin, with some small pebbles near the shore and the water is incredibly clear. The garden house, with its privileged location on the beach and the quiet of its flourishing fenced garden, is the ideal place to relax oneself and enjoy the sea and the walks around the magnificent views of Taormina, to make boat trips and to practice water sports. But it is also in a point very easy to reach, and convenient for excursions: it's less than a kilometer from the highway exit of Taormina, 60 km from Catania airport, 45 km from Messina harbor and 6 km from Taormina-Giardini Naxos train station. It has a strategic position for excursions to all the Eastern Sicily (and so for Etna and its park, the Aeolian Islands, Syracuse, the Alcantara Valley, with its gorges and waterfalls, the Agrò Valley with its medieval towns, Norman castles, Byzantine churches, etc.).
The Gardenhouse has a strategic position for excursions to the whole Eastern Sicily (and so for Etna and its park, the Aeolian Islands, Syracuse, the Alcantara Valley, with its gorges and waterfalls, the Agrò Valley with its medieval towns, Norman castles, Byzantine churches, etc.). In this territory, maybe more than anywhere else, the Greek Sicily, the Arab-Norman and the baroque one cohabit, and then again the touristic Sicily coexists with folk Sicily from ancient times, surrounded by still untouched nature. Of course there is Taormina and its magnificent Greek theatre, the small Castelmola with its small streets and alleys and the wonderful panorama, the majestic Etna surrounded by luxuriant woods and the wild Alcantara Gorges with their scenographic waterfalls and basalt prism. And then fortified Medieval citadels, villages that with their traditions and the ancient rhythm of their life will take you back in time, sea towns with their small harbors, colored fisherman boats and noisy fish markets. There are churches and palaces of the opulent Sicilian Baroque, paths in the Etna park and walks on the coast marked by the prehistoric lava flow and by the stone stacks.
Maristella was very friendly. She gave us all necessary information. The garden is very nice and the bedroom and bathroom are clean and comfortable. But it was noise from highway and no air condition. So, it was delemma: hot or noise. But in October it was no so ceriouse point. Also location is very good: 20 m to the beach and 300 m to the nearest restaurant and supermarket. It was really nice time for us. Thanks, Maristella!
Юлия
2015-10-15T00:00:00Z
Nice welcome from Maristella. The apartment was clean and comfortable with a lovely garden. It is opposite the beach and several good restaurants. You need to understand it is several km from Taormina centre which is up a hill and need a bus or car to visit.
Bill
2015-05-23T00:00:00Z
Perfect place to stay: garden very beautiful, place best ever seen, good restaurants and patisseries around. Very warm and welcome host. We were really happy to stay in this place. Thank you, thank you, thank you. Sicily now associates with this place.
Tomas
2015-10-22T00:00:00Z
Maristella was a very nice host, her apartment was great everything we needed. I would recommend anyone to stay
Annette
2015-10-07T00:00:00Z
Nagyszerű hetet töltöttünk Maristellánál. A nyaraló tényleg a tengerparton van, ráadásul kb. vele szemben van egy úszómedencés napágyas tengerparti rész, 8 euróért lehetett bemenni. A kert nagyon szép. Az éttermek szinte rögtön ott vannak, mégis csendes a hely, zsákutcába végződik az út. Gyerekekkel ideális, kaptunk Maristellától kiságyat, babakádat, és etetőszéket is. Kata
Bertalan
2015-06-13T00:00:00Z
Room Type
Entire home/apt
---
Property Type
Apartment
---
Accommodates
5
---
Bedrooms
Mazzeo, Sicilia, Italy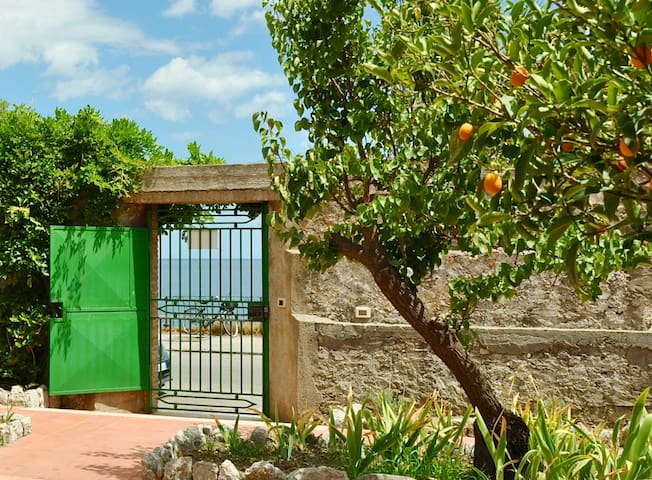 Cozy, confortable and sunny apartment with an amazing and charming terrace on the mediterranean sea, just a few seconds from the sea, in a private resort and 10 minutes from the wonderfull Taormina's center.
The apartment is very confortable and deeply clean! The terrace is amazing to spend a lot of the time of the day, for a sunny breakfast or lunch and a night full of stars' shining. The silent of the area at night is impressive.
Letojanni is an amazing sailors' village, full of good ice-creams shop and restaurants. The beach is clean and large. You will love Taormina city center, the isola bella beach and Giardini Naxos promenade. Do not forget to visit Castelmola village (my favorite) and Gole dell' Alcantara's spot.
If you like a quiet place with a great view on the seaside, this is where you want to be. A big advantage is the spacious terrace, where we enjoyed marvellous sunsets. Although Letojanni itself is not far, you have to drive up a steep and rather uncomfortable road to get to the appartment. As we are not used to drive on mountain roads, coming from flat Flanders, we found that a disadvantage. There is a small kitchen but the equipment is rather basic. We had good nights there though thabks to the fan in the bedroom. The place was very clean and Erika, Marco's sister, waited for us to show the appartment and was very helpful.
Els
2016-07-16T00:00:00Z
The access to Marco's house is a little bit hard, but the view is wonderful !! Thanks to Erika, Marco's sister, for her nice welcomming. Lettojanni is a nice place, near from Taormina. We enjoyed the experience!
Cédric
2016-08-14T00:00:00Z
However we didn't have the chance to meet Marco personally, he was one of the best hosts we have ever dealed with. He and his sister, Erika were always available, flexible and they kept in touch with us continuously. It is a bit hard to find the house, but it is absolutely worth getting up on the hills. Erika met us in the city and leaded us to the accomodation. The apartment is fully equipped, it has own parking place and a big terrace with an amazing sea view, close to Taormina, Castelmola, Isola Bella and many other sicilian sights. We 100% recommend Marco and Erika!
Tamas
2016-08-30T00:00:00Z
The reservation was canceled 3 days before arrival. This is an automated posting.
Friedrich
2015-05-09T00:00:00Z
The flat is on a mountain with a wonderful view over the water (you can see Taormina very well)! Letojanni is a good base to visit areas like the Etna, Taormina, Isola Bella, etc. The apartment is equipped with everything you need. The interior is, lets say, classical...:-) Nevertheless you will have everything you need here! Thanks to Marcos sister who picked us up at a gas station to escort us to the house.
Sebastian
2015-05-12T00:00:00Z
Everything Was fantastic ! Marco and his family organised our arrival and holidays very well and nicely. The road to climb to the flat is a bit surprising with the lace at the beginning and once you are on the place the flat is Nice quiet comfortable and the view is amazing ! Very Nice holidays In a beautiful island and with a nice welcome and messages to enquire of we are ok. Nice and helpful neighbours todo.
saint jalme
2016-07-31T00:00:00Z
The arrival was on ok and all was tidy and clean. The flat is near the center of letojanni to eat/buy some food(you juste have to walk 10min by walk along the sea) and is well located to visit the west coast (taormine,syracuse,eolienne island...) There is no internet but i drank a spritz at the Silemi Hostel and i took the WIFI password "guestph", so you can have a (low) connexion. I think it must be a plus if there are more european electric socket in the appartment. I recommand.
guillaume
2016-10-01T00:00:00Z
Grandi persone!!disponibilissime è sempre presenti!!casa bella in un posto con un panorama mozzafiato!!un grazie particolare ad Erika
Andrea
2016-08-22T00:00:00Z
Room Type
Entire home/apt
---
Property Type
Apartment
---
Accommodates
4
---
Bedrooms
Letojanni, Sicilia, Italy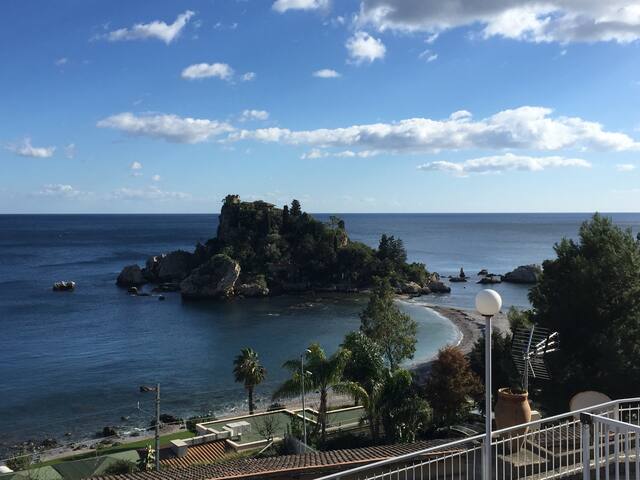 In famosa zona balneare, a metà strada tra Messina e Catania, sita a 400 metri dal mare si affitta luminosa mansarda al terzo piano ascensorato. L'immobile è situato in zona tranquilla, ben servita da fermata bus, ristoranti, pub, negozi e supermarket. La proprietà si compone di una cucina/soggiorno con divano letto e tavolo richiudibile, una camera da letto e bagno.
Situato in zona tranquilla, pur nelle immediate vicinanze del mare. La zona è ben servita da fermata bus, ristorazione, negozi, farmacie, edicole, tabacchi, banche, poste, supermarket. L'appartamento è completamente arredato, completo di lenzuola e asciugamani. Compreso nel prezzo: lavatrice, aria condizionata, TV e Wi-Fi.
L'ubicazione è stata ottima, mi sono trovato bene, l' appartamento si trovava in buona posizione vicino mare, bar, pub, edicola etc. la proprietà è stata molto cortese e disponibile, anche nella risoluzione di qualche piccola problematica, nel complesso l'esperienza è stata molto buona e l'appartamento non ha deluso le mie attese ma ha confermato quanto di buono visto nelle foto e nei servizi offerti.
Antonio
2016-08-23T00:00:00Z
Room Type
Entire home/apt
---
Property Type
Apartment
---
Accommodates
4
---
Bedrooms
Letojanni, Sicilia, Italy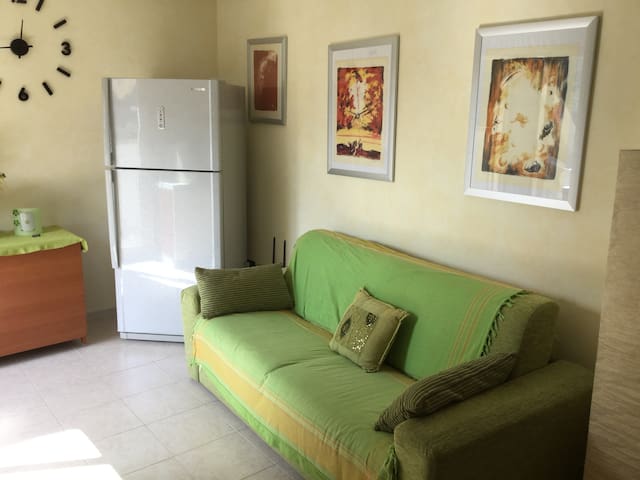 L'appartamento dispone di due camere con un totale di sei posti letto, un bagno, una grande balconata. I soffitti sono muniti di ventilatori a pale. Il paese è a due passi dall'appartamento, così come i servizi di trasporto (Bus, stazione, taxi). Nelle vicinanze si trovano negozi di vario genere: alimentari, pizzerie, bar, ristoranti, ferramenta, negozi abbigliamento e sportivi.
Room Type
Entire home/apt
---
Property Type
Apartment
---
Accommodates
6
---
Bedrooms
Letojanni, Sicilia, Italy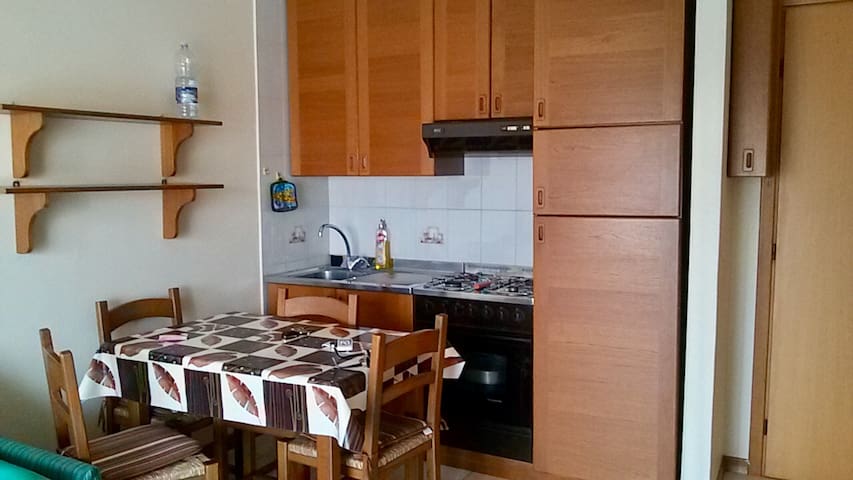 Il nostro monolocale si trova a trenta metri dallo splendido mare di Letojanni e ad appena pochi passi dalla fermata dell'autobus per Taormina e per altre splendide località turistiche dei dintorni. È dotato di ogni comfort.
L'appartamento si trova al primo piano, è nuovo e fornito di ogni comfort (aria condizionata, tv satellitare, lavatrice). Abbiamo un letto matrimoniale più un divano letto. La cucina è fornita di tutto il necessario. Agli ospiti verranno forniti anche biancheria da letto, asciugamani per il bagno e teli per il mare. Il nostro appartamento ha anche un balcone dove è possibile fare colazione e pranzare.
Il quartiere è molto tranquillo. Il paese è ricco di Bar e Ristoranti dove potrete assaggiare le specialità siciliane. Granite, Arancini, Pesce e Pasta sono le nostre specialità. Abbiamo sia spiaggie libere che strutture balneari.
Nice appartment with a cute balcony. We had a wonderful stay in Letojanni.
Wouter
2016-10-16T00:00:00Z
We stayed for 7 days in this lovely apartment, Maria Paola is a great host she even allowed us to stay one more hour after check out. The room was clean and comfortable with a fully equipped kitchen and bathroom. The place is really close to all public transport stations (trains, buses, excursion pickup locations) and just a few steps from the sea. Maria is also very quick with replies, so you can expect an almost instant answer to any of your questions. We really enjoyed our vacation in Sicily it's a warm country by all means. Grazie mile!
László
2016-09-10T00:00:00Z
Maria was a very nice, Open- minded, lovely Person. She gave us a lot of helpfull Tipps for our Trip to taormina, castelmola and etna. The apartment was clean, roomy and had everything we needed. Maria provided us Spaghetti, Sauce, basil, wine and much more. Nearby were a lot of parking spaces, where we could Park our rental car for free. We loved this Place and the area (the beautiful Beach was just a few Meters away). Unfortunately we only had planed a 2 Night stay there on our sicily trip. We definitely recommend to stay at this Place!
Tom&Laura
2016-06-06T00:00:00Z
A small but really comfortable nest for two. Maria Paola was very nice, she lives in the same building and was always ready to help us. The flat was spotlessly clean and there were some food for our disposal. the bed was extremely comfy. To Taormina 15min by bus, to the nearest beach 2min walk. Letojanni is an authentic town in itself with plenty of shops and restaurants, fun to walk around. thank you.
Mina
2016-09-04T00:00:00Z
Very nice place to stay, Maria and her mum are very welcoming. The flat is very cool, you feel like at home. Thanks for all ! :)
Justine
2016-09-21T00:00:00Z
È stato tutto perfetto la casa molto comoda e completa di tutto molto vicino a la spiaggia e anche a Taormina provate per credere.
Denis
2016-07-09T00:00:00Z
Una vacanza assolutamente splendida. La casa è confortevolissima, dotata di tutto il necessario, (stoviglie, TV, lavatrice, teli mare, ombrellone, ovviamente lenzuola e biancheria per il bagno/doccia) aria condizionata e ottimamente posizionata. A pochi metri dal mare. Maria Paola e la Sig.ra Raffaella ci hanno accolto ottimamente e sono sempre state disponibilissime. Splendide padrone di casa che ci hanno saputo coccolare come nel migliore stile siciliano. Se passate di qui, questa è la location perfetta per le vostre vacanze. Sappiamo già dove tornare il prossimo anno. Grazie infinite e a presto! 5 stelle ️️️️️
Gianluca
2016-07-19T00:00:00Z
Ottima soluzione ha tutto il necessario, l'accoglienza è delle migliori e curata nei piccoli dettagli. Consiglio per le vacanze, comoda la posizione vicino al mare e al centro.
Christian
2016-07-02T00:00:00Z
Room Type
Entire home/apt
---
Property Type
Apartment
---
Accommodates
2
---
Bedrooms
Letojanni, Sicilia, Italy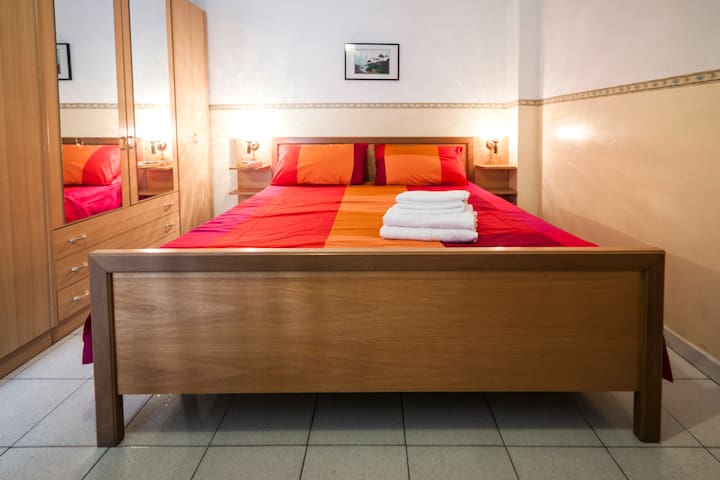 QUESTA CASA SI TROVA IN UN GRANDE RESIDENCE PRESTIGIOSISSIMO,MOLTO BEN CURATO NEI DETTAGLI,ED IMMERSO NEL VERDE. LA POSIZIONE E DAVVERO UNICA:LA TERRAZZA GODE DI UNA SPLENDIDA VISTA SUL GOLFO DI TAORMINA. LETOJANNY E' UN CENTRO ABITATO MOLTO RINOMATO CON DELLE BELLE SPIAGGE(LETOJANNI/MAZZEO). A 3 KM DA LETOJANNI SI TROVA LA PERLA DEL MEDITERRANEO(TAORMINA),UNO DEI E' SICURAMENTE QUELLO PIU' CHIC DELLA SICILIA,PERALTRO FAMOSO PER LA PRESENZA DELL'ANTICO ANFITEATRO GRECO CON VISTA MARE ED ETNA.
QUESTA CASA SI TROVA IN UN GRANDE RESIDENCE PRESTIGIOSISSIMO,MOLTO BEN CURATO NEI DETTAGLI,ED IMMERSO NEL VERDE. LA POSIZIONE E DAVVERO UNICA:LA TERRAZZA GODE DI UNA SPLENDIDA VISTA SUL GOLFO DI TAORMINA. LETOJANNY E' UN CENTRO ABITATOMOLTO RINOMATO CON DELLE BELLE SPIAGGE(LETOJANNI/MAZZEO). A 3 KM DA LETOJANNI SI TROVA LA PERLA DEL MEDITERRANEO(TAORMINA),UNO DEI E' SICURAMENTE QUELLO PIU' CHIC DELLA SICILIA,PERALTRO FAMOSO PER LA PRESENZA DELL'ANTICO ANFITEATRO GRECO CON VISTA MARE ED ETNA.
Gianni adesso posso veramente dire che per te l ospite è sacro.sei stato magnifico disponibile e un ottimo appoggio per dove andare e cosa visitare. La casa bene arredata confortevole e con una vista bellissima .siamo stati veramente benissimo ancora grazie Gianni
Agata
2017-04-05T00:00:00Z
Room Type
Entire home/apt
---
Property Type
Apartment
---
Accommodates
4
---
Bedrooms
Letojanni, Sicilia, Italy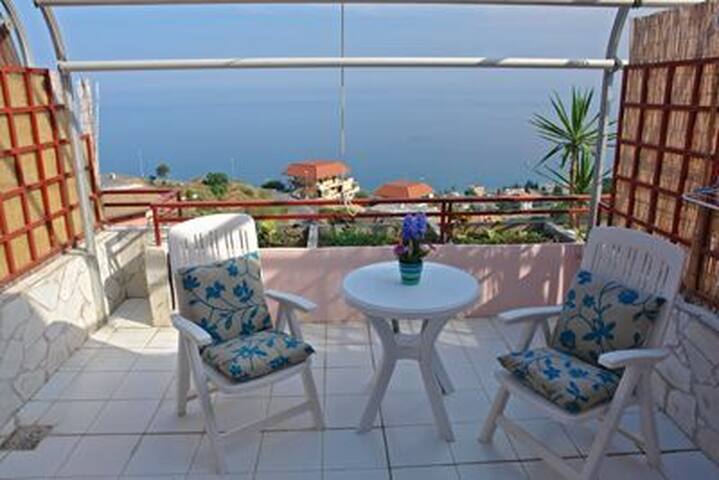 Modern apartment in Letojanni, a fishing district part of Taormina. The apartment is on a hill but just 10 minutes walk to the beach. Its position is ideal to breath an air of absolute tranquillity but at the same time you'll find yourself in the heart of culture as the at walking distance to the centre of the village and near to the main places of historical interest like the many medieval towns surrounding Taormina that attract many visitors with unique sightseeing and plenty of nightlife.
Room Type
Entire home/apt
---
Property Type
Apartment
---
Accommodates
5
---
Bedrooms
Letojanni, Sicilia, Italy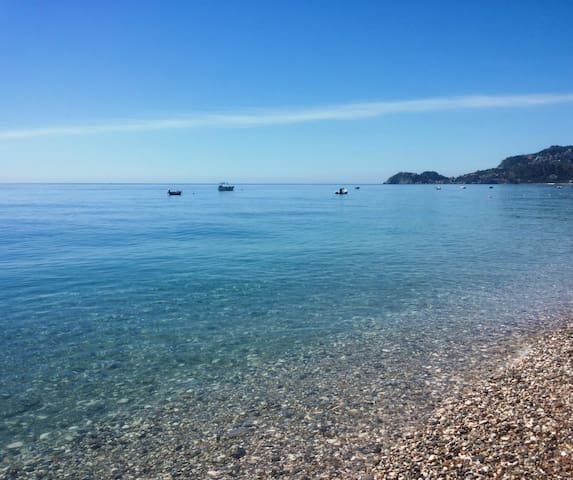 Gallodoro - Airbnb
:
Average

4.52

out of

5

stars from

242

guest reviews