Spacious beautiful house in safe, quiet neighborhood , forest retreat yet convenient to everything, only 1 mile to restaurants ,stores and UGA Vet School. Near campus and 5 miles to downtown Athens. Hiking trails within walking distance of the house, mountain retreat yet close to thriving Athens. Booking Murphys Retreat 2 gives a couple or small family a private room and private bathroom. No hidden charges. To be clear, it's not the entire house to yourself , however, USE of the entire house .
What guests are saying:
"Bonnie and Robert were wonderfully kind and attentive whenever we needed anything. Their home is beautiful! They made us (my 2 kids and I) feel comfortable enough to cook in their beautiful kitchen. Their dogs and cat were an extra special treat for us . They were so sweet. I wish we had more time to explore the trails in their neighborhood. Bonnie made great suggestions.for activities and dining. Lovely place and couple."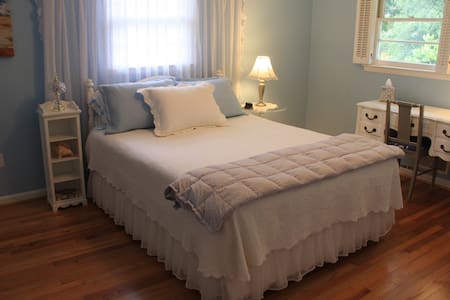 SUPERHOST
Entire house · 7 guests · 4 beds · 2 baths
Clean Comfy Roomy 3BR/2BA House - 13min to Campus
Clean, spacious midcentury home provides a quiet place to unwind with nearby pond and wildlife. Lots of room to spread out and relax or prep for an event. A quick 13 min Uber/drive to campus/downtown or nearby restaurants. Conveniences include: Netflix, pool table, Keurig coffee, tea, filtered water and snacks. Back patio has chairs, umbrella, grill and lights. Den, Kitchen, 3 spacious bedrooms and 2 fully appointed baths. Secluded neighborhood, driveway parking. Long term rates available.
What guests are saying:
"I have stayed in a lot of really nice homes using Airbnb, but this one is my new favorite. Located in a quiet, peaceful and lovely neighborhood only 15 minutes from downtown Athens, this mid-century modern ranch is a wonderful place to stay. All the great amenities, including fruit and other snacks, drinks, coffee, tea, and personal hygiene items, were very much appreciated. The house is so cozy and comfortable. I especially love the big picture window in the living room where we were able to watch birds, chipmunks, and squirrels frolicking outside. We even saw deer! And the view of the water across the street was a bonus! Each bedroom is beautifully decorated and the bedding is so soft and comfortable! Clear instructions for how to use everything alleviated any stress over figuring things out. What a wonderful stay! We will definitely be back! Thank you!!"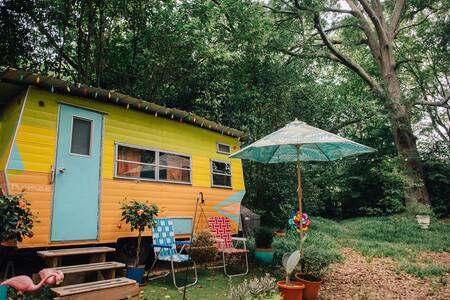 SUPERHOST
Campervan/RV · 2 guests · 2 beds · 1.5 baths
The Quiescent Nomad ~a tranquil downtown hideaway
Tucked deep in the backyard of our home in the heart of Athens, the Quiescent Nomad offers a tranquil, camping feel walking distance from the excitement of downtown. Enjoy a night out, then wake up to the sound of birdsong mingled with a gentle rumble of the train in the distance. With our lovingly restored 1971 travel trailer, we invite fellow travelers to enjoy an whimsical spot to relax and spark joy. This cozy space is your perfect home base to nest and restore while adventuring in Athens.
What guests are saying:
"I'll try to keep this brief but I just loved this place so much! Before I even talk about how much I love the space itself, I should brag on Laura & Jesse. So sweet, so kind, so inviting and SO THOROUGH. Anything in the camper that we were unsure of, we referred to a handbook provided inside the space. Even with the handbook on deck, Laura & Jesse made sure we knew that they were happy and ready to help us with anything at all. The handbook was so thorough and helpful. There were also snacks/beverages/local tips available which were amazing. I kept wishing I was staying longer. (I will definitely be back!) The camper is adorable and even better than I imagined. The perfect amount of space for 1-2 people and the kitchen/bathroom/living space provided inside of the main house was great too. It rained the night we stayed and the rain hitting the roof was so peaceful and lovely to fall asleep to. I will say we heard a train and a few sirens through the night. That doesn't bother me at all, but if anyone is ultra sensitive to noise at night - keep that in mind when booking and just bring some ear plugs or something. I felt extremely safe in Athens in general, but especially in this neighborhood. We walked to get dinner! Okay, I'm gonna wrap it up BUT just do yourself a favor and book this adorably amazing camper. I've had some iffy airbnb stays and wasn't sure if I would ever do it again, but I'm so glad I did. THIS is how an airbnb experience should be."